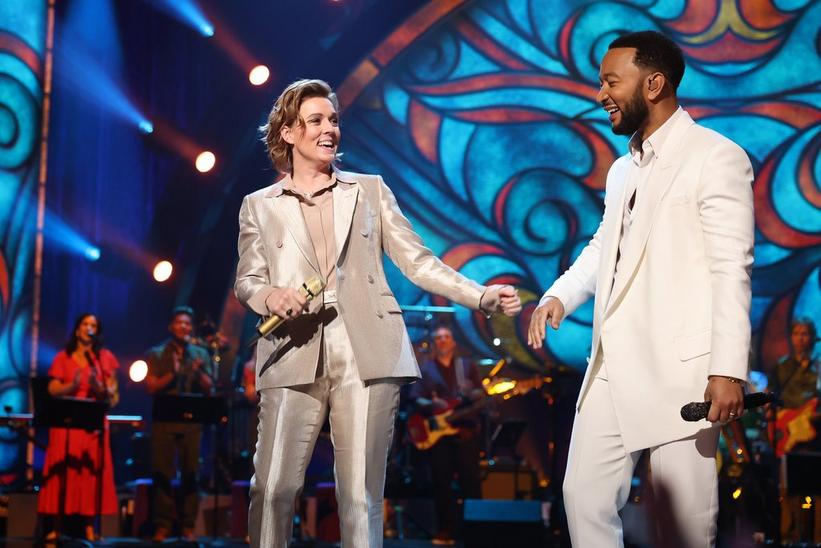 (L-R): Brandi Carlile, John Legend
Photo: Amy Sussman/Getty Images for The Recording Academy
list
5 Memorable Highlights From "A GRAMMY Salute To The Beach Boys": Weezer, St. Vincent, John Legend & More
Drawing generation-spanning connections, "A GRAMMY Salute To The Beach Boys," which rebroadcasts Monday, May 29, at 9 p.m. ET/PT on CBS and is available on demand on Paramount+, was a world-class tribute to America's Band. Here are five highlights.
GRAMMYs
/
Apr 10, 2023 - 07:25 pm
Updated Monday, May 22, to include information about the re-air date for "A GRAMMY Salute To The Beach Boys."
"A GRAMMY Salute To The Beach Boys" will re-air on Monday, May 29, at 9 p.m. ET/PT on the CBS Television Network, and will be available to stream live and on demand on Paramount+.
That's a wrap on "A GRAMMY Salute To The Beach Boys," an emotional, star-studded toast to America's Band — as the core lineup of the legendary group bore witness from a balcony.
From its heartfelt speeches and remarks to performances by John Legend, Brandi Carlile, Beck, Fall Out Boy, Mumford & Sons, LeAnn Rimes, St. Vincent, Weezer, and other heavy hitters, "A GRAMMY Salute To The Beach Boys" served as a towering monument to these leading lights on the occasion of their 60th anniversary.
If you missed the CBS telecast, never fear: the thrilling special is rebroadcasting on Monday, May 29, at 9 p.m. ET/PT on the CBS Television Network, and will be available to stream on demand on Paramount+.
Below are some highlights from the Beach Boys' big night.
Read More: How To Watch "A GRAMMY Salute To The Beach Boys," Featuring Performances From John Legend, Brandi Carlile, Beck, Fall Out Boy, Mumford & Sons, LeAnn Rimes, Weezer & More
Weezer Gave "California Girls" A Shot In The Arm
The Weez was a natural choice for a Beach Boys bash — the GRAMMY winners have worn that influence on their sleeve throughout their career — from the harmony-stuffed Blue Album. to their love letter to the West Coast, the White Album.
And while Fall Out Boy's transmutation of "Do You Wanna Dance" into supercharged pop-punk was a joy, Weezer's version of "California Girls" was satisfying in a different way.
Therein, frontman Rivers Cuomo threaded his chunky power chords into the familiar arrangement masterfully. His head-turning, song-flipping guitar work in the outro was also gracefully executed.
John Legend Sang A Commanding "Sail On Sailor"
The rocking-and-rolling "Sail On Sailor" leads off the Beach Boys' deeply underrated 1973 album Holland. On that cut, the lead vocal isn't taken by an original member, but one of their two South African additions at the time: the brilliant Blondie Chaplin.
Fifty years ago, Chaplin channeled the stouthearted tune through his punchy midrange; John Legend possesses a similar one. In his hustling, wolfish performance at the piano, the 12-time GRAMMY winner gave this dark-horse Beach Boys classic the gusto it deserves.
Read More: The Beach Boys' Sail On Sailor Reframes Two Obscure 1970s Albums. Why Were They Obscure In The First Place?
Brandi Carlile Stunned With A Capella "In My Room" Verse
Nine-time GRAMMY winner Brandi Carlile is an eminent and versatile creative force; it's easy to imagine her nailing almost any song in the Beach Boys' catalog — even the weird ones.
That said, this was more or less a night of hits — so Carlile took "In My Room" head on, and the results were spectacular. Even better was when the backing band dropped out for a verse, highlighting the song's proto-Pet Sounds solitude and introspection.
"Now it's dark/And I'm alone, but/I won't be afraid," Carlile sang, only joined by two harmonists. Mostly unadorned, she radiated a sense of inner strength.
Norah Jones Gorgeously Pared Back "The Warmth Of The Sun"
"The Warmth of the Sun" has always been a fan favorite for its radiant vocal interplay, but Norah Jones proved it's just as powerful with one voice front and center. 
Sure, the nine-time GRAMMY winner had harmonists behind her. But while Brian Wilson shared the spotlight with the other Boys in the original tune, she was front and center, teasing out its mellow, jazzy undercurrents.
St. Vincent & Charlie Puth Plumbed The Atmosphere Of 

Pet Sounds
The Beach Boys' most famous album by some margin, 1966's Pet Sounds, was well represented at "A GRAMMY Salute To The Beach Boys."
Beck performed a witty "Sloop John B"; Mumford & Sons drew hymnal energy from "I Know There's An Answer"; LeAnn Rimes drew lonesome power from "Caroline, No."
But two performances in particular captured the singular atmosphere of the album — whimsical, hopeful, melancholic, longing, sophisticated, strangely exotic. One was Charlie Puth's "Wouldn't It Be Nice," which strapped on the album's aesthetic like a rocket and took off.
The other was St. Vincent's captivating take on "You Still Believe In Me," which highlighted the harpsichord melody to spectral effect.
Near the end, when the three-time GRAMMY winner launched into the "I wanna cry" outro, it was hard to not get chills — the kind the Beach Boys have given us for 60 years.
How Brian Wilson Crafted The Beach Boys' Early Sound: A Symphony Of Inspirations, From Boogie-Woogie To Barbershop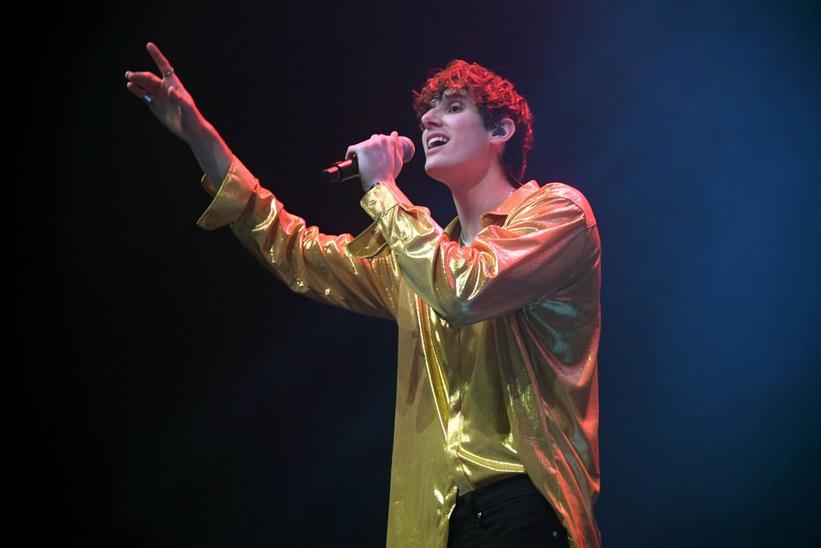 JVKE performs in New York City in 2022.
Photo: Gary Gershoff/Getty Images for iHeartRadio
interview
JVKE's "Golden" Year: How The Singer's World Turned "Upside Down" With TikTok, Collaborating With Charlie Puth & More
Viral 22-year-old musician JVKE breaks down his journey to fame, from breaking out with "Upside Down" to breaking through with "golden hour," and now headlining his first national tour.
GRAMMYs
/
Aug 18, 2023 - 04:14 pm
For some, it might come as a surprise that an up-and-coming artist would announce their debut album is their last. But for JVKE, it's a sign of the times.
Born Jacob Lawson, JVKE is a pioneering musician exploring how music is majorly shifting with social media. Though he originally worked behind the scenes as a songwriter, penning hits for Jason Derulo and EXO, the 22-year-old singer stepped into the spotlight after exploding on TikTok in 2020.
JVKE grew up in a musical family in Rhode Island, spending time with his music teacher mother, singing at church with his brother, and taking piano, drum and guitar lessons. When he was 19, his breakout song "Upside Down" quite literally turned his life upside down. Massively popular TikTokers like Charli D'Amelio and Loren Gray used the song in their videos, transforming JVKE's quarantine into a productive period of musical creativity.
Soon, labels were knocking at his door after seeing his viral success — but JVKE decided to remain independent through AWAL, wanting to be in charge of his own creative vision. He views collections of music as ever-changing and experiential, which is why he announced that his first album, 2022's This Is What ____ Feels Like (Vol. 1–4), will also be his last. He'll continue releasing music in new and innovative ways, beyond the boundaries of albums.
JVKE's track "golden hour" sounded off as his next big hit in 2022, peaking at No. 10 on Billboard's Hot 100 as his debut album cracked the top 50 on the Billboard 200. The love song unites twinkling piano and soaring vocals, and it encapsulates a singular, raw feeling of radiance. The track's resonant depth demonstrates JVKE's ability to push the limits of music — and with a combined following of nearly 13 million, it's no wonder his fan base continues only to grow.
"I'm just so passionate about creating and writing music — if I could be anywhere all day long, I would be in the studio," JVKE tells GRAMMY.com. "Now I'm realizing that people actually are open to hearing my creative ideas."
Though his studio feels like home, the singer is currently embracing his calling to the stage. While traveling for his first headlining tour, JVKE reflected on his biggest career highlights with GRAMMY.com, from first going viral to performing with Alicia Keys.
On Going Viral on TikTok, Embracing Out-Of-The-Box Creativity
I remember seeing ["Upside Down"] starting to go viral… I saw that [Charli D'Amelio] had used the sound. That's when I knew that the song was just getting started. And it already had a million uses, which was insane for TikTok at that time, and then eventually went on to get 15 million videos created to the sound. That was kind of when I knew TikTok is powerful. I realized that I should start releasing my own music, because I realized I could promote it there.
I was always pitching to other artists trying to fit their mold, but I realized that the best form of creativity could come when I just release what I want to release. I found that people resonate the most when I released my own music versus trying to pitch for other people. Things kind of shifted once I realized that people actually liked my creative music, rather than me just trying to fit a mold. I started trying new ideas and not trying to box myself in.
I think no one can ever really predict virality for sure. But when it happens, you know, you have to be ready to just make the most of the moment.
On Releasing His Debut Album, Staying Independent And Listening To Fans
When "Upside Down" first happened, I was definitely approached by a lot of labels… then eventually, the viral moment started to die down a bit. I realized the success that I'm having right now can be kind of short-lived. But if I just take the reins and take responsibility for getting my music out there, then at the end of the day, I'm the only one that I can rely on. So there's a bit more pressure there, which I think is good for an artist. Sometimes artists will sign to a major label, get a big check, and then they become kind of lax. I'm in it for the music. That's the centerpiece.
I think things are changing way faster than people want to admit. It leaves us in a really cool spot, because we can pioneer some new ideas, but with that, obviously comes a lot of risks, because the safe place to do what everyone else has been doing. I'm very much looking ahead to what the future is going to look like and trying to think of creative ways to adapt.
I found a lot of success with… giving the fans more content to consume by just putting it out, even when it's not finished, and just being okay with being vulnerable and not having this perfect, put-together idea. But I think that's the fun of it. I think that people enjoy being a part of the process.
On His "Pinch Me" Moment: Collaborating With Charlie Puth
I have been a big Charlie Puth fan for a while now. And right when "Upside Down" happened, that was kind of my first moment where I was no longer behind the scenes, but I was actually able to be the artist and just kind of be in the moment.
It was crazy, because Charlie had connected with my team, and he had heard the song all over TikTok. And he was like, "Yo, I'd love to do a remix and just hop on the song with you." And then I ended up going to his house, we made some TikToks. We went pretty viral together — like 30, 40 million views on different videos, and just us, playing the song. And that's the sort of moment where it's just like, pinch myself like, is this actually happening?
He actually asked me to go on tour with him, but it unfortunately conflicted with my current tour dates so I couldn't go. But yeah, honestly, he's kind of been a role model to me in different ways, even just him being open to the changes in the music industry. There's so many changes happening right now, and he's one artist who's really embraced them, and embraced the up-and-coming culture around TikTok and all that. I always hoped to be like that; he inspires me to always be open to new ideas.
On Playing With Alicia Keys In Front Of His Childhood Teacher
That was a bucket list moment for me. Being a pianist myself, having grown up hearing Alicia Keys songs, I've always been a huge fan of her and all of her songs, her amazing songwriting and involving the piano.
She had reached out because her son had shown her "golden hour." He was like, "Check this out, mom. You're gonna love this song, trust me." She heard it, and luckily, she really loved it. She called me up and she's like, "Hey, I have this winter performance for my new Christmas album. And I was wondering if you'd want to perform 'golden hour' with me, and we can mash it up into one of my songs." And I was like, "Are you kidding me? Absolutely. I'll be there."
I got to invite some of my friends, my family and my childhood music teacher. It was really such an emotional moment. I had a hard time holding it together. Honestly, it was that feeling of just being starstruck — it's like, I don't even know what to do right now. I'm on stage, looking at Alicia Keys while we play the piano together. Are you kidding me? It was crazy.
On Tackling His First Headlining National Tour
You never really know what it feels like to have people singing your songs until you feel that it's like, wait, this is actually connecting with people. And they actually take the time to sing along and listen to all the lyrics. It's just like, the craziest feeling. So I love knowing that I'm connecting with people on such a personal level… I love being on the road, being on tour. It's so fun.
For the kids who come, we usually find all the short kids and we bring them to the front in the little area, so that they can see the show right in front. For me, that's such a sick thing, because this is likely their first show they've ever been to. And for me to get that moment with them is just the coolest thing ever.
The whole music experience isn't complete without that touring element — being able to perform it and let all of my crazy ideas kind of have visuals attached to them. I'm all about just the full submersion of experience. There's no better place to do that than on a tour.
On Celebrating With His Loved Ones
Before I dropped out of college to just write music full-time, to make some money, I was teaching piano lessons to a lot of younger kids and different things. It was really sad, when "Upside Down" blew up and I moved out to LA for a few months. I remember having to text all my old piano students and tell them that I couldn't teach piano lessons anymore.
But I got to film this TikTok with one of my old students, and we posted it and it did really well. That's one of those moments where it's sad to let go of the past… but it's also the sweetest thing, because it all kind of comes together, and we get to all celebrate together. Those sentimental moments are one of the most important things to me. Even beyond the recognition, it doesn't really connect unless you enjoy it with the people you love.
Recently having moved out and going all over the place all the time, there's always a piece of me that's wanting to go back home and just hang out. [My mom and I] had so many musical experiences together [when I was] growing up. Now, she's probably going to be joining me on tour for a few days. She's always been excited for all the things that have been happening. Even though I'm living out my dreams, I feel like we're living them out together.
Inside Charlie Puth's New Album 'Charlie': How Elton John, TikTok & A Busy Mind Helped Create His Proudest Work Yet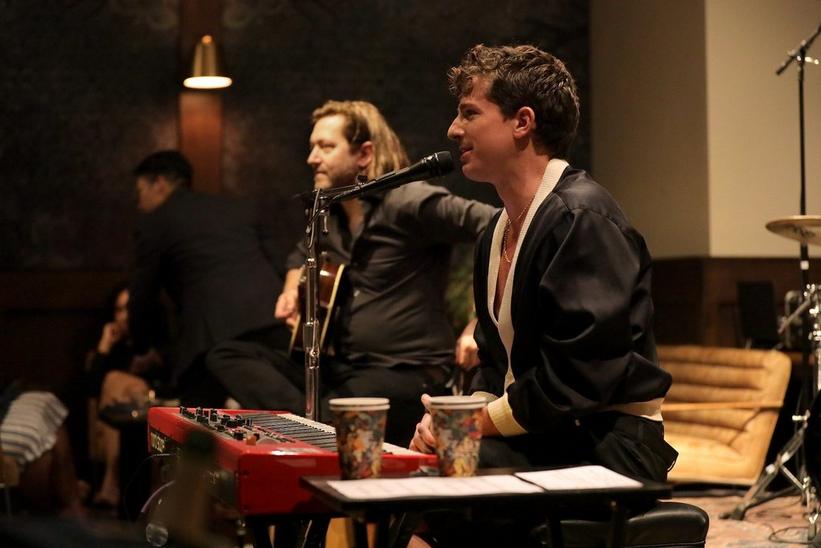 Charlie Puth at the GRAMMY Museum's Sunday Brunch With... series in July 2023.
Photo: Courtesy of the Recording Academy/Photo by Rebecca Sapp, Getty Images 2023
list
6 Things To Know About Charlie Puth, From His Unusual Inspirations To His Teaching Aspirations
On the heels of his last U.S. tour stop, Charlie Puth wowed fans at a special GRAMMY fundraising brunch in Los Angeles. Take a look at six takeaways from the intimate event.
GRAMMYs
/
Jul 20, 2023 - 07:45 pm
Just after Charlie Puth wrapped his North American tour on July 11, the pop hitmaker treated 150 fans to the ultimate fan experience: brunch with a side of Puth.
Part of The GRAMMY Museum's Sunday Brunch With… series, the event — a fundraiser for the organization's GRAMMY In The Schools program that was sponsored by City National Bank and Porsche — invited fans to enjoy a three-course brunch followed by an intimate 45-minute acoustic set from Puth. 
From the stage at his friend (and 17-time GRAMMY Award-winning mixer) Manny Marroquin's restaurant, VERSE LA in Toluca Lake, California, Puth told stories about his days at Berklee College Of Music and his journey to stardom. He also let attendees in on his songwriting process, performing some of his most beloved tracks in the process. 
For those who weren't able to make it to the sold-out event, here are six takeaways from Sunday Brunch With Charlie Puth.
He May Just Become A Music Teacher In The Future
Early on in the show, Puth made a point of shouting out one of his old Berklee professors from the stage. Turns out it was Prince Charles Alexander, a multi-GRAMMY Award winning mixer and engineer who has worked with Mary J. Blige, Destiny's Child, P. Diddy, Usher, and Aretha Franklin. 
Puth said he'd often pop into Alexander's office to run ideas by him, with Alexander offering up tips in return. Puth told the crowd he still thinks about Alexander's advice when he's making his own records all these years later, and shouted out not just his professor but all music educators, saying that he's a firm believer in the value of music in our schools. He even joked that he'd like to become a music teacher himself "if this whole music thing doesn't work out."
One Of His Songs Was Inspired By A Rainy Walk…
When Puth wrote "How Long" back in 2017, it was on a long walk. He was strutting around the town wondering why there weren't more tracks written at a perfect walking tempo when it started to rain. The sound of his feet combined with the wet concrete and suddenly, he told the crowd, "it was like the chords fell out of the sky." 
Puth then kicked into a smooth and resonant performance of the song — which sounded excellent on whatever sound system Marroquin installed in his restaurant — prompting one attendee to shout out in glee, "ooh, you better sing!"
…And Another Was Inspired By Ed Sheeran
Puth says he started writing "We Don't Talk Anymore" when he was on the road in Osaka, Japan. He'd fallen in love with the percussive guitar on Ed Sheeran's song "Bloodstream" and wanted to use that same sort of tone on his own track. 
Puth says he also wanted to write what he called "the worldliest sounding record," or "a record that would take me around the world." Given that "We Don't Talk Anymore" hit the top 10 in 20 different countries and the video has more than three billion views on YouTube to date, it's fair to say he did just that.
He Likes To Use "Light Switch" To Inspire Up-And-Coming Musicians
When the freshly signed Puth was first in LA in the early 2010s, a producer suggested they take his newly recorded tracks to a club, where they'd play them for the crowd and see what hit. It was a novel idea for Puth at the time, but something he's adapted a bit for the modern age, when he throws bits of songs and ideas up on his TikTok, hoping to see what flies. 
That's exactly how his 2022 hit "Light Switch" came to be: The simple percussive sound that you hear when you turn the lights on and off. 
In videos he's posted on TikTok, he's tried to show fans that, like that song, music can come from anywhere. "You don't need a multi-million dollar recording studio to make a record," he told the crowd, reminding everyone that Soulja Boy's "Crank That" was self-produced on the rapper's home computer before breaking big on social media. 
Anyone, Puth said, can make and release their own music, even if they're not currently in possession of the dream recording set-up. It's just about passion and perseverance, and a desire to make something new.
He Likes To Blend Classical Riffs With Perfect Pop Melodies
When Puth started to write "Attention," it was with a little classical riff he was fooling around with on the piano. He decided to take the classical bars and throw them into a pop song, reminding the room that it's not all that uncommon. For instance, he said, Toni Wine and Carole Bayer Sager's "A Groovy Kind Of Love" contains the Rondo from Muzio Clementi's Sonatina, Opus 36, No. 5. In Puth's view, classical music and pop can live in perfect harmony, feeding off each other and building toward something even bigger than the sum of their parts.
He's Proof Of The Power Of Being Yourself
In 2012, at the height of "weight for the drop" style EDM hits, Puth felt discouraged as he was trying to break into music himself. As he recalled, he'd moved home to his parents house and was laser focused on the pop charts, tailoring his songs to whatever was No. 1 at the moment — but they were all getting turned down by labels. Finally, he said, an A&R person gave him a piece of advice, saying, essentially, "We've heard all this before. We want to hear something from you." 
That's how, on his way to record a dance track at some studio in LA, Puth decided to lay down a piano ballad instead. He says it was like "See You Again" fell into his lap and attributes its success to the fact that he wasn't trying to be anyone but himself. 
"See You Again changed my life," he told the brunch crowd, noting that he'll be proud and lucky if he gets to perform it for the rest of his life. As he played it live, the whole room joyfully sang along — hinting that Puth may have crafted a lifelong hit.
Behind The Scenes Of The Eras Tour: Taylor Swift's Opening Acts Unveil The Magic Of The Sensational Concert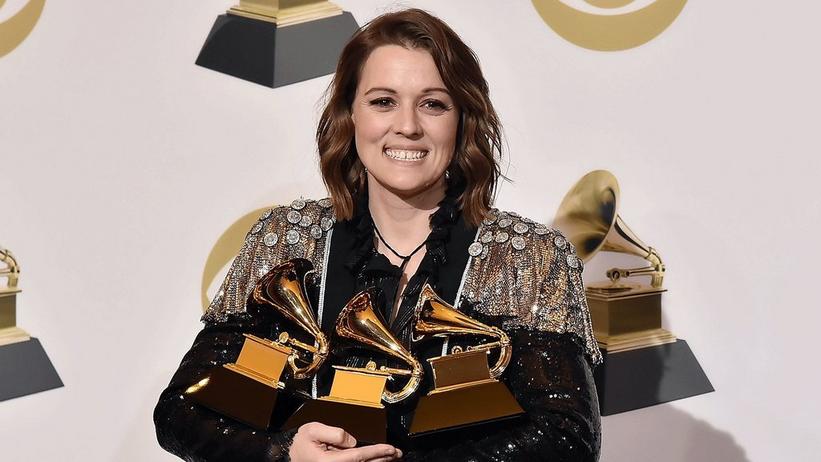 Brandi Carlile at the 2019 GRAMMYs.
Photo: David Crotty/Patrick McMullan
video
GRAMMY Rewind: Brandi Carlile Nervously Accepts Her First GRAMMY After "The Joke" Wins In 2019
Fourteen years into her career, Brandi Carlile won her first GRAMMY award — and because the long-awaited victory was so meaningful, she couldn't help "violently shaking" on stage.
GRAMMYs
/
Jun 2, 2023 - 05:02 pm
Brandi Carlile has been making waves in the Americana community for nearly two decades. But in 2019, Carlile's career began a different — and much bigger — trajectory thanks to a little song called "The Joke." 
The lead single from her sixth studio album, By the Way, I Forgive You, "The Joke" is dedicated to marginalized communities who constantly feel underrepresented and unloved by society. As a trailblazer in the LBGTQIA+ community, her impassioned vocal performance struck fans and critics alike.
In this episode of GRAMMY Rewind, we revisit the day "The Joke" helped Carlile win her first golden gramophone, for Best American Roots Performance. (It was one of three GRAMMYs Carlile took home that night, as "The Joke" also won Best American Roots Song and By the Way, I Forgive You won Best Americana Album.)
"It's our first GRAMMY!" Carlile cheered alongside her longtime collaborators Phil and Tim Hanseroth. "This means so much to me [...] and Dave Cobb, who wrote this song and brought the best out in us. We can't thank you enough."
Carlile went on to praise her team at Elektra Records and her family. "So many people to thank, but I'm violently shaking right now," she added, then passed the mic to the Hanseroth twins. 
Before the trio left the stage, Carlile quipped, "Whoever we forgot, forgive us. You know we love you, and you know we're terrified!" 
Press play on the video above to watch Brandi Carlile's complete acceptance speech for Best American Roots Performance at the 2019 GRAMMYs, and check back to GRAMMY.com for more new episodes of GRAMMY Rewind.
The Rise Of Brandi Carlile: How Her Emotive Songwriting & Delivery Made Her One Of Americana's Most Versatile Stars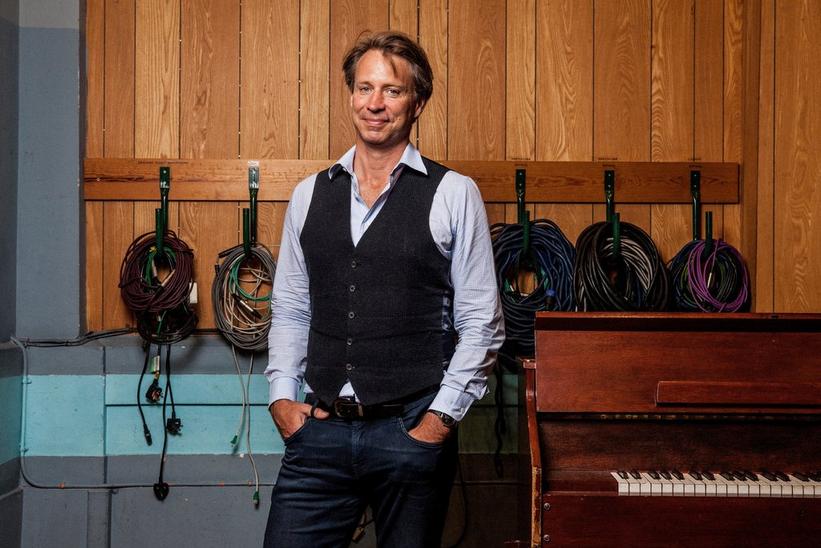 Giles Martin
Photo: Alex Lake | C A Management
news
Masterful Remixer Giles Martin On The Beach Boys' 'Pet Sounds,' The Beatles, Paul McCartney
Ahead of his spectacular, Dolby Atmos-elevated remix of the Beach Boys' 'Pet Sounds,' Giles Martin discusses the pressures and jubilation of handling such a precious album.
GRAMMYs
/
Jun 2, 2023 - 02:06 pm
Bicycle bells, Coca-Cola cans, sleigh bells, water bottles, French horn, Electro-Theremin — and that's just the tip of the iceberg.
Compared to even ambitious Beatles masterpieces like Revolver and Sgt. Pepper's, remixing the Beach Boys' Pet Sounds is an entirely different beast. While the Fabs' recordings were often deceptively sparse — "Taxman" is guitars, bass, drums and vocals — Pet Sounds is an ocean of eccentric, melancholic, joyful sound.
Astonishingly — by today's standards — the album was initially recorded to a four-track machine. A student of the studio might assume that remixing the such a record would require  some form of sacrifice during the remixing process, wherein various elements would have to be buried, or excised, to bring another to the light.
Giles Martin, who has remixed Sgt. Pepper's, The White Album, Abbey Road, Let It Be, and Revolver — and now Pet Sounds, for Dolby Atmos — has an incisive answer.
"Will I sacrifice taste or feel for the sake of it being an Atmos mix? If that starts getting compromised, then let's make it mono," two-time GRAMMY winner Martin tells GRAMMY.com. "It doesn't make any sense to affect the integrity of a song for the use of technology. Technology should be there to serve the music, as opposed to the other way around.
"I don't want people to listen to an Atmos mix I've done; I want people to listen to a song," he continues. "My mix is just a small part in the process."
But sitting in complete darkness in a Dolby screening room on Sixth Avenue in New York City, it was difficult to think of Martin's touch as being a "small part."
This version of Pet Sounds was nothing short of revelatory — shining up each Beach Boy's vocals, unburying numberless exotic instruments, mapping the musical elements in physical space. All without compromising Brian Wilson's timbral and harmonic syntheses that characterize this art-rock cornerstone.
Read on for a candid interview with Martin about his remixing philosophy, moving from the Beatles space to the Beach Boys space and what he wants to improve about his methodology — in short, "everything."
The Atmos mix of Pet Sounds is available now on Amazon Music, Tidal and Apple Music; stream it here.
This interview has been edited for clarity.
During Beatles listening events, there's a little bit of tension between yourself and that fan community. This Beach Boys event seemed to possess a completely different energy — less antagonistic, more of a lovefest. What's it been like moving from the Beatles world to the Beach Boys world as per their fan communities?
I don't know — I think that I may not be perceiving it right [laughs].
I never felt that there was a huge amount of antagonism with the Beatles thing. I think to begin with, there was. With the early days of me, certainly, doing Love, ironically, there was a suspicion of what I was up to — what are my motives, and what gives you the right to screw around with these tracks, and who the hell do you think you are, and that sort of thing.
I think there's been a sort of shift in a level of trust, hopefully, that people don't realize that I deliberately do this to try and screw things up.
I was actually more nervous going to a Beach Boys playback than I was going to a Beatles playback. With the Beatles, I kind of know where I am — and regardless of what anyone may think, I probably have more experience on this than most other people do.
The Beach Boys, I don't. It's my first rodeo, if you like, so I was probably a bit more nervous addressing their audience.
"Antagonism" is probably too strong a word. Just a little bit of tension in the air, when somebody's like, "What happened to that guitar squeak at 2:01 on 'Taxman,' Giles? Would you like to explain yourself?"
That always makes me laugh. There are two guys who are those people, and they come and listen in the studios. They came around recently for something, and they were like, "Well, we heard something at this moment."
I'll always listen and respect what they say, but then I'll just go… I do have Paul and Ringo. So they'll just go, "Well, we think it's fine."
I think what you are alluding to is there's a sense of ownership that people have over Beatles music. But I think that's the case with Pet Sounds and the Beach Boys as well.
From a business standpoint, what's it been like docking your spaceship on a new mothership?
I pay no attention to the business side of stuff. It's the same record label, actually — Capitol. I have a really good relationship with them, and they're great.
They know what they're getting themselves into by asking me to do stuff, which means that generally, things will be late; I'll miss deadlines. But they also know that I'll take care. And I think part of my job is, obviously, listening to what people have to say, and listening to and collaborating with other people on this, and doing it.
What role did the Beach Boys and Pet Sounds play in your life up to this point? Obviously, you're steeped in this overall miasma due to your lineage.
It's funny: as I said to my dad <a href="https://www.grammy.com/artists/george-martin/4663">legendary Beatles producer [George Martin], "It's amazing the work you did." And he was like, "Yeah, but I mean, compared to what Brian Wilson did when he was just on his own — you need to go listen to that." And so I did, and I suppose that there's an otherworldliness to it.
Just as a producer, or someone who loves music, Pet Sounds could not be ignored, because it's so intricate in the way it is, and it's an album that gets better the more you listen to it as well. And I hope that is sustainable in times of TikTok where people only have a short amount of time to pay anything attention.
I suppose that I wouldn't have agreed to do it if it wasn't important to me.You have to give it your all; you have to spend a lot of time listening to this music. It's such an important and influential record — not just for other people, but for me as well.
You mentioned during the listening party that you didn't have to employ the same AI techniques to unglue the tracks as you did on Revolver. Can you elaborate?
I wouldn't say it was unglued. If you imagine on, for instance, "That's Not Me," essentially, the band are kind of on three tracks a lot. So, they're stuck.
And "That's Not Me" has drums, organ, tambourine on one track. So, I can't move the organ or tambourine away from the drums. They have to be on one side. And I have bass and lead guitar on another track, so bass and guitar are going to be in the same place no matter what I do.
But there's an intent with this, where it's unlike having a band like the Beatles. This isn't really a band record; it's more of an orchestral record. It has a backing to it.
There's not really a drum kit on Pet Sounds, per se. There's drums on one or two tracks, but there's not really a drum kit. It's like orchestral percussion. So it's fine having those things glued together. Whereas on something like "Taxman," we have guitar, bass and drums — and only guitar, bass and drums going on for the whole song.
If you want to have a stereo record, you have to separate them — because otherwise, they're just on one side and the vocals on the other side; there's no reality. But with this, you have chunks of musicians in a room, and then you can create this real world around it.
Brian Wilson rightfully soaks up the lion's share of the discourse around Pet Sounds; he crafted the record. But in this process, what did you learn about them as per their group dynamic? You alluded to their vocal precision during the listening event. I love Carl and Bruce's vocals on "God Only Knows." I know that Carl and Dennis played on the record in a limited capacity.
I don't know what I learned that I didn't already know, apart from the fact that — this is what people miss — bands exist with resentment, and everything else. But bands exist because they're human beings in a room. The fact that you don't hear someone doesn't mean that they're not having influence.
With the Beach Boys, obviously, you hear their incredible harmonies. And Brian couldn't have done what he did without having the palette of outstanding musicianship, and the ability for these guys to harmonize and create these vocals that can't exist anywhere else.
So, that's what I suppose you hear. You hear the other members of the band come in on tracks, as you alluded to, and you suddenly think — not that it's a relief, but it's like, Oh my god, this is a band. This isn't just Brian. That's what I took from it.
I could genuinely sit there and think about the Beach Boys on a conceptual level and be entertained for hours. But is there a danger of overthinking an artifact like Pet Sounds? Or is it a fount for infinite analysis and edification?
No, I think you are absolutely right. You can take the fun out of it — and people do frequently — by being too pretentious about things. I find this quite amusing. It's almost like the song becomes the ownership of the journalist — or the expert, if you like — and not the person listening to it.
People are told what to listen to, and what to listen out for, in a sort of educational way: "You don't really understand this." It's that sort of thing: "If only you knew you knew how good this was, you'd be able to like it." That sort of conversation. "Music isn't like how it used to be, because it's not as good as this," and all this sort of conversation.
It's absolutely rubbish. It's like, let people enjoy what they want to enjoy. As long as you're passionate about something, it doesn't make a difference whether you like Megadeth or the Beach Boys.
You recently worked on a refreshed version of Paul McCartney's "Live or Let Die." That song is such a mind movie — and not just because it has James Bond roots. I'm sure you had fun with that one.
It was great. It's a bit like a lot of the projects I do; the expectancy is so vast spread.
It's quite tricky; how do you meet the expectation? Because one thing that mono or stereo or compression gives you, is it gives you loudness. You separate stuff in an immersive soundfield, you have to be careful that you don't start losing impact.
One thing that "Live and Let Die" has is impact. And that's the tricky thing about that song. But I'm really happy. It was actually a big mix to do; I can't lie. It was like, "Oh my god, here we go; I have to be fully qualified to do this mix."
But I'm really happy with it. I can't wait for people to hear it. I think it's super cool.
How do you want to get better at what you do? Where do you want to improve?
Oh, god. "Everywhere" is the answer. I think you are never done. It's only sometimes I hear things back and go, Oh, that actually sounds quite good. Oh, I did that. That's alright. Otherwise, you sort of hate everything.
I nervously watched you [all] through a screen in New York going, Oh my god, it sounds terrible. That's what goes through my head.
You still struggle with that, huh?
Yeah, of course. And then the thing is, I don't think, What if it sounds terrible? because of ego. It's, What if it sounds terrible because you guys really like this record and I need to do it justice? That's what goes through my head.
The Beach Boys' Sail On Sailor Reframes Two Obscure 1970s Albums. Why Were They Obscure In The First Place?