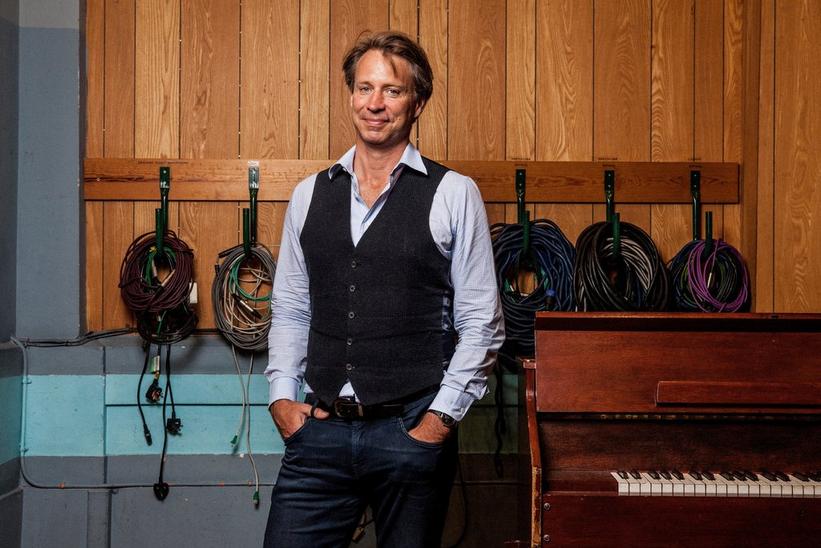 Giles Martin
Photo: Alex Lake | C A Management
news
Masterful Remixer Giles Martin On The Beach Boys' 'Pet Sounds,' The Beatles, Paul McCartney
Ahead of his spectacular, Dolby Atmos-elevated remix of the Beach Boys' 'Pet Sounds,' Giles Martin discusses the pressures and jubilation of handling such a precious album.
GRAMMYs
/
Jun 2, 2023 - 02:06 pm
Bicycle bells, Coca-Cola cans, sleigh bells, water bottles, French horn, Electro-Theremin — and that's just the tip of the iceberg.
Compared to even ambitious Beatles masterpieces like Revolver and Sgt. Pepper's, remixing the Beach Boys' Pet Sounds is an entirely different beast. While the Fabs' recordings were often deceptively sparse — "Taxman" is guitars, bass, drums and vocals — Pet Sounds is an ocean of eccentric, melancholic, joyful sound.
Astonishingly — by today's standards — the album was initially recorded to a four-track machine. A student of the studio might assume that remixing the such a record would require  some form of sacrifice during the remixing process, wherein various elements would have to be buried, or excised, to bring another to the light.
Giles Martin, who has remixed Sgt. Pepper's, The White Album, Abbey Road, Let It Be, and Revolver — and now Pet Sounds, for Dolby Atmos — has an incisive answer.
"Will I sacrifice taste or feel for the sake of it being an Atmos mix? If that starts getting compromised, then let's make it mono," two-time GRAMMY winner Martin tells GRAMMY.com. "It doesn't make any sense to affect the integrity of a song for the use of technology. Technology should be there to serve the music, as opposed to the other way around.
"I don't want people to listen to an Atmos mix I've done; I want people to listen to a song," he continues. "My mix is just a small part in the process."
But sitting in complete darkness in a Dolby screening room on Sixth Avenue in New York City, it was difficult to think of Martin's touch as being a "small part."
This version of Pet Sounds was nothing short of revelatory — shining up each Beach Boy's vocals, unburying numberless exotic instruments, mapping the musical elements in physical space. All without compromising Brian Wilson's timbral and harmonic syntheses that characterize this art-rock cornerstone.
Read on for a candid interview with Martin about his remixing philosophy, moving from the Beatles space to the Beach Boys space and what he wants to improve about his methodology — in short, "everything."
The Atmos mix of Pet Sounds is available now on Amazon Music, Tidal and Apple Music; stream it here.
This interview has been edited for clarity.
During Beatles listening events, there's a little bit of tension between yourself and that fan community. This Beach Boys event seemed to possess a completely different energy — less antagonistic, more of a lovefest. What's it been like moving from the Beatles world to the Beach Boys world as per their fan communities?
I don't know — I think that I may not be perceiving it right [laughs].
I never felt that there was a huge amount of antagonism with the Beatles thing. I think to begin with, there was. With the early days of me, certainly, doing Love, ironically, there was a suspicion of what I was up to — what are my motives, and what gives you the right to screw around with these tracks, and who the hell do you think you are, and that sort of thing.
I think there's been a sort of shift in a level of trust, hopefully, that people don't realize that I deliberately do this to try and screw things up.
I was actually more nervous going to a Beach Boys playback than I was going to a Beatles playback. With the Beatles, I kind of know where I am — and regardless of what anyone may think, I probably have more experience on this than most other people do.
The Beach Boys, I don't. It's my first rodeo, if you like, so I was probably a bit more nervous addressing their audience.
"Antagonism" is probably too strong a word. Just a little bit of tension in the air, when somebody's like, "What happened to that guitar squeak at 2:01 on 'Taxman,' Giles? Would you like to explain yourself?"
That always makes me laugh. There are two guys who are those people, and they come and listen in the studios. They came around recently for something, and they were like, "Well, we heard something at this moment."
I'll always listen and respect what they say, but then I'll just go… I do have Paul and Ringo. So they'll just go, "Well, we think it's fine."
I think what you are alluding to is there's a sense of ownership that people have over Beatles music. But I think that's the case with Pet Sounds and the Beach Boys as well.
From a business standpoint, what's it been like docking your spaceship on a new mothership?
I pay no attention to the business side of stuff. It's the same record label, actually — Capitol. I have a really good relationship with them, and they're great.
They know what they're getting themselves into by asking me to do stuff, which means that generally, things will be late; I'll miss deadlines. But they also know that I'll take care. And I think part of my job is, obviously, listening to what people have to say, and listening to and collaborating with other people on this, and doing it.
What role did the Beach Boys and Pet Sounds play in your life up to this point? Obviously, you're steeped in this overall miasma due to your lineage.
It's funny: as I said to my dad <a href="https://www.grammy.com/artists/george-martin/4663">legendary Beatles producer [George Martin], "It's amazing the work you did." And he was like, "Yeah, but I mean, compared to what Brian Wilson did when he was just on his own — you need to go listen to that." And so I did, and I suppose that there's an otherworldliness to it.
Just as a producer, or someone who loves music, Pet Sounds could not be ignored, because it's so intricate in the way it is, and it's an album that gets better the more you listen to it as well. And I hope that is sustainable in times of TikTok where people only have a short amount of time to pay anything attention.
I suppose that I wouldn't have agreed to do it if it wasn't important to me.You have to give it your all; you have to spend a lot of time listening to this music. It's such an important and influential record — not just for other people, but for me as well.
You mentioned during the listening party that you didn't have to employ the same AI techniques to unglue the tracks as you did on Revolver. Can you elaborate?
I wouldn't say it was unglued. If you imagine on, for instance, "That's Not Me," essentially, the band are kind of on three tracks a lot. So, they're stuck.
And "That's Not Me" has drums, organ, tambourine on one track. So, I can't move the organ or tambourine away from the drums. They have to be on one side. And I have bass and lead guitar on another track, so bass and guitar are going to be in the same place no matter what I do.
But there's an intent with this, where it's unlike having a band like the Beatles. This isn't really a band record; it's more of an orchestral record. It has a backing to it.
There's not really a drum kit on Pet Sounds, per se. There's drums on one or two tracks, but there's not really a drum kit. It's like orchestral percussion. So it's fine having those things glued together. Whereas on something like "Taxman," we have guitar, bass and drums — and only guitar, bass and drums going on for the whole song.
If you want to have a stereo record, you have to separate them — because otherwise, they're just on one side and the vocals on the other side; there's no reality. But with this, you have chunks of musicians in a room, and then you can create this real world around it.
Brian Wilson rightfully soaks up the lion's share of the discourse around Pet Sounds; he crafted the record. But in this process, what did you learn about them as per their group dynamic? You alluded to their vocal precision during the listening event. I love Carl and Bruce's vocals on "God Only Knows." I know that Carl and Dennis played on the record in a limited capacity.
I don't know what I learned that I didn't already know, apart from the fact that — this is what people miss — bands exist with resentment, and everything else. But bands exist because they're human beings in a room. The fact that you don't hear someone doesn't mean that they're not having influence.
With the Beach Boys, obviously, you hear their incredible harmonies. And Brian couldn't have done what he did without having the palette of outstanding musicianship, and the ability for these guys to harmonize and create these vocals that can't exist anywhere else.
So, that's what I suppose you hear. You hear the other members of the band come in on tracks, as you alluded to, and you suddenly think — not that it's a relief, but it's like, Oh my god, this is a band. This isn't just Brian. That's what I took from it.
I could genuinely sit there and think about the Beach Boys on a conceptual level and be entertained for hours. But is there a danger of overthinking an artifact like Pet Sounds? Or is it a fount for infinite analysis and edification?
No, I think you are absolutely right. You can take the fun out of it — and people do frequently — by being too pretentious about things. I find this quite amusing. It's almost like the song becomes the ownership of the journalist — or the expert, if you like — and not the person listening to it.
People are told what to listen to, and what to listen out for, in a sort of educational way: "You don't really understand this." It's that sort of thing: "If only you knew you knew how good this was, you'd be able to like it." That sort of conversation. "Music isn't like how it used to be, because it's not as good as this," and all this sort of conversation.
It's absolutely rubbish. It's like, let people enjoy what they want to enjoy. As long as you're passionate about something, it doesn't make a difference whether you like Megadeth or the Beach Boys.
You recently worked on a refreshed version of Paul McCartney's "Live or Let Die." That song is such a mind movie — and not just because it has James Bond roots. I'm sure you had fun with that one.
It was great. It's a bit like a lot of the projects I do; the expectancy is so vast spread.
It's quite tricky; how do you meet the expectation? Because one thing that mono or stereo or compression gives you, is it gives you loudness. You separate stuff in an immersive soundfield, you have to be careful that you don't start losing impact.
One thing that "Live and Let Die" has is impact. And that's the tricky thing about that song. But I'm really happy. It was actually a big mix to do; I can't lie. It was like, "Oh my god, here we go; I have to be fully qualified to do this mix."
But I'm really happy with it. I can't wait for people to hear it. I think it's super cool.
How do you want to get better at what you do? Where do you want to improve?
Oh, god. "Everywhere" is the answer. I think you are never done. It's only sometimes I hear things back and go, Oh, that actually sounds quite good. Oh, I did that. That's alright. Otherwise, you sort of hate everything.
I nervously watched you [all] through a screen in New York going, Oh my god, it sounds terrible. That's what goes through my head.
You still struggle with that, huh?
Yeah, of course. And then the thing is, I don't think, What if it sounds terrible? because of ego. It's, What if it sounds terrible because you guys really like this record and I need to do it justice? That's what goes through my head.
The Beach Boys' Sail On Sailor Reframes Two Obscure 1970s Albums. Why Were They Obscure In The First Place?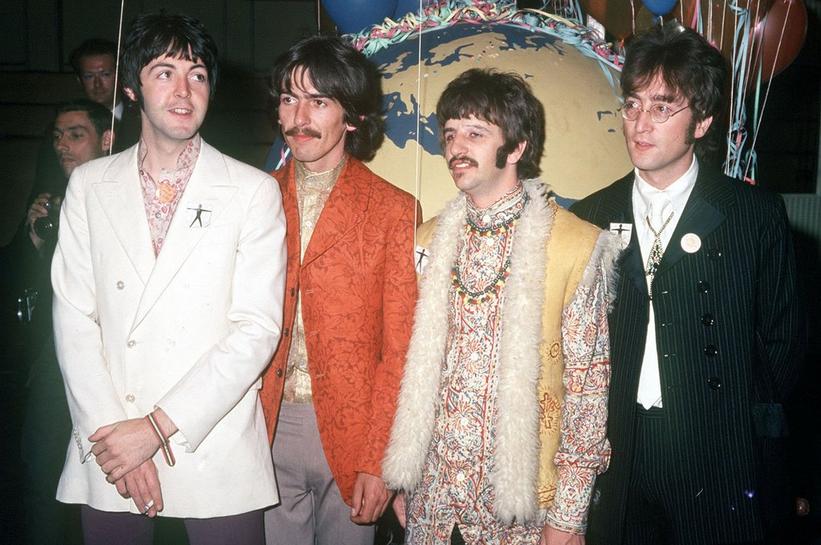 The Beatles in 1967 (L-R: Paul McCartney, George Harrison, Ringo Starr, John Lennon)
Photo: PA Images via Getty Images
list
7 LGBTQ+ Connections In The Beatles' Story
As "Another Kind of Mind" podcasters Daphne Mitchell and Phoebe Lorde revealed in a recent episode, the Beatles' world had many LGBTQ+ people in it — not just their manager, Brian Epstein.
GRAMMYs
/
Jun 30, 2023 - 05:54 pm
After 2,000 books and counting, is there much more to uncover about the Beatles' story? Apparently so, because two queer women who run a Beatles podcast — and a nonbinary singer/songwriter who made a queer Beatles rock opera — constellated something that even diehard fans may not know.
In a 2022 episode of their podcast "Another Kind of Mind" titled "Queering the Beatles," hosts Daphne Mitchell and Phoebe Lorde, interviewed Caleb Nichols about his eccentric and radiant 2022 album, Ramon — which explores his queer identity through the lens of Beatles fandom.
Of course, John Lennon, Paul McCartney, George Harrison, and Ringo Starr were not gay, or otherwise. But through the academic lens of "queering" — that is, viewing something through a LGBTQ+ and/or queer theory lens —  the three dug deep into their philosophical connections to LGBTQ+ identity, from their leather-bound early days in seedy bars, to their cultivation of an androgynous group look, to their rainbow-hued Sgt. Pepper suits.
Naturally, their transformative manager, Brian Epstein is a link to LGBTQ+ identity in Beatles lore — he was a closeted gay man, and tortured about it. Plus, there's that did-they-or-didn't-they holiday to Barcelona that Epstein took with Lennon — still a point of debate among diehards.
But aside from speculation and extrapolation, there is one core truth: LGBTQ+ people other than  Epstein were around the Beatles throughout their history, and after they broke up. Some of these people were pivotal to their very existence — and a world without them would have resulted in a very different Beatles, or none at all.
As Pride Month winds down, read on for a list of queer figures in the Beatles' universe — compiled thanks to "Another Kind of Mind."
One Of Their Essential Cavern-Era Movers Was Gay
A larger-than-life figure in the Merseybeat scene and driving force behind the Carvern Club's success, Bob Wooler is  crucial to  the Beatles' early story; he played a pivotal role in introducing them to Brian Epstein. 
Unfortunately, this connection took a dark turn at McCartney's 21st birthday party, in 1963 when Wooler made a reference to Lennon's Barcelona trip with Epstein, calling it a "honeymoon." A drunken Lennon proceeded to attack Wooler, landing him in the hospital.
A Gay Man Aided In Their Hair Evolution
Near the top of Martin Scorcese's must-see 2011 documentary on George Harrison, Living in the Material World, you'll see a teenaged George Harrison with an impressive coiff. 
That photo — and hair — were by Jürgen Vollmer, a German student who befriended the future Fabs during their Hamburg days. 
While Vollmer's sexuality isn't a public matter, it's established that he had a crush on Harrison; he even altered an I LIKE IKE badge to read I LIKE GEORGE.
"It was chemical," Vollmer once said. "I liked George the most. He was very quiet and shy, like me, and also a dreamer."
Paul McCartney Was Mentored By This Gay Art Dealer
Three hours into episode two of  Peter Jackson's Get Back documentary, a suave gentleman, dressed to the nines, saunters into the studio. "Ah, here's to Robert Fraser," Lennon sings; the caption reads "Art dealer Robert Fraser."
Robert Fraser sold art to McCartney, but he was a whole lot more than that; he was a flamboyant, hard-partying dynamo, and a pivotal figure in the London art scene. His artists also worked on the Sgt. Pepper's Lonely Hearts Club Band and White Album covers; a Magritte painting he turned McCartney onto acted as inspiration for the Apple Records logo.
Fraser moved to India in the 1970s, and returned to the London scene in the early 1980s. Sadly, his life was cut short; he died of AIDS in 1986, at just 48.
The "TV Director" From
A Hard Day's Night
Was Played By A Gay Man
Remember the TV director in the fuzzy sweater A Hard Day's Night that the Beatles give a hard time? That's Victor Spinetti, the only non-Beatle appear in three Beatles films — Help! and Magical Mystery Tour included.
"George Harrison said, 'You've got to be in all our films,'" Spinetti later recalled. "I said, 'Why?' And he said, 'Well, if you're not in 'em, me mum won't come and see 'em 'cause she fancies you.'"
"Polythene Pam" Was Partly Inspired By A Bisexual Man
It's long been Beatles lore that Lennon's Abbey Road medley snippet "Polythene Pam" is about a strange character from the Beatles' Cavern days.
Pat Dawson (née Hodgett), a fan from their Liverpool days, used to consume the titular material.
"I used to eat polythene all the time. I'd tie it in knots and then eat it," she said in an interview — and that's how she became known as "Polythene Pat," which became "Pam."
"That was me, remembering a little event with a woman in Jersey, and a man who was England's answer to Allen Ginsberg," Lennon recalled in 1980. "I met him when we were on tour and he took me back to his apartment and I had a girl and he had one he wanted me to meet."
Who was said man? None other than Royston Ellis, a bisexual beat poet who often wrote homoerotic yarns. 
He met the Beatles when they were the Silver Beetles, in the early 1960s. He once claimed to the four Beatles that "one in four men were queer"; as McCartney put it, "We looked at each other and wondered which one it was."
For that — and his debatable claim that he convinced them to drop the second 'e' in their name — Ellis's place in Fabs lore was set in stone. He passed a few months ago, in 2023.
A Gay Man Connected John Lennon And Elton John
GQ once called Tony King a "fixer, muse and confidante to the gods of pop music," and two of those gods were Lennon and Elton John. (Hey, another LGBTQ+ person in their orbit!)
"The first time I met John Lennon, he was dancing with Tony King." John later wrote in his 2019 memoir Me. "Nothing unusual in that, other than the fact that they weren't in a nightclub, there was no music playing and Tony was in full drag as Queen Elizabeth II." (This was for a TV advertisement for Lennon's then-new-album, Mind Games.)
Lennon and John went on to spend plenty of time together in what's known as Lennon's "Lost Weekend" period in the mid-'70s; they recorded a hit song together, "Whatever Gets You Through the Night." If that song resonates with you, thank King, who was gay. 
(There's an LGBTQ+ Queen connection, too; King also convinced Freddie Mercury to admit to his long-term girlfriend that he was gay.)
Billy Preston, Who Helped Them Forge Ahead At The End, Was Gay
With the Get Back documentary in the rearview, the story of Billy Preston and the Beatles is etched in stone.
As the band seemed to reach its most threadbare, Preston came in and supercharged them with a newfound sense of jubilation. ("You're giving us a lift, Bill!" Lennon crowed at one point.)
Preston continued on as a Fabs associate post-breakup, especially with Harrison — although he performed on solo records by Lennon and Starr as well. 
Although Preston remained vital through the '70s, his career took a downturn in the '80s. He had a string of drug, legal and personal issues in the ensuing decades, although he turned in a stunning performance during the Concert for George, as well as other noteworthy moments.
It wasn't widely known until after his 2005 death that Preston struggled with his homosexuality, through the lens of his Christianity and devotion to the church.
This recontextualizes the triumphal highs and desperate lows of Preston's story — and renders it a lesson in allowing people to be who they are. There are few more Beatlesque messages than that.
1962 Was The Final Year We Didn't Know The Beatles. What Kind Of World Did They Land In?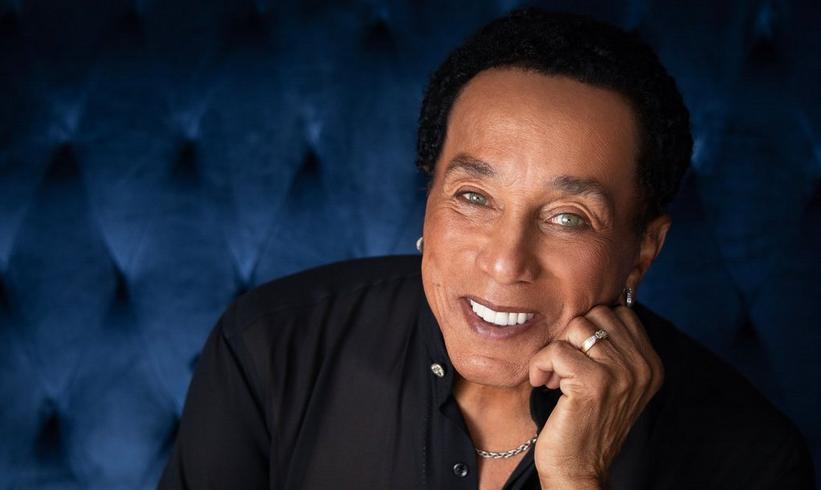 news
Living Legends: Smokey Robinson On New Album 'Gasms,' Meeting The Beatles & Staying Competitive
Fresh off the MusiCares 2023 Persons Of The Year gala that honored him and Berry Gordy, Smokey Robinson is out with his first album of new material in 14 years. 'Gasms' is about everything that lights up your brain.
GRAMMYs
/
May 2, 2023 - 09:57 pm
Living Legends is a series that spotlights icons in music still going strong today. This week, GRAMMY.com presents an interview with GRAMMY winner and lead Miracle Smokey Robinson, whose contributions to the American musical canon — chiefly via Motown — cannot be overstated. In 2023, he was honored alongside Motown founder Berry Gordy at the MusiCares Persons Of The Year Event. Robinson's new album, Gasms, is available now.
Smokey Robinson listens to everyone. If you're on the radio, he claims, he's heard you. It doesn't matter your age, or your genre — as the 83-year-old is still in the ring, he intends to keep his gloves up. "I'm not a prejudiced musical listener," he tells GRAMMY.com. "I've got to compete with them. I've got to know what they're doing."
In the middle of a question about who, specifically, he's enjoying from the new guard, his rep's drive through a tunnel abruptly ends the call. But the Miracles and Motown star's assertion checks out — partly on the strength of his new album, Gasms, his first album of new original material since 2009.
On hot-and-bothered highlights like "I Wanna Know Your Body," "Roll Around" and "Beside You," God's gift to green eyes — to borrow a phrase — proves his writing, vocal and performance abilities remain undimmed.
"My thoughts on it is that you can put it on and be with the person that you want to be with and just kick back and enjoy each other," Robinson told the AP. "It's more of the idea of love."
There's a lot of chatter about Gasms. Of course, that's by design, and Robinson's OK with the album title subsuming the conversation. (When asked about the central thesis of the record during its conception, he responds with one word: "Controversy.")
But by Robinson's assertion, Gasms refers to anything that makes you feel good, and the high-thread-count music signifies far more than horny man is horny. It's a treat to hear that the GRAMMY winner responsible for innumerable culture-shifting classics — who has been around long enough to have met the Beatles when they were playing basements — is still a force.
With the 2023 MusiCares Person Of The Year gala, which jointly honored Robinson and Motown founder Berry Gordy, in the rearview, GRAMMY.com sat down with the man himself about his past, present and future. The results might give you a… well, you know.
This interview has been edited for clarity.
How did it feel to be honored along with your best friend, Berry Gordy, at the MusiCares Persons Of The Year 2023 gala?
That was a wonderful experience. They had never honored two people at the same time, and for me to get honored with my best friend like that — it was an extraordinary night.
When you met all those years ago, was there any inkling your relationship would stretch so far into the future — and impact the planet on this scale?
You can't tell about people and relationships, man. We just struck up a relationship. And we were good in the very beginning, and it just lasted. I couldn't be with him then — or he with me — and say, "Oh, well, this is gonna last forever," like it has, because you just never know. Fortunately, for us, it has, and we're still best friends.
How do you keep a relationship like that going on such a grand scale for decades and decades?
You know, people have asked me that many times. Sometimes, it's six months and I don't even talk to Berry. But when I do, he's my best friend, and I'm his best friend. It's never "Let me get to know you again, or feel you out," or any of that. There's none of that happening.
As you've stated, the title of Gasms isn't expressly sexual. Rather, it refers to any number of mindblowing experiences. What was the last big experience in your life or career that gave you a "gasm," as it were?
I've had so many of those. You know, gasms are what makes you happy, and makes you feel good. Recently, I had one when I did "American Idol," because I hadn't been in a long time. I was on the second panel for judges when Simon Cowell was there. I got a chance to see [judges] Lionel [Richie] and Katy [Perry] and Luke [Bryan], and it was a wonderful night.
I've been a mentor; I've been a judge. "American Idol" is one of the main state talent programs in the world, so it's a great thing for the kids. Because before they even made a record or anything like that, from the very first auditions, being seen by millions of people is a great thing for them.
Let's get to the ground floor of Gasms, when you first picked up a pen and made some calls and put together these songs. What was the central idea you wanted to put forth, musically and creatively?
Controversy.
That was it, huh?
To raise curiosity, and have people wondering what it was before they even heard it.
It seems you succeeded.
It worked. So I'm very happy about that, man.
How did you curate the accompanists and producers on Gasms?
Most of the guys are guys I've worked with all the time in the studio. I've been working with them for years, so I didn't have to get to know them. The main guy — my arranger, David Garfield — is a well-known jazz pianist who makes his own albums and stuff like that. We just got together and did the arrangements at the studio.
I'm sure you were raring to get back to original material, as wonderful as the old Miracles songs and your Christmas stuff is, and  flex your songwriting muscles.
I write all the time, Morgan. It's something that I just do. It's not a conscious effort where I set aside some time to write or anything like that. It doesn't happen like that. For me, it just happens.
What are you working on lately?
Well, at the same time we were working on the Gasms album, we were working on one in Spanish. I've got two more songs I've gotta re-record for that. That's what I'm up to musically.
Is it a learning curve to record in another language, or are your Spanish chops sharp?
I've been learning Spanish for probably about a year. My housekeeper is a Spanish lady. She's from Guatemala, and she speaks four different languages, so she's been really helping me with it.
I'm not fluent in it where I understand everything. I watch the soap operas and news shows on Telemundo and stuff like that, trying to get better, but they're talking so fast. I try to get a word in every now and then and then try to pick out what they meant by the rest of the stuff.
But it's a great language, and I enjoy it very much, so I've been trying to write some songs in Spanish also.
Your voice is so pristine on Gasms. At times, it's like you haven't aged a day. How do you keep your instrument — your voice — sharp as the years and decades go by?
Well, first of all, I appreciate you saying that, man. Thank you very much.
Your voice is like your instrument, and if you take care of yourself, you have a better chance of it lasting and doing well for a long time. I don't think there's any secret formula — Lipton's tea with lemon and all that stuff like that. I've never done anything like that.
I just try to take care of myself. Occasionally, of course, your body will wear down and get hoarse, because you don't know how to play your instrument. I don't do any special stuff.
What are your habits, or what's your regimen, to keep your physical vessel in shape?
I think that the main one is yoga. I've been doing yoga for about 40 years, and I do it almost every day of my life. Then, I have workout programs I do. I have a half-hour workout program and then an hour one. At home, I do the full monte, because I can do everything; I have weights in the basement and so on and so forth.
When I'm on the road, I have a 45-minute regiment that I do most mornings, and it starts with stretching.
I really enjoy how you didn't feel the need to reinvent the wheel with Gasms. The songs could have been written 60 years ago or yesterday. What is it about the timelessness of songs about love, romance and sensuality?
Well, yeah, they all have a connotation; you can use your own ideas of what they mean. For instance, "gasms." That can mean whatever you want it to mean. I try to put that connotation in all of them, so whatever the person means, or who is the listener, it can be that for them.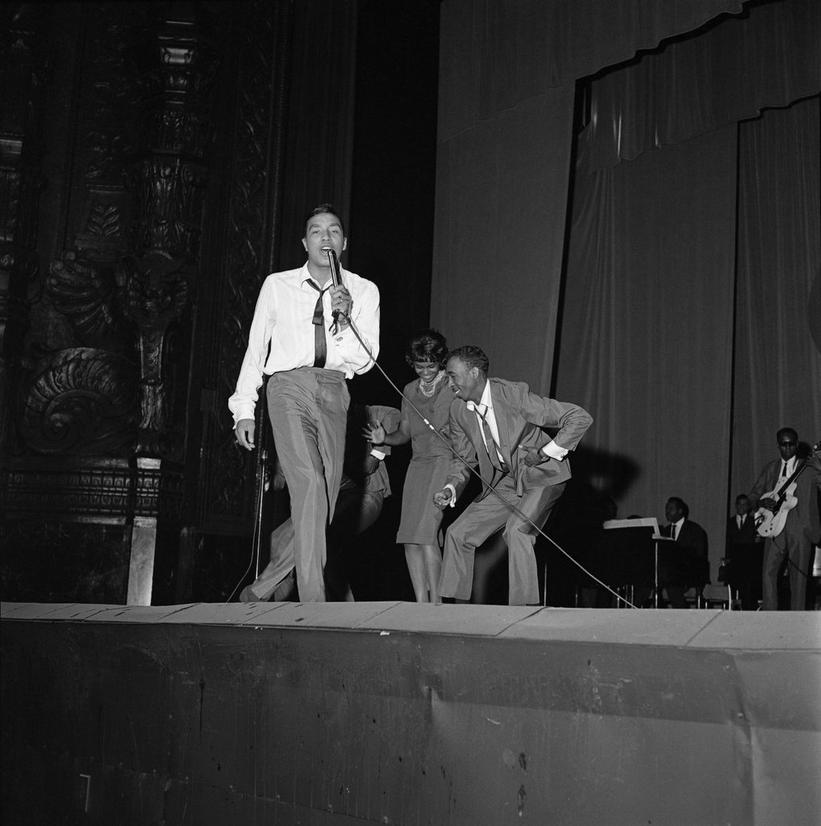 Smokey Robinson performing in 1964. Photo: PoPsie Randolph/Michael Ochs Archives via Getty Images
Speaking of timeless love songs, you play a huge role in the Beatles' rise. They worshiped you, and beamed you into millions of kids' heads via "You Really Got a Hold On Me" on With the Beatles. And you've covered them, too. Does it feel surreal to look back to your youth, and to these recordings, and say I wrote that?
You know, I don't think about that nowadays, man, unless somebody brings it up. It's not something I concentrate on, or anything like that, but it's a wonderful thing. 
It was especially wonderful — back then, they were the number one group in the world — to pick one of my songs. They were great songwriters themselves. So, to pick one of my songs to record was especially flattering.
What are your memories of those guys?
Oh, they were cool dudes, man. I had met them before they became [Adds air of thunderous significance] the Beatles. We met them in Liverpool; they were singing in a little club down in the basement. They were good guys, and I especially got close to George while he was alive, you know? He was my closest friend in that group.
He sure loved you. He wouldn't have written "Pure Smokey" if he didn't. Can you offer more memories of George?
George was just a great guy, man. He was a nice man. He was one of those people that if you meet him, you like him.
With Gasms out in the world, what do you hope people take away from it?
Oh, take away some enjoyment. I hope they enjoy it with themselves, alone, and with others also. That's what I want them to take away from it. If I can accomplish that, then I feel that I've done what I set out to do.
What has been giving you "gasms" lately? What are you watching, reading or listening to that has been inspiring you?
I listen to everyone, man. 
I'm a music lover, so I listen to all kinds of music. Especially when I'm in my car, and there's no telling what musical mood you're going to catch me in. Weeks happen where I don't listen to anything but classical — Chopin and Rachmaninoff and all that. Sometimes, I listen to hip-hop or jazz or alternative. I just love music, man.
What newer artists have you been checking out?
All of them, that are making music that I can hear on the radio. I listen to all of them, because I'm still making records, too. So, I've got to compete with them. I've got to know what they're doing. I'm not a prejudiced musical listener, whereas I think, OK, these are young people, so I'm not gonna listen to their music.
No, they're in the forefront of music right now. So I listen to everybody.
Living Legends: Van Morrison On New Album Moving On Skiffle, Communing With His Roots & Reconnecting With Audiences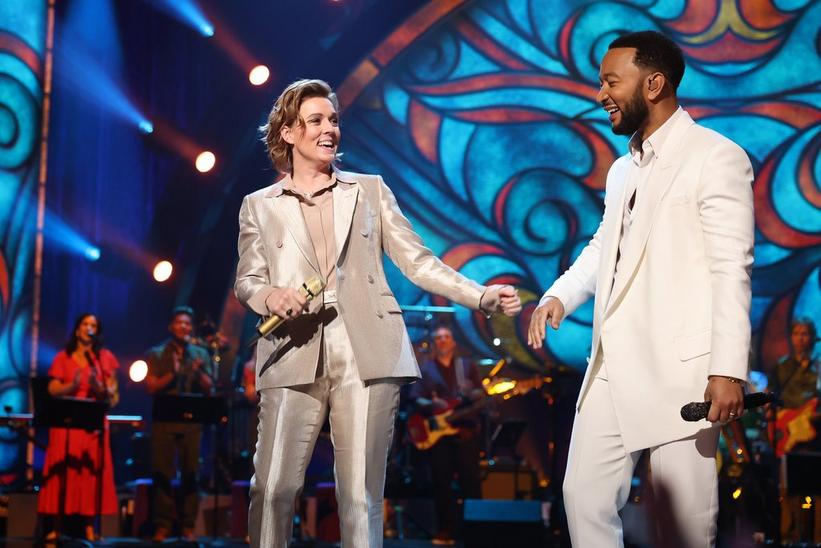 (L-R): Brandi Carlile, John Legend
Photo: Amy Sussman/Getty Images for The Recording Academy
list
5 Memorable Highlights From "A GRAMMY Salute To The Beach Boys": Weezer, St. Vincent, John Legend & More
Drawing generation-spanning connections, "A GRAMMY Salute To The Beach Boys," which rebroadcasts Monday, May 29, at 9 p.m. ET/PT on CBS and is available on demand on Paramount+, was a world-class tribute to America's Band. Here are five highlights.
GRAMMYs
/
Apr 10, 2023 - 07:25 pm
Updated Monday, May 22, to include information about the re-air date for "A GRAMMY Salute To The Beach Boys."
"A GRAMMY Salute To The Beach Boys" will re-air on Monday, May 29, at 9 p.m. ET/PT on the CBS Television Network, and will be available to stream live and on demand on Paramount+.
That's a wrap on "A GRAMMY Salute To The Beach Boys," an emotional, star-studded toast to America's Band — as the core lineup of the legendary group bore witness from a balcony.
From its heartfelt speeches and remarks to performances by John Legend, Brandi Carlile, Beck, Fall Out Boy, Mumford & Sons, LeAnn Rimes, St. Vincent, Weezer, and other heavy hitters, "A GRAMMY Salute To The Beach Boys" served as a towering monument to these leading lights on the occasion of their 60th anniversary.
If you missed the CBS telecast, never fear: the thrilling special is rebroadcasting on Monday, May 29, at 9 p.m. ET/PT on the CBS Television Network, and will be available to stream on demand on Paramount+.
Below are some highlights from the Beach Boys' big night.
Read More: How To Watch "A GRAMMY Salute To The Beach Boys," Featuring Performances From John Legend, Brandi Carlile, Beck, Fall Out Boy, Mumford & Sons, LeAnn Rimes, Weezer & More
Weezer Gave "California Girls" A Shot In The Arm
The Weez was a natural choice for a Beach Boys bash — the GRAMMY winners have worn that influence on their sleeve throughout their career — from the harmony-stuffed Blue Album. to their love letter to the West Coast, the White Album.
And while Fall Out Boy's transmutation of "Do You Wanna Dance" into supercharged pop-punk was a joy, Weezer's version of "California Girls" was satisfying in a different way.
Therein, frontman Rivers Cuomo threaded his chunky power chords into the familiar arrangement masterfully. His head-turning, song-flipping guitar work in the outro was also gracefully executed.
John Legend Sang A Commanding "Sail On Sailor"
The rocking-and-rolling "Sail On Sailor" leads off the Beach Boys' deeply underrated 1973 album Holland. On that cut, the lead vocal isn't taken by an original member, but one of their two South African additions at the time: the brilliant Blondie Chaplin.
Fifty years ago, Chaplin channeled the stouthearted tune through his punchy midrange; John Legend possesses a similar one. In his hustling, wolfish performance at the piano, the 12-time GRAMMY winner gave this dark-horse Beach Boys classic the gusto it deserves.
Read More: The Beach Boys' Sail On Sailor Reframes Two Obscure 1970s Albums. Why Were They Obscure In The First Place?
Brandi Carlile Stunned With A Capella "In My Room" Verse
Nine-time GRAMMY winner Brandi Carlile is an eminent and versatile creative force; it's easy to imagine her nailing almost any song in the Beach Boys' catalog — even the weird ones.
That said, this was more or less a night of hits — so Carlile took "In My Room" head on, and the results were spectacular. Even better was when the backing band dropped out for a verse, highlighting the song's proto-Pet Sounds solitude and introspection.
"Now it's dark/And I'm alone, but/I won't be afraid," Carlile sang, only joined by two harmonists. Mostly unadorned, she radiated a sense of inner strength.
Norah Jones Gorgeously Pared Back "The Warmth Of The Sun"
"The Warmth of the Sun" has always been a fan favorite for its radiant vocal interplay, but Norah Jones proved it's just as powerful with one voice front and center. 
Sure, the nine-time GRAMMY winner had harmonists behind her. But while Brian Wilson shared the spotlight with the other Boys in the original tune, she was front and center, teasing out its mellow, jazzy undercurrents.
St. Vincent & Charlie Puth Plumbed The Atmosphere Of 

Pet Sounds
The Beach Boys' most famous album by some margin, 1966's Pet Sounds, was well represented at "A GRAMMY Salute To The Beach Boys."
Beck performed a witty "Sloop John B"; Mumford & Sons drew hymnal energy from "I Know There's An Answer"; LeAnn Rimes drew lonesome power from "Caroline, No."
But two performances in particular captured the singular atmosphere of the album — whimsical, hopeful, melancholic, longing, sophisticated, strangely exotic. One was Charlie Puth's "Wouldn't It Be Nice," which strapped on the album's aesthetic like a rocket and took off.
The other was St. Vincent's captivating take on "You Still Believe In Me," which highlighted the harpsichord melody to spectral effect.
Near the end, when the three-time GRAMMY winner launched into the "I wanna cry" outro, it was hard to not get chills — the kind the Beach Boys have given us for 60 years.
How Brian Wilson Crafted The Beach Boys' Early Sound: A Symphony Of Inspirations, From Boogie-Woogie To Barbershop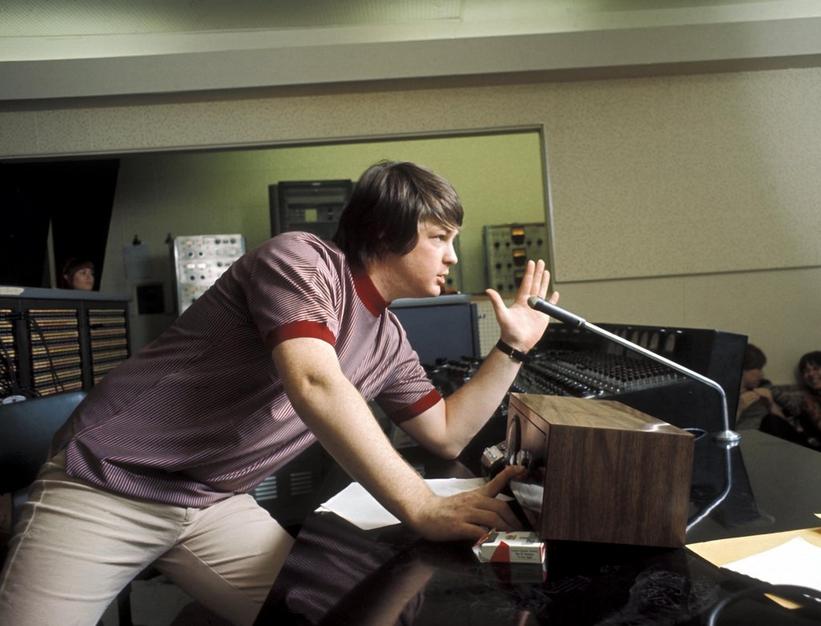 Brian Wilson recording 'Pet Sounds' in 1966
Photo: Michael Ochs Archives/Getty Images
feature
How Brian Wilson Crafted The Beach Boys' Early Sound: A Symphony Of Inspirations, From Boogie-Woogie To Barbershop
Weaving together never-before-synthesized elements, the Beach Boys were a totally singular creation from the jump — and Brian Wilson is the primary man to thank.
GRAMMYs
/
Mar 31, 2023 - 02:28 pm
Updated Monday, May 22, to include information about the re-air date for <a href="https://www.grammy.com/news/grammy-salute-beach-boys-2023-cbs-how-watch "https://www.grammy.com/news/grammy-salute-beach-boys-2023-cbs-how-watch"">"A GRAMMY Salute To The Beach Boys."
<a href="https://www.grammy.com/news/grammy-salute-beach-boys-2023-cbs-how-watch "https://www.grammy.com/news/grammy-salute-beach-boys-2023-cbs-how-watch"">"A GRAMMY Salute To The Beach Boys" will re-air on Monday, May 29, at 9 p.m. ET/PT on the CBS Television Network, and will be available to stream live and on demand on Paramount+.
Pardon the non-oceanic metaphor, but imagine the Beach Boys' original sound as a pot of stew.
There's a mess of various ingredients, but the taste is unified and comforting. Generally speaking, you don't enjoy this dish — or this band's early hits — on an analytical, academic level; both simply provide a wave of sensation and association. Both just feel good.
Likewise, America's Band's early sound was singular, a blast of pure feeling. But the veneer of simplicity belies that they drew it from a dizzying number of directions — long before they reached their innovative peak with Pet Sounds and its never-finished follow-up, Smile.
Just unpack "Surfin' USA," generally thought of as simple, straightforward fun: it's a Chuck Berry melody and riff, a surfing lyric and theme, the gleaming harmonies from the Four Freshmen and any number of doo-wop greats. They were all in the public consciousness, but nobody had synthesized them in this particular way until Brian Wilson came along.
To bring up Pet Sounds and Smile again: there's no dearth of reportage, nor musings, on how the Mozart of pop/rock worked his spellbinding magic. But how Wilson managed to craft the Beach Boys' early sound is just as flabbergasting.
For a full-throttle trip through the fruits of that inspiration, look no further "A GRAMMY Salute To The Beach Boys," a two-hour tribute special featuring a lineup of heavy hitters, including John Legend, Brandi Carlile, Beck, Fall Out Boy, Mumford & Sons, LeAnn Rimes, St. Vincent, Weezer, and many more. <a href="https://www.grammy.com/news/grammy-salute-beach-boys-2023-cbs-how-watch "https://www.grammy.com/news/grammy-salute-beach-boys-2023-cbs-how-watch"">"A GRAMMY Salute To The Beach Boys" will re-air on Monday, May 29, at 9 p.m. ET/PT on the CBS Television Network, and will be available to stream live and on demand on Paramount+.
From the beginning, Wilson connected with the strengths of each member: basso profundo Mike Love's wordplay and swagger; brother Carl's punchy midrange and gleaming guitar; resident folkie Al Jardine's earthiness and likeability; brother Dennis' straightforward attack on the drums, powering the whole operation. (Within a few years of their inception, Dennis would blossom as a lead vocalist and songwriter in his own right.)
How did Wilson and the other Beach Boys absorb the raw ingredients of their sound — surf music, doo-wop, boogie-woogie, rhythm and blues? By having big ears, and bigger imaginations.
Right as he turned double-digits, Wilson began experimenting with various instruments — ukulele, accordion — but the piano was the skeleton key. Brian, Carl and Dennis' infamous-yet-galvanizing father, Murray, was a struggling songwriter who played piano; the family instrument became a tool for Wilson to analyze and dissect what crossed his consciousness on the radio.
"[I] started picking out the melodies of songs that I heard on the radio," Wilson recalled in his 2016 memoir, I Am Brian Wilson, citing tunes by the Chordettes, the Hi-Los, Nat King Cole, and more. Harmony singing soon grabbed his attention. The Four Freshmen were also something of an obsession, particularly for the colors in their harmonies.
"I tried to understand the way their voices were working," he continued. "To take their songs apart like they were clocks and then rebuild them for me and Dennis and Carl." The latter brother connected deeply with Black R&B, like the Penguins and Johnny Otis: "We had never heard anything like it," Wilson wrote. "They were just as sophisticated as the Four Freshmen, but different."
A harbinger of Pet Sounds-era Wilson: Murray would bring tape machines home, and Wilson seized upon their possibilities: not just as a method of getting ideas down, but for overdubbing. In the book, Wilson describes the first "real song" he ever wrote as the still-luminous "Surfer Girl," which drew inspiration from "When You Wish Upon a Star." It's hard to imagine him splicing that DNA without these simple machines.
Dennis, the only surfer in the group, added the ingredient that made everything else pop: his experiences within surf culture. This not only gave the nascent Beach Boys — formerly the Pendletones — a thesis and mission statement. Their embrace of surf culture made the separate components explode into something entirely new.
The rest is history: Wilson rapidly developing into a studio maven far beyond his years, a la Phil Spector; the introduction of avant-garde and classical elements in Pet Sounds and Smile; folk elements undergirding the spectacular Sunflower; Wilson digging into his California roots as an elder statesman on 2008's underrated That Lucky Old Sun.
And none of it would have happened if Wilson hadn't surveyed the ingredients at his disposal, as a very young man— and wove them into a symphony of flavors the world will never forget.
10 Memorable Oddities By The Beach Boys: Songs About Root Beer, Raising Babies & Ecological Collapse