(L-R Front Row) Kyla Marshell, Jen Shyu, Mariana Meraz, Shanta Nurullah, Devon Gates, Jessica Ackerley, Leonor Falcon. (L-R Back Row) Sara Serpa, Fay Victor, Sumi Tonooka, Caroline Davis, Goussy Célestin, Maya Keren, Eden Girma, Ruth Naomi Floyd, Naomi Moon Siegel, Erica Lindsay.
Photo courtesy of M3 — Mutual Mentorship For Musicians
feature
Women And Gender-Expansive Jazz Musicians Face Constant Indignities. This Mentorship Organization Is Tackling The Problem From All Angles.
Mutual Mentorship for Musicians — or M³ — offers an alternative to the often chauvinistic, corrosive power structures in the jazz world. Better yet, they're far from alone.
GRAMMYs
/
Aug 24, 2022 - 07:07 pm
Romarna Campbell had a sneaking suspicion that she was being tokenized. So she decided to indulge in a little mischief.
When the UK-based drummer was commissioned for a piece, she noticed something was off. Her male counterpart had received a detailed prompt; Campbell just got a bare request for music. "There was no guidance. There was no, 'We would like it in this space, or to be inspired by this,'" she tells GRAMMY.com. "They were very much more interested in having press shots and biographies than they were in this commission."
Campbell felt blithely compartmentalized — an unwilling vessel for a performative gesture. "It baffles me that you could reduce my art solely to me being Black or being a woman because it ticks a box for you somewhere," she continues. "And probably a funding box as well." To get one over on them, Campbell submitted the most rudimentary, half-baked music she could drum up — mostly some MIDI loops with rotten harmonies.
And, of course, it was accepted enthusiastically.
"During my friend's commission, he was sending them parts and they would give him feedback," she says. "I sent them this trash commission, and they sent me this really happy email that was like, 'Oh, Romarna, we're so grateful for your artistry.'" Campbell called out the commissioners, directing them to her Bandcamp stuffed with fully conceptualized and executed works as a point of reference.
When they requested a new composition, Campbell asked for more money — as she'd held up her end of the contract — which they couldn't, or wouldn't, give. And when they asked for a meeting about her experience to ascertain how they could improve it, Campbell refused.
"I'm not a cultural or diversity consultant," she says. "So, why is that my responsibility for an organization that's trying to say that they have this diverse roster of musicians and composers?"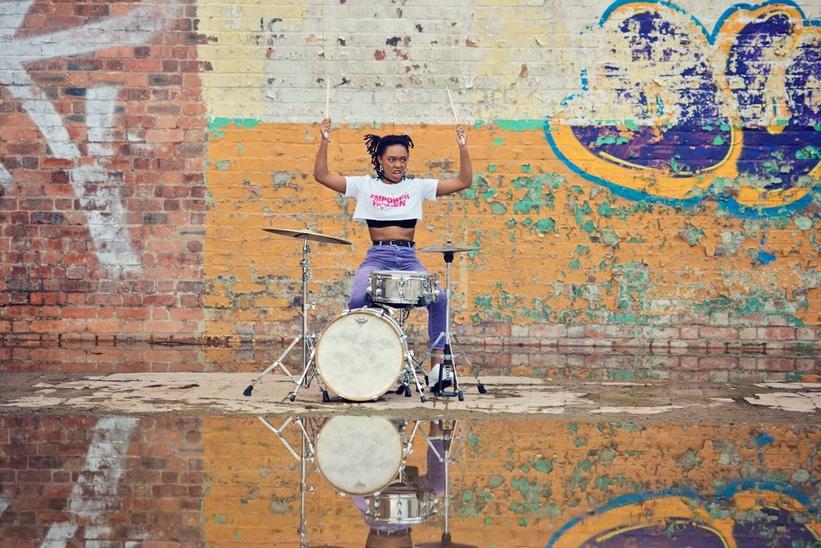 Romarna Campbell. Photo: Iza Korzack
Campbell's story resonates because it bears so many hallmarks of what women and gender-expansive musicians face in jazz and creative-music spaces: tokenism, patronization, a request to "educate" those perpetrating such attitudes. This is ironic given how couched in progressive politics and academia this world is — imbued with an intellectual air.
Granted, women and gender-expansive musicians have made strides over the decades. Not only are brilliant yet underheralded artists of yore like Mary Lou Williams, Geri Allen and Lil Hardin increasingly venerated, analyzed and discussed, but the pages of magazines like DownBeat and JazzTimes are full of women and non-cis, non-hetero musicians.
But in almost every sector of the jazz world, there's a long way to go — from how writers talk about women, to fair representation on festival lineups, to interpersonal interactions at residencies and workshops, and so on. 
That's why Campbell joined up with M³, or Mutual Mentorship for Musicians — a community meant to establish "a new model of mentorship" that elevates women and gender-expansive musicians, while offering chances for unique, collaborative commissions.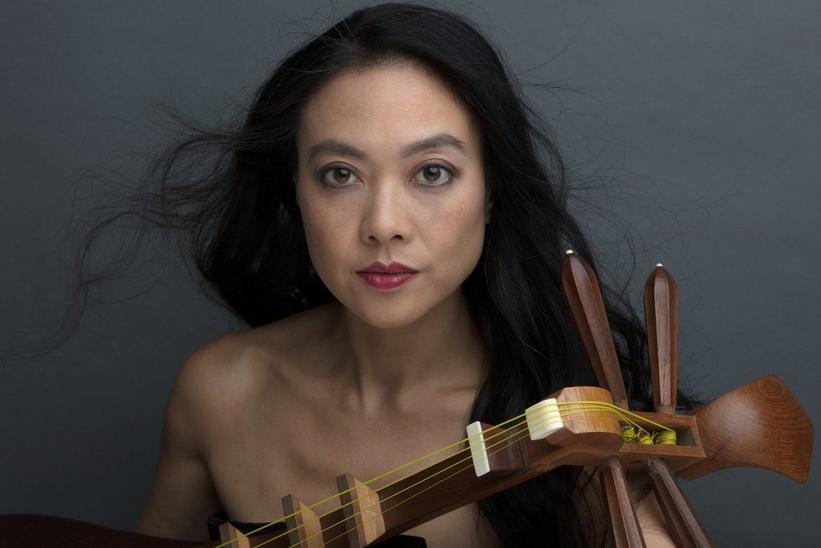 Jen Shyu, a co-founder of M³. Photo: Daniel Reichert
Founded by musicians Jen Shyu and Sara Serpa in 2020, M³ is just one of a host of jazz-adjacent organizations offering an alternative to outdated and occasionally corrosive systems of gatekeeping, hierarchy and exclusion.
Because of the sheer diversity of its members' creative and cultural backgrounds, M³ provides a wellspring of insight. Across a litany of interviews with its members, common themes emerge — identifying fundamental issues, but also potential solutions.
"I think part of it needs to be developed on a grassroots level, on a community level, and even moreso on a structural and cultural level — where the culture starts to shift in terms of it being a male-driven community and culture," saxophonist and composer Caroline Davis tells GRAMMY.com. "This patriarchal, boys' club situation."
Speaking Mindfully
In Davis' view, a possible first step to challenging that paradigm is simply being mindful of the way we talk to each other in the jazz community — including who gets the often bandied-upon designator of "genius."
"Older women are not geniuses, but older men are always geniuses and they have their following," Serpa notes. "And I'm not talking about people in the mainstream or who have access and resources. We have had musicians in our cohorts that have been on the scene for 30, 40 years. Even us — we haven't heard of them."
Plus, in the jazz community, especially adept players are often described as "killing" or "murdering" or "taking no prisoners." Obviously, nobody means that literally, and it's generally meant as a term of endearment or admiration. Still, Davis says, speech like that can alienate in surprising ways — and not simply due to varying tastes or sensibilities.
"It could be as simple as us shifting our language to include less brutalized words," she continues. "Maybe that seems performative, but I think it actually makes a huge difference to shift the way we talk about music, and the way people are sharing music."
Guitarist and composer Jessica Ackerley agrees: "Everything is rooted in harming other people," they tell GRAMMY.com. "Which is completely ridiculous."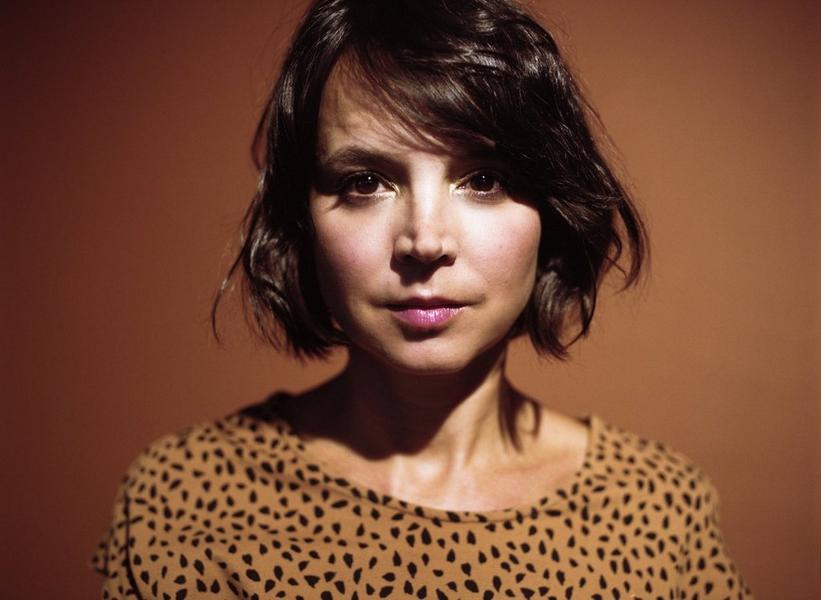 Sara Serpa, a co-founder of M³. Photo: Ebru Yildiz
To fellow M³ member Anjna Swaminathan, this doesn't just serve to swerve around sensitivities — it offers a more holistic and inclusive model of success that doesn't just mean brute athleticism and might.
"It becomes this ego fest of how fast you can play, how complex you can get, how many polyrhythms you can learn," Swaminthan, a multidisciplinary artist, tells GRAMMY.com. "Straight, cis, white men who probably thought that they were happy with that success — they themselves will be able to heal, because we are offering another option."
But a need for more thoughtful language doesn't just extend to the classroom, or backstage, or in private conversation; it applies to how journalists write about musicians who aren't straight, white males.
Sticking To The Music — And Dispensing Of Boxes
In features, profiles and reviews, wrongheaded writing usually goes in one of two directions. The first is an example of old-school chauvinism — a writer salivating over a femme-presenting person's appearance before dealing with their art in any meaningful way.
The second is shoehorning them into readymade categories — even, or especially, when it's to a "progressive" end. Miriam Elhajli, a singer, composer and improviser who uses she/they pronouns, recalls one particularly off-putting exchange to this end.
"Someone was trying to write this article about me, and they were like, 'Well, tell me about your sexuality. What are your pronouns?' And I was just like, 'Honestly, dude, this has nothing to do with the music," she tells GRAMMY.com. "I don't want to tell you any of that s—t because it has nothing to do with it."
Elhajli goes on to question the idea of "having my moment to shine" — just because they happen to fit in a category of marginalized people at a convenient time.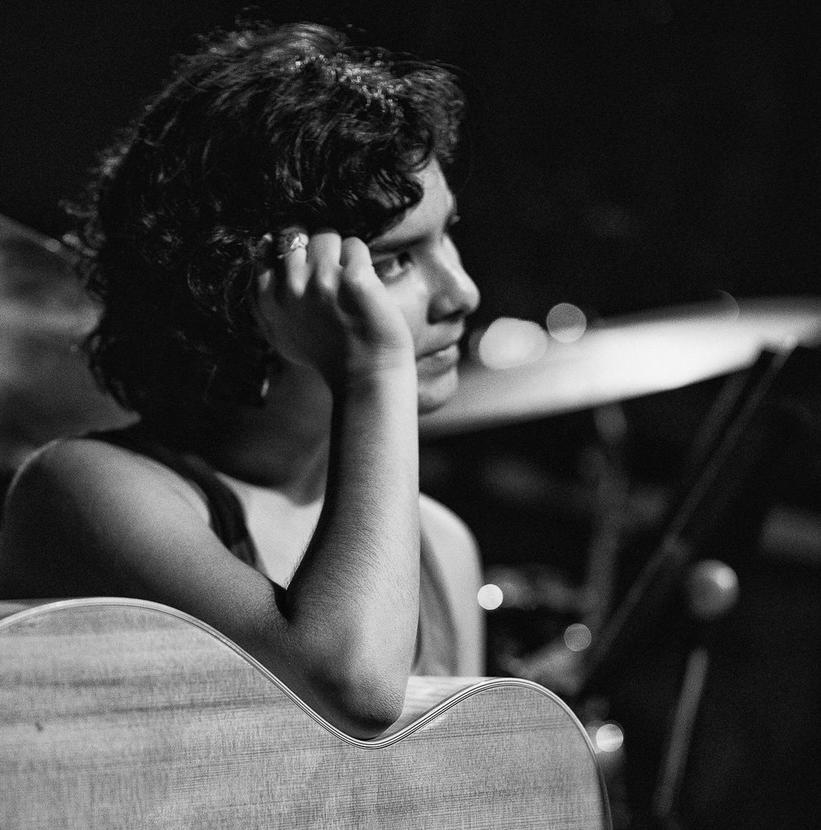 Miriam Elhajli. Photo: Daniel Katzenstein
"There's boundaries, and there's a personal life too," they say. "I don't want to be pigeonholed. I contain multitudes. Why should I have to adhere to any identity politics? Identity politics are just getting really claustrophobic right now for me. We're missing the plot a little bit."
Campbell's thinking would seem to jibe with this; she highlights how attempts at inclusivity can tip over into reductionism. This aligns with M³'s grander aim — not to divide musicians by perceived degrees of marginalization, but reflect the reality on the ground and open doors for talent from all walks of life.
"Maybe we can have a relationship between macho [behavior] and jazz in the history of jazz," pianist and composer Paula Shocron, who hails from Buenos Aires, tells GRAMMY.com. "But if you go to the States and see the jazz scenes, it's not the same."
"I just want to make it clear that we're not, in doing this mutual mentorship for musicians program, [we're not making] an effort to eschew or exclude anyone," Davis adds.
As Shyu puts it to GRAMMY.com, "It's important to educate, but, at some point people have to educate themselves. We've made this model of M³. We want people to embrace that and make their own mentorship models. But at some point, don't the men and the white cis males, need to also have these conversations?
"It's more of an effort to say, 'Come along with us," Davis adds. "We're all here trying to fight this together, and we need everyone.'" This doesn't only apply to M³, but all the other organizations in their constellation trying to make jazz and creative music a fairer, more holistic place.
A Constellation Of Initiatives
Next Jazz Legacy, an apprenticeship program for women and nonbinary musicians, helmed by The New Music USA organization and Berklee Institute of Jazz & Gender Justice, is pushing for the same outcome.
"We not only have to face the facts that misogyny and sexism are still very much a part of the music industry," Terri Lyne Carrington, a GRAMMY-winning drummer and Next Jazz Legacy's artistic director, said in 2022. "We have to change the systems and patterns that have remained oppressive in order for the music to fully flourish and match how humanity is evolving."
When Kris Davis, a pianist and composer at the cutting edge of the New York scene, got the call from Carrington about Next Jazz Legacy, she felt close to tears.
"I thought, 'Wow, she's really going to make a difference. The mentors are super famous musicians,'" she tells GRAMMY.com. "And whether people know about the grant or not, they're going to see these young people's names next to these incredible mentors — and that's saying something to the community." (Today, she's on the advisory board.)
Linda May Han Oh, an Australian bassist who works in an apprenticeship role at Next Jazz Legacy, views these dovetailing initiatives as working in parallel with women's and LGBTQ+ rights writ large — including transforming gender roles and the right to vote.
"It's always been a very traditional role for a woman to be a wife, to be a mother, to stay at home while the male, the husband, works and tours and brings in the money," she tells GRAMMY.com. "And I think that in itself lends itself to inequality or inequity."
Oh impresses upon her students the importance of cultivating "your own resilience and your resourcefulness in a way that you can be as independent as you possibly can," she says. "It's a combination of grit, but also flexibility."
Also of note is jazz luminary Dee Dee Bridgewater's Woodshed Network Residency, which focuses on connecting, supporting and educating women and non-gender-conforming artists. In an interview with JazzTimes, Bridgewater's daughter and manager, Tulani, who co-founded the residency, cited "an appreciation for the gift of mentorship I've received at various junctures."
"I've tried to give back along the way," she added. "But this opportunity created by my greatest mentor, my mother, offered a concrete and focused way to pay that forward."
Speaking with GRAMMY.com, the elder Bridgewater — a two-time GRAMMY winner — explains her unique, pragmatic approach to mentoring young women.
"I decided that I would concentrate on the business aspect of the music industry and try and give women a kind of head start for their careers," she says, "knowing that they would have all the information that they needed to have a career, to start a career, or to take the career to the next level — if they already had one started, but it was kind of faltering.
"It was born out of a kind of necessity," she continues. And if you wonder where rising musicians like saxophonist Lakecia Benjamin and bassist Amina Scott got their launchpad, thank Dee Dee Bridgewater for recognizing that necessity.
Going Global
These types of programs are far from exclusively stateside affairs. REVA Inc, a Brooklyn-based nonprofit with an aim to "develop art experiences that educate, inspire and heal people and communities," has a purview reaching as far as South Africa.
And the seed was an online hang during the pandemic, facilitated by their co-artistic director — tenor saxophonist, pianist and composer Jessica Jones, who also has run JazzGirls Day at Jazz at Lincoln Center in New York. The name? Global JazzWomenHang.
Soon, it was wholeheartedly embraced by a number of women from a South African jazz camp, Jazz Camp for Female Instrumentalists Mamelodi, and eventually hosted by one of the camp's founders, bassist and composer Sibongile Buda.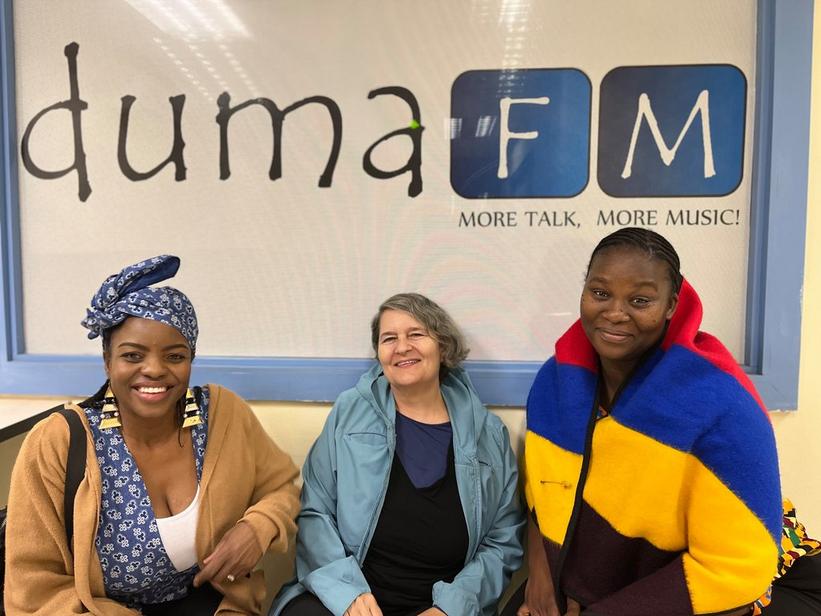 Akhutleleng Kekwaletswe, Jessica Jones and Sibongile Buda. Photo: Leroy Nyoni
When the pandemic made live performance impossible, Buda saw an opportunity. "[We searched] for a bigger concept of performance that could incorporate people in different countries," she tells GRAMMY.com. "And also show how the number of women has increased in all the countries that we kind of tapped into."
The online collaboration network eventually blossomed into a real-life festival in Botswana, helmed by Buda, Jones and saxophonist and music teacher Akhutleleng Kekwaletswe. A preceding one-day workshop arranged by Kekwaletswe found more than 50 girls on different instruments; the festival itself involved 24 women on stage.
"The future is very bright, That's a very common line in Botswana: 'The future is bright,' meaning that you see some hope," Kekwaletswe says. "There is a lot of positivity and positive energy towards what we are doing."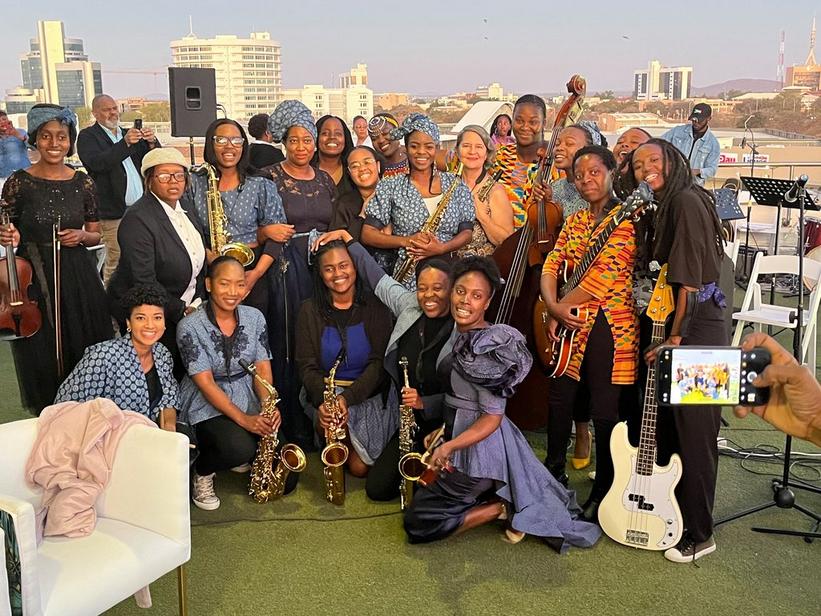 The complete festival lineup. Photo: Nthabiseng Segoe
Throughout the jazz ecosystem, this mission has serious wind in its sails. To say nothing of the Women in Jazz Organization (WIJO), whose membership has a significant overlap with M³ and Next Jazz Legacy. Among WIJO's mentorship class are Carrington, Caroline Davis, pianists Helen Sung and Marta Sanchez, trumpeter Bria Skonberg, and other modern greats.
"The impact that being a woman has on your pursuit of a jazz career can't be boiled down into one issue, nor should it," WIJO's founder, saxophonist Roxy Coss, told DANSR. Therein, she noted the multitude of indignities often involved: microaggressions, exclusions, discouragements, dismissals. "The fact of being a woman affects your experience entirely, and the specific ways it affects one's pursuit are often unnoticed, even by the woman herself."
This may hold true on stages, in conservatories, and in classrooms, and we've assuredly got a long way to go. But, rest assured: as this field goes, we've got our best and brightest on the case. And few who behold them on the bandstand would dare to say otherwise.
The Real Ambassadors At 60: What Dave Brubeck, Iola Brubeck & Louis Armstrong's Obscure Co-Creation Teaches Us About The Cold War, Racial Equality & God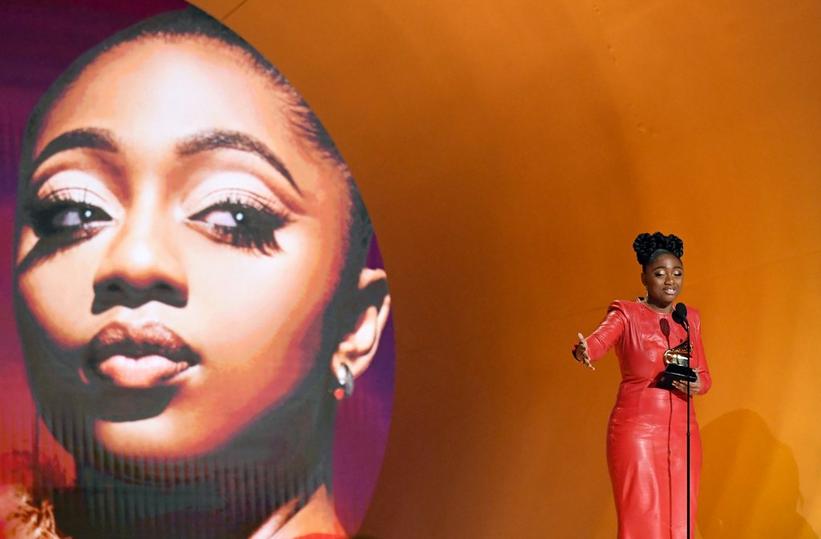 Samara Joy at the 2023 GRAMMYs
Photo: JC Olivera/WireImage via Getty Images
feature
Samara Joy Won Best New Artist At The 2023 GRAMMYs. What Could It Mean For The Wider Jazz Community?
The jazz-vocal phenom won big at the 2023 GRAMMYs, including a golden gramophone for Best New Artist. This could have a dramatic effect on an essential and primary yet too-often marginalized genre.
GRAMMYs
/
Feb 24, 2023 - 03:35 pm
When young jazz luminary Samara Joy accepted a golden gramophone for Best New Artist at the 2023 GRAMMYs, the sequence of expressions that flitted across her visage seemed to cover the entire spectrum of feeling.
The 23-year-old vocalist born Samara Joy McLendon had already won a GRAMMY for Best Jazz Vocal Album at the Premiere Ceremony, for her acclaimed second album and Verve debut, Linger Awhile. This win during the CBS telecast was an entirely different beast. 
The artist who just a few years ago had been a promising undergrad and audibly nervous on the phone now stood onstage at the Crypto.com arena before global megastars from Taylor Swift to Lizzo to Adele — not to mention 12.55 million people at home.
Speaking to GRAMMY.com in its wake, Joy likened the experience to living "in a parallel universe or a movie."
"I'm still in shock and disbelief because I truly didn't think that I would be in the position to receive such an honor," Joy said of the Best New Artist win, where she forged ahead of fellow nominees like Brazilian star Anitta, genre-blending singer/songwriter Omar Apollo, British indie oddballs Wet Leg, and her fellow rising jazzers DOMi & JD Beck.
"I am, however, grateful for the honor, because it reassures me of the fact that I want to continue pursuing music and growth as a musician," Joy continued. "This signifies the beginning of a musical journey that I'm nervous but excited to embark on."
While Joy's  post-show comments focused on her continued development as an artist, the effect of her win quickly became conspicuous. Less than two weeks after the Feb. 5 ceremony, she appeared on "The Tonight Show Starring Jimmy Fallon" to perform the recitative standard and Linger Awhile cut "Guess Who I Saw Today."
But it's worth considering what this General Field win means not only for Joy, but the jazz community writ large. Like other genres that appear deeper down the GRAMMY nominees list — from classical to reggae to spoken word — jazz can be treated as a little niche, partitioned off into a corner of the music landscape. Even the most heralded rising talents seldom rocket to celebrity status.
It's only once in a while that jazz completely and utterly perforates the mainstream — like in 2020, when Pixar's Soul was released, featuring consulting work from real-deal musicians from deep in the NYC scene, like Jon Batiste and Terri Lyne Carrington.
Some of these breakthroughs have happened at the GRAMMYs. In 2003, the charismatic and versatile Norah Jones swept the General Field, winning GRAMMYs for Best New Artist, Album Of The Year (for Come Away With Me) and Record Of The Year (for "Don't Know Why"), on top of wins for Best Pop Vocal Album and Best Pop Vocal Performance.
Five years later, Herbie Hancock — one of the most brilliant harmonic thinkers of the 20th century, and 21st — won Album Of The Year for River: The Joni Letters, his tribute to his old collaborator and fellow game-changing genius Joni Mitchell. In that category, the album beat out Kanye West's Graduation and Amy Winehouse's Back to Black.
In 2011, bassist, composer and vocalist Esperanza Spalding won Best New Artist and has been a steady presence at the GRAMMYs ever since, winning right up to the 2022 GRAMMYs (Best Jazz Vocal Album, for SONGWRIGHTS APOTHECARY LAB) and landing a nomination for Best Jazz Instrumental Album for her work with Wayne Shorter, Terri Lyne Carrington, and Leo Genovese on that year's Live at the Detroit Jazz Festival.
Additionally, at the 2022 GRAMMYs, Lady Gaga paid tribute to her collaborator, Tony Bennett, with a performance of "Love for Sale" and "Do I Love You" — both from their final duets album, which won Best Traditional Pop Vocal Album at that year's ceremony. (Previously, their album Cheek to Cheek won in the same category, at the 2015 GRAMMYs.)
On top of all that, other crossover artists with jazz connections, from Jacob Collier to Robert Glasper to Thundercat, have made big splashes at Music's Biggest Night.
Despite operating under the "jazz" umbrella, all these artists are wildly divergent in almost every possible way. Joy is connected to a jazz-vocal tradition that snakes way back in history, back to when her heroes like Sarah Vaughan, Ella Fitzgerald and Carmen McRae were dropping jaws.
"I'm overjoyed at Samara's success. But not surprised," Lisa Goich-Andreadis, the Director of Awards and Jazz Genre Manager at the Recording Academy, tells GRAMMY.com. "The first time I heard her voice, I couldn't believe that it was coming out of a 22-year-old. It has the richness and depth of the legends that came before her. She channels something out of another era. Her rise is well-deserved."
What makes Joy fresh is that it's her doing this music, channeling it through her vibrant abilities and irresistibly vivacious spirit. There are a lot of singers doing standards, but there's only one Joy. 
"She f—ing deserves it, man," pianist Geoffrey Keezer, who took home a GRAMMY for Best Instrumental Composition at the same ceremony, tells GRAMMY.com. "She can sing her butt off, and I don't know her personally, but from everything I see, she seems like a really nice person, and really humble and down-to-earth. I think it's fantastic."
Keezer sees Joy's triumph at the 2023 GRAMMYs as a reminder, loud and clear, that jazz is no antiquated or peripheral artform. Rather, it is a vibrant and alive genre very much in the now. 
"The whole umbrella genre is Black American Music, and jazz is the branch of it that has a swing beat," he explains. "So, it's just as current and relevant as anything else. There's all these different branches of the same tree. When the one that swings wins, it's just nice to have that recognized as: Yes, we're still here. This is still part of it, and it's important, and it's where it all came from."
To Goich-Andreadis, Joy's win is significant because it shows that she's being noticed by a wide audience far afield from the jazz community — including that of such esteem as the pre-GRAMMYs MusiCares Persons Of The Year event, which honored Motown titans Berry Gordy and Smokey Robinson.
"She received a rousing standing ovation by the crowd, with honorees Berry Gordy and Smokey Robinson leading the way," Goich-Andreadis remembers of her performance. "It's great to see a representative from this genre touching so many with her talent."
Keezer views Joy's ascent as part of a greater mass of acknowledgement, including that of Spalding, Hancock, and five-time GRAMMY winner Billy Childs — a rising tide that lifts all boats. "I think cumulatively, it opens doors," he says. "It gives the general public, I almost want to say, permission to like this music and think it's cool.
"Audiences are smart, man. People want to hear good musicianship," he continues. "You watch the Olympics to see Simone Biles, or tennis to see Serena Williams, or whatever. You want to see human excellence in real time, in front of your eyes. So, that's what we're seeing with Samara Joy. She's the real deal, and she's doing it right in front of you with no gimmickry and no Auto-Tune."
As to the wider impact of her big wins, Joy can't prognosticate. She only hopes to move the needle.
"I hope that this win means that jazz musicians will be paid a bit more attention and respect for their contributions to music as a whole," Joy says. "It really is a wonderful community that deserves some more shine than it's been given. It's a small step but a step nonetheless."
No matter what happens, perhaps the essence of this victory is simply that the flame is proudly preserved and bore by a worthy ambassador. "Samara is carrying on this very treasured and important musical tradition," Goich-Andreadis says. "Jazz is America's gift to the world."
No Accreditation? No Problem! 10 Potential Routes To Get Into Jazz As A Beginner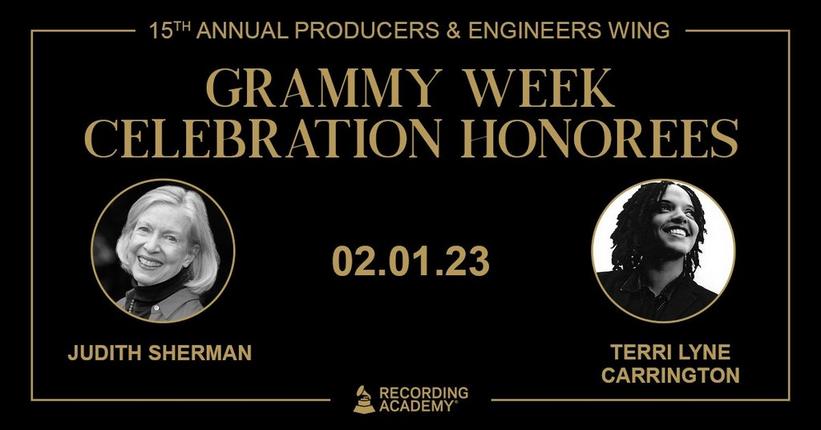 (L-R): Judith Sherman, Terri Lyne Carrington
Source Photos (L-R): Courtesy of the Recording Academy® / Photo by Jason Kempin for Getty Images © 2023; Courtesy of the Recording Academy® / Photo by Alexandra Wyman for Getty Images © 2023
news
The Recording Academy Producers & Engineers Wing To Honor Trailblazers Terri Lyne Carrington And Judith Sherman
The Recording Academy's Producers & Engineers Wing will honor three-time GRAMMY winner Terri Lyne Carrington and revered classical producer and 13-time GRAMMY winner Judith Sherman at its annual GRAMMY Week event in February.
GRAMMYs
/
Jan 6, 2023 - 02:00 pm
The Recording Academy has announced Terri Lyne Carrington and Judith Sherman as honorees for their accomplishments as pioneering women in jazz and classical music. They will be honored at the Recording Academy Producers & Engineers Wing GRAMMY Week Event on Feb. 1 at The Village Studios in Los Angeles. The 15th annual event will return in-person for the first time since 2020, to kick off GRAMMY Week 2023. 
In addition to celebrating the achievements of three-time GRAMMY winner Terri Lyne Carrington and revered classical producer and 13-time GRAMMY winner Judith Sherman, the event will celebrate the year-round work of the Producers & Engineers Wing and its members. They advocate for excellence and best practices in sound recording, audio technologies and education in the recording arts, along with proper crediting, recognition and rights for music creators.
"We're thrilled to return live to The Village Studios for the first time in three years to celebrate two groundbreaking music creators who are dedicated to innovating both creatively and technically in the recording field," said Harvey Mason jr., CEO of the Recording Academy. "Both Terri Lyne and Judith have made indelible contributions to music, and we look forward to bringing together producers, engineers and artistic professionals to honor these incredible artists and kick off our GRAMMY Week celebrations."  
Terri Lyne Carrington is an NEA Jazz Master, Doris Duke Artist, and three-time GRAMMY-winning drummer, composer, producer, and educator. She is the founder and artistic director of the Berklee Institute of Jazz and Gender Justice, as well as the artistic director for both Next Jazz Legacy program (a collaboration with New Music USA) and the Carr Center in Detroit. She has performed on more than 100 recordings over her 40-year career and has toured and recorded with luminaries such as Herbie Hancock, Wayne Shorter, Stan Getz, Esperanza Spalding, and numerous others.
Her artistry and commitment to education has earned her honorary doctorates from York University, Manhattan School of Music and Berklee College of Music, and her curatorial work and music direction has been featured in many prestigious institutions internationally. The critically acclaimed 2019 release, Waiting Game, from Terri Lyne Carrington + Social Science, earned the esteemed Edison Award for music and a GRAMMY nomination. In the fall of 2022, she authored two books, Three of a Kind (The AllenCarringtonSpalding Trio) and the seminal songbook collection, New Standards: 101 Lead Sheets By Women Composers. Her current GRAMMY-nominated album, New Standards Vol.1 (Candid Records), and her visual art curatorial debut at Detroit's Carr Center, Shifting the Narrative Part 1: New Standards, have accompanied the songbook release as part of the Jazz Without Patriarchy Project. 
Carrington is a 2022 inductee into the American Academy of Arts and Sciences and is co-executive producer and musical director for the newly formed Jazz Music Awards.
Judith Sherman has made an indelible contribution to the catalog of recorded classical music. 
She is an 18-time GRAMMY Award nominee and 13-time GRAMMY winner, including six GRAMMYs for Producer Of The Year, Classical (at the 36th, 50th, 54th, 57th, 58th, and 64th GRAMMY Awards). Early in her career she was employed at WBAI-FM in New York City, beginning as an engineer and over the course of four years working her way up to become producer and then music director. She was the recording engineer for the Marlboro Music Festival in Vermont during the summers of 1976 through 1994 and worked as audio faculty at the Banff Centre in 2006 and 2008. A member of the board of directors of Chamber Music America, Sherman served first as secretary in 2002, and thereafter as vice president. She currently works as a freelance recording producer and engineer in New York.
Sherman has collaborated with a vast number of artists throughout her career including Rudolf Serkin, Ursula Oppens, Marc-André Hamelin, Llŷr Williams; with the Kronos Quartet and the Cleveland, Ying, Takács, and Pacifica String Quartets; with eighth blackbird and the American Brass Quintet; and with conductors such as Christoph Eschenbach, Donald Runnicles and David Zinman. Her recordings in the field of contemporary classical music have been particularly noted, including work with such composers as Steve Reich, Elliott Carter, Steve Mackey, Charles Wuorinen, John Adams, Shulamit Ran, David Rakowski, Philip Glass, Eric Moe, Joan Tower, and Terry Riley. Her recordings have appeared on many labels, including Nonesuch, Telarc, Cedille, New World, Avie, Albany, Signum, Hyperion, and Bright Shiny Things. 
"The Producers & Engineers Wing is privileged to pay tribute to two women who have pushed boundaries both in and outside of the studio," said Maureen Droney, Vice President of the Producers & Engineers Wing. "As GRAMMY nominees this year, Terri Lyne and Judith are awe-inspiring honorees who represent the best of the recording industry and whose contributions to their respective genres continue to resonate with our music community."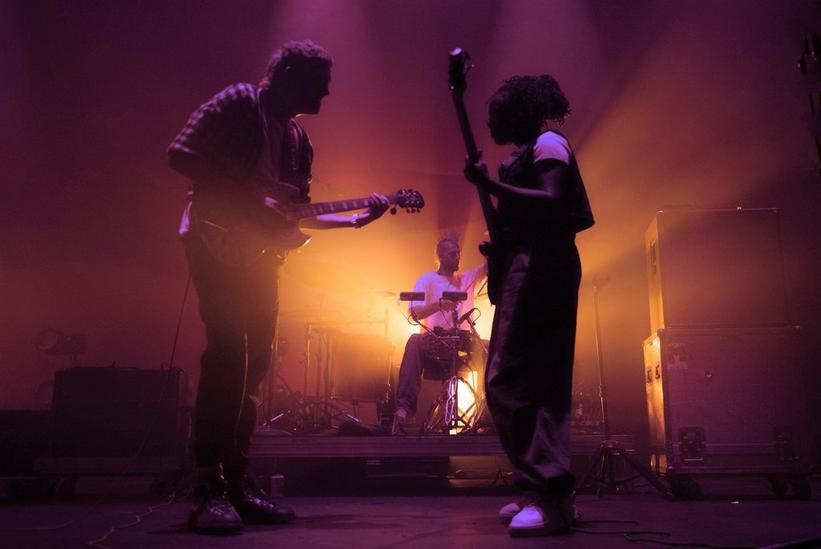 list
A Guide To Modern Funk For The Dance Floor: L'Imperatrice, Shiro Schwarz, Franc Moody, Say She She & Moniquea
James Brown changed the sound of popular music when he found the power of the one and unleashed the funk with "Papa's Got a Brand New Bag." Today, funk lives on in many forms, including these exciting bands from across the world.
GRAMMYs
/
Nov 25, 2022 - 04:23 pm
It's rare that a genre can be traced back to a single artist or group, but for funk, that was James Brown. The Godfather of Soul coined the phrase and style of playing known as "on the one," where the first downbeat is emphasized, instead of the typical second and fourth beats in pop, soul and other styles. As David Cheal eloquently explains, playing on the one "left space for phrases and riffs, often syncopated around the beat, creating an intricate, interlocking grid which could go on and on." You know a funky bassline when you hear it; its fat chords beg your body to get up and groove.
Brown's 1965 classic, "Papa's Got a Brand New Bag," became one of the first funk hits, and has been endlessly sampled and covered over the years, along with his other groovy tracks. Of course, many other funk acts followed in the '60s, and the genre thrived in the '70s and '80s as the disco craze came and went, and the originators of hip-hop and house music created new music from funk and disco's strong, flexible bones built for dancing.
Legendary funk bassist Bootsy Collins learned the power of the one from playing in Brown's band, and brought it to George Clinton, who created P-funk, an expansive, Afrofuturistic, psychedelic exploration of funk with his various bands and projects, including Parliament-Funkadelic. Both Collins and Clinton remain active and funkin', and have offered their timeless grooves to collabs with younger artists, including Kali Uchis, Silk Sonic, and Omar Apollo; and Kendrick Lamar, Flying Lotus, and Thundercat, respectively.
In the 1980s, electro-funk was born when artists like Afrika Bambaataa, Man Parrish, and Egyptian Lover began making futuristic beats with the Roland TR-808 drum machine — often with robotic vocals distorted through a talk box. A key distinguishing factor of electro-funk is a de-emphasis on vocals, with more phrases than choruses and verses. The sound influenced contemporaneous hip-hop, funk and electronica, along with acts around the globe, while current acts like Chromeo, DJ Stingray, and even Egyptian Lover himself keep electro-funk alive and well.
Today, funk lives in many places, with its heavy bass and syncopated grooves finding way into many nooks and crannies of music. There's nu-disco and boogie funk, nodding back to disco bands with soaring vocals and dance floor-designed instrumentation. G-funk continues to influence Los Angeles hip-hop, with innovative artists like Dam-Funk and Channel Tres bringing the funk and G-funk, into electro territory. Funk and disco-centered '70s revival is definitely having a moment, with acts like Ghost Funk Orchestra and Parcels, while its sparkly sprinklings can be heard in pop from Dua Lipa, Doja Cat, and, in full "Soul Train" character, Silk Sonic. There are also acts making dreamy, atmospheric music with a solid dose of funk, such as Khruangbin's global sonic collage.
There are many bands that play heavily with funk, creating lush grooves designed to get you moving. Read on for a taste of five current modern funk and nu-disco artists making band-led uptempo funk built for the dance floor. Be sure to press play on the Spotify playlist above, and check out GRAMMY.com's playlist on Apple Music, Amazon Music and Pandora.
Say She She
Aptly self-described as "discodelic soul," Brooklyn-based seven-piece Say She She make dreamy, operatic funk, led by singer-songwriters Nya Gazelle Brown, Piya Malik and Sabrina Mileo Cunningham. Their '70s girl group-inspired vocal harmonies echo, sooth and enchant as they cover poignant topics with feminist flair.
While they've been active in the New York scene for a few years, they've gained wider acclaim for the irresistible music they began releasing this year, including their debut album, Prism. Their 2022 debut single "Forget Me Not" is an ode to ground-breaking New York art collective Guerilla Girls, and "Norma" is their protest anthem in response to the news that Roe vs. Wade could be (and was) overturned. The band name is a nod to funk legend Nile Rodgers, from the "Le freak, c'est chi" exclamation in Chic's legendary tune "Le Freak."
Moniquea
Moniquea's unique voice oozes confidence, yet invites you in to dance with her to the super funky boogie rhythms. The Pasadena, California artist was raised on funk music; her mom was in a cover band that would play classics like Aretha Franklin's "Get It Right" and Gladys Knight's "Love Overboard." Moniquea released her first boogie funk track at 20 and, in 2011, met local producer XL Middelton — a bonafide purveyor of funk. She's been a star artist on his MoFunk Records ever since, and they've collabed on countless tracks, channeling West Coast energy with a heavy dose of G-funk, sunny lyrics and upbeat, roller disco-ready rhythms.
Her latest release is an upbeat nod to classic West Coast funk, produced by Middleton, and follows her February 2022 groovy, collab-filled album, On Repeat.
Shiro Schwarz
Shiro Schwarz is a Mexico City-based duo, consisting of Pammela Rojas and Rafael Marfil, who helped establish a modern funk scene in the richly creative Mexican metropolis. On "Electrify" — originally released in 2016 on Fat Beats Records and reissued in 2021 by MoFunk — Shiro Schwarz's vocals playfully contrast each other, floating over an insistent, upbeat bassline and an '80s throwback electro-funk rhythm with synth flourishes.
Their music manages to be both nostalgic and futuristic — and impossible to sit still to. 2021 single "Be Kind" is sweet, mellow and groovy, perfect chic lounge funk. Shiro Schwarz's latest track, the joyfully nostalgic "Hey DJ," is a collab with funkstress Saucy Lady and U-Key.
L'Impératrice
L'Impératrice (the empress in French) are a six-piece Parisian group serving an infectiously joyful blend of French pop, nu-disco, funk and psychedelia. Flore Benguigui's vocals are light and dreamy, yet commanding of your attention, while lyrics have a feminist touch.
During their energetic live sets, L'Impératrice members Charles de Boisseguin and Hagni Gwon (keys), David Gaugué (bass), Achille Trocellier (guitar), and Tom Daveau (drums) deliver extended instrumental jam sessions to expand and connect their music. Gaugué emphasizes the thick funky bass, and Benguigui jumps around the stage while sounding like an angel. L'Impératrice's latest album, 2021's Tako Tsubo, is a sunny, playful French disco journey.
Franc Moody
Franc Moody's bio fittingly describes their music as "a soul funk and cosmic disco sound." The London outfit was birthed by friends Ned Franc and Jon Moody in the early 2010s, when they were living together and throwing parties in North London's warehouse scene. In 2017, the group grew to six members, including singer and multi-instrumentalist Amber-Simone.
Their music feels at home with other electro-pop bands like fellow Londoners Jungle and Aussie act Parcels. While much of it is upbeat and euphoric, Franc Moody also dips into the more chilled, dreamy realm, such as the vibey, sultry title track from their recently released Into the Ether.
The Rise Of Underground House: How Artists Like Fisher & Acraze Have Taken Tech House, Other Electronic Genres From Indie To EDC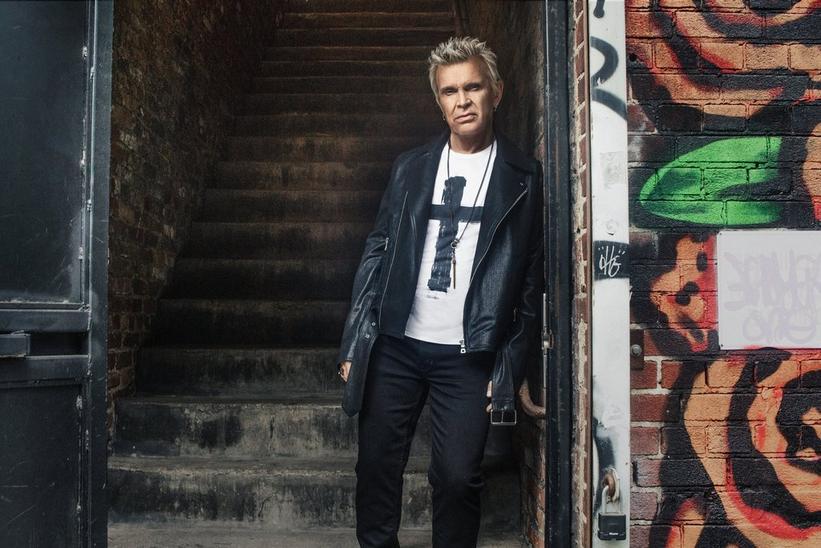 interview
Living Legends: Billy Idol On Survival, Revival & Breaking Out Of The Cage
"One foot in the past and one foot into the future," Billy Idol says, describing his decade-spanning career in rock. "We've got the best of all possible worlds because that has been the modus operandi of Billy Idol."
GRAMMYs
/
Nov 25, 2022 - 04:19 pm
Living Legends is a series that spotlights icons in music still going strong today. This week, GRAMMY.com spoke with Billy Idol about his latest EP,  Cage, and continuing to rock through decades of changing tastes.
Billy Idol is a true rock 'n' roll survivor who has persevered through cultural shifts and personal struggles. While some may think of Idol solely for "Rebel Yell" and "White Wedding," the singer's musical influences span genres and many of his tunes are less turbo-charged than his '80s hits would belie.  
Idol first made a splash in the latter half of the '70s with the British punk band Generation X. In the '80s, he went on to a solo career combining rock, pop, and punk into a distinct sound that transformed him and his musical partner, guitarist Steve Stevens, into icons. They have racked up multiple GRAMMY nominations, in addition to one gold, one double platinum, and four platinum albums thanks to hits like "Cradle Of Love," "Flesh For Fantasy," and "Eyes Without A Face." 
But, unlike many legacy artists, Idol is anything but a relic. Billy continues to produce vital Idol music by collaborating with producers and songwriters — including Miley Cyrus — who share his forward-thinking vision. He will play a five-show Vegas residency in November, and filmmaker Jonas Akerlund is working on a documentary about Idol's life. 
His latest release is Cage, the second in a trilogy of annual four-song EPs. The title track is a classic Billy Idol banger expressing the desire to free himself from personal constraints and live a better life. Other tracks on Cage incorporate metallic riffing and funky R&B grooves. 
Idol continues to reckon with his demons — they both grappled with addiction during the '80s — and the singer is open about those struggles on the record and the page. (Idol's 2014 memoir Dancing With Myself, details a 1990 motorcycle accident that nearly claimed a leg, and how becoming a father steered him to reject hard drugs. "Bitter Taste," from his last EP, The Roadside, reflects on surviving the accident.)
Although Idol and Stevens split in the late '80s — the skilled guitarist fronted Steve Stevens & The Atomic Playboys, and collaborated with Michael Jackson, Rick Ocasek, Vince Neil, and Harold Faltermeyer (on the GRAMMY-winning "Top Gun Anthem") —  their common history and shared musical bond has been undeniable. The duo reunited in 2001 for an episode of "VH1 Storytellers" and have been back in the saddle for two decades. Their union remains one of the strongest collaborations in rock 'n roll history.
While there is recognizable personnel and a distinguishable sound throughout a lot of his work, Billy Idol has always pushed himself to try different things. Idol discusses his musical journey, his desire to constantly move forward, and the strong connection that he shares with Stevens. 
Steve has said that you like to mix up a variety of styles, yet everyone assumes you're the "Rebel Yell"/"White Wedding" guy. But if they really listen to your catalog, it's vastly different.
Yeah, that's right. With someone like Steve Stevens, and then back in the day Keith Forsey producing... [Before that] Generation X actually did move around inside punk rock. We didn't stay doing just the Ramones two-minute music. We actually did a seven-minute song. [Laughs]. We did always mix things up. 
Then when I got into my solo career, that was the fun of it. With someone like Steve, I knew what he could do. I could see whatever we needed to do, we could nail it. The world was my oyster musically. 
"Cage" is a classic-sounding Billy Idol rocker, then "Running From The Ghost" is almost metal, like what the Devil's Playground album was like back in the mid-2000s. "Miss Nobody" comes out of nowhere with this pop/R&B flavor. What inspired that?
We really hadn't done anything like that since something like "Flesh For Fantasy" [which] had a bit of an R&B thing about it. Back in the early days of Billy Idol, "Hot In The City" and "Mony Mony" had girls [singing] on the backgrounds. 
We always had a bit of R&B really, so it was actually fun to revisit that. We just hadn't done anything really quite like that for a long time. That was one of the reasons to work with someone like Sam Hollander [for the song "Rita Hayworth"] on The Roadside. We knew we could go [with him] into an R&B world, and he's a great songwriter and producer. That's the fun of music really, trying out these things and seeing if you can make them stick. 
I listen to new music by veteran artists and debate that with some people. I'm sure you have those fans that want their nostalgia, and then there are some people who will embrace the newer stuff. Do you find it's a challenge to reach people with new songs?
Obviously, what we're looking for is, how do we somehow have one foot in the past and one foot into the future? We've got the best of all possible worlds because that has been the modus operandi of Billy Idol. 
You want to do things that are true to you, and you don't just want to try and do things that you're seeing there in the charts today. I think that we're achieving it with things like "Running From The Ghost" and "Cage" on this new EP. I think we're managing to do both in a way. 
Obviously, "Running From The Ghost" is about addiction, all the stuff that you went through, and in "Cage" you're talking about  freeing yourself from a lot of personal shackles. Was there any one moment in your life that made you really thought I have to not let this weigh me down anymore?
I mean, things like the motorcycle accident I had, that was a bit of a wake up call way back. It was 32 years ago. But there were things like that, years ago, that gradually made me think about what I was doing with my life. I didn't want to ruin it, really. I didn't want to throw it away, and it made [me] be less cavalier. 
I had to say to myself, about the drugs and stuff, that I've been there and I've done it. There's no point in carrying on doing it. You couldn't get any higher. You didn't want to throw your life away casually, and I was close to doing that. It took me a bit of time, but then gradually I was able to get control of myself to a certain extent [with] drugs and everything. And I think Steve's done the same thing. We're on a similar path really, which has been great because we're in the same boat in terms of lyrics and stuff. 
So a lot of things like that were wake up calls. Even having grandchildren and just watching my daughter enlarging her family and everything; it just makes you really positive about things and want to show a positive side to how you're feeling, about where you're going. We've lived with the demons so long, we've found a way to live with them. We found a way to be at peace with our demons, in a way. Maybe not completely, but certainly to where we're enjoying what we do and excited about it.
[When writing] "Running From The Ghost" it was easy to go, what was the ghost for us? At one point, we were very drug addicted in the '80s. And Steve in particular is super sober [now]. I mean, I still vape pot and stuff. I don't know how he's doing it, but it's incredible. All I want to be able to do is have a couple of glasses of wine at a restaurant or something. I can do that now.
I think working with people that are super talented, you just feel confident. That is a big reason why you open up and express yourself more because you feel comfortable with what's around you.
Did you watch Danny Boyle's recent Sex Pistols mini-series?
I did, yes.
You had a couple of cameos; well, an actor who portrayed you did. How did you react to it? How accurate do you think it was in portraying that particular time period?
I love Jonesy's book, I thought his book was incredible. It's probably one of the best bio books really. It was incredible and so open. I was looking forward to that a lot.
It was as if [the show] kind of stayed with Steve [Jones' memoir] about halfway through, and then departed from it. [John] Lydon, for instance, was never someone I ever saw acting out; he's more like that today. I never saw him do something like jump up in the room and run around going crazy. The only time I saw him ever do that was when they signed the recording deal with Virgin in front of Buckingham Palace. Whereas Sid Vicious was always acting out; he was always doing something in a horrible way or shouting at someone. I don't remember John being like that. I remember him being much more introverted.
But then I watched interviews with some of the actors about coming to grips with the parts they were playing. And they were saying, we knew punk rock happened but just didn't know any of the details. So I thought well, there you go. If ["Pistol" is]  informing a lot of people who wouldn't know anything about punk rock, maybe that's what's good about it.
Maybe down the road John Lydon will get the chance to do John's version of the Pistols story. Maybe someone will go a lot deeper into it and it won't be so surface. But maybe you needed this just to get people back in the flow.
We had punk and metal over here in the States, but it feels like England it was legitimately more dangerous. British society was much more rigid.
It never went [as] mega in America. It went big in England. It exploded when the Pistols did that interview with [TV host Bill] Grundy, that lorry truck driver put his boot through his own TV, and all the national papers had "the filth and the fury" [headlines].
We went from being unknown to being known overnight. We waited a year, Generation X. We even told them [record labels] no for nine months to a year. Every record company wanted their own punk rock group. So it went really mega in England, and it affected the whole country – the style, the fashions, everything. I mean, the Ramones were massive in England. Devo had a No. 1 song [in England] with "Satisfaction" in '77. Actually, Devo was as big as or bigger than the Pistols.
You were ahead of the pop-punk thing that happened in the late '90s, and a lot of it became tongue-in-cheek by then. It didn't have the same sense of rebelliousness as the original movement. It was more pop.
It had become a style. There was a famous book in England called Revolt Into Style — and that's what had happened, a revolt that turned into style which then they were able to duplicate in their own way. Even recently, Billie Joe [Armstrong] did his own version of "Gimme Some Truth," the Lennon song we covered way back in 1977.
When we initially were making [punk] music, it hadn't become accepted yet. It was still dangerous and turned into a style that people were used to. We were still breaking barriers.
You have a band called Generation Sex with Steve Jones and Paul Cook. I assume you all have an easier time playing Pistols and Gen X songs together now and not worrying about getting spit on like back in the '70s?
Yeah, definitely. When I got to America I told the group I was putting it together, "No one spits at the audience."
We had five years of being spat on [in the UK], and it was revolting. And they spat at you if they liked you. If they didn't like it they smashed your gear up. One night, I remember I saw blood on my T-shirt, and I think Joe Strummer got meningitis when spit went in his mouth.
You had to go through a lot to become successful, it wasn't like you just kind of got up there and did a couple of gigs. I don't think some young rock bands really get that today.
With punk going so mega in England, we definitely got a leg up. We still had a lot of work to get where we got to, and rightly so because you find out that you need to do that. A lot of groups in the old days would be together three to five years before they ever made a record, and that time is really important. In a way, what was great about punk rock for me was it was very much a learning period. I really learned a lot [about] recording music and being in a group and even writing songs.
Then when I came to America, it was a flow, really. I also really started to know what I wanted Billy Idol to be. It took me a little bit, but I kind of knew what I wanted Billy Idol to be. And even that took a while to let it marinate.
You and Miley Cyrus have developed a good working relationship in the last several years. How do you think her fans have responded to you, and your fans have responded to her?
I think they're into it. It's more the record company that she had didn't really get "Night Crawling"— it was one of the best songs on Plastic Hearts, and I don't think they understood that. They wanted to go with Dua Lipa, they wanted to go with the modern, young acts, and I don't think they realized that that song was resonating with her fans. Which is a shame really because, with Andrew Watt producing, it's a hit song.
But at the same time, I enjoyed doing it. It came out really good and it's very Billy Idol. In fact, I think it's more Billy Idol than Miley Cyrus. I think it shows you where Andrew Watt was. He was excited about doing a Billy Idol track. She's fun to work with. She's a really great person and she works at her singing — I watched her rehearsing for the Super Bowl performance she gave. She rehearsed all Saturday morning, all Saturday afternoon, and Sunday morning and it was that afternoon. I have to admire her fortitude. She really cares.
I remember when you went on "Viva La Bam" back in 2005 and decided to give Bam Margera's Lamborghini a new sunroof by taking a power saw to it. Did he own that car? Was that a rental?
I think it was his car.
Did he get over it later on?
He loved it. [Laughs] He's got a wacky sense of humor. He's fantastic, actually. I'm really sorry to see what he's been going through just lately. He's going through a lot, and I wish him the best. He's a fantastic person, and it's a shame that he's struggling so much with his addictions. I know what it's like. It's not easy.
Musically, what is the synergy like with you guys during the past 10 years, doing Kings and Queens of the Underground and this new stuff? What is your working relationship like now in this more sober, older, mature version of you two as opposed to what it was like back in the '80s?
In lots of ways it's not so different because we always wrote the songs together, we always talked about what we're going to do together. It was just that we were getting high at the same time.We're just not getting [that way now] but we're doing all the same things.
We're still talking about things, still [planning] things:What are we going to do next? How are we going to find new people to work with? We want to find new producers. Let's be a little bit more timely about putting stuff out.That part of our relationship is the same, you know what I mean? That never got affected. We just happened to be overloading in the '80s.
The relationship's… matured and it's carrying on being fruitful, and I think that's pretty amazing. Really, most people don't get to this place. Usually, they hate each other by now. [Laughs] We also give each other space. We're not stopping each other doing things outside of what we're working on together. All of that enables us to carry on working together. I love and admire him. I respect him. He's been fantastic. I mean, just standing there on stage with him is always a treat. And he's got an immensely great sense of humor. I think that's another reason why we can hang together after all this time because we've got the sense of humor to enable us to go forward.
There's a lot of fan reaction videos online, and I noticed a lot of younger women like "Rebel Yell" because, unlike a lot of other '80s alpha male rock tunes, you're talking about satisfying your lover.
It was about my girlfriend at the time, Perri Lister. It was about how great I thought she was, how much I was in love with her, and how great women are, how powerful they are.
It was a bit of a feminist anthem in a weird way. It was all about how relationships can free you and add a lot to your life. It was a cry of love, nothing to do with the Civil War or anything like that. Perri was a big part of my life, a big part of being Billy Idol. I wanted to write about it. I'm glad that's the effect.
Is there something you hope people get out of the songs you've been doing over the last 10 years? Do you find yourself putting out a message that keeps repeating?
Well, I suppose, if anything, is that you can come to terms with your life, you can keep a hold of it. You can work your dreams into reality in a way and, look, a million years later, still be enjoying it.
The only reason I'm singing about getting out of the cage is because I kicked out of the cage years ago. I joined Generation X when I said to my parents, "I'm leaving university, and I'm joining a punk rock group." And they didn't even know what a punk rock group was. Years ago, I'd write things for myself that put me on this path, so that maybe in 2022 I could sing something like "Cage" and be owning this territory and really having a good time. This is the life I wanted.
The original UK punk movement challenged societal norms. Despite all the craziness going on throughout the world, it seems like a lot of modern rock bands are afraid to do what you guys were doing. Do you think we'll see a shift in that?
Yeah.  Art usually reacts to things, so I would think eventually there will be a massive reaction to the pop music that's taken over — the middle of the road music, and then this kind of right wing politics. There will be a massive reaction if there's not already one. I don't know where it will come from exactly. You never know who's gonna do [it].
Living Legends: Nancy Sinatra Reflects On Creating "Power And Magic" In Studio, Developing A Legacy Beyond "Boots" & The Pop Stars She Wants To Work With