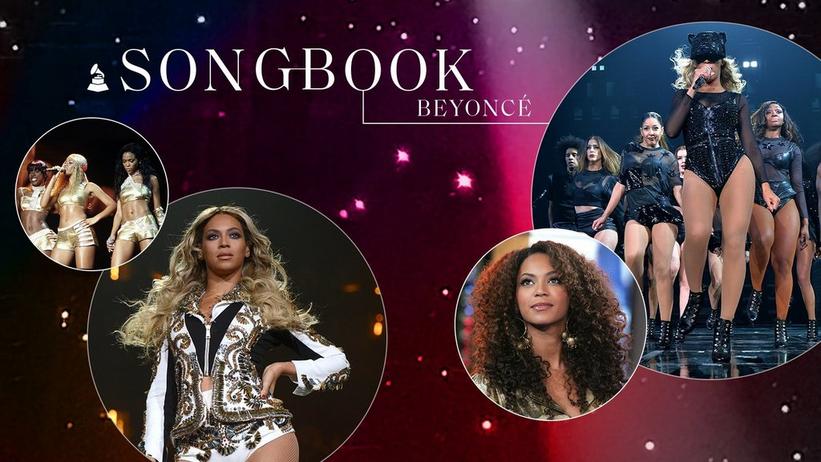 Beyoncé
Source Photos (L-R): Tim Mosenfelder/Getty Images; Kevin Mazur/WireImage for Parkwood Entertainment; Peter Kramer/Getty Images; Larry Busacca/PW/WireImage for Parkwood Entertainment
feature
Songbook: The Complete Guide To The Albums, Visuals & Performances That Made Beyoncé A Cultural Force
In honor of Women's History Month, GRAMMY.com is celebrating 28-time GRAMMY winner Beyoncé with a complete guide to the groundbreaking albums, visuals and stage moments that shaped her singular art and vision
GRAMMYs
/
Mar 7, 2022 - 02:42 pm
Presented by GRAMMY.com, Songbook is an editorial series and hub for music discovery that dives into a legendary artist's discography and art in whole — from songs to albums to music films and videos and beyond.
One name says so much: Beyoncé. Throughout her 20-plus-year career, the 28-time GRAMMY-winning artist has inspired awe with a divine voice, top-notch performances and thorough bodies of work, demonstrating a complete mastery of her craft.
Before she became the most-awarded artist in GRAMMY history, Beyoncé was a young Houstonian singing alongside her childhood friends in the hip-hop/ R&B girl group, Girl's Tyme, which would later become Destiny's Child. Under the tutelage of her father Mathew — and with legendary acts like Tina Turner, Michael and Janet Jackson as her inspirations — Beyoncé continued to hone the gifts that would eventually make her an icon.
After garnering her first two GRAMMY wins with Destiny's Child in 2001, Beyoncé's star continued to grow. Her first solo album, Dangerously In Love, further proved Beyoncé was a force to be reckoned with. She collected five GRAMMYs at the 46th GRAMMY Awards in 2004, a then-record for female artists that Beyoncé has since broken. (Bey received a record six awards at the 56th GRAMMY Awards in 2009, an achievement that speaks volumes of her tireless ability to outdo only herself.)
While the accolades are a bonus, Beyoncé's cultural impact and overall mission to serve her community are the most integral aspects of her career. She defies the artistic confines society often places on Black artists in order to highlight the community's significance. Whether it's joining the Super Bowl Halftime show to relay an important message about Black pride, or celebrating the African diaspora in her visual album Black Is King, she's kept the sanctity, influence and power of the Black community intact, while creating unmatched lanes for herself as an artist. 
There's never a wrong time to celebrate the musical achievements of "Big B," so GRAMMY.com is revisiting the "world-stop" moments of this legendary act — from her albums to her eye-popping performances, and everything in between.
Beyoncé, The Artist
B'Day (2006)
Released to coincide with her 25th birthday, Beyoncé's sophomore solo effort B'Day invites listeners to a music party fit for a queen. The '70s-inspired LP was reportedly recorded in a span of three weeks, though its short gestation period doesn't render it incomplete. 
B'Day explores the gamut of R&B, funk and pop, and signals both a turning point in Beyoncé's personal maturity and a shift in the approach to her artistry. Recorded with live instrumentation, B'Day features production from The Neptunes ("Kitty Kat"), Rodney "Darkchild" Jerkins ("Deja Vu"), and Swizz Beatz ("Ring The Alarm," "Get Me Bodied"), and finds Beyoncé at her (then) boldest, serving as a co-arranger, writer and producer on each track.
The album also showcases solo Bey's earliest forms of sexual liberation and autonomy, evident by party starters like "Green Light" and "Freakum Dress." She also gives listeners the balladry they've come to love with "Irreplaceable" and "Resentment." When you think of Beyoncé, you're probably thinking of hits from B'Day — which is indicative of how integral it is to her discography.
4 (2011)
4 is Beyoncé's first time creating a cohesive body of work after becoming managerially independent from her father. Through the effort, fans are gifted with something they truly want: a look into the generally-private life of Queen Bey. The album could be seen as the catalyst for the mature and vulnerable themes found in BEYONCÉ and Lemonade.
Much of the album's material focuses on monogamous love, but there's no shortage of empowering, women-centered anthems one now expects from Beyoncé. A showcase of her prowess, 4 marries the subjects of relationships and feminine independence without being contradictory.
4 also gives listeners a taste of Beyoncé's ability to traverse genre through multiple sources of sonic inspiration, from the funky, Fela Kuti-inspired "End Of Time," to "Run The World (Girls)," which samples Major Lazer's dancehall-heavy hit, "Pon De Floor." 
Read More: For The Record: The Creative Rebirth Of Beyoncé On 4
Lemonade (2016)
Perhaps her most critically and culturally-lauded body of work, Beyoncé's sixth album Lemonade crosses genres with ease, while providing an emotional catharsis unlike any project she'd released prior. 
Through a journey of head-banging rock anthems ("DON'T HURT YOURSELF"), alternative R&B ("6 INCH") and country ("DADDY LESSONS"), Bey unleashes a warm sonic embrace for Black women aimed at collective healing. Lemonade is accompanied by a stunning visual component directed by several lauded filmmakers, and features public figures from Serena Williams to Zendaya.
While the project controversially received just two GRAMMYs out of the nine it was nominated for at the 59th GRAMMY Awards, Lemonade's cultural impact has proven to be enormous. With the album, Beyoncé used her platform to speak directly to her community in a poetic and nuanced way. This effort didn't go unnoticed and will be celebrated for years to come.
RENAISSANCE (2022)
Due to Beyoncé's regression back to a rather traditional album rollout, her seventh studio album, RENAISSANCE, didn't crash land into our headphones like her previous two solo efforts. However, the 16-track project still managed to pack a powerful punch. The first of a reported album trilogy is drenched in dance music influence, featuring tracks that carry house, disco, afrobeats, dancehall and bounce vibes.
According to a note Beyoncé shared on her website upon releasing RENAISSANCE, she made the album to honor the "fallen angels" of the music scene and her beloved Uncle Jonny, who died as a result of AIDS-related complications. Much like the dance music and club scene that sparked a revolution in the 20th century, the album urges listeners to choose life, love and freedom despite the calamity found in the world. 
One of the major hallmarks of the album is Beyoncé's reclamation of the Black and brown, queer and trans beginnings of dance music. With LGBTQ+ friendly tracks like the ballroom-inspired "PURE/HONEY" and the self-love anthem "ALIEN SUPERSTAR," Beyoncé reconfigures the sounds and spaces that became became integral to the communities that needed them most throughout RENAISSANCE.
Beyoncé, The Visual Artist
The "Self-Titled" Era (2013)
While Beyoncé's eponymous fifth solo album made headlines for its out-of-nowhere release, the self-titled era is also revered for its 17 music videos, all of which were released simultaneously.
The feat was unparalleled, as each video was (seemingly) filmed in secret with different directors at the helm. The Hype Williams-directed "Blow" features a neon-lit roller skating rink befitting from the funky Pharrell, Timbaland and J-Roc-produced beat; the "Haunted" video was made by Jonas Åkerlund, and features Beyoncé entering a spooky, sexy mansion.
"It's more than just what I hear. When I'm connected to something, I immediately see a visual or a series of images that are tied to a feeling or an emotion," Beyoncé said in the self-titled mini-documentary about crafting a visual album. "I wanted people to hear the songs with the story that's in my head, because that's what makes it mine."
Formation (2016)
Beyoncé dropped the song and video for "Formation," the first single from her then-unannounced album Lemonade, at the start of Black History Month and makes strong points about the importance of Black pride and self-love. ("I like my baby hair with baby hair and Afros," she sings.) 
The video was shot by Melina Matsoukas — director of the visual for Bey's image-conscious anthem "Pretty Hurts" — and largely pertains to protecting Black lives and abolishing police brutality. Near its conclusion, the words "Stop Shooting Us" are seen spray painted on a wall, while a young Black boy's fearless dancing prompts police to put their hands up (a powerful flip of the "Hands Up, Don't Shoot" slogan and gesture coined in 2014 following the death of Michael Brown by police). Her performance of the song at the Super Bowl Halftime show just a day later features several pro-Black moments, such as dancers donning Black Panther berets and choreography featuring the Black Power salute. 
While the performance and video were criticized by those who didn't understand its overall point, they were both praised by many who did. And even better? Beyoncé announced the Formation World Tour immediately after leaving the Super Bowl stage.
Black Is King (2020)
Disney's The Lion King received the live-action treatment in 2019, featuring Beyoncé as the voice of lioness Nala. Bey curated the soundtrack accompanying the film, The Lion King: The Gift, which showcases how far-reaching Africa's influence spreads in music.
Tying everything together, Beyoncé released a visual component to The Gift in summer 2020. A musical "thank you" to Africa, Black Is King puts a modern twist on The Lion King. A diverse cast and crew were billed alongside Beyoncé, who starred in, co-directed and co-wrote the project. 
Stunning landscapes, traditional African hairstyles and ornate costumes were crucial to the film's storytelling. Upon its release on Disney+, it was universally praised for uplifting the African diaspora, as well as placing an importance on maintaining and celebrating Black culture's distinct roots.
Read More: Inside The Visual World Of Beyoncé And Black Is King, Her "Love Letter" To Black Men
Beyoncé, The Performer
GRAMMYs
Beyoncé is no stranger to the GRAMMY stage, performing multiple times over her illustrious career. One of her most memorable GRAMMY moments is her duet with Prince, which opened the 2004 ceremony. Beyoncé croons along as Prince shreds his signature purple guitar to a medley of hits, from "Purple Rain" to Bey's "Crazy In Love." 
A few years later at the 52nd GRAMMY Awards ceremony, Beyoncé proved her performance prowess with a rendition of "If I Were A Boy" from her album I Am… Sasha Fierce. She took total control of the moment with a powerful strut down the aisles, pairing her unmatched vocals with hair-swinging choreography. She also interwove GRAMMY winner Alanis Morissette's breakup hit "You Oughta Know" into the performance.
Her most recent performance on the GRAMMYs stage occurred during the 2017 ceremony. Although she was several months pregnant with twins, Beyoncé made sure to put on a show while singing "LOVE DROUGHT" from Lemonade. From the dancers and choreography, to the ornate set and costumes, to the layered intention behind the performance, the visually stunning spectacle was one to remember.
Read More: Beyoncé Created A Space To Celebrate Black Culture At Coachella & More Things Homecoming Taught Us
Breaking Ground
Several times in her career, Beyoncé has been "the first" to do something. She was the first solo female artist to headline the legendary Glastonbury Festival in 2011, performing a 90-minute set of her biggest hits including "Baby Boy," "Single Ladies (Put A Ring On It)" and "Sweet Dreams." Did we mention she was  also pregnant during this performance with her first child, future GRAMMY winner Blue Ivy Carter?
No performance, however, compares to her Coachella Music Festival set in April 2018. Now known as "Beychella," Beyoncé not only broke ground as the first Black woman to headline the festival, but she completely set a new bar for live performances. The superstar's entire set was an homage to HBCUs (historically Black colleges and universities), complete with a full band, majorettes, Greek letters and more.
Songbook: How Pop Icon Christina Aguilera Traversed Two Cultures & Languages Across Her Discography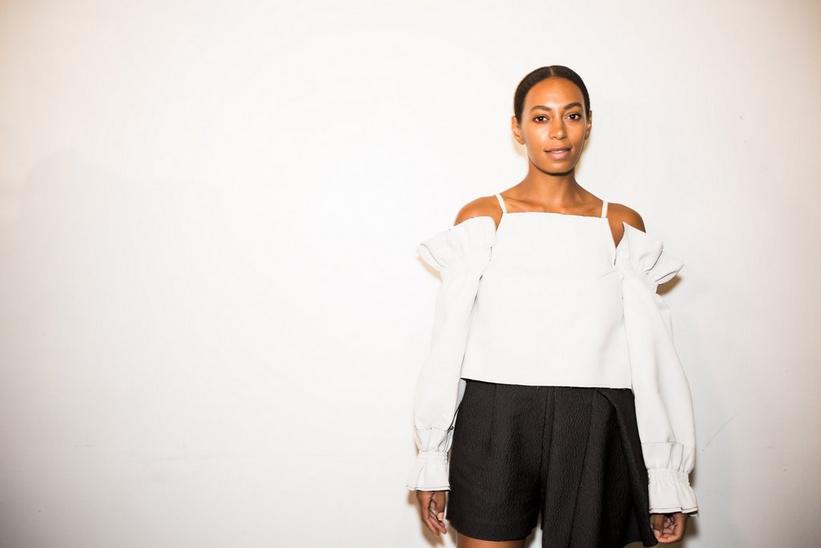 Photo: Daniel C. Sims/Getty Images
news
Solange To Play Benefit Show For Hurricane Harvey Relief
GRAMMY winner adds her name to the list of artists who are helping to raise millions in relief efforts for victims
GRAMMYs
/
Aug 31, 2017 - 04:37 am
GRAMMY winner Solange has announced she will be performing a benefit show to raise money for Hurricane Harvey relief efforts. The performance, called Orion's Rise, will be held at Boston's Orpheum Theatre on Sept. 8.
"I'm committed to partnering with organizations on the ground in Houston and making contributions to uplift the city that raised me with so much love," said Solange, a Houston native.
This announcement comes on the heels of other artists pledging their support, including Solange's sister, Beyoncé. But they are certainly not the only ones.
Beyoncé Vows "To Help As Many As We Can" In Wake Of Hurricane Harvey
Houston rapper Bun B and manager Scooter Braun (Justin Bieber, Ariana Grande) are organizing a televised benefit concert that will reportedly air on four national networks on Sept. 12.
Comedian Kevin Hart pledged $50,000 to relief efforts, and the fund he organized has earned nearly $2 million in additional financial support, with contributions from artists such as the Chainsmokers. All funds will go to the American Red Cross.
The Kardashians and Jenners, Nicki Minaj, and DJ Khaled have also announced they will make donations. Jennifer Lopez and her partner Alex Rodriguez joined in the fundraising efforts, pledging $25,000 each to the Red Cross.
In addition, GRAMMY winner Jack Antonoff is matching donations up to $10,000 for the Montrose Center in Houston, an LGBT community center. Chris Brown will donate $100,000 directly to "the people," and T.I. will donate $25,000 to relief efforts.
news
"GRAMMY Effect" Spikes Sales
GRAMMYs
/
Dec 3, 2014 - 04:22 am
"GRAMMY Effect" Spikes Sales
The 52nd Annual GRAMMY Awards drove a 3.3 percent increase in album sales compared to last week, according to a Billboard report. The 2010 GRAMMY Nominees album jumped to No. 5 with sales of 71,000 units, a 55 percent increase. Top GRAMMY winner Beyoncé's I Am…Sasha Fierce rose to No. 14 with sales of 32,000 copies, a 101 percent increase. Other GRAMMY performers experiencing sales increases include Pink (up 234 percent), Dave Matthews Band (up 114 percent), the Zac Brown Band (up 82 percent), the Black Eyed Peas (up 76 percent), Taylor Swift (up 58 percent), and Lady Gaga (up 17 percent). Lady Antebellum, who also performed on the telecast, remained at No. 1 for the second consecutive week. (2/10)
Grainge Promoted To UMG CEO
Universal Music Group International Chairman and CEO Lucian Grainge has been promoted to CEO of Universal Music Group, effective Jan. 1, 2011. He will succeed Doug Morris and report to Jean-Bernard Lévy, chairman of the management board of Vivendi. Grainge will relocate from London to New York to serve as co-CEO of UMG in tandem with Morris for six months starting July 1. Morris, who has served as UMG chairman and CEO since 1995, will remain as company chairman. (2/10)

news
Stars Align On Capitol Hill
Music at presidential inaugurations provides entertainment and unifying moments of patriotism
GRAMMYs
/
Dec 3, 2014 - 05:06 am
(On Jan. 21 President Barack Obama will be inaugurated into his second term as president of the United States with a celebration in Washington, D.C., featuring performances by GRAMMY winners Beyoncé, Alicia Keys, Kelly Clarkson, Brad Paisley, Usher, and Stevie Wonder, among others. This feature is taken from the fall 2012 issue of GRAMMY magazine and offers a brief history of notable musical performances at past presidential inaugurations.)
Being elected the leader of the free world is a pretty good reason to strike up the band. Ever since George Washington first danced a celebratory minuet after his inauguration in 1789, music has played an ever-increasing role in the gala events surrounding presidential inaugurations.

In 1801 Thomas Jefferson had the U.S. Marines band play him along as he made his way from the Capitol to the White House after taking the oath of office. James and Dolley Madison threw the first official inaugural ball in 1809. Jumping to the 20th century, in 1977 Jimmy Carter invited such music luminaries as John Lennon and Yoko Ono to his inaugural ball and allowed rock and roll — or at least the Southern rock variety — to become a part of his inauguration backdrop when he invited the Marshall Tucker Band and the Charlie Daniels Band to share a concert bill with Guy Lombardo And His Royal Canadians. (Lombardo's group was something of an inauguration ball house band, having played for seven presidents.)

Today, inaugurations are presented as both massive public live events and televised productions, complete with a concert featuring a roster of star talent. The musical performances at inaugurations not only provide entertainment, they also help set the tone for a new presidency and bring the country together in a unifying moment of patriotism over partisanship.

"It wasn't about one side or the other. We just had this overwhelming feeling of being proud to be American," recalls Ronnie Dunn, formerly of the GRAMMY-winning duo Brooks & Dunn. He and then-partner Kix Brooks performed their hit "Only In America" at a concert as part of George W. Bush's first inauguration in 2001.

"Right away you could feel it was an emotionally charged crowd, and when you're standing on the steps of the Lincoln Memorial looking across to the Washington Monument, you can't help but tear up a little," says Brooks. "I remember there was this chaos during the big encore when all the musicians and all the presidential VIPs were onstage together. I turned around and there's Colin Powell shaking my hand. It turned into one of the wildest photo ops ever because all the music people and all the political people were pulling their cameras out to take pictures of each other."

One of the most memorable unions of political and musical star power at an inaugural gala occurred in 1993, when a reunited Fleetwood Mac performed "Don't Stop," a hit from their GRAMMY-winning album Rumours, for President-elect Bill Clinton. Clinton had used "Don't Stop" as the theme song to his presidential campaign, but the payoff live performance almost didn't happen.

"At that point we were as broken up as we'd ever been," says Stevie Nicks. "When our management received the request for us to play, they said, 'No.' I heard about that and thought to myself, 'I don't want to be 90, looking back and trying to remember why my group couldn't play the president's favorite song for him.' I told management to let me handle it."

Nicks successfully coaxed her bandmates into a one-night, one-song reunion, a performance she remembers as truly exceptional.

"For one thing we'd never seen security like that," she says. "The Secret Service makes rock and roll security feel like a bunch of grade school hall monitors. But the performance felt really important. It felt like we were a part of history, and that the song itself was becoming a piece of American history. It was a fantastic night in all of our lives, and I'm really glad the band was able to come together for that one."

The Beach Boys played Ronald Reagan's second inauguration after a somewhat confused relationship with the White House. The band had headlined a series of Fourth of July concerts at the National Mall until 1983, when U.S. Secretary of the Interior James Watt accused the group of attracting "the wrong element" and booked Wayne Newton in their place. Watt later apologized, and the Beach Boys were reinstated and invited to play Reagan's inaugural gala in 1985.

"What I remember most about that night is that I got to meet Elizabeth Taylor," says Jerry Schilling, the band's then-manager. "But I also remember being extremely proud of the group. Things had been hard for Brian [Wilson], and the group wasn't always getting along. But they stood there together in front of the president and sang perfect five-part a capella harmony on 'Their Hearts Were Full Of Spring.' It was a big moment — we all felt that. It wasn't just another gig. The guys were truly honored to be there and they brought it when it mattered."

A new musical standard for inaugural events may have been established in 2009 when Barack Obama's presidency was kicked off with the "We Are One" concert. The patriotic spectacular featured a who's who of performers ranging from Pete Seeger, Bruce Springsteen and U2 to Usher, Sheryl Crow and will.i.am. An all-star lineup usually adds an all-star production element, but this particular concert was unique.

"Dealing with top artists, there's usually a lot of negotiating," says Don Mischer, one of the concert's producers, whose list of credits also includes Super Bowl halftime shows and Olympics ceremonies. "Who needs a private jet? How much does their 'glam squad' cost? What kind of security do they need? Putting together 'We Are One,' we said to every artist, 'This is a historical moment we'd love for you to be a part of, but you have to pay your own way and take care of your own security.' Right away, people like Beyoncé and Bono and Springsteen and Stevie Wonder all said, 'Yes.' They wanted to be there. There was a true camaraderie right from the start, and it turned out to be one of the greatest experiences any of us have ever had."

While Washington's minuet may have simply been a matter of dancing, Mischer says music has become as powerful a symbol of America as any other part of Inauguration Day.

"When you bring the music and the significance of an event like this together, it really reflects the strength of our cultural diversity and the strength of our country," he says. "In fact, at times when we seem to be going through confrontational political campaigns, I wish we would listen to the music a little more."

(Chuck Crisafulli is an L.A.-based journalist and author whose most recent works include Go To Hell: A Heated History Of The Underworld, Me And A Guy Named Elvis and Elvis: My Best Man.)
news
Wild At The GRAMMYs: It's Miller Time
GRAMMYs
/
Dec 3, 2014 - 04:22 am
David Wild has written for the GRAMMY Awards since 2001. He is a contributing editor to Rolling Stone, a blogger for Huffington Post and an Emmy-nominated TV writer. Wild's most recent book, He Is…I Say: How I Learned To Stop Worrying And Love Neil Diamond, is now in paperback. Follow him on Twitter.
The GRAMMY Awards broadcast is the biggest show on earth — or at least the biggest show on television. At least that's the way it looks from my admittedly subjective and sweaty point of view in the GRAMMY trenches.
Think about it for just a moment: There are more moving parts on the GRAMMY show than any other television event that I can think of. See, most of the big TV events are based around actors walking out on a stage in a theater and speaking, and then showing film or video clips. Other shows may feature a number of performances, but no show features more performances than the GRAMMYs. And in search of great GRAMMY moments, performers tend to push things to the limit on the GRAMMY stage, and sometimes slightly over the limit too.
Capturing all of those moving parts on camera in an artful and appropriate way is largely the job of the person in the truck calling all the shots for the camera operators attempting to cover all the musical action — namely, the director.
For the last 29 years, my friend Walter C. Miller has directed the GRAMMY Awards television show. That's not a typo — that's a fact: 29 years. That means every great GRAMMY moment most of us remember, we remember the way Walter wanted us to remember it. I've personally been there and witnessed him take every performance seriously, from Eminem and Elton John, to Paul Simon and Art Garfunkel, and Prince and Beyoncé. "You get to be a part of a lot of musical history on the GRAMMYs," Walter told me recently. His historic track record is remarkable for any business, but much more so in an entertainment industry where survival is more often measured in intervals of 15 minutes than 30 years.
When GRAMMY Co-Executive Producer Ken Ehrlich first brought me in to help write the GRAMMY show a decade ago, he introduced me to Walter, who immediately insulted me in some witty yet somehow warm way. Being a lifelong Don Rickles fan, I liked the guy immediately. He is super sharp with a long lifetime of stories and a singular ability to tell them with fresh wit and the sting of truth. Just between us, Walter reminded me of my father. I remember seeing another director friend after meeting Walter and asking if he knew who Walter was. "Yes, David, Walter Miller basically invented live television," he told me.
Having Walter on the GRAMMY team has meant the world to all of us lucky enough to work with him.
"I've learned so much from Walter," says Ken Ehrlich. "Wally had been and continues to be like a brother and a father to me. It's been like Butch and Sundance, and we're always ready to yell 'St' and jump off the mountain together."
"In his 30 years with the GRAMMY Awards, Walter Miller has not only created the look for our show, but for all other music award shows too," says GRAMMY Co-Executive Producer John Cossette. "He created the template for everyone else to follow."
In recent years, I've been lucky enough to find myself down in Nashville working as the writer for the Country Music Association Awards, another very big and distinguished show Walter executive produced and asked me to write after we first met at the GRAMMY Awards. One Sunday afternoon, the two of us had a few hours off in Music City, and decided to go see the new George Clooney movie Good Night And Good Luck. As we left the movie theater, I stupidly said something to Walter like, "Wow, can you imagine being in TV then." Walter looked at me, and said, "David, I was."
And so he was.
This year, Walter decided it was time for him to step back from directing the show, and he's been consulting on the show instead. Another legendary TV director, Louis J. Horvitz will be in the truck calling all those camera shots, and I have no doubt he'll do a great job. "Walter is the king of live television event directors," Louis told me the other day. "He's one of the founders of the whole form."
This year, Walter is also quite rightly receiving the Recording Academy's prestigious Trustees Award. He's earned it, because every time you look at the GRAMMYs for these past 30 years, you could rest assured that the great Walter C. Miller was there.
Walter C. Miller is still here, and thank God for that — and for him. The King lives. Long Live The King.
(Click here to read Wild's other GRAMMY blog installments.)