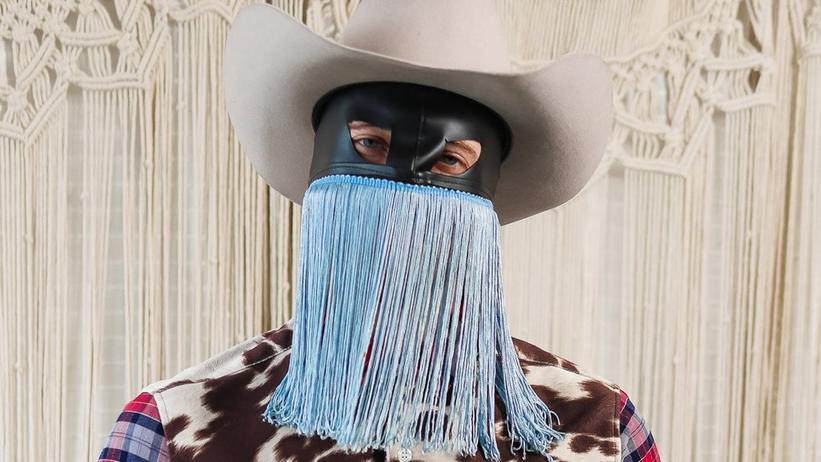 Photo by Daniel Mendoza / The Recording Academy
news
Orville Peck On The Music That Made Him, 'Pony' & The "Visual" Way He Creates
The Recording Academy catches up with masked country star while On The Road at Austin City Limits 2019
GRAMMYs
/
Jan 3, 2020 - 01:00 am
Masked country performer Orville Peck is an enigma if ever there was one. Never without a handmade fringed mask, the Canadian singer-songwriter broke through last year with his mononym'd debut album, Pony.
The Recording Academy caught up with Peck while On The Road at Austin City Limits 2019, where we talked about his influences, the music he grew up with and more.
"My parents exposed me to lots of different types of music," he told us. "Country, obviously, but also glam rock, punk, gospel, soul, world music, you name it."
Peck certainly carries a proto-punk mentality when it comes to his influences; he cites '70s punk pioneer Patti Smith as one of his idols. "Patti Smith had a big impact on me," he says. "When I was like 14 years old, I wanted to be a musician but when I bought Horses—which is funny because my album's name is Pony—it made me feel like I could make music in a different way than I knew how when I was a kid."
Speaking of Pony, which dropped n March of last year via Sub Pop, Peck explains that he "just wanted to make my love letter to a classic country album."
"[It's] the country that I love," he continues. "It's just my stories of places I've been, people I've known, people I've been with, things I struggle with."
Hear more from Orville Peck in the interview above, including the "visual" way he approaches the creation process and more.
K.Flay Talks Inspiration, Politics & The Argument That Led To Her Making Music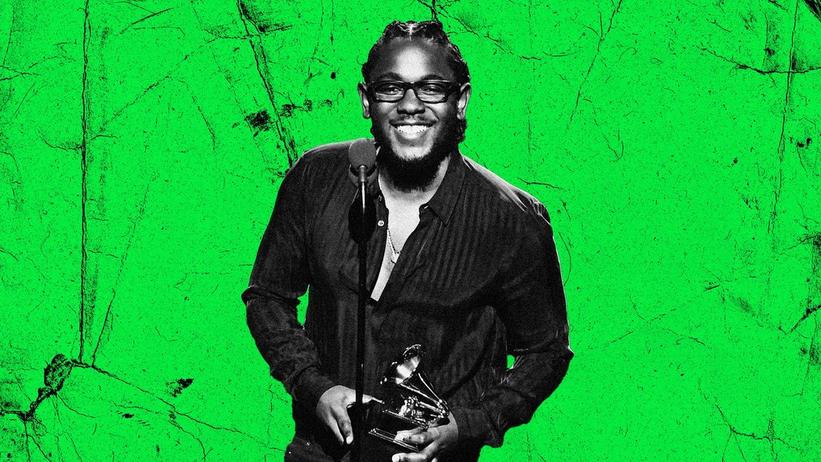 Kendrick Lamar
Photo: Jeff Kravitz/FilmMagic
video
GRAMMY Rewind: Kendrick Lamar Honors Hip-Hop's Greats While Accepting Best Rap Album GRAMMY For 'To Pimp a Butterfly' In 2016
Upon winning the GRAMMY for Best Rap Album for 'To Pimp a Butterfly,' Kendrick Lamar thanked those that helped him get to the stage, and the artists that blazed the trail for him.
GRAMMYs
/
Oct 13, 2023 - 06:01 pm
Updated Friday Oct. 13, 2023 to include info about Kendrick Lamar's most recent GRAMMY wins, as of the 2023 GRAMMYs.
A GRAMMY veteran these days, Kendrick Lamar has won 17 GRAMMYs and has received 47 GRAMMY nominations overall. A sizable chunk of his trophies came from the 58th annual GRAMMY Awards in 2016, when he walked away with five — including his first-ever win in the Best Rap Album category.
This installment of GRAMMY Rewind turns back the clock to 2016, revisiting Lamar's acceptance speech upon winning Best Rap Album for To Pimp A Butterfly. Though Lamar was alone on stage, he made it clear that he wouldn't be at the top of his game without the help of a broad support system. 
"First off, all glory to God, that's for sure," he said, kicking off a speech that went on to thank his parents, who he described as his "those who gave me the responsibility of knowing, of accepting the good with the bad."
He also extended his love and gratitude to his fiancée, Whitney Alford, and shouted out his Top Dawg Entertainment labelmates. Lamar specifically praised Top Dawg's CEO, Anthony Tiffith, for finding and developing raw talent that might not otherwise get the chance to pursue their musical dreams.
"We'd never forget that: Taking these kids out of the projects, out of Compton, and putting them right here on this stage, to be the best that they can be," Lamar — a Compton native himself — continued, leading into an impassioned conclusion spotlighting some of the cornerstone rap albums that came before To Pimp a Butterfly.
"Hip-hop. Ice Cube. This is for hip-hop," he said. "This is for Snoop Dogg, Doggystyle. This is for Illmatic, this is for Nas. We will live forever. Believe that."
To Pimp a Butterfly singles "Alright" and "These Walls" earned Lamar three more GRAMMYs that night, the former winning Best Rap Performance and Best Rap Song and the latter taking Best Rap/Sung Collaboration (the song features Bilal, Anna Wise and Thundercat). He also won Best Music Video for the remix of Taylor Swift's "Bad Blood." 
Lamar has since won Best Rap Album two more times, taking home the golden gramophone in 2018 for his blockbuster LP DAMN., and in 2023 for his bold fifth album, Mr. Morale & the Big Steppers.
Watch Lamar's full acceptance speech above, and check back at GRAMMY.com every Friday for more GRAMMY Rewind episodes. 
10 Essential Facts To Know About GRAMMY-Winning Rapper J. Cole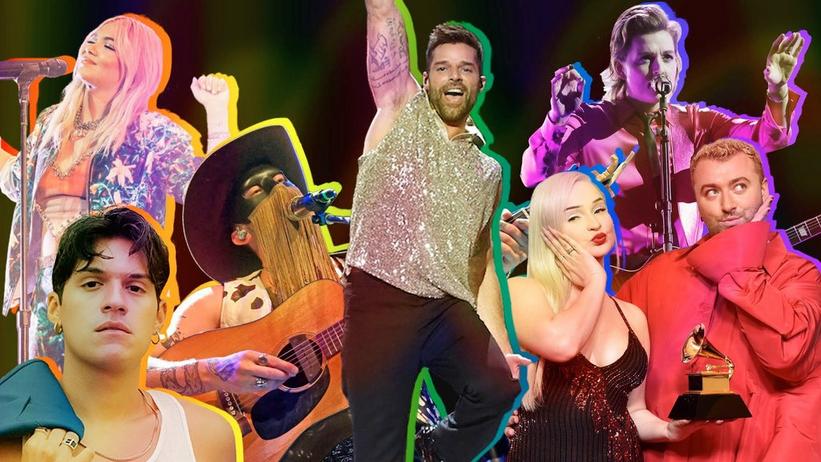 (L-R, clockwise): Hayley Kiyoko, Ricky Martin, Brandi Carlile, Sam Smith, Kim Petras, Orville Peck, Omar Apollo
Photo: Kristy Sparow/Getty Images, Kevin Winter/Getty Images for LARAS, Kevin Winter/Getty Images for The Recording Academy, Alberto E. Rodriguez/Getty Images for The Recording Academy, Stephen J. Cohen/Getty Images, Gustavo Garcia Villa
news
Listen To GRAMMY.com's LGBTQIA+ Pride Month 2023 Playlist Featuring Demi Lovato, Sam Smith, Kim Petras, Frank Ocean, Omar Apollo & More
Celebrate LGBTQIA+ Pride Month 2023 with a 50-song playlist that spans genres and generations, honoring trailblazing artists and allies including George Michael, Miley Cyrus, Orville Peck, Lady Gaga and Ariana Grande and many more.
GRAMMYs
/
Jun 1, 2023 - 04:21 pm
In the past year, artists in the LGBTQIA+ community have continued to create change and make history — specifically, GRAMMY history. Last November, Liniker became the first trans artist to win a Latin GRAMMY Award when she took home Best MPB Album for Indigo Borboleta Anil; three months later, Sam Smith and Kim Petras became the first nonbinary and trans artists, respectively, to win the GRAMMY Award for Best Pop Duo/Group Performance for their sinful collab "Unholy."
Just those two feats alone prove that the LGBTQIA+ community is making more and more of an impact every year. So this Pride Month, GRAMMY.com celebrates those strides with a playlist of hits and timeless classics that are driving conversations around equality and fairness for the LGBTQIA+ community.
Below, take a listen to 50 songs by artists across the LGBTQIA+ spectrum — including "Unholy" and Liniker's "Baby 95" — on Amazon Music, Spotify, Apple Music, and Pandora.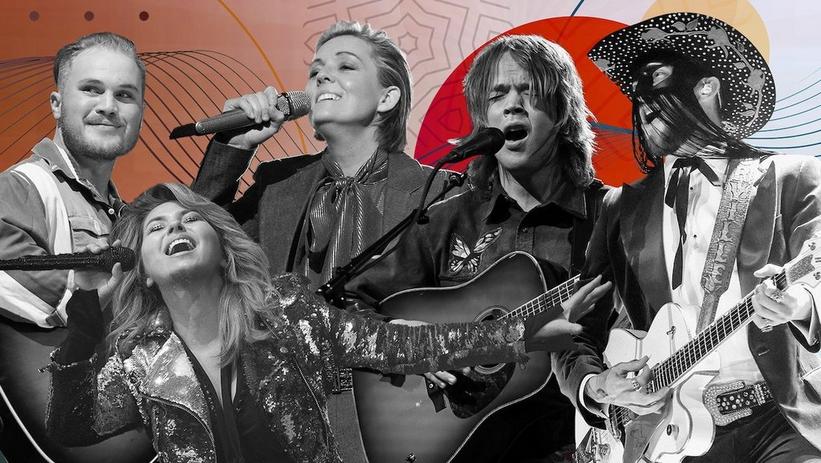 (L-R): Zach Bryan, Shania Twain, Brandi Carlile, Billy Strings, Orville Peck
Photo: (L-R) Mickey Bernal/Getty Images, Neil Lupin/Redferns, Kevin Mazur/Getty Images for The Recording Academy, Scott Kowalchyk/CBS via Getty Images, Jason Kempin/Getty Images
list
2022 In Review: 6 Trends That Defined Country Music
From Dolly Parton to Zach Bryan, country music's veterans and new generation found room to grow within the genre in 2022.
GRAMMYs
/
Dec 22, 2022 - 06:49 pm
Country music isn't always heralded as a haven for artists who fall outside the genre's accepted mainstream. But 2022 saw country music claim a bigger piece of the cultural pie than it has in recent years.
Artists are discovering new paths to success, driven by the meme-ification of culture and music and templated by stars like Walker Hayes, whose GRAMMY-nominated song "Fancy Like" broke through in mid-2021 thanks to TikTok and ended 2022 among the top five of Billboard's Hot Country Songs. Breakout stars Zach Bryan and Bailey Zimmerman also rode online acceptance to mainstream success — the former built a career on his YouTube buzz, while the latter turned his TikTok virality into Platinum sales. 
The genre expanded in other non-traditional ways in 2022 as well. In particular, indie-rock and LGBTQIA+ artists are no longer hovering in the periphery, but making real impacts on country music listenership, thanks to worthy efforts by Waxahatchee and Adeem the Artist, among others.
As country music continues to expand its horizons into 2023, here are six trends that defined country music in 2022.
New Artists Dominated
If the emergence of new talent is a barometer of a genre's health, country music has nothing to worry about. Not since 2015 has a country artist landed on Billboard's top five Best New Artists, when Sam Hunt broke through big. But this year, country music landed two of the five spots on the year-end chart, thanks to newcomers Zach Bryan and Bailey Zimmerman.
Bryan emerged with an audacious statement, claiming country's biggest first-week sales with his major-label debut, the triple-album American Heartbreak. The album landed at No. 5 on the Billboard Top 200 and topped country streaming tallies on both Spotify and Apple Music. 
Like Bryan, who first found success when his music went viral on social media, Bailey Zimmerman parlayed his online following into an impressive run with Platinum singles "Fall in Love" and "Rock and a Hard Place." Both are off of his first EP on Warner Music Nashville, Leave the Light On, which became the most-streamed all-genre debut of the year and the biggest streaming country debut of all time.
Lainey Wilson also had a banner year, proving that her No. 1 hit on country radio with "Things A Man Oughta Know" in 2021 was no fluke. In between winning new artist honors from both the Academy of Country Music and the Country Music Association this year, she landed her second No. 1 on country radio with the Cole Swindell collab "Never Say Never" in April. Most recently, Wilson became the latest country star to appear on the hit Paramount TV drama "Yellowstone"; she debuted on season five as the character Abby, performing her original songs "Smell Like Smoke" and "Watermelon Moonshine," and has become a recurring character.
After Jelly Roll made waves with his 2021 single "Dead Man Walking" and the 2022 Brantley Gilbert collaboration "Son of the Dirty South," the Nashville country rapper solidified himself as a newcomer to watch with "Son of a Sinner." The slow-burning single scored Jelly Roll his first top 10 hit on Billboard's Hot Country Songs and Country Airplay charts, and it broke the Top 40 of the Billboard Hot 100. He also proved his hometown pride is strong: On. Dec 9, he headlined a sold-out show at Nashville's 20,000-cap Bridgestone Arena.
Bluegrass Saw A Resurgence
You'd be hard-pressed to find another artist who has broadened the bluegrass horizon in recent years more than Billy Strings; his progressive approach to the foundational country genre pulls in elements of rock and psychedelia. While he titled his 2019 Grammy-winning album Home, on his 2022 set Me/And/Dad, Strings came full-circle to play traditional bluegrass standards with his father, Terry, like they did when he was a kid. Strings (whose birth name is William Lee Apostol) even located the Martin acoustic guitar Terry played in those early days but pawned to support the family, fulfilling Billy's bucket-list bluegrass album in more ways than one.
Representing the more traditional approach to the genre, bluegrass icon Del McCoury issued his 17th album, Almost Proud, in February. A peer and collaborator of the genre's Mt. Rushmore (Ralph Stanley, Bill Monroe, Lester Flatt and Earl Scruggs), McCoury is keeping the flame lit in his ninth decade — and he hasn't lost a lick of his abilities. McCoury and his sons Ronnie and Robbie pick, roll and harmonize like it's a Saturday night at the Grand Ole Opry. 
Up in the Smoky Mountains of Tennessee, the Po' Ramblin' Boys have tapped into a similar authenticity by playing bluegrass standards like their forebears. Although they formed around a regular gig at a moonshine distillery, their 2022 album God's Love Is So Divine walks the straight and narrow on 13 gospel bluegrass tunes. 
Old Crow Medicine Show have come a long way since O.G. bluegrass musician Doc Watson discovered them busking on the streets of Boone, North Carolina in 2000. While that growth is evident throughout 2022's Paint This Town, they incorporate bluegrass on tracks like "Painkiller," "DeFord Rides Again" and "Hillbilly Boy." The group also invited Americana mainstay Jim Lauderdale to co-write a couple of tunes, and Mississippi fife master Sharde Thomas to guest on "New Mississippi Flag."
Punk Went Country (And Country Went Punk)
Genre-bending is nothing new in Nashville, and even punk rockers have been acknowledging the raw power of country music since the early '80s — when bands like X, Social Distortion and The Gun Club began incorporating elements into their music, and even covering classics like Johnny Cash's "Ring of Fire." Fast forward to 2022, and the trend has kicked into high gear.
Woody Guthrie, the iconic folk hero of dust-bowl-era America, left behind a large body of unrecorded songs — evidenced by the three volumes of lyrics that have been set to music and recorded as Mermaid Avenue by Billy Bragg and Wilco. Boston pub punks Dropkick Murphys plucked 10 more uncut Guthrie gems for their 2022 set This Machine Still Kills Fascists, a play on the line Guthrie famously scrawled onto the body of his guitar. For their first country album, Dropkick Murphys recruited two of the genre's brightest lights: Nikki Lane, who guests on "Never Git Drunk No More," and Evan Felker of Turnpike Troubadours, who shares the mic on "The Last One."
Foo Fighter Chris Shiflett — who previously played with speedy punks No Use For A Name — got into the act, too. When he isn't cranking guitars alongside Dave Grohl and Pat Smear, he plays his own Bakersfield-inspired country rock, as heard on 2017's West Coast Town and 2019's Hard Lessons. This year, he issued the singles "Born & Raised" and "Long, Long Year," a pair of breezy, pedal steel-assisted cuts that find him leaning more than ever into his sunny SoCal disposition.
Shiflett previously shredded the guitar solo on "Goin' Nowhere," a collaboration with country hitmaker HARDY on his Hixtape Vol. 2, released in the last weeks of 2021. Now, HARDY's back and flipping the script with his own rock record, the mockingbird & THE CROW, set for release in January. Early singles "JACK," "TRUCK BED" and the title track, all released in 2022, show the influence of Nirvana and post-grunge songcraft alongside his distinctive, rhythmic lyrical delivery.
Legends Got Their Due
In 2022, country music proved that age is irrelevant when the music is this good. Newcomers Chapel Hart captured the national spotlight — and a rare Golden Buzzer — on "America's Got Talent" in July with a nod to icon Dolly Parton. The trio's electrifying performance of their original song "You Can Have Him Jolene," an answer to Parton's 1974 smash "Jolene," elevated them to star status, and they spent the latter half of 2022 playing to sold-out audiences across America. Darius Rucker even recruited them to back him on his song "Ol' Church Hymn."
Parton had her own high point this year, earning her first No. 1 on Billboard's Bluegrass Albums chart with her 48th studio album, Run, Rose, Run. She also released a new compilation album, Diamonds & Rhinestones: The Greatest Hits Collection, in November. 
After Shania Twain spent the last couple of years featuring on other artist's songs, the best-selling female country artist of all time returned to her throne in 2022. She announced her sixth studio album, Queen of Me (due Feb. 3, 2023), helmed by the dance-floor bop "Waking Up Dreaming." The announcement followed the Netflix documentary Not Just A Girl (and the companion album that featured more than a dozen unreleased songs) and preceded another huge announcement: a 76-date U.S. tour for 2023.
Twain's fellow genre-bending '90s icon, Sheryl Crow, also issued a documentary in 2022. The Showtime special, "Sheryl," was accompanied by a double-album compilation of the same name, which featured two discs of hits plus collaborations with Chris Stapleton, Stevie Nicks, Jason Isbell and more. Crow also featured on 2022 releases from TobyMac and Lucius. The latter track also featured Brandi Carlile, who has played a big role in Tanya Tucker's recent comeback story — as shown in yet another 2022 doc, "The Return of Tanya Tucker," which featured their song "Ready As I'll Never Be."
The CMA Awards paid tribute to icons Jerry Lee Lewis, who passed away in October, and Alan Jackson, who is in the midst of a farewell tour dubbed Last Call: One More For the Road. Firebrand singer Elle King channeled The Killer's wild moves as she performed his signature hit, "Great Balls of Fire," backed by The Black Keys. Meanwhile, Carrie Underwood led a star-studded Jackson tribute featuring Dierks Bentley, Jon Pardi and Lainey Wilson, who performed a melody of his hits including "Chattahoochee" and "Don't Rock the Jukebox."
The legacies continued both on stage and in studio. Brooks & Dunn's Ronnie Dunn, Reba McEntire and Bonnie Raitt all returned with new albums in 2022; meanwhile, Shenandoah, Billy Dean and Wade Hayes appeared on the Country Comeback Tour, and Wynonna led The Judds: The Final Tour in tribute to her mother, Naomi Judd, who passed away in April.
Indie Rockers Infiltrated Country Music
As '90s-style indie rock has a moment thanks to artists like Big Thief, Momma and Alvvays, Katie Crutchfield is leaning deeper into laid-back country vibes. The leader of Waxahatchee, whose blissful 2020 set Saint Cloud landed her on scores of year-end lists, doubled down in 2022.
Waxahatchee collaborated with Wynonna on the single "Other Side," recorded on the Judds singer's farm in Tennessee — an experience both artists ranked among their favorite recording sessions. Crutchfield also collaborated with Jess Williamson on a new project dubbed Plains, releasing the album I Walked With You A Ways in 2022 to critical acclaim. The 10 songs on Plains' debut rival the artists' soothing solo work and combine their strengths with Fleetwood Mac harmonies.
Madison Cunningham, who is best known for weaving mind-bending melodies and harmonies between her voice and guitar, guested on the second edition of Watkins Family Hour — which pairs siblings Sara and Sean Watkins of Nickel Creek with a series of notable collaborators like Fiona Apple and Jackson Browne — contributing her signature spidery guitar playing to "Pitseleh."
Other notables on the indie side of country include Swedish folk duo First Aid Kit, who returned with Palomino, a strummy set of acoustic guitar-driven country pop and their first album in four years. Michaela Anne's gentle LP Oh To Be That Free chronicled a period of personal troubles with compassion, while Sierra Ferrell released the sparse, playful single "Hey Me, Hey Mama" and collaborated with Shakey Graves on "Ready Or Not." 
LGBTQIA+ Country Artists Were Celebrated
Acceptance for LGBTQIA+ artists in country music has grown steadily in recent years, thanks to efforts by allies like Kacey Musgraves and Dolly Parton, as well as artists who have publicly discussed their sexuality, including T.J. Osborne, Lil Nas X, Chely Wright, Amythyst Kiah and Shane McAnally. With such star power in their corner, gay and non-binary country artists are now getting a fairer shake.
Non-binary singer-songwriter Adeem the Artist released the acclaimed album White Trash Revelry. Over 11 songs, Adeem chronicles their experiences growing up different in small towns surrounded by smaller minds — from the stomp-along "Going to Hell" to the Heartland rocker "Heritage of Arrogance" and fingerpicked album closer "My America." 
Elsewhere, Orville Peck, the masked singer who performs a fever dream of '70s-inspired country music with a deep-throated croon, returned with his second album, Bronco. Peck traded the spare songscapes of his 2019 debut, Pony, for Bronco's more fully realized, cinematic arrangements, broadening his sound and the scope of his persona.
Brandi Carlile, whose pro-LGBTQIA+ activism is tied directly to her music — she founded the Looking Out Foundation early in her music career, and donates a portion of touring proceeds to groups like The Trevor Project — has seen her reputation grow steadily over nearly two decades of releasing music to ever-growing audiences. In 2022, she added to an already storied career by  performing with her personal hero, Joni Mitchell, at Newport Folk Festival. Carlile also headlined Tennessee's Pilgrimage Music & Cultural Festival, marking the first time a woman has headlined the fest. 
However country music continues to expand and impact culture as a result, 2022's trends certainly set up a promising future for the genre.
Hear All Of The Best Country Solo Performance Nominees For The 2023 GRAMMY Awards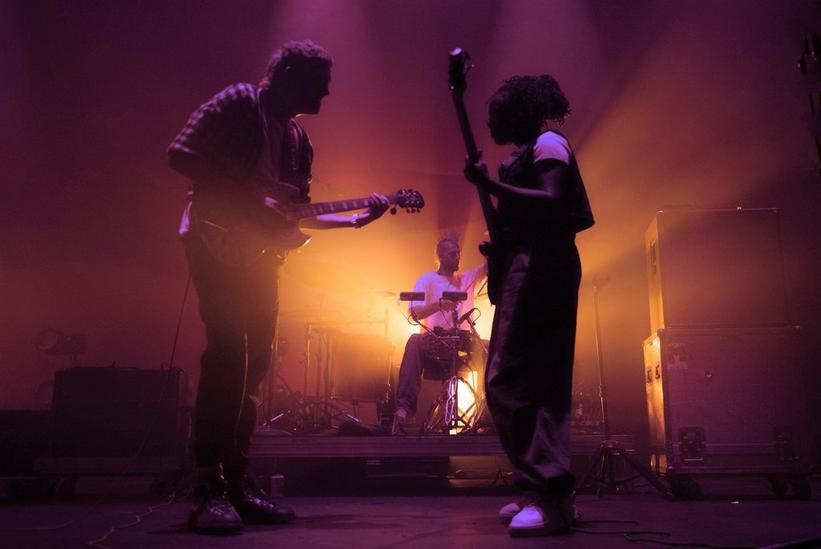 list
A Guide To Modern Funk For The Dance Floor: L'Imperatrice, Shiro Schwarz, Franc Moody, Say She She & Moniquea
James Brown changed the sound of popular music when he found the power of the one and unleashed the funk with "Papa's Got a Brand New Bag." Today, funk lives on in many forms, including these exciting bands from across the world.
GRAMMYs
/
Nov 25, 2022 - 04:23 pm
It's rare that a genre can be traced back to a single artist or group, but for funk, that was James Brown. The Godfather of Soul coined the phrase and style of playing known as "on the one," where the first downbeat is emphasized, instead of the typical second and fourth beats in pop, soul and other styles. As David Cheal eloquently explains, playing on the one "left space for phrases and riffs, often syncopated around the beat, creating an intricate, interlocking grid which could go on and on." You know a funky bassline when you hear it; its fat chords beg your body to get up and groove.
Brown's 1965 classic, "Papa's Got a Brand New Bag," became one of the first funk hits, and has been endlessly sampled and covered over the years, along with his other groovy tracks. Of course, many other funk acts followed in the '60s, and the genre thrived in the '70s and '80s as the disco craze came and went, and the originators of hip-hop and house music created new music from funk and disco's strong, flexible bones built for dancing.
Legendary funk bassist Bootsy Collins learned the power of the one from playing in Brown's band, and brought it to George Clinton, who created P-funk, an expansive, Afrofuturistic, psychedelic exploration of funk with his various bands and projects, including Parliament-Funkadelic. Both Collins and Clinton remain active and funkin', and have offered their timeless grooves to collabs with younger artists, including Kali Uchis, Silk Sonic, and Omar Apollo; and Kendrick Lamar, Flying Lotus, and Thundercat, respectively.
In the 1980s, electro-funk was born when artists like Afrika Bambaataa, Man Parrish, and Egyptian Lover began making futuristic beats with the Roland TR-808 drum machine — often with robotic vocals distorted through a talk box. A key distinguishing factor of electro-funk is a de-emphasis on vocals, with more phrases than choruses and verses. The sound influenced contemporaneous hip-hop, funk and electronica, along with acts around the globe, while current acts like Chromeo, DJ Stingray, and even Egyptian Lover himself keep electro-funk alive and well.
Today, funk lives in many places, with its heavy bass and syncopated grooves finding way into many nooks and crannies of music. There's nu-disco and boogie funk, nodding back to disco bands with soaring vocals and dance floor-designed instrumentation. G-funk continues to influence Los Angeles hip-hop, with innovative artists like Dam-Funk and Channel Tres bringing the funk and G-funk, into electro territory. Funk and disco-centered '70s revival is definitely having a moment, with acts like Ghost Funk Orchestra and Parcels, while its sparkly sprinklings can be heard in pop from Dua Lipa, Doja Cat, and, in full "Soul Train" character, Silk Sonic. There are also acts making dreamy, atmospheric music with a solid dose of funk, such as Khruangbin's global sonic collage.
There are many bands that play heavily with funk, creating lush grooves designed to get you moving. Read on for a taste of five current modern funk and nu-disco artists making band-led uptempo funk built for the dance floor. Be sure to press play on the Spotify playlist above, and check out GRAMMY.com's playlist on Apple Music, Amazon Music and Pandora.
Say She She
Aptly self-described as "discodelic soul," Brooklyn-based seven-piece Say She She make dreamy, operatic funk, led by singer-songwriters Nya Gazelle Brown, Piya Malik and Sabrina Mileo Cunningham. Their '70s girl group-inspired vocal harmonies echo, sooth and enchant as they cover poignant topics with feminist flair.
While they've been active in the New York scene for a few years, they've gained wider acclaim for the irresistible music they began releasing this year, including their debut album, Prism. Their 2022 debut single "Forget Me Not" is an ode to ground-breaking New York art collective Guerilla Girls, and "Norma" is their protest anthem in response to the news that Roe vs. Wade could be (and was) overturned. The band name is a nod to funk legend Nile Rodgers, from the "Le freak, c'est chi" exclamation in Chic's legendary tune "Le Freak."
Moniquea
Moniquea's unique voice oozes confidence, yet invites you in to dance with her to the super funky boogie rhythms. The Pasadena, California artist was raised on funk music; her mom was in a cover band that would play classics like Aretha Franklin's "Get It Right" and Gladys Knight's "Love Overboard." Moniquea released her first boogie funk track at 20 and, in 2011, met local producer XL Middelton — a bonafide purveyor of funk. She's been a star artist on his MoFunk Records ever since, and they've collabed on countless tracks, channeling West Coast energy with a heavy dose of G-funk, sunny lyrics and upbeat, roller disco-ready rhythms.
Her latest release is an upbeat nod to classic West Coast funk, produced by Middleton, and follows her February 2022 groovy, collab-filled album, On Repeat.
Shiro Schwarz
Shiro Schwarz is a Mexico City-based duo, consisting of Pammela Rojas and Rafael Marfil, who helped establish a modern funk scene in the richly creative Mexican metropolis. On "Electrify" — originally released in 2016 on Fat Beats Records and reissued in 2021 by MoFunk — Shiro Schwarz's vocals playfully contrast each other, floating over an insistent, upbeat bassline and an '80s throwback electro-funk rhythm with synth flourishes.
Their music manages to be both nostalgic and futuristic — and impossible to sit still to. 2021 single "Be Kind" is sweet, mellow and groovy, perfect chic lounge funk. Shiro Schwarz's latest track, the joyfully nostalgic "Hey DJ," is a collab with funkstress Saucy Lady and U-Key.
L'Impératrice
L'Impératrice (the empress in French) are a six-piece Parisian group serving an infectiously joyful blend of French pop, nu-disco, funk and psychedelia. Flore Benguigui's vocals are light and dreamy, yet commanding of your attention, while lyrics have a feminist touch.
During their energetic live sets, L'Impératrice members Charles de Boisseguin and Hagni Gwon (keys), David Gaugué (bass), Achille Trocellier (guitar), and Tom Daveau (drums) deliver extended instrumental jam sessions to expand and connect their music. Gaugué emphasizes the thick funky bass, and Benguigui jumps around the stage while sounding like an angel. L'Impératrice's latest album, 2021's Tako Tsubo, is a sunny, playful French disco journey.
Franc Moody
Franc Moody's bio fittingly describes their music as "a soul funk and cosmic disco sound." The London outfit was birthed by friends Ned Franc and Jon Moody in the early 2010s, when they were living together and throwing parties in North London's warehouse scene. In 2017, the group grew to six members, including singer and multi-instrumentalist Amber-Simone.
Their music feels at home with other electro-pop bands like fellow Londoners Jungle and Aussie act Parcels. While much of it is upbeat and euphoric, Franc Moody also dips into the more chilled, dreamy realm, such as the vibey, sultry title track from their recently released Into the Ether.
The Rise Of Underground House: How Artists Like Fisher & Acraze Have Taken Tech House, Other Electronic Genres From Indie To EDC