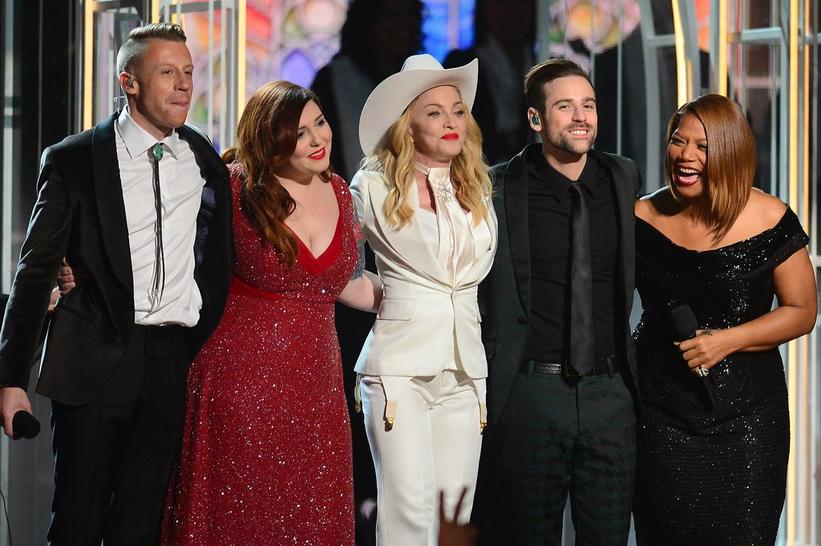 L-R: Macklemore, Mary Lambert, Madonna, Ryan Lewis and Queen Latifah after performing "Same Love" at the 2014 GRAMMYs
Photo: FREDERIC J. BROWN/AFP via Getty Images
feature
Why Macklemore & Ryan Lewis' "Same Love" Was One Of The 2010s' Most Important LGBTQ+ Anthems — And How It's Still Impactful 10 Years On
As "Same Love" turns 10, Macklemore & Ryan Lewis' collaborators revisit the song's powerful impact, from lyrics that support gay marriage to a mass wedding at the 2014 GRAMMYs.
GRAMMYs
/
Jul 21, 2022 - 10:09 pm
When Mary Lambert recorded the chorus of Macklemore & Ryan Lewis' "Same Love" in early 2012, she was working three jobs. An aspiring singer/songwriter on the side, Lambert landed the feature through her peer in Seattle's art scene, Hollis Wong-Wear, who had worked with Macklemore and Lewis on their track "White Walls." It was a big opportunity for Lambert, as Macklemore & Ryan Lewis were coming off of a No. 1 hit with 2011's "Can't Hold Us." But more importantly, she was able to provide her voice to one of the decade's biggest LGBTQ+ anthems.
"Same Love" — a call to action to support marriage equality — was released in July of 2012, nearly three years before same-sex marriage was legalized nationwide. It became a radio hit around summer 2013, when the Defense of Marriage Act was struck down. While songs like Madonna's "Express Yourself" or Whitney Houston's "I Wanna Dance With Somebody (Who Loves Me)" have long been hailed as Pride anthems, "Same Love" was one of the first mainstream hits to outwardly vocalize support for LGBTQ+ rights and marriage equality, and to condemn stereotypes attributed to people of the community.
Macklemore was partially inspired by his gay uncle, who is mentioned in the song's first verse, when writing "Same Love." But he felt particularly inclined to write the song upon reading about a teenager who killed himself after being bullied for his sexuality, he revealed in a 2013 interview with New York Times.
"I just wanted to hold myself accountable," Macklemore said, "and hold hip-hop accountable and bring up an issue that was being pushed under the rug."
Lambert, then 22, had a different personal connection to "Same Love," as she came out as a lesbian when she was 17. (She alludes to her sexuality in the chorus, in which she sings, "And I can't change/ Even if I tried/ Even if I wanted to/ My love, my love, my love/ She keeps me warm.") While she wasn't sure how the song would be received, Lambert knew she was part of something special — so special, in fact, that she told her three bosses that she may need Sundays off during awards season.
Her instinct was right: "Same Love" was nominated for Song Of The Year at the 2014 GRAMMY Awards, where Lambert — alongside Macklemore & Ryan Lewis, Madonna and Queen Latifah — delivered a powerful performance of the song that saw gay and heterosexual couples get married on live television. Queen Latifah officiated the mass wedding, and near the end of the performance, Madonna arrived on stage, singing a portion of her 1986 hit "Open Your Heart" before joining Lambert in singing the final chorus and outro of "Same Love."
The monumental moment was an idea that was born out of a conversation then-GRAMMYs producer Ken Ehrlich had with his daughter, who identifies as a lesbian. His daughter mentioned that some same-sex couples had set some of their engagement and marriage videos to "Same Love," and that the song had garnered much popularity in the LGBTQ+ community.
"A light bulb went on in my head," Ehrlich says. "We could conceivably do a performance on the show where we brought together a number of couples, and not just same-sex couples. I wanted to try and universalize it in one way, and show the importance of diversity and embracing all of our communities. I wanted to demonstrate that it's not unusual, but it's universal." 
Once he had the Recording Academy on board with the concept, Ehrlich reached out to Latifah to ask her to marry all of the couples. Not only did she say yes — she obtained an ordained minister license specifically for the performance.
Read More: Where, What Channel & How To Watch The Full 2023 GRAMMYs
As Lambert recalls, she was told about the mass-wedding performance in a series of phone calls as it came together. "I was like, 'Oh my God, I already I cry at one wedding, how am I gonna hold it together for 33 weddings?'" Lambert jokes. "I got [a] call that was like, 'Can you do a duet with Madonna?' And I was like, 'Oh my God. This isn't real.' A week later, I got a call saying Queen Latifah is gonna marry couples. And then I'm like, 'Is someone gonna get resurrected next?'
"Every week, it just felt more and more surreal," she continues. "I remember each of those phone calls and just being like, 'This is just f*ing unbelievable.'" 
The 2014 GRAMMYs marked a pinnacle moment for "Same Love," but its impact had already been solidified. Though the song had a slow burn on the charts upon its 2012 release, it eventually peaked at No. 11 on the Billboard Hot 100 in July 2013. Within that year, the Defense of Marriage Act became a hot-button topic, as the United States Supreme Court had declared DOMA — which denied same-sex couples the benefits and legal recognition given to opposite-sex couples — unconstitutional the month before.
Macklemore and Lewis always meant for "Same Love" to make a social impact. The song was unofficially adopted as a campaign song for Washington State activist groups working to pass Referendum 74 to legalize same-sex marriage in the state. A portion of proceeds from "Same Love" were donated to Washington United for Marriage, as the state is home to Macklemore, Lewis and Lambert.
The song's accompanying music video, directed by Jon Jon Augustavo, depicts the life of two queer men, as they grow from their youth in love, into their marriage, and arrive together to their old age. While many attributed the song and its video to the approval of Referendum 74 in Washington State in November 2012, Augustavo said in an interview with IMVDB that neither he — nor Macklemore or Lewis — feel comfortable taking credit for this.
"I think all of us that were involved do feel we're a small part of it," Augustavo said. "You have to say at least the audience that the video hit, their audience for music, ages 16-26 or so, you have to believe it at least educate them about, or at least encouraged them to look up, what Referendum 74 was. With it being passed, hopefully we played a small part in that."
Macklemore isn't subtle about the fact that "Same Love" is a pro-gay anthem, even declaring his own stance in the song's second verse: "No freedom till we're equal/ damn right, I support it."
He also uses the verses to call out those who don't, including "right-wing conservatives" and religious groups, as well as those who use the term "gay" in a derogatory sense. But perhaps his most powerful lyric makes a statement that is equal parts thought-provoking and change-making: "It's the same hate that's caused wars from religion/ Gender to skin color the complexion of your pigment/ The same fight that lead people to walk-outs and sit-ins/ It's human rights for everybody/ There is no difference."
Read More: The Rise Of The Queer Pop Star In The 2010s
Commercially, "Same Love" became anthemic at a time when LGBTQ+ artists didn't have much of a presence on mainstream radio. According to New York Times, "Same Love" was "the first song to explicitly embrace and promote gay marriage that has made it into the Top 40," per gay rights activists and radio executives.
"The fact that a song solely dedicated to the message of marriage equality is climbing the charts and quickly becoming a popular song across the country is a big deal," said Charlie Joughin, a spokesman for the Human Rights Campaign, in a 2013 interview. "It's indicative of a changing attitude."
One could argue that its popularity and presence on the radio opened the doors for LGBTQ+ artists to thrive in mainstream pop. A year later, Sam Smith would make their proper debut with their 2014 single, "Stay With Me." USA Today named "Stay With Me" Song of the Year in 2014, saying, "'Stay With Me's' gospel-tinged piano and Smith's sweet, heart-tugging falsetto struck a chord of universal yearning, like the living embodiment of Macklemore & Ryan Lewis' 'Same Love.'"
But with the success also came controversy, as some members of the LGBTQ community felt Macklemore was waxing sanctimonious over something a cisgender straight man could never fully understand. In a 2014 op-ed for The New Republic, writer Brandon Ambrosino said that while he enjoys the song, he felt it sends the wrong message about being gay.
"The aversion to that word [choice] in our community stems from belief that if we can't prove that our gayness is biologically determined, then we won't have grounds to demand equality," said Ambrosino. "I think this fear needs to be addressed and given up. In America, we have the freedom to be as well as to choose to be. I see no reason to believe that the only sexualities worth protecting are the ones over which one has no control."
While some felt Macklemore's outwardly pro-gay stance seemed performative, others found that it came in earnest, and unlike anything previously on mainstream radio. "Macklemore's lyrics offered an idiosyncratic perspective on homophobia in hip-hop and American society at large, criticizing both with a mixture of gentleness and firmness that I had not heard before," Slate's J. Bryan Lowder wrote in 2013. "And most importantly, his support of the gay community felt sincere."
Macklemore and Lambert are all aware of criticisms toward "Same Love." Yet, Macklemore remains an outspoken ally to the LGBTQ+ community, and continues to donate proceeds from the song to organizations supporting LGBTQ+ equality. Lambert also remains proud of the song, and argues that people shouldn't discount it simply because of its lead artist being a cis straight white male.
"A straight white guy performing a good ally song has an element of cheesiness, but I think gay rights have progressed so astronomically fast, that people forget the impact the song had," Lambert says. "I feel like sometimes it's dismissed. I might have a little bit of a chip on my shoulder to be like, 'Don't dismiss it.' If it got released now, I'm sure it'd be a little cheesy. But in 2012, it was everything. It meant so much to a lot of people, and it certainly meant a lot to me. And it still does."
Josh Rawlings, who played the instantly recognizable piano hook of "Same Love," says he gets asked to play the song at weddings to this day. "It's still very relevant with the climate of sexual and gender identity, and all of these important movements that are still being discussed and talked about," he says. 
"It's a slow, painful process, but I have to believe that songs like these affix themselves to not just that point in human history, but they can be relevant for all of human history," Rawlings adds. "They can be songs that we claim as a real triumph. I see it's still weighing on hearts and minds."
Ten years after "Same Love"'s release, the song has once again sparked a conversation thanks to TikTok. While some queer and trans Gen Z-ers have subverted the idea that the song is "cringe," others argue that it held major meaning at the time of its release.
"It's literally crazy how progressive/brave this song was," said TikTok user @kylierobinsun. "Gay marriage wasn't even legal in the United States when this song came out in 2012. I remember hearing this and feeling at peace when I was little."
The song has been used in nearly 20,000 TikTok videos, many of which see young LGBTQ+ people sharing how the song impacted them. "I remember trying not to cry in the car when this played on the radio, trying not to out myself, because I had never heard anything like it," @peelingplums wrote. "This song made me realize that I have allies, that I'm not alone and there are people who will stand up for me and mine." 
The video blatantly contests that "Same Love" is "cringe," echoing Lambert's argument — no matter how the song has aged, it sends a message that will always be meaningful. "By today's standards, this song may be cringe," @peelingplums added, "but by 2012 standards? It was life changing."
Lizzo's Road To 'Special': How Beyoncé, Prince & Self-Love Helped Find Her Destiny As Pop's Confidence Queen
feature
Jon Stewart to LL Cool J: Who has hosted the GRAMMYs?
From Andy Williams and Whoopi Goldberg to Jon Stewart and LL Cool J, GRAMMY hosts have been a varied cast
GRAMMYs
/
May 15, 2017 - 01:36 pm
When LL Cool J takes the stage to open the 55th Annual GRAMMY Awards, nobody's going to question his hosting credentials. The two-time GRAMMY-winning rapper, also star of "NCIS: Los Angeles," is a multiplatform dynamo. Plus he's experienced — he led last year's GRAMMY extravaganza at Staples Center.
The producers of Music's Biggest Night haven't always relied on the kind of superstar who can swing deftly from a concert stage to a TV set to shepherd millions of viewers through the telecast, though. Before LL Cool J got the nod in 2012, the GRAMMYs went hostless for several years. And before that — from the first nontelevised ceremony in 1959, with political comedian Mort Sahl, to 2005, when GRAMMY winner Queen Latifah was at the helm — an assortment of talents have played the role of GRAMMY host.
If they have anything in common, it may be along the lines of what a combined 50-plus years of Record and Song Of The Year awards share: they're all hugely recognizable. And more than a little influential.
Hosts, like the winning recordings, have been notable for the way they engaged (Paul Simon, host at the 23rd GRAMMY Awards in 1981, performed his relentlessly catchy "Late In The Evening"), or for the doses of poignancy they brought to the proceedings (just last year at the 54th GRAMMY Awards, LL Cool J led a prayer for the late Whitney Houston). Some captured the zeitgeist and, like certain songs, will go down in GRAMMY history for catching people off guard.
Take Jon Stewart.
Stewart, along with Garry Shandling and Paul Reiser before him, fits the category of GRAMMY comedian hosts, an era that spans from 1987, when Billy Crystal began his three-year run, to 2002, when Stewart hosted for a second year. Stewart's entrance onto the 44th Annual GRAMMY stage on Feb. 27, 2002, was less than grand: At the end of an opening skit in which he tussled with a pretend airportlike security team – a riff on the pumped-up security measures that swept the country soon after Sept. 11 — he was stripped, forcibly, down to his boxers.
Because the GRAMMYs are well-versed in the ways of rock stars, their fashion sense included, the show is only nominally a black-tie event (at least since the mid-'60s, when, pre-televised, it was held in hotel ballrooms on both coasts). Boxers only, though, was a bolder-than-usual fashion statement.
At times, GRAMMY hosts such as Kelsey Grammer have been caught off guard. The TV actor, who hosted the 40th annual show in 1998, had to figure out what to make of the shirtless stage crasher who forever will be known as "Soy Bomb" because of those same two words, inexplicably painted across his bare chest. Soy Bomb, neé Michael Portnoy, memorably interrupted Bob Dylan's performance of "Love Sick," from his Album Of The Year-winning Time Out Of Mind, that night. Grammer — though he played a psychologist on TV at the time — was as confused by the stunt as everyone else.
Before comedy became a staple at GRAMMY telecasts, hosts were tapped for their own musical accomplishments. Andy Williams, a '60s superstar for indelible hits such as "Moon River" as well as his two TV variety series, hosted the first seven live shows, starting in 1971 with the 13th Annual GRAMMY Awards.
In 1978, for the 20th Annual GRAMMY Awards, Williams gave way to John Denver, then in his recording prime. Like Williams, Denver went on to become a regular — he hosted five more times, winding up his tenure in 1985. But his run was not without interruptions. Country star Kenny Rogers hosted in 1980, at the 22nd Annual GRAMMY Awards, and went on to host again six years later. Denver also put his hosting duties on hiatus in 1981, at the 23rd Annual GRAMMYs, when Simon signed on.
Williams is the only one of those early musical chart-toppers not to have won a GRAMMY himself, though he was nominated several times. In all, since the first broadcast, seven hosts have won GRAMMYs. Besides Denver, Rogers and Simon, Stewart won Best Comedy Album for 2004's The Daily Show With Jon Stewart Presents … America: A Citizens Guide To Democracy Inaction and Best Spoken Word Album for his 2010 release The Daily With Jon Stewart Presents Earth (The Audiobook); Whoopi Goldberg, who hosted the 34th Annual GRAMMYs in 1992, during the comedian-as-host phase and won for Best Comedy Recording for her 1985 album Whoopi Goldberg — Original Broadway Show Recording; Queen Latifah, who hosted in 2005 and won Best Rap Solo Performance in 1994 for "U.N.I.T.Y."; and current host LL Cool J, who won Best Rap Solo Performance in 1991 for "Mama Said Knock You Out" and in 1996 for "Hey Lover." DeGeneres is vying to become the eighth with a current 55th GRAMMY nomination for Best Spoken Word Album. Simon has given the most acceptance speeches — he's won 16 GRAMMYs.
While GRAMMY hosts have a knack for scoring GRAMMYs themselves, that isn't the only thing connecting them, achievement-wise. Several have gone on to host other awards broadcasts, too — most notably Crystal, who has hosted the Academy Awards a whopping nine times. Goldberg and Stewart have also been Oscar hosts, though, and so has DeGeneres, who hosted the 38th and 39th Annual GRAMMYs in 1996 and 1997, respectively. Rosie O'Donnell — another veteran of the era of comedic GRAMMY hosts for her 1999–2000 stint — has been a regular host of the Tony Awards. And Queen Latifah has helmed the People's Choice Awards and the BET Awards.
No matter what they went on to do, or how many stages they won awards on themselves, each has proved an essential, memorable part of Music's Biggest Night.
(Tammy La Gorce is a freelance writer whose work appears regularly in The New York Times, and on All Music Guide and Amazon.com.)
news
Jay Z Tops 56th GRAMMY Nominations With Nine
Kendrick Lamar, Macklemore & Ryan Lewis, Justin Timberlake, and Pharrell Williams earn seven nods each; other top nominees include Daft Punk, Drake, Lorde, Bruno Mars, and Taylor Swift
GRAMMYs
/
Dec 3, 2014 - 05:06 am
Nominations for the 56th GRAMMY Awards were announced tonight by The Recording Academy and reflected one of the most diverse years with the Album Of The Year category alone representing the rap, pop, country and dance/electronica genres, as determined by the voting members of The Academy. Once again, nominations in select categories for the annual GRAMMY Awards were announced on primetime television as part of "The GRAMMY Nominations Concert Live!! — Countdown To Music's Biggest Night," a one-hour CBS entertainment special broadcast live from Nokia Theatre L.A. Live.

Jay Z tops the nominations with nine; Kendrick Lamar, Macklemore & Ryan Lewis, Justin Timberlake, and Pharrell Williams each garner seven nods; Drake and mastering engineer Bob Ludwig are up for five awards.

"This year's nominations reflect the talented community of music makers who represent some of the highest levels of excellence and artistry of the year in their respective fields," said Neil Portnow, President/CEO of The Recording Academy. "Once again, The Academy's awards process and its voting membership have produced an impressive list of nominations across various genres promising music fans a spectacular show filled with stellar performances and unique 'GRAMMY Moments.' We are off to a great start and look forward to GRAMMY Sunday as Music's Biggest Night takes the stage."

Following are the nominations in the General Field categories:
Album Of The Year:
The Blessed Unrest — Sara Bareilles
Random Access Memories — Daft Punk
Good Kid, M.A.A.D City — Kendrick Lamar
The Heist — Macklemore & Ryan Lewis
Red — Taylor Swift

Record Of The Year:
"Get Lucky" — Daft Punk & Pharrell Williams
"Radioactive" — Imagine Dragons
"Royals" — Lorde
"Locked Out Of Heaven" — Bruno Mars
"Blurred Lines" — Robin Thicke Featuring T.I. & Pharrell Williams

Song Of The Year:
"Just Give Me A Reason" — Jeff Bhasker, Pink & Nate Ruess, songwriters (Pink Featuring Nate Ruess)
"Locked Out Of Heaven" — Philip Lawrence, Ari Levine & Bruno Mars, songwriters (Bruno Mars)
"Roar" — Lukasz Gottwald, Max Martin, Bonnie McKee, Katy Perry & Henry Walter, songwriters (Katy Perry)
"Royals" — Joel Little & Ella Yelich O'Connor, songwriters (Lorde)
"Same Love" — Ben Haggerty, Mary Lambert & Ryan Lewis, songwriters (Macklemore & Ryan Lewis Featuring Mary Lambert)

Best New Artist:
James Blake
Kendrick Lamar
Macklemore & Ryan Lewis
Kacey Musgraves
Ed Sheeran

Following is a sampling of nominations in the GRAMMY Awards' other 29 Fields:

For Best Pop Solo Performance, the nominees are "Brave" by Sara Bareilles; "Royals" by Lorde; "When I Was Your Man" by Bruno Mars; "Roar" by Katy Perry; and "Mirrors" by Justin Timberlake.

The nominees for Best Pop Duo/Group Performance are "Get Lucky" by Daft Punk & Pharrell Williams; "Just Give Me A Reason" by Pink Featuring Nate Ruess; "Stay" by Rihanna Featuring Mikky Ekko; "Blurred Lines" by Robin Thicke Featuring T.I. & Pharrell Williams; and "Suit & Tie" by Justin Timberlake & Jay Z.
For Best Dance/Electronica Album, the nominees are Random Access Memories by Daft Punk; Settle by Disclosure; 18 Months by Calvin Harris; Atmosphere by Kaskade; and A Color Map Of The Sun by Pretty Lights.

The Best Rock Performance nominees are "Always Alright" by Alabama Shakes; "The Stars (Are Out Tonight)" by David Bowie; "Radioactive" by Imagine Dragons; "Kashmir (Live)" by Led Zeppelin; "My God Is The Sun" by Queens Of The Stone Age; and "I'm Shakin'" by Jack White.

For Best Alternative Music Album, the nominees are The Worse Things Get, The Harder I Fight, The Harder I Fight, The More I Love You by Neko Case; Trouble Will Find Me by The National; Hesitation Marks by Nine Inch Nails; Lonerism by Tame Impala; Modern Vampires Of The City by Vampire Weekend.

The nominees for Best Rap/Sung Collaboration are "Power Trip" by J.Cole Featuring Miguel; "Part II (On The Run)" by Jay Z Featuring Beyoncé; "Holy Grail" by Jay Z Featuring Justin Timberlake; "Now Or Never" by Kendrick Lamar Featuring Mary J. Blige; and "Remember You" by Wiz Khalifa Featuring The Weeknd.

For Best Rap Album, the nominees are Nothing Was The Same by Drake; Magna Carta…Holy Grail by Jay Z; Good Kid, M.A.A.D City by Kendrick Lamar; The Heist by Macklemore & Ryan Lewis; and Yeezus by Kanye West.

The Best Country Album nominees are Night Train by Jason Aldean; Two Lanes Of Freedom by Tim McGraw; Same Trailer Different Park by Kacey Musgraves; Based On A True Story by Blake Shelton; and Red by Taylor Swift.

The nominees for Best Americana Album are Old Yellow Moon by Emmylou Harris & Rodney Crowell; Love Has Come For You by Steve Martin & Edie Brickell; Buddy And Jim by Buddy Miller And Jim Lauderdale; One True Vine by Mavis Staples; and Songbook by Allen Toussaint.

This year's Producer Of The Year, Non-Classical nominations go to Rob Cavallo, Dr. Luke, Ariel Rechtshaid, Jeff Tweedy, and Pharrell Williams.

This year's GRAMMY Awards process registered more than 22,000 submissions over a 12-month eligibility period (Oct. 1, 2012 – Sept. 30, 2013). GRAMMY ballots for the final round of voting will be mailed on Dec. 11 to the voting members of The Recording Academy. They are due back to the accounting firm of Deloitte by Jan. 8, 2014, when they will be tabulated and the results kept secret until the 56th GRAMMY telecast.

The 56th Annual GRAMMY Awards will be held Jan. 26, 2014, at Staples Center in Los Angeles and once again will be broadcast live in high-definition TV and 5.1 surround sound on CBS from 8–11:30 p.m. (ET/PT). The 56th Annual GRAMMY Awards are produced by AEG Ehrlich Ventures for The Recording Academy. Ken Ehrlich is executive producer, and Louis J. Horvitz is director.

For updates and breaking news, visit The Recording Academy's social networks on Twitter and Facebook.
news
The Week In Music: Who Is The Fairest Of Them All?
GRAMMY ladies go head-to-head in the battle of the pretty
GRAMMYs
/
Dec 3, 2014 - 05:06 am
What are the attributes that make the perfect woman? Is it a camera-ready glow? Fashion sense? Intelligence? Sense of humor? Talent? An uncanny argumentative ability? Chances are the ladies making AskMen.com's Top 99 Women of 2012 list have all of the above, and much more. With actress/television personality Sofia Vergara topping a list containing the usual abundance of actresses, models and paparazzi favorites, current Best New Artist GRAMMY nominee Nicki Minaj led all female musicians at No. 5. Other GRAMMY nominees putting the "s" in scintillating in the top 20 include Rihanna (No. 9), Zooey Deschanel (No. 12), Katy Perry (No. 16), and Lady Gaga (No. 18). Other notables making the grade include Selena Gomez (No. 14), Beyoncé (No. 39) and even hot newcomer Lana Del Rey (No. 95). Of course, lists of this nature are always subjective. But if you're a female looking to get in on the competition, we invite you to sample some tips from our GRAMMY Glam Squad.
While Music's Biggest Night is just a week away, Indianapolis will take center stage on Feb. 5 when the New England Patriots and New York Giants battle it out in Super Bowl XLVI. While the staff at ESPN is busy crunching statistics for their exhaustive game coverage, musicians are chiming in with their official predictions. Not surprisingly, JoJo, who grew up in Foxboro, Mass., will be pulling for Tom Brady and the Patriots. "I just feel like we [will] win by default, because we have heart," said the songstress. Putting on his analyst cap, Nelly thinks the Giants defense will be too hot for the Patriots. "I think the Giants play a little bit better defense, and I just think defense wins championships in the end," he said. Theory Of A Deadman's Tyler Connolly is leaning toward the Giants, but don't quote him on it. "I guess I'll go with the Giants," said Connolly, a San Francisco 49ers fan. When it comes to the halftime entertainment, Connolly did not mince words, however. "In reality you need to think about who's actually watching the Super Bowl — it's big dudes eating nachos and drinking beer," said Connolly. "And they want to watch the commercials with the Doritos girls. … Madonna? They're not going to watch Madonna." While there are few things better than Doritos girls, we here at TWIM we'd definitely rather watch Madonna, while enjoying a side of nachos.
Speaking of the Super Bowl, following Elton John and Madonna's Golden Globes feud last month, the Rocket Man is reportedly turning over a new leaf in offering the Material Girl some advice for her upcoming halftime performance on Feb. 5. "Make sure you lip-sync good," John advised Madonna on "Good Morning America." "I've never seen a decent one. Never ever." While Super Bowl halftime shows have arguably become more about the spectacle instead of the performance, it's hard to tell if John's advice is sincere. In 2004 the tiny dancer's response to Madonna winning the Best Live Act honor at England's Q Awards was: "Madonna, best fing live act? F off. Since when has lip-syncing been live?" While much of the Super Bowl action will happen on the field this Sunday, there's no doubt there will be lots more to see between Madonna's halftime spectacular featuring LMFAO and Nicki Minaj, and John's Pepsi commercial, set to air during the big game.
While Dave Grohl has long been known for his quirky sense of humor, evidenced by videos for Foo Fighters songs such as "Big Me" (Mentos, anyone?), "Everlong," "Learn To Fly," and, most recently, the GRAMMY-nominated "Walk," the Foos frontman is taking funny to a whole new, hopefully hysterical, level. According to a report, Grohl is teaming with comedian Dana Gould to executive produce a 30-minute sitcom for FX Networks. The show will reportedly center on a rock band that is in the midst of their big break, and a breakup. The band seeks help from a therapist, who ends up being broken herself. Did we say sitcom? This sounds like the makings of a perfectly good drama to us. But whatever the show turns out to be, we're sure it'll be a hit, given Grohl's vast voiceover experience in films such as The Muppets and television series including "Daria."
Republican presidential hopeful Newt Gingrich lost the Florida primary Tuesday to Mitt Romney by a wide margin, but that may not be the worst news he got this week. Gingrich also joined the long list of politicians who have been sued for misappropriating a pop song for a campaign without the artist's permission. On Monday, Rude Music Inc., controlled by the song's co-writer Frank Sullivan, filed suit against Gingrich for his use of Survivor's GRAMMY-winning "Eye Of The Tiger" from Rocky III. Gingrich was clearly gunning for some Rocky Balboa magic now that he appears to be the underdog again, and the anthem's other co-writer, Jim Peterik, who hasn't joined the suit, says that's okay with him. "If it motivates people to get out to the polls and create some excitement, that's what it's for," he told the Washington Post. And while Chicago-native Peterik is loyal to his native son, President Barack Obama, he concedes, "I like [Gingrich's] taste in music." Still, as Rocky himself might ask, "Yo, don't I got some rights?"
Adele's "Set Fire To The Rain" is No. 1 on the Billboard Hot 100 and Kelly Clarkson's "Stronger (What Doesn't Kill You)" is tops on the iTunes singles chart.
Any news we've missed? Comment below.
Follow GRAMMY.com for our inside look at GRAMMY news, blogs, photos, videos, and of course nominees. Stay up to the minute with GRAMMY Live. Check out the GRAMMY legacy with GRAMMY Rewind. Explore this year's GRAMMY Fields. Or check out the collaborations at Re:Generation, presented by Hyundai Veloster. And join the conversation at Facebook, Twitter, and YouTube.
news
Kelly Clarkson To Perform National Anthem On Super Bowl
GRAMMYs
/
Dec 3, 2014 - 04:22 am
Kelly Clarkson To Perform National Anthem On Super Bowl
GRAMMY winner and 54th GRAMMY Awards performer Kelly Clarkson is set to perform "The Star-Spangled Banner" prior to Super Bowl XLVI in Indianapolis on Feb. 5, according to a Billboard.biz report. GRAMMY winner Miranda Lambert and current GRAMMY nominee Blake Shelton will perform "America The Beautiful," and Madonna will be the featured performer during the halftime show. (1/12)