interview
Meet The First-Time GRAMMY Nominee: Glass Animals' Dave Bayley On The Group's Slow Burn To Massive Success With "Heat Waves" — And How It Almost Never Happened
The indie-rock quartet, which formed in 2010, have been coasting through the past 18 months as one of rock's biggest crossover acts thanks to their smash "Heat Waves." But as bandleader Dave Bayley tells it, the success is a miracle in many ways.
GRAMMYs
/
Mar 11, 2022 - 03:47 pm
After more than a decade as a band, Glass Animals are having the biggest moment of their career — with a song that came out two years ago.
"Heat Waves," the British indie rock group's infectious, thumping single, hit No. 1 on the Billboard Hot 100 this week. The song's 59-week ascent set a record for the longest run to the top, having first entered the chart in January 2021, seven months after its June 2020 release.
Glass Animals' rise arguably feels most unprecedented to frontman Dave Bayley, who inadvertently started the band with his childhood pals Joe Seaward, Ed Irwin-Singer and Drew MacFarlane in 2010. He has almost single-handedly written and produced every song in the group's catalog, including "Heat Waves," which he has referred to as "the most personal song I've ever written."
Though it's not their first taste of success (their trippy single "Gooey" was a rock radio hit in 2014), "Heat Waves" has certainly created a different kind of experience for the Oxford, England-born band. Along with topping the Hot 100, the song also saw multi-week reigns on several radio charts, further solidifying its place as a crossover smash — and, subsequently, making Glass Animals bigger than ever.
With their newfound prominence, the foursome earned a Best New Artist nomination for the 2022 GRAMMY Awards. Prior to "Heat Waves" reaching No. 1 on the Hot 100, GRAMMY.com caught up with Bayley about what it means to receive recognition more than a decade in, why the song is so special, and how his band is "still a bunch of 12-year-olds."
Congratulations on your GRAMMY nomination! I'm sure that being a band for more than 10 years, that's probably a pretty surreal thing to celebrate.
It's amazing. I feel very lucky to have even gotten to make a third album. A lot of people don't even get that lucky. I felt lucky when that happened, and then this is just an absolute 'nother level.
We're always trying, with every album, to basically be a new artist every time, and try to make something that sounds like a huge step forward. Take a couple of big risks. So yeah, it means a lot.
Did you ever envision your career getting to where it is now when you started?
No! Honestly, when we started, we started just for fun. We were friends, we listened to music together, and we used to hang out on the weekends and go see shows. I started writing songs late at night — I was actually DJing for like, 50 bucks on the weekend, doing the opening slot at this club in London. I'd get back and not be able to sleep, so I just started making music on a really rubbish computer that only had like, two recording tracks. They were all very simple.
I showed them to the guys, and they were like, "You should put them on SoundCloud." And then someone asked us to do a live show. Basically, it all just kind of slowly spiraled out of control. Slowly, and sort of by accident. Like, "Alright, let's do a show. Alright, let's sign a deal for an EP. Alright, let's go to America." And it just built until we're here.
Sometimes me and Joe, our drummer, look at each other on stage and we're like, "How did this happen? There's a lot of people out there!"
You had your first taste of success with "Gooey" in 2014. That didn't have quite the impact that "Heat Waves" has, but how does what you experienced with "Gooey" compare to what you've been experiencing in the past couple of years?
There are a lot of similarities, just that it's been a very slow progression. And kind of so slow that you don't realize it's happening.
Similarly with "Gooey," it was quite unexpected. This came from us just making something that we liked, and we never expected anything from it. We just tried to do something that we felt was cool.
It completely caught us off guard. After "Gooey," we released the album [2014's Zaba], and it sold a couple of copies in the UK. We thought we were gonna probably go back to our day jobs. I think we were in a slightly similar position with "Heat Waves" and Dreamland, the album.
It was a very tough world to release an album into. People were listening to music that they grew up with, and looking for comfort in that, and here we were with this bunch of new, quite experimental music. It just didn't seem like the right climate.
We also had Joe's [biking] accident as well. So there were a couple points along the way where we thought, "We're going back to our day jobs again."
You even thought that when you were making Dreamland?
No, not necessarily. Just before making Dreamland. We didn't know if the band was going to be able to go on. Joe was in a really terrible accident. Miraculously he's recovered now, and he's drumming as well as he ever was.
It was one of those moments where we had to cancel absolutely everything and make sure he was okay. Luckily he was, he learned to walk and talk again, and it wasn't the end.
We went into making this album with this whole new vigor and electricity, and... pandemic! We were like, "Oh my god, it's over again!"
You were not alone in that. I know a lot of people who were just getting ready for something big to happen, and then March 2020 hit, and it was like, just kidding.
Huge, huge credit to anyone who put anything out over the last 18 months. It's quite anxiety-inducing enough just putting a song out at all. Anyone who stuck with it and did it deserves some kind of metal. Or a giant, delicious cake.
In your post about your GRAMMY nomination, you wrote, "To be on the list feels wonderful after thinking we might have lost it all." I figure that pertains to the pandemic, but also Joe's accident?
I think it was the accident. It was more likely than not that [Joe] wouldn't recover from that. It was an actual miracle.
The surgeon who did that surgery came to the show that we did in Dublin [in November]. I'm getting a bit emotional again thinking about it. That guy saved Joe and saved this band. When he was there, watching Joe do his thing, it was too much for my heart to take!
[The accident] was one moment, and then the pandemic happened, and I had conversations with people — friends, managers — saying, "Look, this is probably not going to go very well."
And then everything became unbelievably huge — the total opposite of what anyone expected.
Absolutely the opposite of what I expected. The label believed in it and saw something in it that I often didn't, and were incredibly encouraging through all of it. So did everyone who has been with us since the beginning. Those were the people pushing me to get up in the morning and put this out.
It seems like your mom had a lot of faith in you, too — you captioned the GRAMMY post, "Thanks for manifesting mom."
She was the first person I called. I was like, "Mom, we've been nominated for a GRAMMY!" She was like, "Yeah, I know. I found out last week." I was like, "You didn't find out last week, it was announced today." And she was like, "What? No, I heard last week!" and I was like, "No, you didn't!"
Maybe that meant she was living it. Walking around thinking, "Yeah, he's got it."
It sounds like you weren't always confident in Dreamland as a whole, but did you think "Heat Waves" had a chance to be big?
I didn't have any faith in any particular one of them. But I did love "Heat Waves." "Heat Waves" was definitely one of the most personal ones on the record. I remember making it and just feeling incredibly nostalgic. Makes my heart a bit fuzzy. Got some butterflies. I think that's a sign of a good song — when you're making it, you get a little shiver.
You have to hold on to that feeling. Because it does go away quite quickly, and you start to forget about what that song meant to you at the beginning. We produce and write everything. It's very easy to get caught up in the details. You just have to hold on to that initial feeling, that initial rush that you got.
Then there's another side to it, which is like, it's a very sad song for me. Performing that every single day is quite tricky as well.
It's one of those songs that's a sad lyrical piece, but it doesn't feel like it, so you can kind of lose yourself in the energy of it. You don't realize how sad the lyrics are, because you're just dancing too much.
I do like songs like that. The thing that's kind of gotten me through performing it so many times is that there's a sprinkle of optimism [in it]. You just hold on to that for dear life.
I can imagine the first performance of it was pretty crazy, since you couldn't tour right after it started blowing up.
Playing it for the first time was absolutely insane. The first time it really sank in as we were playing was New York. I've never felt anything quite like that. I had a little cry on stage for that.
After the emotional roller coaster that the band had gone through prior to this album, it's probably nice to cry happy tears — and like, only happy tears.
It really was. It was amazing. The thing that triggers me is watching someone in the front row. As soon as their lip starts quivering, I'm like, "No, no, no, no… You got me."
Since Dreamland is the most vulnerable record that you've put out, do you feel like that's why you're now having the most success of your career? Or is there something else that feels like the contributor to the reaction that you've had?
That is a huge part of it. It felt very risky. I'm quite a shy person, so writing such a vulnerable chunk of music was really hard.
It came at a time when everyone was feeling incredibly vulnerable themselves. There was this strange alignment in the world. Everyone I knew was feeling vulnerable — feeling a bit scared, a bit nervous, and kind of going back into their heads thinking about the past.
People were eating the foods that they grew up with, watching the movies they grew up with, and here was this record that was about how it's okay to be vulnerable. And it's about watching those movies and eating that food to try and make yourself feel better.
Has the reaction to it changed the way that you'll approach your next projects, because you did open up a different side of you, and it paid off?
I'm a bit more comfortable being vulnerable and very, very honest. But we've tried not to recreate what we've done before. Like, [we] almost try to point in the absolute opposite direction, and try something new and interesting. I definitely don't think we'll talk about all that same stuff again. I'm not gonna do another record about memories.
I'm sure you've had some crazy career moments before these past couple of years. But considering how big things have become for you, what have been some of the most surreal, crazy things that have happened?
My goodness. All of them? Absolutely all of them.
All of that stuff that happened on the internet — that creative response, artwork and 3D animations that people have made for the song and the album. All of those amazing online community moments absolutely blew me away. That was my highlight.
I actually have a whole folder on my phone [of] pictures or screen grabs. Some of them are memes. Some of them are text messages. Some of them are little snippets, like someone's NPR interview that someone sent me. That started evolving into my mum sending me all sorts of crazy things, like text messages from her friends who are all, like, 85.
One of them has to be a psychic and said something about a GRAMMY nomination.
I bet it was Beatrice.
That checks out.
Beatrice would send my mom a recording of her in the gas station, recording "Heat Waves." There were loads of Instagram stories that people were posting of the song living in the real world. That meant so much to me, because we weren't able to go out and experience that ourselves.
Someone in Australia sent me a video of their teenage kids' end-of-year school disco, and there's like, 100 kids just screaming — absolutely belting — one of our songs, "Tangerine." It was surreal. I was just saving all of those moments.
What has it been like to be able to relish in all of this stuff with guys you grew up with? It's so cool that the bandmates are still the same, and it's the guys that you were just buddies with before anything took off.
We've been through so many moments where we just look at each other and we don't know what to say, because we never expected it. But we'll be like, "That's incredible."
We'll talk about whatever has happened, like that video of the kids screaming in Australia at their school disco. Inevitably, Joe [was] like, "Do you remember when we were at our school disco, and we got super stoned within the first five minutes, and just had to go sit outside and we missed the whole thing?"
We always end up going back to memories like that. Like Ed accidentally setting his house on fire. Crazy s<em></em>* as a bunch of kids.
What a span of experiences you guys have had together.
So crazy. We don't know how to express that to each other [Laughs].
We just act like we're 12. We're still a bunch of 12-year-olds that have absolutely no idea what we're doing. We're still, and will always be, idiots.
Meet The First-Time GRAMMY Nominee: Japanese Breakfast's Michelle Zauner On Self-Actualization, Grieving In Public And Her Nominations For 'Jubilee' At The 2022 GRAMMY Awards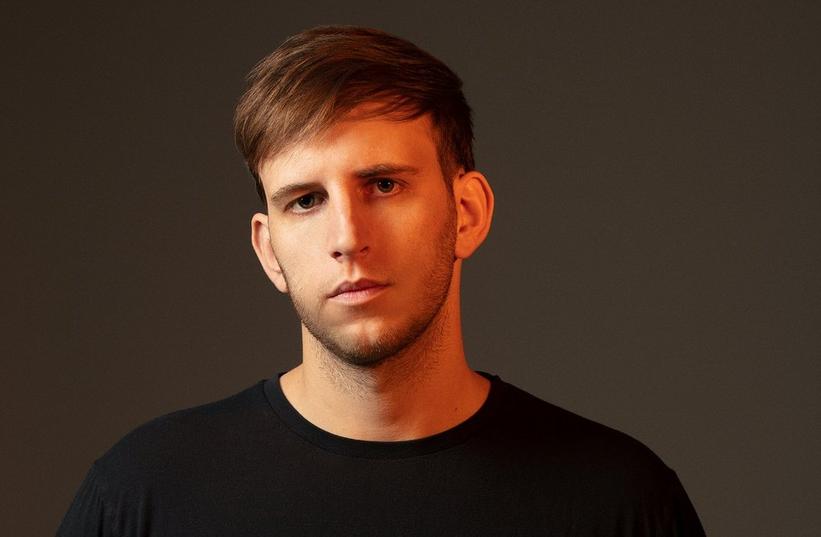 interview
Meet The First-Time GRAMMY Nominee: How Illenium Went From An "Obsessed" Dance Music Fan To An Arena-Filling DJ & Producer
With his fourth LP, 'Fallen Embers,' Illenium kicked off a new era that blends his love for electronic music and pop-punk. As he celebrates a GRAMMY nod, the producer looks back on his journey to stardom and shares how the dance genre changed his life.
GRAMMYs
/
Mar 21, 2022 - 07:37 pm
Growing up, Nick Miller never really listened to dance music. Now, he's one of the genre's most prolific stars, better known as Illenium — and is celebrating a GRAMMY nomination as a result.
Illenium's fourth album, 2021's Fallen Embers, is up for Best Dance/Electronic Music Album at the 2022 GRAMMY Awards. It's a pinnacle moment for Miller, who became "obsessed" with the electronic music world in 2009, launched his career with a self-released EP in 2013, then made his major-label debut in 2016.
Since then, Illenium has put out three more LPs and countless singles, teaming up with fellow dance titans like Gryffin and the Chainsmokers, as well as a variety of singers, from Georgia Ku to Jon Bellion. His versatility is perhaps most apparent on Fallen Embers, which features Tori Kelly, iann dior and Thirty Seconds to Mars, among others.
Though he's already teasing new music — which will debut during Illenium's set at Miami's Ultra Music Festival on March 26 — the producer/DJ feels the next chapter of his career truly began with Fallen Embers. With a GRAMMY nomination to validate his new direction, it may really just be the beginning.
GRAMMY.com sat down with Illenium to discuss the importance of Fallen Embers, how he transitioned from the crowd to the stage, and the role music played in changing — and saving — his life.
What initially made you realize that you were interested in producing — and that you were actually pretty good at it?
I started messing around in GarageBand in high school, and it introduced me to the idea of spending time creating something — even though that stuff back then was really bad. I moved to Colorado, and had some life-changing moments, and I started putting a lot of my time into it. A lot of the encouragement I got from friends, even though it was just mediocre music, was really exciting.
I was writing for music blogs, and I just loved the whole electronic music scene at that time. I would try to create what my idols were doing, and try to learn how they were doing it. I became obsessed, passionate and excited. I got addicted to trying to make songs. The feeling of doing it yourself, and being able to control every aspect of that, was really addicting.
I went to a Red Rocks show in 2012, and seeing that community, especially in Colorado — the Denver-based music scene is really tight-knit and communal, and it's really genuine. It was just really special. It was an experience that really drove me to want to succeed in it.
Was dance music your No. 1 genre growing up?
No, not at all. I didn't listen to much dance music until, like, 2009. I first got into it when I was living in San Francisco. I really liked a lot of the house stuff and trance, and then once I moved to Colorado, it turned into the bass music scene.
I grew up listening to a lot of pop-punk and rock, and my family listens to country a lot. A lot of hip-hop [too]. So I was all over the place in middle school and high school.
That's kind of all I listen to now. I listen to some pop, and a little bit of hip-hop, but it's almost all rock music and pop-punk.
Considering you were a teenager during the pop-punk explosion of the mid-2000s, that makes sense.
Totally. I feel like there's so much emotion and — it's not even aggression, but it's like, intensity, in that kind of music, where it can be really pretty melodically or lyrically, but the instrumental stuff behind it just like, hits. It hits me more than a lot of electronic music does nowadays. So I think that's why I'm transferring it into my type of thing.
Fallen Embers is the first album that doesn't start with "A," but its title still fits into the overall theme that Ashes, Awake and Ascend present. What's the story behind that?
My logo is a phoenix, [because] the imagery behind the phoenix really relates to me and the music that I make, and why I make music in the first place. So my first three albums were kind of this whole birth cycle of a phoenix. They all started with "A," it was a trilogy of that cycle. So Fallen Embers was kind of my take on what pieces were left — the embers fallen from the phoenix throughout that whole journey.
I made that album when I wasn't touring, and that's the first album I made in a long time [that] I wasn't touring, because I've been touring like crazy. It turned out much more calm and much more like a recharge album for me. Lyrically, it [details] the ebbs and flows of a relationship — it doesn't have to be a relationship, but just through finding yourself, and forgiving yourself for making mistakes and moving on.
Sonically, Fallen Embers has more rock elements. It's definitely calmer than Ascend. I love emotional music, so my music is always going to have an emotional aspect to it. That is not going to change. But I don't want to just keep repeating and chasing [the same sound], so now I'm moving very — like, totally — different, post-Fallen Embers. Fallen Embers, for me, was like a farewell, almost. I just wanted to be very clear that that was a trilogy, and now we're departed.
When you announced Fallen Embers, you said this is "the start of a new chapter." So is that kind of what you were talking about?
Yeah. I've been in LA five out of the past six months to start from scratch and write rock songs, and heavy aggressive s<em></em>*, because I feel like I took a break and made music that's kind of calm. Now I'm [going] a little more aggressive and adding some metal aspects.
There's this middle ground of electronic, rock and metal that can be really cool. And I feel like there's a lot of people doing similar stuff, but the songs can be really authentic and healing to people — right now, especially.
You also said this album was "an incredibly personal journey for me." Since it was so personal for you, did you see an even more meaningful impact from these songs?
Yeah. I mean, these past two years have been really challenging for a lot of people, myself included. Especially since shows have come back, you can definitely see in people the excitement to get a release of some sort. And to [just] enjoy — it's hard after a long time of people just going through the motions.
Especially in the electronic music scene, a lot of these people use these shows and the music for their healing and their escape. And that's really important for 'em. So to be able to give them a show and also give them new music, and see how that music has been their kind of crutch this past year, has been really beautiful for me.
You had everyone from Tori Kelly to Angels and Airwaves on Fallen Embers. What goes into finding the right vocalist for a track?
It's a mix. A lot of it is availability-based. When I first am working on a song, especially if it's a demo, it'd be like, "Who would sound good on this?" The "Blame Myself" demo had Emily Warren, who has a really amazing voice, and a very unique tone. So it's hard to fill that.
You get this thing called "demoitis," where you're used to the demo so much, it's hard to separate. But you've got to just find the right vocalist that is gonna bring her own or his own whole attitude to it. And you just kind of have to sit with it for a second because you're so obsessed with the first version.
It's not about, necessarily, the skill of singing. It's a lot of tone. Sonically, how you make a whole song, and you have a vocal in there, you need someone that fits that exact same spot. And that can be really challenging.
For "Paper Thin" with Tom and Angels and Airwaves, that was just a bucket list [thing] for me, I've always wanted to work with him. When we sent it to him, we were like, "They're probably not going to do this." Same with Jared [Leto, Thirty Seconds to Mars' frontman]. I'm the biggest fan of all of the people I collaborated with, so it's really been special.
I feel like a lot of people who aren't as familiar with the dance music scene may assume that producers like you, who aren't on their tracks vocally, might not write them. But you, and people like Kygo and Zedd — all of these huge names in the producer world — have proven that wrong. Do you feel like that's a common misconception?
I think there's always gonna be a misconception of a DJ/producer type thing. I don't think there's any way to get around it, unfortunately. But at the end of the day, it's okay. People [who like] different music have a whole different perspective.
When people see "DJ," they're like, "Oh, like, Vegas DJ. Throw a party!" They have no idea the complexities that go behind that. There are some producers out there that can do insane stuff. It's hard to even start describing that. There's some songs where we start with a guitar, and we write from scratch. It's just about having an ear for what is going to be successful, and also just having an ear of what you enjoy.
In 2018, you shared a really personal story about how music changed your life. Was it a certain song, album or artist that did that for you? Or was it being able to use the music that you were creating as your outlet? Or a combination of both?
It's definitely a mixture of both. When I turned my life around from that time period, it was a mixture of getting so curious about music production, but I was also obsessed with music — I was like, "How do these producers create these things?"
That little thought sparked so much curiosity in me, and [I] wanted to figure out how to implement my love for music and love for different genres. For it to change my life, it had to have all of those aspects — being obsessed with music, loving other people's music, and wanting to create my own.
Doing an action in one of those phases every day is what got me going and got me into the scene, and into my career. But also [made me] confident with myself and feeling like I had some sort of purpose. It was a really healing process for me, because I was kind of a s<em></em>*show before that. I needed something to put all of my energy into, and something that my family supported, and I had friends that supported me. So that was just really cool.
When I was so low, I had no faith in myself at all. You just have no confidence, and you're pretty broken. For you to even have an idea of "I might be good at something" or "I might get good at something if I work hard enough at it and I love it," then it's just full speed ahead.
What does 2012 Nick at Red Rocks think of 2022 Nick being a GRAMMY-nominated producer?
It's just mind-blowing. You know, I told myself when I saw the Red Rocks show in 2012, I was like, "Maybe in 10 years, I'll get to play at Red Rocks." I wasn't even saying headline or anything, just play at Red Rocks. I apparently set a very low goal for myself. [Laughs.]
Constantly having goals set and then reaching them throughout my whole career has been amazing, but it's crazy to think about being a GRAMMY-nominated artist. That is a whole different world that I never even thought — I just got into bass music and EDM, you know? To think of that transition, that's crazy.
We're Probably On An Irreversible Course Into The Metaverse. What Role Will Music Play In It?
interview
Meet The First-Time GRAMMY Nominee: Japanese Breakfast's Michelle Zauner On Self-Actualization, Grieving In Public And Her Nominations For 'Jubilee' At The 2022 GRAMMY Awards
Japanese Breakfast is nominated for two GRAMMYs at the 2022 GRAMMY Awards. Their leader, Michelle Zauner, opened up to GRAMMY.com about how the nominations feel, and why personal and global crises just made her more motivated.
GRAMMYs
/
Mar 9, 2022 - 03:42 pm
When the pandemic first descended on humanity, countless millennials moved home, donned pajama pants and brooded at their parents' kitchen islands. In this sea of dejected Instagram posts, though, a few public figures stood out — those who decided to thrive during the age of demoralization. One conspicuous example was the singer, songwriter and debut author Michelle Zauner. 
Zauner hit two professional home runs during the pajama-pants era. In April 2020, she released her affecting memoir Crying in H Mart, and that June, her band Japanese Breakfast released a critically acclaimed album, Jubilee. Granted, the lion's share of both projects was completed before we started wiping down bags of Doritos — and Zauner wasn't immune to "being depressed and eating a lot." Still, the timing of her breakthroughs speaks to her character.
Read More: How Japanese Breakfast Found Joy On Her New Album Jubilee
"I've discovered through the past few years that I'm a surprisingly optimistic person — I'm a secret hopeful person!" she quips. "Because in any narrative or story I've told, it's been important for me to find some type of hope to cling to. I certainly am not one to dwell on the negative. It doesn't help me to have that be my end goal."
As such, accentuating the positive was something of an animating force while making Jubilee — and the result was a critically-acclaimed album on top of a New York Times bestseller.
Japanese Breakfast is nominated for two GRAMMYs at the 2022 GRAMMY Awards: one for Best New Artist, another for Best Alternative Music Album for Jubilee. In the above video, watch Zauner's recollection of drearily watching the nominations roll in, expecting nothing — and her very loud reaction at the results. 
That's her magic in microcosm, alchemizing the depressing into the sublime. And her mother (whose loss looms large in both Crying in H Mart and previous Japanese Breakfast music) would undoubtedly be proud. 
With the 2022 GRAMMY Awards on the immediate horizon (April 3), GRAMMY.com sat down with Zauner to discuss what motivates her during hard times, the palette of influences reflected on Jubilee, and the life-changing moments it produced— like watching Jeff Tweedy cover her Wilco-influenced song.
This interview has been edited for clarity. 
During the early pandemic, I felt drawn to people who rose above their circumstances and thrived, rather than sinking into a mire. Where did your motivation come from during a very demotivated time?
I will say that a majority of both Jubilee and Crying in H Mart were done prior to the pandemic, so I was kind of one of those people being depressed and eating a lot.
But I was able to work on the final, final draft of Crying in H Mart during a time I was supposed to be on tour. I do think that having the perspective of going into the final stages of this book, when I had a ton of time off for the first time, was actually kind of helpful for me to get some of the really good, final touches on this book.
Honestly, I feel like I became very motivated in general after a very dark time in my life. I became grounded by my work ethic and my ambition and sticking very close to routine after my mom passed away. So, after this dark limbo period, I recalled being a caretaker for six months and being stuck in the house in Eugene, Oregon. 
In a way, I feel like I've gone through this part of life before, and I felt prepared. I know what it feels like to be out of control of my life and watch a lot of darkness descend around me. I found that sticking close to a regimen or staying grounded through work is what helped me through that time. So, I think that's something I'm unfortunately used to at this point in my life. 
Some people view grievous loss as a moment where their life stops, and they just wander through the past after that. But it seems like you're more interested in moving forward and honoring your mom that way.
Yeah, I think I got there through working through it creatively, in a way. But it is really interesting; I think that happens really often. 
My father and I navigated our grief in totally different ways. I think that happens in families a lot — where one person goes on one path and another experiences it through another path. They can be at odds with one another.
But for me, personally, I was so worried about allowing myself to fall into a deep pit of depression about something very real for the first time — that I would struggle to ever pull out of it. I know my mom would want me to navigate my grief in this way, and that's what really helped me through that.
Another destabilizing factor for people in our age range can be a sense of futurelessness. Perhaps we share a drive to work around global traumas.
Yeah, I've discovered through the past few years that I'm a surprisingly optimistic person — I'm a secret hopeful person! Because in any narrative or story I've told, it's been important for me to find some type of hope to cling to. I certainly am not one to dwell on the negative. It doesn't help me to have that be my end goal.
Is it irritating to have to dredge up your personal adversities over and over and over in interviews?
Sometimes. Sometimes, it's honestly kind of therapeutic, which is, like, gross and weird. But there's this other stage of art making that I'm less prickly to than other artists. I learn a lot about what I've made through the press process. A lot of the themes and questions I navigate in the work get solidified with different perspectives through the press process. 
So, sometimes I don't mind it as much, because it can be kind of enlightening. But certainly, like everything, it can become exhausting.
What's your relationship with pop music, like making something that appeals to as many people as humanly possible? Do you feel like an odd duck on the GRAMMY nominees list?
Yes and no. I'm kind of a poptimist and I really admire great pop music. One of my favorite artists is, honestly, Ariana Grande. In some cases, there are top-tier composers, producers, arrangers, and mixing engineers working to create something with mass appeal, which is widely enjoyable.
Even in K-pop, it's like that. You have the greatest music video directors, the greatest production designers! The highest-paid costume [designers] and stylists and makeup artists! Watching a city come together to create a piece of art that can reach a lot of people is very inspiring to me.
As an indie artist, trying to reach beyond my means in a similar way, on a smaller scale, has always been something very fun for me. I don't like to make purposefully complicated music. I enjoy making what I think to be listenable, enjoyable music that a lot of people can get into.
So, I'm happy to be in this realm, and I think it's really exciting. It's an honor.
When making a record, I think of the canon almost as a buffet to pick from — a little Richard and Linda Thompson here, a little R.E.M. there. Who did you pick from the proverbial buffet for Jubilee?
I've never thought of it quite as a buffet, but I do really like that idea. One thing about Japanese Breakfast that I enjoy is that we have a pretty broad range of influences on all our records. There's a lot of range and diversity.
There was certainly a lot of Kate Bush in this buffet. A lot of Björk and Wilco. There was some Bill Withers and Randy Newman. Certainly, Fleetwood Mac. Alex G. Those were, I think, the main buffet trays.
I'm a Randy Newman fanatic — I love the Pixar soundtracks, the dark-humored stuff, the love songs. What's your Randy era or album?
It's either called Something New Under the Sun or it's self-titled.
Yeah, the debut.
It's the one with "Living Without You" on it. That was my introduction to Randy Newman. An ex-boyfriend had shown me that song and it just haunted me for years and years. He's just the master of a sweeping love song — a ballad. That was the inspiration for the piano and string arrangement on "Tactics." 
I was always trying to channel my inner Randy. I think he's timelessness incarnate.
Classic rockers are always thrown into court over "stealing," but I think that's part of the musical process. Do you ever hear a great lick and say "I'm going to place that right here"? 
I've never done that purposefully. But it's funny: When [Japanese Breakfast drummer and producer] Craig [Hendrix] and I were working on "Kokomo, IN" — I almost said "Kokomo, Etc." — we were definitely very inspired by the string arrangement on [Wilco's] "Jesus, Etc." The classic nature of that Beatles math that goes into a great pop song.
It was very funny, because Jeff Tweedy actually covered that song in one of his livestreams. I was super-inspired by "Jesus, Etc." for "Kokomo, IN," and I was also inspired by "At Least That's What You Said" — the solo — in the quiet acoustic section that leads to a big solo in "Posing for Cars."
It was amazing. I got to meet Wilco this year and see Jeff Tweedy cover my song! He's such a songwriting hero of mine.
I've never purposefully plopped a direct lick from anything. But there was a moment when we were doing "Kokomo" where we were like, "Are we biting 'Jesus, Etc.' a little too hard with the pizzacato strings?" But it's Jeff Tweedy-approved, so I don't think they'll be suing us anytime soon.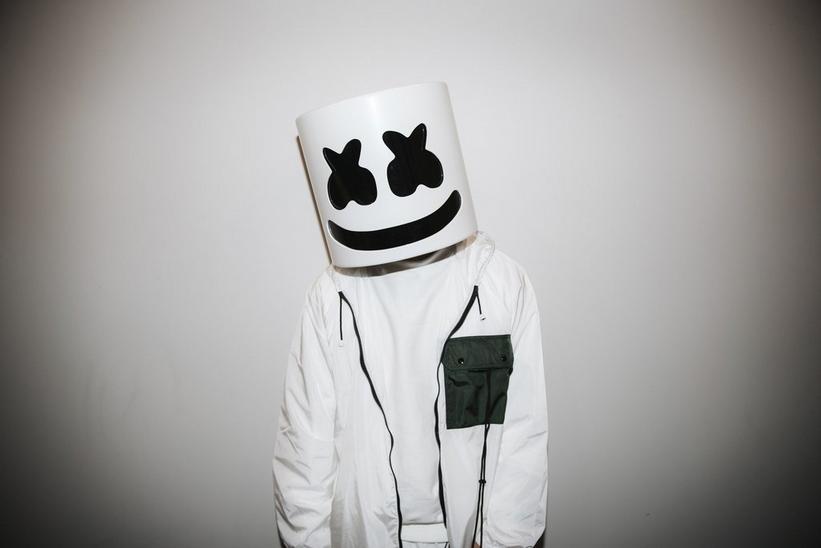 interview
Meet The First-Time GRAMMY Nominee: Why Marshmello Strived To Make 'Shockwave' His Most Diverse Album Yet — And How It Paid Off
Though 'Shockwave' earned Marshmello a GRAMMY nomination, the LP means more to him than just accolades. The illusive dance hitmaker's fourth album covers every aspect of electronic music, from eurodance to trap — serving as a true artist's statement.
GRAMMYs
/
Mar 31, 2022 - 06:43 pm
Marshmello has become one of the most recognizable faces in the modern music scene — by not showing his actual face. The electronic-pop producer has racked up billions of streams while maintaining complete recluse, thanks to a, well, marshmallow-shaped helmet that dons an adorable cartoon smile.
But even if Marshmello wasn't one of music's most mysterious identities (or a playable skin in the wildly popular video game Fortnite), his mountain of smash hits has turned the masked music man into a household name.
Since he first burst onto the scene with the Skrillex-approved "Find Me" in 2015, Marshmello's career has been in a league of its own. His record label debut "Alone" mixed buoyant synth sounds with upbeat rhythms (and his own helium-pitched voice), setting the tone for his sonic universe where youthful sing-alongs meet glass-shattering bass.
After winning over the EDM world, he soon took over the pop crossover realm, digging into his rock roots on collaborations with Noah Cyrus, Blackbear and Demi Lovato, Khalid, Selena Gomez, Bastille, and the Jonas Brothers, just to name a few.
Of course, a spotlight can also become a target, and Marshmello has had his fair share of detractors. On his fourth studio album, Shockwave, the dance star locks his X-shaped eyes directly at those haters and demonstrates just how dynamic his style can be.
It's his most diverse album yet, with features spanning from rap (Megan Thee Stallion and Juicy J) to fellow producers (Troyboi, DJ Sliink, Nitti Gritti) to a spattering of bass music heavyweights (Eptic, Peekaboo, Subtronic). Shockwave explores every corner of electronic music from Jersey Club to trap, dubstep to Eurodance and even pop-punk.
In the end, that experimentation earned Marshmello his first GRAMMY nomination for Best Dance/Electronic Album at the 2022 GRAMMY Awards. The producer chatted with GRAMMY.com about why his nomination is so meaningful, how he advanced the Marshmello sound with Shockwave, and why he feels he "needed this album."
Where were you when you found out about the nomination?
Well, I'm not really that good of a sleeper. I'm a person who needs to exude a lot of energy, so when I'm not touring and I'm home a lot, it's hard to stay asleep. I always wake up from 8 to 10 a.m., and it was during that time.
I'm half asleep, don't even know what's real, and I hear my phone vibrate. I see something about GRAMMYs, and when you're half awake — maybe a fourth awake — you don't even really process. That second or third time I really woke up, I was like, "Wait, did that happen?"
I'm sure it takes a while to sink in, even when you are fully awake for the news. What does it mean to you to be nominated?
It's something every artist strives for, even growing up. I didn't really know what to make of it, but in a good way. I was processing that, but I was just also really excited to tell everybody that was on the album. We made the album during the pandemic, and we really put a lot of — I don't know how to describe it.
Joytime I, II and III are very specific and intentionally sound, just, catchy. This album, I didn't name it Joytime. I wanted to try something different.
We did music videos very specific to each video, a lot of them with my ideas. The experience as a whole was different, and this was the album that got nominated for a GRAMMY.
That was all going through my head at once: "Everything was just different. I wonder why, blah blah blah." Then my next move was to tell everybody that was on it.
That intention does come through. It also struck me that the second song "Supernovacane" opens with a clip of some guy calling you an "overrated electronic artist," then you go on to mix your sound with revered artists and styles. Was your approach a message to people who would put you in a box?
I was going to start the album with that, but then I was also wrestling with this track "Fairytale," which is actually the intro that sounds much more like an intro.
Every artist has people that hate on them, right? I don't know if I can speak for them, but that was me saying, "I'm aware that people think this, and I'm just having fun with it."
Specifically with this album, the whole thing was like, "I want to do a trap song," so then I started the album with "Fairytale." I want to advance my Marshmello sound and try to use all my production tips and tricks that I have acquired over the years and just try something different.
Let's say somebody with this kind of hateful intention goes on to listen to that album, right? They turn that song on, and how would they feel hearing me acknowledge and even put in a song that somebody was saying what they were? I just did it because I can.
That matches with the rest of the album. It's like, "Yeah, I made this Vengaboys-sounding track with Carnage because I can. I made this Jersey Club future bass jam with DJ Sliink because I can."
Who's going to tell me not to? Joytime I, Joytime II, Joytime III, I've been doing that style for a long time. I needed this album, just to make the music that I like playing out.
Every single song, I remember sitting in my studio and thinking about playing it — and then seeing the show I haven't played yet and how the crowd would react in my head.
You have huge collaborators from all over the map on this LP, and you've had some really legendary collabs across your career. What makes a good collaboration?
Honesty. You don't want to tell somebody that you don't like their idea, and they don't want to tell you either. It's always tough. I'm not saying that everybody hated everybody's ideas. It's just like, instead of beating around the bush and dragging on, just getting right to that point, down to what everybody likes and just running with it.
Everybody that I worked with on this album, I know they really know how to produce. So you can have this connection — they've been through it all, too. It was very streamlined because of the talent, so that was really nice.
You've got so many fun sounds on this album. What style was most fun to explore?
That song I did with Carnage, I wrote all the lyrics and the melody. That was fun to step out of my box. It's old school, almost like Eiffel 65. I remember listening to Eiffel 65 on a CD. When there was a good song back in the day, you couldn't just get the song, you had to get the whole album. I'd be listening to Eiffel 65, and "Blue" was on there, but all the other songs really influenced me. I still remember them after how many years. It was cool to tap back on that.
It was really great to work with Sliink on the Jersey Club [track "Back It Up"]. I based a lot of my whole sound on Jersey Club, like a little twist on it. DJ Sliink is a legend. He would be able to whip something up and know "this is the right direction," because he is who he is.
I'm excited to see how it influences you going forward, having the opportunity to explore these other sides of yourself.
That was something that was really sweet about this album. I'm racking through my brain here, and I don't think any song does the same exact genre as any other. The Eptic dubstep is different than Subtronics' dubstep.
That was one thing that I wrestled with, the sequence of the album. You want to make it flow, so I decided to put all the heavy songs back to back, and then just close out the album with the title track.
Speaking of "Shockwave," we hear you singing, and while that's not something entirely new, it feels very personal. Are you more comfortable with your voice after spending the first few years of Marshmello anonymously?
I always grew up in bands, but being in front of people singing wasn't called for in the beginning years of Marshmello. Ironically, I did sing on a lot of stuff, but I pitched the voice up. "Alone" was me, and "WaNt U 2."
"You and Me" was the very first one, kind of a pop-punk EDM vibe, which inspired the whole album of Joytime III. I had it pitched up, and my manager was like, "Why don't you just pitch it down?" I'm like, "Yeah, but that's my real voice," and he's like, "Screw it!" I pitched it down and I was like, "Wait, this sounds sick."
That led into Joytime III which had "Proud," which did really well on [Sirius]XM and what is — I think — the biggest off that album. It's with me singing, too.
Was there a right moment to say "This is who I am under the helmet?" Did revealing your identity change the way you approached the project creatively?
Not really, because I don't really want to bring a lot of light to that. Being anonymous is a big part of the project and what I like about it now. It's not really about following a person around and watching everything they do. It's just listening to music, seeing the helmet and things that I say, which is fine, but I don't think it's about specifically who I am.
Video games are a big part of who you are, from your sound to your early days with Monstercat. There was the Fortnite concert which literally changed the way people see in-game opportunities, and you're a payable skin. What does it mean to you for Marshmello to be a video game character?
It's awesome. I like that people can buy Marshmello helmets in real life. I play a lot of video games, and I know a lot of people play video games. They can be Marshmello and have that feeling almost even more in the video game.
That goes back to the idea that everybody can be Marshmello. Now people who really identify with that can do it in a video game, too, and it stands out, right? All white with that smile. It just gives everybody a chance to connect more with myself.
You've accomplished a lot in your career, but is there a moment you're most proud of?
A lot of big shows that I've done — all the planning, and then executing. Those really stand out to me as far as accomplishments.
Coachella [2017], that was my first time playing. Lollapalooza [2021] really stands out. That was like two weeks of planning. Not even planning — that was two weeks of being on the stage that I played on, and then executing it to exactly where I, and everybody who worked on it, wanted it. I think we're going to come out with a little mini documentary about that whole thing.
So is that what's next for you?
There's a lot of things next. I like elements of surprise, so even if I could tell you, I don't want to.
Everybody wants that feeling of being a rock star in their own way, and in my way, it's DJing — and being able to craft a show with a group of guys that I spend most of my life with. Everybody's connected, all doing the same thing, and has the same passions. It's great to get together, make an idea, practice it, and do it.
I have a lot of songs ready. I'm really excited, and I have my head down right now. Expect to see me a lot [this] year, everywhere.
Meet The First-Time GRAMMY Nominee: How Illenium Went From An "Obsessed" Dance Music Fan To An Arena-Filling DJ & Producer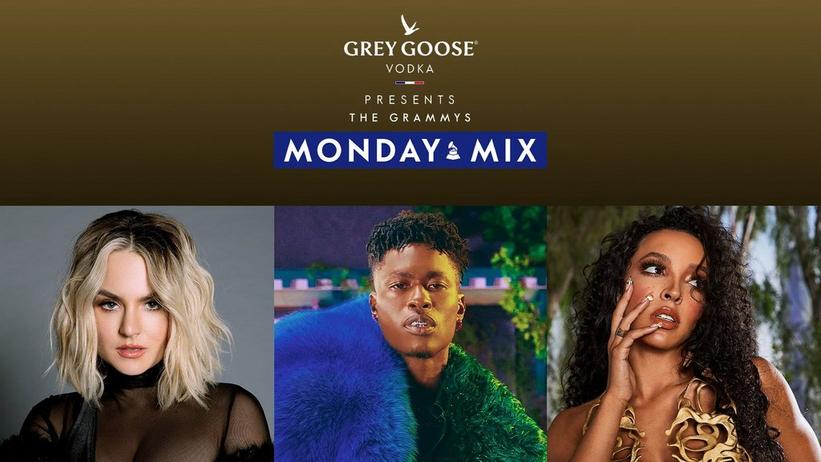 news
Grey Goose And The Recording Academy Gear Up For The GRAMMYs With 'Monday Mix' Featuring JoJo, Lucky Daye, Tinashe, & Law Roach
Premiering today, the multi-faceted content series will feature exclusive performances and interviews from top trendsetters from JoJo to Lucky Daye
GRAMMYs
/
Mar 14, 2022 - 09:35 pm
Grey Goose, the "Official Spirit Partner of the 64th Annual GRAMMY Awards," and The Recording Academy are pleased to debut "Monday Mix," an all-new content series that will premiere every Monday throughout the rest of the month.
Starting today, the digital series will feature intimate musical performances and behind-the-scenes footage from trailblazing artists including JoJo, Tinashe, and six-time GRAMMY-nominated artist Lucky Daye. 
Additionally, Grey Goose will be collaborating with stylist-to-the-stars Law Roach as its official GRAMMY-Style Partner, who will facilitate intimate conversations on music, artistic expression, and effortless style with each artist. Roach will also debut an exclusive new GRAMMYs martini cocktail recipe that viewers can easily make at home.
With each installment of "GREY GOOSE x GRAMMYs: Monday Mix," the vodka brand will reimagine the traditional start of the work week as a day of celebration and build excitement for the 64th Annual GRAMMY Awards ceremony on Sunday, April 3rd. 
"I'm thrilled to be partnering with an iconic vodka like GREY GOOSE to showcase music and style for the GRAMMYs this year," said Roach. "Music and fashion have always gone hand-in-hand, so getting to speak with some of my favorite artists about how individual style has shaped their artistic vision is really exciting for me. 
"These conversations always go well with a great cocktail," he continued. "So, my guests will be sipping on the delicious Passion Drop — the official cocktail of the GRAMMY Awards — while I'll be sipping on my own twist on a martini cocktail that I call 'The Law.'"
The first "GREY GOOSE x GRAMMYs: Monday Mix" segment launched today at 11:00am EST on Instagram and YouTube with an acoustic performance by multi-platinum recording artist JoJo, followed by Lucky Daye — who is nominated for Best Traditional R&B Performance and Best Progressive R&B album in this year's ceremony — on March 21, and Tinashe on March 28. 
Read More: With Candydrip, Lucky Daye Is Ready To Deliver A New Kind Of R&B: "I Didn't Want To Sound Like Everybody Else"
"I'm so pleased to be a part of 'Monday Mix' and celebrate a year of incredible music with GREY GOOSE and The Recording Academy," said Tinashe. "Everyone looks forward to the performances at the GRAMMYs ceremony, and I love that this series is extending that enthusiasm beyond just one night. I'm excited for my fans to see my performance later this month. It's going to be a good one!"
All "GREY GOOSE x GRAMMYs: Monday Mix" content can be accessed by following each artist, along with @greygoose and the Recording Academy on all social platforms, as well as on the official GRAMMYs Content Hub. Performances will be accompanied by exclusive interviews, product drops, and behind-the-scenes GRAMMYs content from now through the 28th.
The Content Hub will also house all official GRAMMYs cocktail recipes, including the ceremony's signature cocktail The Passion Drop and Roach's new twist "The Law."