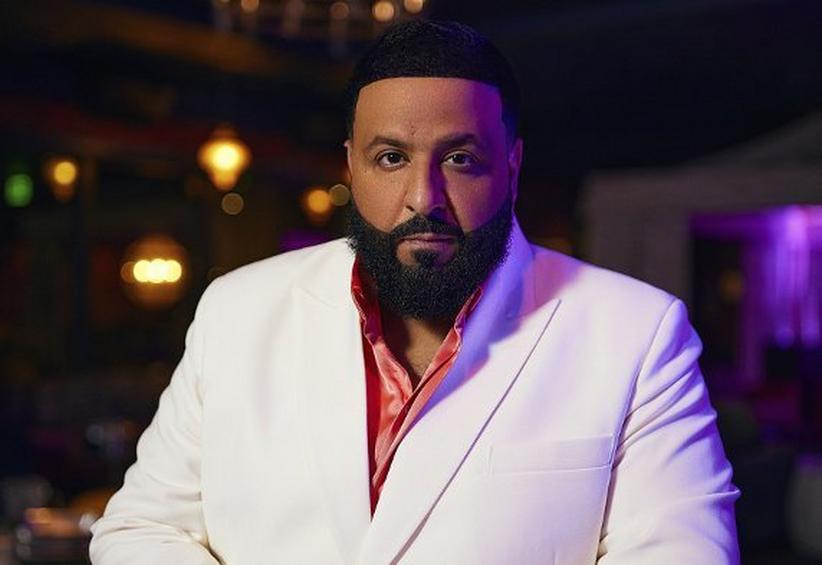 interview
5 Takeaways From DJ Khaled's New Album 'God Did' — As Told By Khaled Himself
Upon the release of DJ Khaled's 13th album, 'GOD DID,' on Aug. 26, GRAMMY.com caught up with the producer/DJ to hear his biggest takeaways from the project.
GRAMMYs
/
Aug 29, 2022 - 06:14 pm
DJ Khaled delivered yet another star-studded album on Aug. 26. The GRAMMY-winning producer and DJ's 13th LP, GOD DID, features 31 guest stars, including Jay-Z, Drake, Lil Wayne, Rick Ross, Kanye West, SZA, John Legend, Dr. Dre, Eminem, Lil Baby, Future, Buju Banton, Bounty Killer, Travis Scott and Roddy Ricch (to name only half!).
The overarching theme of GOD DID finds DJ Khaled continually praising a higher authority for believing in him when others didn't.
"It's really God did," he tells GRAMMY.com. "It's like, [if] you speak something into existence and you do God's work, you're going to get God-level results." 
Even just hours after the album's release, Khaled says that he was receiving positive reviews from both fans and his collaborators. "Every artist I worked with on the album [is] hitting me up personally saying how inspired they are, how great of a producer I am, how I'm inspiring them. They're praising my work ethic. And I'm just like man, these are some of my idols telling me this!"
In an interview conducted on album release day, Khaled reveals some remarkable behind the scenes moments of how it all came together plus his top takeaways from GOD DID.
Its Tracklist Is Very Intentional
GOD DID was arranged so that the music and the actual song titles flow together and tell a story from beginning to end. Khaled hopes listeners will absorb the 18-track LP as a whole, and play it in order.
"Before the album dropped, I got on Instagram and I said to all the fans, 'Please, take the shuffle button off,' because this is an album that you have to listen to from top to bottom so you can feel the story," he explains. "But you can also feel the way the energy builds up, the way it takes you into different sounds and goes back up — just the way the track is flowing."
And with so many superstars featured, Khaled also insists it's a "no skips" album. "I wanted everyone to hear it without going around shuffling. It's an album you are supposed to press play from top to bottom."
GOD DID Is Jay-Z's Favorite DJ Khaled Album
Khaled's longtime friend and collaborator Jay-Z appears with a deep verse on the album's title track with John Legend, Lil Wayne, Rick Ross and Fridayy. "He immediately started freestyling lyrics off his head," Khaled recalls of his time in the studio with Jay. "I heard him just saying rhymes."
Once Jay-Z heard the entire album, he was even more inspired. "He's like, 'Yo, Khaled, this is your best work up to date. This is your biggest album.' And he was telling me how proud he is of me and I seen a smile on his face, how genuine he was — it was a moment. For my idol to tell me this is my best album, it's God did. You know what I'm saying?"
Juice WRLD Wrote A Khaled Tribute Song Before His Death
Though Khaled never met Juice WRLD before the young rapper's untimely passing in 2019, he was apparently an inspiration for the late star. As GOD DID was in the works, rapper Lil Bibby (who signed Juice WRLD to his Grade A Productions in 2017) sent Khaled a song that Juice WRLD once wrote about the producer — which became the basis of "Juice WRLD DID."
"[Bibby] decided to give it to me when I'm making GOD DID," he explains. "Come on! You see what I'm saying now? Like this God did, I can't make it up. I never knew [about the song when Juice WRLD was alive], never in my life. I'm telling a true story — this is all real. I felt like he recorded that right in my room in my studio. The man made a song called 'DJ Khaled Another One.' God bless him, man. God bless Juice WRLD."
His Dancehall Dreams Came True
Khaled has spent a lot of time DJing in Jamaica and began spinning there in his teens. He's made sure to honor his love of dancehall music and Jamaican culture on each album, but the GOD DID track "These Streets Know My Name" — which includes Jamaican artists Skillibeng, Buju Banton, Capleton, Bounty Killer and Sizzla — is his most ambitious effort in the genre to date, featuring generations of legends in the scene.
"I listen to reggae music only and dancehall and reggae music in my whole house every day, nonstop," he shares. "I was raised on it. I'm part of sound culture from a kid, from like 14 years old to where I'm at now. I was in all these dances DJing and cutting dubs, so it's a big part of my story and I'll never forget where I come from."
Eddie Murphy Gave His Blessing To "PARTY"
One of the most fun surprises on GOD DID comes with "PARTY," featuring Migos' Quavo and Takeoff. The song samples Eddie Murphy's "Party All The Time," which was a huge hit for the comedian-turned-singer in 1985. 
"I love that song," Khaled says of "Party All The Time." "It's not an easy record to clear. Maybe that's why we haven't heard that sample like that, because I was surprised nobody's ever used it like that. He cleared it, so big up to Eddie Murphy. Thank you for clearing the record!"
"PARTY" is one of the five music videos Khaled has unveiled since GOD DID's release, along with videos for "BIG TIME," "BEAUTIFUL," "IT AIN'T SAFE," "THE STREETS KNOW MY NAME," and "KEEP GOING." ("STAYING ALIVE" was released in early August.) Stay tuned to his YouTube channel to see if more are on the way.
"From Puerto Rico To The World": 5 Moments From Bad Bunny's Historic Yankee Stadium Show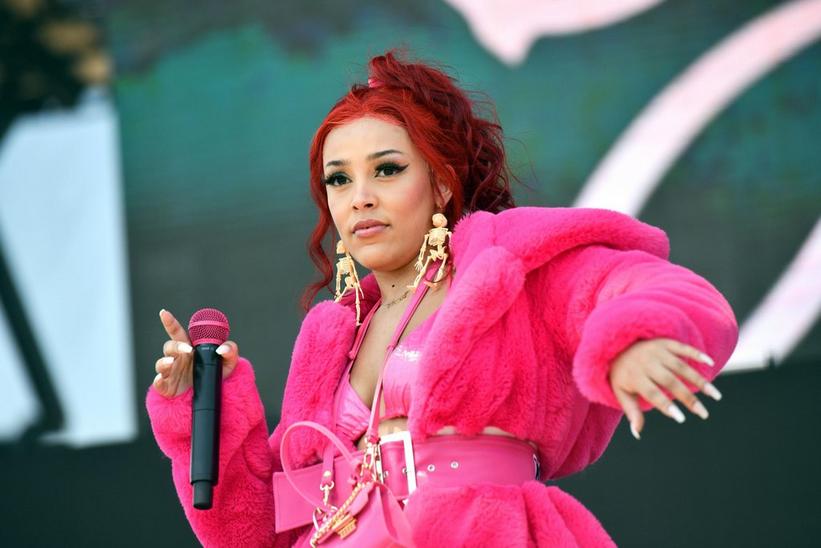 Photo: Scott Dudelson/Getty Images
news
Rolling Loud Festival Los Angeles Reveals 2019 Lineup
Find out who's bringing the heat to the hip-hop fest returning to L.A. this December
GRAMMYs
/
Oct 2, 2019 - 12:11 am
Today, Rolling Loud revealed the massive lineup for their final music festival of 2019, Rolling Loud Los Angeles, which is set to take over the Banc of California Stadium and adjacent Exposition Park on Dec. 14–15.
This iteration of "the Woodstock of Hip-Hop," as the all-knowing Diddy has called it, will feature Chance the Rapper, Lil Uzi Vert, Juice WRLD, Young Thug and Lil Baby as Saturday's heavy-hitting headliners. Sunday's headliners are none other than Future, A$AP Rocky, Meek Mill, YG and Playboi Carti.
L.A.'s own Blueface, Tyga and Doja Cat, are slated to perform, as well as representatives from the diverse rap scenes across the country, including Wale, Juicy J, Lil Yachty, Megan Thee Stallion, Gunna, Tyla Yaweh, Machine Gun Kelly and Yung Gravy.
The lineup announcement follows the successful wrap of Rolling Loud Bay Area in Oakland this past weekend. The event's flagship Miami event took place in May this year, and the New York and Hong Kong debut editions will both take place later this month.
Tickets for Rolling Loud L.A. go on sale this Friday, Oct. 4 at 11 a.m. PST. The complete lineup and more info on this event and their other fests can be found here.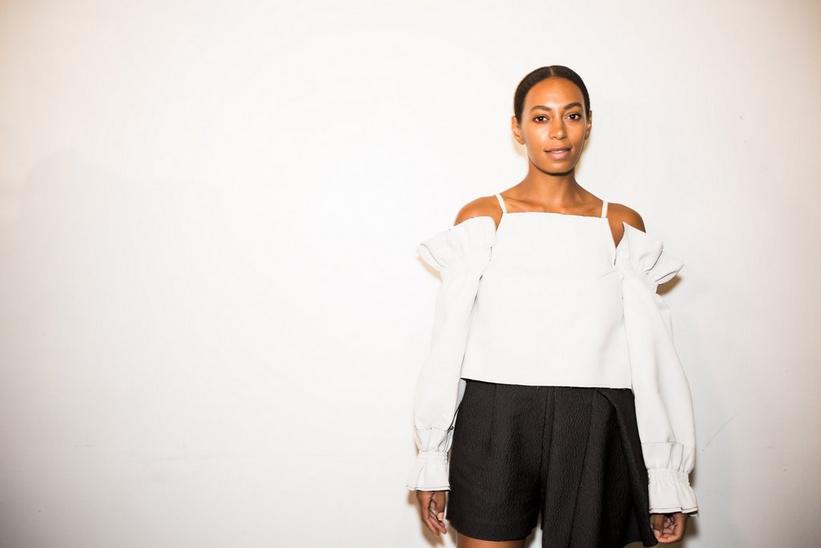 Photo: Daniel C. Sims/Getty Images
news
Solange To Play Benefit Show For Hurricane Harvey Relief
GRAMMY winner adds her name to the list of artists who are helping to raise millions in relief efforts for victims
GRAMMYs
/
Aug 31, 2017 - 04:37 am
GRAMMY winner Solange has announced she will be performing a benefit show to raise money for Hurricane Harvey relief efforts. The performance, called Orion's Rise, will be held at Boston's Orpheum Theatre on Sept. 8.
"I'm committed to partnering with organizations on the ground in Houston and making contributions to uplift the city that raised me with so much love," said Solange, a Houston native.
This announcement comes on the heels of other artists pledging their support, including Solange's sister, Beyoncé. But they are certainly not the only ones.
Beyoncé Vows "To Help As Many As We Can" In Wake Of Hurricane Harvey
Houston rapper Bun B and manager Scooter Braun (Justin Bieber, Ariana Grande) are organizing a televised benefit concert that will reportedly air on four national networks on Sept. 12.
Comedian Kevin Hart pledged $50,000 to relief efforts, and the fund he organized has earned nearly $2 million in additional financial support, with contributions from artists such as the Chainsmokers. All funds will go to the American Red Cross.
The Kardashians and Jenners, Nicki Minaj, and DJ Khaled have also announced they will make donations. Jennifer Lopez and her partner Alex Rodriguez joined in the fundraising efforts, pledging $25,000 each to the Red Cross.
In addition, GRAMMY winner Jack Antonoff is matching donations up to $10,000 for the Montrose Center in Houston, an LGBT community center. Chris Brown will donate $100,000 directly to "the people," and T.I. will donate $25,000 to relief efforts.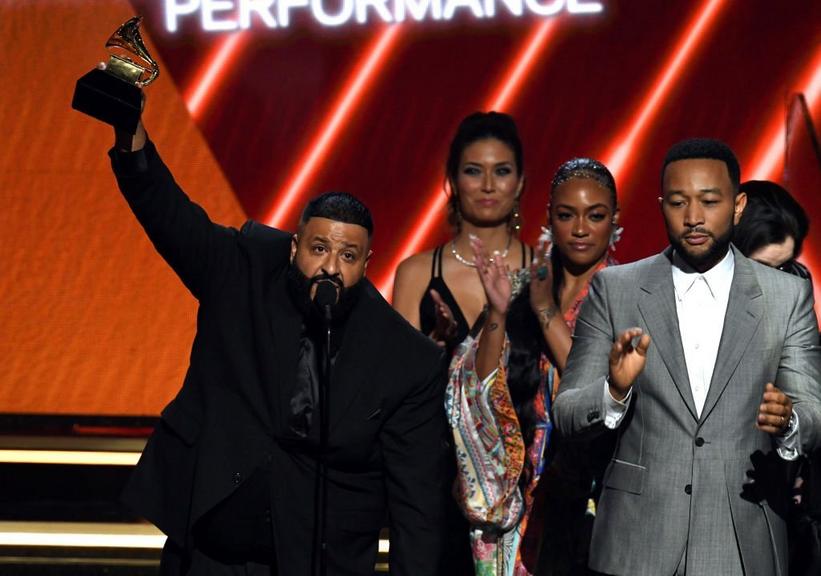 DJ Khaled, Samantha Smith and John Legend
Photo: Kevin Winter/Getty Images
news
DJ Khaled, Nipsey Hussle And John Legend Win Best Rap/Sung Performance For "Higher" | 2020 GRAMMYs
DJ Khaled, Nipsey Hussle and John Legend take home Best Rap/Sung Performance at the 62nd GRAMMY Awards
GRAMMYs
/
Jan 27, 2020 - 09:05 am
DJ Khaled, featuring Nipsey Hussle and John Legend, has won Best Rap/Sung Performance for "Higher" at the 62nd GRAMMY Awards. The single was featured on DJ Khaled's 2019 album Father of Asahd and featured Hussle's vocals and Legend on the piano. DJ Khaled predicted the track would win a GRAMMY.
"I even told him, 'We're going to win a GRAMMY.' Because that's how I feel about my album," DJ Khaled told Billboard. "I really feel like not only is this my biggest, this is very special."
After the release of the song and music video -- which was filmed before Hussle's death in March -- DJ Khaled announced all proceeds from "Higher" will go to Hussle's children.
DJ Khaled and co. beat out fellow category nominees Lil Baby & Gunna ("Drip Too Hard"), Lil Nas X ("Panini"), Mustard featuring Roddy Ricch ("Ballin") and Young Thug featuring J. Cole & Travis Scott ("The London"). Hussle earned a second posthumous award at the 62nd GRAMMYs for Best Rap Performance for "Racks In The Middle."
Along with Legend and DJ Khaled, Meek Mill, Kirk Franklin, Roddy Ricch and YG paid tribute to Hussle during the telecast, which concluded with "Higher."
Check out the complete 62nd GRAMMY Awards nominees and winners list here.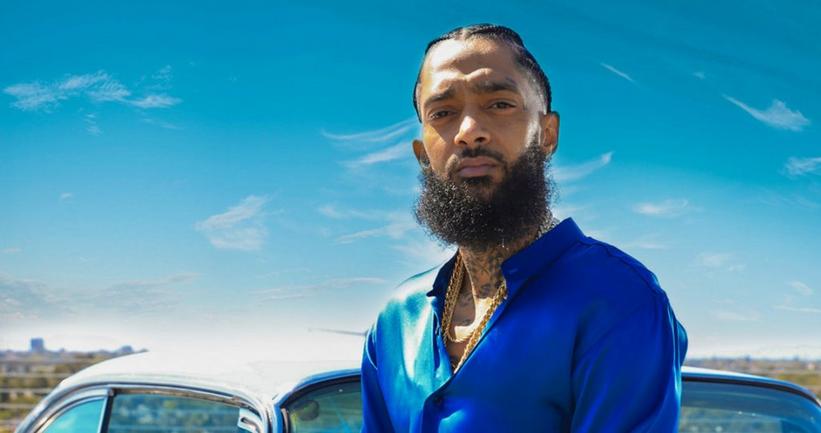 news
Remembering Nipsey Hussle On The Anniversary Of His Death: "I Just Wanted To Be Really Intentional"
The Recording Academy celebrates the life of Nipsey Hussle, the late Los Angeles rapper, who earned two posthumous GRAMMY Awards this year
GRAMMYs
/
Mar 31, 2020 - 11:49 pm
Since the tragic loss of Los Angeles rapper, entrepreneur and activist Nipsey Hussle on March 31, 2019, his motivational music and inspiring message of investing in your community are continued by the many lives he touched. Here in L.A, you see countless murals painted in his likeness, his inspirational words reminding us greatness and kindness are not mutually exclusive.
Nipsey Hussle, Beloved L.A. Rapper And Activist, Lived As A Patron To His Community
In 2018, after a decade of perfecting his storytelling and flow with hard-hitting mixtapes, Hussle released his victorious debut album Victory Lap. It earned him his first GRAMMY nomination, for Best Rap Album, at the 2019 GRAMMYs. The week following the show, he released his final single during his lifetime, "Racks in the Middle," featuring rising L.A. rapper Roddy Ricch and powerhouse producer Hit-Boy.
At the 62nd GRAMMY Awards this year, he posthumously earned three more nominations and took home two wins. "Racks in the Middle" won Best Rap Performance and "Higher," a track he was working on with DJ Khaled before he died, won Best Rap/Sung Performance for "Higher." Khaled released the uplifting track, which also features John Legend, in Hussle's memory on May 17, 2019.
How Nipsey Hussle Transcended Hip-Hop, Starting In The Los Angeles Streets
Hussle's family, including his grandmother and his partner Lauren London, took the GRAMMY stage to accept his awards in two tearful yet celebratory moments. Khaled, Legend, Ricch, Meek Mill, Kirk Franklin and YG also celebrated the rap hero with a moving tribute performance during the show.
"The biggest thing that he left behind in his legacy is to go the extra mile for other people and be aware of your community," singer Tinashe said in a recent interview. "That spirit is really important. It's important to bring people together. I think that's part of his message. It's looking out for one another."
Meek Mill And Justin Timberlake Deliver Uplifting Message, Honor Nipsey Hussle In Powerful "Believe" Music Video
That message of hope and community is echoed in so many others' words about Hussle; his positive impact is immense and immeasurable. It is reflected in a message from none other than former President Barack Obama. Hussle's longtime friend and marketing manager Karen Civil read Obama's powerful words about him during his moving memorial service:
"While most folks look at the Crenshaw neighborhood where he grew up and see only gangs, bullets and despair, Nipsey saw potential. He saw hope. He saw a community that, even through its flaws, taught him to always keep going. His choice to invest in that community rather than ignore it—to build a skills training center and coworking space in Crenshaw; to lift up the Eritrean-American community; to set an example for young people to follow—is a legacy worthy of celebration. I hope his memory inspires more good work in Crenshaw and communities like it."
The Marathon Continues.
GRAMMY Rewind: Watch Selena Win Best-Mexican American Album For 'Live' At The 1994 GRAMMYs