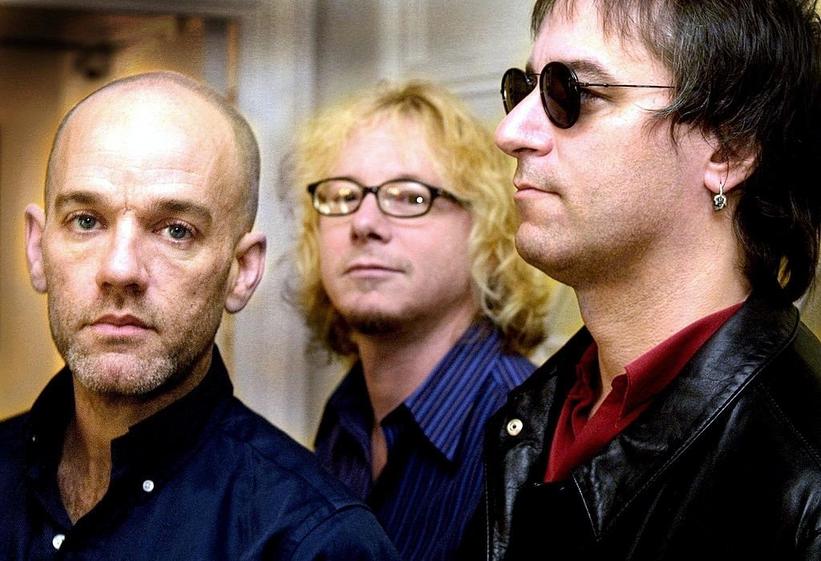 (L to R) Michael Stipe, Mike Mills and Peter Buck of R.E.M.
Photo: Odd Andersen/AFP via Getty Images
news
R.E.M., Hayley Williams, Tegan And Sara, My Morning Jacket, Phoebe Bridgers And More Contribute Unreleased Recordings To All-Star Compilation Benefiting Voter Rights
The 40-track compilation, available exclusively on Bandcamp for 24 hours only starting Friday (Sept. 4), will benefit voter rights organization Fair Fight
GRAMMYs
/
Sep 4, 2020 - 10:16 pm
R.E.M., Hayley Williams, Tegan And Sara, My Morning Jacket, Phoebe Bridgers and many others have contributed unreleased recordings to Good Music To Avert The Collapse Of American Democracy, a newly released all-star compilation benefitting Fair Fight, a voter rights organization founded by former Georgia House Minority Leader Stacey Abrams that "promotes fair elections around the country through voter education, election reform, and combating voter suppression," according to a press release announcing the album.
The 40-track compilation, which features never-before-heard new songs, covers, remixes, live versions and unreleased demos, is available exclusively on Bandcamp for 24 hours only starting Friday (Sept. 4) as part of the online streaming platform's Bandcamp Fridays initiative.
See the full track list and artist roster below.
Highlights from the Good Music compilation include a newly discovered Beverly Glenn-Copeland song from 1977; a cover of U.K. experimental rock band Broadcast by Paramore frontwoman Hayley Williams; a demo collaboration in progress between Death Cab For Cutie frontman Ben Gibbard and Tycho; and a cover of The Cure's '80s classic "In Between Days" by The National leader Matt Berninger. Other artists featured on the compilation include Flume with Eprom, Sudan Archives, Helado Negro, Jeff Tweedy, Sharon Van Etten and many others.
Read: How Bandcamp's Fee Waiver Days Are Supporting Musicians In The Pandemic
Author Dave Eggers, along with artist managers Jordan Kurland, Darius Zelkha, Christian Stavros and Barsuk Records label head Josh Rosenfeld, executive-produced the compilation; Good Music marks the fourth fundraising project around a presidential election from Eggers and Kurland.
Acclaimed street artist and fashion entrepreneur Shepard Fairey created the compilation's cover art. Bandcamp is also selling limited-edition signed screen-prints of the artwork; proceeds from the sale will benefit Color Of Change, the nation's largest online racial justice organization.
Read: The Recording Academy & Color Of Change Team Up To Promote Positive Change In The Music Industry
"It's going to come down to bringing out and protecting the vote this fall, so the work Fair Fight does is crucial," Eggers said in the press release. "Jordan and I figured a painless way to raise some money would be to ask musicians to donate unreleased tracks, people pay a few bucks for them, and maybe we can edge toward a functioning democracy again."
"As in our previous election-based projects, Dave and I were looking for a relatively simple platform for artists to get involved in the political process," Kurland added. "Seeing how impactful Bandcamp Fridays have become, we felt this was the perfect way to create urgency by releasing new music from a collection of amazing artists for a very short window of time."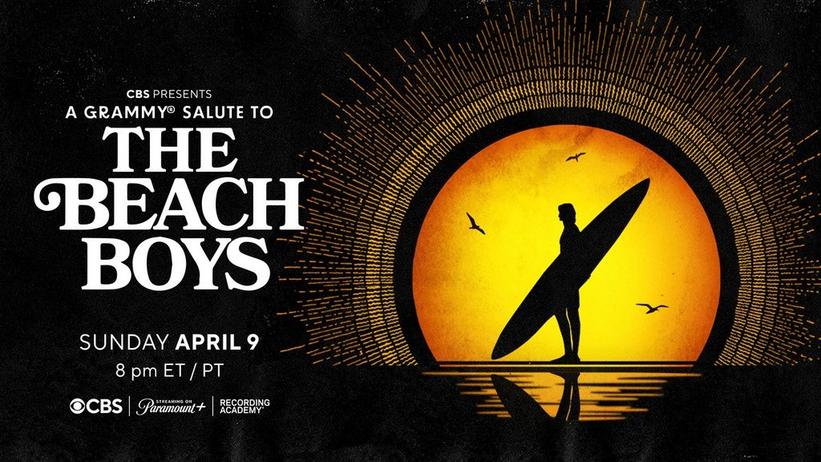 "A GRAMMY Salute To The Beach Boys"
Photo Credit: CBS ©2022 CBS Broadcasting, Inc. All Rights Reserved.
news
How To Watch "A GRAMMY Salute To The Beach Boys," Featuring Performances From John Legend, Brandi Carlile, Beck, Fall Out Boy, Mumford & Sons, LeAnn Rimes, Weezer & More
The tribute to the Beach Boys will also feature performances from St. Vincent, My Morning Jacket, Norah Jones, Charlie Puth, and many others, as well as special appearances by Tom Hanks, Elton John, Bruce Springsteen, and more.
GRAMMYs
/
Mar 14, 2023 - 04:00 pm
After six decades of game-changing innovation and culture-shifting hits, the Beach Boys stand tall as one of the most legendary and influential American bands of all time.
Now, the iconic band will be honored by the Recording Academy and CBS with a star-studded "Beach Boys party" for the ages: "A GRAMMY Salute To The Beach Boys," a two-hour tribute special featuring a lineup of heavy hitters, including John Legend, Brandi Carlile, Beck, Fall Out Boy, Mumford & Sons, LeAnn Rimes, St. Vincent, Weezer, and many more, who will perform all your favorite Beach Boys classics.
Wondering when, where and how to watch "A GRAMMY Salute To The Beach Boys"? Here's everything you need to know.
When & Where Will The Special Air?
"A GRAMMY Salute To The Beach Boys" will air on Sunday, April 9, from 8 – 10 p.m. ET/PT on the CBS Television Network, and will be available to stream live and on demand on Paramount+.* A one-hour version of the tribute will air on MTV at a future date to be announced.
Who Will Perform, And What Will They Perform?
The following is a list of artists and performances featured on "A GRAMMY Salute To The Beach Boys":
Read More: The Beach Boys' Sail On Sailor Reframes Two Obscure 1970s Albums. Why Were They Obscure In The First Place?
Who Are The Special Guests & Presenters?
In addition to the musical performances, the special features appearances by Drew Carey, Tom Hanks, Jimmy Jam, Elton John, Bruce Springsteen, John Stamos, and Recording Academy CEO Harvey Mason jr.
Beach Boys core members Brian Wilson, Mike Love, Al Jardine, Bruce Johnston, and David Marks are featured guests.
What's The Context For The Special?
Filmed at the iconic Dolby Theater in Los Angeles after the 2023 GRAMMYs, "A GRAMMY Salute To The Beach Boys" airs during the year-long celebration of the Beach Boys' 60th anniversary. Counting more than 100 million records sold worldwide and recipients of the Recording Academy Lifetime Achievement Award, the Beach Boys are one of the most critically acclaimed and commercially successful bands of all time, and their music has been an indelible part of American history for more than six decades.
Keep an eye on GRAMMY.com for more exclusive content leading up to "A GRAMMY Salute To The Beach Boys."
*Paramount+ Premium subscribers will have access to stream live via the live feed of their local CBS affiliate on the service as well as on-demand. Essential tier subscribers will have access to the on-demand the following day after the episode airs.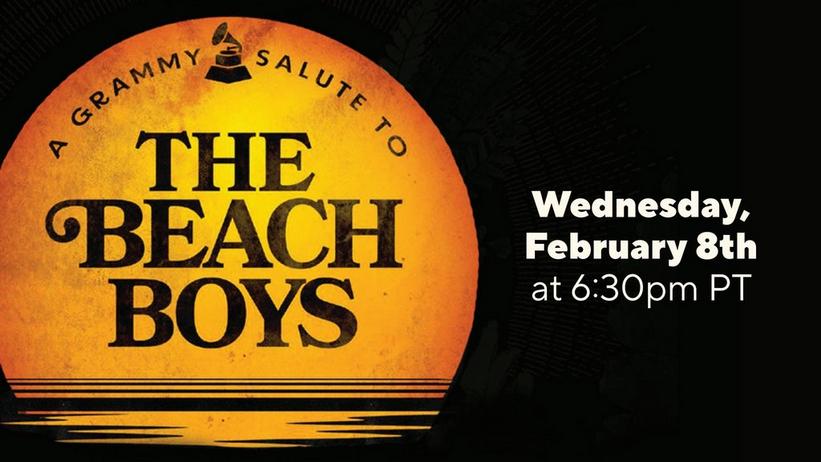 A GRAMMY Salute to the Beach Boys
Graphic: The Recording Academy
news
A GRAMMY Salute To The Beach Boys Tribute Concert To Feature Performances By John Legend, Brandi Carlile, St. Vincent, Beck, Fall Out Boy, Mumford & Sons, Weezer & More; Tickets On Sale Now
Taking place Wednesday, Feb. 8, at the Dolby Theatre in Hollywood, California, the live concert special will feature a star-studded lineup that also includes Charlie Puth, LeAnn Rimes, My Morning Jacket, Norah Jones, Pentatonix, Lady A, and many others.
GRAMMYs
/
Jan 26, 2023 - 05:44 pm
A few days after the 2023 GRAMMYs, the Recording Academy, along with Tenth Planet Productions and CBS, will present A GRAMMY Salute to the Beach Boys, a special tribute concert honoring the legendary, GRAMMY-nominated music icons, the Beach Boys. Taking place Wednesday, Feb. 8, at the Dolby Theatre in Hollywood, California, the live concert special will feature a star-studded performer lineup that includes GRAMMY-winning artists and past and current GRAMMY nominees including Beck, Brandi Carlile, Fall Out Boy, Andy Grammer, Hanson, Norah Jones, Lady A, John Legend, Little Big Town, Michael McDonald, Mumford & Sons, My Morning Jacket, Pentatonix, Charlie Puth, LeAnn Rimes, St. Vincent, Take 6, and Weezer, who will all celebrate and honor the Beach Boys' everlasting music and impactful career.
Tickets for A GRAMMY Salute to the Beach Boys are available now.
A GRAMMY Salute to the Beach Boys will air on the CBS Television Network and will be available live and on demand on Paramount+ at a later date. More info on the event is below.
WHEN:
Concert:
Wednesday, Feb. 8
Doors: 5:30 p.m. PT
Concert: 6:30 p.m. PT
WHERE: 
Dolby Theatre
6801 Hollywood Blvd
Los Angeles, CA 90028
Take A Look Back At The Beach Boys' Pet Sounds | For The Record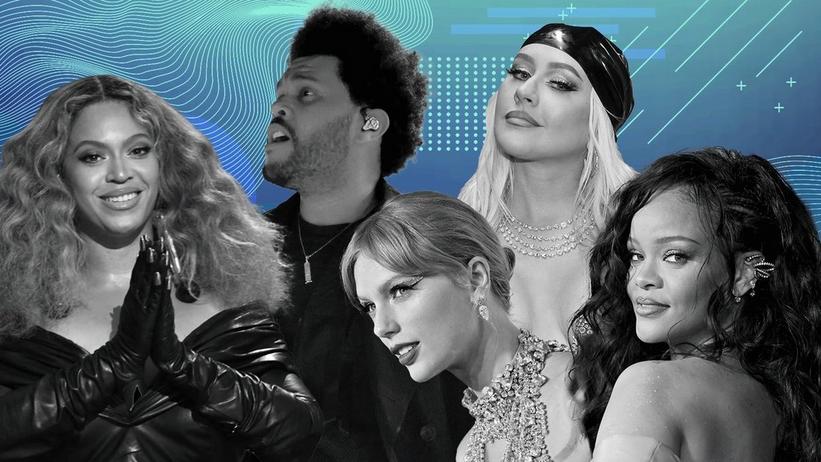 (L-R) Beyoncé, The Weekend, Taylor Swift, Christina Aguilera, Rihanna
Photo: (L-R) Kevin Winter/Getty Images for The Recording Academy, Frazer Harrison/Getty Images for Live Nation, Axelle/Bauer-Griffin/FilmMagic, Courtesy of Christina Aguilera, Axelle/Bauer-Griffin/FilmMagic
list
2022 In Review: 8 Trends That Defined Pop Music
Pop music continued to showcase its versatility this year, with newcomers and legendary mainstays alike shaking up the industry — which has led to major hits and even bigger cultural moments.
GRAMMYs
/
Dec 28, 2022 - 04:49 pm
If there's one word to describe this year in pop, it would be "unpredictable." Take fan favorites Beyoncé and Rihanna for starters: as fans began pondering when they'd hear new music again, both superstars made significant returns to their solo artistries, further elevating their statuses as elite pop divas.
Pop's unexpected nature is what makes it so beloved, especially in 2022 as artists showcased just how far their versatility can stretch. TikTok showed off its influence once again, with songs like Nicki Minaj's "Super Freaky Girl" birthing endless viral dance challenges. There was plenty of dancing outside of TikTok as well, as artists like Drake, The Weeknd and Beyoncé had everyone grooving under the disco ball. 
From pop stars unleashing their naughty sides to singles that transported us back to the '2000s and beyond, there were several major moments in pop music this year. Dive into eight of the genre's most dominant trends below.
Y2K Pop Divas Made Comebacks
Throughout 2022, the influence of late '90s and early '00s culture was reflected on fashion runways, TikTok and even a multitude of television reboots. So it was only natural that it also seeped into the music realm, with some of the era's biggest pop stars having a refreshing revival.
More than two decades after the release of her debut Spanish-language album Mi Reflejo, Christina Aguilera returned to her Latina roots (Aguilera's estranged father is an Ecuador native). The long wait was worth it, with the star sounding more confident than ever before as she celebrated her rich heritage. After starting this new era with the female empowerment anthem "Pa Mis Muchachas" (alongside fellow Latina artists Becky G, Nicki Nicole and Nathy Peluso), Aguilera continued to flex her versatility and vulnerability with songs like the impassioned Mexican ranchera "La Reina" and the somber "No Es Que Te Extrañe" that found the artist healing her childhood trauma.
Y2K pop sweetheart Mandy Moore, who returned after an 11-year music hiatus with 2020's Silver Landings, kept the momentum going with her seventh album In Real Life. The folk-inspired record showcased Moore's strength as a songwriter and new motherhood.
But arguably the most unexpected return came from Britney Spears. Following the official termination of her conservatorship last November, the pop star freed herself from a decade of restrictions. Spears found her way back to the studio for the first time since the release of 2016's Glory album, and joined fellow pop legend — and longtime supporter — Elton John for "Hold Me Closer." The song draws elements from John's classics like 1971's "Tiny Dancer," 1976's "Don't Go Breaking My Heart" and 1992's "The One," but adds a modern twist with shimmering dance melodies. "Hold Me Closer" debuted at No. 6 on the Billboard Hot 100, proving that Spears can still score a hit with ease.
R&B Artists Danced Under The Disco Ball
Pop has seen a disco revival seeping in over the last few years (even including the return of ABBA!), but what made this year so different is witnessing more R&B-leaning artists putting a fun spin on dance music as a whole.
Leading the charge was Beyoncé, who ignited a full-on dance party with her latest album (and first since 2016's Lemonade). After trying her hand at Afrobeats with 2019's soundtrack album, The Lion King: The Gift, Queen Bey transformed into Queen of the Dance Floor with 16 hip-shaking tunes whose influence call back to Studio 54 and Black ballroom heydays. The album is not only a tribute to her late Uncle Johnny (who she credits for introducing her to house music), but Black queer culture as a whole.
Nearly two years after 2020's After Hours, The Weeknd aptly kept the club open until sunrise with his fifth album, Dawn FM. Jam-packed with '80s elements from new wave to synth-pop, the record is an energetic joyride kookily narrated by comedian Jim Carrey.
While he's widely known as a rap superstar, Drake channels his R&B crooning alter-ego from time to time. His seventh album, Honestly, Nevermind, arrived as a surprise in June — and he was clearly ready to kick off summer with a party. The album found the artist at the center of the dance floor as he explored house music with bouncy songs like "Sticky" and "Massive." The experimentation paid off: the album became Drake's 11th Billboard 200 chart-topper.
Throwback Samples Were Inescapable
While sampling is more of a historical music staple than a trend, this year many artists had fun traveling back to the '70s, '90s and early '00s to add nostalgic doses into their hits. Beyoncé evoked the spirit of Donna Summer on "Summer Renaissance," which pulls from the disco queen's 1977 jam, "I Feel Love." Elsewhere, Charli XCX lifted the Stonebridge Mix of Robin S.'s 1992 "Show Me Love" for her own dance floor hit, "Used To Know Me," while NYC-based EDM duo Sofi Tukker sampled Suzanne Vega's "Tom's Diner" for their infectious tune "Summer In New York."
Throwbacks were perhaps most predominant within mainstream rap hits. Tyga's "Sunshine," a collaboration with Jhené Aiko and the late Pop Smoke, samples Lil Flip's 2004 hit of the same name, while Jack Harlow used Fergie's 2006 No. 1 smash "Glamorous" to create his own hit. Rap newcomers Armani White and Central Cee also traveled to the early '00s, with the former's N.O.R.E. sample heard throughout his debut single, "Billie Eilish" and the latter using Eve and Gwen Stefani's "Let Me Blow Ya Mind" for "Doja."
Nicki Minaj and Yung Gravy took us back to the '80s, as Minaj flipped Rick James' 1981 single "Super Freak" into "Super Freaky Girl, and Yung Gravy's viral "Betty (Get Money)" was based on Rick Astley's 1987 hit "Never Gonna Give You Up."
Artists Tapped Into Their Edgy Sides
Pop music can surely be wholesome, so it's always fun when artists try their hands at edgier sounds. Sam Smith has long proven they can do more than a heartfelt ballad, and their TikTok anthem with Slut Pop star Kim Petras found the pair at their naughtiest.
Dove Cameron shed her Disney Channel beginnings with February's "Boyfriend" single, which celebrated her queer identity with dark, spine-tingling production. She raised the intensity levels with August's "Breakfast," which flipped gender politics on its head.
Maggie Lindemann also traded pure pop for pop-punk for her debut album, ​​Suckerpunch. Continuing the Gen Z angst that rattled 2021, Lindemann unapologetically rebels against the music she was previously associated with thanks to singles like the nostalgic "Cages" and the incredibly flirtatious "She Knows It."
Even Taylor Swift got in on the fun. The singer, who previously showcased her edgy side with 2017's reputation, further leaned into that style with her hazy tenth album, Midnights. A complete left turn from 2020's folk-inspired LPs, folklore and evermore, Midnights captured the restlessness, revenge fantasies, self-criticism, and curiosity that come with what she detailed as "13 sleepless nights scattered throughout my life."
Black Pop Divas Made Long-Awaited Returns
After Rihanna and Beyoncé officiated their pop icon statuses with 2015's Anti and 2016's Lemonade, respectively, the two opted to take mini hiatuses from solo music. Beyoncé steadily remained in the music sphere, hopping on several collaborations including a remix of Megan Thee Stallion's 2021 hit "Savage." The song scored GRAMMY Awards for Best Rap Song and Best Rap Performance, the latter of which helped crown Beyoncé as the artist with the most wins in GRAMMY history with 28. (She followed up the achievement by recording "Be Alive" for the King Richard soundtrack, which earned Oscar and Golden Globe nominations for Best Original Song.)
But Beyoncé focused the spotlight back on herself with her seventh studio album. The July release was a pop culture phenomenon, weaving itself into casual conversations, memes, TikTok dance challenges and more. The album is a celebration of not only Beyoncé's career, but Black influence on dance music as a whole.
Rihanna was more quiet following Anti — only appearing on a few collaborations here and there, including Calvin Harris' "This Is What You Came For," DJ Khaled's "Wild Thoughts" with Bryson Tiller and Kendrick Lamar's GRAMMY-winning "Loyalty" — to focus on building her Fenty beauty and lingerie empire. But fans never stopped craving new music from the star herself, and their prayers were finally answered in September in major fashion: The superstar announced in September that she'll headline the Super Bowl LVII halftime show, which will mark her first live showing in over five years.
Rihanna quickly kept the excitement going with two appearances on October's Black Panther: Wakanda Forever soundtrack, "Lift Me Up" and "Born Again" — her first solo music in more than six years.
Rap's TikTok Takeover Was Still In Effect
Rap was one of the biggest genres on TikTok last year, and the trend remained strong in 2022. The dominance was seen through dance challenges and viral memes, with Lil Uzi Vert's infectious Jersey club smash "I Just Wanna Rock" creating an explosive wave that culminated in a dance-heavy music video.
Drake and 21 Savage's "Rich Flex," a highlight from their collaboration album, Her Loss, was transformed into a silly tongue-in-cheek meme. Brooklyn rap newcomer Lola Brooke had TikTokers  feeling confident as ever as they used "Don't Play With It" to soundtrack their selfie videos. Even Lil Wayne and Soulja Boy's nostalgic jams had a resurgence, with 2008's "Lollipop" and 2018's "Pretty Boy Swag" spawning their own TikTok trends.
Ed Sheeran Was Pop's Big Brother
Despite being one of the biggest pop stars in the world, Ed Sheeran has maintained the humble spirit that made him so beloved. The British singer/songwriter has always shown a love for collaboration, even releasing a guest-filled project in 2019. But in 2022, Sheeran put collaborations into overdrive.
Sheeran kicked things off by teaming up with his old pal Taylor Swift on a duet version of his = track, "The Joker and the Queen." In March, he dropped not one but two singles with Colombian star J Balvin, "Sigue" and "Forever My Love," where Sheeran traded his guitar for a reggaeton bassline.
The singer then traveled across genres — and the globe — pairing with Jamaican dancehall singer Ishawna (who previously sampled 2017's "Shape of You" on her single "Equal Rights") for "Brace It" and guesting on Nigerian hitmaker Burna Boy's love song "For My Hand." Not forgetting his own roots, Sheeran also showcased his admiration for local British hip-hop with appearances on Manchester rapper Aitch's "My G" and rap collective D-Block Europe's "Lonely Lovers."
Bands Proved Rock & Roll Is Here To Stay
"Rock 'n' roll is dead" has been an ongoing debate ever since hip-hop became the industry's most dominant genre in 2017. Even so, rock acts continued to spotlight the historic genre this year, and helped it endure in arguably the biggest way it has in years.
After a five-year hiatus, Paramore thrilled fans with the announcement of their sixth album, This Is Why. Set for a February 2023 release, the new album era kicked off with the funky eponymous lead single in September.
Rock mainstays Red Hot Chili Peppers satiated genre diehards by dropping two albums within six months in 2022: April's Unlimited Love and October's Return of the Dream Canteen.
On the more alternative side, Arctic Monkeys re-emerged with a vintage focus for October's The Car, which drew from baroque pop, funk, early '70s rock and classic film scores. And after a brief pandemic-induced postponement following 2020's Notes on a Conditional Form, The 1975 returned with their fifth album, Being Funny in a Foreign Language. Singles like "Part of the Band," "Happiness" and "I'm in Love with You" found the band in a lighthearted, '80s dance-pop-inspired spirit.
After a year filled with viral moments and comebacks, there's no doubt that artists will continue to keep pop unpredictable in 2023.
5 Essential Power Pop Albums From 2022: Dazy, Young Guv, The Beths & More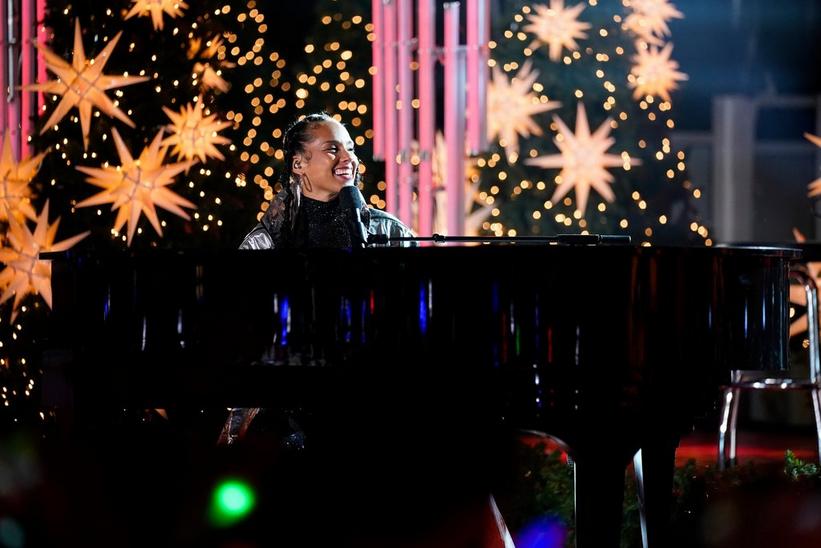 Alicia Keys performs at the 90th annual Rockefeller Center Christmas Tree Lighting in November 2022.
Photo: Ralph Bavaro/NBC via Getty Images
news
Listen: Get Jolly With New Holiday Music From Dolly Parton, Phoebe Bridgers, Pentatonix, Alicia Keys & More
This year saw several new holiday albums and singles from artists of all genres, from Backstreet Boys to Gloria Estefan. Get in the spirit with this festive 30-song playlist.
GRAMMYs
/
Dec 16, 2022 - 04:05 pm
As we're all stringing up colorful lights and scrambling to buy last-minute gifts, music shines as the one constant in our lives amid the rush of the holiday season.
Some playlists have been bursting with holiday music since early autumn, with releases such as Dolly Parton's "A Smoky Mountain Christmas" dropping back in August and Joss Stone's Merry Christmas, Love releasing in September. Since then, several more holiday albums arrived, whether they were new projects from artists such as Alicia Keys and Thomas Rhett or polished deluxe editions from the likes of Reba McEntire and Norah Jones.
Beyond releasing albums, many artists have also found their holiday spirit by releasing festive singles. Remi Wolf brings her bubbly personality to warm covers of "Last Christmas" and "Winter Wonderland," Dan + Shay remind us to throw a "Holiday Party" with loved ones, and Phoebe Bridgers shares her annual holiday cover, this year a rendition of the Handsome Family's "So Much Wine." And even stars such as RuPaul, Jimmy Fallon and Ryan Reynolds surprised with holiday singles this season.
Groups such as Pentatonix and Backstreet Boys joined in on the fun with their own cheery holiday albums, and Gloria Estefan and her family capture the joys of love in a snowglobe on Estefan Family Christmas. Collaborations sparkle with holiday magic as well; Ingrid Michaelson and A Great Big World team up for "It's Almost Christmas," and Kelly Clarkson and Ariana Grande perform "Santa, Can't You Hear Me" in a thrilling live version.
So bundle up, grab some hot cocoa, and listen to some new holiday music in this very merry playlist — check it out on Pandora, Spotify, Apple Music, and Amazon Music.