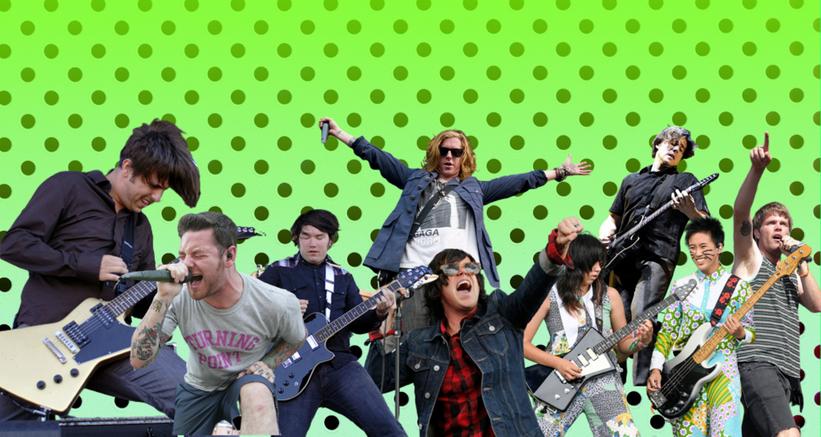 (Back row) Micah Carli of Hawthorne Heights, Travis Clark of We the Kings, Lucia de la Garza and Eloise Wong of the Linda Lindas (Front row) Buddy Nielson of Senses Fail, JT Woodruff of Hawthorne Heights, Kellin Quinn of Sleeping With Sirens, Jim Adkins of Jimmy Eat World, Sean Foreman of 3OH!3
Photos: Tim Mosenfelder, Daniel Boczarski/Redferns, Steve Jennings/WireImage, Gary Miller/FilmMagic, Tim Mosenfelder,  Chiaki Nozu/WireImage, Martin Philbey/Redferns, Noel Vasquez/Getty
feature
Remembering When We Were Young: Avril Lavigne, Jimmy Eat World & More Bands Reflect On The Peak Of Emo & Hardcore Ahead Of Vegas Fest
When We Were Young Festival performers Bright Eyes, the All-American Rejects, Meet Me @ the Altar and others celebrate the special sounds of the 2000s and 2010s — and the acts they're most excited to see in Las Vegas.
GRAMMYs
/
Oct 21, 2022 - 08:08 pm
Written by Taylor Weatherby and Jessica Lipsky
If the average fan travels to Las Vegas to find themselves squarely in the moment — whether that be at the slots, a show, or an artist residency — one festival is aiming to be a blast from the past. Held Oct. 22, 23 and 29, the When We Were Young Festival is a nostalgia event for the ages (particularly, those in their late 20s to early 40s). The event features 64 of the biggest names in pop-punk, emo and hardcore from the early 2000s through 2010s, as well as a handful of contemporary acts who are continuing those movements today.
While there was no doubt a divide between subcultures and subgenres back in the day — just ask any scene kid, these journalists included — When We Were Young breaks down those barriers in favor of a smorgasbord of sound. Across five stages at the Las Vegas Fairgrounds, there will be pop-punk from Avril Lavigne, post-hardcore from AFI, straight-ahead punk rock from the Linda Lindas, and the highly anticipated return of emo rockers My Chemical Romance.
Almost as soon as When We Were Young was announced, social media exploded about the implausibility of such a massive lineup. Even still, tickets sold out immediately. Organizers responded to the demand (and fans' thoughts about who was missing from this year's roster) by announcing a jam-packed lineup for 2023 — which, of course, is already sold out.
Ahead of the inaugural When We Were Young festival, GRAMMY.com asked some of its acts to look back on this unique time in music and share some of their favorite memories. While you're reading, press play on GRAMMY.com's official When We Were Young Fest playlist on Spotify, Apple Music, Amazon Music, and Pandora. Playlist powered by GRAMMY U.
3OH!3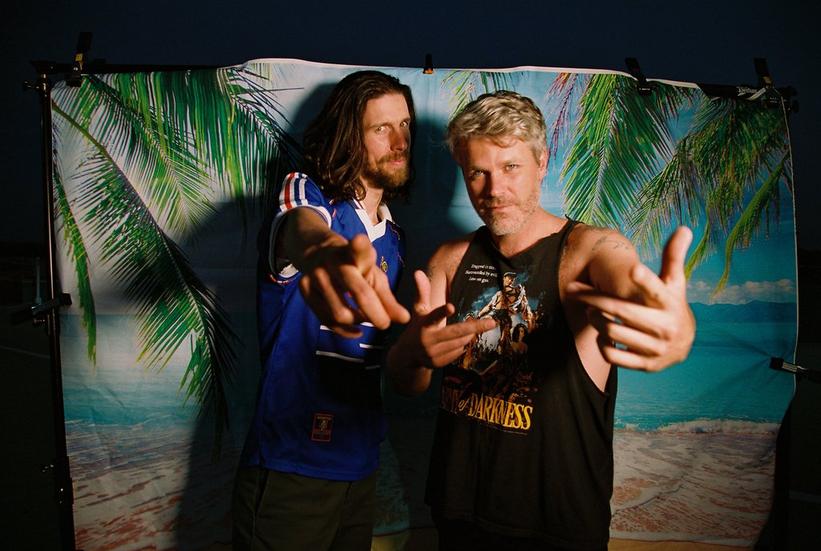 Photo courtesy of the artists
Nathaniel Motte: I think the emo scene really encouraged a sense of demystification across a lot of different facets of music. We started touring on a national scale on Warped Tour, and on that tour, pretty much every band does a daily meet and greet, where fans can meet the bands in person and have a substantive, personal interaction with them. That was really important for us, as we always considered ourselves pretty regular people, just trying to rock a party and make it as fun as possible for a bunch of our friends in the crowd. 
Our first three years of full touring (2008, 2009, and 2010) was a delirious, crazy, exhausting and joyful blur. We were so ignorant to the pitfalls of the "industry" that we didn't know what we couldn't do, and therein, every opportunity to do something different was novel and exciting. Each one of those years I was deferring my acceptance to medical school at the University of Colorado, because the experiences we were getting and the fun we were having was way too much to turn away (shout out to CU Medical School for the patience and generosity!). 
Sean Foreman: Playing Warped Tour in New York and reaching out to Lil Jon — who drove out and joined us on stage for two songs — that was truly the WTF moment, since a lot of our early sound was inspired by him. 
I'm a fan of almost all these bands, but I will say I'm excited to see Pierce the Veil. Our first American tour, we shared a bus with them. They are extremely nice people and I love their new song "Pass the Nirvana" a lot. That's inspiring to me to watch a band that has been around maybe longer than us continuing to grow. They also short circuited our bus with their hair straighteners, and to this day I like to give them crap about it. 
A Day To Remember — Neil Westfall, guitarist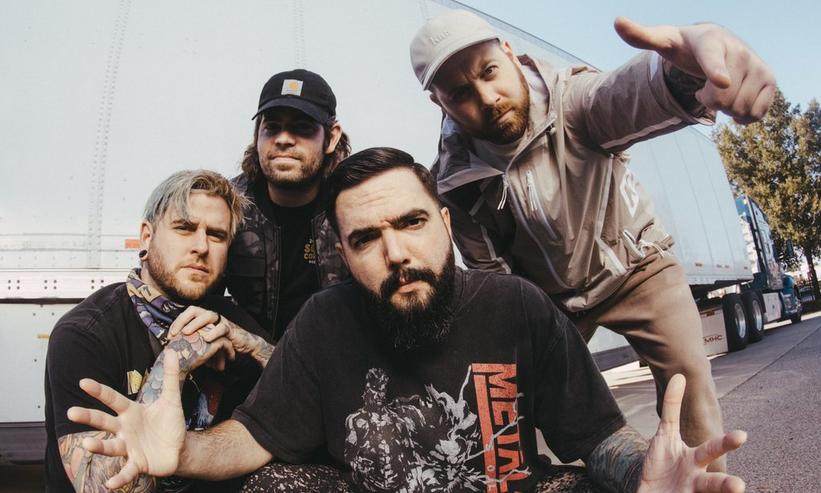 Photo: James Hartley
To me, this time was all about finding out who I was and what I liked. I would go to every show that came to my part of Florida. I made almost all my lifetime friends from going to shows and being a part of the scene in Florida. ADTR made music that allowed us to fully express every influence, whether that made sense to others or not. It allowed us to play every genre of show and fit in enough to play, but stand out enough to be remembered. 
I remember being on tour with Parkway Drive, The Acacia Strain and Suicide Silence, and getting our mixes back from Adam Dutkiewicz for Homesick. We all listened to them on the PA at the venue in Melbourne. We were insanely happy with how everything was going, and DL from The Acacia Strain came up to us and said,"You guys are about to be the biggest band in the world." We all laughed and went on to play. While we may not be the biggest band in the world yet, we aren't finished. 
I am a huge fan of Paramore. I think we may have played, like, three festivals together in the past, and they have absolutely crushed every time I have seen them play. I probably could talk about multiple songs on multiple albums, but the first song I heard was"Pressure" from the album All We Know Is Falling. I doubt I will ever get to see them play it, but it will always hold a special place in my heart. 
The All-American Rejects — Mike Kennerty, guitarist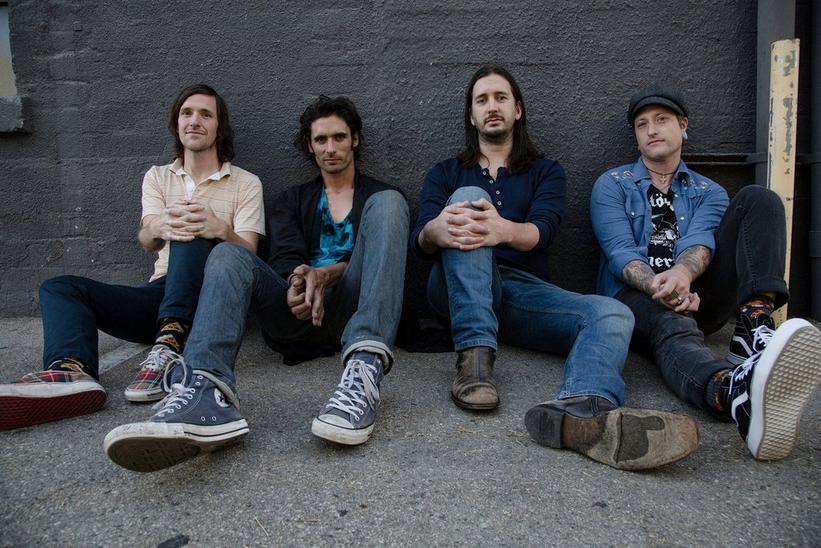 Photo courtesy of the artist
[This era] was the last gasp of the old music industry... MTV, radio, magazines. We got to live out those rollercoaster experiences right before things changed, which was amazing as kids who grew up in Oklahoma seeing all those things from afar. We've probably forgotten as much as we remember! But getting a VMA (back when videos still felt like a big deal) was pretty cool!
We found out about the lineup along with everyone else. To say they were vague about who all else was playing is an understatement. Alkaline Trio is still a great band and I'm excited to see them again! The first time we got to play with them was in the early '00s at this small club in Amsterdam. It felt like I was getting into a killer show for free.
Anberlin — Deon Rexroat, bassist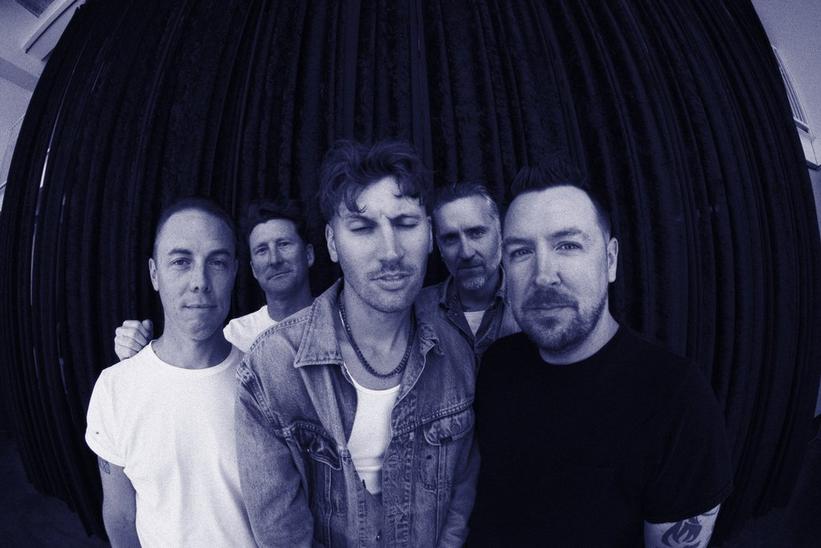 Photo: Jordan Butcher
That first decade of the 2000s was very unique, because you still had this sort of monoculture coming out of the '90s that helped regional and local scenes to develop. Anberlin developed our sound by being a part of a local community of musicians in Central Florida. We started out playing shows with Copeland and Underoath. We weren't all the same genre, but it didn't matter. People nurtured our growth simply by going out to local shows and giving unknown bands like us a chance. 
Florida, at that time, was a special place, with bands like Hot Water Music, Dashboard Confessional, New Found Glory, and others really standing out musically and doing things that would go on to influence people across the country and the world. It was a great scene to be a part of.   
The time around our third album Cities, will always be a special time for me. We were coming off an incredible two years of growth after releasing Never Take Friendship Personal, and it felt like we were becoming a mature, respected band amongst our peers. We felt established and actually started headlining tours and selling out shows in larger venues. It was obvious something was really happening for us.  
I was and am stoked and honored about the invite to play [the fest], as I'm sure the other bands are. But I have to be honest — when we were first presented with the offer, I thought,"How is this real?" immediately followed by"How will they pull this off?!"
Sure, Warped Tour did it for years and on a daily basis, but so many bands are of a certain size or bigger here. The scheduling gymnastics are going to take Olympic-level talent. Regardless of all of that, I do know our set will just be a bonus next to spending multiple days with longtime best friends like Bayside and Story Of The Year, among many others!
Jimmy Eat World [is my favorite band on the bill]. Hands down. Having Clarity and Bleed American come out in the few years leading up to Anberlin's formation, they were, and still are, so influential for me. I think it speaks volumes that they are playing this fest, but are also such a major influence on so many of the other bands on the same bill. It's really hard to express what they mean to me personally, but also what they mean to the scene they helped to build that is at the core of the festival. 
Avril Lavigne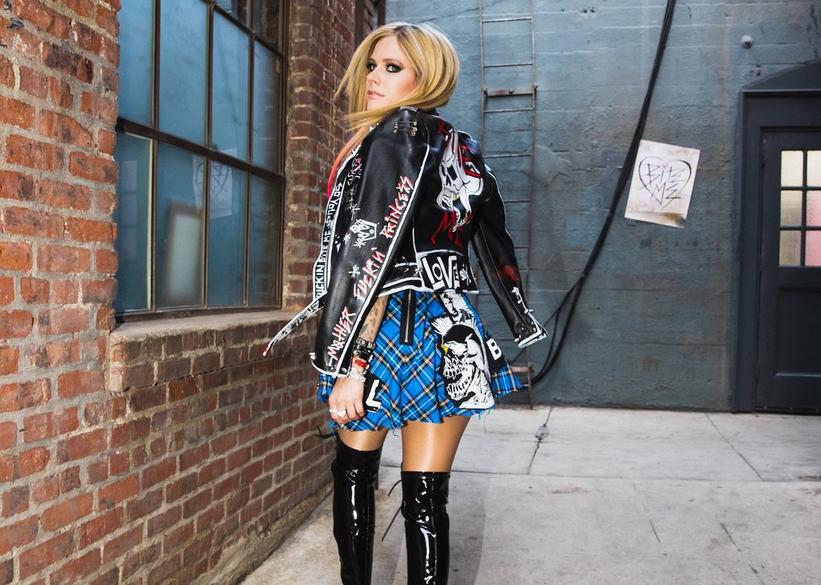 Photo: Ryan McFadden
There have been songs I've loved by a lot of the bands playing. I love "Dirty Little Secret" by the All-American Rejects and "The Middle" by Jimmy Eat World — I'm really excited to see Jimmy Eat World. I still go back to their album Bleed American a lot. And I love the first album by The Used, which was done by my producer John Feldmann. 
This was a world I grew up not just a part of, but listening to. When I got asked to do [the festival] and found out who else was on it, I was like,"F— yeah, I'm in!" So many of my friends and favorite bands in one place — there's no way I couldn't be there. 
Black Veil Brides — Andy Biersack, singer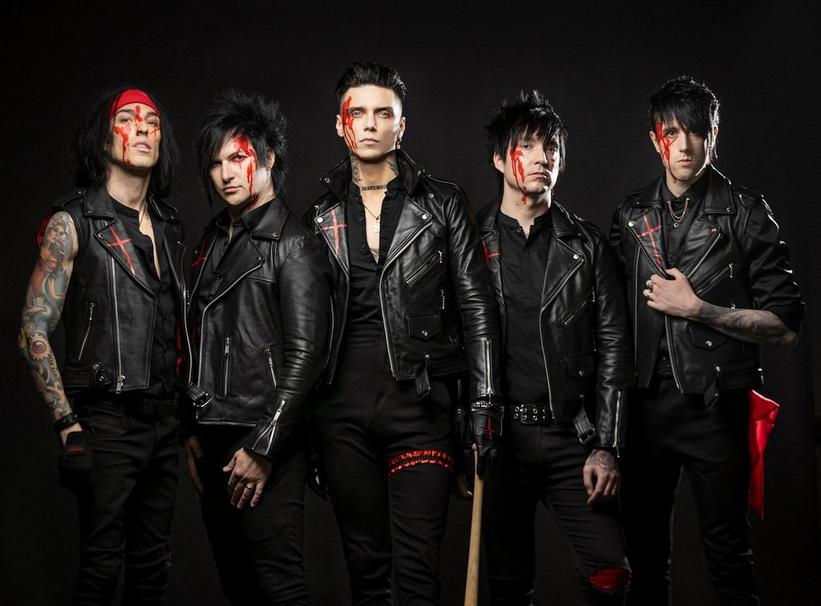 Photo: Joshua Shultz
I'm a bit younger than a lot of my contemporaries from this era, so a lot of this period musically, for me, represents that "coming of age" sort of feeling. Being in 6th/7th grade and discovering bands like AFI, Alkaline Trio and Jimmy Eat World, and [then being] completely blown away that this thing called Warped Tour existed. I'd lay in bed some nights just thinking about how many days were left until next year's show in Cincinnati. It really means everything to me.
Alkaline Trio is and will always be my favorite band of all time. There is no single artist that has had the effect on me that they did and continue to do. I remember seeing them in Covington, Kentucky as a kid and waiting around back by the buses to see if I could get an autograph. [Guitarist] Matt [Skiba] signed my hoodie and I felt like I had won the lottery. I've been lucky enough to get to work with Matt a few times over the years. He's an amazing artist and person. I cannot wait to watch their set every day!
The basis for my songwriting and interest in pursuing that end of music really stems from this era more than any other. When we started touring and gaining popularity, I was still a teenager who had just dropped out of high school and was suddenly on this crazy ride, and sort of learning about life through the mechanism of the music industry and being on the road. I feel so lucky that we came up in the time and era that we did, and I think there's a reason why this type of music has continued on in popularity and adoration.
We have all been so excited for this [festival] for so long, and can't wait to play and enjoy the celebration of some of the best music that's ever been made.
Bright Eyes — Nate Walcott, keyboardist & trumpeter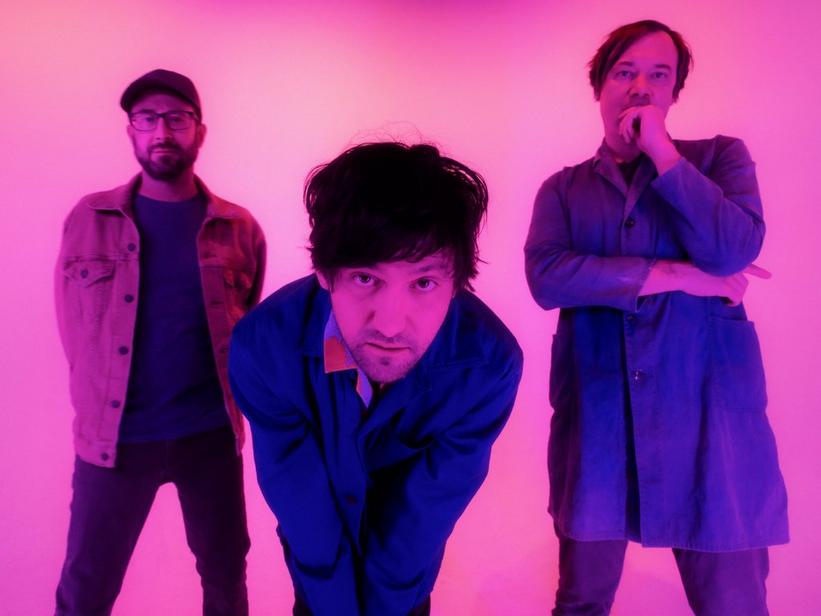 Photo: Shawn Brackbill
My emo phase was a little earlier, in the '90s, when I was in high school. I'm old!
This was in Lincoln, Nebraska. Some friends of mine were really into bands like Mineral and Sunny Day Real Estate, and I liked some of that stuff; it was an appropriate soundtrack to my angsty high school teen years. But so were things like "Central Park West" (John Coltrane) and "Flamenco Sketches" (Miles Davis) and Chopin's preludes in Em and Db major, as well as "I Could Have Lied," perhaps the most emo of all Red Hot Chili Peppers songs. All of these things somehow had a similar feeling to me.
One of my best friends in high school, Ben Armstrong, played drums in Commander Venus —a band featuring my future Bright Eyes bandmate Conor Oberst…. It was fun riding around with Ben going to Commander Venus shows in houses and weird performance spaces and s—y all ages clubs.  To be a high school kid doing that stuff was exhilarating and…emotional!
I started playing in Bright Eyes in 2002, and became a full-time member in 2005. I can't speak entirely for all my bandmates —  My Chem[ical Romance] most certainly came up from time to time — but I wasn't listening to a lot of emo, hardcore or pop-punk once the aughts hit. But we were touring and recording constantly during this period.
I was pleasantly surprised by the degree to which the festival tapped into this sense of nostalgia, and how much it seemed to resonate with people. Any occasion for people to congregate and enjoy music in the spirit of celebration is something to be happy about, and we're glad to be a part of it. I'm looking forward to expanding my horizons and hearing some new things.  Maybe my biggest emo phase lies ahead!
Dance Gavin Dance — Matt Mingus, drummer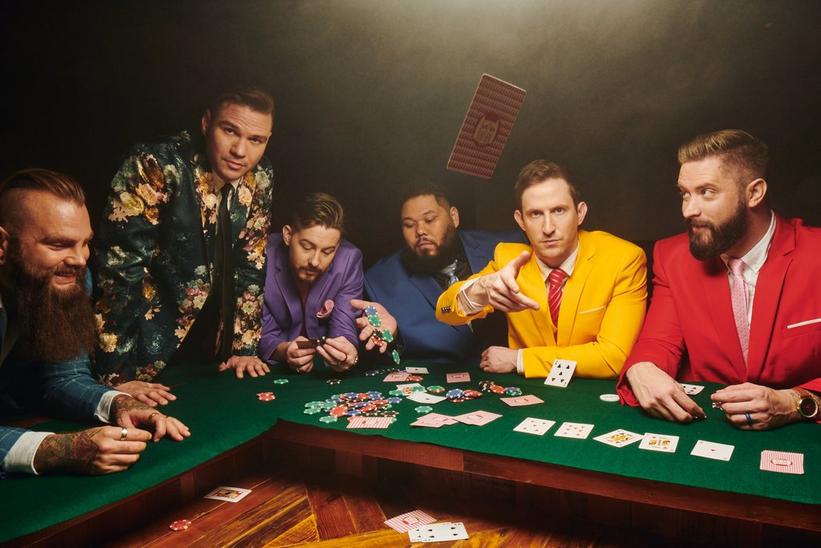 Photo: Lindsey Byrnes
This era of music was particularly very special to me. I started going to local pop punk/emo shows when I was 14. This progressed into me getting acquainted with the larger national acts in the scene. I always liked these shows because everyone there was very welcoming and I felt right at home.
I was lucky enough to grow up in Sacramento, California, which had awesome shows all of the time thanks to the legendary music venue called The Boardwalk. Thanks to seeing countless bands there over the years, myself and the other founding members were inspired to create Dance Gavin Dance.
One of my fondest memories of that era was when we got our first record deal and went to record our first full-length album, Downtown Battle Mountain, in Portland, Oregon in 2007. I had just turned 18 and was still a senior in high school. I was nervous but more so excited; little did I know this would jumpstart a life full of touring and writing music with some of my best friends in the world for the next 15 years and counting.
I was excited and honored [to be on the bill]. However, it made me feel a little old. To be put up on a pedestal with bands like My Chemical Romance and Paramore as a nostalgic artist, I must say, felt pretty good.
I'm super excited [to see] a lot of the bands on the festival [lineup] — one in particular is Dashboard Confessional. When I was in 8th grade, I did a music project on The Places You Have Come to Fear the Most; I used to be in love with that album when I was younger and still get all sorts of feelings when I listen to it to this day. I can't wait to finally see them perform!
​​Hawthorne Heights — J.T. Woodruff, singer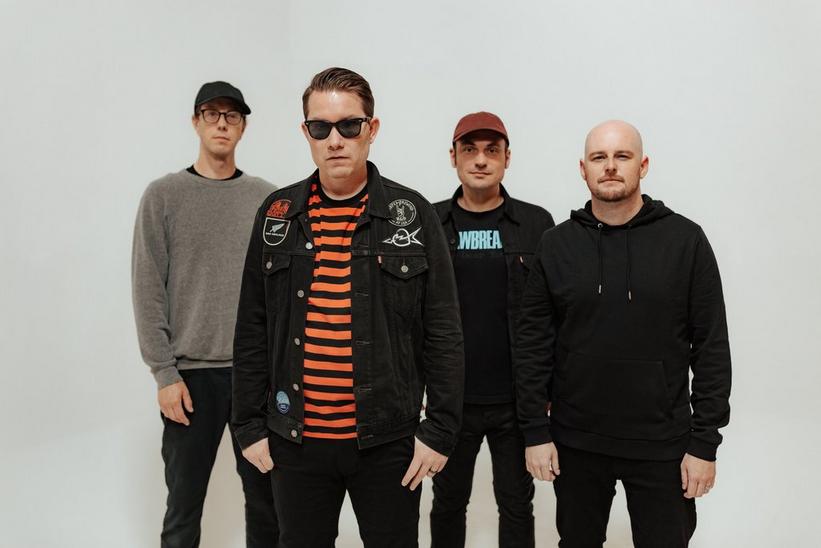 Photo: Courtesy of the artist
Standing on the main stage in Columbus, Ohio at Warped Tour 2005 — that was the moment that I realized our band and this genre was starting to get massive. It was an ocean of people from all walks of life, that were dressing like us, and wearing the same haircut as us. It felt great to belong to something. The roller coaster was in the free-fall stage, and we were hanging on for dear life, in the best way possible. I will remember that summer for the rest of my life.
For me, the most special moment was feeling a part of something different. We got to take part in a tidal wave, which changed the scene from almost exclusively pop-punk vs. hardcore to something that blended these worlds together. You could feel the sea change happening — similar to when the grunge movement happened when I was a kid. It wasn't something we were aware of at the moment, but as time grows, you start to realize the lasting impact the songs we created [have] had.  
We found out [about] the lineup when the fans did. And while it felt chaotic at the time, it was interesting to see how the internet reacted in real time. It was a masterclass in social marketing. These events are what makes the scene relevant after all these years. The fans need it. The bands need it. We all want to live forever.  
Universally, I think My Chemical Romance is a band that everyone believes in. We've been fortunate enough to hang out with them quite a few times, and they are genuine legends. A band that puts art first, and will sacrifice nothing to achieve the vision that is in their collective brain, is so rare and so pure. I took my daughter to watch them on their current arena tour. We loved every minute of it, and it was a great moment from a father to a daughter — elder emo to current emo. 
I Prevail — Steve Menoian, guitarist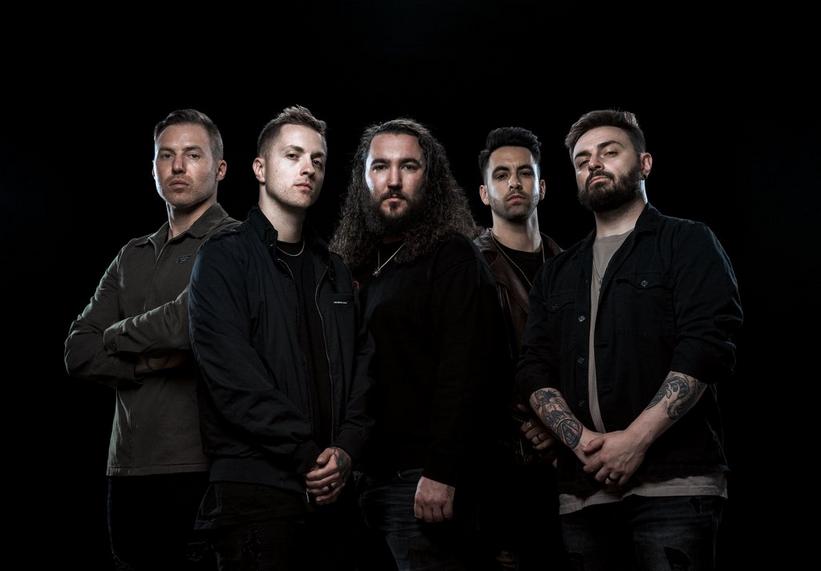 Photo: Fearless Records
I think it was a really creative time for rock and guitar-driven music. There were so many different subgenres that were coming together and building the foundation of the way we would look back on that era.
When you really think about it, it's weird to think that music as different as emo, hardcore, metal-core and pop-punk would eventually feel that they almost cohesively came from the same era. I think that's unique. When we look back on the '80s or '90s, it seems like one style really dominated, like hair metal or grunge. The 2000s [felt] unique in how eclectic it was. 
We had an awesome alt rock station in Detroit called 89x. I remember driving to high school in the mornings and hearing The Used, 30 Seconds to Mars, Fall Out Boy, Panic! [at the Disco], Paramore, Rise Against, Simple Plan — so many bands like that. I didn't really realize it at the time, but it was great exposure to the emo and alt rock that was brewing in that era.  
I went through a huge Dashboard [Confessional] phase in my early college years. I remember sitting in my dorm late at night and learning to play all those songs off of The Places You Come to Fear the Most —"Standard Lines," "Screaming Infidelities,""Saints and Sailors." All I had with me that first year was an acoustic, so I really immersed myself in that record.  
I don't think we initially appreciated just how big [this festival] was going to be. We knew it would be big, but it just went to another level. Seeing the initial reaction and how viral the announcement went really put it into perspective. There are so many iconic bands on the bill, and as a younger band who didn't really come from that era, we're just stoked to be here — and to add our style into the crazy melting pot that will no doubt make this one of the best festival experiences of the year. 
Jimmy Eat World — Jim Adkins, singer/guitarist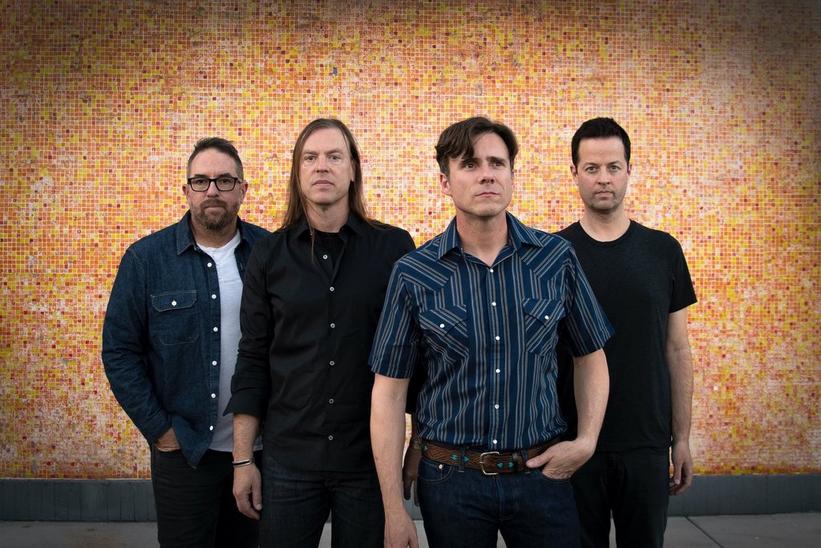 Photo: Jimi Giannatti
When someone brings up "emo," I think of the beginnings of our band. About the 1994 to 2002 time period. That was also my 18 to 25, growing-up period. Well, I guess you never really stop growing up, but that was when things were new. That was pre-internet as we know it today. So there is nostalgia for me on a personal level of experiencing things for the first time, and the special nostalgia of knowing how I experienced it, that way, was the last time anyone will. 
I feel like the entire period is a core memory. To be involved at all in the scene meant to take on a work ethic of self-dependence. But you had to take on an equal amount of contribution. As motivated or self-contained as you may be, you weren't going anywhere without help. We were shown when we matched our appetite for adventure with the willingness to contribute, there were lifelong friends to be made. 
There was also a ceiling on how personal you should take any of this. It felt like no one outside of our group of friends actually cared. If you weren't in it for the sake of personal reward in creating music, then you were in the wrong place. It turns out everything we simply just did back then was exactly what you need to make playing music a long-term endeavor.  
There were a lot of thoughts I had when we were asked. Like I said, when I think about the beginnings of the band, there were not many people cheerleading. There was a dedicated, hardcore network of like-minded people around the country working together just to make it happen for the sake of it happening. To think what we were up to would be"seen" on the level it is today would have been insane. 
None of us got into playing music because it was cool. Or because we thought it could be a career. We did it because there was something inside telling us we had to. We put a lot into what we've done so far. Everything we have, really. And the festival coming around when it did to ask us feels like recognition in a way. A warm fuzzy blanket.
jxdn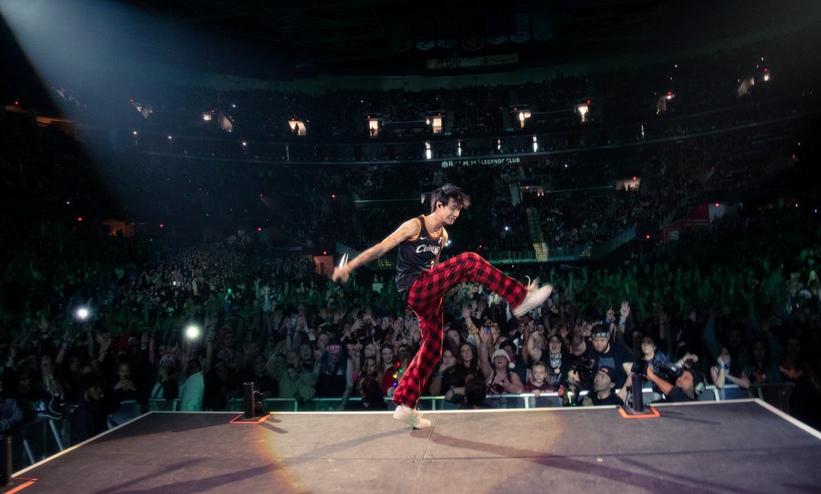 Photo: Hunter Moreno
It felt almost funny that I was [on the same lineup] with all these legends. But f— that, this is the opportunity of a lifetime. So, I remember verbally saying, "I can't wait to show people that I'm not just supposed to be here, I am supposed to show people that this is just the beginning."
Silverstein and Taking Back Sunday are my meccas. I took so much inspiration from them, both vocally and energy-wise, for my first album, that I'm positive I will be bricked up watching them live for the first time.
[The early aughts] were the first nine years of my life, so honestly, I just lived. And it's really funny how now, more than 10 years later, I'm doing the same thing — just with music. Living, and trying to stay as true to myself as I can.
The Linda Lindas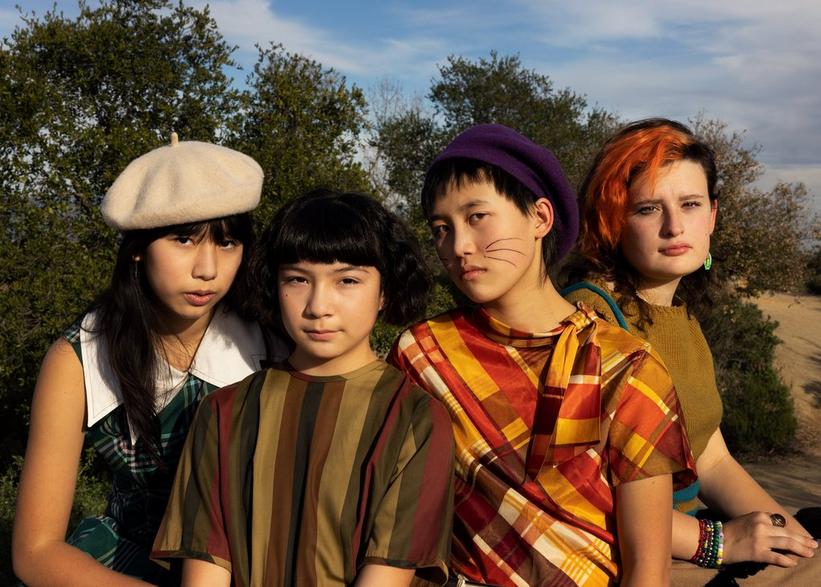 Photo: Zen Sekiwaza
Lucia de la Garza, guitar & vocals: We were very, very young or maybe not even born when emo and hardcore and pop-punk were at their peaks. But it's so special how much fondness and joy you see when people talk about the music of their childhood. One of the reasons music is so cool is because it emulates emotions and conveys them so specifically. I know as I grow older, the music I'm listening to now will bring that same kind of feeling and nostalgia. And there are definitely some bands on the bill that I'll carry with me as I grow up.
I've been looking forward to seeing Wolf Alice, because I think their music is so cool and I love all their albums. It was playing a lot of the time when we had online school, and listening to it just makes me really happy.
Eloise Wong, bass & vocals: I read about Meet Me @ the Altar in Razorcake and look forward to checking them out live!
Mila de la Garza, drums & vocals: I had been wanting to play with Paramore, who are one of my favorite bands, for a long time, and this was just a real opportunity to do it. It's cool because we've known them for a while.
Bela Salazar, guitar & vocals: Zac [Farro, Paramore's drummer] took photos of us for press early this year. They've all come out to see us play, but this is the first time we get to play together! Paramore was my first real concert, and I can't believe we know them now and are playing the same fest!
Lucia de la Garza: [Playing When We Were Young] kind of felt like a challenge that we all wanted to accept….The energy is going to be so fun because it's about youth, and one of our vibes is youthful energy!
Mayday Parade — Jeremy Lenzo, bassist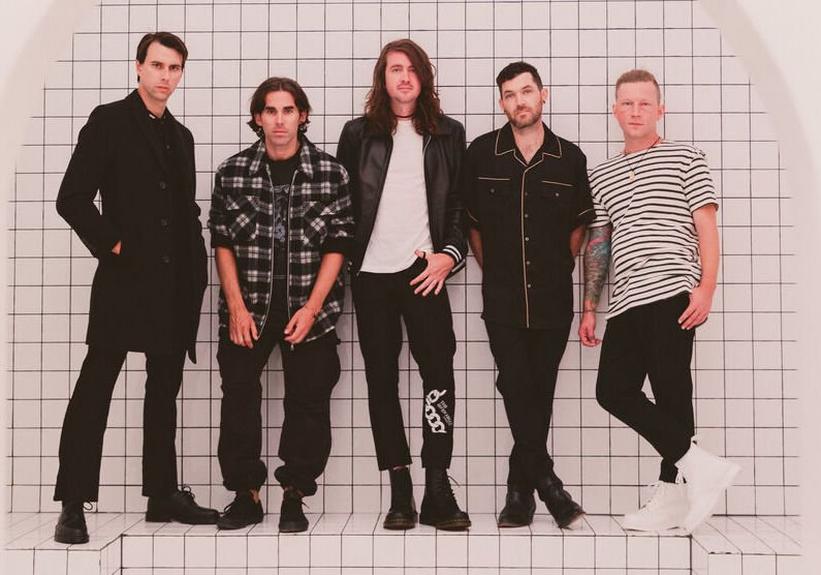 Photo: Jordan Kelsey Knight
I feel like this time period wasn't just special for emo/pop punk/hardcore, but really every subgenre. With music streaming just starting to take off, it seemed people were starting to stumble on new genres of music they didn't know existed.
I used to sit in computer class in high school with another classmate, and we would search the internet to see what new bands we could find. That's how I found a lot of my favorite bands. When Avril Lavigne started having radio hits, I think that opened a lot of peoples eyes to the pop rock/pop-punk genre, and ultimately made it more accessible for new people to get into the genre. 
There are so many memories I have where I can't remember the larger context of the memoir, but just have a small snapshot. Listening to Saves The Day in the car with my mom, and her saying she liked the melodies but couldn't stand the lyrics. Aimlessly driving at night with our guitarist, Alex, listening to Sparta just to listen to the whole record in one sitting. Being at my girlfriend's house when her roommate put on The Get Up Kids, which became one of my favorite bands of the time. I have tons of these little memories. It's funny how music can bring you back to a certain place in your life. 
Most of these bands we have toured with before and became good friends with, so I'm a fan of most of the artists playing. Some in particular that stand out are Taking Back Sunday (Tell All Your Friends) because we took a lot of inspiration from them in the beginning. The Used (The Used) is another artist I was really into. I remember when I first heard them, I was blown away by the songwriting and how good Bert's voice was. 
Also Jimmy Eat World (Clarity) always blew me away with their songwriting, and helped shape parts of our band as well. Oh, I almost forgot My Chemical Romance! I didn't really get into them until The Black Parade, but damn if that isn't a killer album. Honestly every time I finished writing a sentence, I remembered another album I like [from an] artist at the festival — this could go on for a while, so I'm just going to end it here.
Meet Me @ the Altar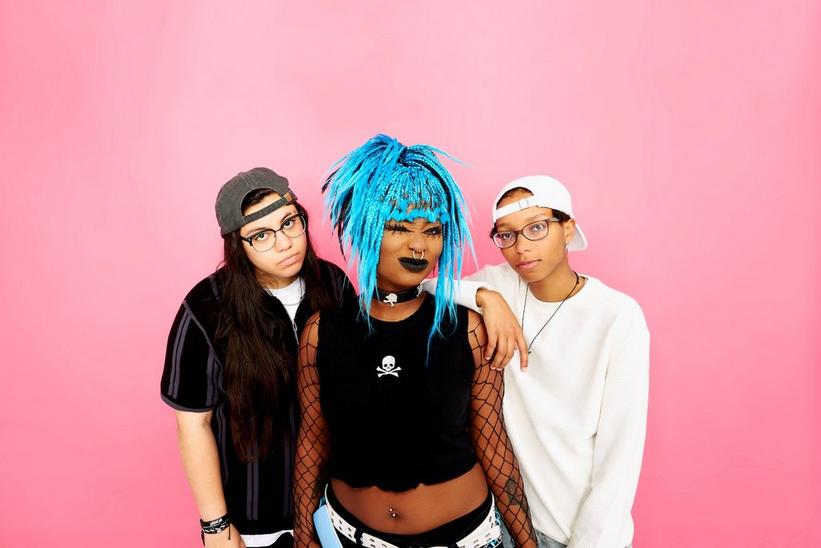 Photo: Jonathan Weiner
Edith Victoria, singer: [This music] gave me a community of people that were like me that I couldn't find anywhere else. I found music, went to shows, and met my best friends.
Téa Campbell, guitarist/bassist: [When we were asked to play WWWY], we were shaking in our boots! 
Ada Juarez, drummer: Literally all we were told was that My Chemical Romance was playing this festival and that's all we needed to know.
Campbell: But then we saw the full lineup when it was announced and we were like whaaaaaaaaaaaat!
Victoria: I'm excited to see Kittie because they're so iconic. And to be an all-girl band touring with Slipknot at that time?! Plus, they're fashion icons to me. 
Juarez: I have more than one [band I'm excited to see], but mainly Bring Me the Horizon. I've been following them for so long. Every album they put out gets better and better, but Sempiternal is one of my favorites. It's so influential to me and the scene in general. I feel they're one of those bands that made such a name for themselves. They can do so many genres and still nail it. It's so hard to find a band like that. 
Campbell: My favorite is Paramore. They're the reason I'm in this band. I think Brand New Eyes is my favorite album. My favorite memory is when I was 14 and I got to see them live in Florida. It made me realize that's what I wanted to do, too.
Nessa Barrett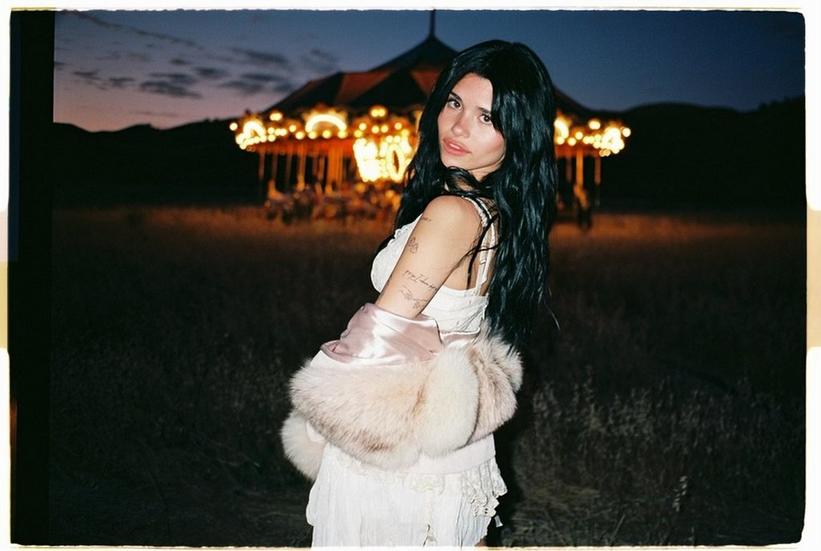 Photo: P Mastro
That generation of music means so much to me. Avril [Lavigne], Blink [182], Paramore — music I grew up listening to and all have shaped who I am today musically. I even got the opportunity to work with Travis Barker on my song "la di die," and being in the studio with him really helped me understand myself as an artist even more. He is an icon of the generation within himself. It all feels so surreal to be a part of.
There are so many cool artists that are involved [in the fest], but if I had to pick a favorite, it would be Avril. She is just such an icon, and she paved the way for herself to have a long-lasting career. I think her first album came out the year I was born, so 20 years of Avril is insane.
Everyone was talking about [the festival when it was announced], so I knew what an amazing opportunity it was to be a part of it. I also love that this is the first time the festival is happening — honored to be [part of] the debut of it.
Pierce the Veil — Jaime Preciado, bassist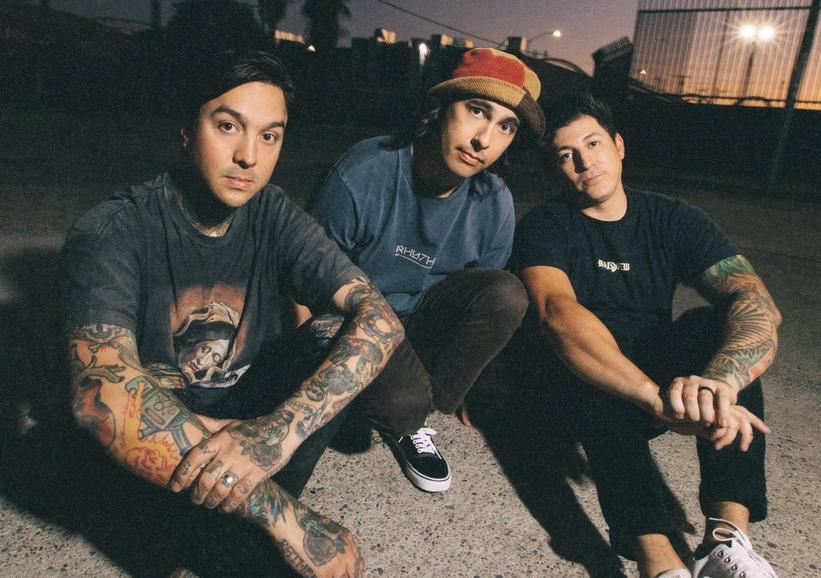 Photo: Fearless Records
It was a special period of time where certain artists and bands didn't have to confound themselves to the typical mainstream radio. It was a time when you could be an outcast and still be heard. It made the music we liked special, unique, and felt more like a smaller community we could connect to.
When Thrice put out the album The Illusion of Safety, that was the first album I heard that was everything I wanted to do in music. They paved the way for that. It was heavy, happy, sad — all the things you want in a record. It drew me into this style of music and helped me discover many other bands in the genre.
When I first listened to My Chemical Romance, it was the first time I ever felt the lyrics of another band and created a connection to the music as a whole. It is another band that paved the way for artists like us. I'm pretty sure I used their lyrics in my yearbook for my senior quote!
The amount of legends on this bill is unreal and I can't believe we get to share the stage with so many of them over the course of three shows.
Senses Fail — Buddy Nielsen, singer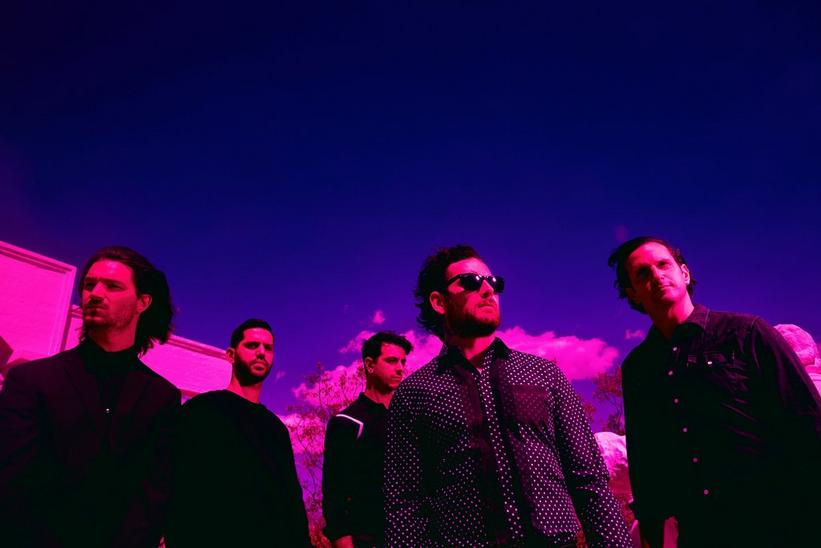 Photo: Cameron Gile
When I really realized that what was happening was pretty significant was Warped Tour 2006. The shows were just massive — almost every venue was completely full; it was at times impossible to make your way through the crowds. A lot of the bands we were friends with had to start bringing security in order to keep signings and basic operations safe.
I once skipped school to see [Thursday] play. I went by myself and just sort of lost my mind in the show, and it was one of the best experiences I have had in my life. Their album Full Collapse changed my life.
[This period of time] was my youth. Instead of going to college, I ended up in a band touring the world. My twenties were the boom of emo music, and along with that, our band.
All my old friends came out of the woodwork to ask for tickets [to When We Were Young]. I would definitely be making the trip to Vegas even if we weren't on the bill.
Silverstein — Shane Told, singer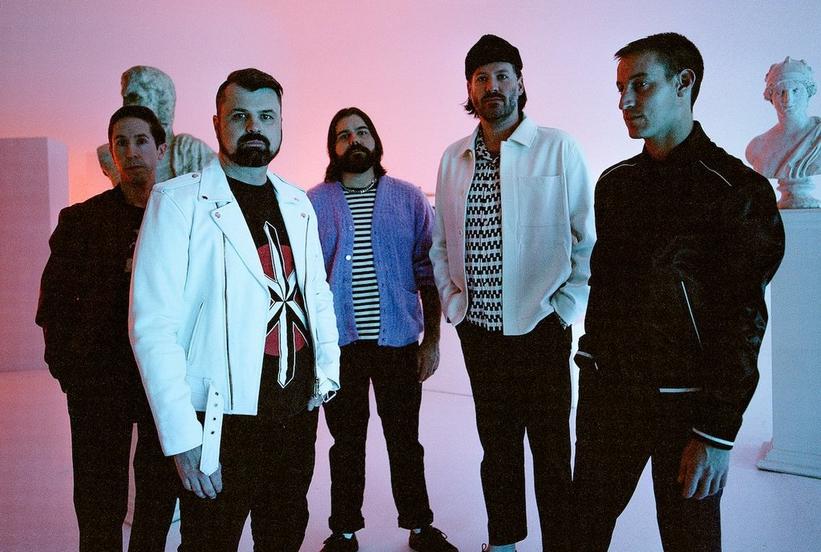 Photo: Wyatt Clough
It was amazing that we all came together, bands from all over, and really started an entire new music scene. I loved the punk rock scene — I still do — but this meant more. We weren't afraid to express ourselves and our emotions in the music. And that really resonated with the fans. It became about more than just the music and the energy. It dug deeper.
And at the same time the internet and social media was just starting out, so not only did we have our own exciting breed of music, we also had an entire movement on the internet talking about it, interacting with each other. That had never happened before on that scale.  
When we released Discovering The Waterfront in 2005, it just exploded overnight. It wasn't the radio or MTV, it was real fans sharing it on AIM and MSN, putting"My Heroine" on their MySpace profiles, and of course coming out to shows like Warped Tour and Taste of Chaos. People were illegally downloading the music all over the world where they couldn't buy a CD.  
We played in Mexico City — a place we had no distribution — and sold out the show, with the crowd singing every word. It was at that point I knew just how special what was happening with us — and the scene — was.
Armor For Sleep were one of our favorite new bands when we started touring. We would listen to their first album over and over and over in the van. Eventually we met them at Furnace Fest in 2003, and hit it off right away. We did tons of tours and they became close friends. I kept in touch with Ben [Jorgensen, Armor For Sleep's singer] over the years, and I'm so happy they're back at it! Can't wait to watch them.  
Sleeping With Sirens — Kellin Quinn, singer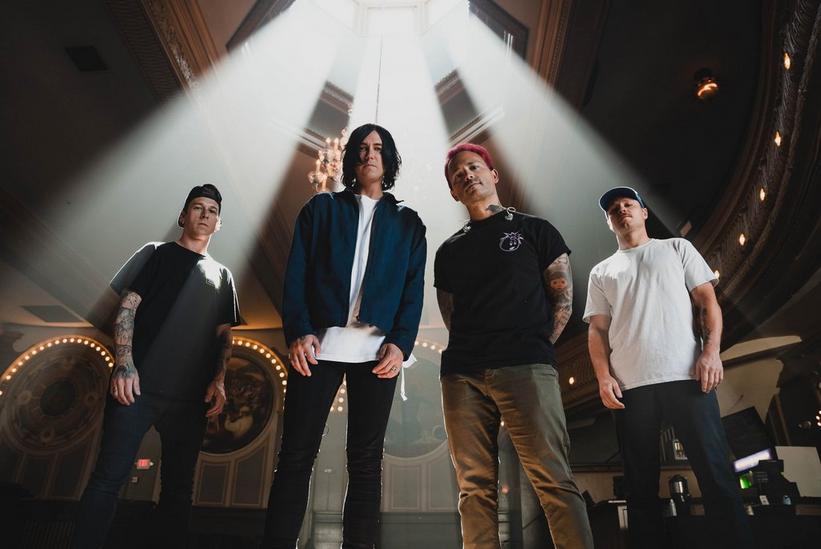 Photo: Nick Stafford
Warped Tour definitely stands out [as a core memory from this time]! Watching my favorite bands as a kid play the festival, and then come full circle and be invited back as many times as we did. I'll remember those summers forever.
When you're in it, it's difficult to see it with perspective… I think all I can say is that "the scene" is just accessible enough without being your parents' music, ya know? We're truly humbled to be a part of this festival and to have helped shape the scene in whatever capacity. [Jimmy Eat World's] Bleed American was a huge album for me! Very excited to watch them play! I'll be singing every word.
State Champs — Ryan Scott Graham, bassist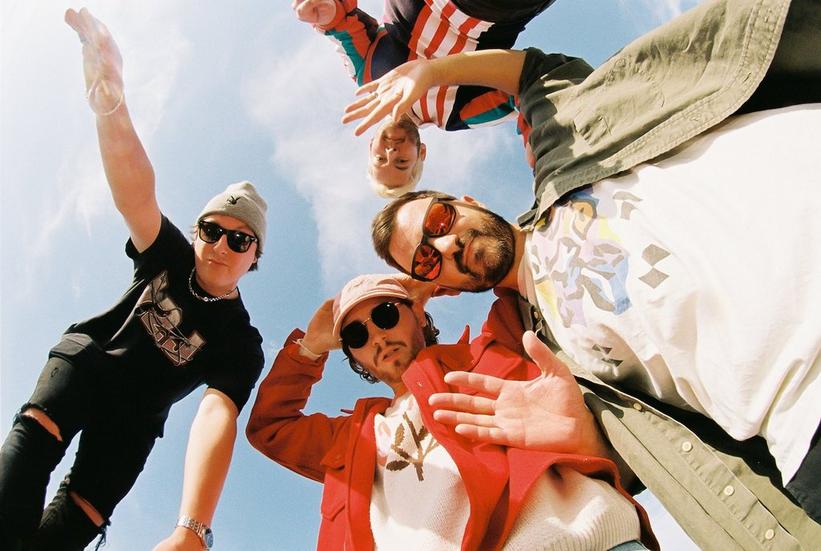 Photo: Alex McDonell
When I found emo music, it was obviously at a very pivotal time in my life. I was an insecure kid in middle school looking for myself in a number of ways. I didn't know the first thing about this style of music until a friend invited me to a local show. On a whim, I went, and it changed everything for me. The weird, rejected kids like me became the cool kids on stage with guitars, singing about their confusion and angst.
The nostalgia of this scene takes me back to those years that I began to look so fondly upon. It became the career trajectory I followed because I wanted to write songs to make other people feel less alone. Despite some of the corniness that came along with those years of early pop-punk and emo, it is deeply emotional to me in a sort of salvation-like way.
So many artists I love and respect are playing this festival, but one I'm most excited to see is Dashboard Confessional. I've never seen Chris [Carrabba] play live after all these years listening and being a fan.
DC was and is so important to me personally as a songwriter. I remember sitting in the backseat on long drives listening to burnt CDs of Dashboard songs, just dissecting the lyrics and falling in love with the acoustic guitar. It's one of the reasons I started my career as an acoustic artist — Dashboard really showed me the beauty in the simplicity of just a guitar and a voice. The fact that his song arrangements were so interesting without massive production was inspiring and pushed me to start making songs of my own following that recipe. As long as he plays something from Swiss Army Romance, I'll be good!
My initial reaction to getting the offer to play was bliss! It's funny, because we've been doing State Champs for a long time and have had the opportunity to do a lot of really cool things — travel the world, [play] main stages at big festivals, support arena bands, etc. But WWWY Fest, for whatever reason, encouraged a lot of people that I went to middle and high school with — and haven't talked to in ages — to reach out and say,"Holy s—! I can't believe you guys are playing with Paramore, that's so cool!"
I'm like,"Out of everything we've been doing for the last 8-10 years, this is the first time you've taken notice?" In a way it's encouraging, because it feels like we're still breaking new ground as a band. I couldn't be more stoked!
Story of the Year — Ryan Phillips, guitarist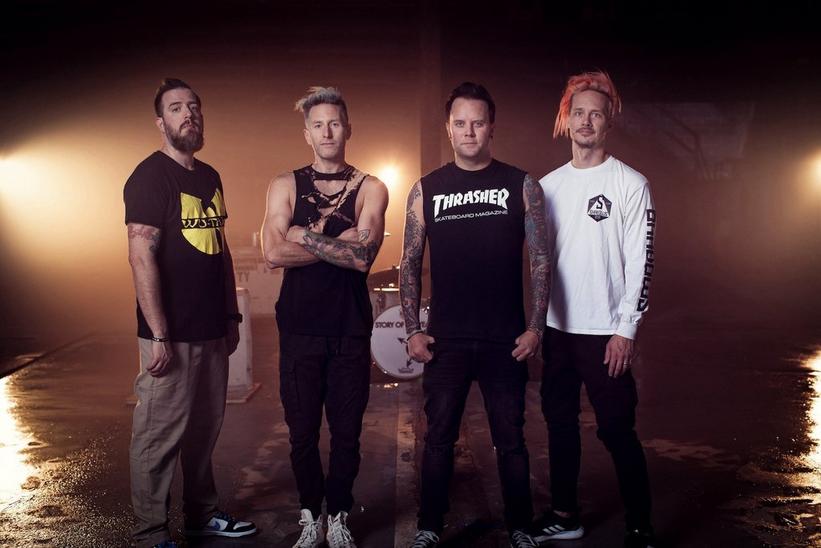 Photo: Ryan Phillips
This was a very important time for us, because we played an undeniable role in bringing "screamo" to the mainstream. We were one of the first of a small number of bands in the genre that had a platinum record and legitimate success on mainstream radio. The scene was exploding, and we were right there, bringing it to the masses.
2002 is a year that completely changed the trajectory of my life. Everyone in the band grew up in St. Louis, all products of working-class families, all playing in bands together, and laying the foundations of what would become Story of the Year. That year, we left everything and everyone we knew, and moved to Southern California to be closer to the music industry and chase teenage dreams of record deals and touring the world. We had no money, and knew like three people in CA, but our band was our life. 
That move (and year) is actually one of my fondest memories, because we were so hungry, but also incredibly unaware to the point of total naivety. But, there can be immense power in being young and not knowing s—. If we would have known that the odds of leaving your mom's basement, moving to CA with no money, and getting a major-label record deal and a platinum record were about 1 in 10 million, we would have never left. I would be a fireman or something. 
You get older and stop taking shots, because you are too aware of the odds of failure. You have perspective, less willing to risk. In 2002, we were innocent, but total savages, and no force of nature could have stopped us. It didn't even occur to us that we could fail. We were that driven, and, yes, that naive. Somehow it worked out! 
Glassjaw was and is one of my favorite bands of all time. I remember doing Warped Tour with them, and it was part of my daily routine to go watch their set. I feel like half of the bands playing Warped would go watch their set. They were that band. They set the bar for honest, hyper-credible music with understated musicianship — in my mind, anyway. 
I completely understood why so many people initially thought [this festival] was fake. Seeing the promo for it was like looking at my entire CD book in 2006! Literally every band from the genre. Of course we were flattered, and supremely stoked to be on a bill with so many of our friends. Unreal!
The Used — Bert McCracken, singer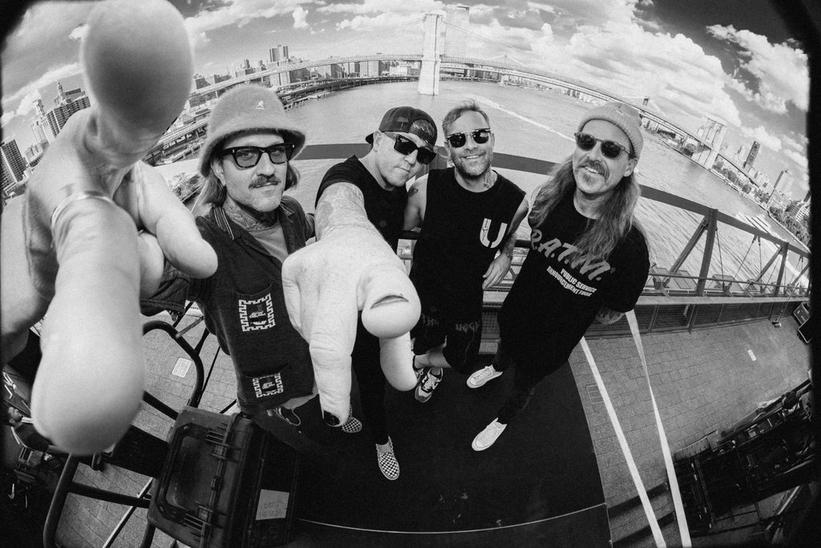 Photo: Anthony Tran
The bands around that time wrote in a different way than before, bands in the '90s. I think the reason why it's called emo is because it was so close to the heart and from personal experience. That's what made it so special.
It was just an exciting time. There were lots of bands coming up. Lots of really cool experiences, lots of opportunities for bands — the Warped Tour was still huge.
Our record had just come out, and we were playing on the small Volcom stage at Warped Tour. All the power went out during "The Taste of Ink," and the whole crowd sang it a cappella. We were all like, "Holy s—. Something's happening." They immediately moved us to the main stage, which was pretty crazy.
Clarity from Jimmy Eat World was really a big [album] for me growing up. It kind of introduced me to a different side of this post-hardcore that I was into. I loved the early-on emo bands, Texas Is The Reason, Casket Lottery — a lot of those bands that are kind of obscure and nobody's heard of them, but they really started this whole scene. And Jimmy Eat World was around during that time, just they were just a lot more melodic and melodically friendly. It was really, really cool to hear that.
Black Sails in the Sunset by AFI was also really special to me. I have a picture of me and Davey Havok from when I was like 14. They were playing with Good Riddance, and I waited after the show to meet him and got a picture. And then on Warped Tour, I went up to him, under his little umbrella, and I was like, "Hey, check this out, a picture of me and you like 15 years ago." He thought it was awesome. He's a nice guy.
This is all the big bands from that time. [On] Warped Tour, you'd maybe have one or two, but this is a serious ordeal. We're more than excited to be part of the early emo scene. We're so grateful, and we're so lucky to still be doing this 22 years later.
We're all older and a little more fragile. But it's still a thrashing emo show. I'm ready for it.
We The Kings — Travis Clark, singer/guitarist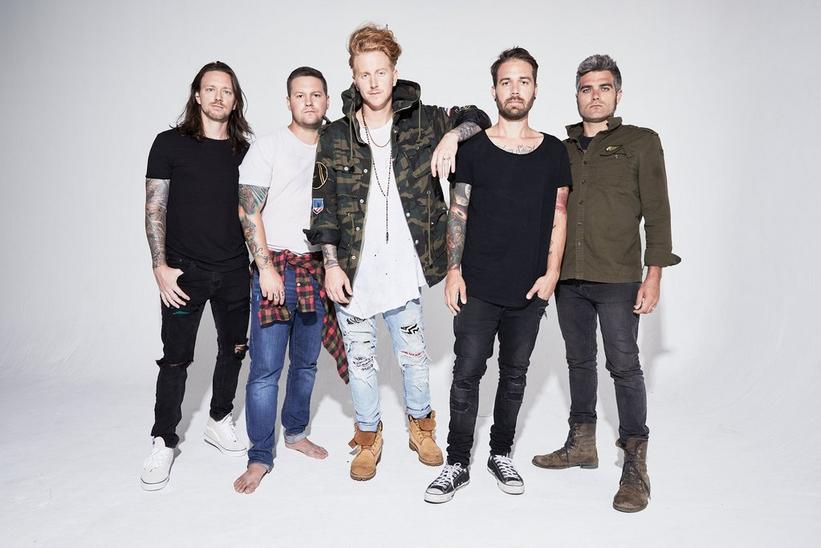 Photo: Lee Cherry
I was a freshman in high school when this era was really starting to hit. I used to sneak into Warped Tour, because I couldn't afford a ticket, and watch as many bands as I could. There are probably only a handful of bands that I haven't seen play, and even less that we haven't done a show with.
I feel lucky just being a kid in that musical era, because it was really the one thing that made me feel like I was part of something. Ultimately, it led to me starting We The Kings.
Our first record was released on Oct. 2nd, 2007, and that week we were taking our song "Check Yes Juliet" to Top 40 radio. It ended up charting and playing on every radio station in the country. Hearing it on the radio for the first time is something that I will never forget. 
I was at the beach in my hometown, Anna Maria Island, [Florida,] and as I started my Jeep, I heard, "Check yes Juliet, are you with me, rain is falling down on the sidewalk…" I remember thinking that it was weird, because I didn't have our CD in the CD player. After about 20 seconds, I realized that it was playing on the biggest radio station in Florida and I lost my mind. The song ended up taking off and selling around 2 million singles worldwide. That to me will always seem crazy, and for us, it really was the biggest thing that put us on the musical map.
I thought [this festival] was fake. As I was reading the artist lineup, I just kept thinking, No way. Nope. Absolutely no way this is real. There are just so many amazing bands playing on the same day. This is literally going to go down as the greatest musical festival ever — and in my opinion, I'm not exaggerating. We feel really grateful to have been invited. 
There are too many bands on the lineup that I have seen before and have a memory of, but if I had to choose one, it would be Jimmy Eat World. They were one of the very first bands that I saw in concert. At the time they were opening for Blink-182 and Green Day (such a crazy lineup!). As soon as Jimmy Eat World played their first note, I was absolutely hooked. For 40 minutes I saw them absolutely shred their set. I went home after seeing that concert and started We The Kings. 
Fast forward a few years, I met Jim Atkins at the Bamboozle Festival we were both playing and I was introduced to him by our mutual publicist. I got the chance to tell him that his band was the reason that I started WTK. The coolest thing was right after I said that, he goes, "Oh that's awesome, I really like that 'Juliet' song, it's super catchy." I basically died in that moment.
I was so inspired by the festival that I went into the studio a few weeks after we received our invite and I wrote a song called "When We Were Young" with the same nostalgic sound that We The Kings is known for. We've been asked to play just about every festival in the world and I have never done that before, so am I excited? The answer "YES" is an incredible understatement.
Why 2002 Was The Year That Made Pop-Punk: Simple Plan, Good Charlotte & More On How "Messing Around And Being Ourselves" Became Mainstream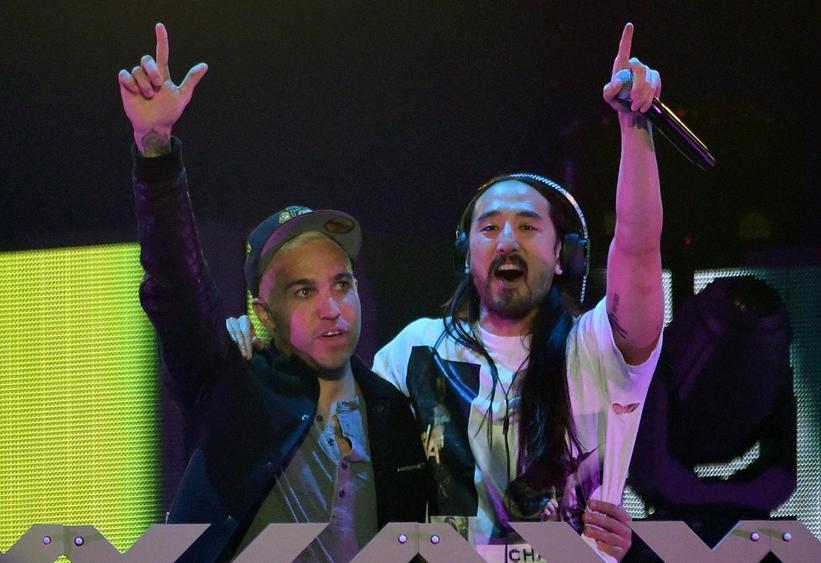 (L-R) Pete Wentz of Fall Out Boy and Steve Aoki in Las Vegas in 2014.
Photo: Ethan Miller/Getty Images for iHeartMedia
list
8 Times Dance Stars Channeled Their Inner Punk Kid, From Deadmau5 & Gerard Way To Rezz & Silverstein
With the release of Rezz's new emo-loving EP, 'It's Not A Phase,' dig into eight songs that saw the dance and rock worlds collide.
GRAMMYs
/
Jul 27, 2023 - 08:53 pm
At first glance, the worlds of rock and dance music might appear diametrically opposed. Dig a little deeper, though, and the two genres share more than just a love for all-black outfits.
In recent years, a wave of dance stars have embraced their inner mosher by collaborating with their favorite metal, post-hardcore, emo, and pop-punk artists, creating a mutant sound with a foot in both spaces. Just this month, Canada's dark bass maestro Rezz released a winkingly titled EP, It's Not A Phase, which channels the punk and metal she loved as a teen. (On release day, she posted an old photo in front of a My Chemical Romance poster, with the caption, "this one's for everyone who had an emo phase.") 
The EP followed Illenium's self-titled album in April — which features several of the Denver producer's rock heroes — while the likes of Marshmello, Kayzo and Excision have also tried their hands at rock/dance collaborations. For DJ-producers who grew up on raw guitars and tear-the-house-down vocals, it's a natural next step. 
Of course, this mixing of worlds is not just a recent phenomenon. For decades, dance artists have remixed, borrowed from, and occasionally collaborated with their rock counterparts. From the punkish ferocity of the Prodigy's 1997 album The Fat of the Land to Justice's Slipknot-sampling "Genesis" ten years later, the examples are endless. 
In the decade since the EDM boom minted a new generation of superstars, crossover collaborations have increasingly positioned the dance artist in the lead. In honor of this phenomenon, we're head-banging our way through eight of the best. 
deadmau5 feat. Gerard Way — "Professional Griefers" (2012)
Back in 2012, as EDM was taking over America, deadmau5 was busy touring an early iteration of his eye-popping 'Cube' show and preparing to release his sixth studio album, > album title goes here <. Ahead of the LP, the producer born Joel Zimmerman released "Professional Griefers," a hard-charging dance-rock stomper featuring My Chemical Romance vocalist Gerard Way.
While fans had already heard an instrumental version of the track in deadmau5's live shows, Way's vampy vocals brought the rock swagger, even as the production remained resolutely electronic. To celebrate the release, the collaborators appeared as gamers piloting a UFC battle between two giant mau5-headed robots in what Zimmerman told SPIN was "one of the highest-budget electronic music videos of all time." And yes, it's as extra as it sounds. 
Steve Aoki feat. Fall Out Boy — "Back To Earth" (2014)
Steve Aoki is one of dance music's most voracious collaborators, teaming up with everyone from will.i.am to Louis Tomlinson to Backstreet Boys. He's also a punk rocker from way back, having jumped between hardcore bands as a singer and guitarist in his pre-fame life.
These passions have intersected throughout Aoki's DJ/producer career in his collaborations with Linkin Park and blink-182, as well as Rifoki, the straight-up hardcore band he formed with Sir Bob Cornelius Rifo of the Bloody Beetroots. 
In 2014, Aoki joined forces with pop-punk favorites Fall Out Boy on "Back To Earth," which featured on his collab-stacked album, Neon Future I. In an interview with Billboard, Aoki explained that the band worked on their live instrumentation in a separate studio before he added the dance elements, and the result was "one of my favorite rock collaborations." 
The Bloody Beetroots feat. Jason Butler — "Crash" (2017)
Like his friend and collaborator Steve Aoki, the Bloody Beetroots' masked leader Sir Bob Cornelius Rifo is a punk at heart. That raucous spirit was present on the breakout Aoki/Beetroots team-up, "Warp 1.9" (2009), then turned up to 11 in their aforementioned hardcore band, Rifoki.
In 2017, after a few years away from the limelight, Sir Rifo delivered the third Bloody Beetroots album, The Great Electronic Swindle, featuring guests like Jane's Addiction frontman Perry Farrell, GRAMMY-nominated singer-songwriter Greta Svabo Bech, and Australian rock band Jet. 
On "Crash," the Italian producer hooked up with post-hardcore singer Jason Butler, of Letlive and Fever 333, to make a heavy, distorted and shouty head-banger that honors both of their styles. In true punk fashion, it's over and out in just over two minutes. 
Kayzo & Underoath — "Wasted Space" (2018)
Few DJ-producers relish the opportunity to slam together dance music and rock quite like Houston-born Kayzo. For his 2019 album, Unleashed, the rising star secured some of his favorite metal, hardcore and pop-punk acts as guests, including Of Mice & Men, Boys of Fall, Blessthefall, and Alex Gaskarth of All Time Low.
One of the album's standouts, "Wasted Space," pairs Kayzo with Underoath, the Florida metalcore outfit who previously collaborated with Rezz on her 2019 release, "Falling." The collaboration is equal parts metal — with dueling vocalists Aaron Gillespie and Spencer Chamberlain at full-tilt — and shuddering bass drops built for an EDM main stage. 
Marshmello feat. A Day To Remember — "Rescue Me" (2019)
Perma-helmeted producer Marshmello has enjoyed a whirlwind decade, with a famously prolific output that includes several dance and pop hits. In 2019, he surprised fans by announcing a team-up with Florida four-piece A Day To Remember, whose metalcore meets pop-punk sound is a far cry from Marshmello's usual vibe.
Their collaboration, "Rescue Me," finds an easy middle ground between crunching rock guitars, frontman Jeremy McKinnon's impassioned vocals, and Marshmello's skittering trap-pop beats. In an interview with Kerrang! Radio, McKinnon recalled his surprise at how quickly Marshmello shared the chorus on socials, adding that he wishes rock artists could be as spontaneous. 
Illenium and All Time Low — "Back To You" (2023)
Hot on the heels of his first GRAMMY nomination in 2022, Denver-based phenom Illenium got back in the studio to make another album straight from the heart. The producer's self-titled fifth LP took inspiration from his teenage years listening to the likes of blink-182 and Linkin Park, while staying true to his own bass-heavy aesthetic.
Thanks to his stadium-filling stature, Illenium assembled a starry lineup of guests, including pop-punk royalty Avril Lavigne and Travis Barker on "Eyes Wide Shut" and metalcore band Motionless in White on "Nothing Ever After." Early fan favorite "Back To You" features the full force of pop-punkers All Time Low going up against Illenium's furious drops — and achieving perfect harmony. 
Excision, Wooli, and The Devil Wears Prada — "Reasons" (2023)
Fellow bass lovers Excision and Wooli are frequently paired, whether they're going back-to-back as DJs or co-producing EPs like 2019's Evolution and 2023's Titans. This time around, the collaborators decided to try something outside their comfort zone, calling up Ohioan metalcore band The Devil Wears Prada to bring their distinctive grit to "Reasons."
In contrast to more pop-leaning entries on this list, "Reasons" is unapologetically heavy from the halfway mark, morphing back-and-forth from metalcore theatrics to hard-hitting wubs. In a statement, The Devil Wears Prada described this team-up as "uncharted territory" for the band, and their gamble paid off. 
Rezz, Tim Henson, and Silverstein — "Dreamstate" (2023)
In a statement accompanying her new EP, It's Not A Phase, Rezz notes that she "grew up listening to bands exclusively, and over time developed an understanding of what it was about those songs that I loved." 
That innate grasp of rock dynamics is on full display throughout Rezz's most vocal-driven release to date, with guest turns from the likes of Alice Glass, Johnny Goth, and Raven Gray. On "Dreamstate," Rezz embraces her inner emo kid with the help of Canadian post-hardcore band Silverstein and metal guitar prodigy Tim Henson, undergirding her guests' contributions with dark, stabbing bass.
"I listened to a bunch of Silverstein growing up, so it felt nostalgic to me," Rezz told Front Row Live Ent., before admitting that it was "the hardest song I've ever mixed." The extra sweat resulted in a one-of-a-kind collaboration, proving once again that dance music and rock are a potent mix — one with plenty of fuel left in the tank.
Watch Backstage Interviews At Ultra Music Festival 2023: Carl Cox, Charlotte De Witte, Joel Corry, Subtronics & More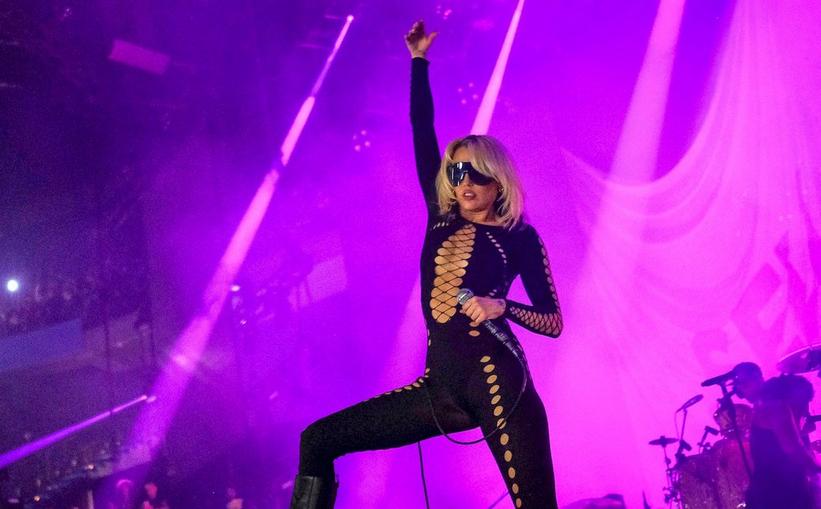 Miley Cyrus performs in Bogota, Colombia in 2022.
Photo: Ovidio Gonzalez/Getty Images for MC
list
Loving Olivia Rodrigo's "Vampire?" Check Out 15 Songs By Alanis Morissette, Miley Cyrus & More That Reclaim The Breakup Narrative
From the soft hums of Carole King's "It's Too Late" to GAYLE's fiery rage on "abcdefu," these 15 songs encapsulate the expansive emotions of women who put problematic exes in their place — far behind them.
GRAMMYs
/
Jul 27, 2023 - 03:06 pm
Since the 2021 release of SOUR, critics and listeners alike have touted Olivia Rodrigo for her knack to eloquently pen the relatable woes of adolescence and the pitfalls of falling in love too hard. Her latest single, "vampire," is no different.
Despite trading in her "drivers license" teenage loverboy for an older man, the perfectly executed expression of agony remains. As Rodrigo wails on the chorus, "You made me look so naïve/ The way you sold me for parts/ As you suck your teeth into me/ Bloodsucker, famef—er/ Bleeding me dry like a g——n vampire."
But before there was Rodrigo, there was Avril Lavigne, Taylor Swift, and Alanis Morissette — none of which would be where they were without pioneers of diaristic songwriting, Carole King and Carly Simon. Thanks to the immortalization of their music, we can relive the shift from poetic disclosures of hurt, which King exemplifies on "It's Too Late," to more unrepentant, straightforward jabs (like Kate Nash says on "Foundations," "Don't want to look at your face 'cause it's making me sick") and harrowing battle cries (as Miley Cyrus roars, "I came in like a wrecking ball"). 
Below, revisit 15 songs by empowered women, from 1971 all the way to 2021, who reclaimed the breakup narrative with their fervent sentences of damnation — because, as the age-old saying goes, hell hath no fury like a woman scorned.
Carole King — "It's Too Late" (1971)
When Carole King released "It's Too Late" in 1971, it marked a new era of songwriting. Discussions about divorce were generally unheard of, but even more so when initiated by a woman. Yet, King carried on to unapologetically release "It's Too Late," which later won a GRAMMY for Record of the Year and is lauded by Rolling Stone as one of the 500 Greatest Songs of All Time.
On this folky track, King and her husband's inevitable parting is on the horizon, but she isn't resentful per se. Instead, she's more troubled by the embarrassment of her husband's growing discontent, admitting, "I feel like a fool." And at this point, she's ready to move on and can be grateful for the times they've shared. 
Carly Simon — "You're So Vain" (1972)
In her '70s chart-topper, Carly Simon narrates the tale of an arrogant man who believes every woman is enchanted by his aura. But the folk songstress wants to make it very clear she's not impressed by his embellished stories or luxurious closet.
Usually, it's easy to guess the subject of a breakup song, but "You're So Vain" has led to decades of speculation. Many have assumed it could be about James Taylor, who Simon married in 1972 and divorced in 1983, or Mick Jagger, who provided vocals to the track (a theory that was later debunked). To this day, she has only revealed the track's inspiration to a select few, including Taylor Swift, who names Simon as one of her role models.
Joan Jett And The Blackhearts — "I Hate Myself For Loving You" (1986)
Joan Jett might not give a damn about her bad reputation, but she despises nothing more than her ex-lover making her look like a lovesick fool.
On "I Hate Myself for Loving You," the '80s chanteuse wraps herself around a classic glam rock beat, unveiling her contempt for a man who's neglected her. Stripped of her pride, Jett begins to resent herself for holding onto her feelings — as evidenced by the song's title. 
She tries to hide her dwelling desires ("I want to walk, but I run back to you") but ultimately fails to rid herself of the emotions, leaving her to fantasize about the sweet justice of one day roping him back in, just to leave him. 
Alanis Morissette — "You Oughta Know" (1995)
It's impossible to talk about scathing breakup songs without acknowledging Alanis Morissette's quintessential heartbreak anthem, "You Oughta Know." At the time of its release, the Jagged Little Pill single contained some of the most honest and vitriolic lyrics in existence.
Morissette begins with an illusive statement, "I want you to know that I'm happy for you," which, by the second verse, crumbles into a revelation, "I'm not quite as well, you should know." As she culminates into her most confessional, the instrumental rises into an addicting ruckus, with Morissette revealing the thoughts most of us would be too ashamed to admit: "It was a slap in the face how quickly I was replaced/ And are you thinkin' of me when you f— her?"
Shania Twain — "That Don't Impress Me Much" (1997)
Shania Twain has a particular superpower of delivering each of her lyrics with an air of lightheartedness and confidence. So, when you hear a track like "That Don't Impress Me Much," her disappointment and irritation becomes undetectable.
A quick examination of Twain's story proves — despite the song's bouncy melodies — she's jaded by her ex's preoccupation with his vehicle, appearance and intelligence. Sure, he might be perfect on paper, but he lacks the qualities of a forever lover, and his unmerited ego should be reserved for true big shots like Elvis Presley and Brad Pitt.
Michelle Branch — "Are You Happy Now?" (2003)
In the opening verse of "Are You Happy Now?," Michelle Branch pleads, "No, don't just walk away/ Pretending everything's okay, and you don't care about me." At first, she is in disbelief that her once admirer would swiftly brush her off, but as she reaches the chorus, she begins to question whether his actions were a lie all along.
Her mind racing, Branch teeters between shameless questions of "Do you really have everything you want?" and "Could you look me in the eye and tell me you're happy now?" But by the song's end, she gets the most satisfying payback of all — peace without him: "I'm not about to break/ 'Cause I'm happy now."
Avril Lavigne — "My Happy Ending" (2004)
"My Happy Ending" finds 2000s pop-punk maven Avril Lavigne grasping onto the shards of a broken relationship and trying to pinpoint where everything went wrong. She could have said the "wrong" thing, or her partner's misfit friends might have spoken negatively about her. But there is one thing she does know with certainty: there is no way to pick up the pieces.
Coming to terms with the truth, Lavigne repositions her anger toward the other person for stripping her of her fairytale ending, sarcastically acknowledging him for their time spent together over a somber piano: "It's nice to know you were there/ Thanks for acting like you care/ And making me feel like I was the only one."
Kelly Clarkson — "Gone" (2004)
Kelly Clarkson has traversed almost every emotion in love, from her epic breakup anthems like "Behind These Hazel Eyes" to her most recent LP chemistry. But "Gone" may just be her most unrelenting to date.
Introduced by its Breakaway counterpart "Since U Been Gone," the mononymous "Gone" extends Clarkson's journey of healing — this time, with a more explicit and mature diatribe against her ex's character. Rather than using trivial attacks, Clarkson instead chooses to call out his assumption she'd run back into his arms, later declaring an end to her toleration: "There is nothing you can say/ Sorry doesn't cut it, babe/ Take the hit and walk away, 'cause I'm gone."
Lily Allen — "Smile" (2006)
With "Smile," Lily Allen gets her sweet revenge through the sight of her former flame's tears and misfortune. But the lyrics of Allen's breakthrough single doesn't exactly clarify the specifications of her antics, only an explanation for its origins.
After a cheating scandal ends her relationship, her mental health plummets — until he comes crawling back for her mercy. Upon hearing his pleas, she comes to a realization: "When I see you cry, it makes me smile." And as the conniving music video shows, anyone who cheats on her will get their karma — perhaps in the form of organized burglary, beatings, and a laxative slipped into their morning coffee.
Kate Nash — "Foundations" (2007)
Following in the footsteps of her mentor Lily Allen, Kate Nash vividly paints the tragedy of falling out of love, made prismatic by her plain-spoken lyrics ("Your face is pasty 'cause you've gone and got so wasted, what a surprise!") and her charming, thick London accent.
In this story, Nash has not quite removed herself from the shackles of her failing relationship. In fact, she'd like to salvage it, despite her boyfriend's tendency to humiliate her and her irresistible urge to sneer back with a sarcastic comment. By the end of the track, Nash, becoming more restless, packs on new ways to inconvenience him — but in the end, still wonders if there's any saving grace to preserve their once blazing spark out of a fear of loneliness.
P!nk — "So What" (2008)
The year P!nk wrote "So What," she already had a bevy of platinum singles under her belt. With a gleaming social status and peaking career, she was apathetic to the temporary separation from her now husband, Carey Hart. Feeling the highs of newfound singlehood, P!nk was ready to incite personal tyranny, whether that meant not paying Hart's rent, drinking her money, or starting a fight.
Ironically, Hart appears as the antagonist in the music video, which P!nk revealed via her official fan website was a testament of their growth: "Carey hadn't heard the song before he did the video. That's how much he trusts and loves me [...] He gets it. He gets me," she said.
Taylor Swift — "Picture To Burn" (2006)
Taylor Swift has long solidified herself as the reigning queen of love songs, from ballads honoring the most committed relationships to diss tracks of heartbreaking adolescent flings. The latter houses one of the earliest (and most twangy) hits in Swift's sweeping catalog: "Picture to Burn."
In this deceivingly upbeat tune, Swift vows to seek vengeance on a boyfriend after he leaves her to date one of her friends — from getting with his friends to having her father give him a piece of his mind. And along the way, she will gladly dish out a few insults: "You're a redneck heartbreak who's really bad at lying/ So watch me strike a match on all my wasted time/ As far as I'm concerned, you're just another picture to burn."
Miley Cyrus — "Wrecking Ball" (2013)
Closing the door on her Hannah Montana days, Miley Cyrus' "Wrecking Ball" saw the childhood pop star in her most grown-up and vulnerable state to date. Months before the release, Cyrus had called off her engagement to her longtime boyfriend, Liam Hemsworth, paving the way for her thunderous performance on the Bangerz single.
Just as affecting as Cyrus' belting vocals is the track's iconic music video. Cyrus climaxes with a deafening cry — "All you did was wreck me" — as she swings across the screen on an actual wrecking ball, breaking down all her physical and metaphorical walls. 
Halsey — "You should be sad" (2020)
By the mid-2010s, the industry had put angst on the back burner in exchange for feel-good EDM and trap beats. Well, that is, at least, until Halsey entered the picture.
After just two years in the limelight, Halsey had cultivated a vibrant assortment of sonic melodrama — from the dirt and grime of toxic, failed love on tracks "Bad at Love" and "Colors" to the Bonnie and Clyde-esque heated passion of "Him & I."
In 2020, Halsey rounded out her discography with the genre-bending, introspective Manic, where a track like "You should be sad" commands your attention with matter-of-fact, vindictive comments: "I'm so glad I never ever had a baby with you/ 'Cause you can't love nothing unless there's something in it for you."
GAYLE — "abcdefu" (2021)
Unlike most love songs, GAYLE refuses to point her fury on "abcdefu" solely toward her heartbreaker. The then-16-year-old singer, instead, rages against his mother, sister and pretty much anyone (and anything) he's associated with — other than his dog — across a searing melody with a bewitching bassline.
Earlier this year, GAYLE revealed to GRAMMY.com that she was "angry at him and was angry at the people who enabled him and his behavior." That animosity was palpable in "abcdefu," creating a magic as empowering as it is cathartic — and, like many songs that came before it, proving that there can be power in pain.
Behind The Scenes Of The Eras Tour: Taylor Swift's Opening Acts Unveil The Magic Of The Sensational Concert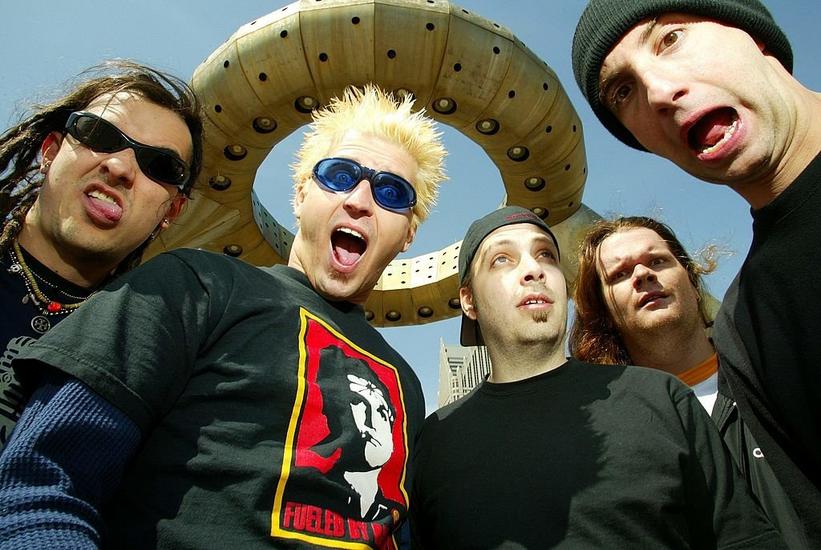 Less Than Jake in 2003
Photo: Nigel Crane/Redferns
list
10 Pop-Punk Albums Turning 20 In 2023: Fall Out Boy, Blink-182, The Ataris & More
Twenty years ago, artists within and around pop-punk released some of the genre's most seminal records. GRAMMY.com reflects on 10 of the catchiest and most resonant albums from 2003.
GRAMMYs
/
Jun 21, 2023 - 04:48 pm
There appeared to be something in the pop-punk waters in 2003. Barely a month went by without a bunch of angsty white guys sporting skinny jeans, button ups and choppy bangs releasing a career landmark. 
For some, 2003 saw the debut album that introduced their talents to the world. For others, it was the long deserved mainstream breakthrough after years of toiling on the punk circuit. And for one particular band, their 2003 release was the chance to show they could offer more than toilet humor. But all no doubt benefited from the commercial resurgence of the genre spearheaded a year previously by the likes of Good Charlotte, Simple Plan and Jimmy Eat World.  Here's a look at 10 albums released in 2003 now old enough to throw themselves head first into a mosh pit.  
Fall Out Boy –
Take This to Your Grave 
Fall Out Boy were still only on the cusp of adulthood when they recorded debut Take This to Your Grave in conditions producer Sean O'Keefe would compare with going to war. That mix of youthful exuberance and constant creative tension, however, would produce a genuine game-changer. 
Drawing upon their love of pop culture and sardonic sense of humor, the quartet tackled typical adolescent themes of alienation, disillusionment and unrequited love like few of their peers had done before. Take This to Your Grave fused  the heavy riffs and unclean vocals of the band's Chicago hardcore beginnings with pop-punk melodies into  a self-described softcore sound. The album was the beginning of Fall Out Boy's prolific catalog and essentially set the blueprint for every regular Warped Tour act that followed. 
Dashboard Confessional –
A Mark, a Mission, a Brand, a Scar
Thrust into the limelight via a well-received "MTV Unplugged" session and surprise win at the VMAs, cult favorites Dashboard Confessional had to deal with a new weight of expectation for their third album. 
Those who'd meticulously pored over Chris Carrabba's previous musical diary entries may have been worried when the one-man-band hired a permanent trio of backing musicians as well as hotshot producer Gil Norton (Pixies, Foo Fighters). Yet as its earnest title hints at, A Mark, a Mission, a Brand, a Scar largely sticks to the compelling stream-of-consciousness heartbreak and dynamic quiet/loud emo-rock that turned the frontman into the burgeoning scene's ultimate poster boy.  
Yellowcard –
Ocean Avenue
Seemingly unconcerned with any sellout accusations, Yellowcard relocated from Florida to Los Angeles in 2000, a move which eventually paid off when they landed a deal with Capitol Records. Boasting several songs inspired by their Jacksonville hometown, including the Top 40 title track described by Billboard as the soundtrack to "thousands of overnight camp romances," their fourth studio album suggested the band were keen to show they hadn't entirely abandoned their roots. 
Ocean Avenue doesn't deviate too much from their intriguing previous template, either, with Sean Mackin once again proving electric violins and power punk can make for surprisingly harmonious bedfellows. But ruminations on growing older ("Twentythree") and fatherhood ("Life of a Salesman") also hinted that the ever-changing outfit had matured during their time in the bright lights.  
Less Than Jake –
Anthem
Spawning only their second Top 40 single ("The Science of Selling Yourself Short") and charting at a career high of No.45, Anthem remains legendary skate punks Less Than Jake's commercial peak. The band's fifth album is full of energetic cautionary tales, both fitting in with and warning the thriving pop-punk scene.  
That shouldn't come as too much of a surprise considering it features a collaboration with Billy Bragg, a Cheap Trick cover and the production talents of Rob Cavallo (the man behind Green Day's monster-selling Dookie). Gainesville's finest also demote their famous horn section to bit-players, although the fast and furious "Best Wishes to Your Black Lung" proved they could still be integral to the band's sound.  
Alkaline Trio –
Good Mourning
You could always rely on doom merchants Alkaline Trio to put the warped in Warped Tour. And Good Mourning — their first album with now-longtime drummer Derek Grant — didn't disappoint. 
The ironically-titled opener "This Could Be Love" is a macabre guide on how to commit the perfect crime of passion ("Step one, slit my throat/Step two, play in my blood"), while "Fatally Yours" boasts a twisted one-liner about a vengeful car-crashing ex ("You told me that you missed me, but you meant with the grill and hood"). The Chicagoans balance all the sadomasochism and misery with surging punk hooks that owe more to the Ramones than the genre's umpteenth revival.  
The Ataris –
So Long, Astoria
Inspired by punk hero Richard Hell's theory that "memories are better than life," the Ataris'  breakthrough was largely an emotive exercise in nostalgia. "Summer '79" and "In This Diary" both draw upon frontman Kris Roe's happy Indiana childhood — the album's title actually references favorite film The Goonies. The record is also littered with phrases which appear to have been written for high school graduation speeches ("All You Can Ever Learn Is What You Already Know") and there's even an effective cover of rock's ultimate coming-of-age anthem, Don Henley's "Boys of Summer." 
All the reminiscing worked wonders as So Long, Astoria became the pop-punks' first, and indeed last, Top 40 entry.  
Brand New –
Deja Entendu 
Brand New named their second studio effort after the French for "heard before" as a pre-emptive measure against their critics. This would suggest that Deja Entendu mines the same brand of pop-punk and teenage angst as their 2001 debut, yet it's actually a marked departure.
Deja Entendu combines elements of post-hardcore, alternative rock and emo with mature themes of love and death and more film references than a Quentin Tarantino box set: titles include the Home Alone-quoting "Okay I Believe You, But My Tommy Gun Don't" and "Jaws Theme Swimming." It's little wonder that major label Interscope subsequently came calling.  
AFI –
Sing the Sorrow 
After five albums of self-produced gothic-tinged hardcore punk, Californian outfit AFI suddenly appeared to make a concerted bid for the mainstream. They leapt from indie label Nitro to major Dreamworks and unleashed their rage inward instead of against the world, hired Butch Vig (the man who guided Nirvana's Nevermind to blockbuster success), and incorporated choirs, string sections and even spoken word.  
Their distinctly Bay Area sound became a multi-layered affair with radio-friendly sheen, and catapulted the scene stalwarts to mainstream success. Sing the Sorrow went all the way to No. 5 on the Billboard 200, but impressively still sounds resolutely AFI.  
Saves the Day –
In Reverie
Saves the Day found themselves mercilessly dumped by Interscope within weeks of their fourth album's release. Yet, without any major support, the 12-track In Reverie charted at a career high of No. 26. 
An intriguing second collaboration with Elliott Smith producer Rob Schnepf, In Reverie shrouds its grisly lyrical imagery (talk of rotting flesh, bottles breaking on faces and veins tied up in knots) in a contrastingly peppy power pop. Saves the Day's sound was inspired by frontman Chris Conley's new-found love of the Beatles. Thankfully, the Princeton outfit bounced back to continue their own magical mystery tour.  
Blink-182 –
blink-182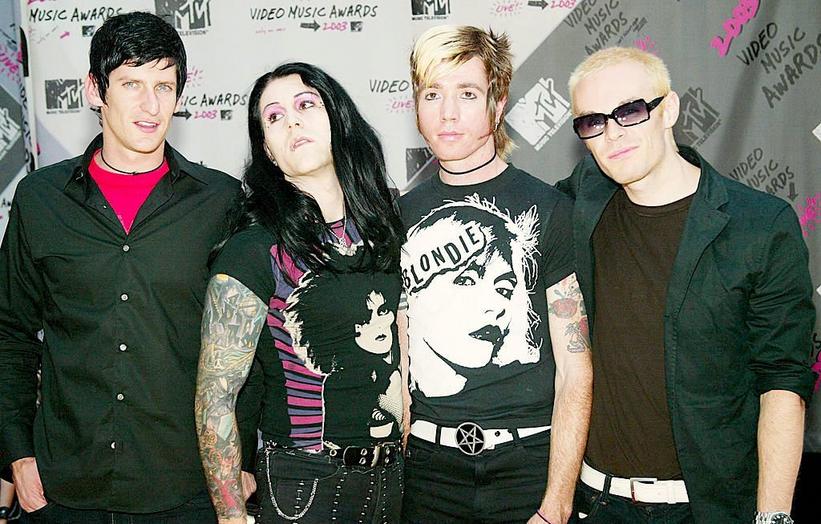 Adam Carson, Davey Havoc, Jade Puget and Hunter Burgan of AFI in 2003
Photo: Evan Agostini/Getty Images
AFI's 'Sing the Sorrow' At 20: How The Bay Area Quartet Brought Post-Hardcore To The Masses
Released on March 11, 2003, AFI's genre-blending sixth album ushered the band into the mainstream. Twenty years later, 'Sing the Sorrow' continues to resonate as a landmark of post-hardcore.
GRAMMYs
/
Mar 10, 2023 - 08:19 pm
Prolific East Bay punk band AFI was on the cusp of a major shift in their trajectory in 2001. Fresh off the success of their beloved fifth album, The Art of Drowning, the band was caught between the indie world and the mainstream. They could leave the comfort of their long-time indie label Nitro Records for a major label, but what if they lost creative freedom? 
Members Davey Havok, Jade Puget, Hunter Burgan and Adam Carson had to decide: Business as usual, or enter the big leagues for the resources that could help their music reach as many people as possible. But stagnancy had never been an option, and AFI deliberately evolved their sound from one release to the next to create a sprawling body of work that, today, includes 11 albums. With Nitro's encouragement, the quartet signed with DreamWorks in 2002 and began working on their breakthrough, Sing the Sorrow. 
The timing was fortuitous: Pop-punk and emo acts like Taking Back Sunday, Good Charlotte, A Simple Plan, the Used and My Chemical Romance were thriving in the mainstream. However, these new peers were still in their infancy; AFI had been around for over a decade and were one of the top hardcore/post-punk acts in the San Francisco Bay Area. The band formed in 1991 and made a name for themselves performing at the historic alt-music venue 924 Gilman Street alongside Jawbreaker, Rancid and Green Day.
With label support for a proper recording process, AFI had plenty of time to develop Sing The Sorrow, recording the album over six months with producers Jerry Finn and Butch Vig in Los Angeles. "It was the first time that I was going to be able to have time to track the vocals in a period that wouldn't absolutely result in me destroying my voice," Havok told Yahoo. 
AFI continued to fuse its sonic past with new interests, creating a highly potent brand of alternative. Sing The Sorrow was a cohesive, bleak and pulsating 55-minute opus, filled with elements of hardcore, alt-rock, East Bay melodic hardcore, horror punk and alt-rock a la the Cure. While AFI had long employed dark themes in their lyrics and music, StS truly embraced the goth and emo aesthetics of the early aughts. Havok set pace as the band's frontman, debuting a highly made up look that was a mashup of Danzig, the Cure's Robert Smith and Bauhaus singer Peter Murphy.  
In early January 2003, AFI released "Girl's Not Grey" — StS's lead single, and the band's first for a major. The dark pop-punk track, written after the album was completed, peaked at No. 7 on the Billboard Alternative Songs Chart and received radio play across the country. Set in a surreal forest of sorts, the song's psychedelic music video helped catapulted AFI from the indie punk scene to the booming national alternative, where they became staples on MTV and Fuse. That year, AFI scored their first VMA, an MTV2 award, for the "Girl's Not Grey" music video that year, beating out Interpol, the Roots and Cody Chesnutt, Queens of the Stone Age and Mary J. Blige.
Two months later, Sing the Sorrow debuted at No. 8 on the Billboard 200 and sold nearly 100,000 copies out of the gate. AFI had finally broken through, but the victory had a bittersweet undercurrent. Some long-time fans felt the group abandoned their hardcore roots in favor of a poppier "Hot Topic" sound. And while AFI was indeed learning in a more pop-friendly direction, the band was never rooted in any sound for long. 
AFI had been exploring the breadth of hardcore and punk since their 1995 debut Answer That And Stay Fashionable. Written while still in high school, the 15-track LP was a cheeky and youthful melodic hardcore outing with skate punk riffs and aggressive, raspy vocals. While 1997's Shut Your Mouth and Open Your Eyes was their purest hardcore record, AFI began laying the groundwork for their transition into post-hardcore in their 1996 sophomore effort, Very Proud of Ya. 
But a true starting point for contemporary AFI — the era where the band began pulling away from hardcore and leaning into melodic hardcore, horror punk and even metal — centers around 1999's Black Sails in the Sunset. Puget joined the line-up after co-founder Mark Shopholese's departure.
Their progression into the macabre continued with 2000's The Art of Drowning, which was deeply inspired by Misfits-style pop-punk. It was a broader and more mainstream follow-up to Black Sails, but the shared DNA between the two records was undeniable. The Art of Drowning garnered national radio play and an entry on the Billboard charts for the first time in the band's history. 
Links to AFI's past and future side projects are embedded throughout Sing The Sorrow. Havok's hardcore voice, the cornerstone of Shut Your Mouth, makes its presence felt in the fast, aggressive and catchy "Death of Seasons" and "Dancing Through Sunday." Puget's electronic programming at the start of album opener "Miseria Cantare" was later realized in his and Havok's side project, Blaq Audio. 
As with Black Sails and Drowning, the lyrical themes of StS are dark and full of despair, with many songs alluding to death and reincarnation. The chorus of "The Great Disappointment" describes a purgatory where the singer lies in wait as his hope and faith deteriorate. Havok embraces the gothic edge of his musical heroes while also leaning into themes of yearning and heartache. 
Desperate to uncover the secrets embedded in the lyrics, devoted AFI fans (fittingly called the Despair Faction) scoured Havok's words for clues and context. The band never confirms or denies any interpretations.  
"I so naturally hope that people are allowed to take what they need from the song, and I oftentimes have multiple intentions with one song," Havok told Revolver in 2021. "But I have in modern times attempted to be more direct in hopes that people maybe understand some of what I'm saying, as opposed to nothing." 
AFI has always been in community with their fans. Ahead of the release of StS, they created an elaborate treasure hunt that led the Faction down a rabbit hole involving angel numbers, playing cards, astrology, rabbits, and other clues related to the album's themes and concept. And their admirers couldn't get enough. 
AFI's decision to broaden their sound and move to the big leagues had paid off. The record that introduced the world to the East Bay melodic band would go on to achieve platinum status and birth two other successful singles, "The Leaving Song Pt. II" and "Silver and Cold." 
Though their progression has been polarizing for some fans, one thing cannot be denied — AFI has remained committed to their creative evolution. Their 2006 follow-up to StS, DecemberUnderground leaned further into catchy pop territory with hair metal and glam elements. 2009's Crash Love was a further departure chock full of glittering pop-punk anthems, while 2021's Bodies blended post-punk with new wave. 
The key to AFI's longevity could lie in their drive to explore, experiment and evolve. As the quartet extends their legacy with new music, they have also inspired a host of alt-rock acts that followed in their path, including Avenged Sevenfold, Creeper and Kerbera.
To mark the occasion of this career-defining album, the band will perform a one-night-only show at the Kia Forum in Inglewood, California, where they will play Sing the Sorrow in its entirety for the first and final time. Bringing the band even more full circle, they will be joined by former Gilman Street compatriots Jawbreaker. 
Why 2002 Was The Year That Made Pop-Punk: Simple Plan, Good Charlotte & More On How "Messing Around And Being Ourselves" Became Mainstream