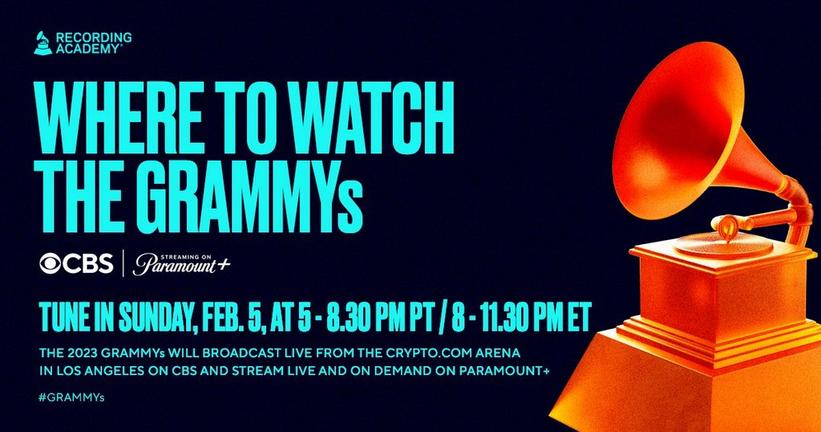 2023 GRAMMYs
Graphic: The Recording Academy
news
Where, What Channel & How To Watch The Full 2023 GRAMMYs
The 2023 GRAMMYs will air live on CBS on Sunday, Feb. 5! Here's where, what channel, and how to watch the 2023 GRAMMYs. Artists, performers, presenters, and host for Music's Biggest Night to be announced soon.
GRAMMYs
/
Jul 19, 2022 - 01:22 am
It's clearly a new dawn for the Recording Academy — and naturally, that extends to the hotly anticipated 2023 GRAMMYs for the 2022 Nominated Artists.
The 2023 GRAMMYs, officially known as the 65th GRAMMY Awards, will come with thrilling changes and developments, including brand-new categories and awards like Songwriter Of The Year, Best Score Soundtrack For Video Games, and many more categories and changes.
Below, get up to speed on everything you need to know about the 2023 GRAMMYs — and get fired up for Music's Biggest Night once again! 
The 2023 GRAMMY nominations are officially here. See the complete list of nominees across all 91 GRAMMY categories.
When And Where Are The 2023 GRAMMYs?
The 2023 GRAMMYs will air live on Sunday, Feb. 5, at 8-11:30 p.m. ET/5-8:30 p.m. PT from the Crypto.com Arena in Los Angeles.
On What Channel Can I Watch The 2023 GRAMMYs?
The 2023 GRAMMYs will broadcast live on the CBS Television Network and stream live and on demand on Paramount+. 
When Will The 2023 GRAMMYs Nominations Be Announced?
The 2023 GRAMMYs nominations are out! See the full 2023 GRAMMY nominees list.
Who Is Hosting The 2023 GRAMMYs?
GRAMMY-nominated comedian, actor and former host of "The Daily Show" Trevor Noah returns to host the GRAMMYs in 2023 for the third consecutive year.
Who Is Performing At The 2023 GRAMMYs?
The first round of 2023 GRAMMYs performers has been announced: Harry Styles, Bad Bunny, Mary J. Blige, Brandi Carlile, Luke Combs, Steve Lacy, Lizzo, Kim Petras, and Sam Smith are all taking the GRAMMY stage. Additional performers will be announced in the coming days.
Learn more about the 2023 GRAMMYs performers and host.
Read More: 2023 GRAMMYs Performers Announced: Bad Bunny, Lizzo, Sam Smith, Steve Lacy, Mary J. Blige & More Confirmed
Who Are The Presenters At The 2023 GRAMMYs?
The full list of 2023 GRAMMYs presenters is TBD for now, but keep it locked here for the upcoming announcement.
Read More: Why The New Songwriter Of The Year GRAMMY Category Matters For The Music Industry And Creator Community
Catch All The GRAMMYs Action At live.GRAMMY.com!
This year, the Recording Academy is taking the GRAMMY digital experience to a whole new level with live.GRAMMY.com, a dynamic, expansive online experience providing music fans a backstage view into Music's Biggest Night. Featuring a multi-screen livestream you can control, live.GRAMMY.com is where you can watch all the 2023 GRAMMYs highlights in one place before, during and even after the telecast. Catch GRAMMY performances, acceptance speeches, the GRAMMY Live From The Red Carpet livestream special, the full Premiere Ceremony livestream, behind-the-scenes backstage moments, and much, much more. 
Updating in real time, live.GRAMMY.com will feature a peek into this year's official GRAMMY Week celebrations, a multi-camera video feed giving fans a true 360-view into the GRAMMY Awards, and exclusive articles, performances, interviews, and videos.
Providing a full-access pass to the 65th GRAMMY Awards, live.GRAMMY.com is your go-to destination for all things GRAMMYs all year long — 24/7, 365.  
When Is The 2023 GRAMMYs Awards Premiere Ceremony?
Ahead of Music's Biggest Night, the 2023 GRAMMY Awards Premiere Ceremony is a special annual event where the majority of this year's 91 GRAMMY Awards categories will be awarded. This year, the star-studded celebration will feature performances from current GRAMMY nominees Arooj Aftab, Madison Cunningham, Samara Joy, Anoushka Shankar, and Carlos Vives, as well as an opening number performance by Blind Boys of Alabama, La Marisoul from La Santa Cecilia, and additional surprise performers. Presenters at the 2023 GRAMMY Awards Premiere Ceremony include current nominees Babyface, DOMi & JD BECK, Myles Frost, Arturo O'Farrill, Malcolm-Jamal Warner, and five-time GRAMMY winner and former Recording Academy Board of Trustees Chair Jimmy Jam.
Returning to the Microsoft Theater in Los Angeles, the 2023 GRAMMY Awards Premiere Ceremony will stream live on live.GRAMMY.com and on the Recording Academy's YouTube channel on Sunday, Feb. 5, at 3:30 p.m. ET/12:30 p.m. PT.
Read More: The 2023 GRAMMY Awards Premiere Ceremony To Feature Performances From Carlos Vives, Samara Joy, Madison Cunningham, Arooj Aftab & More; Presenters Include Babyface, Jimmy Jam, Malcolm-Jamal Warner & Others
What's New At The 2023 GRAMMYs?
The Recording Academy recently announced five new GRAMMY Awards categories to be awarded at the 2023 GRAMMYs. The new categories include Songwriter Of The Year (Non-Classical), Best Score Soundtrack For Video Games And Other Interactive Media, Best Alternative Music Performance, and many other new categories and changes. Additionally, a new Special Merit Award will be given out for Best Song For Social Change.
Other amendments include changes to the GRAMMY Awards entry and voting processes and more.
See the full list of the new GRAMMY Awards categories and further details on the upcoming changes.
What Are Other Pertinent Dates Regarding The 2023 GRAMMYs?
A list of key dates for the 2023 GRAMMYs process and additional details are below:
Friday, Oct. 1, 2021 – Friday, Sept. 30, 2022
Product Eligibility Period
Monday, July 18, 2022 – Wednesday, Aug. 31, 2022
Online Entry Period
Thursday, Oct. 13, 2022 – Sunday, Oct. 23, 2022
First Round Voting
Tuesday, Nov. 15, 2022
Nominees Announced for the 2023 GRAMMYs
Wednesday, Dec. 14, 2022 – Wednesday, Jan. 4, 2023
Final Round Voting
Sunday, Feb. 5, 2023
2023 GRAMMYs
Keep checking this post as we continually update you on what will undeniably be another luminous experience on Music's Biggest Night at the 2023 GRAMMYs!
The 2023 GRAMMYs, officially known as the 65th GRAMMY Awards, returns to Los Angeles' Crypto.com Arena on Sunday, Feb. 5, 2023, and will broadcast live on the CBS Television Network and stream live and on-demand on Paramount+ at 8-11:30 p.m. ET/5-8:30 p.m. PT.
The eligibility period for the 65th GRAMMY Awards is Friday, Oct. 1, 2021 – Friday, Sept. 30, 2022. All eligible awards entries must be released within this timeframe.
The Recording Academy and GRAMMY.com do not endorse any particular artist, submission or nominee over another. The results of the GRAMMY Awards, including winners and nominees, are solely dependent on the Recording Academy's Voting Membership.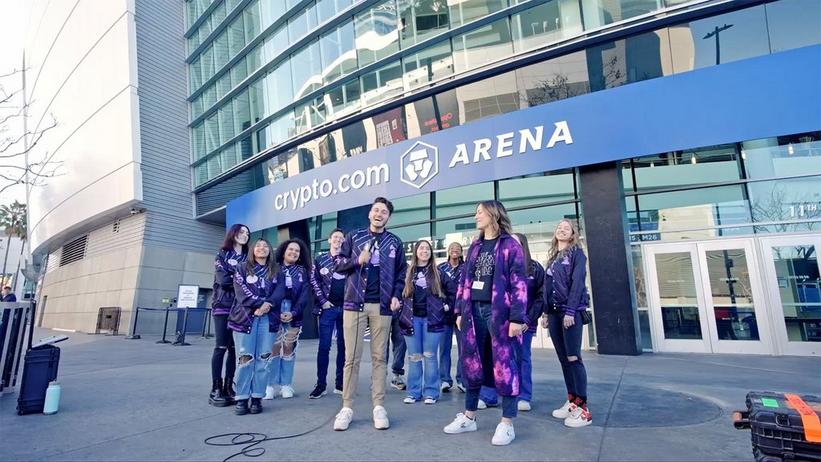 feature
Watch: Take A Behind-The-Scenes Tour Of The 2023 GRAMMYs
Ahead of the 65th GRAMMY Awards, take a peek behind the curtain on an exclusive tour of Crypto.com Arena. Learn how hundreds of crew members set the scene for thousands of attendees at Music's Biggest Night — in just over a week.
GRAMMYs
/
Feb 4, 2023 - 10:47 pm
For the 20th time, the 2023 GRAMMYs are back in Los Angeles at the Crypto.com Arena. Ahead of Music's Biggest Night on Feb. 5, GRAMMY U representatives took a behind-the-scenes production tour.
Located in the center of the 4-million-square-foot development, L.A. Live, Crypto.com can host up to 13,000 people. With an expected full crowd for the 65th GRAMMY Awards, hundreds of staff are working behind the curtains to organize the perfect show.
Associate Producer Jody Kolozsvari offered representatives a glimpse of the thousands of moving parts working to the 65th GRAMMY Awards. The tour featured the production room, dressing rooms, loading docks, and arena bowl, a hot set with hundreds of crew members creating a striking set from scratch — all in just over a week. Jody also introduced the Representatives to the department heads in audio, stage management and design, talent support, and executive production.
Check out the video above to follow the representatives on the production tour, and see the action come to life Sunday, Feb. 5. The 2023 GRAMMYs will broadcast live on the CBS Television Network, and stream live and on-demand on Paramount+ at 8-11:30 p.m. ET / 5-8:30 p.m. PT.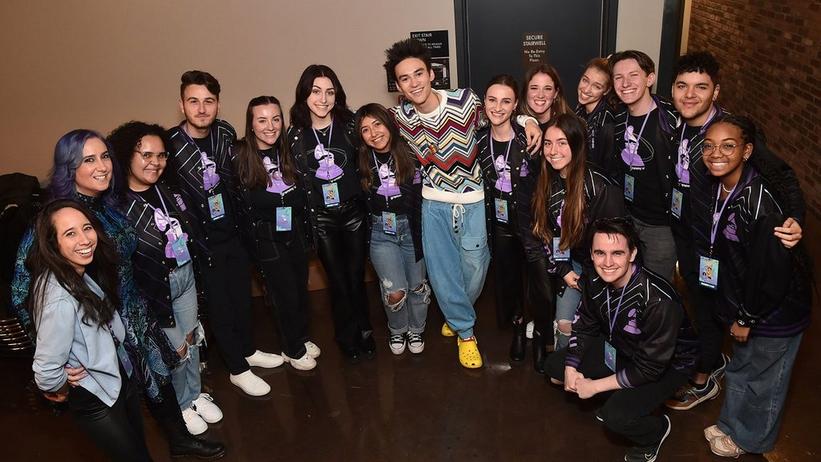 Jacob Collier (center) with GRAMMY U student reps who attended the 2023 GRAMMY U Masterclass on Feb. 2, 2023.
Photo: Alberto E. Rodriguez / Stringer / Getty Images
news
6 Deep Insights From Jacob Collier & Jessie Reyez' GRAMMY U Masterclass Conversation
The GRAMMY U Masterclass powered by Mastercard and hosted by GRAMMY-winner Jacob Collier and GRAMMY-nominee Jessie Reyez was dedicated to excellence in music and the development of talent through the industry.
GRAMMYs
/
Feb 4, 2023 - 09:16 pm
Ahead of the 2023 GRAMMYs, like every year, GRAMMY U student representatives studying to pursue careers in music have gathered together in Los Angeles for GRAMMY Week, many to attend or help out at the GRAMMY Awards.
On Feb. 2, at the Novo venue in downtown L.A., GRAMMY U hosted its own Masterclass dedicated to excellence in music and the development of talent through the industry. Passion and creativity shined bright at the event powered by Mastercard hosted by GRAMMY-winner Jacob Collier and moderated by GRAMMY-nominee Jessie Reyez.
Collier and Reyez presented a rich and rollicking conversation, as well as a musical demonstration, that showcased their admiration for each other and for music-making. The Masterclass also highlighted the dedication, skill and vision of the GRAMMY U students themselves, who made the event and all its magic happen.
Read on for insights and advice from the GRAMMY U Masterclass.
Collaboration is key
"The GRAMMY U representatives work together to help build the vision of the program, including the featured panelists, conversation topic, venues, and overall vibe," explained GRAMMY U Director Jessie Allen. "The most rewarding part of the events we produce is seeing the pride each Rep has as they see their vision realized."
And the vision for this Masterclass was impressive. The pairing of past collaborators Collier and Reyez was fantastic (Collier tapped Reyez for "Count The People" on Collier's GRAMMY-nominated Djesse Vol. 3) and led to a deep, lively and illuminating conversation filled with live music and music theory 101. The musical components, which included a stunning demonstration of the audience choir Collier has been performing on tour, felt organic, spur-of-the-moment, and deeply captivating.
"For this Masterclass, we all knew that including live music was a top priority in how we created the event. Once we had Jacob on board, the program direction became clear pretty quickly and the Reps wrote all of the questions and script for him and Jessie. One of the first things they asked was for Jacob to do an audience choir segment, which was such a special part of the event. I was so proud to see them all soaking in every second, knowing that they helped to create it," Allen added. 
In addition to shaping the event itself, other GRAMMY U students prepared great additional questions for the audience Q&A portion of the talk. A vibey selection of R&B, Afrobeats and house grooves, ala Beyoncé, Steve Lacy, Doja Cat and Black Coffee was provided by GRAMMY U student DJ, Anastazja before and after the main event as guests mingled and ate sweet treats of fresh churros, fluffy mini donuts, and paletas. The culmination of these collaborative efforts elevated the energy of the entire event.
Rules (and tools) were meant to be stretched
"I've always been interested in stretching all the rules. I've always felt they're quite arbitrary," Collier said toward the beginning of the chat, rocking a chevron-striped sweater and bright yellow Crocs that serendipitously coordinated the oversized chairs both artists perched in. "That gave me a lot of clarity."
The GRAMMY-winning singer, songwriter and composer took the captive audience back to the beginning of his musical journey, where the creative seeds for his GRAMMY-winning debut album In My Room were planted, with a mic and his first Casio keyboard in his childhood London bedroom. He explained that he loved to take apart classic songs he loved, like those of Stevie Wonder and play with them. He also explored all his keyboard had to offer, relishing in its presets which sounded out waltz and polka and horn instruments he'd never played before. This began when he was 10 and through his teenage years, and was a very inspiring and fun period of musical play, learning and experimentation for him. This was his happy place.
That bedroom musical experimentation was "a crucial part of my learning… What you like is one of the most important questions you can ask [yourself]," he said, emphasizing the importance of following your joy and the things and sounds that excite you.
Intuition is a superpower
Learning to trust and listen to your intuition was a recurring theme that both Reyez and Collier brought up when discussing the creative process and navigating the music industry.
"You have to make sure the little voice in your head is on your side," Reyez stated.
She continued, telling the audience not to accept "no" or let others convince them something won't work when they know there's a way. She stressed the importance of nurturing connections with themselves and their intuition, which is always the best guide.
When Reyez gets a no, she checks in with her intuition. When she gets stuck in indecision, instead of letting time continue to pass her by, she flips a coin. For her, this classic trick is a great gut-check and gives her initial insight into her emotional reaction to any decision. Either way, making a choice and moving forward is always more rewarding than doing nothing.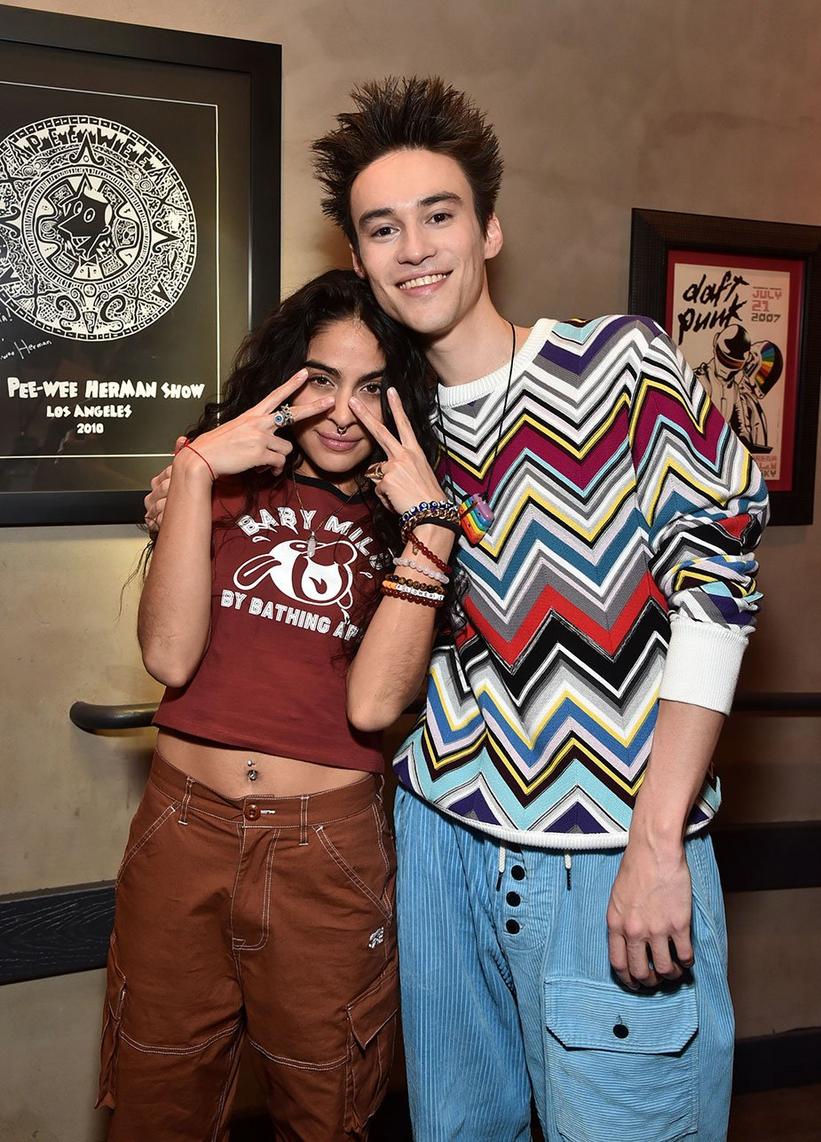 Photo: Alberto E. Rodriguez

/ Stringer

/ Getty Images
Effective leadership creates harmony
Collier led the "presence and effortless flow" of the audience choir, which he demonstrated to powerful effect, a beautiful chorus of angelic voices that he conducted with simple hand motions and vocal demonstrations.
The demonstration sounded flawless and appeared nearly effortless. He expressed that leading the audience choirs has been a great learning experience for him, understanding how to boil it down to the simplest sounds and give instructions with clear and precise hand signals to result in unified sound.
Drawing parallels between conducting a choice and building out his creative and professional team, Collier mused, "How do I lead in a way where everyone's voice feels important when creating a team?"
Collier indulged the audience with one of many "music nerd moments" of the afternoon as he discussed and demonstrated triadic harmony, concluding with "Harmony's my ultimate crush from day one."
"Think about every problem as an unresolved chord"
Collier offered a great piece of advice someone on his team had once shared with him: "Think about every problem as an unresolved chord." For him, finishing a chord is second nature, so if he can "transpose that [knowledge] to other situations," he understands that all challenges have solutions, eventually.
"When you believe that it can happen, the universe does transpire to help you," Collier asserted, adding that the solution doesn't always have to come through your mind. Striking the balance between head versus heart and learning to listen to both was a point the dynamic pair emphasized.
He related it back to the power of having a good team and openness for collaboration, which can support in making magic happen. "[It's about] reaching into your peripheral vision knowing something will be there," "The Sun Is In Your Eyes" artist said.
Reflect a perspective through song
"I'm longing for all that is already here," Collier said poetically, in one of his many musical demonstrations. "Longing and abundance…how do you express all that with a chord?" he mused from the piano, playing around with expressing that nuanced feeling, which was truly powerful to experience and let wash over you. "I love the feeling of transposing my experience to [song]," he said.
He activated the audience choir once again as he bounced around the stage which had become his musical playground, moving from the big yellow chair to the front of the stage to conduct, and back to the piano. It's clear that Collier thinks (and moves)  in musical form. Speaking to the audience, his choir, he reflects: "The feeling of being a note in a chord, it's an interesting state, it's like being a person."
A question from a GRAMMY U student who is a voice major offered more illumination into Collier's music making mastery. Collier explained that when he was younger, he thought that writing lyrics was meant to be a personal monologue, but as he's developed in his songwriting, he sees it as a chance to share a perspective, and not just your own. It could be a dance between two characters, or a chance to explore a viewpoint completely different than your own.
"Embrace the weirdness of your perspective and others' perspectives," he encouraged. "And don't be right…being good is boring… push into the crumbly, strange, dark corners of your imagination." For him, that's the most exciting creative space to be in.
There were so many mic drop moments during the lengthy conversation, and if that wasn't enough, there were two more cherries to top it off. Collier closed out with a big, heavens-gracing performance of the classic "Can't Take My Eyes Off You" just for the IRL audience (sorry livestream guests!). His interpretation of the song ended with one more audience choir.
Find out if Collier and your other favorite artists will take home a golden gramophone this Sunday, Feb. 5, at the 65th GRAMMY Awards.
Music's Biggest Night will be broadcast live from Crypto.com Arena in Los Angeles Sunday, Feb. 5 (8:00 - 11:30 PM, live ET/5:00 - 8:30 PM, live PT). It will air on the CBS Television Network, stream live and on demand on Paramount+.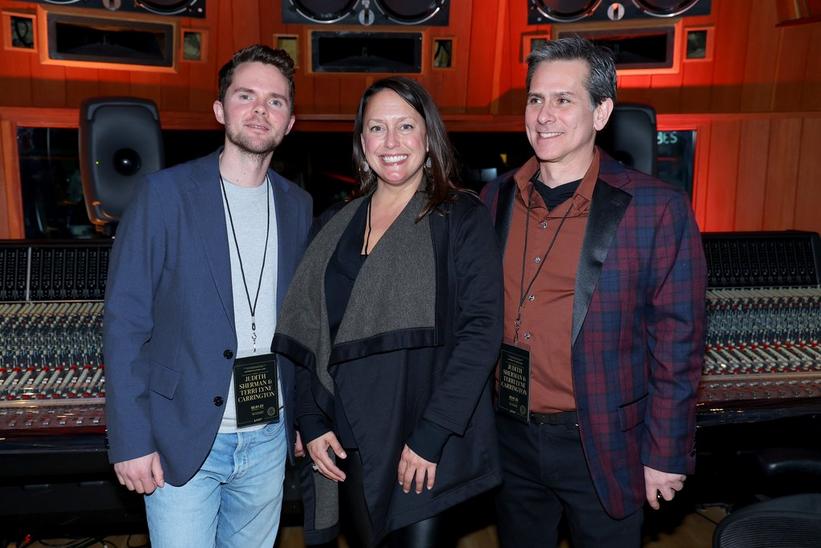 (From left) Eric Daubney, Steffenee Copley, Paul Stewart attend the Producers & Engineers Wing celebration
Photo: Maury Philips/Getty Images for The Recording Academy 
news
What Happened At Recording Academy's 2023 Producers & Engineers Wing GRAMMY Week Event: Musical Titans, Transfixing Sound & Undeniable Atmosphere
The mood was particularly buoyant at the 15th annual Producers & Engineers Wing GRAMMY Week event, which featured luminaries from Terri Lyne Carrington and Social Science, to Kronos Quartet.
GRAMMYs
/
Feb 3, 2023 - 11:49 pm
"It really is all about the music and the positivity that it brings," GRAMMY-winning audio engineer Leslie Ann Jones said during the introductory remarks of the Recording Academy Producers & Engineers Wing GRAMMY Week event held last Wednesday evening at the Village Studios in Los Angeles.
The mood was particularly buoyant at the 15th annual event. After all, noted Mistress of Ceremonies and P&E Wing Vice President Maureen Droney, this was the first time that it was held in person since 2020, and the hundreds of attendees warmed up for the awards ceremony by socializing and sampling specialty cocktails. The hallways and reception areas of the legendary recording studio, host to an astonishing collection of famous artists, provided an evocative backdrop.
At the atmospheric Moroccan Ballroom, 13-time GRAMMY winner Judith Sherman was honored for her extraordinary contribution to the art of recording classical music. "I'm the luckiest woman in the world," she enthused during a video highlighting her collaborations with artists like Rudolf Serkin, Ursula Oppens and the Kronos Quartet.
Invited onstage by Harvey Mason jr., CEO of the Recording Academy, Sherman was particularly self-deprecating in her acceptance speech.
"When I got the call about this honor, I thought it was a hoax," she said, eliciting chuckles from the audience. "I'd like to thank the composers and musicians, who are the point of all this," she added. "I always tell people that I have the best job in the world. I get to know music intimately, but I never have to practice. I'm honored to be honored by such a group of artists."
Sherman then introduced the Kronos Quartet, the ensemble with which she recorded some legendary sessions. Visibly happy to honor their friend with live music, the members of the Quartet launched into an exuberant rendition of Mexican composer Severiano Briseño's "El Sinaloense," from the 2002 album Nuevo – co-produced by Sherman.
The background lights then turned a deep, moody blue for a delicate reading of the mournful "Closing" by Philip Glass, from his timeless 1985 soundtrack for the movie Mishima. As the strings lost themselves in the repetitive melodic patterns — the trademark building blocks of Glass' minimalism, it was impossible not to ponder the power of music to transport listeners into soundscapes of an almost surreal beauty.
Across the hallway, inside the studio's spacious auditorium, Mason jr. introduced three-time GRAMMY-winning drummer, producer and educator Terri Lyne Carrington as "a world changer, an advocate who gives back to the people during so much of the year." A drummer of remarkable verve and technical skill, Carrington has toured and recorded with a long list of iconic artists, including Stan Getz, Herbie Hancock and Wayne Shorter.
"This is surreal," Carrington said upon receiving the award. She then recalled becoming a Recording Academy member in 1989, while she was the house drummer with The Arsenio Hall Show in Los Angeles. "I don't remember a lot about 1989," she quipped, "but I do recall being invited to join, and realizing that a lot of people in this community are interested in being of service."
Carrington also made a case for genre diversity, praising the Academy for honoring artists in the fields of jazz and classical music. "That is a big deal," she emphasized, generating a round of applause. "Fighting for social and racial justice is enough. Fighting for jazz as well would be too tiring."
She then invited the members of her progressive jazz combo Social Science onstage, explaining that some of them had flown from New York, Boston and Washington DC just to play at the event. "I've been pacing and walking around," she said, adding that she's been performing only of couple of dates per month, and asking fellow musicians to be forgiving of her chops.
Carrington had nothing to fear, of course. The extended mini-concert was nothing short of revelatory, combining jazz harmony with fiery polyrhythms, passionate hip-hop, intriguing echoes of psychedelia in the spiraling Hammond lines of keyboardist Aaron Parks, and some outstanding bass work by Morgan Guerin, who also performed an impressive sax solo.
Carrington's gutsy drumming was the focal point, together with the soaring vocalizing of virtuoso singer Debo Ray. Social Science's 2019 double album Waiting Game is the kind of visionary work that can single-handedly move a genre forward. We can only hope that the ensemble will reconvene and record new music in the near future.
As is often the case with the GRAMMY week events, the awards and acceptance speeches were memorable enough. But just on its own, the music brimmed with profound inspiration.
What Went Down At 2023 Recording Academy New York Chapter Nominee Celebration: Musical Theater, Mayor Eric Adams & Magical Company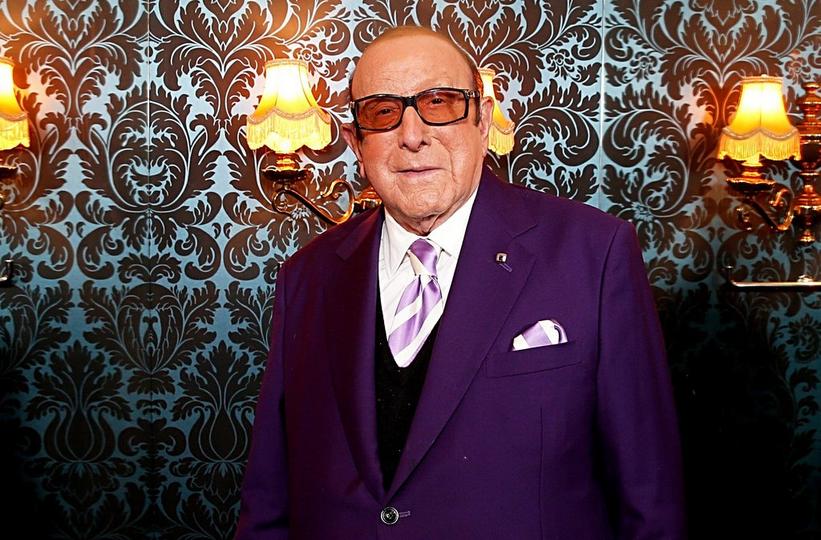 Clive Davis in New York in 2021.
Photo: Dominik Bindl/Stringer via Getty Images
interview
Clive Davis On His Famed GRAMMY Party, The Future Of The Industry & Whitney Houston's Enduring Legacy
As Clive Davis' renowned Pre-GRAMMY Gala returns after a pandemic-induced hiatus, GRAMMY.com spoke with the music industry icon about some of his most unexpected career wins and his thoughts on the 2023 GRAMMY nominees.
GRAMMYs
/
Feb 3, 2023 - 09:30 pm
One of the most legendary events of GRAMMY weekend is back after a two year break. 
Masterminded by Clive Davis, the Pre-GRAMMY Gala & Industry Salute to Icons has enjoyed iconic status as a place where music industry titans, tastemakers, politicians and actors alike rub elbows to toast the year, reflect on the past and look to the future of music. Taking over the Los Angeles' Beverly Hilton, the return of Clive's party for the 2023 GRAMMYs is a show business tradition without parallel. 
The event also comes on the heels of a big year for Davis, who not only celebrated his 90th birthday but also hosted the Paramount+ series Clive Davis: Most Iconic Performances, and was portrayed by Stanley Tucci in the big-screen adaptation of Whitney Houston's life in I Wanna Dance With Somebody, which hit theaters in December.   
Ahead of the Feb. 4 event, GRAMMY.com caught up with Davis at the Beverly Hilton to preview this year's party, gauge his thoughts on today's favorite artists and reveal the act whose success most took him by surprise. 
Your Pre-GRAMMY Gala is back for the first time since 2020 after a COVID-induced break! How does that feel, and how are you feeling? 
I feel great that it's back. The demand from day one — maybe since we emailed the invites this year — there's been such eagerness. People are ready and it makes me feel great. I'm getting emails and so much in writing as to what the party has meant for them, somehow it triggers that type of response and it's been touching. It's exciting!
Can you offer us a preview? Who's coming or who may be performing?
Well, you know that that's all a secret. Who's coming is a who's who of music, many more great movie stars are coming whatever the reason. Nancy Pelosi and Paul Pelosi are coming, for example. But the tales about who meets who from past parties [are legendary], from Brandi Carlile meeting Joni Mitchell for the first time and how they've bonded since, or Joni meeting someone like David Hockney. 
Read More: Atlantic Records Leading Lights Julie Greenwald And Craig Kallman To Receive GRAMMY Salute To Industry Icons Honor
This year, the Gala is honoring Atlantic Music Group Chairman and CEO Julie Greenwald and Atlantic Records Chairman and CEO Craig Kallman. Can you talk about their impact on the industry? 
They have been very gifted competitors as far as I'm concerned. I've obviously competed more with people like Mo Ostin, Joe Smith and Chris Blackwell. But Julie and Criag are incredibly gifted music executives. I greatly admire what they've done and how they're revered by the artists who've worked with them. 
In fact, one artist who works with them has asked to present the Icon award to Julie, and normally it's Harvey Mason Jr who's presenting it. So we'll see if that comes about. But if it does, it will be touching. 
You bring up Joni Mitchell — in the past year she's had a renaissance of being back in the public eye. What does that mean to you to watch Joni come back?
I felt it starting six, seven or eight years ago. Joni decided she wanted to attend my GRAMMY party. I don't allow schmoozing, so if there's a five-minute or seven-minute gap in between performers, I give shoutouts because it's a big ballroom and people don't often know who's there. But when I gave a shoutout to Joni Mitchell, I mean, it got as much reaction as one for an artist who has conquered the room after a performance. There were cheers and a standing ovation just for a shoutout, so there's a connection there. She influenced so many lives. And she'll be there this year too.
I want to talk to you about Whitney Houston. Her movie came out last month and people are celebrating her again since it's her 75th birthday year. When you look back at your memories of her, do they make you sad or joyful?
There's a certain element of both because I miss her. But, seeing the recognition of her talent and seeing that it's historic — in the film, she's quoted as being the finest of her generation. So, it's a combination. 
I'm gratified that she was not a one-hit wonder or a passing fad, but she'lll be a permanent influence and inspiration to young artists forever because she was that unique. So it's been very gratifying.
Speaking of the movie, Stanley Tucci portrayed you. This is a feeling not many people in the world know, to be depicted in a film. How do you think he did?
I felt he did me justice, and if that's his take on me, I'm happy with that take. I was gratified that my character is being portrayed by a really gifted actor who was not hamming it up or inventing a shtick or a persona. The reaction of others is that he captured me too, so it's only been positive. We've also become quite friendly.
I'm interested in your thoughts on the state of the music industry. Where does it stand now?
I'm very excited, most of all, that the industry is healthy — especially having gone through the period that the future of music was questionable. Now, I'm endowing a school in my name at NYU and giving scholarships. 
People ask, "Is there a legitimate future in the industry?" And the answer is, music is a necessity and it will be here to stay. So I feel very good that the industry is healthy, and the streaming and digital evolution, and that those entering a career in the industry will take it wherever that goes in the future.
Speaking of the modern industry, are your feelings on the current crop of nominated artists?
I'm a big fan of Beyoncé, I'm a big admirer of what Harry Styles is doing so uniquely. But in the longer future, there hasn't been a new Bob Dylan or Bruce Springsteen. I also want to make sure that with hip-hop dominating, that a new Aretha Franklin or Whitney Houston — a person with a voice who is breathtaking — deserves to have a home.
In your storied career, has anyone's success taken you by surprise? 
I have a healthy respect for failure, so the most gratifying thing for a legacy or my career has been the height that so many artists that I've created a home for have reached and influenced as many people have. I'm thinking of someone who was maligned by the critics like Barry Manilow was and now he's still headlining. I recently saw him in Florida at an arena and the fervor in the audience for him was amazing to see. 
Does a particular record come to mind?
As far as what record, the record that I helped break personally that the odds were against and became a landmark breakthrough was Kenny G's "Songbird," especially being an instrumental. I wrote a letter to every radio station. He became the best-selling instrumentalist of all time. 
But who's' also coming to mind is when I signed Carlos Santana for the second time. It was viewed as Davis' folly. This was a man who did not have a hit in 25 years and was past the age of 50 and wasn't even a lead singer, so the fact he could come back with one of the best-selling albums of all time in Supernatural. I thought he'd have some success or else I wouldn't have signed him, but to be an all-timer is clearly surprising and gratifying.
Songbook: A Guide To Whitney Houston's Iconic Discography, From Her '80s Pop Reign To Soundtrack Smashes