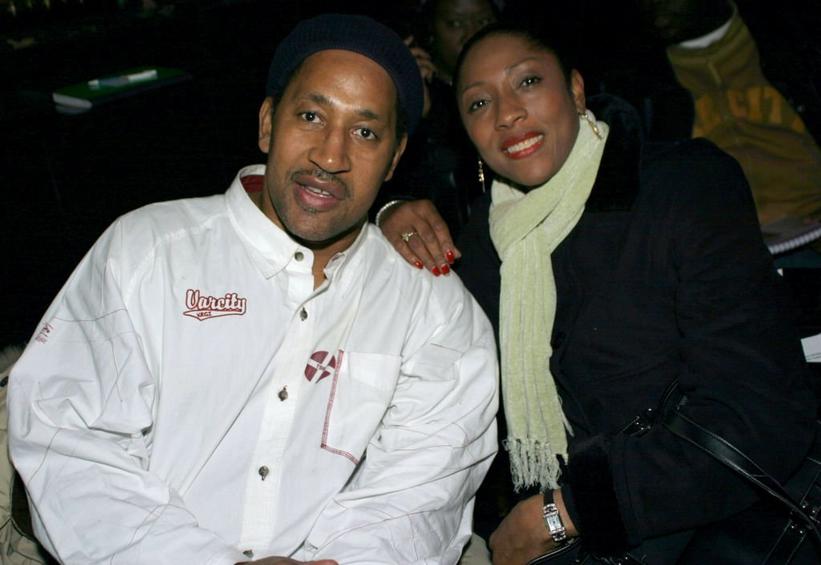 DJ Kool Herc and Cindy Campbell in 2004
Photo: Johnny Nunez/WireImage
feature
Founding Father DJ Kool Herc & First Lady Cindy Campbell Celebrate Hip-Hop's 50th Anniversary
In an interview with GRAMMY.com hip-hop pioneers DJ Kool Herc and Cindy Campbell discuss the culture's origins in their apartment rec room and the myriad ways their Jamaican heritage influenced hip-hop.
GRAMMYs
/
Jul 28, 2023 - 04:13 pm
On Aug. 11, 1973, high school student Cindy Campbell threw a party in the recreation room of her family's Bronx apartment building to earn money for new back-to-school clothes. Cindy hand wrote invitations on index cards and charged a modest admission fee (25 cents for ladies, 50 cents for "fellas"); she asked her 18-year-old brother Clive to play the music. 
Clive, better known as DJ Kool Herc, set up his turntables, mixer, amplifiers and towering speaker boxes, which blared a mix of funk and soul records. Herc's pal, Bronx native Coke La Rock, intermittently shouted out friends and quick rhymes over the records' instrumental breaks to hype up the crowd. While the large turnout of their peers ensured Cindy would start the school year donning the latest fashions, the siblings had done something infinitely more important, Cindy and Herc sparked a movement.
The precise origin of any musical genre is rarely traceable to a single event. But Cindy and Herc's party at 1520 Sedgwick Avenue, held 50 years ago, is widely recognized as laying the foundation upon which hip-hop was built.
"From my back-to-school party where my brother Herc played, his influence with the music, the songs, the beats that he chose, he knew he had something special there. He dominated the 1970s and created this thing that we call hip-hop," Cindy Campbell told GRAMMY.com in a recent phone interview, with Herc later joining the conversation. 
But the term hip-hop, which encompasses the movement's four elements — emceeing or rapping, breakdancing, graffiti and turntabling — wouldn't come into usage until several years after the back-to-school party took place.
Cindy says one of the most meaningful events in elevating hip-hop's profile early on was the 1984 film Beat Street, which Harry Belafonte executive produced. "At one point, people didn't know where hip-hop was going, it flew below the radar, but Harry did the movie because he knew something special was going on; it took hip-hop to another level and the music went international," she reflects. 
Decades later, hip-hop is celebrating multiple milestones and Herc will get his flowers.
On Nov. 3, DJ Kool Herc will be inducted into the Rock and Roll Hall of Fame in a ceremony held at Brooklyn's Barclays Center. 
"I'd say it's about damn time, but I ain't mad at them because Willie Nelson is being inducted this year and he's 90!" quips Herc. The Rock Hall identifies Herc, 67,  as one of the founders of hip-hop, but Herc offers a clarification: "I am the founding father of hip-hop," he asserts, "because no one else was doing this when I started."
A former graffiti artist whose tag was CLYDE (from his friends' mispronunciation of Clive) AS KOOL (taken from a cigarette ad), Clive Campbell earned the nickname Hercules in high school for his imposing, brawny stature and excellence in sports. But it was Herc's background as a dancer that led to his groundbreaking technique as a DJ. 
Behind the turntables, Herc paid close attention to the dancers at his parties and their responses to his musical selections; he noticed they were most excited by the song's instrumental breaks. Building upon that observation, Herc utilized dual copies of the same record on two turntables, switching between them with a mixer and prolonging a song's short percussive interval into an extended, hypnotic rhythmic loop. He called his distinctive approach the merry-go-round and it would influence other pioneering Bronx hip-hop DJs including Grandmaster Flash and Afrika Bambaataa.
"I had two copies of the same record and I went for the yolk, the butter. I found the beats, the break and I played that on all of the records," Herc recalls. "I didn't have headphones at the time, but I could see the breaks on the record's grooves and just went back and forth. Once the dancers heard that, all they wanted to hear were the breaks.  "Other DJs had records," offers Herc, "but I had a style that they didn't have, Herc's style, the merry-go-round."
Hip-Hop: Born From A Eclectic Soundscape
Like his father who was an avid record collector, Herc listened to an eclectic range of music: Prince Buster and the Skatalites' classic Jamaican ska singles, Jim Reeves' iconic country laments, soul nuggets and Top 40 hits. "Back in the day I listened to WWRL AM and [New York City radio legends] Frankie Crocker on WBLS FM and Cousin Brucie on WABC AM; I listened to Boz Scaggs, Three Dog Night, the Rolling Stones' 'Sympathy for the Devil,'" Herc shared. 
Herc chose records according to their breaks, irrespective of genre, which he wove into an exhilarating soundscape that became hip-hop's aural underpinning. "I came up on all of that music, no racism," explains Herc. "If you're Chinese, Black, white, you are alright, we all bleed red, because Jamaica's motto is  'Out Of Many One People.'"  
Clive and Cindy Campbell were born and raised in Jamaica's capital city, Kingston; from an early age, they were exposed to the island's sound system culture — a significant entertainment platform in Jamaica's economically depressed communities. Sound systems (mobile discos) first appeared in Kingston in the late 1940s and proliferated throughout the 1950s and 1960s, initially playing American R&B records. However, the sound systems' need for exclusive music accelerated Jamaica's nascent recording industry, which led to the subsequent birth of ska, rocksteady, reggae and dancehall. 
Each sound employed a selector, who played the records, and an emcee or "deejay" in Jamaican parlance, who would rhyme or "toast" over the records' instrumental segments. Early toasters such as Count Matchuki followed by King Stitt melded their Jamaican dialect with mimicking the radio jocks they heard on stations based in the southern U.S. that were beamed into the island. 
Clive and Cindy observed the most popular sound men of the era including Clement "Sir Coxsone" Dodd (Downbeat the Ruler), Duke Reid (Trojan) and most influential to Herc, George Edwards a.k.a. King George of King Edwards sound, as they set up their respective equipment in the afternoon ahead of the evenings' dances. "King George, that's how my ear developed, from listening to him," says Herc. 
The dances attracted huge crowds and generated income not just for the sound systems and the sessions' promoters but for food and drink vendors, even tailors and dressmakers because many patrons purchased new clothes to look their best. 
"My father was very musically inclined, he had the latest music, went to parties and one of his good friends, Mr. Jim, was Coxsone Dodd's brother," Cindy says. "We were too young to participate but our parents and family members talked about the experience. The dances were held outside so we saw how Jamaican people put on and promoted their dances, and what needed to be done to have a successful party. Those things had a tremendous influence on how we did our parties in the Bronx." 
Read more: Lighters Up! 10 Essential Reggae Hip-Hop Fusions
The Campbells migrated to the Bronx NY during the 1960s, their relocation led by Clive and Cindy's mother, Nettie, as she pursued a nursing degree. Clive arrived in the Bronx in 1967. With the help of his father, Herc set up his own sound system, The Herculoids, its powerful, rumbling sonic replicating what he heard in his Kingston youth with one significant difference. "A lot of Jamaicans emphasize the bass to shake your waist. I like bass, but I like to break down the system because you have highs, you have mid-range and the bass, so I broke it down."
Herc spun primarily funk and soul, as well as the occasional rock record. "I played music, some for the old, some for the young. I call it grown folks' style," Herc explains. "If I can dance to it, I am going to play it."
His merry-go-round technique transformed the breaks on an assortment of singles from the the Incredible Bongo Band's "Apache" to Dennis Coffee's "Scorpio," James Brown's "Give It Up Turn It Loose," to Dr. John's "Right Place, Wrong Time" into extended, hypnotic percussive jams. Herc's father told him to soak the labels off of his records to protect their identity from rival DJs, a practice utilized by Kingston's sound system selectors to trump their opponents at sound clashes.
By the end of 1973, the recreation room couldn't accommodate the size of the crowds attending Herc's parties, so he and Coke La Rock moved their sessions to parks and clubs throughout the Bronx. Coke La Rock's quick shout outs grew into rhymes that morphed into lyrics, including "hotel, motel, you don't tell, we won't tell," which was interpolated by the Sugar Hill Gang's Big Bank Hank in rap's first hit record, "Rapper's Delight." The influential template La Rock established is a mid-1970s American transplantation of Jamaican deejays' practice of talking over records.
Respect For The Culture's Jamaican Roots
Some longstanding hip-hop fans, bloggers and even historians have minimized the Jamaican sound system as the bedrock for the culture's development. Even in Jamaica, where hip-hop is widely listened to, many are unaware of the movement's ancestry. "We realize that Jamaicans have never really grasped what hip-hop has done, as related to us coming from the island of Jamaica," says Cindy. 
Possibly the only  hip-hop 50 event exploring the complexities of the sound system/hip-hop connection is Faawud: Jamaican Sound System Culture's Official Hip-Hop 50th Celebration, to be held at a later date. Faawud will include a turntablist competition, a friendly battle between a rap emcee and a Jamaican toaster and an exhibition of audio components and paraphernalia from early days of hip-hop and reggae, with DJs King Addies, Revolution Sound and DJ Myte playing classic tracks, representing both genres.
A panel exploring hip-hop's sound system roots will include Herc, Grandmaster Kaz (emcee/leader of the pioneering hip-hop group Cold Crush Brothers) who attended Cindy and Herc's fabled back to school jam, and Danny Dread, the venerable, tenured selector with King Addies, who are celebrating their 40th anniversary. Danny and Herc will each play 15-minute sets and at midnight on Aug. 11, Herc will usher in hip-hop's official birthday. 
Cindy Campbell, Kool Herc and Coke LaRock will receive awards, as will their Jamaican counterparts Danny Dread and veteran toaster Big Youth, one of the first deejays to have hit records, beginning in the early 1970s.
"Jamaican and Caribbean artists have had an incredible impact on the birth and growth of hip-hop and their influence has been overlooked for too long," comments James Cuthbert, President of Rock The Bells, one of Faawud's presenting partners. "In this 50th year of hip-hop, if we are going to honor the culture and the icons that created it, we have to do it right."
In 2021, a Congressional Resolution officially declared 1520 Sedgwick Avenue the birthplace of hip-hop, which followed a battle against landlords who wanted to shutter the historic dwelling. Endeavoring to save the building, Herc and Cindy worked with New York Sen. Chuck Schumer, who marveled at their accomplishments as immigrants to New York City. 
"Senator Schumer said, 'my God, this is an immigrant story,'" Cindy says. "Hip-hop was born in America, but it's a fantastic immigrant story. People don't realize that two immigrants from Jamaica did this. Why? Because we flew below the radar. We didn't sue anybody or jump on a bandwagon saying we did this or that. We didn't have to; the 50 years speak for themselves."
19 Concerts And Events Celebrating The 50th Anniversary Of Hip-Hop
Photo: Andersen Ross Photography Inc
list
The 10 Most Controversial Samples In Hip-Hop History
The use of samples has influenced artists and DJs for decades. It's also been fodder for lawsuits and ire — read on for 10 of the biggest sampling controversies in hip-hop, from 2 Live Crew and the "Amen Brother" break, to Young Nudy.
GRAMMYs
/
Aug 10, 2023 - 02:44 pm
Hip-hop would not exist without sampling. Over its 50 years of existence, rappers, producers, and DJs have taken old music and made it new again, remixing and reinterpreting the creativity of previous generations and folding it into the culture of today. 
But not everyone is flattered when a rapper samples their song. The history of hip-hop is rife with legal battles over unauthorized samples — from the genre's early wild west days to the modern era. Some of these controversies have had lasting implications for the entire industry. 
Below, we take a look at some of the most controversial samples in hip-hop.
Sugarhill Gang – "Rapper's Delight" (1979)
Before "Rapper's Delight," hip-hop was predominantly a live art form. Rappers rarely recorded and preferred to perform for a live audience, improvising freestyle raps over funk and soul records spun by DJs. The use of samplers and drum machines was not yet widespread. Nevertheless, Sylvia Robinson, a singer and studio owner who wanted to take advantage of the trend. She assembled rap group the Sugarhill Gang and invited some studio musicians to record a sound-alike version of the instrumental from Chic's "Good Times" for them to rap over. 
The song hadn't even reached the charts yet — though it would become the first hip-hop song to breach the Billboard Top 40 — before Nile Rodgers of Chic heard an early version at a club in Manhattan. Ironically, several members of the Sugarhill Gang as well as Fab Five Freddy had joined the band onstage at a show weeks earlier to freestyle during "Good Times." Rogers didn't take kindly to the song being knocked off, and he and Chic bassist Bernard Edwards immediately threatened legal action, with a settlement leading to them being credited as co-writers. 
The song broke hip-hop into the mainstream, but it also set the stage for many similar cases of producers asking for forgiveness rather than permission and facing the consequences. 
Afrika Bambaataa & Soulsonic Force - "Planet Rock" (1982)
Another example of "sampling without sampling," "Planet Rock" wasn't a straight re-recording of an earlier song like "Rapper's Delight." After witnessing the popularity of songs by Kraftwerk in New York's nightclubs, producer Arthur Baker and DJ Afrika Bambaataa decided to fuse the German group's electronic music with hip-hop. 
"Planet Rock" fuses the beat from "Numbers" with the melody from "Trans-Europe Express," with Bambaataa and the Soulsonic Force rapping above, but Baker recreated both with his own instruments. They never asked permission from Kraftwerk, however, and when the band reached out to Tommy Boy Records, the label decided to give them a dollar for every copy sold, raising prices to recoup the cost. 
The song birthed a genre, electro, and influenced everything from Detroit techno to Miami bass. Years later, Kraftwerk sued another musician over unauthorized sampling, a case that went all the way to Germany's highest court in 2016. 
The
"
Amen
"
Break (recorded 1969)
When Washington, D.C.-based soul band the Winstons recorded "Amen, Brother," they couldn't have predicted the seven-second drum break played by Gregory Coleman would go on to become one of the most iconic, oft-replicated sounds in music. 
And yet that's exactly what happened: After being included in drum break compilations such as Ultimate Breaks and Beats designed for DJs to loop and sample, the "Amen Break" made its way into iconic hip-hop songs from N.W.A. ("Straight Outta Compton"), Mantronix ("King of the Beats,"), 2 Live Crew ("Feel Alright Y'all"), and eventually even the "Futurama" theme song. But the break really exploded in the UK, where British dance music producers, who needed faster tracks for the exploding rave movement, sped the break up. They chopped it until "Amen Brother" was barely recognizable, with other famous breaks like "Funky Drummer" and "Think" getting similar treatment. 
Jungle, and its splinter genres drum and bass, and breakcore, resulted, and the breakbeat revolution it unleashed now influences modern pop acts such as PinkPantheress and NewJeans. According to WhoSampled, "Amen, Brother" has been sampled in 6,174 songs, which may be a low estimate. 
As the saying goes, however, revolution eats its children. Gregory Coleman, the Winstons drummer who originated the break, never saw a cent of royalties from any of it. He was homeless at the time of his death in 2006, and according to Winstons bandleader Richard Lewis Spencer he had no idea the break had made such an impact. Spencer himself has run hot and cold on the break's impact, sometimes calling its use plagiarism, but he at least was able to make some money from it: As the last living member of the Winstons, he received $37,000 from a 2015 GoFundMe campaign aimed at repaying some of the lost royalties before he died in 2020. 
Biz Markie - "Alone Again" (1991)
In the late '70s and throughout the 1980s, hip-hop flourished creatively as a result of creative sampling. Producers such as Public Enemy's Bomb Squad created records filled with dozens of samples — a collage-like approach that would influence artists like DJ Shadow and the Avalanches. And yet in 1991, a lawsuit over an uncleared sample threatened to snuff out the entire art form. 
Biz Markie, famous for comedic songs such as "Just A Friend," had been dragged into federal court along with Warner Bros. Records for using a portion of "Alone Again (Naturally)," a nearly-forgotten pop song from the '70s by Gilbert O'Sullivan. The case was a disaster for Markie and for creativity in general. The court ruled that because the label had reached out to the sample copyright holders, who withheld permission to use the song, and then released it anyway, they were guilty of blatant and willful copyright infringement. 
The defense's argument that unauthorized sampling was widespread in the music industry was rebuffed by Judge Kevin Duffy. In his ruling — which opens by quoting the biblical commandment "Thou Shalt Not Steal" — Duffy wrote that: "The defendants...would have this court believe that stealing is rampant in the music business and, for that reason, their conduct here should be excused."  
Markie was ordered to pay $250,000 in damages and referred to (but never charged by) a criminal court on grounds of theft, reeking of racist paternalism. Yet the primary upshot of the decision — that any unapproved sample constitutes copyright infringement — was even more damaging, creating a chilling effect across hip-hop that prevented artists from making full use of the practice's creative potential. Warner Bros. took the song off Markie's album, and the rapper famously titled his next record All Samples Cleared! 
2 Live Crew - "Pretty Woman" (1989)
Is Luther Campbell, the don dada of Miami bass maestros 2 Live Crew, smarter than the entire Warner Bros. legal team that bungled the "Alone Again" case? Judging by the fact that he managed to drag an uncleared sample case from a much more famous artist than Gilbert O'Sullivan all the way to the Supreme Court — and win — the answer is yes. 
Like Biz Markie, 2 Live Crew had asked permission to use a sample – in this case "Oh! Pretty Woman" by Roy Orbison – and was rejected. Perhaps this came as a result of their less-than-family-friendly reputation, as the group had been in and out of the headlines fighting obscenity charges over best-selling album As Nasty As They Wanna Be. Nevertheless, they released the song anyway, and when Orbison's label eventually sued, Campbell came up with a clever defense: fair use. 
Campbell declared the 2 Live Crew song, "Pretty Woman," was a parody of Orbison's original, and therefore the sample constituted a legal fair use. The case went all the way to the Supreme Court, which reversed an earlier appeals court ruling that said the song couldn't have been a fair use because of its commercial nature. They also agreed with the initial federal district court ruling that said the 2 Live Crew song was not similar enough to Orbison's to constitute wholesale infringement. 
Ironically, Campbell himself later sued 50 Cent for using "It's Your Birthday" in his hit single "In Da Club," while 50 later sued Rick Ross for using that song's beat on a freestyle. 
Jay-Z feat. UGK - "Big Pimpin" (2000)
Hov ended up regretting some of the sexist lyrics on this collab with Houston's Bun B and Pimp C, but the reason he and Timbaland ended up in court over "Big Pimpin" was a contentious sample. The producer had already forked over $100,000 to sample "Khosara Khosara" by Egyptian composer Baligh Hamdi, but this wasn't enough for Osama Ahmed Fahmy, Hamdi's nephew. 
Citing the Egyptian legal concept of "moral rights," Fahmy claimed in a 2005 lawsuit that the song was unlicensed because Jay-Z and Timbaland had failed to ask permission from Hamdi's heirs. The suit was left in legal limbo for years before a California judge finally let Fahmy proceed, by which point Linkin Park had also been pulled in due to a mashup of "Big Pimpin" with their single "Papercut." During his testimony four years later, Jay-Z declared he had been unaware that there was even a sample in the song, saying "Timbaland presented me with a track. I didn't even think about there being a sample." 
The case was finally settled in 2018 when an appeals court upheld the original summary judgment in favor of Jay-Z, by which point the song was nearly 20 years old. 
Kanye West - "Blood On The Leaves" (2013)
Quite a few of the samples used on Yeezus, Kanye's incendiary, famously-rushed 2013 album, ended up being unauthorized. West fielded lawsuits from Hungarian prog rock band Omega (sampled on "New Slaves") and the Ponderosa Twins Plus One (sampled on "Bound 2") for using their music without permission. But it was "Blood on the Leaves" which attracted the most attention for its brazen (and fully authorized) appropriation of Nina Simone's cover of "Strange Fruit," originally made famous by Billie Holiday. 
That a famous anti-lynching anthem was used by a mega-famous rapper to decry the materialism and excess rife within hip-hop might have ruffled a few feathers — some conservative critics even argued it was an anti-abortion song — but the song received almost universal praise. 
Robin Thicke ft. T.I. and Pharrell - "Blurred Lines" (2013)
True, "Blurred Lines" is not exactly a hip-hop track, but it does feature two rappers, and while not exactly a sample, Robin Thicke and Pharrell's much-too-liberal "borrowing" of Marvin Gaye's "Got to Give it Up" changed the music industry irreparably. Certainly, the song was hugely controversial, opening up a pre-#MeToo discourse over its objectification of women and glorification of rape culture that ultimately led to bans. But it was the similarities to Gaye's song, flaunted by Willams and Thicke in the press, as well as a preemptive legal action against the Marvin Gaye estate, that had a more lasting, damaging impact. 
Williams had argued in his initial complaint against the Gaye family that their claim was not based on specific musical elements, but on the face value similarity of the two songs. However, a jury ruled unanimously in favor of the family. The case essentially rewrote the legal precedents of musical copyright law overnight, broadening the scope by which a song might be considered infringement. Thanks to the "Blurred Lines" suit, a musician may live in fear of legal predation simply because their new song sounds vaguely similar to one from 30 or 40 years ago. 
Meanwhile, massive investments are being made into older music, partially to make up for this creative chilling effect.
Juice WRLD - "Lucid Dreams" (2017)
There's nothing particularly incendiary about the plaintive guitar sample from Sting's "Shape of My Heart" that forms the backbone of Juice WRLD's emo rap hit. When producer Nick Mira revealed that Sting had taken 85 percent of the rights for the song, however, it became a demonstration of how sampling has become a way for established artists to exploit newer talent. 
It also attracted a lawsuit from pop-punk band Yellowcard, who cited similarities to their track "Holly Wood Died." Juice WRLD himself downplayed the situation, saying "There's always more money to be made." The suit was later dropped after the 21-year-old rapper's tragic early death in December 2019. 
Young Nudy feat. Playboi Carti - "Pissy Pamper" (aka "Kid Cudi") (2019)
One of the most successful unreleased songs in recent memory is also a cautionary tale for keeping leaks under control. The song originally entitled "Pissy Pamper" was a Pi'erre Bourne-produced track originally meant for Sli'merre, his collaborative mixtape with Young Nudy. 
With its prominent use of a loop from "Tasogare" by Japanese singer Mai Yamane (best known to anime fans for "Cowboy Bebop" ending theme), the track regretfully never made the record due to sample clearance issue. But somehow, a leaked file made its way onto Spotify, where its killer component, an evocative "baby voice" verse from Playboi Carti at the peak of pre-Whole Lotta Red hysteria. 
The rest is history: internet memes, reuploads with Nudy's parts removed, and so on. Thanks to social media, the song is a generational touchstone that shouldn't legally exist. 
Listen To GRAMMY.com's 50th Anniversary Of Hip-Hop Playlist: 50 Songs That Show The Genre's Evolution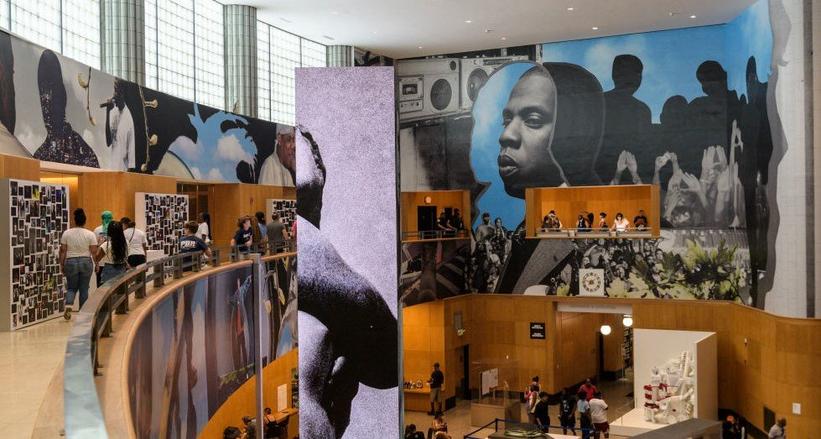 Inside 'The Book of HOV: A celebration of the life and work of Shawn "JAY-Z" Carter' at the Brooklyn Public Library
Photo: ANGELA WEISS/AFP via Getty Images
list
19 Concerts And Events Celebrating The 50th Anniversary Of Hip-Hop
From block parties in Washington, D.C. to a weeklong celebration at Lincoln Center in Manhattan and a festival in Atlanta, read on for a list of 50th anniversary of hip-hop celebrations throughout the country.
GRAMMYs
/
Jul 24, 2023 - 02:44 pm
Hip-hop was born at a humble party that transformed into a definitive movement. On Aug. 11, 1973, Cindy Campbell asked her brother Clive (known by his stage name DJ Kool Herc) to DJ at a school fundraiser she organized. That event, held in a Bronx apartment building community room, gave way to not only a genre but a movement. Today, hip-hop has influenced politics, education, fashion, technology and pop culture worldwide.
This year marks hip-hop's 50th anniversary, so naturally, a wide array of exhibits, block parties and concerts are being held across New York City's five boroughs and throughout the nation that celebrate the genre's impact. Here is a select list of events that will commemorate this groundbreaking movement and important milestone.
Various cities
June 30 - Oct. 14
A major element across Hip-Hop 50 events is to give legends their flowers, and Masters of The Mic: Hip-Hop 50 Tour is a gathering of some of the genre's pioneers. Organized by Universal Attractions Agency (UAA), RAMP Entertainment Agency and Mahogany Entertainment, the tour will feature performances by Big Daddy Kane, Doug E. Fresh, KRS-One, Rakim, and Slick Rick. EPMD, Roxanne Shante, DJ Spinderella will also pop up at select cities.
"While the culture may have started in the Bronx, it resonates with everyone across the globe, and a heap of credit goes to Doug, Rick, Kane, KRS, and Rakim," says UAA's Nick Szatmari (co-producer of the tour) in a press release, "who were the pioneers that brought it from the block to the billboards. You don't have any of the iconic rappers of today without them standing on the foundation laid by the Masters of the Mic during the '80s and '90s." 
The trek kicked off on June 30 at Essence Fest and wraps in San Antonio on Oct. 14.
New York City
Jul 28 - Oct 21
Hip-hop's influence goes beyond music, with some of the genre's biggest stars going on to become equally successful actors. 
Queen's the Museum of the Moving Image will showcase hip-hop artists on film with screenings of Baby Boy, 8 Mile, Barbershop and Poetic Justice. The series, "Real Rap: Hip-Hop Star Power on Screen" will include special introductions, discussions, a spoken word showcase and a summer dance party.
New York City
July 20, July 27, Aug. 3
The Uptown Bounce series — thrown by the Museum of the City of New York, El Museo del Barrio and The Africa Center — has taken place in Manhattan for the past 10 years.
For 2023's iteration, the museums will celebrate their and hip-hop's anniversaries at The Africa Center in Harlem. Spanning three different dates, the free summer block parties will include guests like DJ Birane for "Afrobeats and Hip-Hop" and DJ Misbehaviour for "I Love the '90s."
New York City
July 26 - Sept. 16
Global entertainment company Mass Appeal, hybrid creative studio SUPERBIEN and  Sony Music Entertainment's Certified platform joined forces to create the immersive exhibit "Hip Hop Til Infinity." 
On view at Hall des Lumières, New York City's largest permanent center for custom-designed immersive art experiences, Hip Hop Til Infinity will take visitors on a journey through rap's different eras and regions. It will include listening parties, live panels, artist meet and greets, virtual concerts and a metaverse integration.
"You wouldn't expect to see hip-hop in a place like Hall des Lumieres," Jon Colclough, vice president of creative strategy at Mass Appeal, told Artnet News. "I don't think people understand that hip-hop is a global phenomenon and not just music."
New York City
July 27
Brooklyn-born photographer Jamel Shabazz has been documenting hip-hop culture and communities across all boroughs since the '80s. His new installation "Faces and Places, 1980–2023" at the Brooklyn Museum is a visual trip down memory lane. 
The exhibit runs through September, but on July 27 the artist will join curator Drew Sawyer for an intimate conversation about the significance of his work.
Brooklyn, New York
Ongoing
The Brooklyn Public Library recently debuted an immersive experience on one of the borough's most legendary rappers, Jay-Z. Created by Roc Nation, The Book of HOV features "never-before-seen images, art and ephemera from the artist's archives, providing an unparalleled look at an extraordinary life and career."
Spread out over two floors in the library's central branch — in addition to an installation on the building's facade — The Book of HOV is exhibited as eight chapters that detail the GRAMMY winner's rise to fame and success. Among the exhibit's features is a replica of Baseline Studios, where Jay-Z recorded classic albums including The Blueprint and The Black Album.
New York City
Aug. 5
The New York Public Library teamed up with New York City's New Victory Theater for a special edition of Dance Party NYC. The free event will include dance lessons from New Victory Teaching Artists Olney Edmondson and Sun Kim, a sneaker design workshop, and sign-ups for NYPL's special edition hip-hop library card. 
The same day, the NYPL is also hosting an event called The Rap Up. It will include panel discussions and hip-hop exhibits with VIBE magazine editor-in-chief Datwon Thomas, Wild Style director Charlie Ahearn, rap legend Fab 5 Freddy, streetwear designers 5001 Flavors and April Walker, and more.
New York City
Aug. 5
The lineup for this year's Rock The Bells Festival is jam-packed with artists who helped bring hip-hop to the world. 
"We've made it a priority to honor hip-hop culture! This is a celebration for artists who paved the way and the legions of fans around the world throughout hip-hop's 50th anniversary year," said Rock The Bells President James Cuthbert in a press release. "The stage is set for the overdue acknowledgment and celebration of our culture and the fans who live and breathe it. This lineup represents icons and artists from various decades, cities and styles, ensuring fans have the best hip-hop experience possible." 
The festival indeed has an impressive list of icons, including Queen Latifah, De La Soul, Slick Rick, Salt-N-Pepa, Ludacris, Method Man & Redman, Swizz Beatz and plenty more.
New York City
Aug. 11-12
For the past 45 years, BRIC has been revered for being an inclusive institution that spotlights both eclectic newcomers and seasoned legends in hip-hop and R&B. The Brooklyn-based brand is most known for its BRIC Celebrate Brooklyn! Festival, which is New York's longest-running free performing arts festival. To commemorate hip-hop's 50th anniversary, the organizers are planning a fun-filled weekend that highlights community.
On Aug. 11, BRIC Celebrate Brooklyn! will throw a concert featuring jazz/alternative rap trio Digable Planets — who are celebrating the 30th anniversary of their debut Reachin' (A New Refutation of Time and Space) — and Southern rapper Kari Faux. The following day, the institution will host a screening of 2002's romantic comedy and love letter to hip-hop, Brown Sugar. 
"We're beyond thrilled to introduce BRIC hip-hop to the world through this weekend of programming and bring our communities together around a shared love of hip-hop culture," BRIC President Wes Jackson said in a press release. "We're committing ourselves to providing an evergreen home for the education, expression, and evolution of hip-hop not only this summer but for years to come."
New York City
Aug. 10
The roots of hip-hop are in reggae and dancehall, as DJ Kool Herc and Cindy Campbell are of Jamaican descent. Back in 1973, Herc and emcee Coke LaRock borrowed elements from Jamaican sound systems and toasters, thus birthing the sound of hip-hop. To commemorate the beauty of blending cultures, LL Cool J's Rock the Bells, Live Nation's Bowery Presents, Impulse Nation and the Jamaica Music Conference have announced Faawud: Jamaican Sound System Culture's Official Hip-Hop 50th Celebration.
Taking place at New York City's Webster Hall, the event will include a battle between a hip-hop emcee and a Jamaican toaster, an exhibit featuring various memorabilia (like audio components and posters) from the genres' early days, and a panel with Herc, Grandmaster Kaz and Jamaican selector Danny Dread.
New York City
Aug. 11
The Bronx's Universal Hip-Hop Museum is celebrating the genre's birthplace with a block party. Held at Mill Pond Park, the free event will feature a Red Bull BC One open cypher, a "Rapmania" showcase and murals from Thrive Collective, an organization that provides arts, sports and mentorship opportunities at New York public schools.
Atlanta, Georgia
Aug.  11-13
Boom Bap Atlanta is teaming with The Hype Magazine for a three-day festival held at the city's Park Tavern and Piedmont Park. Hip Hop 50 Fest will occur in conjunction with the BeREGGAE Music & Arts Festival Weekend. 
The free experience at Piedmont Park will have a laidback picnic atmosphere with vendors and hip-hop blasting through the speakers. The ticketed experience at Park Tavern will have performances and conversations by artists and cultural influencers. The daily events are as follows: The Hype Magazine 21st Anniversary Party & The Grassroots Seminar on Aug. 11, a tribute to the Native Tongues on Aug. 12, and "Beats & Lyrics & Flow & Substance" event on Aug. 13.
New York City
Aug. 11
The Bronx's Yankee Stadium will transform into an epic celebration of rap music with Hip-Hop 50 Live. Run-D.M.C., Lil Wayne, Snoop Dogg and Ice Cube will take over the legendary stadium. There will also be special performances, including a "Queens of Hip Hop" set with Eve, Lil Kim, Remy Ma, Trina and others. A "Pillars of Hip-Hop" set will feature rap trailblazers Kurtis Blow, Melle Mel, Roxanne Shante and more. 
"I am honored to hit the stage in the Bronx, the birthplace of Hip Hop and celebrate all of my heroes," said Rev Run in a press release. "Aug 11th is Hip Hop's 50th birthday! So…'Up in the Bronx' where it all started we will be celebrating this historic moment in history! I am honored to pay tribute to the culture that allowed this little shy kid from Queens to grow up and become The Mighty King of Rock! Thank you Hip Hop!!!" said D.M.C. in a press release.
Other performers include T.I., Fat Joe, Common, A$AP Ferg, EPMD, Ghostface Killah, Lupe Fiasco and Slick Rick. A DJ set will feature Clark Kent, Marley Marl, Mannie Fresh and Battlecat. 
Washington, D.C.
August 12
The Smithsonian's National Museum of African American History and Culture's (NMAAHC) inaugural Hip-Hop Block Party saw 8,000 attendees in 2022. This year, they plan to make it even bigger for the genre's special anniversary. NMAAHC will install an outdoor panel exhibition highlighting new hip-hop artifacts from the museum's collection. Along with performances by DJs, artists and cultural influencers (not yet revealed), attendees can also participate in activities like graffiti art and breakdancing.
There will also be hip-hop-focused tours of NMAAHC's galleries and the return of Club Café that will feature a rap-inspired menu. The free event will take place on the National Mall at the intersection of Madison Drive N.W. and 14th Street. 
Dallas, Texas
Aug. 12
Dallas has birthed some of rap's most influential artists, including The D.O.C., Yella Beezy, Bobby Sessions, Dorrough and Post Malone. The city plans to honor its hip-hop scene with a free event taking place at Armoury D.E. Organized by local rapper Rakim Al Jabbaar and The Farmacy Family, it will include performances, DJ sets and appearances by Fat Pimp, Bobo Luciano, Kottonmouth Jesse and Pikahsso.
New York City
Aug. 12
NYC's Lincoln Center is planning an impressive string of events for its hip-hop week, which runs from Aug. 9-12. From a "Ladies of Hip-Hop Dance Collective" dance lesson to a silent disco hosted by DJ Spinna, there's plenty for rap lovers of all ages to enjoy. 
One of the stand-out events is a free concert with Rakim and Rapsody at Damrosch Park. Rakim is a legendary MC who helped pave the way for technical rap metaphors, while Rapsody is one of the best storytellers of the millennial generation. This one will make for an exciting union of old-school and new-school generations.
New York City
Aug. 19
The Genius "IQ/BBQ" makes a grand return in August to Queen's Knockdown Center. The day-long festivities include live hip-hop performances (the lineup is to be announced soon), DJ sets and ​​"lyric-inspired" dishes from New York City-centric food trucks.
The event is presented in partnership with Infiniti, Paco Rabanne, Patron El Alto, Paramount+ with Showtime's "The Chi." 
New York City
Sept. 15
Hip-hop will take over New York City's Madison Square Garden this fall for the Hip Hop Forever concert, hosted by local radio stations Hot 97 and WBLS-FM and curated by Funk Flex. 
The lineup includes rap mainstays (and NYC natives) Wu-Tang, as well as Mariah Carey and Mary J. Blige — two women who have masterfully blended rap with R&B and soul. Other acts include Sean Paul, Maxwell, Tyrese and EPMD.
Atlanta
Oct. 28-29
Kendrick Lamar, Janet Jackson and Megan Thee Stallion will headline this year's ONE Musicfest, taking place at Atlanta's Piedmont Park. In honor of hip-hop's 50th anniversary, the festival will have a special stage featuring artists spanning generations including Nelly, KRS-One, Big Daddy Kane, Kid Capri, DJ Drama, 2 Live Crew's Uncle Luke, Lady of Rage and Too $hort.
"To have the opportunity to host Kendrick Lamar, Janet Jackson, Megan Thee Stallion, Brent Faiyaz, and other iconic artists in the middle of Piedmont Park is a dream come true, especially on the 50th Anniversary of Hip Hop," founder J. Carter said in a statement. "It doesn't get any better than this."
6 Must-Watch Hip-Hop Documentaries: 'Hip-Hop x Siempre,' 'My Mic Sounds Nice' & More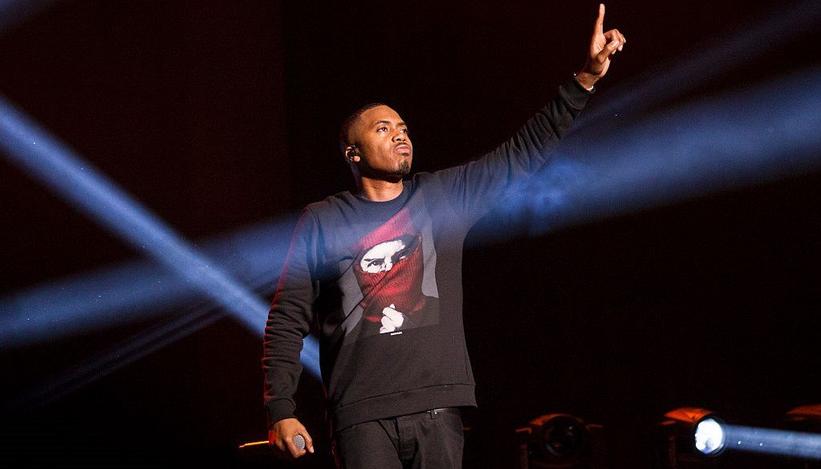 Nas performs at a screening of his documentary 'Nas: Time is ILLMatic' in 2014
Photo: Kimberly White/Getty Images for Hennessy
list
6 Must-Watch Hip-Hop Documentaries: 'Hip-Hop x Siempre,' 'My Mic Sounds Nice' & More
Myriad documentaries have followed the journeys of hip-hop artists and unpacked the impact of hip-hop culture. In celebration of the genre's 50th anniversary, que up docs that shine a light on some of the biggest names and events in hip-hop history.
GRAMMYs
/
Jul 18, 2023 - 03:58 pm
Given its social and cultural impact on our lives, it's hard to believe that hip-hop is only celebrating its 50th anniversary this year. From its beginnings at a party in the Bronx, the culture of hip-hop bloomed and has spread to every corner of the globe. 
Filmmakers have been commemorating hip-hop — from its MCs and DJs, to b-boys and girls and fashion icons  — in all its glory for decades. Myriad documentaries follow the lives, journeys, successes and downfalls of hip-hop artists from across the U.S. and beyond. As we celebrate hip-hop's birthday this August, here are five essential hip-hop documentaries to reflect on the magnitude of 50 years of groundbreaking culture.
Wild Style
Also considered the first ever hip-hop motion picture, Wild Style is so close to the truth that it's more of a documentary. Offering a glimpse into 1981 New York, it stars real-life graffiti artists, musicians, rappers and dancers, portraying hip-hop as a cultural phenomenon alongside genres like punk and new wave.
Featuring some iconic names including Fab Five Freddy, Lady Pink, the Rock Steady Crew and the Cold Crush Brothers, the film's vague plot doesn't matter. Instead, Wild Style captures the essence and grit of New York City when hip-hop was on the precipice. It's a hugely influential and inspirational part of the canon and a crucial historical document. 
Hip-Hop Evolution
This four-part docuseries provides an overview of how hip-hop works and, as its name suggests, plots its evolution from emergence to global recognition. In making the film, MC Shad Kabango intended to explore how hip-hop made a name for itself in the music industry. Through the memories of stars like DJ Kool Herc himself, the Sugarhill Gang, Russell Simmons and Public Enemy, he discovers that the real legacy of hip-hop is how it allowed those without a voice to have their say. 
Now four seasons in, this series covers every decade, style and corner of American hip-hop, highlighting the contributions of women like Queen Latifah and Monie Love. Charting key events from Kool Herc's first block party to the early 2020s, this multi-award-winning series is the perfect place to start if you want an overview of hip-hop's development from the perspective of the people who've led the way.  
Nas: Time is ILLMatic
This 2014 documentary unpacks the events that led to Nas' 1994 debut album ILLMatic. Through interviews with his father, brother and East Coast hip-hop legends like Pharrell, Alicia Keys and Busta Rhymes, it not only delves into the process of making the album, but of the social context in which he made it. 
The artist said he made ILLMatic with the intention of showing people that hip-hop was changing and becoming something more real. "I tried to capture it like no one else could," he says. 
The documentary's producers came to make the film from a similar perspective. Co-Producer Erik Parker was writing for Vibe Magazine at the time of the album's 10th anniversary and realized he couldn't fit everything he wanted to say about it into a written article. He contacted One9 and together they decided to make this film.
Together, they ended up delving much deeper into the culture and wanted to reflect the feel of the streets that infuses the album itself. The result is a timeless and absorbing documentary that captures the real essence of the hip-hop scene. 
My Mic Sounds Nice: A Truth About Women And Hip-Hop
Women are often left out of the conversation around hip-hop, despite their huge successes and significant contributions to the genre. This documentary by renowned filmmaker Ava DuVernay seeks to redress this by focusing on the careers of legends like Missy Elliot, Salt-N-Pepa, Eve, and MC Lyte.  
Through interviews with these artists and and more, My Mic Sounds Nice offers a unique and insightful angle to the discourse around the issues women face in the industry — from sexual objectification to lower pay. With commentary from those who have dominated the rap and hip-hop world for decades but often haven't received the same accolades as their male counterparts, My Mic Sounds Nice is a must-see film.
The Art of Organized Noize
Focusing on a label rather than the artist, The Art of Organized Noize explores the pioneering producers behind the Dirty South sound. Organized Noize producers Rico Wade, Ray Murray and Sleepy Brown detail how Atlanta shaped the hip-hop world. 
Record label Organized Noize was responsible for supporting the careers of Diddy, Outkast and L.A Reid amongst others — which it famously did from the confines of a dungeon. In a basement room, the Dungeon Family (OutKast, Goodie Mob, Organized Noize and a bunch of local artists) holed up, smoking weed and creating music that would define the region and popular hip-hop. 
Organized Noize built an extraordinary sense of community and comradeship, which comes in interviews with some of its famed roster, as well as from admirers from further afield.
Hip-Hop x Siempre
Although historically left out of conversations about the genre, "Latinos have been an inherent part of hip-hop from its start," Rocio Guerrero, Head of Global Latin at Amazon Music, said in a statement. To wit, Amazon's documentary Hip-Hop x Siempre details the contributions of Latinx artists throughout the culture's 50-year run. 
The Amazon Original includes interviews with Fat Joe, Cypress Hill's B-Real, N.O.R.E., and Residente, and up-and-coming acts such as Eladio Carrión, Villano Antillano, Myke Towers and Snow Tha Product. 
"Latino artists take inspiration from Hip Hop beats and lyrics, infusing them with traditional Latin rhythms to make the genre our own, ultimately aiding in its global reach and relevance," Guerrero continued, adding that the documentary honors "this shared history and its impact on our culture by highlighting the diverse and intergenerational voices that are part of the movement."
10 Crucial Hip-Hop Albums Turning 30 In 2023: 'Enter The Wu-Tang,' 'DoggyStyle,' 'Buhloone Mindstate' & More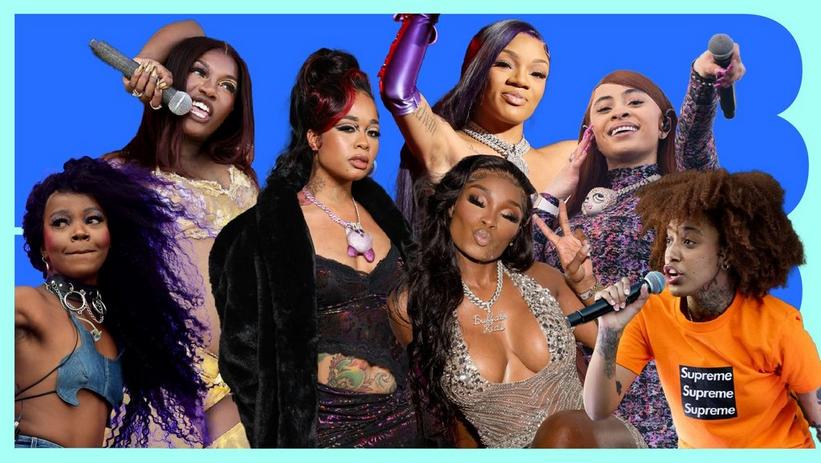 (From left) Tkay Maidza, Doechii, TiaCorine, Armani Caesar, GloRilla, Ice Spice, Bktherula
Photos:  Martin Philbey/WireImage, Michael Loccisano/Getty Images for Coachella, Rodin Eckenroth/Getty Images, Marcus Ingram/Getty Images, Kayla Oaddams/Getty Images, Scott Dudelson/Getty Images 
list
14 New Female Hip-Hop Artists To Know In 2023: Lil Simz, Ice Spice, Babyxsosa & More
Women are pioneering the future of hip-hop, and their styles have never been more pronounced. In celebration of the 50th anniversary of hip-hop, listen to 14 rising female artists that you should keep an eye on in 2023 and beyond.
GRAMMYs
/
Jul 13, 2023 - 06:00 pm
Hip-hop has long been a male-dominated space, despite the success and indisputable influence of female generational talents. From the jump, women have overcome gatekeepers and expectations, beginning with MC Sha-Rock, then via Salt-N-Pepa, Lauryn Hill, Missy Elliot, and more recently with Gangsta Boo, Nicki Minaj, City Girls and Noname have overcome gatekeepers and expectations. Contemporary acts such as GloRilla are continuing their efforts and reaching a demographic that had never been excessively marketed to in hip-hop: women who want to hear rap music from women.
Rap is slowly becoming a more inclusive space — with an audience that's finally willing to carve out a space for diversity and sex-positivity for all genders — and open to a myriad of subgenres, with female rappers leading the pack. In 2021 did Cardi B became the first female rapper to acquire a diamond-certified single. Any club in America that doesn't play Meg Thee Stallion should be considered a rarity. Ice Spice is the first female drill rapper to break into mainstream culture. 
The stage has been set for a new generation of artists, largely thanks to the genderless, wide reach of social media platforms. Today, misconceptions which hide the grit of Gangsta Boo, the explicit sensuality of  Lil' Kim, and the lyrical and political expertise of Noname are beginning to dissolve. The glass ceiling has broken, giving into an exponential increase in the number of female artists: ramblers, trash talkers, storytellers and sexually-charged drill rappers. 
Women are pioneering the future of hip-hop, and their styles have never been more pronounced. GRAMMY.com offers a list of 14 rising female artists that you should keep an eye on in 2023 and beyond. 
Sexyy Red 
Odds are, you've heard "Pound Town." If you haven't, lie low for the next few minutes as the St. Louis rapper spares no detail from her sexual exploits.
Much like Lil' Kim, Sexyy Red is not only sex-positive, but infamous: "My coochie pink, my booty hole brown, I just left Pound Town," she declares. Sexyy Red also encourages empowerment, uplifting women's self-worth. On "Hellcat SRTs," she proclaims to her fellow compatriots: "Bad bitches, we like fast cars. We like n—s that sell drugs with fast cars." 
In all seriousness, Sexyy Red is audacious, confident, and the next hottest rapper to come out of St. Louis. Keep your eyes peeled and listen to Hood Hottest Princess from earlier this year whenever you need to hype yourself up.
Babyxsosa 
Ex-SURF GANG member Babyxsosa was one of the first viral rappers to breakout on TikTok during the pandemic, but her story goes much further than the bright tones and oddly-sporadic drums of "Everywhereigo." Her dainty, autotuned voice and lush soundscapes make her the Internet's iteration of a soul singer. She's warm and intimate, using simple lyrics in order to croon through feelings of desire and despair. 
At heart, however, Babyxsosa is underground hip-hop's Billie Eillish crossed with PinkPantheress. Beats mutate to the sound of her voice. Where her singles of the past four years have ranged from cacophonous, leady synthesizers to elevator music dapped with 808s, her recent EP, Bling Bling, is demonstrative of eery, melodic versatility, laying muted-verses to club beats, using range of different experimental digicore instrumentals to challenge herself as both a vocalist and songwriter.
Hook
Hook can't be likened to any one sound in hip-hop. Some of her beats beep like 8-bit minigames, others are made of single oscillating synthesizer chords; generally, her production has a heartbeat that fades in and out and loops, giving each song its own life, and agitation thereafter. 
The Riverside, California-raised rapper seethes in her verses, rambling out of frustration and joy and disappointment and confusion and anger and disgust and sadness and every emotion in-between. Still, Hook and her avant-garde approach to rap is erratic and hilarious and lyrically distinct in every way.
Armani Caesar 
Armani Caesar is the first and only female rapper on Griselda Records, which has featured Boldy James, Mach-Hommy, Westside Gunn, Conway the Machine, Benny the Butcher and more. Like the latter three, Armani Caesar hails from Buffalo, N.Y. delivering gritty, tooth-and-nail stories of the streets, but with a bit more rhythm than a dusty '45 record. 
She incorporates pop rhythms and seeks more towards the disco-era and modern technology for a cadence that's just a hair shy more uptempo than soul. Armani Caeser's rhythm is infectious, but her lyrics are venomous. Look at the cover art to her single, "Diana," cover art, she's Lil' Kim had she hustled in Buffalo.
Little Simz
Though Little Simz is not necessarily a rising artist, her success has been exponential since the release of 2021's Sometimes I Might Be Introvert. The UK grime-turned-amorphous rapper of equal parts technically flawless and lyrically awe-inspiring. Over garden party-esque orchestral swells she can deliver a poem penned to her own empowerment, but she can also rap a 16-bar verse with a live band almost breathlessly. 
She's punchy and energetic, sentimental and adamantly altruistic. A fire burns in Little Simz, and the spark is fanned with each beat of the drum.
Amaarae 
Where hip-hop has begun to transition towards two extremes — heavy metal on one side and drumless beats on the other — Amaarae presents a hidden alternative. The Ghanaian vocalist ushers in a new conception of hip-hop, bringing an Afro pop influence that's reminiscent of Doja Cat's debut album, Hot Pink.
Amaarae produces her own work, blending traditional Ghanaian instrumentation and polyrhythms with a digitally-created drum circle. As the music claps into double time, Amaarae's voice speeds up and down, wavering between rapping and singing. She does it all, and after the viral success of "SAD GIRLZ LUV MONEY" and its remix with Kali Uchis, Amaarae dropped a new EP in July, Fountain Baby, scoring the scorching heat of the summer. 
Tkay Maidza  
Creating an electronic collage of house, club, drum n bass, afro beats, and live drum breaks, Tkay Maidza exceeds the term "multi hyphenate." Whether she's collaborating with JPEGMAFIA or Flume, Tkay creates dystopian worlds in her soundscapes, cut with screeching basslines and glitching snares. Her music is neo-R&B as she deems fit, soulfully calling on Kari Faux for over articulation on "Don't Call Again;" it's rage rap on the industrial track, "Grasshopper;" it's even a derivative of EDM in her latest single, coyly titled, "Silent Assassin."
Flo Milli 
Flo Milli is the young, happy-go-lucky artist within this new crop of talent. Her voice is an alto and her lyrics are just conceited enough to radiate excellence while delivering some of hip-hop's most clever remixes for Gen Z listeners. 
Whether she's rapping to Ethereal's beat on Playboi Carti's "Beef" or to Too $hort's "Blow the Whistle," Flo's enfranchising rhymes drive confidence and sexual prowess into her listeners. On "Roaring 20s," she playfully takes on the role of Daisy from The Great Gatsby, fascinated by ragtime-inspired production and men who would give up anything to spend a few minutes with her. That's the magic of Flo Milli: she's animated, fluidly jumping to whatever style and aesthetic she deems worthy of her exhibition.
CLIP 
In her many lives, CLIP has graduated from NYU, had a flourishing career in journalism, and ended up in Los Angeles amongst the next generation of Soundcloud artists. Her music is a melting pot of these cultures and influences. On her recent PERCEPTION EP, she includes drum n bass-inspired beats on songs like "Happy;" her breakout single, "SAD B!TCH," border on cloud rap with their ethereal mixing; her recent single, "sunset blvd" incorporates the croons of emo rap. CLIP has already become a rising star without releasing a single full-length project. 
Her voice is soft and melodic like Babyxsosa and her production matches the mild psychedelia of Hook's use of filter. CLIP incorporates the downtempo eeriness of Houston chopped-and -screw tapes, drowning out her own braggadocio through internet-coded soundscapes.
TiaCorine
Hailing from Winston-Salem, North Carolina, TiaCorine has the swagger of a Gangsta Boo, coloring her lyrics with braggadocio and slick, staccato phrasing. Her instrumentation is wavy and pompous, featuring warped 808s and the glossy sparkle of xylophones and high-pitched synths.
TiaCorine stands out for the way she meshes her Southern cadence with disjointed, bubblegum beats,  drum machine hi-hats and Jersey club-style kicks. She's erratic yet sweet; she's cutesy like pluggNB yet arrogant like JT and Yung Miami.
Vayda 
Compared to Hook or CLIP or Babyxsosa, Vayda would be their prodigal child of the forthcoming generation of digital media consumers, aiming for an even more stimulating derivative of industrial hip-hop: hyperrap. Vayda creates starkly genreless hip-hop, jumping from Jersey club to sample-based beats to trap hi-hats for short, digestible tracks typically landing at under 90 seconds. Her music is uptempo and comes in waves of focused attention, etched with sporadic bass drum kicks similar to Evilgiane's in SURF GANG and Cash Cobain's hyper focused, sample drill 808 patterns.
Vayda isn't concerned with regionalism and having a sound attributable to any one place. Her beats sparkle and shimmer, they dash like bodies towards the DJ at a club, and Vayda is at the forefront, leading the new school.
Doechii
Akin to the Southern, tongue-twisting legend Young Thug, Doechii's vocal inflections twist and contort, wringing out sonically and lyrically emotive verses. For the Tampa-born artist's stuffy intonation squirms in your ear on tracks such as "Stressed," and genuinely evoke the emotion. 
Alongside labelmates Isaiah Rashad and SZA at TDE, Doechii stretches her syllables for zig-zagging hooks against everything from double-time drums on "Crazy" to dancehall on "Persuasive."
Bktherula
Bktherula is hip-hop's response to grunge and punk rock. Her aesthetic varies from neon colored braids to skull tees, each in a slightly different shade of black. The Atlanta rapper references punk's yearning screams and whispers in her own groaned melodies on songs such as "Tweakin' Together" and "FOREVER, PT. 2 (JEZEBEL)."
On tracks such as "TAN," however, that Bktherula's music matches the aggression of punk, using warbling synthesizers and arcade-sounding, drive-heavy snare. Bktherula flexes, showcasing not only technique but preemptively taunting anyone with the audacity to diss her.
Ice Spice 
Last but certainly not least is America's most talked about drill rapper since Pop Smoke (RIP). Arriving from the Bronx, Ice Spice became popular after coining the term "munch," referring to selfless, sexually-pleasing men. Her sex appeal, her gospel of female empowerment and her creative free-spirit enabled by SpongeBob SquarePants samples and Zedd flips, puts Ice Spice as the queen of virality in 2023.  
How is she wielding her superstardom? With now-refined drill beats, melodic collaborations with UK-sensation PinkPantheress, and working with some of the most influential women in hip-hop from New York — including her idol-turned-peer, Nicki Minaj.