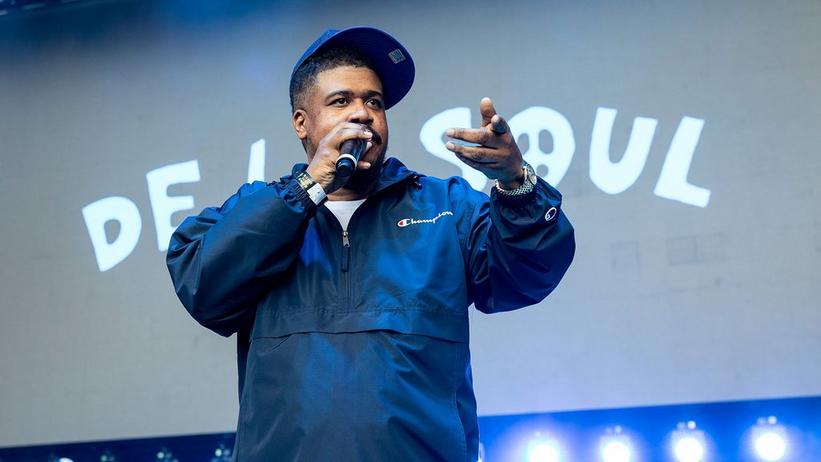 David Jolicoeur, a.k.a. Dave and Trugoy the Dove
Photo: Miikka Skaffari / Contributor / Getty Images
news
Remembering De La Soul's David Jolicoeur, a.k.a. Dave and Trugoy the Dove: 5 Essential Tracks
Synonymous with the spirit and soul of hip-hop, these essential tracks honor the ever-eloquent Dave from De La Soul. From "Me, Myself and I" to "the Magic Number" the group's funky style and playful lyricism left an immeasurable impact across the genre.
GRAMMYs
/
Feb 13, 2023 - 10:25 pm
On Sunday, Feb. 12 news broke that hip-hop lost another legend. David Jolicoeur — who rapped as Trugoy the Dove, Plug Two, Dove, and recently, Dave, as part of the hip-hop trio De La Soul — passed away at age 54. 
Born on Sept. 21, 1968, in Brooklyn and raised on Long Island in Amityville, New York, Jolicoeur was a founding member of the groundbreaking East Coast group. Renowned for dropping frank and satirical statements covering heavy topics on upbeat, dialogue-driven, sample-heavy tracks, De La Soul were innovative outliers on a late '80s and early '90s hip-hop scene flourishing with tough-tongued gangster rap. 
Last month Jolicoeur told Billboard, "I think the element of that time of what was taking place in music, hip-hop, and our culture,I think [De La Soul] welcomed that and opened up minds and spirits to see and try new different things." 
Distinctly true to themselves, an up-tempo, bright and playful form reverberated through their sound and style. This is apparent from their very beginnings in everything from the funky floral album art that covers their debut album Three Feet High and Rising, to the music video for "Me, Myself, and I" where the group is seen side-eyed by fellow classmates in gold chains and dark shades. An accompanying bonus track titled "Ain't Hip To Be Labeled A Hippie"on the single features a sample from "Hard Times" by Dr. Buzzard's Original Savannah Band and a lyrical breakdown of an acronym for D.A.I.S.Y. which rejects any notions of their assumed status as hippies.
Nominated for six GRAMMY Awards through their career, De La Soul became GRAMMY-winners in 2006 for best pop collaboration with the Gorillaz for "Feel Good Inc."  Their indelible mark on hip-hop was most recently celebrated at the 2023 GRAMMYs where Jolicoeur's fellow group-mates Vincent Mason a.k.a Maseo and Kelvin Mercer a.k.a Plug One and Posdnuos appeared without him as part of the Recording Academy's massive tribute to celebrate 50 years of hip-hop. 
De La Soul is part of the soul of hip-hop, pushing storytelling, dialogue and music sampling ahead in the genre (the latter was ultimately responsible for the group's difficulty reaching mainstream audiences on digital streaming platforms). Recently the group reportedly cleared samples after a protracted two-year battle over sample rights and was gearing up to re-release a body of their work to streaming services on March 3 including 3 Feet High and Rising, De La Soul Is Dead, Buhloone Mindstate, Stakes Is High, Art Official Intelligence: Mosaic Thump, and AOI: Bionix.
Jolicouer will be deeply missed by his fans, the music communities he inspired and his fellow artists, including Pharell who shared his sentiments on Twitter, stating, "Trugoy Dave from De La Soul has gone up to be with the day of the stars with the Master. Sending love, light and positive vibrations to his family, The Soul and everyone whose lives have been touched by his existence. Oodles and Oodles and Oodles of O's." Rapper and producer Erik Sermon also posted a heartfelt statement in a post on Instagram that starts simply, "This one hurts."
Enjoy a sampling of just a few of De la Soul's essential tracks, below. 
"

Me, Myself and I

"

(1989)
Released as a single from the group's debut album 3 Feet High and Rising, the track begins with Jolicouer asking "mirror, mirror on the Tell me, mirror, what is wrong? Can it be my de la clothes? Or is it just my de la song?" It was the group's only track to make it to number one on Billboard's U.S. R&B charts. An undeniable bopper, it ranked number 46 on VH1's 100 Greatest Songs of Hip Hop and still instantly gets crowds going today.
The song is also great evidence of their smatter-sampling capabilities, with samples taken from five other artists: "(Not Just) Knee Deep" by Funkadelic (1979); "Rapper Dapper Snapper" by Edwin Birdsong (1980); "Funky Worm" by the Ohio Players (1973); "The Original Human Beatbox" by Doug E. Fresh (1985) and "Gonna Make You Mine" by Loose Ends (1986). 
"
Breakadawn
"
(1993)
A soulful groove that serves as a soundtrack for sweltering summers in New York City, "Breakadawn" was released in 1993 as a single from De la Soul's third album, Buhloone Mindstate. It samples "Quiet Storm" by Smokey Robinson, the intro to Michael Jackson's "I Can't Help It" from his Off the Wall album. The song also samples "Sang and Dance" by the Bar-Kays.
"Rock Co.Kane Flow ft. MF DOOM" (2004)
From De La Soul's seventh album, Jake One produces the MF DOOM feature track "Rock Co.Kane Flow" while Posdnuos lays it down: "So systematically inclined to pen lines, without saying the producer's name all over the track. Yeah I said it! What you need to do is get back to reading credits." The track represented a masterful mashup of minds that ultimately helped Jake One raise his profile. 
In an interview with Passion of the Weiss, Jake One told David Ma, "I don't even think [De La Soul] knew who I was, but they ended up picking like five different beats and 'Rock Co.' was one of them. It was the one that surprised me out of what they picked. And what they do is, [Posdnuos] grabs a bunch of stuff he thinks is dope and Dave listens and has to agree on it. They make sure they're on the same wavelength but they're not always on the same wavelength [laughs]." 
"Feel Good Inc." - Gorillaz (2005) 
Released as a single from the Gorillaz second studio album, Demon Days, "Feel Good Inc." featuring De La Soul, secured the group's GRAMMY-winner status in 2006. 
The song climbed the charts, with the single topping the US Billboard) Modern Rock Tracks chart for eight consecutive weeks and appearing on the Billboard Hot 100 year-end rankings for both 2005 and 2006. The song peaked at No. 14 in the U.S. and within the top 10 in 15 countries, reaching No. 1 in Spain and Greece, No. 2 in the United Kingdom and has been certified five times platinum in Canada and double-platinum in the United Kingdom. 
"The Magic Number" (1989)
Originally released in 1989 on their debut album 3 Feet High and Rising, "The Magic Number" was also featured as the end-credit song in "Spiderman: No Way Home" in 2021 and was re-released in January 2023 to streaming platforms. The Spiderman feature sparked a renewed interest in the group among a new audience of fans, but remained unavailable on streaming platforms due to continuing legal battles over sample rights with the group's former label, Tommy Boy Records.
5 Things We Learned At "An Evening With Chuck D" At The GRAMMY Museum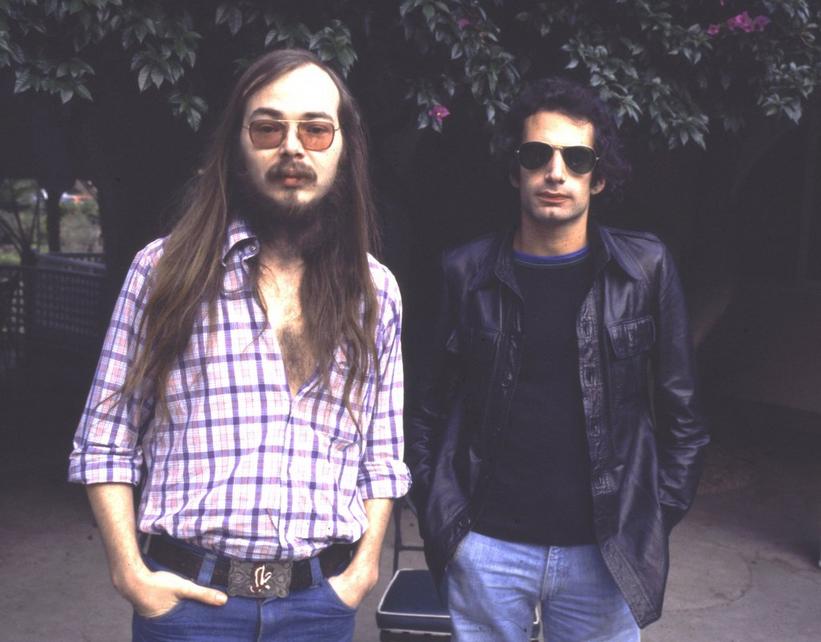 (L-R) Walter Becker and Donald Fagen of Steely Dan
Photo: Chris Walter/WireImage
list
Five Hip-Hop Songs That Sample Steely Dan, In Celebration Of New Book 'Quantum Criminals'
A new book, 'Quantum Criminals,' maps how Steely Dan's cynical, visionary universe resonates in unexpected ways today. Their intrigue extends to the world of hip-hop sampling.
GRAMMYs
/
May 22, 2023 - 12:10 am
Among serious music fans, it's a common rite of passage to realize there's a lot more to Steely Dan than meets the eye. And a lot of that is biting, sardonic wit.
If you think Donald Fagen and Walter Becker's three-time GRAMMY-winning partnership is just the stuff of smoothed-over yacht rock, you could have a change of heart: Dan bangers from "Deacon Blues" to "Don't Take Me Alive" to "Hey Nineteen" are full of pitch-black character studies, acidic turns of phrase, and one-liners that may singe your eyebrows.
Sure, this component of the group is key to their conceptual essence. But in your dance with the Dan, take the next step: If you took away all the sarcasm, all the seediness, all the salt, Steely Dan would still be one of the greatest rock bands of all time. Because their musical sophistication was second to none.
For decades, connotations of soft-rock yuppiedom have calcified around Steely Dan; The Onion once summed it up with an article headlined "Donald Fagen Defends Steely Dan To Friends." But not only do they barely resemble yacht rock on any level; their compositions and playing were of a stunning level of sophistication. It's no accident that unquestionable musical godheads Wayne Shorter, Bernard Purdie and the Brecker brothers played with them.
Steely Dan is a tangled web indeed, and a new book illuminates every nook and cranny of their legend. Journalist Alex Pappademas and visual artist Joan LeMay's Quantum Criminals, arrived in May and  pulls apart the Steely Dan myth like Russian nesting dolls.
"We're all looking out at the world with a Donald and Walter-ish kind of dismay. So they make a lot more sense now," Pappademas recently told Rolling Stone. What seemed cold and remote and jerky about them back in the day — now, that's just the way people talk. They're also also writing apocalyptically about their time, and our time now seems so unavoidably apocalyptic.
In the same interview, Pappademas cited the final album of their original run, 1980's Gaucho. "Gaucho is the ultimate one because it's the slickest," he said, mentioning an ultra-complex drum machine they built to remove any vestige of humanity. "Eventually, the solution is, 'We're going to invent sampling so that we can reduce the amount of human error.'"
Of course, Steely Dan didn't literally invent sampling. But the comment at least tacitly bridges two worlds few know are bridged: Steely Dan and hip-hop. As Pappademas put it in the book — albeit in the context of a contentious royalties agreement — "Even if nothing about Steely Dan was hip-hop, everything about them was hip-hop… they were about that cash."
According to WhoSampled, the Dan have been sampled 152 times; in a number of cases, those samples were in rap songs. Pappademas acknowledges this component of the Dan's legacy in the chapter "Peter/Tariq/Daniel" in Quantum Criminals.
In tandem with Quantum Criminals, let the following list of Dan-sampling rap songs elucidate this misunderstood band for neophytes: they were not only gritty lyrically, but conducive to musical grit.
De La Soul - "Eye Know" (1989)
Smack in the middle of De La Soul's debut album, 1989's 3 Feet High and Rising, is "Eye Know," which samples the Mad Lads' "Make This Young Lady Mine," Otis Redding's "(Sittin' On) the Dock of the Bay," and Lee Dorsey's "Get Out of My Life, Woman."
Underpinning it all is the clavinet from key Steely Dan hit "Peg," a single from their 1977  masterpiece, Aja.
"Hip-hop love this is and don't mind when I quiz your involvements before the sun," Pos raps over the burbling chords. "But clear your court 'cause this is a one-man sport." Between verses, a sampled Fagen bleats, "I know I'll love you better!"
Ice Cube - "Don't Trust 'Em" (1992)
Get past the… er, interesting cover art, and 1976's The Royal Scam is a jewel in Steely Dan's crown — a revisitation of their rock roots as they hurtled into ironic smoothness.
"Green Earrings," about a remorseless jewel thief, is a highlight, and Ice Cube incorporated a sped-up sample of its keyboard part in "Don't Trust 'Em," from his 1992 album The Predator. 
The crystalline-toned hook is woven into brutal storytelling, as the former N.W.A. MC details how a sexual encounter can get you hogtied in a trunk: "You can't trust a big butt and a smile," Cube sagely warns.
Lord Tariq & Peter Gunz - "Deja Vu (Uptown Baby)" (1997)
Aja's opener, "Black Cow," remains of one Steely Dan's all-time funkiest cuts, and it provides the engine for East Coast rap duo Lord Tariq and Peter Gunz's debut single, "Deja Vu (Uptown Baby)".
As Pappademas lays out in Quantum Criminals, Fagen and Becker would only clear the sample if they received 100 percent of the royalties. "People are under the impression that we put the record out and got sued," Gunz said, according to the book. "We didn't get sued. We got stuck up." "Deja Vu (Uptown Baby)" turned out to be Tarique and Gunz's one and only hit song, from their one and only album.
MF DOOM - "Gas Drawls" (1999)
Other MCs clearly got the memo on "Black Cow": it shows up early on the late MF DOOM's "Gas Drawls," from his 1999 debut album Operation: Doomsday, and pops up repeatedly throughout the song.
"You were very high!" Fagen crows just before Dumile punches in, in media res: "By the way, I re-up on bad dreams, bag up screams in 50s/ Be up on mad schemes that heat shop like jiffy."
Kanye West - "Champion" (2007)
Like Ye's cartoon-bear mascot on the cover of 2007's Graduation, "Champion," a cut from that album, blasts into the air — buoyed by a vocal sample from Steely Dan's "Kid Charlemagne."
"Did you realize/ That you were a champion in their eyes?" Fagen croons as the song's chorus, giving "Champion" its thrust as well as its title. At first, Fagen and Becker were reluctant to clear the sample; they relented after West sent Fagen a heartfelt, handwritten letter.
Today, the verse resonates in the rapper now called Ye's legacy — not only for this particular song, but because it seems to sum up his rise and fall. Clearly, Pappademas was right: Steely Dan has nothing to do with hip-hop. Steely Dan is hip-hop.
9 Revolutionary Rap Albums To Know: From Kendrick Lamar, Black Star, EarthGang & More
U2, How To Dismantle An Atomic Bomb
news
GRAMMY Rewind: 48th Annual GRAMMY Awards
U2 scores Album and Song Of The Year honors and John Legend is Best New Artist against these nominees
GRAMMYs
/
Oct 23, 2021 - 12:19 am
Music's Biggest Night, the 54th Annual GRAMMY Awards, will air live from Staples Center in Los Angeles on Sunday, Feb. 12 at 8 p.m. ET/PT on CBS.
 In the weeks leading up to the telecast, we will take a stroll down music memory lane with GRAMMY Rewind, highlighting the "big four" categories — Album Of The Year, Record Of The Year, Song Of The Year, and Best New Artist — from past awards shows. In the process, we'll examine the winners and the nominees who just missed taking home a GRAMMY, while also shining a light on the artists' careers and the eras in which the recordings were born.
 Join us as we take an abbreviated journey through the trajectory of pop music from the 1st Annual GRAMMY Awards in 1959 to last year's 53rd Annual GRAMMY Awards.
48th Annual GRAMMY Awards
Feb. 8, 2006
Album Of The Year
Winner: U2, How To Dismantle An Atomic Bomb
Mariah Carey, The Emancipation Of Mimi
Paul McCartney, Chaos And Creation In The Backyard
Gwen Stefani, Love. Angel. Music. Baby.
Kanye West, Late Registration

After trumping Michael Jackson's Bad for the Album Of The Year trophy in 1987, U2 cleared yet another hurdle by beating out one-fourth of the Beatles, 2012 MusiCares Person of the Year honoree Sir Paul McCartney [http://www.grammy.com/news/paul-mccartney-to-perform-at-2012-musicares-person-of-the-year-gala\]. How To Dismantle An Atomic Bomb, said to be the group's return to the big-anthem classics produced in the '80s, charted at No. 1 on the Billboard 200 and garnered seven additional GRAMMYs in 2004 and 2005, including Best Rock Song for "City Of Blinding Lights" and "Vertigo." Also making a comeback of sorts was Carey, whose 10th studio release, The Emancipation Of Mimi, won her three GRAMMY Awards, including Best R&B Song for the No. 1 hit "We Belong Together." In 1990 Carey won her first two GRAMMYs, including Best New Artist. For Chaos And Creation In The Backyard, produced by GRAMMY winner Nigel Godrich, McCartney returned to the one-man band style exhibited on his self-titled solo debut, playing nearly every instrument on the album from guitars and keyboards to bass and drums. Stefani earned a nomination for her solo debut effort, Love. Angel. Music. Baby. The album spawned four additional nods and featured her first No. 1 single as a solo artist, the infectious "Hollaback Girl." West's sophomore release, Late Registration, marked his second Album Of The Year nod (he also received recognition for production work on Carey's The Emancipation …). The album topped the Billboard 200 in 2005 and featured the No. 1 hit "Gold Digger."
node: video: U2 Win Album Of The Year

Record Of The Year
Winner: Green Day, "Boulevard Of Broken Dreams"
Mariah Carey, "We Belong Together"
Gorillaz Featuring De La Soul, "Feel Good Inc."
Gwen Stefani, "Hollaback Girl"
Kanye West, "Gold Digger"
Rock reigned supreme in the Record Of The Year category as Green Day won for their hit "Boulevard Of Broken Dreams." The track appears on American Idiot, which won the group a GRAMMY for Best Rock Album the year prior and gained them presence on Broadway when it was later made into a musical in 2009. Carey's "We Belong Together" skyrocketed to the top of several pop charts in 2005 and earned her two GRAMMY wins, including Best Female R&B Vocal Performance. Adding variety to the field was virtual hip-hop group Gorillaz with the viral "Feel Good Inc." featuring De La Soul. The track earned them a GRAMMY for Best Pop Collaboration With Vocals and a virtual duet with Madonna on the GRAMMY telecast. Stefani's "Hollaback Girl" scored a nomination with the help of GRAMMY-winning producers the Neptunes. West's "Gold Digger," which features Jamie Foxx sampling pieces from Ray Charles' "I Got A Woman," garnered the 14-time GRAMMY winner a win for Best Rap Solo Performance.
node: video: Green Day Win Record Of The Year
Song Of The Year
Winner: U2, "Sometimes You Can't Make It On Your Own"
Mariah Carey, "We Belong Together"
John Legend, "Ordinary People"
Rascal Flatts, "Bless The Broken Road"
Bruce Springsteen, "Devils & Dust"
The second Song Of The Year win for U2, the emotional "Sometimes You Can't Make It On Your Own," was written by Bono and U2, and also garnered the self-proclaimed best band in the world a GRAMMY for Best Rock Performance By A Duo Or Group With Vocal that year, beating out Coldplay, Foo Fighters, Franz Ferdinand, and the Killers. Carey's third nomination in the General Field was co-written with an all-star cast that included Johnta Austin, Babyface and Jermaine Dupri. Making his GRAMMY debut this year was Legend, who co-wrote "Ordinary People" with Black Eyed Pea will.i.am. The singer/pianist's debut studio album, Get Lifted, won a GRAMMY for Best R&B Vocal Album, a trophy that was replaced [link to: http://www.grammy.com/news/legend-gets-a-do-over\] in 2010 by The Recording Academy after an incident involving Legend's nephew. One of the first country groups in recent memory to receive a Song Of The Year nomination was Rascal Flatts' "Bless The Broken Road," written by Bobby Boyd, Jeff Hanna and Marcus Hummon. The track, previously recorded by the Nitty Gritty Dirt Band, won for Best Country Song. The final entry, Springsteen's self-penned "Devils & Dust," which appears on the No. 1 album of the same name, earned the Boss five GRAMMY nominations this year, including a win for Best Solo Rock Vocal Performance.
node: video: "Sometimes You Can't Make It On Your Own" Wins Song Of The Year
Best New Artist
Winner: John Legend
Ciara
Fall Out Boy
Keane
Sugarland
Neo-soul artist Legend, who made two big debuts in 2005 with his first studio album and first appearance at the GRAMMY Awards, picked up Best New Artist honors. Get Lifted also broke the Top 5 on the Billboard 200. Texas-native Ciara, named the "First Lady of Crunk and B" by producer Lil Jon, scored a nod. She also took home a Best Short Form Music Video GRAMMY for "Lose Control." Pop/punk outfit Fall Out Boy received their only GRAMMY nomination to date. The group's 2005 album, From Under The Cork Tree, peaked at No. 9 on the Billboard 200. Piano-driven pop/rock group Keane added more variety to the diverse field, and picked up a second nomination the following year for "Is It Any Wonder?" The second country act to garner a nod in the General Field was the then-trio Sugarland, featuring Kristian Bush, Kristen Hall and Jennifer Nettles. The group won a GRAMMY two years later for Best Country Performance By A Duo Or Group With Vocal — minus Hall —for the tear-jerker "Stay."
node: video: Carrie Underwood Wins Best New Artist
Come back to GRAMMY.com tomorrow as we revisit the 49th Annual GRAMMY Awards.
Follow GRAMMY.com for our inside look at GRAMMY news, blogs, photos, videos, and of course nominees. Stay up to the minute with GRAMMY Live. Check out the GRAMMY legacy with GRAMMY Rewind. Keep track of this year's GRAMMY Week events, and explore this year's GRAMMY Fields. Or check out the collaborations at Re:Generation, presented by Hyundai Veloster. And join the conversation at Facebook, Twitter, and YouTube.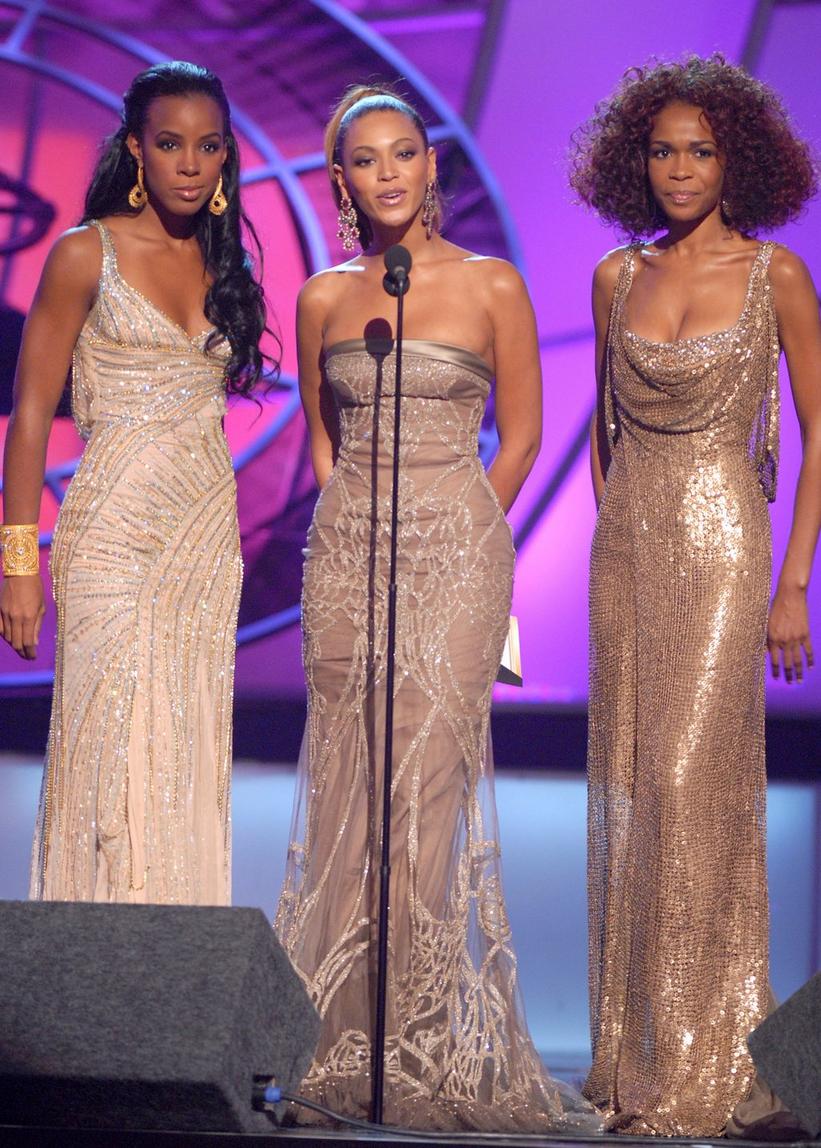 Photo: Michael Caulfield/WireImage.com
news
12 songs about healing: A feel-better playlist
Feeling down? The GRAMMY Nurses Week playlist will perk you right back up
GRAMMYs
/
Oct 22, 2021 - 11:05 pm
To recognize the life of Florence Nightingale, the founder of the modern nursing profession and head British nurse during the Crimean War, the first National Nurses Week was observed from Oct. 11–16 in 1954, marking the 100th anniversary of Nightingale's mission to Crimea. This celebratory week was officially proclaimed by President Richard M. Nixon in 1974, and in 1981, May 6 was sanctioned National Recognition Day For Nurses.
In 1990 the American Nurses Association Board of Directors expanded the holiday into a weeklong celebration beginning May 6 and ending on May 12 — Nightingale's birthday.
As one of the nation's largest healthcare-related events, this week recognizes the contributions and commitments nurses make and educates the public on the significant work they perform. It may not be a cure for the common cold, but in honor of these notable nurses mentioned below, and nurses everywhere, we present our healing GRAMMY playlist.
"Help!"
The Beatles, GRAMMY Hall Of Fame, 2008

If there was ever a nurse who offered a little help, it was British nurse Edith Cavell. During World War I she was known for helping all soldiers, but achieved everlasting fame for helping Allied soldiers escape from Belgium. The Beatles didn't need much help, as "Help!" reached No. 1 on both sides of the Atlantic in 1965.
"Survivor" (iTunes>)
Destiny's Child, Best R&B Performance By A Duo Or Group With Vocal, 2001

In this GRAMMY-winning song the ladies of Destiny's Child vow to never give up or stop, promising to work harder. Clara Barton must have made this same vow when she found herself on a short vacation in Europe due to the toll that helping soldiers of the Civil War's First Battle of Bull Run took on her health. She eventually became the founder and first president of the American Red Cross, which was established May 21, 1881, in Washington, D.C.
"I Will Survive" (iTunes>)
Gloria Gaynor, Best Disco Recording, 1979

As long as she knows how to love, Gaynor declares that she will survive. Mary Todd Lincoln, the wife of President Abraham Lincoln, showed her love and loyalty to the Union when she visited, fed and treated Union soldiers during the Civil War.
"Fever" (iTunes>)
Peggy Lee, GRAMMY Hall Of Fame, 1998

Hazel W. Johnson-Brown could likely cure the common fever and more when in 1979 she became the first African-American woman to achieve the rank of brigadier general in the U.S. Army. "Fever" was the right prescription for Lee, as it ascended to No. 8 on the Billboard Hot 100 in 1958.
"Breathe Again" (iTunes>)
Toni Braxton, Best R&B Vocal Performance, 1994

Pioneering nurse Mary Breckinridge probably felt as if she could finally breathe again when she fled to Europe following World War I to join the American Committee for Devastated France after leaving her husband. After returning to the United States, she founded the Frontier Nursing Service in 1925. Braxton was able to breathe easy with "Breathe Again" picking up GRAMMY honors in 1994.
"Help Me Make It Through The Night" (iTunes>)
Sammi Smith, Best Country Vocal Performance, Female, 1971

If there was ever a nurse, not just any nurse, who could help you make it through the night, it was Nightingale. In 1854 she traveled to Turkey, where she cared for wounded British soldiers and checked in on them at all hours of the night, earning her the nickname "The Lady of the Lamp." "Help Me Make It Through The Night," Smith's biggest hit, was written by fellow GRAMMY winner Kris Kristofferson.
"Healing Chant" (iTunes>)
Neville Brothers, Best Pop Instrumental Performance, 1989

The Neville Brothers' "Healing Chant" perhaps serves as an appropriate theme for nurse Jeanne Prentice, who is known for her work in protecting a mother's right to choose a licensed professional to supervise home births in South Dakota.
"Feel Good Inc." (iTunes>)
Gorillaz Featuring De La Soul, Best Pop Collaboration With Vocals, 2005

In her 1966 book The Nature Of Nursing, Virginia Avenel Henderson became famous for her formal definition of nursing: "assisting individuals to gain independence in relation to the performance of activities contributing to health or its recovery." Henderson surely wanted to ensure that every patient of hers felt good, similar to the Gorillaz's musical intentions on the GRAMMY-winning "Feel Good Inc."
"Doctor's Orders" (iTunes>)
Aretha Franklin And Luther Vandross, Best R&B Performance By A Duo Or Group With Vocal nominee, 1991

It must have been the doctor's orders that Mary Ezra Mahoney followed when she became the first African-American registered nurse. Mahoney also founded the National Association of Colored Graduate Nurses in 1908, which eventually merged with the American Nurses Association between 1950 and 1951. Unfortunately for Franklin and Vandross, the doctor ordered a GRAMMY for Boyz II Men's Cooleyhighharmony album in 1991.
The Healer (iTunes>)
John Lee Hooker, Best Traditional Blues Recording nominee, 1989

Sophie Mannerheim is known for her work in pioneering the modernizing of the nursing profession in Finland. In the early part of the 20th century, she worked as head nurse of the Helsinki Surgical Hospital and later became president of the Finnish Nurses Association. Though his album ultimately didn't make the grade, blues pioneer Hooker picked up a GRAMMY for Best Traditional Blues Recording in 1989 for his collaboration with Bonnie Raitt on "I'm In The Mood."
"Sick, Sick, Sick" (iTunes>)
Queens Of The Stone Age, Best Hard Rock Performance nominee, 2007

American writer and poet Walt Whitman was sick, sick, sick when he read a story about wounded soldiers in Fredericksburg, Va., in 1863. The list included his brother's name and Whitman immediately took a train to Virginia where he worked as a volunteer nurse at more than 40 hospitals. Similarly, the Queens likely felt "Sick, Sick, Sick" when they lost, lost, lost to the Foo Fighters for Best Hard Rock Performance in 2007.
"Heartache Tonight" (iTunes>)
Eagles, Best Rock Vocal Performance By A Duo Or Group, 1979

If there's going to be a heartache (or any type of ache), the first person you'd want around is a nurse, or Lillian Carter, the mother of President Jimmy Carter, who in 1966 dedicated her time as a Peace Corps volunteer in India. The Eagles were able to turn their heartache into GRAMMY gold in 1979.
What song best typifies National Nurses Week to you? Or maybe one that makes you sick…. Drop us a comment and let us know.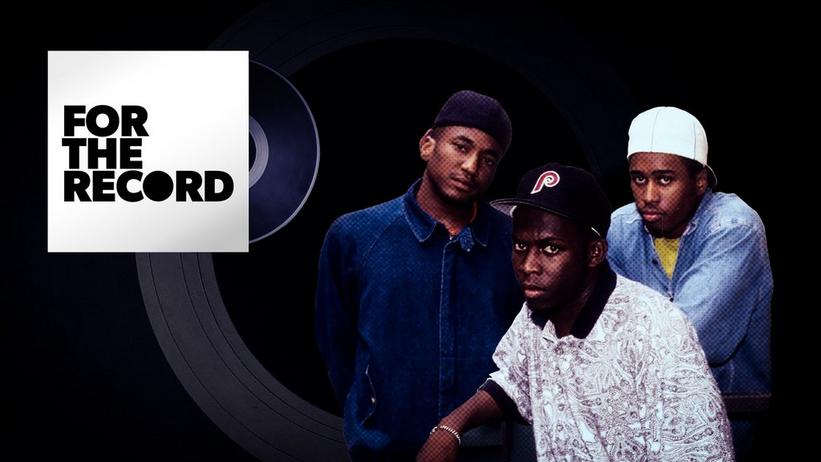 news
For The Record: A Tribe Called Quest's Groundbreaking 'The Low End Theory' At 30
A 2021 GRAMMY Hall Of Fame inductee, 'The Low End Theory,' released in 1991, saw A Tribe Called Quest reinvent the wheel yet again, marrying the sounds of jazz and hip-hop and solidifying the group's artistic legacy
GRAMMYs
/
Feb 15, 2021 - 09:59 pm
In 1991, hip-hop was in a state of flux, and A Tribe Called Quest were searching for balance. Their 1990 debut album, People's Instinctive Travels and the Paths of Rhythm, propelled the Queens, New York, group to new heights. Tribe tempered the growing gangster rap movement with their own breed of hip-hop, one full of humor, life, positivity and a more lighthearted approach to making music. Their style positioned them more as a group who loved being musicians over utilizing their rhymes to vent about the doom and gloom enveloping their environment.
Tribe, along with groups like De La Soul, Jungle Brothers and Leaders of the New School, were a part of the DAISY ("Da Inner Sound, Y'all") age of hip-hop. (De La Soul coined the term on their 1989 debut album, 3 Feet High and Rising, in which they chanted the phrase several times throughout the project.) DAISY artists donned brighter clothing, used literal daisy imagery in their artwork, music videos and album covers, and punctuated their positive messages with poignancies on Afrocentricity. Even de facto A Tribe Called Quest leader Kamaal Fareed went by MC Love Child before he was given the name Q-Tip.
Intertwined with this bohemian take on hip-hop music, several DAISY artists, including Jungle Brothers, De La Soul and A Tribe Called Quest, were also part of the Native Tongues collective, a loose network of East Coast hip-hop artists. But even if you weren't down with Native Tongues, if your music was the antithesis of the exploding gangster rap style of the time, you tangentially became a part of the DAISY Age.
DAISY artists diverged from what most considered then to be the sonic norm for rap music, which was a rugged exterior revealing street hymns and conspiracy theories, along with stories of police brutality and gang wars. N.W.A's 1988 debut album Straight Outta Compton was mostly to thank, along with Public Enemy's 1988 album It Takes A Nation of Millions To Hold Us Back, a clarion call for the mobilization of Black people against the powers that be. It was raging against the machine at its best.
While artists of the DAISY Age discussed ways for Black people to find their own grooves and means to mobilize, albeit in a different way, Tribe and groups of their ilk were categorized under the "alternative hip-hop" subgenre, an industry move suggesting that discussions of anything other than gun talk were the exception, not the rule. They were all deemed "safe," nonviolent "alternatives," while also commanding a sound both parents and kids could mutually enjoy. It was a gift and a curse at the same time.
Read More: Busta Rhymes On Being In A "Beautiful Space" & Bringing Together Generations Of Hip-Hop Artists On 'Extinction Level Event 2'
It was a frustrating position for any critically acclaimed group paving their own path. Still, by the time A Tribe Called Quest got to work on The Low End Theory, they were more than ready to reinvent the wheel yet again. This would be the project that served as a reference point for A Tribe Called Quest as bastions of versatility. In order to prove that, they had to rework their whole style, right down to their image. There was also the added pressure of the sophomore slump. But that didn't faze lead producer Q-Tip in the least. Tribe weren't cocky—they were confident.
Tribe had a lot to prove on The Low End Theory while not coming off as tryhards. In 14 tracks, they had to somehow remove the stigmas attached to so many hip-hop artists at the time: You were either too street, too soft or too artsy, or you didn't understand a single instrument. Tribe aimed to strike that balance artfully.
Inspired by the hard thuds checkered throughout Straight Outta Compton, Q-Tip opted for bass-heavy beats on Low End. Album opener "Excursions" oozes with those steady basslines, as does "Buggin' Out," "Check The Rhime" and closer "Scenario."
Q-Tip made it a point to masterfully bring the sounds of jazz and bebop to boom bap, where, for the first time ever, the instruments were front and center. You could listen to any song on Low End and hear every layer as it's being played, a rarity in the sample-heavy world of hip-hop. With Tribe, you experienced the masterpiece in full totality, while also seeing every stroke of the paintbrush. And despite their claims of having the jazz on "Jazz (We've Got)," Tribe didn't sound like some jazz ensemble in hard-bottom shoes anywhere on Low End. This was pure hip-hop in a new iteration by a group determined to make a mark on their own terms.
But like Q-Tip says on "Rap Promoter ("Not too modest and not a lot of pride"), Tribe had to be bolder with their messaging this time around, while still maintaining their stance on peace and positivity. On "Excursions," an idyllic intro to that creative approach, Q-Tip makes it clear that Tribe is playing the long game in rap, in the right way, while still switching the sound up. He does the same on "Verses From The Abstract," in which he takes the reins on the group's collective messaging.
This was also the moment, however, where Phife Dawg would step forward and do just enough posturing and bragging on the group's behalf. His presence was barely felt on Tribe's debut album since Phife's head wasn't all the way in the game until Q-Tip centered him. The yin to Q-Tip's yang, Phife was a 5-foot-3-inch sh*t-talker and bona fide comedian who helped the former not take the game too seriously. On "Buggin' Out," Phife is in the spotlight, and he keeps it going on "Butter" where he talks about pulling girls like "Flo" while simultaneously shining on his own for once.
Read More: 'Sir Lucious Left Foot: The Son Of Chico Dusty' At 10: The Story Behind The Missing Tracks From Big Boi's Solo Debut Album
Low End is also full of music industry cautionary tales. On "Rap Promoter," Q-Tip waxes philosophically and questions why rap promoters will invite hip-hop heads to a wack show. Tribe then expose the ills of the biz on "Show Business," with the help of Brand Nubian and Diamond D, and continue that sentiment on "Check The Rhime" where Q-Tip births the now-infamous line, "Industry rule number four-thousand-and-eighty / Record company people are shady."
Tribe's storytelling is in clear view on "The Infamous Date Rape" and "Everything Is Fair," with the former carrying a real sentiment of exposing criminal acts. It's heavy without being too dark, while tracks like "What?" are light without being too whimsy. "Skypager" sees Tribe dissecting their many reasons for carrying a beeper. At face value, the concept would seem like a whole lot of nonsense about an inanimate piece of technology. But the song ultimately places the group alongside the same beeper-carrying drug dealers from whom the industry and the media attempted to forcibly disassociate them. While Tribe aim to show they are different and unfazed by fancy gadgets, "Skypager" still echoes their main message: We are all in this together.
Then, of course, there's "Scenario." With the help of Leaders of the New School and the soon-to-be legend Busta Rhymes, the track is heavy on basslines, trash talk, braggadocio and bars. The perfect closer to the album, "Scenario" is so bullish and so energetic, it almost serves as a celebration of Tribe's accomplishment: the martini after a cinematic piece has wrapped.
The Low End Theory was somewhat of a swan song for A Tribe Called Quest in more ways than one. It was their diversion from the Native Tongues and the DAISY Age scenes, especially after the group signed to Russell Simmons' Rush Artist Management, under manager Chris Lighty, a move that would take their message to a bigger, more mainstream hip-hop audience. However, the album was also a farewell to the pigeonholed style and sound they were wedged into the first time around. After The Low End Theory, A Tribe Called Quest could fly, and the sky was the limit.
"Loops Of Funk Over Hardcore Beats": 30 Years Of A Tribe Called Quest's Debut, 'People's Instinctive Travels And The Paths Of Rhythm'