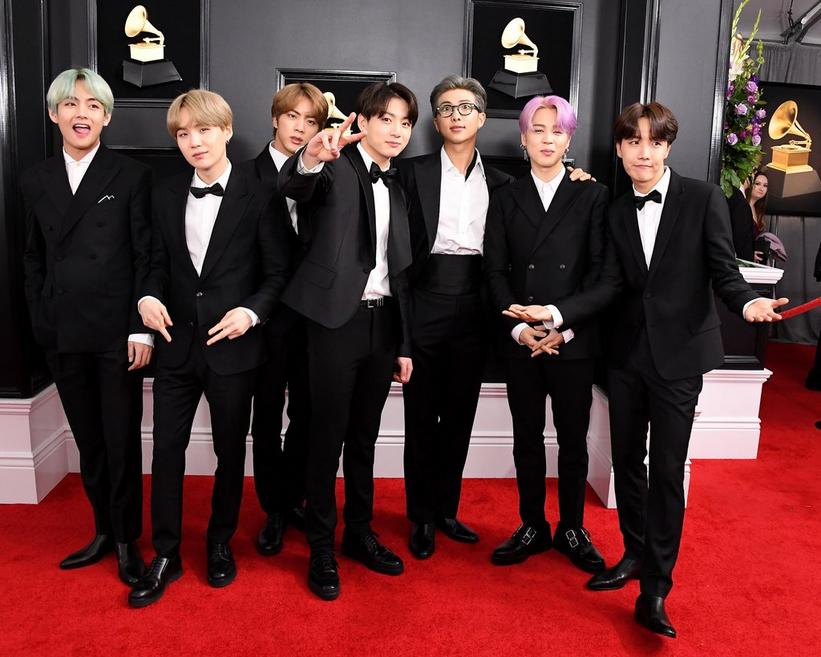 Photo: Steve Granitz/WireImage/Getty Images
news
BTS Drop Juice WRLD Collab, "All Night," In Lead Up To BTS World Release
"All Night" marks the third week of releases for BTS, following last week's Mura Masa-produced summer-ready jam, "A Brand New Day," led by J-Hope and V, along with Swedish pop songstress Zara Larsson
GRAMMYs
/
Jun 21, 2019 - 11:23 pm
New music Friday is always a good day, especially when your favorite artist drops a hot new bop you can't stop playing.
Well, K-pop heartthrobs BTS are always ones to warm their fans' hearts, and today they did just that, with a smooth new song, "All Night," featuring rising Chicago rapper Juice WRLD. The song features just RM and Suga of BTS, two of the group's rappers, and was produced by RM and Powers Pleasant.
The new single is the third release from the band's forthcoming BTS World Soundtrack, the musical accompaniment to their new mobile game of the same name. Both the soundtrack and game, where you can play the role of young Jin, V, Jungkook, Jimin, J-Hope, Suga and RM's manager, back when they formed the fab 7 squad, are due out next week. The game will be available to download in the U.S. on June 25 and the soundtrack drops June 28.
Related: BTS Shine At GRAMMY U SoundChecks In Chicago
"All Night" marks the third week of releases for BTS, following last week's Mura Masa-produced summer-ready jam, "A Brand New Day," led by J-Hope and V, along with Swedish pop songstress Zara Larsson. The group tapped British alt-pop queen Charli XCX for the first BTS World song, the anthemic "Dream Glow," released June 7.
BTS have had a big year so far, taking over their first GRAMMYs, being named one of the "100 most influential people" by Time, channeling the Beatles on The Late Show with Stephen Colbert, launching a crowd-sourced database dedicated to their fans, continually breaking records, and more.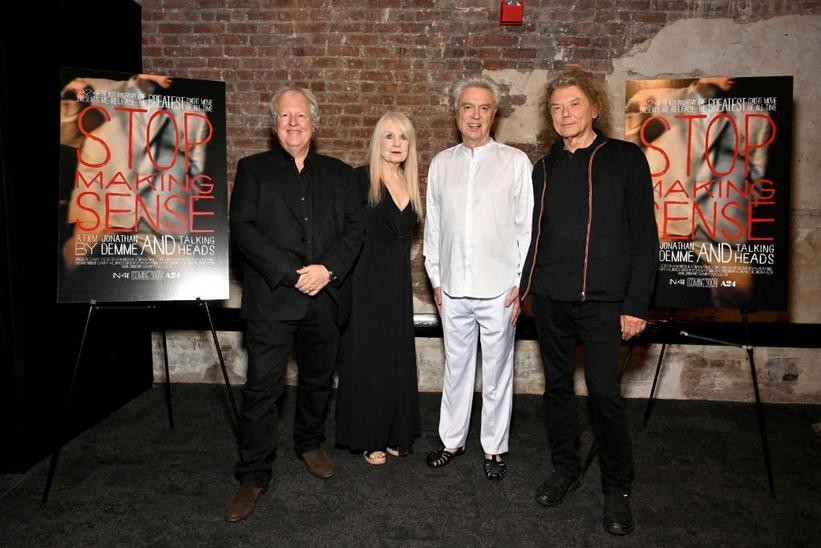 (From left) Chris Frantz, Tina Weymouth, David Byrne and Jerry Harrison of Talking Heads attend a 'Stop Making Sense' Q&A in Brooklyn
Photo: Slaven Vlasic/Getty Images for BAM
list
11 Iconic Concert Films To Watch After 'Taylor Swift: The Eras Tour'
The concert film seems to be having a moment. From the Talking Heads to Queen, read on for 11 concert film experiences that will help keep the party going.
GRAMMYs
/
Oct 18, 2023 - 02:51 pm
A lavender haze has descended upon movie theaters across America. 
Taylor Swift's filmed version of her historic Eras tour is the movie-music event of the year, dominating the box office becoming highest grossing dometic concert film in Hollywood history after a single weekend. Byt the time the Eras credits roll, you know all too well that you're going to want to keep the party going.
Luckily, there are a breadth of artists whose musical singularity is reflected on the silver screen. Swift's major influence notwithstanding, the concert film seems to be having a moment in recent years: Pop stars such as Lizzo (Live in Concert), Selena Gomez (My Mind and Me) and Lewis Capaldi have released popular concert films.
From Beyoncé's stunning Homecoming, to acclaimed concert films from Queen to Talking Heads and new entries like from the boys in BTS, read on for 11 excellent concert film experiences.
Homecoming: A Film by Beyonce
(2019)
When Beyoncé headlined the Coachella Music and Arts Festival — the first Black woman to do so — in 2018, she didn't just perform; she delivered a tour de force extravaganza that spurred a whole new moniker: Beychella. 
Shot over two nights, the Netflix film Homecoming includes a discography-spanning retrospective and memorable performances of "Run the World," "Single Ladies" and "Formation." Layered in ware nods to the Historically Black College and University experience, legends like Nina Simone and dazzling array of choreography, wardrobe and vocal chops. 
The New Yorker later hailed it a "triumphant self portrait" and "a spectacle of soul." Directed by Queen Bey herself, Homecoming took home the golden gramophone for Best Music Film at hte 62nd GRAMMYs. 
Stop Making Sense
(1984)
The filmmaker Jonathan Demme is known for classics like Silence of the Lambs and Philadelphia, but he was also a major force in concert films. Among his achievements in this field is Stop Making Sense, his 1984 portrait of David Byrne and his Talking Heads.
Filmed at the peak of the band's popularity and following the release of Speaking in Tongues (which featured "This Must Be The Place" and "Burning Down the House,"), Stop Making Sense  is a cult classic, from its array of hits to the band's massive suits which became their calling card. 
The film was re-released in theaters last month. "I'm kind of looking at it and thinking, who is that guy?," said David Byrne in a recent interview with NPR about watching his younger self. "I'm impressed with the film and impressed with our performance. But I'm also having this really jarring experience of thinking, 'He's so serious.'" 
BTS: Yet to Come in Cinemas
(2023)
While the GRAMMY-nominated South Korean superstars BTS may be on a break — Jung Kook recently announced that he will release his debut solo full-length- bask in the glow of the K-pop and their rollicking concert film earlier this year. In the film, Jung Kook alongside Jin, RM, Jimin, V, J-Hope as they smoothly perform their calvadace of hits, including "Butter" and"Dynamite" in a 2022 performance for Busan, South Korea's rally to host the 2030 World Expo. 
The boys are actually no stranger to the genre, with Yet To Come marking their fifth concert film in addition to BTS Permission to Dance on Stage — Seoul: Live Viewing and 2020's Break the Silence: The Movie among others. 
Madonna: Truth or Dare
(1991)
With off-stage footage shot in black and white and performances in vivid color, this early '90s classic depicts Queen Madge at the height of her power. Taken from an actual game Madonna and friends play towards the end of the film (to scandalous results), Truth or Dare showcases the breadth of Madonna's superstardom up until that point with performances of classics like "Holiday" and "Like a Virgin" with its artfully-shot juxtaposition of performance and documentary footage a trailblazer in the concert film genre. 
"The surprise of Truth or Dare is just what a blast Madonna is," wrote the Guardian on the occasion of the film's 30th anniversary. "Nastily funny, openly horny, undisguised in her contempt for anyone she deems less fabulous than herself and her blessed collaborators." 
Justin Bieber: Never Say Never
(2011)
Way before Swiftmania, there was Bieber Fever. In the wake of Justin Bieber's explosive rise, Never Say Never interspersed performances with snapshots of his journey from humble Canadian roots to global pop force to be reckoned with. 
Helmed by Jon M. Chu (who'd go onto direct blockbusters like Crazy Rich Asians and In the Heights), Never Say Never is a time capsule of a younger, more innocent Bieber and his early earworm bubblegum hits. Until Swift's Eras is tallied it's the top-grossing concert movie ever released in the USA. 
Prince: Sign o' the Times
(1987)
This iconic concert film was once hard to come by; after its theatrical run, Sign o' the Times was only issued on VHS and eventually went out of print. But thanks to the magic of streaming, one can now easily transport oneself back to the '80s and enjoy the magic that is Prince. 
Directed by the artist and using his acclaimed 1987 album Sign o' the Times as a jumping off point (the album itself was a 2017 inductee into the GRAMMY Hall of Fame), the film reminds viewers of the Purple One's magnetism. Under an array of colorful lights and performing to a raucous crowd, the icon may have died in 2016, but Sign o' the Times serves as a deft time capsule of his royal talent. 
Katy Perry: Part of Me
(2012)
As Katy Perry was in the midst of releasing her acclaimed album Teenage Dream, the pop singer had the foresight to chronicle the ensuing pandemonium.
 "I feel like it was, like, a big wave coming," she told ABC upon the release of Katy Perry: Part of Me, the 2012 concert film that documented her blockbuster California Dreams tour. "I thought to myself, 'Well, I think this is going to be a moment. Maybe I should catch it on tape. I'm either going to go completely mental, completely bankrupt, or have the best success of my life." 
Fortunately the later wound up occurring, with the subsequent film a celebrity-packed (featuring everyone from Lady Gaga to Adele) hit-filled ("Teenage Dream" and "California Girls") look into the life, times and music of the star. 
Queen: Live at Wembley '86
(1986)
Freddie Mercury and Queen were staples of London's Wembley Stadium, performing many memorable shows, including an iconic turn at Live Aid in the early '80s and a Mercury tribute show in the '90s. 
Songs like "We Will Rock You" and "We Are the Champions" fit right in on Wembley's massive stage, with the concert film depicting the thundering live versions of those classics. Relive those heady days with this film which showcases just what made Mercury and his band rock icons, and huge ones at that. 
"Mercury was indeed a born ringmaster," wrote CNN in a piece about their status as stadium savants. "There was no alienating affectation, no wallowing in sentiment... Queen consciously wrote their songs as vehicles for theatrics."
Summer of Soul
(2021)
Back in 1969, Stevie Wonder, Gladys Knight, Nina Simone and B.B. King joined forces for the Harlem Cultural Festival, a mostly forgotten multi-week legendary summit. That all changed when Roots frontman Ahmir "Questlove" Thompson obtained a treasure trove worth of footage and directed this stunning film, aptly dubbed Summer of Soul, which brought the event back to vivid life and subsequent acclaim including a GRAMMY Award for Best Music Film. 
"It was gold," Thompson told Pitchfork of his process of sifting through the footage to create what would become a passion project. "If anything, it was an embarrassment of riches. It was too much. I kept this on a 24-hour loop for about six months straight. Slept to it. Traveled to it. It was the only thing I consumed."
Justin Timberlake + The Tennessee Kids
(2016)
Also directed by Jonathan Demme and released before his 2017 death, Justin Timberlake + The Tennessee Kids showcases Timberlake's  popular 20/20 Experience World Tour and litany of solo hits including "Sexyback" and "Suit & Tie."  
"I don't think anything can compete with live performance," admitted Demme to Rolling Stone before his death in 2017. "You can't beat it. But we strive to provide the most exciting interpretation of that feeling, as filmmakers. We can provide a roving best seat in the house. We can linger on closeups. We can follow the dynamics of the music. I love shooting music." 
The Last Waltz
(1978)
One of the earliest projects of director Martin Scorsese's career was helping edit the monumental film version of Woodstock in 1970. But as that decade progressed and the auteur became known for narrative features including Mean Streets, he revisited his roots by directing The Last Waltz. A trailblazer in the genre, the film captures the last performance of The Band featuring frontman Robbie Robertson alongside a range of guests including Bob Dylan, Ringo Starr and Eric Clapton. Filmed on Thanksgiving Day in 1976, it's a time capsule of the day's biggest acts at the height of their artistry. 
"It's a picture that kind of saved my life at the time," Scorsese told an audience at the Toronto International Film Festival during a 2019 screening. "It's very special to me. Forty years on, it's very special to a great number of us."
6 Must-Watch Hip-Hop Documentaries: 'Hip-Hop x Siempre,' 'My Mic Sounds Nice' & More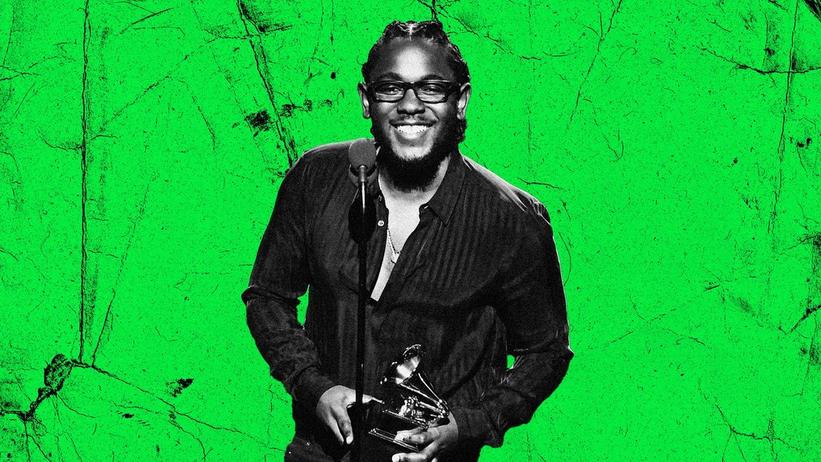 Kendrick Lamar
Photo: Jeff Kravitz/FilmMagic
video
GRAMMY Rewind: Kendrick Lamar Honors Hip-Hop's Greats While Accepting Best Rap Album GRAMMY For 'To Pimp a Butterfly' In 2016
Upon winning the GRAMMY for Best Rap Album for 'To Pimp a Butterfly,' Kendrick Lamar thanked those that helped him get to the stage, and the artists that blazed the trail for him.
GRAMMYs
/
Oct 13, 2023 - 06:01 pm
Updated Friday Oct. 13, 2023 to include info about Kendrick Lamar's most recent GRAMMY wins, as of the 2023 GRAMMYs.
A GRAMMY veteran these days, Kendrick Lamar has won 17 GRAMMYs and has received 47 GRAMMY nominations overall. A sizable chunk of his trophies came from the 58th annual GRAMMY Awards in 2016, when he walked away with five — including his first-ever win in the Best Rap Album category.
This installment of GRAMMY Rewind turns back the clock to 2016, revisiting Lamar's acceptance speech upon winning Best Rap Album for To Pimp A Butterfly. Though Lamar was alone on stage, he made it clear that he wouldn't be at the top of his game without the help of a broad support system. 
"First off, all glory to God, that's for sure," he said, kicking off a speech that went on to thank his parents, who he described as his "those who gave me the responsibility of knowing, of accepting the good with the bad."
He also extended his love and gratitude to his fiancée, Whitney Alford, and shouted out his Top Dawg Entertainment labelmates. Lamar specifically praised Top Dawg's CEO, Anthony Tiffith, for finding and developing raw talent that might not otherwise get the chance to pursue their musical dreams.
"We'd never forget that: Taking these kids out of the projects, out of Compton, and putting them right here on this stage, to be the best that they can be," Lamar — a Compton native himself — continued, leading into an impassioned conclusion spotlighting some of the cornerstone rap albums that came before To Pimp a Butterfly.
"Hip-hop. Ice Cube. This is for hip-hop," he said. "This is for Snoop Dogg, Doggystyle. This is for Illmatic, this is for Nas. We will live forever. Believe that."
To Pimp a Butterfly singles "Alright" and "These Walls" earned Lamar three more GRAMMYs that night, the former winning Best Rap Performance and Best Rap Song and the latter taking Best Rap/Sung Collaboration (the song features Bilal, Anna Wise and Thundercat). He also won Best Music Video for the remix of Taylor Swift's "Bad Blood." 
Lamar has since won Best Rap Album two more times, taking home the golden gramophone in 2018 for his blockbuster LP DAMN., and in 2023 for his bold fifth album, Mr. Morale & the Big Steppers.
Watch Lamar's full acceptance speech above, and check back at GRAMMY.com every Friday for more GRAMMY Rewind episodes. 
10 Essential Facts To Know About GRAMMY-Winning Rapper J. Cole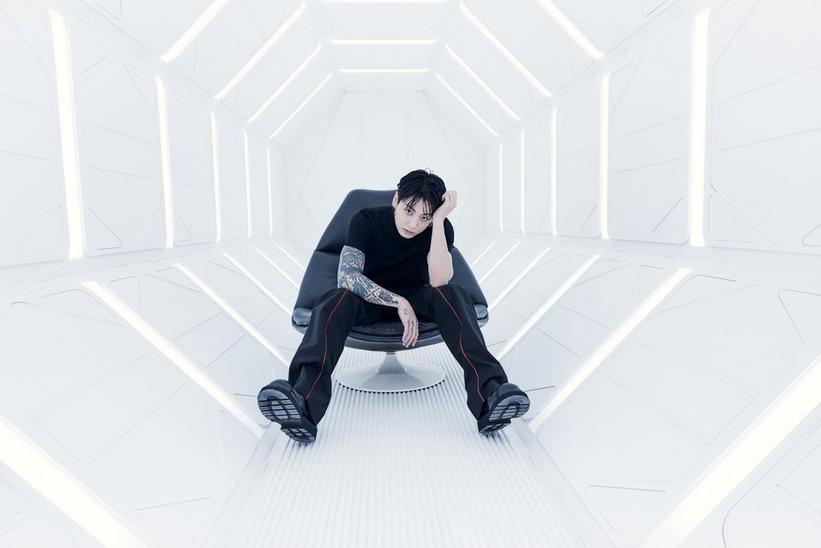 news
Everything We Know About Jung Kook's New Album 'Golden': Release Date, Album Cover, Tracklist & More
BTS member Jung Kook announced his debut full-length solo album. 'GOLDEN' will drop on Nov. 3; here's everything we know about the K-pop release.
GRAMMYs
/
Oct 3, 2023 - 10:22 pm
The latest member of K-pop juggernaut BTS has announced a new solo album. Due Nov. 3, Jung Kook's GOLDEN is his first full-length solo release.
The youngest member of the GRAMMY-nominated septet, Jung Kook has long stood out for his creativity in vocals, dancing, and rap skills. In recent years, he's made a distinctive impact via  tracks like 2018's "Euphoria" and 2020's "Still With You," and collaborations with artists like Latto and Charlie Puth. Along with music, he has also expanded his brand presence by venturing into fashion, including a campaign with Calvin Klein. 
GOLDEN will include Jung Kook's recent collaboration with Jack Harlow, a catchy pop track with melodies heavily influenced by 2000s-era boy bands.
Jung Kook's debut album follows BTS' hiatus for mandatory Korean military service. For BTS fans — known as ARMY — GOLDEN is a highly anticipated addition to the ensemble's universe.
Although details on GOLDEN are sparse, read more on everything we know about Jung Kook's debut solo album.
GOLDEN

Comes Out Exactly One Month After Being Announced
Mark your calendars! Jung Kook is dropping GOLDEN on Nov. 3, exactly a month after announcing it on Oct. 3.
The Album Cover Hasn't Been Unveiled
While the official cover for GOLDEN hasn't been unveiled, the album announcement featured a  green background with a golden border and GOLDEN centered in bold. The album announcement photo is a different, much more reserved vibe in comparison to Jung Kook's associated press images. In the latter, the singer is set against a futuristic background in a Y2K-era outfit.
GOLDEN

Has A Significant Meaning
The title of the album refers to Jung Kook's moniker the "Golden Maknae," which was gifted by bandmate RM. The Korean phrase maknae means "golden youngest" and, at 26 years old, Jung Kook is the baby brother of the group.
The album is "inspired by the golden moments of Jung Kook, the Golden Maknae of BTS and a solo artist," according to a press release. Given Jung Kook's versatility and skill, his forthcoming album will certainly mark him as a gold star.
The Tracklist Is Still Being Teased
The album will feature 11 songs, including already-released singles  "Seven (ft. Latto)," which hit No. 1 on the Billboard Hot 100.
Jung Kook's Jack Harlow collab will also be on the record; the song  and No. 3 on UK Official Chart, along with "3D" feat. Jack Harlow, which topped the iTunes Top Song chart in 100 countries/regions.
Pre-Orders Are Already Underway
For fans hoping to get their hands on the album, pre-orders for digital and physical copies begin at Oct.3. at 10 p.m. ET.
Fans Should Expect Upcoming Performances
According to BIGHIT Music, Jung Kook will be making special performances and appearances throughout the album's release. 
Breaking Down Every Solo Act From BTS: Singles, Debut Albums, & What's Next For The Septet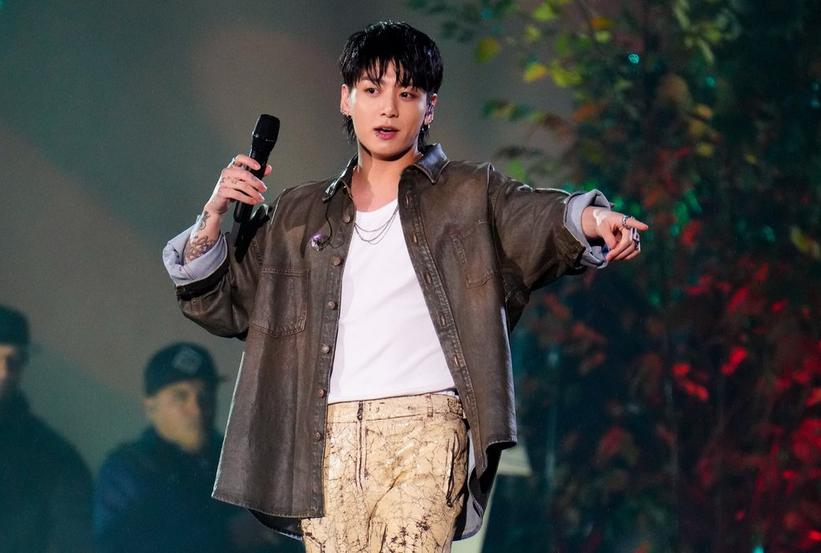 Jungkook performs at the 2023 Global Citizen Festival in September.
list
New Music Friday: Listen To New Music From Jungkook & Jack Harlow, PinkPantheress, *NSYNC And More
As September comes to a close, listen to these new songs, albums and collaborations from Ed Sheeran, Lil Wayne and more.
GRAMMYs
/
Sep 29, 2023 - 08:18 pm
As we close out the month, this New Music Friday has loads of fresh beginnings and highly anticipated reunions.
Several big-name collaborations dropped on Sept. 29, from an electric team-up of the Rolling Stones and Lady Gaga to an R&B and rap fusion from Jungkook and Jack Harlow. 
Two nostalgic releases arrived as well, with Lil Wayne's new album Tha Fix Before Tha Vi continuing his "Tha Carter" series, while *NSYNC fans were treated to the boy band's first new song in 20 years with "Better Place."
Dive into these seven new releases that blend the old generation with the new. 
Jungkook ft. Jack Harlow — "3D"
BTS singer Jungkook takes us through a nostalgic journey with "3D," a song reminiscent of an early 2000s boy band hit. The hypnotizing lyrics illustrate his close connection to someone he can't reach, so he'll watch them in 3D.
"So if you're ready (So if you're ready)/ And if you'll let me (And if you'll let me)/ I wanna see it in motion/ In 3D (Uh-uh)," he sings in the chorus. 
Jack Harlow pops in, dropping a few verses boasting about his global attraction with women. "Mr. First Class" claims he can "fly you from Korea to Kentucky," as he closes out the song.
With an addictive chorus and groovy baseline, this track has a different vibe from his "Seven" collaboration with Latto. The song marks Jungkook's seventh solo single and second of 2023.
Rolling Stones & Lady Gaga ft. Stevie Wonder — "Sweet Sounds of Heaven"
The Rolling Stones, Lady Gaga and Stevie Wonder blended their talents, to create a harmonic symphony of a song that lives up to its heavenly title. Seven minutes of gospel- and blues-inspired rhythms, enriched by Gaga and Mick Jagger's distinct riffs, make this collaboration an immersive experience. Stevie Wonder grounds the track with his command of piano and melodic tempo.
The track is the second peek of the Rolling Stones' upcoming album, Hackney Diamonds, their first LP release in 18 years; their first release, "Angry," arrived Sept. 6. With production from GRAMMY-winning Andrew Watt, the soulful essence makes "Sweet Sounds of Heaven" an exciting taste of the long-overdue album.
*NSYNC — "Better Place"
Yes, you read correctly. After two decades and a recent reunion at the 2023 MTV Video Music awards, <em>NSYNC is back with a new single, "Better Place," appearing in the new animated Trolls* movie (due Nov. 17). With a nostalgic dance-pop beat, familiar production and breezy lyrics, this single is a remarkable comeback.
"Just let me take you to a better place/ I'm gonna make you kiss the sky tonight," they sing in the chorus. 
The reunion was first teased Sept. 14, through a video of the group's emotional studio session, as Justin Timberlake shared on Instagram. "When the stars align… got my brothers back together in the studio to work on something fun and the energy was special," he wrote in the post. 
PinkPantheress — "Mosquito"
Dive into this musical daydream as PinkPantheress serenades us on her new single, "Mosquito," a dreamy, lucid song reminiscent of old-school R&B. After recently hopping on the energetic remix of Troye Sivan's "Rush" and teaming up with Destroy Lonely on "Turn Your Phone Off," PinkPantheress is transporting us through a new era, full of charm and surprises.
"Cause I just had a dream I was dead/ And I only cared 'cause I was taken from you/ You're the only thing that I own/ I hear my bell ring, I'd only answer for you," she sings in the chorus. 
Co-crafted by GRAMMY-winning producer Greg Kurstin, this song is a transcending, surreal experience. This single isn't about romance, instead she takes us through her entanglements with treasures and money. That's further portrayed in the lavish video, which features a European shopping spree starring "Bridgerton" stars Charithra Chandran, India Amarteifio and "Grown-ish" star Yara Shahidi.
Ed Sheeran — Autumn Variations
The era of mathematical-themed albums seems to be over, as Ed Sheeran has entered a new chapter with Autumn Variations, his second project this year. Sheeran is singing from his heart, sharing soulful tales from emotional events in his life including the death of his dearest friend Jamal Edwards and his wife's health challenges during pregnancy — an extension of the stories he told with May's Subtract.
Autumn Variations is very raw, stripped down and authentic as he takes us through his personal journey. Amidst this, Sheeran still brings in some buzzing tracks including catchy songs like "American Town," "Paper Bag" and "Amazing."
Lil Wayne — Tha Fix Before Tha Vi
Lil Wayne celebrated his 41st birthday with a special present to his fans: the release of a new album two days later. The alluring 10-track project,"Tha Fix Before Tha Vi" dives into past vibes with songs like "Tity Boi," a reference to 2 Chainz's initial stage name, which may be a reference to the upcoming joint album between the two. Each song has a different feel including "Tuxedo," which features a more punk-rock melody and "Chanel No.5 ft. Foushee," which features a sensational beat.
His first album since 2020, Tha Fix Before Tha Vi features rather unexpected collaborators, including Jon Batiste, Fousheé and euro. With different sounds and features than past projects, we could possibly be entering a new Weezy era. 
Thomas Rhett & Morgan Wallen — "Mamaw's House"
Country superstars Morgan Wallen and Thomas Rhett unite for "Mamaw's House," a country-folk track relishing the memories of their grandparents' home and cozy fireplace tales. 
"It's where I spent my summers and she put me to work/ Shellin' peas and shuckin' corn until my fingers hurt/ No tellin' who I'da been without Mamaw's house," Rhett sings in the second verse. 
Rhett said the duo decided to write about their small-town culture — Rhett is from Valdosta, Georgia, while Wallen hails from Sneedville, Tennessee — and the significant presence of grandparents brought to their upbringings. 
"This song just kind of brings up how our mamaws used to act when we were little kids," Rhett told Audacy.. "It's an ode to all the grandmas out there."
10 Ways Britney Spears' "...Baby One More Time" Changed Pop Music Forever