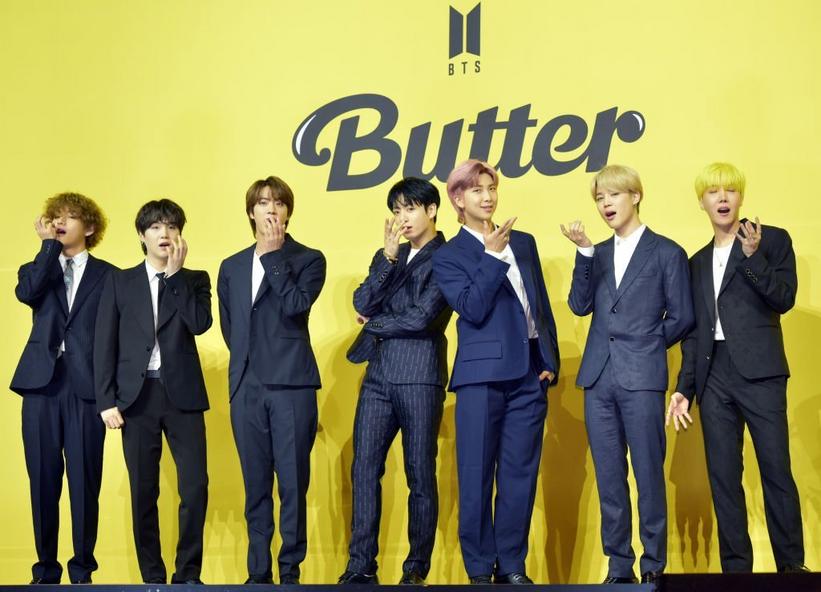 PHOTO: The Chosunilbo JNS / Contributor
interview
Smooth Like "Butter": How BTS' GRAMMY-Nominated Mega Hit Came To Be
"Butter" — the second English-language single from K-pop group BTS — is nominated for Best Pop/Duo/Performance at the 64th GRAMMY Awards. Co-writer Rob Grimaldi discusses creating the record-breaking hit for one of the world's biggest bands.
GRAMMYs
/
Mar 29, 2022 - 06:44 pm
What does it take to create a hit song? Musicians, songwriters and producers have attempted to answer this question since the inception of the music industry and the beginning of the pop star.
While some songwriters and producers feel hit records can be created through a precise science or formulaic approach, others claim that hit records are created based on feeling. Songwriter, producer and A&R Rob Grimaldi advocates for the latter, using BTS' "Butter" as his evidence. 
"Butter" is the second English-language single from BTS, the smooth, groove-heavy South Korean boy band. After forming in 2010, BTS burst onto the American scene in 2017 with "DNA" — their first song to chart on the Billboard 100. In 2018, the seven-member group became the first Korean band to play a U.S. stadium and, three years later, BTS' "Butter" surpassed 800 million streams on Spotify and spent a record-breaking 10 weeks at No.1 on the Billboard Hot 100.
"Butter" highlights the charming, infectious swagger that has become synonymous with the Bangtan septet of Jungkook, Park Ji-min, J-Hope, Jin, RM, Suga and V. It also illustrates the stellar song crafting abilities of Jenna Andrews, Stephen Kirk, Alex Bilowitz, Sebastian Garcia, Ron Perry, RM and Rob Grimaldi, who developed "Butter" over a three-month period. 
Grimaldi, a multi-instrumentalist from Bergen County, NJ, has a knack for mirroring the style of whatever artist he's working with at the moment. Using this gift, Grimaldi has helped create songs for and with stars such as BLACKPINK, Queen Naija, Jimmie, Tim McGraw, Noah Cyrus and JoJo. His BTS success is the result of years of attention to detail.
"Butter gave that feeling that we were trying to capture for BTS," Grimaldi told GRAMMY.com over Zoom. "It was nostalgic yet fresh; it incorporated what BTS has already done so well and took it to another level."
"Butter" is nominated for Best Pop/Duo/Performance at the 64th GRAMMY Awards. Grimaldi offers insight about creating this No. 1 hit, collaborating with a group of songwriters and producers, and what it was like working with one of the biggest groups in the world. 
This interview has been edited for clarity. 
When did you first get into producing/songwriting and what was your first chart-hitting single as a songwriter/producer?
Music has been a forever for me. I started playing piano before I could even read or write at about 3 years old. I also began playing drums around the same time, so I think music has always been something that I wanted to pursue. I did classical and jazz training in middle school from a writing perspective. 
Around 12 or 13, I began diving deeper into pop music, and I knew I wanted to start writing. I remember my parents taking me to a studio to cut my first instrumental mini-album around this same time; that was my first look into creating and recording. The first charter that I had was Queen Naija's "Karma" — it was the first record I made with Queen…on Capitol Records, and it went No. 1. 
And from that promising beginning, you eventually worked on BTS' "Butter." You, Jenna Andrews, Stephen Kirk, Alex Bilowitz, Sebastian Garcia and Ron Perry were involved with the songwriting, and  you, Kirk and Perry alone handled the production. How did you all come together to create what would be known as "Butter?"
I think one of the most remarkable aspects of "Butter's" story is the team aspect. And I'm a big team player who believes the team dynamic in music is underrated. For "Butter" specifically, every member of this project had a unique skill set. And that created such a special moment in crafting this song because we were able to shine in our way, using our strengths to come together and build a hit record.
Everybody had a job to do, but we never forced it; we knew what we did well. The experience of being together for three months straight was fantastic personally, but you really get to know each other professionally. And at the end of those "Butter" sessions, we left with a better understanding of each other and what we were capable of when we truly pushed ourselves. 
Did you all know each other before working on "Butter?"
We all had worked together and known each other separately, but we had never worked together on this level of intensity. People's relationships, both personal and professional, were established before, but you have to get after it when you're working on something like this. 
Everyone did such an incredible job of realizing that we have to work together as a squad if we want to make the best piece of art. Collaboration isn't always easy, but it felt natural to get right to work in this case. 
So, walk me through the "Butter" miracle [Laughs]: Could you describe how those studio sessions were? Why did it take three months? And just for clarification, the "Butter" sessions took place during the pandemic, correct?
Yes! And the fun part about it was that a lot of it was over Zoom — even if we were in the same place at times. Whether online or in-person, getting together became routine after a while. We would do our sessions throughout the day and fulfill our calendar, but after dinner, it almost felt like a daily thing of, Okay, it's time to work on 'Butter,' let's get everyone together.
Regarding the three months for the song's creation, the length of design and process depends on the project, and it varies constantly. If you and I were in the studio, some songs would be able to be finished in a day or maybe six to eight hours. At the same time, other songs take three months. "Butter" was a song where everyone was so passionate about getting it right. 
Now, don't get me wrong [laughs], I don't believe there is anything on earth that is perfect. I think that is a word we throw around, but we were all so incredibly motivated and diligent to get this song as close to perfect as possible for BTS. It was extra important for us. We knew what was on the line, and we also knew how talented and fabulous BTS is. The strategy for a record like this took longer than others because we wanted every piece to work correctly. Whether it was working on the track, tweaking a lyric or being competitive through our sonics, these things led to an excellent record, and we took our time to make sure it was ready to go!
What a process! How many drafts of "Butter" did the squad create through this three-month session before you got to the performance that the world fell in love with?
Marc, I can't even tell you the number; I have the session and all of the prints saved on an external hard drive to put in a case somewhere and look at 10 years from now. But there were countless edits both to production and lyrics; we made changes when cutting the demo, cutting the master, and I think there were so many stages of this process that made it magical. 
Looking back at this and saying, "This is where we started and look where we finished," is very rewarding, especially as a producer. I'm sure it's the same feeling as a songwriter, but watching that transformation is incredible. I have to tell you, the moment that we looked at the song from the beginning, we knew it was a hit. But it was in watching the art transform and take different forms was the most satisfying, I would say, about the three-month process. So many versions of the song exist, but I'm glad the one we loved is the one the world loves.
The Beatles have a litany of re-releases with different versions of their songs; maybe we get something like that for BTS' "Butter?" I would not be mad at that!
Hey, if you want to do it, I would be happy to help [Laughs]. 
I know that most producers/songwriters don't go into the studio to create a hit. But you mentioned that you knew this song was a hit from the beginning. Did you or any other songwriters/producers ever verbally say that this song was a hit during its creation?
I think it was immediate for me. As a producer, writer and A&R, you have that one folder on your computer of records that you genuinely believe in, and before this song became "Butter," this was one of those songs for me. It took one listen to understand it and know that there was something exceptional about it, and it's very rare to find those. 
This is [an idea] that the squad and I have had discussions about. When you're writing five songs a week or however many, capturing that undeniable ability and feeling is rare. It makes you even more grateful when you feel that way about something. It pushes you and motivates you to make sure you finish it and get it in the right hands because this one was special. 
This song was a feeling that you caught when you listened to it, but it had the formula to be great from a music perspective. The vibe of the song, the energy, that let me know we were on to something rare. 
"Butter" is a celebration of pop music, as it includes various references to other mega pop stars and chart topping songs. For example, the Michael Jackson and Usher references in the first verse. Was the idea of paying homage an intentional part of "Butter's" song creation, or did that happen more organically?
I think it originally began organically, but the squad had those discussions as the song evolved. We thought about it like, okay, BTS is the most significant group globally, and they're coming off a pretty big hit already. So it wasn't about one-upping; it was about creating something that checked all the boxes. 
The nostalgia and the feeling that merges a lot of our favorites before BTS was an important facet, at least to me, and I know Ron and Stephen on production felt the same about taking influence from records that we loved in the past. 
Even more than influence, though, ["Butter" was informed by] a feeling [of] let's try and create something that makes you feel a certain way, but feels new and fresh. Lyrically, it's the same idea as an Usher song and an MJ song…but when you dive into it, it all points to the same place of outstanding classic records. And that's really what the goal was. 
Do you know how BTS felt when they initially heard the song? You can't speak for them, obviously, but did you get a chance to listen to them speak their piece about "Butter?" And how did that drive you guys from that point forward?
Through the grapevine, I know they were excited when they heard it, but I don't have the specifics to tell you what was said and what wasn't. But I can tell you that the song needed to be immediate for them, which was the goal of lyric, melody and production. The song had great bones. If you just played the music on a piano, you would still be able to understand and sing it back constantly, and there was just a lot to work with. 
So the process of working the song out and making the song what they heard was crucial because they needed something that sounded like a hit as soon as they heard it. So from the beginning to the end, every moment of the song had to give you that feeling. Any sign of weakness on that front, and we may not have gotten the reaction of Wow, this is it. 
There is so much to think about when describing the "making of" in that way. What were some of the best strategies and skills you learned from the other songwriters/producers present for "Butter's" creation?
There was a bunch that I learned, and first and foremost, I want to thank the squad because everyone's antennas were up on this song. The attention to detail throughout this track's creation was incredible. When you share that passion with a group you're working with, everyone holds each other accountable and wants what's best for the song and the group. So it was meaningful to me to share that with the squad of producers/songwriters that I was a part of. 
From an A&R perspective, so much was learned. But, of course, the first thing had to be knowing your talent. In this case, it was studying BTS and getting to know them as a whole. We had to figure out what they stand for and what they believe in, what they say, how they like their records to sound, and what we can do to bring out the best in each member of BTS. Talking about it is not something you discuss when working on a hit record, but in this case, it served us incredibly well. Having that knowledge of who we were writing for dictated the decision-making in the record. 
With the number of details that went into this song, it is genuinely no wonder "Butter" has had the global reach and success it did. Recently, I saw on your Instagram story that "Butter" surpassed 800 million streams on Spotify. With that success still coming in, have any artists come to ask you to replicate the magic that went into BTS' hit song?
The industry is always aware of successful moments. We've seen this in the past with a million other things; when you're going to create for someone and the A&R, producer, songwriter generally says, "I would love a song that sounds like this." "Butter" has become that. 
Yes, I have been asked by many people since — and I know the "Butter" squad has as well — not to recreate "Butter" but a hit that feels like that. As mentioned earlier, these are such rare moments in finding the one. Still, it is satisfying knowing that people are watching this and really appreciate the art, the group and want to find that success in themselves.
"Butter" has become a moment that other people are trying to replicate not only because of the commercial success of the song but the fact because the song has lived this long at the top. BTS will be BTS with or without us; they do that greatness regardless because they're great. But the song's longevity has been proof to me that this worked. 
Have you or the squad contacted BTS since the release of Butter? If so, have you all flirted with the idea of getting the gang back together for another single?
There has been communication with all members of the squad and BTS. Obviously, there is a want to continue the work we did after having so much success with them. However, one of the biggest reasons for wanting to work with them again is how much they learned about them. 
Now moving forward…we understand the formula that worked before, it's certainly not easy recreating that magic. Still, there is so much experience attached there that can move with a clear mind from the beginning. So yeah, lines of communication have definitely been open. Working on "Butter," we got a chance to live in their world creatively, and doing that with BTS was special. 
When you saw that "Butter" had been nominated for a GRAMMY this year, how did that make you feel?
I was so excited for BTS. Obviously, there is a personal side of this where each of us who worked on the record is a big moment, and I would never downplay that. But there was a deep sense of satisfaction for BTS as well; they are making their way into the American market, and the GRAMMYs are a big deal. 
It's in my hopes and prayers that they take this one home because I think they are on the top of the world right now, and winning a GRAMMY would be another huge moment of growth for them. But, my feelings are pretty simple on it: I was elated, and this is the end goal — a chance to be on that stage. 
For The Record: How Wizkid Elevated Nigeria & Propelled The Ascent Of Afrobeats With His Star-Studded Album 'Made In Lagos'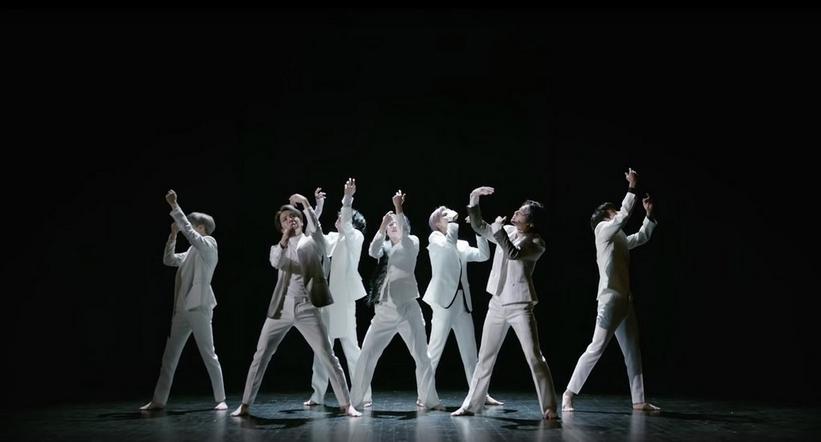 BTS - "Black Swan" Music Video
news
BTS Release Stunning Music Video For 'Map Of The Soul: 7' Single "Black Swan"
The striking visual is the latest offering from the South Korean septet's chart-topping album
GRAMMYs
/
Mar 4, 2020 - 11:19 pm
BTS are back with another stunning music video off their newly released, chart-topping album Map Of The Soul: 7. Today (March 4), the global pop superstars released the official music video for "Black Swan," the first single off the album.
Simple yet striking, the "Black Swan" video shows the South Korean septet deliver a gorgeous dance performance inside an equally beautiful theater. Directed by YongSeok Choi and co-directed by Guzza, both from the Lumpens creative collective, the visual depicts the members of BTS transforming from swans into the song's eponymous black swans onstage.
The "Black Swan" video follows the group's recent cinematic visual for Map Of The Soul: 7 single "ON," which last week (Feb. 28) broke YouTube's record for most views for a video premiere. Last month (Feb. 21), BTS released the Kinetic Manifesto Film: Come Prima, the first visual for "ON" that unfolds like a short film.
Released last month, Map Of The Soul: 7, BTS' fourth studio album, is breaking records around the world. Already the best-selling album of the year worldwide, the album topped the Billboard 200 chart, their fourth No. 1 album in the U.S., while lead single "ON" currently sits at No. 4 on the Billboard Hot 100 chart, marking their highest record on that chart to date.
Read: BTS Talk New Album 'Map Of The Soul: 7': "The Genre Is BTS"
In an interview with the Recording Academy last month, BTS explained their creative approach to Map Of The Soul: 7, which sees the group exploring everything from pop ballads to hip-hop jams.
"I think it's less and less meaningful to divide music into genres now," BTS member Suga said.
"The genre is BTS. That's the genre we want to make and the music that we want. New genre," the group's Jungkook, V and J-Hope added.
Map Of The Soul: 7 follows a dazzling performance from BTS at the 62nd GRAMMY Awards last month. They joined Lil Nas X in a star-studded performance of "Old Town Road" that also featured Billy Ray Cyrus, Diplo and Mason Ramsey.
Map Of The Soul: 7 marks BTS' first full-length project since their 2018 album, Love Yourself: Tear, which topped the Billboard 200 chart and solidified the group as the first Korean act to accomplish that record-setting feat. It's also the second installment in BTS' ongoing Map Of The Soul series, which launched with the chart-topping Map of the Soul: Persona EP last April.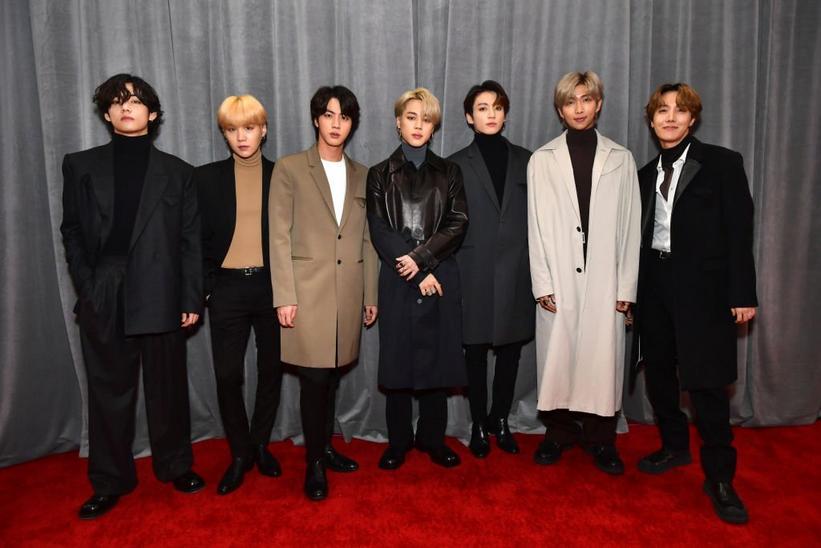 Photo: Emma Mcintyre/Getty Images
news
62nd GRAMMYs Poll: Which Artist Had Your Favorite Red Carpet Look?
From Lizzo's classic Hollywood gown to Ariana Grande's puffy grey dress, who wore your favorite red carpet look?
GRAMMYs
/
Jan 27, 2020 - 05:52 am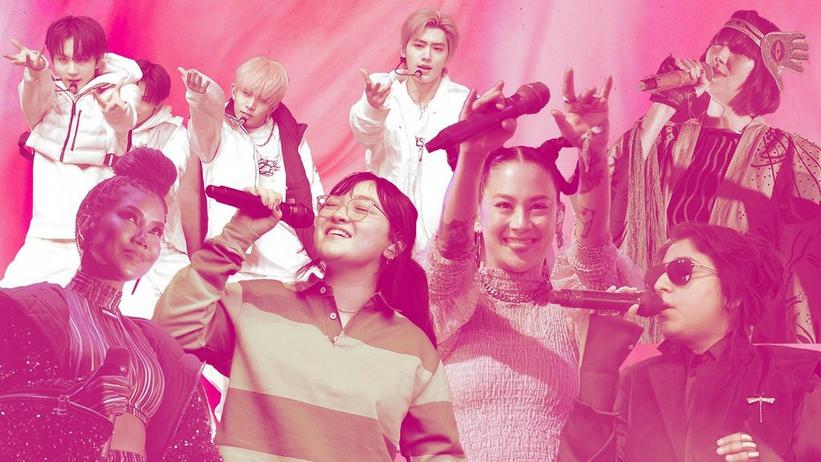 (Clockwise L-R): ENHYPEN, Karen O, Arooj Aftab, Japanese Breakfast, mxmtoon, Jhené Aiko
Source Photos (Clockwise L-R): The Chosunilbo JNS/Imazins via Getty Images; Rick Kern/WireImage; Scott Dudelson/Getty Images for Coachella; Scott Dudelson/Getty Images for Coachella; FilmMagic/FilmMagic for Outside Lands; Scott Dudelson/Getty Images for Coachella
list
Japanese Breakfast, Blackpink, Enhypen, Stray Kids, Mxmtoon & More | Listen To GRAMMY.com's AAPI Month 2022 Playlist
As we celebrate the contributions of AAPI artists throughout the month of May, GRAMMY.com presents a genre-spanning playlist of emerging and established artists you should know, including BTS, Jhené Aiko, B.I, TWICE, Arooj Aftab, and many more.
GRAMMYs
/
May 19, 2022 - 11:02 pm
Asian American and Pacific Islander (AAPI) musicians have created a plethora of transformative art, which is ripe for exploration. To help you do it, GRAMMY.com has put together a 30-song list with music from AAPI musicians including Luna Li, Wallice, Weston Estate, Kainalu and OHYUNG, along with other AAPI artists you should know like Deb Never, Lucy Liyou and Sunset Rollercoaster. You may even find your new favorite artist along the way.
This playlist spans genres and moods, and its primary goal is to expose you to fantastic new AAPI artists you might not find in less curated places, like your motionless Spotify algorithm or crooning through your car radio. You can think of this playlist as a first-rate tasting menu of what AAPI-made music has to offer — something to turn to when you're looking for solidarity, inspiration or just some really good music.  
Listen to GRAMMY.com's official 2022 AAPI Month playlist below and follow the Recording Academy/GRAMMYs on Spotify, Apple Music, Amazon Music and Pandora. Playlist powered by GRAMMY U.
5 Emerging AAPI Artists You Need To Listen To: Luna Li, Wallice, OHYUNG & More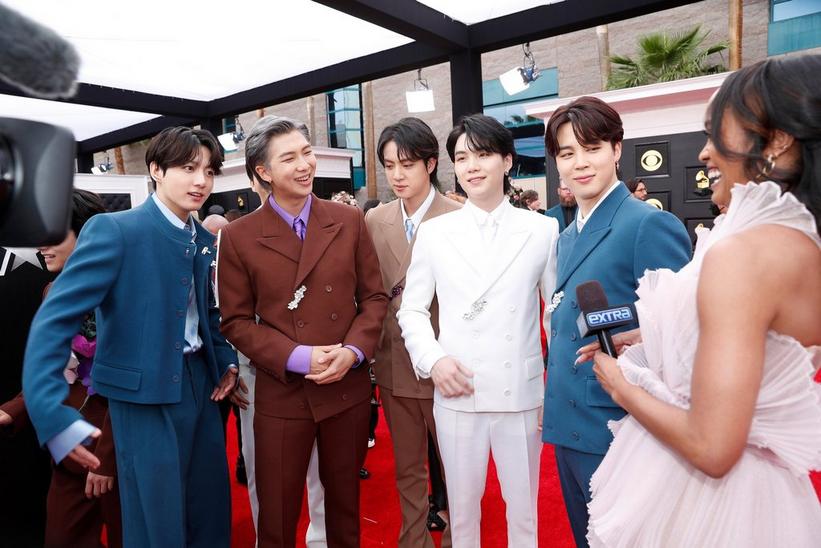 Jungkook, RM, Jin, Suga, and Jimin of BTS at the 2022 GRAMMYs
Photo: Johnny Nunez/Getty Images for The Recording Academy
list
Everything We Know About BTS' New 2022 Album 'Proof'
Later in 2022, BTS will release a three-part anthology of key tracks, new songs, and previously unreleased rarities. Here's everything to know about 'Proof.'
GRAMMYs
/
May 12, 2022 - 08:51 pm
There's a new stirring in the fabric of the BTS universe — a big one.
On June 10, the GRAMMY-nominated pop juggernauts will release Proof, a collection of tracks from throughout their discography, as well as brand new tracks, never-before-heard demos and more.
Spanning three discs, Proof promises to celebrate the band's past, present and future through a lovingly curated song cycle. If members of the BTS Army ever wanted to hear demos of tracks like "Jump," I Need U" and "DNA" — as well as an a cappella version of Jungkook's "Still With You" — they're in luck.
In the wake of Proof's recently released tracklisting — featuring well-known tunes like "Dynamite" and "Butter" (and so much more), here's everything GRAMMY.com could find about the career-spanning compilation by a giant of 21st-century pop.
It's Called Proof, And It's Out June 10 Via Big Hit Music
That's according to the official press release.
It'll Contain A Wealth Of Treasures, Previously Unreleased Or Not
According to said press release: "The new album consists of three CDs that contain brand new tracks, members' selections, demo versions, unreleased tracks and more."
Proof Acts As A "Chronicle Of BTS"
The first disc begins with a remastered version of "Born Singer," from all the way back in 2013, which the press release describes as "BTS' candid emotions they felt after one month of their debut." The disc ends with the lead single "Yet To Come (The Most Beautiful Moment)."
The second disc consists of "15 solo and sub-unit tracks," beginning with the new track "Run BTS," and highlights each BTS member's distinct tastes and personality.
The third disc, only available on CD, is said to be "dedicated to the fans," featuring unreleased tracks and demo versions that any fan will eat up — as well as a new fan song, "For Youth."
Read More: Smooth Like "Butter": How BTS' GRAMMY-Nominated Mega Hit Came To Be
The Album Celebrates Nine Years Of BTS
Can you believe it's been almost a decade? Yet it feels like the Bangtan Boys are just getting started.
BTS Initially Teased The Music Back In April
During their Permission To Dance Onstage concert in Las Vegas, BTS shared short clips with the text "We Are Bulletproof" and "2022. 06. 10." While this initially fueled speculation that a new album was coming, the release wound up materializing as Proof.
They Shared The Tracklist On Instagram
It's in the Highlights section of their Stories, where BTS also announced that "Yet to Come" will be the lead single.
They Released A Trailer, Too
See below — and watch this space as more details of Proof are unveiled!