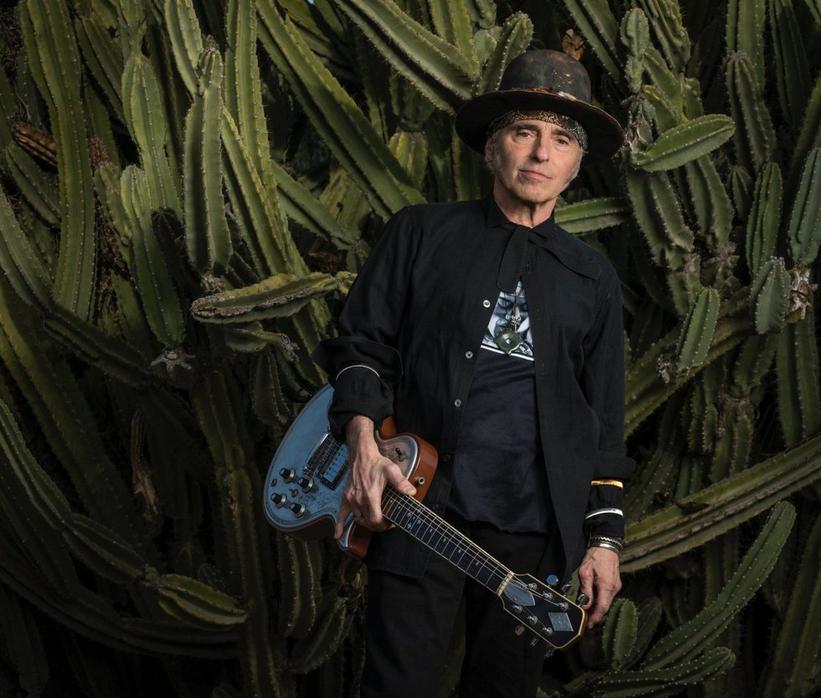 interview
Living Legends: Nils Lofgren On His Guitar Philosophy, Staying Sober & Meshing With Iconoclasts Bruce Springsteen and Neil Young
Living Legends is a series that spotlights icons in music who are still going strong today. This week, GRAMMY.com sat down with Nils Lofgren, an inspired solo artist and key collaborator of Neil Young and Bruce Springsteen.
GRAMMYs
/
Feb 16, 2022 - 02:44 pm
Presented by GRAMMY.com, Living Legends is an editorial series that honors icons in music and celebrates their inimitable legacies and ongoing impact on culture. In the third edition, GRAMMY.com caught up with Nils Lofgren, a revered solo artist and crucial accompanist to Neil Young in Crazy Horse and Bruce Springsteen in the E Street Band.
Neil Young and Crazy Horse may have been in rustic, cozy climes while recording their latest album, Barn, but departed friends were heavy on their minds. From decades-long manager Elliot Roberts to luminous vocalist Nicolette Larson and beloved pedal steel guitarist Ben Keith, Young's cosmology is populated with far too many lost colleagues. One of the cruelest losses was Danny Whitten, the Horse's brilliant first guitarist who succumbed to an overdose far too young.

Current guitarist Nils Lofgren is keenly aware he could have ended up like him.
"If you're struggling with issues like that, you only have three choices: You get cleaned up, you get locked up or you get covered up," the guitarist, accordionist and Horseman — who's played with Young for more than 50 years and been sober for almost 35 — tells GRAMMY.com. He cites fellow survivors Ringo Starr and Joe Walsh, who both wrested themselves from addiction, and remain healthy and creative in their 70s and 80s.
Of course, Lofgren is known for far more than cleaning up his act; he's one of the most evocative, graceful guitarists on the planet, and an inspired accompanist in the Horse and Bruce Springsteen's E Street Band. But as per his blunt axiom, living clean has allowed him to flourish as an artist and human being. He speaks with palpable gratitude and humility, both crucial weapons for breaking vicious cycles. And the best part is: he's got more music in him.
With Barn and a new solo, live album, Weathered, out in the world, GRAMMY.com presents an exclusive interview with the guitar extraordinaire about his past, present and future. (The conversation occurred before Lofgren removed his music from Spotify in lockstep with Young over COVID misinformation.)
This interview has been edited and condensed for clarity.
The Barn film made the sessions seem like a marked difference from the experience of making Colorado. While that experience was a little more exotic — you were at a 9,000-foot elevation — recording in the barn seemed much more comfortable.
"Comfortable" is a good word. Gosh, we all go back well over half a century together — as friends and fellow bandmates and musicians. 
Being in the middle of a pandemic and having everybody vaccinated and testing and safe, you knew you were in a safe environment. Which, in and of itself, was kind of an out-of-body experience at the height of COVID, when you were worried sick at home and spraying mail down. Of course, that was from pre-vaccination. 
It was pretty extraordinary. The initial intent was just to see each other and be musicians for a week or so. Neil thought he might have four songs — maybe five — but he kept writing and had more material.
We were sitting around, telling stories and just being grateful to be with each other — to go play for hours at a time and work on new music. It was an extraordinary 12 or 13 days — whatever it was. My wife Amy always says if I'm going to miss my birthday at home, she couldn't find a finer place or circumstance.
You've seen Neil's career from the very beginning to the most recent part. What does it feel like to come back to Crazy Horse with 50 years of experience?
It's an extraordinary level of comfort, gratitude and familiarity. We call it the Gold Rush upright — the same piano I played when I was 18, when I played "Southern Man," "Only Love Can Break Your Heart" and "Don't Let It Bring You Down." To sing on that at 70 — 52 years later — and be with people you've been through so much with, in the studio and on the road, just hanging out, in endless rehearsals over the years [is remarkable].
I did the first Crazy Horse album while Danny was alive, with Billy [Talbot], Ralph [Molina] and Jack Nitzsche. That history just brings a beautiful comfort level. We had cameras rolling in a drafty old barn — Neil set it up like a nightclub, so there's a stage looking out. We never put on a set of headphones once. It's the first album I made in 53-odd years where I didn't put headphones on. I got a kick out of that.
 It was a very comfortable, beautiful experience in the middle of a frightening pandemic. I thought Daryl [Hannah]captured it beautifully in the film. I'm really glad that's going to come out and be shown because it really does capture the comfort and familiarity, high up in the Rockies.
When you think back to the After the Gold Rush days, what comes to mind?
I met Neil when I was 17, at the Cellar Door. Shortly after I met him on Crazy Horse's first tour, I was out in California. I looked Neil up. True to his word, he took me under his wing. He introduced me to David Briggs, his producer. Long story short, after a lot of Hollywood misadventure, I moved in with David in Topanga Canyon. So, I saw a lot of Neil.
They were my big brother mentors at a very young age. They were very encouraging and very honest. I remember my band, Grin, became the house band at the Topanga Canyon Corral. Neil came down and jammed with us one night and we really hit it off and were playing great.
So, the next day, I was at his house with David Briggs. And we were feeling pretty good, you know? Neil and David were telling us how good the drummer was and how much Neil enjoyed playing with us. Being the hard-ass, show-biz, music-biz friends they were, they said, "The band's pretty good, but you need a better bass player."
I was crestfallen because we were a team — a family. But I was only 17, and I had Neil Young and David Briggs — who had moved me into his home with the plan of getting me a record deal and producing us — what are you going to say to that? "Oh, you guys don't know what you're talking about?" So, we got our bass player, Bob Gordon. Sadly, we lost Bob a number of years ago.
But it was just that kind of thing. There was comfort in their relentless honesty mixed with encouragement that I always felt working with Neil. We had many chapters — Tonight's the Night. In between that and After the Gold Rush, we did the Crazy Horse album. The Trans album and tour in the '80s. "MTV Unplugged" in the '90s. More recently, Colorado, and now the new album, Barn.
And how did you end up joining the E Street Band?
Through the years, I'd go see Bruce play a lot. And in '84, when Steve decided to go solo, to my great fortune, I had an audition —  I look at it that way; Bruce wouldn't call it that. But we jammed for a couple of days, and it was just five weeks before opening night. So, it was kind of a hairy thing. 
I remember I was 18, driving with David. We used to crank Creedence Clearwater driving through the hills of Topanga in a VW Bug. I remember saying, "David, it's so nice to not be a bandleader every day. There are a lot of nonmusical issues that go along with bandleading that disappear." 
So, I was very young when I realized [the value of] taking a break from bandleading and just being in a great band. Neil and Bruce, they're really hands-off. They don't direct you very much. They like you to come up with ideas. They might add a suggestion here and there, but there's a lot of freedom that's very similar between the two. They don't mind rough edges and seat-of-your-pants. Neil's maybe taken that to an extreme more than anybody.
Especially on Tonight's the Night.
That one was an anti-production record. David Briggs and Warner just said, "Stay down in it. We don't want you doing the songs too well, but you're still going to be singing and playing. And when Neil gets the right vocal, you're done. No one's going to be allowed to change the notes." 
It was a great, dark record. We kind of call it "the wake album," because all our heroes and friends were dying. It was a dark time, and I thought it was a very commiserative, healing project despite the darkness of it.
Bruce and Neil are highly iconoclastic, individualistic artists. What is it about your personality and musicianship that allows you to mesh so well with them?
This is also true with Ringo Starr, who I've been blessed to play with in his first two All-Starr Bands — I wouldn't be a musician if it weren't for the Beatles! I grew up playing classical accordion for 10 years. I'd probably be at a Holiday Inn Express lounge playing the quarter-box, doing hits of the day. 
But thanks to the Beatles — and the Stones are amazing, but at the top of the list is the Beatles — I found a crazy, lifesaving love of music that sustained me and still does. I think music is the planet's sacred weapon, really. Billions of souls turn to it.
On the Born in the U.S.A. tour, we went to a birthday party late at night with Ringo, and I got to jam with him. Late at night, having drinks, he gave me his phone number, so I began calling him every few weeks and establishing a friendship. Five years later, he called me in L.A. and told me about his All-Starr Band, so he could get back out there and be a drummer and sing and play. Kind of a round-robin thing.
But back to your original question: there's something they have in common. They quickly pull you out of "Oh my lord, I'm playing with a Beatle," or "Geez, Neil Young — look at his body of work," or Bruce. They're such natural "band" musicians. They're down in it. They're in the music. 
Again, because of the freedom that's given, it's positive pressure, like, "Hey, I don't know what we should play. Surprise me. Come up with something great." David Briggs used to say, "Just be great or be gone." Like, "We think you're great. Figure it out."
I love your touch with Crazy Horse — sometimes, it seems like you're barely touching the strings, offering a subtle power. What's your guitar philosophy?
I fingerpick a lot, and there's a gentleness you can get from your flesh. The thumb pick is like a bore — it's very thick, no give. There's a harshness to it. A flatpick has a gentler sound to it. So, I'll use my fingers to get the gentler sound. And with the thumb, you don't have to hit it too hard, and you get quite a percussive thing — which, of course, lends itself to some harmonic playing.
It depends on the song. If we're doing "Shut it Down," I'm starting to bang with the thumb pick, which is very percussive. Then, you turn around and have a beautiful song like "Green is Blue," which is one of the great climate-change songs ever written. Most of it, I barely touch the strings with the thumb pick. Most of it is played with my fingertips. Whatever the mood is.
What was it like to be around Danny? Neil's written very affectionately and effusively about him, sometimes calling him more talented than himself.
Danny was extraordinary. Neil's got such a great vibrato, but it was really Danny who sang with that shaky, kind of Bee Gees vibrato. You can hear it so well in "I Don't Want to Talk About It," from the first Crazy Horse record and in a lot of his singing in the early records with Neil. He was very powerful — kind of a surfer, California dude. A brilliant, soulful musician. Very game for anything.
Of course, Danny was getting better and more creative and getting ready to make the first Crazy Horse album. It was at that point I joined the band with Jack Nitzsche that [Danny] was getting more affected by alcohol and drugs. It was kind of sad to watch him in decline because he was this real musical hero — all of ours, including Neil's.
At one point, after we made the Crazy Horse record, Danny went back to Maryland. He and I were talking about joining my band Grin as another member. He lived with us for a while. I remember we were at Georgetown University, waiting to see Roy Buchanan. We left Danny; he didn't want to come into town. He was getting pretty sick back then.
We were in the audience waiting for Roy to come on, but the lights were still up. Someone comes to the mic and pages me. So, I go backstage, there was a landline. Our head of road crew, who was living in this funky place in the country in Urbana, Maryland, said, "Man, I'm so sorry. I lost Danny!" I'm like, "What do you mean, you lost Danny?" He was supposed to watch Danny.
Danny was roaming the Maryland countryside, looking for drugs. We were like, "Oh my god! If he walks up to the wrong home, someone's going to shoot him!" We rushed back out there, looked around and found him wandering around. It got to a point where I was like, "Danny, man… you're so ill. I don't think you can handle this schedule. We're on tour in clubs seven days a week. I'd love you to be in the band, but you've got to get well, man."
He understood and was bummed out, but it never happened. That was the great tragedy when we were making the album. Danny couldn't be bothered to tune his guitar. I tuned it for him. It was lucky that we got that great album done. Everybody, including Neil, wanted to give Danny a shot working on the Harvest record, but he just never did it.
Read More: For The Record: Why Neil Young's Commercial Breakout 'Harvest' Is Weirder & More Wonderful Than You Remember
He was, in the beginning, very confident. He challenged Neil on guitar. The interplay they created together — and Poncho [Sampedro] carried that on so great for 37 years. Neil and Danny wrote the book on that two-guitar grunge — and the pretty stuff, too. And then the voices together were just extraordinary.
At the end of the day, he just became a casualty of alcohol and drugs. It was a great loss to all of us.
I imagine people didn't understand mental health and addiction back then like we do now.
Back then, the rehabs were insane asylums. I will say that while we were making Barn — and same with Colorado — Danny, David Briggs, Ben Keith, Elliot Roberts — they were all fresh on our minds. Elliot was a sudden loss recently, which broke all our hearts — especially Neil's. Elliot was in the room when I met him when I was 17, all those years ago. 
That's part of life, of course, but it was a rough hit for all of us, [being] in a band with such powerful figures. You never quite get over it.
Neil's cosmology is populated with these departed, incredibly consequential figures.
It's just kind of endless. But that's life. It's a rough part of life, and you never get too great at navigating it. But it does really help to have the other guys there.
Ringo and I talk about the first All-Starr Band in '89, which might have been the greatest cast of musical characters in history. There's only a few of us left: me, Joe Walsh, Jim Keltner and Ringo. Dr. John, Billy Preston, Clarence Clemons, Rick Danko, Levon Helm… talk about a band!
From the Tonight's the Night band — minus Ben Keith — four out of five of us are still standing. That's pretty good for a bunch of old guys. 
Do you consider yourselves survivors? You mentioned Joe Walsh and Ringo — those guys could have gone the way of Danny, but didn't.
Ringo's been very open about his sobriety. On the tour in '89, I was just a year ahead of Ringo, cleaning up my act. I've been clean and sober for 34 years. 
The message is: If you've got a problem with drugs or alcohol, there's help. There's a lot more now than there used to be, but you ain't gonna get it if you don't look for it. I'm really proud of people like Joe and Ringo, who got the help and they're out singing and playing.
You can talk it around, talk it to death — but at the end of the day, if you're struggling with issues like that, you only have three choices: You get cleaned up, you get locked up or you get covered up. That's it. Every day, you pick one.
Living Legends: The Kinks' Dave Davies On 21st-Century Breakdown, Mellowing Out In His Seventies & Stirring The Pot On Twitter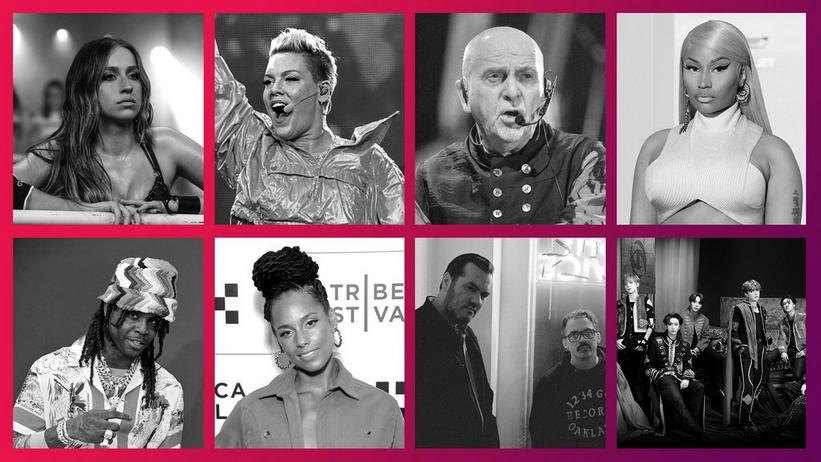 (Clockwise) Tate McRae, Pink, Peter Gabriel, Nicki Minaj, ATEEZ, Atmosphere, Alicia Keys, Chief Keef
Photos: Baeth; Jeff Hahne/Getty Images; Elena Di Vincenzo Mondadori Portfolio via Getty Images; Rodin Eckenroth/WireImage; courtesy of KQ Entertainment; Dan Monick; Manny Carabel/WireImage; Prince Williams/WireImage
list
15 Must-Hear Albums This December: ATEEZ, Nicki Minaj, Neil Young & More
Just in time to soundtrack your festivities and welcome in an inspiring new year, press play on these 15 releases from Peter Gabriel, Tate McRae, Alicia Keys and others.
GRAMMYs
/
Dec 1, 2023 - 06:37 pm
December is a time for rejoicing and reflecting. How did this year go? And what will come next? As we look back on the meteoric 2023 and start planning for 2024, there's a sundry of new music to usher in this journey.
This month, artists like Alicia Keys and the Killers will celebrate 20-year anniversaries with The Diary Of Alicia Keys 20 and Rebel Diamonds, respectively. Others will bring forth much-awaited sequels, like Nicki Minaj's Pink Friday 2 and Chief Keef's Almighty So 2. Adding to that, live performances by Pink and Khruangbin will get immortalized, while rising star Tate McRae will release her sophomore effort, Think Later, and Dove Cameron will debut Alchemical: Vol. 1.
Below is a guide to all the must-hear releases of December 2023, just in time to soundtrack your festivities and welcome in an inspiring new year. Read on for big releases from ATEEZ, Peter Gabriel, Neil Young, and more.
Dove Cameron -
Alchemical: Vol. 1
Release date: Dec. 1
Following Dove Cameron's viral, platinum-certified 2022 hit "Boyfriend," expectations were high for the artist's first studio album. The singer and actress will release Alchemical: Vol. 1 at the top of the month.
"I wrote Volume 1 during a period of deep healing and space to process that I had never given myself. I hope you feel yourself in these songs as much as I do. Part 1: tear down. Part 2: rebuild," the singer shared on Instagram, teasing Vol. 2 of the collection (release date yet to be announced).
A follow-up to Cameron's 2019 debut EP Bloodshot / Waste, Vol. 1 features eight tracks. Aside from "Boyfriend," she has revealed singles "Breakfast," "Lethal Woman," and "Sand," building up a sultry sound and an alluring mystique that prompt her as one to watch.
Dillon Francis -
This Mixtape Is Fire TOO
Release date: Dec. 1
Eight years after This Mixtape Is Fire, Dillon Francis' latest "turned out better than I could have ever imagined," the DJ and producer shared on Instagram about his forthcoming album, This Mixtape Is Fire TOO.
"The whole goal of this album was to make amazing songs with artists I love and respect," he added. The 14-track record features several 2022 singles, such as "Free" with Alesso and Clementine Douglas, "LA On Acid" with Good Times Ahead, "Pretty People" with INJI, "Don't Let Me Let Go" with Illenium and Evan Giia and "buttons!" with Knock2.
Aside from collaborating with some of dance music's biggest names, Francis seems intent on having fun. His latest single, "I'm My Only Friend" with Arden Jones, demonstrates that by pairing up his characteristic high-octane beats with an amusing music video featuring actor Billy Zane in an impromptu road trip adventure.
ATEEZ -
THE WORLD EP.FIN: WILL
Release date: Dec. 1
K-pop's favorite pirates ATEEZ are getting ready to release their second Korean full album: THE WORLD EP.FIN: WILL. The record will conclude the trilogy that began with EPs The World EP.1: Movement and The World EP.2: Outlaw.
With a slew of teaser pictures and a mysterious black-and-white trailer, the eight-member boy band continues to further their lore and leave fans eager to decipher their next chapters. In addition, a tracklist and an instrumental preview of the album's upcoming 12 songs, including title track "Crazy Form," were revealed, promising exciting twists to their thunderous beats.
EP.FIN: WILL also brings a surprise in its unit and solo songs, all with lyrics co-written by the members: Jongho brings his powerful vocals to "Everything," "Youth" is a duet by Mingi and Yunho, "It's You" is performed by Yeosang, San, and Wooyoung, and "MATZ" is the long-awaited collaboration between the band's two eldest members, Hongjoong and Seonghwa.
Khruangbin -
Live at Sydney Opera House
Release date: Dec. 1
After a yearlong series of live albums in partnership with other artists (Toro y Moi, Men I Trust, Nubia Garcya and others), Khruangbin will close out 2023 with the upcoming Live at Sydney Opera House — this time on their own.
The double LP was recorded in November 2022, and compiles their three-night residency at one of Australia's most prestigious venues. With the announcement, the Texas trio also shared a new version of their 2015 hit, "People Everywhere (Shifting Sands Remix)."
The setlist also includes classics like "So We Won't Forget," "A Calf Born in Winter" and "Friday Morning," attesting to the band's expertise in highlighting the best of their career while giving tracks a fresh, unexpected spin.
Alicia Keys -
The Diary Of Alicia Keys 20
Release date: Dec. 1
The end-of-year celebrations will start early for Alicia Keys and her fans. On Dec. 1, the 15-time GRAMMY winner will release a special version of her multiplatinum sophomore album, The Diary of Alicia Keys, in order to celebrate its 20th anniversary.
The 2023 LP will feature 24 tracks, including nine bonus songs including the previously unreleased "Golden Child." Keys also uprezzed four music videos from that era on YouTube: "Karma," "You Don't Know My Name," "If I Ain't Got You" and the live version of "Diary" with Tony! Toni! Toné! and Jermaine Paul.
To make the milestone even more special, Keys will perform the full album in an intimate, one-night-only concert at New York's Webster Hall on the day of release. A portion of the earnings will be donated to the nonprofit organization she co-founded in 2003, Keep a Child Alive.
Peter Gabriel -
i/o
Release date: Dec. 1
During every full moon this year, Peter Gabriel unveiled a new track off his upcoming studio album, i/o. It was a clever way to compensate fans for a lengthy wait. i/o is Gabriel's first LP of new and original content since 2002's Up, and has been in the works for almost three decades.
"I'm very happy to see all these new songs back together on the good ship i/o and ready for their journey out into the world," the British singer said in a press release. With 12 tracks "of grace, gravity and great beauty," the album tackles themes like the passage of time, grief and injustice, but never gives up on hope. Each track comes in three versions: the Bright-Side Mix by Mark 'Spike' Stent, the Dark-Side Mix by Tchad Blake, and the In-Side Mix by Hans-Martin Buff.
Gabriel also spent a good part of 2023 on the i/o Tour across Europe and North America. Attendees were lucky to witness the album played in full and some of the singer's biggest hits, as well as the unreleased track "What Lies Ahead."
Atmosphere -
Talk Talk EP
Release date: Dec. 1
From "Talk Talk (feat. Bat Flower)," a track off Atmosphere's May album So Many Other Realities Exist Simultaneously, comes Talk Talk EP. According to a press release, the Minneapolis duo was so captivated by that song's "vaguely alien and deeply human" sounds that they had to develop it into a ten-track deep dive.
In the album, rapper Slug and DJ/producer Ant "dart across threads of space-time" and become "titans of the electro-rap that was foundational to their youths," citing names like Kraftwerk and Egyptian Lover as inspirations. The press release also mentions that Talk Talk EP is a testament to rap's connection to electronic music of the '70s and '80s.
That statement rings true, for instance, in the two singles they have released so far, aside from "Talk Talk": the sparkly "Rotary Telephone," and the haunting album closer, "Traveling Forever."
Pink -
Trustfall Tour Deluxe Edition
Release date: Dec. 1
Following the smashing success of her ninth studio album, February's Trustfall, and of her back-to-back Summer Carnival stadium tour and Trustfall arena tour this year, pop giant Pink will wrap it all up with the release of Trustfall Tour Deluxe Edition on Dec. 1.
The special record features six live recordings (from Summer Carnival), including "Cover Me in Sunshine" with her daughter Willow Sage Hart, as well as covers of Sade's "No Ordinary Love" and Sinead O'Connor's "Nothing Compares 2 U," with Brandi Carlile. It also includes July's protest song "Irrelevant" and two new singles: "Dreaming" with Marshmello and Sting and "All Out of Fight."
As the unstoppable artist that she is, Pink has already announced a slew of 2024 Summer Carnival tour dates for Oceania in February and March, and the U.K. and Europe throughout June and July.
Tate McRae -
Think Later
Release date: Dec. 8
"Here's to 20 years old and figuring who the f[—] i am," celebrated rising sensation Tate McRae wrote on Instagram. Writing her sophomore album, Think Later, was "one of the most stressful, exciting, nerve racking, and fun things I've ever gone through. For the first time in my life I lived this year a little less with my head and a little more with my intuition — and I [really] hope [you] guys can feel that through the music," she added.
Produced by Ryan Tedder, the album dives into "the all-too-relatable feelings of falling in love and embracing the raw emotions that you experience as a result of leading with your intuition and heart," according to a press release. It is preceded by singles "Greedy" — of recent TikTok fame — and "Exes."
The Canadian singer has also announced an eponymous tour in support of the new album. McRae will visit Europe and North America from April to August 2024, bringing it to a close in Oceania throughout November.
Nicki Minaj -
Pink Friday 2
Release date: Dec. 8
After several postponements, rap superstar Nicki Minaj is celebrating her birthday by bringing Pink Friday 2 to the world. The much-expected release marks Minaj's first studio album since 2018's Queen.
The album is a sequel to her acclaimed debut, 2010's Pink Friday, and is supported by two singles, "Super Freaky Girl" and "Last Time I Saw You." During an Instagram Live on Oct. 24, as reported by People, Minaj shared that "this entire album will be the biggest gift I have ever given humanity thus far. I can stand by that. I will bet any amount of money that Pink Friday 2, the album, is going to make people fall in love immediately."
The Trinidadian American icon recently announced a 2024 tour in North America and Europe. Exact dates are yet to be announced, but the commotion was such that Minaj's fandom, Barbz, crashed her website upon hearing the news.
The Killers -
Rebel Diamonds
Release date: Dec. 8
It's been almost 20 years since the Killers burst into the rock scene with their 2004 debut Hot Fuss. To honor that achievement, the Las Vegas band will release Rebel Diamonds, a compilation of 20 hits encompassing all their seven LPs, plus new track "Spirit."
In the tracklist, fans will be able to take a trip down memory lane with singles like "Mr. Brightside," "When You Were Young," and "Human," among other classics. "See, it's been said that what's remembered, lives," frontman Brandon Flowers said in a trailer for the album. "And we've racked up stadiums full of memories the past 20 years, enough to fill lifetimes." 
Flowers continued: "It sounds a bit like Bowie. Or is it Brando? Or maybe it's somewhere in between? It always is with us. And to our legion of victims, thank you, thank you, thank you. And do not fear. There is more mining to be done." The Killers released another best of in 2013, Direct Hits.
Neil Young -
Before and After
Release date: Dec. 8
"Songs from my life, recently recorded, create a music montage with no beginnings or endings." That's how folk legend Neil Young described his upcoming 45th studio album, Before and After, in a press statement.
The record spans a collection of 13 solo acoustic re-recordings among Young's favorites in his catalog. The statement adds that "each of the songs blend and create one continuous flow, clocking in at a 48-minute pure and intimate listening experience," with Young summarizing it as an experience where "the feeling is captured, not in pieces, but as a whole piece — designed to be listened to that way."
Young also co-produced and co-mixed the record, which includes the previously-unreleased track "If You Got Love," among classics such as 1966's "Burned," 1970's "Birds" and 1994's "A Dream That Can Last." Before and After is the latest in a series of archival releases by Young, arriving just a few months after "lost" album Chrome Dreams. 
Car Seat Headrest -
Faces From the Masquerade
Release date: Dec. 8
In March 2022, indie band Car Seat Headrest was playing a three-night residency at New York's Brooklyn Steel. Due to the COVID-19 pandemic, they asked the audience to mask up, but also to "accoutre yourself in whatever further costumery you please" for an evening of "music, dancing, and identity loss," according to a press release.
The result of that experience is Faces From the Masquerade, CSH's upcoming double album that will bring the magic of those nights to the world. "The 2022 Masquerade was a crazy tour that ignited with a particular ferocity once we touched ground on the east coast," said vocalist Will Toledo in a statement. "Our time in New York captures that momentary magic where we're playing at our peak and the crowd is responding as one giant body."
Faces From the Masquerade features 14 of the band's best tracks as rearranged, revamped live versions — for example, "Deadlines" went through adjustments "to turn it into the climactic dance monster it always wanted to be," added Toledo. The record has been described as "simultaneously a joyride through the greatest hits and a conversation with the devoted and ever-growing following that has formed around the band, their songs and live communions."
Michael Nau -
Accompany
Release date: Dec. 8
Multihyphenate Michael Nau has been building an extensive indie discography since the mid-'00s, both as the frontman of bands Cotton Jones and Page France and as a soloist. Next month, he will add on to that by releasing his fifth studio album, Accompany.
The album came to be when producer Adrien Olsen (the Killers, Lucy Dacus) invited Nau to record at his Richmond, Virginia studio. "I didn't have much of a plan before Adrien reached out, so I wrote some songs specifically for the session," Nau explained in a release. "It had been a while since I'd made music in a room with other people. We just sort of started playing and didn't really talk about what was happening."
The record's 11 tracks "come together to paint a beautiful picture" with imaginative lyrics that manage to be "introspective, but vague and open-ended. Nau recently announced tour dates across the U.S. from February to April 2024.
Chief Keef -
Almighty So 2
Release date: Dec. 15
Rumors about Almighty So 2, the sequel to Chief Keef's revered 2013 mixtape of the same name, have been going on since 2018. The Chicago drill pioneer went as far as teasing the cover art on Instagram in 2019 — only to spend years without further updates. In any case, it seems like the wait is finally over: Almighty So 2 is scheduled to drop on Dec. 15.
In the beginning of November, Keef shared two new cover arts for the album on Instagram, under the caption "2 real soon." While there's no further info, the album will feature 17 tracks, including 2022 singles "Tony Montana Flow" and "Racks Stuffed Inna Couch," according to Apple Music.
Almighty So 2 is Chief Keef's fifth studio album, arriving after 2021's 4NEM. Recently, the rapper was featured on the track "All The Parties" off Drake's latest album, For All The Dogs. This collaboration increased speculations about a possible Drake feature on Keef's album as well — the latter commented "Don't forget them vocals, crody" on Drake's Instagram back in August.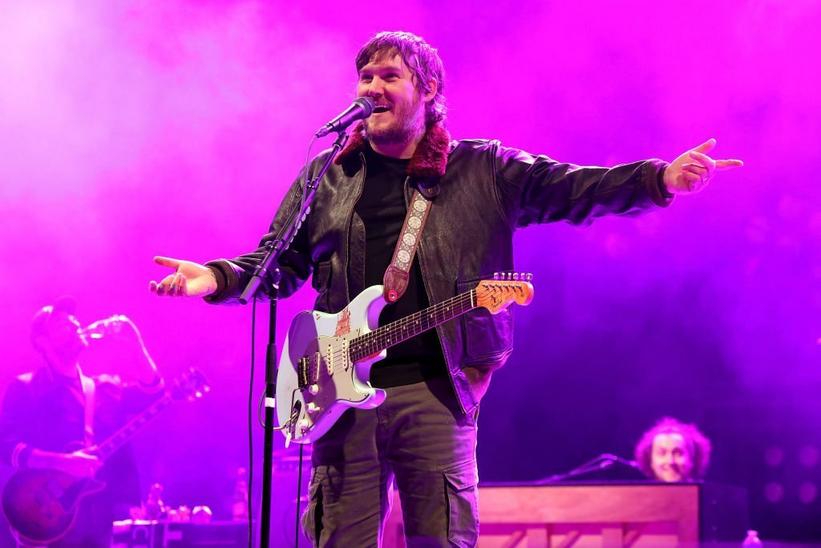 Brian Fallon of The Gaslight Anthem
Photo: Taylor Hill/Getty Images
interview
The Gaslight Anthem's Comeback Album 'History Books' Makes A Case For Meeting Your Heroes
On 'History Books' — the Gaslight Anthem's first album in nine years — the New Jersey punks sound hungry again. Brian Fallon explains how friendship with Bruce Springsteen, dinner with Jon Bon Jovi and mental health inspired the band's latest.
GRAMMYs
/
Oct 25, 2023 - 03:00 pm
Seventeen years ago, Brian Fallon and the rest of the Gaslight Anthem — guitarist Alex Rosamilia, bassist Alex Levine, and drummer Benny Horowitz — were just trying to hold onto the dream. 
New Jersey's communal culture of DIY punk brought them years of friendship and freedom from square jobs, but entering their late 20s, Fallon and co. had played in countless bands that flamed out or left them unfulfilled. Formed in 2006, the Gaslight Anthem was their final shot. "That's why we called our first record Sink or Swim," Fallon tells GRAMMY.com. 
They swam. That 2007 debut signaled a sea change: In the early 2000s, punk bands were not repping Bruce Springsteen. They were absolutely not namechecking Tom Petty. Here was a punk band from the same streets as the Misfits, Bouncing Souls, and My Chemical Romance, writing great songs draped in the Americana of their parents' generation. By the time the Boss himself joined Gaslight onstage at Glastonbury Festival 2009, their sophomore album The '59 Sound had made them one of the world's most acclaimed new rock bands. 
The Gaslight Anthem mined its tried and true sound for two more albums,but half a decade of non-stop touring and creative pressure was starting to take its toll. 2014's Get Hurt, a moodier record inspired by Fallon's recent divorce, received mixed reviews. A year later, the band was on ice. They reformed in 2018 to perform 10-year anniversary shows for The '59 Sound but disappeared soon after. Fallon released singer/songwriter-oriented solo albums into the 2020s and kept in touch with his old bandmates, but it wasn't the same. 
On Oct. 27, the Gaslight Anthem releases History Books, its first album in nine years. It's an earthy, battle-tested rock record from a veteran band that sounds hungry again, their first self-released album after an amicable split with Island Records. The title track features a duet with Bruce Springsteen, the pair's first studio collaboration after years of friendship. 
GRAMMY.com caught up with Fallon to discuss  what years of (humble) rock stardom brought him: a hard-earned appreciation for Gaslight Anthem's past and a new understanding of the demons rattling in his brain.
This interview has been edited for brevity and clarity.
What made you want to get the band back together? 
I don't think it was anything other than being inspired to write. I wouldn't say that being inside for two years didn't have a hand in that. At some point, you're sitting there thinking to yourself, I had this band and we played big shows. It's fun. A lot of people like it. It sounds like a good idea… I gotta do this. I have something else to say.
When the band was inactive, how much did the four of you stay in touch?
We don't call each other every day, but we stayed current on the things going on in everybody's life.
The whole thing is more about being friends. We've been through things no one else has seen. We've slept on floors in another country in a youth center with bugs crawling on you when you're sleeping. And the only people that understand that are those other three. 
It's been almost a decade since Gaslight Anthem released its last album, Get Hurt. Now that there's some space to look back on it, why do you think the band went its separate ways after that album? 
We all felt that strain. In 2015, you couldn't really say, as a musician, "Hey, I need to not be on tour because I'm going crazy. I need to sort my mental health out." People would just be like, "We're going onto the next band. Bye. Your career is over." 
So when we pulled the plug, everyone was like, "Why are you doing this?" Well, so we don't die. So we don't hate ourselves, that's why. We knew it wasn't the band. We knew it wasn't each other. I think we just needed to stop the landslide.
Do you think this had to do with being in the major label ecosystem? You came up releasing albums on punk rock labels, so I'm interested how you think it all compares.
I would love to sit here and tell you that the pressure is only in the major label world and that it's the evil major label corporate overlords who do this to bands, but it is absolutely not. It comes from the smallest indie label of some dude in his basement, all the way up. My experience on majors was maybe even a little more sensitive. If you're running a small label and you have excitement built up, you're like, "Whoa! This is working on a big level!" You're so excited that you're like, "You gotta do this! You gotta do that!"
I'm not saying any of the labels we were on were like, "You gotta do this!," but there was definitely, "Well, if you don't play this radio show, they're not gonna play your record." 
Now, people are a little more in tune to what's going on, but [10 to 15 years ago] for sure, it was like, this is your only opportunity ever! Well, no, it's not the only opportunity ever. There's other opportunities. 
Did it feel like people knew what to do with you at Island Records?
We had a real big champion at the time in the president, David Massey. He was the person who signed us. Bon Jovi and U2 had been on Island for a while and contemporary to us, was the Killers. Every time the Killers did something good, it gave us a little more freedom because they were the other rock band on the label. We liked [the Killers] and they liked us. They covered one of our songs ["American Slang"] at one of their shows in New York [in 2017]. It was like having a big brother on the label, paving a path. 
When we got back together, we weren't really on Island, but they could have made us make a record [for Island]. We don't own anything. I don't own [the masters for] Sink or Swim. I don't own '59 Sound. Nothing. So we wanted to own it, now. We wanted to do our own label, with [independent distribution company] Thirty Tigers, where it's much more of, "You're the label, you make the decisions." 
How did "History Books" with Bruce come together?
I'm not one to shoot my shot, so to speak. Which has not been great for my career, I guess. But if somebody wants to do something for you, let them do it, you know? I never asked Bruce for anything. 
We were talking and I was saying, "Yeah, we're putting the band back together and working on some songs." He just said, "Why don't you write a duet for us?" I was like, "What? Alright!" You have to understand that, for me, sitting here and saying, "Why don't you whip up a duet for me and Bruce Springsteen?" – that to me is like saying, "Why don't I write a book for Ernest Hemingway? Why don't I write Jimi Hendrix a guitar solo?" 
So I went away and I would say to myself, Alright, the next one is for Bruce. I'll write the next song for Bruce. I just kept writing the songs to get them out, without the pressure. And at the end of it all, I just said, "Which song would Bruce sound good singing on?" Everybody just said "History Books." Cool! And then we sent it to him. 
What did he say when you sent him the song? 
He said, "Cool, I'll get it done." He was in Dublin on tour and he just did it. 
After knowing him all these years, why do you think now was the time he proposed writing a song together?
With the band back and writing new material, it was just the right time. I don't think there was a time before this where it would have been good for us to have done. 
Now, we've gone down a path enough to where we can embrace Bruce, New Jersey, our influences. We're able to comfortably have that be our home.
When you're around Bruce, do you get nervous? 
Imagine you're seven years old, you're reading your comic books, and then all of a sudden Batman jumps out of the comic book in your room and goes, "Hey, you wanna go fight crime tonight?" It's insane to be in the presence of a person that's that famous, and that influential to you. It's not a thing a normal person can comprehend. And I can not comprehend this. 
Reading the lyrics to this album, I thought you were referencing your mental health a lot. Can you share what's been going on during the several years of your life?
It feels like everybody in America's got things on their mind, especially the last couple years. I got to a point where the days felt like they were harder than they should have been. It's like pushing a rock up a hill when you're doing that every day, and you get tired. You're dealing with stuff in your mind that you can't quite… there's not an event that causes you to feel a certain way. There's no cause, so you can't predict it. And that becomes extremely frustrating.
You turn to other things, or you get help and say, I don't think I can do this on my own. I need someone else alongside me." That's the point I got to. I got a therapist. There's not a special rockstar line that people call, or if there is, I don't have that number. I just went to the doctor and said, "I don't feel right." 
Did these feelings get  buried during Gaslight Anthem's more active years, only to come out during the pandemic when things got quieter?
I think it was coming anyway. Whether there was time to deal with it or not. The band slowing down before the pandemic was part of that, needing some time and space. That was why the band stopped, because it was like a steamroller. It's like you have another mental illness, which is the anxiety of the pressure of feeling like you have to be excited. And that's where the tidal wave starts… You feel guilty 'cause you're like, "I should be grateful. I'm in a band." And you are grateful, but you're also struggling, and it's freaking hard! 
[Mental health] comes up a lot in the song "Positive Charge"… I wrote it about that struggle. But this isn't the mental health record. I've been writing long enough where I can steer the boat so it's not a diary entry anymore. 
Back in 2021, you played a fundraiser in New Jersey alongside Jon Bon Jovi and Johnny Rzeznik from the Goo Goo Dolls. What was that like? 
We were doing a benefit for the reelection of the Governor of New Jersey [Democrat Phil Murphy]. Jon Bon Jovi reached out to my manager and wanted me to play. Whoopi Goldberg was hosting. Insane stuff. 
Jon Bon Jovi wanted to meet for dinner beforehand. At the same time, I was really thinking about the band. On the way in the car, I said to my wife, "I think I wanna get the band back together." I had not spoken of this prior, so this blew her mind. 
We sit down at the table, and it's Jon Bon Jovi and John Rzeznik. I didn't expect them to be familiar with my band, because they're giant songwriters. They were just genuinely interested in what we had done, talking about the songs they liked. When we left, my wife was like, "That's a sign. If there's a sign, that's a sign."
I've met famous people who are completely off the planet. They're just not interested in having a normal conversation. They just revel in the absurdity of their fame. I could relate to [Bon Jovi and Rzeznik] because the one common denominator is we all came from nothing. And now we're in bands that achieved some amount of success. 
On New Album 'Jonny,' The Drums' Jonny Pierce Is Finished "Setting Myself Up To Lose"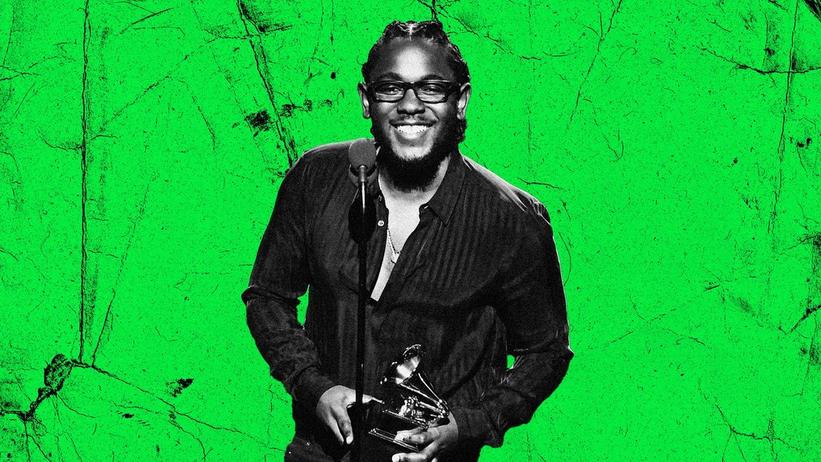 Kendrick Lamar
Photo: Jeff Kravitz/FilmMagic
video
GRAMMY Rewind: Kendrick Lamar Honors Hip-Hop's Greats While Accepting Best Rap Album GRAMMY For 'To Pimp a Butterfly' In 2016
Upon winning the GRAMMY for Best Rap Album for 'To Pimp a Butterfly,' Kendrick Lamar thanked those that helped him get to the stage, and the artists that blazed the trail for him.
GRAMMYs
/
Oct 13, 2023 - 06:01 pm
Updated Friday Oct. 13, 2023 to include info about Kendrick Lamar's most recent GRAMMY wins, as of the 2023 GRAMMYs.
A GRAMMY veteran these days, Kendrick Lamar has won 17 GRAMMYs and has received 47 GRAMMY nominations overall. A sizable chunk of his trophies came from the 58th annual GRAMMY Awards in 2016, when he walked away with five — including his first-ever win in the Best Rap Album category.
This installment of GRAMMY Rewind turns back the clock to 2016, revisiting Lamar's acceptance speech upon winning Best Rap Album for To Pimp A Butterfly. Though Lamar was alone on stage, he made it clear that he wouldn't be at the top of his game without the help of a broad support system. 
"First off, all glory to God, that's for sure," he said, kicking off a speech that went on to thank his parents, who he described as his "those who gave me the responsibility of knowing, of accepting the good with the bad."
He also extended his love and gratitude to his fiancée, Whitney Alford, and shouted out his Top Dawg Entertainment labelmates. Lamar specifically praised Top Dawg's CEO, Anthony Tiffith, for finding and developing raw talent that might not otherwise get the chance to pursue their musical dreams.
"We'd never forget that: Taking these kids out of the projects, out of Compton, and putting them right here on this stage, to be the best that they can be," Lamar — a Compton native himself — continued, leading into an impassioned conclusion spotlighting some of the cornerstone rap albums that came before To Pimp a Butterfly.
"Hip-hop. Ice Cube. This is for hip-hop," he said. "This is for Snoop Dogg, Doggystyle. This is for Illmatic, this is for Nas. We will live forever. Believe that."
To Pimp a Butterfly singles "Alright" and "These Walls" earned Lamar three more GRAMMYs that night, the former winning Best Rap Performance and Best Rap Song and the latter taking Best Rap/Sung Collaboration (the song features Bilal, Anna Wise and Thundercat). He also won Best Music Video for the remix of Taylor Swift's "Bad Blood." 
Lamar has since won Best Rap Album two more times, taking home the golden gramophone in 2018 for his blockbuster LP DAMN., and in 2023 for his bold fifth album, Mr. Morale & the Big Steppers.
Watch Lamar's full acceptance speech above, and check back at GRAMMY.com every Friday for more GRAMMY Rewind episodes. 
10 Essential Facts To Know About GRAMMY-Winning Rapper J. Cole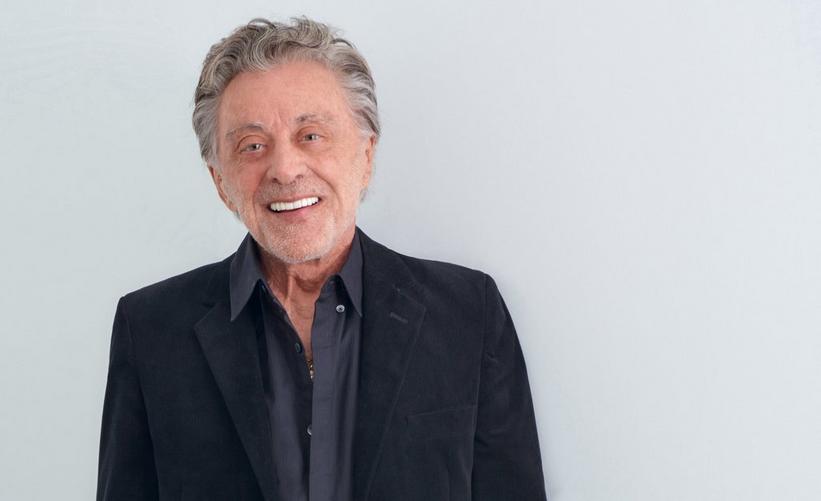 interview
Living Legends: Frankie Valli On The Four Seasons' Biggest Hits, Impressing Bob Dylan And Inspiring Billy Joel & Elton John
Between a new box set and a Las Vegas residency, Frankie Valli and the Four Seasons aren't slowing down in 2023. Hear from the falsetto king himself about how hits like "Sherry" and "December, 1963 (Oh What A Night!) came to be — and how they live on.
GRAMMYs
/
Oct 3, 2023 - 02:53 pm
With one of the most recognizable voices in music, a generation-spanning array of hit songs and a life story that has become stuff of legend, Frankie Valli has staked a claim as one of the music industry's most indelible artists. One of the few acts that steadily navigated from the doo-wop age through the disco era, Valli's improbable trajectory with his group, the Four Seasons, was propeled by a golden ear for hits, aided by the songwriter/producer power duo Bob Gaudio and Bob Crewe.
That's not to say the 89-year-old is resting on his laurels. His astounding career is on full, vibrant display in the immense new box set aptly dubbed Working Our Way Back to You — The Ultimate Collection. Consisting of 45 discs of every song Valli and the Four Seasons ever recorded — from beloved hits to deep-cuts, demos and other rarities — the set also includes a biographical book filled to the brim with rare images that track their rise from a fledgling New Jersey singing group to Broadway sensations in the form of Jersey Boys.
In addition, later this month Vailli is heading to Las Vegas for a residency at Westgate Resort and Casino where he and the Four Seasons will be appearing until well into 2024.
Valli spoke to GRAMMY.com about his astounding run of hits, the artists he's influenced, the modern covers of his tracks and how his big year started off with a bang during GRAMMY weekend.
You were a surprise performer at the Clive Davis GRAMMY Gala earlier this year and, in a very special moment, everyone in the audience, from Cardi B to Joni Mitchell, jumped up and sang along with you to "Can't Take My Eyes Off Of You." What was that moment like for you?
Oh, it was incredible. I never expected it. When Clive first invited me, he said "I want to invite you to my GRAMMY party, but I want you to do a song." I said, "With the generation gap, should I really do a song?" But I was in shock when everybody stood up to sing along. 
It was a really a moment I'll never forget. It's a good thing we have people like Clive who really has an insight on what's happening and where it's going. 
That night, the Italian rock band Måneksin covered your song "Beggin'" which was their breakout hit. The band was just the latest in a long line of artists who have covered Four Seasons music, with "Can't Take My Eyes Off Of You" done by everyone from Lauryn Hill to Shawn Mendes, to name just two examples. What do you think of all of these artists wanting to cover your work?
It's quite complimentary. When you've been around a long time and people find value in what you've done, it just makes you feel good about what you've done.
In your career, you've also covered so many songs from Cole Porter's "I've Got You Under My Skin" to Bob Dylan's "Don't Think Twice (It's Alright)." How did you go about choosing which songs to cover, and how would you put your own spin on these classics to make them your own?
It was really more or less music that we listened to and we loved. We tried to pick songs that were very meaningful for us, but the trick was to be able to do them a little differently than they had been done. 
We were quite successful with it, we did it with songs like "Will You Still Love Me Tomorrow?" We did a version of "Book of Love" and so many others.
Your version of "Don't Think Twice (It's Alright)" is probably one of the most unusual songs in your vast discography considering its subject matter, your exaggerated falsetto, and those background harmonies. How did that come about? I also understand you heard from Bob Dylan himself about it.
We did it in a very campy way, and it really was quite by accident. I was in a studio, and the guy at the soundboard asked me to sing a little bit to get a level on me. So I was clowning around singing in a falsetto like that.
The next thing I know, the button clicks and I hear [Crewe and Gaudio's] voices saying, "Do it like that." I said, "Do what like what?" They said, "Sing it just the way you're singing it." I said, "Come on, you're kidding!" 
We did it and that version of it was a take-off on a singer named Rose Murphy, who had several hits. Many years later, I was shopping at Fred Segal in LA and Bob Dylan came up behind me and tapped me on the shoulder. We shook hands and he said, "I love the version of 'Don't Think Twice' that you guys did."
Speaking of your singular vocal stylings, I'm wondering how you and the group went about plotting how you'd all harmonize. For example, in a song like "Candy Girl," there's your iconic falsetto, and then suddenly we hear in a very low baritone voice the line "Our love is real!" Is something like that written out? How does it come together in the studio?
It just comes naturally. A lot of credit goes to the fact that we were never chased away from a song because we didn't know what to do with it. We toyed with it until we found what we thought was right for it. There were no direct plans; everything was done from within the group. 
Nick Massi had his job doing a lot of the vocal arrangements, and Gaudio did most of them after Nick had left. We worked together until everybody was satisfied with it. Does it fit? Does it work? It's like a puzzle. You don't want to overdo anything, and you don't want to under-do.
So then let's say in a song like "Walk Like A Man" when the harmonies sing that iconic "Oo-Oooo-Oo-Oo-Oo-Oo-Oo-Ooooo." Where does that come from?
It comes from Bob Gaudio, who wrote the song to sound like that. The first three songs we did were more like a chant, and that's what we created to make what everybody knows as our sound. 
We wanted to be very easily identifiable. If you heard something by us on the radio, you knew that it was us. We were constantly looking for new ways and new things while having fun doing it. We weren't following or listening to anybody else on the radio; we weren't a copycat group. 
Billy Joel has gone on to say that a lot of the inspiration he got came from us. "I love you just the way you are" is the last line in "Rag Doll."
He also said that "Uptown Girl" was an homage to you. Musically it sounds like "Big Girls Don't Cry" but lyrically it's the opposite of "Rag Doll." What do you think when you hear a song like that?
First of all, I'm a big Billy Joel fan. There isn't anything he's ever done that I haven't liked. My favorite of everything is "Just The Way You Are." It sounds so honest and lyrically it's so right, it had to be a hit.
What about a song like "Bennie and the Jets"? It's been said that Elton John was directly inspired by you.
I loved it. He's another guy who has done very little wrong musically. He's an amazing writer and performer. 
You and the group have a lot of name songs: "Sherry," "Marlena," "Dawn." Was that conscious effort, or was it just natural?
It was natural. Bob wrote the songs… He and I have been partners now for over 50 years and he never ceases to amaze me. He's so tuned into everything that's going on, it's really amazing.
Is it true that "Sherry" was originally called "Jackie" in honor of Jackie Kennedy?
No, it was originally called "Perry." Before "Sherry," we weren't signed to a label, so this small independent company owned by a millionaire had a daughter named Perry. And that's what he wanted us to call it, but it was written to be "Sherry" and we just felt very strongly about that and kept it.
What did the owner think of that?
We ended up going with a different company. So we never heard much after that.
One of your biggest hits was "December 1963 (Oh What A Night!)." I always wondered if that was a random date, or if you chose it because that period was a unique moment in history: a month after the Kennedy assassination, but two months before the Beatles were on Ed Sullivan. 
It was originally a song with lyrics about the '20s, '30s and '40s. The lyrics were "Flippers flopping on the floor." It was a totally different song. When Bob brought it into the studio, he was disappointed we weren't crazy about it and he wanted to junk the song. We said, "No, you can come up with something better than this," and he rewrote it to fit the time. 
Is there one song that you thought should have been bigger than it was?
The funny thing about records during the days when we recorded, and the record business was as big as it was, to become a hit it was important that the record company do the legwork and get radio stations to play it, or try it for two weeks. I thought there was a lot of what we did that was overlooked because the record company wasn't that crazy about it. 
For example, I put the single "We're All Alone" out, and the record company didn't want to work it. I did mine with the London Symphony Orchestra. Later, Rita Coolidge came out with the same song and it went to No. 1. Sometimes things like that happen.
A song like "Can't Take My Eyes Off Of You" was in the can for two or three years. We had to force the record company to release it and hire independent promotion people to work the record and get it on the radio. 
"My Eyes Adored You" was recorded for Motown Records and that one was in the can for three years because they weren't too sure about it. Finally, when we left Motown, we asked if we can buy back the track, and they agreed for us to purchase it. We did and we brought it to every record company in the business and they all said no. 
Eventually, we found Larry Uttal with a brand new record company, Private Stock Records, and he said, "That'll be my first No. 1 record for my new company." And it was!  
From when you first started recording in the early '50s to when "Sherry" hit No. 1 was a period of nine years. That's a long time. Why did you stick with it? 
It was always music first. If I had no success at all, I'd probably still be doing music somewhere in New Jersey or New York. I knew exactly what I wanted to do and wanted to be. 
At first, I rejected the fact that I might have to do pop music, but as I started to do it and it became successful, I realized it was a music that people could understand. And what are you doing music for? You're doing it for people. Without an audience you wouldn't have anything. 
My love of music started out for the very first time with me seeing Frank Sinatra as a boy when my mom took me to the Paramount Theater in New York City. I couldn't believe what I was seeing and I was so inspired; I made up my mind that that's what I wanted to do. 
Living Legends: Nancy Sinatra Reflects On Creating "Power And Magic" In Studio, Developing A Legacy Beyond "Boots" & The Pop Stars She Wants To Work With