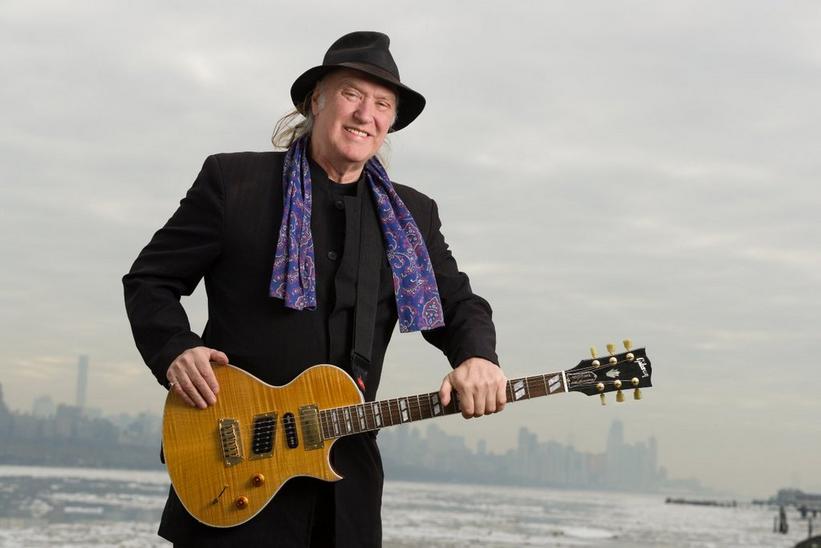 news
Living Legends: The Kinks' Dave Davies On 21st-Century Breakdown, Mellowing Out In His Seventies & Stirring The Pot On Twitter
Living Legends is a series that spotlights icons in music still going strong today. This week, GRAMMY.com sat down with Dave Davies, who changed rock music forever as a founding guitarist of the Kinks and made exquisite recordings as a solo artist.
GRAMMYs
/
Jan 11, 2022 - 09:10 pm
Presented by GRAMMY.com, Living Legends is an editorial series that honors icons in music and celebrates their inimitable legacies and ongoing impact on culture. In the inaugural edition, GRAMMY.com caught up with Dave Davies, the pioneering lead guitarist of British rockers the Kinks.
Dave Davies may have planted his flag as the lead guitarist and co-songwriter of the Kinks, but he has a less-known honorific to his name. The rebel of all rebels, John Lennon — who once poured a pint over a wedding pianist's head and would go on to be kicked out of the Troubadour for drunkenly heckling the Smothers Brothers, among other infractions — once called Davies, to his face, "one of the most obnoxious people I've ever met."
It was sometime in the front half of the 1960s, and the two British Invasion stars were at the Scotch of St. James, an extant watering hole (and musician's hangout) near Piccadilly Circus. (It wasn't rare for Lennon and Davies to insult each other in jest; Davies shot right back.)
Granted, Davies was, in his word, an "impetuous" young man. After all, in the Kinks, he was the hotshot guitarist beside his brother Ray, slugging out masterpieces like The Village Green Preservation Society, Arthur and Lola Versus Powerman amid fraternal spats and a career-changing ban from the U.S. So it's arresting to commune with the 74-year-old in his current form: dreamy, philosophical, borderline beatific.
This mellowing-out wasn't just the natural result of age. Like waves against a stone, turbulent life events smoothed him out with time. It wasn't just his up-and-down relationship with Ray, who once stamped on his 50th birthday cake. In 2004, Davies suffered a stroke that left him temporarily, partly paralyzed — a pivotal event that compelled him to stop smoking and drinking hard alcohol, which softened his demeanor in the ways you might expect. (A yoga and meditation enthusiast, he only indulges in gluten-free beer these days.)
After recovering with help from his other favorite pastime, painting, Davies is happy, healthy and productive in the 2020s. Three years ago, he released Decade, a luminous collection of solo recordings from the '70s. He's hard at work on a tell-all memoir, Living on a Thin Line, developed alongside biographer Philip Clark and due out in July. And — in case you're wondering — he and his brother are getting along great, with no dessert-related altercations to speak of.
GRAMMY.com caught up with Davies about his hard-won lessons about music and life, the awe-inspiring secrets of cats and how his freewheeling approach to Twitter recently landed him in semi-hot water.
This interview has been edited for clarity.
We should probably start by addressing the recent "mingegate" controversy on Twitter.
Oh, s*
It was so weird because I was really just musing with it, and it wasn't anything to speak of. I just like to muse and ideate and ponder, thinking back on my life and the '60s. People always have questions about the '60s, and I talk about everything. When you get older, there's more questions about everything from every decade. This idea came into my head about meeting models. You know what that is. I don't know if you want me to elaborate on it.
I thought it was fairly innocuous, but it was entertaining to see the prudes lose their minds.
I just did it as a bit of fun, and everyone went crazy about it. I felt, "Is it rude, or is it just odd?" Maybe it was a little bit of both.
I've noticed a phenomenon on social media where people inform you of incorrect facts about your own life.
What's weird about it is you become very — not paralyzed, but it's weird. People seem to know more about you than you do. You have to be really careful what you say. There are a lot of fanatics out there about all kinds of things — about gender and gender-bending, everything. Everything and anything you could think of. That one can be hard.
But it was only meant as a bit of fun. That's what it was for. There's not a lot of humor. We need to get humor back or else we'll go crazy!
Back in the '60s, when there was a lot of rancor about Vietnam and sexual politics, were people this entrenched in their views?
It's interesting thinking about it. Yes and no.
No, in the way that all of a sudden, there's so many people entrenched in whatever view they've got. It seems like everything has something to say about something. Which is good, on one hand, but on the other hand, is it really informed information? You know what I mean? Or is it just written without attention to anything? That's what bothers me.
Do you actually know what you're talking about, or do you think you do? That's the question! "Oh, I read it in the New York Times or something and it's true!"
The Kinks in 1965 (Dave Davies, top). Photo: Hulton-Deutsch Collection/Corbis via Getty Images​
Do you think people are smarter today for having pocket-sized supercomputers?
I think it's made people easier to fool. People hear a half-truth and they're like, "I know everything!" We might need to study the information we get. The brain can only handle so much information, and they might pass judgements about things without it being the right judgment.
Somehow, people have gotten taken by what their ears like — judgements based on some kind of reality, whether it's just an emotion in the moment. People are crazy because the world is getting crazier by the minute. It's hard for everybody, so you have to try to be informed about subjects and topics and try to have a balanced view of everything. It's not easy.
"People are crazy because the world is getting crazier by the minute. It's hard for everybody, so you have to try to be informed about subjects and topics and try to have a balanced view of everything."
I think we need to act with more compassion now than we did before the 2020s and Instagram and whatever. Everybody's very quick to judge. We're very quick to judge. When you think of it, we all perceive things slightly differently anyway. So, we need to brace ourselves with a lot of compassion before we make any choices.
A world where everybody thinks exactly the same sounds like my idea of hell.
Hell's a good place for that. You can't be right about everything.
Somehow, we have to be very compassionate about other people's views. Because they change. I might like blue today, but if I only saw my favorite color — tomorrow, I might like green with a tinge of brown. That's where humor and compassion comes in. Nobody knows everything.
I need humor. It can help us understand information better. Otherwise, everybody's right and everybody's wrong, all at the same time. Common sense! Has anybody bloody heard of common sense? There used to be a lot of it about years ago, when I was a kid. But not so much of it now, these days, unfortunately.
I think humor would hopefully help human beings in this weird age of COVID and Twitter and people being weirded out by all kinds of things. We don't even know if we're thinking the way we should, because there's so much information. When do we take time to consider what we're thinking, or what we're gaining? It's coming a bit too quick, everything. We like to think we know stuff, but do we really?
The Kinks performing on "Thank Your Lucky Stars" in 1965. Photo: David Redfern/Redferns​ via Getty Images
To me, one of the greatest thinkers through the lens of humor was John Lennon. I know you met him back in the Beatlemania days.
A couple of times. He was difficult, but he was funny in a kind of caustic, off-the-wall kind of way. But I liked that about him. I liked that he was different. He was looking at things differently.
He paid me a weird compliment. He said, "I think you're one of the most obnoxious people I've ever met." And I laughed and said I thought he was.
I've thought about that ever since. I don't even know what he meant! But I looked it up in the dictionary and I thought, "Hey, that's great! Unusual, different, irritating. Good!"
A big, big loss to humanity there. Lennon would be really useful now. His smart conceptions of people.
What are you interested in lately, whether it be music or non-music? What are you reading or studying?
I'm interested in so many different things. As I was saying, we should consider things before we make a judgment, which is true. But it's hard, because when we've got a queue, a list of questions that we want to ask ourselves before we make up our mind, the list gets longer and longer.
That's where meditation comes around. We can't think of everything at the same time. So, meditation helps you to clear the detritus for a while and not really think of anything. And that's hard. Believe me, I know that. It's really hard.
I don't know what I thought I knew until I take time to consider what's happening before we charge. That's where music comes in handy, because music's so aligned to the heart. You can know something's good or right by the way it makes you feel.
Dave Davies in 1970. Photo: GAB Archive/Redferns via Getty Images
Music is a lot more tuned in with nature than people's bad ideas — good ideas, not all bad. Music has always helped me — even when I was a kid — and it helps me now, to make choices. That's why music's so important. Because if it makes you feel good, there's no harm in it, really.
Who knows? Our heart will tell us if something is wrong, but everyone's different. Feelings always connect me to what may be the truth or may be lies.
"That's where music comes in handy, because music's so aligned to the heart. You can know something's good or right by the way it makes you feel."
While working on Living on a Thin Line, have you found that your memories of the distant past remain sharp? What's it like to survey decades and decades of information?
Actually, it's interesting. A lot of it depends on the quality and type of memory. We've been able to remember things as a musical link or connotation. It's just the way I'm wired — to remember things that are connected to musical or song events.
I've always had quite a visual imagination. Imagination isn't always positive information. It can be quite a scary place. I tend to ponder a memory and think, "What was I listening to? Oh, yeah! I really enjoyed that!" It makes you feel a certain way. That's why imagination and memory work closely together.
Even just meeting people and having a conversation with someone, I'm sure that I'm perceiving and thinking and talking differently with you than I would be to anybody else. That's why we need each other, because we help and hinder and aid and encourage each other just by communicating. There's a lot in there — in meeting people.
When looking back at the span of your career and all the music you've made, what are you most proud of at this point?
Oh, man. Too much stuff! I'm really proud of the renewed interest in my composition "Strangers" — which was covered by the Black Pumas — and all my other solo work.
I'm proud of being an important part of the Kinks' music and Ray's impressive writing. I feel really happy that I'm connected to all that. But me, as a person, there's something different. I'm always trying to think of something new — and what is new? A different way of saying things is new to me.
Apart from the fact there's so much information out there and [Points to brain] in here, it's a difficult time for people — for young people as much as old people my age. It's difficult to assess what the hell's really going on. So, memory's a good way of connecting to the truth — or the truth how you saw it at the time.
You've never struck me as someone content to rest on something you did 50 years ago. Rather, you remain a restless spirit.
Yeah. Good or bad, that's the way I am. It's also trying to realize that other people might actually be right, even though they piss us off. What's making you angry? Try and talk about what's making you angry!
How do we get to a point where we have hostile-ish conversation without blowing out completely? We're capable of it! Anger may be just as simple as something that's boiling inside we haven't dealt with, but it happens all the time.
A helpful tool when dealing with someone's misdirected rage is remembering "Oh, it's not about me. Something else is going on in their life."
I believe that. We're just the vehicle for the information they have, or the emotion. We do it to each other.
I remember in the very early days — when we first started out — I wasn't very good with conversation, because I was always an impulsive kid. If it felt right, I'd do it. It took me a while to realize that when you're having a conversation, the other person or persons in the room have just as much right to say what they want to say as you do. I was very impetuous and would say, "Oh, no — I'm right; you're wrong!" "Oh, stop it!" "Oh, shut up!"
It took me a long time to realize that conversation isn't just about me [Laughs.] It's about us! And we're not the only species on the planet — and tell me if you think I'm wrong — that can have conversations that have outcomes, where you're heading somewhere with it.
Maybe animals do it. I'm sure that cats communicate at a higher level. They know everything, and they don't even speak. They know everything: "You fools!" They're such special creatures.
Do you subscribe to the notion that everyone's a teacher of sorts, even if they're flat-out wrong? Or do you disagree with them?
Yeah, I do. When I was young, by having children, having kids around — often, they teach you more than you thought you taught them. With animals and children, you have to be very receptive about what the process is: what you want to gain from this meeting, from minds and concepts and thoughts and feelings.
I very much appreciate the value of considering other people's views, even when you feel uncomfortable. Growing up in Western society, people are so adamant about getting it right and making choices so quickly. Whereas I think animals — especially cats — have a higher way, I think, of considering things.
I think maybe now, we can learn more from our children than we ever did, because a lot of kids have to become very smart very quickly.
It seems like music is one of the ultimate ways to bridge misunderstandings and divides.
Music can teach us ways to get on better. When you paint, you're not killing someone — although you may wish you were! But you're just expressing feelings and stuff, and that's what makes it healthy. It's a means of exploring feelings you've got inside.
I can't remember which philosopher said this — Yogananda or someone — or was it Joseph Campbell? You know Joseph Campbell?
Sure. The Hero With A Thousand Faces.
A great teacher. It was something like "Before you make up your mind about something, run it by your heart. What would your heart say?" A lot of ideas we might have could benefit by being connected to the heart. The heart considers things in a different way.
That's important, especially if you're a writer or an artist. All of sudden, you'll get a feeling — "That would work OK!" or "I like that!" — and you don't always know why. Maybe it's not necessary to always know why you do things.
Dave Davies performing in Westbury, New York, in 2019. Photo: Al Pereira/Getty Images
My job is partly about trying to get people to care enough about something to read about it. So, I agree that we must lead with the heart at times.
A musician that really influenced me was a guy named Chet Baker. I'd never played trumpet, and when I learned it, I thought I sounded terrible! [Laughs.] That's because it's you playing it.
But I always liked Chet Baker for some reason. I was fortunate to come across an interview he did on the radio a long time ago. He was being interviewed by a musicologist — some prissy guy with all the right words. At the beginning of the interview, Chet said, "Before you start, I know absolutely nothing about music. I've learned everything from what I'm feeling."
That really helped me, because that's how I learned to play. Not that I learned to play like Chet Baker, but the principle of the way he applied himself. Music was more important to him than music itself, if you know what I mean.
Also, coming up with a Biblical reference that I use sometimes: there's a story about Jesus. He went into the desert for 40 days and nights. I've come to believe it's a kind of training for a yogi or a priest or whatever. He looked at the horizon before him and he saw all these conversations and people.
All of a sudden, an intelligent being or person appeared and said to Jesus — as the story goes — "All this land can be yours to command." But Jesus was quite a smart guy. He realized that the person who presented themselves to him was really the conscious ego. The ego is saying to his soul, "I've developed my inner powers so I can control them, him, her — control everything." He said to this person, "Get thee behind me, Satan."
The point is, a lot of the things we find within ourselves are not very nice things, like controlling people. We're caught up in all this information, and it takes a long time to figure out!
I've never interpreted that account through that psychological lens before.
I hadn't thought of it that way until two or three years ago!
How do you want to continue developing as a human being in your next phase of life?
I take it as it comes. But the trouble with growing older is that I'm worrying a lot more than I did 20 or 30 years ago. That's an achievement for me: to accept the body and the mind as human beings change.
That's a big lesson for me, especially growing up from being a fairly impetuous, wanting-it-now, everything-now kind of person. I worry about everything! I'm worrying about having chocolate milk with what I'm eating. [Laughs.] "Oh, I only have coconut milk!" There are things you have to consider before you even get out the front door.
It's a weird world, Morgan. But thank God I'm in it, as opposed to not being in it!

Bob Dylan's Latest Box Set Proves He Remained Stellar In The '80s. These '60s Classic Rock Artists Did, Too.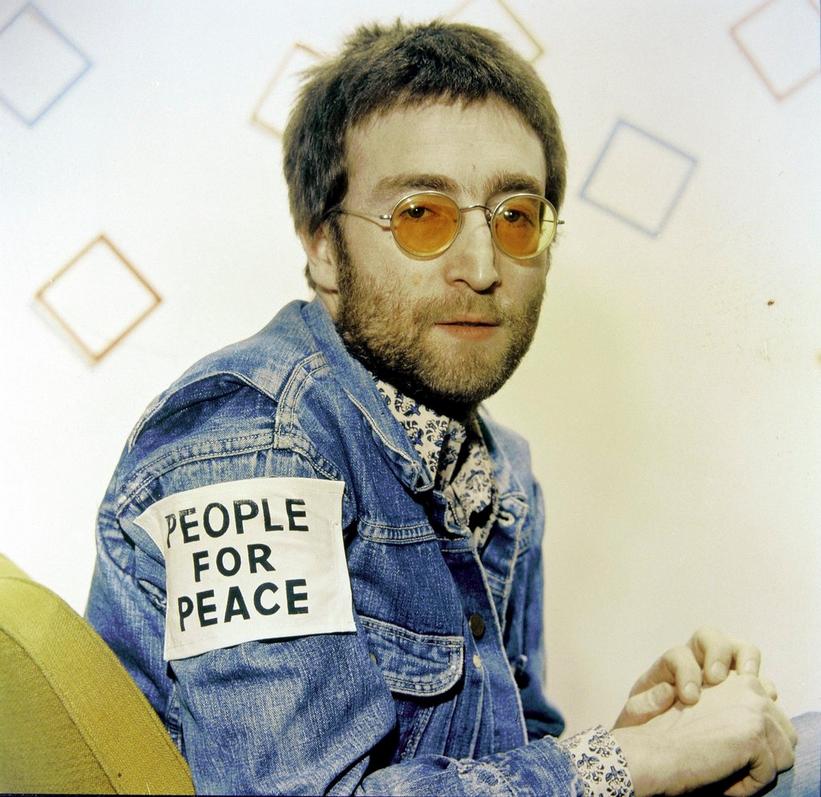 Photo: Ron Howard/Redferns
list
John Lennon, Sting, Alicia Keys: 7 Songs For Starting Over In 2018
With hits from Leonard Cohen, the Byrds, Nina Simone, and more, find the motivation for a brand-new you this New Year
GRAMMYs
/
Jan 4, 2018 - 11:12 pm
Each New Year offers the opportunity for a fresh new start, whether you're looking to wash away the sins of the previous year or reinvent a better future that follows your ultimate dreams. Starting over isn't an easy task, but we have one recommendation that will help motivate you: music.
Don't be a fuddy duddy. Kick-start 2018 with this playlist of seven songs all about starting over, including hits from John Lennon, the Byrds, Sting, and Alicia Keys, among others.
1. The Byrds, "Turn! Turn! Turn!"
Starting with its lyrics, "To everything (turn, turn, turn)/There is a season," this GRAMMY Hall Of Fame classic is a great reminder that everything is always changing anyway, so now is as good a time as any to give something new a chance. The composition was written by Pete Seeger in the late 1950s, but the lyrics come almost verbatim from the Book of Ecclesiastes in the Bible. The song didn't hit it big until the Byrds got their turn at it in 1965. Reportedly, it took Roger McGuinn & Co. 78 takes to perfect their folk-rock arrangement.
2. Leonard Cohen, "Anthem"
GRAMMY winner Leonard Cohen had a knack for poetry powerful enough to move mountains, and his "Anthem" is one such gem. This 1992 tune about embracing imperfection and marching forward in the face of adversity contains one of Cohen's most-quoted lines: "Ring the bells that still can ring/Forget your perfect offering/There is a crack, a crack in everything/That's how the light gets in." And we'll leave you with one final line from the master that encapsulates starting over: "The birds they sing, at the break of day/Start again, I heard them say/Don't dwell on what has passed away/Or what is yet to be."
3. Gil Scott-Heron, "I'm New Here"
Taken from his 2010 album of the same name, "I'm New Here" came near the end of Gil Scott-Heron's storied life. The album saw Scott-Heron, according to Drowned In Sound's Robert Ferguson, "pick over the bones of his life, acknowledging the hard times and his own mistakes, but standing proud of all they have led him to become." Embodying this sentiment accompanied only by an acoustic guitar, Scott-Heron's bluesy, semi-spoken "I'm New Here" brings out the poignancy of change. Its key lyric, "No matter how far wrong you've gone/You can always turn around," is something to keep in mind year-round, let alone January.
4. Alicia Keys, "Brand New Me"
Alicia Keys went full bore on the empowering messages of her 2012 album, Girl On Fire — the Best R&B Album winner at the 56th GRAMMY Awards — including the track, "Brand New Me." Co-written with singer/songwriter Emeli Sandé, the soft pop/R&B ballad describes growing as a person and becoming a brand-new version of yourself. "Brand new me is about the journey it takes to get to a place where you are proud to be a new you," Keys wrote on her website at the time of the song's release.
5. John Lennon, "(Just Like) Starting Over"
A quintessential start-anew song, former Beatle John Lennon included "(Just Like) Starting Over" on his GRAMMY-winning 1980 album, Double Fantasy. "(Just Like) Starting Over" was the album's first single because Lennon felt it best represented his return following a five-year hiatus from music. It's also a love song, but the theme of starting over has a universal resonance "It's time to spread our wings and fly/Don't let another day go by my love/It'll be just like starting over." It became Lennon's second chart-topping single in the U.S., reaching No. 1 after his death on Dec. 8, 1980.
6. Nina Simone, "Feeling Good"
"It's a new dawn/It's a new day/It's a new life for me/I'm feelin' good." Could you ask for better lyrics for embarking on a new journey? Nina Simone recorded her version of "Feeling Good," which was originally written for the musical "The Roar Of The Greasepaint — The Smell Of The Crowd," on her 1965 album I Put A Spell On You. While artists such as Michael Bublé, John Coltrane, George Michael, and Muse subsequently covered it, no alternative is quite as powerful — or soulful — as Simone's.
7. Sting, "Brand New Day"
Sting's "Brand New Day" has a lesson for inspiring motivation to start the New Year with fresh eyes: "Turn the clock to zero, buddy/Don't wanna be no fuddy-duddy/We started up a brand new day." The bright, catchy pop tune and its namesake 1999 album resonated with fans, landing it at No. 9 on the Billboard 200. The track (and album) earned Sting GRAMMYs — Best Male Pop Vocal Performance and Best Pop Album — at the 42nd GRAMMY Awards.
news
We Will, We Will Shock You
A collection of shocking album covers that might make you look twice (or look away)
GRAMMYs
/
Dec 3, 2014 - 05:06 am
As the baby boomer-fueled market moved from singles to albums in the '60s and '70s, artists began using LP covers as a means to create bold visual statements, occasionally using nudity, sexual imagery or striking graphics. Sometimes the purpose was to create art for the ages, while other times it was to push boundaries. Either way, the most controversial covers were often banned or altered by record companies for fear of public or retail outrage. One of the most famous cases of censorship was one of the first — the Beatles' "butcher" cover for 1966's Yesterday And Today, which featured a grinning Fab Four covered in raw meat and plastic baby doll parts. (The cover was reportedly an anti-Vietnam war commentary by the group.) Capitol Records issued a new cover with a less-shocking photo after the original caused an uproar. In the '70s and '80s, German rock band the Scorpions made a series of albums with disturbing sexual imagery, including 1976's notorious (and quickly banned) Virgin Killer featuring a nude young girl. The cover was replaced by a conventional band portrait.
While shocking album covers do still exist, they have occurred with less frequency since the '90s as CDs, which de-emphasized cover art, replaced LPs and pop culture grew more permissive. Now, as album sales shift from physical to digital, the age of shock album covers is starting to seem like a bygone era. Here are a few other album covers that shocked us, and might shock you too.

Moby Grape
Moby Grape, 1967
Shocking fact: Drummer Don Stevenson's (center) middle finger was airbrushed out on later pressings.

The Jimi Hendrix Experience
Electric Ladyland, 1968
Shocking fact: The British release featured a bevy of naked women on the cover.

John Lennon & Yoko Ono
Unfinished Music No. 1: Two Virgins, 1968
Shocking fact: Distributors covered the explicit content — nude front and back portraits of Lennon and Ono — in brown paper. Even today, full frontal nudity remains objectionable for many.

The Rolling Stones
Beggars Banquet, 1968
Shocking fact: The band's U.S. and UK labels originally rejected the cover featuring a toilet and graffiti-covered bathroom wall. Today, the cover seems remarkably tame.

Blind Faith
Blind Faith, 1969
Shocking fact: The original cover featured a young nude girl holding a small plane. The replacement cover featured a shot of the band.

David Bowie
Diamond Dogs, 1974
Shocking fact: The cover illustration of Bowie as a (noticeably male) dog had the offending organs edited out.

Ohio Players
Honey, 1975
Shocking fact: The sexually suggestive cover features Playboy Playmate Ester Cordet swallowing honey from a spoon.

Jane's Addiction
Nothing's Shocking, 1988
Shocking fact: An ironic twist to the list. This artsy cover depicts a realistic sculpture, created by frontman Perry Farrell, featuring nude conjoined twins with hair afire.

Millie Jackson
Back To The S*!, 1989
Shocking fact: The take-no-prisoners soul singer poses on a toilet seat with one shoe off while grimacing. Often called the worst album cover ever.

The Black Crowes
Amorica, 1994
Shocking fact: Original cover featured an American flag-printed G-string showing pubic hair.

news
Jackson Tops Dead Earners List
GRAMMYs
/
Dec 3, 2014 - 04:22 am
Jackson Tops Dead Earners List
GRAMMY winner and Recording Academy Lifetime Achievement Award recipient Michael Jackson topped Forbes' annual list of top-earning dead celebrities with $275 million, earning more than the combined total of the other 12 celebrities on the list. Elvis Presley ranked second with $60 million, John Lennon placed fifth with $17 million and Jimi Hendrix tied for 11th place with $6 million. Forbes compiled the list based on gross earnings between October 2009 and October 2010. (10/26)
UK Arts Council Announces Budget Cut Plans
Following a previous report, Arts Council England has revealed plans to implement the 30 percent cut to the UK's arts funding budget. The cuts will include a 7 percent cash cut for UK arts organizations in 2011–2012, a 15 percent cut for the regular funding of arts organizations by 2014–2015 and a 50 percent reduction to the council's operating costs. (10/26)
GRAMMY Winners To Perform At World Series
GRAMMY winners Kelly Clarkson, Lady Antebellum and John Legend are scheduled to perform "The Star-Spangled Banner" during Major League Baseball's 2010 World Series between the San Francisco Giants and Texas Rangers. Legend and Lady Antebellum will perform at games one and two in San Francisco on Oct. 27 and Oct. 28, respectively, and Clarkson will perform at game three on Oct. 30 in Arlington, Texas. (10/26)
news
Stars Align On Capitol Hill
Music at presidential inaugurations provides entertainment and unifying moments of patriotism
GRAMMYs
/
Dec 3, 2014 - 05:06 am
(On Jan. 21 President Barack Obama will be inaugurated into his second term as president of the United States with a celebration in Washington, D.C., featuring performances by GRAMMY winners Beyoncé, Alicia Keys, Kelly Clarkson, Brad Paisley, Usher, and Stevie Wonder, among others. This feature is taken from the fall 2012 issue of GRAMMY magazine and offers a brief history of notable musical performances at past presidential inaugurations.)
Being elected the leader of the free world is a pretty good reason to strike up the band. Ever since George Washington first danced a celebratory minuet after his inauguration in 1789, music has played an ever-increasing role in the gala events surrounding presidential inaugurations.

In 1801 Thomas Jefferson had the U.S. Marines band play him along as he made his way from the Capitol to the White House after taking the oath of office. James and Dolley Madison threw the first official inaugural ball in 1809. Jumping to the 20th century, in 1977 Jimmy Carter invited such music luminaries as John Lennon and Yoko Ono to his inaugural ball and allowed rock and roll — or at least the Southern rock variety — to become a part of his inauguration backdrop when he invited the Marshall Tucker Band and the Charlie Daniels Band to share a concert bill with Guy Lombardo And His Royal Canadians. (Lombardo's group was something of an inauguration ball house band, having played for seven presidents.)

Today, inaugurations are presented as both massive public live events and televised productions, complete with a concert featuring a roster of star talent. The musical performances at inaugurations not only provide entertainment, they also help set the tone for a new presidency and bring the country together in a unifying moment of patriotism over partisanship.

"It wasn't about one side or the other. We just had this overwhelming feeling of being proud to be American," recalls Ronnie Dunn, formerly of the GRAMMY-winning duo Brooks & Dunn. He and then-partner Kix Brooks performed their hit "Only In America" at a concert as part of George W. Bush's first inauguration in 2001.

"Right away you could feel it was an emotionally charged crowd, and when you're standing on the steps of the Lincoln Memorial looking across to the Washington Monument, you can't help but tear up a little," says Brooks. "I remember there was this chaos during the big encore when all the musicians and all the presidential VIPs were onstage together. I turned around and there's Colin Powell shaking my hand. It turned into one of the wildest photo ops ever because all the music people and all the political people were pulling their cameras out to take pictures of each other."

One of the most memorable unions of political and musical star power at an inaugural gala occurred in 1993, when a reunited Fleetwood Mac performed "Don't Stop," a hit from their GRAMMY-winning album Rumours, for President-elect Bill Clinton. Clinton had used "Don't Stop" as the theme song to his presidential campaign, but the payoff live performance almost didn't happen.

"At that point we were as broken up as we'd ever been," says Stevie Nicks. "When our management received the request for us to play, they said, 'No.' I heard about that and thought to myself, 'I don't want to be 90, looking back and trying to remember why my group couldn't play the president's favorite song for him.' I told management to let me handle it."

Nicks successfully coaxed her bandmates into a one-night, one-song reunion, a performance she remembers as truly exceptional.

"For one thing we'd never seen security like that," she says. "The Secret Service makes rock and roll security feel like a bunch of grade school hall monitors. But the performance felt really important. It felt like we were a part of history, and that the song itself was becoming a piece of American history. It was a fantastic night in all of our lives, and I'm really glad the band was able to come together for that one."

The Beach Boys played Ronald Reagan's second inauguration after a somewhat confused relationship with the White House. The band had headlined a series of Fourth of July concerts at the National Mall until 1983, when U.S. Secretary of the Interior James Watt accused the group of attracting "the wrong element" and booked Wayne Newton in their place. Watt later apologized, and the Beach Boys were reinstated and invited to play Reagan's inaugural gala in 1985.

"What I remember most about that night is that I got to meet Elizabeth Taylor," says Jerry Schilling, the band's then-manager. "But I also remember being extremely proud of the group. Things had been hard for Brian [Wilson], and the group wasn't always getting along. But they stood there together in front of the president and sang perfect five-part a capella harmony on 'Their Hearts Were Full Of Spring.' It was a big moment — we all felt that. It wasn't just another gig. The guys were truly honored to be there and they brought it when it mattered."

A new musical standard for inaugural events may have been established in 2009 when Barack Obama's presidency was kicked off with the "We Are One" concert. The patriotic spectacular featured a who's who of performers ranging from Pete Seeger, Bruce Springsteen and U2 to Usher, Sheryl Crow and will.i.am. An all-star lineup usually adds an all-star production element, but this particular concert was unique.

"Dealing with top artists, there's usually a lot of negotiating," says Don Mischer, one of the concert's producers, whose list of credits also includes Super Bowl halftime shows and Olympics ceremonies. "Who needs a private jet? How much does their 'glam squad' cost? What kind of security do they need? Putting together 'We Are One,' we said to every artist, 'This is a historical moment we'd love for you to be a part of, but you have to pay your own way and take care of your own security.' Right away, people like Beyoncé and Bono and Springsteen and Stevie Wonder all said, 'Yes.' They wanted to be there. There was a true camaraderie right from the start, and it turned out to be one of the greatest experiences any of us have ever had."

While Washington's minuet may have simply been a matter of dancing, Mischer says music has become as powerful a symbol of America as any other part of Inauguration Day.

"When you bring the music and the significance of an event like this together, it really reflects the strength of our cultural diversity and the strength of our country," he says. "In fact, at times when we seem to be going through confrontational political campaigns, I wish we would listen to the music a little more."

(Chuck Crisafulli is an L.A.-based journalist and author whose most recent works include Go To Hell: A Heated History Of The Underworld, Me And A Guy Named Elvis and Elvis: My Best Man.)