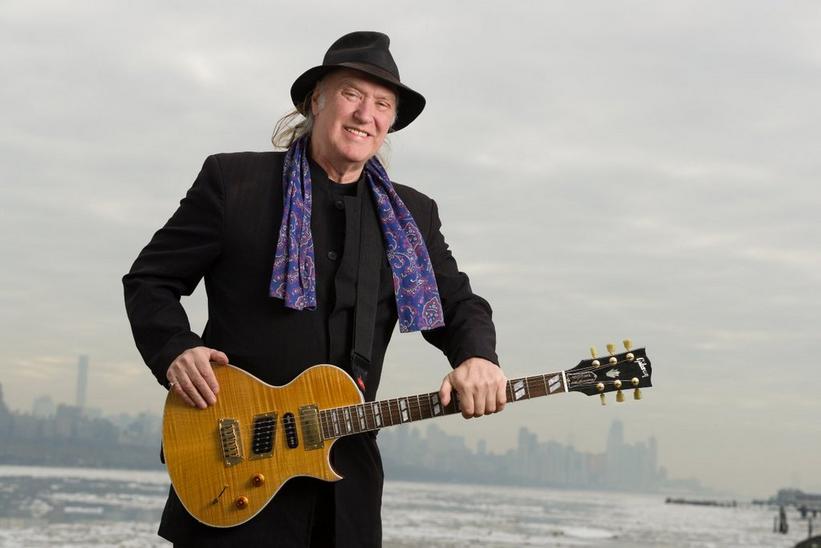 news
Living Legends: The Kinks' Dave Davies On 21st-Century Breakdown, Mellowing Out In His Seventies & Stirring The Pot On Twitter
Living Legends is a series that spotlights icons in music still going strong today. This week, GRAMMY.com sat down with Dave Davies, who changed rock music forever as a founding guitarist of the Kinks and made exquisite recordings as a solo artist.
GRAMMYs
/
Jan 11, 2022 - 09:10 pm
Presented by GRAMMY.com, Living Legends is an editorial series that honors icons in music and celebrates their inimitable legacies and ongoing impact on culture. In the inaugural edition, GRAMMY.com caught up with Dave Davies, the pioneering lead guitarist of British rockers the Kinks.
Dave Davies may have planted his flag as the lead guitarist and co-songwriter of the Kinks, but he has a less-known honorific to his name. The rebel of all rebels, John Lennon — who once poured a pint over a wedding pianist's head and would go on to be kicked out of the Troubadour for drunkenly heckling the Smothers Brothers, among other infractions — once called Davies, to his face, "one of the most obnoxious people I've ever met."
It was sometime in the front half of the 1960s, and the two British Invasion stars were at the Scotch of St. James, an extant watering hole (and musician's hangout) near Piccadilly Circus. (It wasn't rare for Lennon and Davies to insult each other in jest; Davies shot right back.)
Granted, Davies was, in his word, an "impetuous" young man. After all, in the Kinks, he was the hotshot guitarist beside his brother Ray, slugging out masterpieces like The Village Green Preservation Society, Arthur and Lola Versus Powerman amid fraternal spats and a career-changing ban from the U.S. So it's arresting to commune with the 74-year-old in his current form: dreamy, philosophical, borderline beatific.
This mellowing-out wasn't just the natural result of age. Like waves against a stone, turbulent life events smoothed him out with time. It wasn't just his up-and-down relationship with Ray, who once stamped on his 50th birthday cake. In 2004, Davies suffered a stroke that left him temporarily, partly paralyzed — a pivotal event that compelled him to stop smoking and drinking hard alcohol, which softened his demeanor in the ways you might expect. (A yoga and meditation enthusiast, he only indulges in gluten-free beer these days.)
After recovering with help from his other favorite pastime, painting, Davies is happy, healthy and productive in the 2020s. Three years ago, he released Decade, a luminous collection of solo recordings from the '70s. He's hard at work on a tell-all memoir, Living on a Thin Line, developed alongside biographer Philip Clark and due out in July. And — in case you're wondering — he and his brother are getting along great, with no dessert-related altercations to speak of.
GRAMMY.com caught up with Davies about his hard-won lessons about music and life, the awe-inspiring secrets of cats and how his freewheeling approach to Twitter recently landed him in semi-hot water.
This interview has been edited for clarity.
We should probably start by addressing the recent "mingegate" controversy on Twitter.
Oh, s*
It was so weird because I was really just musing with it, and it wasn't anything to speak of. I just like to muse and ideate and ponder, thinking back on my life and the '60s. People always have questions about the '60s, and I talk about everything. When you get older, there's more questions about everything from every decade. This idea came into my head about meeting models. You know what that is. I don't know if you want me to elaborate on it.
I thought it was fairly innocuous, but it was entertaining to see the prudes lose their minds.
I just did it as a bit of fun, and everyone went crazy about it. I felt, "Is it rude, or is it just odd?" Maybe it was a little bit of both.
I've noticed a phenomenon on social media where people inform you of incorrect facts about your own life.
What's weird about it is you become very — not paralyzed, but it's weird. People seem to know more about you than you do. You have to be really careful what you say. There are a lot of fanatics out there about all kinds of things — about gender and gender-bending, everything. Everything and anything you could think of. That one can be hard.
But it was only meant as a bit of fun. That's what it was for. There's not a lot of humor. We need to get humor back or else we'll go crazy!
Back in the '60s, when there was a lot of rancor about Vietnam and sexual politics, were people this entrenched in their views?
It's interesting thinking about it. Yes and no.
No, in the way that all of a sudden, there's so many people entrenched in whatever view they've got. It seems like everything has something to say about something. Which is good, on one hand, but on the other hand, is it really informed information? You know what I mean? Or is it just written without attention to anything? That's what bothers me.
Do you actually know what you're talking about, or do you think you do? That's the question! "Oh, I read it in the New York Times or something and it's true!"
The Kinks in 1965 (Dave Davies, top). Photo: Hulton-Deutsch Collection/Corbis via Getty Images​
Do you think people are smarter today for having pocket-sized supercomputers?
I think it's made people easier to fool. People hear a half-truth and they're like, "I know everything!" We might need to study the information we get. The brain can only handle so much information, and they might pass judgements about things without it being the right judgment.
Somehow, people have gotten taken by what their ears like — judgements based on some kind of reality, whether it's just an emotion in the moment. People are crazy because the world is getting crazier by the minute. It's hard for everybody, so you have to try to be informed about subjects and topics and try to have a balanced view of everything. It's not easy.
"People are crazy because the world is getting crazier by the minute. It's hard for everybody, so you have to try to be informed about subjects and topics and try to have a balanced view of everything."
I think we need to act with more compassion now than we did before the 2020s and Instagram and whatever. Everybody's very quick to judge. We're very quick to judge. When you think of it, we all perceive things slightly differently anyway. So, we need to brace ourselves with a lot of compassion before we make any choices.
A world where everybody thinks exactly the same sounds like my idea of hell.
Hell's a good place for that. You can't be right about everything.
Somehow, we have to be very compassionate about other people's views. Because they change. I might like blue today, but if I only saw my favorite color — tomorrow, I might like green with a tinge of brown. That's where humor and compassion comes in. Nobody knows everything.
I need humor. It can help us understand information better. Otherwise, everybody's right and everybody's wrong, all at the same time. Common sense! Has anybody bloody heard of common sense? There used to be a lot of it about years ago, when I was a kid. But not so much of it now, these days, unfortunately.
I think humor would hopefully help human beings in this weird age of COVID and Twitter and people being weirded out by all kinds of things. We don't even know if we're thinking the way we should, because there's so much information. When do we take time to consider what we're thinking, or what we're gaining? It's coming a bit too quick, everything. We like to think we know stuff, but do we really?
The Kinks performing on "Thank Your Lucky Stars" in 1965. Photo: David Redfern/Redferns​ via Getty Images
To me, one of the greatest thinkers through the lens of humor was John Lennon. I know you met him back in the Beatlemania days.
A couple of times. He was difficult, but he was funny in a kind of caustic, off-the-wall kind of way. But I liked that about him. I liked that he was different. He was looking at things differently.
He paid me a weird compliment. He said, "I think you're one of the most obnoxious people I've ever met." And I laughed and said I thought he was.
I've thought about that ever since. I don't even know what he meant! But I looked it up in the dictionary and I thought, "Hey, that's great! Unusual, different, irritating. Good!"
A big, big loss to humanity there. Lennon would be really useful now. His smart conceptions of people.
What are you interested in lately, whether it be music or non-music? What are you reading or studying?
I'm interested in so many different things. As I was saying, we should consider things before we make a judgment, which is true. But it's hard, because when we've got a queue, a list of questions that we want to ask ourselves before we make up our mind, the list gets longer and longer.
That's where meditation comes around. We can't think of everything at the same time. So, meditation helps you to clear the detritus for a while and not really think of anything. And that's hard. Believe me, I know that. It's really hard.
I don't know what I thought I knew until I take time to consider what's happening before we charge. That's where music comes in handy, because music's so aligned to the heart. You can know something's good or right by the way it makes you feel.
Dave Davies in 1970. Photo: GAB Archive/Redferns via Getty Images
Music is a lot more tuned in with nature than people's bad ideas — good ideas, not all bad. Music has always helped me — even when I was a kid — and it helps me now, to make choices. That's why music's so important. Because if it makes you feel good, there's no harm in it, really.
Who knows? Our heart will tell us if something is wrong, but everyone's different. Feelings always connect me to what may be the truth or may be lies.
"That's where music comes in handy, because music's so aligned to the heart. You can know something's good or right by the way it makes you feel."
While working on Living on a Thin Line, have you found that your memories of the distant past remain sharp? What's it like to survey decades and decades of information?
Actually, it's interesting. A lot of it depends on the quality and type of memory. We've been able to remember things as a musical link or connotation. It's just the way I'm wired — to remember things that are connected to musical or song events.
I've always had quite a visual imagination. Imagination isn't always positive information. It can be quite a scary place. I tend to ponder a memory and think, "What was I listening to? Oh, yeah! I really enjoyed that!" It makes you feel a certain way. That's why imagination and memory work closely together.
Even just meeting people and having a conversation with someone, I'm sure that I'm perceiving and thinking and talking differently with you than I would be to anybody else. That's why we need each other, because we help and hinder and aid and encourage each other just by communicating. There's a lot in there — in meeting people.
When looking back at the span of your career and all the music you've made, what are you most proud of at this point?
Oh, man. Too much stuff! I'm really proud of the renewed interest in my composition "Strangers" — which was covered by the Black Pumas — and all my other solo work.
I'm proud of being an important part of the Kinks' music and Ray's impressive writing. I feel really happy that I'm connected to all that. But me, as a person, there's something different. I'm always trying to think of something new — and what is new? A different way of saying things is new to me.
Apart from the fact there's so much information out there and [Points to brain] in here, it's a difficult time for people — for young people as much as old people my age. It's difficult to assess what the hell's really going on. So, memory's a good way of connecting to the truth — or the truth how you saw it at the time.
You've never struck me as someone content to rest on something you did 50 years ago. Rather, you remain a restless spirit.
Yeah. Good or bad, that's the way I am. It's also trying to realize that other people might actually be right, even though they piss us off. What's making you angry? Try and talk about what's making you angry!
How do we get to a point where we have hostile-ish conversation without blowing out completely? We're capable of it! Anger may be just as simple as something that's boiling inside we haven't dealt with, but it happens all the time.
A helpful tool when dealing with someone's misdirected rage is remembering "Oh, it's not about me. Something else is going on in their life."
I believe that. We're just the vehicle for the information they have, or the emotion. We do it to each other.
I remember in the very early days — when we first started out — I wasn't very good with conversation, because I was always an impulsive kid. If it felt right, I'd do it. It took me a while to realize that when you're having a conversation, the other person or persons in the room have just as much right to say what they want to say as you do. I was very impetuous and would say, "Oh, no — I'm right; you're wrong!" "Oh, stop it!" "Oh, shut up!"
It took me a long time to realize that conversation isn't just about me [Laughs.] It's about us! And we're not the only species on the planet — and tell me if you think I'm wrong — that can have conversations that have outcomes, where you're heading somewhere with it.
Maybe animals do it. I'm sure that cats communicate at a higher level. They know everything, and they don't even speak. They know everything: "You fools!" They're such special creatures.
Do you subscribe to the notion that everyone's a teacher of sorts, even if they're flat-out wrong? Or do you disagree with them?
Yeah, I do. When I was young, by having children, having kids around — often, they teach you more than you thought you taught them. With animals and children, you have to be very receptive about what the process is: what you want to gain from this meeting, from minds and concepts and thoughts and feelings.
I very much appreciate the value of considering other people's views, even when you feel uncomfortable. Growing up in Western society, people are so adamant about getting it right and making choices so quickly. Whereas I think animals — especially cats — have a higher way, I think, of considering things.
I think maybe now, we can learn more from our children than we ever did, because a lot of kids have to become very smart very quickly.
It seems like music is one of the ultimate ways to bridge misunderstandings and divides.
Music can teach us ways to get on better. When you paint, you're not killing someone — although you may wish you were! But you're just expressing feelings and stuff, and that's what makes it healthy. It's a means of exploring feelings you've got inside.
I can't remember which philosopher said this — Yogananda or someone — or was it Joseph Campbell? You know Joseph Campbell?
Sure. The Hero With A Thousand Faces.
A great teacher. It was something like "Before you make up your mind about something, run it by your heart. What would your heart say?" A lot of ideas we might have could benefit by being connected to the heart. The heart considers things in a different way.
That's important, especially if you're a writer or an artist. All of sudden, you'll get a feeling — "That would work OK!" or "I like that!" — and you don't always know why. Maybe it's not necessary to always know why you do things.
Dave Davies performing in Westbury, New York, in 2019. Photo: Al Pereira/Getty Images
My job is partly about trying to get people to care enough about something to read about it. So, I agree that we must lead with the heart at times.
A musician that really influenced me was a guy named Chet Baker. I'd never played trumpet, and when I learned it, I thought I sounded terrible! [Laughs.] That's because it's you playing it.
But I always liked Chet Baker for some reason. I was fortunate to come across an interview he did on the radio a long time ago. He was being interviewed by a musicologist — some prissy guy with all the right words. At the beginning of the interview, Chet said, "Before you start, I know absolutely nothing about music. I've learned everything from what I'm feeling."
That really helped me, because that's how I learned to play. Not that I learned to play like Chet Baker, but the principle of the way he applied himself. Music was more important to him than music itself, if you know what I mean.
Also, coming up with a Biblical reference that I use sometimes: there's a story about Jesus. He went into the desert for 40 days and nights. I've come to believe it's a kind of training for a yogi or a priest or whatever. He looked at the horizon before him and he saw all these conversations and people.
All of a sudden, an intelligent being or person appeared and said to Jesus — as the story goes — "All this land can be yours to command." But Jesus was quite a smart guy. He realized that the person who presented themselves to him was really the conscious ego. The ego is saying to his soul, "I've developed my inner powers so I can control them, him, her — control everything." He said to this person, "Get thee behind me, Satan."
The point is, a lot of the things we find within ourselves are not very nice things, like controlling people. We're caught up in all this information, and it takes a long time to figure out!
I've never interpreted that account through that psychological lens before.
I hadn't thought of it that way until two or three years ago!
How do you want to continue developing as a human being in your next phase of life?
I take it as it comes. But the trouble with growing older is that I'm worrying a lot more than I did 20 or 30 years ago. That's an achievement for me: to accept the body and the mind as human beings change.
That's a big lesson for me, especially growing up from being a fairly impetuous, wanting-it-now, everything-now kind of person. I worry about everything! I'm worrying about having chocolate milk with what I'm eating. [Laughs.] "Oh, I only have coconut milk!" There are things you have to consider before you even get out the front door.
It's a weird world, Morgan. But thank God I'm in it, as opposed to not being in it!

Bob Dylan's Latest Box Set Proves He Remained Stellar In The '80s. These '60s Classic Rock Artists Did, Too.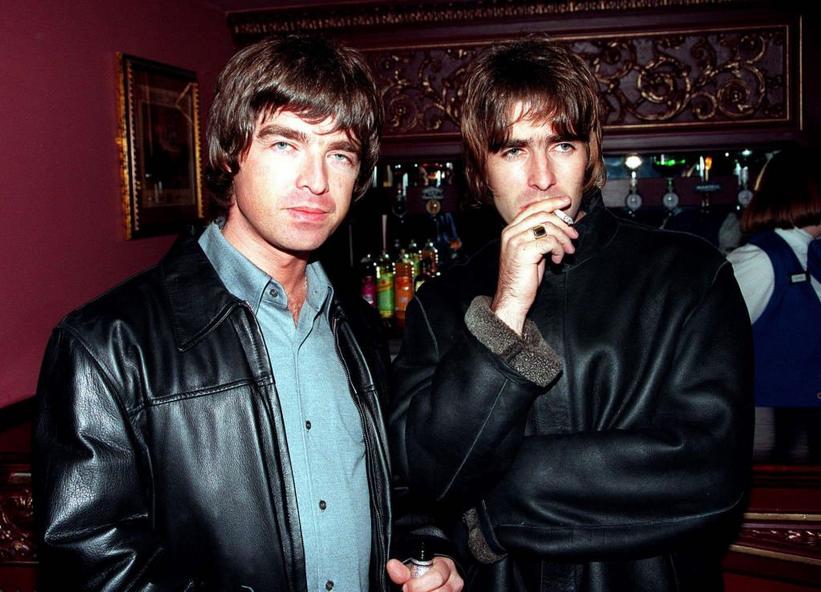 Oasis lead singer Liam Gallagher and brother Noal Gallagher in 1995
Photo: Dave Hogan/Getty Images
list
7 Musical Sibling Rivalries: CCR, Oasis, The Kinks & More
Sometimes arguments between siblings are brief and forgiving. Other times, the damage is irreparable. Read on for seven historic sibling rivalries, break-ups and reunions in rock and pop history.
GRAMMYs
/
Nov 27, 2023 - 04:04 pm
It stands to reason that, in music, the family that plays together stays together, although that's not always the case.
For every Kings of Leon, Haim, Jonas Brothers,  Jackson 5, Osmonds, Isley Brothers, Bee Gees or Hanson that stand the test of time, there are other family-based groups where the grueling and interdependent nature of rock stardom has led to dissension in the ranks.
 Sometimes those arguments between siblings are brief and forgiving. On other occasions, wedges are forged and sides are taken, resulting in either a permanent breakup of an act; a launch into new creative horizons; or hopefully a reconciliation.
 Here are seven well-known acts whose internal bickering between has led to either unexpected ends or surprising detours
The Everly Brothers: Don & Phil Everly
The Everlys' close-knit country pop and rock 'n' roll harmonies — which netted immortal chart-toppers "Bye Bye Love," "Wake Up, Little Susie" and "All I Have To Do Is Dream" — inspired everyone from the Beatles and Simon & Garfunkel to Gram Parsons and Emmylou Harris. As such, it's difficult to fathom that the Don and Phil Everly were so at odds for the better part of a decade that they'd spend entire evenings together on stage without exchanging a word.
A 2014 Los Angeles Times article reported that "vastly different views on politics and life," drove a wedge between  Don and Phil.  The brothers broke up at least twice; their first estrangement followed a 1973 show at the California theme park Knott's Berry Farm, when Phil smashed his guitar and walked offstage.
That split resulted in separate careers up until a 1983 reunion at London's Royal Albert Hall and the recording of several albums, including EB'84 with producer Dave Edmunds.
Phil Everly died of pneumonia in 2014 at the age of 74, while Don succumbed to undisclosed causes at the age of 84 in 2021.
 It is unknown if the GRAMMY Lifetime Achievement Award recipients ever reconciled.
 The Louvin Brothers: Ira & Charlie Louvin
Grand Ole Opry legends and brothers Charlie and Ira Louvin are known for such songs as "I Don't Believe You've Met My Baby" and "Hope That You're Hoping."
Born in Henagar, Alabama, the Louvin's country, bluegrass and gospel sound developed from their strict Baptist upbringing.  Yet the brothers preached one philosophy in song, Ira, who complemented Charlie's guitar on mandolin,  lived another: His inability to resist vices — drinking and womanizing — prompted Charlie to go solo in 1963.
Ira continued to lead a colorful life: his third wife shot him four times in the chest and twice in the hand after he allegedly tried to kill her with a telephone cord- but Louvin survived.
However, it was a 1965 car crash that eventually claimed Ira and his fourth wife, Anne: they were killed by a drunk driver. 
The tragedy cut short any chance of  a duo reunion, although Charlie enjoyed several Top 40 country hits through 1971. 
The Louvin Brothers were  enshrined in the Country Music Hall of Fame in 2001. 
The Kinks: Ray & Dave Davies
English rock rebels the Kinks have sold more than 50 million albums since forming in the '60s, although most of their  hits — "Lola," " You Really Got Me," "Apeman," "(Wish I Could Fly Like) Superman" and "Come Dancing" among others — stemmed from the pen of Ray Davies.
Contrary to popular belief, brother Dave says he is good with that equation — but admits that the relationship between them is naturally tumultuous.
Dave Davies explained the dynamics of his relationship with Ray to The Daily Mail in 2017, describing it as "a married couple who have just reached the end of the road."
"You know when one partner gives and gives and the other takes, and finally you realise (sic) you can't do it any more?'
"You can't divorce your brother, though. 'No, you can't. So we are stuck with each other, but I think I've accepted that this is just the way our relationship is.
In a separate interview with  The Daily Express in 2011, Ray agreed. "When we were together it was aggressive, violent, powerful but we triggered off each other."
Still, the dust-ups between them were legendary, leading to a two-decade rift.
As recently as 2018, there's been talk that Ray and Dave Davies had buried the hatchet and were intent on reuniting the Kinks... but here we are in 2023 and that possibility seems no closer to reality.
Creedence Clearwater Revival: John & Tom Fogerty
After American rockers Creedence Clearwater Revival (CCR) formed in El Cerrito, California in 1959 (they began as the Blue Velvets and rechristened themselves several times before settling on CCR in 1968), it was clear that lead singer, guitarist and songwriter John Fogerty was calling the shots — including acting as the band's manager.
CCR included Fogerty's brother Tom, who played rhythm guitar;  bass player Stu Cook and drummer Doug Clifford.  Following  a particularly lucrative period between 1969 and 1970,  John  decided that Tom would no longer sing lead on or co-write any song while he was in the band, despite previously handling lead vocals and collaborating on some pre-CCR material.
"He cut Tom Fogerty out from singing," Clifford told AZ Central in 2015.  'Without Tom...there wouldn't have been a Creedence Clearwater Revival. When Tom graciously gave up the vocals to his younger brother, he had no idea that he would never be singing another song again. So Stu and I and Tom were always at odds with John about that."
Tom Fogerty left after 1970's Pendulum, and apart from a 1980 reunion during his wedding reception, CCR never performed again.  He died in 1990 after contracting AIDS from HIV-infected blood during a transfusion during back surgery, and was posthumously inducted into the Rock And Roll Hall of Fame in 1993.
Heart: Ann & Nancy Wilson
One of the top female-led rock bands in modern music history thanks to hits like "Magic Man" and "What About Love," Heart has been the role model for thousands of musicians.
But the first public signs of friction between sisters Ann and Nancy Wilson occurred in August 2016, when Ann's husband Dean Wetter was arrested for assaulting Nancy's 16-year-old twin sons after he boys reportedly left open the door to his RV.
Rolling Stone reported that the siblings hadn't spoken  to each other since the 2016 tour ended, but relations have eventually warmed up. The sisters reunited for Heart's  53-date Love Alive tour in 2019 - and more recently, Nancy joined Ann Wilson and her band Tripsitter on stage October 10 in Santa Rosa California to perform "Barracuda."  They received the Recording Academy's Lifetime Achievement Award in 2023.
Ann Wilson has continued to release solo albums and front her band Tripsitter, while guitarist Nancy has formed Nancy Wilson's Heart.
In a 2022 Guitar World interview, Ann said she and Nancy are "okay," but have different ideas for the future of Heart. "We haven't figured out a compromise yet," she admitted.
The Black Crowes: Chris & Rich Robinson
Sometimes, money and control carry more weight than people insinuate.
Guitarist Rich Robinson left the Black Crowes in January 2015 due to an alleged ownership agreement with brother and vocalist Chris. Both men divided and  conquered with solo careers but remained largely incommunicado for almost five years.
But in an interview with the San Diego Union-Tribune, both Rich and Chris credited their children with healing the rift between them. 
"My daughter, Cheyenne (now 11), was like: 'What's the deal with you and Uncle Rich, and why don't I know my cousins?'"Chris told the paper. "Those are the kind of questions that will make you think and reflect."
"Definitely. Kids are honest and curious, and they don't have issues like Chris and I did," Rich said  in a joint interview with his brother. "So, as Chris said, that opened a door (to reconciliation)."
Together again since 2021, the Black Crowes will be shaking their moneymakers opening the final Aerosmith tour, once Steven Tyler's larynx heals. 
Oasis: Liam & Noel Gallagher
While backstage in 2009 in Paris, the tumultuous in-fighting between Oasis' Liam and Noel Gallagher reached new heights; a violent fistfight that drove a nail into the coffin of the band.
Noel's statement: "It's with some sadness and great relief to tell you that I quit Oasis tonight. 'People will write and say what they like, but I simply could not go on working with Liam a day longer."
This was the last in a number of physical altercations that had taken place over the years during tours. Since the split, Noel has been recording and touring with his band the High Flying Birds while Liam first took to the road and studio with Beady Eye, which split in 2014; he's now performing solo.
However, Liam has reportedly expressed interest in reuniting  with Noel and strike up Oasis, though whether there have been any private conversations towards this end remains to be seen.
11 Iconic Concert Films To Watch After 'Taylor Swift: The Eras Tour'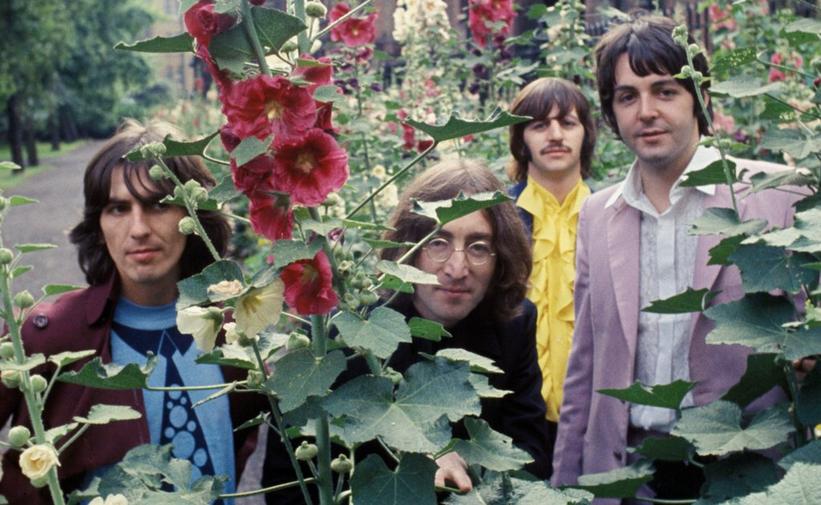 news
The Beatles' Final Song: Giles Martin On The Second Life Of "Now And Then" & How The Fab Four Are "Still Breaking New Ground"
The wait is over: The Beatles will release their final song, "Now and Then," on Nov. 2. Read an interview with remixer Giles Martin about the decades-in-the-making parting gift, as well as remixed, expanded 'Red' and 'Blue' albums.
GRAMMYs
/
Oct 26, 2023 - 02:16 pm
The Beatles and grief have always been fundamentally intertwined. When John Lennon and Paul McCartney met as teenagers, they bonded over losing their mothers early on. Their manager, Brian Epstein, died in 1967 at only 32; as McCartney put it during the ensuing Get Back sessions, "Daddy's gone away now, you know, and we're on our own at the holiday camp."
Lennon's murder in 1980, at just 40 years old, imbued their story with bottomless longing — not just between this band of brothers, but a world that had to process the Beatles were never coming back. George Harrison's death from cancer, in 2001, was another catastrophic blow.
But the Beatles' message, among many, was that the light prevails. And from "In My Life" to "Eleanor Rigby" to "Julia" to "Let it Be" and beyond, almost nobody made sorrow sound so beautiful. And "Now and Then," billed as "the last Beatles song" — yes, the AI-assisted one you heard about throughout 2023 — is liable to move you to the depths of your soul.
A quick AI sidebar: no, it's not the generative type. Rather, it's the technology Peter Jackson and company used to separate theretofore indivisible instruments and voices for the Get Back documentary. It also worked in spectacular fashion for Giles Martin's — son of George — 2022 remix of Revolver.
The cassette edition of "Now and Then." Photo © Apple Corps Ltd.
With this tech, Martin and his team were able to lift a Lennon vocal from a late-'70s piano-and-vocals demo of "Now and Then," a song he was workshopping at the time. (Remember "Free as a Bird" and "Real Love," the reconstituted Beatles songs from the Anthology era? "Now and Then" was the third one they tried — and, until now, aborted.)
The final version of "Now and Then" features Lennon's crystal-clear, isolated vocal, as well as Harrison's original vocal and rhythm guitar from that 1995 session. McCartney adds piano and guitar, including a radiant slide guitar solo in homage to Harrison. Ringo Starr holds down the groove and joins on vocals.
"Now and Then" is more than a worthy parting gift from the most beloved rock band of all time. And you can experience it a la carte or as part of the Red and Blue albums — the Beatles' epochal, color-coded 1973 hit compilations, remixed by Martin, with expanded tracklistings, out Nov. 10.
Ahead of "Now and Then," which will arrive on Nov. 2, read an interview with Martin about his approach to the emotionally steamrolling single — and the host of Beatles classics that flank it on Red and Blue.
This interview has been edited for clarity.
What was the thinking behind the expansion of the Red and Blue albums?
That kind of stemmed from "Now and Then," really. You know, we finished "Now and Then," and then there was the thought about, OK, it can't go on an album. What are we going to put it on?
There was a thought about trying to respect people's listening tastes. And the fact that they've changed — and the No. 1s, for example, don't really reflect the most popular Beatles songs that people are listening to.
Then, we realized it was the 50th anniversary of Red and Blue. For a whole generation — much older than you, my generation — the Red and Blue albums have this sort of gravitas behind them. I know all the tracklistings; even though I think I was 3, when they came out, we had them at home.
So, we decided to do the Red and Blue albums — which took quite a long time, because there was quite a lot of stuff to do on them.
Since you've remixed all the Beatles albums from Sgt. Pepper's onward, I've been glued to the pre-1967 material — this is the first time I've heard your touch on their early work. Remixing songs as early as 1962 must have been a whole different ballgame.
In all honesty, that was the fun bit.
You know, we couldn't have worked on these songs six months ago; the technology had to be developed in place so we could do this — separate drums, bass and guitar, and have the different elements. And they sound good; it doesn't sound strange or artifact-y in any way.
I think people will talk about "Now and Then" for "Now and Then." But I [also] think the true innovations come back from the early Beatles stuff. The way that it pops out; the way that the records still sound like the same records. Hopefully, the character doesn't change, but the energy is different.
Ringo always said, "We're just a bunch of punks in the studios," and they sound like a bunch of punks in the studios. Now, they sound the age they were when they played it.
And that's so key to me, to making these records — that they sound like that. You know, they were way younger than Harry Styles is now, when they were making these records. People think they're old guys, and they're not.
That, to me, is important, in a way. We get old — I hate to break that to you, but we do get old. And recordings, by their nature, stay the same age. And the Beatles will always be that age on those records.
I think, now, they sound like a bunch of young guys in the studios bashing their instruments, and I think that's really exciting, and the technology we've applied has enabled us to, bizarrely, strip back the inadequacies of the technologies they had.
And I don't mean that in a pompous way. What I mean is that my dad never wanted the Beatles to be coming out of one speaker, and then coming out of another speaker. They didn't want the two tracks to be like that. He hated it. He hated it.
But now, we can have the drums coming out of the middle, like a record is now. He can luxuriate in that, and I think it's fun and exciting.
I'm noticing so many heretofore-obscured details in their early work. The vocal flub on "Please Please Me." The maniacal bongos that power "A Hard Day's Night."
I think you're right, but I think from experience — which, actually, I have a lot of now — there is a beauty in the reality.
What I mean by that is: so much music is perfect, and it's fabricated. There are checks and balances that go on, to make sure that everything is in tune, in time. And all this stuff goes on, which is fine and it suits a place. But it's a bit like the dangers of plastic surgery — everyone ends up looking the same.
And in records, everyone's sounding the same. We dial in so it's exciting, and it becomes boring, essentially, is what I mean.
The excitement you get from hearing a mistake in a song you've heard for years doesn't necessarily demean the song itself. It doesn't make you think, Oh my god, the band is s—. You think, Oh my god, what's exciting is these are humans. These are human beings in a room, making noise.
People go, "Well, who's responsible for the sound of the Beatles? Is it your dad? Is it Geoff Emerick? Is It Norman Smith…" blah, blah, blah. I go, "No, it's the Beatles. It's the fact they're four friends in a room. They make that noise."
And that's the thing about great bands; great bands make a great noise together, and they don't even know how they do it themselves. That's the beauty of it.
It's like, why do you love someone? "Well, because they're nice to me," or because they're whatever. You can't explain things; they just happen. And there's something about "Please Please Me," all that early stuff — you can hear it. It's something just happening, and that's so exciting. God, I sound like such an old hippie.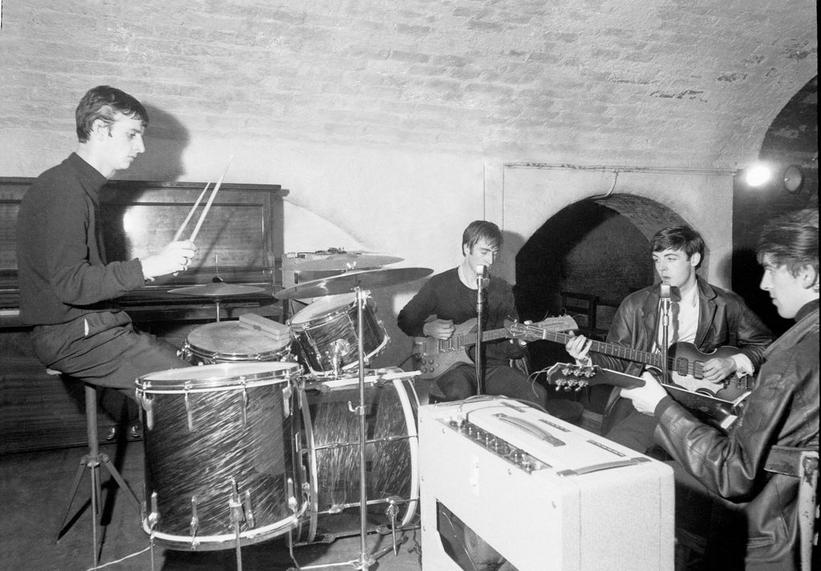 The Beatles in The Cavern, Liverpool, August 1962. Photo © Apple Corps Ltd.
Your first Beatles remix project, for Sgt. Pepper's, came out five years ago. On the other side of the coin, The Blue Album features songs from that dense, psychedelic era, like "I Am the Walrus," which is such a beast. That must have been a different kind of fun.
Yeah, well, "Walrus" is a beast. I've actually gone back and re-changed the stereo [mix] recently, because I got asked questions like, "Why did I change the end section so it didn't sound like the original?" I was thinking, Did I? I didn't do it deliberately. It's just the balance of speech versus vocals and stuff like that.
I was very lucky, because "Walrus" was on the Love album and show. I tackled a version of that before, and know how tricky it is.
Because by its nature, "Walrus" sounds technically bad, but it's beautiful. It's beautifully ugly as a record, and they're the hardest ones, because you don't want to take away the character. You don't want to remove the grime, because the grime is the record. I spent a lot of time looking at this and doing this — hopefully, we're in a good place with "Walrus."
You know, music's about, How does this make you feel? You don't want to feel secure around "Walrus" at any stage; you want to be unnerved by it. People sort of ask about plugins and technology, and it's like, it's not about that — something you can get on a shelf. How it makes you feel is the most important thing.
You once said that a White Album remix couldn't be too smooth — it's "slightly trashy. It's visceral. It slaps you in the face." I thought of that while listening to the remixed "Old Brown Shoe"; George's vocal is way grimy on that one.
This is going to sound really ridiculous — and I've been through this with a number of different people — but my job is to make a record sound like how you remember it sounding. Because records never sound like how we remember them sounding. And you go back and go, Was that really there?
Some people accuse me of doing stuff that I haven't done, or maybe forgot to do, or whatever. But the fact of the matter is that we kid ourselves all the time, and we fill in the blanks constantly.
It's like, "What about the vocal of 'Old Brown Shoe'? Why does it sound like this?" And I go, "Well, it sounds like that on the record." It's part of the character of the record. If it was too clean, it wouldn't sound [right].
George was very particular at that stage. He didn't get many goes, is the way I would say it, because he wasn't given enough songs.
There's a story [Beatles engineer] Ken Scott told about The White Album, of him doing "Savoy Truffle" — which is incredibly bright as a song, by the way. And my dad apparently went, "You know, it sounds quite bright, George." And he goes, "I know, and I like it." Like, "I know, and f— off," basically.
You have to respect the artists' wishes when you're doing these things, even though they're not there. Yeah, on "Old Brown Shoe," the vocal's quite strange. But that's what George wanted it to sound like, and [far be it from] me to say it shouldn't sound like that.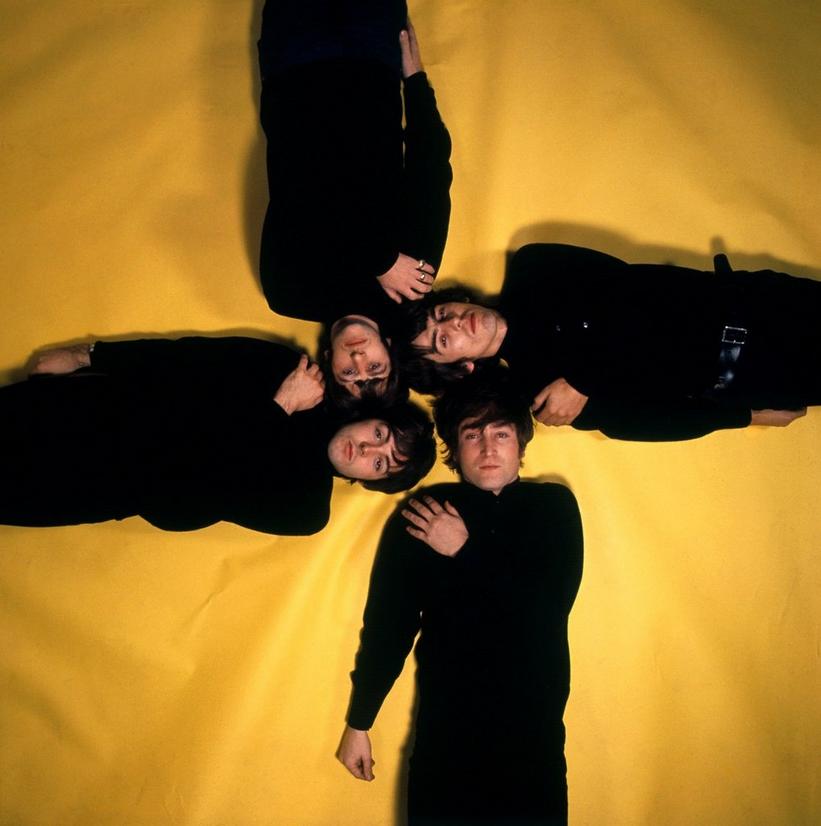 The Beatles in 1965. Photo © Apple Corps Ltd.
What's your understanding of the extent of the work the Beatles put into "Now and Then" back in 1995, before they aborted it?
I wasn't there, so I'm just going to speculate. What Paul played me — what we worked on together — was kind of after he'd looked at the material they did together.
Far be it from me to argue with a Beatle: there were some things that I thought we should change from that recording. There were a few synth [things], which I thought, once we decided to put strings on it, [weren't necessary].
You know, the key thing is that George is playing on it. Therefore, it is, by definition, a Beatles song, because all four of them are on it. People ask me, "Why is this the last Beatles song?" Well, there's not another song. There won't; there can't be another song where all four Beatles are playing on it.
So, there were bits and pieces that were used and not used. I don't think they spent a lot of time working on it, but essentially, what we kept was George — and obviously, John's vocal, which then we looked at.
Listening, I was thinking, Thank god that George tracked a rhythm guitar part and harmony vocal back then. Or else, this couldn't happen. Or, if it happened, you and your team would never hear the end of it.
What was interesting was, we did the string arrangement. I sat down with Paul in L.A., and there are lots of chugs and "Eleanor Rigby" kinds of ripoffs in the string arrangement.
And what essentially happened was, Paul spent a lot of time listening to what George was playing on the guitar, and it really changed the arrangement. It's in service to the guitar; it doesn't go against George's playing. They were completely respectful of the other Beatles, and made sure it was a collaboration, and it was all four of them.
As Yoko said to me, "John is just a voice now." And I think it sounds like the Beatles, "Now and Then."
Looking at the post-"Now and Then" Beatles landscape, I'm enticed by which Beatles albums you'll remix next. The select tracks on Red and Blue open a door to what Rubber Soul or Beatles For Sale redux might sound like.
Technology doesn't — and never has — made great records, but it creates a pathway. You can do certain things that you couldn't do in the past. And the most exciting thing for me is — as you say — it does open that door to that early material, which we couldn't have done before.
I suppose fortuitously, we kind of worked backwards, in a way — and it made sense to do that. I couldn't have done what I've done on The Red Album even six months ago, probably; it's that quick. I love the fact that the Beatles are still breaking new ground with technology that will pave the way for other artists.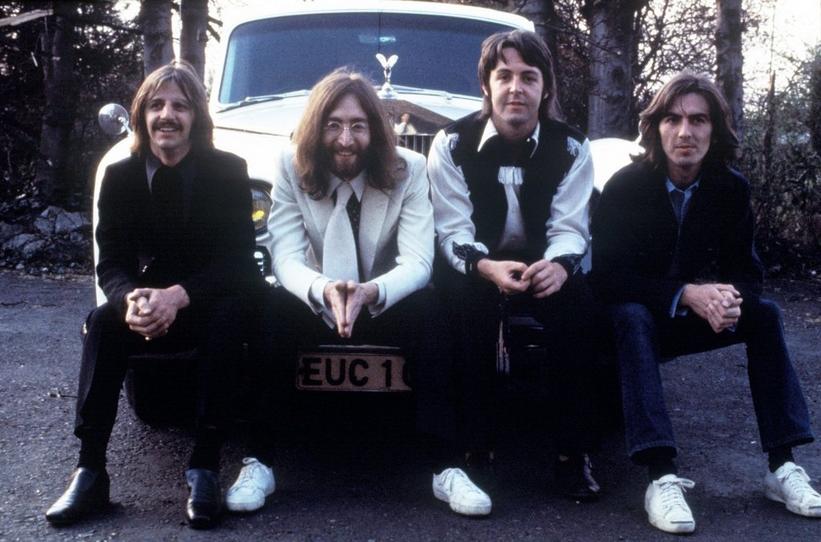 The Beatles during a photo session in Twickenham, 9 April 1969. Photo: Bruce McBroom / © Apple Corps Ltd.
I can't imagine what this next week of "Now and Then" promotion will be like. There's an incredible weight to this. You must be feeling that.
Well, I mean, there's some perspective. My mom's just died. So, it's like [dark laugh] what's important in life?
It's a funny time. We just talked about her funeral arrangements, and she's getting buried the day, I think, the record comes out. So, there are personal things for me in this.
I've been doing interviews this week, and people have asked me, "How do you feel about what your motivation was?" Somebody was saying I'm talking about the Beatles as a resource, or whatever. I go, "You do these things and hope people get touched by stuff."
When you say you enjoy "Now and Then," that's really nice, because that's why we do it. We do it so people can listen to stuff and not just hear it. "Now and Then" sounds like a love song. It sounds like a song that John wrote for Paul, and the other Beatles: "I miss you/ Now and then."
It sounds like Paul has gone there, which I think he did. You know, no one told Paul to go and do it, and Paul didn't go, This would be a great exercise for the Red and Blue Album.
He was at home in the studio. He dug on the record and started working on it, because it's his mate. And he really misses John. I mean, that's the truth. They broke up, and John died nine years later. It really isn't very long.
So, I hope that people listen to the record and they think about loved ones. Or they think about things. That's what I hope. I don't really care about anything else — do you know what I mean? What I'm excited by is people being touched by it.
Masterful Remixer Giles Martin On The Beach Boys' Pet Sounds, The Beatles, Paul McCartney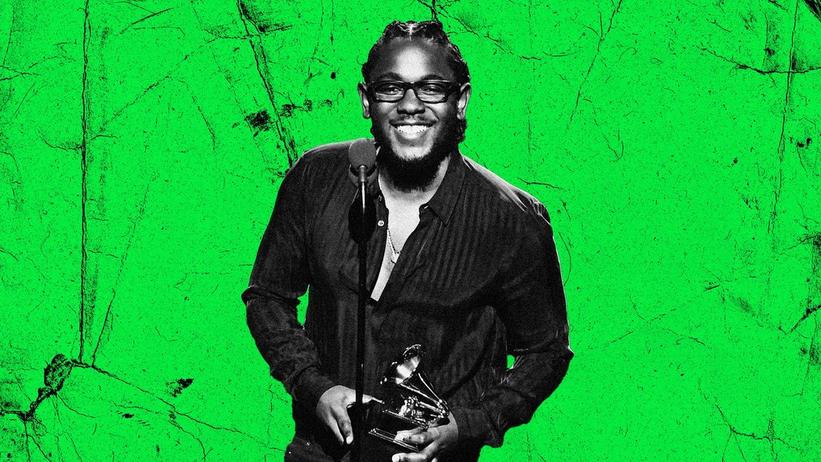 Kendrick Lamar
Photo: Jeff Kravitz/FilmMagic
video
GRAMMY Rewind: Kendrick Lamar Honors Hip-Hop's Greats While Accepting Best Rap Album GRAMMY For 'To Pimp a Butterfly' In 2016
Upon winning the GRAMMY for Best Rap Album for 'To Pimp a Butterfly,' Kendrick Lamar thanked those that helped him get to the stage, and the artists that blazed the trail for him.
GRAMMYs
/
Oct 13, 2023 - 06:01 pm
Updated Friday Oct. 13, 2023 to include info about Kendrick Lamar's most recent GRAMMY wins, as of the 2023 GRAMMYs.
A GRAMMY veteran these days, Kendrick Lamar has won 17 GRAMMYs and has received 47 GRAMMY nominations overall. A sizable chunk of his trophies came from the 58th annual GRAMMY Awards in 2016, when he walked away with five — including his first-ever win in the Best Rap Album category.
This installment of GRAMMY Rewind turns back the clock to 2016, revisiting Lamar's acceptance speech upon winning Best Rap Album for To Pimp A Butterfly. Though Lamar was alone on stage, he made it clear that he wouldn't be at the top of his game without the help of a broad support system. 
"First off, all glory to God, that's for sure," he said, kicking off a speech that went on to thank his parents, who he described as his "those who gave me the responsibility of knowing, of accepting the good with the bad."
He also extended his love and gratitude to his fiancée, Whitney Alford, and shouted out his Top Dawg Entertainment labelmates. Lamar specifically praised Top Dawg's CEO, Anthony Tiffith, for finding and developing raw talent that might not otherwise get the chance to pursue their musical dreams.
"We'd never forget that: Taking these kids out of the projects, out of Compton, and putting them right here on this stage, to be the best that they can be," Lamar — a Compton native himself — continued, leading into an impassioned conclusion spotlighting some of the cornerstone rap albums that came before To Pimp a Butterfly.
"Hip-hop. Ice Cube. This is for hip-hop," he said. "This is for Snoop Dogg, Doggystyle. This is for Illmatic, this is for Nas. We will live forever. Believe that."
To Pimp a Butterfly singles "Alright" and "These Walls" earned Lamar three more GRAMMYs that night, the former winning Best Rap Performance and Best Rap Song and the latter taking Best Rap/Sung Collaboration (the song features Bilal, Anna Wise and Thundercat). He also won Best Music Video for the remix of Taylor Swift's "Bad Blood." 
Lamar has since won Best Rap Album two more times, taking home the golden gramophone in 2018 for his blockbuster LP DAMN., and in 2023 for his bold fifth album, Mr. Morale & the Big Steppers.
Watch Lamar's full acceptance speech above, and check back at GRAMMY.com every Friday for more GRAMMY Rewind episodes. 
10 Essential Facts To Know About GRAMMY-Winning Rapper J. Cole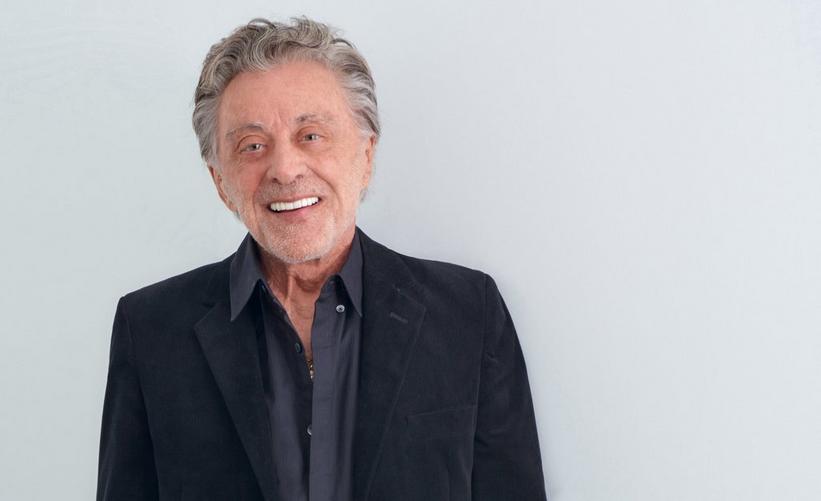 interview
Living Legends: Frankie Valli On The Four Seasons' Biggest Hits, Impressing Bob Dylan And Inspiring Billy Joel & Elton John
Between a new box set and a Las Vegas residency, Frankie Valli and the Four Seasons aren't slowing down in 2023. Hear from the falsetto king himself about how hits like "Sherry" and "December, 1963 (Oh What A Night!) came to be — and how they live on.
GRAMMYs
/
Oct 3, 2023 - 02:53 pm
With one of the most recognizable voices in music, a generation-spanning array of hit songs and a life story that has become stuff of legend, Frankie Valli has staked a claim as one of the music industry's most indelible artists. One of the few acts that steadily navigated from the doo-wop age through the disco era, Valli's improbable trajectory with his group, the Four Seasons, was propeled by a golden ear for hits, aided by the songwriter/producer power duo Bob Gaudio and Bob Crewe.
That's not to say the 89-year-old is resting on his laurels. His astounding career is on full, vibrant display in the immense new box set aptly dubbed Working Our Way Back to You — The Ultimate Collection. Consisting of 45 discs of every song Valli and the Four Seasons ever recorded — from beloved hits to deep-cuts, demos and other rarities — the set also includes a biographical book filled to the brim with rare images that track their rise from a fledgling New Jersey singing group to Broadway sensations in the form of Jersey Boys.
In addition, later this month Vailli is heading to Las Vegas for a residency at Westgate Resort and Casino where he and the Four Seasons will be appearing until well into 2024.
Valli spoke to GRAMMY.com about his astounding run of hits, the artists he's influenced, the modern covers of his tracks and how his big year started off with a bang during GRAMMY weekend.
You were a surprise performer at the Clive Davis GRAMMY Gala earlier this year and, in a very special moment, everyone in the audience, from Cardi B to Joni Mitchell, jumped up and sang along with you to "Can't Take My Eyes Off Of You." What was that moment like for you?
Oh, it was incredible. I never expected it. When Clive first invited me, he said "I want to invite you to my GRAMMY party, but I want you to do a song." I said, "With the generation gap, should I really do a song?" But I was in shock when everybody stood up to sing along. 
It was a really a moment I'll never forget. It's a good thing we have people like Clive who really has an insight on what's happening and where it's going. 
That night, the Italian rock band Måneksin covered your song "Beggin'" which was their breakout hit. The band was just the latest in a long line of artists who have covered Four Seasons music, with "Can't Take My Eyes Off Of You" done by everyone from Lauryn Hill to Shawn Mendes, to name just two examples. What do you think of all of these artists wanting to cover your work?
It's quite complimentary. When you've been around a long time and people find value in what you've done, it just makes you feel good about what you've done.
In your career, you've also covered so many songs from Cole Porter's "I've Got You Under My Skin" to Bob Dylan's "Don't Think Twice (It's Alright)." How did you go about choosing which songs to cover, and how would you put your own spin on these classics to make them your own?
It was really more or less music that we listened to and we loved. We tried to pick songs that were very meaningful for us, but the trick was to be able to do them a little differently than they had been done. 
We were quite successful with it, we did it with songs like "Will You Still Love Me Tomorrow?" We did a version of "Book of Love" and so many others.
Your version of "Don't Think Twice (It's Alright)" is probably one of the most unusual songs in your vast discography considering its subject matter, your exaggerated falsetto, and those background harmonies. How did that come about? I also understand you heard from Bob Dylan himself about it.
We did it in a very campy way, and it really was quite by accident. I was in a studio, and the guy at the soundboard asked me to sing a little bit to get a level on me. So I was clowning around singing in a falsetto like that.
The next thing I know, the button clicks and I hear [Crewe and Gaudio's] voices saying, "Do it like that." I said, "Do what like what?" They said, "Sing it just the way you're singing it." I said, "Come on, you're kidding!" 
We did it and that version of it was a take-off on a singer named Rose Murphy, who had several hits. Many years later, I was shopping at Fred Segal in LA and Bob Dylan came up behind me and tapped me on the shoulder. We shook hands and he said, "I love the version of 'Don't Think Twice' that you guys did."
Speaking of your singular vocal stylings, I'm wondering how you and the group went about plotting how you'd all harmonize. For example, in a song like "Candy Girl," there's your iconic falsetto, and then suddenly we hear in a very low baritone voice the line "Our love is real!" Is something like that written out? How does it come together in the studio?
It just comes naturally. A lot of credit goes to the fact that we were never chased away from a song because we didn't know what to do with it. We toyed with it until we found what we thought was right for it. There were no direct plans; everything was done from within the group. 
Nick Massi had his job doing a lot of the vocal arrangements, and Gaudio did most of them after Nick had left. We worked together until everybody was satisfied with it. Does it fit? Does it work? It's like a puzzle. You don't want to overdo anything, and you don't want to under-do.
So then let's say in a song like "Walk Like A Man" when the harmonies sing that iconic "Oo-Oooo-Oo-Oo-Oo-Oo-Oo-Ooooo." Where does that come from?
It comes from Bob Gaudio, who wrote the song to sound like that. The first three songs we did were more like a chant, and that's what we created to make what everybody knows as our sound. 
We wanted to be very easily identifiable. If you heard something by us on the radio, you knew that it was us. We were constantly looking for new ways and new things while having fun doing it. We weren't following or listening to anybody else on the radio; we weren't a copycat group. 
Billy Joel has gone on to say that a lot of the inspiration he got came from us. "I love you just the way you are" is the last line in "Rag Doll."
He also said that "Uptown Girl" was an homage to you. Musically it sounds like "Big Girls Don't Cry" but lyrically it's the opposite of "Rag Doll." What do you think when you hear a song like that?
First of all, I'm a big Billy Joel fan. There isn't anything he's ever done that I haven't liked. My favorite of everything is "Just The Way You Are." It sounds so honest and lyrically it's so right, it had to be a hit.
What about a song like "Bennie and the Jets"? It's been said that Elton John was directly inspired by you.
I loved it. He's another guy who has done very little wrong musically. He's an amazing writer and performer. 
You and the group have a lot of name songs: "Sherry," "Marlena," "Dawn." Was that conscious effort, or was it just natural?
It was natural. Bob wrote the songs… He and I have been partners now for over 50 years and he never ceases to amaze me. He's so tuned into everything that's going on, it's really amazing.
Is it true that "Sherry" was originally called "Jackie" in honor of Jackie Kennedy?
No, it was originally called "Perry." Before "Sherry," we weren't signed to a label, so this small independent company owned by a millionaire had a daughter named Perry. And that's what he wanted us to call it, but it was written to be "Sherry" and we just felt very strongly about that and kept it.
What did the owner think of that?
We ended up going with a different company. So we never heard much after that.
One of your biggest hits was "December 1963 (Oh What A Night!)." I always wondered if that was a random date, or if you chose it because that period was a unique moment in history: a month after the Kennedy assassination, but two months before the Beatles were on Ed Sullivan. 
It was originally a song with lyrics about the '20s, '30s and '40s. The lyrics were "Flippers flopping on the floor." It was a totally different song. When Bob brought it into the studio, he was disappointed we weren't crazy about it and he wanted to junk the song. We said, "No, you can come up with something better than this," and he rewrote it to fit the time. 
Is there one song that you thought should have been bigger than it was?
The funny thing about records during the days when we recorded, and the record business was as big as it was, to become a hit it was important that the record company do the legwork and get radio stations to play it, or try it for two weeks. I thought there was a lot of what we did that was overlooked because the record company wasn't that crazy about it. 
For example, I put the single "We're All Alone" out, and the record company didn't want to work it. I did mine with the London Symphony Orchestra. Later, Rita Coolidge came out with the same song and it went to No. 1. Sometimes things like that happen.
A song like "Can't Take My Eyes Off Of You" was in the can for two or three years. We had to force the record company to release it and hire independent promotion people to work the record and get it on the radio. 
"My Eyes Adored You" was recorded for Motown Records and that one was in the can for three years because they weren't too sure about it. Finally, when we left Motown, we asked if we can buy back the track, and they agreed for us to purchase it. We did and we brought it to every record company in the business and they all said no. 
Eventually, we found Larry Uttal with a brand new record company, Private Stock Records, and he said, "That'll be my first No. 1 record for my new company." And it was!  
From when you first started recording in the early '50s to when "Sherry" hit No. 1 was a period of nine years. That's a long time. Why did you stick with it? 
It was always music first. If I had no success at all, I'd probably still be doing music somewhere in New Jersey or New York. I knew exactly what I wanted to do and wanted to be. 
At first, I rejected the fact that I might have to do pop music, but as I started to do it and it became successful, I realized it was a music that people could understand. And what are you doing music for? You're doing it for people. Without an audience you wouldn't have anything. 
My love of music started out for the very first time with me seeing Frank Sinatra as a boy when my mom took me to the Paramount Theater in New York City. I couldn't believe what I was seeing and I was so inspired; I made up my mind that that's what I wanted to do. 
Living Legends: Nancy Sinatra Reflects On Creating "Power And Magic" In Studio, Developing A Legacy Beyond "Boots" & The Pop Stars She Wants To Work With