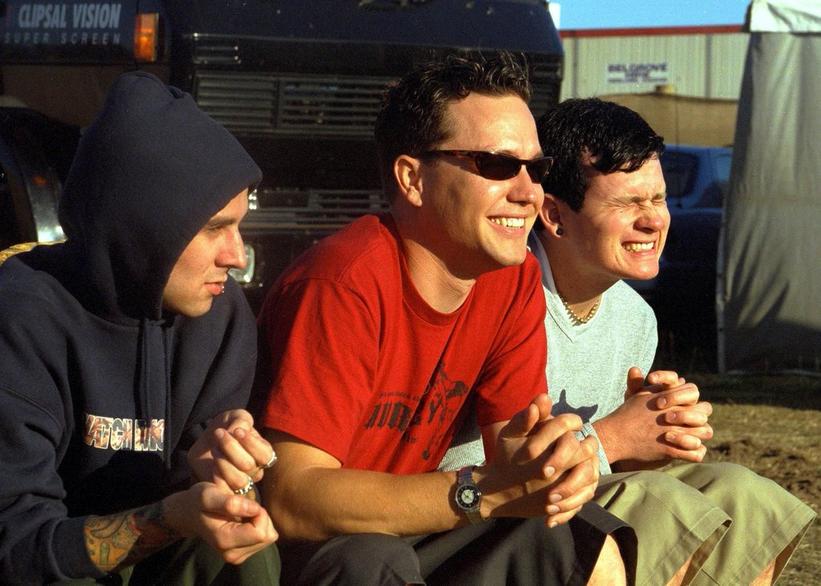 Photo by Liam Nicholls/Newsmakers
news
Blink-182's 'Enema Of The State' Will Never Actually Turn 20
What's their age again? Mark Hoppus, Tom DeLonge and Travis Barker's unapologetically juvenile third album marked the first time the trio wrote consciously with an audience in mind
GRAMMYs
/
Jun 11, 2019 - 01:05 am
The truth is, punk has rarely gone pop. Sure, there's popular punk. There's punk bands whose iconic logos and contributions to fashion and established fan bases (with said logos emblazoned on their bodies) will never die. And there's pop-punk, of course, which has more or less come to encompass just about any band whose music is catchy, fast, and played on guitars (and it helps if they've ever done a stint on the Warped Tour). But you can count the ones who've really broken pop in America — sales, charts, radio, TV, mainstream magazine covers — on your fingers: Ramones, Green Day, The Offspring, My Chemical Romance, Fall Out Boy, Paramore. And right in the middle of those names, you have Blink-182 in 1999, crashing Backstreet Boys and *NSYNC's neverending TRL party with the very few power chords of "All the Small Things," a song whose "na na nas" have entered the Hall of Fame with the likes of "Gettin' Jiggy Wit It," "Hey Jude" and Steam's "Kiss Him Goodbye."
Why did three tattooed Californians resonate so much and become more popular than several dozen of their Warped tourmates? Well, more than any of the above-named bands or their peers, Mark Hoppus, Tom DeLonge, and drummer Travis Barker gave themselves a role to play. Enema Of The State was their third album, but it was their first to write consciously with an audience in mind. And that audience was young.
There was no shortage of rock bands playing to underdeveloped minds in 1999, the year when Limp Bizkit made "stick it up your — yeah!" a summer rallying cry. However, Blink came into the public eye not just mocking norms (behold the nudist breakthrough video for "What's My Age Again?") but satirizing them (enter the boy band-puncturing "All the Small Things" clip). Plenty of teenagers hated boy bands, and Eminem threatened to beat them up, but Blink-182 dared to envision themselves in the role, playing the Regular Guys striking those absurd poses in front of wind machines, turning something expensive cheap, showing what it actually looked like cut down to earth. They did their own stunts, and people liked that. While Fred Durst really sounded like he wanted to break something, and Eminem really did seem to live many of the nightmarish situations he joked about, Blink-182 didn't come off as hateful at all.
This depends, of course, on how much "Dumpweed"'s infamous chorus "I need a girl that I can train" rubs you the wrong way in 2019. And of course, that's how Enema Of The State kicks off, putting its best foot forward directly into its mouth. 20 years and far too few gun laws later, it's harder to see what made toxic masculinity so appealing in the first place, but the line achieved its puerile success not only because it was so hard to take seriously but because the rest of the song is about how scared DeLonge is. The fact it's immediately followed on the album by Hoppus' "Don't Leave Me," which gives the girl the last word ("She said don't let the door hit your ass") helps. That two of the album's three big hits are rooted in romance ("All the Small Things") and empathy ("Adam's Song") rather than the rubber-glove humor they were known for helps, too. Blink-182 didn't sound like they wanted revenge on their high school, and they didn't sound like they hated themselves, either. What they sounded like were boys that teenagers could relate to rather than ones promising girls the moon in perfect harmony from their private jet.
That also means they sang about diarrhea.
"Dysentery Gary," positioned directly before those aforementioned more tender singles in Enema's track listing, helped underscore just how powerless (but in no way humorless) Blink's masculinity sounded through DeLonge's whine. "Girls are such a drag" he mutters while trying unconvincingly to come up with reasons that a girl should pick him instead of the perceived jerk who presumably won out: "He's a player, diarrhea giver!" Sure, "your mom's a whore" hews a little too close to the sort of trauma that awaits women who dare view their own comments sections. But they leave it at that and go on to contemplate suicide with "Adam's Song" with no small amount of love for the depressed protagonist.
That lightness and sociability is oddly what sticks out about Enema Of The State, an album that may be 20 years old but will be frozen forever at 17. Five years prior, Green Day's epochal, excellent Dookie grappled with social conditions like apathy, sexual frustration and watching the people you grew up with shrink in the rearview mirror. But it was downright apocalyptic compared to Enema's teen movie, which is rarely deeper than the American Pie-style cinema of the period. Hoppus and DeLonge sang about the dilemmas of parties and college and the slut-shamey realization that even the horniest dude at the party might lose his nerve when he finally gets a chance with the girl who isn't wearing underwear. DeLonge also gets to sing "Aliens Exist," an outlier that is what it says it is, and somehow became the defining aspect of his legacy as he premieres a new History Channel series about UFOs while Blink soldiers on without him in 2019.
But the legacy of Enema Of The State will always be defined by what it accomplished: remarkably clean-sounding guitars, the hyperactive drumming of Barker (an all-time rock drummer finally getting his spotlight) and episodes of adolescent romance so silly that an entire second verse of the first single could be devoted to the transcript of a prank phone call. Just because one chorus lamented that "some girls try too hard" didn't mean that millions of young women didn't get the underlying joke that many more guys don't try hard enough. And if these three couldn't solve their relationship problems, at least they helped make high school easier by providing some good jokes about it. What's their age again?
Reel Big Fish To Wage War: The Lasting Legacy Of Warped Tour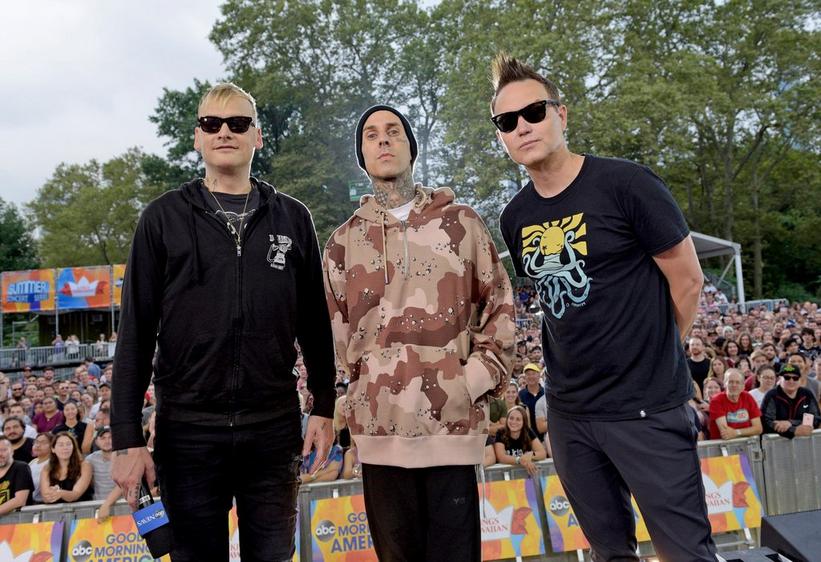 Photo: Paula Lobo/Walt Disney television via Getty Images
news
Blink-182 Announce New Album 'NINE' Release Date, Plus New Song "Darkside"
Fans will be able to pre-order the album at midnight
GRAMMYs
/
Jul 25, 2019 - 11:02 pm
The wait is over. Veteran punk-pop trio Blink-182 have announced that their forthcoming eighth studio album NINE will drop Sept. 20.
The GRAMMY-nominated Southern California band have been teasing the follow-up to 2016's California album with new song releases, "Blame It On My Youth," "Generational Divide," and "Happy Days," but had not released an album date.
Another track off the album, titled "Darkside," will drop at midnight. The album will also be available for pre-order at midnight. Fans that order will receive an instant download of the song.
While fans have been able to get a taste of what some of the album will sound like, in previous interviews, the band, currently on tour in support of the new material, has been open about their new music's sound.
"I think we're taking everything that we've done in the past and building on it. Which is what we want to always be doing. The album will be more experimental than some past material," vocalist Mark Hoppus said.
Pre-order NINE here.
Dan Auerbach Talks Rebooting The Black Keys On New Album 'Let's Rock'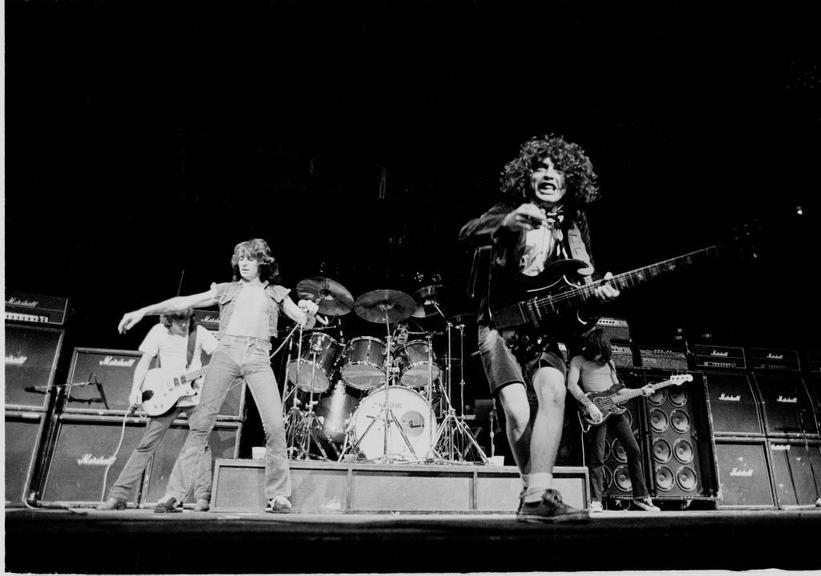 Photo by Michael Putland/Getty Images
news
Forget The Hearse: AC/DC's 'Back In Black' Turns 40
The classic-rock mainstays' seventh studio album—their first with Brian Johnson—took a longtime trope to its ultimate conclusion: Lead singers may succumb to mortality, but rock'n'roll would never
GRAMMYs
/
Jul 22, 2020 - 09:12 pm
Back In Black is not a perfect album, but it may be the perfect rock album. What does that say about rock? Probably something about its built-in sexism circa 1980, with the level of horniness both constant and complacent for a band this elemental, more akin to a hostile work environment or catcalling or "locker room talk" than any singular artistic expression of coitus or the overpowering desire for it. "You Shook Me All Night Long"—which is not at all a bad choice for the best rock'n'roll song of all time—transcends the petty bra-snapping of surroundings like "Given the Dog a Bone" and "What You Do for Money Honey" by not only giving their object of desire some description ("American thighs" is probably their most important contribution to our language) but even some dialogue ("she told me to come but I was already there"—bummer). You're not going to get apologies from a band who recorded and released their comeback album in all of five months after their lead singer died. Especially not when his replacement literally sings the words "I never die," as if explaining why he's more cut out for the position. So I digress.
AC/DC's 50-times-platinum masterpiece (25 million of which were shipped domestic) could be the definitive rock album simply for being equidistant from Led Zeppelin IV and Nevermind, in some kind of sales apex window that also includes the Eagles' Greatest Hits and Michael Jackson's Thriller but also probably tops the curve by being so meat and potatoes there might not even be spuds. Kick, snare, kick, snare, kick, snare is rarely as primitive or as powerful as when "You Shook Me All Night Long" loses its intro like tearaway pants. Slow it down to what we now know to be hip-hop speed and you get "Back In Black," a noncontroversial nomination for the greatest guitar riff of all time, which only Wayne Campbell can really decide. Ease it down even more and you get the hungover, bluesy crawl of "Rock and Roll Ain't Noise Pollution," which didn't really catch on as a bumper sticker but trudges the album to a close with the confidence as if it did. Back In Black being 40 perfectly parallels its most loyal demographic being in their 60s, an always-in-lockstep cosplay of themselves 20 years younger.
Bon Scott choked on his vomit in the passenger seat after a drinking binge, and less than half a year later, the guy who filled his shoes sang "Have a Drink on Me." There wasn't any real hesitation; if anything it weirded out the record company more when AC/DC were gonna make their album cover entirely black in tribute. (They were asked to at least provide an outline of the AC/DC logo over it; oh, branding.) Brian Johnson, the new guy, was tasked with writing a tribute song, but not "morbid," so "it has to be a celebration." What a job.
"Back In Black," though, the other song on this album that wouldn't be a bad choice for the best rock'n'roll song of all time, more than fulfills this prophecy; we may as well go ahead and nominate it for the even more likely Best Riff of All Time award. Makes a great hip-hop song too, though you wouldn't know it from any official releases since these knuckleheads are against sampling. Search YouTube to find Eminem and the Beastie Boys kicking it like the stomping groove deserves. But those lyrics, which along with "Hells Bells" and "Noise Pollution" comprise the album's only verbiage not directed at women, are the perhaps the only time AC/DC was ever mysterious or impressionistic. Given, Steven Tyler and Anthony Kiedis rap things like "nine lives, cat's eyes" all the time. But for a band this literal, this nearly artless in their glandular pursuits, it's Picasso.
AC/DC identified something in punk and new wave. From Led Zeppelin to Black Sabbath to Deep Purple and even Aerosmith at their most talk-box spacy, hard rock in the 1970s was celebrated for its psychedelic excess, its pretensions. Elongated, folksy mandolin intros. The simulated endlessness of drum soloing. "Jams." But while AC/DC surely imbibed plenty of the same substances, they ran a no-nonsense assembly line of riffs compiled like car parts into well-oiled machines, no dirt or mess. There's definitely some Ramones in that. If not for Kiss, you might even be able to say they were the first of this kind, and that Back In Black may have foreseen the coldness of Reagan in its defiance of feeling; for a tribute to a fallen friend, they didn't even allow a single ballad. "Back In Black" may as well be about how stylish they looked at Bon Scott's funeral. But it's clear that Scott wouldn't have blinked; if anything he would've climbed out of the casket to shriek "Shoot to Thrill" himself. And in a way, Back in Black may have taken a longtime trope to its ultimate conclusion: Lead singers may succumb to mortality, but rock'n'roll would never.
He Stuck Around: Foo Fighters' Eponymous Debut Album Turns 25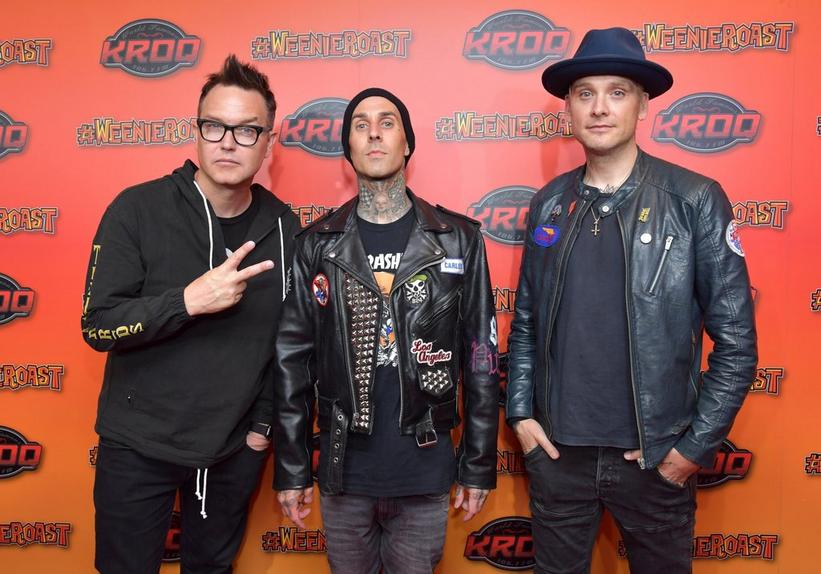 Photo: Lester Cohen/Getty Images
news
Blink-182, Goldfinger, The Used To Perform At Back To The Beach Festival
The two-day festival in Southern California's Huntington State Beach returns for its second year
GRAMMYs
/
Jan 23, 2019 - 03:12 am
Back To The Beach Festival, the joint effort of Los Angeles rock radion station KROQ, Blink-182's Travis Barker and Goldfinger's John Feldmann, will return for its second year April 27-28 in Huntington State Beach. The stacked lineup include Barker and Feldmann's respective bands as well as The Used, Reel Big Fish, The English Beat, Save Ferris, The Aquabats and more.
"Back To The Beach has been one of the funnest things I've ever been part of. What could be better than a mostly ska festival??" said Feldmann in a release. "I grew up on ska music and I had the best time of my life last year at the show… This year may even be better! Travis and I are so excited to do the show yet again… I cannot wait!"
The festival's ska, punk and reggae lineup comes with extras, as Back To The Beach boasts a carnival midway with tons of family-friendly activities and accommodations and even a Lil' Punk Kid Zone for children 10 and under to play, according to Billboard.
Last year's inaugural edition of the festival featured performances by 311, Sublime With Rome, The Mighty Mighty Bosstones and more.
Tickets go on sale Friday, Jan. 25 at 10 a.m. PST via the festival website.
Official Woodstock 50th Anniversary Festival Location & Date Confirmed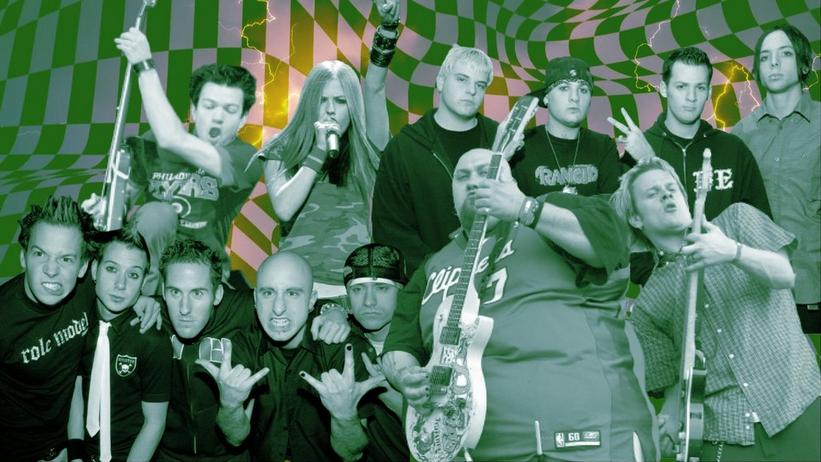 Clockwise from upper left: Deryck Whibley of Sum 41, Avril Lavigne, Good Charlotte, Jaret Reddick and Chris Burney of Bowling For Soup, Simple Plan
Photos (L-R): J. Shearer, M. Caulfield, Dimitrios Kambouris, Jeffrey Mayer, Theo Wargo (all for WireImage)
feature
Why 2002 Was The Year That Made Pop-Punk: Simple Plan, Good Charlotte & More On How "Messing Around And Being Ourselves" Became Mainstream
As pop-punk finds a new generation, veterans Good Charlotte, Sum 41, Bowling For Soup, and Simple Plan celebrate by looking back on the year that brought the genre to the pop world — and beyond.
GRAMMYs
/
May 6, 2022 - 08:01 pm
On May 6, Simple Plan released their sixth album, Harder Than It Looks — less than two months after the pop-punk group's debut album, No Pads, No Helmets…Just Balls, turned 20. While it's a feat for any band to still be around 20 years after their debut, Simple Plan may find it the most remarkable of anyone. Because, according to what they were told in the early 2000s, pop-punk wasn't supposed to last this long. 
"When we got signed, a lot of labels passed on us and [were] saying, 'Hey, this pop-punk thing, you're at the tail end of it. It's just about to go out. This is not gonna last,'" Simple Plan's frontman, Pierre Bouvier, remembers. "We were like, 'Nah, this is here to stay for much longer than that.' People thought it was gonna be the end, and it was really just the beginning."
To the naysayers, perhaps it did seem like the genre was losing steam. Though Blink-182 and Green Day (whether they like to claim the pop-punk label or not) were arguably bigger than they'd ever been at that point, their style of rock hardly broke into the pop- and rap-dominated mainstream. Yet, it was Bouvier who had it right — pop-punk was only getting started.
No Pads, No Helmets…Just Balls was one of several albums to arrive in 2002 that are now considered pop-punk/emo-pop classics: Avril Lavigne's Let Go, Good Charlotte's The Young and the Hopeless, the All-American Rejects' self-titled debut, New Found Glory's Sticks and Stones, Bowling For Soup's Drunk Enough to Dance, Taking Back Sunday's Tell All Your Friends, the Starting Line's Say It Like You Mean It, and Something Corporate's Leaving Through the Window, among others. 
Sure, fast-forward a few years, and you'll find albums (and artists) that were arguably even more monumental in the pop-punk/emo world, from Fall Out Boy's 2005 blockbuster From Under The Cork Tree to Paramore's 2007 game-changer Riot. But it was 2002's crop that took the genre from a cult following to a true movement — one that wasn't as fleeting as some may have thought.
The groundwork had been laid in the years leading up to 2002. Blink-182's "All The Small Things" became a crossover smash in 2000; 2001 birthed two of pop-punk's biggest anthems, Sum 41's "Fat Lip" and Jimmy Eat World's "The Middle" (though the latter made it big in '02, peaking at No. 5 on the Billboard Hot 100 that June). And before that, bands like Green Day, the Offspring, and the Descendents helped prove that an audience was there.
What was different about 2002, though, is that mainstream music was in the wake of the super-pop explosion of the late '90s and early 2000s. After a few years of manufactured boy bands and hyper-produced pop stars, the carefree nature of pop-punk was both refreshing and eye-catching.
"It felt novel compared to what people were listening to, and it was very organic," Good Charlotte's Benji Madden says. "Kids who start listening to music pretty young, they start digging a little bit deeper; they start wanting new sounds, new vibes. And pop-punk was there." 
That young crowd is exactly what fueled the pop-punk takeoff. Not only was it a fresh sound, but its lyrical content spoke to teenagers — who may have been underserved by popular music around that time.
"A lot of our songs have always been about struggling and trying to get through it," Bouvier says. "When the band started, we were like, 19 years old, so we were fresh out of those really tumultuous teenage years. Maybe it was a blind spot that other songwriters hadn't quite tapped into yet. It felt like this needed to be said, and to us, it was genuine. And the listeners felt the same thing."
As Bouvier's bandmate, Chuck Comeau, argues, pop-punk didn't just have "pop" in the name because it was popular. "I always said if you meet somebody and they're like, 'What kind of music do you guys do?' I say, 'Well, it's kind of like the Beatles, but just played faster with distortion,'" he quips. "It's the same catchy melodies, but the lyrics were very heartfelt, very honest, and very real — also very vulnerable, in a way that pop music really wasn't at the time."
The new pop-punk demographic was among the same group that was religiously tuning into MTV's Total Request Live, one of the main music trendsetters at the time — if not the trendsetter. Sum 41 singer Deryck Whibley credits MTV for helping launch "Fat Lip" into the stratosphere, and embracing pop-punk music videos in general. "It was a pivotal moment," he says. "I think that was really the biggest reason why the genre exploded."
The "Fat Lip" video encapsulates the authenticity that made pop-punk so appealing. Filmed in a few locations in Pomona, Calif. (just outside of L.A.), the clip captured what was essentially a parking-lot Sum 41 show, complete with a mosh pit, crowd surfing, and even a halfpipe. "We were just gonna film everybody doing dumb s<em></em>* and see what they do… there was no treatment," Whibley recalls. "It represented that age group across the country — and kind of across the world, really."  
"It was a very big contrast from all the boy bands and pop stars, [where] everything is controlled and they're shown in the perfect light," Bouvier adds. "Here we are, just messing around and being ourselves. I think people were hungry for that."
Several of Simple Plan's videos shared a similar vibe, from a high school gymnasium rock show in "I'm Just a Kid" to a destructive living room performance in "Addicted." Good Charlotte offered a near-identical aesthetic to "Fat Lip" with the video for "The Anthem," proving the concept resonated: "The Anthem" is the fifth most-requested video in TRL history, according to Screen Rant.
But the pop-punk scene wasn't just a guy's club. Avril Lavigne reigned the TRL countdown for several weeks in 2002 thanks to her signature singles "Complicated" and "Sk8er Boi." The former marked her debut, and almost instantly crowned her pop-punk's princess, reaching No. 2 on the Hot 100 that August.
"Complicated" and "Sk8er Boi" both reached No. 1 on Billboard's Pop Airplay chart that year as well — a feat none of her 2002 pop-punk peers would ever achieve (well, at least not until 7 years later, when the All-American Rejects' 2009 belter "Gives You Hell" reached the top). Still, Simple Plan, Good Charlotte and Bowling for Soup had plenty of pop radio hits around that time, each scoring at least one top 10.
Lavigne is also among the coveted ranks of pop-punk artists who have received GRAMMY nominations. In addition to "Sk8er Boi" and "Complicated" both receiving nominations at the 2003 GRAMMYs — the latter earning a Song Of The Year nod — Lavigne's debut album, Let Go, was up for Best Pop Vocal Album, and she was nominated for Best New Artist. (Bowling For Soup's "Girl All The Bad Guys Want" also received a nom that year in the Best Pop Performance by a Duo or Group with Vocal category — further showing pop-punk's crossover appeal.)
"Avril was a great example of a young artist looking to express herself, and [she] created something that was a lasting impression of what an artist can be in the mainstream and what the music can be," Good Charlotte's Joel Madden says. "Whether it was conscious or not, it was really authentic. And each [pop-punk] group was authentic to themselves. It was kind of that moment in time."
If you ask Lavigne about what made her music resonate so widely, her answer is simple: "People were just loving rocking out, having fun, wearing low guitars, and jumping and bouncing around on stage."
Despite any rebellion that may have emanated in the videos, lyrics, and outfits — or just the demeanor — of any pop-punk act at the time, one thing rang true: it was good, clean fun.
"It was safe rock 'n' roll," Bowling For Soup frontman Jaret Reddick says. "I remember my agent saying, 'You guys are not cool, but you're the first band that parents let their kids buy your album even if you say 's<em></em>*' on like, half the songs.' Kids liked it because it was fast, and it pleased parents because they could understand the lyrics — and, topically, we weren't alienating anybody."
Reddick points out that the pop-punk craze became a full-on frenzy in 2003. And by that point, the fan base extended beyond teenagers. "We started to notice that there were people who brought children to see us. It was like, 'I think our fans have a curfew,'" he laughs. "But people who liked us as a rock band continued to support us, it's not like we lost people. We gained a movement."
And the movement continued to grow. The next year saw the rise of My Chemical Romance thanks to their second album, 2004's Three Cheers for Sweet Revenge (which spawned now classics "I'm Not Okay (I Promise)" and "Helena"). The year after that, Fall Out Boy's "Sugar We're Goin' Down" became an immediate pop-punk standard, beginning a hit-filled career that has helped them remain a touring giant 20 years later — and, along with MCR, ushering in the emo era.
Although it didn't completely erase the spirit and sound that pop-punk's leaders had established, emo became the dominant genre by the mid-2000s. As its name hints, emo (short for emotional) introduced a darker vibe to the brightness of pop-punk. Yet, that didn't stop it from crossing over into pop: Fall Out Boy, My Chemical Romance, Paramore and Panic! At the Disco all scored top 10 hits on the Billboard Hot 100 with songs that were branded as emo. 
By 2005, emo became a full-blown subculture. And while the genre label had changed, pop-punk clearly had an influence on emo's more pop-leaning acts like We The Kings, All Time Low and Mayday Parade. 
Today, the bands that were considered emo are often pooled in with early 2000s acts, and  pop-punk and emo have become umbrella terms. Whatever the "correct" name, most of the acts have cohabited in several ways — particularly on the now-defunct Warped Tour — and, above all, have strived to ensure that the spirit endures. But according to Whibley, it has never dwindled.
"Something interesting that I've noticed over the years is, it's almost like the crowd never changes, and never grows up," he suggests. "The front row always looks the same as it did in 2001." 
Pop-punk has seen a strong resurgence in recent years, with artists like Machine Gun Kelly, Olivia Rodrigo and Meet Me @ the Altar taking cues from their predecessors. And many of the genre's pioneers are still going: Along with releasing a new album, Simple Plan is co-headlining a tour with Sum 41; Lavigne triumphantly returned to her roots on her latest album, Love Sux.  
Lavigne is also one of 65 pop-punk/emo acts on the newly minted When We Were Young Festival — an event that not only caused an internet frenzy upon its announcement, but was extended from one to three days due to demand. One Instagram commenter may have summed up the lineup best: "It's like high school all over again."
A 2021 TikTok trend also proved that pop-punk and emo have staying power. Soundtracked by All Time Low's 2006 classic "Dear Maria Count Me In," TikTokers proudly proclaimed, "Mom, it was never a phase — it's a lifestyle!"
Between the new music and the nostalgia, the essence of what began in the early aughts is certainly alive and well.
"This music speaks to a younger generation, and the new generation always gets into it," Whibley continues. "Whether it's in the mainstream or not has never seemed to affect what I see from the stage. There's just something about this kind of music that is youthful and exciting. It's always going to be here."
How 'Love Sux' Led Avril Lavigne To True Love, Her First Fangirl Moment And An Album Process That Was 'Just Stupid Fun'