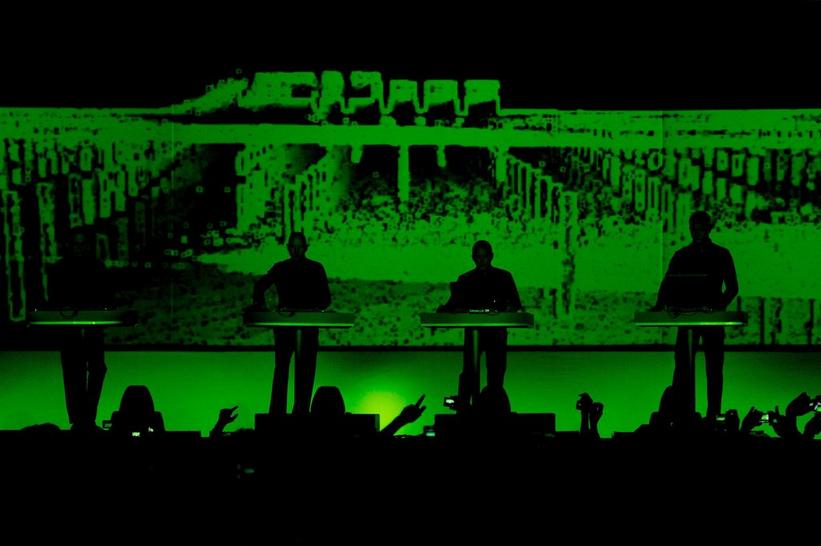 Kraftwerk perform at the Global Gathering festival in Sydney on Nov. 30, 2008
Photo: Wendell Teodoro/WireImage.com
Science-fiction metaphors invade popular music
GRAMMYs
/
Oct 22, 2021 - 11:39 pm
"We are all interested in the future," intones the narrator in Ed Wood's 1958 film Plan 9 From Outer Space, "for that is where you and I are going to spend the rest of our lives."
Of course, what shape that future will end up taking is anyone's guess. While it's true that elements of George Orwell's 1984 and Aldous Huxley's Brave New World are all too recognizable these days, most speculative fiction— from Wood's no-budget interplanetary pie plates to cyberpunk's infinite virtual realities — is more escapist than predictive.
What's certain is the fact that, more than a century after the publication of H. G. Wells' The War Of The Worlds, the tropes of science fiction are still replicating themselves throughout our culture.
And popular music is far from immune.
In September, UK alt-rock band Muse turned a two-night residency at London's Wembley Stadium into an ambitious space oddity marked by the landing of a massive UFO prop complete with an acrobatic alien.
While Muse's stadium-bound dirigible recalls the floating pigs long favored by Pink Floyd, a more direct antecedent may be George Clinton's Parliament. After breaking through in 1975 with Mothership Connection, Clinton's space-age funk group launched a tour in which a "life-size" spaceship would descend upon the stage.
In fact, the use of science-fiction devices in popular music has a long history, one that dates back to jazz artist Sun Ra's decades-long insistence that he came from Saturn.
Take, for example, "21st Century Schizoid Man," the opening track on King Crimson's 1969 debut album. In an interview nearly 35 years later — just days after a uniformed "mission accomplished" declaration by President George W. Bush — British Prime Minister Tony Blair described it as one of his all-time favorite songs. (The fact that Bush's "shock and awe" cohort held lyrics like "Cat's foot, iron claw/Neurosurgeons scream for more" in such high regard was not entirely comforting.)
A decade later, German electro-pop quartet Kraftwerk appeared alongside four mannequin lookalikes as they sang replicant anthems such as "The Robots" and "Showroom Dummies."
Science-fiction imagery has since been embraced by a diverse range of musicians that include synthpop star Gary Numan, techno-industrial band Front Line Assembly and hip-hop surrealist Kool Keith, aka Dr. Octagon.
At the moment, arguably the most celebrated and talented sci-fi standard bearer is soul/pop sensation Janelle Monáe. Inspired by Fritz Lang's 1927 film Metropolis, Monáe borrowed the name for her first EP, which is set in the year 2719 (numerical dyslexia, anyone?) and introduces characters and themes that are continued on her latest album, The ArchAndroid.
"There was just something about the imagery that led me to want to create a whole album around the concept of the haves and the have-nots, and how we can get along," says Monáe.
Monáe's lyrics center around her android alter ego, Cindy Mayweather, whose persecution serves as a metaphor for slavery, gay bashing and economic disparity.
"I come from a very working-class family, so I represent for the have-nots," says Monáe. "My mother was a janitor, my father drove trash trucks. And I want to make sure that [the the have-nots] have music that empowers them and motivates them and inspires them. That's pretty much the concept that ties it all in. And the reason why I believe that I connect with the androids is that they represent a new form of the 'other.'"
The video for Monáe's recent single, "Tightrope," finds her being followed down an asylum hallway by cloaked, mirror-faced figures. It's an unsettling image, one that was previously used in the early '40s by experimental filmmaker Maya Deren and again by Sun Ra in his 1974 film, Space Is The Place.
Monáe also has a tendency to make extraordinary claims about her own life, insisting, in an impenetrable deadpan, that she can travel through time — which would explain how she has successfully teleported Sun Ra's Afrofuturism into a new century.
"Sun Ra was the first interplanetary big bandleader — if you don't count Vsk-Mal Fenzz from Supernova X-22a," smirks David Weiss, a former jazz critic for the Los Angeles Herald Examiner who went on to pen his own hyper-imaginative songs with the band Was (Not Was). "I believe that Ra had half a tongue in his cheek at all times [and] a firm grasp on showmanship that was part Fletcher Henderson and part Marcel Duchamp."
Weiss speculates that Sun Ra's space motifs "might have had as much to do with avoiding military service as reflecting an actual belief that he came from Saturn. Either way, he was the first in the music world to create a fictional persona for the coming space age — long before Ziggy Stardust. For this alone, he was a visionary artist who grabbed the attention of the LSD era like no one else."
The hallucinatory potential of outer space was driven home by Philip K. Dick's The Three Stigmata Of Palmer Eldritch, a 1965 novel in which characters dose themselves with the hallucinogen "Chew-Z" in order to escape the hardships of life on Mars. Years later, in the song "Ashes To Ashes" David Bowie recast his beloved "Space Oddity" character in a decidedly different vein: "Ashes to ashes/Funk to funky/We know Major Tom's a junkie/Strung out in heaven's high/Hitting an all-time low."
"Science fiction offers alternatives, doorways out — even the [Rolling] Stones engaged in it with '2000 Light Years From Home,'" says John Shirley, a cyberpunk author who has written songs for Blue Öyster Cult (just as author Michael Moorcock had done three decades ago). Shirley agrees that science fiction can be "a bit druggy in feel, almost a psychedelic experience," and cites works by Pink Floyd, Hawkwind, Monster Magnet, 13th Floor Elevators, and Kool Keith as examples.
Shirley also views science fiction's metaphors as a way of dealing with the uncomfortable aspects of our own personalities. "We're afraid of our own savagery and we project it onto extraterrestrials," he says. "Clearly the aliens in [the 2009 sci-fi film] District 9 stand for third-world humanity, which is demonized by those who are more fortunate."
Shirley's Blue Öyster Cult songs range from the apocalyptic "The Old Gods Return" to the '50s film-inspired "X-Ray Eyes." Weiss, meanwhile, took a more satirical tact in Was (Not Was) songs such as "Needletooth" and "The Party Broke Up," with a setting he describes as "an inchoate future where alienation reigns and paranoia is a close cousin."
But even science fiction has its limits.
"I much prefer the bitter realism of Dostoevsky to the conceits of Asimov and Heinlein," says Weiss, who considers our earth-bound present to be at least as unsettling as any alien future.
"You ain't got to be green to be 'other,'" he adds. "Remember what Johann Wolfgang von Goethe said of this planet: 'Earth is the insane asylum of the universe.'"
(Bill Forman is a writer and music editor for the Colorado Springs Independent and the former publications director for The Recording Academy.)
news
MusiCares MAP Fund Charity Auction Launched
GRAMMY Charity Online Auctions offers exclusive memorabilia from seventh annual MusiCares MAP Fund benefit
GRAMMYs
/
Dec 3, 2014 - 05:06 am
Following the seventh annual MusiCares MAP Fund benefit honoring Depeche Mode's Dave Gahan and Vans Warped Tour founder Kevin Lyman on May 6, GRAMMY Charity Online Auctions has launched the MusiCares MAP Fund Charity Auction. Presented in partnership with Kompolt, the auction is open through May 19 and features a variety of autographed music memorabilia, including items signed backstage at the MusiCares MAP Fund benefit concert by Linkin Park's Chester Bennington, Gahan and Paramore.
Additional auction items include a framed issue of Rolling Stone signed by the Rolling Stones' Mick Jagger; vintage memorabilia signed by Tony Bennett, Jackson Browne, Annie Lennox, Rod Stewart, and Barbra Streisand; guitars autographed by Kings Of Leon, Korn, Tom Petty, Kenny Rogers, and Keith Urban; unique memorabilia signed by Jeff Beck, Justin Bieber, Eminem, Lady Gaga, Bruno Mars, Muse, Katy Perry, and Rihanna; and a 54th Annual GRAMMY Awards VIP Experience for two including rehearsal passes and hotel accommodations.
To place your bid on items featured in the auction, visit www.ebay.com/grammy. All proceeds will benefit MusiCares and the GRAMMY Foundation.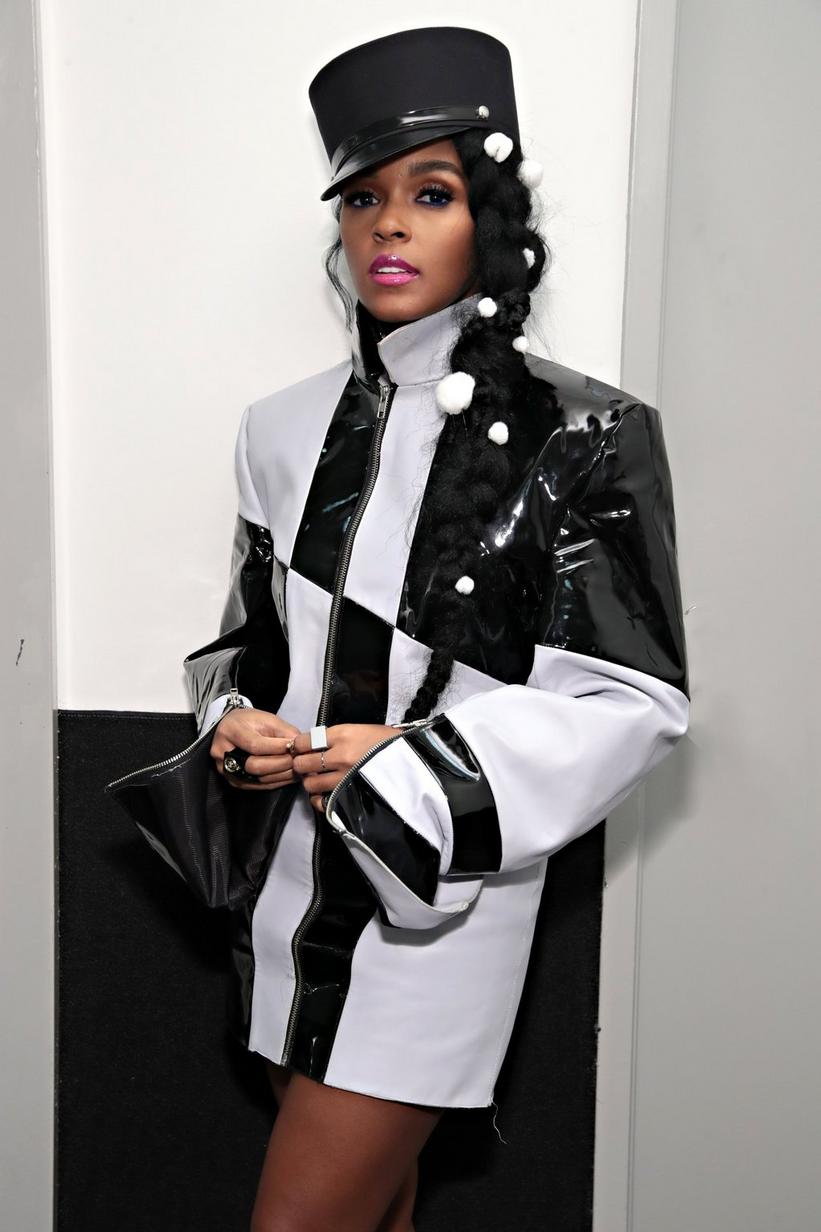 Photo: Cindy Ord/Getty Images
news
Janelle Monáe: 'Dirty Computer' Track List Features Brian Wilson, Pharrell Williams
The R&B singer reveals the inspiration behind each of the 14 tracks on her upcoming studio album
GRAMMYs
/
Apr 25, 2018 - 10:30 pm
We're just two days out from Janelle Monáe's first studio album since 2013's The Electric Lady, and today she revealed the LP's track list thanks to an interactive website packed with goodies.
The interactive website announcing Dirty Computer's track list requires users to type "I am a dirty computer" before entering. Then we get to the details, including the titles, guest artists and inspirations behind the 14-track album — which are prompted when a user clicks through the tracks on an orange circular backdrop.
Dirty Computer will feature guest appearances by former Beach Boy Brian Wilson ("Dirty Computer"), Zoë Kravitz ("Screwed"), the previously released collaboration with Grimes ("Pynk"), and Pharrell Williams ("I Got The Juice").
We also learn the wide-ranging and often political influences Monáe has channeled for the LP, which range from Bible verses to the National Museum of African American History and Culture in Washington, D.C., to Barack Obama, Quincy Jones, Prince, and Black Panther and "the vibranium in Wakanda."
The reveal of Dirty Computer's track list also comes one day before the 44-minute sci-fi Dirty Computer: An Emotion Picture short film starring Monáe and actor Tessa Thompson that will air exclusively on MTV and BET on April 26. It features a futuristic storyline in a society where citizens are referred to as "computers" and will set the tone for the album's release the following day on April 27.
"Dirty Computer is a near-future story about a citizen who finds love and danger in a totalitarian society. She's an outlaw because she's being herself," she said, per Billboard. "Overall, I wanted to reflect what's happening in the streets right now, and what might happen tomorrow if we don't band together and fight for love."
Catching Up On Music News Powered By The Recording Academy Just Got Easier. Have A Google Home Device? "Talk To GRAMMYs"
news
Ed Sheeran: GRAMMY winner to make 'Game Of Thrones' cameo
GRAMMY winner joins Janelle Monáe and John Legend as the latest artists to crossover into the world of TV and film
GRAMMYs
/
May 15, 2017 - 01:36 pm
Ed Sheeran's having a big month. His latest album, Divide, has raced up the charts to No. 1 on both sides of the Atlantic, and he broke a Spotify streaming record for number of first-day streams. But for Sheeran fans, perhaps the most exciting development is his upcoming role on season seven of "Game Of Thrones."
Watch Ed Sheeran perform "Shape Of You" at the 59th GRAMMYs
"Game Of Thrones" executive producers David Benioff and D.B. Weiss made the announcement at a SXSW panel on March 12. The details of Sheeran's role have yet to be announced, but the producers originally extended an ask in season three. The reason? "Game Of Thrones" star Maisie Williams, who plays Arya Stark, is a big Sheerio.
"For years we were trying to get Ed Sheeran on the show to surprise Maisie and this year we finally did it," said Benioff.
Sheeran will join a line of previous musical "Game Of Thrones" guest stars, including Snow Patrol's Gary Lightbody, Coldplay's Will Champion and three members from GRAMMY-nominated metal band Mastodon. But Sheeran is just the latest artist to take his talents from the stage to the screen. The Best Picture Oscar nominees this year had no shortage of musician actors.
GRAMMY-nominated R&B singer/songwriter Janelle Monáe had supporting roles in both the Best Picture Oscar-winning Moonlight and Best Picture-nominated Hidden Figures. She studied acting before her music career took off, so the smooth transition she's made into the film world makes sense.
She was called to her surrogate mother-figure role in Moonlight, a coming of age film about a young black man growing up in a rough Miami neighborhood, because of her understanding of what it means to be "other."
"As a black woman who has experienced sexism and racism, I feel obligated to say something," Monáe told Billboard. "The script had me crying as soon as I read it — I knew these characters."
Monae felt similarly called to her role in Hidden Figures, which tells the story of female African-American mathematicians, called "computers" in the days before such technology existed, who served vital roles in the U.S. space program in the 1960s, but were largely left out of history. GRAMMY winner Pharrell Williams, who served as a producer on the film, told Billboard, "Janelle poured her heart and soul into this role — this story was important for her to get right."
Another Best Picture-nominated film, La La Land, which was mistakenly announced as the winner during 2017's Academy Awards ceremony, stars GRAMMY winner John Legend, who plays a musician with aims to modernize jazz and bring it to the silver screen.
Legend identified with his character, Keith, on innovation in music. "As much as you can be influenced by the past or have heroes from the past, it's important to carry that forward and create something new," Legend told Entertainment Weekly. "Any artist that's been successful, no matter how much they've been influenced by other artists, they do something innovative."
For artists such as Sheeran, Monáe, Williams, and Legend, perhaps that innovation in our modern multimedia landscape means branching their talents out to roles large and small onscreen.
Want to watch more musicians on TV? Check out our Carpool Karaoke roundup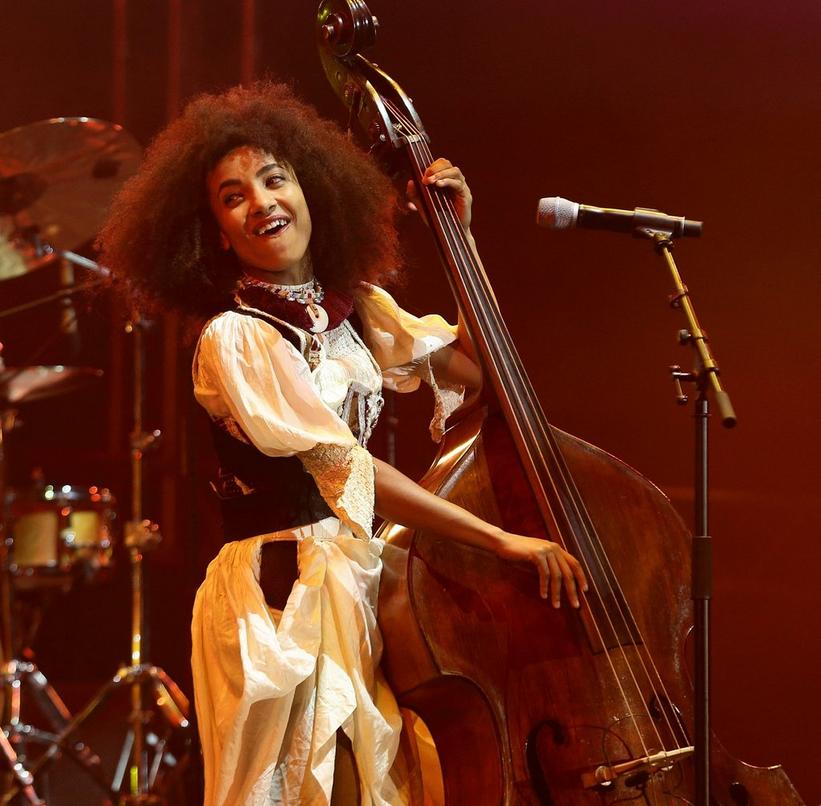 Photo: Suhaimi Abdullah/Getty Images
news
Which Women Musicians Do You Think Are The Most Influential Of This Century?
Women have always played an important role in shaping music and culture. Now you can weigh in on which artists you think are shifting the playing field and making the biggest waves
GRAMMYs
/
Oct 31, 2018 - 02:34 am
There are so many powerful women currently making their mark in music—and consequentially on society and culture—that compiling an exhaustive list of the most influential women musicians of the 21st century seems like quite an endeavor. From Beyoncé continually redefining what it means to be a strong independent woman to Taylor Swift standing up for girls and women everywhere to Janelle Monaé showing the world what an empowered queer woman looks like, there are so many women in music right now who are reshaping the industry and questioning societal norms. There are women who are the minority in their genres, like Cardi B and Nicki Minaj redefining what a rapper looks and sounds like, superstars like Rihanna who are using their platform to speak out, trailblazers like Esperanza Spalding, who takes jazz to a new level and legends like Amy Winehouse, whose career was cut tragically short, though her influence continues to grow. The list could go on and on, so now NPR Music wants to know: who do you think are the most influential female musicians currently making waves of change?
Recently, NPR Music, as part of their female-focused Turning the Tables project, began the conversation with their own essays on 25 women, but acknowledge the list is incomplete and want to give you the chance to tell them which ten artists "at the peak of their powers in this century" you feel are making the biggest impact and why.
What these women all have in common is they are speaking their mind and people are listening. Last year at the 60th GRAMMY Awards, Monaé gave an impassioned speech when introducing Kesha's performance of "Praying," reminding the world "just as we [women] have the power to shape culture, we also have the power to undo the culture that does not serve us well." That is exactly what artists like Monaé and Kesha are doing by speaking their truth, showing the world that they are both powerful and vulnerable at the same time. Women like them are such a vital part of our social fabric, using their art to offer the world different representations of what modern women look like and using their platforms to empower other women to do the same.
It is so important to have a diverse group of women in popular culture not only for the world to see, but as positive role models for young girls and women. Swift reminded us how women often have to do more to prove themselves at the 58th GRAMMY Awards when she became the first female to take home Album Of The Year twice. NPR's initial list of 25 includes GRAMMY-winning megastars including Swift, Beyoncé and Rihanna, as well as other lesser-known yet still influential musicians, such as Spalding, the GRAMMY-winning jazz mastermind who took home Best New Artist at the 53rd GRAMMY Awards, a year when both Justin Bieber and Drake where in the running.
Who are the women that inspire you to speak up for what you believe in, who inspire you to be yourself even if it doesn't conform to others' ideas of who you should be? What women are making music and sharing stories that are helping women and men, girls and boys, see all the different sides of a strong woman? Let NPR know. The poll is open until Nov. 13.