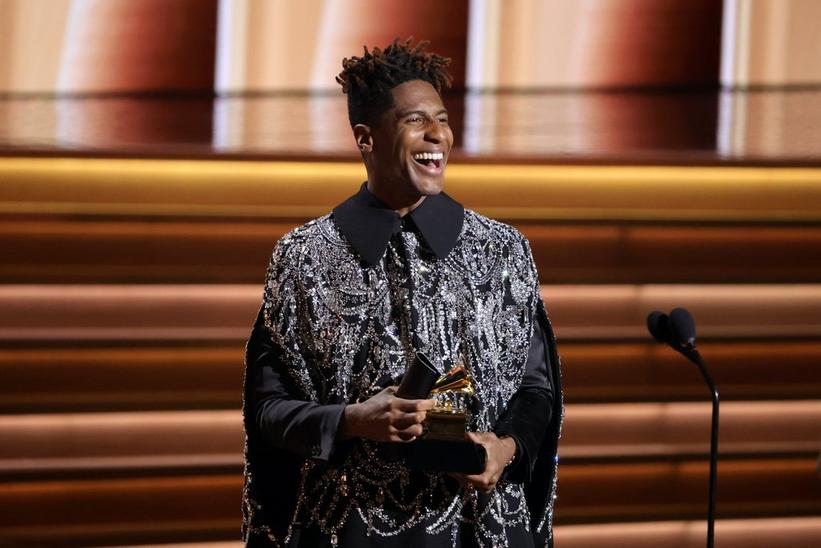 Jon Batiste
Photo: Matt Winkelmeyer/Getty Images
news
Jon Batiste's 'We Are' Wins GRAMMY For Album Of The Year | 2022 GRAMMYs
Jon Batiste's 'WE ARE' wins the GRAMMY for Album Of The Year at the 2022 GRAMMYs
GRAMMYs
/
Apr 4, 2022 - 03:35 am
Jon Batiste's WE ARE wins Album Of The Year at the 2022 GRAMMYs. The coveted award marks the singer's fifth win of the 2022 GRAMMYs.
Walking up to the stage practically in disbelief, Batiste delivered perhaps one of the most moving speeches of the night upon accepting his award. "I believe this to my core — there is no best musician, best artist, best dancer, best actor," he said. "The creative arts are subjective and they reach people at a point in their lives when they need it most. It's like a song, or an album, is made and it almost has a radar to find the person when they need it the most."
Batiste thanked everyone who was involved in the making of WE ARE, including his grandfather and his nephews. Beating out Tony Bennett & Lady Gaga's Love For Sale, Justin Bieber's Justice, Doja Cat's Planet Her, Billie Eilish's Happier Than Ever, H.E.R.'s Back Of My Mind, Lil Nas X's Montero, Olivia Rodrigo's SOUR, Taylor Swift's evermore, and Kanye West's Donda for the award, Batiste acknowledged that he's had "out of body experiences" with all of them.
"This is for real artists, real musicians. Let's just keep going," he added, before adding one more inspiring message to close things out. "Be you, that's it."
Before winning Album Of The Year, Batiste took home gramophones for Best Music Video ("Freedom"), Best American Roots Performance and Best American Roots Song (both for WE ARE track "Cry"), and Best Score Soundtrack For Visual Media (Soul). He was the most-nominated artist of the night with 11.
Check out the complete list of winners and nominees at the 2022 GRAMMYs.
How The Sounds Of The '70s Took Over The 2022 GRAMMYs: The Return Of ABBA, The Throwback Vibes Of Silk Sonic & More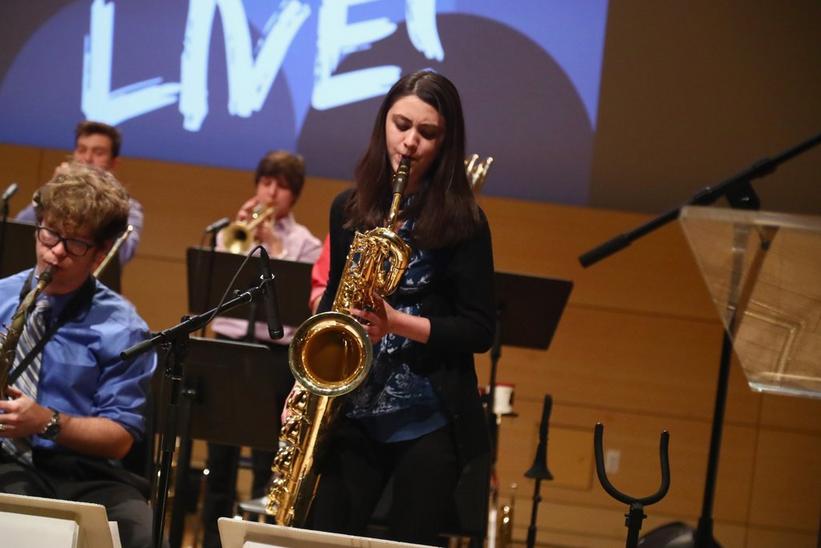 Baritone saxophonist Veronica Leahy
Photo: Astrid Stawiarz/Getty Images
news
GRAMMY Jazz Band Plays Duke Ellington, Count Basie & More | 2018 GRAMMY Week
The GRAMMY In The Schools Live! program showcased the formidable chops of this year's GRAMMY Camp — Jazz Session band and celebrated music education in the Big Apple
GRAMMYs
/
Jan 26, 2018 - 11:46 am
After spending the first few days of GRAMMY Week getting acquainted, rehearsing and plotting their schedule, the members of GRAMMY Camp — Jazz Session finally got to let the music do the talking at the GRAMMY In The Schools Live! concert in New York City on Jan. 25.
Taking place at The New School's John L. Tishman Auditorium, the GRAMMY Museum event proved to not only showcase this year's class of Jazz Session students and the many alumni of the program who were in attendance, but it also spotlighted the year-round initiatives of the Museum, which include a range of programs for youth musicians and music education.
The event also acknowledged the Recording Academy and GRAMMY Museum's 2018 Music Educator Award recipient Melissa Salguero, a music teacher at P.S. 48 in the South Bronx.
"This is one of the most epic moments of my life. My dream was to teach in a city that loved and cherished music," said Salguero. "To be honored in New York City as a New York teacher, this has been one of the most amazing experiences in my life."
But on this January evening, the spotlight shone brightly on the 18 young musicians in the Jazz Session band — comprising five saxophones, five trumpets, four trombones, bass, drums, guitar, and piano.
With direction from conductor Justin DiCioccio, the band performed a taught set list showcasing, in DiCioccio's words, the "different styles and moods of jazz." Out of the gate, the band swung through Neal Hefti's "Whirly Bird" with a brisk fervor, highlighted by the sax chairs trading solos.
They segued into "Cabeza De Carne," a Latin clave-based tune that put some pep in the audience's collective step, and Benny Golson's "Along Came Betty," which seemed to bottle the sounds one might hear at 2 a.m. at a late-night NYC jazz club.

"We've had one rehearsal, by the way," quipped DiCioccio in between songs.
Following a take on Randy Brecker's "Sponge," which featured cool riffing and angular walking bass lines courtesy of guitarist Jordan Reifkind and bassist Augustus "Gus" Allen, respectively, the Jazz Session members kicked into high gear.

The ensemble performed a spirited take of Buddy Rich's "West Side Story Suite." The multi-layered composition was chosen in honor of the centennials of composer Leonard Bernstein and famed drummer Rich. Appropriately, the sprawling tune was sparked by brassy punctuations and impressive stick work by drummer Varun Das.
Next, the musicians' showcased depth and range that belied their experience on "Red Hair, No Freckles," a complex piece composed by GRAMMY Museum Executive Education Director David Sears, who offered, "If we play it right, your body should move." Judging by the audience reaction, they indeed got it right. The collective navigated the multiple odd time signatures in the piece with aplomb while interpreting the tune's R&B, funk and progressive pop flavors that ably mixed elements of Earth, Wind & Fire, James Brown and Chicago.
For a special encore, the Jazz Session band was joined by one of their own, alumni Jon Batiste. The gregarious pianist/bandleader for "The Late Show With Stephen Colbert" — who came straight from a show taping to play with the students — sat in for a performance of Duke Ellington's "Kiki" and Count Basie's "Splanky."
In the presence of the senior musician, the band upped their game and matched Batiste's fire, measure by measure. For his part, the smiling Batiste dazzled the ivories, with his playing light as a feather and forceful at the appropriate moments and improvised solos that were ripe with articulate calls and responses, motifs and linear flourishes. Jazz Session pianist Esteban Castro, who stepped aside for the final two songs, smiled for the duration as he witnessed the masterclass.
As for the Jazz Session members, the experience and education they amass during their GRAMMY Week crash course will certainly bode well for their future careers. And the time they are spending together in the Big Apple constitutes a form of networking, which one alumnus described as an integral part of the GRAMMY Camp — Jazz Session experience.
"[I advise them to] keep in touch with each other," said David Grossman, a pianist/bassist who was a Jazz Session band member in the mid-'90s. "They might know this but their fellow bandmates, hopefully, they'll know [each other] for a long, long time."
"These are some of the finest young jazz players in the country and we are giving them a very unique lens of what it means to work in music," said Scott Goldman, Executive Director of the GRAMMY Museum. "The kind of challenges that they will face as a working musician, the kind of discipline that is required by a working musician — this is an experience that I don't think you are going to get in any conservatory setting."

Catching Up On The GRAMMY Awards Just Got Easier. Have A Google Home Device? Just Say "Talk To GRAMMYs"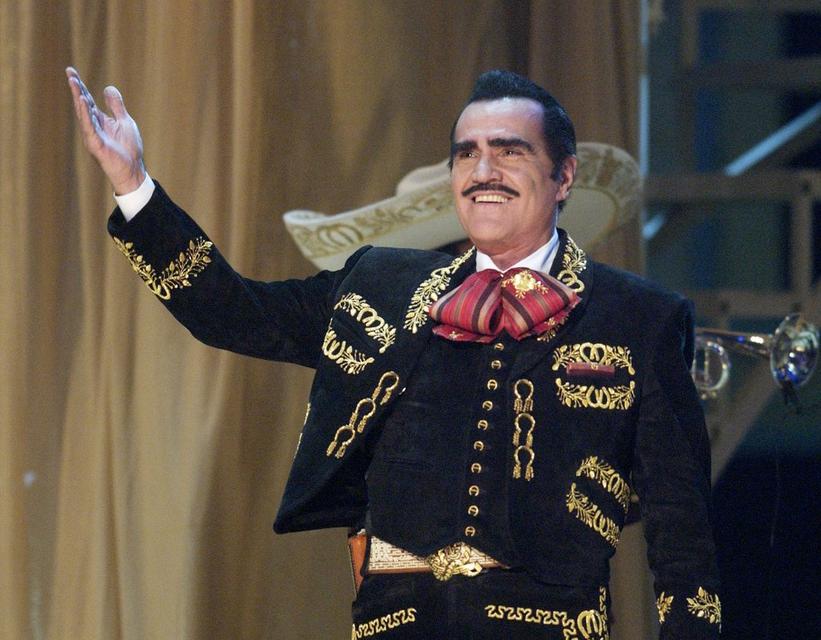 Vicente Fernandez performs at the 2002 Latin GRAMMY Awards
Photo: M. Caulfield/WireImage
news
Vicente Fernández Posthumously Wins GRAMMY For Best Regional Mexican Music Album | 2022 GRAMMYs
The late Mexican legend, who died in December at 81, won the GRAMMY for Best Regional Mexican Music Album (Including Tejano) for his 2020 album, 'A Mis 80's'
GRAMMYs
/
Apr 3, 2022 - 10:44 pm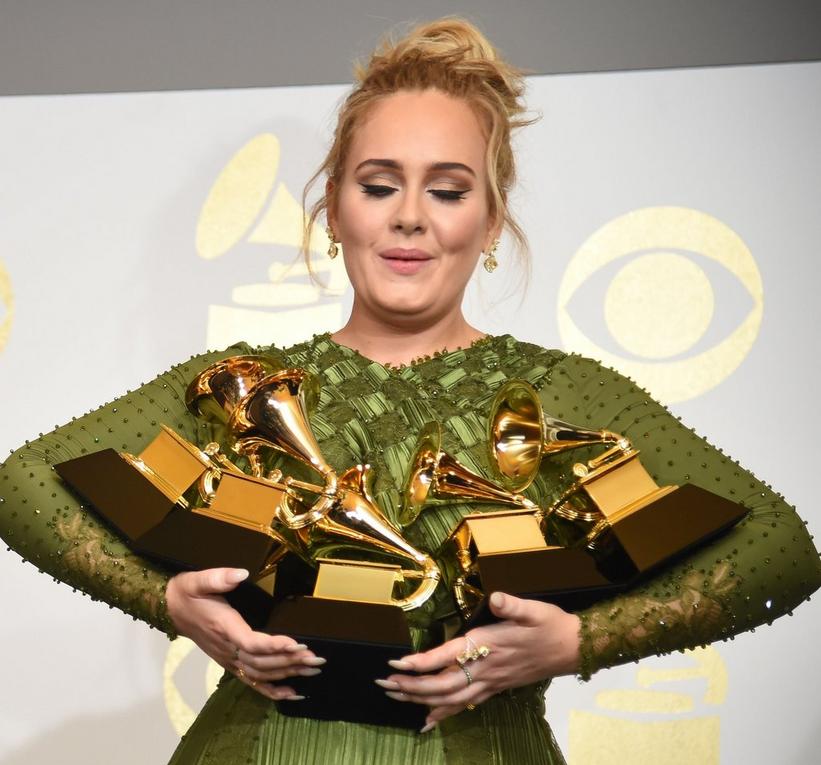 GRAMMY trophies at the 59th GRAMMY Awards in 2017
Photo: ROBYN BECK/AFP via Getty Images
news
The Recording Academy Announces Major Changes For The 2022 GRAMMY Awards Show
Process amendments include the elimination of nominations review committees and the addition of two new GRAMMY Award categories, including Best Global Music Performance and Best Música Urbana Album
GRAMMYs
/
May 1, 2021 - 01:27 am
Editor's Note: The 2022 GRAMMYs Awards show, officially known as the 64th GRAMMY Awards, <a href="https://www.grammy.com/news/2022-grammys-awards-64th-new-air-show-date-location-las-vegas-april-3-announcement "https://www.grammy.com/news/2022-grammys-awards-64th-new-air-show-date-location-las-vegas-april-3-announcement"">has been rescheduled to Sunday, April 3, at the MGM Grand Garden Arena in Las Vegas. The below article was updated on Tuesday, Jan. 18, to reflect the new show date and location.
The Recording Academy announced today that it has made significant changes to its Awards process that reflect its ongoing commitment to evolve with the musical landscape and to ensure that the GRAMMY Awards rules and guidelines are transparent and equitable. Among the changes are the elimination of Nominations Review Committees, a reduction in the number of categories in which voters may vote, two GRAMMY Award category additions, and more. These updates are a result of extensive discussions and collaboration over the course of the last year among a special subcommittee of Recording Academy members and elected leaders, and were voted on by the Academy's Board of Trustees. These changes go into effect immediately for the 2022 GRAMMY Awards show, officially known as the 64th GRAMMY Awards, taking place Sunday, April 3. The eligibility period for the 64th GRAMMY Awards is Sept. 1, 2020, through Sept. 30, 2021.
Additional rule amendment proposals will be discussed and voted on at an upcoming Recording Academy meeting and the full rulebook for the 64th GRAMMY Awards will be released in May.
"It's been a year of unprecedented, transformational change for the Recording Academy, and I'm immensely proud to be able to continue our journey of growth with these latest updates to our Awards process," Harvey Mason jr., Chair & Interim President/CEO of the Recording Academy, said. "This is a new Academy, one that is driven to action and that has doubled down on the commitment to meeting the needs of the music community. While change and progress are key drivers of our actions, one thing will always remain — the GRAMMY Award is the only peer-driven and peer-voted recognition in music. We are honored to work alongside the music community year-round to further refine and protect the integrity of the Awards process."
APPROVED RULE AMENDMENTS INCLUDE:
Voting Process Changes
Elimination Of Nominations Review Committees In General And Genre Fields

Nominations in all of the GRAMMY Award general and genre fields will now be determined by a majority, peer-to-peer vote of voting members of the Recording Academy. Previously, many of the categories within these fields utilized 15-30 highly skilled music peers who represented and voted within their genre communities for the final selection of nominees. With this change, the results of GRAMMY nominations and winners are placed back in the hands of the entire voting membership body, giving further validation to the peer-recognized process. To further support this amendment, the Academy has confirmed that more than 90 percent of its members will have gone through the requalification process by the end of this year, ensuring that the voting body is actively engaged in music creation. Craft committees remain in place (see below for craft category realignment.)

Reduction In Number Of Categories Voter May Vote

To ensure music creators are voting in the categories in which they are most knowledgeable and qualified, the number of specific genre field categories in which GRAMMY Award Voters may vote has been reduced from 15 to 10. Additionally, those 10 categories must be within no more than three fields. All voters are permitted to vote in the four General Field categories (Record Of The Year, Album Of The Year, Song Of The Year, and Best New Artist). Proposed by a special voting Task Force who brought forth the recommendation, this change serves as an additional safeguard against bloc voting and helps to uphold the GRAMMY Award as a celebration of excellence in music, with specific genre field categories being voted on by the most qualified peers.

Craft Category Realignment

To better reflect the overlapping peer groups within the voter membership body, six existing craft fields will be consolidated into two fields: Presentation Field and Production Field. In either newly consolidated field, voters would have the ability to choose how many categories they feel qualified to vote in, respecting category vote limits, without being excessively limited by the three-field restriction. This benefits the integrity of these Awards by embracing and utilizing the specializations of the voters, without restricting their choice or contributions due to the field limits imposed by the recent reduction of the number of categories voters may vote in. Field updates are as follows:

Package Field, Notes Field and Historical Field renamed and consolidated to Presentation Field

Production, Non-Classical Field; Production, Immersive Audio Field; and Production, Classical Field renamed and consolidated to Production Field
New Categories Added
Two new categories have been added, bringing the total number of GRAMMY Award categories to 86:
Best Global Music Performance (Global Music Field)

Best Música Urbana Album (Latin Music Field)
"The latest changes to the GRAMMY Awards process are prime examples of the Recording Academy's commitment to authentically represent all music creators and ensure our practices are in lock-step with the ever-changing musical environment," said Ruby Marchand, Chief Industry Officer at the Recording Academy. "As we continue to build a more active and vibrant membership community, we are confident in the expertise of our voting members to recognize excellence in music each year."
"As an Academy, we have reaffirmed our commitment to continue to meet the needs of music creators everywhere, and this year's changes are a timely and positive step forward in the evolution of our voting process," said Bill Freimuth, Chief Awards Officer at the Recording Academy. "We rely on the music community to help us to continue to evolve, and we're grateful for their collaboration and leadership." 
The Recording Academy accepts proposals from members of the music community throughout the year. The Awards & Nominations Committee, comprised of Academy Voting Members of diverse genres and backgrounds, meets annually to review proposals to update Award categories, procedures and eligibility guidelines. The above rule amendments were voted on and passed at a Recording Academy Board of Trustees meeting held on April 30, 2021. For information on the Awards process, visit our GRAMMY Voting Process FAQ page.
The Recording Academy will present the 2022 GRAMMY Awards show on Sunday, April 3, live from the MGM Grand Garden Arena in Las Vegas, on the CBS Television Network and stream live and on demand on Paramount+ from 8–11:30 p.m. ET / 5–8:30 p.m. PT. Prior to the telecast, the GRAMMY Awards Premiere Ceremony will be streamed live on GRAMMY.com and the Recording Academy's YouTube channel. Additional details about the dates and locations of other official GRAMMY Week events, including the GRAMMY Awards Premiere Ceremony, <a href="https://www.musicares.org/person-year "https://www.musicares.org/person-year"">MusiCares' Person of the Year, and the Pre-GRAMMY Gala, are available here.
2022 GRAMMY Nominations
Graphic by the Recording Academy
news
Announcement: 2022 GRAMMYs Postponed
After careful consideration and analysis with city and state officials, health and safety experts, the artist community and our many partners, the Recording Academy and CBS have postponed the 64th Annual GRAMMY Awards Show
GRAMMYs
/
Jan 5, 2022 - 10:45 pm
The following is a Joint Statement from the Recording Academy and CBS:
"After careful consideration and analysis with city and state officials, health and safety experts, the artist community and our many partners, the Recording Academy and CBS have postponed the 64th Annual GRAMMY Awards Show. The health and safety of those in our music community, the live audience, and the hundreds of people who work tirelessly to produce our show remains our top priority. Given the uncertainty surrounding the Omicron variant, holding the show on January 31st simply contains too many risks. We look forward to celebrating Music's Biggest Night on a future date, which will be announced soon."
2022 GRAMMYs Awards Show: Complete Nominations List