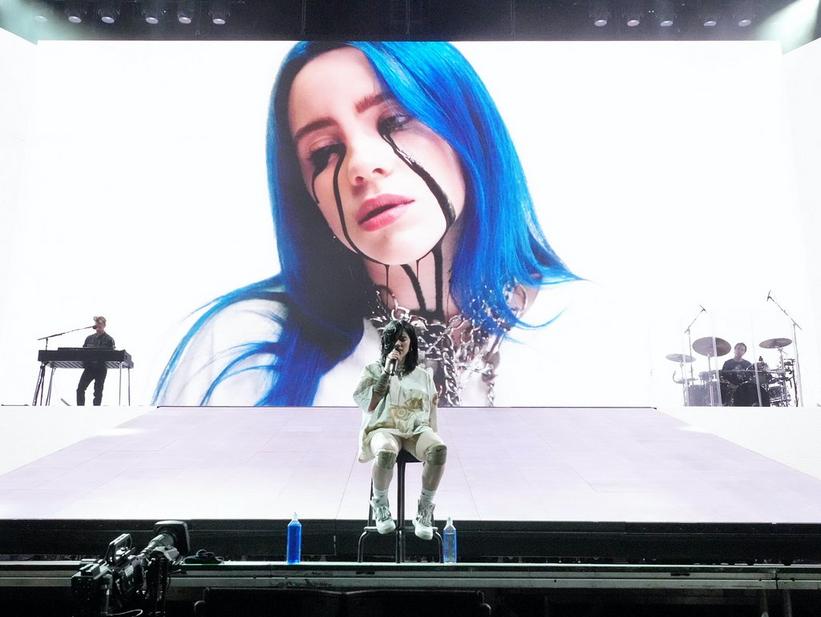 Billie Eilish performs at the 2022 Coachella Valley Music And Arts Festival.
Photo: Kevin Mazur/Getty Images for ABA
feature
The Psychology Of "Sad Girl" Pop: Why Music By Billie Eilish, Gracie Abrams, Olivia Rodrigo & More Is Resonating So Widely
As Olivia Rodrigo, Tate McRae and more of pop's current leading ladies continue to pour their hearts out in song, three music psychology experts assess what makes their vulnerability so connective.
GRAMMYs
/
Jul 13, 2022 - 07:48 pm
Olivia Rodrigo probably never imagined that a drive through the suburbs would become a rallying cry for anyone who's ever mourned a relationship. But when she released her debut single, the racing power ballad "drivers license," in January 2021, suddenly she had the biggest song in the world.
"drivers license" broke streaming and chart records upon its release, debuting at No. 1 on the Billboard Hot 100 and inspiring memes across social media. While it wasn't exactly uplifting —  Rodrigo vividly details the devastation of trying to move on from an ex, and laments the milestones they were supposed to celebrate together — the song became universally celebrated, sending listeners into a nostalgic haze of first heartbreaks. Everyone was screaming, crying and dancing at the same time. 
"drivers license," one could say, is the latest centerpiece of "sad girl" pop — the specific aesthetic of artists who write songs through a dreamy, yet raw lens of rage, pining, heartbreak or rejection. The music itself creates a spectrum of emotions where you might want to sway at one point, but scream like Zach Braff and Natalie Portman at the rock quarry in Garden State at another.
Though Rodrigo is one of the stars at the center of "sad girl" pop, it had been percolating long before the explosion of "drivers license." After all, artists like Fiona Apple and Alanis Morrisette were the poster girls for it in the mid-to-late '90s. But one could argue that this iteration of "sad girl" pop found its roots in the 2010s, thanks to artists like Lana Del Rey, whose palpable aching and loneliness became inescapable anthems like "Video Games" and "Summertime Sadness"; Taylor Swift, whose first crossover success Red spawned the still-heart-wrenching fan favorite  "All Too Well"; Robyn, who created the ultimate crying-at-the-club banger "Dancing on My Own"; and MARINA, care of the depressed-Barbie era of her album Electra Heart. 
Even with all of its origins, "sad girl" pop didn't truly begin to form its own sort of subgenre until Billie Eilish and her whispery, gloomy music emerged in 2016. Others have steadily begun following suit: Sasha Alex Sloan emerged with a debut EP aptly titled Sad Girl two years later; Gracie Abrams' intimate, diaristic tracks served as major inspiration for Rodrigo (who later recruited Abrams as a tour opener); Tate McRae has turned her insecurities into aspirational, sad-pop anthems like "she's all i wanna be."
While "sad girl" pop isn't exactly new (most music trends are cyclical, of course), the way that people are clinging to it is. "There's a cliche about pop that it represents a retreat from reality, an escapist fantasy world where listeners get to leave their fears and anxieties in a vision of Katy Perry's 'Teenage Dream' or fun.'s 'We Are Young,'" says Nate Sloan, host of Switched on Pop and assistant professor of musicology at USC Thornton School of Music. "But modern listeners — especially young people — are pushing back against that paradigm, celebrating artists like Billie Eilish, Halsey, and girl in red, who don't shy away from the troubles of the world but sublimate them into their music." 
Their music, in turn, helps them cope with their own "lived realities." It's equal parts celebration of the artist and found community for someone who, in a world away, relates.
Which is why the rise of "sad girl" pop feels synonymous with the current state of the world. To varying degrees, we've all endured the trauma of a pandemic that hasn't ended, particularly the mental and emotional toll of isolation and anxiety that has transpired. There's also been the weight of police brutality, school shootings and the impending death of democracy for people to bear. Finding comfort in nostalgia — especially within pop culture — was natural for many.
Some retreated to the music, TV or films they listened to when they were teenagers, while others sought relief in music that evoked the feeling of being young and carefree. It's also why recent vulnerable, melancholy pop tracks became such a balm — and ultimately solidified the power of "sad girl" pop.
But the group that seems to be drawn to this niche pop aesthetic are teenagers. It makes sense: Gen Z is coming of age at a time when there's less of a stigma around discussing mental health. Celebrities and artists are arguably more open than ever about their struggles — Shawn Mendes, for instance, has often shared his battle with anxiety, sharing a super honest message with fans in April; Selena Gomez opened up about her bipolar diagnosis in 2020, and launched a multimedia company dedicated to mental health this year.
And it isn't just young women dominating this niche area of pop. Male artists like Conan Gray, Dean Lewis, Jeremy Zucker and Lewis Capaldi are delivering bedroom pop anthems ranging from angsty to wistful, overall unafraid to showcase raw vulnerability. Their music has proven to similarly resonate, with Capaldi's pained breakup ballad "Someone You Loved" hitting No. 1 on the Hot 100 in 2019 and Dean Lewis' "Be Alright" reaching No. 1 on Billboard's Adult Pop Songs chart that same year.
Read More: How James Bay Found The Courage To Be Vulnerable For New Album 'Leap'
"Shame is gradually being removed, so people are talking more about their feelings and their mental health — and audiences can relate to it," says Jodi Milstein, MA, LMFT, LPCC, music therapist.
When their emotions are reflected back to them in a song by a public figure, sometimes that's the key to getting help and seeking therapy. "A lot of times, we can't tell people, 'you need to do this, this and this to feel better.' We just have to set an example," Milstein explains.
Gen Z is much less filtered than other generations, and more candid about their own mental health struggles, as a 2018 survey by the American Psychological Association and a 2019 report by the American Psychiatric Association showed. And it's not uncommon to see them pouring their hearts out on TikTok or Instagram. But their connection to hyper-vulnerable music is also the result of where they are in their lives. Because their brains are still developing, they "tend to have a more difficult time modulating their emotions," says Sloan.
"At the same time, they feel things more deeply than adults might, especially music," he continues. "Studies have shown that the developing brain creates strong neural pathways between music and emotion in the teenage years, so that the music we listen to at that phase of our lives tends to stay with us, no matter how far we get from that period.".
Despite the lyrics — or even the mood — of the artist, "sad girl" pop is no different than other subgenres of music. "What's true of 'sad girl' pop is true of all music: it's essential to try and hear a piece of music as expression, not fact," Sloan adds.
In other words, girl in red may be singing about depression in "Seratonin," but it doesn't mean that the listeners themselves are depressed. They could be, but they could also find catharsis or joy in hearing someone detail a similar experience. And at a young age, especially, there's so much power in being seen and heard by a song.
"Several studies have shown that when listeners listen to sad music, they can experience [it] as if it was kind of empathizing with them," says Jonna Vuoskoski, associate professor in music cognition at the University of Oslo. "Music is almost like a virtual friend."
But while the music is resonating, there is a flipside to "sad girl" pop. The label, which has helmed the conversation around this music, can be diminishing to the artists who are pouring their feelings into these songs. Despite all of the aforementioned artists whose vulnerability has helped their listeners heal, filing music under "sad girl" writes off a person's — particularly a woman's — emotional trauma as something not to be taken seriously.
It can also glorify the idea that it's "cool" to be sad, which is rarely the intention of these artists. When it comes down to it, their songs are about as personal and vulnerable as one could get. They're creating deeply moving material — and an importantly deep connection with those who listen.
"They're speaking up for themselves — they're setting limits or setting boundaries," says Milstein. "On Instagram and Tik Tok, people get on there and will say, 'Hey, this happened to me, and I'm not gonna deal with this anymore.' People have been more expressive. You see other people actually talking about [this] stuff, which before you didn't see that."
From Abrams to Rodrigo, these artists aren't singing about their insecurities and pain for cachet: They're simply young women (and men) trying to navigate young adulthood. What they're sharing is courageous — and should they decide to move out of the "sad girl" box they've been placed in, we should be ready to grow with them.
How Tate McRae Turned A "Full Identity Crisis" Into Her Debut Album, 'I Used To Think I Could Fly'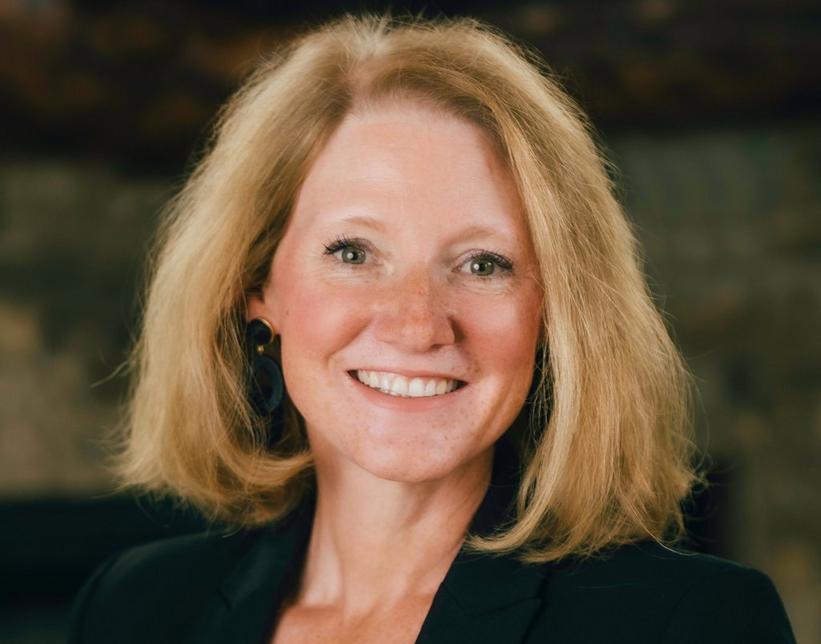 Theresa Wolters
Photo: Kelly Samson, Gallery Photography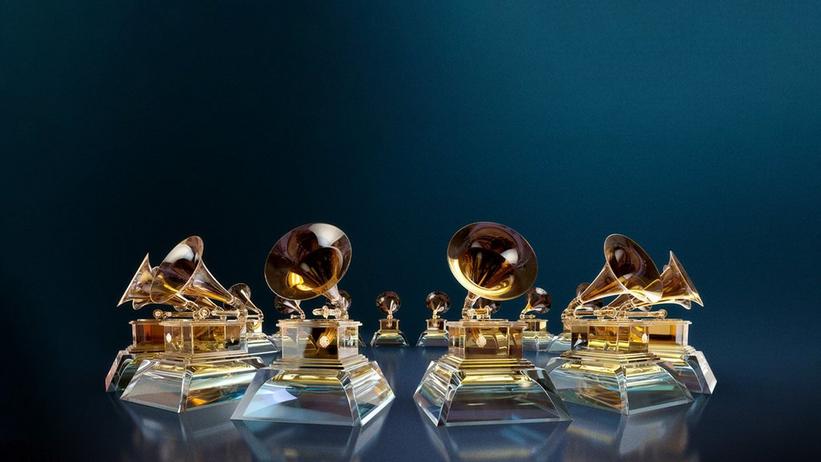 list
2024 GRAMMY Nominations: See Miley Cyrus, Ice Spice, Noah Kahan, Kelsea Ballerini, & More Artists' Reactions
The 2024 GRAMMY nominations have been announced! Here's how nominated artists from boygenius to Jelly Roll reacted on social media.
GRAMMYs
/
Nov 10, 2023 - 10:09 pm
This afternoon, the highly anticipated 2024 GRAMMY nominations were announced, bringing loads of excitement to music enthusiasts.
After the announcements were made, nominated artists shared their reaction on social media. A series of appreciation posts flooded the timeline from the likes of first-time nominee Tyla, trend-charting rapper Coi Leray, country star Kelsea Ballerini, and more.
Dive into the social media celebration posts, while catching up on the full nominees list. Make sure to tune into the 2024 GRAMMY awards on Sunday, Feb. 4 at Crypto.com Arena in Los Angeles.
The 2024 GRAMMYs, officially known as the 66th GRAMMY Awards, will air live (8:00-11:30 PM, LIVE ET/5:00-8:30 PM, LIVE PT) on the CBS Television Network and will stream on Paramount+ (live and on demand for Paramount+ with SHOWTIME subscribers, or on demand for Paramount+ Essential subscribers the day after the special airs).
"On My Mama" singer/songwriter Victoria Monét shared pre-nomination nerves last night, comparing the feeling to the anticipation of draft day. Little did she know, she'd be one of the most nominated artists of the year. She received six nominations in total: Record Of The Year, Best New Artist, Best R&B Album, Best R&B Performance, Best Traditional R&B Performance, and Best R&B Song.
Whew I am so nervous 😭😭😭 it feels like draft day

— Victoria Monét (@VictoriaMonet) November 10, 2023
After Coil Leray found out she was nominated for Best Rap Performance for "Players" and Best Pop Dance Recording for her feature with David Guetta ("Baby Don't Hurt Me"), the rapper took to X, formerly known as Twitter: "Wow I'm really Grammy Nominated ? That's crazy. Let me let this sink in real quick and I'll brb."
Wow I'm really Grammy Nominated ? That's crazy. Let me let this sink in real quick and I'll brb. 😱

— Coi (@coi_leray) November 10, 2023
Miley Cyrus specifically highlighted the women in the music industry, while celebrating her fans and team:
Congratulations to all of this years Grammy nominees. Watching women rule the music industry makes me proud. It's fun to be nominated & exciting to win but having my music LOVED around the world is the real trophy.

To my Smilers - I celebrate YOU today. Your joy is my bliss.… pic.twitter.com/SSLjVAsOUY

— Miley Cyrus (@MileyCyrus) November 10, 2023
Afrobeats star Davido's latest album Timeless was nominated for Best Global Album, while also receiving nominations for Best African Music Performance and Best Global Music Performance.
3 nominations at the Grammys!! Delay is not Denial!! 🏆🌎

— Davido (@davido) November 10, 2023
Americana musician Jason Isbell thanked The Recording Academy for the Best Americana Performance, Best American Roots Song, and Best Americana Album nominations.
Dang alright thank you @RecordingAcad 🙏🏼🙏🏼🙏🏼

— Jason Isbell (@JasonIsbell) November 10, 2023
Rising artist Tyla, whose song "Water" was nominated for Best African Music Performance, posted a series of tweets capturing her immense shock:
NO WAYSSSSSS

— Tyla (@Tyllaaaaaaa) November 10, 2023
Atlanta based R&B singer-songwriter, Summer Walker, shouted out all the "lover girls/boys" after CLEAR 2: SOFT LIFE EP was nominated for Best R&B Album.
Wow a Grammy nomination?? thank you to all my lover girls/boys

— SUMMER WALKER (@IAMSUMMERWALKER) November 10, 2023
Several artists took to Instagram to share more reactions to their nominations, including Best New Artist nominees Noah Kahan, Jelly Roll, Gracie Abrams, Ice Spice and The War & Treaty:
Country star Kelsea Ballerini shared a live-reaction video to her Best Country Album nomination.
Boygenius was nominated for Record Of The Year, Album Of The Year, Best Rock Performance, Best Rock Song, Best Alt Music Performance, Best Alternative Music Album, and Best Engineered Album, Non-Classical. The trio posted a photo of them hugging while staring at the TV displaying their nominations.
Latin singers Pedro Capó and Gaby Moreno celebrated their Best Latin Pop Album nominations, while fellow Latin star Juanes rejoiced over his Best Latin Rock or Alternative Album nod:
And despite writing GRAMMY-winning and GRAMMY-nominated hits for the likes of Kacey Musgraves and Julia Michaels (respectively), songwriters Shane McAnally and Justin Tranter were both shocked their names were included in the Songwriter Of The Year category — proving that a GRAMMY nomination is always magical, no matter how many times it happens.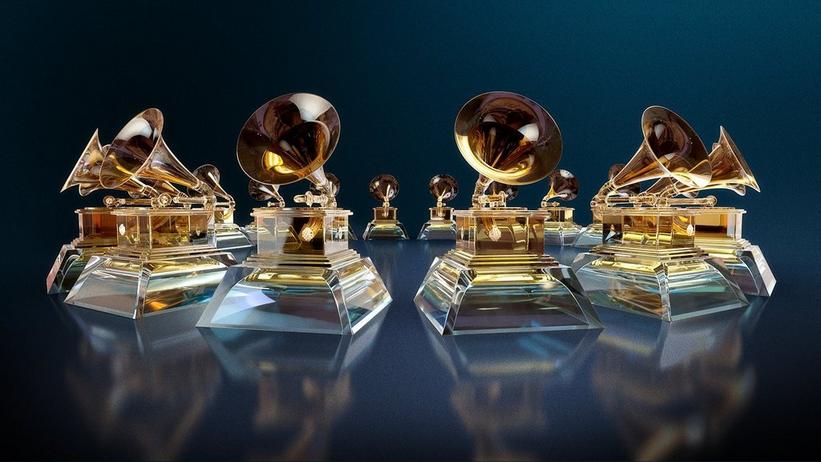 The 2024 GRAMMYs will air live on Sunday, Feb. 4, on CBS and Paramount+.
Graphic Courtesy of the Recording Academy
list
SZA's Massive Year Continues, 'Barbie' Dominates & Big Firsts From The 2024 GRAMMYs Nominations
Who is the most nominated artist at the 66th GRAMMY Awards? Who could potentially make history? Take a look at five takeaways from the nominations for the 2024 GRAMMYs.
GRAMMYs
/
Nov 10, 2023 - 07:51 pm
One of the biggest days in music has arrived: the nominations for the 2024 GRAMMYs.
With the excitement of the 2024 GRAMMYs nominations — which were announced on Nov. 10 — comes many big milestones. Whether it's first-time feats by this year's most nominated artist, SZA, or record-tying nominations by Taylor Swift, there's several intriguing takeaways from the 94 categories.  
Below, check out five major outcomes of the 2024 GRAMMYs nominations.
SZA's Big Year Is Rewarded
There's no denying that SZA has been one of the year's most in-demand artists, and her GRAMMY nominations reflect that. With nine nominations, SZA is the most-nominated artist at the 2024 GRAMMYs — and she has a lot of new milestones to celebrate.
With 15 nominations and one win going into the 2024 GRAMMYs, SZA had already received nods in several major categories. But her most recent noms are particularly special because they're all for her own work.
SZA's ambitious second album, SOS, is the singer's first LP to receive an Album Of The Year nomination, while lead single "Kill Bill" is her first solo song to be nominated in the Record Of The Year and Song Of The Year categories. (She was previously nominated for AOTY as a featured artist on Doja Cat's Planet Her (Deluxe) in 2022, and for ROTY and SOTY with Kendrick Lamar for "All The Stars" in 2019 and with Doja Cat for "Kiss Me More" in 2022.)
Plus, the R&B star expands her nominations within her own genre: she's nominated in the Best Progressive R&B Album (SOS) and Best Traditional R&B Performance ("Love Language") categories for the first time.
Women Lead The Pack
Who run the 2024 GRAMMYs? Girls.
SZA is far from the only female artist with several GRAMMY nominations this year. Of the nine most-nominated artists, eight are women: SZA (9), Phoebe Bridgers (7), boygenius (6), Brandy Clark (6), Miley Cyrus (6), Olivia Rodrigo (6), Taylor Swift (6), and Victoria Monét (6). As Cyrus noted in a social media post celebrating her nominations, "Watching women win & rule the music industry makes me proud."
In fact, a majority of this year's leading nominees are women artists or groups. The Record Of The Year and Album Of The Year categories, as well as the Best Pop Solo Performance category, are all dominated by women.
What's more, four of five nominees in the Best R&B Song and Best R&B Album are women — the latter of which features Babyface's Girls Night Out, an album of collaborations with female artists.
'Barbie' Dominates Once Again
Another woman who took over the 2024 GRAMMYs nominations was Barbie — well, sort of.
The Barbie soundtrack and some of its hit songs received 11 nominations, four of which dominate the Best Song Written For Visual Media category: Nicki Minaj's and Ice Spice's "Barbie World," Dua Lipa's "Dance The Night," Ryan Gosling's "I'm Just Ken," and Billie Eilish's "What Was I Made For?" (They'll be competing against Rihanna's highly anticipated return to music, "Lift Me Up" from Black Panther: Wakanda Forever.)
"Dance the Night" also earned a coveted Song Of The Year nomination, while "What Was I Made For?" scored nods in both Song Of The Year and Record Of The Year, as well as Best Pop Solo Performance. Additionally, "Barbie World" received a nomination for Best Rap Song.
Naturally, Barbie The Album is nominated for Best Compilation Soundtrack For Visual Media nomination. Mark Ronson's genius was further rewarded with a nom for Best Score Soundtrack For Visual Media, which he earned alongside his co-composer, Andrew Wyatt.
Artists Add Big Firsts
Like the 2023 GRAMMYs nominations, the 2024 GRAMMYs nominations resulted in many exciting firsts. While several artists are receiving their first GRAMMY nods — some of which will be highlighted in GRAMMY.com's Meet The First-Time GRAMMY Nominee series in January — there are also several GRAMMY veterans with firsts to celebrate
Taylor Swift, for example, became the first songwriter to receive seven nominations in the Song Of The Year category. Along with her current nomination for "Anti-Hero," she was previously nominated for "All Too Well (10 Minute Version) (The Short Film)," "cardigan," "Lover," "Blank Space," "Shake It Off," and "You Belong With Me." And she could be making even more history at the 2024 GRAMMYs — but more on that later.
Miley Cyrus also achieved new GRAMMY feats, as her acclaimed eighth album, Endless Summer Vacation, is the pop star's first project to receive an Album Of The Year nomination. (She received an AOTY nod in 2022 as a featured artist on Lil Nas X's MONTERO.) The LP's smash lead single, "Flowers," helped Cyrus earn her first nominations in the Record Of The Year, Song Of The Year and Best Pop Solo Performance categories as well, and her collab with Brandi Carlile, "Thousand Miles," earned her first nod for Best Pop Duo/Group Performance.
R&B singer Victoria Monét isn't celebrating her first GRAMMY nominations this year, but she is celebrating her first as an artist. Monét had previously received three nominations: two in 2020 for her work as a songwriter/producer on Ariana Grande's "7 rings" (Record Of The Year) and thank u, next (Album Of The Year), and one in 2021 for Chloe x Halle's "Do It" (Best R&B Song). All six of her 2024 GRAMMY nominations recognize her work as an artist herself, including the esteemed honor of Best New Artist. Her other nods are for her debut album, JAGUAR II: Record Of The Year ("On My Mama"), Best R&B Performance ("How Does It Make You Feel"), Best Traditional R&B Performance ("Hollywood"), Best R&B Song ("On My Mama"), and Best R&B Album.
This also isn't the first time Phoebe Bridgers has received GRAMMY nominations — but it is for her supergroup boygenius, as well as for her bandmates Lucy Dacus and Julien Baker. With their six nods (including Album Of The Year for the record and Record Of The Year for "Not Strong Enough"), they became the first group to receive six or more GRAMMY nominations in a single year since 2012, when fun. and Mumford & Sons received six nominations each at the 2013 GRAMMYs.
A handful of other previously GRAMMY-nominated artists received their first nominations in new categories this year. 2022's Best New Artist, Olivia Rodrigo, earned her first in a Rock category for "ballad of a homeschooled girl" (Best Rock Song); 2022's Album Of The Year winner, Jon Batiste, has his first in the Song Of The Year ("Butterfly") and Best Pop Duo/Group Performance ("Candy Necklace" with Lana Del Rey) categories; Brandy Clark collected her first in the Best Americana Performance ("Dear Insecurity" with Brandi Carlile), Best American Roots Song ("Dear Insecurity") and Best Americana Album (Brandy Clark) categories, as well as her first in the Best Musical Theater Album category for "Shucked."
It's actually the first time a few artists are nominated for contributions to film and theater: Dua Lipa, Nicki Minaj and Rihanna are all first-time Best Song Written For Visual Media nominees, and Josh Groban earned his first nod in the Best Musical Theater Album category, for his role as principal vocalist in "Sweeney Todd: The Demon Barber Of Fleet Street."
Last but certainly not least, in the Best African Music Performance category — one of three new categories for the 2024 GRAMMYs — four of the five artists or groups are first-time GRAMMY nominees: ASAKE & Olamide ("Amapiano"), Davido Featuring Musa Keys ("UNAVAILABLE"), Ayra Starr ("Rush"), and Tyla ("Water").
Taylor Swift Aims For More GRAMMY History
As Swifties know, Taylor Swift is no stranger to making GRAMMY history. In 2021, she made history as the first female artist to win Album Of The Year three times — but in 2024, she could become the artist with the most wins in the category ever.
That's right: If Swift's Midnights takes home the golden gramophone for Album Of The Year, she'll have a record-breaking four wins in the category, passing Frank Sinatra, Paul Simon and Stevie Wonder.
Even if she doesn't win, Swift has already tied a GRAMMY record. With her nomination for Midnights, Swift now ties Barbra Streisand for most nominations by a female artist for Album Of The Year, with six nominations in the category each. 
Will Taylor Swift make more GRAMMY history? Will SZA cap off her unstoppable year with a GRAMMY win? Will Miley Cyrus get her "Flowers"? Tune into CBS on Feb. 4, 2024 to find out!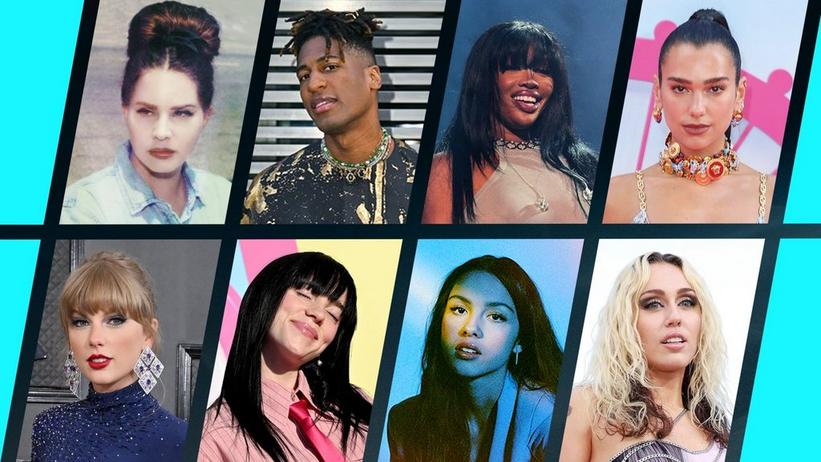 (Clockwise) Lana Del Rey, Jon Batiste, SZA, Dua Lipa, Miley Cyrus, Olivia Rodrigo, Billie Eilish, Taylor Swift
Photos: Image from TiVO; Dave Benett/Getty Images for Alexander McQueen; Prince Williams/WireImage; SAMIR HUSSEIN/WIREIMAGE; Arturo Holmes/Getty Images; Image from TiVO; Albert L. Ortega/Getty Images; Axelle/Bauer-Griffin/FilmMagic
list
Here Are The Song Of The Year Nominees At The 2024 GRAMMYs
The eight nominees for Song Of The Year at the 2024 GRAMMYs are hits from some of music's biggest names: Lana Del Rey, Miley Cyrus, Billie Eilish, Olivia Rodrigo, Jon Batiste, Taylor Swift, SZA and Dua Lipa.
GRAMMYs
/
Nov 10, 2023 - 04:24 pm
The Song Of The Year GRAMMY Award honors the best releases in the music business, and the eight nominees for the golden gramophone at the 2024 GRAMMYs come from a variety of established singer/songwriters. From dance anthems to pop bops, ballads and R&B smashes, the nominees for Song Of The Year showcase the breadth of emotions of the past year.
Before tuning into the 2024 GRAMMYs on Sunday, Feb. 4, 2024, learn more about this year's Song Of The Year nominees below.
"
A&W"
- Lana Del Rey
Songwriters: Jack Antonoff, Lana Del Rey & Sam Dew
The second single from her ninth studio album, Did You Know That There's a Tunnel Under Ocean Blvd, "A&W" is a refreshing addition to Lana Del Rey's expansive discography.
Another shattered portrait of the American Dream, the seven-minute epic, oscillates from madness to exhaustion, as Del Rey described feeling burned out by being objectified and perceived as an "American whore." What begins as a psychedelic folk ballad erupts into a defiant trap number interpolated with a doo-wop standard by the four-minute mark of the chaotic number.
"I'm a princess, I'm divisive/Ask me why I'm like this/Maybe I just kinda like this," Del Rey anxiously warbles. Later, she expresses her resignation surrounding rape culture: "If I told you that I was raped/ Do you really think that anybody would think/ I didn't ask for it? I didn't ask for it/ I won't testify, I already f—ed up my story."
"Anti-Hero" - Taylor Swift
Songwriters: Jack Antonoff & Taylor Swift
"Anti-Hero" showcased a new side of Taylor Swift — a rare moment where the 33-year-old pop star confronted her flaws in the public eye.
"I really don't think I've delved this far into my insecurities in this detail before," Swift said of the track in an Instagram video. "Not to sound too dark, but, like, I just struggle with the idea of not feeling like a person."
The self-loathing synth-pop anthem — with its cheeky chorus — catapulted "Anti Hero" into virality. With its ubiquitous meaning, the song topped charts and became a staple of pop radio. Now, it's enjoying the highest praise as a contender for Song Of The Year. 
"Butterfly" -
Jon Batiste
Songwriters: Jon Batiste & Dan Wilson
Beyond its sound, what makes Jon Batiste's "Butterfly" so stunning is the story behind it. The touching jazz-soul fusion track is an iteration of the lullabies Batiste penned while his wife Suleika Jaouad was hospitalized during her cancer treatment.
"It's just such a personal narrative song in relation to my life and what my family has gone through and my wife and all of the things she's been able to overcome," the 36-year-old GRAMMY winner told PEOPLE.
"Butterfly" is featured on Batiste's latest album, World Music Radio. Like much of his discography, "Butterfly" is inherently uplifting but there's an underlying yearning for freedom. "Butterfly in the air/ Where you can fly anywhere/ A sight beyond compare," Batiste croons over stripped-down keys.
"
Dance The Night"
(From Barbie The Album) - Dua Lipa 
Songwriters: Caroline Ailin, Dua Lipa, Mark Ronson & Andrew Wyatt
With the release of her pop-funk epic Future Nostalgia during the COVID-19 pandemic, Dua Lipa proved she could master the art of escapism. On "Dance The Night," a thrilling dance-pop number from the star-studded Barbie soundtrack, she channels that same inspiration with a side of glitter and glam.
"Greta said that the whole film was inspired by disco. There's a lot of very glittery and pop moments in it," the 28-year-old singer said of how the track fits into the movie in an interview with Dazed.
Over a sleek synth, the pop star reflects the unwavering joy Barbie outwardly emanates while she's crumbling inside: "Even when the tears are flowin' like diamonds on my face/I'll still keep the party goin', not one hair out of place (yes, I can)."
"Flowers" - Miley Cyrus
Songwriters: Miley Cyrus, Gregory Aldae Hein & Michael Pollack
Miley Cyrus has perfected the art of reinventing herself. With the post-breakup number "Flowers," she reclaimed her independence and took a hard turn from gritty rock back into pop music. "I can take myself dancing, yeah/ I can hold my own hand/ Yeah, I can love me better than you can," she belts over a disco-pop beat.
While the 30-year-old musician wouldn't share if "Flowers" was indeed about her ex-husband Liam Hemsworth, the song became an empowering earworm from a more refined version of the longtime musician.
"The song is a little fake it till you make it," she said of "Flowers" in an interview with British Vogue. "Which I'm a big fan of." It turns out she made it with a nomination for Song Of The Year at the 2024 GRAMMY Awards.
"Kill Bill" - SZA
Songwriters: Rob Bisel, Carter Lang & Solána Rowe
On the psychedelic R&B groove of "Kill Bill," which references the legendary Quentin Tarantino film, SZA dreams up her own unfiltered revenge fantasy. "I might kill my ex / Not the best idea / His new girlfriend's next / How'd I get here?" she ponders over an airy melody.
The song stands out on the R&B singer's latest album, SOS, for not only its cheeky wordplay but for how visceral she portrayed the devastation of a breakup. 
Despite its popularity, the 34-year-old singer initially thought one of the other songs on her 23-track album would have topped the charts. "It's always a song that I don't give a f— about that's just super easy, not the s— that I put so much heart and energy into. 'Kill Bill' was super easy — one take, one night," the singer told Billboard of "Kill Bill's" success.
"
Vampire"
- Olivia Rodrigo
Songwriters: Daniel Nigro & Olivia Rodrigo
Like her explosive debut "Drivers License," Olivia Rodrigo opted for a swelling power ballad for the lead single of her sophomore album Guts. On "Vampire," the singer/songwriter recalls a parasitic relationship with a swelling power ballad that erupts into a booming guitar breakdown. "Bloodsucker, famef—er/ Bleedin' me dry, like a goddamn vampire," she sings with a bitter lilt.
While many speculated the song was about a toxic relationship, Rodrigo claimed it's more nuanced than that. "It's more about my regret and kind of beating myself up for doing something that I knew wasn't gonna turn out great and kind of just taking ownership of that and dealing with those feelings," she told Sirius XM Hits 1.
Regardless, the 20-year-old artist turned something bitter into something sweet by landing a Song Of The Year nomination.
"What Was I Made For?" [From The Motion Picture "Barbie"] - Billie Eilish
Songwriters: Billie Eilish O'Connell & Finneas O'Connell
Not only was the Barbie movie a massive hit, its soundtrack was, too, thanks to a slew of chart-topping artists including Dua Lipa, HAIM and Sam Smith. So it's no surprise that Billie Eilish made that list as well, and delivered a gutting ballad that soundtracked one of the most heartbreaking moments of the film.
The wistful single, which arrives at the devastating realization that you're not real and are instead meant to be consumed, aptly embodies the narrative arc of the box office smash. "Looked so alive, turns out I'm not real/ Just something you paid for/ What was I made for," the 21-year-old musician sings with a heartbreaking lilt. 
While writing the sobering number, Eilish tried to embody the essence of the life-sized doll herself. "I was purely inspired by this movie and this character and the way I thought she would feel, and wrote about that," she told Zane Lowe of Apple Music. 
The 2024 GRAMMYs, officially known as the 66th GRAMMY Awards, returns to Los Angeles' Crypto.com Arena on Sunday, Feb. 4, 2024, and will broadcast live on the CBS Television Network and stream live and on-demand on Paramount+ at 8-11:30 p.m. ET/5-8:30 p.m. PT.
The Recording Academy and GRAMMY.com do not endorse any particular artist, submission or nominee over another. The results of the GRAMMY Awards, including winners and nominees, are solely dependent on the Recording Academy's Voting Membership.