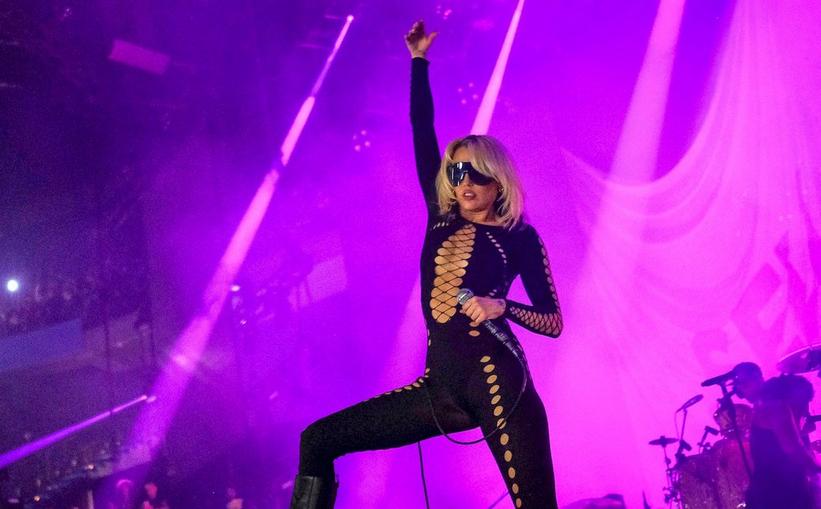 Miley Cyrus performs in Bogota, Colombia in 2022.
Photo: Ovidio Gonzalez/Getty Images for MC
list
Loving Olivia Rodrigo's "Vampire?" Check Out 15 Songs By Alanis Morissette, Miley Cyrus & More That Reclaim The Breakup Narrative
From the soft hums of Carole King's "It's Too Late" to GAYLE's fiery rage on "abcdefu," these 15 songs encapsulate the expansive emotions of women who put problematic exes in their place — far behind them.
GRAMMYs
/
Jul 27, 2023 - 03:06 pm
Since the 2021 release of SOUR, critics and listeners alike have touted Olivia Rodrigo for her knack to eloquently pen the relatable woes of adolescence and the pitfalls of falling in love too hard. Her latest single, "vampire," is no different.
Despite trading in her "drivers license" teenage loverboy for an older man, the perfectly executed expression of agony remains. As Rodrigo wails on the chorus, "You made me look so naïve/ The way you sold me for parts/ As you suck your teeth into me/ Bloodsucker, famef—er/ Bleeding me dry like a g——n vampire."
But before there was Rodrigo, there was Avril Lavigne, Taylor Swift, and Alanis Morissette — none of which would be where they were without pioneers of diaristic songwriting, Carole King and Carly Simon. Thanks to the immortalization of their music, we can relive the shift from poetic disclosures of hurt, which King exemplifies on "It's Too Late," to more unrepentant, straightforward jabs (like Kate Nash says on "Foundations," "Don't want to look at your face 'cause it's making me sick") and harrowing battle cries (as Miley Cyrus roars, "I came in like a wrecking ball"). 
Below, revisit 15 songs by empowered women, from 1971 all the way to 2021, who reclaimed the breakup narrative with their fervent sentences of damnation — because, as the age-old saying goes, hell hath no fury like a woman scorned.
Carole King — "It's Too Late" (1971)
When Carole King released "It's Too Late" in 1971, it marked a new era of songwriting. Discussions about divorce were generally unheard of, but even more so when initiated by a woman. Yet, King carried on to unapologetically release "It's Too Late," which later won a GRAMMY for Record of the Year and is lauded by Rolling Stone as one of the 500 Greatest Songs of All Time.
On this folky track, King and her husband's inevitable parting is on the horizon, but she isn't resentful per se. Instead, she's more troubled by the embarrassment of her husband's growing discontent, admitting, "I feel like a fool." And at this point, she's ready to move on and can be grateful for the times they've shared. 
Carly Simon — "You're So Vain" (1972)
In her '70s chart-topper, Carly Simon narrates the tale of an arrogant man who believes every woman is enchanted by his aura. But the folk songstress wants to make it very clear she's not impressed by his embellished stories or luxurious closet.
Usually, it's easy to guess the subject of a breakup song, but "You're So Vain" has led to decades of speculation. Many have assumed it could be about James Taylor, who Simon married in 1972 and divorced in 1983, or Mick Jagger, who provided vocals to the track (a theory that was later debunked). To this day, she has only revealed the track's inspiration to a select few, including Taylor Swift, who names Simon as one of her role models.
Joan Jett And The Blackhearts — "I Hate Myself For Loving You" (1986)
Joan Jett might not give a damn about her bad reputation, but she despises nothing more than her ex-lover making her look like a lovesick fool.
On "I Hate Myself for Loving You," the '80s chanteuse wraps herself around a classic glam rock beat, unveiling her contempt for a man who's neglected her. Stripped of her pride, Jett begins to resent herself for holding onto her feelings — as evidenced by the song's title. 
She tries to hide her dwelling desires ("I want to walk, but I run back to you") but ultimately fails to rid herself of the emotions, leaving her to fantasize about the sweet justice of one day roping him back in, just to leave him. 
Alanis Morissette — "You Oughta Know" (1995)
It's impossible to talk about scathing breakup songs without acknowledging Alanis Morissette's quintessential heartbreak anthem, "You Oughta Know." At the time of its release, the Jagged Little Pill single contained some of the most honest and vitriolic lyrics in existence.
Morissette begins with an illusive statement, "I want you to know that I'm happy for you," which, by the second verse, crumbles into a revelation, "I'm not quite as well, you should know." As she culminates into her most confessional, the instrumental rises into an addicting ruckus, with Morissette revealing the thoughts most of us would be too ashamed to admit: "It was a slap in the face how quickly I was replaced/ And are you thinkin' of me when you f— her?"
Shania Twain — "That Don't Impress Me Much" (1997)
Shania Twain has a particular superpower of delivering each of her lyrics with an air of lightheartedness and confidence. So, when you hear a track like "That Don't Impress Me Much," her disappointment and irritation becomes undetectable.
A quick examination of Twain's story proves — despite the song's bouncy melodies — she's jaded by her ex's preoccupation with his vehicle, appearance and intelligence. Sure, he might be perfect on paper, but he lacks the qualities of a forever lover, and his unmerited ego should be reserved for true big shots like Elvis Presley and Brad Pitt.
Michelle Branch — "Are You Happy Now?" (2003)
In the opening verse of "Are You Happy Now?," Michelle Branch pleads, "No, don't just walk away/ Pretending everything's okay, and you don't care about me." At first, she is in disbelief that her once admirer would swiftly brush her off, but as she reaches the chorus, she begins to question whether his actions were a lie all along.
Her mind racing, Branch teeters between shameless questions of "Do you really have everything you want?" and "Could you look me in the eye and tell me you're happy now?" But by the song's end, she gets the most satisfying payback of all — peace without him: "I'm not about to break/ 'Cause I'm happy now."
Avril Lavigne — "My Happy Ending" (2004)
"My Happy Ending" finds 2000s pop-punk maven Avril Lavigne grasping onto the shards of a broken relationship and trying to pinpoint where everything went wrong. She could have said the "wrong" thing, or her partner's misfit friends might have spoken negatively about her. But there is one thing she does know with certainty: there is no way to pick up the pieces.
Coming to terms with the truth, Lavigne repositions her anger toward the other person for stripping her of her fairytale ending, sarcastically acknowledging him for their time spent together over a somber piano: "It's nice to know you were there/ Thanks for acting like you care/ And making me feel like I was the only one."
Kelly Clarkson — "Gone" (2004)
Kelly Clarkson has traversed almost every emotion in love, from her epic breakup anthems like "Behind These Hazel Eyes" to her most recent LP chemistry. But "Gone" may just be her most unrelenting to date.
Introduced by its Breakaway counterpart "Since U Been Gone," the mononymous "Gone" extends Clarkson's journey of healing — this time, with a more explicit and mature diatribe against her ex's character. Rather than using trivial attacks, Clarkson instead chooses to call out his assumption she'd run back into his arms, later declaring an end to her toleration: "There is nothing you can say/ Sorry doesn't cut it, babe/ Take the hit and walk away, 'cause I'm gone."
Lily Allen — "Smile" (2006)
With "Smile," Lily Allen gets her sweet revenge through the sight of her former flame's tears and misfortune. But the lyrics of Allen's breakthrough single doesn't exactly clarify the specifications of her antics, only an explanation for its origins.
After a cheating scandal ends her relationship, her mental health plummets — until he comes crawling back for her mercy. Upon hearing his pleas, she comes to a realization: "When I see you cry, it makes me smile." And as the conniving music video shows, anyone who cheats on her will get their karma — perhaps in the form of organized burglary, beatings, and a laxative slipped into their morning coffee.
Kate Nash — "Foundations" (2007)
Following in the footsteps of her mentor Lily Allen, Kate Nash vividly paints the tragedy of falling out of love, made prismatic by her plain-spoken lyrics ("Your face is pasty 'cause you've gone and got so wasted, what a surprise!") and her charming, thick London accent.
In this story, Nash has not quite removed herself from the shackles of her failing relationship. In fact, she'd like to salvage it, despite her boyfriend's tendency to humiliate her and her irresistible urge to sneer back with a sarcastic comment. By the end of the track, Nash, becoming more restless, packs on new ways to inconvenience him — but in the end, still wonders if there's any saving grace to preserve their once blazing spark out of a fear of loneliness.
P!nk — "So What" (2008)
The year P!nk wrote "So What," she already had a bevy of platinum singles under her belt. With a gleaming social status and peaking career, she was apathetic to the temporary separation from her now husband, Carey Hart. Feeling the highs of newfound singlehood, P!nk was ready to incite personal tyranny, whether that meant not paying Hart's rent, drinking her money, or starting a fight.
Ironically, Hart appears as the antagonist in the music video, which P!nk revealed via her official fan website was a testament of their growth: "Carey hadn't heard the song before he did the video. That's how much he trusts and loves me [...] He gets it. He gets me," she said.
Taylor Swift — "Picture To Burn" (2006)
Taylor Swift has long solidified herself as the reigning queen of love songs, from ballads honoring the most committed relationships to diss tracks of heartbreaking adolescent flings. The latter houses one of the earliest (and most twangy) hits in Swift's sweeping catalog: "Picture to Burn."
In this deceivingly upbeat tune, Swift vows to seek vengeance on a boyfriend after he leaves her to date one of her friends — from getting with his friends to having her father give him a piece of his mind. And along the way, she will gladly dish out a few insults: "You're a redneck heartbreak who's really bad at lying/ So watch me strike a match on all my wasted time/ As far as I'm concerned, you're just another picture to burn."
Miley Cyrus — "Wrecking Ball" (2013)
Closing the door on her Hannah Montana days, Miley Cyrus' "Wrecking Ball" saw the childhood pop star in her most grown-up and vulnerable state to date. Months before the release, Cyrus had called off her engagement to her longtime boyfriend, Liam Hemsworth, paving the way for her thunderous performance on the Bangerz single.
Just as affecting as Cyrus' belting vocals is the track's iconic music video. Cyrus climaxes with a deafening cry — "All you did was wreck me" — as she swings across the screen on an actual wrecking ball, breaking down all her physical and metaphorical walls. 
Halsey — "You should be sad" (2020)
By the mid-2010s, the industry had put angst on the back burner in exchange for feel-good EDM and trap beats. Well, that is, at least, until Halsey entered the picture.
After just two years in the limelight, Halsey had cultivated a vibrant assortment of sonic melodrama — from the dirt and grime of toxic, failed love on tracks "Bad at Love" and "Colors" to the Bonnie and Clyde-esque heated passion of "Him & I."
In 2020, Halsey rounded out her discography with the genre-bending, introspective Manic, where a track like "You should be sad" commands your attention with matter-of-fact, vindictive comments: "I'm so glad I never ever had a baby with you/ 'Cause you can't love nothing unless there's something in it for you."
GAYLE — "abcdefu" (2021)
Unlike most love songs, GAYLE refuses to point her fury on "abcdefu" solely toward her heartbreaker. The then-16-year-old singer, instead, rages against his mother, sister and pretty much anyone (and anything) he's associated with — other than his dog — across a searing melody with a bewitching bassline.
Earlier this year, GAYLE revealed to GRAMMY.com that she was "angry at him and was angry at the people who enabled him and his behavior." That animosity was palpable in "abcdefu," creating a magic as empowering as it is cathartic — and, like many songs that came before it, proving that there can be power in pain.
Behind The Scenes Of The Eras Tour: Taylor Swift's Opening Acts Unveil The Magic Of The Sensational Concert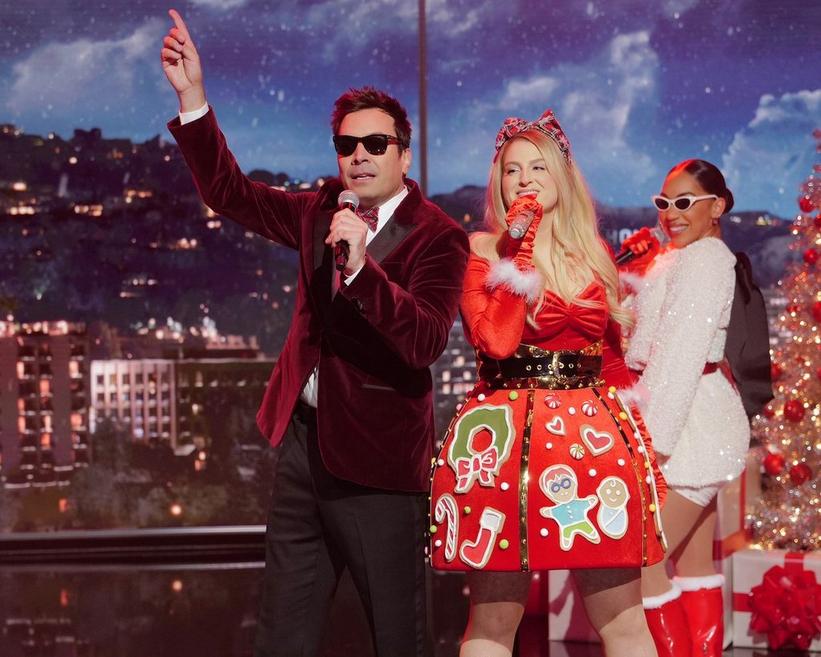 Jimmy Fallon & Meghan Trainor perform their song "Wrap Me Up" on "Jimmy Kimmel Live" in November 2023.
Photo: Randy Holmes/DISNEY via Getty Images
New Holiday Songs For 2023: Listen To Festive Releases From Aespa, Brandy, Sabrina Carpenter & More
With the Christmas season in full swing, it's time to deck the halls and load up those holiday playlists. Check out 14 new songs and projects to add to your 2023 festivities.
GRAMMYs
/
Dec 4, 2023 - 06:39 pm
It's the most wonderful time of year! With every holiday season comes a new outpouring of festive music, and this year is no different.
From pop and R&B to K-pop and country, artists from all genres revel in the season as they pen new, original Christmas songs and reinterpret well-loved classics. This year, GRAMMY winners like Brandy and Samara Joy deliver full-length albums, while rising stars like Sabrina Carpenter, Mimi Webb and Coco Jones add their own contributions like shiny new baubles on a sparkling Christmas tree. 
Below, GRAMMY.com rounded up 14 new holiday releases worth checking out, from Alanis Morissette's first Christmas EP to new projects by Aly & AJ and Gavin DeGraw, and even a posthumous duet between Elvis Presley and Kane Brown. 
aespa, "Jingle Bell Rock"
Need some K-pop for your holiday playlist? Look no further than aespa's take on "Jingle Bell Rock." The girl group takes Bobby Helms' 1957 hit to the metaverse by giving it a slinky edge punctuated by handclaps, toy piano and glitchy undertones. Members GISELLE and NINGNING even add their own laid-back rap verse to the proceedings, casually tossing off lyrics like, "Ring, ring, ring, jingle bell rock/ Play like a spell/ I won't tell, jingle bell talk" partway through the track.
Aly & AJ,
Lonesome Dove
Lonesome Dove isn't Aly & AJ's first Christmas project — that would be their excellent 2006 LP Acoustic Hearts of Winter — but the siblings have come a long way from the Disney days of their last holiday record. Just look at "Greatest Time of Year," which they've plucked from the Acoustic Hearts track list and transformed from into a delicate slowburner perfect to be sung by the fireside. Then there's the pitch-perfect cover of "Sisters," which proves the only way to improve upon Rosemary Clooney and Vera-Ellen's eternally iconic number from 1954's White Christmas is for it to be recorded by, you know, actual sisters.
Brandy,
Christmas With Brandy
Considering she's been called the "Vocal Bible" since she rose to stardom in the '90s, a Christmas album makes all the sense in the world for Brandy. On Christmas with Brandy, the R&B sensation — and star of Netflix's new holiday flick Best. Christmas. Ever. — eschews the scriptural in favor of the romantic ("Christmas Party For Two"), the hopeful ("Someday at Christmas") and the celebratory ("Christmas Gift" with daughter Sy'Rai) — all with her trademark gossamer runs and riffs in full, glistening effect.
Kane Brown and Elvis Presley, "Blue Christmas"
Fresh off his performance in NBC's "Christmas at Graceland" special, Kane Brown turns his live version of "Blue Christmas" into a full-blown duet with Elvis Presley himself. The King famously released his iconic version of the holiday classic in 1957 — as well as a live version more than a decade later — and Brown wisely sticks to Presley's tried-and-true formula on their duet by trading verses, while letting Elvis' iconic voice shine.
Sabrina Carpenter
, Fruitcake
Sabrina Carpenter created a recipe for a holiday hit last year thanks to "A Nonsense Christmas," a cheeky seasonal remake of her top 10 pop hit "Nonsense." This year, she doubles the recipe on Fruitcake, a delectable slice of Christmas goodness that's equal parts sweet and sour.
On the winking "Buy Me Presents," the pop chanteuse demands the undivided attention of her lover while "Cindy Lou Who" turns the sweetest character in Dr. Seuss' oeuvre into a man-stealing Jolene of Christmas nightmares. "Is It New Year's Yet" revels in an irresistible spirit of pessimism that'll have all of Carpenter's fans saying "Bah humbug!" with glee.
Gavin DeGraw,
A Classic Christmas
Eighteen months since Gavin DeGraw's last album, 2022's understated Face the River, the crooner turns up the yuletide cheer — with all the trimming and trappings — for his first holiday record. Each song on the six-track EP stays true to the title, as strings, sleigh bells and tradition combine with DeGraw's soulful timbre on standards like "The Most Wonderful Time of Year," "Silent Night" and "White Christmas."
Kirk Franklin, "Joy To The World"
Kirk Franklin cooked up an extra-special gift for his Spotify Singles Holiday rendition of "Joy to the World." Enlisting a buoyant backing choir, the 19-time GRAMMY winner adds a thoughtful spoken word element over the music, telling listeners everywhere, "This year I offer you the gift of unity. The gift of harmony. Bring us together like never before this holiday season. Find room in your heart. Listen. Can you hear it?"
Coco Jones, "A Timeless Christmas"
Determined to make 2023 a year to remember, Coco Jones follows her five 2024 GRAMMY nominations — including one for Best New Artist — with "A Timeless Christmas." On the original song, the R&B breakout aims to unwrap a holiday filled with family, joy and love as she intones, "Cherish the moment with the people that surround you/ Live in the moment today/ Let's have a timeless Christmas/ Let's just come together in harmony as one forever."
Samara Joy,
A Joyful Holiday
Just months after releasing Linger Awhile Longer — the deluxe edition of her 2022 studio album — Samara Joy returns with A Joyful Holiday, a festive EP filled with jazzy originals and standards alike. The 2023 Best New Artist GRAMMY winner taps jazz pianist Sullivan Fortner on "Twinkle Twinkle Little Me" and turns on the feels on opener "Have Yourself a Merry Little Christmas." But perhaps the most special moment of the record happens when three generations of her family join her for a gospel-fueled take on "O Holy Night," filled with stunning harmonies.
Ingrid Michaelson, "This Christmas"
Ingrid Michaelson has supplied plenty of cozy and nostalgic Christmas tunes ever since releasing her 2018 album Songs of the Season, but she doubles down on the warm fireside sounds with her new single "This Christmas." Though it shares a title with the beloved Donny Hathaway track, Michaelson's original song finds beauty in the stillness and small details of the season — from the wonder in a child's eyes as snow falls swirls to the ground to family gathered around the piano.
Alanis Morissette,
Last Christmas
After gifting fans a string of holiday singles over the past few years, Alanis Morissette has finally compiled the songs into a full Christmas-themed project. The four-track EP Last Christmas contains three of the alt pioneer's past releases: 2020's rousing and poignant "Happy Xmas (War Is Over) and pandemic-era take on "What Child Is This" as well as last year's "Little Drummer Boy." However, she saved a shiny new toy for last in the form of a surprisingly peppy cover of Wham!'s modern classic "Last Christmas."
Jon Pardi,
Merry Christmas From Jon Pardi
It's a full-blown Christmas Pardi, ahem, party on Jon Pardi's fifth album, the aptly-titled Merry Christmas From Jon Pardi. The recent Grand Ole Opry inductee appoints Rudolph a designated driver on "Beer For Santa," is unfazed by a ferocious blizzard thanks to "400 Horsepower Sleigh" and sheds his ugly Christmas sweater to celebrates the holiday on the beach with "Merry Christmas From The Keys." But he's also unafraid to put a country spin on the likes of Mariah Carey's timeless smash "All I Want for Christmas Is You," and holiday classics like "Let It Snow, Let It Snow, Let It Snow" and "Please Come Home For Christmas."
Meghan Trainor, "Jingle Bells"
Meghan Trainor has delivered Christmas goodies in the past (2020's A Very Trainor Christmas, last year's "Kid on Christmas" with Pentatonix), but this year she teamed up with Amazon Music for an exclusive rendition of "Jingle Bells." There's only a 30-second preview available without Amazon Music, but in the event you're not a subscriber, check out Trainor's other holiday offering of the season: her duet with Jimmy Fallon titled "Wrap Me Up."
Mimi Webb, "Back Home For Christmas"
In the wake of her debut studio album, Amelia, Mimi Webb tackles her first original holiday track in the form of "Back Home For Christmas." The lovelorn single is filled with church bells and yearning galore as the rising pop starlet wails, "Just like that, first of December/ Counting down 'til we're together/ Only one thing on my wishlist/ Bring my love back home for Christmas/ Mistletoe making me lonely/ Santa Claus just can't console me/ Only one thing that I'm missin'/ Bring my love back home for Christmas." 
Clearly, the Christmas season can make you feel all sorts of ways, from nostalgic and cozy to lonely, filled with hope and back again.
15 Must-Hear Albums This December: ATEEZ, Nicki Minaj, Neil Young & More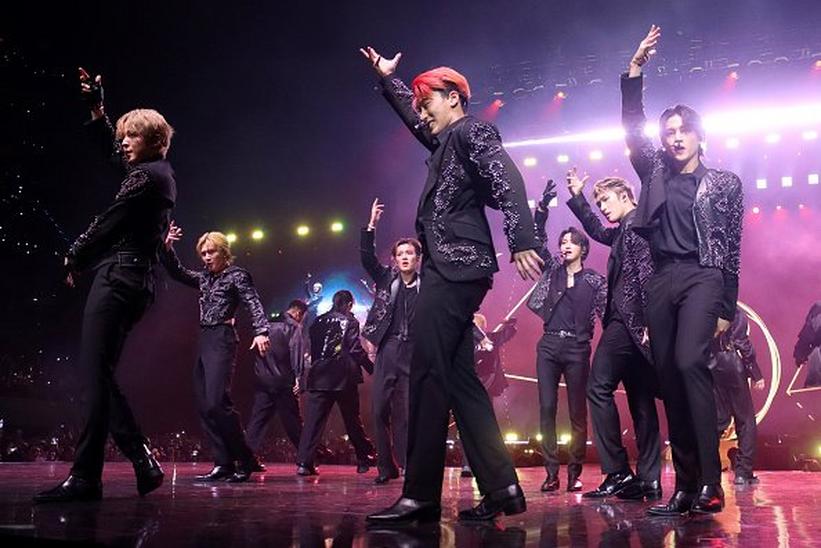 ATEEZ perform during their Fellowship: Break The Wall tour
Photo: Adrián Monroy/Medios y Media/Getty Images
news
New Music Friday: Listen To Releases From Beyoncé, Lana Del Rey, ATEEZ & More
December begins with a blast of new music from some of music's biggest stars. Press play on five new releases Jung Kook & Usher, Tyla and others, out on Dec. 1.
GRAMMYs
/
Dec 1, 2023 - 06:09 pm
While 2023 may be coming to an end, the first releases of December prove that it's far from time to wind down.
From Taylor Swift — who released "You're Losing Me," a song originally recorded for her 2022 smash album — to Dua Lipa's extended edit of her single "Houdini," and Lana Del Rey's cover of "Take Me Home, Country Roads," listeners are being treated to new tracks from familiar favorites today.
But surprise releases were the theme of the day as Beyoncé dropped "MY HOUSE," a single accompanying her Renaissance concert film.
Dec. 1 also sees a bevy of reissue and archival releases, exciting new projects from artists like singer/songwriter Dove Cameron, and the second studio album from K-pop group ATEEZ. 
Start off your month by listening to these tracks and albums from seven artists that will jumpstart your month.
Beyoncé - "MY HOUSE"
Queen Bey surprised fans with an early Christmas present by dropping "MY HOUSE," her first single since 2022's Renaissance. This track was featured during the credits of her new Renaissance concert film.
Written and produced by The-Dream, this song showcases Beyoncé's rapping skills, as she effortlessly weaves verses over a powerful horn melody. There's a vibe check in the song's second half, where the music becomes a smooth, electronic dance groove reminiscent of Renaissance's ballroom vibe. 
Jung Kook & Usher - "Standing Next To You (Remix)"
BTS' pop singer Jung Kook is back with a remix to his track "Standing Next To You," this time joined by an R&B sensation. The remix features a new verse from  Usher, who adds a delicate touch to the vibrant, high-paced song.
The original track was released last month as a single on Jung Kook's debut album, GOLDEN. This could be fans' last time hearing Jung Kook's music for a while — the "golden maknae" of BTS announced he's enlisting for mandatory military service this month.
Tyla - "Truth or Dare"
GRAMMY-nominated Afrobeats star Tyla is closing the year with a sneak peek of her upcoming self-titled album. The hypotonic single "Truth or Dare," following the success of her GRAMMY-nominated song "Water" (the song is nominated for Best African Music Performance at the 2024 GRAMMYs alongside "Amapiano" by ASAKE & Olamide, "City Boys" by Burna Boy, Davido's "UNAVAILABLE" feat. Musa Keys, and "Rush" by Ayra Starr).
In this new song, Tyla revisits an old flame — this time with newfound wisdom and assurance that she won't fall for his charm anymore: "So let's play truth or dare, dare you to forget / That you used to treat me just like anyone."
Tyla announced her upcoming self-titled album on social media, captioning, "African music is going global and I'm so blessed to be one of the artists pushing the culture. I've been working on my sound for 2 years now and I'm so ready for the world to hear it."
Lana Del Rey - "Take Me Home, Country Roads"
After performing during "Christmas At Graceland," a televised tribute to Elvis Presley, Lana Del Rey dropped a surprise cover of John Denver's 1971 hit "Take Me Home, Country Roads."
This cover might not come as a shock for fans after she referenced a line from Denver's 1972 "Rocky Mountain High" on her track "The Grants" from GRAMMY-nominated album Did You Know There's A Tunnel Under Ocean Blvd. (At the 2024 GRAMMYs, Did You Know is nominated for Album Of The Year alongside Jon Batiste's World Music Radio, Olivia Rodrigo's Guts, Swift's Midnights, Janelle Monae's The Age Of Pleasure, SZA's SOS, Miley Cyrus' Endless Summer Vacation and the record by boygenius. Did You Know is also nominated for Best Alternative Music Album alongside The Car by Arctic Monkeys, PJ Harvey's I Inside The Old Year Dying, Gorillaz's Cracker Island and boygenius' album.)
The track features Del Rey's signature soothing vocals, as a Western-style melody balances the instrumentation. She brings her own sultry style to this '70s country classic, while continuing to show her musical versatility.
ATEEZ -

The World EP:FIN:WILL
Five years after their debut album, K-pop group ATEEZ  have returned with The World EP:FIN:WILL. The 12-track album is led by "Crazy Form," an Afrobeats/dancehall-influenced track, and also features many solo and unit tracks from the group.
Members Hong Joong and Seonghwa took the reins on "Matz," a dynamic hip-hop track, while Yeosang, San and Wooyoung collaborated for the R&B-influenced "It's You." 
During a Seoul press conference, Lead Hong Joong spoke about the group's evolution and how fans should look forward to future releases. 
"This year marks our fifth debut anniversary and so far, our greatest achievement has been establishing a strong relationship with our fans around the world. We hope to continue presenting music that can make our fans proud of us," he said. 
Living Legends: Stephen Marley On 'Old Soul,' Being A Role Model & The Bob Marley Biopic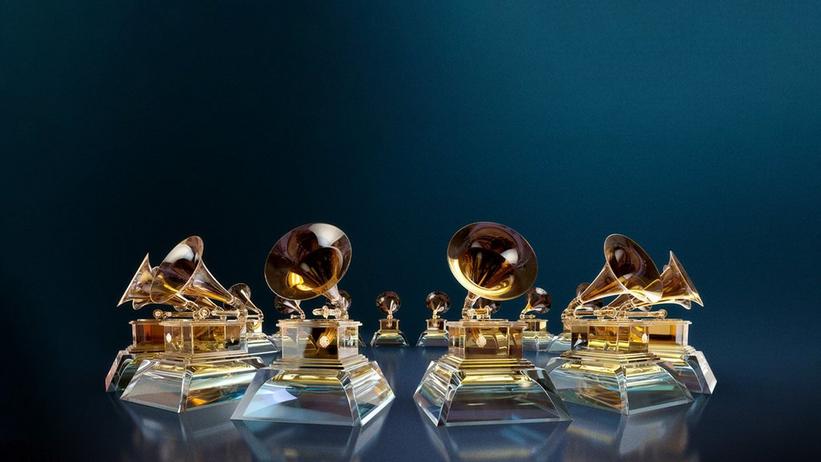 list
2024 GRAMMY Nominations: See Miley Cyrus, Ice Spice, Noah Kahan, Kelsea Ballerini, & More Artists' Reactions
The 2024 GRAMMY nominations have been announced! Here's how nominated artists from boygenius to Jelly Roll reacted on social media.
GRAMMYs
/
Nov 10, 2023 - 10:09 pm
This afternoon, the highly anticipated 2024 GRAMMY nominations were announced, bringing loads of excitement to music enthusiasts.
After the announcements were made, nominated artists shared their reaction on social media. A series of appreciation posts flooded the timeline from the likes of first-time nominee Tyla, trend-charting rapper Coi Leray, country star Kelsea Ballerini, and more.
Dive into the social media celebration posts, while catching up on the full nominees list. Make sure to tune into the 2024 GRAMMY awards on Sunday, Feb. 4 at Crypto.com Arena in Los Angeles.
The 2024 GRAMMYs, officially known as the 66th GRAMMY Awards, will air live (8:00-11:30 PM, LIVE ET/5:00-8:30 PM, LIVE PT) on the CBS Television Network and will stream on Paramount+ (live and on demand for Paramount+ with SHOWTIME subscribers, or on demand for Paramount+ Essential subscribers the day after the special airs).
"On My Mama" singer/songwriter Victoria Monét shared pre-nomination nerves last night, comparing the feeling to the anticipation of draft day. Little did she know, she'd be one of the most nominated artists of the year. She received six nominations in total: Record Of The Year, Best New Artist, Best R&B Album, Best R&B Performance, Best Traditional R&B Performance, and Best R&B Song.
Whew I am so nervous 😭😭😭 it feels like draft day

— Victoria Monét (@VictoriaMonet) November 10, 2023
After Coil Leray found out she was nominated for Best Rap Performance for "Players" and Best Pop Dance Recording for her feature with David Guetta ("Baby Don't Hurt Me"), the rapper took to X, formerly known as Twitter: "Wow I'm really Grammy Nominated ? That's crazy. Let me let this sink in real quick and I'll brb."
Wow I'm really Grammy Nominated ? That's crazy. Let me let this sink in real quick and I'll brb. 😱

— Coi (@coi_leray) November 10, 2023
Miley Cyrus specifically highlighted the women in the music industry, while celebrating her fans and team:
Congratulations to all of this years Grammy nominees. Watching women rule the music industry makes me proud. It's fun to be nominated & exciting to win but having my music LOVED around the world is the real trophy.

To my Smilers - I celebrate YOU today. Your joy is my bliss.… pic.twitter.com/SSLjVAsOUY

— Miley Cyrus (@MileyCyrus) November 10, 2023
Afrobeats star Davido's latest album Timeless was nominated for Best Global Album, while also receiving nominations for Best African Music Performance and Best Global Music Performance.
3 nominations at the Grammys!! Delay is not Denial!! 🏆🌎

— Davido (@davido) November 10, 2023
Americana musician Jason Isbell thanked The Recording Academy for the Best Americana Performance, Best American Roots Song, and Best Americana Album nominations.
Dang alright thank you @RecordingAcad 🙏🏼🙏🏼🙏🏼

— Jason Isbell (@JasonIsbell) November 10, 2023
Rising artist Tyla, whose song "Water" was nominated for Best African Music Performance, posted a series of tweets capturing her immense shock:
NO WAYSSSSSS

— Tyla (@Tyllaaaaaaa) November 10, 2023
Atlanta based R&B singer-songwriter, Summer Walker, shouted out all the "lover girls/boys" after CLEAR 2: SOFT LIFE EP was nominated for Best R&B Album.
Wow a Grammy nomination?? thank you to all my lover girls/boys

— SUMMER WALKER (@IAMSUMMERWALKER) November 10, 2023
Several artists took to Instagram to share more reactions to their nominations, including Best New Artist nominees Noah Kahan, Jelly Roll, Gracie Abrams, Ice Spice and The War & Treaty:
Country star Kelsea Ballerini shared a live-reaction video to her Best Country Album nomination.
Boygenius was nominated for Record Of The Year, Album Of The Year, Best Rock Performance, Best Rock Song, Best Alt Music Performance, Best Alternative Music Album, and Best Engineered Album, Non-Classical. The trio posted a photo of them hugging while staring at the TV displaying their nominations.
Latin singers Pedro Capó and Gaby Moreno celebrated their Best Latin Pop Album nominations, while fellow Latin star Juanes rejoiced over his Best Latin Rock or Alternative Album nod:
And despite writing GRAMMY-winning and GRAMMY-nominated hits for the likes of Kacey Musgraves and Julia Michaels (respectively), songwriters Shane McAnally and Justin Tranter were both shocked their names were included in the Songwriter Of The Year category — proving that a GRAMMY nomination is always magical, no matter how many times it happens.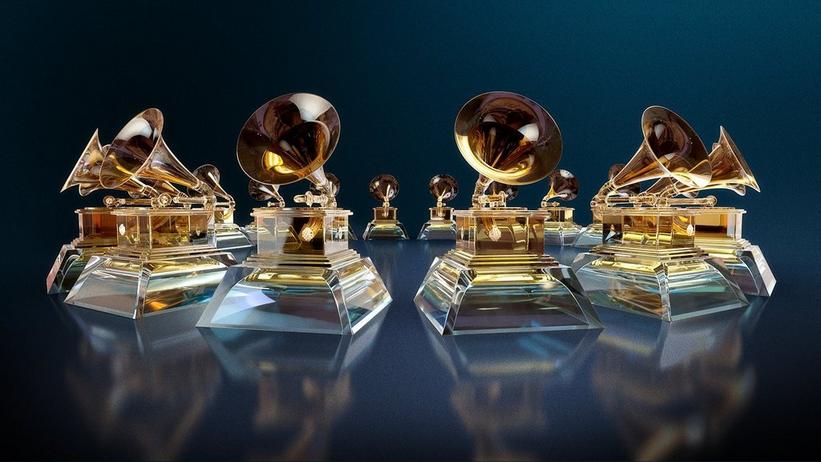 The 2024 GRAMMYs will air live on Sunday, Feb. 4, on CBS and Paramount+.
Graphic Courtesy of the Recording Academy
list
SZA's Massive Year Continues, 'Barbie' Dominates & Big Firsts From The 2024 GRAMMYs Nominations
Who is the most nominated artist at the 66th GRAMMY Awards? Who could potentially make history? Take a look at five takeaways from the nominations for the 2024 GRAMMYs.
GRAMMYs
/
Nov 10, 2023 - 07:51 pm
One of the biggest days in music has arrived: the nominations for the 2024 GRAMMYs.
With the excitement of the 2024 GRAMMYs nominations — which were announced on Nov. 10 — comes many big milestones. Whether it's first-time feats by this year's most nominated artist, SZA, or record-tying nominations by Taylor Swift, there's several intriguing takeaways from the 94 categories.  
Below, check out five major outcomes of the 2024 GRAMMYs nominations.
SZA's Big Year Is Rewarded
There's no denying that SZA has been one of the year's most in-demand artists, and her GRAMMY nominations reflect that. With nine nominations, SZA is the most-nominated artist at the 2024 GRAMMYs — and she has a lot of new milestones to celebrate.
With 15 nominations and one win going into the 2024 GRAMMYs, SZA had already received nods in several major categories. But her most recent noms are particularly special because they're all for her own work.
SZA's ambitious second album, SOS, is the singer's first LP to receive an Album Of The Year nomination, while lead single "Kill Bill" is her first solo song to be nominated in the Record Of The Year and Song Of The Year categories. (She was previously nominated for AOTY as a featured artist on Doja Cat's Planet Her (Deluxe) in 2022, and for ROTY and SOTY with Kendrick Lamar for "All The Stars" in 2019 and with Doja Cat for "Kiss Me More" in 2022.)
Plus, the R&B star expands her nominations within her own genre: she's nominated in the Best Progressive R&B Album (SOS) and Best Traditional R&B Performance ("Love Language") categories for the first time.
Women Lead The Pack
Who run the 2024 GRAMMYs? Girls.
SZA is far from the only female artist with several GRAMMY nominations this year. Of the nine most-nominated artists, eight are women: SZA (9), Phoebe Bridgers (7), boygenius (6), Brandy Clark (6), Miley Cyrus (6), Olivia Rodrigo (6), Taylor Swift (6), and Victoria Monét (6). As Cyrus noted in a social media post celebrating her nominations, "Watching women win & rule the music industry makes me proud."
In fact, a majority of this year's leading nominees are women artists or groups. The Record Of The Year and Album Of The Year categories, as well as the Best Pop Solo Performance category, are all dominated by women.
What's more, four of five nominees in the Best R&B Song and Best R&B Album are women — the latter of which features Babyface's Girls Night Out, an album of collaborations with female artists.
'Barbie' Dominates Once Again
Another woman who took over the 2024 GRAMMYs nominations was Barbie — well, sort of.
The Barbie soundtrack and some of its hit songs received 11 nominations, four of which dominate the Best Song Written For Visual Media category: Nicki Minaj's and Ice Spice's "Barbie World," Dua Lipa's "Dance The Night," Ryan Gosling's "I'm Just Ken," and Billie Eilish's "What Was I Made For?" (They'll be competing against Rihanna's highly anticipated return to music, "Lift Me Up" from Black Panther: Wakanda Forever.)
"Dance the Night" also earned a coveted Song Of The Year nomination, while "What Was I Made For?" scored nods in both Song Of The Year and Record Of The Year, as well as Best Pop Solo Performance. Additionally, "Barbie World" received a nomination for Best Rap Song.
Naturally, Barbie The Album is nominated for Best Compilation Soundtrack For Visual Media nomination. Mark Ronson's genius was further rewarded with a nom for Best Score Soundtrack For Visual Media, which he earned alongside his co-composer, Andrew Wyatt.
Artists Add Big Firsts
Like the 2023 GRAMMYs nominations, the 2024 GRAMMYs nominations resulted in many exciting firsts. While several artists are receiving their first GRAMMY nods — some of which will be highlighted in GRAMMY.com's Meet The First-Time GRAMMY Nominee series in January — there are also several GRAMMY veterans with firsts to celebrate
Taylor Swift, for example, became the first songwriter to receive seven nominations in the Song Of The Year category. Along with her current nomination for "Anti-Hero," she was previously nominated for "All Too Well (10 Minute Version) (The Short Film)," "cardigan," "Lover," "Blank Space," "Shake It Off," and "You Belong With Me." And she could be making even more history at the 2024 GRAMMYs — but more on that later.
Miley Cyrus also achieved new GRAMMY feats, as her acclaimed eighth album, Endless Summer Vacation, is the pop star's first project to receive an Album Of The Year nomination. (She received an AOTY nod in 2022 as a featured artist on Lil Nas X's MONTERO.) The LP's smash lead single, "Flowers," helped Cyrus earn her first nominations in the Record Of The Year, Song Of The Year and Best Pop Solo Performance categories as well, and her collab with Brandi Carlile, "Thousand Miles," earned her first nod for Best Pop Duo/Group Performance.
R&B singer Victoria Monét isn't celebrating her first GRAMMY nominations this year, but she is celebrating her first as an artist. Monét had previously received three nominations: two in 2020 for her work as a songwriter/producer on Ariana Grande's "7 rings" (Record Of The Year) and thank u, next (Album Of The Year), and one in 2021 for Chloe x Halle's "Do It" (Best R&B Song). All six of her 2024 GRAMMY nominations recognize her work as an artist herself, including the esteemed honor of Best New Artist. Her other nods are for her debut album, JAGUAR II: Record Of The Year ("On My Mama"), Best R&B Performance ("How Does It Make You Feel"), Best Traditional R&B Performance ("Hollywood"), Best R&B Song ("On My Mama"), and Best R&B Album.
This also isn't the first time Phoebe Bridgers has received GRAMMY nominations — but it is for her supergroup boygenius, as well as for her bandmates Lucy Dacus and Julien Baker. With their six nods (including Album Of The Year for the record and Record Of The Year for "Not Strong Enough"), they became the first group to receive six or more GRAMMY nominations in a single year since 2012, when fun. and Mumford & Sons received six nominations each at the 2013 GRAMMYs.
A handful of other previously GRAMMY-nominated artists received their first nominations in new categories this year. 2022's Best New Artist, Olivia Rodrigo, earned her first in a Rock category for "ballad of a homeschooled girl" (Best Rock Song); 2022's Album Of The Year winner, Jon Batiste, has his first in the Song Of The Year ("Butterfly") and Best Pop Duo/Group Performance ("Candy Necklace" with Lana Del Rey) categories; Brandy Clark collected her first in the Best Americana Performance ("Dear Insecurity" with Brandi Carlile), Best American Roots Song ("Dear Insecurity") and Best Americana Album (Brandy Clark) categories, as well as her first in the Best Musical Theater Album category for "Shucked."
It's actually the first time a few artists are nominated for contributions to film and theater: Dua Lipa, Nicki Minaj and Rihanna are all first-time Best Song Written For Visual Media nominees, and Josh Groban earned his first nod in the Best Musical Theater Album category, for his role as principal vocalist in "Sweeney Todd: The Demon Barber Of Fleet Street."
Last but certainly not least, in the Best African Music Performance category — one of three new categories for the 2024 GRAMMYs — four of the five artists or groups are first-time GRAMMY nominees: ASAKE & Olamide ("Amapiano"), Davido Featuring Musa Keys ("UNAVAILABLE"), Ayra Starr ("Rush"), and Tyla ("Water").
Taylor Swift Aims For More GRAMMY History
As Swifties know, Taylor Swift is no stranger to making GRAMMY history. In 2021, she made history as the first female artist to win Album Of The Year three times — but in 2024, she could become the artist with the most wins in the category ever.
That's right: If Swift's Midnights takes home the golden gramophone for Album Of The Year, she'll have a record-breaking four wins in the category, passing Frank Sinatra, Paul Simon and Stevie Wonder.
Even if she doesn't win, Swift has already tied a GRAMMY record. With her nomination for Midnights, Swift now ties Barbra Streisand for most nominations by a female artist for Album Of The Year, with six nominations in the category each. 
Will Taylor Swift make more GRAMMY history? Will SZA cap off her unstoppable year with a GRAMMY win? Will Miley Cyrus get her "Flowers"? Tune into CBS on Feb. 4, 2024 to find out!