Miley Cyrus performing in New York City in May 2022.
Photo: Charles Sykes/NBCUniversal/NBCU Photo Bank via Getty Images
feature
Miley Cyrus' Road To 'Endless Summer Vacation': How Hannah Montana, Artistic Reinvention & Heartbreak Led To Her Most Self-Assured Album Yet
As Miley Cyrus releases her eighth studio album, she's riding high on her biggest hit to date with "Flowers" — and it's all a culmination of an experimental creative and personal journey that's helped her become the truest version of herself.
GRAMMYs
/
Mar 10, 2023 - 03:44 pm
In the frigid depths of January, Miley Cyrus pronounced an Endless Summer Vacation was on its way. But it wasn't just the promise of perennial sunshine and lazy days by the pool in the near future — it was the title of her eighth studio album.
Cyrus has always been a musical shapeshifter, dating all the way back to her days as a Disney star. In fact, to call her a chameleon is something of an understatement. More than any of her contemporaries in the Disney Channel class of the late 2000s, the superstar has zigzagged wildly from genre to genre, and aesthetic to aesthetic, across more than 15 years in the business. 
Of course, before Cyrus became a pop star in her own right, she was known to an entire generation as Hannah Montana, the titular character of the hit Disney Channel sitcom that ran from 2006 to 2011. Portraying Hannah gave the then-child star her first taste of life as a (fictional) music sensation, one who lived in the "Best of Both Worlds" and could put her fame on like a costume by adopting a stage persona and new look. 
When looking at Cyrus' wide-spanning career, it could be argued that the foundational experience of playing Hannah Montana informed the way a young Miley approached her own identity as a pop star, shifting from one style to the next — and yet, having each of them feel entirely authentic to her talent and point of view.
Despite the sometimes drastic stylistic changes from one album to the next, Cyrus has always insisted her music is rooted in personal truth and reflective of her current moment. "Everyone that I've been — whether you are thinking about Hannah Montana or the music I made in the past — all of it has always been the truth," she said in a 2017 interview with NPR. "So I think people are saying 'the new Miley' or 'the more honest Miley' — I've always been that. But I've been honest for who that person was then."
The singer first started breaking away from her Hannah Montana character long before the kid-friendly series finished airing in 2011. Establishing her own identity happened in fits and starts, even as her persona as Hannah grew larger than life. In 2007, she released Hannah Montana 2: Meet Miley Cyrus — a part soundtrack/part double album to introduce fans to the budding artist underneath Hannah's blonde wig. The project earned Cyrus her very first top 10 hit in the form of "See You Again."
In the years that followed, she essentially lived parallel lives as both Miley and Hannah. Breakout, her second studio album, arrived in 2008 with singles "7 Things" and "Fly on the Wall," and yet Hannah was still making appearances on her Best Of Both Worlds Tour. "I think having Hannah come up on stage gives it a cool vibe," she explained to MTV News at the time. "And it shows, like, one girl but definitely two sides and I like that you get both tastes of music, and I think it's just really fun."
That dichotomy continued the following year when her alter ego made the leap to to the big screen in Hannah Montana: The Movie. And yet, Hannah's big break also gave Miley the perfect platform to debut "The Climb," the soundtrack offering that rose all the way to No. 4 on the Billboard Hot 100 and became her highest-charting single at the time. 
As with many child stars before her, the time eventually came for Cyrus to grow up, and as she pushed against the constraints of her kid-friendly image, controversy came calling. First, there was the pearl-clutching over "Party in the U.S.A.," with Miley's short shorts and playful pole dancing at the 2009 Teen Choice Awards; nearly a year later, her cheekily titled third album, 2010's Can't Be Tamed, sparked minor outrage over the themes and title, as well as the slight raciness of the title track's music video.
However, if the road to autonomy started out a tad bit bumpy, Cyrus burned the bridge to her tween idol past to cinders with her fourth album, 2013's Bangerz.
As its brash title suggests, the studio set is indeed a collection of banger after banger — and a provocative swerve into party-ready hip-hop and electro-pop, including a tracklist filled with all-star guest features like Britney Spears (the fan favorite "SMS (Bangerz)"), Nelly (the country-fried stomp of "4x4"), Big Sean (the blurred-out "Love Money Party"), Future (Ben E. King-sampling highlight "My Darlin'") and more. And stylistically, Miley had traded in both her long brunette waves and Hannah's signature blonde wig for a platinum pixie cut, bold red lip and rotating wardrobe of barely-there bodysuits made from latex and the pelts of abandoned teddy bears.
In retrospect, the album is unequivocally part of the defining soundtrack to the early 2010s. While the most indelible image from the Bangerz era was Miley swinging naked and free atop a giant wrecking ball, lead single "We Can't Stop" became the hedonistic anthem for a then-rising generation of young millennials coming of age in the post-recession years of Obama's second term — Cyrus included. 
And for as much scandal as Miley gleefully courted during the era — whether over her appropriation of hip-hop and Black culture, that unforgettable VMAs performance with Robin Thicke, all the twerking, or the constantly stuck-out tongue of it all — the album also earned the singer her first, and so far lone, solo GRAMMY nomination for Best Pop Vocal Album. Still, even Miley can admit all these years later that she'll pretty much "never live down that I licked a sledgehammer."
Following a project like Bangerz, most pop stars might perform something of a label exec-encouraged course correction into less provocative territory. But Miley isn't just any pop star. So, instead, she took her antics, and her music, even further down the rabbit hole with Miley Cyrus & Her Dead Petz in 2015.
Enlisting a trusted pair of Bangerz producers, Mike WiLL Made-It and Oren Yoel, the singer added a psychedelic bent to her existing oeuvre by teaming with Wayne Coyne and the rest of the Flaming Lips. The resulting project — which opened with the discordant declaration, "Yeah I smoke pot, yeah I love peace/ But I don't give a f—, I ain't no hippie!" — was so experimental and decidedly noncommercial that it was originally released independently, available to stream for free on Soundcloud. (While it didn't count towards her multi-album deal with RCA, the album was later added to traditional streaming services by the label, but never made a mark on the Billboard 200 or any other official chart.)
"I created my surroundings, my own world. What seems like fantasy or trippy, it's not to me. It's my actual reality," the star explained in a profile in the New York Times about the oddball release, and argued that despite its lack of traditional, well, bangers, it was actually an innate progression from its pop-heavy predecessor.
"When I made Bangerz, it was as true to me then as this record is now," she told the NYT. "It just happened naturally in my head. It's like anything — styles just change…I literally can do whatever I want. It's insane. This music was not meant to be a rebellion. It was meant to be a gift."
For his part, Miley's trusty right-hand man Mike WiLL Made-It saw her evolution through much the same lens, declaring to the NYT, "Why would she drop another Bangerz? Miley is the new Madonna."
Of course, there's only so far off the yellow brick road you can go before risking losing your fanbase to woozy fields of poppies. No matter how delayed, the course correction was bound to come — "what goes up must come down," as the saying goes and all that — but like every other step of her evolution, Miley veered back to the middle of the road entirely on her own terms.
Not only was Younger Now, her fifth album from 2017, a sonic shift to rootsy country pop (led by the downtempo, dreamy "Malibu"), it was also the first time Cyrus laid bare her approach to personal and artistic reinvention in song. "Feels like I just woke up/ Like all this time I've been asleep/ Even though it's not who I am/ I'm not afraid of who I used to be," she intoned on the opening title track, decked out in her best rockabilly cosplay before preaching, "No one stays the same/ Know what goes up must come down/ Change is a thing you can count on/ I feel so much younger now."
The album cycle was also marked by seismic changes in Cyrus' personal life. In 2016, she reconciled with longtime on-and-off boyfriend Liam Hemsworth and by the time Younger Now was released into the world, the pair were engaged to be married. The romance had gone through many different stages, breakups and reconciliations since the duo met filming The Last Song in 2009, but Cyrus had no idea at the time just how impactful it would turn out to be in the years to come.
At the time she dropped Younger Now, the superstar actually confessed her enthusiasm had already waned for her singer/songwriter phase — one natural drawback to her need for constant creative reinvention. "I'm over this now," she said during a promotional visit from BBC Radio 1 at her home studio in Malibu two full weeks before the album debuted at a career low of No. 5 on the Billboard 200. "I want to figure out what I want to do next."
If her 2019 EP She Is Coming is any indication, what Miley originally had planned was a full-circle return to her role as pop provocateur. The seven-track sampling came across as a sort of Bangerz 2.0, trading the debauchery of "We Can't Stop" for the unabashed political message of lead single "Mother's Daughter." 
The EP was meant to be the first in a trilogy that would eventually make up a full-length record, but the idea was scrapped when another metaphorical wrecking ball came crashing through the pop star's life: In August of that year, she announced her separation from Hemsworth after just eight months of marriage. Two weeks later, the actor officially filed for divorce. But even before he'd filed the papers, Cyrus had released standalone single "Slide Away" to eloquently and powerfully tell her side of the story.
"Once upon a time it was paradise/ Once upon a time I was paralyzed/ Think I'm gonna miss these harbor lights/ But it's time to let it go," she reflected, cutting her losses before bluntly telling her ex, "Move on, we're not 17/ I'm not who I used to be/ You say that everything's changed/ You're right, we're grown now."
Although it had spanned more than a decade of her life, Miley had never been so autobiographical about her relationship in her music up to that point — and the emotional vulnerability seemed to crack open a door she still has yet to close. 
In fact, it's easy to see the throughline connecting "Slide Away" to cuts like "Midnight Sky," "WTF Do I Know" and "Never Be Me" off her excellent 80s-inspired seventh album Plastic Hearts, even through the glam rock sheen and covers of Blondie, Metallica and the Cranberries. 
By the time Plastic Hearts was ready to be unwrapped in late 2020, Miley had also made peace with all the versions of herself that had come before. "I discredited myself for what I had been almost every step of the way," she said in a Rolling Stone cover story. "During Dead Petz, discrediting Bangerz. During Bangerz, discrediting Hannah Montana. During "Malibu," discrediting Bangerz. It's almost like when I have evolved, I've then become shameful of who I was before. What makes you an adult, I think, is being OK with who you've been before."
That personal reckoning is part of what makes "Flowers," the lead single off Endless Summer Vacation, feel like such a victorious culmination of what makes Miley Cyrus a superstar. The disco-inspired track is a testament of self-determination and hard-won independence, and has already become the biggest hit of her career by a long mile before the rest of the album even drops. She's broken colossal streaming records set by the likes of Adele not just once but twice over and spent six consecutive weeks at No. 1 on charts across the globe. 
The rest of Endless Summer Vacation is divided into two sides — A.M. and P.M. — representing different acts of a complete story. But even before fans heard the new album, it was clear Cyrus had already arrived at the most fully-formed version of herself yet. 
"I hope this show is a representation of you never need[ing] to choose who you want to be. And you don't need to fit into any boundaries or into any boxes," she told the rapt crowd at the 2022 Super Bowl Music Fest, which was recorded for her live album ATTENTION: MILEY LIVE ahead of Endless Summer Vacation's arrival. "You can be anything and everything that you've ever wanted to be all at the same time." 
The singer knows that better than just about anyone. After all, she's just being Miley.
Listen To GRAMMY.com's Women's History Month 2023 Playlist: Swim In The Divine Feminine With These 40 Songs By Rihanna, SZA, Miley Cyrus, BLACKPINK & More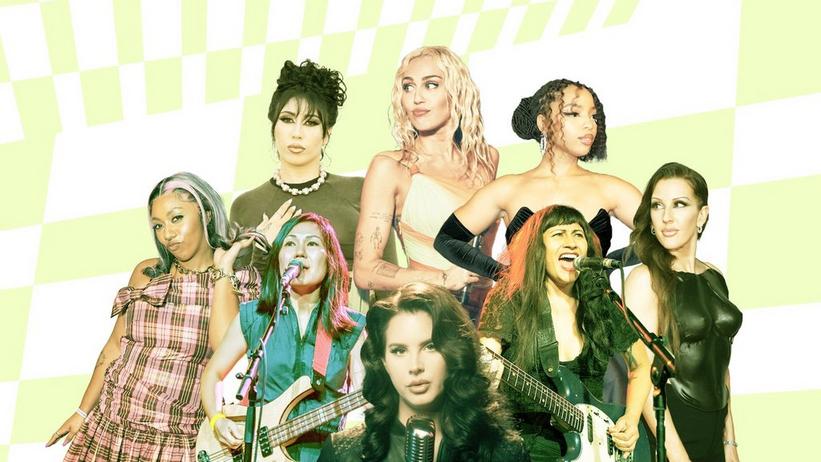 (Clockwise from left) Nia Archives, Kali Uchis, Miley Cyrus, Chloe Bailey, Ellie Goulding, Frankie Rose, Lana Del Ray, Satomi Matsuzaki
Photos: Dave Benett/Getty Images for Universal Music; Stephane Cardinale-Corbis via Getty Images; Vijat Mohindra/NBC via Getty Images; Kayla Oaddams/WireImage; Dave J Hogan/Getty Images; Frank Hoensch/Redferns via Getty Images; NBCU Photo Bank via Getty Images; Robin Little/Redferns
list
15 Must-Hear New Albums Out This Month: Boygenius, Kali Uchis, Lana Del Rey, Miley Cyrus & More
From bold returns and buzzy debuts from the likes of Chloe Bailey and metal groundbreakers such as Entheos, March is filled with exciting new music from a plethora of female artists
GRAMMYs
/
Mar 3, 2023 - 04:40 pm
It would be a near-impossibility to cover all the diverse women making art during Women's History Month — and celebrating creators every day, week and month is the goal — but any opportunity to elevate deserving female musicians is one to jump on.
This March, GRAMMY.com shines a spotlight on female-identifying music-makers. This month's 15 releases include entries from the Phoebe Bridgers-Lucy Dacus-Julien Baker supergroup boygenius, Chloe (of R&B sister duo Chloe x Halle), and indie creators like Lana Del Rabies and Jen Cloher; and Radie Peat of Irish dark folkies Lankum.
From bold returns (Sophie B. Hawkins) and buzzy up-and-comers (Nia Archives) to superstars (Miley Cyrus) to metal groundbreakers (Entheos), GRAMMY.com offers up a guide to the must-hear music from women this March.  
Editor's note: This story has been updated to reflect the new release date for Ellie Goulding's album.
Kali Uchis -
Red Moon in Venus
Release date: March 3
Kali Uchis is clearly universal and boundary-crossing in her collaborations and appeal: She was nominated for a 2017 Latin GRAMMY Award for "El Ratico" (with Juanes); won a GRAMMY for Best Dance Recording for her feature on Kaytranada's single "10%" and was nominated for Best R&B Performance. Uchis (who sings in Spanish and English) has also toured with Lana Del Rey, worked with Diplo, Tyler, the Creator.
On Red Moon in Venus, her third studio album, the Colombian American singer continues her hot streak. Uchis describes her 15-track LP as a " timeless, burning expression of desire, heartbreak, faith, and honesty, reflecting the divine femininity of the moon and Venus."
Jen Cloher –
I Am The River the River Is Me
Release date: March 3
On I Am The River the River Is Me, the fifth album from Aussie-born singer/songwriter Jen Cloher digs deep into their Māori roots. The LP features songs about theirancestry, with powerful choruses/phrases in the te reo Māori language. The gently intimate single "Mana Takatāpui" is rife with sweet '70s-sounding guitar work, and celebrates queerness as a Māori woman. 
In contrast, the irresistible "Being Human" is delivered with a driving rock 'n' roll urgency, dynamics and shimmering and quirky guitar tones.  "My Witch" also mines creative '70s guitar sounds, and as Cloher told NPR, "It feels immediately fresh. It feels catchy. It's in your ear straight away." I Am The River the River Is Me arrives via indie label Milk! Records, run by Cloher in part with Courtney Barnett.
Entheos –
Time Will Take Us All
Release date: March 3
The progressive metal genre may not be packed with women, but Entheos singer Chaney Crabb is a powerhouse on stage and in the metal scene. Time Will Take Us All, the band's third release and first for Metal Blade Records, is darker and heavier than previous outings with a wealth of influences.
The dynamic and melodic "I Am The Void" illustrate the album's concept of "growth and self-reflection that focuses on the true human commonality – that our time on Earth is fleeting," according to a release. Entheos furthers that "what we choose to do with that knowledge is up to each of us as individuals." Entheos, normally a two-piece with drummer and band co-founder Navene Koperweis, will bring an expanded, powerful live lineup on European and American tour dates in 2023.     
Nia Archives –
Sunrise Bang Ur Head Against Tha Wall
Release date: March 10
Mining her life for material, Nia Archives told NME that on Sunrise Bang Ur Head Against Tha Wall, she's "broadly talking about growing up as a person, reaching new levels of maturity, love and loss, rejection, estrangement, the come-up and the comedown… It's six tracks with six different moods soundtracking the recent chapter in my life." 
The year 2022 was a big one for the English record producer, DJ and songwriter, whose "future classic" sound uses jungle, drum and bass and neo-soul.  Along with European and UK dates, look for Archives, who is a 2023 nominee for a  Brit Award for Rising Star, to perform her new single "Conveniency" — and more — at this year's Coachella.
Miley Cyrus –
Endless Summer Vacation
Release date: March 10
Miley Cyrus has clearly empowered legions of listeners with "Flowers,'' its lyrics asserting, "I can take myself dancing / I can hold my own hand / I can love me better than you can." With more than 560 million Spotify streams, it's likely that "Flowers" and the album it's on, Endless Summer Vacation, will be laurel in Cyrus' crown. 
According to a release, the music and imagery of Endless Summer Vacation serves as a "reflection of the strength she's found in focusing on both her physical and mental well-being." Cyrus, who produced her album with Kid Harpoon, Greg Kurstin, Mike WiLL Made-It and Tyler Johnson, describes the album as her love letter to LA, where the album was recorded.  
Fever Ray –
Radical Romantics
Release date: March 10
Swedish singer/songwriter/producer Karin Dreijer, aka Fever Ray, has long earned her music bona fides, kickstarting  a career with guitar band Cool Honey, then electronic music duo the Knife, formed with brother Olof Dreijer. Dreijer released their debut solo album under the alias Fever Ray in 2009, and now, the third Fever Ray album features Nine Inch Nails' Trent Reznor and Atticus Ross along with sibling Olof.  
A visual and musical shape-shifter, Dreijer explained the title Radical Romantics: "Everything needs to be dissected and loved and torn and built back up again and we're dreamers aren't we?" On the lead single "Carbon Dioxide," shades of Nina Hagen and '80s new wave lead the bubbling, electro-pop tune.
Frankie Rose –
Love as Projection
Release date:  March 10
With a lengthy resume that includes Crystal Stilts, Dum Dum Girls, Vivian Girls and Beverly, Frankie Rose has an impressive legacy, and further cements her status with Love As Projection. 
The drummer/guitarist/singer's sixth solo album melds '80s influences with contemporary electronic pop; the single "Anything" sounding like it could be on the soundtrack of a John Hughes movie. (Fittingly, Rose interpreted the Cure's iconic Seventeen Seconds LP in 2019.) "This album is about having to focus our collective energies on the small things…we can control to find joy," Rose told the Vinyl Factory. "A distraction from the larger systemic problems that feel so overwhelming and are so very out of our collective hands… for now."
Lankum –
False Lankum
Release date: March 24
"Go Dig My Grave" from 2023's False Lankum is nearly 9 minutes long, featuring singer Radie Peat's plainspoken singing and ominous, mesmerizing musicality inspired by the Irish tradition of keening (lament). Together, these effects create a marching doom vibe. The dark folk lineup (Cormac Dermody, and brothers Ian and Daragh Lynch), utilize traditional Irish instruments, including uilleann pipes, along with guitars, percussion, fiddle, banjo, piano and double bass. Peat employs bayan, concertina, harmonium, organ, electric organ, harp, mellotron for a sound that mines the traditional for a modern context. 
The end result, as The Guardian described, contains "ambient textures of Sunn O))) and Swans, plus the sonic intensity of Xylouris White and My Bloody Valentine." False Lankum follows the Dublin doom folk quartet's 2019 breakthrough The Livelong Day, which garnered the band numerous awards in Ireland, including the RTE Choice Music Prize (Ireland's equivalent to the Album of the Year GRAMMY). 
Sophie B. Hawkins –
Free Myself
Release date: March 24
Sophie B. Hawkins' 2023 "anti-Valentine" song "Better Off Without You" features wrenching words about an ex: "We changed the world / Until you took my best friend to bed." The song and sentiment appear on Free Myself, the singer/songwriter's first album in more than a decade. 
Tracks such as "Love Yourself" and "I'm Tired Of Taking Care Of You" further themes of romantic empowerment. The Free Myself, Hawkin's seventh studio album, shows the multi-instrumentalist in top form:  raw, poetic but accessible and relatable, as inclusion of her tracks in cinematic and moody television shows "Ozark," "Stranger Things" and "Euphoria" have proven.
Lana Del Rabies –
STREGA BEATA
Release date: March 17
Lana Del Rabies is the alter-ego of Phoenix-based musician, producer and multimedia artist Sam An. In her Del Rabies guise, as hinted at by the moniker, An seeks to  "re-contextualize  the more ominous aspects of modern pop music made by women," creating what she calls a "dark electronic, genre-bridging solo project." As such, she's done a spare, industrial take on Tori Amos' "Cornflake Girl,'' plus two LPs, including the boldly titled In the End I Am a Beast. 
On her third full-length album, STREGA BEATA (loosely translated as "Blessed Witch") Del Rabies delves into dark themes, buoyed by elements of industrial, gothic noise, metal, darkwave and ambient. From opener "Prayers of Consequence" to the final cut, "Forgive," the album, as its creator explains, "is told through the evolving perspective of a cryptic and obscure "Mother" creator figure, specifically echoing the mother and crone goddess archetypes."
Lana Del Rey -
Did You Know That There's a Tunnel Under
Ocean Blvd
Release date: March 24
Lana Del Rabies is the alter-ego of Phoenix-based musician, producer and multimedia artist Sam An. In her Del Rabies guise, as hinted at by the moniker, An seeks to  "re-contextualize  the more ominous aspects of modern pop music made by women," creating what she calls a "dark electronic, genre-bridging solo project." As such, she's done a spare, industrial take on Tori Amos' "Cornflake Girl,'' plus two LPs, including the boldly titled In the End I Am a Beast. 
On her third full-length album, STREGA BEATA (loosely translated as "Blessed Witch") Del Rabies delves into dark themes, buoyed by elements of industrial, gothic noise, metal, darkwave and ambient. From opener "Prayers of Consequence" to the final cut, "Forgive," the album, as its creator explains, "is told through the evolving perspective of a cryptic and obscure "Mother" creator figure, specifically echoing the mother and crone goddess archetypes."
Boygenius –
The Record
Release date: March 31
Boygenius is made up of the girl geniuses Julien Baker, Phoebe Bridgers, and Lucy Dacus, together a super-group collective whose debut EP expanded minds in 2017. As Baker told Newsweek, the trio of friends took the tongue-in-cheek band name because of "the archetype of the tortured genius, [a] specifically male artist who has been told since birth that their every thought is not only worthwhile but brilliant." 
The trio's debut full-length, The Record, offers bright indie rock bounce on "$20," a low-key haunting on "Emily I'm Sorry" and to the straight-ahead fullness on "True Blue." Other intriguing song titles from the full-length include "Leonard Cohen" "Satanist." In addition to a headlining tour, boygenius will appear at Coachella in 2023.  
Deerhoof –
Miracle-Level
Release date:  March 31
Deerhoof singer/bassist/songwriter Satomi Matsuzaki's origin story is the stuff of dreams: She joined Deerhoof within a week of immigrating to the United States from Japan in May 1995 to attend college. And in 2023, the singer and self-taught bassist is front and center on Miracle-Level, Deerhoof's 19th LP and the first sung in Satomi's native Japanese. It's also the influential DIY band's first to be made totally in a professional recording studio with a producer (Mike Bridavsky). 
Miracle-Level kicks off with the joyful noise of "Sit Down, Let Me Tell You a Story," and contains the delightfully oddball "My Lovely Cat!" plus one song that's as awkward but interesting as its title: "Phase-Out All Remaining Non-Miracles by 2028."
Critical praise has been near-universal over the lineup's career, the New Yorker praising an "adventurous compositional style that features complex rhythms, electronica, atonal flourishes, and the pacific singing of Satomi Matsuzaki, whose sonic detachment from the group's noisier and more aggressive side is curiously affecting." 
Chloe Bailey -
In Pieces
Release date: March 31
As half of the GRAMMY-nominated powerhouse R&B duo Chloe x Halle, Chloe debuted as a solo artist in 2021 with platinum single "Have Mercy." The singer/dancer/producer's full-length solo debut, In Pieces, launches with the sonorous "Pray It Away" before then teaming with Chris Brown for her "How Does It Feel" single. Inspired by naysayers, Chloe posted about In Pieces on her Instagram, writing "My tears are like the water. My heart is like the sun. Through chaos, beauty grows. There's power in my pain.. It's me breaking free."
Ellie Goulding –
Higher Than Heaven
Release date: April 17 (adjusted)
On the energetic new single "Like a Saviour,"  Ellie Goulding expresses what so many felt during the last several years: "Trying to find my faith in tomorrow" and wishing for a saviour to lead her "out of the dark." The tune, off Higher Than Heaven, the English singer-songwriter's fifth album, was inspired by the pandemic. But it's not a wallow in darkness. In short: Expect musical and lyrical celebrations of love and sex, plus the wisdom and power of cutting out when things go bad.
As Goulding teased on Instagram: "'Let it Die' is about when a relationship plays out much longer than it needed to. Instead of giving love to yourself you spend it all on someone else and have nothing left, which is when it can become toxic and harmful." "Let It Die," which has notched 13 million streams, preceded the LP, along with  "Easy Lover" (featuring Big Sean) and "All by Myself."  Given the singles' out-of-the-box success, it'll be no surprise if  Goulding has another "Love Me Like You Do" (from the  Fifty Shades of Gray soundtrack) on her hands, the hit that  earned Goulding her first GRAMMY nom for Best Pop Solo Performance. 
Listen To GRAMMY.com's Women's History Month 2023 Playlist: Swim In The Divine Feminine With These 40 Songs By Rihanna, SZA, Miley Cyrus, BLACKPINK & More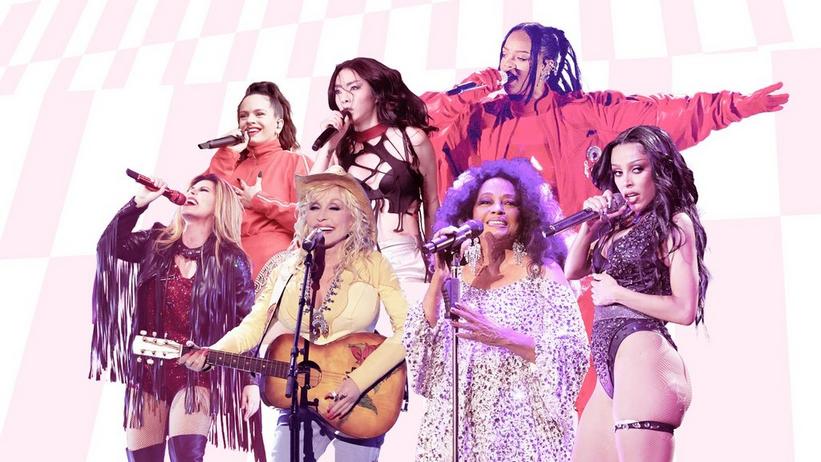 (L-R, clockwise): Rosalía, Rina Sawayama, Rihanna, Doja Cat, Diana Ross, Dolly Parton, Shania Twain
Photos (L-R, clockwise): Kevin Mazur/Getty Images for Roc Nation, Scott Dudelson/Getty Images for Coachella, Adam Bow/Icon Sportswire via Getty Images, Kevin Winter/Getty Images for Coachella, Kevin Mazur/Getty Images for Academy Museum of Motion Pictures, Kevin Winter/Getty Images for ACM, Terry Wyatt/Getty Images
news
Listen To GRAMMY.com's Women's History Month 2023 Playlist: Swim In The Divine Feminine With These 40 Songs By Rihanna, SZA, Miley Cyrus, BLACKPINK & More
Who run the world? Harness positive energy during Women's History Month with this immersive playlist honoring Beyoncé, Rina Sawayama, Kim Petras, and more female musicians.
GRAMMYs
/
Mar 1, 2023 - 03:59 pm
In the words of recent GRAMMY winner Lizzo, it's bad b— o'clock. To kick off Women's History Month, GRAMMY.com is celebrating with an extensive playlist spotlighting women's divine musical artistry. Perpetually shaping, reinvigorating, and expanding genres, women's creative passion drives the music industry forward.
This March, get ready to unlock self-love with Miley Cyrus' candid "Flowers," or hit the dancefloor with the rapturous Beyoncé's "I'm That Girl." Whether you're searching for the charisma of Doja Cat's "Woman" or confidence of Rihanna's "B— Better Have My Money," this playlist stuns with diverse songs honoring women's fearlessness and innovation.
Women dominate the music charts throughout the year, but this month, dive into their glorious energy by pressing play on our curated Women's History Month playlist, featuring everyone from Dua Lipa to Missy Elliott to Madonna to Kali Uchis.
Listen below on Amazon Music, Spotify, Apple Music, and Pandora.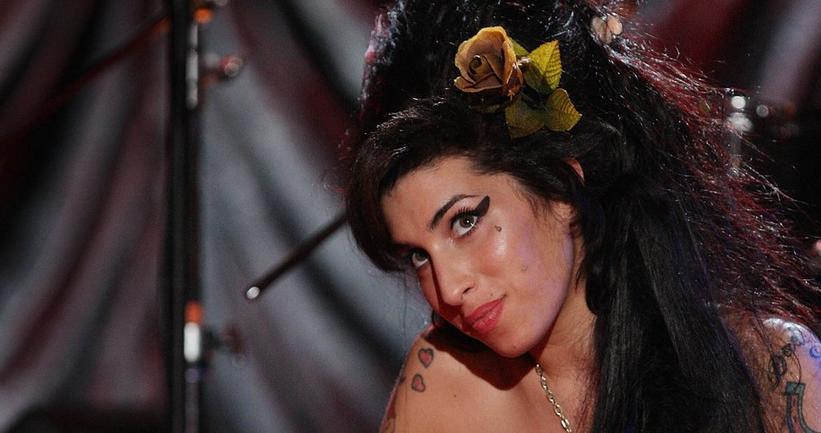 news
GRAMMY Rewind: Watch Amy Winehouse Win Best New Artist Via Cyndi Lauper And Miley Cyrus
The late singer Amy Winehouse was in London at the time (and set to perform via satellite), so Miley Cyrus and Cyndi Lauper accepted the award on her behalf
GRAMMYs
/
Mar 26, 2021 - 08:57 pm
The vocal powerhouse Amy Winehouse, who tragically passed away in 2011, is canon by now—the music world has long deemed her one of the greats.
So it's sobering to relive the moment when Winehouse won Best New Artist—even when Winehouse was abroad at the time. (She would perform via satellite later in the show.)
In the latest episode of GRAMMY Rewind, watch a mega-exuberant Cyndi Lauper and Miley Cyrus accept the award on Winehouse's behalf at the 50th GRAMMY Awards show in 2008.
Watch the giddy throwback clip above and check out more GRAMMY Rewind episodes here.
GRAMMY Rewind: Watch Eminem Win Best Rap Album For 'The Marshall Mathers LP' In 2001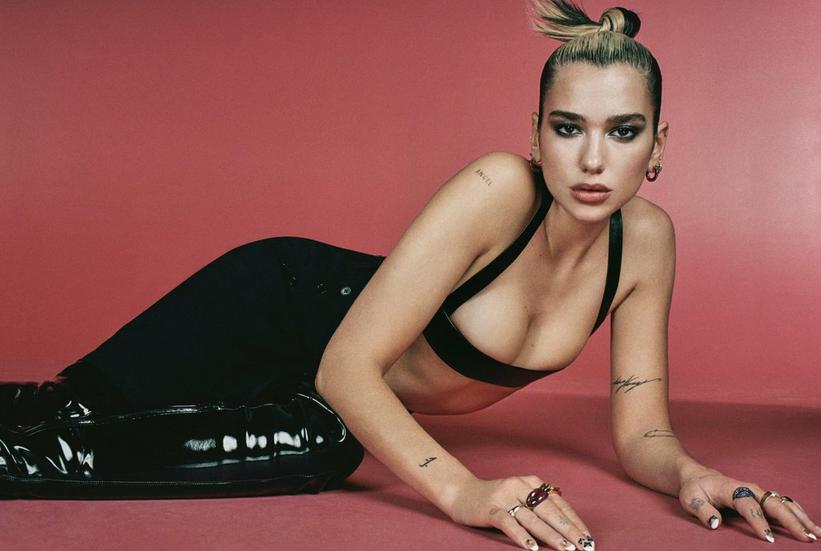 news
'Future Nostalgia': How Dua Lipa Rose From Best New Artist To Massive Pop Star
Nominated for six GRAMMYs at the 2021 GRAMMY Awards show, Dua Lipa leaped into powerhouse territory with her 2020 sophomore album, 'Future Nostalgia,' becoming pop's newest reigning queen in the process
GRAMMYs
/
Mar 13, 2021 - 02:04 am
For Women's History Month 2021, GRAMMY.com is celebrating some of the women artists nominated at the 2021 GRAMMY Awards show. Today, we honor Dua Lipa, who's currently nominated for six GRAMMYs.
There was so much to mourn in 2020: The last time we hugged our families, traveled to new places and swayed among sweaty strangers on a dance floor. But that didn't stop Dua Lipa.
Since last March, the English pop star has released not one, but three albums. The first of the trilogy, her defiant dance pop sophomore record, Future Nostalgia, released last March just as the COVID-19 pandemic was beginning to take hold over the world, quickly became a nu-disco-tinged masterpiece. It was a bold move for Lipa to release a record in a pandemic, with the major-label pop album rollout upended and international touring put on pause.
The risk paid off: Future Nostalgia became her first album to enter the Top 5 on Billboard's Hot 200 chart. And if Future Nostalgia was any indication, the thrill of taking risks was far from over.
Last August, the singer released Club Future Nostalgia, an adrenaline-filled remix album for the digital dance floor, made with DJ/producer the Blessed Madonna. For the album, she enlisted collaborators Blackpink, Mark Ronson, Madonna, Missy Elliott and Gwen Stefani.
Related: Dua Lipa Talks 'Club Future Nostalgia,' Working With Madonna And How She's Navigating The Music Industry In The COVID-19 Era
But she still wasn't done expanding the Future Nostalgia universe. Just last month, she shared another version of the album, The Moonlight Edition, which included three new singles as well as Lipa's "Prisoner" collaboration with Miley Cyrus; "Un Día" with J Balvin, Bad Bunny and Tainy, for which she's currently nominated for Best Pop Duo/Group Performance; and "Not My Problem" with J.I.D.
It's clear Lipa put in the work to get here. With the release of her 2017 self-titled debut album, the singer became crystallized as a feminist force in the pop world. Singles like the beguiling synth-pop anthem "Be the One" and the club-ready "Blow Your Mind (Mwah)" captivated listeners. But it was the empowering smash "New Rules" that ignited a viral craze for its infectious lyrics and GIF-able music video, which is filled with women holding and uplifting each other while dancing sleepover-themed choreography.
Dua Lipa and the subsequent success of "New Rules" helped Lipa nab a Best New Artist GRAMMY in 2019—plus an internet nickname ("Dula Peep")—and primed her for pop superstardom. While her self-titled album established her as a headlining pop contender, Lipa continued to push herself.
Read: Taylor Swift's Road To 'Folklore': How The Superstar Evolved From 'Diaristic' Country Tunes To Her Most Progressive Music Yet
Part of challenging herself came in the fallout of the pandemic. The pop album release cycle is generally highly orchestrated, teeming with the careful planning of single releases, music videos and tour dates. But one cannot prepare for unprecedented times: Per The New York Times, as Lipa's 85-date arena tour was pushed back, there were talks in her camp of postponing the drop of Future Nostalgia—then days before her livestream of the album leaked—and an imminent release became necessary. This was all happening in parallel with the collective trauma and grief the world was facing with COVID.
Future Nostalgia delivered exactly the escapism people around the world sought.
The anthemic single "Don't Start Now," currently nominated for Record Of The Year, Song Of The Year and Best Pop Solo Performance at the 2021 GRAMMY Awards show, was the kind of carefree, disco-inflected number you'd hear while skating backward at a '70s roller rink. What followed was the candy-coated, dance pop track "Physical," which delivered '80s aerobics touchstones, and "Break My Heart," a glittery, disco funk jaunt with swaggering guitar riffs. (The album's retro-futuristic slant touched everything: from the songs themselves to the neon leotards in the music videos.)
Lipa saw how cathartic the music had become for her fans. The album hailed quarantine anthems and received the meme treatment: "Don't Start Now" for its refrain ("Don't show up/Don't come out") and "Break My Heart" for its very timely chorus ("I should have stayed home").
As fans found new ways to connect with Future Nostalgia, so did Lipa—and innovation took the lead. Doing late-night TV performances required a newfound sense of creativity.
Then there was the idea of trying to recreate concerts. While a garden variety of livestreams had been sprinkled throughout 2020, the absence of flashy arena performances was an obvious void. But despite live shows being canceled indefinitely, Lipa led the charge behind one of the year's most highly anticipated—and polished—virtual concerts with Studio 2054, which paid homage to the Future Nostalgia universe. Filmed in a sprawling London warehouse, the livestream concert saw Lipa command the stage of custom-built sets with sleek choreography, glitter, glam, raves and roller discos, along with special appearances from Elton John, FKA twigs, Kylie Minogue, Bad Bunny and more.
Future Nostalgia was indeed a game-changer for Lipa's musical arc and aesthetic; it was a transformation for her career, too. She didn't just create an album—she created an era. "Her voice changes a song the same way her presence lights up a room," Future Nostalgia producer Ian Kirkpatrick tells GRAMMY.com.
Future Nostalgia took Lipa into powerhouse territory, with the singer making the massive leap from Best New Artist to pop's newest reigning queen. Most of all, it showed that Lipa could seamlessly redefine herself. Sarah Hudson, who co-wrote songs on her debut album as well as "Levitating" and "Physical" off Future Nostalgia, had "no doubt" that Lipa "would take over the world." "[Dua] had a very specific vision for Future Nostalgia, and she executed it flawlessly," she tells GRAMMY.com. "It comes genuinely from her heart, and you can feel that in every single song."
It also helped that Lipa had a top-tier team behind her. Chris Gehringer, who mastered Future Nostalgia, says that the album's success stemmed from the fact that Lipa enlisted producers and engineers who all "worked on a No. 1 song and album before." "I mastered three songs from her debut album, 'Lost In Your Light,' 'Blow Your Mind' and 'New Rules,' so I knew this new album was going to be big," he tells GRAMMY.com. Ali Tamposi, who co-wrote "Break My Heart," describes Lipa as a "force to be reckoned with." "We're lucky to have someone like her at the forefront of music who [continuously] raises the bar."
And the 2021 GRAMMYs reflect that. With six GRAMMY nominations, including Album Of The Year and Best Pop Vocal Album, Lipa is one of the most nominated artists this year.
Following this year's GRAMMYs, it'll be interesting to watch how Dua Lipa continues to evolve as an artist. Future Nostalgia was such a sonic departure from her first album—how will she push the boundaries of pop next?
How Harry Styles Emerged From Teen Pop Sensation To First-Time GRAMMY Nominee