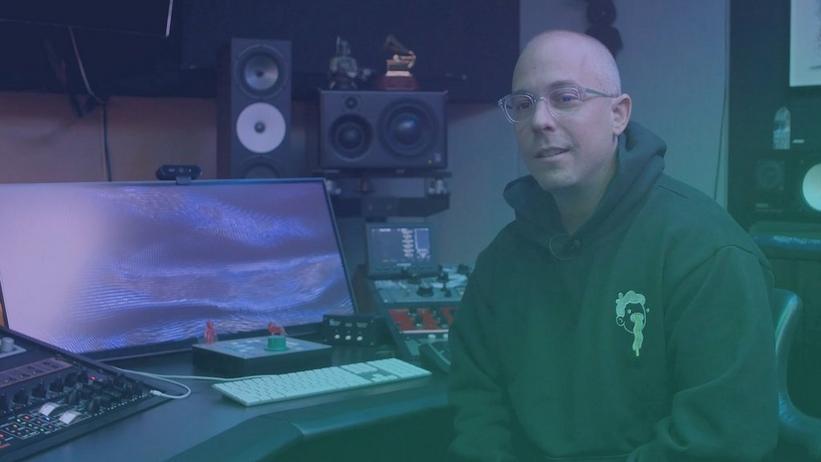 Josh Gudwin
Photo: Daniel Mendoza/The Recording Academy
video
Behind The Board: Josh Gudwin On Working With Bad Bunny & Justin Bieber — And Why Record Mixing Is The Best Job Ever
The mixing engineer has worked with stars like Bad Bunny, Justin Bieber and Dua Lipa, among many others. Here's why Josh Gudwin thinks that he has the best job in the business.
GRAMMYs
/
May 17, 2022 - 06:33 pm
Mixing engineers might not be the ones in the spotlight playing to thousands of screaming fans — but for veteran mixer Josh Gudwin, it's the best job in the world. "We come in when we want, we mix records all day and we go home," he says. "Really, what else is there, for someone that loves music?"
Gudwin has worked with some of the biggest names in the business, like Justin Bieber and Bad Bunny. In his episode of Behind the Board, he explains how each new project is different — whether he has the leeway to work on a project top to bottom, like he did on Bieber's 2015 Purpose album; or tackles the challenge of combining speed and accuracy, like he had to while working with Bad Bunny. 
Whatever the task, it all comes down to translating an artist's musicality seamlessly to a recording. "Bunny's energy just came to me, I put it in the mixes and just put it right back," he says. "We came home with trophies on that one."
Gudwin's work with Bad Bunny has earned him a Latin GRAMMY (Best Urban Music Album for X 100pre in 2019) and a GRAMMY (Best Latin Pop Or Urban Album for YHLQMDLG in 2021). His other GRAMMY wins show just how versatile he is as a mixer: Best Contemporary Christian Album for For King & Country's Burn the Ships and Best Dance Recording for Silk City and Dua Lipa's "Electricity."
That hardware is on display in his mixing studio, which also features Star Wars figurines and   artwork on the walls — including Bad Bunny's signature stuffed black bunny, hanging right beside where the magic happens. 
Peek inside the studio where it all goes down, and learn more about Gudwin's day-to-day life as a mixing engineer to the stars, in the newest episode of Behind the Board. 
How Audio Engineer Jessica Thompson Restores, Preserves & Masters Records That Snap, Crackle & Pop: "My Job Is To Get The Noise Out Of The Way"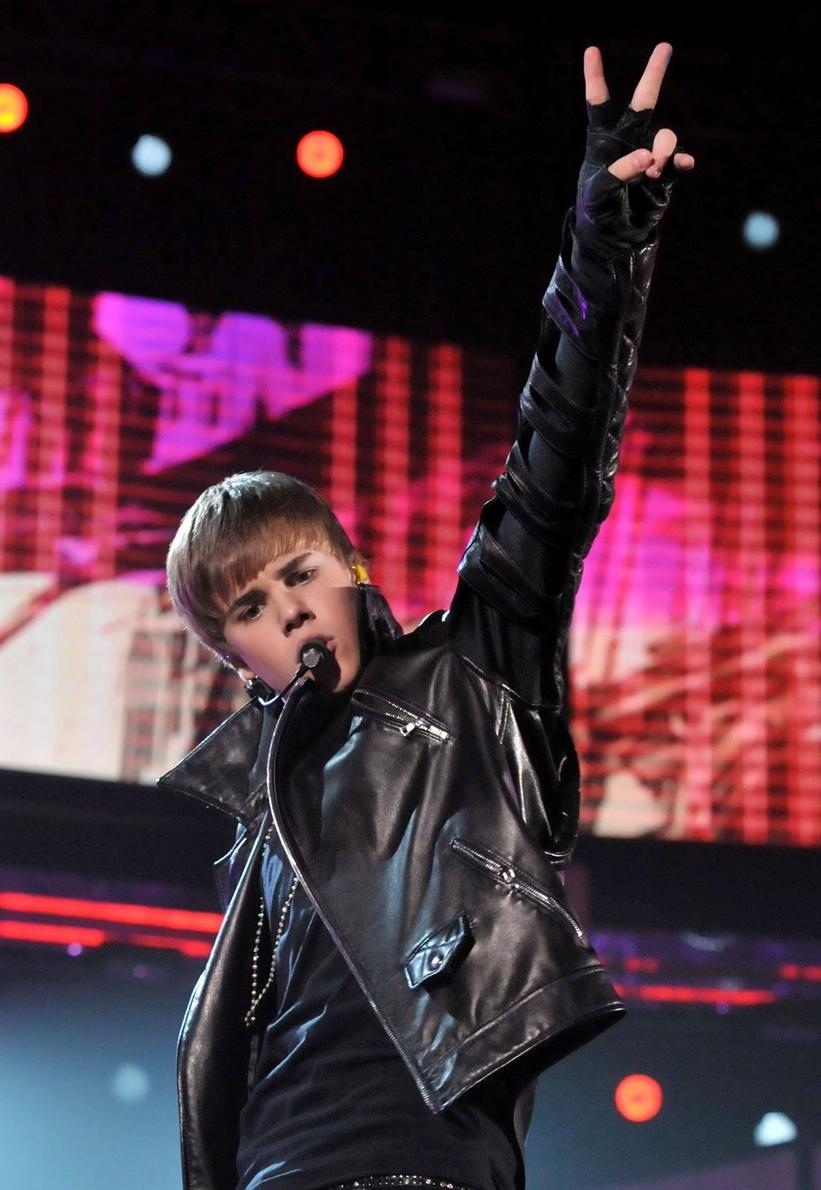 Justin Bieber
Photo: Lester Cohen/WireImage.com
news
Meet Justin Bieber With GRAMMY Charity Online Auctions
Bid on an exclusive VIP concert experience to meet Justin Bieber
GRAMMY Charity Online Auctions has launched a new auction offering bidders the opportunity to bid on an exclusive VIP concert experience with Justin Bieber. Open now through Oct. 25, the auction package features two tickets and meet-and-greet passes to an upcoming Bieber concert.
To place your bid on this exclusive experience, visit www.charitybuzz.com. All proceeds will benefit the GRAMMY Foundation.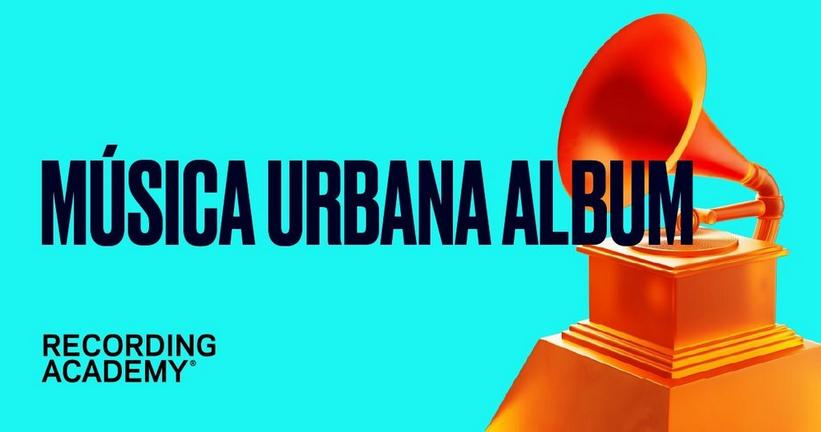 list
A Look At 2022 Nominees For Best Música Urbana Album At The 2023 GRAMMY Awards
The 2022 Best Música Urbana Album Nominees at the 2023 GRAMMYs come from some of the biggest names in Latin music, each of whom have fused a unique sensibility and a variety of influences into their records.
GRAMMYs
/
Nov 16, 2022 - 02:38 pm
Perhaps because in its current incarnation música urbana tackles such a wide array of influences — from the expected bounce of reggaetón to ominous trap moods, frantic dembow and a cool dash of Latin pop — the genre has become a hub for freshness and creativity.
All five 2022 nominees for Best Música Urbana Album at the 65th GRAMMY Awards are international stars, but none of them allowed fame to lead into stagnation. On the contrary, their albums are defined by cutting edge innovation and challenging new sounds. Read on to learn more about offerings from Bad Bunny, Daddy Yankee, Farruko, Maluma and Rauw Alejandro.
View the complete list of nominees for the 2023 GRAMMY Awards here.
Rauw Alejandro —
TRAP CAKE, VOL. 2
Released in 2019, the first volume of Trap Cake served as a laboratory where the Puerto Rican singer experimented with unusual textures. Vol. 2 marches on the same avant-garde principles, serving as a provocative bridge between Rauw's genre-defining smash Vice Versa and his restless third album Saturno.
The production is slick and airy on this sumptuous mini-album seeped in a hazy cloud of melancholy nostalgia. The music box-like opening strains of "MUSEO" hint at the precious ambient sonics at hand, whereas the distorted electric guitar and aggressive downbeat of "GRACIAS POR TODO" opens up an intriguing window to the quirks of Rauw as potential rock'n'roller. Co-produced by Jamaican helmer Rvssian, the darkly hued "Caprichoso" features contributions by the singer's romantic partner — the one and only Rosalía.
Bad Bunny —
Un Verano Sin Ti
How do you celebrate the confirmation of your status as a young global pop star? In the case of Bad Bunny, he released the ultimate summer album — an imaginary mixtape, meant to be booming in the background as the poolside party rages on.
The Puerto Rican phenomenon focuses on his usual preoccupations — erotic foreplay, desire as transcendent lifeforce, the stinging aftertaste of romantic separation — but the beats and layers of atmospherics are more abstract and psychedelic than on previous releases. Even though Un Verano Sin Ti boasts stellar collaborations with the likes of Tainy, Rauw Alejandro and Chencho Corleone, the album finds some of its most compelling passages in the stylistic detours of "Ojitos Lindos" — with Colombia's Bomba Estéreo — and the alternative tropi-rock of "Otro Atardecer," with the Marias.
Daddy Yankee —
LEGENDADDY
2022 was the year when the "Gasolina" pioneer shocked the Latin music establishment by announcing his retirement at age 46. Fortunately, Daddy Yankee's farewell came in the shape of a sprawling party record. LEGENDADDY feels like a passionate, and occasionally wistful, love letter to the limitless variety that has always defined Afro-Caribbean music.
Yankee's rapid-fire delivery and reggaetón riddims are ever-present, of course, but the menu also includes some wacky dembow ("BOMBÓN," with Lil Jon and Dominican hitmaker El Alfa), and the truly wondrous fusion of salsa, reggaetón and spidery bachata lines on the kinetic "RUMBATÓN." On "AGUA," Yankee is joined by Rauw Alejandro and guitar god Nile Rodgers for a jam infused with post-disco zest. Yankee's electrifying live performances will be missed, but this emotional swan song delivers an fitting epic finale to a remarkable career.
Farruko —
La 167
A seasoned veteran of the urbano landscape, Farruko has always been progressive in his mission to expand stylistic boundaries. The title of his seventh studio album is a reference to the singer/songwriter's childhood memories: the 167 highway in the Bayamón area of Puerto Rico where he grew up.
At the same time, the album also reflects Farruko's extensive travels across Latin America. "Pepas," the collection's bonafide hit, is an anthemic electro-guaracha that stays close to the genre's roots in Colombia. "Baja Cali" mixes Latin rap with the young generation of corridos that defines the present of música mexicana, and the breezy "W.F.M." (featuring Jamaican vocalist Mavado) delves into sweet dancehall vibes. On "Jíbaro," Farruko cherishes his boricua origins alongside bolero revivalist Pedro Capó. A man of the world, he sounds the happiest when he returns home.
Maluma —
The Love & Sex Tape
In 2021, Maluma surprised fans by releasing #7DJ (7 Días En Jamaica), a refreshing EP of reggae infused tracks. A silky mini-album made up of eight new songs, The Love & Sex Tape finds the Medellín native delving back into the sensuous reggaetón narratives that made him famous.
A duet with fellow Colombian Feid, "Mojando Asientos" is appropriately frisky, and the self-explanatory "Nos Comemos Vivos" gains in intensity thanks to the streetwise attitude of the ubiquitous Chencho Corleone. Maluma surrenders to hedonism with abandon, reaching the natural conclusion that life is, indeed, quite beautiful ("La Vida Es Bella.") A classy ending, "Happy Birthday" incorporates the soulful groove of Afrobeats, hinting that Maluma's brilliant creative detours will surface again in subsequent works.
news
FYI/TMI: Stars Come Together For Hurricane Sandy, Justin Bieber Breaks The Law
Alicia Keys, Paul McCartney among performers for Sandy benefit; Bieber gets ticketed in L.A.
(In an effort to keep you fully informed, and fully entertained, below we present today's FYI and TMI — news you need and news that's, well, sometimes needless….)
FYI …
More Stars Come Together For Hurricane Sandy
GRAMMY winners Jon Bon Jovi, Billy Joel, Alicia Keys, Paul McCartney, Bruce Springsteen, and Kanye West, and legendary rockers Roger Waters and the Who will perform at a benefit concert for Hurricane Sandy on Dec. 12 in New York. Proceeds from the concert will benefit the Robin Hood Relief Fund to aid hurricane victims.
SoundExchange Reports 3Q Royalty Payments
Performance rights organization SoundExchange distributed $122.5 million in royalty payments during the third quarter of 2012, marking the organization's largest quarterly payout since its founding in 2000, according to Billboard.biz. SoundExchange has distributed $326.9 million in performance royalties for the year to date, bringing the organization's grand payout total to $1.2 billion since 2000.
TMI …
Bieber Breaks The Law
As if Justin Bieber's recent trouble in love wasn't hard enough for the 18-year-old, the teen pop sensation has now run into some trouble with law enforcement. Bieber was ticketed by Los Angeles police on Nov. 13 after he was pulled over in his Ferrari in West Hollywood, Calif., for making an unsafe left turn. On top of that, cops found his registration was expired. Hopefully now there's one less unsafe driver on the road.
news
MusiCares MAP Fund Charity Auction Launched
GRAMMY Charity Online Auctions offers exclusive memorabilia from seventh annual MusiCares MAP Fund benefit
Following the seventh annual MusiCares MAP Fund benefit honoring Depeche Mode's Dave Gahan and Vans Warped Tour founder Kevin Lyman on May 6, GRAMMY Charity Online Auctions has launched the MusiCares MAP Fund Charity Auction. Presented in partnership with Kompolt, the auction is open through May 19 and features a variety of autographed music memorabilia, including items signed backstage at the MusiCares MAP Fund benefit concert by Linkin Park's Chester Bennington, Gahan and Paramore.
Additional auction items include a framed issue of Rolling Stone signed by the Rolling Stones' Mick Jagger; vintage memorabilia signed by Tony Bennett, Jackson Browne, Annie Lennox, Rod Stewart, and Barbra Streisand; guitars autographed by Kings Of Leon, Korn, Tom Petty, Kenny Rogers, and Keith Urban; unique memorabilia signed by Jeff Beck, Justin Bieber, Eminem, Lady Gaga, Bruno Mars, Muse, Katy Perry, and Rihanna; and a 54th Annual GRAMMY Awards VIP Experience for two including rehearsal passes and hotel accommodations.
To place your bid on items featured in the auction, visit www.ebay.com/grammy. All proceeds will benefit MusiCares and the GRAMMY Foundation.