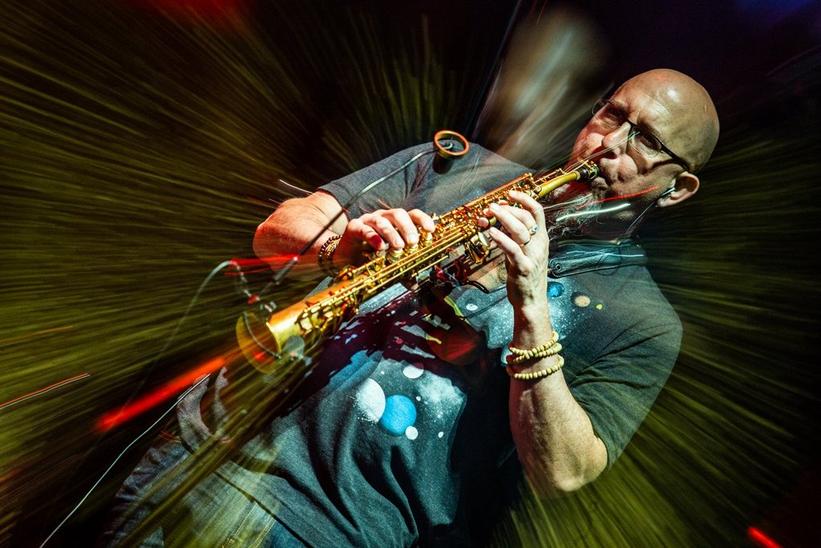 interview
Jeff Coffin On His GRAMMY-Nominated Album 'Between Dreaming And Joy,' Constant Education, Playing With Dave Matthews & Béla Fleck
Jeff Coffin's legacies with Dave Matthews Band and Béla Fleck and the Flecktones are more than enough to hang his hat on. But his solo career is a kaleidoscope of ideas, connected to musical traditions from all over the world.
GRAMMYs
/
Jan 12, 2023 - 07:21 pm
Hanging out with Jeff Coffin is a bit like listening to his music. Engulfed in a whirlwind of musical references, you're never lost. Music seems dizzyingly limitless when he describes it, like the fractals in the cartoon eye on his new album's self-drawn cover.
For a three-time GRAMMY winner with bona fides in two household-name bands, Dave Matthews Band and Béla Fleck and the Flecktones — Coffin has zero airs and a whole lot of music knowledge. 
Our conversation left me to check out Albert Ayler's rip-your-heart-out gospel album Goin' Home, Van Morrison's country-breezy Tupelo Honey and Charles Mingus' warped masterpiece Oh Yeah. 
Understanding Coffin's background enhances the listening experience of his inspired latest release, 2022's Between Dreaming and Joy, which is nominated for Best Contemporary Instrumental Album at the 2023 GRAMMYs.
Read More: 2023 GRAMMY Nominations: See The Complete Nominees List
Featuring "Middle Eastern frame drums, Brazilian percussion, Moroccan vocals, a turntable artist, multiple horns, an ice cream truck, a Hungarian tárogató and an African ngoni" — as well as modern greats like guitarist Robben Ford, bassist Vicente Archer and drummer Chester Thompson — the album feels jubilant and companionable.
It's surprising to learn the album was recorded completely remotely. 
"It was crafted in a way that I've really never crafted a record before," Coffin tells GRAMMY.com in its New York Chapter Office, ahead of DMB's sold-out Madison Square Garden gig. So, to him, this GRAMMY nomination is extra sweet: "it's a recognition of the process, but also a recognition of the work. Not just in this record, but the 19 others before it."
If you're familiar with Fleck and/or Matthews but not so much Coffin and his musical universe, let Between Dreaming and Joy act as a gateway to all 19 — with the Mu'tet, in co-billed LPs, all of it. And read on for an in-depth interview with the musician, clinician and searcher.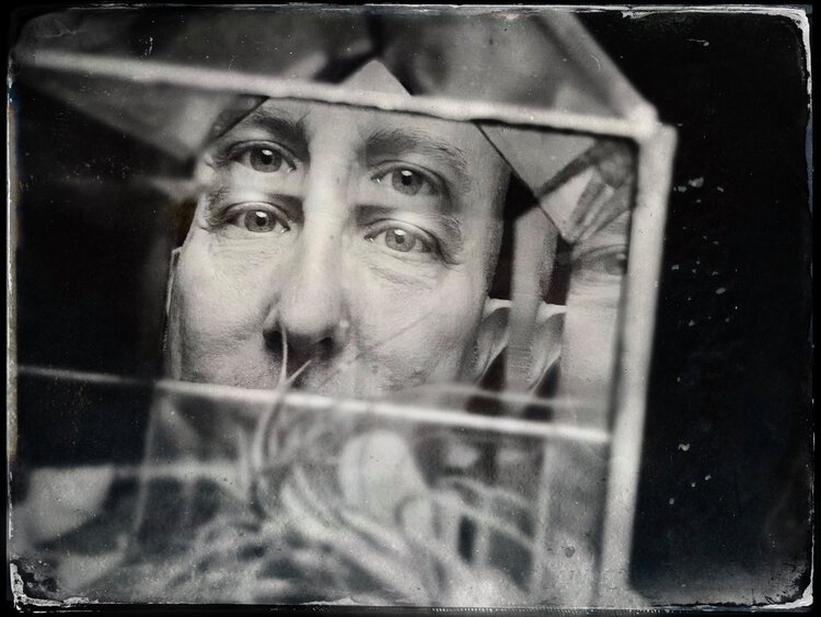 Jeff Coffin. Photo: Rodrigo Simas
This interview has been edited for clarity.
Congratulations on your nomination for Best Contemporary Instrumental Album at the 2023 GRAMMYs. What role has the Recording Academy played in your career over the decades?
You know, when I was in the Flecktones, we were nominated a number of times; I won three GRAMMYs with Béla. It's always kind of been interwoven with the things that I've done. 
The Flecktones were a hard band to pin down. We won for Best Pop Instrumental Album [for 2008's Jingle All the Way; we were nominated [that same year] for Best Country Instrumental Performance [for "Sleigh Ride"].
It's interesting; I remember the first time we were nominated was for Left of Cool [at the 1999 GRAMMYs]. I remember it being my first time there, and just being like, "Wow, this is unbelievable." We didn't win, and I remember thinking that I wasn't disappointed: Oh, it's OK, it's not a big deal that we didn't win. It reaffirmed that this is not why I do what I do.
You know, it's funny. [With Dave Matthews Band], it's a machine. We have like 90 people on the road with us, of course, and the band is really all about the music. We've talked about it a lot: how the music has got to come first.
Elaborate.
I think that music is a service industry. I think that first, we serve the music. Then, we serve the other musicians we're playing with, and then we serve the audience. So, we're at least fourth on the list. But by serving those others, we get served.
I talk to my students about this all the time: how important it is to recognize that circle. I think about management, and I'm thinking, Well, they're just thinking dollars and butts in seats. Which I understand: that's part of it. But I feel a disconnect sometimes in the way they approach things, as opposed to the way we approach things.
So, for me, with awards and accolades and things like that: I've had my fair share, and I'm very honored and grateful for that. But that's not why I do it. I'm not like, I'm going to do this record and submit it for a GRAMMY.
Read More: Béla Fleck Has Always Been Told He's The Best. But To Him, There Is No Best.
At this point, you've won three GRAMMYs. How does it feel to earn another nomination for Between Dreaming and Joy?
It's big for me. It really is. There was a ton of work put into it during the pandemic. Most of the record was remote, although you'd never know listening to it. It was crafted in a way that I've really never crafted a record before. So, it's a recognition of the process, but also a recognition of the work. Not just in this record, but the 19 others before it.
I've got six others in the can that I'm working on, that are basically ready to go. It was a very prolific time for me during the lockdown. So, this material on the record was culled from a lot of other stuff I had recorded also. 
I wrote about 30 or 34 new tunes, and they were all over the place from the standpoint of genre or style. So, when I put this together, I had to decide which tunes I was going to put into this pot. There are a couple that I was on the fence about initially, but I'm really glad they're on there because it kind of diverges, and then comes back into a particular space.
So, yeah, I'm just thrilled about it, and the GRAMMY Foundation <a href="https://grammymuseum.org/national-reach/grant-program/">now the [GRAMMY Museum Foundation] has been part of that. I love what they do educationally; I want to be more involved with that, because I do a lot of education work outside of touring. I've done 325-plus clinics over the years, and I've been teaching at Vanderbilt now for eight years.
Tell me more about your teaching style, and how it's in dialogue with the other parts of your career.
I've looked at people that have kind of been DIY, like Dave Liebman, Bob Mintzer, Bobby Shew, these kinds of people. I don't try to do exactly what they did, because that's how they see things. But I've been able to kind of muddle out a career [incorporating] certain aspects of what they do.
The books that I've written are all for my students; they have nothing to do with the things that I'm working on, because I've already done it. So, the method books, the etude books — I have something called The Road Book, which is all the things you do before you leave the driveway. These are for students that are just getting out there and doing this stuff, to help them along the way.
I really respect what [The Recording Academy] has done educationally around the country and the world. I think it's awesome, and really makes a big difference. You know, music is an essential part of education on every level — not just in higher education, but deep in the schools. A lot of those programs are being cut, and it's categorically unfair.
Let's talk a little more about Between Dreaming and Joy. You mentioned that you pulled these songs from disparate sources. So what was the throughline, or thesis? What made these songs swim together in the same tank?
When I was with Béla, one of the things I remember him talking about was the sequence of a record, and talking about how it really makes or breaks a record. It's really the flow, now that I think about it. 
I put a lot of effort into putting sequences together. The middle tune, "Spinning Plates," is just me — all me, all horns. I think there's percussion on there, and it's sort of the place where you would flip the record over. It's a breath between the first and second section of the record. I did it that way on purpose.
It's kind of the spirit of the tunes that [make them] work. "Vinnie the Crow" wouldn't have worked in any other place except for opening the record.
It's very strident. It has that swagger in it.
Yeah, and it has the only co-writer on the whole record: a drummer named Alex Clayton, who was living in Nashville and a Belmont student. He's turned me on to some really great s—. He was the first person who ever told me about Anderson .Paak and Donald Glover. He's really got his ear in these different places. 
He's a very, very dear friend. We were just hanging out and were like, "Let's write a tune." He had a groove, so I put some stuff down, and just kind of went from there.
But coming back to the sequence: I want it to be a journey. I don't want it to be the same tune written seven or eight different times. I wanted to touch on the different influences and interests I had musically, but not be so removed from the other tunes that it doesn't connect.
Because there's a bunch of stuff that I also wrote that's very global music-oriented. There's this one tune written off this traditional Peruvian folk melody that wouldn't have fit on this record. It's this really elaborate thing. I've got Brazilian percussion on it. There's some Afrobeat stuff that I did with Chester Thompson. 
There's a lot of pretty esoteric stuff, too. [Turns to publicist Lydia Liebman, Dave Liebman's daughter] Stuff your pops would be way more into than this kind of thing.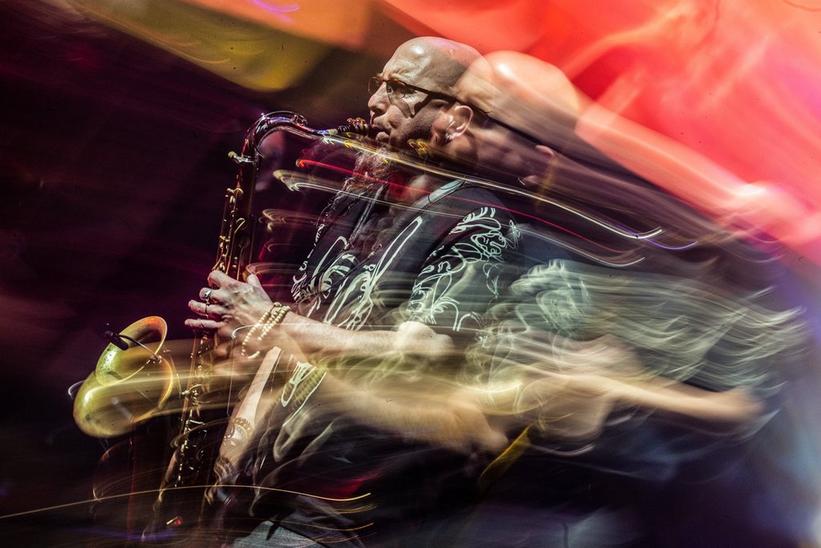 Jeff Coffin. Photo: Rodrigo Simas
I remember something Béla said to me years ago: "I'll never be an Indian musician. I'll never be an African musician. But I can bring those elements into what I do, and have them inspire the music that I make." 
And it's the same with Dave Matthews. He's from South Africa, and he went back in his early teens and grew up there for a number of years. His music is very influenced by that music — by those dances, by that structure of music, and there's a hybrid of things that are going on there. So, to me, using the term "jam band" for a group like that doesn't do it justice at all. I don't have any idea what you'd call it.
I love when they asked Miles about his music. They said it was jazz, but they said, "What should we call it?" He said, "Call it music." I'm totally down with that, and that's how I look at it. It's just music.
It's coming from different places I'm influenced by. Bob Dylan, Johnny Cash, Ornette Coleman, Miles Davis, et cetera, et cetera: they're all the same spirit. That's what I'm looking for in the music that I make, the players I play with, the way I'm putting something together. I like art that is mysterious — that I don't totally understand.
We first spoke for an article about Yusef Lateef. Given the sheer range of ethnic instruments you play on Between Dreaming and Joy, it seems like you're in his lineage. Can you talk about your ongoing process of learning new instruments and weaving them into your work — choosing what's appropriate and what isn't?
Here's the thing, too: I know a lot of people who play a lot of different instruments. Michael League was playing Moroccan frame drums, but everybody knows Michael from playing bass with Snarky Puppy. And the ngoni on "When Birds Sing" was played by a Moroccan woman named Sarah Ariche, who also sang. The title is kind about her, also: what she's doing is this angelic vocal stuff.
I'm really interested in a lot of different sounds. Some of this is also coming from people like Roland Kirk. This gets into a whole other tangent, but the idea of string theory is that everything is a vibration; therefore, everything is sound.
I have the tárogató I bought from Charles Lloyd; my bass flute is Yusef Lateef's. I feel like I'm just the curator of these instruments, because I'm always like, "This is Yusef Lateef's bass flute." I don't ever say, "This is my bass flute." [Same with] the tárogató. There's kind of a spirit imbued in the instruments.
You're calling out a spirit, even when the musician is alive and well — in Lloyd's case.
Right, yeah. I bought Yusef's main tenor and bass flute after he passed. The first time I played the tenor, I recorded it; I was like, I want to hear what happens the first time. And this tune came out. I called it "Yusef." And as I tell people, he left the tune in the horn. It's a very powerful tune. My hands were off of it.
For those who might know Dave or Béla but not be familiar with your solo work, with the Mutet or otherwise: how do you conceptualize it in relation to these household names? What's the nature of that isthmus between these two massive entities?
Let me take a step back. 
So, people ask about my influences. My main influences are people like Coltrane, Sonny Rollins and Ornette. Then there are the people I played with all these years, having spent 14 years with Béla, Victor Wooten and Roy Wooten — Future Man. And now, 14 years with Dave, [bassist] Stefan [Lessard], [trumpeter] Rashawn [Ross], [violinist] Boyd [Tinsley] when he was in the band, [drummer] Carter Beauford, [guitarist] Tim Reynolds, and now [keyboardist] Buddy Strong. 
I mean, we are creating every single night for three hours a night — playing some of the same music, but recreating it nightly also. So, there are no more profound influences on me than those players: the people that I play with at home, that I've had in my bands, where we're digging deep in a way that is proactive.
So, when I'm listening, I'm active in that process, but I'm not participatory in that process — in the sense that I'm not making music when I'm listening to a Coltrane record or whatever. But when I'm making music, I'm participatory; even if I'm being silent, I'm still part of what's going on. To me, that changes everything.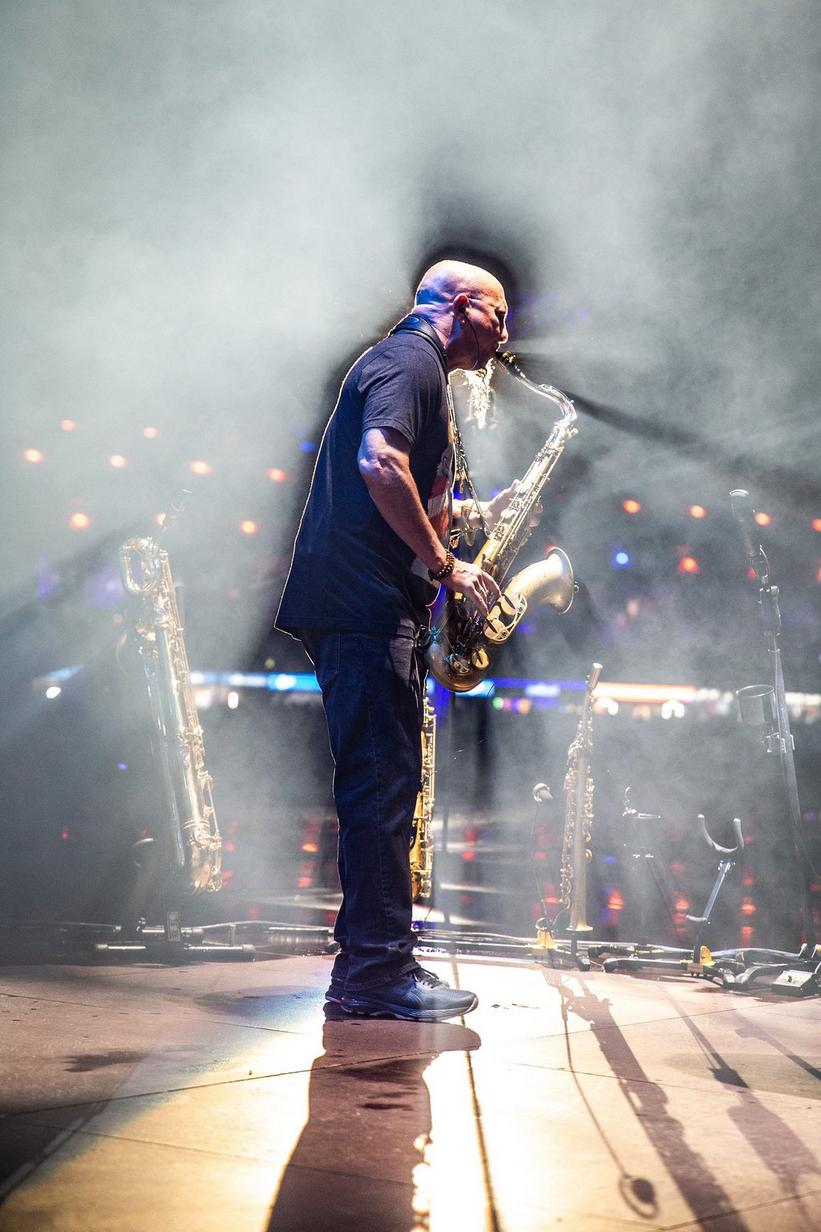 Jeff Coffin. Photo: Rodrigo Simas
Can you connect this to your experiences with Matthews and the Flecktones?
I remember that when I first started playing with Béla, I was like, "I don't know any of your music; your audience knows the music better than I do." Which was the same thing when I joined Matthews: "The audience" — they still do, actually — "knows all the words."
With the Flecktones, one of things that was an epiphany for me was that I would look out and see people dancing. We'd be playing in 13 or 17 or some crazy s—, or moving time signatures throughout the piece.
But what it made me realize is that it's all on up or down. It doesn't even matter. Like, even on the Matthews stuff, there's a tune called "Rapunzel." I remember the first time we heard it, when I was with Béla because we were doing the opening dates. 
We couldn't figure out the time signature. You have four great musicians who are listening to this and just going, "What is going on?" It's in five, but if you listen to it, you would not know that it's in five, unless you're really tuning in and going, "OK, I've got to figure this out," or watching somebody's foot, given the way Carter's playing polyrhythmically over it.
But, again, we joke about this: everything's in one. Just one-one-one-one-one-one. If the pulse is there, than it's going to feel good. It's going to make a mixed meter not feel like a mixed meter, because it's going to be all pulse. 
That's why I love African music so much; it's all pulse. You can feel it in six; you can feel it in two; you can feel it in three. You can also put different groupings; you can do sevens over the top. It all works, as long as the pulse is there.
It seems that you've conceptualized your solo work as an ongoing investigation of your influences.
I think that's a great way to put it: an ongoing investigation of my influences. Not only my immediate musical influences, but my historic musical influences also, and trying to see it from above. Not just the immediacy of it, but the things that are in the periphery also.
I'm kind of going, I wonder what would happen if I did this, and drop this in there. I wonder what the sound of bass flute and bass trumpet is. The tárogató was on the new Dave record also, and it's a Hungarian instrument, It's a wooden soprano, basically. It's like an English horn.
Sometimes, I'll also give myself parameters to work within. I was doing a livestream every Friday all the way through the pandemic. There were nights when I would be like, I'm going to start writing a song at six o'clock because my livestream is at seven. I'm going to get it done within an hour, play it for them on the livestream, and maybe play along.
I tried to bring them into my process of doing what I was doing. It was really fun. It was really, really challenging. And I didn't have any idea what the f— I was doing. 
So, it's really just about exploring and trying things. There's an element of randomness to it, but also an element of focus and "Let's try this and see what happens." I've always been really into pedals, envelope filters and harmonizers. Doing double-horn stuff. I've got this triplicate flute with one mouthpiece. I've got singing bowls and bells and gongs. I'm a total bell freak. Anything I can get my hands on that I can make music from, I'm going to try it.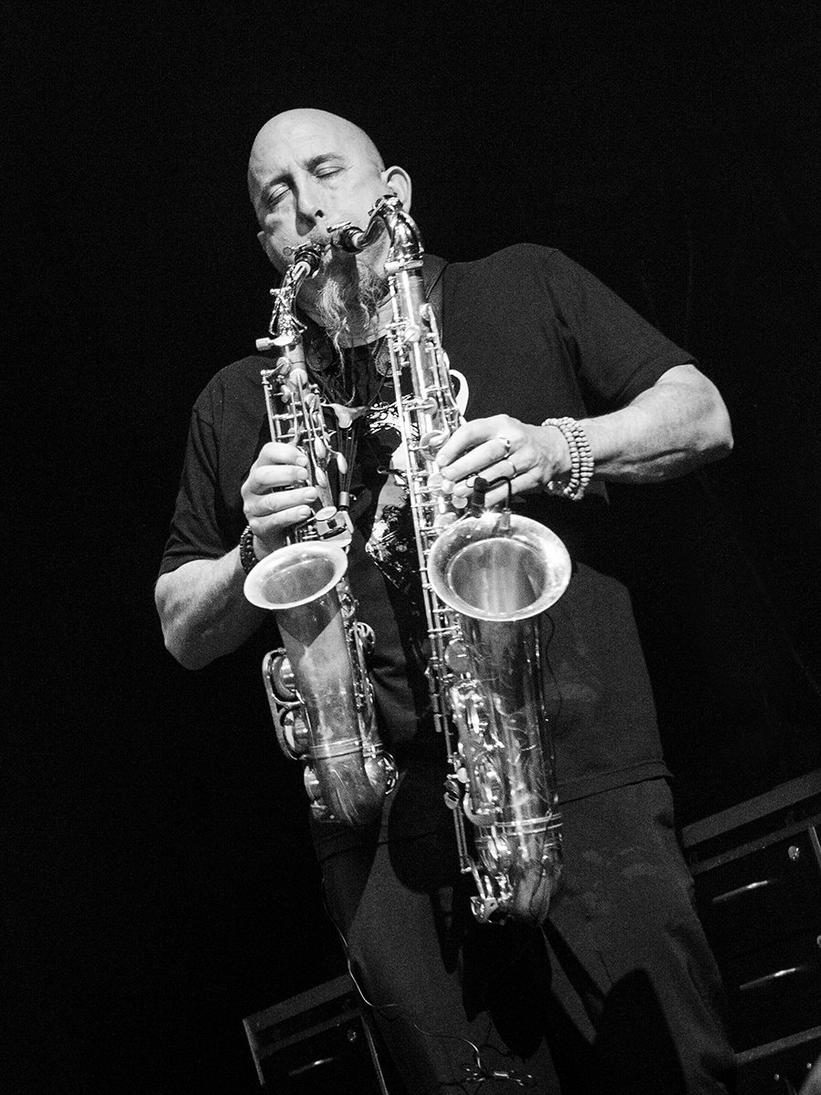 Jeff Coffin. Photo: Rodrigo Simas
You've mentioned, like, 15 musical traditions and 150 instruments in this interview. Do you ever feel like you're still getting started in learning about all the music the world has to offer?
I do, actually, yeah. I feel more creative than I've ever felt in my life. 
But here's the thing, too: I play for a different reason now than I used to. I think that's partially because I'm able to articulate my own feelings better — not only verbally, but musically. When I was younger, I was playing from a different emotional place. Today, some of the reasons for playing are the same; some are very different. But I feel like I can make decisions based on experience.
I'm still wrong a lot, by the way, which is really interesting to me. I'll listen to a couple of tracks with some people, and I'll think: OK, I know the one that I like. I'll say, "What do you guys think?" and they'll both pick the other one. I'll be like, Oh, OK, great. Let's use that one. Good thing that wasn't up to me.
A year and a half ago, I went down to New Orleans and did a record with [drummer] Johnny Vidacovich, [saxophonist] Tony Dagradi and [drummer] James Singleton [of jazz quartet Astral Project]; Helen Gillet was on the cello on one tune. It's very, very different than this record. It's open and free.
I'm trying to mix it myself, and I've been working on it for a while. I think it sounds pretty good. But I'm not a mixing engineer, and those guys are wizards. So, I'm sitting around with some people, and I'm like, "Look, man, I want your brutally honest feedback. If it doesn't sound good, I want to know, because I'm trying to mix it."
I still second-guess myself on certain things, which I think is great, because I think that's how we learn also. You've got to keep making mistakes, because after a while, you find those successes in there. I think it's Vic Wooten who says something along these lines: "The only reason you don't succeed is because you eventually stop trying."
The History Of Yellowjackets In 10 Songs: A Gateway To The Jazz Fusion Greats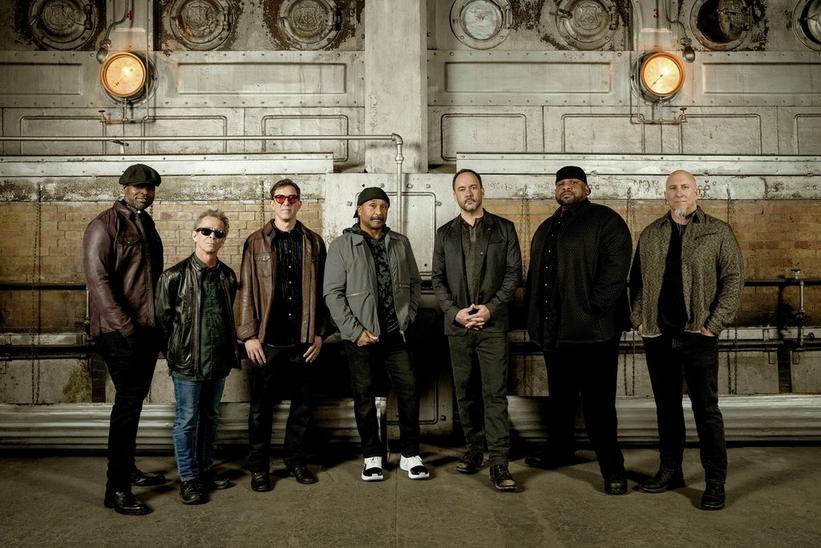 list
11 Essential Dave Matthews Band Songs: From "What Would You Say" To "Madman's Eyes"
Ahead of their new album 'Walk Around the Moon,' here are 11 gateway tracks by Dave Matthews Band — a group that perforated the hearts of millions by being authentically themselves.
GRAMMYs
/
May 15, 2023 - 07:50 pm
If you were alive and cognizant in the '90s and early 2000s, the three words "Dave Matthews Band" probably conjure visions of frat houses, tailgate parties and sunburned revelry. In a 2018 Talkhouse essay promoting a re-recording of DMB's lost album, The Lillywhite Sessions, singer/songwriter Ryley Walker summed up the Matthews milieu.
"My roots run deep into a flat cornfield of Illinois surrounded by Buffalo Wild Wings and Payless Shoes that are housed inside of a Target inside of a Sam's Club," Walker wrote about his upbringing in Rockford, Illinois. "[DMB] were the stuff of legend. Their annual summer tour was the mecca for suburban townies to go get juiced up at."
However loving, Walker's Matthews essay sums up many outsider's associations with the band. But it's worth considering that most of the tags pinned on Dave Matthews are specious to facile. Take the categorization of "jam band"; it's right there on their Wikipedia, which may lead outsiders to lump them in with Phish or Dead & Company.
But while DMB command a jam-adjacent audience — and mixes up their setlists every night like a jam band — they're actually something of an unclassifiable, genreless, hydra-headed beast. And their authentic nature is all over their new album, Walk Around the Moon, out May 19.
"Dave Matthews [is] from South Africa, and he went back in his early teens and grew up there for a number of years," DMB's saxophonist and woodwinds player, Jeff Coffin, explained to GRAMMY.com in 2022. "His music is very influenced by… those dances, by that structure of music, and there's a hybrid of things that are going on there.
"So, to me, using the term 'jam band' for a group like that doesn't do it justice at all," he continued. "I don't have any idea what you'd call it." That's exactly how Dave neophytes should approach Planet Matthews: with a completely open mind, divorced from calcified associations. 
Now consisting of Matthews, Coffin, lead guitarist Tim Reynolds, trumpeter Rashawn Ross, keyboardist Buddy Strong, bassist Stefan Lessard, and drummer Carter Beauford — all virtuosos in their own rights — the GRAMMY winners have racked up numerous hits across the decades. Therefore, any list of essential songs is bound to somewhat mirror the most famous ones.
But once you've absorbed these 11, don't stop — Dave Matthews Band weren't just the poster children for try-everything-once '90s radio; they were and are an American musical institution. Here are 11 gateway tracks for a group that perforated the hearts of millions by being only themselves.
"What Would You Say" (

Under the Table and Dreaming

, 1994)
With a limbic acoustic guitar intro, a blast of harmonica and a crashing drum intro, DMB arrived fully formed with "What Would You Say." It's not only the first song on their debut album; with it, they made their national TV debut on "The Late Show With David Letterman." 
If Beauford's inimitable grooves and Matthews' idiosyncratic turns of phrase, like "The bear ate his head, thought it was a candy," hook you, keep going; Dave's almost certainly for you.
"Satellite" (

Under the Table and Dreaming

, 1994)
The celestial, heart-bursting "Satellite" is another key early Matthews track; much like "What Would You Say," it evades concrete meaning and goes for a rush of emotion. "Satellite" further establishes DMB's slippery rhythms and beautifully unctuous timbres; it just feels good in the bones.
"Ants Marching" (

Under the Table and Dreaming

, 1994)
The hip-swinging "Ants Marching" is a live DMB favorite for a very good reason. 
Once former DMB violinist Boyd Tinsley's violin blends with the late LeRoi Moore's soprano saxophone for that opening fanfare, your ear is turned; you want to hear every harmonic and rhythmic twist and turn "Ants Marching" will take.
"Crash Into Me" (

Crash

, 1996)
One of the great heavy-breathing, voyeuristic character songs in the pop/rock canon (hello, "Every Breath You Take"), "Crash Into Me" was inescapable in its day; the 2017 film Lady Bird revitalized this paradoxical lovemaking jam for a new generation.
"I have a strange relationship with a lot of music that I've written," Matthews told Vulture in 2018 about the song's inclusion. "It was so lovely to see the song used as a central tool in someone else's story."
"#41" (

Crash

, 1996)
Fan favorite "#41" also comes from their hit second album Crash. (As per the title, it was the 41st song the band wrote.) 
It came at a time of professional strife for Matthews; after they booted manager and mentor Ross Hoffman due to creative differences, Hoffman sued, claiming he was owed a share of their profits. 
The gorgeous "#41" was a response to this calamity — while the lyrics are opaque, they're suffused with the sensation of grappling in the dark. 
"I will go in this way/ Oh, and I'll find my own way out," Matthews sings. "I won't tell you what to be/ Oh no, but I'm coming to much more."
"Don't Drink the Water" (

Before These Crowded Streets

, 1998)
This urgent, guttural classic from DMB's third album, Before These Crowded Streets, addresses apartheid as well as the plight of Indigenous Americans. 
Guest banjoist Béla Fleck gives "Don't Drink the Water" a droning, ominous energy — a dark sense of ancestral communion.
"Don't Drink the Water" only builds and builds in intensity, with Matthews sounding more and more ferocious, until the final line, which sums it all up: "There's blood in the water."
"Gray Street" (

Busted Stuff

, 2002)
The aforementioned Lillywhite Sessions, helmed by Steve Lillywhite, is the dark-horse favorite of the true heads: it exemplifies Dark Dave. 
Most of the Lillywhite Sessions tunes made it on their fourth album, Busted Stuff; the radiant "Gray Street" anchors both the album that was and the one that wasn't.
Following a woman staving off feelings of despondency,  "Gray Street" exposes Dave Matthews Band's vulnerable, rubbed-raw pop heart.
By the time the chorus hits ("It feels like cold blue ice in her heart/ When all the colors mix together/ To gray!), that Matthews magic is on full display.
"American Baby" (

Stand Up

, 2005)
Sometimes known as the controversial DMB disc due to its baked-in anti-piracy program, DMB's underrated mid-period album Stand Up certainly has its proponents — Ryley Walker among them. 
The gleaming, streamlined "American Baby" is actually about national identity, but easily doubles as a straightforward pop-rocker about romance; double-fist it with sensuous album highlight "Dreamgirl," and they go down just the same.
"Why I Am" (

Big Whiskey & the GrooGrux King

, 2009)
Arguably no schism or loss in the DMB camp — the aforementioned falling out with Ross Hoffman, the departure of Boyd Tinsley amid a sexual misconduct lawsuit — looms larger than the death of their founding saxophonist, LeRoi Moore, in 2008.
"He was a difficult friend, but boy, was he one of the greatest friends I had," Matthews later expressed. "And certainly one of the greatest musicians I heard."
Despite being written and recorded prior to Moore's death — and featuring Moore on it — "Why I Am" took on added resonance on Big Whiskey & the GrooGrux King, the band's monument to Moore after his passing.
"This song is definitely about death. The whole thing of 'When my ghost takes me from you, you will remember the fool that I am, so don't cry, baby don't cry,'" Matthews later told Relix. "The urgency of living, I think, is very present in this song."
"Samurai Cop (Oh Joy Begin)" (

Come Tomorrow

, 2018)
After Tinsley's dismissal, DMB were a different band — yet again. 
"I'm used to turning to my right and seeing him going bananas — some days doing it better than other days," Matthews said in the candid Vulture interview. "I don't know how it's going to be without him there… I'm going to miss having that whirling-dervish Adonis-Muppet over there on my right."
Despite this conspicuously missing piece of the puzzle, Dave Matthews Band soldiered on with a sense of hard-won camaraderie — and the majestic Come Tomorrow single "Samurai Cop (Oh Joy Begin)" sounds like the crew raising aloft a weathered flag.
"Madman's Eyes" (

Walk Around the Moon

, 2023)
When Matthews said "I have a strange relationship with a lot of music that I've written," he wasn't lying; speaking to Vulture, he called 2012's acclaimed Away From the World "fine."
"I think it was a great album and then I let people convince me it wasn't finished. I did a disservice to the music," he said. "I kept working on it and it lost a lot. It's too bad I didn't say, 'No, you're wrong. The music may be flawed and splintered but it's genuine. It's done.'"
Whatever Matthews' qualms with his own work, "Madman's Eyes," from their new album Walk Around the Moon, is a crusher of a single, fueled by the dark mysticism of Coffin's soprano hook.
Dave Matthews Band have a complicated history, and they will remain multivalent, misunderstood, and fiercely beloved. They'll keep evolving in tandem with their fanbase. But "compartmentalizable" is an attribute that remains impossible to imagine.
Jeff Coffin On His GRAMMY-Nominated Album 'Between Dreaming And Joy,' Constant Education, Playing With Dave Matthews & Béla Fleck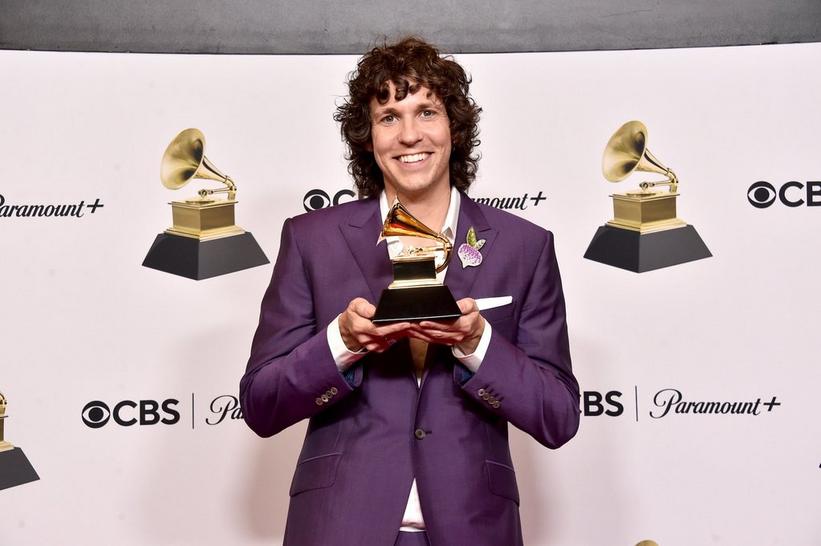 Tobias Jesso Jr. at the 2023 GRAMMYs.
Photo: Alberto E. Rodriguez/Getty Images for The Recording Academy
interview
Meet Tobias Jesso Jr., The First-Ever GRAMMY Winner For Songwriter Of The Year
"I felt the weight of what it meant," the man behind the curtain of massive songs by Adele, Harry Styles, Marcus Mumford and more says about his win in the brand-new GRAMMY category.
GRAMMYs
/
Mar 2, 2023 - 11:10 pm
Tobias Jesso Jr. wanted to know how to write a hit song, so he read How to Write a Hit Song. Not that he needed to figure out how to break into the mainstream: he had already written a tune with Sia and Adele that cracked the Billboard Hot 100. But in an effort to take his young career seriously — that of writing behind the curtain for the stars — he cracked open the book at a café.

Just then, a voice: "What the hell are you doing?" He glanced up. It was Sia.

"She was like, 'Why are you reading that?' and I was like, 'I honestly don't know,'" Jesso remembers with a laugh. "I think I just put the book away from that point on and was like, OK, I don't need the books. And I just felt like there's been a different one of those lessons at every step of the way where I'm just like, Man, I think this is what I got to do, and then I just figure it out."
Since that exchange, Jesso has written with a litany of contemporary stars: John Legend, Shawn Mendes, Pink, Haim, Harry Styles — the list goes on. (As per the latter, he co-wrote "Boyfriends" on Harry's House, which was crowned Album Of The Year at the 2023 GRAMMYs.) 
And at said ceremony, he received a historic honor — the first-ever golden gramophone for Songwriter Of The Year. As Evan Bogart, Chair of the Songwriters & Composers Wing, recently toldput it to GRAMMY.com: "We're looking for which songwriters have demonstrated, first and foremost, that they're considered a songwriter first by the music community. We want to recognize the professional, hardworking songwriters who do this for a living."
Read More: Why The New Songwriter Of The Year GRAMMY Category Matters For The Music Industry And Creator Community
Clearly, Jesso fits the mold, and possesses technical chops worthy of How to Write a Hit Song. But his realization — that he can literally throw out the rulebook — speaks volumes as to his flexible, collaborator-first and fun-first process. 
"I get into a room and I really want to enjoy the people, and the songs will come if we're all just being honest," he tells GRAMMY.com. "If you take a few days or weeks to get to know somebody, all of a sudden, your songs are deeper." 
And while working his interpersonal and collaborative magic, he keeps his ears and imagination open — a momentary trifle can become the heart of a song. It happened with Cautious Clay's "Whoa," which came from messing with some, well, whoas. 
"It was a little silly at first," says Jesso,the songwriter whose first output was "inappropriate" high-school joke songs. "But now it wasn't silly anymore."
GRAMMY.com sat down with Jesso about his creative beginnings, the experience of working alongside pop titans, and how his inaugural GRAMMY win for Songwriter Of The Year happened during the happiest, most creatively fruitful period of his burgeoning career.
This interview has been edited for clarity.
How did it feel to take home the golden gramophone — the first ever in this category?
It felt tremendous. It felt amazing. It's such an honor to have received it, and I felt the weight of what it meant. I get really stage frightened, and so I kept telling myself there's no way I was going to win, just so I wouldn't be nervous or anything like that. 
But weirdly, when I did win, I was very not nervous. I don't know how to put it, but it was the opposite of what I thought I would feel. I don't know if I've never been awarded something so prestigious. My elementary school did a piece on me after I won the GRAMMY, and it was sort of largely a "We didn't see any talent at all" kind of thing.
So, I'd say "tremendous" would be probably the one word I would feel most aptly describes it. I'm just really, really proud of the category and its creation, and super lucky to have been a part of it at all. Especially in the year that it comes out. I was baffled that I was nominated. 
I had already felt like that rush of whoa, this amazing thing happened when I was nominated. And then winning was the next level of completely beyond what I could have ever expected.
How does the win help chart the next stage of your career?
As a songwriter, your job is to serve the artist. Your job is to serve the artist — the person who the song's for. And I think because of that, most songwriters have a very serve mentality, which generally doesn't work out well on the business side of things for you. 
I think if you took all the producers in the world and took all the songwriters in the world and tried to look at which ones are more business savvy, I'd say nine times out of 10, it's probably the producers. 
I think a lot of people — artists or songwriters among them — have imposter syndrome, feeling like they don't really know whether they belong there or they're just lucky or they have what it takes for the next one, even. If they know they had a good run or whatever, they're always going back to the well and praying that there's something in there. 
And I think this GRAMMY is almost like having a symbol of a really good run — a really good, fertile time of creativity or something. TI think the way I see it is sort of a symbol of this period of time where I had a lot of ideas, and worked really hard, and managed to somehow win this thing, which is, for me, is huge. It means a lot. 
For the songwriting community to have the award to look forward to, to have this symbol of Hey, you can be creative as a songwriter and just be a songwriter who doesn't sing and doesn't produce, and [the fact] you can get this prestigious symbol of your gifts that the world will now recognize — I think that's a wonderful thing for songwriters to have.
Take me back to the beginning of your career writing songs, either for yourself or others. The first time you really embraced this magical act of creation.
I was such a lazy songwriter for so many years because I always loved writing songs, writing songs with my friends in high school and stuff like that. But I never really wanted to play an instrument, and I never really wanted to sing them myself. 
I think probably back in high school, in 1998 or '99, it was because they were joke songs. So I probably didn't want to sing them because they were inappropriate or something. I always wanted to. The beginning for me was definitely a sort of moment of hearing Tracy Chapman when I was like, Oh, this is what I'm going to do. Not be Tracy Chapman, but write songs.
From there I was really lazy and I just tried to do as little as possible, but I had this sort of confidence that I was somehow good at it. So, I would sometimes have my friends who played guitar or my friends who played piano, or whoever was around, do the music part for me, and I could just kind of pipe in and direct where I felt like my skillset was. 
I started writing on piano for the first time when I was 27. That was a big moment for me where I was. I feel like I finally figured it out. It took me a long time: I still don't know how to play the piano, but I know I'm going to figure this out now.
I made a lot of mistakes along the way with bands and with albums or whatever. Things that just didn't exactly go the way [I planned them]; my gut was eventually telling me it just wasn't right. And then, when I started playing piano, it just finally all felt right, and I didn't think too much about it. I just sort of started doing it. 
During that time, I unfortunately had to sing to get my album out, which was sort of a means to an end. But as soon as I was able to, I ducked away from that and started writing. Then I just had a new job. I was like I got promoted or something. 
As you honed your ability and developed your craft, how did you follow that chain of connections to be able to write for who you've written for?
It's funny because Adele was the first person I worked with — [but] not in a professional way where managers and stuff like that are involved, and it's not just a friend of mine from high school or something. She was sort of my blueprint for how those things went.
I couldn't have gotten any luckier than with Adele, because her blueprint for how to do a writing session is the most pure in the game. There's nothing to hide behind. There's no producer in the room. She came to my friend's grandparents' where there are no mics; there's no studio equipment at all. There's a piano. And she just goes, "Great, let's write a song."
I don't know that that even exists much anymore. There's not even a microphone to capture what's going on, let alone one of the biggest players in the entire world doing it — just showing up, being like, "Let's write a song." And there's nothing to record her. I thought that was really cool. I'm like, "That's how I write songs. I just sit in front of a piano and just do what I think I like." And she was like, "And me too."
So, that's how we got along real great off the bat. And then from there, I would say it was just the most epic amount of failures and trial and error to figure out what the hell I was doing in every different session. I mean, I was treading water at times, and I felt like I was smoking crack sometimes, because I was so creative in a certain scenario I didn't expect to be creative in or something like that.
I think it's just this kind of learning process. There are a lot of people who are typically geared towards one style of writing. You're the country guy or you're the pop guy, or you're the ballad guy. And I could see that I was getting typecast. I was starting to get typecast, especially early on in my career because ballads, that's just the tempo that's naturally within me. It's sort of my soul tempo to just slow things down. I can write much easier in that tempo. I'll always sort of naturally progress there.
But I wanted to push the limits of that, and I wanted to figure out a way to get out of that typecast. And so I tried as quickly as I could to pick people who would be like, "Please don't play a ballad."
And when I started doing that, it was, again, trial and error. I think Niall [Horan of One Direction] was the first person I worked with who was in the pop world, and he was very much an acoustic singer. So I think that I was going into that session thinking I wanted to do upbeat pop. So I don't know — you get in the door and then you just try to acclimate yourself to the environment and help out as much as you can.
I think that's the best way to put it, because you never know what you're going to be doing. You never know what the artist is going to want from you or not want from you. A lot of the job is just figuring all that stuff out and then trying to just have fun while you're doing it. I think it's just that good energy, good attitude, and good people tend to sort of gravitate together.
How would you characterize the state of your artistic journey at this point?
I would say it feels the richest, in the sense that I'm the happiest I've been working.
I've found my rhythm — my perfect work-life balance kind of thing — so I can spend time with my son. And I think because of all of the time I've spent writing songs and how many songs come out, which is not a lot compared to how much you spend writing, you kind of learn that the relationships you make in the room are really the things that you really take out of it. It can be a lot more than, "I'm just a songwriter here to serve this artist" or whatever.
Lately, probably because of all the time I've spent doing it, I get into a room and I really want to enjoy the people. And the songs will come if we're all just being honest. We all know why we're here. We don't need that pressure in the room, and we don't need the A&R sitting in the room. We can get a song, but let's just be honest and really enjoy each other's company for a while.
And I think once that starts happening, it's way, way more fruitful in the long run. Because if you take a few days or weeks to get to know somebody, all of a sudden, your songs are deeper.
As a songwriter, your job is to point out metaphors or parallels — and things that could spark some interest in an artist's mind. And the better you get to know somebody, the more amazing the writing process can be.
That's been happening a lot in my recent sessions with Dua [Lipa] and Harry, another just amazing person. He is a great guy, but we haven't done that much writing together, but we know each other mostly through Kid Harpoon — Tom [Hull], who's the best.
I'm getting to know the people, and that's the most important part for me — I'm working with the people I want to work with. That's my journey now. I'll always work with new people, but I don't need to work with people I don't really vibe with or listen to. That's not really my interest anymore, especially if I'm in it for the right reasons. I'd say it's just more intentional, and I'm being more honest.
When you walk into a room to write with somebody, what are the first steps, or operating principles?
My operating principle is: Do I want to get to know this person, and do they want to get to know me at all, or do they just want to write a song and not want to open up?
If it's somebody who seems very open to talk, that's usually a good sign. And if not, then you just do what they want. You start writing a song and that's fine too. Sometimes there's great, catchy stuff. It's not always the deepest stuff.
Maybe they're the ones writing the lyrics, so maybe it is. But my operating principle is kind of, if I'm having a good time and everyone's having a good time, we're doing something good. We're not writing a bad song. We're just not. If we were writing a bad song in this room of professionals, we wouldn't be having a good time.
And when you're having a good time, good ideas do come. Even if they are silly at first and they're more openly accepted, and everything in the room is flowing better when those channels of enjoyment are sort of open, and everyone's laughing and having fun and dancing and being silly, that's how you get creative.
I don't know of many songwriters who are just dead serious. I've maybe met a couple. So I think my operating principle is to have a good time. That's going to be the funnest day, no matter what. It's probably going to be a better song for it if you're having fun and you like the people and they like you, and everything's going well.
Why is it crucial that the Recording Academy honor not only public-facing creators, but those behind the curtain?
I won't speak for myself as much as just the amazing people who I've worked with. You can't understand what kind of work has to go into a song. It's so funny, because it's a three-minute thing that sounds like most people can do it in an hour or something, but some of these things take months of work to get right.
I think it's really important to acknowledge everyone involved in each of the processes, because to give credit to just producers and artists, and then it's like, "Yeah, but the storytellers aren't even in the room," is like the congratulating a director and an actor, and then being like, the writer is s—. It's like, what? The movie wouldn't exist without them!
That just wouldn't happen. So, it feels like the right thing. I'm a bit overwhelmed and still a bit in disbelief, but it's snowing in LA, so miracles do happen.
What would you tell a young songwriter who wants to roll up their sleeves and do this?
I would say just be a good person and keep learning. Everyone's not perfect at the start. But if I had to give one piece of advice that was super, super important to me, is the good guys are winning in the end sometimes.
Like I said, the friendships and the artists, you don't want to come in being a d—. And I don't mean that strictly for men. I just mean whoever's coming in, you want to be a nice person. I think there's a lot of good people, and there's a lot of bad people too. You find your crew — energy finds energy.
Meet Stephanie Economou, The First-Ever GRAMMY Winner For Best Score Soundtrack For Video Games And Other Interactive Media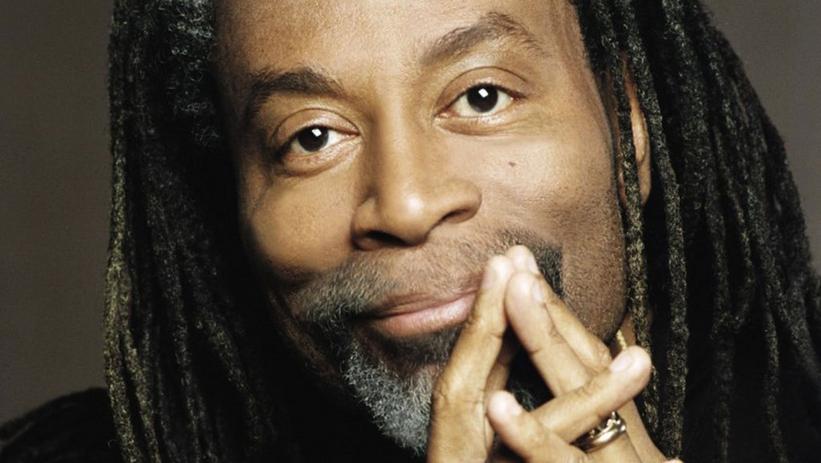 Bobby McFerrin
Photo courtesy of the artist
news
Bobby McFerrin Honored With Recording Academy Special Merit Award
After racking up 10 GRAMMY Awards and worldwide acclaim, McFerrin said this when the National Endowment for the Arts inducted him into its 2020 Jazz Masters class: "My pursuit of music has always been about freedom and joy."
GRAMMYs
/
Feb 27, 2023 - 07:08 pm
Whenever Bobby McFerrin sings, freedom reigns. It twists and shouts; caresses and soothes; howls and coruscates.
After racking up 10 GRAMMY Awards and worldwide acclaim, McFerrin said this when the National Endowment for the Arts inducted him into its 2020 Jazz Masters class: "My pursuit of music has always been about freedom and joy."
The son of two incredible singers, Sara Cooper (a former vocal professor at Fullerton College) and Robert McFerrin (an operatic baritone who was the first Black American man to sing at New York City's Metropolitan Opera), McFerrin seemed destined to become a star. He sang in church choirs while growing up in Los Angeles. He studied music at California State University at Sacramento and Cerritos College in Norwalk, California. Afterward, he played piano and organ with the Ice Follies and in pop bands. And in 1980, he toured with the iconic jazz singer, Jon Hendricks.
McFerrin was 31 years old when he released his debut LP in 1982. But his artistry sounded fresh and fully developed. He contorted his four-octave voice in an array of colors, textures and improvisational shapes, liberating the role of a jazz singer.
McFerrin's reputation as an ingenious and fearless virtuoso grew. His 1984 sophomore LP, The Voice, marked the first time a jazz singer recorded an entire album without any accompaniment or overdubbing. In addition to showcasing marvelous interpretations of songs by James Brown and Billy Strayhorn, it also revealed McFerrin to be an engaging composer through such infectious songs as "The Jump," and "I'm My Own Walkman."
A year later, his guest appearance on "Another Night In Tunisia" from the Manhattan Transfer's LP, Vocalese, earned McFerrin his first two GRAMMY Awards. The following year, he won a GRAMMY for Best Jazz Vocal Performance, Male for his stunning rendition of "Round Midnight," featuring pianist Herbie Hancock from the movie soundtrack, Round Midnight. His collaboration with Hancock also garnered McFerrin another GRAMMY win in 1987 for Best Jazz Vocal Performance, Male for "What Is This Thing Called Love?" from the LP, The Other Side Of Round Midnight.
For all of McFerrin's exhilarating virtuosity, he imbues it with vast emotional range, especially humor. He can infuse his improvisations with the madcap kinetic energy of a Tom and Jerry cartoon chase scene, then pull the amorous heartstrings with a tender ballad.
Of course, the lyrics that McFerrin became most famous for are from his sanguine 1988 hit, "Don't Worry Be Happy," which catapulted him into superstardom. The song won three
GRAMMY Awards — Song Of The Year, Record Of The Year and Best Pop Vocal Performance, Male.
That enormous success didn't impede McFerrin's flair for adventure. He brought a quixotic spark to his records and projects that broke the conventions of jazz singing. He collaborated with classical music heavyweights such as cellist Yo-Yo Ma, pianist W.A. Mathieu and the St. Paul Chamber Orchestra; he has created elaborate vocal choirs such as 2010's VOCAbuLarieS with composer Roger Treece; and delved deep into the Negro spiritual canon on his enthralling 2013 album, spirityoual.
Nearly 40 years after winning his first GRAMMY, McFerrin's continued boundless musicality is a true embodiment of artistic freedom.
Here's What Happened At The Recording Academy's 2023 Special Merit Awards Ceremony Honoring Heart, Nirvana, Nile Rodgers, The Supremes & More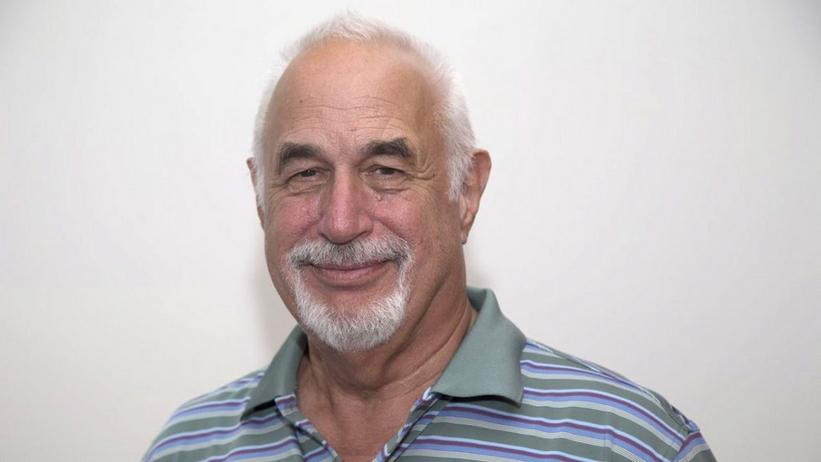 Dr. Andy Hildebrand
Photo courtesy Dr. Andy Hildebrand
news
Dr. Andy Hildebrand Honored With Recording Academy Special Merit Award
Dr. Andy Hildebrand invented the tool that transformed the vocal production landscape with his cutting-edge auto-tune pitch technology used by artists from Cher to Lil Wayne and Daft Punk.
GRAMMYs
/
Feb 23, 2023 - 06:52 pm
When Dr. Andy Hildebrand invented Auto-Tune pitch correction technology 25 years ago, he helped to redefine the sound of modern music in ways that even he couldn't have imagined. Auto-Tune has grown from a corrective device into a creative effect that has evolved with the decades — one that, for many, signals the sound of contemporary pop.
The tool that transformed the vocal production landscape emerged from unlikely beginnings: seismic science. In the late '80s, Hildebrand, a geophysical engineer and mathematician, left a lucrative career pioneering 3-D seismic-mapping technologies in the oil industry to go to music school. At Rice University, the accomplished flutist focused on composing with synthesizers, but grew dissatisfied with the unnatural sounds of digitized instruments. So, he began writing his own audio-processing algorithms, applying digital signal processing technology he developed in the geophysical industry.
Hildebrand was on to something, and he knew it. In 1990 he founded Jupiter Systems — which would become Antares Audio Technologies — to develop his own instrument-sampling software. Hildebrand had another breakthrough five years later. Lunching with friends at a NAMM conference, always eager for a challenge, he posed a half-serious question: "What needs to be invented?" One woman joked, "Why don't you make a box that lets me sing in tune?" An idea took root.
He realized he could apply his sound-based geophysical algorithms to pitch processing, and in the spring of 1997, Antares released the first version of Auto-Tune. News of the groundbreaking technology spread through the music industry like wildfire. Auto-Tune's efficiency, ease of use, and most importantly, its natural and undetectable pitch correction, made it an instant studio essential.
At first, Auto-Tune was a closely held studio secret, employed to discreetly polish vocal tracks. But everything changed in 1998 when Cher's blockbuster hit "Believe," with its deliberately unsubtle pitch-processing effect, brought the "Auto-Tune sound" into the public consciousness — the singer's glitchy vocal glides showcasing the technology's capability as a creative tool with vast potential. For the first time since the vocoder, a studio effect was defining a new vocal sound. Fans loved it, and artists in every genre started asking engineers for the "Cher effect."
Over the next decade, the use of Auto-Tune rocketed. It would shape the bold new sounds of landmark albums, from Daft Punk's Random Access Memories, which spawned the robo-disco smash "One More Time," to Lil Wayne's Tha Carter III. The unmistakable "T-Pain effect" became synonymous with modern hip-hop. Auto-Tune, coupled with the creativity of visionary artists, blazed the way for new rap and hip-hop sounds that would be exponentially replicated and reconfigured in a constellation of musical styles.
Ever since Andy Hildebrand's imagination brought us Auto-Tune, what was once behind-the-scenes is now center stage, with artists as diverse as Post Malone, Radiohead and Lady Gaga tapping Auto-Tune technology to sculpt their vocal sounds, both live and in the studio.
"Dr. Andy" left the industry long ago, but his impact endures. Few technology inventions have shaped the musical zeitgeist so profoundly. Like the electric guitar, the multitrack recorder, and the sampler, Auto-Tune and the work of Andy Hildebrand are forever imprinted on the way people make and enjoy music.
Here's What Happened At The Recording Academy's 2023 Special Merit Awards Ceremony Honoring Heart, Nirvana, Nile Rodgers, The Supremes & More