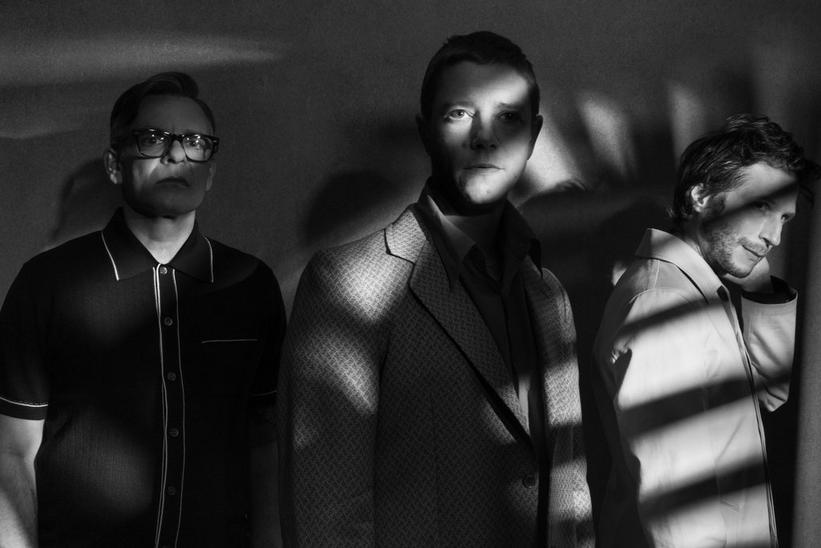 feature
Interpol Release 'The Other Side Of Make-Believe': 3 Major Takeaways From The Rock Stalwarts' Potent New Album
With 'The Other Side Of Make-Believe,' Interpol prove they're not a mere throwback from the 2000s indie boom, but a band of genuine longevity with a bright future.
GRAMMYs
/
Jul 15, 2022 - 02:29 pm
Which bands made it out of the 2000s indie-rock boom not only intact, but thriving?
It's not for GRAMMY.com to suggest who didn't, but it's abundantly clear by almost any metric who did. The National made it out. So did Bloc Party. And so did the Strokes, Arcade Fire, Arctic Monkeys… the list goes on. Going off the merits of their latest album, The Other Side of Make-Believe, it's clearly time to write Interpol into that list.
Despite a few less-acclaimed albums and the pivotal exit of bassist Carlos Dengler, Interpol have survived partly due to knowing exactly what they're good at: Eschewing sweeping gestures, accentuating their hypnotic rhythm section, dialing up the atmosphere to 10, drawing attention to singer Paul Banks' palpable charisma.
All those qualities are crystal-clear on The Other Side of Make-Believe, which arrives July 17 on Matador Records. A team-up between the three-piece and star producers Flood and Alan Moulder, the album represents a creative consolidation and conscious grasp for lyrical optimism. 
"Yeah, I could focus on how f—ed everything is," Banks said in the album's press release. "But I feel now is the time when being hopeful is necessary, and a still-believable emotion within what makes Interpol Interpol." Added guitarist Daniel Kessler: "I felt a rare sensation of purpose biting on the end of my fishing rod and I was compelled to reel it in."
For those who haven't kept up on Interpol in a while — or are wondering if now's the time to finally get into them — here are five takeaways from The Other Side of Make-Believe.
Interpol Want To Be Themselves — And Only Themselves
Featuring a Technicolor palette and swinging ambitions, Interpol's third album and major-label debut, 2007's Our Love to Admire, was an attempt to expand and evolve. While that album certainly has its acolytes, it began a period where Interpol sometimes couldn't catch a break from the critics.
"When it works, it's undoubtedly impressive," The Guardian opined about Our Love to Admire. "Impressive enough, in fact, to counter the fact that Interpol are pretty light on ideas of their own." The 2010, self-titled follow-up — which Banks called "hard and unpleasant to make" — earned similar marks; Dengler left the band after recording it.
Interpol enjoyed a critical upswing afterward, with 2014's fan favorite El Pintor and 2018's rawer, grittier follow-up, Marauder. Now, the band seems intent on sticking to their strengths while subtly maturing, deepening and exploring new territory.
You can hear that sense of self-understanding in Banks' restrained vocal approach — heard on tunes like "Fables," "Mr Credit" and "Greenwich" — as well as a refusal to streamline or genericize their approach.
"Our band has never exploited rock 'n' roll tropes, no big drum fills or wailing solos," drummer Sam Fogarino said in the press release. "So [Flood] located the core honesty in our sound and found a way to widen it." 
As such, The Other Side of Make-Believe inhabits a Goldilocks zone — not rehashing past accomplishments, yet staying inherently, essentially Interpol.
Carlos Dengler's Departure Was Major, But They've Found A Way Forward
By all means, Dengler played a crucial role in Interpol's early success, and the two albums most fans can agree on: 2002's epochal Turn On the Bright Lights and its excellent successor, 2004's Antics. But to hear Banks tell it, taking over bass duties wasn't as difficult as one might think.
"By this record, I had made two solo records, which meant I'd now played bass on two whole records," Banks told Vice in 2018 of El Pintor, their first Dengler-less album. "And, you know, a bass is just a guitar with four strings."
Partly by realizing that Dengler wasn't initially a bassist, but a guitarist, Banks — himself more of guitarist — picked up his instrument. Thereby, Banks "kept the tradition" within the band, "because there are ways guitar players play bass and there are ways bass players play bass.
"I don't play bass like Carlos, but I do play bass like a guitarist," Banks elaborated. "So there is that sort of continuity."
Like the Strokes with their generally well-liked 2013 album Comedown Machine and critically acclaimed 2020 album The New Abnormal — the latter which won a GRAMMY for Best Rock Album at the 2021 GRAMMYs — that sense of "continuity" led Interpol into the light.
They've had their ups and downs in more ways than one, but The Other Side of Make-Believe shows they have bona fide longevity.
The Other Side Proves That This Guitar-Music Era Remains Fertile
"I'll keep pushing forward/ All the obstacles in my way/ Have been falling," Banks sings in The Other Side of Make-Believe's closing track, "Go Easy (Palermo)." "I take shape on the highway/ To exotic states."
That seems to sum up how a handful of bands from the 2000s indie boom have proven to be far more than flashes in the pan; they constitute a sort of classic-rock canon for Gen Z, in the most flattering sense.
Certainly, some unshakeable fans would have been fine with the Strokes quitting after Room on Fire, or Arcade Fire stopping after The Suburbs — or Interpol hanging it up after Antics.
No matter what one thinks about the merits of those bands' successive albums, the fact remains: it's just interesting when a band stretches into multiple decades, with all the attendant hits, misses, bunts and grand slams. Those are the bands we argue about, which is half the fun of music.
So, here's to Interpol placing a new album among their best work — and everything they'll create on the other side of it.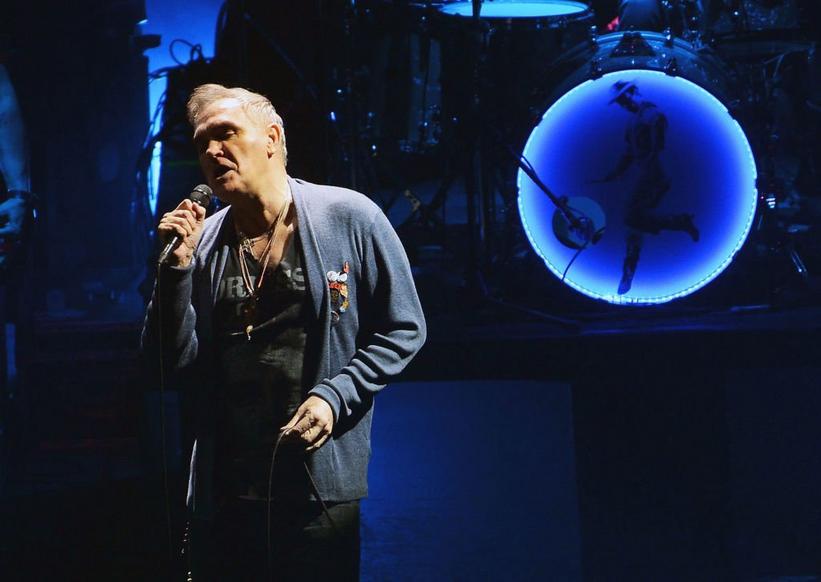 Photo by CLAUDIO CRUZ/AFP/Getty Images
news
Morrissey Announces Fall U.S. Tour Dates With Interpol
Morrissey will release an all-covers album, 'California Son,' on May 24
GRAMMYs
/
Apr 9, 2019 - 09:59 pm
Morrissey has unveiled a series of U.S. tour dates with support from post-punk provocateurs Interpol. Starting in Sept., the two acts will play venues around the country, beginning in Columbia, MD, at the Merriweather Post Pavilion. The tour will wrap on Oct. 6 in San Diego.
Ticket info available at MorrisseyOfficial.com. Ticket sales open to the public on Friday, April 12 at 10 a.m. ET.
The onetime Smiths frontman will soon release an all-covers album called California Son on May 24. Yesterday, he released the first single from the album, a duet with Green Day's Billie Joe Armstrong and the Regrettes' Lydia Night, who cover the 5th Dimension's "Wedding Bell Blues."

Morrissey is also scheduled to play a seven-date Broadway run at New York City's Lunt-Fontanne Theater from May 2 to May 11.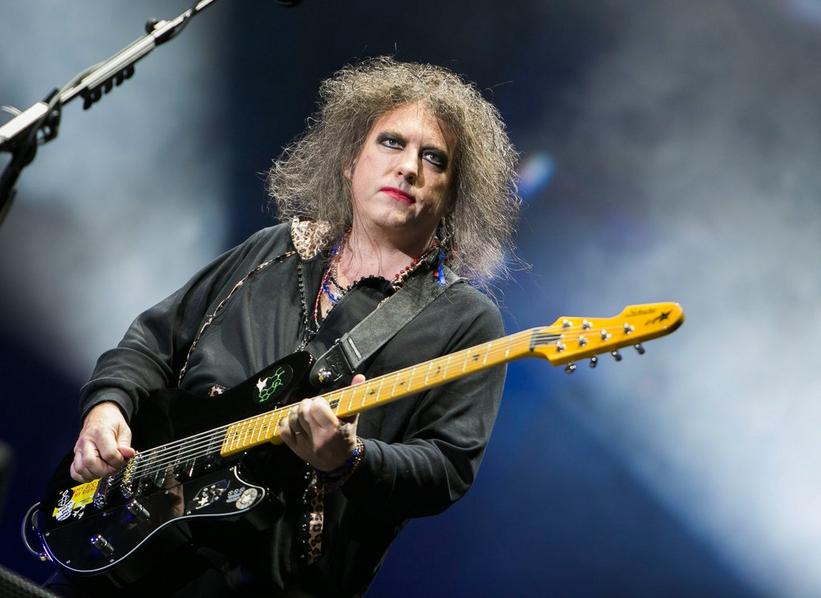 Photo: Scott Legato/Getty Images
news
The Cure Announce All-Star Lineup For 40th-Anniversary Celebration
Interpol, Goldfrapp, Slowdive, and more to join the British dream-rockers in London next July celebrating four decades as a band
GRAMMYs
/
Dec 13, 2017 - 06:29 am
Next year, the Cure will celebrate 40 years as a band with a celebration concert at London's BST Hyde Park on July 7, 2018, and they're bringing along some very talented friends.
Interpol, Goldfrapp, Slowdive, Editors, Twilight Sad, and Ride will join the Cure, along with additional performers to be announced at a later date, according to Rolling Stone.
Led by emotive frontman Robert Smith, the Cure have provided the soundtrack for a generation with their dreamy rock sound and impassioned, crafty songwriting. From the refreshingly melancholic anthems of the 1980s on such landmark albums as Kiss Me, Kiss Me, Kiss Me and Disintegration, to their chart-topping GRAMMY-nominated 1992 album Wish, to their pair of solid releases in the 2000s, including 2004's The Cure and 2008's 4:13 Dream, the Cure have continued to influence new bands and win new fans. Last year, they played a string of U.S. tour dates and even debuted two new songs live in New Orleans.
Presale for the 40th-anniversary celebration show starts Dec. 12 with tickets going on-sale to the general public starting Dec. 15. More information is available via the Cure's website.
Florence Welch Hosts 40th Anniversary Of David Bowie's "Heroes"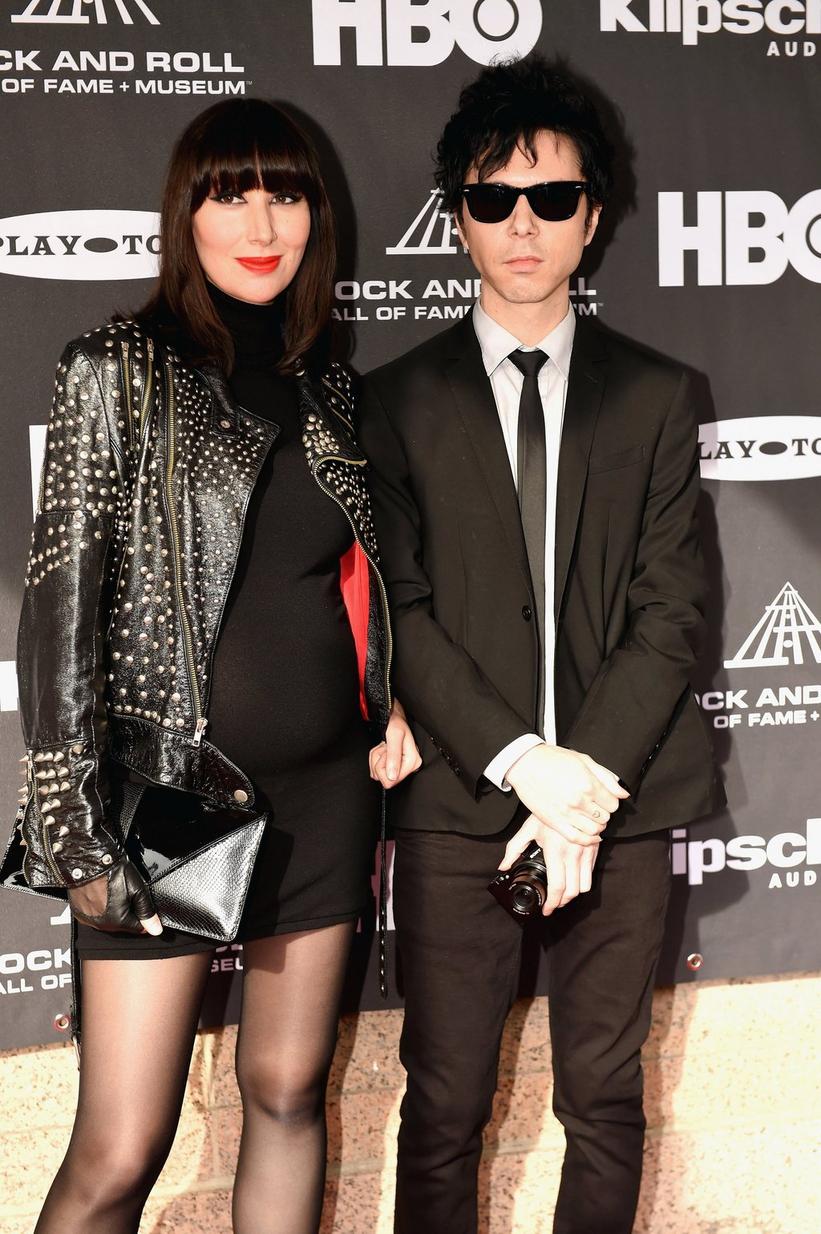 Yeah Yeah Yeahs' Karen O and Nick Zinner
Photo: Jeff Kravitz/Getty Images
news
Lizzy Goodman's 'Meet Me In The Bathroom' Set For Rock Doc Treatment
Acclaimed book spotlighting the 2000s' New York indie rock scene is being adapted into a 4-hour doc series
GRAMMYs
/
Dec 8, 2017 - 02:30 am
Well-known music journalist Lizzy Goodman's acclaimed "dirty time capsule" of the early-aughts' New York indie rock scene, Meet Me In The Bathroom, will be adapted for a new documentary series, Billboard reports.
Spotlighting the rises, occasional falls, and storied lifecycles of bands like LCD Soundsystem, the Strokes, and Yeah Yeah Yeahs, the book has garnered critical acclaim for its unflinching fly-on-the-wall view of this exciting and notably prolific era of music.
Noted directors Will Lovelace and Dylan Southern — best known for their work on LCD Soundsystem's intended swan song, Shut Up and Play The Hits, and the GRAMMY-nominated Blur documentary No Distance Left To Run — have been tapped to helm the four-hour documentary series based on Goodman's book.
"At various points during the six long years it took to bring Meet Me In The Bathroom to life, it occurred to me what an incredible documentary this would make," says Goodman of the announcement. "At the time it seemed like a total fantasy but it now feels like fate that the team behind Shut Up And Play The Hits, the show that gave me the idea to write this book in the first place, would be the ones to bring Meet Me In The Bathroom to the screen."
news
ArtsWatch: The Web's Sweet Music And Bitter Pill
The latest look at 500 legal music services and the massive shutdown of illegal drug sites
GRAMMYs
/
Dec 3, 2014 - 05:06 am
In recent news ...
Legit Music Sites Cover The Globe
On Oct. 11 IFPI announced the relaunch of the online Pro-Music guide, featuring 500 authorized Internet music services in more than 100 countries around the world. IFPI CEO Frances Moore said, "When Pro-Music first launched in 2003, digital was a small part of our sector and limited to a small handful of countries — today it is the beating heart of our business across the world." In 2003 Apple's iTunes was new, Pro-Music listed only 20 European services and consumers had 200,000 music tracks to choose from. Last year the music industry's digital revenues amounted to $5 billion, one-third of its global business, and the services in Pro-Music's directory offered a total of 26 million music tracks. In addition to its interactive world map that encourages the browsing of services divided into three business models — download sales, subscription fees and advertising-driven models — the site provides helpful educational guides and links about music and copyright law.
Thousands Of International Counterfeit Drug Websites Shut Down
Interpol and 100 countries conducted their fifth annual crackdown on illegal online pharmacies from Sept. 25 through Oct. 2, dubbed "Operation Pangea V." The Department of Justice and U.S. Immigration and Customs Enforcement participated under the designation "Project Bitter Pill," which included the seizure of 686 website domains as part of the multiyear Operation In Our Sites. Pangea V's international tally included 79 arrests, the seizure of 3.7 million doses of counterfeit medicine, and a total of 18,000 websites taken down. For the first time, Pangea included support from the Center for Safe Internet Pharmacies, an association of leading Internet and online payment companies, including MasterCard and Visa. Interpol Secretary General Ronald K. Noble said, "It is thanks to the coordinated efforts of all agencies involved — police, customs, health regulatory authorities and the private sector — that we have seen the most significant results since Pangea I was first launched five years ago."
Kim Dotcom Fails To Escape Notice
On Oct. 5 a Virginia U.S. District Court rejected defendants Megaupload and Kim Dotcom's motion to dismiss their U.S. criminal copyright infringement case, arguing that it should be thrown out on procedural grounds because prosecutors failed to properly serve them with notice. However, the court considered such an "extreme" solution unnecessary and recognized that the former media locker website had been playing hard to get. District Judge Liam O'Grady said, "It is doubtful that Congress would stamp with approval a procedural rule permitting a corporate defendant to intentionally violate the laws of this country, yet evade the jurisdiction of United States' courts by purposefully failing to establish an address here."
Book-Scanning Universities Win Major Fair-Use Ruling
The Southern District of New York's U.S. District Court issued an opinion on Oct. 10 in the Authors Guild v. HathiTrust lawsuit, ruling on seven motions and closing the case based on a finding that the defendants' copying is protected by fair use. Hathitrust is a digital book repository started by the University of Michigan that aggregates university libraries' digital copies of books scanned by Google's massive library scanning project. Other participating universities are Cornell University, Indiana University, University of California, and University of Wisconsin, all of which claimed that their uses of the digital books are for searchability, access for the blind and preservation. District Judge Harold Baer Jr. described the defendants as having provided an "invaluable contribution to the progress of science and cultivation of the arts." Consumer advocates Electronic Frontier Foundation and Public Knowledge welcomed the decision. The Authors Guild is considering how to proceed together with co-plaintiffs that represent foreign authors. "We disagree with nearly every aspect of the court's ruling," said the guild.
The Recording Academy actively represents the music community on such issues as intellectual property rights, music piracy, archiving and preservation, and censorship concerns. In pursuing its commitment to addressing these and other issues, The Recording Academy undertakes a variety of national initiatives. ArtsWatch is a key part of an agenda aimed at raising public awareness of and support for the rights of artists. To become more involved, visit Advocacy Action @ GRAMMY.com and sign up for Advocacy Action E-lerts.
Click on the "ArtsWatch" tag for links to other GRAMMY News stories in this series.