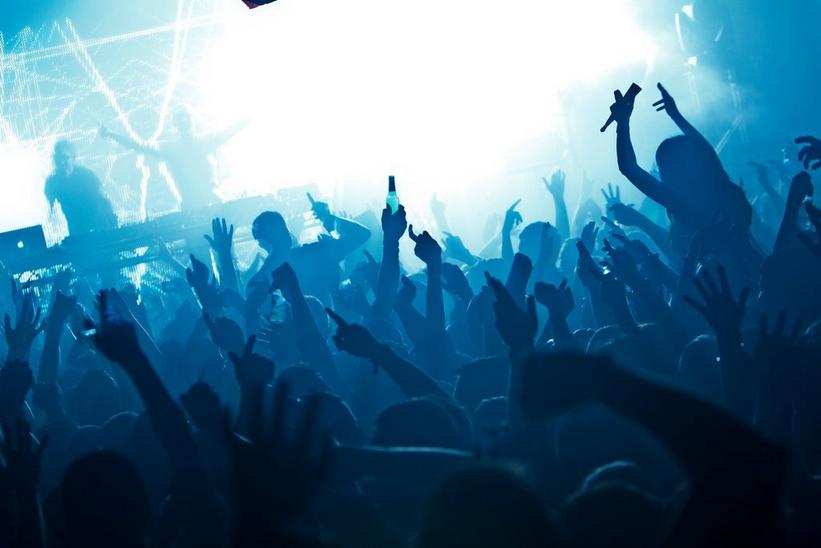 Nightclub disco crowd with arms and hands in air under blue lighting with performers on stage in Liverpool
feature
The Rise Of Underground House: How Artists Like Fisher & Acraze Have Taken Tech House, Other Electronic Genres From Indie To EDC
From Drake and Billie Eilish to Beyoncé, major pop acts are using house music influences and producers in their hits. This current trend is bringing the sounds of the underground — including tech house — to mainstream audiences.
GRAMMYs
/
Jul 8, 2022 - 04:53 pm
When Claude VonStroke first heard "Bad Guy," the GRAMMY-winning single by Billie Eilish, his initial thought was, Billie Eilish made a house track.  And if anyone knows house tracks, it's the long-time producer and DJ. 
The beat in "Bad Guy" consists of a four-on-the-floor kick drum and offbeat high-hats. The tempo is 135 — which is a bit fast, but still well within the range of house music — and the bassline plays a prominent role. Remove Eilish's vocals and the trap break at the end, and the song would fit very well in the catalog for VonStroke's label Dirtybird Records. 
Over the past 17 years, VonStroke (real name Barclay Crenshaw) has released over 250 house albums, singles and EPs on Dirtybird. Practically all of those releases share the same basic foundation as "Bad Guy," yet Crenshaw's productions have never reached the elevated status of the Eilish hit.
However, that's not Crenshaw's goal. He would rather keep house music in grimy, underground clubs and off TikTok; in same the environments where Black and gay people found the freedom to express themselves when they were creating dance music culture decades ago.  
But the times are changing: house music is on the way to Eilish's status. 
While house-centric artists like Calvin Harris have reached pop culture heights before, they were unable to carry the entire genre with them. But in this current rise in popularity, house music is not just a pop trend  — it's a community affair, just as it was in the pure underground era. That community is now large enough to raise house music to the mainstream without sacrificing its values, including uniting people on the dancefloor as equals. 
Crenshaw arguably helped launch house music into the mainstream in 2017, when Dirtybird released the two debut works from the Australian artist FISHER. A single "Ya Kidding," and the now classic track, "Stop it"(from his EP, Oi Oi) contain groovy yet heavy basslines, affected spoken word hooks, and foghorn-driven drops — elements of a style that is generally referred to as "tech house." 
Unlike the disco-tinge of pure house music and subtler styled deep house, the raw, bass-driven sound of tech house has been fueling the appetite of the dance music community — who have only become more ravenous for events post-lockdown. The subgenre cracked the barrier between underground and mainstream, and made 2022's Electric Daisy Carnival in Las Vegas the biggest yet, with 166,000 people attending the festival each day.
Yet Dirtybird's FISHER releases were the first swings of the hammer:  "Stop It" went from No. 50 on Beatport's Overall Top 100 chart to the No. 1 position within a week of release. The track then stood in the top two positions until January 2018 and remained on the chart until February 2019. The track's spoken hook, "Moving up and down, side to side, like a rollercoaster," became the house version of "With my mind on my money and my money on my mind," the infamous hook in Snoop Dogg's G-funk classic "Gin & Juice." 
"Those tracks changed the industry," says Crenshaw over Zoom from his home studio in Los Angeles. "I'm glad to have been able to bring that out to the universe. It's an A&R thing. We figured out what was going to work on the dance floor for the next three years."
Tech house producers have enjoyed persistent and immense success in the more than five years since FISHER's debut: UK house artist James Hype's 2022 single "Ferrari" was signed to Universal; tech house ascendant John Summit is running his own label and party series, Off The Grid; Black Book Records boss Chris Lake is sold out multiple nights of curated events at the massive New York venue, Brooklyn Mirage.
These artists are finding success while rejecting the pop music influence that engulfed the EDM boom of the 2010s. In this period, EDM figures like Avicci and Calvin Harris experienced massive popularity for their sensationalized synths and newfound big room sound, quickly signing to major labels and featuring on tracks by major artists such as Rihanna.
However, FISHER proved that underground house music can reach that level of success without pop influence. His 2018 single, "Losing It" — which has no vocal feature and was released on his own label, Catch & Release — was nominated for Best Dance Recording at the 61st GRAMMY Awards. The track also earned platinum certification from the Australian Recording Industry Association and peaked at No. 1 on the Billboard Dance Club Songs chart.
"[Tech house] is…doing the kind of numbers that we saw with EDM, but the sensibilities are slightly different. There's something innately a little bit more underground-leaning than what happened with EDM," says house music producer and DJ Anna Lunoe, who hosts danceXL on Apple Music. "I think what we saw with EDM is that it imploded on itself because it was like 'Oh great. Let's go completely pop.'"
From her home in Sydney, Australia, Lunoe continues: "You're seeing guys like Chris Lake that are completely independent. That own all their records. All their masters. [Lake] always talks about how he doesn't actually release that much music," Lunoe says. "It's very much an ethos, it's a scene, and it's a community that he's really nourished."
That community was 80,000 strong during Chris Lake's set at EDC Las Vegas 2022. For many of those same fans it's not about following the latest radio bangers; it's about being a part of something bigger than themselves. That same spirit has existed since the genesis of house music.
"It's always been a gathering of family, of people," says DJ Minx, real name Jennifer Witcher, from her hometown of Detroit. "The family that you can create just by playing the music for people."
Witcher has been actively DJing and producing house and techno music in Detroit — one of dance music's founding cities — since the '80s, but she has seen a stark resurgence in her own career in the past "five or six years," as she says, which happens to be right around the time Dirtybird debuted FISHER. 
One positive result of that resurgence came at the most recent edition of Movement Electronic Music Festival, held in Detroit over Memorial Day Weekend. 
Witcher has played numerous editions of Movement since it launched in 2006 and in 2022 she hosted her own stage for the first time, an experience she simply described as "ridiculous." She also had her first official release on Planet E, the label run by fellow Detroit legend Carl Craig, which just celebrated 30 years.
The house community has supported Witcher as both an artist and a human being, which was fully apparent after she came out as gay in June of 2021.
"When I came out I was so worried. I thought I was going to lose everything. Everybody's going to be done with me, but things for me kind of quadrupled," Witcher says. "So I think that in order for it to continue to grow the way it is growing we need to keep doing what we're doing. Stop hiding and be out there and let it be known that we are definitely here."
Artists like Kaleena Zanders are finding great success in house music, showing that women and queer artists are present and driving the tech house scene.
"Even more Black people are starting to get into tech house which is really important. I love that Black people are being returned to their own movement," Zanders tells GRAMMY from Los Angeles. "It's nice because you have people like Duckwrth doing that. I'm very happy with the place that it's at right now."
Zanders is another Black, queer, female artist in the dance space. She made a name for herself as a vocal artist singing on numerous house tracks, and now has more than  20 million Spotify streams. As a DJ, Zanders has played sets at major festivals like EDC Las Vegas and Governor's Ball.
But being a vocalist first and knowing the power of connection vocals have with an audience, Zanders sees the opportunity to ride the house music wave to true pop stardom…just like Billie Eilish.
"I definitely want to be a huge pop star or dance star. Whatever that means. Basically just celebrity vibes," Zanders says.
One pure house artist who is surely on his way to celebrity vibes is Acraze, real name Charlie Dunker. His track, "Do It To It," —  which samples the 2006 single of the same name from the R&B group Cherish — is set to be as big as any record from Eilish, without any sort of pop influence.
After being released in August 2021, "Do It To It," hit No. 3 on the Billboard Hot Dance/Electronic Songs. At the time of writing, "Do It To It," has over 433 million streams on Spotify, 3.3 million videos on TikTok, and 7 million Shazams. It's even been in a Pepsi commercial.
With numbers like that, major labels were sure to take notice (Acraze recently signed a deal with Capitol Records). A&Rs could put Dunker in the same position as Calvin Harris, throwing an illustrious pop singer on a feature to guarantee worldwide attention.
But no matter what may happen in the future, producers from the underground era like Crenshaw consider this mainstream success a good thing. "Because some [house music] is seeping into mainstream culture it's helping everyone. All boats rise with the tide," he says
Beyoncé and Drake are helping to raise the tide as well. Beyoncé's latest single, "BREAK MY SOUL" borrows from house music in a similar manner to "Bad Guy," and Drake tapped four producers from the house and techno realm on his recently released album, Honestly, Nevermind.
Nine of the tracks on Honestly, Nevermind were produced by Keinemusik bosses &ME and Rampa, the 2022 GRAMMY winner Black Coffee, and Gordo, the recently rebranded house project from the open format electronic artist Carnage. Together these four producers imbue Drake's voice with various subgenres like piano house and melodic techno.
"Bad Guy," by Billie Eilish was her own take on pop music with house as a foundation. Honestly, Nevermind shows Drake adapting his style to that of the underground — or at least what used to be underground. Soon his millions of fans will be a part of the community surrounding this music, and there's no telling where the sound will go from there.
Planet E's Carl Craig On Keeping Dance Music Black & Expansive New 'Planet E 30' Album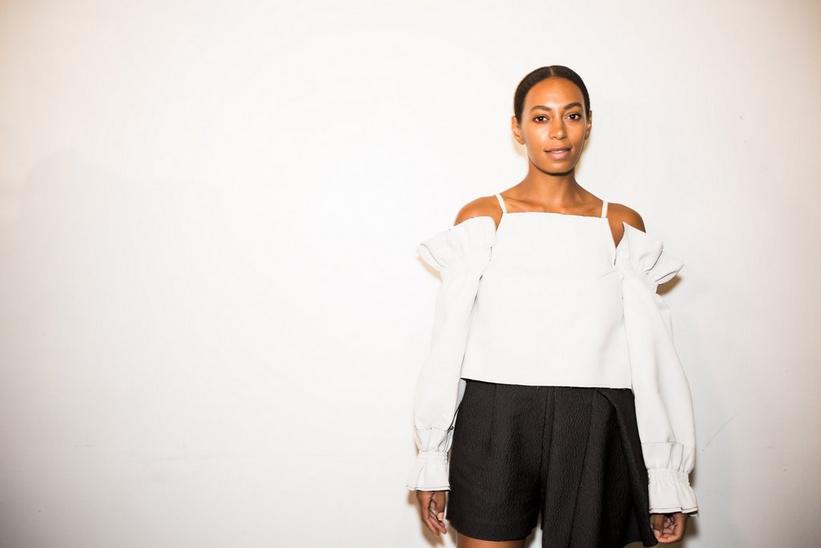 Photo: Daniel C. Sims/Getty Images
news
Solange To Play Benefit Show For Hurricane Harvey Relief
GRAMMY winner adds her name to the list of artists who are helping to raise millions in relief efforts for victims
GRAMMYs
/
Aug 31, 2017 - 04:37 am
GRAMMY winner Solange has announced she will be performing a benefit show to raise money for Hurricane Harvey relief efforts. The performance, called Orion's Rise, will be held at Boston's Orpheum Theatre on Sept. 8.
"I'm committed to partnering with organizations on the ground in Houston and making contributions to uplift the city that raised me with so much love," said Solange, a Houston native.
This announcement comes on the heels of other artists pledging their support, including Solange's sister, Beyoncé. But they are certainly not the only ones.
Beyoncé Vows "To Help As Many As We Can" In Wake Of Hurricane Harvey
Houston rapper Bun B and manager Scooter Braun (Justin Bieber, Ariana Grande) are organizing a televised benefit concert that will reportedly air on four national networks on Sept. 12.
Comedian Kevin Hart pledged $50,000 to relief efforts, and the fund he organized has earned nearly $2 million in additional financial support, with contributions from artists such as the Chainsmokers. All funds will go to the American Red Cross.
The Kardashians and Jenners, Nicki Minaj, and DJ Khaled have also announced they will make donations. Jennifer Lopez and her partner Alex Rodriguez joined in the fundraising efforts, pledging $25,000 each to the Red Cross.
In addition, GRAMMY winner Jack Antonoff is matching donations up to $10,000 for the Montrose Center in Houston, an LGBT community center. Chris Brown will donate $100,000 directly to "the people," and T.I. will donate $25,000 to relief efforts.
news
"GRAMMY Effect" Spikes Sales
GRAMMYs
/
Dec 3, 2014 - 04:22 am
"GRAMMY Effect" Spikes Sales
The 52nd Annual GRAMMY Awards drove a 3.3 percent increase in album sales compared to last week, according to a Billboard report. The 2010 GRAMMY Nominees album jumped to No. 5 with sales of 71,000 units, a 55 percent increase. Top GRAMMY winner Beyoncé's I Am…Sasha Fierce rose to No. 14 with sales of 32,000 copies, a 101 percent increase. Other GRAMMY performers experiencing sales increases include Pink (up 234 percent), Dave Matthews Band (up 114 percent), the Zac Brown Band (up 82 percent), the Black Eyed Peas (up 76 percent), Taylor Swift (up 58 percent), and Lady Gaga (up 17 percent). Lady Antebellum, who also performed on the telecast, remained at No. 1 for the second consecutive week. (2/10)
Grainge Promoted To UMG CEO
Universal Music Group International Chairman and CEO Lucian Grainge has been promoted to CEO of Universal Music Group, effective Jan. 1, 2011. He will succeed Doug Morris and report to Jean-Bernard Lévy, chairman of the management board of Vivendi. Grainge will relocate from London to New York to serve as co-CEO of UMG in tandem with Morris for six months starting July 1. Morris, who has served as UMG chairman and CEO since 1995, will remain as company chairman. (2/10)

news
Ladies Antebellum And Gaga, Jeff Beck, David Frost, John Legend Win Three GRAMMYs Each
Arcade Fire wins Album Of The Year; Esperanza Spalding wins Best New Artist
GRAMMYs
/
Dec 3, 2014 - 05:06 am
(To view a list of 53rd Annual GRAMMY Awards winners, click here.)
The evening began with a tribute to the Queen of Soul, Aretha Franklin, but by the time the last of the 53rd Annual GRAMMY Awards was handed out on Feb. 13, several other singers and bands looked something like royalty. Foremost among them was Lady Antebellum, who walked away with three trophies while the group members earned two more each for songwriting categories.
Lady Antebellum at the GRAMMYs
During a show memorable for its range of fully fueled performances, the country superstars sang a pitch-perfect medley of tunes that ended with a quiet rendition of the song that launched them, "Need You Now," and shortly afterward collected the Song Of The Year GRAMMY for it (along with co-writer Josh Kear, with whom they also took Best Country Song). But there was plenty more to come for the trio. They also took home the GRAMMY for Best Country Album for Need You Now. Accepting that award, lead singer Charles Kelley said, "This song has completely flipped our world upside down." By the time Lady Antebellum stood up to collect a trophy for Record Of The Year for "Need You Now," they were in disbelief, and possibly discombobulated: "Oh my gosh, we're so stunned we started walking the wrong direction," said singer Hillary Scott breathlessly.
Also racking up awards was Lady Gaga, who claimed three: Best Pop Vocal Album for The Fame Monster, and Best Female Pop Vocal Performance and Best Short Form Music Video for "Bad Romance." Never one to miss the chance to make an entrance, she hatched herself onstage from a giant opaque egg. That was a riff on her new single, "Born This Way," and perhaps her bared shoulders, which sprouted a pair of pointy elbows, were too. Her dancers and outfit gave off a Cleopatra vibe, but Gaga can't be stopped from seeming ultra-modern, and her performance of "Born This Way" reflected that; it was a warp-speed whirlwind.
Lady Gaga at the GRAMMYs
In keeping with that same modernist — or maybe futurist — spirit, she accepted her award for Best Pop Vocal Album in black body armor. But Gaga also proved she can be an old-fashioned girl with a soft side. In an emotional acceptance speech for that award, she surprised the audience by thanking Whitney Houston: "I imagined she was singing…because I wasn't secure enough in myself to imagine I was a superstar. Whitney, I imagined you."
Leading the nominees with 10 nods revolving around Recovery, an album that detailed his struggles with addiction but also reestablished him as a rap force to be reckoned with, Eminem took home trophies for Best Rap Album — a triumph over rivals including Jay-Z, Drake and B.o.B — and Best Rap Solo Performance for "Not Afraid." Onstage, his swagger proved undiminished.
A flame-haired Rihanna opened Eminem's performance with a searching rendition of their duet "Love The Way You Lie," but it was Slim Shady who came out blazing, spitting the lyrics to that song before raging into "I Need A Doctor" with Dr. Dre and singer Skylar Grey; Adam Levine from Maroon 5 handled piano duty.
Closing the show and likely lifting the Sunday-night spirits of indie kids everywhere was the Canadian collective Arcade Fire, who won the Album Of The Year GRAMMY for The Suburbs and, before the night's final performance, turned in a frothy and fierce rendition of the rocking "Month Of May."
Arcade Fire at the GRAMMYs
Other multiple winners for the evening included classical music producer David Frost, legendary rock guitarist Jeff Beck and R&B artist John Legend, who each earned three awards. Among those who won two each were alternative rock band the Black Keys, jazz giant Herbie Hancock, Jay-Z, Alicia Keys, urban/alternative group the Roots, Keith Urban, and gospel singer BeBe Winans.
And in a bit of surprise, jazz bassist Esperanza Spalding won Best New Artist over teen phenom Justin Bieber, as well Canadian rapper Drake, and adventurist rock outfits Florence & The Machine and Mumford & Sons.
Esperanza Spalding at the GRAMMYs
The show also featured a few firsts, including a first-time ever GRAMMY performance by Rolling Stone frontman Mick Jagger, who helped pay tribute to fallen R&B singer Solomon Burke.
But if there was also a constant, it was the annual, high-profile celebration of music that the GRAMMYs represent, and the 53rd GRAMMYs fit the bill once again, with performances, pairings and awards presentations that were full of pleasant musical surprises.

Click below for more GRAMMY content:

GRAMMY liveblog
GRAMMY quotebook
GRAMMY Week photos
GRAMMY Week videos
news
Stars Align On Capitol Hill
Music at presidential inaugurations provides entertainment and unifying moments of patriotism
GRAMMYs
/
Dec 3, 2014 - 05:06 am
(On Jan. 21 President Barack Obama will be inaugurated into his second term as president of the United States with a celebration in Washington, D.C., featuring performances by GRAMMY winners Beyoncé, Alicia Keys, Kelly Clarkson, Brad Paisley, Usher, and Stevie Wonder, among others. This feature is taken from the fall 2012 issue of GRAMMY magazine and offers a brief history of notable musical performances at past presidential inaugurations.)
Being elected the leader of the free world is a pretty good reason to strike up the band. Ever since George Washington first danced a celebratory minuet after his inauguration in 1789, music has played an ever-increasing role in the gala events surrounding presidential inaugurations.

In 1801 Thomas Jefferson had the U.S. Marines band play him along as he made his way from the Capitol to the White House after taking the oath of office. James and Dolley Madison threw the first official inaugural ball in 1809. Jumping to the 20th century, in 1977 Jimmy Carter invited such music luminaries as John Lennon and Yoko Ono to his inaugural ball and allowed rock and roll — or at least the Southern rock variety — to become a part of his inauguration backdrop when he invited the Marshall Tucker Band and the Charlie Daniels Band to share a concert bill with Guy Lombardo And His Royal Canadians. (Lombardo's group was something of an inauguration ball house band, having played for seven presidents.)

Today, inaugurations are presented as both massive public live events and televised productions, complete with a concert featuring a roster of star talent. The musical performances at inaugurations not only provide entertainment, they also help set the tone for a new presidency and bring the country together in a unifying moment of patriotism over partisanship.

"It wasn't about one side or the other. We just had this overwhelming feeling of being proud to be American," recalls Ronnie Dunn, formerly of the GRAMMY-winning duo Brooks & Dunn. He and then-partner Kix Brooks performed their hit "Only In America" at a concert as part of George W. Bush's first inauguration in 2001.

"Right away you could feel it was an emotionally charged crowd, and when you're standing on the steps of the Lincoln Memorial looking across to the Washington Monument, you can't help but tear up a little," says Brooks. "I remember there was this chaos during the big encore when all the musicians and all the presidential VIPs were onstage together. I turned around and there's Colin Powell shaking my hand. It turned into one of the wildest photo ops ever because all the music people and all the political people were pulling their cameras out to take pictures of each other."

One of the most memorable unions of political and musical star power at an inaugural gala occurred in 1993, when a reunited Fleetwood Mac performed "Don't Stop," a hit from their GRAMMY-winning album Rumours, for President-elect Bill Clinton. Clinton had used "Don't Stop" as the theme song to his presidential campaign, but the payoff live performance almost didn't happen.

"At that point we were as broken up as we'd ever been," says Stevie Nicks. "When our management received the request for us to play, they said, 'No.' I heard about that and thought to myself, 'I don't want to be 90, looking back and trying to remember why my group couldn't play the president's favorite song for him.' I told management to let me handle it."

Nicks successfully coaxed her bandmates into a one-night, one-song reunion, a performance she remembers as truly exceptional.

"For one thing we'd never seen security like that," she says. "The Secret Service makes rock and roll security feel like a bunch of grade school hall monitors. But the performance felt really important. It felt like we were a part of history, and that the song itself was becoming a piece of American history. It was a fantastic night in all of our lives, and I'm really glad the band was able to come together for that one."

The Beach Boys played Ronald Reagan's second inauguration after a somewhat confused relationship with the White House. The band had headlined a series of Fourth of July concerts at the National Mall until 1983, when U.S. Secretary of the Interior James Watt accused the group of attracting "the wrong element" and booked Wayne Newton in their place. Watt later apologized, and the Beach Boys were reinstated and invited to play Reagan's inaugural gala in 1985.

"What I remember most about that night is that I got to meet Elizabeth Taylor," says Jerry Schilling, the band's then-manager. "But I also remember being extremely proud of the group. Things had been hard for Brian [Wilson], and the group wasn't always getting along. But they stood there together in front of the president and sang perfect five-part a capella harmony on 'Their Hearts Were Full Of Spring.' It was a big moment — we all felt that. It wasn't just another gig. The guys were truly honored to be there and they brought it when it mattered."

A new musical standard for inaugural events may have been established in 2009 when Barack Obama's presidency was kicked off with the "We Are One" concert. The patriotic spectacular featured a who's who of performers ranging from Pete Seeger, Bruce Springsteen and U2 to Usher, Sheryl Crow and will.i.am. An all-star lineup usually adds an all-star production element, but this particular concert was unique.

"Dealing with top artists, there's usually a lot of negotiating," says Don Mischer, one of the concert's producers, whose list of credits also includes Super Bowl halftime shows and Olympics ceremonies. "Who needs a private jet? How much does their 'glam squad' cost? What kind of security do they need? Putting together 'We Are One,' we said to every artist, 'This is a historical moment we'd love for you to be a part of, but you have to pay your own way and take care of your own security.' Right away, people like Beyoncé and Bono and Springsteen and Stevie Wonder all said, 'Yes.' They wanted to be there. There was a true camaraderie right from the start, and it turned out to be one of the greatest experiences any of us have ever had."

While Washington's minuet may have simply been a matter of dancing, Mischer says music has become as powerful a symbol of America as any other part of Inauguration Day.

"When you bring the music and the significance of an event like this together, it really reflects the strength of our cultural diversity and the strength of our country," he says. "In fact, at times when we seem to be going through confrontational political campaigns, I wish we would listen to the music a little more."

(Chuck Crisafulli is an L.A.-based journalist and author whose most recent works include Go To Hell: A Heated History Of The Underworld, Me And A Guy Named Elvis and Elvis: My Best Man.)