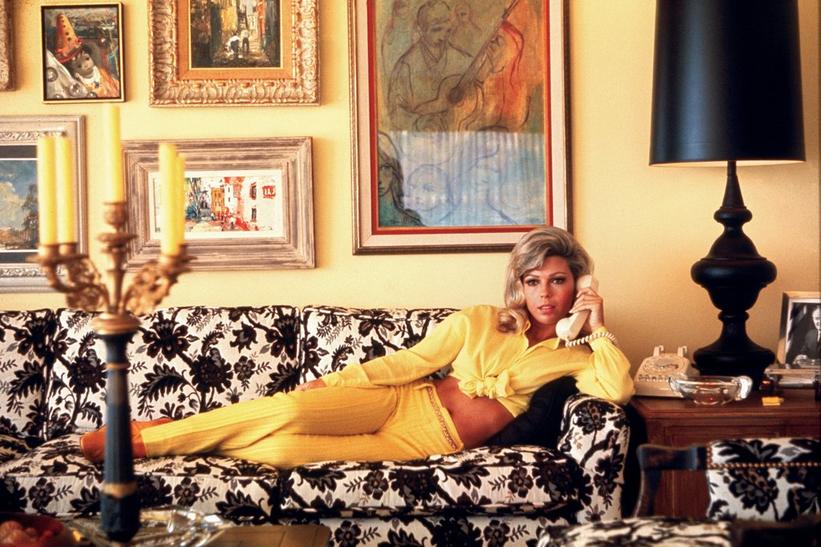 Nancy Sinatra in the 1960s
Photo: David Sutton, courtesy of the David Sutton Collection
interview
Living Legends: Nancy Sinatra Reflects On Creating "Power And Magic" In Studio, Developing A Legacy Beyond "Boots" & The Pop Stars She Wants To Work With
Nancy Sinatra is more than "Boots" — the singer and actress has recorded over 20 albums during her six decade-long career. Sinatra spoke to GRAMMY.com about her canon of pop records, recording with Lee Hazlewood and her dream collaborators.
GRAMMYs
/
Sep 14, 2022 - 09:42 pm
Presented by GRAMMY.com, Living Legends is an editorial series that honors icons in music and celebrates their inimitable legacies and ongoing impact on culture. GRAMMY.com caught up with Nancy Sinatra, whose work is receiving the grand retrospective reissue treatment through Light in the Attic Records.
Nancy Sinatra is barefoot.
The woman whose most enduring hit is an ode to footwear — and the power of female — of course, doesn't wear shoes inside her home in California's low desert. But one need not speculate that she once had a closet full of supremely fashionable kicks.
In the late '60s and early '70s, Sinatra, now 82, was a fashion icon and actress with a powerful pop voice to boot — pun intended. While she may be most known for singing 1966's "These Boots Are Made For Walking" and the theme to You Only Live Twice, Nancy Sinatra has a sizable catalog which boasted new material through 2013.
Sixty-something years after "Boots," Sinatra is still being celebrated. Seattle reissue label Light in the Attic Records launched a retrospective effort on Sinatra's career in 2020, and has released multiple solo and duet albums since. In May, the label reissued the 1968 duet album Nancy and Lee, with additional tracks, for the first time.
But when Sinatra picked up the phone to chat about the release and her career over the summer, her mind was on more serious pursuits. Sinatra was in the middle of watching the January 6 hearings on the attack on the Capitol, and she had visions of the massacre at Uvalde. "It's just a scary time in many ways," Sinatra says with more than a hint of sadness and exasperation.
We go back to another turbulent time: 1968. Vietnam raged, Nixon took office, the Chicago Democratic Convention became bloody, and the country mourned both MLK and RFK. Amid the turmoil, Sinatra was in studio with singer/songwriter Lee Hazlewood recording Nancy and Lee, the first of their three duet albums.
Lee and Nancy were paired together in a last-ditch effort by Reprise Records — a label owned by her father — to get Nancy a hit. It seemed an odd pairing; Hazlewood had been working with rock guitarist Duane Eddy and his productions effused a Western twang, while Sinatra was a pop icon who studied classical piano. Yet, the combination worked, and Hazlewood would write and produce several of Nancy's efforts.
While the pair collaborated on several of Nancy's solo efforts prior — and worked together well into the '90s — Nancy and Lee is worth close examination for its stories in folk, country and pop traditions. Their first album of duets melds Hazlewood's Johnny Cash-like vocals with Sinatra's adaptable and often sugary-sweet timbre, is an unlikely masterpiece with a Wall of Sound quality.
Nancy spoke to GRAMMY.com about the album's creation, her fruitful partnership with Hazlewood, and her list of fantasy collaborators.
From what we were discussing about January 6, let's bring it back to another time that was also very tumultuous. There was a lot going on in 1968 when Nancy and Lee came out. Did you feel that in the same way as you do today?
Yeah, you were either pro-war or anti-war, so it was politically challenging. I knew one thing: I was pro-troops. None of it was their fault; they were stuck, and they had to be supported. No doubt about that.
You've recorded so many records over your career; I'm curious why Nancy and Lee is so enduring in your mind.
You know, I wonder that too. I have to credit Lee, because he's the added factor in those recordings. The arranger was the same for most of my work. The songs were mostly written by Lee, so I don't know. Maybe it was the chemistry that people were attracted to, or Lee's voice itself. I mean, nobody sounded like him; Johnny Cash was the closest vocally.
You've described your relationship with Lee as "beauty and the beast" and have said that your voices didn't blend, but you have this really distinctive vocal harmony; it sounds like you're having a lot of fun. How did you create that
There were times when we actually sang together on the mic, and there were other times when Lee was in the booth when I was singing.
He didn't like singing with somebody. He would prefer — even though they were duets, a contradiction in terms — to have us sing separately. Which is why we have that verse, chorus, verse, chorus thing most of the time. There were very few times that we actually sang together.
I think we did do ["Ladybird"] in the studio together. I think that the chemistry reflects that. It was fun.
Did you find that challenging?
No, it was a very comfortable process. The studio was familiar; we were all friends. The challenge was trying to create vocals that had power and magic to them. It wasn't easy to do, but Lee's songs were really fairy tales — and telling stories was what we did.
It really does seem like you're having fun throughout the record, especially on "Greenwich Village Folk Song Salesman."
[Laughs] It was a piece of s—, it was awful! It was just a crappy song.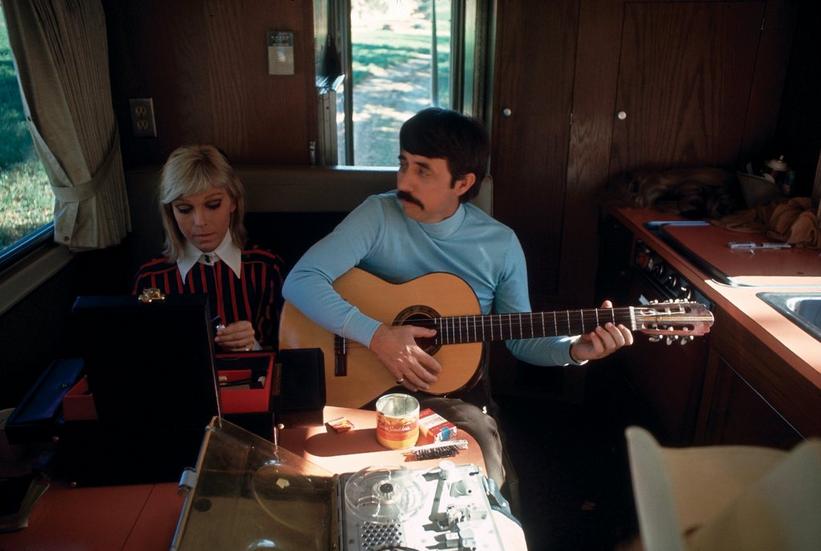 Nancy Sinatra and Lee Hazlewood | Photo by Paul Ferrara, courtesy of Boots Enterprises
You were paired with Lee as sort of a last-ditch effort by Reprise Records, right?
The problem was I wasn't selling in the United States. I sold a lot of the early bubblegum records around the world but nothing in this country. Jimmy Bowen, who was the head of the A&R department, wanted me to stay on the label. I mean, it was my dad's label after all, and it kind of would have been embarrassing if they had to let me go!
I don't know why Jimmy thought this — because Lee was not working with a vocalist; he was producing Duane Eddy. I guess Lee must've assured him he could do it. So [Jimmy] put us together, and it was just magic. The "beauty and the beast" thing came joking about how we sounded together. We were pretty self-deprecating.
Did you have to develop your creative relationship actively or was it instant magic?
It really was instantaneous. I had heard the record that Lee had made with Suzi Jane [Hokum, 1967's "Summer Wine"] and I thought they were so cute.
It was something different about the two of us that captured the fancy and the imagination of the public. It's weird how those things happen, those unexplained magical pairings.
Did you at least stay in touch with Lee until he passed? Were you friends?
Well, we were touring in '95 and he was part of our touring group. The only time we weren't in touch was when he disappeared and took off for Sweden at the height of our recording careers. I never understood that and I was hurt so.
One day he just up and left. [Aftward] I struggled, floundered. I made a few albums with Billy Strange.
Did you and Lee ever have to hash it out when he came back to the States?
No, not really. We got along on the surface, but deep down I think it's still a love-hate thing. I didn't hate anything specifically, except that he would disappear. [I loved] his talent.
Where were you personally in your musical taste and desires as a performer in the mid-60s? Your first two duet albums with Lee have really big pop production, country elements and even Baroque traits. "These Boots" has a country feel if you listen closely, and then you're putting out bubblegum songs.
I studied classical piano for 12 years as a kid. Frank Sinatra was my father and my friends were his friends. There was a lot of influence from that side of the musical spectrum. I also grew up with soul — LaVerne Baker and Ruth Brown were favorites of mine early on, and I loved Johnny Mathis better than anybody. I had an eclectic background, musically.
I guess it would only make sense considering your father and the musical world that was around him. Back to your collaboration with Lee — it was so fruitful, and I'm curious why if at all, this Nancy and Lee reissue is particularly special to you.
Well, first of all, Light In The Attic is incredible, they do amazing remastering work. To save these recordings means a great deal to me. I like the fact that they are protected and will be around for decades to come. After all, that's what we hope for with whatever work we do — we want to be remembered and valued in some way.
They are saving, in a brilliant way, a lot of my recordings. I hope that they go deeper into my catalog and pull out hidden gems that people haven't heard in years, or maybe never. Because I recorded so much rich material with great arrangers. It's exciting to think that that will be part of my legacy, not just "Boots" and "Sugartown."
A lot of press releases have highlighted the fact that you're personally involved in these reissues, and Light In The Attic has done quite a campaign over the past two years. How were you involved?
I actually was not involved. I was delightfully surprised when they launched this project. Both my daughters have been working to ensure that my legacy lives on. It's wonderful, they are amazing — AJ and Amanda — they're so helpful with this process.
Let's face it, this stuff could have just died in the world. But they're not letting it. They're promoting it and the beauty of it all; it's really quite a remarkable collection. I'm excited that people will be able to hear things they may never have heard before.
You had such a prolific recording career, 20 albums or so overall. Is there a record, or records from your catalog from the deeper collection, that you are most proud of?
I love the self-titled album from 1995, where a lot of '80s artists contributed songs and actually performed them with me. My California Girl album, which is great fun; it was not an album, per se. It was recorded over a couple of decades and we just pulled it all together, realizing that there were so many songs about California in my catalog.
When did you move to California?
My parents moved to California from New Jersey when I was about 4 years old. I still live in California, in the low desert. It's a wonderful place. It's peaceful and mostly quiet. When you get to be my age, those are important things.
Speaking of neighbors — I read that you used to live near Morrissey and consider him a mentor. What was it like working with him?
Oh, he's just brilliant. He's very tender and kind and sweet and funny. He's the main reason besides my two daughters that the Nancy Sinatra album came to life. He's on the track "Let Me Kiss You." He wrote the song and sent me his recording of it, and that's how the whole thing started. It was a real resurgence for me, which was a surprise that changed my life, really.
I was just a rumor before that came out. Whatever people thought of me was history. I was traveling with my little band and doing clubs and that sort of thing, nothing big. It's just a gift to have people — like Kim Gordon, for example — just approach me. My daughter AJ had to pull them in from everywhere, and they gave me these wonderful songs.
Wow, that must have made you feel so good. You also had another resurgence or when Kill Bill used your cover of "Bang Bang" prominently.
Yeah, that was thanks to Quentin Tarantino. He apparently had always wanted to use the song. I got messages from people saying they had no idea it was me on the soundtrack until they saw that credit on the screen.
[I remember recording it] very well. It was Billy Strange and me in the studio. We tried to do the occasional duet with his guitar and my voice; that one was an idea that we had batted around a little bit and then we decided to pull it off. It was quick; the wonderful, magical tracks tend to happen quickly.
I read somewhere that you would like to collaborate with Billie Eilish — why her? Is there anyone else you would like to collaborate with?
I think she's great! I'm too old for that now, but I think it would be fun. I've always loved Avril Lavigne and think she's great, very fun. I also love Adam Lambert. He'd be a fabulous duet partner, and Bruno Mars… there's a whole list of people, we could do a whole new album! Hello Bruno!
I also want to ask you about owning your masters; that is no small feat for any artist. Why is that important to you and how it's influenced your career over the decades?
Owning your masters is vital; that's something that every musician should aim for. If there's a label involved, you've got to make a deal where at the end of a certain amount of time, the masters would revert to you. You have to have control of your work.
With "Bang Bang," for example, Quentin was able to have free reign because I owned it. He didn't have to battle with a label.
Are you working on anything right now?
I have a book coming out that my daughter Amanda is pretty much responsible for. Because of Covid we got delayed by about a year, [but] it's going to be a really wonderful picture book; it captures a lot of my career and my life and pictures. It's by David Willis [and is called] Nancy Sinatra: One For Your Dreams.
Living Legends: Elvis Presley's Friend, Confidante & Business Partner Jerry Schilling On His Lifelong Relationship With The King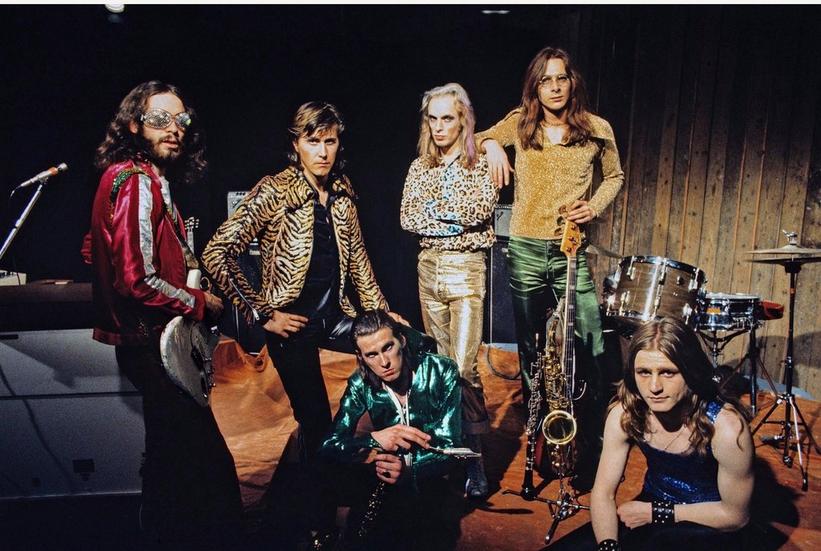 Roxy Music (L-R): Phil Manzanera, Bryan Ferry, Andy Mackay (seated), Brian Eno, Rik Kenton, Paul Thompson
interview
Living Legends: How Roxy Music Went From "Inspired Amateurs" To Art Rock Pioneers
Fifty years after their debut, Roxy Music's eight studio albums have been reissued and the band is embarking on a tour. GRAMMY.com spoke with guitarist Phil Manzanera about the band's art rock origins and long tail of influence.
GRAMMYs
/
Sep 7, 2022 - 05:00 pm
Roxy Music has always been a few steps ahead, and a few degrees to the side, of many of its contemporaries. Helmed by GRAMMY-nominated vocalist/songwriter Bryan Ferry along with Phil Manzanera, Andy Mackay and Paul Thompson (with Brian Eno as an early member), the British group is credited with birthing the art rock movement by infusing glam into rock '70s. This year marks the 50th anniversary of Roxy Music's eponymous debut album.
Inspired by film and fashion, painting and photography, Roxy Music's output is an aural and visual amalgam that blurs the lines between musical styles. From the group's formation in 1970 to Avalon, its last studio album in 1982, Roxy Music has informed and influenced genres — from experimental prog and  glam rock, to new wave and electronic pop — and created an enduring impact.
This year, the group's eight studio albums — Roxy Music, For Your Pleasure, Stranded, Country Life, Siren, Manifesto, Flesh + Blood and Avalon — have been reissued as special anniversary editions with a new half-speed cut, and revised artwork with lyrics., The Best of Roxy Music was released on vinyl for the first time on Sept. 2. The reissues arrive ahead of Roxy Music's North American arena tour, which kicks off in Toronto on Sept. 7 at Scotiabank Arena. The last time Roxy Music toured was over a decade ago.
Still, the 2019 Rock & Roll Hall of Fame inductees have remained active, with and without Roxy Music. This year, Ferry has released a four-track EP of iconic love song covers, Love Letters, and published a book. Mackay, who plays oboe, saxophone and keyboards has released a number of solo albums, written a book on electronic music and studied theology. Drummer Thompson left Roxy Music 1980 and  joined an array of other bands, including Concrete Blonde, before returning to Roxy Music in 2011. Guitarist Phil Manzanera produced for  Pink Floyd, David Gilmour and John Cale, among others, is currently working on an album with Tim Finn of Crowded House and Split Enz.
From his home in the English countryside, Manzanera spoke with GRAMMY.com about his teenage dream of leaving his exotic world-trotting upbringing for a boarding school in England, where he could connect with fellow musicians. "Through music, you can meet people, you can have fun, you can have an adventure," he says. "I didn't want to learn too quickly. I wanted to spread it out over a whole lifetime. Touch wood, still here."
What was the musical landscape like at the time of Roxy Music's formation?
In the UK, we were coming out of the period where the big guns, Led Zeppelin and all those bands were to the fore. It was the tail end of the hippie jamming period and the start of prog rock. The drugs had done a lot of those bands in; People were on heroin, so it was very gray and introverted. A bit drab really. The time was ripe for a new bunch to emerge.
By complete happenstance, Bowie and us came to the fore in 1972. On the same day that we released the first Roxy Music album, he released The Rise and Fall of Ziggy Stardust and the Spiders from Mars. The next week, we were supporting him in a pub in Croydon [South London] called the Greyhound. There was only about 40-50 people there. Every time I used to meet David, we used to have a big banter about it because everyone claims they were there. He was incredibly nice to us. He loved what we were doing. He asked us to be at his support act at the Rainbow Theatre, which is a big deal. He couldn't quite believe that we'd just come out of nowhere, whereas he was [on] his fifth album.
The '70s were such a time of experimentation and new sounds.
We called ourselves inspired amateurs. A bunch of guys who didn't particularly want to be technically brilliant, but wanted to play interesting music. Some of the people in the band have been to art school, so there was this visual side to the whole thing. Music and image are explosive, which we all learn from the Beatles. New fashion designers and photographers were coming up to the age where they were going to be influencers, and they all had a similar aesthetic with the films they liked and visual art and bands that were influential on them. We stuck it all together and presented it in an attractive fashion.
What was the reception for Roxy Music like in the United States at the time?
We went to the U.S. in December '72. We were a bit early. People didn't understand the look of the band. When we got to Fresno, people threw water bombs at us and said, "Get off you faggots." But we were going to continue playing this music regardless of what you throw at us.
It took us a long, long time to have any kind of impact in the States. But what was great and cool was that in San Francisco or L.A. or New York, we attracted the freaks. We were supporting Ten Years After or J. Geils Band, totally not our audience, but all the freaks knew [we] were coming to town and they would be partying at our hotel after the gig. 
Roxy Music was very prolific, sometimes putting out two albums a year — originally all written by Bryan Ferry — but you started writing from the third album, Stranded?
The way the band evolved, the first two albums that Eno was involved with were the first period. By the time it came to the third album, Eno had left, and, in no way can you do the same stuff again. There was a desire to do something different. We needed to expand our musical palette, and so me and Andy [Mackay] started contributing music. 
The way we write songs in Roxy was so different because we had no idea how to write a song. We did all the music first, which is really dangerous, and then Bryan [Ferry] would try and work out some lyrics. Sometimes it was fabulous. Sometimes it was rubbish. Out of the 80 songs of the Roxy catalog, I would say 70 percent hit the mark and perhaps 30 percent we won't talk about. It's a very different way of working, creating a musical texture and musical world behind this singer with a strange voice, but good looking, so we could get away with it. 
You had a whole host of musicians playing on later Roxy Music albums. How was that different for you as far as writing and recording and realizing musical ideas?
There's definitely a difference between the first five years and second five years of Roxy Music. We'd worked with so many other musicians in between, we wanted a bit of that flavor. Bryan, especially, had lived in L.A. for a bit and worked with a lot of American musicians. When we got back together for the second phase of Roxy, which is '77 to '83, by that time, I had my own recording studio and we were using that as our base. Technological innovations affect the way you work in a studio. If you're doing what we're doing, you can use the studio as an instrument. It happened organically because we had the means of production. 
But we were coming to New York, and working with Bob Clearmountain at Atlantic Records and at the Power Station, and having these amazing American bass players and drummers, because Paul [Thompson] had left toward the middle of that period. Bob would mix it and he would just get rid of all the s—. He would say, "I'm going to focus on this, and it's going to rock." Thank God for him, otherwise it would have been airy-fairy, and all over the place. He mixed Avalon in one week. Ten tracks, five days, two tracks a day, three hours a track. boom, boom, boom, boom. Done. He just knows what to do. He just had it.
The first half of Roxy Music was hinged on a strong artist/producer relationship with Chris Thomas in the producer's seat.
We were so lucky to get Chris Thomas. He came on board from the second album. As you know, he assisted George Martin with the Beatles. The whole tradition of recording from Abbey Road was passed on to us via Chris Thomas.  Everything I've ever learned to do with production — and I've produced loads of people, was a mixture between what Chris Thomas taught me coming from George Martin and my experiences with Eno. Two totally different approaches.
You seem to get along very well with both Ferry and Eno.
After Eno left, when we were doing Stranded, we were up at Air Studios until 6 o'clock. And then I would go to work on Here Come the Warm Jets with Eno from 6 o'clock onwards. We continued for another three years. We had a band, 801, who played live and all sorts of things. But then he just disappeared.
Your guitar riff from the title track of your solo album K-Scope was sampled on the GRAMMY-winning "No Church in the Wild" by Jay-Z and Kanye West.
That's the only GRAMMY that I've ever been associated with, so cheers Jay-Z and Kanye, and 88-Keys, who was the person responsible for playing it to them.
Did your Rock & Roll Hall of Fame nomination, and induction, come as a surprise?
Rock & Roll Hall of Fame is not on British musicians' radar too much. I didn't realize how big a deal it was for us. We hadn't played together for six or seven years. We thought, we've got to have rehearsals. We rehearsed for a week because we want to do a good job and acquit ourselves well — especially in front of all those top musicians who are going to be watching us, particularly Fleetwood Mac and Def Leppard, the Zombies and Radiohead.
On the night, at the Brooklyn Center, when I saw 30,000 people, I realized, this is actually a big deal. I'm about to get scared now. We loved it. We had such a great time. When Bryan said, "Shall we do 'In Every Dream,'" which is about an inflatable doll, I thought, I don't think that's going to be shown on telly, and it didn't make it, but it was really great fun to do. I had a great big guitar solo, which wasn't shown, but I got to show off in front of Brian May and Fleetwood Mac.
How did this 50th anniversary tour come about?
I had done bits and pieces on Bryan's new solo stuff. We were having a cup of tea at Christmas, and he just said, "Do you fancy doing some gigs?" I said, "Do you want to do them?" And he said, "Yeah." I said, "Well, in that case, I'm always up for the crack."
We don't have management. If we want to do something, we just ring each other up, and say, "You want to do it?" I also thought, these songs don't get an airing by us, the original people, very often. When we come to the U.S., it will have been 20 years. That's not exactly overdoing it. If there's ever a time to do it, it's at 50. 
What does the ongoing impact of Roxy Music feel like for you?
I don't think about it at all. We never thought we'd do this tour, but we're doing it. We're really putting in the hours to make it as good as we possibly can. What I want to see when I look out into the audience is people glammed up. I want to see glam out there: heels and feathers — for men and women.
Living Legends: Zombies Singer Colin Blunstone Explains The Miraculous Second Life Of The Classic '60s Group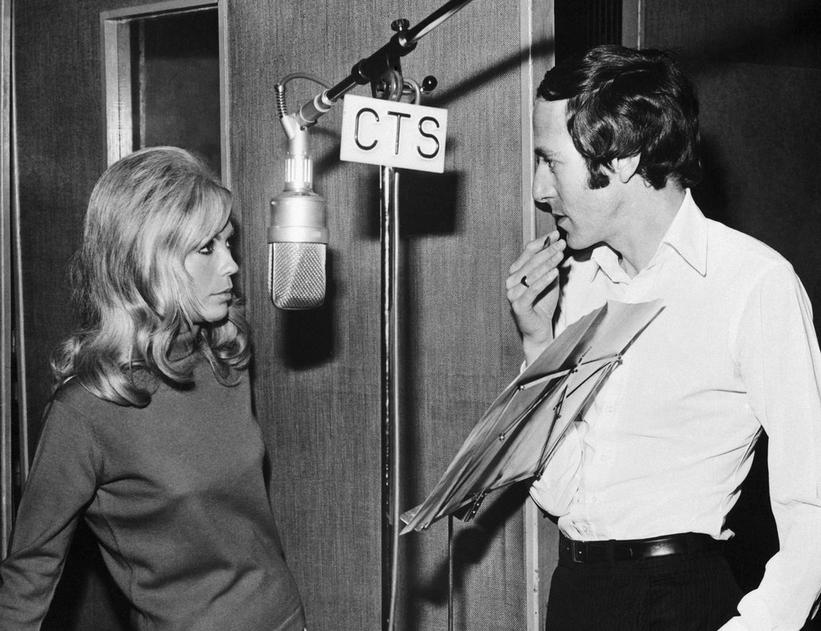 Nancy Sinatra and composer/conductor John Barry prepare to record the theme music for 'You Only Live Twice' in 1967.
PHOTO: Bettmann / Contributor
list
10 Essential James Bond Theme Songs: From Shirley Bassey To Sam Smith & Adele
Agent 007 turns 60 on Oct. 5, and his taste in music remains impeccable. GRAMMY.com revisits 10 James Bond theme songs by Shirley Bassey, Nancy Sinatra, Adele and others that have soundtracked the adventures of the world's most infamous spy.
GRAMMYs
/
Oct 5, 2022 - 01:42 pm
Sixty years ago, on October 5, 1962, Agent 007 pointed his Walther PPK at the audience onscreen and fired his first shot. The screen bled red, the surf guitar riff of Monty Norman's "James Bond Theme" filled the air, and a legend was born. A modestly budgeted noir shot in Jamaica, Dr. No was the first of the many spy adventures inspired by Ian Fleming's pulpy novels.
No other cinematic franchise has been so thoroughly and completely informed by music like the 007 films. The blueprint developed and chaperoned by John Barry — who wrote the music for the first seven outings, then returned intermittently for an additional five — infused the saga with its existential cosmovision:  slightly jaded, ever cosmopolitan, at times beautiful and profound.
Barry's music made the action scenes soar, and, most importantly, added a tinge of bittersweet complexity to the improbable seduction scenes. It was the music, not the acting or special effects, that made the character of Bond human. By 1965, the theme songs had become a stylized ritual of their own that stretched out the canvas on which the colors and set pieces merged together.
There are 25 official titles in the Bond saga, and dozens of songs — some incidental, others rejected, many of them global hits. These 10 are absolutely essential.
Sam Smith - "Writing's On The Wall" (2015)
Bond title songs have generated grand moments, but also a few spectacular misfires (remember Lulu and "The Man With The Golden Gun"?). When Sam Smith's melancholy, strangely monotone track was first unveiled, critics were quick to pan it. But the song has staying power, and its mournful melody works particularly well within the context of Spectre.
In retrospect, it's one of the series' deepest anthems. Fun fact: Radiohead submitted a Spectre song, but it was rejected for being — surprise, surprise — a tad depressing.
Shirley Bassey - "Mr. Kiss Kiss Bang Bang" (1965)
Following the epic success of Goldfinger, Welsh diva Shirley Bassey was asked to return for this jazzy Barry composition meant for Thunderball, the fourth 007 adventure. The lyrics are preposterous ("Damoiselles and danger/Have filled the stranger's past"), but Barry saves the day with a muted trumpet, stately acoustic bass and a melody filled with longing.
When the finished recording turned out to be too short and Bassey was unavailable, Dionne Warwick was enlisted as a replacement. Her version is just as good, but was also canned in favor of Tom Jones' "Thunderball" after the producers insisted on a title track featuring the actual name of the movie, even if the word itself had no real meaning.
Louis Armstrong - "We Have All The Time In The World" (1969) 
The first official Bond movie without Sean Connery is a bit of an incongruous mess, but it found Barry in a creative high. Combining lush orchestrations with electronic instruments, he wrote an electrifying instrumental for the title sequence, then worked with a dying Louis Armstrong on this moving ballad to accompany the story's tragic shock ending.
Shirley Bassey - "Moonraker" (1979)
Bassey's final 007 track — she certainly should have been asked for a few more — found her teaming up with Barry for a luxurious ballad that revels in swirling strings, a Morse code-like triangle pattern and a subliminal nod to late '70s disco opulence.
With Bond flying into outer space to fight the megalomaniacal villain, Moonraker was one of the silliest films in the series. Bassey's regal touch added gravitas and a welcome hint of sadness.
Adele - "Skyfall" (2012) 
During the '90s, Bond songs strayed away from the majestic sensibility branded in their DNA. It took Adele and a 77-piece orchestra to bring it all back.
"Skyfall" is a self-assured piece of songwriting that mirrored the film's narrative renewal. Written by the singer with producer Paul Epworth, "Skyfall" begins with mysterious piano chords, then matches the immensity of the Shirley Bassey school of thought with Adele's soulful reading.
Duran Duran - "A View To A Kill" (1985)
Keeping Barry as the official 007 composer well into the '80s was a wise decision, but updating his sound was also necessary. Reportedly, the pairing of Academy Award winning Barry with such chart toppers as Duran Duran and A-ha created friction — but you could never tell by listening to this wicked new wave romp that glitters with the band's glamor while maintaining that solemn Bondian touch. Playing it live was an altogether different story, as Simon Le Bon's infamous bum note became one of Live Aid's most talked about moments.
Jack White and Alicia Keys - "Another Way To Die" (2008) 
On paper, inviting the White Stripes front man and the exquisitely gifted Keys for a joint 007 composition was an intriguing concept. The resulting track not only exceeded every possible expectation, but it also brought Bond closer to the redemptive noise of blues-fueled rock'n'roll.
White performed the ferocious drum beat himself, while kick-in-the-pants brass, grungy guitar licks and Keys' exhilarating vocal gymnastics add to the exuberance. The repetitive piano note in the intro stands as a cool tribute to spy movie fundamentals.
Shirley Bassey – "Goldfinger" (1964) 
A jazz star at the time, 27-year-old Shirley Bassey was inside the vocal booth on Aug. 20, 1964, struggling to reach those impossibly high notes at the end of "Goldfinger." Suddenly, the orchestra musicians heard some fidgeting, then saw a bustier land on top of the booth. After which the awesome Miss Bassey delivered the notes just the way they were supposed to sound: reckless, liberated, bombastic.
The message was loud and clear: by definition, Bond songs were meant to be fun and loopy ("such a cold finger beckons you to enter his web of sin"), interpreted with both panache and a serious touch. For an alternative reading, try the velvety, pared-down demo by original lyricist Anthony Newley.
Paul McCartney and Wings - "Live and Let Die" (1973) 
"Live and Let Die" was rock royalty: written by Paul and Linda, recorded with Wings and 10cc's Eric Stewart, produced by Beatles helmer George Martin. Linda came up with the idea of a reggae section in the middle, and the instrumental pyrotechnics featured a massive symphony orchestra.
Ironically, one of the 007 producers suggested re-recording the vocals with Thelma Houston after Martin played him the finished "demo." Logic prevailed, and "Live and Let Die" remains to this day a highlight of McCartney's concerts, hitting a sweet spot between the exalted and the meditative.
Nancy Sinatra – "You Only Live Twice" (1967)
If you need one desert island Bond theme that perfectly encapsulates the elusive poetry of Barry's vision, "You Only Live Twice" is it. Self-professed "problem child" Nancy Sinatra was terrified of recording the song in London in front of an orchestra, and her final performance was composed using bits and pieces from 25 different takes.
Perhaps it was Sinatra's underwhelming vocal power that made her performance so incredibly vulnerable. It is also one of Barry's best arrangements — languid, exotic, devastatingly sensuous. And that spiraling melody... The song has been sampled by Robbie Williams, covered by Bjork and Natacha Atlas, and used on TV shows to evoke the idealized splendor of '60s pop culture.
Remembering Coolio: 5 Standout Tracks From The Late Rapper's Discography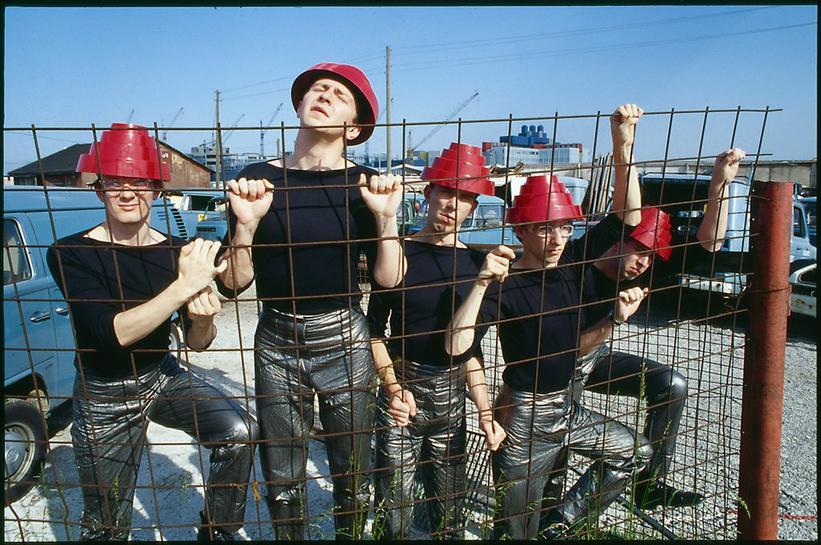 Devo circa 1980. From left: Mark Mothersbaugh, Gerald Casale, Bob Mothersbaugh, Alan Myers and Bob Casale
PHOTO: Michael Heeg/Courtesy of Devo
interview
Living Legends: Devo Subverted The Herd Mentality Beginning In The '70s, But Their Art Punk Aesthetic Is More Relevant Than Ever
Devo's Mark Mothersbaugh and Jerry Casale discuss the evolution of devolution, and the video revolution they helped whip into reality: "We drew a line in the sand, and either you hated Devo or you loved Devo"
GRAMMYs
/
Apr 20, 2022 - 01:53 pm
Presented by GRAMMY.com, Living Legends is an editorial series that honors icons in music and celebrates their inimitable legacies and ongoing impact on culture. This week, GRAMMY.com sat down with Mark Mothersbaugh and Jerry Casale, members of seminal new wave/post-punk band Devo, who challenged the status quo with irreverent, catchy songs.
The average music fan thinks of dome-shaped headpieces and whipping it good on the dance floor when they hear the name Devo, but for an entire generation of music lovers, the four-letter moniker means something much more. 
The Akron, Ohio art rock band formed in 1973 to spread a message about societal regression, driven by herd mentality and negative cultural influences (the name is short for "de-evolution"). The music they created was infectiously fun, with catchy choruses and a synth-driven futuristic energy that fit in perfectly with the new wave genre that was becoming popular in the early '80s. But behind the campy outfits and colorful videos, there was a nonconformist message — which the band managed to maintain even at the height of their popularity.    
From the science aesthetics of Q: Are We Not Men, A: We Are Devo! (1978) and Duty Now for the Future (1979), to the subversive empowerment of Freedom of Choice (1980) and
New Traditionalists (1981), Devo approached their output as a sardonic experiment. Their sometimes deceptive lyrical simplicity and sonic nuances created alchemy, and their charisma individually and as a unit made for a compelling blend of nerd rock meets post-punk. 
Devo's dynamic videos always had a message driving the madcap imagery and ideas. Maybe even more than Sparks, who were touted as "your favorite band's favorite band" in their recent hit bio-doc, Devo's influence on music is substantial, with everyone from Talking Heads to David Bowie (who helped discover them) taking obvious cues over the years. If some thought Devo a novelty act, they proved otherwise a long time ago.
As Devo celebrates the 40th anniversary of their fifth album Oh No! It's Devo this month  (as well as their third nomination for consideration into the Rock n' Roll Hall of Fame), they are also cementing their legacy as a band who call out the ills of the world in their music and actively work to change them, too. Throughout the month of April, Devo will donate all proceeds from their catalog to aid Ukraine. The band also have a top slot on the highly-anticipated Cruel World music festival in Los Angeles this May, which some have nicknamed "Gothchella" thanks to its darkly nostalgic, '80s-heavy lineup.
GRAMMY.com spoke with the band's lead visionaries — Mark Mothersbaugh (vocals, keyboards) and Gerald "Jerry" Casale (vocals, bass) — via Zoom to discuss their formation and influential career.
The story of how Devo emerged as a force in music includes some very big names, including David Bowie and Iggy Pop. Can you share how they and others had a hand in your early success?
Jerry Casale: We popped up on the radar through many efforts that we made, and they finally succeeded in paying off, where Iggy became aware of us and we spoke with him in Cleveland, when he was playing on the Idiot tour and David Bowie was playing keyboards for him. We got him a demo cassette, and you would assume those things go in the wastebasket, because I know how that is when you're on tour…. He actually listened to it and Dean Stockwell and Toni Basil, who I had also gotten to, they talked to Iggy about it. He played it for David Bowie. 
So then David Bowie heard it, and told Iggy to put me in touch with David's lawyer Stan Diamond in L.A. and we started a dialogue. Then Toni and Dean played it for Neil Young in San Francisco about the same time. So then [Young] called up and wanted us to be in his film, Human Highway. And it all started snowballing. 
We did everything we could, and that was a do it yourself aesthetic. Back then, there was no internet…. We sent packages to Saturday Night Live over and over too, with the videos and the songs because we loved that program and we wanted to be selected to play on it. Of course there was no chance in reality that Devo was going to be able to do that then. That took having a manager and a label. We got on Saturday Night Live in October of 1978. 
It's been over 40 years since Devo became hitmakers and you are still getting recognition for your work. In a general sense, what do awards and honors mean to you at this point in your career?
Mark Mothersbaugh: You know, it's nice to be recognized. We're in a business where there's always somebody younger, somebody cuter, somebody who got there faster, somebody who's getting paid more, somebody who had a bigger hit —  there's all these things that figure into people wondering, Where am I? How am I doing? Did anybody pay attention? So it's kind of really nice. 
Casale: I think that any artist would have to be a bit dishonest if they said they didn't like the fact that they are being recognized by some official organization or outside body of self-proclaimed gatekeepers. Yeah. It does mean something. I mean, my God, when you're a performer, you get up in front of people. Think of the nerve it takes to get up in front of people, like, why should people watch you? You were looking for approval, right? From the time you're a kid, you're looking for approval. 
In 1985, Devo was nominated for a GRAMMY for your video work, which was always such a big aspect of what the band was about.
Casale: Yeah, it sure was. I directed all those videos, and from the beginning, was kind of spearheading the visual aspect of Devo. We had agreed that it was going to be a multimedia kind of experimental art collective. So from the beginning that was very intentional. 
For those of us who belong to "Generation X," Devo are a very significant band, especially the album Freedom of Choice and the releases that came after. Do you hear a lot from fans of different ages about how formative you were to them?
Mothersbaugh: I have two daughters and I watch them and what things help them figure out what's going on in the world. Music plays a big part of that. I do get those letters and I meet those people at our shows, and, yeah, I like that. That's kind of sweet. For me, it was the Beatles and the Rolling Stones. And, you know, for them, it's Devo and that tickles me. 
Casale: We were very polarizing without even wanting to be, but we just were. Because of the way we looked, the way we sounded, the way we acted and what we said. We drew a line in the sand and either you hated Devo or you loved Devo. So a lot of young fans would all tell us the same story about how they got harassed or beat up or made fun of in school because they liked Devo. We inspired a lot of people to start bands, and a lot of bands that came after us that we respect have cited us as an influence. So we were an artist's artist. That's heartening.
How did you two come together?
Mothersbaugh: When I met Jerry at Kent State University, he was a grad student and I was a sophomore. We collaborated early on on visual things. He had come up to me and said "Are you the guy that's sticking up pictures of art and astronauts holding potatoes standing on the moon?" And I go, "Yeah, what of it?" He goes, "What does a potato mean to you?" I really liked that for an opening conversation. 
Before there was a word for posting up art or graffiti, before there was Shepard Fairey, I was a teen who was posting artwork around school at Kent State. I don't know why I did it, but I had to do it for some reason. So that's how we met.  We were visual artists, and we collaborated on visual projects. He liked that I was making these decals that stuck on things, and he liked that I liked potatoes. So I made these potato decals for him for his senior graduation class project… that he hung all over photos he'd blown up from his high school yearbook of different kids he didn't like.
What is the significance of the potato?
Mothersbaugh: We were trying to figure out, who are we? And how do we fit into the world? We were both the kids of working class parents, and we decided we weren't asparagus people or part of the elite or the rich, we were like potatoes. We were like spuds. We were like asymmetrical, not very good looking vegetables that came from underground. But they were a staple of everybody's diet in the USA. 
The interesting thing about potatoes for us, it's like, potatoes have eyes all around, so they see everything. So we called ourselves spuds, and we used that term in exchange for comrades or mates.
In terms of presentation and imagery, including costume, your most iconic has to be the red dome hats. How did the idea for those come about?
Casale: The inspiration for the design came from an Art Deco 1930's ceiling fixture. So imagine a milk glass-like fixture that looked like a dome hanging from three chains on the ceiling with a bowl. But upside down, right? I used to just stare at that when I was a kid in my grade school and I always thought it was such a cool image. 
And so years later, when we were talking about Devo wearing some kind of headgear, I kept thinking of that. Making them red and making them plastic and wearing them became a thing. Then we could make multiples and we could sell them to people because people wanted them. In fact, people were stealing them. So we started selling them. 
Devo had chart-topping success but the project was always sort of out of the box and different, even weird to some. Now bands like yours seem to finally be getting the recognition they deserve.
Mothersbaugh: Because Devo had content. A lot of the bands that were out at the same time as Devo, you could just kind of group them together. We had a concept that was unique, not just only for the time period we were in, but actually, for a much bigger time period of rock and roll. 
Just even questioning man's central glory on the planet. We kind of pose the question that maybe humans, we're not the best species on the planet; maybe we're the only insane species. We might be the only organisms out of touch with nature and destructive, as opposed to being a symbiotic part of everything. And you know, that didn't win friends and a lot of people took offense to that. They're usually the people that should take offense to it, because we were probably talking about them. 
So we had a pretty unique concept, and it was what we wrote our music about. I think there are a lot of artists out there that respect that or understand that. 
Casale: The test of time proved that those bands weren't so weird after all. I mean, look in the '60s, '70s and '80s: Those three decades, there was an explosion of diversity — of creativity, of technology, of new ideas, new sounds, and groups who performed a body of work well. If you bought a record because you liked one song on that record, you probably ended up liking five or six songs on that record, because it was a piece and all connected. 
I think that's what kids today miss. They miss that reality. There were real groups, and real artists that did something with a whole body of work that mattered. And it was exciting. The packaging mattered and what the artist said mattered. We had MTV playing the videos. So [the '80s were] like the last decade where this explosion of Western culture was exciting, at the top of its game. That was the end, then it started to devolve and decline.
In addition to its statement- minded subtext, your early stuff was so atmospheric and that seems to have led you both down cinematic paths later in your careers, Mark with your scoring of shows like "Pee-Wee's Playhouse" and "Rugrats," and appearance on the kids show "Yo Gabba Gabba," and Jerry with your directorial work.
Casale: Devo was kind of put on ice in the '90s and Mark wasn't interested in doing anything except scoring and composing for TV. Because I had directed like 20 Devo videos, [I started] directing videos for other bands. 
So I had a whole music video career as a director for bands like Rush, Soundgarden and Foo Fighters — the first video they ever made. They were anti-video because all the grunge bands were anti-video, but Dave Grohl said, "You know what, if we have to do one, let's get that guy from Devo because I can trust him because he's been in my position as a band member on stage, so he won't make us do foolish things." That led me to commercials. So then I had this whole directing career doing TV commercials up until about 2005, when it kind of trickled out as the business changed a lot and the money went away.
Mothersbaugh: I can tell how old somebody is when they say, "Oh, I really like your music," and they're talking about they're talking about "Rugrats" or "Pee Wee's Playhouse." And if they're talking about Devo, they probably have gray hair. Except for kids, because the internet is this amazing place. They've got the whole world right there in their hands.
So yeah, now we get people of all ages, asking about Devo, who are knowledgeable about it. So that's kind of interesting. In the early days we sounded like some sort of outer space version of Captain Beefheart mixed with Sun Ra or something like that. Jerry and I always thought about sound and vision.
One of the things we learned at Kent State was protesting isn't the way to change things in this country, because when they get tired of you, and when the government finally is irritated enough, they just shoot you. Like they did at my school. So we thought, who's changing things…and we were looking around and we thought… Madison Avenue, that's who changes the world. They get you to buy stupid cars, eat food that's not good for you, buy clothes you don't need and you're happy at the end of it. 
We just thought well, what if we use those techniques in reverse, and figured out a way to talk to people about reverse evolution, talk to people about how to change the trajectory of the planet. We looked for ways to add hooks into our songs but our whole idea was just to get people to come in, find out what we were. If they liked the song, they'd buy the album, and then they'd listen to the album and hear "Jocko Homo" and or they'd hear "Too Much Paranoia," or they'd hear the last line in a "Beautiful World": "It's a beautiful world for you, for you, but not for me." And the videos were made to show that. 
Your devolution message has sadly never been more relevant.
Mothersbaugh: I agree that the world has devolved. It's even more complicated than ever to find out the truth about things. Jerry likes to call Devo, "the band playing on the Titanic while it goes down." 
I'm the eternal optimist. I keep wanting to think that between technology and just people becoming aware of where we are, you know, that they can figure out ways to turn things around. So I like that our music is being listened to and I hope it has a positive effect on people.
This interview has been edited for length and clarity.
Living Legends: Nils Lofgren On His Guitar Philosophy, Staying Sober & Meshing With Iconoclasts Bruce Springsteen and Neil Young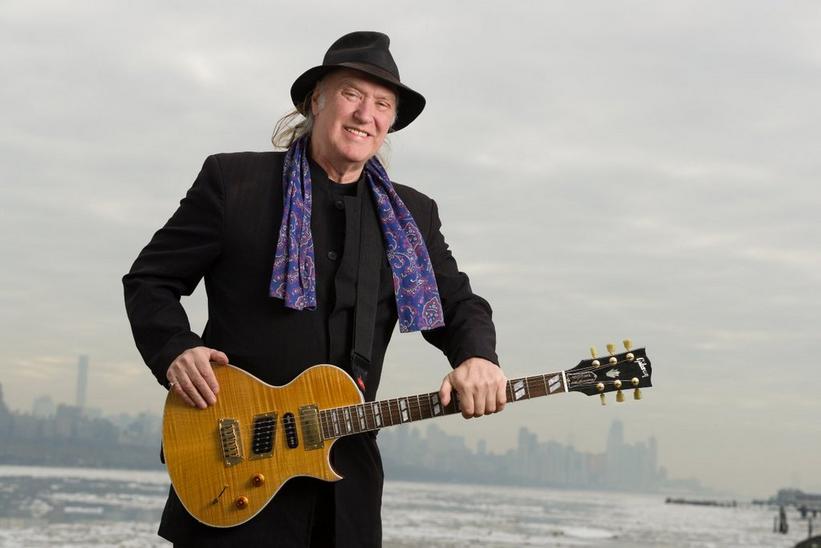 news
Living Legends: The Kinks' Dave Davies On 21st-Century Breakdown, Mellowing Out In His Seventies & Stirring The Pot On Twitter
Living Legends is a series that spotlights icons in music still going strong today. This week, GRAMMY.com sat down with Dave Davies, who changed rock music forever as a founding guitarist of the Kinks and made exquisite recordings as a solo artist.
GRAMMYs
/
Jan 11, 2022 - 09:10 pm
Presented by GRAMMY.com, Living Legends is an editorial series that honors icons in music and celebrates their inimitable legacies and ongoing impact on culture. In the inaugural edition, GRAMMY.com caught up with Dave Davies, the pioneering lead guitarist of British rockers the Kinks.
Dave Davies may have planted his flag as the lead guitarist and co-songwriter of the Kinks, but he has a less-known honorific to his name. The rebel of all rebels, John Lennon — who once poured a pint over a wedding pianist's head and would go on to be kicked out of the Troubadour for drunkenly heckling the Smothers Brothers, among other infractions — once called Davies, to his face, "one of the most obnoxious people I've ever met."
It was sometime in the front half of the 1960s, and the two British Invasion stars were at the Scotch of St. James, an extant watering hole (and musician's hangout) near Piccadilly Circus. (It wasn't rare for Lennon and Davies to insult each other in jest; Davies shot right back.)
Granted, Davies was, in his word, an "impetuous" young man. After all, in the Kinks, he was the hotshot guitarist beside his brother Ray, slugging out masterpieces like The Village Green Preservation Society, Arthur and Lola Versus Powerman amid fraternal spats and a career-changing ban from the U.S. So it's arresting to commune with the 74-year-old in his current form: dreamy, philosophical, borderline beatific.
This mellowing-out wasn't just the natural result of age. Like waves against a stone, turbulent life events smoothed him out with time. It wasn't just his up-and-down relationship with Ray, who once stamped on his 50th birthday cake. In 2004, Davies suffered a stroke that left him temporarily, partly paralyzed — a pivotal event that compelled him to stop smoking and drinking hard alcohol, which softened his demeanor in the ways you might expect. (A yoga and meditation enthusiast, he only indulges in gluten-free beer these days.)
After recovering with help from his other favorite pastime, painting, Davies is happy, healthy and productive in the 2020s. Three years ago, he released Decade, a luminous collection of solo recordings from the '70s. He's hard at work on a tell-all memoir, Living on a Thin Line, developed alongside biographer Philip Clark and due out in July. And — in case you're wondering — he and his brother are getting along great, with no dessert-related altercations to speak of.
GRAMMY.com caught up with Davies about his hard-won lessons about music and life, the awe-inspiring secrets of cats and how his freewheeling approach to Twitter recently landed him in semi-hot water.
This interview has been edited for clarity.
We should probably start by addressing the recent "mingegate" controversy on Twitter.
Oh, s*
It was so weird because I was really just musing with it, and it wasn't anything to speak of. I just like to muse and ideate and ponder, thinking back on my life and the '60s. People always have questions about the '60s, and I talk about everything. When you get older, there's more questions about everything from every decade. This idea came into my head about meeting models. You know what that is. I don't know if you want me to elaborate on it.
I thought it was fairly innocuous, but it was entertaining to see the prudes lose their minds.
I just did it as a bit of fun, and everyone went crazy about it. I felt, "Is it rude, or is it just odd?" Maybe it was a little bit of both.
I've noticed a phenomenon on social media where people inform you of incorrect facts about your own life.
What's weird about it is you become very — not paralyzed, but it's weird. People seem to know more about you than you do. You have to be really careful what you say. There are a lot of fanatics out there about all kinds of things — about gender and gender-bending, everything. Everything and anything you could think of. That one can be hard.
But it was only meant as a bit of fun. That's what it was for. There's not a lot of humor. We need to get humor back or else we'll go crazy!
Back in the '60s, when there was a lot of rancor about Vietnam and sexual politics, were people this entrenched in their views?
It's interesting thinking about it. Yes and no.
No, in the way that all of a sudden, there's so many people entrenched in whatever view they've got. It seems like everything has something to say about something. Which is good, on one hand, but on the other hand, is it really informed information? You know what I mean? Or is it just written without attention to anything? That's what bothers me.
Do you actually know what you're talking about, or do you think you do? That's the question! "Oh, I read it in the New York Times or something and it's true!"
The Kinks in 1965 (Dave Davies, top). Photo: Hulton-Deutsch Collection/Corbis via Getty Images​
Do you think people are smarter today for having pocket-sized supercomputers?
I think it's made people easier to fool. People hear a half-truth and they're like, "I know everything!" We might need to study the information we get. The brain can only handle so much information, and they might pass judgements about things without it being the right judgment.
Somehow, people have gotten taken by what their ears like — judgements based on some kind of reality, whether it's just an emotion in the moment. People are crazy because the world is getting crazier by the minute. It's hard for everybody, so you have to try to be informed about subjects and topics and try to have a balanced view of everything. It's not easy.
"People are crazy because the world is getting crazier by the minute. It's hard for everybody, so you have to try to be informed about subjects and topics and try to have a balanced view of everything."
I think we need to act with more compassion now than we did before the 2020s and Instagram and whatever. Everybody's very quick to judge. We're very quick to judge. When you think of it, we all perceive things slightly differently anyway. So, we need to brace ourselves with a lot of compassion before we make any choices.
A world where everybody thinks exactly the same sounds like my idea of hell.
Hell's a good place for that. You can't be right about everything.
Somehow, we have to be very compassionate about other people's views. Because they change. I might like blue today, but if I only saw my favorite color — tomorrow, I might like green with a tinge of brown. That's where humor and compassion comes in. Nobody knows everything.
I need humor. It can help us understand information better. Otherwise, everybody's right and everybody's wrong, all at the same time. Common sense! Has anybody bloody heard of common sense? There used to be a lot of it about years ago, when I was a kid. But not so much of it now, these days, unfortunately.
I think humor would hopefully help human beings in this weird age of COVID and Twitter and people being weirded out by all kinds of things. We don't even know if we're thinking the way we should, because there's so much information. When do we take time to consider what we're thinking, or what we're gaining? It's coming a bit too quick, everything. We like to think we know stuff, but do we really?
The Kinks performing on "Thank Your Lucky Stars" in 1965. Photo: David Redfern/Redferns​ via Getty Images
To me, one of the greatest thinkers through the lens of humor was John Lennon. I know you met him back in the Beatlemania days.
A couple of times. He was difficult, but he was funny in a kind of caustic, off-the-wall kind of way. But I liked that about him. I liked that he was different. He was looking at things differently.
He paid me a weird compliment. He said, "I think you're one of the most obnoxious people I've ever met." And I laughed and said I thought he was.
I've thought about that ever since. I don't even know what he meant! But I looked it up in the dictionary and I thought, "Hey, that's great! Unusual, different, irritating. Good!"
A big, big loss to humanity there. Lennon would be really useful now. His smart conceptions of people.
What are you interested in lately, whether it be music or non-music? What are you reading or studying?
I'm interested in so many different things. As I was saying, we should consider things before we make a judgment, which is true. But it's hard, because when we've got a queue, a list of questions that we want to ask ourselves before we make up our mind, the list gets longer and longer.
That's where meditation comes around. We can't think of everything at the same time. So, meditation helps you to clear the detritus for a while and not really think of anything. And that's hard. Believe me, I know that. It's really hard.
I don't know what I thought I knew until I take time to consider what's happening before we charge. That's where music comes in handy, because music's so aligned to the heart. You can know something's good or right by the way it makes you feel.
Dave Davies in 1970. Photo: GAB Archive/Redferns via Getty Images
Music is a lot more tuned in with nature than people's bad ideas — good ideas, not all bad. Music has always helped me — even when I was a kid — and it helps me now, to make choices. That's why music's so important. Because if it makes you feel good, there's no harm in it, really.
Who knows? Our heart will tell us if something is wrong, but everyone's different. Feelings always connect me to what may be the truth or may be lies.
"That's where music comes in handy, because music's so aligned to the heart. You can know something's good or right by the way it makes you feel."
While working on Living on a Thin Line, have you found that your memories of the distant past remain sharp? What's it like to survey decades and decades of information?
Actually, it's interesting. A lot of it depends on the quality and type of memory. We've been able to remember things as a musical link or connotation. It's just the way I'm wired — to remember things that are connected to musical or song events.
I've always had quite a visual imagination. Imagination isn't always positive information. It can be quite a scary place. I tend to ponder a memory and think, "What was I listening to? Oh, yeah! I really enjoyed that!" It makes you feel a certain way. That's why imagination and memory work closely together.
Even just meeting people and having a conversation with someone, I'm sure that I'm perceiving and thinking and talking differently with you than I would be to anybody else. That's why we need each other, because we help and hinder and aid and encourage each other just by communicating. There's a lot in there — in meeting people.
When looking back at the span of your career and all the music you've made, what are you most proud of at this point?
Oh, man. Too much stuff! I'm really proud of the renewed interest in my composition "Strangers" — which was covered by the Black Pumas — and all my other solo work.
I'm proud of being an important part of the Kinks' music and Ray's impressive writing. I feel really happy that I'm connected to all that. But me, as a person, there's something different. I'm always trying to think of something new — and what is new? A different way of saying things is new to me.
Apart from the fact there's so much information out there and [Points to brain] in here, it's a difficult time for people — for young people as much as old people my age. It's difficult to assess what the hell's really going on. So, memory's a good way of connecting to the truth — or the truth how you saw it at the time.
You've never struck me as someone content to rest on something you did 50 years ago. Rather, you remain a restless spirit.
Yeah. Good or bad, that's the way I am. It's also trying to realize that other people might actually be right, even though they piss us off. What's making you angry? Try and talk about what's making you angry!
How do we get to a point where we have hostile-ish conversation without blowing out completely? We're capable of it! Anger may be just as simple as something that's boiling inside we haven't dealt with, but it happens all the time.
A helpful tool when dealing with someone's misdirected rage is remembering "Oh, it's not about me. Something else is going on in their life."
I believe that. We're just the vehicle for the information they have, or the emotion. We do it to each other.
I remember in the very early days — when we first started out — I wasn't very good with conversation, because I was always an impulsive kid. If it felt right, I'd do it. It took me a while to realize that when you're having a conversation, the other person or persons in the room have just as much right to say what they want to say as you do. I was very impetuous and would say, "Oh, no — I'm right; you're wrong!" "Oh, stop it!" "Oh, shut up!"
It took me a long time to realize that conversation isn't just about me [Laughs.] It's about us! And we're not the only species on the planet — and tell me if you think I'm wrong — that can have conversations that have outcomes, where you're heading somewhere with it.
Maybe animals do it. I'm sure that cats communicate at a higher level. They know everything, and they don't even speak. They know everything: "You fools!" They're such special creatures.
Do you subscribe to the notion that everyone's a teacher of sorts, even if they're flat-out wrong? Or do you disagree with them?
Yeah, I do. When I was young, by having children, having kids around — often, they teach you more than you thought you taught them. With animals and children, you have to be very receptive about what the process is: what you want to gain from this meeting, from minds and concepts and thoughts and feelings.
I very much appreciate the value of considering other people's views, even when you feel uncomfortable. Growing up in Western society, people are so adamant about getting it right and making choices so quickly. Whereas I think animals — especially cats — have a higher way, I think, of considering things.
I think maybe now, we can learn more from our children than we ever did, because a lot of kids have to become very smart very quickly.
It seems like music is one of the ultimate ways to bridge misunderstandings and divides.
Music can teach us ways to get on better. When you paint, you're not killing someone — although you may wish you were! But you're just expressing feelings and stuff, and that's what makes it healthy. It's a means of exploring feelings you've got inside.
I can't remember which philosopher said this — Yogananda or someone — or was it Joseph Campbell? You know Joseph Campbell?
Sure. The Hero With A Thousand Faces.
A great teacher. It was something like "Before you make up your mind about something, run it by your heart. What would your heart say?" A lot of ideas we might have could benefit by being connected to the heart. The heart considers things in a different way.
That's important, especially if you're a writer or an artist. All of sudden, you'll get a feeling — "That would work OK!" or "I like that!" — and you don't always know why. Maybe it's not necessary to always know why you do things.
Dave Davies performing in Westbury, New York, in 2019. Photo: Al Pereira/Getty Images
My job is partly about trying to get people to care enough about something to read about it. So, I agree that we must lead with the heart at times.
A musician that really influenced me was a guy named Chet Baker. I'd never played trumpet, and when I learned it, I thought I sounded terrible! [Laughs.] That's because it's you playing it.
But I always liked Chet Baker for some reason. I was fortunate to come across an interview he did on the radio a long time ago. He was being interviewed by a musicologist — some prissy guy with all the right words. At the beginning of the interview, Chet said, "Before you start, I know absolutely nothing about music. I've learned everything from what I'm feeling."
That really helped me, because that's how I learned to play. Not that I learned to play like Chet Baker, but the principle of the way he applied himself. Music was more important to him than music itself, if you know what I mean.
Also, coming up with a Biblical reference that I use sometimes: there's a story about Jesus. He went into the desert for 40 days and nights. I've come to believe it's a kind of training for a yogi or a priest or whatever. He looked at the horizon before him and he saw all these conversations and people.
All of a sudden, an intelligent being or person appeared and said to Jesus — as the story goes — "All this land can be yours to command." But Jesus was quite a smart guy. He realized that the person who presented themselves to him was really the conscious ego. The ego is saying to his soul, "I've developed my inner powers so I can control them, him, her — control everything." He said to this person, "Get thee behind me, Satan."
The point is, a lot of the things we find within ourselves are not very nice things, like controlling people. We're caught up in all this information, and it takes a long time to figure out!
I've never interpreted that account through that psychological lens before.
I hadn't thought of it that way until two or three years ago!
How do you want to continue developing as a human being in your next phase of life?
I take it as it comes. But the trouble with growing older is that I'm worrying a lot more than I did 20 or 30 years ago. That's an achievement for me: to accept the body and the mind as human beings change.
That's a big lesson for me, especially growing up from being a fairly impetuous, wanting-it-now, everything-now kind of person. I worry about everything! I'm worrying about having chocolate milk with what I'm eating. [Laughs.] "Oh, I only have coconut milk!" There are things you have to consider before you even get out the front door.
It's a weird world, Morgan. But thank God I'm in it, as opposed to not being in it!

Bob Dylan's Latest Box Set Proves He Remained Stellar In The '80s. These '60s Classic Rock Artists Did, Too.