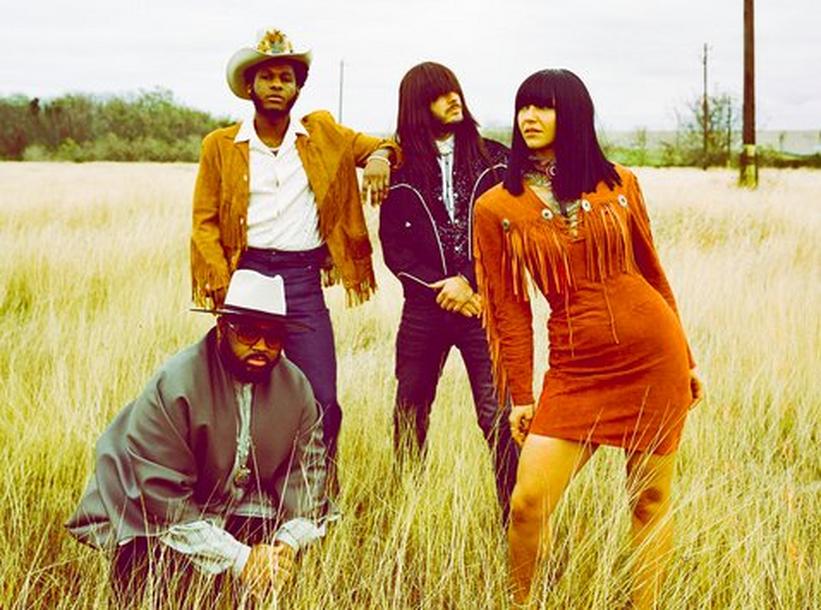 interview
Leon Bridges & Khruangbin's DJ Johnson Talk Magic Of New EP 'Texas Moon,' Bringing The Church & Houston Hip-Hop Into Their Music
"Everything about working with Khruangbin was just liberating," shares GRAMMY winner Leon Bridges, in a lively chat with drummer DJ Johnson and GRAMMY.com.
GRAMMYs
/
Feb 22, 2022 - 08:34 pm
Some collaborations are so natural and sound so perfect together, that it's hard to imagine them not happening. That's definitely the case for Texan musicians Khruangbin and Leon Bridges, who released their second collab EP, Texas Moon, on Feb. 18.
Moon follows 2020's Texas Sun, an EP which the quartet of musicians had hoped would be a full album. Two years later, listeners get to finally experience the full range of songs from the Khruangbin-Bridges original first sessions — including Bridges' moving tribute to his grandma, "Doris," as well as newer creations, like "Mariella."
Khruangbin (consisting of bassist Laura Lee, guitarist Mark Speer and drummer Donald "DJ" Johnson) and Bridges first connected in 2018, when the mostly instrumental Houston band toured with the soulful Fort Worth singer/songwriter as an opening act. Bridges was already a fan of Khruangbin's atmospheric, global sound, and would sing lyrics over their music whenever he listened — including on the side of the stage while they performed. Lee noticed and sent Bridges a demo, and the rest was history.
As the singer tells GRAMMY.com, their collab was "honestly just seamless. There was nothing hard about it…. Everything about working with Khruangbin was just liberating."
Read on for a lively conversation between Bridges and Johnson about Texas Moon and Texas Sun, their love for the music of their home state, and more.
This interview has been edited and condensed for clarity.
Leon Bridges: I first heard Khruangbin's music on a video shoot. I was just totally enamored with their sound. And like so many other singers, you have no other choice but to sing lyrics over [the music], so even before I met them, I would write little melodies and lyrics to their songs. I think it's amazing we were able to do a collaboration.
In 2018, I embarked on a Good Thing tour, and management was like, "Have you heard of Khruangbin? We've been thinking about having them open." And I was like, "Hell yeah!" It was the perfect tour. If I could co-headline with them for the rest of my career, then I would be totally fine. There was a night in Montana, when Laura Lee sent me a tune that they had been working on. Right before I got on stage, I went in GarageBand and wrote a couple of lyrics over it, sent it back and that's kind of what sparked our collab.
GRAMMY.com: What has it felt like when y'all collaborate together?
Bridges: It's honestly just seamless. There was nothing hard about it. When I'm in other sessions, the ones I have to do for "the machine," it's a little rough because you have so many ideas being tossed around and a little bit of ego — totally understandable. Everything about working with Khruangbin was just liberating, to not have to adhere to a certain type of formula, to just to get in and just do what we do. And Texas Sun, Texas Moon, are a result of that.
Donald "DJ" Johnson: For me, working with Leon is a treat. I put him in a special category of artists that have a very unique voice. When you hear Leon, you know it's Leon; no one else sounds like him and he doesn't sound like anyone else. And as a producer myself, that opportunity [to work with a singer like that] doesn't come around very often. I think the last time I was afforded that opportunity was when I worked with Slim, the lead singer of 112.
It's really something special that happens when you sit down in the studio and you see an artist like Leon get behind the mic….It's magic immediately. There's not a lot that can go wrong with a special voice like that.
Bridges: That's love, man. Initially when we went in, we worked on the song that sparked the whole thing. And I think during that time we did "B-Side" and, after that session, I grabbed a guitar because I was trying to impress Mark Speer. [Chuckles.] I started playing a couple tunes and it was just really rad how you reacted to what I was playing — the minor chord progression of [Christian hymn] "At the Cross." I remember you going straight to the piano and playing out the chords and pulling out the mic. Man, it was just magical how everything unfolded [to create the Texas Sun closer, "Conversion"].
Johnson: I remember that. I grew up in a very small Missionary Baptist Church on the north side of Houston, which I still attend every Sunday when I'm home; I play organ there. But every second Sunday we have communion, and usually we sing that song. To hear it coming from Leon's voice...playing it flipped in a minor harmonization — it's true, I literally tripped over my feet to get to the piano to play along.  Hearing it in that way, in an entirely new approach was crazy.
Bridges: Wow. It's wild because, when I went on my songwriting path, "Conversion" was the first one that I wrote. I'm happy that it finally found a home. It's funny, I wrote that before I started playing guitar. I used to go to Bandcamp and download random beats. Right before I went in to work, I was in the car and turned on the beat and just started flowing. The initial way it sounded was totally different from what it turned into.
Johnson: Yeah, that turn around too, "And now I'm happy all the day." Whoa, chills. There's a thing that happens when you're singing in church and a particular line can just kind of go by. And it's something special that happens when you repeat it over and over again, it gives you a chance for the words to really impact you and hit home. The fact that it's being repeated makes you really think about what you're saying.
When you sang "Now I'm happy all the day," after saying everything else you said up to that point, to repeat that over and over, it creates a sense of joy in your heart. It's a really, really uplifting thing that happened at the end of that record. It's one of the most, if not the most proud, I am of a record I've been a part of.
Bridges: "Conversion" is such a poignant tune, that's definitely my favorite. But the fans gravitate towards the more pop tunes.
Johnson: I knew what it was going in. I was like, "This is gonna be one of those sleeper cuts, they'll get it later." We will be old and gray and someone's going to pull that out and be like, "Wow, this happened."
GRAMMY.com: Do either of you think about how future generations will think of your music? Like, when we listen to Stevie Wonder's albums from the '70s.
Johnson: I'm always thinking about that. Life is fleeting; you don't know when your last time to make music or when your last day on this earth will be. I think if everyone made music like that, music would sound a bit different. Not everything is that serious song where you have to pour out all your feelings; sometimes you just want to party and have a good time. And if that's also the last thing people hear from you, that's a good thing. But yeah, I'm always forward-thinking.
It's funny you said Stevie; I was listening back to Songs in the Key of Life recently. Lyrically and musically, what Stevie was on back then, for it to last and still be effective 50 years later, that says it all. When you're doing something real from the heart, it'll last. Especially now, if you want things to stick around and you're honest with what you're making, I think you can achieve that.
Bridges: Yeah. For me, making music is therapeutic. And in that, I hope to make timeless music and music that transcends, and I just keep my head down about it. I think it's beautiful that my demographic is a wide spectrum of ages and that my music, our music, speaks to people [in] that way. I hope that it will last forever.
Johnson: That's another thing I appreciate about Leon; I don't think a lot of people know how well rounded he is or how cultured Leon is as an artist. I discovered that he listens to a lot of the same stuff that I listen to. There's a lot of questions I want to ask Leon:
What was it like in the DFW area when [Dorrough Music's 2009 single] "Ice Cream Paint Job" hit?
Bridges: Man. I was so disconnected from it in a way. It was one of those records where if you were immersed in the nightlife, you was lit. I couldn't go to a club, really. [Laughs.] And then I got saved and was super Christian, so you for sure wouldn't catch me in a club. I did catch the tail end of that whole movement when I was pursuing dance in college, when some of my homies put me on to the music.
It's the same way that Memphis and New Orleans have their own sound and dance culture, that's a piece of Dallas. That whole style, I incorporate it live. It's wild because a lot of the heads don't know where it comes from. [Laughs.]
Johnson: He did for me, for Texas. When I watched him perform and in the middle of a song he stopped singing and hit some D-Town Boogie onstage in Seattle. I think it's really special that he's able to take those things about where he's from and take it all around the world. All overseas, doing the D-Town Boogie, I never thought I would see that. I really salute you for taking Dallas-Fort Worth and putting it on the map in that way, and taking the culture with you.
Bridges: We all get homesick when we're on the road. I'm still processing even having success in music. So it's those little bits of nostalgia that I can cling to and that's all it is really. I think that's why we work together so well, our love for chopped and screwed music and R&B. There was a time I only wanted to hear the chopped and screwed version of an R&B song. [Now], if you gave me a guitar and you held a gun to my head and said, "Write a fast song or you're out of here," I'm just gonna die. I'm out. [Chuckles.] I can't do it! You look at Texas Moon and man, "Doris," "Father, Father," that's that slow and low-end type music.
Johnson: "Doris" almost sounds like it could have been a song that was faster and we slowed it down. It almost sounds like that because it's so slow and intentional. There's so much space.
Bridges: There's so many nuances in there, but "Doris" is like "Diamonds & Wood," UGK; I hear Pimp C.
Johnson: It's so slow. And it leaves so much space. The listener is waiting for the next thing to happen within the song. I think that's something that you can really take advantage of, being from Texas and from the South and understanding chopped and screwed culture and that it's okay for things to be slow. It's okay to wait for stuff. I think it goes with the whole Southern way of life, how people slow cook food down here. When my people barbecue, they start the day before. And I take all of that mindset into the music. It's all art; music, food, it's all connected.
GRAMMY.com: Leon, did you grow up singing?
Bridges: Kind of. I found one of my journals from when I was in elementary, and I don't know why I don't remember any of this, but I wrote "When I grow up, I want to be a singer." When I was 3, my dad taught me and he's good at singing. I never really sang in church or anything, but I always sang along to the music. I never really thought I had a good voice until I got to college and in my downtime, I would get together with some friends on campus and do these little jam sessions. We'd all take turns freestyle singing, and when I would do my thing, some of the people would tell me like, "You kind of got something there." So that kind of gave me the fuel to keep going.
I actually wanted to be a dancer, to pursue choreography. I had aspirations to hopefully be dancing with Usher or something like that. [Chuckles.] But I found music.
GRAMMY.com: What about you DJ, when did you start drumming?
Johnson: I started drums when I was 2 or 3 years old. My uncle John Foster plays drums. He played at my grandmother's church back in the '80s. He's a flashy drummer, which is what attracted me to them as a kid. I actually quit drums later in life, because there's so many dope drummers in Houston that there's just really no point playing.
And Khruangbin was my full circle moment, to come back to my original instrument. I had hung it up; I started playing keys and bass. I was getting more work in Houston doing gigs on keys and bass. No one ever called me for drums because no one really knew I played. When Mark and Laura decided to start Khruangbin, we were hanging out every week. Mark knew I played because he played at church with me and I would hop on drums every now and then to just mess around. It was his idea to say, "Hey, let's get DJ to play drums" and that was my red carpet back to the drum set. I'm grateful for it.
Life has a funny way of sometimes leading you back to where you started. I never thought I'd be a drummer touring the world in a band making records with Leon Bridges.
GRAMMY.com: What did you each learn from working together on Texas Moon and Texas Sun?
Johnson: Working with Leon makes you appreciate things happening in the moment. It made me be more attentive and sensitive, listening to what's going on around you. Because if you're not listening, or if you're not always tuned in, you may miss it.
A lot of these songs in the Texas Sun, Texas Moon sessions were birthed from Leon sitting with our engineer Steve Christensen and bouncing files or creating stems, and Leon just has a guitar and starts singing. And whenever Leon would start noodling around on the guitar, Steve would put a microphone in front of the guitar and Leon to make sure he's capturing all of these little moments that were happening. If it had been any other studio session I've been in the past, those moments probably just would have flown by; no one's capturing it, no one's hearing the genius within that moment or the possibilities.
But for us, they were like concerts. Leon Bridges picks up a guitar, with this beautiful vocal tone, with these amazing lyrics. So, we're all just sitting back, captivated and listening. It really made me keep my ears open, and listen to the possibilities of what could be. A lot of those moments are what inevitably turned into songs on this project.
Bridges: I was a fan before meeting y'all, so the moment when we got to sit down and jam was super special. And I learned from all of this that honest music is always going to thrive. Initially, the powers that be felt it wasn't a strong enough album. And it's nuts that, "Texas Sun," next to "River," one of my biggest songs. Each album [of mine] is a different character and sound, but working with Khruangbin, I wanted to take everything back to the basics and let the focal point be the songs and to surround those songs with minimal instrumentation. So, I gained family and good music.
GRAMMY.com: I wanted to talk a little bit more about "Doris," the song itself, and, Leon, if you'd like to speak about your grandmother and creating the sonic tribute to her?
Bridges: I just wanted to honor my grandmother. And honestly, I never got to really spend too much time with her, but I saw my father experience her passing. I'm constantly searching for new song ideas, and I came into the studio and had this bare bones baseline vibe on a guitar. And it was just, wow, to hear how Khruangbin interpreted that tune. I was just totally impressed how it all came together.
Johnson: When I heard what was going on lyrically — and knowing that Leon was writing the song from his father's perspective of watching his mother transition — it's just one of those things where, musically, I just wanted to stay out of the way. It's how much can we pull back and make it as much about this very sensitive moment, and hopefully we did that.
GRAMMY.com: What does Texas sound like to you? And how do you sort of relate to that, or incorporate that in your projects?
Bridges: Texas music is a wide spectrum of sounds, but there's some specific elements that I associate with Texas. And for me, it's the song, it's the twang. It's blues. You know, R&B is blues. And so, in a world where every sound has been exhausted, I just try to find that uncharted territory within R&B. There's a lot of R&B musicians that live in Texas, but some artists don't see the importance of incorporating some of those country and blues elements in the music. Juxtaposing that with a more modern sound is something that you rarely see, so I feel like we're representing Texas well.
Johnson: You can't really nail Texas music down. Texas is Steve Escobar Jordan, the Tejano artist. It's Paul Wall, Slim Thug, Chamillionaire, Lil' Keke, Zero, Yella Beezy. Megan Thee Stallion, Travis Scott, Kruangbin, Vanilla Ice — I could go on. You can't really put Texas music in a box.
A lot of times, when you say Texas music, people automatically zero in to what's happening more or less in Austin, what you would hear on Sixth Street — Texas blues artists or singer/songwriters. Artists like Townes Van Zandt, Willie Nelson, that's what people usually associate with Texas, but it's just as much that as it is ZZ Top. I think all of those people in some way, shape, form or fashion influence you just by being here. Being from the state influences how you approach things and how you make music, even culturally.
One of the biggest questions that Khruangbin would get in interviews early on, from people that were not from Houston or Texas, was "How did you guys meet?" That's a thinly veiled way of asking, "How the hell did you end up with this Black guy in your band? You don't look like you belong together." We travel around a lot, and the three of us will walk into a restaurant, and it'll be like "Table for two?"
It's funny because we don't look like we roll together. I think that's the biggest part about Texas is we all roll together. And that's how we ended up in the same band making music together. We all hang out. I don't think we get as much credit as we should for being as culturally diverse as we are down here, especially in this part of the South.
GRAMMY.com: Is there anything else that you want to ask each other?
Johnson: Leon, what are you listening to right now, what are you jamming to?
I love Gunna by the way. We've been doing interviews all week, and Leon brought up JAY[-Z] and Gunna. It did surprise me that you listen to Gunna.
Bridges: Man. I've been digging that cat Dijon. He's dope, a dope songwriter. His music kind of has that kind of minimal approach we've been talking, that marriage of twang and folk and R&B.
Johnson: I was listening to him back with the older stuff he came out with, like "Speed It Up." I just like the approach. His cadence on that record was rhythmic in a way, it's very creative to me.
Bridges: His delivery and his sound are so soulful to me. He's another one that uses that space.
Bridges: What's your favorite food spot in Houston?
Johnson: That's tough. It depends what I'm in the mood for, honestly. Did you go to Nancy's when you were here?
Bridges: Bro, I was about to say Nancy's Hustle! When I go to Houston, I'm either kickin' it with y'all, or I'm at The Flat, or I'm at Nancy's or I'm at Mr. Rogers.
Johnson: I think you went to Xochi too.
Bridges: Yes! I love that place. I always run into Mark and Laura over there.
GRAMMY.com: Leon, what does it mean to you for Gold-Diggers Sound to be nominated for the Best R&B Album GRAMMY this year?
Bridges: It's humbling. Specifically within the R&B realm, there's so many people making music, so for my album to even be included in all that is wild. I take none of this for granted. I think the beautiful thing about Gold-Digger Sound is it definitely gave me more visibility within the Black space. That's one of the things I understand that you have to put in the work to get into that world, and [I did it] making something that was honest.
news
Dave Grohl, Rihanna Added To Lionel Richie MusiCares Tribute
Yolanda Adams, Chris Stapleton and Florence Welch also among performers added to star-studded tribute to 2016 MusiCares Person of the Year Lionel Richie; Jimmy Kimmel to host GRAMMY Week event
GRAMMYs
/
Jan 28, 2016 - 06:30 pm
GRAMMY winners Yolanda Adams, Dave Grohl and Rihanna and current GRAMMY nominees Leon Bridges, Ellie Goulding, Chris Stapleton, and Florence Welch have been added to the performance lineup for the 2016 MusiCares Person of the Year tribute concert honoring Lionel Richie on Feb. 13 in Los Angeles. Late night television personality Jimmy Kimmel will host the event.
Previously announced performers are GRAMMY winners Lenny Kravitz, Lady Antebellum John Legend, the Roots, Usher, Stevie Wonder, Pharrell Williams, and singer/songwriters Luke Bryan and Demi Lovato. Rickey Minor, current music director for "American Idol" and past two-time music director for the GRAMMY Awards, will serve as the gala's musical director.
Richie will be honored as the 2016 MusiCares Person of the Year in recognition of his significant creative achievements and career-spanning charitable contributions. Proceeds from the 26th annual benefit will provide essential support for MusiCares, which ensures music people have a place to turn in times of financial, medical and personal need.
The MusiCares Person of the Year tribute ceremony is one of the most prestigious events held during GRAMMY Week. The celebration culminates with the 58th Annual GRAMMY Awards at Staples Center on Monday, Feb. 15. The telecast will be broadcast live on the CBS Television Network at 8 p.m. ET/5 p.m. PT.
news
Beyoncé leads 59th GRAMMY nominations with nine
20-time GRAMMY winner scores nine nominations; Drake, Rihanna, Kanye West each receive eight; other top nominees include Adele, Justin Bieber, David Bowie, Chance The Rapper, Kirk Franklin, Max Martin, and Maren Morris
GRAMMYs
/
May 15, 2017 - 01:36 pm
Reflecting the range of artistic innovation that defined the year in music, The Recording Academy welcomes the class of nominees for the 59th Annual GRAMMY Awards. The top nominees are Beyoncé with nine, followed by Drake, Rihanna and Kanye West, who each garnered eight, and Chance The Rapper with seven.
View a complete list of 59th GRAMMY nominees
The dynamic range of this year's nominees is exhibited across several Fields, including American Roots Music, R&B, Dance/Electronic Music, and Rock, but it's arguably best showcased in the Album Of The Year category, which represents a mix of genres — pop, R&B, rap, and country. These recordings exhibit an even greater degree of musical advancement and sonic experimentation: the emotion-stirring vocals of Adele, who brings a soulful depth to a collection of classically fine-tuned pop ballads; Beyoncé's ability to paint a picture, layering poignant R&B vocals over a tapestry of sounds that range from blues-rock to hip-hop; Justin Bieber's growth as a songwriter and evolution as a pop powerhouse; Drake's continued genre-bending, which now invites island influences to his signature sound; and the definition-defying Sturgill Simpson who made many of us re-explore the vast territories of country music.
"Just as we see emerging musicians experimenting, we're also seeing established artists resisting what's expected of them and, instead, embracing the creative freedom they've been afforded through their success, blurring the lines between music's mainstream and artistic edge," said Neil Portnow, President/CEO of The Recording Academy.
Following are the nominations in the General Field categories:
Record Of The Year
"Hello" — Adele
"Formation" — Beyoncé
"7 Years" — Lukas Graham
"Work" — Rihanna Featuring Drake
"Stressed Out" — Twenty One Pilots

Album Of The Year
25 — Adele
Lemonade — Beyoncé
Purpose — Justin Bieber
Views — Drake
A Sailor's Guide To Earth — Sturgill Simpson

Song Of The Year
"Formation" — Khalif Brown, Asheton Hogan, Beyoncé Knowles & Michael L. Williams II, songwriters (Beyoncé)
"Hello" — Adele Adkins & Greg Kurstin, songwriters (Adele)
"I Took A Pill In Ibiza" — Mike Posner, songwriter (Mike Posner)
"Love Yourself" — Justin Bieber, Benjamin Levin & Ed Sheeran, songwriters (Justin Bieber)
"7 Years" — Lukas Forchhammer, Stefan Forrest, Morten Pilegaard & Morten Ristorp, songwriters (Lukas Graham)

Best New Artist
Kelsea Ballerini
The Chainsmokers
Chance The Rapper
Maren Morris
Anderson .Paak
Following is a sampling of nominations in the GRAMMY Awards' other 29 Fields:
For Best Pop Vocal Album, the nominees are 25 by Adele; Purpose by Justin Bieber; Dangerous Woman by Ariana Grande; Confident by Demi Lovato; and This Is Acting by Sia.
The nominees for Best Dance/Electronic Album are Skin by Flume; Electronica 1: The Time Machine by Jean-Michel Jarre; Epoch by Tycho; Barbara Barbara, We Face A Shining Future by Underworld; and Louie Vega Starring…XXVIII by Louie Vega.
For Best Rock Album, the nominees are California by Blink-182; Tell Me I'm Pretty by Cage The Elephant; Magma by Gojira; Death Of A Bachelor by Panic! At The Disco; and Weezer by Weezer.
The Best Alternative Music Album nominees are 22, A Million by Bon Iver; Blackstar by David Bowie; The Hope Six Demolition Project by PJ Harvey; Post Pop Depression by Iggy Pop; and A Moon Shaped Pool by Radiohead.
For Best Urban Contemporary Album, the nominees are Lemonade by Beyoncé; Ology by Gallant; We Are King by King; Malibu by Anderson .Paak; and Anti by Rihanna.
The nominees for Best Rap Performance are "No Problem" by Chance The Rapper Featuring Lil Wayne & 2 Chainz; "Panda" by Desiigner; "Pop Style" by Drake Featuring The Throne; "All The Way Up" by Fat Joe & Remy Ma Featuring French Montana & Infared; and "That Part" by ScHoolboy Q Featuring Kanye West.
The Best Country Solo Performance nominees are "Love Can Go To Hell" by Brandy Clark; "Vice" by Miranda Lambert; "My Church" by Maren Morris; "Church Bells" by Carrie Underwood; and "Blue Ain't Your Color" by Keith Urban.
The nominees for Best Contemporary Christian Music Album are Poets & Saints by All Sons & Daughters; American Prodigal by Crowder; Be One by Natalie Grant; Youth Revival [Live] by Hillsong Young & Free; and Love Remains by Hillary Scott & The Scott Family.
For Producer Of The Year, Non-Classical, the nominees are Benny Blanco, Greg Kurstin, Max Martin, Nineteen85, and Ricky Reed.
The nominees for Best Music Video are "Formation" by Beyoncé; "River" by Leon Bridges; "Up & Up" by Coldplay; "Gosh" by Jamie XX; and "Upside Down & Inside Out" by OK Go.
This year's GRAMMY Awards process registered more than 22,000 submissions across 84 categories. As the only peer-selected music award, the GRAMMY is voted on by The Recording Academy's Voting membership, who represent all genres and creative disciplines, including recording artists, songwriters, producers, mixers, and engineers. Final-round GRAMMY ballots will be mailed Dec. 14 and are due Jan. 13, 2017, when they will be tabulated and the results kept secret until the 59th GRAMMY Awards telecast.
The Recording Academy will present the 59th GRAMMY Awards on Sunday, Feb. 12, 2017, live from Staples Center in Los Angeles and broadcast on the CBS Television Network from 8–11:30 pm ET/5–8:30 pm PT. Follow Recording Academy/GRAMMYs on Facebook, Twitter and Instagram and use #GRAMMYs to join the conversation.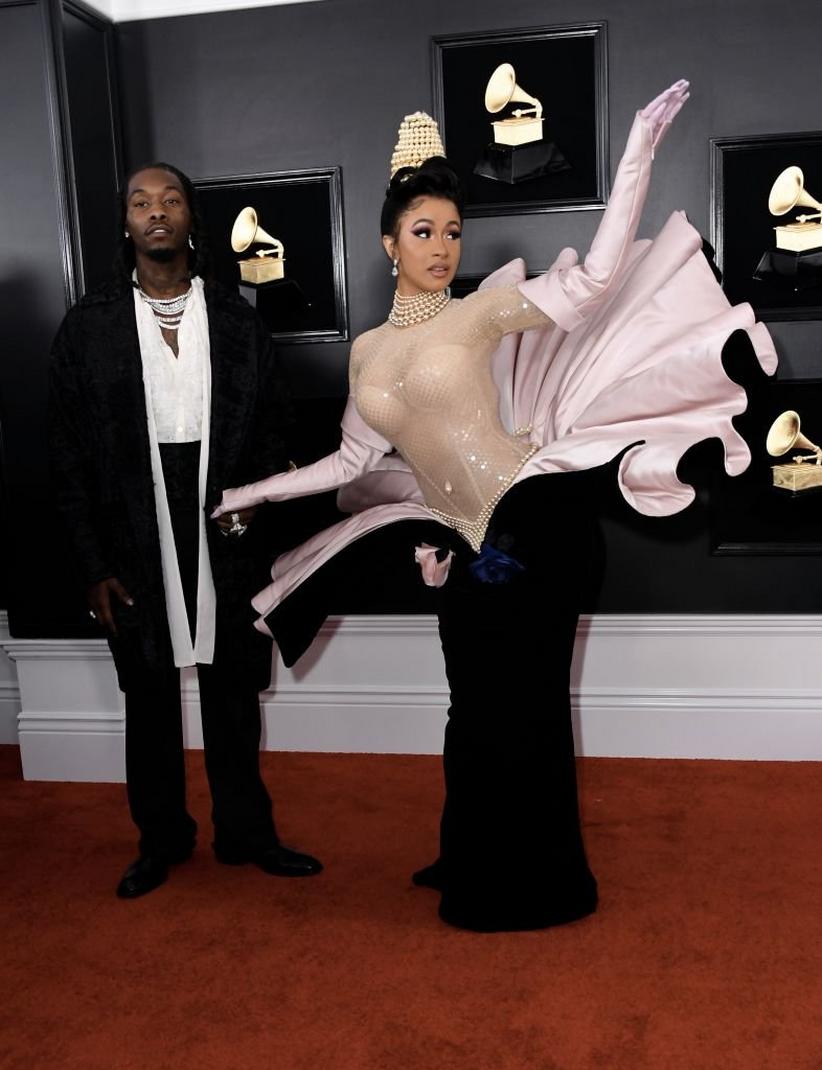 Photo: Valerie Macon/Getty Images
news
61st GRAMMYs Poll: Which Artist Had Your Favorite Red Carpet Look?
It's glitz and glam on the 61st GRAMMY Awards red carpet, who has your favorite look?
GRAMMYs
/
Feb 11, 2019 - 09:29 am
The Biggest Night In Music is finally here and the red carpet is the place your favorite artists get to show their originality and individuality. Whether it's being dressed to the nines or rocking a 'fit like some of these megastars can, we want to know who is wearing your favorite look at the 61st GRAMMY Awards show?
Is it BTS, Camila Cabello, Leon Bridges, Maren Morris, Ella Mai, Shawn Mendes, Cardi B, Bebe Rexha, Dua Lipa, Lady Gaga, Ricky Martin or Chloe x Halle? Vote below:
Full Winners List: 61st GRAMMY Awards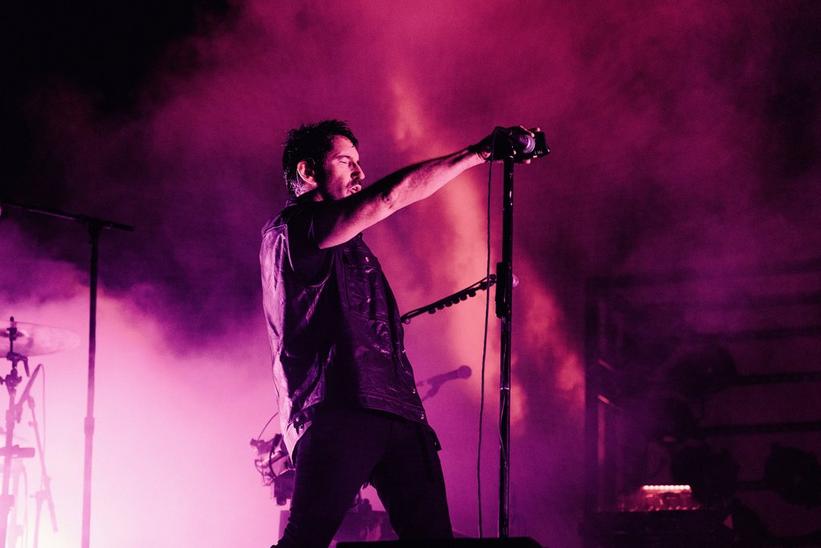 Trent Reznor of Nine Inch Nails
Photo: Pooneh Ghana for Primavera Sound L.A.
list
10 Thrilling Sets From Primavera Sound Los Angeles 2022: Lorde, Nine Inch Nails, Mitski, Khruangbin, James Blake & More
GRAMMY.com attended the first-ever Primavera Sound L.A., and caught vibes from PinkPantheress, Stereolab, Mitski, Lorde, Georgia, Khruangbin, Nine Inch Nails, BICEP, CHAI, and James Blake.
GRAMMYs
/
Sep 19, 2022 - 10:24 pm
The first edition of Primavera Sound Los Angeles wrapped up on Sept.18, after three vibey days of perfect, late summer cool weather at Los Angeles State Historic Park.
The beloved Barcelona music festival, which celebrated its 20th edition back home in June, also hosts annual fests in other cities in Spain, Portugal, Brazil, Chile and Argentina. The festival's first North American venture featured a stacked gender-equal lineup headlined by Lorde, Nine Inch Nails and Arctic Monkeys.
A decent number of artists at Primavera L.A. had also played in Barcelona, but the much smaller footprint of the Los Angeles festival made getting around and catching everyone you wanted to see a lot easier. The festival was packed with exciting fun sets, but read on for eight of the best sets from Primavera Los Angeles.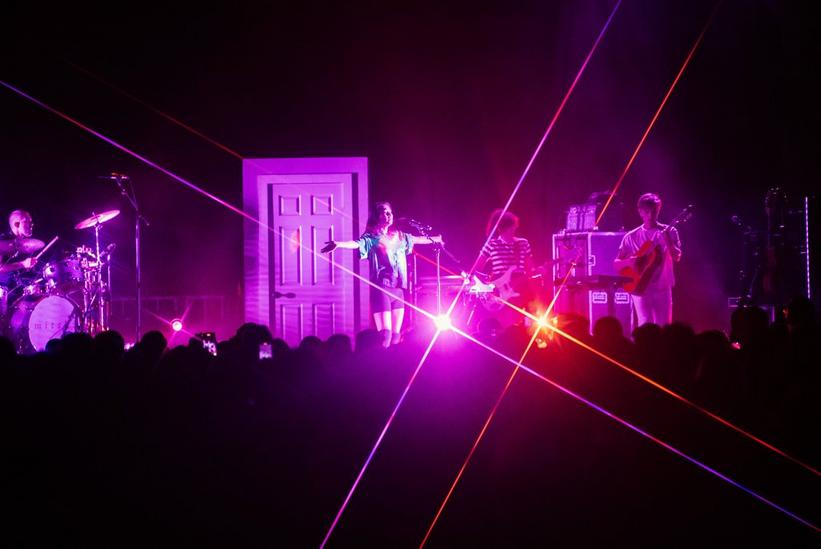 Mitski | Lyndsey Byrnes for Primavera Sound L.A.
A Theatrical Mitski Brings Bedroom Pop To Life
Alt-pop darling Mitski is beloved with her emotional, honest "sad girl" power pop songs about heartbreak and loss. She brought the drama of her music to life, energetically traversing the stage with leaps and theatrical hand motions. The stage setup was simple, with a white door behind her and her band — it felt like a fantasy recreation of a high school bedroom, the place where poems, love letters and tearful diary entries are crafted, and cathartic solo dance moves are made across the floor. Mitski even rocked a silk PJ top and bike shorts.
For "Me and My Husband," her dance moves entailed miming putting long gloves on over and over, and at the end of the song, she pretended to choke herself. For 2014 track "Townie," she ran around the stage as she sang, slowing down at the end to hold and hug herself. After closing with "A Pearl" from 2018's Be the Cowboy, she ended with one last drama school move, a bow.
PinkPantheress Channels 2000 (Even Though She Was Born in 2001)
Twenty-one-year-old PinkPantheress, who channels '90s / '00 U.K. garage and drum 'n bass into short pop bops, got big through TikTok. The Gen Z representation was strong at her Friday afternoon set, loudly cheering her on from the quarantined under-21 section to the side of the stage. But the over-21 turnout was also strong, and PinkPantheress and her DJ got everyone dancing.
PinkPantheress came out looking like a 2004 teen that just came from the mall, rocking a hot pink Diesel long-sleeveT-shirt and brown asymmetrical skirt, complete with short-strap purse and frameless shades. Her warm and funny banter made it feel like we were at the mall with our friends — except maybe more like a secret all-ages rave in the parking lot.
The highlights of the energetic, smile-inducing set included her dedicating "Nineteen" to the 19-year-olds, her cover of the classic 2000 U.K. garage hit "Flowers," and when she stopped the music to say hi to her fan Alan, who screamed into her mic at her May L.A. show. (She later jumped down into the crowd and Alan got an encore scream. Beautiful.)
Stereolab Perfectly Soundtracks The Sunset
British group Stereolab have been making synthy, experimental alt-pop since the early '90s, and while they're influenced by various decades of pop, their records truly transcend time and space. The sun was just beginning to set on day one of the fest, and Stereolab (whose four members look like cool music teachers who each own an amazing vinyl collection) channeled that dreamy setting with their music.
"This is 'Reflections,' an ode to the realm of possibilities remaining open rather than closed," lead singer Laetitia Sadier announced right as the sun dipped out of view behind the stage. The next couple tracks were a bit more noisy, upbeat and rock-y, and the crowd was fully immersed in their layered sounds. They closed with two of their biggest songs, "Pack Ur Romantic Mind," and "French Disko."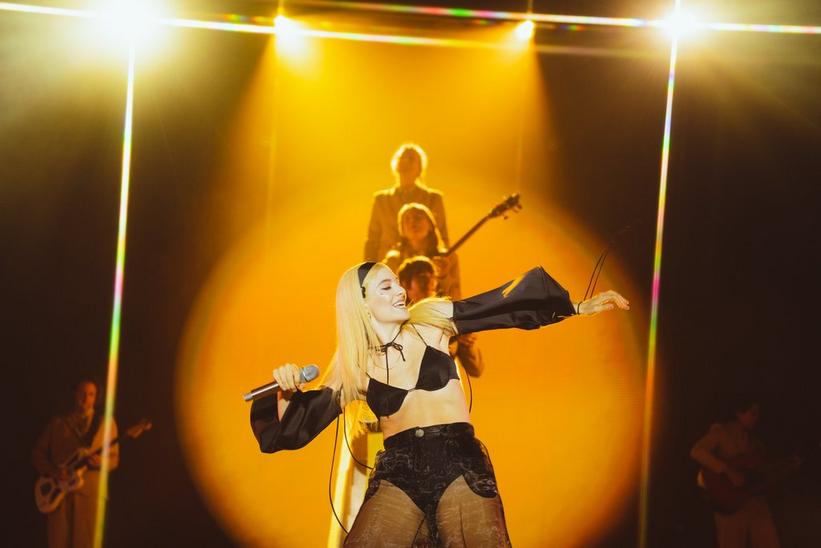 Lorde | Ismael Quintanilla III for Primavera Sound L.A.
Lorde Casts A Spell For Endless Summer
Lorde's Friday closing set was both a powerhouse pop production and an intimate moment. The first day of the fest was joyfully not crowded, so fans were able to gather close as Lorde delivered her ode to summer and mother nature, chatting from atop an epic ladder-to-heaven on stage. The ladder leaned against a big circle, and they rotated around the stage, with a large sun-like orb of changing hues on the screen behind. Her band stood on either side in matching mustard-colored suits, while the New Zealander donned her summer best: a cute black bra top with big puffy sleeves, black mesh pants and long blonde hair.
"I'm really happy to be here," Lorde announced after several songs. "Especially playing here, outside at the end of summer…you might know I'm kind of obsessed with summer," she continued with a smile. "I don't know if you have a crush here tonight, but I came down here from the mountain to unite all the potential lovers," she said before performing "The Louvre" from Melodrama. Next up was "Secrets from a Girl (Who's Seen it All)"and "Mood Ring" from her 2021 album dedicated to the healing power of the sun, Solar Power. This was followed by an amazing cover of Bananarama's 1983 hit "Cruel Summer."
She also put out a call for action to combat the climate crisis, hinting that she already knew what her fourth album was about. Closing her set with "Solar Power," Lorde cast a spell to let the summer vibes last a little longer. "This song was written in a wet bikini, in late July after a long day at the beach…. I want to preserve that feeling, so wherever you are you can feel that." With a wide smile, she continued, "They say it's almost fall, but don't let them trick you…it's still my season."
Georgia Is A One-Woman Dance Party Machine
The sun was shining again on Saturday, and British dance pop artist Georgia got temperatures rising as she commanded the stage with her electronic drum kit and synth. She started with Seeking Thrills' opening track "Started Out," going into "Never Let You Go" and "Ray Guns" from her infectious 2020 album.
Her energy was invigorating, as she sang, drummed, danced and commanded the stage. While Georgia was jet-lagged, she told the audience at her first-ever L.A. festival that they were giving her the energy she needed — but it was definitely a mutual exchange.
She played three new unreleased songs, and shared that she's been working with Rostam, who was somewhere in the crowd and would be mortified that she was touting him as the best producer in the city of Angels. Her "babes" came out to assist on guitar for one of the Rostam-produced tracks. She closed with a cover of Kate Bush's "Running Up That Hill" — while that song is very rinsed at the moment, it felt fresh and resonated with the crowd.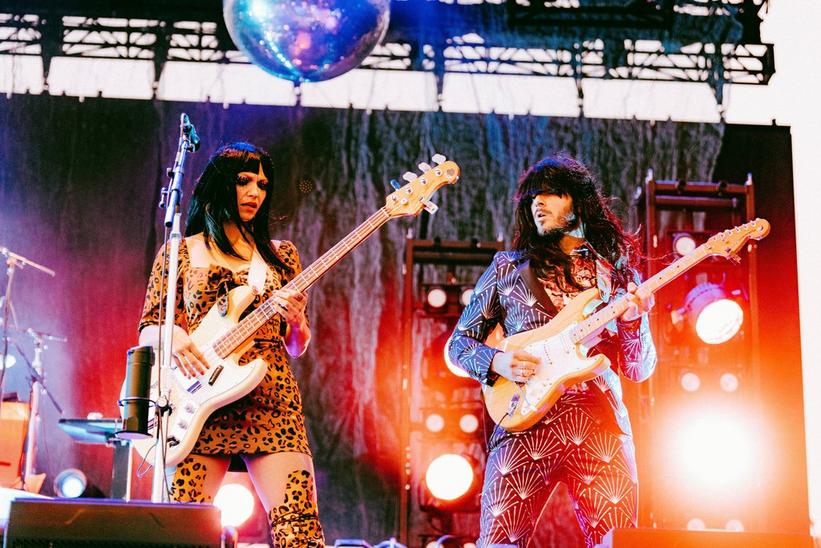 Khruangbin | Pooneh Ghana for Primavera Sound L.A.
Khruangbin Expands Time With Their Jams
Houston psychedelic rockers Khruangbin jammed for an hour on the mainstage as the sky darkened above. The set went by quickly but was expansive, as they riffed on familiar rhythms that knitted their songs into one large, cozy sonic quilt. The trio looked cool as hell on stage with Donald "DJ" Johnson in a cowboy hat, Laura Lee in thigh-high leopard print boots and a matching dress, and Mark Speer in a black and silver geometric-patterned suit. DJ and his drums were elevated and there were two giant disco balls on stage, which the visuals on screen offered trippy renderings of the groovy action.
After running off to the bathroom in the middle of their set and briefly listening from afar, I joked that I wasn't sure if I'd missed one or seven songs, but both were kind of true. They expanded each track and carried it into the next, like a jam band or DJ set. I think we all could've jammed on for several more hours with them.
Nine Inch Nails Penetrate Our Souls
For day two's headline set, the disco balls were removed and the crowd packed the main stage, patiently waiting for Nine Inch Nails to rock them. Before they'd even begun, security stopped letting fans in to avoid overcrowding, and a line formed to let people in as space allowed. The flashing lights began and Trent Reznor appeared in a triangle of light and smoke. Soon, the light expands to reveal the rest of the band, and they break into 1999's "Somewhat Damaged."
The next 70 minutes were a full-on assault of light and a wall of sound. There was no way to escape the emotions rattling through your body as the layered bass, synth, guitar, drums and growls shook everything to the surface. The band worked like a well-oiled machine, effortlessly performing their intricate music with precision and energy.
Reznor shared that they'd really enjoyed playing at Primavera Sound in Barcelona a few years back, so they said yes when they were asked to play what was supposed to be Primavera L.A. 2020: "Finally, here the f— we are."
They played tracks from across their extensive catalog, including "Closer," "The Hand That Feeds," "Head Like A Hole" and "Hurt," ending with the latter three. "Hurt," famously covered by Johnny Cash, was the only moment of relative quiet during the set, allowing for Reznor's lyrics to really sink in.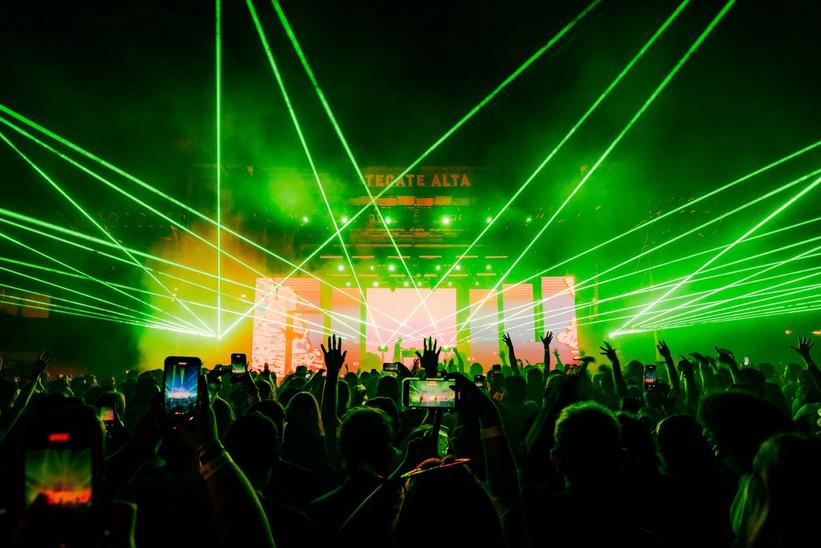 Bicep | Quinn Tucker for Primavera Sound L.A.
Bicep Create An Immersive Rave Rainbow
Belfast producer duo BICEP create immersive, dreamy electronic soundscapes, and their live show ups the immersion with lasers, bright lights and flashes of color. While their set overlapped with Nine Inch Nails, it luckily continued on for 45 minutes after the rockers ended their wall of sound. As I ran from one wall of sound and lights to the next, from rock to rave, the synths and lights at each tying nicely — and surprisingly — together.
As the two childhood friends faced each other and delivered their expansive dancefloor sound with big energy and extra flourishes. They saved an extended version of their massive 2017 track, "Glue," for second-to-last, as the lasers erupted into two rainbows shooting out over the crowd, the smoke dancing in its light and casting trippy, liquidy shapes. A tall guy in the crowd jumped up to touch the rainbow laser magic, just barely missing.
CHAI = CUTE!
Part of the description on J-pop group CHAI's Spotify bio reads: "With lyrics focused on 'women empowerment' and redefining the definition of 'kawaii,' or cute in Japanese," and they brought their high energy girl power, fun and cuteness to the last afternoon of Primavera L.A. Rocking the stage in coordinating pink-and-white outfits topped with big, frilly, rainbow-print capes, CHAI filled their 40 minute set with pure energy and joy, leaving the crowd captivated and asking for more.
After two songs, they "interrupted" their live performance for a mini DJ set led by the drummer and keyboardist, a high energy mix that included Hardrive's "Deep Inside," Crystal Waters' "Gypsy Woman," and Spice Girls' "Wannabee." For the latter song, the quartet came to the front to sing along and dance with fluffy pink-fitted fans, getting the audience to shout out "CHAI!" and "Yesss!" CHAI, YES is exactly how I felt about them in this moment and now forever more. They continued with a few more of their songs, closing with "N.E.O," which had the audience screaming the English words and jumping along.
James Blake Wishes Primavera L.A. Godspeed
As the Arctic Monkeys rocked the main stage and Detroit techno wizard Jeff Mills captivated the dance music stage, British-born, L.A.-based James Blake offered his angelic vocals to soothe the rest of us. He opened with an early track of his, "Unluck," into 2020's "Before" and "Limit to Your Love," which was originally recorded by Feist.
Blake asked the crowd to sing the chorus of  "Say What You Will" — from his latest 2021 album, Friends That Break Your Heart — imploring the audience to sing louder to compete with Mills and the Arctic Monkeys. For another track from the 2021 album, "Frozen," he brought out one of its featured rappers, Atlanta's SwaVay, who brought the energy with his OutKast-nodding flow. (Blake shared that the rapper had a new, great album coming out soon.)
After a few more songs, the "Retrograde" singer closed with his cover of Frank Ocean's gut-wrenching "Godspeed," which he co-produced.
Newport Folk Festival 2022 Recap: Taj Mahal, Brandi Carlile With Joni Mitchell, Paul Simon & A Crowdsurfing Singer