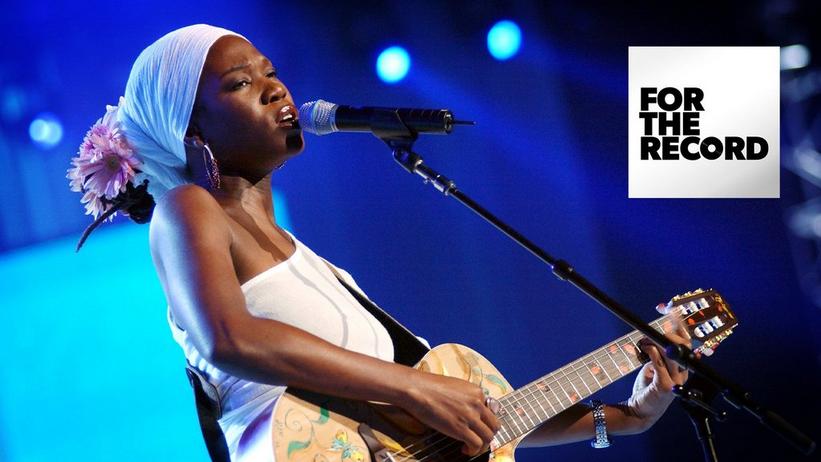 India.Arie performs at The Andre Agassi Charitable Foundation's 7th Grand Slam for Children Fundraiser in 2002.
Photo: Denise Truscello/WireImage
feature
For The Record: How India.Arie Found True Artistic Expression & GRAMMYs Gold With 'Voyage To India'
With her 2002 album, the neo soul sensation became a GRAMMY winner after a disappointing defeat in 2001. But the most rewarding part wasn't the accolades — it was the fact that she stayed true to herself on the journey.
GRAMMYs
/
Sep 23, 2022 - 06:56 pm
India.Arie faced a particularly unique pressure going into her second album, 2002's Voyage to India. Signed by Motown after performing at Lilith Fair in the late '90s, Arie was a new kind of talent within the burgeoning soul revival movement of the time. And just the year prior, Arie's acclaimed debut, Acoustic Soul, had established her as one of the brightest stars to emerge from the neo soul explosion of the early 2000s — so all eyes were on her when it came time to follow it up.
Unlike some of her contemporaries, such as Jill Scott, Macy Gray or Erykah Badu, the Atlanta-raised Arie (who was born India Arie Simpson) wielded her faithful acoustic guitar to craft a sound inspired in equal parts by the soul of Roberta Flack and the folk of Bonnie Raitt, all tied together with the songwriting prowess of her idol, Stevie Wonder. 
The album turned Arie into an overnight success, thanks in large part to its anthemic lead single "Video," which preached radical self-love and the rejection of impossible beauty standards as the singer's defining manifesto. Acoustic Soul also earned her a whopping seven nominations at the 2002 GRAMMY Awards — including nods for Album of the Year, Record of the Year, Song of the Year and Best New Artist — though she ended up leaving empty-handed by the end of the night.
There was no denying Arie had been dealt a very public blow to her confidence. "All I felt was, 'Maybe I'm not meant to have all of that…Maybe I wasn't built for that,' you know?" Arie recalled to Oprah Winfrey in 2013. "In hindsight I realize now that I was scared of failing and I was scared of succeeding." 
However, instead of letting the defeat derail her artistic vision or frighten her further from succeeding, Arie turned inward to find inspiration and allowed the experience to fuel what eventually became 2002's Voyage to India. On lead single "Little Things," the singer grappled openly with her newfound stardom while reorienting her priorities. 
"Runnin' round in circles, lost my focus, lost sight of my goals/ I do this for the love of music, not for the glitter and gold/ Got everything that I prayed for, even a little more/ When I asked to learn humility, this is what I was told/ It's the little things/ And the joy they bring, it's the little things," she sang, channeling the GRAMMYs strife and hard-earned wisdom over a lilting acoustic beat and clattering percussion.
Yes, in some ways it was a sentiment similar to the message she had first shared in "Video" when she sang, "I'm not the average girl from your video/ My worth is not determined by the price of my clothes/ No matter what I'm wearing I will always be/ India Arie." But this time, she had real-world experience of being battered by the fickle winds of fame — and emerged on the other side with her proverbial ship intact.
With Voyage, Arie doubled down on themes that had connected fans to her music in the first place, whether she was exhorting men to respect their female counterparts ("Talk To Her"), preaching a gospel of gratitude ("Slow Down"), basking in guidance from a divine hand (Headed In the Right Direction"), or espousing a wide-eyed appreciation for the beauty of creation ("God Is Real"). In between those reflections, interludes titled "Growth," "Healing" and "Gratitude" — as well as soothing love songs like "The Truth," "Beautiful Surprise" and "Can I Walk With You" — further displayed her knack for combining inspirational messages and warmhearted melodies.
The singer/songwriter also proved on her second outing that she had the musical smarts to deftly avoid any kind of sophomore slump. While she'd clearly had creative control on Acoustic Soul, it had been the learning process of an industry newcomer — with every song featuring one of several different co-producers listed next to her name in the credits. 
This time around, Arie pared down the cooks in the musical kitchen by enlisting Nashville-based duo Drew and Shannon to help produce and write the bulk of the album. (She ultimately worked with the then-newcomers on eight of its 15 tracks, including "Little Things" and "Good Man.") 
The partnership served Arie's music well, giving Voyage to India consistency as a more cohesive body of work that was filled with smarter production choices and stronger vocal performances than its predecessor. Arie even threw off the training wheels and produced five tracks on the album solely by herself.
Voyage to India came together quickly, with Motown aiming for a release date just seven months after the 2002 GRAMMYs. And by all means, the strategy was entirely intentional: The label's then-president and chief executive Kedar Massenburg admitted that he pushed Arie to release the album ahead of the Recording Academy's Oct. 1st submission deadline.
"Now she'll get her just due," he told The New York Times at the time. "As far as R&B and soul is concerned, she has no competition."
Clearly the plan worked: Arie added four more nods to her already-impressive string — to date, she has received 23 nominations, along with two more wins — and Voyage to India was awarded Best R&B Album Of The Year. "Little Things" also won a golden gramophone, beating out tracks by Erykah Badu and Common, Floetry, CeeLo Green, and Raphael Saadiq and D'Angelo in the then-inaugural Best Urban/Alternative Performance category.
But as the saying goes, the journey — or shall we say, voyage — is never really about the destination. And while Arie's sophomore album resulted in GRAMMY gold, the singer's titular voyage was ultimately one back to the essence of herself, even if its title happened to be lifted from an instrumental off her personal idol's 1979 soundtrack Stevie Wonder's Journey Through "The Secret Life of Plants."
"When I first got those GRAMMY nominations, I had chest pains…when I really should've been celebrating and enjoying," she reflected in her 2013 sit-down with Oprah. "But one of the things that I've worked my way out of doing…[is] comparing myself to other people. That just poisons everything. 'Cause your real job in the world is to be you."
Black Sounds Beautiful: Tracing Miguel's Journey From Sleeper Success To Mastering His Own Brand Of R&B
news
Sam Smith's Amazing GRAMMY Feat
Singer/songwriter is just the 10th artist to receive nominations in each of the four General Field categories in the same year
GRAMMYs
/
Feb 4, 2015 - 09:41 am
Sam Smith is just the 10th artist in the GRAMMY Awards' 57-year history to receive nominations in all four of the General Field categories in the same year. His gospel-tinged ballad "Stay With Me (Darkchild Version)" is nominated for Record and Song Of The Year. (He co-wrote it with James Napier and William Phillips.) His debut album In The Lonely Hour is a finalist for Album Of The Year. And he's in the running for Best New Artist.
At 22, Smith is the second-youngest artist to achieve this feat. Only Mariah Carey, who was 20 at the time, was younger.
What's more, he's just the second male solo artist (following Christopher Cross) and just the second foreign-born artist (following fellow Brit Amy Winehouse) to be recognized in all four categories in the same year.
As you will see, seven of the 10 artists on this list are female solo artists; strong women who have exerted appreciable control over their music and image.
Here are the nine artists who previously achieved the feat. All won as Best New Artist unless otherwise noted.
Bobbie Gentry, 1967. Gentry, who was 23, was nominated for Album, Record and Song Of The Year, thanks to Ode To Billie Joe and its moody title track.
Christopher Cross, 1980. Cross, who was 29, took Record and Song Of The Year for "Sailing" and Album Of The Year for Christopher Cross. He's the only artist in GRAMMY history to win all four of these awards in one night. (Will Smith match that achievement? We'll find out on Feb. 8.)
Cyndi Lauper, 1984. Lauper, who was 31, was nominated for Album Of The Year for She's So Unusual, Record Of The Year for "Girls Just Want To Have Fun" and Song Of The Year for "Time After Time" (which she co-wrote with Rob Hyman).
Tracy Chapman, 1988. Chapman, who was 24, was nominated for Record and Song Of The Year for "Fast Car" and Album Of The Year for Tracy Chapman.
Mariah Carey, 1990. Carey was nominated for Album Of The Year for Mariah Carey and Record and Song Of The Year for "Vision Of Love" (which she co-wrote with Ben Margulies).
Paula Cole, 1997. Cole is the only artist to receive nominations in each the big four categories who was also nominated for Producer Of The Year, Non-Classical. Cole, who was 29, was nominated for Record and Song Of The Year for "Where Have All The Cowboys Gone?" and Album Of The Year for This Fire.
India.Arie, 2001. India.Arie is the only artist to receive nominations in each of the big four categories who didn't win as Best New Artist. (She lost to Alicia Keys.) India.Arie, who was 26, was nominated for Album Of The Year for Acoustic Soul and Record and Song Of The Year for "Video" (which she co-wrote with Carlos "Six July" Broady, Reginald Harris and Shannon Sanders).
Amy Winehouse, 2007. Winehouse, who was 24, won Record and Song Of The Year for "Rehab" and was nominated for Album Of The Year for Back To Black.
Fun., 2012. The pop trio is the only group or duo to receive nominations in each of the big four categories. The members of Fun. (Jack Antonoff, Andrew Dost and Nate Ruess) won Song Of The Year for "We Are Young" (which they co-wrote with Jeff Bhasker). They were nominated for Record Of The Year for that smash (which featured Janelle Monáe) and Album Of The Year for Some Nights.
Here are five artists who just missed receiving nominations in all of the big four categories.
Carpenters, 1970. Karen and Richard Carpenter were nominated for Album and Record Of The Year for Close To You and its title track, but Paul Williams and Roger Nichols wrote their Song Of The Year contender, "We've Only Just Begun."
Sheryl Crow, 1994. Crow won Record Of The Year and was nominated for Song Of The Year for "All I Wanna Do" (which she co-wrote with David Baerwald, Bill Bottrell, Wyn Cooper, and Kevin Gilbert), but her album, Tuesday Night Music Club, wasn't eligible. It had been released in the previous eligibility year.
Alanis Morissette, 1995. Morissette won Album Of The Year for Jagged Little Pill and was nominated for Song Of The Year for "You Oughta Know" (which she co-wrote with Glen Ballard), but that album track wasn't eligible for Record Of The Year. Rules at the time barred tracks that weren't commercially available as singles from competing in that category.
Joan Osborne, 1995. Osborne was nominated for Album Of The Year for Relish and Record Of The Year for "One Of Us," but Eric Bazilian wrote that philosophical song, a Song Of The Year finalist. (Deep trivia: Bazilian is a member of the Hooters, as is Rob Hyman, the co-writer of Lauper's aforementioned hit.)

Norah Jones, 2002. Jones won Album Of The Year for Come Away With Me and Record Of The Year for "Don't Know Why," but Jesse Harris wrote that smoky ballad, which won Song Of The Year.
Paul Grein, a veteran music journalist and historian, is a regular contributor to Yahoo.com.
news
Beyoncé to perform at all-star Stevie Wonder GRAMMY special
Two-hour special to also feature all-star tribute performances by Lady Gaga, Ed Sheeran, Pharrell Williams, and more to air on CBS Feb. 16 at 9 p.m. ET/PT
GRAMMYs
/
May 15, 2017 - 01:36 pm
Surprising the audience with a captivating finale performance, Stevie Wonder received multiple standing ovations singing some of his all-time classics, including "Superstition" and "You Are The Sunshine Of My Life," at the Feb. 10 taping for "Stevie Wonder: Songs In The Key Of Life — An All-Star GRAMMY Salute" at Nokia Theatre L.A. Live. Additionally, a superstar cast of 19 artists saluted Wonder with songs from his stellar songbook before a sold-out audience. Recorded live, the two-hour special, which pays homage to Wonder's iconic career, will be broadcast in HDTV and 5.1 surround sound on the CBS Television Network on Monday, Feb. 16 from 9–11 p.m. ET/PT.
The all-star lineup featured performances by Babyface, the Band Perry, Tony Bennett, Beyoncé, Andrea Bocelli, Gary Clark Jr., Ariana Grande, Jennifer Hudson, India.Arie, Lady Gaga, John Legend, Annie Lennox, Janelle Monáe, Wonder's daughter Aisha Morris, Ne-Yo, Jill Scott, Ed Sheeran, Ryan Tedder, and Pharrell Williams. Two-time GRAMMY winner LL Cool J hosts this special tribute, with appearances by Jason Derulo, Jamie Foxx, Tyler Perry, Craig Robinson, and Maya Rudolph.
View a complete list of "Stevie Wonder: Songs In The Key Of Life" performances
"We must, without question, let the world know that love is king and queen," said Wonder, thanking fellow artists and fans from the stage before launching into a medley of his hits. "I encourage all of us as artists to write songs about love. Love is the key, and you've given me love, and I thank you for it."

A 25-time GRAMMY winner, Wonder is the only artist to have received Album Of The Year honors in three out of four consecutive years with Innervisions (1973), Fulfillingness' First Finale (1974) and Songs In The Key Of Life (1976).
"Stevie Wonder: Songs In The Key Of Life — An All-Star GRAMMY Salute" is produced by AEG Ehrlich Ventures, LLC. Ken Ehrlich is the executive producer, Leon Knoles is director, and David Wild and Ehrlich are writers. Greg Phillinganes is music director.
]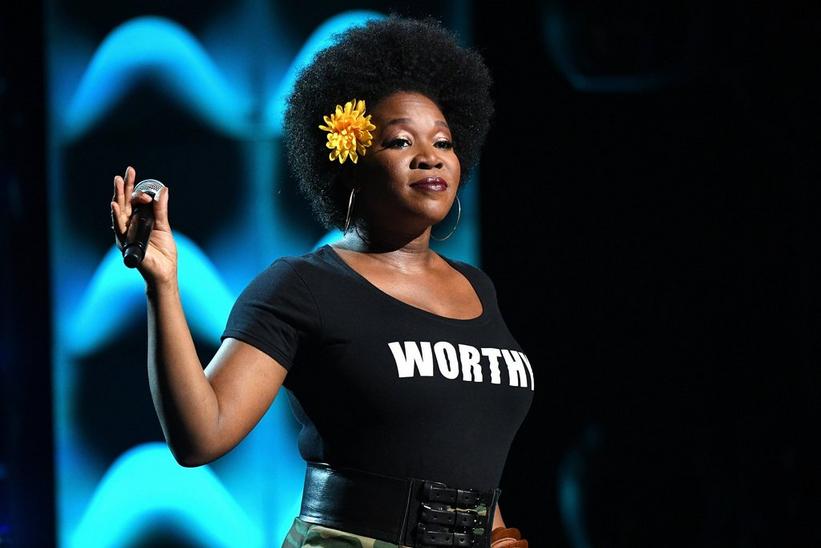 Photo: Dia Dipasupil/Getty Images
news
2018 GRAMMYs: Body Count, India.Arie To Perform At Premiere Ceremony
Hosted by Paul Shaffer, the annual ceremony will also feature performances by Jazzmeia Horn, Taj Mahal, Keb' Mo', and Stile Antico
GRAMMYs
/
Jan 18, 2018 - 08:30 pm
Each year, the GRAMMY Awards Premiere Ceremony kicks off Music's Biggest Night by recognizing GRAMMY winners in more than 70 categories, complete with outstanding performances. We now have all the exciting details on the 2018 installment of the annual event.
This year's Premiere Ceremony will take place at The Theater at Madison Square Garden on Sunday, Jan. 28, preceding the 60th GRAMMY Awards telecast. Singer, composer and instrumentalist Paul Shaffer will host the ceremony and will serve as musical director while his World's Most Dangerous Band will serve as the house band.
Current GRAMMY nominees Body Count, India.Arie, Jazzmeia Horn, Taj Mahal and Keb' Mo', and Stile Antico will perform, while current GRAMMY nominees Zac Brown, Natalie Grant and Bernie Herms, Ledisi, Lisa Loeb, Neil deGrasse Tyson, and former Recording Academy Chair Jimmy Jam will serve as presenters.
The Premiere Ceremony will be streamed live internationally via GRAMMY.com from 3–6 p.m. ET and will be available on demand following the broadcast.
Hosted by James Corden, the 60th GRAMMY Awards will be broadcast live on Sunday, Jan. 28 on CBS from 7:30–11 p.m. ET/4:30–8 p.m. PT.
GRAMMYs
/
Dec 3, 2014 - 04:22 am
(For a complete list of 53rd GRAMMY Awards nominees, click here.)
It has been a massively successful year in pop with an extensive group of artists, producers and songwriters creating sounds that had music fans singing, dancing and tapping along across the globe.
Over the years, pop has become a very diverse melting pot that incorporates a myriad of different genres, styles and influences. What defines great pop, however, remains unchanged. Pop is marked by elements of classic songwriting, a catchy hook or a genuine sentiment that people everywhere can instantly relate to.
A good example of pop's diverse nature in 2010 is the Best Pop Collaboration With Vocals category. Beyoncé and Lady Gaga are recognized for their solid performance of "Telephone," as are Atlanta genre-buster B.o.B, Eminem and Paramore's Hayley Williams for "Airplanes, Part II." Also nominated are Katy Perry and Snoop Dogg ("California Gurls"), Elton John and Leon Russell ("If It Wasn't For Bad") and Herbie Hancock's phenomenal "Imagine," which includes Pink, India.Arie, Seal, Konono No. 1, Jeff Beck, and Oumou Sangare.
Arguably, females ruled the pop scene this year and the Best Female Pop Vocal Performance category is a proper reflection of that sentiment. Lady Gaga ("Bad Romance"), Katy Perry ("Teenage Dream"), Sara Bareilles ("King Of Anything"), and Norah Jones ("Chasing Pirates") are all up for the coveted GRAMMY statue. Beyoncé's life performance of "Halo" also received a nod. She won this same award last year for the studio version of "Halo."
The Best Male Pop Vocal Performance nominees span an iconic superstar and brand-new talent. A 13-time GRAMMY winner, Michael Jackson received a posthumous GRAMMY nomination for "This Is It," which was featured in his moving concert film Michael Jackson's This Is It. Also nominated are Bruno Mars ("Just The Way You Are"), who scored an impressive seven GRAMMY nods total; Canadian crooner Michael Bublé ("Haven't Met You Yet"); seven-time GRAMMY winner John Mayer ("Half Of My Heart"); and "American Idol" runner-up Adam Lambert, who received his first career nomination for "Whataya Want From Me."
The cast from Fox's hit television show "Glee" impacted the mainstream charts with a slew of covers this year. The cast's memorable remake of Journey's 1981 hit "Don't Stop Believin' (Regionals Version)" is one of the nominees in the Best Pop Performance By A Duo Or A Group With Vocals category. Also nominated are Maroon 5 ("Misery"), Paramore ("The Only Exception"), Sade ("Babyfather"), and Train, who ruled the radio airwaves with "Hey, Soul Sister (Live)."
The legendary Laurie Anderson, who first impacted the scene nearly 30 year ago with her debut album Big Science, is nominated for Best Pop Instrumental Performance for "Flow." Rounding out the group are five-time nominee Jeff Beck ("Nessun Dorma"), bassist Stanley Clarke ("No Mystery"), Gorillaz ("Orchestral Intro"), and the Brian Setzer Orchestra ("Sleepwalk").
Eight-time GRAMMY nominee Kirk Whalum picks up his fifth nomination in the Best Pop Instrumental Album category for his tribute to soul great Donny Hathaway, Everything Is Everything: The Music Of Donny Hathaway. Joining him are Gerald Albright (Pushing The Envelope), Larry Carlton and Tak Matsumoto (Take Your Pick), Kenny G (Heart And Soul), and Doors guitarist Robby Krieger (Singularity).
In the Best Pop Vocal Album category Susan Boyle (I Dreamed A Dream), Lady Gaga (The Fame Monster), John Mayer (Battle Studies), Katy Perry (Teenage Dream), and fresh-faced Canadian newcomer Justin Bieber (My World 2.0) will battle it out.
Tune in to the 53rd Annual GRAMMY Awards live from Staples Center in Los Angeles on Sunday, Feb. 13, 2011, at 8 p.m. ET/PT on CBS. For updates and breaking news, please visit The Recording Academy's social networks on Twitter and Facebook.