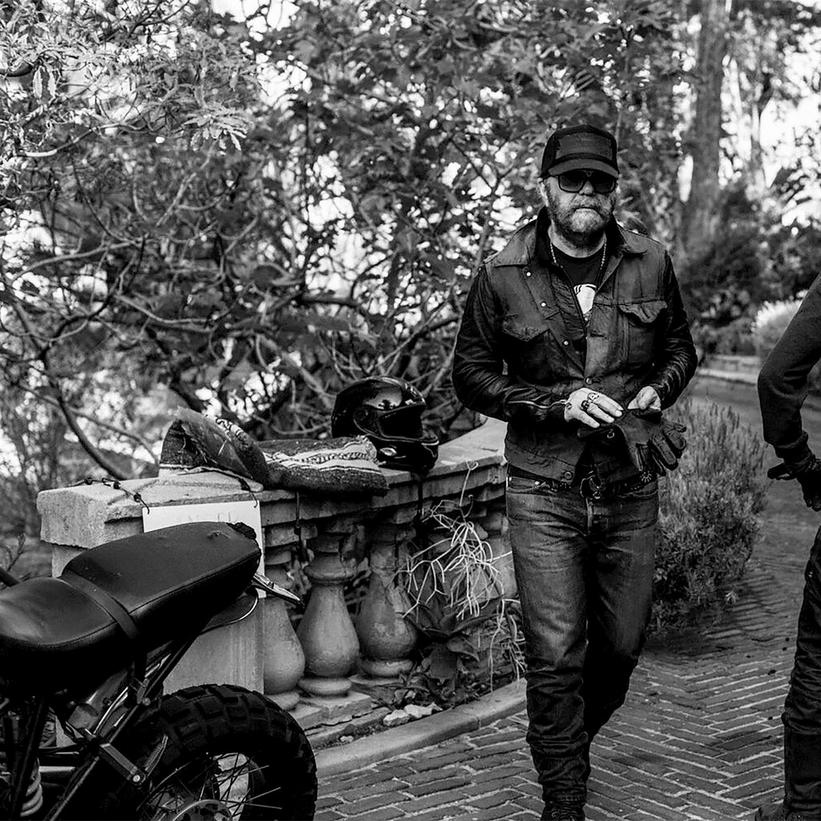 news
Daniel Lanois On Why A 1,000-Year-Old Tree Informed His New Album, 'Heavy Sun' & Working With Bob Dylan, U2
Daniel Lanois has produced everyone from U2 to Bob Dylan to Neil Young. But as his ascendant new album 'Heavy Sun' demonstrates, his artistry begins with his musicianship.
GRAMMYs
/
Mar 25, 2021 - 02:59 am
Some people think of a producer as someone who stays behind the board and doesn't join the band, but that's not what the seven-time GRAMMY winner Daniel Lanois is about—and it never has been.
On a bunch of records—even the ones the non-music fan in your life probably owns—Lanois has not only produced but sang, played and consulted. He added spindrifts of pedal steel to Brian Eno's Apollo: Atmospheres and Soundtracks, belted along with U2 on "I Still Haven't Found What I'm Looking For" and played guitar all over Bob Dylan's devastating Time Out of Mind. And on Neil Young's craggy, cavernous 2010 album Le Noise—an album cheekily named after Lanois—he even vetted Young's lyrics and made suggestions for improvement.
That said, even his work with those musical titans doesn't encompass his self-expression as a music-maker. Since the late 1980s, Lanois has also released his own records, including one with his Black Dub project and another with the electronic artist Venetian Snares. His latest, Heavy Sun, which arrived March 19, is a nod to the organ players Lanois grew up listening to, like Jimmy Smith. The tunes therein, including "Tree of Tule," "Tumbling Stone" and "Angels Watching," hinge on naturalistic, archetypal images.
"I think there's just something very human about it," Lanois says about the feeling of small-room organ music. "It has neighborhood; it has congregation."
This is why he sang Heavy Sun in tandem right at the console with his collaborations: "When we harmonize together, we're not thinking about standing out. We're thinking about blending," he explains. "So we all have to blend as singers, but I think the congregation has [that] blend in it. You leave your troubles on the street and you come to the place of worship."
Turn up the joyful Heavy Sun, and you might feel your troubles lift. GRAMMY.com gave Lanois a ring about the process that informed the new album, why a millennium-old tree inspired a song, and the stories behind the classics he made with U2, Dylan and Eno.
This interview has been edited and condensed for clarity.
Gospel and organ music are big influences on you. Which artists from those spheres are foundational for you?
On the road, I visited a few nightclubs. This was back in the day, in the '80s, in the south. There was a promoter that was dragging us to a few stops, and we ended up in a couple of late-night spots. I don't even know who was at the organ, but they were local heroes. I remember being in these greasy little spots and hearing a kind of nighttime organ playing. I went, "Oh my goodness." It felt really fabulous and it was welcoming and dangerous at the same time.
I grew up listening to Booker T. and Jimmy Smith. And then, more recently, I bumped into Cory Henry. Do I have that right? I believe so, yeah. He's a contemporary organist. I was introduced to him by Brian Eno. [We] were at a festival in New York and Cory was playing. I was really touched by his playing. And, of course, our great Johnny Shepherd [who] is in the band. He's a master church organist.
I just love organ records. I think they're a pure form and the bass is always in tune. [chuckles]
Heavy Sun gives me that sense of uplift I feel from Bob Marley or The Impressions. Or, as per those organ records, Jimmy Smith. How would you describe that ineffable something that lifts these gospel-inspired records?
Well, that's a lovely compliment to have any kind of association with the masters you mentioned. We've got a line in one of the songs, "Under the Heavy Sun," that says, "An imaginary nightclub that you go to, somewhere in outer space/ Where you get to leave your ego hanging at the door."
There's just something very welcoming about the sound of organ music and a sense of joy that rises up from that. Maybe it's because we're accustomed to associating the Hammond organ as a sound that comes from the smaller churches—the Baptist churches, the ones that couldn't afford the gilded ceilings and pipe organs.
There's something a little bit "street" and "neighborhood" about that sound. Even the little pump organs in the smaller chapels where I grew up, some of them didn't even have electricity—that's how far back it goes.
A massive burl in the Tree of Tule.
I noticed some archetypal images in the lyrics—stones, trees and angels. Were you reaching for something encompassing and timeless?
Well, angels never go out of fashion! Even an atheist likes an angel. Maybe it's the tap on the shoulder or that inner voice that allows you to make a good decision at a certain bend in the road.
But, you know, we've got a thousand-year-old Tree of Tule, so that's a good one. Tule is a little village I visited when I was driving through Mexico sometime back. I drove from Mexico City to Oaxaca and came upon Tule, and they had a thousand-year-old tree. It was in parquet and people were praying under the tree. They were not praying to the tree. The tree was a place of congregation.
So, there's something timeless about something that's lived for a thousand years, that came up out of the ground in the absence of technology. I guess those kinds of tonalities on the record remind us that [while] we are living in fast, high-tech times, some of the things we like and respond to have always been there.
What's your favorite tune of the bunch, if you have one?
I like "Way Down." We listened to "Way Down" last night and I realized it's a little jewel of sorts because it talks about an imaginary place that we might get to, geographically or otherwise.
There's a term [from] when I worked with the Neville Brothers. Art Neville used this term: "Oh, that's an old-folks-and-babies song." I said, "What do you mean?" He said, "That song will touch everybody, somehow." So, we've had lovely comments on that song from grandmothers, from little kids, from hip-hop people. They say, "I like that song!" So, that one's one of my favorites. I think it's got a universal spirit.
I also like "Dance On." It seems at first like, "OK, you feel like you want to dance, dance on." But then as it unfolds, Johnny really goes for it. I like that he breaks on through to the other side. And this is what we look for when we make records: we get to a place we don't even know exists.
We call them "lift-offs." And if we're lucky enough to hit that magic point where lift-off happens, then we thank our lucky stars and we try to include it on the record. I believe "Dance On" has that in Johnny's delivery.
So you were sitting around listening to the record last night?
Last night at the studio, we put on a couple of tracks because I hadn't heard the record since I mixed it. I had a couple of friends over and we were reveling in the glory of finished work [chuckles]. We found the soul-ometer went on a couple of times. I felt pretty proud as a papa.
I believe that's what people respond to ultimately in music outside of the stylistic specifics. We want music to touch us, raise the spirit and take us someplace. I think we brought it to that place a few times on this record, I hope.
And the likes of you, people like yourself taking an interest in our work, who might help spread the gospel and get it on the airwaves. If somebody feels a little bit of joy and maybe they want to start living a better life, being a better person from hearing a few notes, then: Job well done.
I wrote down a question about peoples' response to the record, and if they felt that warmth and camaraderie during this period of isolation. From what you're describing, they absolutely did!
I've been getting comments that way. People are thankful that this was made. This record was largely made before the pandemic, and everyone's feeling isolated now. I think it's been quite a reset button for everybody. So if there's something in this music that resonates with people that way, then I'm very pleased that it is.
But we wanted to say a little something about a kind of freedom that we'd like to get to, as people. "Tumbling Stone" has that in it. I said, "Johnny, how are you feeling, man?" because Johnny's from Shreveport, Louisiana, and he came to Los Angeles to make this record with us. It was hard for him to leave home because he's a choir leader, a church organist and a church singer. So he had to leave his church.
And I said, "Johnny, but you still have the church in you! We're operating in a church with no walls. We get to be traveling ministers of sorts and if we can touch a few hearts along the way, isn't that a great way of spreading the gospel?" So we wrote about it: "I left my home on a pilgrimage/ A church with no walls," and all this.
I thought we addressed our own experiences and put them in songs. I think the listeners respond to songs from a truthful place from the writers.
You cited "freedom" as an operative word. What stands in the way of freedom for people? When you think of that concept, what comes to mind?
I see a lot of confinement. Oftentimes, self-confinement. In the neighborhoods I grew up in, a young man is a man when he gets a student loan and applies for a mortgage, and then is shackled by that for a very long time. So there might be a more bohemian point of view, to sidestep these shackles and chains.
It could be that a world could be entered that is not so driven by the usual pressures of loans and mortgages. Maybe there's something to be learned from the traveler, or the person who does not embrace those kinds of expectations—[who chooses] not to be living on credit cards.
Maybe the pandemic is chasing us in that way of enjoying the growth of your own food, and appreciating where they come from, and how to be wiser with your spending and think about the impact we have on our neighborhoods and our planet.
To take it back to Heavy Sun a bit, what can you tell me about how you built these tracks from the ground up, on a technical level?
[Some] of them were built with a beatbox beginning. For example, "Way Down" has a little rhythm box that we played the song to. It was very layered. I started with my acoustic guitar—my little Guild acoustic guitar with a magnetic pickup on it—and the beatbox allows us to use echoes. So, I had a nice little triplet echo on my Guild acoustic and I laid down a couple of those.
Then, we put on the organ. The organ plays the bass line, to get back to what we said earlier, how the bass is always in tune when it comes from the organ. So we have the luxury of a very nice bottom end on that. And then we decided we would split the verses, so Rocco DeLuca—my good friend and a great singer—joins me, and we sing the first verse in tandem.
And then, the whole group comes in on the chorus, and then Johnny on the next verse. Something I always liked on records by The Band in the '70s—Robbie Robertson and The Band—was splitting vocals. So we revisited that idea to give it that feeling of a group of four singers.
Other things were more freewheeling. [For] "Dance On," I had an invitation [to play] from a dancer friend of mine, Carolina Cerisola, a great Argentinian dancer. She was at a little dance club, and she said, "I don't have a song and I don't have a band." It was a solo number she was invited to do.
So I said, "Well, let's go down. We'll pay you a visit and we have a song called "Dance On," funny enough." And so in live performance, we recorded that version for her night and that's the version I got on the record. We hear them by hook or by crook. Ultimately, whatever provides the most magical feeling is what we go for.
All the singing was done right at the recording console because I do all my own punches and running back [and forth]. I invited singers to join me at the console and we sang to the speakers—no headphones and no vocals in the speakers. You can think of it as kitchen singing.
A lot of producers I know bang the drum of analog—analog this, analog that. So, I'm interested in how you blended analog and digital textures.
Obviously, we move with technology. I use a digital recorder. But to use a photographic analogy, we don't throw away our old lenses. We might have a digital back, but we still find a way to still use our old Carl Zeiss lenses, let's say. If a ribbon microphone sounds better on the voice, then let it be. That doesn't mean to say if we have a brand-new, shiny, sizzly mic [that we won't use it].
We appreciate that certain pieces have stayed with us. My echo machines are the same ones I've been using for a long time, for example. But we're not afraid of technology. I have this process called dubbing. I extract from an available ingredient in the multitrack, sample it and then spit it back in once I've processed it.
You may hear some orchestral tones in the distance on some of these tracks, and we didn't have an orchestra in, obviously. Some of that sound comes from my stereo technique and my dubbing technique.
Lucinda Williams and Daniel Lanois perform at The GRAMMY Foundation's "Music In Focus" in 2009.
When you consider the totality of your self-expression, where do your solo records sit as opposed to your production work?
It's all bleeding together more than ever. In regard to my solo work and production work, let me clarify that for any record I produce, I'm a musician in the room with the artist, usually. I'm a musician first, so I've always felt that kind of exchange with people I work with, including Bob Dylan and U2. They always welcome me as a member of the orchestra.
My contribution to production is largely my musicianship. There's plenty of people that do great work with technology and probably some better than me. But in regard to my aesthetic and my taste and what drives me, it all comes from a musical place. Every record I work on I learn from, and I take those lessons and bring them to my own work.
But when I'm working by myself on my solo recordings, I'm surrounded by people who I trust and are good mates. So they become producers, really. I can take that hat off for a minute and listen to good advice from my buddies.
You brought up Dylan and U2, and it might be elucidating for readers to hear a couple of stories about your production work. Can you narrow that down to three records you consider the most memorable?
I love all of my children, but I have fond memories of some of my work with U2. The Joshua Tree was done at a very potent time of devotion. We were very interested in experimentation with sounds and mixing technology with hand-playing.
The Joshua Tree had that in "With or Without You," which became a very popular song. We started with a little beatbox, for example. We put the drums on after. But more importantly, we were really focused, in a lovely setting in a beautiful farmhouse outside of Dublin. We had nowhere to go. We just rolled up our sleeves and concentrated on our work.
Then, winding the clock ahead to Germany and making Achtung Baby with U2. Monumental time. The wall [in Berlin] had just come out. It was winter; it was rock 'n' roll, but it was bleak. And the bleakness of it kept us in the warm studio. And, again, the limitations were very much a part of what we were doing.
Daniel Lanois in 1993.
Let's move over to Time Out of Mind. That record was started in Oxnard, California, in a little Mexican theater. Ultimately, we went to Miami, to Criteria, to finish the next chapter of the record. Bob wanted to assemble a large band this time, unlike the record I made with him called Oh Mercy, which was a very private record—just me and Bob in two chairs, mostly. This assembly of people made it such that we were afforded broader landscapes.
Jim Dickinson provided us with these very sophisticated musicians who provided us with the most amazing scapes—landscapes and skyscapes. It took us to a [magical] place a lot of times. We had the advantage of really greasy electric guitar work, but sophisticated details from Jim Dickinson. When you have 11 people in the room, you get a lot of results fast.
As a secret weapon, I had prepared these drum loops in New York from my friend Tony Mangurian. We had played along with some of the old blues records Bob wanted me to listen to—Charley Patton, Little Walter, Little Willie John. We did some backyard jams and I chose maybe a dozen loops of our best playing. I didn't include the original records; we just played along with them.
I vari-sped them at different speeds in anticipation of providing them to the two drummers in Miami—Brian Blade and Jim Keltner. The reason I'm saying all of this is that we were making a blues-based record and I wanted to have an insurance policy in case we fell into average blues, which I didn't want to do for Bob. I wanted to make sure we flew over the cuckoo's nest of barroom blues to take it to the future, at least emotionally.
So I used these loops four, maybe five times on the record. I fed them to the drummers in their headphones; Bob wasn't hearing them. When people came back into the control room to listen to the playbacks, they fed these loops in with what they played. The loops were magical to begin with, so it added this layer of magic to something that might have been more commonplace. I spoke with [some of the players] at one point and said, "Please leave expectations at the door. I don't want to hear any familiar guitar playing on this record.
I'm [also] fond of the record I was asked to work on with Brian Eno, Apollo. We made that in Canada back in the day. We worked on a lot of ambient records together. That's another record that really transports a listener. It's the record that caused me to take my pedal steel guitar out of the closet.
There's a track on there called "Deep Blue Day." If you ever saw the film called Trainspotting, "Deep Blue Day" shows up during the toilet bowl scene. But it's a record that takes you somewhere, and isn't that the job of art? That it would lift you out of your skin and take you someplace? It might just change a little something about your life for a minute.
How The 'Trainspotting' Soundtrack Turned A Dispatch From The Fringes Into A Cult Classic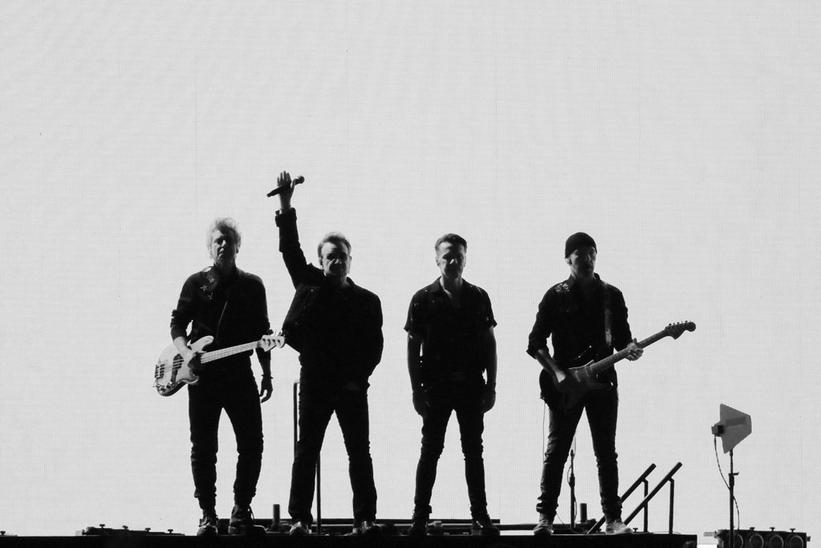 U2 live in Saitama, Japan in 2019
Photo: Takashi Aoyama/Getty Images
list
What Does U2 Stand For? To Mark 'Songs Of Surrender,' 6 Facts About The 22-Time GRAMMY Winners
One of the most innovative, popular and acclaimed rock bands of all time, U2 are reexamining their past on their new album, 'Songs of Surrender.'
GRAMMYs
/
Mar 17, 2023 - 03:43 pm
From their songs to their vision to their constant evolution, U2 have earned their place as one of the most popular and innovative rock bands of all time — and they have an astounding 22 GRAMMYs to show for it.
With their earthy, tactile first three albums, 1980's Boy, 1981's October, and 1983's War, the band positioned themselves at the vanguard of post-punk. Summarily, they hurtled past its parameters with a little help from producers Daniel Lanois and Brian Eno, culminating in their 1987 masterpiece The Joshua Tree.
After ripping up the rulebook with 1991's deconstructionist Achtung Baby, U2 spent the rest of the decade throwing electro-tinged curveball after curveball with Pop and Zooropa. The band then settled into something of an elder-statesmen role with 2000's All That You Can't Leave Behind and its consolidative, substantive follow-ups.
Today, U2 remain intact without a single lineup change — save drummer Larry Mullen, Jr. having to sit out a Vegas residency due to recovery from surgery. Partly as a tribute to their astonishing longevity, U2 released the Songs of Surrender — the third in their Songs of… series — on Mar. 17.
Part retrospective, part reimagining, Songs of Surrender culls 40 songs from their past — including some of their biggest hits, like "One," "Pride (In the Name of Love" and "With or Without You" — and renders them in soft-focus minimalism.
Accompanied by a memoir by Bono, Surrender: 40 Songs, One Story, the album acts as a panorama of U2's singular landscape — the spiritual searches, the self-conscious reinventions, the sociopolitical grandstanding, the triumphs and travails.
With the band back in the ether, here are some answers to common questions about Bono, the Edge, Adam Clayton and Larry Mullen Jr.
What Does U2 Stand For?
While the band shares a name with an American spy plane, the exact origin of the name is unclear. What's established, however, is that they were previously known as Feedback — one of the only musical terms they knew — and the Hype before settling on the name.
In a BBC interview, Bono and the Edge explained that a friend curated a list of names for them, and they chose U2 because they hated it the least. Bono remarked that the name gave off "futuristic" images of "the spy plane" and "the U-boat." (The name still makes him "cringe.")
What Is U2's Latest Album?
After Songs of Innocence and Songs of Experience, U2 have released Songs of Surrender, which shrinks down the often grandiose arrangements of their past work and examines them with a new lens. Produced by the Edge, the album is spread across four discs, each named after a band member.
"I just need to be more silent, and to surrender to my band as being at the core of what I'm trying to do with my life, surrender to my wife," Bono recently told NPR. "And when I say 'surrender,' I do not mean making peace with the world... I'm trying to make peace with myself, I'm trying to make peace with my maker, but I am not trying to make peace with the world.
"The world is a deeply unfair place, and I'm ready to rumble," he continued. "I'm keeping my fists up for that one."
What Is U2's Latest Book?
Bono has characterized the operating principle behind Surrender: 40 Songs, One Story as such: "I was hoping to draw in detail what I'd previously only sketched in songs. The people, places, and possibilities in my life."
Organized around the 40 selections in its attendant album with plenty of off-ramps and asides, Surrender illuminates hidden corners of Bono's history, faith and psyche like never before.
Why Is Bono Called Bono?
Born Paul David Hewson, Bono was nicknamed Bono Vox as a teen in Dublin, when he and his friends were part of a surrealist street gang named Lypton Village.
As they were all assigned nicknames, Hewson assumed the moniker Bono Vox — the name of a hearing-aid store near where they grew up, which itself came from the Latin word Bonavox, which means "good voice."
Are U2 Touring In 2023?
Come fall 2023, U2 will return to the stage after a four-year absence for a Las Vegas residency focusing on their classic Achtung Baby album.
In an unprecedented move, Mullen won't be part of the proceedings, though the band looks forward to his return.
"No one is more disappointed than us that Larry won't be joining us in Vegas," the Edge told The Telegraph, adding: "In the history of U2, you can count the shows we've missed on the fingers of one hand."
What Was U2's Biggest Hit?
From a Billboard Hot 100 standpoint, the U2 song that's made the biggest commercial splash is "With or Without You," that skyscraping, eros-meets-agape wonder from The Joshua Tree. (That song stayed at No. 1 for three weeks; "I Still Haven't Found What I'm Looking For" remained in the same position for two.)
And when you listen to the hushed, humbled rendition of "With or Without You" just released on their new album, you hear not only how their artistic achievements have resonated through the decades.
Instead hear the four men not as rock titans, but as human beings — searching, striving, and ultimately surrendering.
Living Legends: Van Morrison On New Album Moving On Skiffle, Communing With His Roots & Reconnecting With Audiences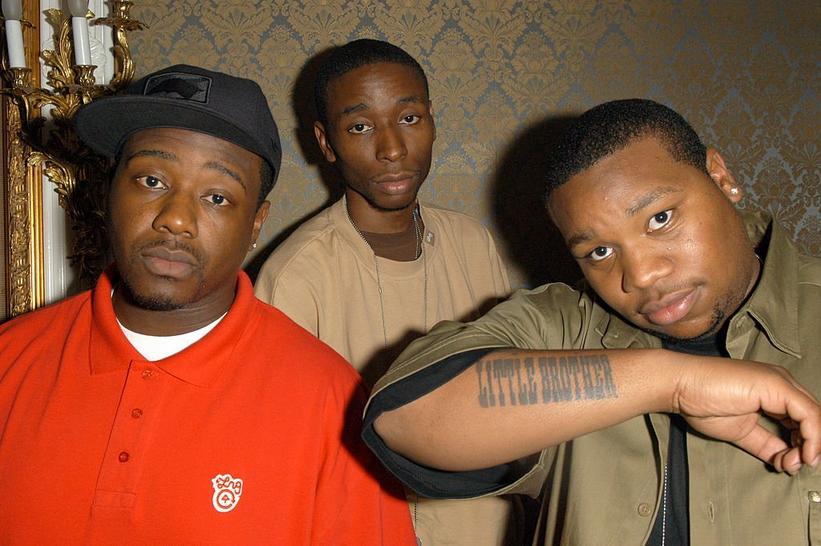 (From left) Little Brother members Phonte, 9th Wonder and Big Pooh in 2005. Their documentary 'May The Lord Watch' comes out this year.
Photo: Ray Tamarra/Getty Images
list
10 Must-See Music Documentaries Arriving In 2023: Nicki Minaj, Johnny Cash, The Making Of 'Thriller' & More
To kick off the new year, GRAMMY.com has rounded up music documentaries to be released in 2023 that follow the lives and careers of artists like Failure, Dionne Warwick, Leonard Cohen, Ol' Dirty Bastard, and more.
GRAMMYs
/
Jan 3, 2023 - 06:34 pm
Get your queue ready. From folk and outlaw country music, to classic rhythm and blues and hip-hop, there is a robust slate of music documentaries dropping in 2023 that will satisfy any music lover.
For alt-rock fans, the Failure documentary explores the evolution and impact of the influential rock band known for their experimental sound. If hard-hitting country is more your speed, Johnny Cash: The Redemption of an American Icon and "They Called Us Outlaws" offer a no-holds-barred look at the artists who drove the vibrant sound of the genre.
Hip-hop fans can enjoy a deep dive into Nicki Minaj's journey to rap superstardom in her six-part docuseries. Or, take a behind-the-scenes look at the hip-hop group Little Brother and the challenges they faced while striving to become world-famous emcees.
Below, check out this guide to 10 can't-miss music documentaries coming your way in 2023.
Hallelujah: Leonard Cohen, A Journey, A Song
Featuring appearances from Bob Dylan, Brandi Carlile, the late Jeff Buckley and more, this documentary examines the life and times of prolific singer-songwriter Leonard Cohen through the lens of his famous song, "Hallelujah."
Despite its current status as one of the most notable tracks in music history, "Hallelujah" — which was featured on Cohen's 1984 album, Various Positions — was not an instant hit. It wouldn't receive global recognition until nearly a decade later, with the release of Buckley's now-ubiquitous cover. While the world may have been slow to embrace the song, Cohen says Dylan immediately saw its greatness.
"It took a long time. I think the song came out in '83 or '84, and then the only person who seemed to recognize the song was Dylan," Cohen said in a 2009 interview with Q TV. "He was doing it in concert. Nobody else recognized the song until quite a long time later… almost 10 years later."
Directed by Daniel Geller and Dayna Goldfine, Hallelujah dives deep into the song's themes, exploring how artists covering the track have interpreted its meaning. The doc also features exclusive concert footage, performances, and interviews with Cohen's former collaborators.
After a brief theatrical release, Hallelujah: Leonard Cohen, a Journey, a Song is available on DVD and various streaming platforms.
Failure
As Nirvana, Pearl Jam and Soundgarden helped grunge and alt-rock break into the mainstream in the '90s, a trio from Los Angeles was also making noise. Failure began to capture attention with the release of their beloved 1994 sophomore album, Magnified. (Nine Inch Nails' Trent Reznor, Tool's Maynard Keenan and Stone Temple Pilots' Dean DeLeo are among the group's most notable fans).
Dropping in 2023, this official documentary offers an in-depth look at the band's formation, evolution, label issues, impact and influence — with testimonials from Keenan, DeLeo, Paramore lead singer Hayley Williams, Keenan, Motley Crue's Tommy Lee, Mastodon's Troy Sanders, and actor/musician Jason Schwartzman.
In the doc, Sanders opens up about what the band meant to both him and his band: "The art that Failure has made is very authentic to me," he says. "In a world of rock 'n' roll, I wouldn't be where I am right now if it weren't for bands like Failure. I feel my band Mastodon has kind of followed the footsteps that they've laid before us." Adds Williams, "I never really heard anything like that. It changed how I thought about music. And it kind of made me — more than ever — want to be in a band."
Johnny Cash: The Redemption Of An American Icon
With appearances from Marty Stuart, Wynonna Judd, Alice Cooper, Tim McGraw, and Sheryl Crow, Johnny Cash: The Redemption of an American Icon focuses on the spiritual and emotional challenges that the country legend faced at the height of his career. This in-depth documentary also includes never-been-heard recordings of Cash as he discussed his darker moments, learning how to navigate fame, reckoning with past failures and recommitting to his Christian faith.
"He was darkness and light living in the same body. And one fought against the other," sister Joanne Cash Yates recounts in the trailer. But, adds Crow, "He faced himself. He faced his temptations. He faced his worldliness and came out wanting to be right with God."
If you missed the documentary's limited December 2022 release, check it out in January 2023 when it drops on various streaming platforms.
Thriller 40
On the heels of the iconic album's 40th anniversary, GRAMMY-winning documentarian, music historian and author Nelson George announced that he's hard at work on an official documentary about the making of the King of Pop's legendary 1982 opus and groundbreaking short film.
"The release of 'Thriller' redefined Michael Jackson, taking him from teen star to adult superstar, who composed memorable songs, sang beautifully and reached the highest level of on-stage performance," George said in a statement. "The album, and the short films they inspired, created a new template for marrying music and image. It's been a privilege to explore this extraordinary album and revisit its magic."
Featuring exclusive footage and candid interviews, the 2023 documentary will also focus on Jackson's skyrocketing career at the time of the album's release and its impact on the world and popular culture.  
"They Called Us Outlaws: Cosmic Cowboys, Honky Tonk Heroes And the Rise of Renegade Troubadours"
Written and directed by Eric Geadelman, "They Called Us Outlaws" is a six-part film that explores the early 1970s origins of the country subgenre and the artists who made it famous: Waylon Jennings, Willie Nelson, Kris Kristofferson and David Allan Coe.
At the time, Jennings and Nelson were upset with the Nashville music scene and its creative limitations. After cutting ties and leaving town to find a better way forward, the two musicians eventually reunited in Texas, where they built a rabid following by playing their own brand of country, on their own terms. That music would become known as "Outlaw Country"— a label that wasn't particularly embraced by many of the genre's artists. 
This 12-hour film series examines the unique circumstances that led to the birth of the sound, as well as the artists' relationship with the "outlaw" label and how it influenced the way they were received. The documentary also features appearances and performances from a stacked lineup of country greats, including Nelson and Kristofferson, Emmylou Harris, Church, Miranda Lambert, as well as singer-songwriters Tyler Childers and Charley Crockett and Guy Clark.
"Nicki: A Six-Part Documentary Series"
To celebrate the 10th anniversary of her debut studio album Pink Friday, GRAMMY-nominated rapper Nicki Minaj announced plans to release a biographical documentary in November 2020 — to the delight of Barbs everywhere. Yet there was no news about the film until July 2022, when Minaj surprised fans by posting a teaser from the project on her Instagram, along with an explanation for the delay:
"Coming out SOONER THANK YOU THINK. I took some time to perfect this very intimate, delicate, electrifying, inspiring body of work," Minaj wrote. "As I decide on a home for this 
project, I can't help but reflect on what I'm including in this doc. Some things are so personal, it's scary. It's like NOTHING you've seen before & I need it to be handled with care. Love you so much. Thank you for the continued support."
Executive produced by Minaj, "Nicki" will focus on her personal and professional life, and the challenges of working in a male-dominated music genre. The docuseries was initially set to drop on HBO MAX, but Minaj and Bron, the film's producers, decided to look elsewhere to find the right home for the docuseries.
May The Lord Watch: The Little Brother Story
In March 2022, fans of Little Brother were treated to a surprise when Phonte released the first trailer for an official documentary about the influential hip-hop group on his Instagram page. "Been working on this one for 5 years and calling it an 'emotional journey' is a big understatement," he wrote in the caption.
Slated for release in 2023, the documentary will include live performances, a behind-the-scenes look at the trio's production process, interviews with Phonte, Big Pooh and producer 9th Wonder, as well as appearances from Questlove, Drake, and Doja Cat, who discuss the group's influence and impact.
Dionne Warwick: Don't Make Me Over
From awards and hit records, to activism and philanthropy, this deep dive into GRAMMY-winning singer Dionne Warwick's life and work is a heartwarming celebration of the icon's astonishing six-decade-long career. The documentary follows Warwick's path to barrier-breaking greatness, touching on her gospel roots and her fateful audition to be a backup singer for Burt Bacharach in the early 1960s — the starting point of her rise to superstardom.
The doc also explores the singer's activism and advocacy for the Black and LGBTQ+ communities, philanthropic work—she's raised millions for AIDS research—and the impact her music had on listeners from all walks of life in the racially divided '60s. 
Dionne Warwick: Don't Make Me Over — which premiered on CNN on New Year's Day — features appearances from Gladys Knight, Quincy Jones, Bacharach, Elton John, Berry Gordy, Snoop Dogg, Bill Clinton, Alicia Keys, Smokey Robinson, and others.
Biography: Ol' Dirty Bastard
There have been several unofficial documentaries about the late rapper Ol' Dirty Bastard (born Russell Jones), but 2023 will see the release of "Biography: Ol' Dirty Bastard," the first-ever film authorized by his estate. Set to be released on A&E Networks, the doc will feature interviews with the Wu-Tang Clan rapper's peers, family, and wife, Icelene Jones — who allowed filmmakers Sam and Jason Pollard to use never-been-seen footage for the two-hour documentary.
"I am thrilled to tell the full story of my husband. With this documentary, the world will learn about the son, the husband, the father, and the artist," Jones wrote in a statement.
ODB's life was previously dramatized for RZA and Alex Tse's Hulu series, "Wu-Tang: An American Saga," which centers on the group's formative years. And on the film side, RZA has been developing a biopic about the late rapper's life since 2018.
Eno
When setting out to develop a documentary about a musician who has defied convention throughout his five-decade career, director Gary Hustwit knew the standard doc format was out of the question. To capture the distinctive, non-conforming essence of Brian Eno — an original member of Roxy Music and inventor of ambient music and the Microsoft Windows 95 startup sound — Hustwit is utilizing "groundbreaking generative technology" to allow viewers to choose their own ending and plans to release the documentary on multiple platforms. 
The film, which drops in 2023, will also explore areas close to Eno's heart, including creativity, sustainability, and social equality, and offer viewers a glimpse into his personal archive of unreleased music and concert footage.   
A College Of Musical Knowledge: 15 Musical Groups That Act As Hubs For Emerging Talent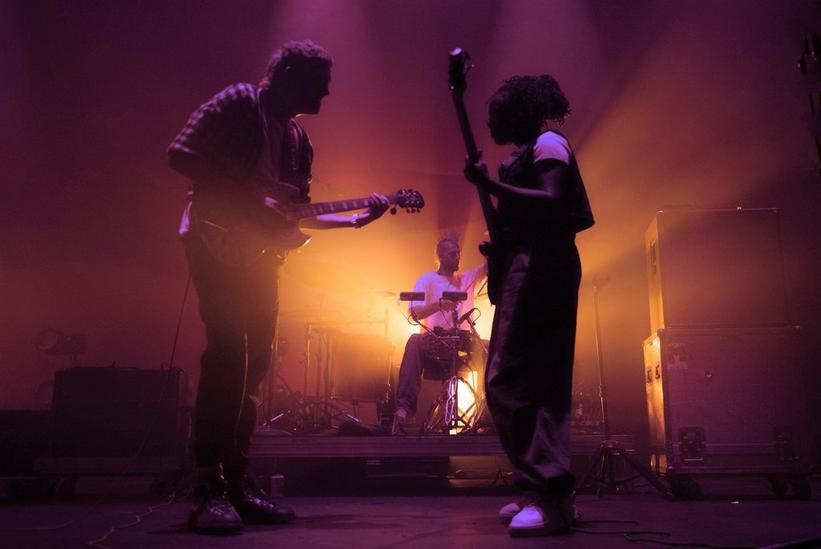 list
A Guide To Modern Funk For The Dance Floor: L'Imperatrice, Shiro Schwarz, Franc Moody, Say She She & Moniquea
James Brown changed the sound of popular music when he found the power of the one and unleashed the funk with "Papa's Got a Brand New Bag." Today, funk lives on in many forms, including these exciting bands from across the world.
GRAMMYs
/
Nov 25, 2022 - 04:23 pm
It's rare that a genre can be traced back to a single artist or group, but for funk, that was James Brown. The Godfather of Soul coined the phrase and style of playing known as "on the one," where the first downbeat is emphasized, instead of the typical second and fourth beats in pop, soul and other styles. As David Cheal eloquently explains, playing on the one "left space for phrases and riffs, often syncopated around the beat, creating an intricate, interlocking grid which could go on and on." You know a funky bassline when you hear it; its fat chords beg your body to get up and groove.
Brown's 1965 classic, "Papa's Got a Brand New Bag," became one of the first funk hits, and has been endlessly sampled and covered over the years, along with his other groovy tracks. Of course, many other funk acts followed in the '60s, and the genre thrived in the '70s and '80s as the disco craze came and went, and the originators of hip-hop and house music created new music from funk and disco's strong, flexible bones built for dancing.
Legendary funk bassist Bootsy Collins learned the power of the one from playing in Brown's band, and brought it to George Clinton, who created P-funk, an expansive, Afrofuturistic, psychedelic exploration of funk with his various bands and projects, including Parliament-Funkadelic. Both Collins and Clinton remain active and funkin', and have offered their timeless grooves to collabs with younger artists, including Kali Uchis, Silk Sonic, and Omar Apollo; and Kendrick Lamar, Flying Lotus, and Thundercat, respectively.
In the 1980s, electro-funk was born when artists like Afrika Bambaataa, Man Parrish, and Egyptian Lover began making futuristic beats with the Roland TR-808 drum machine — often with robotic vocals distorted through a talk box. A key distinguishing factor of electro-funk is a de-emphasis on vocals, with more phrases than choruses and verses. The sound influenced contemporaneous hip-hop, funk and electronica, along with acts around the globe, while current acts like Chromeo, DJ Stingray, and even Egyptian Lover himself keep electro-funk alive and well.
Today, funk lives in many places, with its heavy bass and syncopated grooves finding way into many nooks and crannies of music. There's nu-disco and boogie funk, nodding back to disco bands with soaring vocals and dance floor-designed instrumentation. G-funk continues to influence Los Angeles hip-hop, with innovative artists like Dam-Funk and Channel Tres bringing the funk and G-funk, into electro territory. Funk and disco-centered '70s revival is definitely having a moment, with acts like Ghost Funk Orchestra and Parcels, while its sparkly sprinklings can be heard in pop from Dua Lipa, Doja Cat, and, in full "Soul Train" character, Silk Sonic. There are also acts making dreamy, atmospheric music with a solid dose of funk, such as Khruangbin's global sonic collage.
There are many bands that play heavily with funk, creating lush grooves designed to get you moving. Read on for a taste of five current modern funk and nu-disco artists making band-led uptempo funk built for the dance floor. Be sure to press play on the Spotify playlist above, and check out GRAMMY.com's playlist on Apple Music, Amazon Music and Pandora.
Say She She
Aptly self-described as "discodelic soul," Brooklyn-based seven-piece Say She She make dreamy, operatic funk, led by singer-songwriters Nya Gazelle Brown, Piya Malik and Sabrina Mileo Cunningham. Their '70s girl group-inspired vocal harmonies echo, sooth and enchant as they cover poignant topics with feminist flair.
While they've been active in the New York scene for a few years, they've gained wider acclaim for the irresistible music they began releasing this year, including their debut album, Prism. Their 2022 debut single "Forget Me Not" is an ode to ground-breaking New York art collective Guerilla Girls, and "Norma" is their protest anthem in response to the news that Roe vs. Wade could be (and was) overturned. The band name is a nod to funk legend Nile Rodgers, from the "Le freak, c'est chi" exclamation in Chic's legendary tune "Le Freak."
Moniquea
Moniquea's unique voice oozes confidence, yet invites you in to dance with her to the super funky boogie rhythms. The Pasadena, California artist was raised on funk music; her mom was in a cover band that would play classics like Aretha Franklin's "Get It Right" and Gladys Knight's "Love Overboard." Moniquea released her first boogie funk track at 20 and, in 2011, met local producer XL Middelton — a bonafide purveyor of funk. She's been a star artist on his MoFunk Records ever since, and they've collabed on countless tracks, channeling West Coast energy with a heavy dose of G-funk, sunny lyrics and upbeat, roller disco-ready rhythms.
Her latest release is an upbeat nod to classic West Coast funk, produced by Middleton, and follows her February 2022 groovy, collab-filled album, On Repeat.
Shiro Schwarz
Shiro Schwarz is a Mexico City-based duo, consisting of Pammela Rojas and Rafael Marfil, who helped establish a modern funk scene in the richly creative Mexican metropolis. On "Electrify" — originally released in 2016 on Fat Beats Records and reissued in 2021 by MoFunk — Shiro Schwarz's vocals playfully contrast each other, floating over an insistent, upbeat bassline and an '80s throwback electro-funk rhythm with synth flourishes.
Their music manages to be both nostalgic and futuristic — and impossible to sit still to. 2021 single "Be Kind" is sweet, mellow and groovy, perfect chic lounge funk. Shiro Schwarz's latest track, the joyfully nostalgic "Hey DJ," is a collab with funkstress Saucy Lady and U-Key.
L'Impératrice
L'Impératrice (the empress in French) are a six-piece Parisian group serving an infectiously joyful blend of French pop, nu-disco, funk and psychedelia. Flore Benguigui's vocals are light and dreamy, yet commanding of your attention, while lyrics have a feminist touch.
During their energetic live sets, L'Impératrice members Charles de Boisseguin and Hagni Gwon (keys), David Gaugué (bass), Achille Trocellier (guitar), and Tom Daveau (drums) deliver extended instrumental jam sessions to expand and connect their music. Gaugué emphasizes the thick funky bass, and Benguigui jumps around the stage while sounding like an angel. L'Impératrice's latest album, 2021's Tako Tsubo, is a sunny, playful French disco journey.
Franc Moody
Franc Moody's bio fittingly describes their music as "a soul funk and cosmic disco sound." The London outfit was birthed by friends Ned Franc and Jon Moody in the early 2010s, when they were living together and throwing parties in North London's warehouse scene. In 2017, the group grew to six members, including singer and multi-instrumentalist Amber-Simone.
Their music feels at home with other electro-pop bands like fellow Londoners Jungle and Aussie act Parcels. While much of it is upbeat and euphoric, Franc Moody also dips into the more chilled, dreamy realm, such as the vibey, sultry title track from their recently released Into the Ether.
The Rise Of Underground House: How Artists Like Fisher & Acraze Have Taken Tech House, Other Electronic Genres From Indie To EDC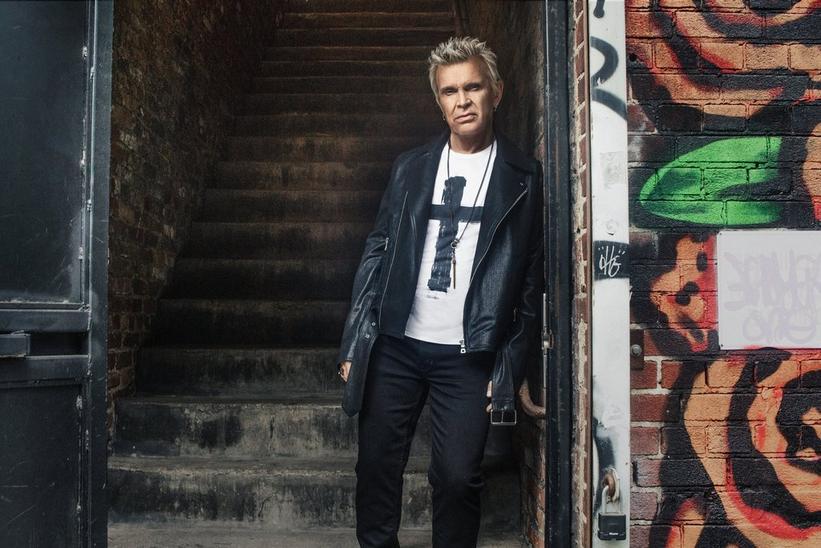 interview
Living Legends: Billy Idol On Survival, Revival & Breaking Out Of The Cage
"One foot in the past and one foot into the future," Billy Idol says, describing his decade-spanning career in rock. "We've got the best of all possible worlds because that has been the modus operandi of Billy Idol."
GRAMMYs
/
Nov 25, 2022 - 04:19 pm
Living Legends is a series that spotlights icons in music still going strong today. This week, GRAMMY.com spoke with Billy Idol about his latest EP,  Cage, and continuing to rock through decades of changing tastes.
Billy Idol is a true rock 'n' roll survivor who has persevered through cultural shifts and personal struggles. While some may think of Idol solely for "Rebel Yell" and "White Wedding," the singer's musical influences span genres and many of his tunes are less turbo-charged than his '80s hits would belie.  
Idol first made a splash in the latter half of the '70s with the British punk band Generation X. In the '80s, he went on to a solo career combining rock, pop, and punk into a distinct sound that transformed him and his musical partner, guitarist Steve Stevens, into icons. They have racked up multiple GRAMMY nominations, in addition to one gold, one double platinum, and four platinum albums thanks to hits like "Cradle Of Love," "Flesh For Fantasy," and "Eyes Without A Face." 
But, unlike many legacy artists, Idol is anything but a relic. Billy continues to produce vital Idol music by collaborating with producers and songwriters — including Miley Cyrus — who share his forward-thinking vision. He will play a five-show Vegas residency in November, and filmmaker Jonas Akerlund is working on a documentary about Idol's life. 
His latest release is Cage, the second in a trilogy of annual four-song EPs. The title track is a classic Billy Idol banger expressing the desire to free himself from personal constraints and live a better life. Other tracks on Cage incorporate metallic riffing and funky R&B grooves. 
Idol continues to reckon with his demons — they both grappled with addiction during the '80s — and the singer is open about those struggles on the record and the page. (Idol's 2014 memoir Dancing With Myself, details a 1990 motorcycle accident that nearly claimed a leg, and how becoming a father steered him to reject hard drugs. "Bitter Taste," from his last EP, The Roadside, reflects on surviving the accident.)
Although Idol and Stevens split in the late '80s — the skilled guitarist fronted Steve Stevens & The Atomic Playboys, and collaborated with Michael Jackson, Rick Ocasek, Vince Neil, and Harold Faltermeyer (on the GRAMMY-winning "Top Gun Anthem") —  their common history and shared musical bond has been undeniable. The duo reunited in 2001 for an episode of "VH1 Storytellers" and have been back in the saddle for two decades. Their union remains one of the strongest collaborations in rock 'n roll history.
While there is recognizable personnel and a distinguishable sound throughout a lot of his work, Billy Idol has always pushed himself to try different things. Idol discusses his musical journey, his desire to constantly move forward, and the strong connection that he shares with Stevens. 
Steve has said that you like to mix up a variety of styles, yet everyone assumes you're the "Rebel Yell"/"White Wedding" guy. But if they really listen to your catalog, it's vastly different.
Yeah, that's right. With someone like Steve Stevens, and then back in the day Keith Forsey producing... [Before that] Generation X actually did move around inside punk rock. We didn't stay doing just the Ramones two-minute music. We actually did a seven-minute song. [Laughs]. We did always mix things up. 
Then when I got into my solo career, that was the fun of it. With someone like Steve, I knew what he could do. I could see whatever we needed to do, we could nail it. The world was my oyster musically. 
"Cage" is a classic-sounding Billy Idol rocker, then "Running From The Ghost" is almost metal, like what the Devil's Playground album was like back in the mid-2000s. "Miss Nobody" comes out of nowhere with this pop/R&B flavor. What inspired that?
We really hadn't done anything like that since something like "Flesh For Fantasy" [which] had a bit of an R&B thing about it. Back in the early days of Billy Idol, "Hot In The City" and "Mony Mony" had girls [singing] on the backgrounds. 
We always had a bit of R&B really, so it was actually fun to revisit that. We just hadn't done anything really quite like that for a long time. That was one of the reasons to work with someone like Sam Hollander [for the song "Rita Hayworth"] on The Roadside. We knew we could go [with him] into an R&B world, and he's a great songwriter and producer. That's the fun of music really, trying out these things and seeing if you can make them stick. 
I listen to new music by veteran artists and debate that with some people. I'm sure you have those fans that want their nostalgia, and then there are some people who will embrace the newer stuff. Do you find it's a challenge to reach people with new songs?
Obviously, what we're looking for is, how do we somehow have one foot in the past and one foot into the future? We've got the best of all possible worlds because that has been the modus operandi of Billy Idol. 
You want to do things that are true to you, and you don't just want to try and do things that you're seeing there in the charts today. I think that we're achieving it with things like "Running From The Ghost" and "Cage" on this new EP. I think we're managing to do both in a way. 
Obviously, "Running From The Ghost" is about addiction, all the stuff that you went through, and in "Cage" you're talking about  freeing yourself from a lot of personal shackles. Was there any one moment in your life that made you really thought I have to not let this weigh me down anymore?
I mean, things like the motorcycle accident I had, that was a bit of a wake up call way back. It was 32 years ago. But there were things like that, years ago, that gradually made me think about what I was doing with my life. I didn't want to ruin it, really. I didn't want to throw it away, and it made [me] be less cavalier. 
I had to say to myself, about the drugs and stuff, that I've been there and I've done it. There's no point in carrying on doing it. You couldn't get any higher. You didn't want to throw your life away casually, and I was close to doing that. It took me a bit of time, but then gradually I was able to get control of myself to a certain extent [with] drugs and everything. And I think Steve's done the same thing. We're on a similar path really, which has been great because we're in the same boat in terms of lyrics and stuff. 
So a lot of things like that were wake up calls. Even having grandchildren and just watching my daughter enlarging her family and everything; it just makes you really positive about things and want to show a positive side to how you're feeling, about where you're going. We've lived with the demons so long, we've found a way to live with them. We found a way to be at peace with our demons, in a way. Maybe not completely, but certainly to where we're enjoying what we do and excited about it.
[When writing] "Running From The Ghost" it was easy to go, what was the ghost for us? At one point, we were very drug addicted in the '80s. And Steve in particular is super sober [now]. I mean, I still vape pot and stuff. I don't know how he's doing it, but it's incredible. All I want to be able to do is have a couple of glasses of wine at a restaurant or something. I can do that now.
I think working with people that are super talented, you just feel confident. That is a big reason why you open up and express yourself more because you feel comfortable with what's around you.
Did you watch Danny Boyle's recent Sex Pistols mini-series?
I did, yes.
You had a couple of cameos; well, an actor who portrayed you did. How did you react to it? How accurate do you think it was in portraying that particular time period?
I love Jonesy's book, I thought his book was incredible. It's probably one of the best bio books really. It was incredible and so open. I was looking forward to that a lot.
It was as if [the show] kind of stayed with Steve [Jones' memoir] about halfway through, and then departed from it. [John] Lydon, for instance, was never someone I ever saw acting out; he's more like that today. I never saw him do something like jump up in the room and run around going crazy. The only time I saw him ever do that was when they signed the recording deal with Virgin in front of Buckingham Palace. Whereas Sid Vicious was always acting out; he was always doing something in a horrible way or shouting at someone. I don't remember John being like that. I remember him being much more introverted.
But then I watched interviews with some of the actors about coming to grips with the parts they were playing. And they were saying, we knew punk rock happened but just didn't know any of the details. So I thought well, there you go. If ["Pistol" is]  informing a lot of people who wouldn't know anything about punk rock, maybe that's what's good about it.
Maybe down the road John Lydon will get the chance to do John's version of the Pistols story. Maybe someone will go a lot deeper into it and it won't be so surface. But maybe you needed this just to get people back in the flow.
We had punk and metal over here in the States, but it feels like England it was legitimately more dangerous. British society was much more rigid.
It never went [as] mega in America. It went big in England. It exploded when the Pistols did that interview with [TV host Bill] Grundy, that lorry truck driver put his boot through his own TV, and all the national papers had "the filth and the fury" [headlines].
We went from being unknown to being known overnight. We waited a year, Generation X. We even told them [record labels] no for nine months to a year. Every record company wanted their own punk rock group. So it went really mega in England, and it affected the whole country – the style, the fashions, everything. I mean, the Ramones were massive in England. Devo had a No. 1 song [in England] with "Satisfaction" in '77. Actually, Devo was as big as or bigger than the Pistols.
You were ahead of the pop-punk thing that happened in the late '90s, and a lot of it became tongue-in-cheek by then. It didn't have the same sense of rebelliousness as the original movement. It was more pop.
It had become a style. There was a famous book in England called Revolt Into Style — and that's what had happened, a revolt that turned into style which then they were able to duplicate in their own way. Even recently, Billie Joe [Armstrong] did his own version of "Gimme Some Truth," the Lennon song we covered way back in 1977.
When we initially were making [punk] music, it hadn't become accepted yet. It was still dangerous and turned into a style that people were used to. We were still breaking barriers.
You have a band called Generation Sex with Steve Jones and Paul Cook. I assume you all have an easier time playing Pistols and Gen X songs together now and not worrying about getting spit on like back in the '70s?
Yeah, definitely. When I got to America I told the group I was putting it together, "No one spits at the audience."
We had five years of being spat on [in the UK], and it was revolting. And they spat at you if they liked you. If they didn't like it they smashed your gear up. One night, I remember I saw blood on my T-shirt, and I think Joe Strummer got meningitis when spit went in his mouth.
You had to go through a lot to become successful, it wasn't like you just kind of got up there and did a couple of gigs. I don't think some young rock bands really get that today.
With punk going so mega in England, we definitely got a leg up. We still had a lot of work to get where we got to, and rightly so because you find out that you need to do that. A lot of groups in the old days would be together three to five years before they ever made a record, and that time is really important. In a way, what was great about punk rock for me was it was very much a learning period. I really learned a lot [about] recording music and being in a group and even writing songs.
Then when I came to America, it was a flow, really. I also really started to know what I wanted Billy Idol to be. It took me a little bit, but I kind of knew what I wanted Billy Idol to be. And even that took a while to let it marinate.
You and Miley Cyrus have developed a good working relationship in the last several years. How do you think her fans have responded to you, and your fans have responded to her?
I think they're into it. It's more the record company that she had didn't really get "Night Crawling"— it was one of the best songs on Plastic Hearts, and I don't think they understood that. They wanted to go with Dua Lipa, they wanted to go with the modern, young acts, and I don't think they realized that that song was resonating with her fans. Which is a shame really because, with Andrew Watt producing, it's a hit song.
But at the same time, I enjoyed doing it. It came out really good and it's very Billy Idol. In fact, I think it's more Billy Idol than Miley Cyrus. I think it shows you where Andrew Watt was. He was excited about doing a Billy Idol track. She's fun to work with. She's a really great person and she works at her singing — I watched her rehearsing for the Super Bowl performance she gave. She rehearsed all Saturday morning, all Saturday afternoon, and Sunday morning and it was that afternoon. I have to admire her fortitude. She really cares.
I remember when you went on "Viva La Bam" back in 2005 and decided to give Bam Margera's Lamborghini a new sunroof by taking a power saw to it. Did he own that car? Was that a rental?
I think it was his car.
Did he get over it later on?
He loved it. [Laughs] He's got a wacky sense of humor. He's fantastic, actually. I'm really sorry to see what he's been going through just lately. He's going through a lot, and I wish him the best. He's a fantastic person, and it's a shame that he's struggling so much with his addictions. I know what it's like. It's not easy.
Musically, what is the synergy like with you guys during the past 10 years, doing Kings and Queens of the Underground and this new stuff? What is your working relationship like now in this more sober, older, mature version of you two as opposed to what it was like back in the '80s?
In lots of ways it's not so different because we always wrote the songs together, we always talked about what we're going to do together. It was just that we were getting high at the same time.We're just not getting [that way now] but we're doing all the same things.
We're still talking about things, still [planning] things:What are we going to do next? How are we going to find new people to work with? We want to find new producers. Let's be a little bit more timely about putting stuff out.That part of our relationship is the same, you know what I mean? That never got affected. We just happened to be overloading in the '80s.
The relationship's… matured and it's carrying on being fruitful, and I think that's pretty amazing. Really, most people don't get to this place. Usually, they hate each other by now. [Laughs] We also give each other space. We're not stopping each other doing things outside of what we're working on together. All of that enables us to carry on working together. I love and admire him. I respect him. He's been fantastic. I mean, just standing there on stage with him is always a treat. And he's got an immensely great sense of humor. I think that's another reason why we can hang together after all this time because we've got the sense of humor to enable us to go forward.
There's a lot of fan reaction videos online, and I noticed a lot of younger women like "Rebel Yell" because, unlike a lot of other '80s alpha male rock tunes, you're talking about satisfying your lover.
It was about my girlfriend at the time, Perri Lister. It was about how great I thought she was, how much I was in love with her, and how great women are, how powerful they are.
It was a bit of a feminist anthem in a weird way. It was all about how relationships can free you and add a lot to your life. It was a cry of love, nothing to do with the Civil War or anything like that. Perri was a big part of my life, a big part of being Billy Idol. I wanted to write about it. I'm glad that's the effect.
Is there something you hope people get out of the songs you've been doing over the last 10 years? Do you find yourself putting out a message that keeps repeating?
Well, I suppose, if anything, is that you can come to terms with your life, you can keep a hold of it. You can work your dreams into reality in a way and, look, a million years later, still be enjoying it.
The only reason I'm singing about getting out of the cage is because I kicked out of the cage years ago. I joined Generation X when I said to my parents, "I'm leaving university, and I'm joining a punk rock group." And they didn't even know what a punk rock group was. Years ago, I'd write things for myself that put me on this path, so that maybe in 2022 I could sing something like "Cage" and be owning this territory and really having a good time. This is the life I wanted.
The original UK punk movement challenged societal norms. Despite all the craziness going on throughout the world, it seems like a lot of modern rock bands are afraid to do what you guys were doing. Do you think we'll see a shift in that?
Yeah.  Art usually reacts to things, so I would think eventually there will be a massive reaction to the pop music that's taken over — the middle of the road music, and then this kind of right wing politics. There will be a massive reaction if there's not already one. I don't know where it will come from exactly. You never know who's gonna do [it].
Living Legends: Nancy Sinatra Reflects On Creating "Power And Magic" In Studio, Developing A Legacy Beyond "Boots" & The Pop Stars She Wants To Work With