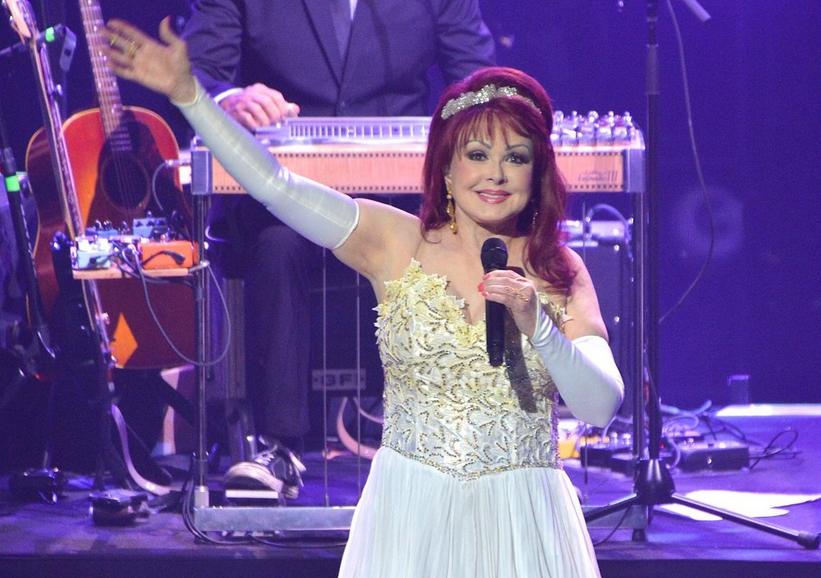 Naomi Judd
Photo: Mindy Small/FilmMagic
news
"Country Music Lost A True Legend": Remembering Naomi Judd, A Country Icon Who Epitomized Love Through Music
Naomi Judd, the matriarch of pioneering female duo the Judds — a musical pairing with daughter Wynonna — passed away at 76 on April 30. One of country's leading ladies in the 1980s, her legacy lives on.
GRAMMYs
/
May 2, 2022 - 08:52 pm
Naomi Judd may have been a bona fide country titan, but her legacy in the Judds transcends country music. Rather, her music, personality and rags-to-riches story makes her a hero of  music at large.
An artistic master and the ultimate matriarch, Judd — alongside her daughter and collaborator, Wynonna — reverberated through culture during her lengthy musical legacy, which includes classics like "Let Me Tell You About Love," "Have Mercy" and "Rockin' with the Rhythm of the Rain." Sadly, the world had to say goodbye to Naomi following her unexpected passing on April 30 — just one day before the Judds were set to be inducted into Nashville's Country Music Hall of Fame. 
"Today we sisters experienced a tragedy. We lost our beautiful mother to the disease of mental illness," Naomi's family said in a statement announcing her death. The singer openly battled depression and panic attacks, which she further detailed in her 2016 memoir, River of Time: My Descent into Depression and How I Emerged with Hope.
The Judds' trailblazing musical legacy can be traced through their 14 No. 1 hits and numerous accolades; The Judds won five GRAMMYs and received nine GRAMMY nominations overall. Their first win came in 1985, when "Mama, He's Crazy" took home Best Country Performance by a Duo or Group with Vocal — a category they competed in for eight years straight. (They were also nominated for Best New Artist in 1985.)
"Mama, He's Crazy" marked the duo's first No. 1 hit, and was a showcase of what made them special: Their unique harmonies, their blend of bluegrass elements and bluesy pop stylings, and their mother-daughter bond. "We had such a stamp of originality on what we were trying to do," Naomi told the Associated Press upon the announcement of their Country Music Hall of Fame honor.
By the time the Judds catapulted into the limelight, Naomi had already lived an impactful life in an entirely different career — one that gave her a unique perspective on art and fame in general. Partly inspired by her brother's death from leukemia at 17, Naomi worked as a nurse in Franklin, Tenn., while simultaneously single-parenting both Wynonna and Ashley, an eventual actress.
In Naomi's eyes, it was the night of her aforementioned first GRAMMYS that her vocation transitioned from smocks to fancy dresses. "Wynonna and I both said the same thing," she remembered last month with a laugh. "It felt like we were in a car crash, cause it happened so fast it was life-changing. I got up out of my seat like, 'Uh, oh, they made a mistake.'"
Their first GRAMMY win was just one indication of the dominant force the Judds would become in country music and beyond throughout the 1980s, thanks to a string of down-home, innocent hits and romantic odes including "Why Not Me," "Grandpa (Tell Me 'Bout The Good Old Days)" and "Give A Little Love." 
The duo's final GRAMMY victory was for "Love Can Build a Bridge," the 1990 smash that soon became their trademark. "I would give my hearts' desire so that you might see," the powerful song goes. "The first step is to realize that it all begins with you and me." 
The song doubles as both a testament to their family bond and Naomi's faith, as it was released in conjunction with the announcement of Naomi's diagnosis with Hepatitis C. She had contracted the disease during her days as a nurse, forcing the singer to temporarily retire in 1991. (Naomi said she was completely free of the virus by 1995, according to Time.)
"I've always known that I'm a child of the highest God. That's the bottom line. It's kind of as if we didn't have anything but the Lord. But that's enough," she said in 2015. "Perhaps, I said it best in my song, 'Love Can Build A Bridge.' What I was trying to do in the first verse is saying that not only food, shelter, and water are essential for human life, but hopes and dreams to me are absolutely just as essential."
Through their highs and lows, both Naomi and Wynonna largely relied on each other and the music they created together. "Music is the bridge between mom and me, and it bonds us together," she told AP. "Even in the not easy times."
Their symbiotic relationship aided them in navigating the tumultuous nature of the industry. "We were complete equals because we knew nothing about show business and were learning at exactly the same moment," Naomi once pointed out. "That became an equalizer." (Poignantly, "Love Can Build a Bridge" was the final song the two performed in public at last month's CMT Music Awards.) 
The Judds' impact has echoed from their early-'80s debut into the present day, cemented by the outpouring of tributes upon Naomi's passing. "Country music will never be the same," Trisha Yearwood tweeted; Carrie Underwood echoed, "Country music lost a true legend." Fellow country pioneer Loretta Lynn added, "I'm just heartbroken over the loss of Naomi Judd…There are no words."
Brandi Carlile, who was set to perform "Love Can Build A Bridge" at the Judds' Country Music Hall of Fame induction, wrote about their influence in a heartfelt homage to Naomi. "They were my first, second and third concert in my life and they've given me more than they could possibly understand," Carlile captioned an Instagram video of her singing "Love Can Build A Bridge." 
"They've given a language to not just mothers and daughters everywhere," Carlile added. "Every family can learn something about love from [the Judds]."
5 Women Essential To Country Music: Dolly Parton, Mickey Guyton, Jo Walker-Meador, The Love Junkies & Mother Maybelle Carter
news
The Week In Music: New Year's Nuptials
Aretha Franklin, John Legend, Justin Timberlake, and Steven Tyler resolve to get married in 2012
GRAMMYs
/
Dec 3, 2014 - 05:06 am
Less than a week into the new year, 2012 is shaping up as a good one for some artists and, to paraphrase Tina Turner, love just may have something to do with it. Getting engaged seems to be all the rage as the Queen of Soul Aretha Franklin announced her engagement to longtime friend William "Willie" Wilkerson. The couple is scheduled to marry this summer in Miami and Franklin has confirmed that "no, I am not pregnant." This just goes to show that with some r-e-s-p-e-c-t and a little prayer, anything can happen. In more nuptial news, Aerosmith's Steven Tyler has popped the question to his longtime girlfriend, Erin Brady, and R&B crooner John Legend has proposed to his girlfriend, Chrissy Teigen. For the previously divorced Tyler, this time is for real. "I don't want to hurt anybody again," Tyler told Oprah Winfrey on "Oprah's Next Chapter" on Jan. 1. "For all the divorces I've had, I hurt those girls deeply. It was some behavior that I'm ashamed of and I shouldn't have done." If it's true that the third time's a charm, Wynonna Judd is in luck as she has announced her third engagement, this time to boyfriend Scott "Cactus" Moser. And everyone's favorite boy band superstar-turned entertainment guru Justin Timberlake is engaged to wed longtime girlfriend Jessica Biel, according to a People report. "She is the single-handedly most significant person in my life," Timberlake told Vanity Fair last June. If all they need is love, do you think these artists will make it in marriage?
In not-so-sweet relationship news, the recent announcement of hot celebrity couple Katy Perry and Russell Brand's divorce caught the entertainment world by storm. After all, they were married for an entire 14 months. But while it seems that divorce would come with much heartache and pain, especially over the holiday season, Perry has been seen out on the town making her own fireworks of sorts. According to a New York Post report, the pop songstress was out on New Year's Eve dancing with friends at Soho House in West Hollywood, Calif., the day after Brand filed for divorce. "Katy was in a private room with a group and she seemed to be in a great mood," said one anonymous source. "She spent most of the night dancing and laughing with friends. One wouldn't have ever even known that her husband had just filed for divorce. … She looked like she was having a great time." And as for Brand, he's carrying on just fine as well. "I'm doing good," he told the Post. "Everything is going to be better next year." It seems all is fair in love and war.
With respect to Chinese astrology and dragons, 2012 is shaping up to be the year of Van Halen, at least for classic rock fans. A group of fortunate music journalists witnessed the band's official 2012 launch at the intimate Cafe Wha? in New York on Jan. 5. Eddie Van Halen, along with brother/drummer Alex, son/bassist Wolfgang and original vocalist David Lee Roth, fired up the engines for an hour-long set of classic Van Halen. "Welcome to Occupy Van Halen, ladies and gentleman," exclaimed Roth before launching the band into their version of the Kinks' "You Really Got Me." The band also debuted a new song, "She's A Woman," from A Different Kind Of Truth, Van Halen's first studio album with Roth since 1984, which is due for release Feb. 7. Van Halen is also taking the fun on the road for a U.S. tour, starting in Louisville, Ky., on Feb. 18. What different kind of rock shenanigans do Diamond Dave and Co. have in store? It's anybody's guess, but for now you can get a preview of Roth's new moves in the first installment of his different kind of video scrapbook.
John Lennon fans may be taking a word out of Cee Lo Green's book and saying "F*** you" to the Lady Killer after he took creative license with the lyrics to Lennon's famous "Imagine" during a New Year's Eve performance in New York. Instead of singing "Nothing to kill or die for/And no religion too," as the song was originally written, Green sang "Nothing to kill or die for/And all religion's true." Fans quickly took to Twitter to ridicule Green, with one fan tweeting, "The whole point of that lyric is that religion causes harm. If 'all religion's true' it would be a pretty bleak place." According to a Rolling Stone report Green responded, tweeting, "Yo I meant no disrespect by changing the lyric guys! I was trying to say a world were [sic] u could believe what u wanted that's all." The response seems to have since been retracted. Maybe Green decided to live life in peace instead.
While it may not be ladylike to kiss and tell, it sure is mayorlike. During a New Year's Eve celebration in New York's Times Square, the Big Apple's Mayor Michael Bloomberg locked lips with Lady Gaga … and lived to tell about it. "She's obviously a great entertainer," Bloomberg told The Wall Street Journal of the Fame Monster, whom he also found to be "very charming." "There's very few people who've gone into a very tough business and … risen to the top as quickly as she has." Shortly after his smooch with Gaga, Bloomberg turned around and gave the second kiss of the night to longtime companion Diana Taylor. "I would be remiss if I didn't also add that the best kiss of the night came … from Diana," Bloomberg noted. This sounds like a case of bad romance gone good.
Indie rock fans are either older than we thought, or at least old at heart. Vinyl record sales increased again in 2011, marking a steady, though modest, growth in sales in the digital era. And the biggest fans of the old-school format? The indie rock contingent. Among the top-selling vinyl albums for the year were records by 54th GRAMMY nominees the Black Keys, Bon Iver, Fleet Foxes, Mumford & Sons, and Wilco. Also in the top 10 were Adele and Radiohead. Still, the top of the vinyl pops was reserved for a true classic: the Beatles' Abbey Road, which checks into the top spot for an amazing third consecutive year. Such a feat some 40-plus years after its original release must be giving 2012 MusiCares Person of the Year Paul McCartney some golden slumbers at night.
LMFAO's "Sexy And I Know It" is No. 1 on the Billboard Hot 100 and Jason Mraz's "I Won't Give Up" is tops on the iTunes singles chart.
Any news we've missed? Comment below.
For the latest GRAMMY news, visit us on Facebook, Twitter and YouTube.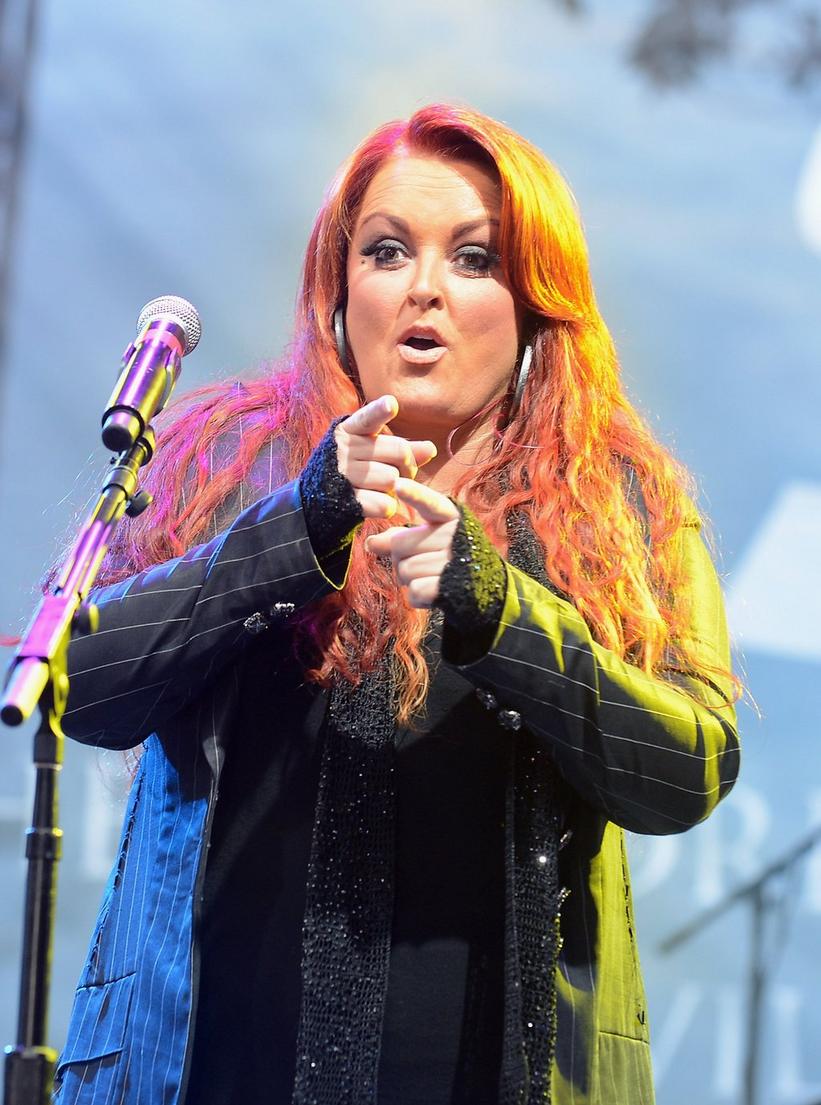 Wynonna
Photo: Rick Diamond/WireImage.com
GRAMMY-winning artist discusses hearing her music on the radio, touring and the experience of winning music's highest honor
GRAMMYs
/
Dec 3, 2014 - 05:06 am
GRAMMY-winning artist Wynonna was among the performers at the recent GRAMMY Block Party & Membership Celebration hosted by The Recording Academy Nashville Chapter. During the event, Wynonna participated in an interview with GRAMMY.com, discussing the first time she heard her music on the radio, touring, the Nashville music community, and winning a GRAMMY.
"I went to some other realm. I remember it like it was yesterday," said Wynonna about hearing her music on the radio for the first time. "I just sat there, like 'This is a freaking movie. I'm in a movie. This is my life. I'm with my mom. This just can't be happening."
In 1983 Wynonna and mother Naomi Judd issued their debut single as the Judds, forming what would become a successful mother-daughter musical partnership. The duo won five GRAMMYs, including Best Country Performance By A Duo Or Group With Vocals honors for "Mama He's Crazy" in 1984 and "Love Can Build A Bridge" in 1991. From 1984–1989 the duo landed 14 No. 1 singles on Billboard's Country Singles chart.
Wynonna launched a solo career with the eponymous Wynonna in 1992. The album peaked at No. 4 on the Billboard 200. Her next two albums, 1993's Tell Me Why and 1996's Revelations, also peaked in the Top 10. The latter album featured "To Be Loved By You," which became Wynonna's fourth No. 1 Country Singles hit as a solo artist. The Judds reunited for a New Year's Eve performance in 1999 — the performance was subsequently released as a double album, The Judds: Reunion Live. Wynonna's most recent studio album is 2003's What The World Needs Now Is Love. In 2005 Wynonna released her memoir, Coming Home To Myself, which landed on The New York Times bestseller list. She is currently in the midst of a U.S. tour, with select dates scheduled through December.