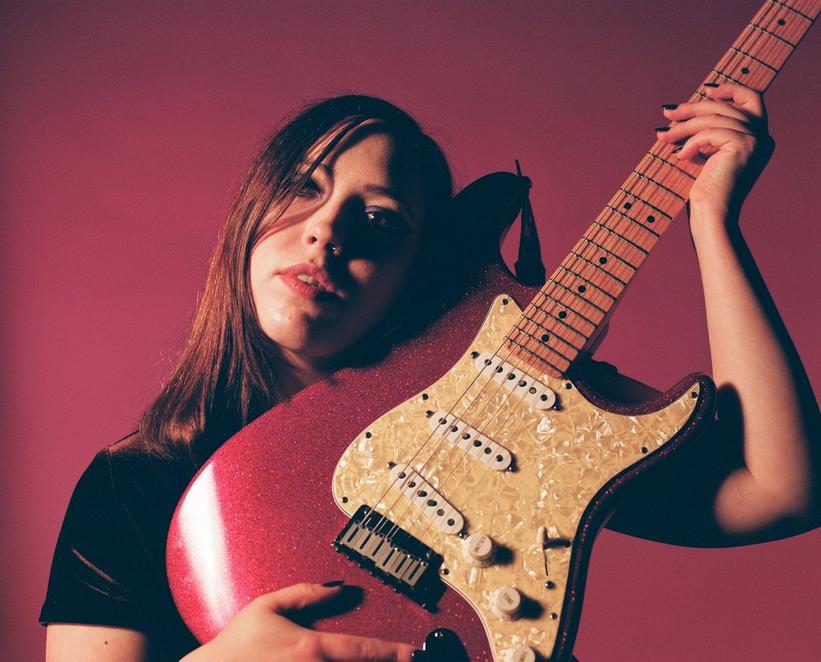 Sophie Allison of Soccer Mommy
interview
Driving Into Darkness: Soccer Mommy's 'Sometimes, Forever' Ushers In A Fantastical New Era
Soccer Mommy's highly personal third album, 'Sometimes, Forever,' is a glimpse into the singer/songwriter's psyche. With producer Daniel Lopatin, Soccer Mommy untangles a web of complex feelings — and makes light of darkness.
GRAMMYs
/
Jun 30, 2022 - 04:02 pm
Sophie Allison, who performs under the moniker Soccer Mommy, has never shied away from processing her emotions through her songwriting. The singer/songwriter's vulnerability resulted in two critically acclaimed releases — 2018's Clean and 2020's Color Theory — though Allison's latest may be her most exciting yet.
Sometimes, Forever (which arrived June 24) feels even more personal, giving a glimpse at Allison's psyche as she untangles a web of complex feelings. The 25-year-old's music has often fallen within the serene, guitar-driven indie pop of her singer-songwriter contemporaries, but Sometimes, Forever takes listeners to new heights with the addition of moody synths that add a dark texture to the album as a whole. 
To amplify the darker moods on  Sometimes, Forever, Allison partnered with famed electronic artist and producer Daniel Lopatin (a.k.a. Oneohtrix Point Never) as producer, who has worked with artists including the Weeknd, FKA Twigs and Rosalía. Together, they explored a darker sound that fits the intensity of her gripping lyrics. 
In conversation with GRAMMY.com, Allison talks about the process of putting together Sometimes, Forever, the fun of exploring darkness, and the challenges that come with being part of the music industry.
It was a pleasant surprise to see you work with Daniel Lopatin (also known as Oneohtrix Point Never), and it's the perfect match. When your label connected you two to discuss him potentially producing Sometimes, Forever, what were those initial conversations like?
I sent him the songs before we talked about anything — you know, just the demos — and it was just stuff like him asking me, "What are you wanting to do on this record? What's the vibe you are on?" And I kind of gave a general idea for the sonics that I wanted. 
And then it was just kind of bouncing off ideas, bringing up stuff that he thought would be cool and things that he wanted to try to do with the record, and same on my end. From loving his music, I could tell that anything we'd do together would be really exciting and fun.
Now that you're on tour for Sometimes, Forever, I'm curious about whether you're playing around with the composition of the songs. How have you brought the album to life during live shows?
These songs were actually easier than ever to learn to play live, even though there's some really interesting  synth parts and guitar parts layered up. It's just ambiance and little melodies here and there that have been added on in a lot of parts. So it was very easy to just kind of play what we played when we recorded the record, and maybe add a couple little parts on top. 
They feel very fun and exciting and upbeat, even though there's a lot of darker ideas on the record. The songs themselves… don't feel that emotionally charged, personally. On Color Theory, the "darker" songs were more just very sad and aching. So these ones are more fantastical, and it kind of gives you that sense of like turning your own demons and your own struggles into fantasy that makes it kind of fun. 
There are  heavier moments, but it also weaves in fantastical storytelling with elements of witchiness and the supernatural like in "Following Eyes." You've said before that this song in particular isn't metaphorical; you just wanted to tap into those storytelling abilities. So how did the idea for it come about?
Other stuff on the album, like "Darkness Forever," that's just a story. It's the story of this evil to me. There's levity there, even though obviously it's dark. To me, there's this sense of, like, having fun with evil, and I love to do that kind of stuff. I love darkness and fantasy. But not only in a sense, that has to be upsetting and sad. It's also nice to be able to have fun with dark themes and gothic ideas. 
When I wrote "Following Eyes," we had already started recording the record. I thought the record was done, but I wrote this little guitar riff that I was really liking that was kind of dark. I wanted to write a horror song just for fun. And once I wrote it, it just fit so well with the record that I had to put it on there. 
It seems like there's a connecting theme throughout some of the songs, where you challenge the pressure that young women in the industry face, like in "Unholy Affliction" and "Still." Do you find that pressure has  become easier to deal with?
In some ways. I think that I've removed myself from a lot of situations that I didn't want to really be in. But I don't think that the pressure for any artist has let up at all. 
Honestly, I don't think it's really the fault of any one specific person or area of the industry and the world. Like, I think that it's all just trying to sell your art and sell you as an artist so that you can make money and have success. Most of us do have to make money at this if we want to have it as our job.
I've been thinking about the pressure that so many artists feel to brand themselves on social media and put themselves in vulnerable situations online. You've recently talked about no longer being active on social media, so I'm sure it helps a bit too to not have to deal with that. 
Here's the thing: I am off social media, but I'll log on every once in a while, check the DMs, see what's going on. Just not living on it, for me, it just makes me feel more positive about things. It makes me feel more positive about interactions with people that I get to have in real life rather than on the internet, where it can just be someone that's just bored and trying to be an assh*. 
Sometimes, Forever feels like a "no holds barred" kind of album, where you're experimenting with a new sound and  exploring heavier topics. There's often a lack of boundaries surrounding how artists discuss mental health struggles in their music, so was that something you were concerned about when doing press for the record?
I think that the record isn't necessarily more personal than anything else I've made. If I don't want to talk about something, I can always just fairly rudely try not to…. [but] it sucks having to shut people down when they want to know about something. 
But at the same time, if you have something in a song that's obviously a personal issue to ask about it, that's just an invasion of privacy. You wouldn't ask someone about their deep personal issues just because you heard about it from somebody else. 
Giveon's Debut Album 'Give Or Take' Is A Promise To Never Give Up On Love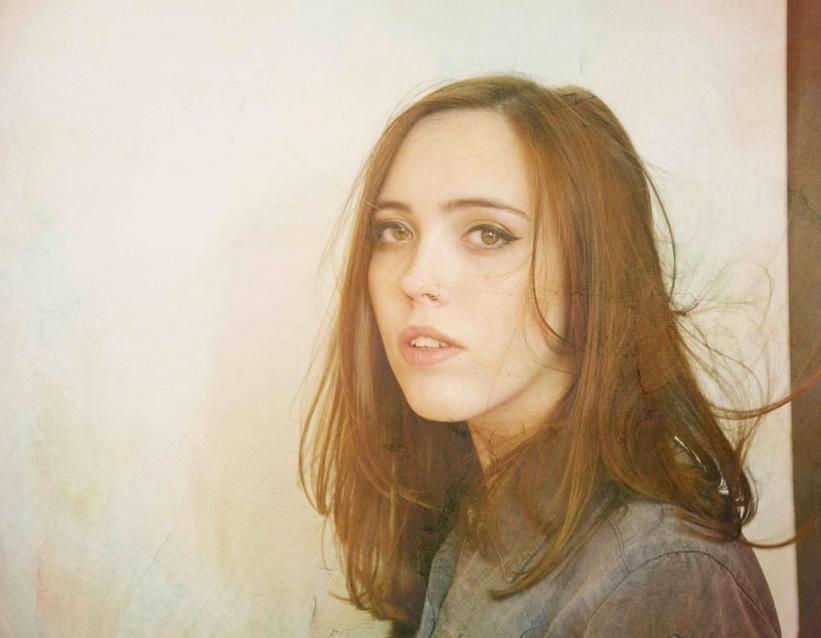 Sophie Allison of Soccer Mommy
Photo Courtesy Fat Possum Records
news
SXSW 2018: Fader Fort Will Host Soccer Mommy, SOB X RBE, Debut New Location
One of the premiere events at South By Southwest has announced its official lineup for 2018
GRAMMYs
/
Mar 7, 2018 - 01:22 am
South By Southwest is so close we can taste it, and that means it's time for the event lineups to start rolling in. Who will make a splash this year? Which acts will take that crucial step from hanging on the verge of fame and walk out into the spotlight?
Long known as one of the premiere events to see new acts break at SXSW, FADER magazine's three-day "Fader Fort" concert series has now revealed its 2018 lineup. It's packed with some names we've had our eyes and ears tuned towards lately, namely Soccer Mommy, SOB x RBE, Mozzy, Now Now, YBN Nahmir, and BbyMutha, with more acts still to be announced.


Soccer Mommy is the band project of 20 year-old Nashville songwriter Sophie Allison – a tight-knit four-piece whose sound belies their young age. Allison began playing music at the age of six, but largely kept her songwriting and recording a secret from her local friend group, choosing instead to release her songs online without publicizing them. As she got older, however, the recordings on her Bandcamp page caught an organic buzz that led to bookings for live gigs, eventually landing Allison a record deal the summer after she graduated from high school.


SOB x RBE meanwhile, have been riding a rocket all through the first quarter of 2018, thanks largely to their fantastic contribution to the No. 1 charting Kendrick Lamar-curated and produced Black Panther: The Album. Their track "Paramedic!" has managed to become one of the standout tracks on a soundtrack album packed wall-to-wall with hits. As a follow-up to their success as part of Black Panther: The Album, SOB x RBE were next tapped to join the lineup for Post Malone's huge 45-date summer world tour alongside 21 Savage, which kicks off next month on with a two-weekend stint at Coachella Valley Music And Arts Festival. Tickets for the tour are still available; purchase links and additional show date details can be found on Post Malone's website.
Announcing The FADER FORT 2018. https://t.co/nEbXVWpeha pic.twitter.com/6tTIWkWSWz

— The FADER (@thefader) March 6, 2018
Playing the Fader Fort at SXSW has proven to be a crucial step in the careers of some of today's biggest acts. Over the past 16 years has played host to the breakthrough moments for acts such as Odd Future (introducing the world to Tyler, The Creator, Earl Sweatshirt, and Frank Ocean, et al.), Kid Cudi and Amy Winehouse, meaning that its annual presence at SXSW is always a hotspot of activity for brand ambassadors, artist managers and industry reps of all kinds who are in Austin looking for the Next Big Thing. The first 15 years of the Fader Fort will soon be documented in a new book called FADER FORT: Setting The Stage, which FADER will premiere at this year's event.
Photo: Roger Kisby/Getty Images

For its 17th annual installment, the Fader Fort has once again changed venues, moving up the street to 1501 East 7th St. in Austin, a joint indoor-outdoor space just three blocks from last year's venue.
"We wanted a little more space to be able to accommodate more fans at [the] Fort," explained FADER president and publisher Andy Cohn about the decision to change venues for the third time in three years. "We also wanted to enhance the experiences for artists with a larger stage, but still maintain the special, intimate experience with great sound quality that Fort is known to provide."
Catching Up On Music News Powered By The Recording Academy Just Got Easier. Have A Google Home Device? "Talk To GRAMMYs"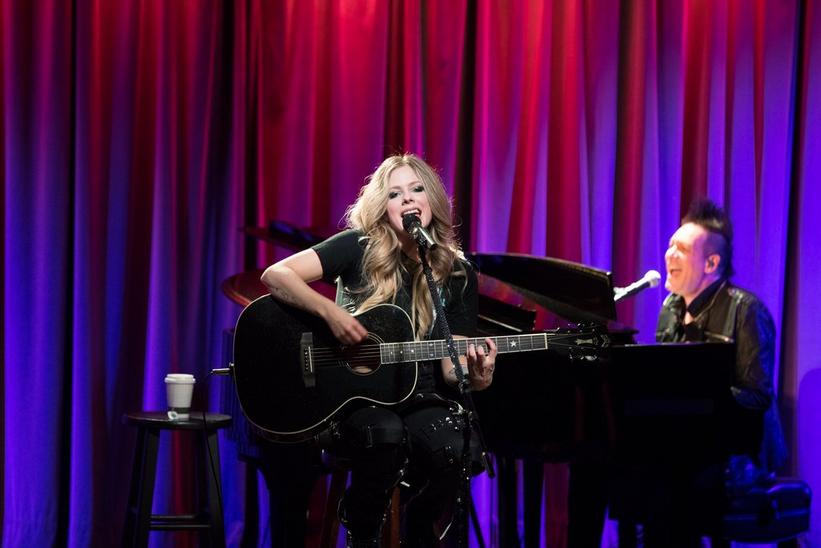 Avril Lavigne at the GRAMMY Museum
news
Avril Lavigne Has Always Known Exactly Who She Is
At the GRAMMY Museum last night, the eternal punk princess reflected on her musical beginnings, unyielding self-confidence and the impact of her music
GRAMMYs
/
Sep 7, 2019 - 02:48 am
17 years ago, a Canadian teen named Avril Lavigne skated her way into our hearts with her debut album, Let Go, along with unforgettable hit singles like "Complicated" and "Sk8ter Boi." She was just a teenager when the GRAMMY-nominated LP was released in June 2002, but she already knew who she was and felt ready to share her punk-rock style and sensibilities with the music world.
As she recounted to 250 lucky fans at her GRAMMY Museum event last night, Lavigne famously dropped out of high school at 16 to move to Los Angeles and pursue a music career. Clearly things went her way, as she is now one of the most recognizable names in pop—and through all the pressures that come with being a young woman in the music industry, she never lost sight of who she was.
Photo: Alison Buck
Speaking to Scott Goldman in the Museum's Clive Davis Theater, the eternal punk princess, rocking all black with punky suspender pants, reflected on her musical beginnings, that unyielding self-confidence and the impact her music has had on the next generation of female alt-rockers. They also discussed her sixth studio album, Head Above Water, which she released earlier this year. To close, she brought out two of her bandmates to share a few songs they've been rehearsing for her upcoming tour, her first one in five years.
Looking back on her initial experience with the L.A. music industry, she explains that they didn't quite get her at first. "The music was too soft and fluffy for me… I just wanted to hear guitars, even though I was only 16," Lavigne said. "The label saw me as a pop star," she added, musing that pop-rock wasn't so much a thing yet, in the early part of the millennium. She knew she had to be clear with who she was in order to prove herself to those who didn't understand it.
"I'd show up to a high-fashion shoot with a book bag of neckties," she explained, a testament to her confident demeanor and edgy style. Sharing some wisdom on how she managed to be so much of herself at such a young age, she said, "You have to love yourself and find your confidence."
When Goldman asked what her early music, specifically her first two albums, sound like to her when she listens now, Lavigne replied that she was proud of what she wrote as a teen and hears "variety and a lot of depth."
Goldman also asked what it felt like to be a role model for the next generation of guitar-loving women, citing rising alt-rockers Soccer Mommy and Snail Mail, who've named those early albums as major influences to their own music. "It's so cool…to know that my music inspired or influenced anyone," the "Complicated" singer beamed.
The much-anticipated performance included two songs from the new album, opening with the title track and closing with the anthemic "Warrior," as well as two of her '00s hits. After serving up a powerful rendition of "Head Above Water," Lavigne went into one of her "favorites to perform," "My Happy Ending," from her second album, Under My Skin. Before breaking into the chorus, she asked the audience to join her. She asked the crowd what they wanted to hear next, and over a dozen selections from her discography were shouted out.
Lavigne gave the audience a chance to be heard, listening, before responding, "'Girlfriend' should be fun." She was right.
Finally, in an epic act of on-stage cuteness, as Lavigne got up from her stool to exit the stage, the suspenders hanging from her pants got stuck, evoking a laugh. This was the perfect time for the crowd to request an encore, and she left everyone on a high note with "Warrior," even getting fan-assistance with a lyric she forgot on the new song.
As the fans filed out of the theater, a teen with hot pink hair and a cutoff plaid shirt turned to her dad and said with wide eyes: "I'm seriously shaking."
MUNA: "The Most Radical Thing You Can Do Is Believe That The World Can Be Saved"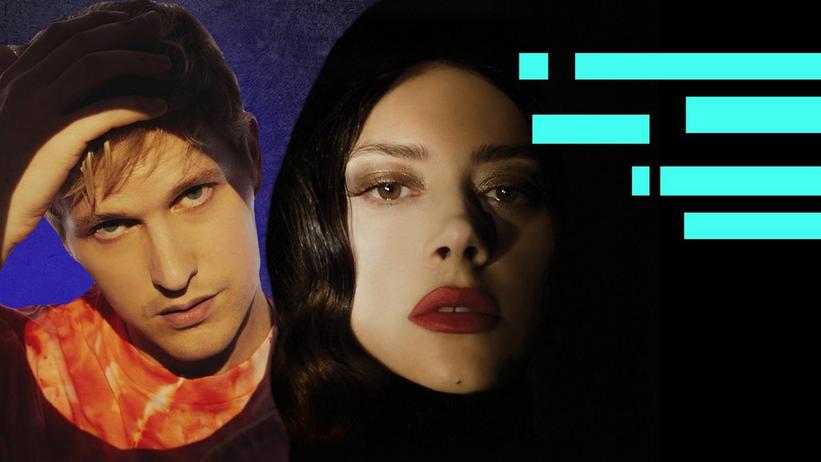 (L-R) Leon of Athens, Katerine Duska
Photo (L-R): Ria Mort, Thanos Poulimenos
video
Global Spin: Katerine Duska And Leon Of Athens Premiere "Babel," A Bilingual Tale Of A Love Lost In Translation
Frequent songwriting partners Katerine Duska and Leon Of Athens grapple with a relationship full of miscommunication in this emotional duet, which they debut with a powerful Global Spin performance.
GRAMMYs
/
Nov 29, 2022 - 06:00 pm
"Can I love you a little more clearly?" Katerine Duska and Leon of Athens sing in the emotional chorus of their new song, "Babel." "Can we get it right? Can we talk another night away?"
In this episode of Global Spin, the two pop singers — and frequent songwriting partners — effortlessly trade off between Greek and English in a compelling performance. But as beautiful as the bilingual, harmony-driven duet may be, "Babel" chronicles a fraught relationship where, ultimately, the love gets lost in translation.
"Babel" brings the two lovers back to where they started: Frustrated and failing to see eye to eye, but still invested in one another. That narrative pairs with an equally passionate, string-filled sonic backdrop in this song, which Duska and Leon of Athens premiere on Global Spin.
The song's visual component further underscores its message. Duska and Leon of Athens perform the song from a bed, surrounded by candles and rippling water. As they wrestle through their disagreements — both lyrically and physically — the two artists make an attempt to find tenderness, but their best efforts dissolve into frustration and disconnection.
The bilingual duo have co-written several times in the past, and they're no strangers to performing together, either. Their first duet, "ANEMOS," came out in 2019; a year later, the pair released another collaboration, "Communication."
Press play on the video above to get a first look at the latest collaboration between Katerine Duska and Leon of Athens, and keep checking GRAMMY.com every Tuesday for more new episodes of Global Spin.
ReImagined: Brand-New Irish Duo Where The Waters Meet Debut With A Shimmering Cover Of Kim Carnes' "Bette Davis Eyes"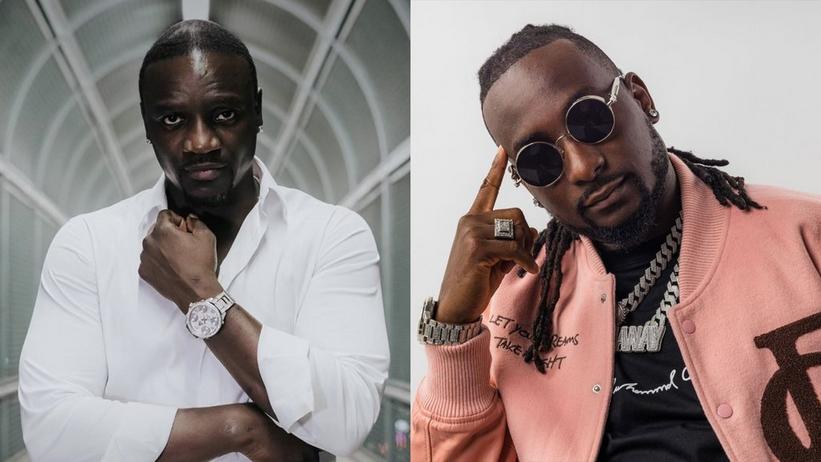 (L-R) Akon and Teemanay
Photo: Matteo Vincenzo (right)
video
Herbal Tea & White Sofas: Akon And Teemanay's Favorite Tour Meal Is So Iconic That It Has Its Own Festival
Over plates of Nigerian jollof rice, global superstar Akon and Afrobeats mainstay Teemanay explain the finer points of this staple West African dish — which is also their staple meal on the road.
GRAMMYs
/
Nov 29, 2022 - 05:00 pm
When it comes to music, R&B giant Akon and rising Afrobeats star Teemanay (aka Young Icon) have a lot in common. Not only are they both from West Africa — Akon's family roots are in Senegal, while Teemanay hails from Nigeria – but the two teamed up on the four-song EP Konvict Kulture Presents Teemanay, which came out on Akon's label earlier this year.
The two acts have similar tastes when it comes to food, too — though they might disagree on the finer points. Jollof rice, a staple throughout West Africa, is a dish that both artists grew up loving, even though they hail from different countries within the region.
"For a meal, if they have jollof rice for me, I will give them an extra 15 minutes of free performance," Teemanay jokes in the newest episode of Herbal Tea & White Sofas.
"So the rice is actually smoked, almost like when you cook barbeque," Akon details, explaining what it is that makes this particular dish so special. "When you look at jollof, it ranks in the top five of those things you just can't forget. It's a part of the meal, every meal."
The dish is so essential that Akon hosts an annual Jollof, Music & Food Festival in Atlanta, which features a lineup of music and food trucks. But the pinnacle of the event is the jollof cook-off, in which recipes from different countries compete to see which region creates the best version of the dish.
"This year, Senegal won. But we kinda expect that, because Senegal is really the creators of jollof rice," Akon proudly explains, as Teemanay shakes his head in disagreement.
"I'm in a very aggressive, fighting mood right now," Teemanay shoots back with a smirk. "Nigerian jollof is the best jollof in the world."
Whichever regional version they prefer, Akon and Teemanay can agree on one thing: There's no better post-show meal or tour bus snack out there than jollof rice. 
Press play on the video above to watch the two stars duke it out over their favorite jollof, and keep checking back to GRAMMY.com for more new episodes of Herbal Tea & White Sofas.