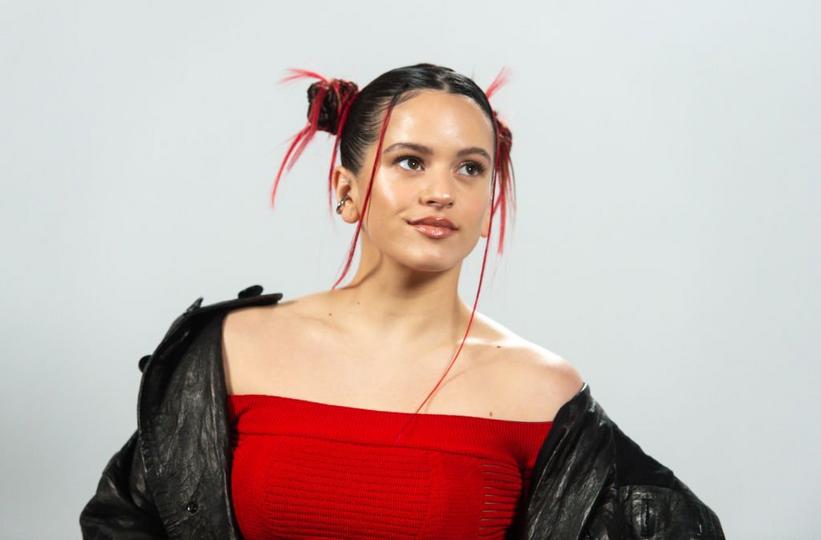 Rosalía
PHOTO: Europa Press News / Contributor
list
5 Takeaways From Rosalía's Genre-Spanning New Album 'Motomami'
'MOTOMAMI,' Rosalía's widely experimental third LP, may be remembered as one of the most ambitious albums of the decade — regardless of genre
GRAMMYs
/
Mar 18, 2022 - 07:21 pm
When Spanish singer/songwriter Rosalía released her second album, El Mal Querer, in 2018, her seamless fusion of hip-hop en español with authentic flamenco roots was visionary. It was the kind of fully formed manifesto that most artists can only deliver once in their career.
It turns out, Rosalía was just getting started.
Two years in the making, her new album, MOTOMAMI, is a cosmopolitan, ever-expansive mosaic of moods and styles — mostly nocturnal, all unified by her laser-sharp sensibility. 
There seems to be no end to Rosalía's sense of curiosity and thirst for experimentation. Here are five key takeaways from her new album, MOTOMAMI:
MOTOMAMI
is a postmodern collage
Sliding skittishly from genre to subgenre — this is very much an album made for an era when people consume music in 30-second snippets — MOTOMAMI brims with stylistic intrigue and a devilish sense of humor. Its 16 miniature tracks offer a plethora of hidden corners, interconnections and secret passages to uncover and reinterpret for years to come. 
In the future, MOTOMAMI will probably be remembered as one of the most ambitious albums of the decade, regardless of genre. As a result, a blanket branding as "a Latin artist" would be a disservice to her craft. Like M.I.A. or Joni Mitchell, she is a woman of the world.
It's not the genre — it's what you bring to it
Because reggaetón and Latin trap have taken over the planet in terms of commercial acceptance, an obscene deluge of tracks has followed. This has nothing to do with the urbano genre and its potential for greatness, and Rosalía mines reggaetón's popularity without falling into cliche.
MOTOMAMI is notable for its stylistic breadth. "BULERÍAS" almost sounds as if it was lifted from a vintage flamenco session, while a number of other tracks rely on the instantly recognizable reggaetón thump. 
But on songs such as "CANDY" and "DIABLO," Rosalía transcends expectations with unusual melodic turns and sophisticated textures. On a visceral level, the purity of her voice sounds majestic against the propulsive reggaetón beats.
On rare occasions, too many cooks will do just fine
A hilarious meme circulated years ago comparing a song by Queen (one songwriter, one producer) with a mega-hit of the modern era, concocted by a battalion of expensive tastemakers.
MOTOMAMI is surprisingly ascetic in terms of guest artists. We get the Weeknd learning to sing bachata in Spanish and Dominican rapper Tokischa adding layers of panache to "LA COMBI VERSACE." Vocally, the album is (mostly) all Rosalía.
You may get dizzy just glancing at the album credits, though. Ten different songwriters are listed on a single track, and besides the welcome return of Barcelona-based El Guincho, some of the world-class producers here include Frank Dukes, Sky Rompiendo, Michael Uzowuru and Tainy. But there is nothing disjointed about the finished product.
For an album that sounds so obsessively layered — down to the last little detail, every single element molded and harnessed with an aesthetic iron fist — the inclusion of so much talent behind the soundboard actually makes sense.
Her music videos are epic in their own right
Rosalía's videos have always been noted for their brash originality, but the clip for "SAOKO" raises the bar by delivering a haunting cinematic experience in just over two minutes.
With French director Valentin Petit at the helm, the video for "SAOKO" depicts the singer as part of a motorcycle gang performing daredevil stunts on a bridge. One shot in particular — the camera swirls by, approaches Rosalía wearing a flowing red dress, then zooms into the helmet of another biker until it focuses on her blue eyes — is dazzling. This is the rare case of a music video that captures the emotional specificity of an artist's entire album.
Transcendent beauty is often found in the little details
So much of MOTOMAMI is about snippets of delight, subtle genre transgressions and unexpected harmonic twists. The distorted melodic line of "LA FAMA" unfolds into an avant-garde meta-bachata that is still authentic enough to dance to. The stately Afro-Cuban groove of "DELIRIO DE GRANDEZA" merges Justo Betancourt's bolero of the same title with Soulja Boy's rap interlude on Vistoso Bosses' 2009 hit "Delirious." 
Rosalía traverses the alphabet on the playful "Abcdefg," free associating random words for each letter. There are almost imperceptible syncopated accents of compressed percussion on the choppy "CHICKEN TERIYAKI."
MOTOMAMI is an album to enjoy in its many grand details and outbursts of genius — morsel by morsel, moment by moment.
5 Women Essential To Reggaeton: Ivy Queen, Natti Natasha, Karol G, Ms Nina & Mariah Angeliq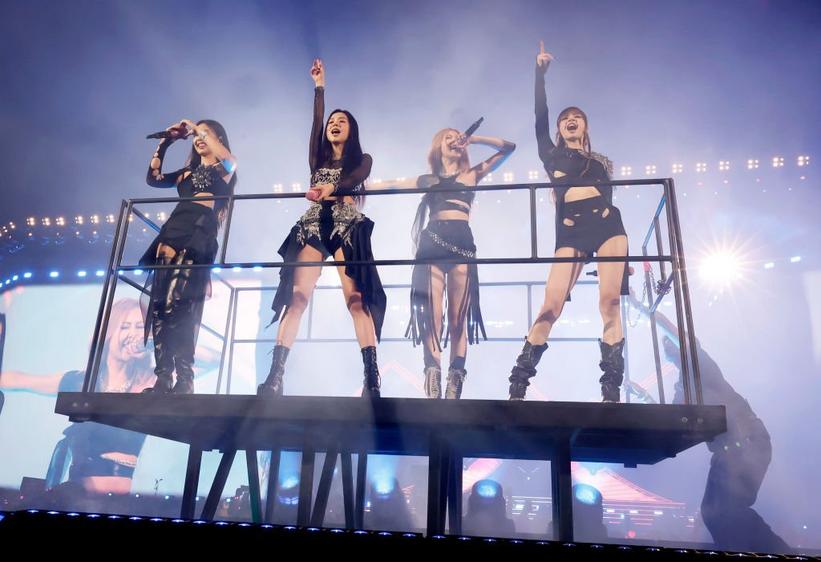 (L-R) Jennie, Jisoo, Rosé, and Lisa of BLACKPINK perform during the 2023 Coachella Valley Music and Arts Festival
Photo: Frazer Harrison/Getty Images for Coachella
list
7 Jaw-Dropping Sets From Coachella 2023 Weekend 1: BLACKPINK, Bad Bunny, Blink-182 & More
The first weekend of Coachella 2023 was full of more-than-memorable moments: Rosalía got into the audience; Metro Boomin brought hip-hop's heaviest hitters to the stage; major artists rocked small stages and so much more.
GRAMMYs
/
Apr 18, 2023 - 03:24 pm
In a sense, every Coachella is an historic event. 
Held annually at the Empire Polo Field in Indio, Calif., it's the first major music festival of the year and often showcases artists' tour launches, effectively providing a sneak preview of what's to come. It's also a place where things happen that can seemingly only happen there. The evidence lies in the sheer multitude of special guest appearances spanning the three-day event, with cameos occurring on nearly every one of eight stages. 
The 2023 edition of Coachella — which sold out its first weekend, ushering in roughly 125,000 people from around the globe — was arguably the most consequential in its 22 years. On Friday, Puerto Rican rapper-singer Bad Bunny became the fest's first Latino solo artist headliner; Saturday's spectacle from BLACKPINK marked the first K-pop performance to top the bill; and on Sunday, Frank Ocean made history as the first openly gay man to close out the world-class music summit.
The latter artist's set — his first in nearly six years — was certainly memorable, but not for fond reasons. On the bright side, there were plenty of other dazzling moments, whether enhanced by surprise guests or on their own merits, which made the weekend indisputably unforgettable. Read on for seven of the best sets from Coachella 2023.
The Murder Capital Slays The Sonora Tent
With only two albums under their belt and a relatively packed audience in the Sonora Tent on Friday afternoon (the second slot of the fest), it's fair to argue that the Irish quintet deserved the nod for one of Coachella's best up-and-coming bands. 
They earned the accolade handily within just seven songs, a no-holds-barred display of searing, snotty-yet-sincere post-punk tunes (à la hometown contemporaries Fontaines D.C. and British sonic kin Idles and Shame) evenly split between their 2019 debut album When I Have Fears and this year's follow-up, Gigi's Recovery.
"We don't give a f— what time is. We want to see you move," said vocalist James McGovern before launching into the maelstrom "Feeling Fades." Every member contributed to the unrelenting energy, expertly building anticipation during slow-burn portions on songs like "A Thousand Lives" and show closer "Ethel," before thrashing through the songs' cacophonous climaxes. 
The Coachella performance marks the end of the Murder Capital's first stateside tour and, based on this exceptional performance, they'll doubtless return ready to release even more panache and sonic punch. Fans of thought-provoking punk rock would be wise to keep a lookout.
Blink-182
Reunites For An Epic Bout Of Pop-Punk Nostalgia
It was confirmed months ago that bassist Mark Hoppus and drummer Travis Barker would reunite with original Blink-182 singer/guitarist Tom DeLonge for a summer tour — the pop-punk trio's first shows together in nine years — but seeing the band's name appear on the Friday schedule upon its reveal last week stoked some the weekend's most spirited anticipation.
Fans reacted rabidly to the news — a group of Mexican friends waiting in front, all decked out in Blink attire and sporting tattoos of the band's logo, said they scrambled to buy tickets and make the trip to the desert with only a single day's notice. Those fellas and the thousands spilling out of the Sahara Tent were rewarded with DeLonge making his entrance with middle fingers raised high, signaling that we were about to witness the same ol' charmingly crass charades. They wasted no time tearing into a career-spanning set (plus the live debut of recently released new track, "EDGING") peppered with sarcastic and explicit banter that was as nostalgically satisfying as hits like "I Miss You" and "All the Small Things," and deep cuts "Dysentery Gary" and "Dumpweed." 
Despite his near-decade away, DeLonge sounded sharper than ever, especially when the trio took it back all the way to 1997 for show closer "Dammit," mixing in a thrilling snippet of TLC's "No Scrubs" (which also played in-full as the outro music). It was an odd but appropriate pairing — looking around at several generations of fans singing along to every track with equal enthusiasm, it became clear that for many, Blink's classic catalog feels just as timeless as that R&B mega-hit.
Metro Boomin
Brings The Whole Crew To The Stage
With a resume that includes work with John Legend, Future, Don Tolliver, 21 Savage, and the Weeknd, the anticipation for what might manifest during producer/DJ Metro Boomin's Friday night set in the Sahara Tent was at an all-time high. And as it so happened, every one of those artists made appearances, in that order, resulting in the most star-studded show of the weekend in an incredibly intimate setting. 
Within the first few seconds of Metro Boomin's set, Legend strolled out to belt on "On Time," and from that point, there was only one track without a heavy hitter at the helm.  Future for five songs, wrapping up on superhit "Mask Off"; Don Tolliver out for three; 21 Savage for six exhilarating tunes; and finally the Weeknd for another half-dozen. The cherry on top: both 21 Savage and Diddy joined the Weeknd for the live debut of Metro Boomin's "Creepin'" remix to close out the set. Acting as conductor and conduit, Metro stayed relatively hidden atop a center-stage platform for the entirety of the 23-song set, letting his guests and mesmerizing dancers take the wheel. 
This show could've and should've been on the main stage, and the fact that it wasn't made it that much more special for the fest-goers wise enough to sacrifice the beginning of Bad Bunny to witness it.
Bad Bunny Makes History
In the moments before Bad Bunny's headlining slot on Friday, footage depicting past lineups and performers — including Prince, Kendrick Lamar and the Black Keys — flashed across the main stage's massive screens. The suggestion was clear: The Puerto Rican superstar intended to cement his own legacy as Coachellan royalty. 
In some ways, that status was predetermined. As the first Latino solo artist to close out the festival, the GRAMMY-winning reggaeton titan had already made history before even setting foot on stage. El Conejo Malo gave his massive audience their money's worth and more during a 2-hour tour de force that paid tribute to Latin music and dance. 
Beginning the show atop a platform designed to look like the gas station roof in San Juan, Puerto Rico where he staged a surprise performance last December, the artist lovingly referred to by fans as Benito (his legal first name) serenaded the audience with several songs off chart-topping 2022 album Un Verano Sin Ti. He rarely showed himself on the stage's screens, instead opting to display videos of historic Latin and Caribbean musical traditions, plus brightly colored graphics paired with sweeping lasers and spurts of pyro that evoked the feel of an enormous Miami nightclub. 
Though hopes were high for Cardi B to appear for her part on breakout single "I Like It," she didn't show, but no matter. Fans were treated to plenty more surprise guests, including Jowell Y Randy on "Safaera," Jay Cortez on a hat trick of tunes played on a B-stage, and Post Malone accompanying on acoustic guitar for "La Canción" and "Yonaguni." The latter two were diminished by sound issues, but it had little effect on the impact of the show for diehard fans — it was a veritable love letter to Latin culture that his faithful followers will surely hold dear for years to come.
Dinner Party Invites Everyone To The Table
With only a few performances under their belt to date, Dinner Party — the supergroup formed in 2020 by prolific pianist Robert Glasper, saxophonist Kamasi Washington, hip-hop producer/DJ 9th Wonder and renowned producer/musician Terrace Martin — was a must-see in the Gobi Tent on Saturday afternoon. 
The outfit was joined by Arin Ray, who sings on their debut full-length Enigmatic Society (released one day prior on April 14) and in this setting also handled vocal parts from Dinner Party's self-titled EP sung by Chicago artist Phoelix. His voice set a joyful, uplifting tone on opening track "Breathe," which was followed by segments where each contributor showcased their individual talents, including wild sax duels from Washington and Martin, and a hip-hop DJ mini-set from 9th Wonder. 
But the group was at their best when all players were seated at the table, so to speak, and when Ray rejoined for the show's finale, "Freeze Tag," an enlivened, church-like feeling overtook the audience — every person in the packed tent was grooving along, no exceptions.
Rosalía
Engages With Her Fans
Over the course of Rosalía's hour-long, main stage set on Saturday night, which pulled heavily from new album MOTOMAMI, the Catalonian singer proved that she's reached superstar status, not only with respect to her spellbinding vocal delivery and dancing, but also her overall artistic vision. 
Even better, she achieved all of it while making her fans feel like an essential part of the show. Case in point: Much of the show's live feed was shot on stage within the space of three video walls that created an ultra-smooth, almost surreal music video effect. But on "La Noche de Anoche" (a Bad Bunny collaboration), she made her way down to the audience holding a handheld camera and let her fans take turns singing a few of the lyrics. Even if they sounded terribly off-key, it showed unmatched class — a performer who can step down from her well-deserved pedestal to make meaningful connections with her supporters.
The scene was truly touching, and she built on that throughout the set, first by playing a tearjerkingly beautiful rendition of "Hentai" on piano dedicated to her dance teacher, then by bringing out her fiancé Rauw Alejandro for duets on "Beso" and "Vampiros," which wrapped up with the sweetest of on-stage kisses. By the end, there was no doubt of her mastery over balancing raw talent and authenticity.
BLACKPINK Shows Why K-Pop Deserves Coachella Spotlight
Saturday night's headlining turn from the record-breaking K-pop girl group, the first to top Coachella's lineup, was unequivocally the most impressive production of Coachella's first weekend. 
Mind-bending elements came into play before the quartet even appeared. A drone-powered light show above the stage — which first depicted a caterpillar transforming into a butterfly, then a paper crane, then an astronaut, a hippo in a spacesuit and finally a heart — all representations of Coachella's past installation art pieces — had the crowd gasping in astonishment. 
Over the course of the following 18 songs, the four members danced, sang and rapped flawlessly while their live band conjured a soundtrack powerful enough to fill several arenas. Right out of the gates, they wowed with a ferocity that matched the title of opening track "Pink Venom," then strutted down the stage's extended catwalks flanked by a brigade of equally impressive backup dancers to a B-stage for "Kill This Love" — all the while being followed by cameras that made their video element look like a high-end production seemingly unachievable in a live setting. The sequence drove the audience into a shouting, jumping frenzy as flames erupted on all sides.
After a few songs in group format, each member took a solo turn. Jennie went first, effortlessly amping up the fans with deep house-inspired "You & Me"; then Jisoo appeared for a fiery take on "Flower"; Rosé stunned with another effortlessly fierce dance routine down the catwalk; and Lisa wrapped up the segment with an unreleased explicit version of "Money," which began with a seductive pole dance followed by a decidedly hardcore rap delivery that would impress some of hip-hop's heaviest hitters. 
At its core, the performance was the most successful representation of what Coachella set out to do by booking such distinctly diverse headliners: it proliferated inclusivity. Even if you came to Coachella exclusively for another act, Blackpink had something to offer for everyone, from pop to hip-hop to rock to EDM, and it would be no surprise if they converted a new legion of fans in the process. The show concluded with a display of fireworks worthy of the biggest New Year's Eve celebration, but they really weren't necessary — their performance was explosive enough without them.
11 Electric Coachella Surprise Guest Moments From Weekend 1: Post Malone, Billie Eilish, Rauw Alejandro & More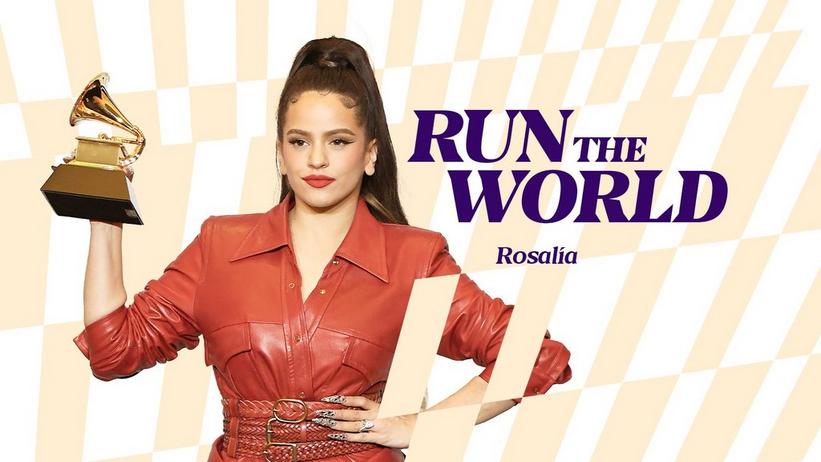 Rosalía at the 2020 GRAMMYs.
Photo: Steve Granitz/WireImage
video
Run The World: How Rosalía Became An International Superstar And Production Powerhouse
To commemorate Women's History Month, take a look at Rosalía's colossal career, from her 'Los Ángeles' folk debut to her GRAMMY-winning experimental, flamenco-pop album, 'Motomami.'
GRAMMYs
/
Mar 13, 2023 - 07:05 pm
Rosalía is the pop star the music industry has craved for so long — an unapologetic, risk-taking visionary who transforms each album release into a deliberate era, slowly immersing her audience deeper into her creative universe. She has become a vanguard for music's next generation of female leaders, paving the way through her commitment to building equality as she once promised in her 2019 Billboard Women in Music speech: "I will never stop till I find and I see the same number of women in the studio."
But before the global sensation came to be, there was Rosalia Tobella, the hopeful musicology student from the suburbs of Barcelona with a passion for flamenco and dream of becoming one of music's biggest disruptors. Her nights spent singing and dancing at flamenco venues eventually landed her in the hands of hitmaker Raül Refree, who manifested her big-city ambitions into reality, co-producing and arranging her critically-acclaimed debut studio album, Los Ángeles.
The flamenco-inspired folk album set the precedent for Rosalía's prosperous musical career after snagging the Spanish singer her very first Latin GRAMMY nomination for Best New Artist and producing a slew of live appearances that led to her catching the attention of her label, Columbia Records. Today, Rosalía's flamenco roots continue to paint her discography on award-winning albums El Mal Querer and Motomami.
As a part of GRAMMY.com's ongoing celebration of Women's History Month, we're looking back at Rosalía's monumental career, from Los Àngeles to Motomami, in this installment of Run The World. It's not just Rosalía's artistic genius that makes her story so remarkable, but also her trailblazing achievements and strides to make space for like-minded women.
What distinguishes Rosalía in a saturated market is her consistency. Without coming across as repetitive, Rosalía seamlessly innovates new ways to transform flamenco as she fuses its essence into different genres on each release. This level of brilliance garnered Rosalía praise from Billboard for "changing the sound of today's mainstream music" at the 14th Women in Music event, acknowledging the artist with a Rising Star Award.
Over the past six years, Rosalía has amassed nearly 60 awards in total, most notably her 11 Latin GRAMMY wins. Three years after winning the Latin GRAMMY for Album Of The Year for El Mal Querer in 2019, she took home the award again in 2022 for Motomami — becoming the first woman in Latin GRAMMY history to win the category twice. 
In 2020, Rosalía marked her GRAMMY stage debut with a medley performance of "Juro Que'' and her breakthrough single, "Malamente." Earlier that night, she celebrated another groundbreaking achievement as the first all-Spanish-language artist to be recognized in the Best New Artist category, as well as her first GRAMMY win for Best Latin, Rock or Urban Alternative album for El Mal Querer. (She won the category for the second time at this year's GRAMMY Awards for Motomami.)
"It's such an honor to receive this award, but at the same time, what I'm most excited about is that I'll be able to perform a flamenco-inspired performance for all of you," Rosalía said during her 2020 GRAMMY acceptance speech, noting her position as one of the leading voices in sharing flamenco culture with American media. "Thank you for embracing [this] project with so much love."
Above all the accolades remains Rosalía's women-first attitude, taking into account the legacy of women who built the foundation for her empire. "I want to thank women like Lauryn Hill, WondaGurl, Björk, Kate Bush, Ali Tamposi, Nija — all the women in the industry who taught me that it can be done," exclaimed Rosalía during her acceptance speech for Best Urban Fusion/Performance at the 2018 Latin GRAMMYs. 
And now, she's leaving her own impact on our future leaders. 
In a full-circle moment, Rosalía was honored as the inaugural Producer Of The Year at the 2023 Billboard Women in Music ceremony, presented to her by one of her aforementioned heroes, WondaGurl. "To me, it feels special because this is not usual. I make my own music, I produce my own songs, and I write my own songs. I want to dedicate this award to all the women who are going to be producers," she beamed.
Press play on the video above to revisit the defining moments in Rosalía's revolutionary stardom, and keep checking back to GRAMMY.com for more new episodes of Run The World.
Listen To GRAMMY.com's Women's History Month 2023 Playlist: Swim In The Divine Feminine With These 40 Songs By Rihanna, SZA, Miley Cyrus, BLACKPINK & More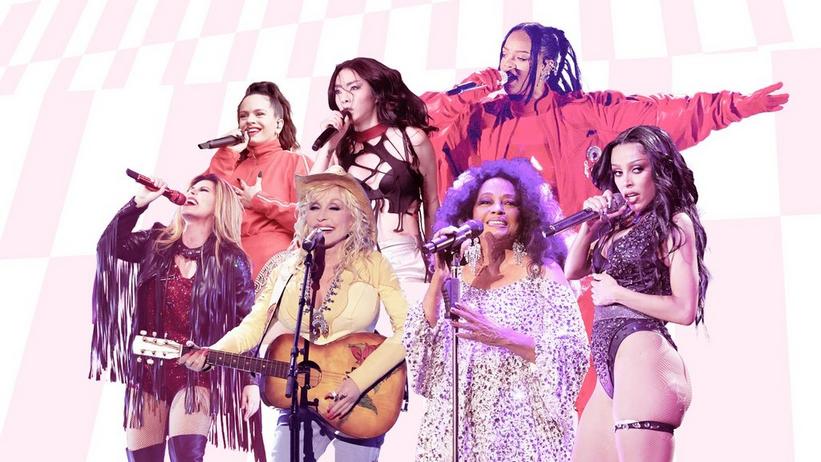 (L-R, clockwise): Rosalía, Rina Sawayama, Rihanna, Doja Cat, Diana Ross, Dolly Parton, Shania Twain
Photos (L-R, clockwise): Kevin Mazur/Getty Images for Roc Nation, Scott Dudelson/Getty Images for Coachella, Adam Bow/Icon Sportswire via Getty Images, Kevin Winter/Getty Images for Coachella, Kevin Mazur/Getty Images for Academy Museum of Motion Pictures, Kevin Winter/Getty Images for ACM, Terry Wyatt/Getty Images
news
Listen To GRAMMY.com's Women's History Month 2023 Playlist: Swim In The Divine Feminine With These 40 Songs By Rihanna, SZA, Miley Cyrus, BLACKPINK & More
Who run the world? Harness positive energy during Women's History Month with this immersive playlist honoring Beyoncé, Rina Sawayama, Kim Petras, and more female musicians.
GRAMMYs
/
Mar 1, 2023 - 03:59 pm
In the words of recent GRAMMY winner Lizzo, it's bad b— o'clock. To kick off Women's History Month, GRAMMY.com is celebrating with an extensive playlist spotlighting women's divine musical artistry. Perpetually shaping, reinvigorating, and expanding genres, women's creative passion drives the music industry forward.
This March, get ready to unlock self-love with Miley Cyrus' candid "Flowers," or hit the dancefloor with the rapturous Beyoncé's "I'm That Girl." Whether you're searching for the charisma of Doja Cat's "Woman" or confidence of Rihanna's "B— Better Have My Money," this playlist stuns with diverse songs honoring women's fearlessness and innovation.
Women dominate the music charts throughout the year, but this month, dive into their glorious energy by pressing play on our curated Women's History Month playlist, featuring everyone from Dua Lipa to Missy Elliott to Madonna to Kali Uchis.
Listen below on Amazon Music, Spotify, Apple Music, and Pandora.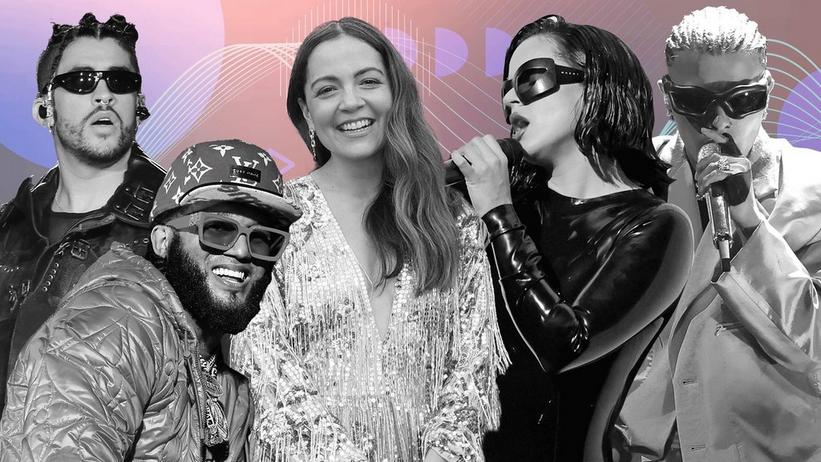 (From left) Bad Bunny, El Alfa, Natalia Laforcade, Rosalía, Rauw Alejando
PHOTO: Gladys Vega/ Getty Images; John Parra/Getty Images; Rodrigo Varela/Getty Images for The Latin Recording Academy; Kevin Winter/Getty Images for The Latin Recording
list
2022 In Review: 5 Trends That Defined Latin Music
2022 glowed with abundance in every region and style — from Chilean folk and Mexican sierreño to Argentine synth-pop, Dominican dembow and good old fashioned rock en español.
GRAMMYs
/
Dec 27, 2022 - 08:51 pm
Years from now, 2022 is likely to be remembered as a moment of expansion and inspiration for Latin music. It's not only that the unstoppable reggaetón beat and its multiple permutations brought people to their feet as the entire world danced to the sounds of Bad Bunny, KAROL G and Rosalía.  
After years of pandemic-related suffering, 2022 glowed with abundance in every region and style — from Chilean folk and Mexican sierreño to Argentine synth-pop, Dominican dembow and good old fashioned rock en español. Forgotten genres were resurrected and given bright new outfits, while a wave of daring young producers experimented with cutting-edge textures and studio effects. Globalization shook up the Latin spectrum, and the results are splendorous.
Here are some of the notable trends that emerged during the past 12 months.
The New Epicenter Of Global Pop? Puerto Rico 
As the mainstream embraces Latin trap, EDM and folk genres like champeta and bachata in this brave digital world of neo-reggaetón hits, Puerto Rican vocalists and producers have mastered the recipe of success. 2022 marked the third consecutive year in which Bad Bunny was the most streamed artist in the world on Spotify. An intriguing combination of raucous party hedonism and melancholy self-reflection, Benito's musical universe continues to evolve, but his hold on pop culture is part of a wider trend.  
The year also saw the release of excellent new tracks by Ozuna, Rauw Alejandro, Daddy Yankee and Myke Towers, confirming San Juan as the avant-garde capital of Latin futurism. La isla del encanto's dominance shouldn't surprise the most studious observers of popular music, though. Just like Jamaica, Puerto Rico has given birth to countless legends in the past, from Tito Rodríguez and Cheo Feliciano to El Gran Combo and Héctor Lavoe. Further, there is a solid threadline that unites the early salsa sizzle of 'Maelo' Rivera with the 2000's narratives of Tego Calderón and the melodic brilliance of a Rauw Alejandro.
The Seduction Of Retro Lives On 
Much of today's Latin music relies on the-future-is-now sonics, with the use of autotune, synth patches and all sorts of studio gimmicks to create the slick patina of today's hits. At the same time, a number of artists prefer a return to analog warmth and the formats that hypnotized their ears in younger times.  
Growing up in Texas, multi-instrumentalist and Black Pumas leader Adrian Quesada developed an obsession with the intoxicating strand of psychedelic baladas that flourished throughout Latin America between the early '60s and mid '70s. Quesada had already recorded a reverential cover of "Esclavo y Amo" by Peruvian combo Los Pasteles Verdes, but in 2022 he recorded an entire album, Boleros Psicodélicos, with mostly original songs that capture the sinuous beauty and baroque harpsichord lines of the original genre.  
Following a similar vein, Natalia Lafourcade's stunning De Todas Las Flores favored a retro approach with songs such as the breezy tropi-pop gem "Canta la arena." The album was recorded live on tape, with every musician present in the recording studio and no previous rehearsals. And if the intro to the solemn "Llévame viento" reminds you of Claude Debussy and French impressionism, it's no coincidence. The Mexican vocalist showed producer Adán Jodorowsky pictures by Claude Monet for inspiration while they worked on the record.   
Dembow Transforms The
Urbano
Landscape 
Hypnotic and repetitive, the Dominican genre known as dembow is instantly addictive, but at the same time a bit of an acquired taste. Because of its aggressive pattern, it can be successfully transplanted to mainstream reggaetón — a prime example being Bad Bunny's eye-opening use of dembow in his mega-hit "Tití Me Preguntó."
The indisputable king of the format remains El Alfa, the incredibly prolific, 31 year-old singer/songwriter from Santo Domingo who has turned the native riddims and hilarious slang from his homeland into a cottage industry of feverish dance anthems. El Alfa (Emanuel Herrer Batista) releases singles and videos at a breakneck pace, and 2022 found him riding a creative wave. A collaboration with Braulio Fogón and Chael Produciendo, "Tontorón Tontón" grooves with a fervor that borders on insanity, as El Alfa spits out rhymes that fuse hilarious vulgarity with surreal impressionism.
Last Night A Lo-Fi Songstress Saved My Life
While the ubiquitous stars of the Latin pop firmament compete for hundreds of millions of streams, indie artists from Argentina to Mexico continue doing what they do best: writing awesome songs. Easy access to recording equipment has allowed a young generation of female bedroom-pop and lo-fi rock performers to blossom undeterred by any record label interference.
On her brilliant and darkly hued EP Misterios de la Plata, Argentine singer Srta. Trueno Negro channels her devotion to the Velvet Underground. Hailing from Culiacán in Sinaloa, Bratty collaborated with Cuco on the hazy reverie of "Fin Del Mundo." In Brazil, São Paolo native Brvnks flexed her angular, guitar-based hooks on "sei la," an atmospheric duet with Raça. Seeped in the sugary vibes of '80s Argentine bands like Metrópoli, "Tuna" — an under promoted single by young Buenos Aires composer Mora Navarro — is probably one of the most gorgeous Latin songs of the decade.
Bachata Officially Not A Niche Genre Anymore
All those Dominican aristocrats of the early 20th century who looked down on bachata as the filthy music of the lower classes would shake their heads in disbelief if they saw the place of honor it occupies today. Prince Royce and Romeo Santos made headway in bringing the authentic strains of música del amargue into the mainstream.  
But just like salsa in the '90s, bachata is now part of the pop lexicon, and artists from different genres delve into its mystique. Most famously, Rosalía, whose majestic "LA FAMA" distorts the expected guitar lines into jagged, digitalized objects of beauty. The autobiographical lyrics are poignant, and the diva's decision to enlist the Weeknd helped to further the cause (as it turns out, bachata's wounded feelings sting even more deliciously as a duet.) In Colombia, Elsa y Elmar aimed at the very roots of the genre with "atravesao," complete with skittish bongó beats and a vocal delivery that bleeds unrequited romance. Even in Buenos Aires, bachata has attracted the muse of talented songwriters such as Silvina Moreno, whose "Ley de Atracción" muses philosophically on the perverse contradictions of erotic desire.