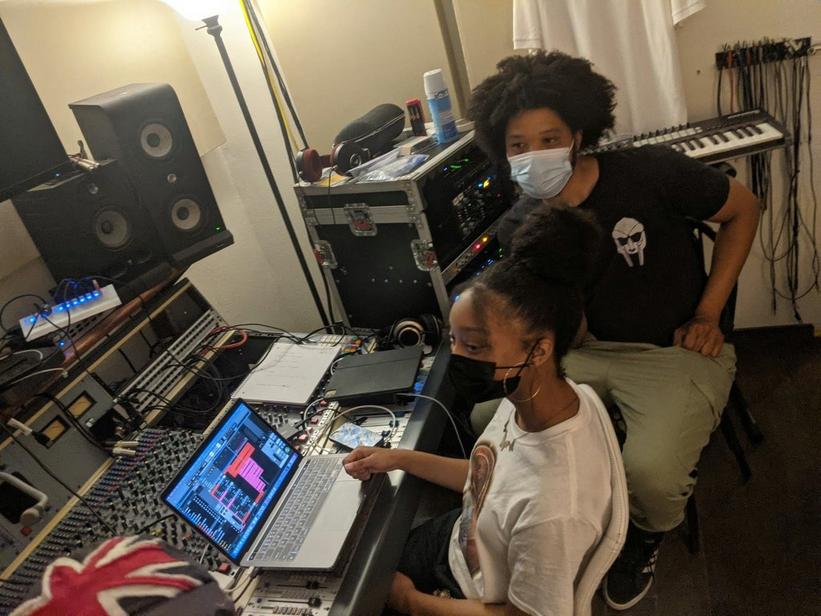 Roots of Music students learn at Artisound Production studio
Photo courtesy of Artisound Production
feature
New Orleans Producers Teach Teens How To Navigate The Music Business In Roots Of Music Program Partnership
Partnering with New Orleans' afterschool Roots of Music program, the studioheads at Artisound Production developed a music business program for teen musicians to "learn to control their destinies"
GRAMMYs
/
Mar 24, 2022 - 04:12 pm
Propped up against a tabletop of cupcakes and pizza, laminated brochures from Berklee College of Music outline the importance of copywriting and licensing music material. Kids in masks wrap up auxiliary cords and swipe through drum loops on an iPad. A Baldwin M1 piano once owned by the legend Dr. John sparkles against swirling paisley carpets and foam soundproof padding. For kids in other parts of the country, this scene might look like a bizarre rock and roll-themed field trip. To students in New Orleans' Roots of Music program, it's just another day after school.
Children in the New Orleans region are surrounded by music on a daily basis — it's literally everywhere. The Roots of Music was founded with the goal of empowering those youth through music education, academic support and mentorship, while preserving and promoting the unique musical and cultural heritage of the city. The program, which is co-chaired by Ani DiFranco, provides over 2,500 hours of music education and academic tutoring, as well as more than 30,000 hot meals annually to low-income youth from age 9.
"In New Orleans, culture doesn't come down from on high. It bubbles up from the streets," Ellis Marsalis, the beloved University of New Orleans music instructor and patriarch of a legendary local music family, told documentarian Sascha Just. 
Just as the late Marsalis mentored students such as Terrence Blanchard and Harry Connick, Jr., two local producers are doing their part to ensure that Roots of Music teens get a head start in the music business. Their partnership takes the work of Roots of Music a step further.
"Historically, a lot of kids have been taken advantage of in the [entertainment] industry, especially in a city like New Orleans where so many kids create," says Keenan McRae, who worked on this year's GRAMMY-nominated album, Hands of Time from Weedie Braimah.
While students in the area have a multiplicity of opportunities to perform (such as the St. Augustine High School Marching Band, which performed alongside Jon Batiste in last year's Macy's Thanksgiving Day Parade), many are left scratching their heads as to how to make music a viable and sustainable career after graduation.
Realizing that this was an issue, producers McRae and Joe Ceponis offered up their expertise and their St. Claude Avenue music studio, Artisound Production, to Roots of Music students. Established during the pandemic, the Artisound partnership aims to teach students of high school age the administrative and production legwork that is involved with a lifelong music career over a period of 10 weeks.
"Sensei McRae," as the kids affectionately call him, tells GRAMMY.com that knowing how to be professional, and how to handle contracts and administrative work is just as crucial as knowing how to play and create music. Giving teens in the program opportunities and a solid foundation to succeed in the music business is of paramount importance to the Loyola University graduate. 
"Many bands started [when they were] kids here [and] make up this nation's musical history. They didn't learn how to control their own music and, therefore, the people that made it never benefited from it," says McRae. 
This lack of practical education does musicians — both young and old — a disservice.
"My mission in partnering our music studio, Artisound Production, with Roots of Music is to create opportunities and infrastructure so these kids can learn everything they need to learn to control their destinies and that's not just in music — that's life," McRae continues.
Ceponis commends McRae for hustling to get access to MacBooks for the students, a feat in a city where high caliber products are often hard to come by. "This was all spurred on by the pandemic …when we started putting together resources online, despite students not being able to be there," says Ceponis, a fellow Loyola graduate who also teaches at the prestigious New Orleans Center for the Creative Arts (NOCCA). 
Timeless sounds meet well-timed business skills
Ceponis (who fronts the band Consumer, and plays bass in local bands Primpce and Midriff) encourages students to create music that "sounds timeless." He feels the reason the Super Bowl performance featuring Dr. Dre, Snoop Dogg and Eminem resonated with so many was the "timelessness" of the music that the artists created in their early years. Together with Roots of Music, the Artisound team aims to catch these teens at the right time, when they may be on the precipice of creating history-making work. 
"We teach the students it's not about being famous — it's about preserving history and with everything turning to data, it's important for students to know the weight of that," Ceponis says. "A lot of music experiences kids have at this age are relevant and transformative, and being able to archive a moment in [the] city of New Orleans, where we have such a talented amount of young people who can eventually monetize their work, is so important."
In keeping with the commitment to financial literacy, McRae set up a program with Iberia Bank where students learn the basics of opening up lines of credit and setting up checking accounts.
High school senior Owusu Diallo, who recently received a full scholarship to Berklee College of Music and is graduating from the NOCCA Jazz Department this year, says he initially felt intimidated when confronted with the business side of the music industry during his Artisound supplementary courses. 
"The idea that immersing myself within music as my way to live was a risk in itself. But thanks to the lessons I received through Roots of Music, I am able to create strategies and plans that I can put into motion now, that can potentially prevent me from dealing with similar hardships that others with my same lifestyle have faced," he said. "Learning about things like contracts and bank accounts has made me feel more ready for what's soon to come, it's like I've finally stepped out of the dark." 
Even as a primarily jazz-oriented student, Owusu adds that he's grateful for the ability to learn to craft hip-hop and other marketable beats. Such a skillset is exemplary of the ethos Artisound encourages: Don't just stick to what you know and like, diversify your musical talents to keep yourself employable. 
Growing their roots
NOCCA sophomore and Artisound/Roots participant Chaela McGinnis says she is thankful for Sensei McRae's literal passing of the torch — that is, a copy of entertainment lawyer Donald Passman's All You Need to Know About the Music Business. She says she's already given a copy of the book to a friend and that she is thrilled about meeting "cool people" through the program. 
McRae lights up when discussing the ways in which Roots of Music is expanding its partnership with Artisound. In a town mostly known for its tourism pipeline, McRae feels it's time for a city with such deep musical roots to create more opportunities for musicians. 
Artisound and Roots of Music will move into the Bell Art Space campus in New Orleans' 7th Ward neighborhood, which has been sitting dormant since Hurricane Katrina in 2005. There, McRae hopes to add technology for film scoring so that people in the community can benefit, including the Roots of Music students. 
"I hate that they film all these movies here but fly out [of New Orleans], a music city, to get the scores done. That's a disservice to the New Orleans community. We need to retain all this business," McRae states. He and Ceponis recently collaborated on the original music for Shapeless, directed by local filmmaker Samantha Aldana which premiered at 2021's Tribeca Film Festival. 
If you take care of it and you are a steward to it, music will treat you well," Ceponis muses. "Starting from that perspective with these kids will give them an upper hand. It's expensive to record [music] but you can budget and focus it and give it reachable means. It's empowering."