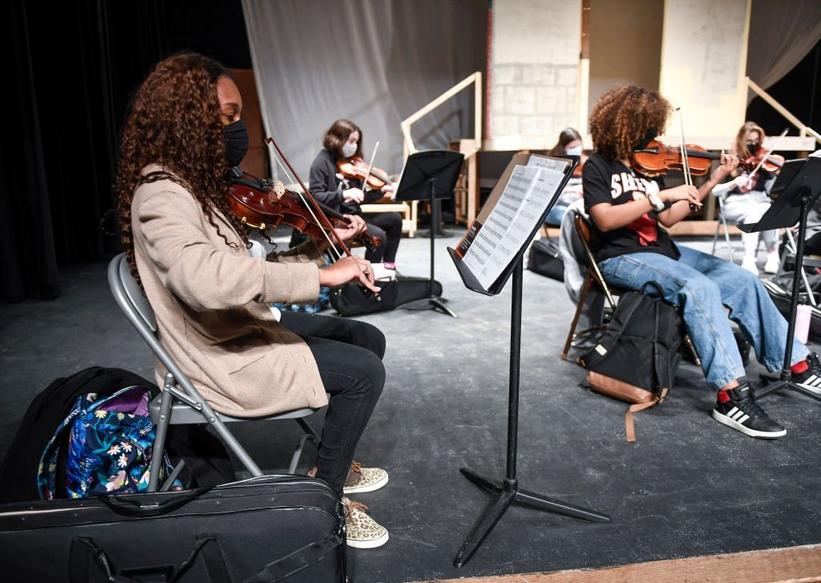 MediaNews Group/Reading Eagle via Getty Images/Contributor
list
5 Organizations And Scholarships Supporting Music Education
Music education is an essential tool for growth and joy that should be available to all people, young and old. In celebration of Music In Our Schools Month, here are four non-profits and one scholarship dedicated to help more people learn music.
GRAMMYs
/
Mar 14, 2022 - 04:47 pm
Music and education are two things almost all of us can agree are vital parts of the human experience. Research has shown that musical training is good for the brain, improving memory and literacy.
Unfortunately, music education in American public schools tends to be limited or non-existent due to budget constraints and focus on subjects covered by state-led standardized testing. However, there are many great organizations that fill this gap and  to keep music alive by getting instruments in kids' hands.
To celebrate Music In Our Schools Month, GRAMMY.com has compiled a list of four organizations and one scholarship dedicated to supporting music education. Read on to learn more about them and the great work they do.
Quinn Coleman Scholarship
The Quinn Coleman Scholarship is a multi-year scholarship and internship program for Black college students pursuing degrees in music and related creative fields. The program "strives to elevate a new generation of Black music creators through a supportive career development program" and prepare them for full-time work in the industry after graduation.
The scholarship is named for the late music executive and DJ Quinn Coleman, who died at just 31 in August 2020. Coleman's family set up the Quinn Coleman Memorial Fund in his honor through the GRAMMY Museum, which supports the scholarship as one of its many music education programs.
FEMME HOUSE
Founded by artists LP Giobbi and Lauren A. Spaulding in 2019, FEMME HOUSE is a non-profit that addresses the gender gap in music production. The organization offers women and gender-expansive people tools and support to learn production, mixing, engineering, DJing and more. FFEMME HOUSE has delivered free in-person and online classes, which range from Intro to Ableton and Building Your Beats, to thousands of people across the globe.
They also offer a scholarship for BIPOC creators, which provides four artists per year with one-on-one mentorship and free music gear. FEMME HOUSE has partnered with She Is The Music and We Are Moving The Needle to create a free four-week virtual bootcamp She Is The Producer, which will have a second edition this year.
She Is The Music
She Is The Music is a non-profit founded by GRAMMY winners Alicia Keys and Ann Mincielli, dedicated to "increasing the number of women working in music — songwriters, engineers, producers, artists and industry professionals."
The collaborative network unifies women throughout the global music industry, and also offers resources and funding to women-focused music initiatives. Their extensive resources include writing camp sessions — which have been led by Keys, Kim Petras, Cyndi Lauper and others — mentorship programs, a job board and a member database. 
Girls Rock Camp Alliance
The Girls Rock Camp Alliance is the international membership network of Girls Rock and other youth music education camps. Its members host camps for girls to learn music and build confidence, creating them a fun and supportive space to be little rock stars. The Alliance aims to develop space for community and build "a strong movement for collective liberation" Rock on!
Harmony Project
The Harmony Project has provided free music education to low-income Los Angeles area youth since 2001, offering 282 classes a week to 3,500 students. K-12 students in underserved communities can sign up for the Harmony Project to receive an instrument and year-round lessons, along with performance opportunities, family support services, and college scholarships and readiness support. More evidence on the vital nature of music education programs: 98 percent of their students have been accepted into college.
GRAMMY Museum Announces New Dates And Location For 2022 Virtual GRAMMY In The Schools Fest & A GRAMMY In The Schools Salute To Music Education Benefit Concert
news
EducationWatch: Iowa Needs Music
GRAMMYs
/
Dec 3, 2014 - 04:22 am
Parents and students campaign to preserve local arts and music education
GRAMMY.com
Laurel Fishman
Parents, students and activists in Des Moines, Iowa, recently took action to preserve arts and music education in local schools. Approximately 500 advocates peacefully — but loudly — converged on the state capital on March 11 carrying signs reading "We Need Music" and "Kids Care About The Arts," while band and orchestra students played musical instruments. A recent Des Moines School Board meeting drew approximately 100 attendees armed with "Save Music" stickers and statistics substantiating the arts' positive impact on children's education. The large attendance at both events came in response to an announcement by the Des Moines School District that funds for art, music and physical education would be drastically cut. The Support Music Education in the Des Moines Public Schools Facebook group has nearly 7,000 members.
A live concert in Berkeley, Calif., on March 24 at the Berkeley High Community Theatre celebrated the results of grassroots efforts to preserve music education in local schools. A total of 500 music students representing 15 Berkeley public schools performed to a full house. For several years, concerts, raffles, local business donations, and community taxpayers have repeatedly come to the aid of Berkeley music programs, now funded by a Berkeley Schools Excellence Project parcel tax.

As part of its In Your School program, the Cincinnati Symphony Orchestra hosted a fundraising concert on March 23 to support district-wide music education and instrumental music programs. Additional music education activities included a pre-concert discussion, an opening performance with the Princeton High School Orchestra, CSO musicians coaching instrumental music students, and eight ensemble mini-concerts at Princeton elementary schools. The In Your School program is part of the orchestra's ongoing commitment to community music education. CSO musicians regularly visit elementary schools, and local high school students work with sectional coaches and CSO conductors. For more than 10 years, CSO has been presenting the Sound Discoveries: Music For Life, Music For The Community, Music For A Career outreach program. In fortifying music education for children in greater Cincinnati, the CSO serves approximately 50,000 students each season.

On March 19 the Alpha Nu Chapter of Sigma Alpha Iota of Ohio's Youngstown State University presented Save The Music Fest, a fundraising concert to support the VH1 Save The Music Foundation's goals of providing musical equipment and essential funds to sustain music education in schools. Performers included local acts JD Eicher & The Goodnights, Fine Young Men, Rising Regina, and the Zou. An international music sorority for women, Sigma Alpha Iota's mission is to encourage, nurture and support the art of music.

The basic liberties of creating, enjoying and performing contemporary music unrestrictedly are addressed in No One Knows About Persian Cats, a new documentary-style film about the lack of those freedoms elsewhere. The film covers the underground music scene in Iran and shadows a pair of young musicians and their quest to form a band, record their music, stage a concert, buy false passports and visas, and immigrate to London. The duo includes Negar Shaghaghi, a woman who is forbidden to perform since a female singer can legally perform in Iran only as a chorus member. Appearing in the film are talented real-life underground musicians of Tehran, where the current regime prohibits their free expression.

March was the National Association for Music Education's annual Music In Our Schools Month. Ford Middle School in Acushnet, Mass., held a celebratory concert on March 24 with performances by the school's various bands, chorus and woodwinds ensemble. The FMS Grade 7 and 8 Band's role in the concert was key preparation for its April performance at the Massachusetts Instrumental & Choral Conductors Association Annual Concert Festival. This year's performance marked the third year the award-winning FMS students participated in the festival.

In connection with the 2010 Batavia City School District's MIOSM Concert in Batavia, N.Y., Batavia High School Band Director Jane Haggett wrote an impassioned opinion piece for the local Daily News. Haggett noted that music education engenders active rather than passive involvement in learning, sharpens critical thinking and problem-solving skills, and enhances teamwork. "Planning, persistence, perseverance, and time management are all key ingredients to being successful, and most musicians must acquire those skills throughout their music education," wrote Haggett.

Also in conjunction with MIOSM, proactive parent Tracy Begland penned a well-reasoned column for the Dallas News on the importance of children's music education. Begland pointed out positive results such as self-discipline, self-reliance, and higher SAT scores as benefits of music education. She also cited the book What Music Means To Me by Richard Rejino, in which 43 musicians of all ages described the role of music in their life. Rejino's book celebrates the value of music in education and quality of life, focusing on kids in music programs, with compelling stories of how music helped inspire them to pursue their dreams amid hardships.

Rejino has followed up his book with the What Music Means To Me Project, which is designed to help raise public awareness of the benefits of music making. Students from all walks of life can participate as photographic subjects and compose a personal statement about their music making, communicating the power of music through their own experiences. The images and statements are being developed for various media as tools for music education advocacy.

(Laurel Fishman is a writer and editor specializing in entertainment media. She reports regularly for GRAMMY.com and GRAMMY magazine, and she is an advocate for the benefits of music making, music listening, music education, music therapy, and music-and-the-brain research.)