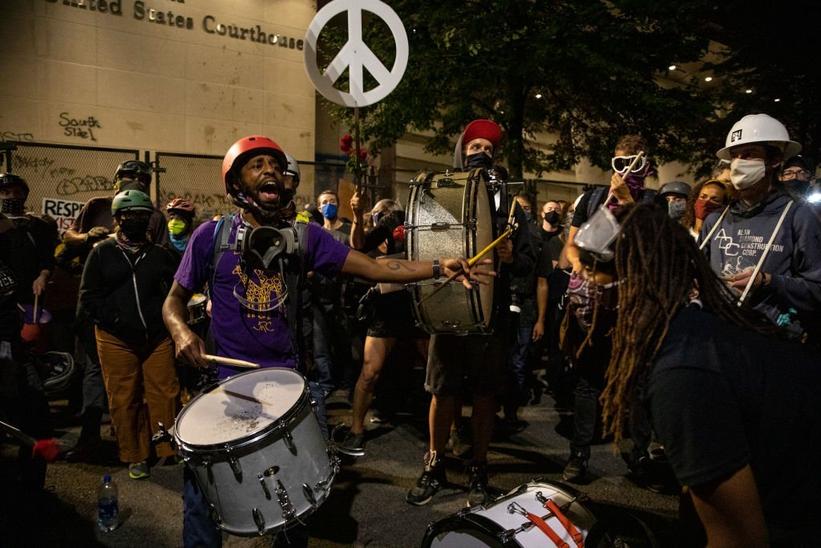 A large crowd of protesters create music during a July 2020 drumming session in Portland, Oregon
PHOTO: Paula Bronstein for The Washington Post via Getty Images
feature
"Portland Goes Harder": How PDX's Disparate, Diverse Music Scene Has Coalesced Around Progressive Politics
The city's scene may not have a cohesive sound, but from hip-hop to alternative, and jazz to reggae, Portland music packs a protest-fueled punch
GRAMMYs
/
Apr 18, 2022 - 05:51 pm
In front of a Black Lives Matter stencil at a small Portland venue in March, a trombone player began a concert by sharing a personal and political truth.
"My name is Denzel Mendoza," he said. "I am an illegal immigrant and a trombonist."
Mendoza then read British-Somali poet Warsan Shire's poem "Home," which reckons with the desperation of forced migration, before picking up his instrument. Above bassist Sebastian Owens' fluid arpeggios, Mendoza vocalized breathy, plaintive complaints and elephantine blasts of rage, at times seeming to yell into the horn.
Mendoza won three GRAMMY awards in 2019 as one of John Daversa's "Dreamers" — undocumented immigrants brought to the U.S. as children and accepted to the Deferred Action for Childhood Arrivals program. His legal status hasn't changed, nor have the political implications of the music. Clad in a cholo-style button down and orange knit cap, Mendoza huffed, puffed, scoffed and mourned. At one point, he briefly fainted.
"When I'm on the bandstand, all of that chaos, that unknowing, and hope comes out," he says. "I'm a wreck, and that's how it should be."
Trombones are uncommon instruments of protest, but in Portland, musicians use any and every tool to bring people together and push for social justice. These days, there may not be a "Portland sound," but the scene coheres around progressive politics. That may reflect the city's continuing turmoil, including a mass shooting at a protest in February and another dumpster fire near a police station just this week.
"Portland's a really complicated place," says John Gourley, lead singer and rhythm guitarist in Portland-based indie rockers Portugal. The Man. Similarly, the infectious first single off PTM's upcoming album, What Me Worry, has "a lot of layers." Its video begins with hip-hop artist-activist Mic Crenshaw shaving Gourley's head, followed by imagery of protests and fires.
Other hypnotic, provocative examples abound in hip-hop, rock, electronic and reggae. Portland rapper Wynne lights herself afire in the video for her head-noddy "CARROT CAKE," with Christo, spitting, "PPB can't be reformed! / Used to slide by now I'm yelling back 'free the boys,'" a clear reference to the Portland Police Bureau. In the video for electronic artist Logan Lynn's retro club banger, "Is There Anyone Else Like This in the World," Lynn dresses in a black hoodie and skull facemask, then swings a baseball bat at the camera.

"The imagery is pulled directly from what's happening here in town and across the nation," Lynn says. "What's cool about Portland is that so many people have come together visibly. That's felt like a movement."
Portland-based, Tuff Gong-distributed reggae artist and children's educator Aaron Nigel Smith co-produced the GRAMMY-nominated children's album All One Tribe. The upbeat, stylistically-diverse project came out of the Black Lives Matter movement, he says. Nominees in the children's and family music category have been "very unbalanced" in recent years, Smith says, so he and a dozen artists created the Family Music Forward coalition to "amplify and uplift" artists of color in that category.
Smith tries to "expose, encourage and engage" kids — especially Black and brown children, he says. He's also "done protests specifically for children." Youth are naturally at the forefront of social movements, he adds, and often "baffled by the adults that are leading this world into chaos and destruction."
Sometimes life puts a choice in front of us, Oregon's music scene seems to be saying.
"This is going to be a moment in history that we'll all look back on and think, 'What did I do for other people during this time?'" Michelle Zauner of Japanese Breakfast recently said. Zauner grew up in Eugene, south of Portland; her band was nominated for two GRAMMYs in 2022. "There's a real sense of shame if you look back and think, 'I hid and did nothing.'"
It Must Be 'Something In The Rain'
It's not always clear why the region's politics — and music — gets so fierce. "There's definitely something in the rain, or water," half-jokes Mac Smiff, also known as Fahiym Acuay, an activist and Editor-In-Chief of the city's We Out Here magazine.
While it's only the nation's 24th-largest city, Portland is an anchor on the powerful West Coast circuit. It punches outside its weight class — and rarely shies from a fight. Local musicians whose music has challenged include riot-starters like Sleater-Kinney, the Thermals and Team Dresch; consciousness-raising emcees like Mic Capes, Wynne, and Cool Nutz; marching bands like March Fourth and Frontline Drumline; and folkies Derroll Adams and David Rovics — who just released an album with Crenshaw.
There are many reasons why; as Gourley quips, "Portland goes harder." Portland is one of the "whitest" major U.S. cities, and Oregon's racism predates its constitution. "Yes, there are Black people in Portland," a billboard put up by Aminé proclaimed in 2018. Local musicians are outwardly sensitive to the city's white guilt, multiple displacements of its Black community, its gentrification or much-debated homeless crisis.  
"I feel torn every single day I wake up," Gourley says. "Just having space. I mean, a house, with a yard." 
Then there's continuing controversy around police violence. In 2020, as protests crested, federal agents went to Portland and reportedly used unmarked vans to snatch protesters. Global attention and phenomena like the "Wall of Moms" resulted.
Portland Trail Blazers pro and rapper (as Dame D.O.L.L.A.) Damian Lillard marched. Crenshaw helped organize the Black Existence March. DJ Ronin Roc pumped a Swiggle Mandela song, "Dear Portland Police," from the back of a pickup truck, Smiff says. One guy walked up and made a $1,000 donation, Smiff recalls. "We bought a generator and a couple more speakers."
"There's a lot of political music here," Crenshaw explains. "It's no longer fringe. Because everybody's seeing with their own eyes what protest music addresses."
Inherently Politicized Identities
Just as Lynn's grooves are informed by of decades of house, disco and synth-pop created within the LGBTQ+ community, Smith's and Crenshaw's work reflects the African diaspora. "The lineage of hip-hop comes from a colonized people who were struggling for liberation," Crenshaw says.
Making this music is not "political" so much as intrinsically connected to who these artists are.  
"My music has always been political in that my identity has been really politicized," says Lynn, a voting member of the Recording Academy since 2015. "I'm an openly queer person with a mental health condition who has been in long-term recovery. Each of those things has always had society coming at me negatively in some way."
Portugal. The Man's members are white, but have had friends and family who are Indigenous since their childhoods in Wasilla, Alaska. Today, hey work with and advocate for tribes across the world. In 2018, they dedicated their Best Pop Duo/Group Performance GRAMMY for the hit "Feel It Still" to "all the Indigenous people in Alaska and around the world." They've won awards from Native American groups. At concerts, they invite Indigenous people to perform, and — in a modern update of an ancient tradition — call out the connection between the land and these First Nations.
Such struggles can be intersectional. Led by guitarist Eric Howk, who "shreds" from a wheelchair, PTM push for accessibility for people with disabilities — offering "Accessible VIP Treatment" at shows, for example, or insisting on inclusivity while on tour with Alt-J.
"We get asked when we show up at venues [even] now," Gourley notes, "'Do you need a ramp? Do you need these things?' Like — yeah," Gourley says, exasperation creeping into his mellifluous voice. "We need a ramp."
Creating During 'A Really Dark Time'
As this year's emotional GRAMMY Awards ceremony reminded us, these last couple years have been hard on many artists and fans. Polemics and pandemic also took their toll in Portland. "At a point, the music scene was dark," Mendoza, the trombonist, recalls. "A lot of folks weren't creating. But it also gave way to a lot of other folks who were underrepresented, or who felt like, 'I need to make a way to make this better.'"
Gourley spent part of the pandemic healing from a broken jaw he'd had since childhood.  "I could barely talk," he says. "I couldn't exercise, I couldn't do anything."  
Gourley says the band's upcoming album — reportedly due in June, though PTM management says it's not yet scheduled — is the first concept album he's written, and centers "around what we were seeing in Portland, the way these movements take off." It's about fights that matter, Gourley says — not PR stunts like the one he sings of, when the KLF, in 1994, burned a million pounds. While many in the pop music industry have long seen political content as "ill-advised," you don't have to literally burn money for sales to slide.   
Crenshaw says he's sold fewer units for decades by "intentionally making music that's not as commercially viable." But his combative, collaborative projects can be riveting. Among them: "Cao Xango" by Rebel Wise (Crenshaw, Xamada, Pharaoh The 47 & Quincy Davis), which begins with video of local protest marches.
Aaron Nigel Smith, too, says he "definitely took a hit" after releasing 2019's In Our America, which included "Ring The Alarm." Singing over a tight roots reggae riddim, Smith decries rising hate, declaring, "We don't want no racist Nazi hateful wannabe pussy-grabbing, cheating, lying thief leading our country."
It debuted at No. 1 on the Billboard reggae charts, Smith says, but "split my fan base in half," Smith says. Still, he'd "do it again the same way."    
Portland vs. The World
Like many cities, Portland can be a left-leaning island in an ocean of more conservative areas. Outside the city, its progressive politics can be misinterpreted. "Everywhere we traveled, especially during the lockdown, during the feds being in Portland," Gourley recalls, people would say, "'Oh, my God! Are you OK? You live in Portland? Is it still there!?'"
It's still here, and still home to politicized violence. In February of this year, when protesters gathered in a local park to decry police brutality, a man named Benjamin Smith pulled out a firearm and started shooting, hitting five people, paralyzing one and killing a 60-year-old woman named June Knightly.  
Such tragedies perpetuate entrenched stereotypes, including that the city is full of violent, black-clad "antifa" brawlers — and apathetic, privileged "Portlandia" liberals. Each is unfair, the city's musicians say, but contains a grain of truth: Portlanders do "either stand behind windows and watch — or break windows," Mendoza says.
Unlike purely political operatives, though, the city's musicians crave socially diverse spaces, chafing at the echo chambers and "mosh pits" of social media. "I never want to be surrounded by people who all think the same thing I do," Gourley says.
Great music, they say, isn't made from political talking points — or monochrome emotions. "The sense of despair and hopelessness has always fed [my project] Illegal Son," Mendoza says. "It sounds chaotic and cacophonous, and what the hell is going on? But at the end, there is this sense of coming together, [like] hey, we're all here together."
At the February protest, an armed demonstrator returned fire, hospitalizing Smith — who after transfer from hospital to jail was charged with nine counts, including the murder of Knightly, nicknamed "T-Rex."
"T-Rex will roar in our hearts forever," tweeted Portland rapper Jahdi.
Building And Healing, Amidst A Possible Backlash
It's unclear what's next. Some are seeing projects that satisfy listeners who want music with more combative sonics. Others envision the scene evolving in less-polemical ways. Some see both happening simultaneously.
"I think it's definitely evolving into a coherent larger movement," Smiff says. "There's still a lot of fracturing as well, a lot of anti-gay sentiment in a lot of communities, a lot of anti-Black sentiment in a lot of communities, a lot of 'men first,' but there really is a growing appetite for more meshing."
Smiff helps organize a recurring hip-hop event called The Thesis, which he says has become more inclusive. "We made a conscious effort to not have any more shows that were all a bunch of white dudes, all a bunch of Black dudes — that's not going to fly."
Lynn notes that "human rights violations are a throughline" for how local artists respond to the region's sometimes divisive struggles, both in and outside of music. Lynn's song "Here's To Us" draws a parallel between the gay rights and civil rights movements, though he wages the same fight IRL as a co-founder of .gay, a domain name company based in Portland that is "rooted in safety and support for LGBTQ+ people."
The fledgling Portugal. The Man Foundation, which Lynn directs, bought protective equipment for First Nations, sponsored Native get-out-the-vote campaigns in 2020 and even called in to school board meetings to protest the banning of books — while buying "thousands" of those titles for teachers and kids, Lynn says.  
"We're all kind of punks, you know?" Lynn says. "So I think we were able to do some dangerous stuff … just because we really didn't care what the traditional philanthropic world thought about us." It's donated $367,751 to date.
Still, Portland artists are aware of a possible backlash, ranging from politics to markets. "Has the appetite for political music grown?" Mac Smiff asks. "I think in pockets, definitely. But there's also the impact of people just being tired." Gourley says the back-and-forth between political parties isn't helping society's neediest.
Crenshaw believes social movements drive artists' output, forcing them to respond, or risk irrelevancy. But artists can also be the "canary in the coal mine," he notes: vulnerable due to race, sexual orientation, gender, poverty, youth or other factors.
Mendoza's music, with his trio Illegal Son and with fellow Filipino-American artist Haley Heynderickx, incorporates both his precarious legal status and his resilience. "Not only is there despair and chaos, but there is also hope," he says. "Whether you hear it or not, that's what I'm trying to say."
Mendoza, Aaron Nigel Smith and Crenshaw all teach kids from diverse backgrounds. Smith says that playing a djembe, singing or clapping can empower a community, or heal an individual. "The sonics of a melody impact our bodies, our heart rate," he says. "There's something healing, and there's something that is a connector."
In a similar vein, Portland born and bred Esperanza Spalding's Songwrights Apothecary Lab album, which just won a GRAMMY for Best Jazz Album, centralizes healing. It guides listeners through, then out of, a "tunnel" of "everything that doesn't serve us anymore."  
In "Formwela 3," co-written by Michael Neil and Raphael Saadiq, Spalding sings "everybody's heavy with the zombie consciousness," her aeriform mezzo-soprano hovering over a bass-piano heartbeat, lyrics tracing "unspoken and thundering" stress.
Like Mendoza's multiphonics, or Gourley's layered lyrics, Spalding's album seems to be processing the fractured politics and the trauma. Call it sensitivity-as-strength, or just what musicians have always done. 
"This is a legacy, and it's evergreen," Aaron Nigel Smith says. "If we can capture the moment, and articulate the moment through art and music, that's how we can thrive, and how art can live on forever." 
Songbook: A Guide To Mastodon's Themes And Progressive Impulses, From Metal Sludge To Hard Rock And Psychedelia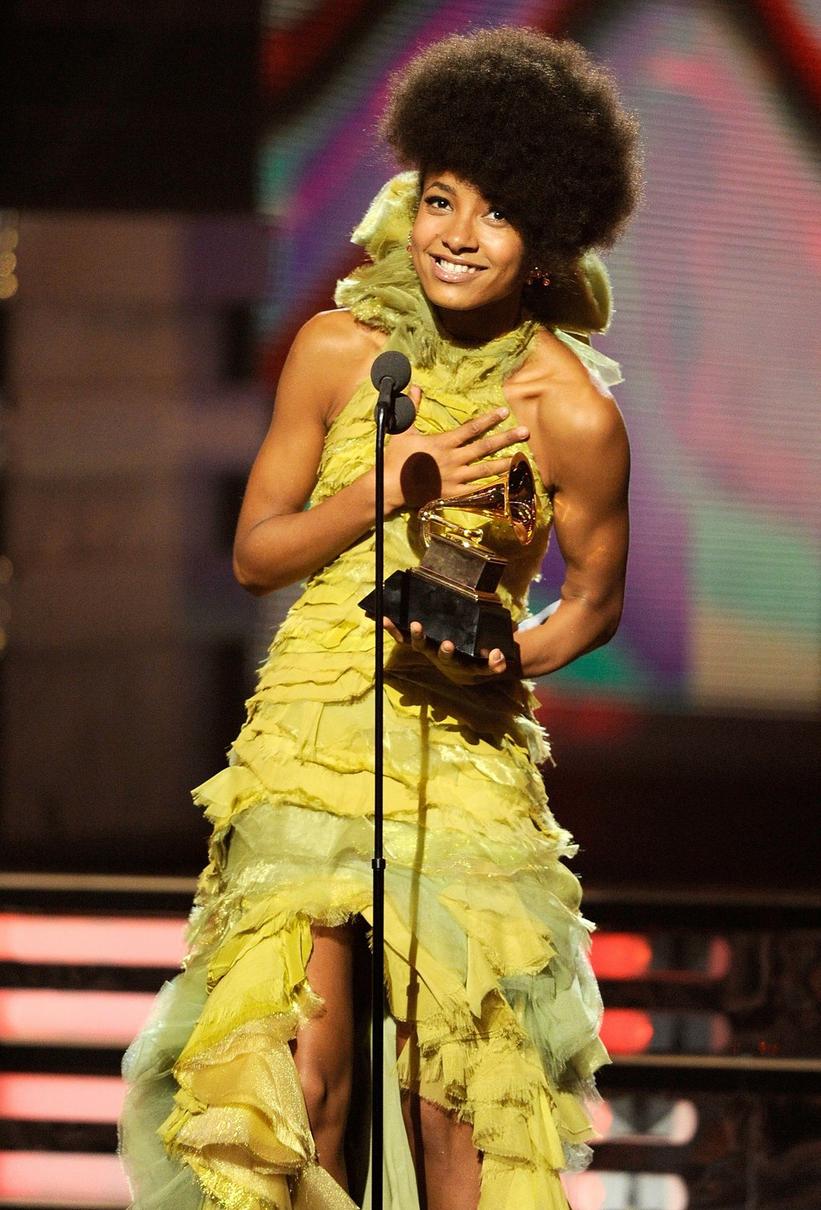 Esperanza Spalding
Photo: Michael Caulfield/WireImage.com
news
And The GRAMMY Went To ... Esperanza Spalding
Esperanza Spalding, Best New Artist
GRAMMYs
/
Dec 3, 2014 - 05:06 am
(In the coming weeks GRAMMY.com will feature information and video highlights on winners from the 53rd Annual GRAMMY Awards, held Feb. 13 in Los Angeles. Each installment will offer the winning or related video and some pertinent, and not so pertinent, information about the track and the artists.)
Track: "Little Fly" (iTunes>)
Artist: Esperanza Spalding
Won for: Best New Artist
Previous wins: None
Did you know?: Spalding was hired as an instructor at the prestigious Berklee College of Music at just 20 years old. She is the first pure jazz artist to win the coveted Best New Artist award. On her 2008 album Esperanza, Spalding sings in English, Portuguese and Spanish. At the invitation of President Barack Obama, she performed at both the Nobel Peace Prize Award Ceremony in Oslo, Norway, and also at the Nobel Peace Prize Concert in 2009. Along with Bobby McFerrin, she co-hosted this year's 53rd GRAMMY Pre-Telecast Ceremony.
"Little Fly" is the opening track on Spalding's 2010 release Chamber Music Society, and is an illustration of William Blake's poem "Little Fly." The album peaked at No. 3 on Billboard's Jazz Albums chart.
Click below for more GRAMMY content:

GRAMMY liveblog
GRAMMY quotebook
GRAMMY Week photos
GRAMMY Week videos
Click on the "And The GRAMMY Went To ... " tag below for links to other GRAMMY News stories in this series.
news
Ladies Antebellum And Gaga, Jeff Beck, David Frost, John Legend Win Three GRAMMYs Each
Arcade Fire wins Album Of The Year; Esperanza Spalding wins Best New Artist
GRAMMYs
/
Dec 3, 2014 - 05:06 am
(To view a list of 53rd Annual GRAMMY Awards winners, click here.)
The evening began with a tribute to the Queen of Soul, Aretha Franklin, but by the time the last of the 53rd Annual GRAMMY Awards was handed out on Feb. 13, several other singers and bands looked something like royalty. Foremost among them was Lady Antebellum, who walked away with three trophies while the group members earned two more each for songwriting categories.
Lady Antebellum at the GRAMMYs
During a show memorable for its range of fully fueled performances, the country superstars sang a pitch-perfect medley of tunes that ended with a quiet rendition of the song that launched them, "Need You Now," and shortly afterward collected the Song Of The Year GRAMMY for it (along with co-writer Josh Kear, with whom they also took Best Country Song). But there was plenty more to come for the trio. They also took home the GRAMMY for Best Country Album for Need You Now. Accepting that award, lead singer Charles Kelley said, "This song has completely flipped our world upside down." By the time Lady Antebellum stood up to collect a trophy for Record Of The Year for "Need You Now," they were in disbelief, and possibly discombobulated: "Oh my gosh, we're so stunned we started walking the wrong direction," said singer Hillary Scott breathlessly.
Also racking up awards was Lady Gaga, who claimed three: Best Pop Vocal Album for The Fame Monster, and Best Female Pop Vocal Performance and Best Short Form Music Video for "Bad Romance." Never one to miss the chance to make an entrance, she hatched herself onstage from a giant opaque egg. That was a riff on her new single, "Born This Way," and perhaps her bared shoulders, which sprouted a pair of pointy elbows, were too. Her dancers and outfit gave off a Cleopatra vibe, but Gaga can't be stopped from seeming ultra-modern, and her performance of "Born This Way" reflected that; it was a warp-speed whirlwind.
Lady Gaga at the GRAMMYs
In keeping with that same modernist — or maybe futurist — spirit, she accepted her award for Best Pop Vocal Album in black body armor. But Gaga also proved she can be an old-fashioned girl with a soft side. In an emotional acceptance speech for that award, she surprised the audience by thanking Whitney Houston: "I imagined she was singing…because I wasn't secure enough in myself to imagine I was a superstar. Whitney, I imagined you."
Leading the nominees with 10 nods revolving around Recovery, an album that detailed his struggles with addiction but also reestablished him as a rap force to be reckoned with, Eminem took home trophies for Best Rap Album — a triumph over rivals including Jay-Z, Drake and B.o.B — and Best Rap Solo Performance for "Not Afraid." Onstage, his swagger proved undiminished.
A flame-haired Rihanna opened Eminem's performance with a searching rendition of their duet "Love The Way You Lie," but it was Slim Shady who came out blazing, spitting the lyrics to that song before raging into "I Need A Doctor" with Dr. Dre and singer Skylar Grey; Adam Levine from Maroon 5 handled piano duty.
Closing the show and likely lifting the Sunday-night spirits of indie kids everywhere was the Canadian collective Arcade Fire, who won the Album Of The Year GRAMMY for The Suburbs and, before the night's final performance, turned in a frothy and fierce rendition of the rocking "Month Of May."
Arcade Fire at the GRAMMYs
Other multiple winners for the evening included classical music producer David Frost, legendary rock guitarist Jeff Beck and R&B artist John Legend, who each earned three awards. Among those who won two each were alternative rock band the Black Keys, jazz giant Herbie Hancock, Jay-Z, Alicia Keys, urban/alternative group the Roots, Keith Urban, and gospel singer BeBe Winans.
And in a bit of surprise, jazz bassist Esperanza Spalding won Best New Artist over teen phenom Justin Bieber, as well Canadian rapper Drake, and adventurist rock outfits Florence & The Machine and Mumford & Sons.
Esperanza Spalding at the GRAMMYs
The show also featured a few firsts, including a first-time ever GRAMMY performance by Rolling Stone frontman Mick Jagger, who helped pay tribute to fallen R&B singer Solomon Burke.
But if there was also a constant, it was the annual, high-profile celebration of music that the GRAMMYs represent, and the 53rd GRAMMYs fit the bill once again, with performances, pairings and awards presentations that were full of pleasant musical surprises.

Click below for more GRAMMY content:

GRAMMY liveblog
GRAMMY quotebook
GRAMMY Week photos
GRAMMY Week videos
news
ACL Celebrates 40 Years
After 40 years and more than 800 performances, "Austin City Limits" continues to thrive as America's longest-running televised music program
GRAMMYs
/
Dec 3, 2014 - 05:06 am
When GRAMMY winner Gary Clark Jr. taped his "Austin City Limits" episode with Alabama Shakes in late 2012, the blues guitarist had already performed at the White House with Buddy Guy, Mick Jagger, Jeff Beck, and B.B. King, and played alongside Eric Clapton. In fact, Clark had also already played on "Austin City Limits," appearing five seasons earlier in a tribute to Jimmy Reed. But when he stood center stage before its iconic Austin skyline backdrop, finally joining a fraternity populated by so many of his idols, the Austin, Texas, native, then 28, said, "I've been wanting to do this for 16 years."
Like Clark, who learned to play guitar by wearing out his VHS tape of the 1996 tribute episode to Stevie Ray Vaughan, GRAMMY nominee Sarah Jarosz also grew up watching the public television series — which, unlike other TV programs, showcases artists performing actual, uninterrupted sets. Multi-instrumentalist and singer/songwriter Jarosz, who was raised in Wimberley, just outside of Austin, recalls, "Just getting to see some of my musical heroes on that show was pretty priceless, and inspiring."
The PBS series — the longest-running televised music program in the United States — has helped launch careers for 39 years. Even those who gain international renown before setting foot on the show's storied stage count their performance as a bucket list/holy grail moment. On Oct. 3, the night before season 40 kicks off with GRAMMY winner Beck, PBS will air "Austin City Limits Celebrates 40 Years," a two-hour special featuring some of the series' most beloved artists and rising stars, from Kris Kristofferson, Bonnie Raitt and Joe Ely to Clark and Alabama Shakes.
Co-hosted by actor/musician Jeff Bridges and GRAMMY winner Sheryl Crow, the special combines footage from a four-hour event taped in June and the show's inaugural Austin City Limits Hall of Fame induction ceremony, held in April. Among the first class of inductees were GRAMMY-winning pedal steel player Lloyd Maines, Vaughan and Willie Nelson, who taped the pilot episode of "Austin City Limits" in 1974.
ACL, as it's commonly called, has featured more than 800 live performances since it first aired 40 years ago. Conceived by KLRU-TV (then KLRN) program director Bill Arhos, producer Paul Bosner and director Bruce Scafe, the series initially focused on the unique music scene that had sprouted in central Texas, where country, blues, folk, and rock had cross-pollinated into something labeled progressive country, or "redneck rock." (Nelson's strain was dubbed "outlaw country." The nascent genre would become known as alt-country before morphing into Americana.) Broadcast during a 1975 PBS pledge drive, the show's fundraising success got it picked up for the 1976 season.
Since then, it's managed not only to stay on the air, but gain popularity, weathering the birth of MTV and other competition for viewers' attention. Time magazine has cited ACL as one of the 10 most influential music programs in TV history. It's also the only television program ever awarded a National Medal of Arts. Other accolades include a Peabody Award and its designation as an official rock and roll landmark (both the show and its venues) by the Rock and Roll Hall of Fame and Museum.
"Nobody ever thought it would go this long," says KLRU CEO and General Manager Bill Stotesbery. "Shows don't run this long in television. I think it's due to the fact that the show's maintained a very high level of quality and that it's on PBS, because PBS has a commitment to this kind of programming."
ACL also has grown in scope, reaching far beyond genre or geographical borders to feature artists from Juanes, Mos Def and Radiohead, to Buddy Guy and John Mayer, Femi Kuti and Coldplay.
ACL also grew well beyond KLRU's Studio 6A on the University of Texas campus, its home for 36 years. In 2002 the series spawned the now-annual Austin City Limits Festival and in 2011 PBS first aired the "ACL Presents: Americana Music Festival," featuring highlights from the Americana Honors & Awards Show. Also in 2011, the series relocated to the newly built ACL Live at the Moody Theater in downtown Austin on Willie Nelson Avenue, with audience capacity increasing from 350 to 2,750.
For Jarosz and performers such as GRAMMY-winning jazz artist Esperanza Spalding, who wasn't allowed to watch non-PBS programming as a child, both stages hold magic — as does the experience of playing on them.
"To get to really do a [full] set, it's like performing one act of a play or performing three acts of a play," says Spalding. "It makes a difference for the audience to see a fuller palette of what you are as an artist. … It's really such a luxury to get to stretch out and show your whole self. Forty years is a testament to that. People want to know what the artist is saying."
There's a definite career bump, too.
"Probably 90 percent of the people who come up to me after my live shows say that [ACL's] how they heard about me and that's where they first saw my performance and heard my music," says Jarosz, who was 18 when she recorded her first episode. "To be given that chance really has helped a lot."
ACL executive producer and host Terry Lickona, who also co-produces the GRAMMY Awards and is a former Recording Academy Chair, says the show's longevity has made it even more desirable to artists.
"They see 'Austin City Limits' as a validation of their music," notes Lickona, who joined ACL in its second season.
His wish list still includes Bruce Springsteen and Prince, who's apparently a fan.
"I've heard from other people [Prince] saw Esperanza Spalding and Grupo Fantasma, and he loves to tune in to see if there's somebody new he's never heard of before," says Lickona.
Speaking of career bumps, Prince subsequently hired Grupo Fantasma as his backing band for various high-profile gigs, including a Golden Globes after-party.
Lickona also still gets a thrill from discovering new, original talent, too, and sharing it with viewers — via TV, the Internet or some other still-to-come technology.
"We're all proud of where 'Austin City Limits' has come from," says Ed Bailey, vice president of brand development for ACL. "But we're proud of where it's going. Forty years is a stopping off point to celebrate where we've been … but we're also looking for the next thing. That's why ACL still matters."
(Austin, Texas-based writer/editor Lynne Margolis has contributed to a variety of print, broadcast and online media, including American Songwriter and Paste magazines, Rollingstone.com, the Christian Science Monitor and NPR. She also writes bios for new and established artists.)
news
Dave Koz, MC Lyte host 2012 GRAMMY Pre-Telecast Ceremony
Co-hosted by Dave Koz and MC Lyte, ceremony to present nearly 70 awards and feature performances from Kim Burrell, Joyce DiDonato, Reirth Brass Band, and Trin-I-Tee 5:7, among others
GRAMMYs
/
May 15, 2017 - 01:36 pm
The 54th Annual GRAMMY Awards Pre-Telecast Ceremony will take place on Sunday, Feb. 12 from 1–3:30 p.m. PT at the Los Angeles Convention Center and will be streamed live in its entirety internationally at www.grammy.com/live and www.cbs.com.
Attended by nominees and industry VIPs, the star-studded ceremony with be co-hosted by current GRAMMY nominee Dave Koz and Recording Academy Los Angeles Chapter President and rapper MC Lyte.
The Pre-Telecast will feature performances by current nominees Kim Burrell, Le'Andria Johnson, Kelly Price, and Trin-I-Tee 5:7 in a "Ladies of Gospel" segment as well as current nominees mezzo-soprano Joyce DiDonato, singer/songwriter Steve Earle and New Orleans' Rebirth Brass Band.
Presenting the first GRAMMY Awards of the night in 68 categories will be current nominees Gerald Clayton, Chick Corea, Brandon Heath, Arturo O'Farrill, OK Go, Corinne Bailey Rae, and Esperanza Spalding as well as GRAMMY-winning producer Jimmy Jam.
Co-host Koz is nominated for Best Pop Instrumental Album for Hello Tomorrow.
Performers Burrell, Earle, Johnson, Rebirth Brass Band, and Trin-I-Tee 5:7 each have one nod: Burrell for Best Gospel Album for The Love Album; Earle for Best Folk Album for I'll Never Get Out Of This World Alive; Johnson for Best Gospel/Contemporary Christian Music Performance for "Jesus"; Rebirth Brass Band for Best Regional Roots Music Album for Rebirth Of New Orleans; and Trin-I-Tee 5:7 for Best Gospel Album for Angel & Chanelle Deluxe Edition. DiDonato has two nominations for Best Opera Recording for Vivaldi: Ercole Sul Termodonte and Best Classical Vocal Solo for "Diva Divo." Price has three nods for Best R&B Performance (with Stokley) and Best R&B song for "Not My Daddy" and Best R&B Album for Kelly.
Presenters Clayton, O'Farrill, OK Go, Rae, and Spalding each have one nomination: Clayton for Best Jazz Instrumental Album for Bond: The Paris Sessions; O'Farrill for Best Large Jazz Ensemble Album for 40 Acres And A Burro; OK Go for Best Short Form Music Video for "All Is Not Lost"; Rae for Best R&B Performance for "Is This Love"; and Spalding for Best Jazz Instrumental Album for Bird Songs (with Joe Lovano/Us Five). Corea has two nominations for Best Improvised Jazz Solo for "500 Miles High," and Best Jazz Instrumental Album for Forever (with Stanley Clarke and Lenny White). Heath has three nominations for Best Gospel/Contemporary Christian Music Performance and Best Contemporary Christian Music Song for "Your Love," and Best Contemporary Christian Music Album for Leaving Eden.
The live stream of the Pre-Telecast will remain on GRAMMY.com as video on demand for 30 days following the event. Following the ceremony, the 54th Annual GRAMMY Awards will be broadcast live on the CBS Television Network from 8–11:30 p.m. ET/PT.
Follow GRAMMY.com for our inside look at GRAMMY news, blogs, photos, videos, and of course nominees. Stay up to the minute with GRAMMY Live. Check out the GRAMMY legacy with GRAMMY Rewind. Keep track of this year's GRAMMY Week events, and explore this year's GRAMMY Fields. Or check out the collaborations at Re:Generation, presented by Hyundai Veloster. And join the conversation at Facebook, Twitter, and YouTube.