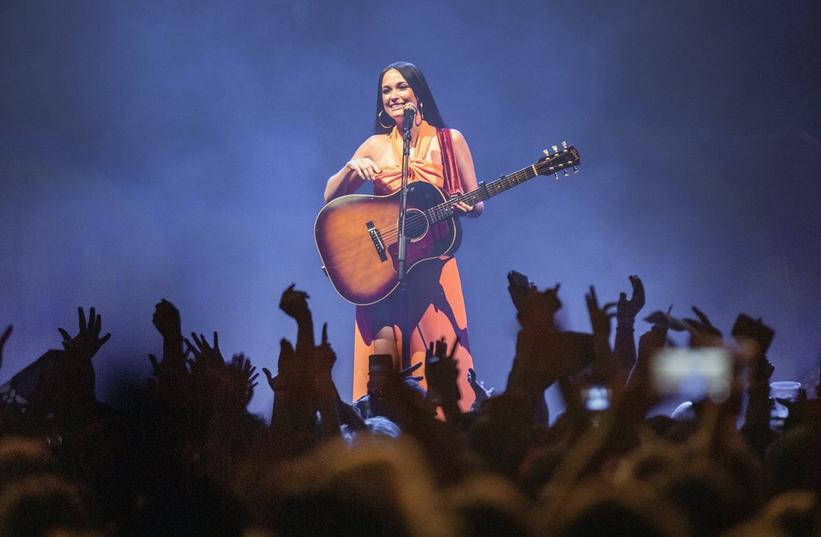 Kacey Musgraves
Photo: Jason Kempin/Getty Images
interview
'Her Country' Author Marissa R. Moss Reckons With Country Music's Gender Inequalities Through Three Of Its Biggest Female Stars
The journalist offers an in-depth look at her new book, 'Her Country' — which features Kacey Musgraves, Maren Morris and Mickey Guyton — and details why it's more important than ever to give women artists a voice.
GRAMMYs
/
May 17, 2022 - 06:19 pm
After a decade immersed in Nashville's country music scene, Marissa R. Moss has seen firsthand how pervasive gender inequalities affect female artists from all corners of the genre. Now, she's helping take control of the narrative — literally — with her new book, Her Country: How the Women of Country Music Became the Success They Were Never Supposed to Be.
Moss follows the trajectories of Kacey Musgraves, Maren Morris and Mickey Guyton as touch points for country's current climate, as all three have navigated the choppy waters of radio bias and helped broaden the genre's limitations. Looking back at the '90s — an era where, at least from the outside, country radio seemed dominated by women like Shania Twain, Faith Hill, Trisha Yearwood and Reba McEntire — provides context to the narrative, but Her Country is powerfully of-the-moment. 
As Moss suggests, country music is, and always has been, a lens through which to examine broader cultural narratives in the U.S. at large. "To be able to weave in some cultural and political narratives — which, in my opinion, you always should, because you can't remove them from these conversations — that made [the book] extra timely," she tells GRAMMY.com.
Guyton saw her star rise after she released 2020's "Black Like Me," which chronicles her experience as a Black woman in America and in country music. Later that year, Morris delivered "Better Than We Found It," her reflection on the importance of making the world a more equal, welcoming place. (Both songs earned GRAMMY nominations, Guyton in 2021 and Morris in 2022.) Musgraves has long weaved advocacy for equality and acceptance into her musical narrative, with her 2013 hit "Follow Your Arrow" and Golden Hour single "Rainbow" becoming unofficial LGBTQ anthems. 
While the Her Country women are at the forefront of purveying change in the genre, they're not alone. Countless artists spoke out against racial injustice after the death of George Floyd in May 2020; a month later, the Chicks dropped "Dixie" from their name as a move toward equality. The women of country have publicly supported each other, too, from Carrie Underwood's all-female roster on her 2019 Cry Pretty 360 Tour to Jennifer Nettles' 2019 CMA cape that read "Play Our F*@#!N Records, Please & Thank You." 
Still, the lack of women representation within the format remains. As Moss highlights in Her Country, women make up only 16% of country radio airplay — a far cry from the heyday of the '90s. But that percentage doesn't square with the crowds they've commanded, or the diverse (and fiercely loyal) fan bases they've amassed.
To help understand the genre's complicated, often divisive trajectory toward equality and change — and to offer a look towards where it's going next — Moss discusses the themes and discoveries behind Her Country.
Moss will be moderating An Evening With LeAnn Rimes, the opening program of GRAMMY Museum's The Power Of Women In Country Music exhibit, on May 31. The event will be held at the Clive Davis Theater in Los Angeles starting at 7:30 p.m. PT. For tickets and more information, click here.
Thinking about the current state of country music, or the broader cultural climate of the U.S., what made the topic of this book a pressing conversation for right now?
It was one of those things that was so obvious to me that I hadn't even quite necessarily thought, "I should write this book." And that's how so many really important things are. You think everyone knows these big stories, but basically, that wasn't the case. The radio charts show one story of the genre, but I knew that wasn't gonna be the story that I know, or the story I wanted to tell — [the story] that felt important to document.
If you view country music as a microcosm of what's going on in our country at any given moment right now, in so many ways, that made it extra interesting. To be able to weave in some cultural and political narratives — which, in my opinion, you always should, because you can't remove them from these conversations. To look at country music and our country's narrative at the same time — that made it extra timely. 
The three focal points in Her Country are Kacey Musgraves, Mickey Guyton and Maren Morris — three artists whose careers are still relatively young, compared to '90s-era female country stars, or even current veterans Miranda Lambert and Carrie Underwood. What did it feel like writing about these women in real time, as important moments in their careers were unfolding?
You can read entire books about Miranda and Carrie, and that could have been one route. Or you could have chosen Shania or Reba — really, whoever — but I wanted women who were a couple of albums in each, but had been following this career since they were teeny tiny kids. 
Obviously, Carrie and Miranda are still very much of the moment, and make modern albums, but to some degree they've moved into a little bit of a legacy status, at this point. I wanted to look at women who were right in that moment of everything exploding and unfolding. That was the best way to tell the story that I thought was important to tell. 
Did you ever write a section and then have to later revisit it because a major development had happened in an artist's career?
Yeah, especially for Mickey. That was really challenging. I chose to end the book as their current albums were coming out, and leave the next phase up in the air, a little bit. Otherwise you could keep writing forever and the book would never end! 
So much of what was happening was happening in real time. And at the same time, it was COVID, so I couldn't be out on the road. I was at my house giving virtual school to my two kids under seven. It was a very interesting period, because history was happening as I was writing it.  But I was also writing in a very different way than I thought I would be before COVID, because I was stuck at home and I couldn't, like, pick up and move to Texas for a month. So it was all very different than I imagined, but for the best in some ways — just not the COVID part.
Read More: 5 Women Essential To Country Music: Dolly Parton, Mickey Guyton, Jo Walker-Meador, The Love Junkies & Mother Maybelle Carter
Did the research you did for this book shift your perspective on your subject matter?
It never stopped amazing me — as I dug back into the story of Mickey and Kacey and Maren — how truly, they were on this path from so early. People say "I've wanted to do this since I was a kid," but, you know, Maren was playing in honky tonks at, like, 11. And then on the flip side, reading back about the Chicks, and even old Kacey stuff, I found so many new things to make me mad, make me angry. Early coverage of Mickey, and the way she was written about. There was never a shortage of that, either. 
There's no shortage of things to get angry about in country music's recent history, either. Maren talking about her feelings on the Morgan Wallen scandal in early 2021 is a particularly powerful passage.
I even feel that, and I'm just a regular person, not a famous musician. I had times where I just felt so discouraged, and disappointed and angry. But, you know, as Maren said, you're not going to make a difference by leaving. 
I think that applies to so many things. It's a powerful idea in politics, even here in Tennessee, where politically, it feels unsafe for a lot of people — more so than before. Sometimes I wake up and I'm like, "Okay, I can't stay here." But then I understand that that's a huge privilege, and there's a lot more that can be done by staying and making a better place for people who don't have the privileges you do.
One thing that makes me hopeful about the genre is how tirelessly Mickey has worked to help carve out a space for Black artists in the genre, and how artists like Breland, Brittney Spencer, Blanco Brown, Amethyst Kiah and so many others are finding a home in the genre over the past couple of years. What makes you hopeful about country music right now?
That's so true. And those artists were always there, but they either were not supported or not heard. There's a lot of inspiring things going on with Black Opry, and amazing coalitions of artists creating their own spaces. 
At the same time, I go back and forth. I see-saw between inspiration and desolation. Both of those things exist. It's hopeful and it's inspiring, but it's not candy-coated — and it couldn't be, because that's not the truth. 
What grounds me is just listening to music. I know it sounds so simple. And being reminded of how much I love it and how much good music is out there, and how much more good music is going to have an opportunity to get to your ears now. 
Read More: 5 Takeaways From Miranda Lambert's 'Palomino'
What music have you found most grounding recently?
I've spent a lot of time with the new Leyla McCalla album, which I think is really brilliant. Miranda [Lambert]'s new album is great. I love Maren's new record — not to shill the women I'm writing about! [Laughs.]
I love Morgan Wade. A lot of times I go back to the favorites: Tyler Childers' Purgatory, [Sturgill Simpson]'s Metamodern Sounds in Country Music and [Margo Price]'s Midwestern Farmer's Daughter. Kelsey Waldon. I listen to [her album, White Noise/White Lines] in my car, in the CD player. I never took it out because it never got old.
In the dedication for your book, you write "For anyone who needs to be reminded that it's your country music, too." Did you have any particular type of reader in mind when you were writing Her Country?
Over the years, as someone who you wouldn't think would be a country fan on paper, I guess — a Jewish kid growing up in New York — I've met a lot of people who fall into the category of being a country fan who you wouldn't stereotypically assume is a country fan. And then you realize that person doesn't exist. There's not just one [kind of] person who has a right to listen to country music. 
I feel weird saying that, because the artists are really the ones doing the work — it goes an especially long way with Mickey, Kacey or Maren, with their fans saying they had never felt welcomed in the genre until they started listening to Kacey Musgraves. And then that opened up a different world to them. Or Black artists who hadn't seen a Black woman country artist at an awards show in modern times — until they saw Mickey, and that opened up a new world to them. Those are the fans that I hope will feel welcomed back in, or welcomed in for the first time, through a lot of these stories. 
You describe yourself as the country fan who people might not assume is a country fan — who made you feel that country music was your genre?
I got into country music in a funny way. I was listening to the Grateful Dead and Bob Dylan, but my dad lived in Texas for a while and loved country radio. At the time I was a young kid with, you know, opinions — anything that your parents did was not cool. I didn't appreciate the '90s country thing, in the back of the car. But it must've gotten through there somehow. 
I moved to Nashville in 2011, 2012. I was listening to country music before then, obviously, but I really fell in love with what was going on at the time. Caitlin Rose, Nikki Lane and Andrew Combs — all of their first records were hitting around that time. And I really fell in love with Jason Isbell. The way that they were interpreting country music and celebrating it in this different way — that still felt very traditional, but spoke to me directly — is part of the reason that I fell so hard for Nashville when I moved here. That was the soundtrack to what was happening back then. And I just loved it.
"Country Music Lost A True Legend": Remembering Naomi Judd, A Country Icon Who Epitomized Love Through Music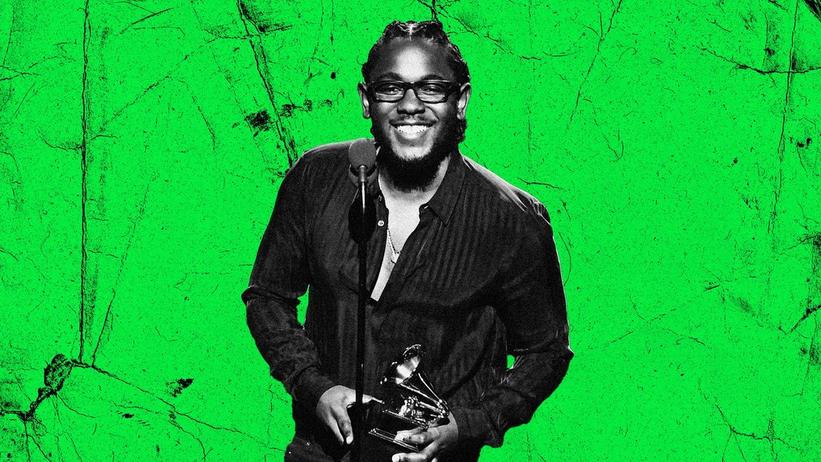 Kendrick Lamar
Photo: Jeff Kravitz/FilmMagic
video
GRAMMY Rewind: Kendrick Lamar Honors Hip-Hop's Greats While Accepting Best Rap Album GRAMMY For 'To Pimp a Butterfly' In 2016
Upon winning the GRAMMY for Best Rap Album for 'To Pimp a Butterfly,' Kendrick Lamar thanked those that helped him get to the stage, and the artists that blazed the trail for him.
GRAMMYs
/
Oct 13, 2023 - 06:01 pm
Updated Friday Oct. 13, 2023 to include info about Kendrick Lamar's most recent GRAMMY wins, as of the 2023 GRAMMYs.
A GRAMMY veteran these days, Kendrick Lamar has won 17 GRAMMYs and has received 47 GRAMMY nominations overall. A sizable chunk of his trophies came from the 58th annual GRAMMY Awards in 2016, when he walked away with five — including his first-ever win in the Best Rap Album category.
This installment of GRAMMY Rewind turns back the clock to 2016, revisiting Lamar's acceptance speech upon winning Best Rap Album for To Pimp A Butterfly. Though Lamar was alone on stage, he made it clear that he wouldn't be at the top of his game without the help of a broad support system. 
"First off, all glory to God, that's for sure," he said, kicking off a speech that went on to thank his parents, who he described as his "those who gave me the responsibility of knowing, of accepting the good with the bad."
He also extended his love and gratitude to his fiancée, Whitney Alford, and shouted out his Top Dawg Entertainment labelmates. Lamar specifically praised Top Dawg's CEO, Anthony Tiffith, for finding and developing raw talent that might not otherwise get the chance to pursue their musical dreams.
"We'd never forget that: Taking these kids out of the projects, out of Compton, and putting them right here on this stage, to be the best that they can be," Lamar — a Compton native himself — continued, leading into an impassioned conclusion spotlighting some of the cornerstone rap albums that came before To Pimp a Butterfly.
"Hip-hop. Ice Cube. This is for hip-hop," he said. "This is for Snoop Dogg, Doggystyle. This is for Illmatic, this is for Nas. We will live forever. Believe that."
To Pimp a Butterfly singles "Alright" and "These Walls" earned Lamar three more GRAMMYs that night, the former winning Best Rap Performance and Best Rap Song and the latter taking Best Rap/Sung Collaboration (the song features Bilal, Anna Wise and Thundercat). He also won Best Music Video for the remix of Taylor Swift's "Bad Blood." 
Lamar has since won Best Rap Album two more times, taking home the golden gramophone in 2018 for his blockbuster LP DAMN., and in 2023 for his bold fifth album, Mr. Morale & the Big Steppers.
Watch Lamar's full acceptance speech above, and check back at GRAMMY.com every Friday for more GRAMMY Rewind episodes. 
10 Essential Facts To Know About GRAMMY-Winning Rapper J. Cole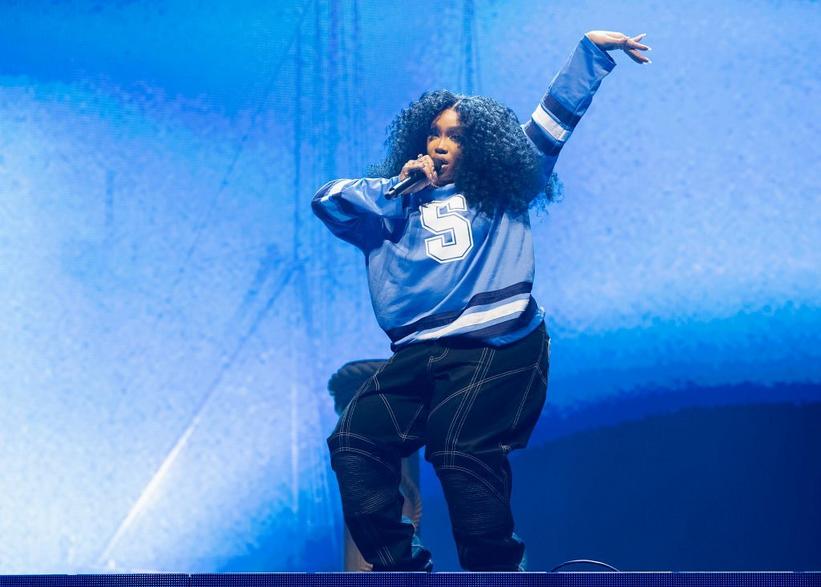 SZA performs during her The SOS North American Tour
Photo: Andrew Chin/Getty Images
news
New Music Friday: Listen To New Songs From SZA With Drake & Justin Bieber, Offset, Tate McRae & More
From highly anticipated collabs to long-awaited album teasers, take a listen to six new tracks that arrived on Sept. 15.
GRAMMYs
/
Sep 15, 2023 - 06:41 pm
It's yet another big day for music enthusiasts, as listeners were gifted with unexpected collaborations and fresh new melodies from artists of every genre on Sept. 15. 
With an Instagram caption-worthy single from Drake and SZA , a playful, self-confident anthem from Tate McRae, and a chill, euphoric vibe from Noah Kahan & Lizzy McAlphine, there's plenty of different sounds to dive into. 
As you're putting together your autumn 2023 playlist, add these six new tracks to the mix.
Drake feat. SZA - "Slime You Out"
Just hours after GRAMMY winners Drake and SZA announced they'd be teaming up for a new track, the pair unleashed "Slime You Out" promptly at noon ET on Sept. 15. 
As the song's title insinuates, the duo seem to express their thoughts on someone "sliming" them out — which, in this case, refers to someone playing with their feelings. "Tryna build trust, showin' me your DMS, how they tryna bag you / Ironic how the news I got about you ended up bein' bad news."
Drake's clever wordplay paired with SZA's mellow, hypnotic voice make the single a memorable one. But perhaps it's even more memorable because it's been a team-up long in the making: according to Drake's eyebrow-raising line in his 21 Savage collab "Mr. Right Now," the two used to date "back in '08."
SZA feat. Justin Bieber - "Snooze (Acoustic Remix)"
As SZA fans awaited her song with Drake, she gave them another high-profile collab in the form of a "Snooze" remix with Justin Bieber. An alluring, stripped-down version of the original SOS track, the "Snooze" remix sees SZA and Bieber passionately harmonize; added guitar chords add a dreamy touch to the song.
The remix also marks a full-circle moment for the pair, as Bieber starred in the original "Snooze" music video, which was released on Aug. 25.  
Offset - "Fan"
Kicking off what seems to be his Michael Jackson era, Offset has released this newest single, "Fan." This song features an infectious, hype beat with lyrics presenting a nonchalant 'IDGAF' attitude: "You supposed to hold me down, but it didn't happen (You supposed to hold me down)/ Now I'm over it." 
"Fan" is a taste of Offset's forthcoming second album, Set It Off, which he will release on October 13. The LP follows his debut solo album, 2019's Father of 4, which landed him a Best Rap Performance GRAMMY nomination for the single "Clout" featuring his wife, Cardi B. 
In the "Fan" music video, Michael Jackson is heavily referenced, with moments including Offset transforming into werewolf and zombie, and dance moves like the reverse moonwalk. 
Tate McRae - "Greedy"
self-confidence single "greedy." This song is a testament to McRae's inner thoughts, as the lyrics let listeners know she's not tolerating insecurities — and definitely not enabling any "greedy" men. 
"I would want myself/ Baby, please believe me/ I'll put you through hell/ Just to know me, yeah, yeah," she sings on the chorus.
"Greedy" is McRae's first release in 2023, and first solo single since her 2022 debut album, i used to think I could fly. She also teamed up with DJ/producer Tiësto for the late 2022 hit "10:35."  
Noah Kahan feat. Lizzy McAlpine - "Call Your Mom"
Folk-pop favorite Noah Kahan teamed up with rising pop singer Lizzy McAlpine to create a new version of "Call Your Mom," an emotional track from his hit 2022 album Stick Season.
Kahan recently brought McAlpine out as a surprise guest during his sold-out show at L.A.'s Greek Theatre on Aug.11, where the two singer/songwriters performed the song for the first time together. 
Written about giving unconditional support to a loved one struggling with mental health issues and depression, the moving song reaches new heights with two voices on it. Kahan's and McAlpine's voices perfectly blend together and capture the lyrics' powerful  emotions.  
Maren Morris -

The Bridge
Maren Morris dropped not one, but two new songs, "The Tree" and "Get The Hell Out of Here," which both seem to focus on a new chapter in Morris's life. "The Tree" feels like a farewell, as she proudly sings,"I'm done fillin' a cup with a hole in the bottom/ I'm takin' an axe to the tree/ The rot at the roots is the root of the problem/ But you wanna blame it on me."
"Get The Hell Out of Here" has a more mellow country melody that also talks about growth and navigating different areas of her life. Both songs share a different story, yet share the same theme of a transitional period in her life — and tease what's to come on her next album, which will follow 2022's Humble Quest. 
As Morris said in a statement, "These two songs are incredibly key to my next step because they express a very righteously angry and liberating phase of my life these last couple of years, but also how my navigation is finally pointing toward the future." 
Listen: *NSYNC Announce "Better Place," First New Song In 20 Years — Hear A Snippet
Maren Morris at the 2017 GRAMMYs.
Photo: Jason LaVeris/FilmMagic
video
GRAMMY Rewind: Watch Maren Morris' Full-Circle Moment After "My Church" Wins In 2017
When Maren Morris won her first GRAMMY in 2017, she couldn't help but be "really nervous" — because it was a moment she's been working toward since GRAMMY Camp in 2005.
GRAMMYs
/
Jul 7, 2023 - 02:50 pm
In the early days of Maren Morris' music career, she was part of the first GRAMMY Camp class in 2005. Twelve years later, she was back in Los Angeles — this time, to accept her first GRAMMY.
In this episode of GRAMMY Rewind, travel back to the night Morris had her full-circle moment when "My Church" won Best Country Solo Performance at the 2017 GRAMMYs.
When Morris took the stage to accept her golden gramophone, she first took a moment to acknowledge her Recording Academy roots. "[GRAMMY Camp] was the first time I ever flew on a plane by myself to Los Angeles," she recalled. "It's crazy to be here a decade later."
Morris later praised her team at Red Light Management, Columbia Records, and Big Yellow Dog. "Sorry! I'm really nervous," she said as she laughed between names.
Before heading off stage, Morris thanked two more special people in her life: her mother, who was her date, and her fans. "Thank you for giving me the most incredible year of my life!" she exclaimed.
Press play on the video above to watch Marren Morris's full acceptance speech for Best Country Solo Performance at the 59th Annual GRAMMY Awards, and check back to GRAMMY.com for more new episodes of GRAMMY Rewind.
6 Things To Know About Margo Price: Her Struggles, Writing Process & Unforgettable Success Story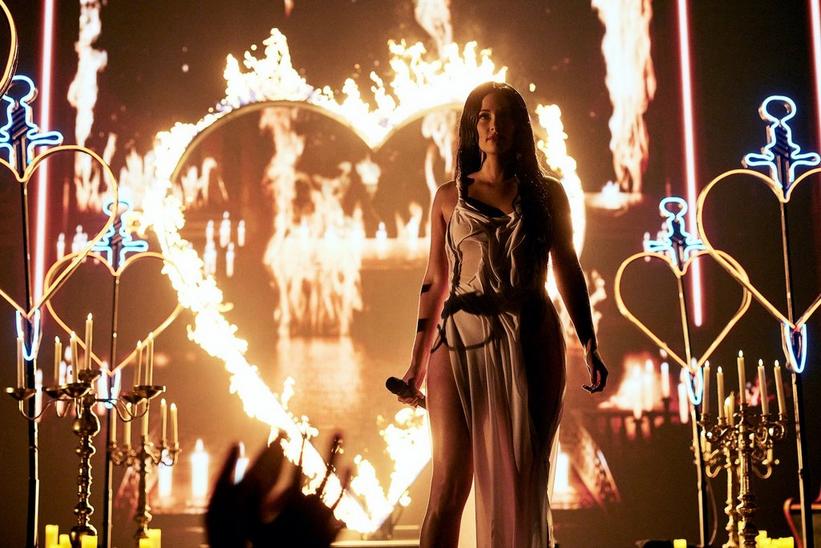 Kacey Musgraves performs at the 2021 VMAs.
Photo: John Shearer/MTV VMAs 2021/Getty Images for MTV/ViacomCBS
video
10 Albums On Divorce & Heartache, From Fleetwood Mac's 'Rumours' To Kelly Clarkson's 'Chemistry'
Divorce albums have been a staple of the music industry for decades. Take a look at some of the most notable musings on a breaking heart, from Kacey Musgraves, Kanye West and more.
GRAMMYs
/
Jun 30, 2023 - 05:46 pm
Divorce can be complicated, messy, and heartbreaking. But those feelings are prime fodder for songwriting — and it's something that artists of all genres have harnessed for decades.
Writing through the pain can serve many benefits for an artist. Marvin Gaye used Here, My Dear as a way to find closure in the aftermath of his divorce. Adele told Vogue that her recording process gave her somewhere to feel safe while recording 30, a raw account of the aftermath of her marriage ending. And Kelly Clarkson's new album, chemistry, finds her reclaiming herself, while fully taking stock of everything that happened in her marriage, good and bad. 
As fans dive into chemistry, GRAMMY.com has compiled a list of 10 divorce albums from all walks of music. Whether you need to cry, vent, or maybe even laugh, there's a divorce album that has what you need.
Tammy Wynette, 
D-I-V-O-R-C-E
(1968)
During her life, Tammy Wynette was a prolific country songwriter and singer, releasing numerous albums exploring all aspects of love. She was also deeply familiar with divorce, with five marriages throughout her adulthood.
The most intimate album on the topic is her bluntly titled 1968 project D-I-V-O-R-C-E, which explores how sensitive the topic was to speak about. The title track is a mournful tune about hiding a separation from her children, but also conveys the general difficulty of discussing the topic with anyone. Elsewhere on the album, "Kiss Away" is a longing ballad about wishing for a more tender resolution when words have failed.
Fleetwood Mac, 
Rumours
(1977)
After recording 10 albums together, Fleetwood Mac were in disarray. During the recording of their eleventh record, the members of the band were going through affairs, divorces, and breakups, even some with each other. Against all odds, they created Rumours — and it became the band's most successful and iconic album.
The spectrum of emotions and sounds on the album is wide. "The Chain" is all fire and bombast, while the laidback acceptance of "Dreams" seeks to find peace in the storm. Fleetwood Mac sorted out their issues and are still going strong to this day, but their heartbreak created something special in Rumours.
Beck, 
Sea Change
(2002)
Beck has had a prolific career, with 14 studio albums to his name. One of his most affecting is 2002's Sea Change, written in the aftermath of his engagement and nine-year relationship ending.
It's a deeply insular album, even by Beck's standards. Tracks like "Already Dead" are slow and mournful, while standout "It's All In Your Mind" finds him burrowing deep into his own thoughts to parse out how exactly he's feeling with his new life.
Open Mike Eagle,
Anime, Trauma, and Divorce
(2020)
Divorce isn't a topic that immediately brings laughter, but rapper Open Mike Eagle seemed to find humor in his personal story with his album Anime, Trauma, and Divorce. The album title gives a pretty good rundown of what inspired the project, and Mike's laidback rapping sells how silly the aftermath of pain can be.
"Sweatpants Spiderman" finds him trying to become a functional adult again, and discovering the various ailments of his aging body and thinner wallet that are getting in the way. The fed-up delivery on standout track "Wtf is Self Care" is a hilarious lesson on how learning to be kind to yourself post-breakup is harder than it sounds.
Carly Pearce, 
29: Written In Stone
(2021)
Heartbreak is a common topic in all genres, but country has some of the most profound narratives of sorrow. Carly Pearce added to that legacy with 29: Written in Stone, her 2021 album centered around her 29th year — a year that included both a marriage and a subsequent divorce.
The emotional whiplash of such a quick change can be felt all over the project, from an upbeat diss track like "Next Girl" to more poignant pieces like the title track, which finds Pearce reflecting on her tumultuous year. Her vulnerability resonated, as single "Never Wanted To Be That Girl" won Pearce her first GRAMMY, and her latest single, "What He Didn't Do," scored the singer her fourth No. 1 at country radio. 
Kanye West, 
808s & Heartbreak
(2008)
Kanye West's fourth album 808s & Heartbreak came from a deep well of pain. Besides the end of his relationship, West was also in turmoil from the death of his mother, Donda. The result is one of the bleakest sounding records on this list — but also one of West's most impactful.
808s & Heartbreak is minimalistic, dark, and brooding, with a focus on somber strings and 808 drum loops (hence the album's title). West delivers most of his lyrics in a monotone drone through a thick layer of autotune, a stylistic choice that heightens the sense of loss. Besides being a testament to West's pain, the electronic sound pioneered on 808s & Heartbreak would serve as a foundational inspiration for the next several years of hip-hop.
Toni Braxton & Babyface,
Love, Marriage, & Divorce
(2014)
Toni Braxton and Babyface are two stalwarts of R&B in their own rights, and in 2014, the pair connected over their shared experiences going through divorce. Their bond sparked Love, Marriage, & Divorce, a GRAMMY-winning album that intended to capture the more universal feelings the life of a relationship conjures up.
Each artist has solo tracks on the record — Babyface wishing the best for his ex on "I Hope That You're Okay" and Braxton sharing her justified anger on "I Wish" and "I'd Rather Be Broke" — but where they shine is on their collaborations. The agonizing "Where Did We Go Wrong?" is heartbreaking, and the album ends with painful what-ifs in the soulful "The D Word."
Adele, 
30
(2021)
Divorce is hard no matter the circumstances, but it gets even more complicated when children are involved. That was the reality for Adele, and it served as major inspiration for her fourth album, 30.
Like every album on this list, there's plenty of sorrow on the record, but what really sets it apart is just how honestly Adele grapples with the guilt of putting her son Angelo through turmoil as well. The album's GRAMMY-winning lead single "Easy On Me" addresses it in relation to her son, and standout track "I Drink Wine" is a full examination of the messy feelings she went through during her divorce.
Kacey Musgraves, 
star-crossed
(2021)
As many of these albums prove, divorce triggers a hoard of emotions, from anger to sadness to eventual happiness. On star-crossed, Kacey Musgraves goes through it all.
There's the anthemic "breadwinner" about being better on her own, "camera roll" looking back on happier times with sorrow, and "hookup scene" about the confusion of adjusting back to single life. Star-crossed sees Musgraves continue to evolve sonically — incorporating more electronic sounds into her country roots — but ultimately, she comes out the other side at a place of renewed acceptance and growth.
Kelly Clarkson, 
chemistry
(2023)
Kelly Clarkson's tenth album chemistry was born out of her 2020 divorce. In true Kelly fashion, she addresses the subject with thoughtful songwriting and a pop-rock vibe fans have adored for 20 years on. 
Chemistry focuses not just on the pain of divorce, but on the tender feelings that many couples still have for each other even after the end. Tracks like "favorite kind of high" mirror the euphoria of love, juxtaposed with ballads like "me," in which Clarkson finds comfort in herself and her inner strength — an inspiring sentiment for anyone who has had their heart broken.
Kacey Musgraves' Road To 'Star-Crossed': How The Breakup Album Fits Right Into Her Glowing Catalog