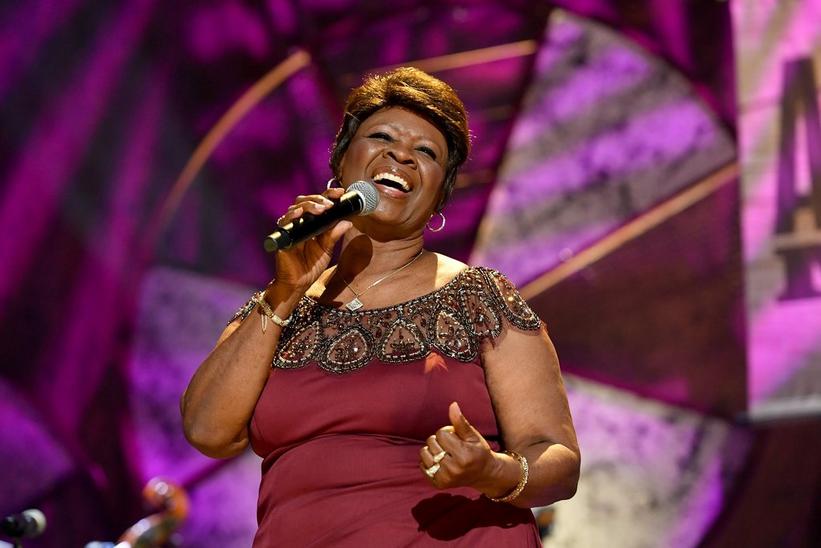 Irma Thomas
Photo: Erika Goldring/Getty Stringer
interview
Living Legends: New Orleans Soul Queen Irma Thomas On Authenticity, Faith And Maintaining Your Hustle
Irma Thomas, known as the Queen of New Orleans Soul, is legendary for her ballads and blues. Over Thomas' 50-plus year career, the woman with "the sadly sweet voice of a fallen angel" has remained fiercely true to herself.
GRAMMYs
/
Feb 28, 2022 - 07:05 am
Living Legends is a series that spotlights icons in music still going strong today. This week, GRAMMY.com sat down with Irma Thomas, who changed R&B and gospel music forever as a singer and made exquisite recordings as a solo artist.
Irma Thomas might not be as well-known as Aretha Franklin or Gladys Knight, but her voice is a key part of American R&B and blues history, especially in the South, where she is known as the "Soul Queen of New Orleans."
Born in 1941 in Ponchatoula, La., Thomas grew up listening to gospel greats like Mahalia Jackson, and blues legend Cecil Gant. A self-taught musician, Thomas started singing in a gospel quartet at the Home Mission Baptist Church in New Orleans. She was discovered in1959 while working as a waitress at a New Orleans club, where she was asked to sing alongside R&B singer Tommy Ridgley. The duet got her fired but led to much more.
Thomas soon became known for her crisp, soulful voice and penchant singing love songs with a sweet southern twang. She achieved a charting single in 1964 with "Wish Someone Would Care," a slow burning self-penned soul ballad, which was based upon her life as a 17-year-old mother of three children (the lyrics were written after a breakup with her then-husband). Recorded the same year, Thomas' most enduring song is "Time Is On My Side" — which was covered by the Rolling Stones three times and became their first single in the U.S.
Thomas signed with Chase Records in 1967, did a short stint in Los Angeles in the 1970s, but returned home to New Orleans. She continued to make albums throughout the 1980s and '90s, performing on national festival stages until the pandemic.
A new documentary traces Thomas' upbringing in New Orleans and rise to fame as a GRAMMY-winning blues musician. Irma: My Life In Music features an interview with the singer alongside interviews with recording artists Bonnie Raitt, Ledisi, Erica Falls and the late Allen Toussaint, as well as archival concert footage from the New Orleans Jazz Heritage Festival.
Thomas was nominated for three GRAMMY Awards for her blues albums: 1992's Live... Simply the Best, 1999's Sing It! and for her 2009 album, Simply Grand. Despite her commercial success, Thomas' first GRAMMY win came nearly 50 years into her career with a Best Contemporary Blues Album Award for 2007's After the Rain. The album was a response to Hurricane Katrina, which destroyed Thomas' long-running nightclub.
Irma Thomas remains a legend; a woman whose sharp sensibility and distinct voice are unwavering. As 1960s rock critic Dawn Eden called her: "To a sizable following of rock and soul fans, she is simply a wonder — a woman with the sadly sweet voice of a fallen angel, who rose from poverty to become the Soul Queen of New Orleans."
Thomas continues to perform every Sunday at her church in New Orleans. With her new documentary out on TV, GRAMMY.com presents an exclusive interview with the acclaimed singer about singing in the church, meeting the Rolling Stones and her addiction to Jeopardy.
What did you think of Irma: My Life In Music?
Irma Thomas: Well, it's me. They did a wonderful job. Surprisingly. I didn't think I was that interesting. When you live it, you just don't think about it. You just use whatever survival skills you have to get through whatever you need to get through. You never think about someone making a documentary about you later in life.
A lot of times, when people make a documentary and they don't know a lot about you, they have to do what they think would have happened or could have been done. But they knew me well enough, and they put in there what I said, like I said it.
What have you been up to since you stopped touring?
A lot of interviews, and more set up as we speak. I don't mind, I'm an open and extroverted person, I don't have a problem with it.
Is it true you've returned to gospel music in your later years?
I never left it. I sing at church every Sunday; I sing in the church choir.
Does God govern all of your decisions in life?
He helps me make them!
Gospel isn't mainstream, though, correct?
It hasn't been mainstream because it has been used as entertainment, rather than being used for what it's meant to be used for —  that's giving souls peacefulness or happiness in times of need. It hasn't been properly presented. That's my opinion.
I don't feel comfortable doing gospel music unless I explain to folks what it's about, so they don't get any misconceptions of what's being done. I've been doing a gospel program at the New Orleans Jazz & Heritage Festival since 2006. I always explain to my audience, it's not a genre that my audience is accustomed to hearing from me, but I let them know it's very personal, meaningful, and not entertainment — it's a form of prayer.
Is the world a more compassionate place today, as we know it?
I try not to be a judge of what the world is about, but there are some compassionate people, but when you look at the whole scope of the situation, people are more "me, my and I" nowadays, they don't think of "we." When I grew up, neighbors knew each other. Now, they're building houses without any front porches. There's no welcoming situation, no stoops to talk across the street, like I grew up doing. To talk to your neighbor, get to know them and be there for your neighbor if they need something. You have to make an effort. Nowadays, people don't make the effort like they used to.
It sounds more like isolation.
Like, literally. Most homes you see nowadays in New Orleans, people work to protect their homes. You feel like you're in jail in your own home. That's not really a way to live. It's not comfortable. I never thought we'd live that way, but the Bible is fulfilling itself. I'm not surprised.
As a musician, you're used to bringing people together. Do you have a memorable concert that changed your life?
I have so many memorable performances, they didn't necessarily change my life, but they added to it. I learned this: You don't sing at people, you sing to them. People are people, like you and I.
I try to do what I would want to see at a concert, which is allowing my audiences to make requests. Whatever money they spend to see my show, they get to hear their favorite song. Even if my band doesn't know the song, I'll do it acapella. This is how I've operated over the years, and it has been fruitful to me.
How difficult was it being a woman musician in the 1950s and 1960s?
I didn't think about it that way; for me it was a job, a way to make a living. For me, I didn't realize you could do that as a job. It became my job. It was a job I enjoyed doing and still do.
Is it true you stopped performing "Time Is On My Side" after the Rolling Stones covered it? People misunderstood it as you honoring them?
When they covered it, I had no problem with that, it's the biggest form of flattery. My problem was not the Rolling Stones, but the audience who didn't realize that I had performed it first and [thought] I was doing the Rolling Stones song. I got tired of explaining that, so I stopped doing it altogether. You can only explain the same thing so many times, then it becomes boring.
Eventually I started doing it again because Bonnie Raitt wanted me to do it with her; she said "Irma, you have to put that back into your repertoire." Even after doing it with her, it's a selective situation where I might do one show, not another. If someone requests it, I will gladly do it. When someone requests it, they understand I did it prior to the Rolling Stones.
Did you ever meet the band?
I met two of the guys before they even recorded the song [when] I was touring England. They were nice guys. When they came to the States, they had Tina Turner open for them because she was more of a rock artist than I am, I'm basically rhythm and blues. I'm not one to shake my tail that much. [Laughs]. I'm not an explosive type of performer but I do my share of entertaining.
Did you ever get to meet Tina Turner?
I did have a pleasurable moment in New Orleans when Tina Turner was in town doing a show at the Blue Room. She came over to where I was performing, stood by the stage watching me do a couple of songs. Gave me a "hello love you" sign and went back to her performance. I thought that was nice of her to do that, she didn't have to.
How did you come to run the New Orleans nightclub you co-founded with your husband, the Lion's Den?
It was already created, I wanted to have somewhere to rehearse other than my garage. There was a place next door that connected to the Lion's Den. My husband acquired the property from the owner who we were leasing the space from.
I was there rehearsing and then I had an audience there during Jazz Fest. I was cooking for people there, too. I cooked a big thing of red beans and rice, and smoked sausage. It was a fun thing to do like inviting company to your home.
Is it true that when you moved to Los Angeles in the 1970s, you had a tough time, because it was all about "who you know?"
It was exactly that. I tried to get a foothold in the entertainment industry when I left New Orleans because of a storm called Camille and a breakup. I couldn't get any work locally; the work was blown away by the storm. But I thought I could get paid to perform in L.A. but they wanted me to pay them to get onstage. I thought no, I need to get a day job first. That's exactly what I did.
LA is a "me, my and I" city, it's all about who you know, the connections. I knew singers who couldn't sing their way out of a paper bag but because of who they knew, they were singing. That's the way it was — it wasn't about how good you were. I wasn't part of that kind of situation. I'm about appreciating talent. I moved to the Bay Area and did performances on the weekend as a sideline to my day job; I had four children all school-aged at the time. My singing was my extra money to take care of what I needed to take care of.  When you do what you need to get done, it's called survival.
You have a good survival instinct?
Oh yeah. I'm not a pity party person. I save that energy and try to think: How am I going to make this better for me?
You almost predicted your GRAMMY Award — as a joke, right?
I don't know if it was a prediction. I had been nominated prior to winning a GRAMMY two times…. I wasn't going to go with my hopes up too high. I was joking around with the guys in the band we were recording with [that we were going to win]. When I won, I felt overwhelmed. It didn't sink in until the award arrived on my doorstep. It really touched home.
Do awards make a difference?
When it comes to your peers, it took me a while to realize the GRAMMYs was not where the public voted for you, it is a situation where your peers vote for you. The fact my peers were listening and voted for me, that does make a difference.
I had been in the business over 40 years by the time I won it. I didn't look at it as me not having the talent, because so many people I worked with who were really talented over the years and they didn't win a GRAMMY. I didn't need the validation but when you win a GRAMMY, it is something to cherish.
You always wanted to stay true to your own sound — was that a challenge when Atlantic Records wanted you to record an album and sound like Diana Ross? Was it hard to say no?
No it was easy, I knew I wasn't going to do it. This is how I look at it: I didn't spend all my time working hard to sound like somebody else. I didn't want it that bad. I want to be me.
I am a firm believer of doing unto others as they do unto you; I'm not going to sell out just to be your friend. I'm a survivor, I'm not someone who is going to do anything for a dollar.
Do you believe in blessings in disguise?
Not as much as I believe in blessings that are given to you for a reason. When you are blessed with much, as the Bible teaches, much is expected. I try to do as much as I can, I know my reward is in heaven when I go to the other side. I look forward to that, as we always say I pray and ask God if I'm not doing it right, show me how to do it right. But I'm going to do unto others as they do unto me. The rest is for the almighty to judge me.
Which musicians do you like today?
I don't really listen to today's music because most of it is full of profanity and I don't think you have to express yourself that way. It's not necessary. I didn't grow up in a naïve world, there were a lot of double-entendres. People didn't come out cussing in the music industry. Today, what's the point? You can't express yourself any better?
I don't care what neighborhood you grew up in. I'm not going to blame it on where I grew up. I grew up in the hood, too. We didn't call it the hood, we called it home. We respected our surroundings because that's all we had. I didn't find it necessary to degrade where I grew up because it made me who I am, a stronger person.
I wasn't able to do a lot of things, especially in the Jim Crow South. But I didn't use it as a means to degrade where I grew up. I loved where I grew up. I had a neighborhood that looked after me when my parents worked. Why would I want to put a song out that would not respect that?
You are known as a blues and R&B musician. When I think about R&B, today it's much more explicit?
Ridiculously explicit. No modestly at all. The saying goes, there's no mystery in it when you're putting it all out there. You see what you get. To me, that was part of the whole thing, the mystery of what's underneath the covers.
You came from the era of real music.
It was. Music made sense back then. Songs told stories; good stories….. [My car radio is] turned to old school music. It can be calming with traffic. I listen to music in my car because when I'm at home, I'm a game show addict. As we're doing this interview, I'm watching "Jeopardy."
A few more questions before you get back to your game shows. Who was your most influential mentor growing up?
If I had mentors, my career probably would have taken a different direction. I was  self-taught [and] learn-by-mistake. I was never given business advice; a lot was trial and error. I would watch the late shows on TV  — [actress] Pearl Bailey had a relaxed state about her. She didn't seem nervous, and [was] open with her thoughts. I like that. I like to feel my audience is in my living room and I'm handing them my company. Pearl Bailey was my mentor. That's where I got a lot of my stage presence information from.
What advice do you have for young artists today?
First of all, be yourself. Number two, get a day job. Number three, it ain't always going to be monetarily sufficient to meet your needs. You have to be prepared. Use my motto: Do unto others as you'd have them do unto you. Including your work as an entertainer.
Living Legends: Nils Lofgren On His Guitar Philosophy, Staying Sober & Meshing With Iconoclasts Bruce Springsteen and Neil Young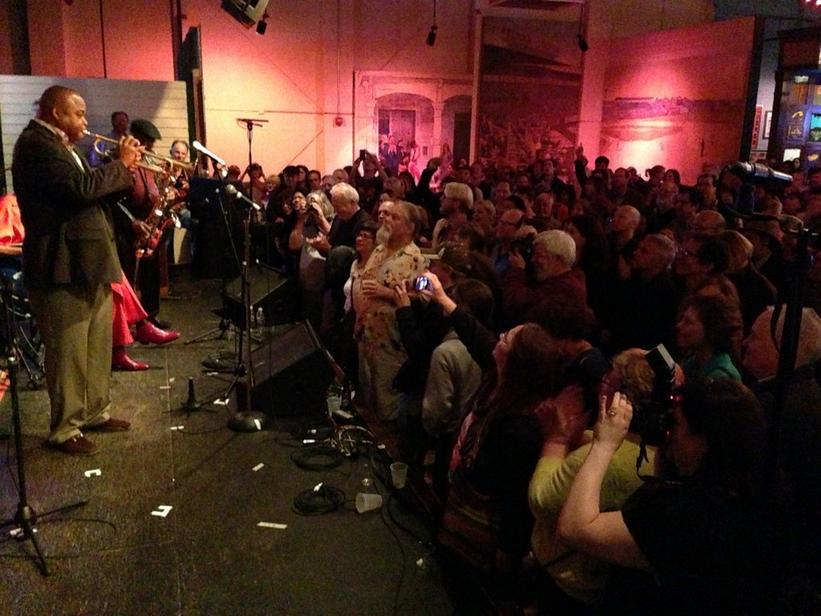 James Andrews performs at the 15th anniversary of "American Routes"
news
Due South: EMP Conferences Explores New Orleans' Musical Geography
GRAMMYs
/
Dec 3, 2014 - 04:22 am
(Launched by the Experience Music Project in Seattle in 2002, the EMP Pop Conference is designed to convene academics, critics, artists, and fans in a collective discussion. This year's EMP Pop Conference took place April 17-21 in Seattle, Cleveland, Los Angeles, New Orleans, and New York.)
By Ben Sandmel
For 10 years following its launch in 2002, the Experience Music Project's annual Pop Conference was held in Seattle, the home of the Experience Music Project Museum. The 2011 and 2012 events were held in Los Angeles and New York, respectively. This year the conference unfolded simultaneously in Seattle, Cleveland, Los Angeles, New York, and New Orleans from April 17–21.
The Crescent City gathering, titled Due South: Roots, Songlines, Musical Geographies, was held at Tulane University. It was co-produced by EMP's Eric Weisbard and Tulane's New Orleans Center for the Gulf South, and led by center director Joel Dinerstein, senior programs manager Karen Celestan and ethnomusicologist Holly Hobbs. The center recently established musical cultures of the Gulf South as a new interdisciplinary undergraduate major at Tulane, in conjunction with a new program, Music Rising, which receives funding from the Gibson Foundation.
EMP's New Orleans event took a big-tent approach in terms of both musical variety and far-flung Southern locales. A total of 15 panels involving more than 40 participants explored topics such as go-go music in Washington, D.C.; the New Orleans bounce scene; "The South's Blues: Singing It, Selling It, Crossing It Over"; Memphis rap, the Muscle Shoals sound and the chitlin' circuit; live music and noise ordinances in Austin and New Orleans; the historic and contemporary interaction of jazz, Cajun music and zydeco; and New Orleans' long-standing tradition of trans-gender and cross-dressing African-American male entertainers. Participants included academics, journalists, independent scholars, and musicians. Some panels took a decidedly academic approach, while others assumed an informal tone.
In conjunction with the conference, Tulane folklorist Nick Spitzer produced a concert to celebrate the 15th anniversary of "American Routes," the public radio program that he created and hosts. A packed house at Mid-City Lanes, better known as the Rock 'n' Bowl, enjoyed performances by the Treme Brass Band, celebrating New Orleans' rich traditional jazz scene; popular young Cajun group the Lost Bayou Ramblers; and the Absolute Monster Gentlemen, an R&B band led by pianist Jon Cleary. Cleary and company performed original material and also served as the backing band for New Orleans R&B icons Irma Thomas, Walter "Wolfman" Washington, Ivan Neville, Robert Parker, and trumpeter James Andrews.
Live music also figured prominently in EMP's on-campus programming during a discussion/performance titled "The Banjo In The African Diaspora." Senegalese xalam player Demma Dia and his band performed, demonstrating the African roots of the banjo. Carl LeBlanc and Don Vappie — musicians known for their traditional jazz-banjo prowess — expertly showed how this African-rooted instrument has evolved and flourished in New Orleans. For the finale, LeBlanc and Vappie called Dia and his band back onstage for a Senegal-New Orleans jam. This cultural connection will be explored further as one of many topics at the conference "Saint-Louis, Senegal, And New Orleans: The Comparative and Linked History Of Two Port Cities On Each Side Of The Atlantic From The 17th To The 19th Centuries," taking place April 22–25 at Tulane. Many EMP conference participants will attend this event as well, proving it's high season for musicologists in New Orleans.
(Ben Sandmel is a New Orleans-based journalist, folklorist, drummer, and GRAMMY-nominated producer. The author of Ernie K-Doe: The R&B Emperor Of New Orleans, and Zydeco! (a collaborative book with photographer Rick Olivier), Sandmel also produced and performed on the Hackberry Ramblers' GRAMMY-nominated album Deep Water.)