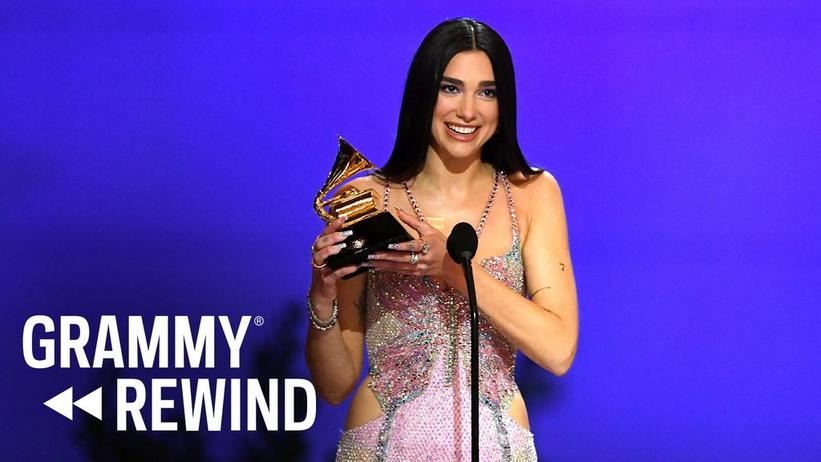 Dua Lipa at the 2021 GRAMMYs
Photo: Kevin Winter/Getty Images
video
GRAMMY Rewind: Dua Lipa Champions Happiness As She Accepts Her GRAMMY For Best Pop Vocal Album In 2021
As Dua Lipa held her new GRAMMY, she reflected on how "jaded" she felt before putting out 'Future Nostalgia' — and how the album taught her the importance of happiness.
GRAMMYs
/
Dec 5, 2022 - 10:01 pm
Three-time GRAMMY-winner Dua Lipa already had two golden gramophones to her name going into the 2021 GRAMMYs. But her third win — and her first for Best Pop Vocal Album — may have been the happiest of them all.
In this episode of GRAMMY Rewind, revisit the special moment when Dua Lipa took the stage to claim her trophy for her album, Future Nostalgia. The second studio album of the singer's career, Future Nostalgia earned her six nominations, including the coveted Album Of The Year as well as Record Of The Year and Song Of The Year for lead single "Don't Start Now."
As she held her new trophy, Lipa reflected on what she's learned through the process of making Future Nostalgia, making special mention of the power of happiness, and putting out happy music.
"I felt really jaded at the end of my last album, where I felt like I only had to make sad music to feel like it mattered," she explained. "And I'm just so grateful and so honored, because happiness is something that we all deserve, and it's something that we all need in our lives."
The singer also threw a spotlight on her fans, team and co-writers during her time onstage. "This means so much," she concluded, adding a shout-out to her family and friends who were watching from home. "I love you, thank you."
Press play on the video above to watch Dua Lipa's complete acceptance speech at the 63rd GRAMMY Awards, and keep checking back to GRAMMY.com every Friday for more new episodes of GRAMMY Rewind. 
Get To Know The 2022 Nominees For Best Pop Duo/Group Performance At The 2023 GRAMMYs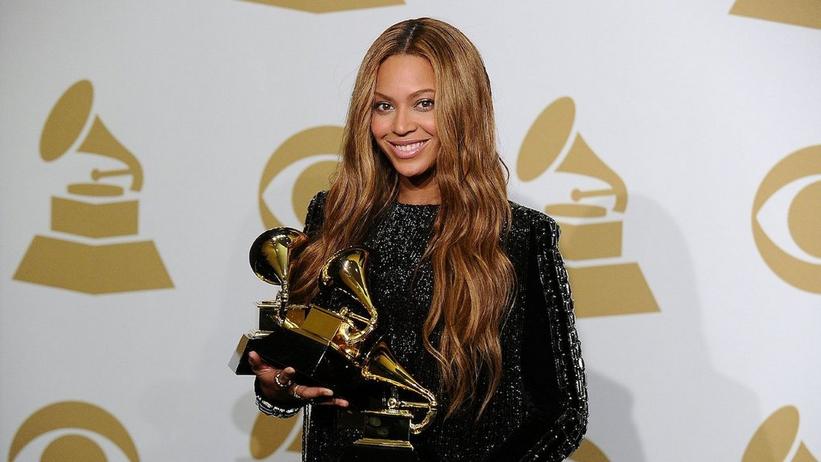 Beyoncé at the 2015 GRAMMYs.
Photo: Jason LaVeris/FilmMagic
video
GRAMMY Rewind: Beyoncé Celebrates God, Her Family And The Beyhive For "Drunk In Love" Win At The 2015 GRAMMYs
Beyoncé couldn't help but praise a few special people in her life during her acceptance speech at the 57th Annual GRAMMY Awards, where "Drunk in Love" took home Best R&B Song.
GRAMMYs
/
Jun 9, 2023 - 05:00 pm
Almost a decade ago, Beyoncé unexpectedly dropped her self-titled studio album. Not only is the album credited for popularizing the concept of a surprise drop and shifting new music releases from Tuesday to Friday, but it also invented the modern-day visual album.
Adding to its legacy, Beyoncé scored the superstar three more GRAMMYs in 2015. In this episode of GRAMMY Rewind, revisit when Beyoncé won Best R&B Performance for one of the many chart-topping singles from her industry-altering album, "Drunk in Love." 
Her short-but-sweet speech praised a few special people in her life: "I'd like to thank God. This has been such an incredible year," she beamed. "My beloved husband, I love you deep. My daughter who's watching, Blue — I love you."
Before heading off the stage, Beyoncé closed her speech by acknowledging her loyal fanbase, the Beyhive. "Thank you guys for riding so hard," she proclaimed.
"Drunk in Love" also won Best R&B Performance earlier that night, and Beyoncé's self-titled 2014 album won Best Surround Sound Album.
Press play on the video above to watch Beyoncé's humble acceptance speech for "Drunk in Love" at the 2015 GRAMMY Awards, and check back to GRAMMY.com for more new episodes of GRAMMY Rewind.
The Evolution Of The Queer Anthem: From Judy Garland To Lady Gaga & Lil Nas X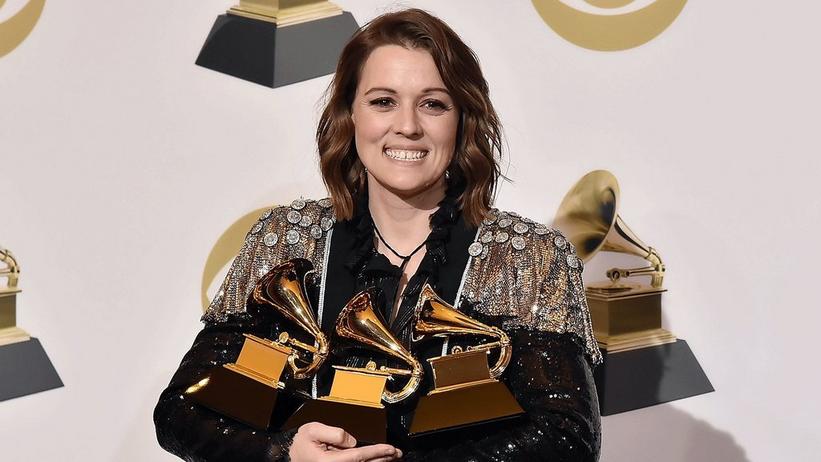 Brandi Carlile at the 2019 GRAMMYs.
Photo: David Crotty/Patrick McMullan
video
GRAMMY Rewind: Brandi Carlile Nervously Accepts Her First GRAMMY After "The Joke" Wins In 2019
Fourteen years into her career, Brandi Carlile won her first GRAMMY award — and because the long-awaited victory was so meaningful, she couldn't help "violently shaking" on stage.
GRAMMYs
/
Jun 2, 2023 - 05:02 pm
Brandi Carlile has been making waves in the Americana community for nearly two decades. But in 2019, Carlile's career began a different — and much bigger — trajectory thanks to a little song called "The Joke." 
The lead single from her sixth studio album, By the Way, I Forgive You, "The Joke" is dedicated to marginalized communities who constantly feel underrepresented and unloved by society. As a trailblazer in the LBGTQIA+ community, her impassioned vocal performance struck fans and critics alike.
In this episode of GRAMMY Rewind, we revisit the day "The Joke" helped Carlile win her first golden gramophone, for Best American Roots Performance. (It was one of three GRAMMYs Carlile took home that night, as "The Joke" also won Best American Roots Song and By the Way, I Forgive You won Best Americana Album.)
"It's our first GRAMMY!" Carlile cheered alongside her longtime collaborators Phil and Tim Hanseroth. "This means so much to me [...] and Dave Cobb, who wrote this song and brought the best out in us. We can't thank you enough."
Carlile went on to praise her team at Elektra Records and her family. "So many people to thank, but I'm violently shaking right now," she added, then passed the mic to the Hanseroth twins. 
Before the trio left the stage, Carlile quipped, "Whoever we forgot, forgive us. You know we love you, and you know we're terrified!" 
Press play on the video above to watch Brandi Carlile's complete acceptance speech for Best American Roots Performance at the 2019 GRAMMYs, and check back to GRAMMY.com for more new episodes of GRAMMY Rewind.
The Rise Of Brandi Carlile: How Her Emotive Songwriting & Delivery Made Her One Of Americana's Most Versatile Stars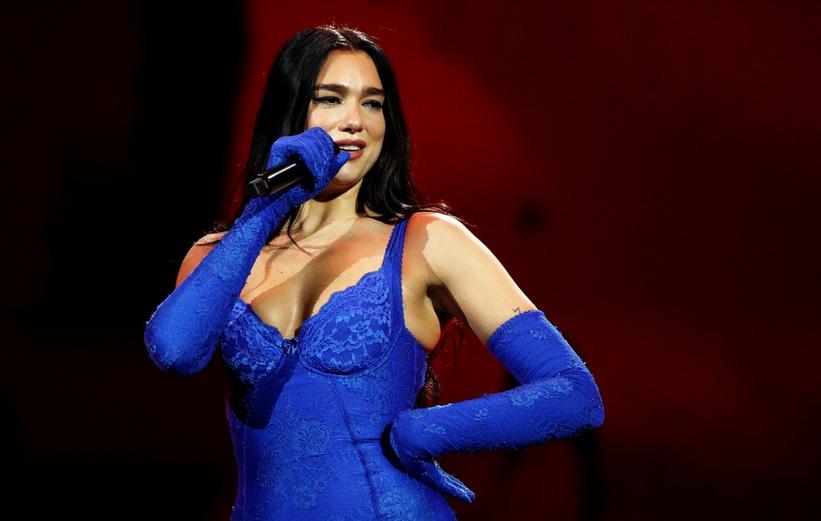 Dua Lipa performs in Sydney, Australia in November 2022.
Photo: Don Arnold/Getty Images
list
9 Artist-Hosted Podcasts You Should Check Out Now: Sam Smith, David Guetta, Norah Jones & More
From Dua Lipa to Joe Budden, some of music's biggest names have added "podcast host" to their impressive resumes. Grab your headphones and take a listen to nine of the most insightful and creative shows led by artists.
GRAMMYs
/
May 30, 2023 - 06:13 pm
As podcasts have become increasingly popular among listeners, they've also become a preferred playground for music makers to express themselves — and in turn, show a new side of their artistry.
Whether it's hours-long interviews courtesy of early adopter Questlove, breezy conversations with a musical accompaniment by Norah Jones, or a vital history lesson from Sam Smith, podcasts are allowing artists to further connect with their fans. And though there's already a disparate array of musician-led shows out there, it's seemingly just the beginning of a new podcast wave.
Below, get to know nine of the most interesting artist-hosted podcasts available.
A relatively new addition to the podcast sphere, Norah Jones is Playing Along is exactly what it sounds like. Hosted by the "Come Away With Me" crooner, the show features Jones jamming on a piano with a cadre of her musician friends and colleagues. The show's guest list is similarly varied, with recent episodes including memorable conversations with indie folk artist Andrew Bird, country singer-songwriter Lukas Nelson and jazz virtuoso and Robert Glasper all of whom took viewers on a musical journey through their catalogs and beyond.
Known as music's wise sage, legendary music producer Rick Rubin showcases his zen energy and insatiable passion for music on this informative podcast, which he hosts alongside  journalist-author Malcolm Gladwell, New York Times editor Bruce Headlam and producer Justin Richmond. Much like Rubin's list of collaborators — which has ranged from everyone including Johnny Cash, Adele and Rage Against the Machine — the show zig-zags between insightful interviews with a range of music's most accomplished names, including Giles Martin, Feist, Usher, The Edge, Aaron Dessner, and Babyface.
Aside from her GRAMMY-winning music career, pop icon Dua Lipa has a bubbling entrepreneurial streak in the form of Service 95, a multi-platform lifestyle brand which includes a newsletter and special events. It also produces the popular podcast At Your Service, on which Lipa interviews a diverse range of personalities including musicians (collaborators Charli XCX and Elton John), cultural luminaries (Dita Von Teese) and activists (Brandon Wolf) for laidback conversations about their respective careers.
Amid his roles as a founding member of the Roots, bandleader on "The Tonight Show Starring Jimmy Fallon," a prolific filmmaker and a best-selling author, Questlove adds podcast host to his rich cultural tapestry with Questlove Supreme. The show prides itself on loose, intimate and in-depth conversations with a who's who of music's luminaires, whether a multi-hour, emotional chat with Mariah Carey, an insightful conversation with trumpet legend Herb Alpert, or icons ranging from the late Wayne Shorter to Bruce Springsteen and manager Shep Gordon.
British songstress Jessie Ware teams up with her mother, Lennie, on this effervescent podcast, which showcases the "Free Yourself" singer munching on a delicious home cooked meal while having a conversation that's equally scrumptious. Whether the two are having pink salmon with Pink, eggplant pie with Shania Twain or spinach pie and florentines with Kim Petras, it all makes for an extremely listenable (and hunger-inducing) spin on the medium.
Earlier this year, Red Hot Chili Peppers guitarist Flea launched the interview series This Little Light, which zeroes in on the importance of music education. In short order, the podcast has already boasted heavy-hitter guests, including Cynthia Erivo, Patti Smith and Margo Price. "I wanted to do This Little Light to benefit my music school, the Silverlake Conservatory of Music," he said in a statement upon its release. "The idea behind it being music education, falling in love with music and embarking on a musical journey for your life. Everybody's path is so different, and it's fascinating to learn how every musician came to music and developed their study of it over time."
Five-time GRAMMY winner Sam Smith hosts a touching and informative history of the AIDS crisis from a UK perspective — from the earliest, heart-wrenching days of the disease to modern-day tales, including the death of Terry Higgins (one of the region's earliest deaths) as well as breakthrough treatments. Meticulously researched and told in a documentary-style, the BBC podcast is equal parts inspiring and heartbreaking — but above all, demonstrates that artists can effectively tell stories beyond the realm of music, while raising awareness at the same time. 
A departure from every other podcast on this list, dance music king and David Guetta strays from the interview format and lets the music do the talking. Guetta hosts this weekly hour-long podcast doubles as a playlist, which features a selection of songs handpicked by Guetta himself. Typically opening with a remix from Guetta himself (he recently featured his spin on Kim Petras' and Sam Smith's GRAMMY-winning hit "Unholy,") the show then explores a variety of electronic tracks from a disparate list of artists, including tracks from dance music mavens Olivier Giacomotto, Idris Elba and Robin Shulz. 
Still going strong eight years after its launch, The Joe Budden Podcast is hosted by the eponymous rapper and his friends as they talk through matters of hip-hop and their own lives, with recent topics focusing on everything from Cher's love life to the Met Gala. Each episode —  which regularly hovers around the three-hour mark — is like being a fly on the wall to Budden and friends. Of course, there's celebrity interviews along the way, with headline-making chats with the likes of Akon and N.O.R.E. 
10 Music Books To Dig Into This Summer: A Kate Bush Bio, A First-Hand Account Of The Grunge Scene & Feminist Punk Histories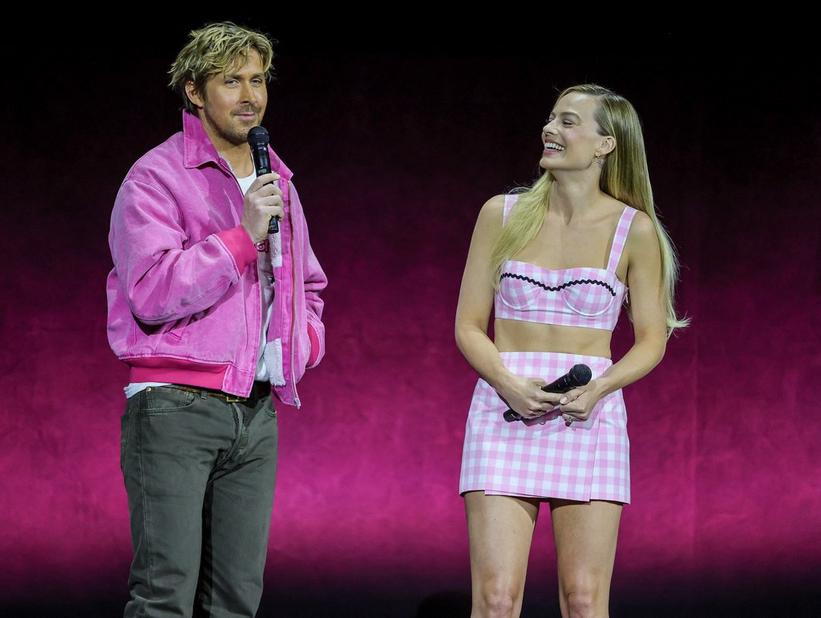 (L-R) Ryan Gosling, Margot Robbie from the 2023 film 'Barbie'
Photo: Ethan Miller/Getty Images
list
Everything We Know About The 'Barbie' Soundtrack: New Dua Lipa Song, Release Date, Artist Lineup, All The 'Barbie' Songs & More
Nicki Minaj, Charli XCX, Gayle, Haim, and — surprisingly — Ryan Gosling also feature on the soundtrack to 'Barbie' — the buzzy, plasticine summer flick.
GRAMMYs
/
May 26, 2023 - 06:07 pm
When the second Barbie teaser landed like a hydrogen bomb made of memes, the world got the first inkling this would be a very musical movie.
That was by way of the Beach Boys' "Fun, Fun, Fun," rendered chopped and screwed and vaguely menacing. ("Fun! Fun! Fun! Fun! Fun!" the heavily altered Boys intone, over and over and over.) Now, it's clear that the sunny '60s hit was just, ahem, the tip of the iceberg.
As Rolling Stone reports, the Barbie soundtrack — known as Barbie The Album — will be a veritable toybox of the biggest pop stars today. Those are: Ava Max, Charli XCX, Dominic Fike, Dua Lipa, FIFTY FIFTY, GAYLE, HAIM, Ice Spice, Kali, Karol G, Khalid, Lizzo, Nicki Minaj, PinkPantheress, Ryan Gosling (!), Tame Impala, and the Kid Laroi.
That's not even all of them — more artists will be announced closer to Barbie The Album's release date, on July 21. (That's also the day the film drops.) Until then, read on for everything we could find about the Barbie soundtrack… so far.
Mark Ronson Is The Executive Music Producer
The seven-time GRAMMY-winning record producer and songwriter, who's worked with everyone from Lady Gaga to Paul McCartney to Adele, is at the helm. "This Ken helped make a whole soundtrack," Ronson tweeted, acknowledging his involvement.
The Soundtrack Contains 17 Songs
That's as per Apple Music, which details the lion's share of the tracklist. (Tracks six and 11 are TBD). Check it out for very Barbie song titles like Lizzo's "Pink," Ryan Gosling's "I'm Just Ken" and Dominic Fike's "Hey Blondie." And…
Barbie Girls, In A Barbie World
…yes, you read that right: Nicki Minaj and Ice Spice will team up with Aqua to perform "Barbie World" — a new version of the classic "Barbie Girl" song, which appears in the official trailer.
Dua Lipa's "Dance The Night" Is A Contender For The Centerpiece
On May 25, Dua Lipa dropped the official music video for "Dance the Night." (The three-time GRAMMY winner also plays Mermaid Barbie in the film.) 
Aside from her 2022 collaborative track with Megan Thee Stallion, "Sweetest Pie," Lipa's been quiet since the Future Nostalgia era; "Dance the Night" captures the magic of hits like "Levitating" and cements her as the post-pandemic disco queen.
Something

Is Happening With Lady Gaga
The official Barbie Twitter account seemingly confirmed rumors of Lady Gaga's involvement when they tweeted eye emojis at Gaga's promise of "something exciting." Wait and see, we suppose.