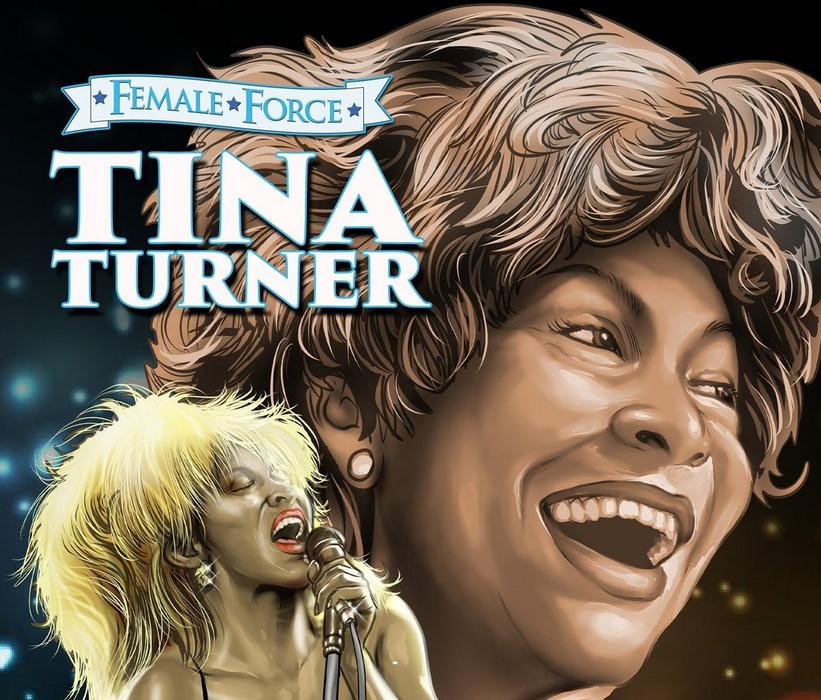 'Female Force: Tina Turner' was written by Michael Frizell; art by Ramon Salas.
Image courtesy of Tidalwave Comics
feature
Headphones To Hard Copy: How Comics Are Revolutionizing Rock Storytelling
A new breed of comic companies know how to rock 'n' roll, and are using graphic novels and merch to capture rock audiences. From Ozzy to Evanesence, Weird Al to Melissa Etheridge, comics are drawing musicians together.
GRAMMYs
/
Aug 24, 2022 - 03:42 pm
When he was a child, Public Enemy frontman Chuck D avidly drew his own comic books. At New York Comic Con 2021, he and Anthrax did a panel celebrating the 30th anniversary of their iconic "Bring The Noise" collaboration and their respective graphic novel releases through Z2 Comics. Chuck D's early passion had come full circle in a way, and he is among a growing legion of rockers and rappers who are seeing their music serve as springboards for comic book series and graphic novels.
According to a June 2022 report, comic book and graphic novel sales were up 60 percent in 2021, hitting $2.075 billion — the highest industry mark since 1993. Superhero movies and TV, as the popularity of anime and manga, have likely helped those numbers. Now, musicians want to get in on the action with an increasing number lending their names and catalogs to comics and graphic novels.
Companies including Z2 Comics and Opus Comics are heading the charge, creating stories inspired by iconic musicians; and, once in a blue, even penned by them. But unlike past efforts — Marvel Comics featured Alice Cooper and KISS in issues back in the '70s, or the unauthorized biographies of the Rock 'N Roll Comics series in the '90s  — today's artists don't always need to be in the stories.
"My goal originally was to bring something fresh to our current fans who connect with my lyrics or wish to delve further into the world I created within those lyrics," says Spiritbox singer Courtney Plante, who worked with writer Jim Krueger and artist Amilcar Pinna on the upcoming Z2 book Eternal Blue. "I think this story has the potential to be exciting to someone who knows nothing about my band." 
Outside interpretations of a musician's work are also in the mix.
When asked to come up with a comic to include in the limited edition package of Ozzy Osborne's new album, Patient Number 9, Image Comics President and Spawn creator Todd McFarlane wanted to shirk tradition, and the Ozzy camp trusted in his vision. Instead of creating panels and word balloons, McFarlane published 20 pages of artist Jonathan Glapion's pin-ups and a novel he wrote around the character Patient 9. He hopes the resulting "horror novella" will appeal to fans that might not normally read comics.
"I didn't want to do an Ozzy autobiographical thing," says McFarlane, who recently directed a semi-animated video for Patient's title track. "It's almost like a storybook… It'll be worth taking a look at it to [see] whether people find it interesting, odd, or a failed experiment."
At their two recent San Diego Comic Con signings, McFarlane and Ozzy met around 1,000 fans with hundreds more waiting in line.
Meanwhile, musicians such as Coheed and Cambria's Claudio Sanchez and Gerard Way of My Chemical Romance have created original, long-running comic book series inspired by their music. Sanchez's comics, a series called The Amory Wars, expand upon his band's mythology album by album. Way has written or co-written and created a number of comic series (the adaptation of his Umbrella Academy became a Netflix hit), and co-founded the DC Comics imprint Young Animal.
Making Rock Collectible In A New Form
Opus Comics have been creating comics inspired by artists including Disturbed, Evanescence and Joe Satriani since 2018. Like Z2, Opus let the music inspire the stories, as with their adaptation of Helloween's Keeper Of The Seven Keys trilogy into the comic Seekers Of The Seven Keys. "We're using that [original music] as inspiration for a new saga [that] has all the characters you know and love from Keeper," explains Publisher Llexi Leon. "But now there's something new happening and new characters coming in. We're able to mix it up a bit."
Opus' American and European releases are limited edition with higher quality paper, sold direct-to-consumer with a higher price point. In May 2022, they began putting individual issues and will publish trade paperbacks with bonus material beginning in spring 2023. Releasing material in three stages exposes bands to new audiences, Leon tells GRAMMY.com.
Leon first delved into a comics/games/toy crossover with his 2010 music-oriented series Eternal Descent, and Opus' parent company handled Iron Maiden's comics and collectibles between 2015 and 2020. Leon adds that Opus sold 250,000 comics in the first quarter of 2022, and all of their series will also feature special action figures.
Z2 Comics are also playing on the predilection modern rock fans have for merch. In the way that Rhino Records used to get very creative with their box set packaging — such as a mini-Marshall amp replica to house a heavy metal collection — Z2 have been offering deluxe editions of their graphic novels.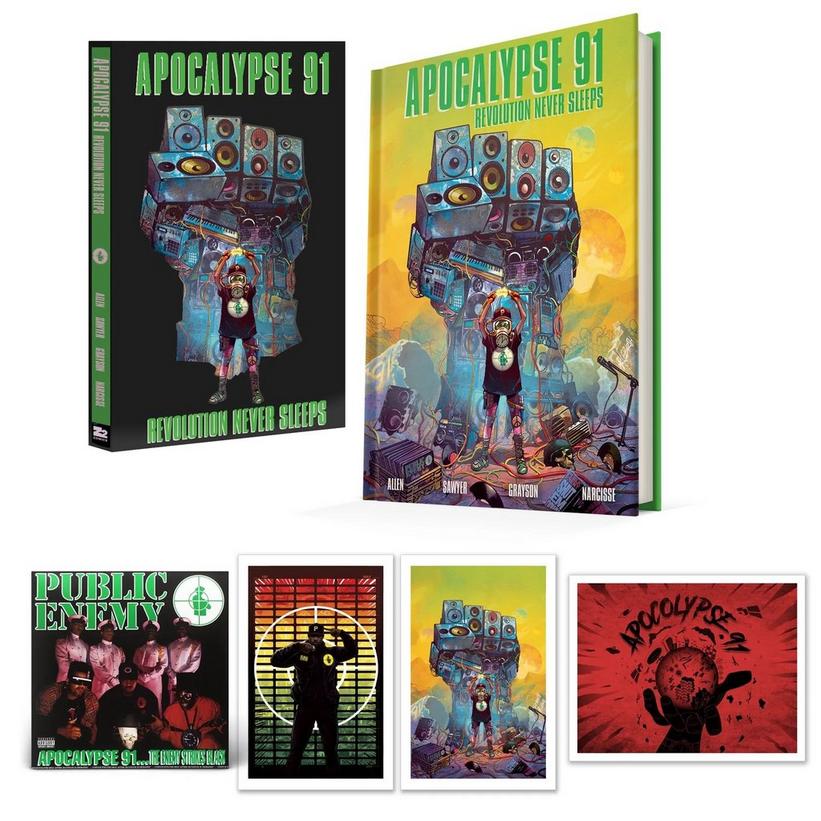 Chuck D's comic bundle| Z2 Comics
For example, Z2's super deluxe edition of Chuck D's book (priced at $199.99) includes colored vinyl of Public Enemy's Apocalypse 91: The Enemy Strikes Black album plus four exclusive art prints — one illustrated by Chuck himself. The horror-oriented King Diamond book has an Abigail baby hearse; the forthcoming Melissa Etheridge and Halestorm books will feature an acoustic and electric guitar, respectively; the latter of which will go for $4,999.99.The "Weird Al" Yankovic release will include a mini-accordion, Judas Priest will have a Hellion statuette, while Spiritbox will get a functioning spiritbox (ghost hunting device) that will also play a key role in their comics story.
Making Fans Of The Bands
Z2 made its first forays into music-based graphic novels in 2020 with  Murder Ballads, which featured an accompanying soundtrack by multi-instrumentalist Dan Auerbach (the Black Keys) and blues singer Robert Finley, and The Ghost Of Ohio by Black Veil Brides frontman Andy Biersack.
Josh Bernstein, Z2's Chief Business Officer and Partner, says no one declined the opportunity to do a graphic novel. But when lockdown forced artists to find new revenue streams, Z2 offered them a solution that lured many otherwise dubious musicians into the fold. While they could tout early successes, industry word of mouth also helped propel new projects.
"The artists that we signed were our biggest advocates," says Bernstein. "Mikey Way called All Time Low. Anthrax definitely called Pantera. Anthrax's licensing team spoke to Judas Priest. The Doors' management were so happy they gave us the Charlie Parker and John Lee Hooker projects. Now, he says, "there's not enough time in the day to do all the books that are being offered."
Where Z2 once published 12 books a year, they now release between 20 and 40 titles.
"I know how comic books and graphic novels resonated with me," says Dee Snider of Twisted Sister. His forthcoming illustrated Z2 life story, which he co-wrote, includes his appearance at the infamous PMRC hearings in 1985. "I'm now a pretty avid book reader, but it was comic books and graphic novels of actual novels that led me there. I hope this book on my history does the same for others."
Artist involvement with comics makes them feel attached to the work, which can involve significant collaboration with artists and writers. Melissa Etheridge, whose Z2 title Heartstrings: Melissa Etheridge & Her Guitars will publish in October, was inexperienced in the world of graphic novels. She mostly let the artists do their thing.
"It does fictionalize some of the stories, and I let that be because it's a graphic novel," says Etheridge. "This is not my life's memoir, this is a cartoon. I'm really pleased. The artwork is just phenomenal and so interesting and it moves the story along. The story just flies by and it's a really beautiful, touching way to tell my story."
Speaking about the differences between comic books and music videos, Evanescence singer Amy Lee told Comic Book Resources that "there are no limitations as to what is possible, special effects, creating an entire world." Evanescence's anthology series Echoes From The Void was released through Opus and focused on imagination rather than her personal experience. "It's been about what ideas they spark in other people's imaginations," she said."I've always loved hearing fans' interpretations and experiences with our music. This is like giving some of those alternate realities a moment to shine."
Fantoons' offerings for rock fans include band coloring books, lithographics and buttons, as well as graphic novel biographies on Lemmy, Motörhead, and Billie Holiday. In an interesting twist, they have an illustrated Where Is Alice Cooper book in the vein of Where's Waldo?, and a Rush graphic novel about the making of their album A Farewell To Kings. That latter concept may be a first in rock comics.
There are still some fans who want a straight-up rock bio in four-color form. TidalWave Productions does single issue biographies that explore specific aspects of their subjects' lives. In 2008, the company started "doing female empowerment biographies," says TidalWave Publisher Darren G. Davis, "which led us to our first musician comic book on Michael Jackson in 2009. We ended up working with Rock 'N Roll Comics in 2010 to bring their Beatles, Pink Floyd, and Led Zeppelin comic books into graphic novel form."
TidalWave sells mostly through Amazon, and moves some units through distributor Ingram. Davis says their top selling titles are always related to the Beatles, Metallica, David Bowie and Prince. Recently, Dolly Parton has been their biggest seller so they did a second book this year. Dave Grohl, Elton John and Lorretta Lynn issues are in the works.
Still More Tales To Tell
The comics medium offers musicians a chance to see their work be interpreted in exciting new ways and explore new horizons. Comics companies, meanwhile, are showing no signs of slowing down.
Z2 is bullish on the K-pop and Latin markets, having  found success with pop punk/emo (All Time Low), female singers (Poppy), and underground hip-hop (Czarface, Flatbush Zombies). Bernstein says that artists with dedicated fanbases — who may not be the biggest names — sell the most books: Z2's top seller is the first Gorillaz Almanac at 75,000 units sold, while Yungblud hit 25,000 and Babymetal did 22,000. Other top sellers include books from Machine Gun Kelly and Anthrax, along with big pre-orders for Tori Amos and "Weird Al" Yankovic.
Sales of Z2 comics are rising as retail re-opens and touring has resumed, bands are taking their books and merch on the road. "We're just speaking to this whole other audience of music fans that would love to read more about their favorite bands but otherwise wouldn't know how to go into a comic store or where to start," Bernstein says. "I'm hoping it's a gateway drug into much more reading and interest in these bands."
"People love their fandom," notes TidalWave's Davis. "As a kid I used to collect anything with Duran Duran and Olivia Newton-John on it. Whether it was magazines, buttons or t-shirts I wanted it all. What is out there now is amazing and we are proud to be a part of the memorabilia that gets the fans excited."
Ultimately, the success of these projects comes back to the followers who made the artists beloved and famous in the first place.
"So long as there is a dedicated fan base, that is the secret [to success]," asserts Bernstein. "And who is more dedicated than a music fan and a rock 'n' roll fan?"
The Vinyl Shortage, Explained: How Long Waits, Costly Materials & High Demand Are Changing What's On Your Turntable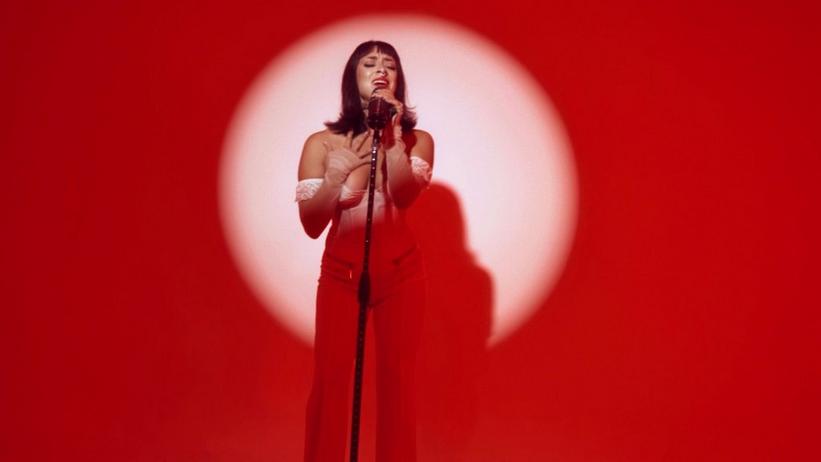 video
Press Play At Home: Singer And Producer Scarlet Parke Manifests Her Dreams In Immersive New Single, "369"
The self-produced soul-pop singer channels retro jazz vocals and a mesmerizing beat in a performance of her new single, "369." The song details how Parke set intentions and carefully laid the foundation for her dreams to come true.
GRAMMYs
/
Oct 6, 2022 - 05:14 pm
Scarlet Parke blends luminous, Amy Winehouse-inspired jazz vocals with a danceable pop beat in her performance of "369." The brand-new single chronicles Parke's experience of manifesting her dreams through journaling, growth and gratitude.
In this episode of Press Play At Home, Parke pairs her new song with a mesmerizing throwback look. Standing at a microphone against a bright red background, Parke dons a corseted, off-the-shoulder jumpsuit that's part rockabilly and part Marilyn Monroe. She rounds out the visual with a retro cateye and a flared, fringed haircut. 
Parke's aesthetic reflects her use of genres; her style incorporates soul and jazz elements, with a healthy dash of feel-good pop. It's a signature blend that she created herself, signing on to her musical projects as a self-made producer in order to create the music she hears in her head, down to the last detail.
"I've been holding onto some of the songs on my upcoming album for as long as nine years. I've just been searching for the right producer, and it was me the whole time," she says of her creative process, underscoring the gender imbalance in the industry. Currently, only two percent of music producers are women.
"It's been a journey and I really want to talk about how women are treated in the industry. I really want to talk about how important it is that women support each other more than ever," Parke continues. "There's nothing like the freedom that I've felt producing my own music."
That freedom allowed her to tackle a deeply personal subject in "369": how journaling and self-manifestation helps her fulfill her dreams.
"Three, six, nine are divine numbers, and I journal a lot using the '369 Method.' In the morning you write something down three times, in the afternoon six times and at night nine times," Parke explains. "You envision it, you feel it, you experience gratitude and you receive it. I've had a lot of really cool experiences because of it, and that's what this song is about."
"369" comes off of Parke's upcoming album, Simulation, and she has described it as the heart of the record. Press play on the video above to watch Parke's full performance of her self-realized new song, and keep checking back to GRAMMY.com for more new episodes of Press Play at Home. 
Press Play At Home: Trinidad Cardona Shares A Relaxed Bedroom Performance Of His Viral TikTok Hit, "Dinero"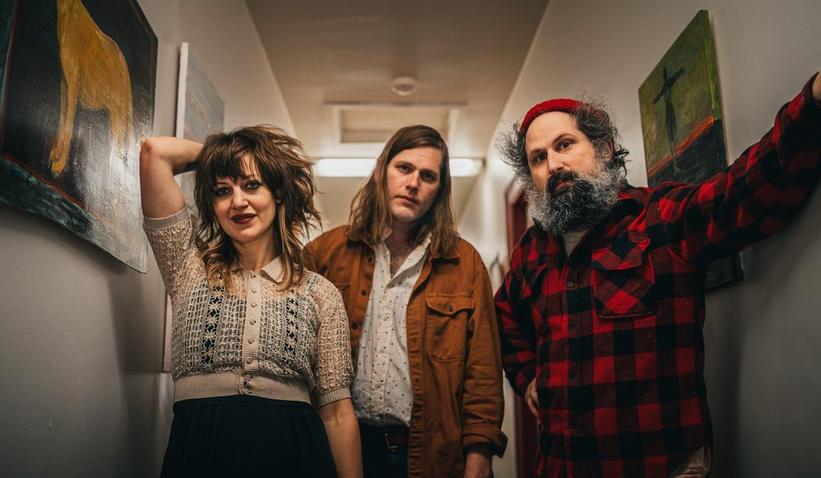 Bonny Light Horseman: Anaïs Mitchell, Eric D. Johnson and Josh Kaufman
interview
Bonny Light Horseman's New Album 'Rolling Golden Holy' Is The Voltron Of Folk Music
Folk supergroup Bonny Light Horseman's ambitious new album, 'Rolling Golden Holy,' is out Oct. 7. Anaïs Mitchell, Eric D. Johnson and Josh Kaufman spoke with GRAMMY.com about mining the breadth of folk music and harnessing their collective superpowers.
GRAMMYs
/
Oct 6, 2022 - 01:23 pm
"Form feet and legs! Form arms and torso! And I'll form the head!"
That line of dialogue frequently appeared in '80s kids cartoon "Voltron," where Voltron Lions created the giant robot Voltron. For musical supergroup Bonny Light Horseman — the trio of Anaïs Mitchell, Eric D. Johnson (Fruit Bats) and Josh Kaufman (Muzz, Craig Finn, the National) — songwriting is not too different. They especially used that collaborative method while writing their sophomore album, Rolling Golden Holy, which is out Oct. 7.
"We form the Voltron robot with each of our individual strengths," says Johnson during a recent interview with  Mitchell and Kaufman. "Voltron is a mega robot that was formed by smaller, powerful robots."
"We're certainly not a baseball team," he continues, citing Holy's "Summer Dream." "We don't have defined roles in how we collaborate on a song, but that song was one where I think we each did our thing. That is, we were like 'Here's my superpower.'"
The song is hypnotizing with a jazzy, breezy melody, and reflects the album's contemplative themes of looking back, looking forward and longing for something. Mitchell recalls Kaufman playing it on the piano at Aaron Dessner's Long Pond studio and later returning to "Summer Dream," hoping to work on it in a different way.
"With this one, we just were throwing lyric lines out there on the floor at the recording room, and then singing them, and it got just right. There couldn't be any other word," Mitchell says of their sessions at Hudson, NY-based Long Pond studio and at Dreamland Recording, an old church in Hurley, NY. "We really all were in there imaginatively, even in some of those lyrics.
Produced by Kaufman, Rolling Golden Holy follows their 2020 self-titled debut, which was nominated for Best Folk Album and Best American Roots Performance at the 63rd GRAMMY Awards.
Unlike that album, which pulls from folk music's rich history, the new material are all originals that pay homage to traditional folk while expanding and building the genre in new directions. Bonny Light Horseman also kept collaboration with others minimal,  only featuring drummer JT Bates and bassist/saxophonist Mike Lewis.
GRAMMY caught up with the trio to learn about their eventful year, and how their growth as individuals and as a band helped lead them through new — but still familiar — folk terrain.
The band has had a busy year so far. What's one of your favorite stories of late from touring? 
ANAÏS MITCHELL: We got to open a whole tour for Bon Iver in June, basically like a month run. That was fun to just hang out with that band and it felt really fun to play on their stages. I had my little 2-year-old along on this. She loved the band. But she loved Eric and Josh. She always asks about them. We actually had a pretty epic time together.
ERIC D. JOHNSON: Josh K, when we saw Rosetta in the UK, she was very confused that you weren't there, but I was. I think she thinks that we live together like Bert and Ernie.
JOSH KAUFMAN: Oh, I love that. We started our June tour with a bunch of traveling COVID cancellation things. A bunch of drama happened. Our first bassist got COVID. Then it was also my wife. And then our friend Michael Mendes, who was going to come and sub for her, travel got messed up and he couldn't get up in time.
Then we had to have a third bassist, this guy Jake Silver come in, and it was just kind of frantic, fun energy of trying to cram all this music into his head right before we went on stage.
It was at Levon Helm's Barn, and if you're going to have a moment like that, I hope you're in a space that feels that relaxed and cool and welcoming. It ended up being really joyful and cool and just an awesome show the first night of the tour where everything kind of "went wrong" but then flipped and went so right.
It sounds like the writing and recording of the album was much more collaborative compared to the band's debut. How did the tighter chemistry and increased confidence help you explore folk music? 
MITCHELL: I don't think this record is more collaborative, it's just different in that we were relying on a lot of traditional material the first time around, and this one is an original record. It was a lot more us dreaming things up together.
KAUFMAN: From a recording aspect…we were with our rhythm section, JT Bates and Mike Lewis. It was just the five of us, whereas the first record was a much different environment;  it was like at our first residence in Berlin where there were like lots of people to pull in and collaborate with. This was a much more sort of closed setting and that probably is the biggest difference in recording.
Everyone in the group helped push each other out of their comfort zones to some degree. Why was that an important process? 
JOHNSON: I wouldn't even call it a comfort zone, but I think [it's] almost better described as bringing different things out of each other. When you're just going at it alone, you have your method. It's just we all three are really hard workers and each have a completely different style, as just anybody would. The cliched answer is we're learning from each other, but it's totally true.
"Gone by Fall," I'd never written a song like that. If I was writing that song by myself and not the three of us, I wouldn't have done it that way. We refer to it as improv comedy. It's like you answer, "Yes," and then say, "and let's try this, too." But I've never felt outside of my comfort zone because this is just a comfortable band, but maybe outside of my normal zone, I guess you could say.
MITCHELL: I feel emboldened. I think we all trust each other's instincts a lot and it means a lot. With this band, I started to play my guitar in an open tuning. I never really had done that, but Josh Kaufman showed me how, and there's a lot of times where Josh will come up with a rhythm guitar part, but he'll want to be free to improvise so he's like, "Anais, play this." And I'm like, "I can't play that." And he's like, "Actually, you can." [Laughs]
And then it turns out I can. This is just another way of saying it's not where I would intuitively go, but it's totally within the wheelhouse.
There's a dulcimer on this record, which was an inspiration. I'm not sure whose idea it was but we all had to play dulcimer on this record at some point. I'd never picked up a dulcimer in my life, but I felt emboldened by the guys encouraging us all to do it.
KAUFMAN: It's interesting because it's not an instrument that I necessarily see us touring with, the bass dulcimer but it is a really nice metaphor for the center of the sort of creative process of this band. It's like, "No, no, you can get in on this." [Laughs]
You just have to come with your experiences almost, you know, and it's folk music, so don't sweat it. It's not a lot of chords and you can just hop in any old way. And I say that because this instrument is tuned modally, and it's tuned diatonically to another key the song is in, so you're safe. All rivers lead to the same place, which is you're making a cool, zingy sound in a song. The three of us found a different way into this instrument and used it as a textural expander on the record.
Anais, you mentioned in your previous interview with GRAMMY that one of the biggest goals for the album was not to overthink things. Why was that important and how have recent projects factored into that mindset? 
MITCHELL: It's interesting because this is our second record and the first record we made we almost didn't know we were making it. [Laughs]
It was almost a field recording. And then we put it out there in the universe not knowing if anyone would respond to it, and we were pretty surprised and really grateful for the people who actually gave a s— about the music that we were making.
We just want to stay in the flow and that's what this record really is. We love to think that we made it in the pandemic. We weren't touring the songs; we weren't testing stuff out on the road. We just kind of went in a new direction and laid this stuff down.
JOHNSON: Josh's production style has a minimalist, maximalist process a little bit. He finds the thing and…he's thinking very hard about it, but he makes it feel like we're not when we're in there. He finds the thing and he's like, "Here's the thing. Go chase that thing."
You can cross the threshold where you're trying so hard that you're trying to try. You're in your head and you can really spend a lot of time in a studio in that environment if you don't steer around those things, so a lot of it is like navigating things.
Josh, as a producer, it seems like one of the things you strove for was giving enough sonic space for all the different elements to breathe naturally. Why is it important, that process? 
KAUFMAN: It's kind of getting the lighting right and the feeling in the room right. That room is something that you're going to then take with you everywhere you listen to that, so it's like a movable venue. I think of this as a new kind of vocal music and even though there's quite a bit of space between the vocals.
A lot of it is framing that stuff, and often Eric and Anais are singing together in the room live, so there's getting that balance right. I feel like the sort of charm of the blend is the fact that they're not too altered and they're just two lead vocals, basically.
MITCHELL: This music is different [from] what I would do on other projects in that it's committed to a kind of impressionism lyrically. Equally important is the brass and the bass to process those images in, not silence, but to be carried on this river of music, and not to fill all the spaces to tell the truth.  I love that this band prioritizes that kind of space.
The music is deceptively simple, and it creates this [space] that a lot of exploring can happen, and that that can be different every night, and that's what keeps it feeling alive.
The creation of the song "California" was quite a journey. What was it like seeing that song change so drastically from inception to finished product? 
JOHNSON: It started off as a little bit more like a modal folk tune…It was almost like a banjo or fiddle song. It had this very modal, sort of Dock Boggs spooky folk music vibe to it. We worked on that for a good long while and it wasn't bad sounding, but it was just one of those where you're just like, "I don't know why, but this isn't it."
It was crooked. Rhythmically, too crooked, and then melodically and tonally, a little too... not dark, but emotionally ambiguous. We usually like emotionally ambiguous, but it was too emotionally ambiguous. And then maybe 75 percent the way through, we added these major key chords…It was the kind of thing where I think if we'd started with those big, bold simple major chords, I don't know if we would have [gone in that direction.]
JOHNSON: I feel like the breakthrough happened when we hit those chords and then the lyrics were just written that afternoon, too. Once we had the breakthrough with those chords, then lyrically it was a little bit of a roadmap.
Speaking of lyrical roadmap, "California" is a bit of a thematic detour. What was the inspiration for that one? 
JOHNSON: So many songs are about heading west and this myth of the wagons heading west riding into the sunset, and the song is a little bit like the opposite. It's leaving the west, leaving this land of promise for the old world.
The lyrics are meaningful, but there's impressionistic aspects to them too, where you could apply your own meaning. We've introduced the new world a little bit into it, but also we're questioning our place in the new world or something like that.
Another thoughtful song is "Summer Dream," where the band explores this theme of the ghost of summer. What about that theme fascinated you? 
KAUFMAN: It's like a thing that you maybe didn't even want but you can't stop thinking about it. And it keeps on coming back.
MITCHELL: There's that amazing Leonard Cohen song, "Chelsea Hotel," where he sings this entire song about this woman. Then he's like, "That's all. I don't even think of you that often." It's like, "Okay, but you did write an entire song about her."
JOHNSON: That's one of the favorite love songs where he's just like, "See if I care." And he's like, "Yeah, but I just wrote a whole song about it."
Beyond this upcoming tour, what goals do you have for the band? 
JOHNSON: Touring has been so crazy this year. We're planning the tours and we're excited about that, presenting the songs. But I think we're always just working towards "hey, let's do this so we can keep doing more, keep making more music." We're excited to get going again.
MITCHELL: I'm excited for us to just surprise ourselves. I have no idea what our third record would be. I'm excited to surprise ourselves.
Country & Western's New Generation Is Defiantly Of The Moment: Meet Charley Crockett, Colter Wall, Sierra Ferrell, Bella White & Others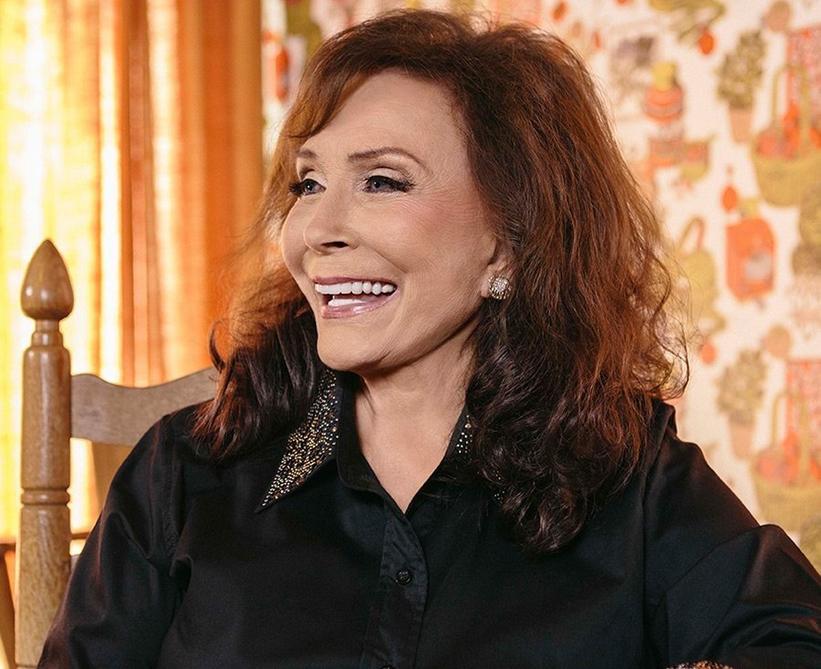 interview
Honoring The Legacy Of Loretta Lynn: Jeannie Seely, Amanda Shires, Ingrid Andress, Connie Smith & The Oak Ridge Boys Pay Tribute
Country icon Loretta Lynn died on Oct. 4, months after her 90th birthday. The multiple GRAMMY winner and Lifetime Achievement Award recipient's influence ricochets through the decades. In a roundtable tribute, Lynn's peers and fans reflect on her legacy.
GRAMMYs
/
Oct 5, 2022 - 08:38 pm
Country music lost one of its singular icons with the passing of Loretta Lynn, who died on Oct. 4 just months after her 90th birthday.
A creative beacon for singers and songwriters who was also beloved by fans, Lynn's deep influence ricochets through the decades. Her work and life is an example of a true artist who sang from her heart, preached empowerment and gave voice to the voiceless.
A self-taught artist who was born into poverty, Lynn later became known as the Coal Miner's Daughter — the title of her signature hit and her first song inducted into the GRAMMY Hall of Fame in 1998. The artist received  a slew of GRAMMY honors during her lifetime, with three wins and eighteen nominations in addition to a Lifetime Achievement Award bestowed on her in 2010. 
"It has been a privilege for the Recording Academy to honor Loretta throughout her illustrious career and celebrate her contributions to the music community," said Recording Academy CEO Harvey Mason Jr. "Loretta has had an indelible impact on country music and her voice will continue to resonate with generations of music lovers for years to come."
Lynn's first GRAMMY honor came during the ninth-ever GRAMMY Awards in 1967, with a nomination for "Don't Come Home A Drinkin'," an upbeat track where she tells her husband to sober up, famously crooning, "liquor and love just don't mix." Her first GRAMMY win arrived in 1972 for "After the Fire Has Gone," a duet with fellow country legend Conway Twitty.
"The main thing about country music is that I love to sing it and there's a lot of people who love to hear it," she said during her acceptance speech after her most recent GRAMMY win, this one for Best Country Album in 2005 for Van Lear Rose, a collaboration with Jack White.  It was a succinct way to encapsulate a seismic career.
In tribute to Lynn, GRAMMY.com gathered a disparate group of Loretta's peers and fans to reflect on her legacy.
The Trailblazin' Queen Of Country
Jeannie Seely (GRAMMY-winning singer, Grand Ole Opry legend): As an artist/songwriter, her impact will be felt and studied by historians for years to come. Aside from being such a legendary artist, Loretta was my Opry sister, a connection that has always meant the world to me. That is a special bond to us as we've all shared the same dreams, same disappointments, the same personal challenges, and, most of all, the same love of the Grand Ole Opry.
Joe Bosnall (GRAMMY-winning member of The Oak Ridge Boys): She was truly the Queen of country music. One of the greatest American success stories of all time. Humble beginnings to iconic legend, with a meaningful career and body of work that may never be equaled.
Sunny Sweeney (Country singer-songwriter): Loretta Lynn was a trailblazer for all of us following in her footsteps, making it ok to write and sing about real-life situations, even if they weren't always pretty.  
Ingrid Andress (GRAMMY-nominated singer/songwriter): There are not enough words to thank Loretta Lynn as one of the first to make a path for women in country to ride on. She paved the way for so many by sharing her talent and voice at a time when women's voices weren't being heard. May we be so lucky as to have artists and songwriters continue this country music tradition of sharing the stories that unite us in the most important ways.
Connie Smith (GRAMMY-nominated singer-songwriter):  Loretta was always my favorite singer and a great friend.
Rita Wilson (Actress, singer): She was smart, she was strong and she was kind.  As she said, "I ain't got much education but I got some sense."
"Grace, With Vocals That Sounded Like A Million Bucks"
Amanda Shires (GRAMMY-winning singer-songwriter, member of The Highwoman): My grandad listened to a lot of music. When we'd go selling flowers (he was a wholesale nursery man), one of the artists he loved to play was Loretta Lynn. I admire the way he loved fearless women. Loretta was fearless. Both Garland Shires and Loretta Lynn helped me learn how to lean into my gut feelings and strength inside my own self.  And I'm grateful that he introduced me to her music."
Connie Smith: The first time I came to Nashville I went to the Ernest Tubb Record shop and a guy said my wife wants to meet you and it was Loretta. She said "I heard you up there and you're going to make it. I'm going to do for you what Patsy Cline did for me." She even brought me out on stage for the Grand Ole Opry during her show for the first time.
Sunny Sweeney: She was such an inspiration to me personally. I carry the words of advice she gave me many years ago to every writing appointment: "Just write what you know, baby, just write what you know."
Joe Bosnall: I joined the Oak Ridge Boys 49 years ago and right away we found ourselves on a Loretta Lynn CBS special. We wore these checkered coats that exist today in Loretta's museum. I thought she was beautiful, gracious and kind. That never changed over the years.
Sierra Hull (Bluegrass singer, guitarist and mandolinist): I first saw Loretta perform six or seven years ago from backstage at the Grand Ole Opry in Nashville. I was so struck by how gorgeous she was in her long, flowing, red sequined dress. I couldn't stop watching her as she took the stage with such grace and her vocals still sounded like a million bucks. I'll never forget it. I went home and started obsessing over her albums with a fresh excitement.
Michael Trotter (Singer-songwriter, The War And Treaty): Growing up, in my bedroom was my grandmother's old school ACME radio. FM was happening back then....playing all the latest in Hip Hop and R&B. AM played all the religious stuff like Moody Bible. But at night the classic country western music played all night long. Mama rigged my radio to only play that AM station and I went to sleep to Loretta Lynn nightly.
Rita Wilson: You didn't have to be from the south to love Loretta Lynn. Her force of talent reached me as a young woman in another kind of south, Southern California.  To hear a woman singing "You Ain't Woman Enough To Take My Man" was shocking. It was the ultimate diss track and ahead of its time. She enabled women to have a voice literally and metaphorically. It was so empowering to hear this in a song. 
A Discography Of Country Classics
Jeannie Seely: My favorite song is "Blue Kentucky Girl." It's so sincere you have to believe every word she's singing because she makes you feel it.  And anyone can relate it to wherever they are from, like I did.
Connie Smith: I love all of her songs, but my favorite is "Here I Am Again."
Michael Trotter: The first song I ever heard from Loretta was back in the '80s.... "Don't Come Home A Drinkin'." In fact when Daddy would come home drunk and he and Mama were fighting I'd go in their room and start singing that song to Daddy and they'd actually stop fighting. That's when I knew she had super angelic powers. I will never forget the first time I ever heard her.
Joe Bosnall: [My favorite Loretta song is] "Don't Come Home A Drinkin'." Every man alive knew what that meant.
Amanda Shires: "The songs I love the most are the ones I can relate to the most: "Don't Come Home a Drinkin'," "The Pill." She was pro-choice. And when I read that in her memoir, I thought, amen…glad there's more of us than I thought."
Sunny Sweeney: "She was already my queen with her music from her first single on, but when she released Van Lear Rose she was placed on the highest of high pedestals. "Miss Being Mrs" is quite possibly one of the greatest songs of all time."
Rita Wilson: [My favorite song is]  "Coal Miner's Daughter." My dad was an immigrant and came to America on a freighter ship where he shoveled the coal powering the boat's engines. Loretta seemed to be singing about my family.
Loretta's family didn't have a lot of money but they were happy and they had love. She sang about her life with pride, not embarrassment. In this song she embraced the values that are important in life: family, love, hard work and a spiritual life.
Tanya Trotter (Singer-songwriter, The War And Treaty): "You Ain't Woman Enough To Take My Man" was my first song [of Loretta Lynn's that I loved].  It was the most classy way I had ever heard a woman tell another woman off, ha! 
Hard Hitting And Meaningful
Joe Bosnall: She wrote songs that were hard hitting and meaningful. Great Britain lost their long reigning Queen and now we have lost OUR Queen as well.
Tanya Trotter: She leaves this world with no regret, no recourse or no shame and we'll  work hard on earth's playground with her in memory.
Amanda Shires: I'm grateful for the times I got to be in her presence or sing for her. We're all in a better world because of her. Loretta will always remain a hero and a light.
Sunny Sweeney: I'm so brokenhearted that we have lost another of my heroes. My deepest sympathy is with Miss Loretta's family.
Country & Western's New Generation Is Defiantly Of The Moment: Meet Charley Crockett, Colter Wall, Sierra Ferrell, Bella White & Others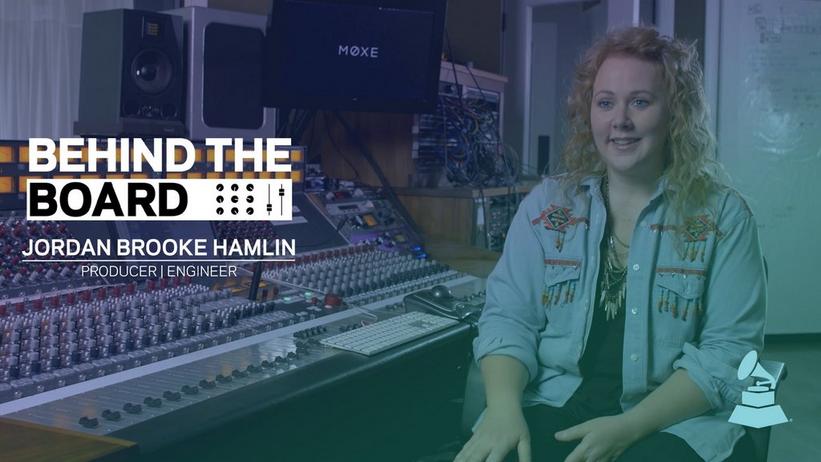 Photo: courtesy of artist
video
Behind The Board: Nashville Producer Jordan Brooke Hamlin Explains Why She Leads With "Curiosity" And Take Risks In The Studio
Hamlin reflects on the complex relationship between artist and producer, and shares an experience that taught her to leave extra room for creativity in her recording sessions.
GRAMMYs
/
Oct 5, 2022 - 05:03 pm
Nashville fixture Jordan Brooke Hamlin has produced records for artists including Danni Nicholls, Missy Higgins, Rachel Yamagata, and GRAMMY-winning duo Indigo Girls — and she's been a multi-instrumentalist and a touring and studio musician for more than a decade and a half.
Indeed, music is in Hamlin's blood, as she explains in this episode of Behind the Board.
"My parents loved music so much, and that I think is such a gift," she says, speaking from the residential, women-owned Nashville studio Møxe. "I honestly don't remember a time that it wasn't a given that I would do music. Or musician and botanist. Those were the two options in my mind."
Inspired by her parents' musical tastes, Hamlin grew up loving the immersive albums of the late 1960s and early '70s — and today, she applies that holistic approach to her studio work.
"I really love working with artists over the course of their career and exploring different spaces and different depths they can go to every time," she explains. "I probably come into the room starting with curiosity. I'm wanting to get their GPS coordinates. I want to know where they are, what they love right now, what they loved growing up, what their sauce is."
She's also always learning, thanks largely to the creative minds she surrounds herself with when she steps into a recording session. For example, she points to one session with a group of artists, when the team started improvising an arrangement in real time.
"We're coming up with this incredible arrangement on the fly," Hamlin recounts, "and we were talking about how that's a risk, to not go in with an arrangement, and only in a certain space would it be like, 'Yeah, let's take an hour' — which was probably what it would have taken anyway to record it — and everybody had so much fun."
"I thought it was a good reminder to me to leave space not just for engineering, but we're here to capture people playing their instruments to a high degree, and their creativity manifest," she concludes.
Press play on the video above for more reflections and insights from Hamlin, and keep checking GRAMMY.com for more new episodes of Behind the Board.
Behind The Board: Three-Time GRAMMY Nominee Bernard "Harv" Harvey On Energy, Production Lessons From Dr. Dre & What Makes A Great Record