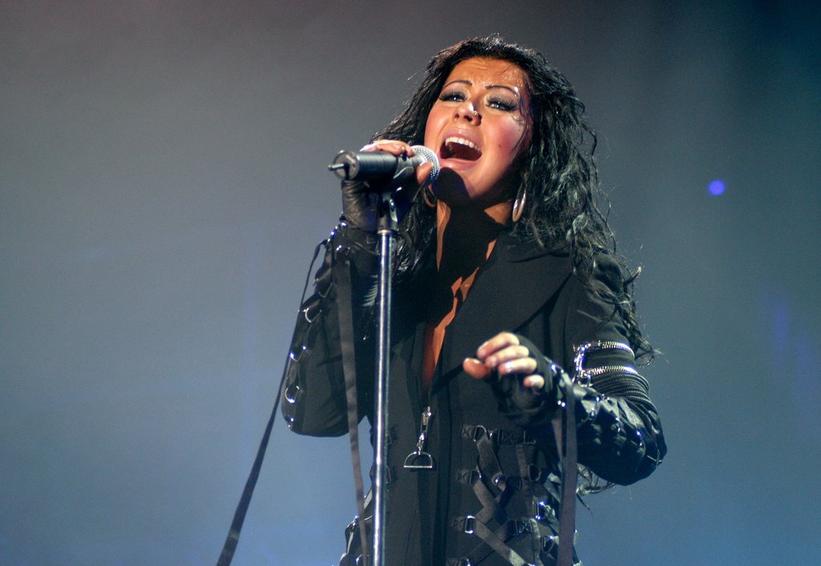 Christina Aguilera performs in Paris in 2003.
Photo: Jean Baptiste Lacroix/WireImage
feature
How Christina Aguilera's "Beautiful" Made An Important Statement About Acceptance — For Society And Herself
As "Beautiful" turns 20, Christina Aguilera, video director Jonas Akerlund, and leaders from GLAAD and Trans Lifeline reflect on the song's powerful impact, from supporting LGBTQ+ rights to sparking a conversation on mental health.
GRAMMYs
/
Nov 16, 2022 - 06:52 pm
When Christina Aguilera began working on her second album, Stripped, she had what every pop star dreams of: multiple No. 1 hits, a No. 1 album, a headlining tour. But she was unhappy, and Linda Perry could see that when they got in the studio together.
Perry is the sole songwriter/producer of "Beautiful," which is not only one of Aguilera's biggest hits to date, but one of the biggest self-acceptance anthems of her generation. And though Aguilera didn't write the song, she knew it fit perfectly within the narrative of Stripped.
"I'd always been given a schedule, and an agenda, and told the places I need to go, how I needed to dress," Aguilera says. "It was a machine, and at that point in my life… I just felt like there was so much inside of me that I didn't get to say and that I wasn't able to share, and I wanted to connect deeply with my fans."
That's the urgency — and also, the insecurity — that made Perry realize Aguilera was the perfect singer for the "Beautiful" narrative. And that's likely why "Beautiful" has connected so widely for so long: it's as authentic as songs come.
"Beautiful" was released as a single on Nov. 16, 2002, and quickly became a touted part of her discography. Along with topping multiple charts, the track earned Aguilera both a GLAAD Media Award in 2003 and a GRAMMY for Best Female Pop Vocal Performance in 2004. Twenty years later, "Beautiful" still serves as an anthem for anyone struggling with self-acceptance — one that has arguably become more meaningful than ever.
As the song celebrates its 20th anniversary, GRAMMY.com spoke with Aguilera, video director Jonas Akerlund, GLAAD's Anthony Allen Ramos and Trans Lifeline's Myles Markham about the impact of "Beautiful" and why its message is still important today.
"It really did change my whole concept of what 'Beautiful' really meant."
Perry was very protective of "Beautiful" because of the importance of its message. She had previously previewed the song to Pink for the Missundaztood sessions, however, ultimately decided to keep it for herself. And as Perry told American Songwriter in 2021, she initially didn't see Aguilera as a fit for the song when they first met at Perry's home studio.
"I was just thinking, I'm looking at this hot chick, that's got everything going on, at least that's what you think, and she's wanting this song about singing about being beautiful? How vain is that?" Perry said. 
Even so, she let Aguilera record a demo. Just before they got started, Aguilera told a friend who was in the studio with her, "don't look at me" — and that changed everything. "I realized this beautiful girl, that's riding high on the charts, everybody knows her, is just as insecure as I am," Perry recalled. "It really did change my whole concept of what 'Beautiful' really meant."
As Aguilera admits herself, she was "feeling a lot of things" on that fateful demo day, but Perry helped her dig into those feelings and ultimately realize that it was okay to not feel perfect.
"[Linda] really did an amazing job at breaking me free of that mental pressure that we all can have in striving for our best possible selves," Aguilera says, "and embracing the vulnerability in the fact that what we do might not be perfect, but in actuality, it is, and it makes us unique."
The song's recording holds true to that sentiment, as the demo version was what was released — complete with the "don't look at me" at the beginning. 
"I never would have even kept the vocal that was on there," Aguilera says, "but [Linda] really pushed me to do so. I didn't punch into it and perfect it in any way, and I had kept things on it I would never normally live with. But I did embrace the honesty of it, because it was the sentiment of the song — to really tap into what you feel insecure about. But in all actuality, it's the flaws and seemingly the imperfections that are super rare and beautiful."
"The video for 'Beautiful' did a really unique thing for the time and genre."
The official music video for "Beautiful" premiered a few weeks after the song was released as a single. The four-minute clip sees Aguilera huddled in the corner of an empty home, her solitude his juxtaposed with clips of people feeling a similar sense of disconnect via body dysmorphia, gender non-conformity, same-sex relationships, and racial suppression. 
While sexual fluidity and gender non-conformity weren't necessarily new phenomenons within pop visuals — take Madonna's videos like "Justify My Love," or George Michael's video for "Outside," which recreated his arrest for soliciting sex from an undercover cop — it did mark a first for Aguilera's generation of pop stars. Britney Spears' "Overprotected" and *NSYNC's "Pop" contained similar themes of feeling overwhelmed by everyday life and wanting to break free from other people's expectations, but until that point, none of Aguilera's peers had a song or video that fought society's expectations quite like "Beautiful." 
"Back then, music videos were all about selling albums," Jonas Akerlund, who directed the "Beautiful" video, says. "Nobody gave a s— about a message. So the fact that Christina and a few other artists actually brought attention to something more than just an artist singing a song was amazing. And that suited me, because I always wanted to make an impact with my videos. I love her for that, and I'm proud I was a part of that."
"The video for 'Beautiful' did a really unique thing for the time and genre, and that was to break down the binary between things like disgust and desire, self love and self hatred," Myles Markham, Development Coordinator for Trans Lifeline, adds. "[It] really opened up a conversation of what it could mean to be yourself against the expectations and pressures of a patriarchal society."
"It was such an important part of who I was becoming as an artist and who I was as a person."
The song's self-acceptance message, as well as the LGTBQ+ representation in its video, earned Aguilera the Special Recognition award at the 2003 GLAAD Media Awards. "Beautiful" has become an unofficial anthem for the LGBTQ+ community, in part because it "explored gender expression in a time when this type of representation was rare," as GLAAD's Vice President of Communications & Talent Anthony Allen Ramos suggests. 
In her acceptance speech at the GLAAD Media Awards, Aguilera implied that the impact of "Beautiful" was exactly what she hoped. "This song is definitely a universal message that everybody can relate to — anyone that's been discriminated against or unaccepted, unappreciated or disrespected just because of who you are," she said. "It was so important to me that I support the gay community in this sense."
For Aguilera, the Stripped era was all about getting a message across and freeing herself of the narratives and comparisons that were forced upon her. While the album was liberating for Aguilera herself, she wanted to make an impact on others who were dealing with similar feelings. Most importantly, she wanted to be raw and honest, through both her lyrics and her visuals — and "Beautiful" did just that.
"Jonas came through sharing such a heartfelt sentiment of honesty, and not just making it stereotypically beautiful," she says. "Bringing up really hard conversations and instilling hope was such an important part of who I was becoming as an artist and who I was as a person."
To this day, Akerlund says he still has people thanking him for making the "Beautiful" video and sharing stories as to why the video was impactful to them. He also proudly keeps a collection of fan letters he's received over the years.
"I'm from Sweden, and back then, I didn't really understand what an impact these kinds of [videos] could have," Akerlund says. "I thought it felt like the most natural thing to incorporate all these elements into the story [of 'Beautiful']. I didn't really think too much about it, but it was amazing to see the reactions."
"It's the same universal message in all parts of the world."
On the 20th anniversary of Stripped this October, Aguilera shared a new video for "Beautiful" — a "2022 version," which touched on the ways technology has infiltrated society, particularly how it has affected younger generations. At the heart, many of the themes in the original video are mirrored in the new visual — body dysmorphia, mental health issues, and unrealistic beauty standards. All the while, their internal struggles are magnified as their lives are on display via social media.
"The original 'Beautiful 'video set out to bring awareness and a sense of compassion in the face of judgment, criticism, and outside opinions," Aguilera wrote in an Instagram post upon the release of the 2022 Version. "It still carries an important message to remember our core values outside of what's being fed to us…to find a sense of balance and accepting ourselves for who we are."
"Beautiful" remains one of Aguilera's signature songs and a staple in her setlist. She says she still feels a sense of pride seeing fans sing the song back to her at her concerts, especially those who bring their kids "to the table and the conversation."
The song's message remains evergreen and intersectional. From its raw, unedited vocals, to the forlorn piano chords, to its groundbreaking video, "Beautiful" encapsulates the feelings of loneliness many people felt in a time when gay rights were still in limbo, and before conversations surrounding mental health became table topics. 
"Beautiful" continues to help people find comfort, and reminds listeners that outside forces, as Aguilera sings, "won't bring us down." That lasting connection is what Aguilera loves most.
"To be able to perform ["Beautiful"] on stage and see people of so many different ages and walks of life — and to know that it represents something very different for each person, but in actuality, it's the same universal message in all parts of the world — it's just really beautiful to see that in person, in real time," Aguilera says. "To know that it meant so much to so many people is just the greatest reward, ever."
'Spiceworld' At 25: How The Spice Girls' Feminine Enthusiasm & Camp Became A Beacon For Queer Youth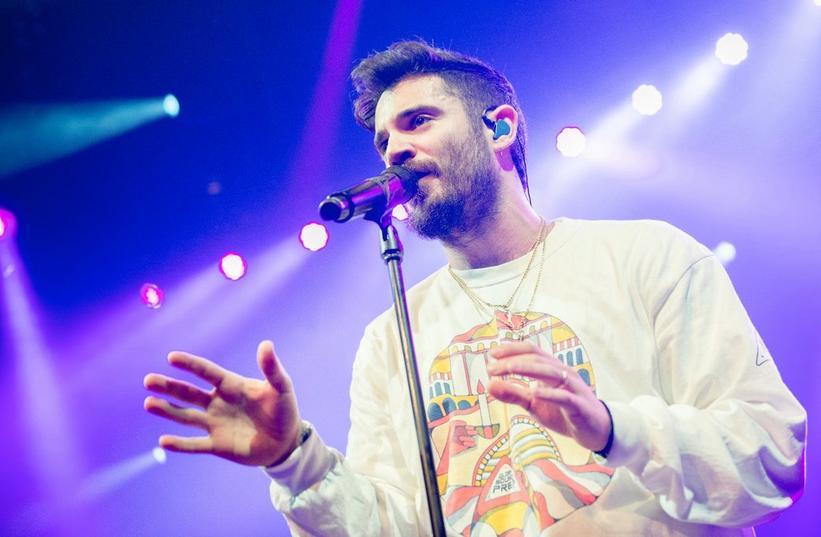 Jon Bellion performs in London in 2019.
Photo: Ollie Millington/Redferns
list
9 Songs You Didn't Know Jon Bellion Wrote & Produced: Hits By Justin Bieber, Selena Gomez & More
Pop superproducer Jon Bellion is the man behind Tori Kelly's new ep, 'tori,' but he's also been involved with countless hits for more than a decade. Check out nine of Bellion's biggest songs, from Eminem to Jonas Brothers.
GRAMMYs
/
Aug 3, 2023 - 01:36 pm
If the name Jon Bellion sounds familiar, it's probably because of his 2016 single "All Time Low." With its relentless "low-low-low-low-low" chorus, the electronic-fused pop confection scored Bellion his first major hit — as a solo artist, that is.
Prior to Bellion's breakthrough with his debut solo single, he'd already made a name for himself behind the scenes by writing and producing songs for the likes of Eminem, Jason Derulo, Zedd and CeeLo Green. And in the seven years since "All Time Low" became a top 20 hit, he's celebrated plenty of other smashes with some of pop's A-listers from Christina Aguilera to Justin Bieber.
This year alone, he worked with the Jonas Brothers to executive produce their statement-making record The Album, helped shape Maroon 5's "Middle Ground" — which is expected to be the lead single off the veteran pop-rockers' forthcoming eighth studio album — and teamed up with Switchfoot for an orchestral 2023 update of the band's 2003 breakout single "Meant to Live."
Bellion's most recent work can be heard on Tori Kelly's new self-titled EP tori, which dropped July 28. Along with producing the project, Bellion joined Kelly for a magnetic, electro-tinged track titled "young gun." Upon the EP's release, Kelly herself noted Bellion's impact, calling their collaboration "the start of something really special."
In honor of Bellion's latest project, take a look at nine songs you may not have known contained Bellion's signature touch — a roadmap to his becoming one of the most in-demand producers of the moment.
Eminem feat. Rihanna — "The Monster"
One of Bellion's earliest smashes came courtesy of Eminem — well, and Bebe Rexha. The pop singer penned the track's dark hook while working on her debut album, but it later made its way to Eminem and eventually shapeshifted into his fourth collaboration with Rihanna. The song became the duo's second No. 1 collaboration following 2010's "Love The Way You Lie" and remains one of most monstrous hits in Bellion's career.
Jason Derulo — "Trumpets"
Jason Derulo worked solely with Bellion on this top 20 hit from his 2013 Tattoos, which was later re-packaged as 2014's Talk Dirty. Built around an irresistible horn line of, yes, literal trumpets, Bellion and Derulo concocted a bouncy, flirtatious symphony to smoothly objectify the R&B singer's lady love, and manages to name drop Coldplay, Katy Perry and Kanye West over the course of just three minutes and thirty-seven seconds.
Christina Aguilera feat. Demi Lovato — "Fall in Line"
Bellion handled production on Christina Aguilera's fierce 2018 team-up with Demi Lovato, "Fall in Line," off the former's 2018 LP Liberation. Behind the boards, Bellion effectively captured all of the feminist rage and empowerment that the two vocal powerhouses lit into their lyrics, pairing their sneering vocals with a vamping strings section, rattling chains and a robotic male overlord futilely demanding, "March, two, three, right, two, three/ Shut your mouth, stick your ass out for me."
"Fall in Line" scored a nomination for Best Pop Duo/Group Performance at the 2019 GRAMMYs, marking Aguilera's twentieth career nod and Lovato's second. 
Maroon 5 — "Memories"
To kick off their seventh album, JORDI, Maroon 5 enlisted Bellion to co-write lead single "Memories." The gentle ballad found frontman Adam Levine mourning the loss of a friend, pouring one out over a lilting reggae-pop line that cleverly samples Johann Pachelbel's "Canon in D Major." While the heartfelt song is dedicated to the band's longtime manager (and namesake of the LP) Jordan Feldstein, who tragically passed away in 2017 due to a blood clot, the relatable sentiment of "Memories" helped it peak at No. 2 on the Hot 100.
In addition to "Memories," Bellion also worked with the band on two other songs from JORDI, co-writing fourth single "Lost" as well as Anuel AA and Tainy collab "Button." Three years later, he would reunite with the band to co-write and co-produce their latest, equally delicate single "Middle Ground" alongside the likes of Andrew Watt and Rodney Jerkins.
Miley Cyrus — "Midnight Sky"
Miley Cyrus came raring into her glam rock-inspired album Plastic Hearts on the back of "Midnight Sky," an unapologetic statement of independence following her split from longtime love Liam Hemsworth. Dripping in sultry synths, the power ballad took a page from '80s rock icons like Joan Jett, Debbie Harry and Stevie Nicks.
The sound was an entirely new one for Cyrus — which is one of Bellion's tools when working with a new superstar for the first time. In a 2023 Billboard interview, he likened his approach to inventing a new kind of ride for the given A-lister. "They have already built an amazing theme park: millions of people go to it and experience their roller coasters," he said. "They put me in charge of revamping or creating a new section of the theme park, and they let me be the foreman of it all." The new style worked in Cyrus' favor, and earned Bellion yet another top 20 hit on the Hot 100.
Justin Bieber — "Holy"
Bellion's fingerprints are all over Justin Bieber's 2021 album Justice, starting notably with its Chance the Rapper-assisted lead single "Holy," which he both co-wrote and co-produced. The superproducer contributed to six other songs on the pop-driven LP — including the pop radio No. 1 "Ghost," which was inspired by Bellion's late grandmother — as well as three deluxe tracks. And though Bellion didn't have any credited features, his voice can still be heard: he offered background vocals on seven of the songs.
Justice earned Bellion his very first GRAMMY nomination, as the project was nominated for Album Of The Year at the 2022 GRAMMYs (Bieber also received seven other nods). 
Selena Gomez — "My Mind & Me"
Bellion first collaborated with Selena Gomez on Rare album cut "Vulnerable" alongside Amy Allen, Michael Pollack and The Monsters & Strangerz. Two years later, the entire team reunited for the title track to the pop singer's Apple TV+ documentary My Mind & Me.
Bellion and co. helped Gomez tap even further into the most vulnerable side of her psyche to date. "Vulnerable" saw Gomez letting her guard down with a new flame, but "My Mind & Me" allowed her to completely lay bare her mental health journey. "Sometimes I feel like an accident, people look when they're passin' it/ Never check on the passenger, they just want the free show," she sings. "Yeah, I'm constantly tryna fight somethin' that my eyes can't see," over spare guitar and piano.
Jonas Brothers — "Waffle House"
After the success of their 2019 comeback album Happiness Begins with producer Ryan Tedder, the Jonas Brothers recruited Bellion to helm the boards on their 2023 follow-up The Album. The producer helped the hitmaking siblings tap into a new facet of their pop-rock sound, finding inspiration in the '70s music their dad raised them on. (As Joe Jonas told GRAMMY.com upon the album's release, Bellion "was saying exactly what we were hoping for" when they first met to mull over ideas.)
While Bellion had a hand in every song on The Album, second single "Waffle House" is the latest to earn both him and Jonas Brothers a top 15 hit on pop radio. Bellion also serves as the one and only featured artist on The Album, coming out from behind the boards and into the vocal booth for bombastic closer "Walls."
Tori Kelly — "missin u"
Tori Kelly first linked up with Bellion thanks to Justin Bieber, as the pair worked together with the Biebs on tender bonus cut "Name" from the Justice sessions. So, when it came time to launch a new era with her self-titled EP tori, the songstress turned to Bellion to help bring her vision to life.
On lead single "missin u," the two-time GRAMMY winner throws the guitar-driven singer/songwriter vibes of her past work out the window in favor of a sleek R&B sound reminiscent of the early 2000s. The sonic gear shift is a natural fit for her lithe voice as she replays a romance that "was rainin' purple skies in my room." Somehow, Kelly even manages to outdo the vocal acrobatics of "missin u" with a deliriously brilliant "R&B edit" that adds even more layers, soul and vocal flourishes to the single.
"When I first started working with Jon Bellion, we were just beginning to scratch the surface on a new sound that truly felt like my own," Kelly explains in a video celebrating the release of her self-titled EP tori. "I know that I'm gonna look back on this collaboration as the start of something really special." As for Bellion's thoughts on his latest project? "Tori Kelly's the greatest vocalist of all time!"
Ariana Grande's Musical Growth In 15 Tracks, From "The Way" To "Positions"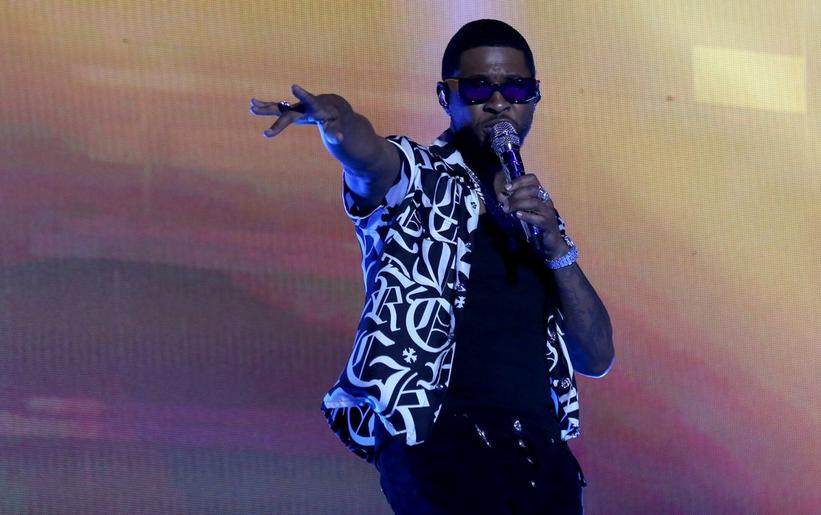 Usher performs at Lovers & Friends Festival 2022.
Photo: Gabe Ginsberg/Getty Images
news
Hype Up For Lovers & Friends Festival With This Nostalgic Playlist: Bangers From Mariah Carey, 50 Cent, Usher And More
The second annual Lovers & Friends festival in Las Vegas will see some of the biggest R&B and rap legends take the stage on May 6. Whether or not you'll be there, bump this 50-song playlist — and try not to jam.
GRAMMYs
/
May 4, 2023 - 06:56 pm
As Jagged Edge and Nelly asked in 2001, where the party at? On May 6, it's at the Las Vegas Festival Grounds thanks to Lovers & Friends.
The star-studded festival largely celebrates the R&B and hip-hop stars of the '90s and 2000s, with a lineup that boasts Missy Elliott, Mariah Carey, Boyz II Men, Usher, Christina Aguilera, Nelly, and 50 Cent, among countless other hitmakers. With a jam-packed roster, it's hard to believe the fest is only one day. But one thing is guaranteed: it's going to be a day full of bangers.
There's also a good chance that there will be some viral moments from the second annual Lovers & Friends fest. Several of the stars on the bill have delivered some smash hits together, and they may just take the stage together to perform them — whether it's Chris Brown and Busta Rhymes for "Look At Me Now," Frankie J and Baby Bash for "Suga Suga," or, yes, even Jagged Edge and Nelly for "Where The Party At."
Even if you didn't get a ticket to this year's sold-out fest, that certainly doesn't mean you can't get in on the nostalgia. GRAMMY.com has curated a 50-song playlist to highlight all 50 performers on the Lovers & Friends 2023 lineup (which also includes current stars like Summer Walker, Bryson Tiller and Partynextdoor), and it will undoubtedly get you pumped up.
Below, jam out to GRAMMY.com's Lovers & Friends 2023 playlist, or listen to it on Apple Music, Amazon Music or Pandora.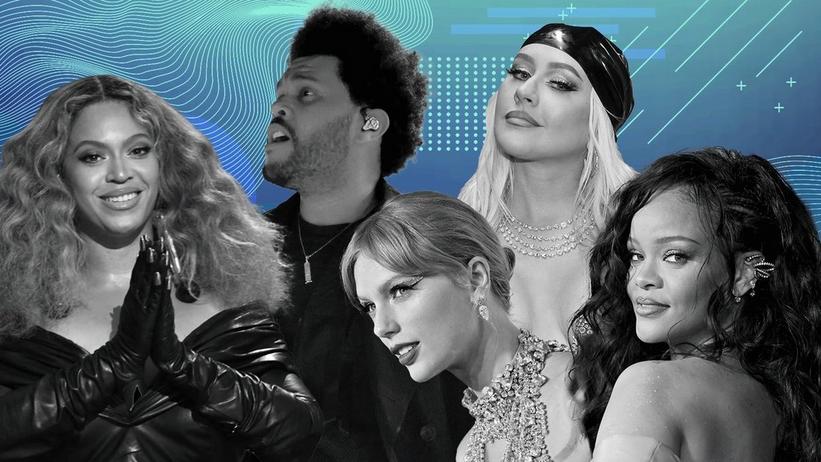 (L-R) Beyoncé, The Weekend, Taylor Swift, Christina Aguilera, Rihanna
Photo: (L-R) Kevin Winter/Getty Images for The Recording Academy, Frazer Harrison/Getty Images for Live Nation, Axelle/Bauer-Griffin/FilmMagic, Courtesy of Christina Aguilera, Axelle/Bauer-Griffin/FilmMagic
list
2022 In Review: 8 Trends That Defined Pop Music
Pop music continued to showcase its versatility this year, with newcomers and legendary mainstays alike shaking up the industry — which has led to major hits and even bigger cultural moments.
GRAMMYs
/
Dec 28, 2022 - 04:49 pm
If there's one word to describe this year in pop, it would be "unpredictable." Take fan favorites Beyoncé and Rihanna for starters: as fans began pondering when they'd hear new music again, both superstars made significant returns to their solo artistries, further elevating their statuses as elite pop divas.
Pop's unexpected nature is what makes it so beloved, especially in 2022 as artists showcased just how far their versatility can stretch. TikTok showed off its influence once again, with songs like Nicki Minaj's "Super Freaky Girl" birthing endless viral dance challenges. There was plenty of dancing outside of TikTok as well, as artists like Drake, The Weeknd and Beyoncé had everyone grooving under the disco ball. 
From pop stars unleashing their naughty sides to singles that transported us back to the '2000s and beyond, there were several major moments in pop music this year. Dive into eight of the genre's most dominant trends below.
Y2K Pop Divas Made Comebacks
Throughout 2022, the influence of late '90s and early '00s culture was reflected on fashion runways, TikTok and even a multitude of television reboots. So it was only natural that it also seeped into the music realm, with some of the era's biggest pop stars having a refreshing revival.
More than two decades after the release of her debut Spanish-language album Mi Reflejo, Christina Aguilera returned to her Latina roots (Aguilera's estranged father is an Ecuador native). The long wait was worth it, with the star sounding more confident than ever before as she celebrated her rich heritage. After starting this new era with the female empowerment anthem "Pa Mis Muchachas" (alongside fellow Latina artists Becky G, Nicki Nicole and Nathy Peluso), Aguilera continued to flex her versatility and vulnerability with songs like the impassioned Mexican ranchera "La Reina" and the somber "No Es Que Te Extrañe" that found the artist healing her childhood trauma.
Y2K pop sweetheart Mandy Moore, who returned after an 11-year music hiatus with 2020's Silver Landings, kept the momentum going with her seventh album In Real Life. The folk-inspired record showcased Moore's strength as a songwriter and new motherhood.
But arguably the most unexpected return came from Britney Spears. Following the official termination of her conservatorship last November, the pop star freed herself from a decade of restrictions. Spears found her way back to the studio for the first time since the release of 2016's Glory album, and joined fellow pop legend — and longtime supporter — Elton John for "Hold Me Closer." The song draws elements from John's classics like 1971's "Tiny Dancer," 1976's "Don't Go Breaking My Heart" and 1992's "The One," but adds a modern twist with shimmering dance melodies. "Hold Me Closer" debuted at No. 6 on the Billboard Hot 100, proving that Spears can still score a hit with ease.
R&B Artists Danced Under The Disco Ball
Pop has seen a disco revival seeping in over the last few years (even including the return of ABBA!), but what made this year so different is witnessing more R&B-leaning artists putting a fun spin on dance music as a whole.
Leading the charge was Beyoncé, who ignited a full-on dance party with her latest album (and first since 2016's Lemonade). After trying her hand at Afrobeats with 2019's soundtrack album, The Lion King: The Gift, Queen Bey transformed into Queen of the Dance Floor with 16 hip-shaking tunes whose influence call back to Studio 54 and Black ballroom heydays. The album is not only a tribute to her late Uncle Johnny (who she credits for introducing her to house music), but Black queer culture as a whole.
Nearly two years after 2020's After Hours, The Weeknd aptly kept the club open until sunrise with his fifth album, Dawn FM. Jam-packed with '80s elements from new wave to synth-pop, the record is an energetic joyride kookily narrated by comedian Jim Carrey.
While he's widely known as a rap superstar, Drake channels his R&B crooning alter-ego from time to time. His seventh album, Honestly, Nevermind, arrived as a surprise in June — and he was clearly ready to kick off summer with a party. The album found the artist at the center of the dance floor as he explored house music with bouncy songs like "Sticky" and "Massive." The experimentation paid off: the album became Drake's 11th Billboard 200 chart-topper.
Throwback Samples Were Inescapable
While sampling is more of a historical music staple than a trend, this year many artists had fun traveling back to the '70s, '90s and early '00s to add nostalgic doses into their hits. Beyoncé evoked the spirit of Donna Summer on "Summer Renaissance," which pulls from the disco queen's 1977 jam, "I Feel Love." Elsewhere, Charli XCX lifted the Stonebridge Mix of Robin S.'s 1992 "Show Me Love" for her own dance floor hit, "Used To Know Me," while NYC-based EDM duo Sofi Tukker sampled Suzanne Vega's "Tom's Diner" for their infectious tune "Summer In New York."
Throwbacks were perhaps most predominant within mainstream rap hits. Tyga's "Sunshine," a collaboration with Jhené Aiko and the late Pop Smoke, samples Lil Flip's 2004 hit of the same name, while Jack Harlow used Fergie's 2006 No. 1 smash "Glamorous" to create his own hit. Rap newcomers Armani White and Central Cee also traveled to the early '00s, with the former's N.O.R.E. sample heard throughout his debut single, "Billie Eilish" and the latter using Eve and Gwen Stefani's "Let Me Blow Ya Mind" for "Doja."
Nicki Minaj and Yung Gravy took us back to the '80s, as Minaj flipped Rick James' 1981 single "Super Freak" into "Super Freaky Girl, and Yung Gravy's viral "Betty (Get Money)" was based on Rick Astley's 1987 hit "Never Gonna Give You Up."
Artists Tapped Into Their Edgy Sides
Pop music can surely be wholesome, so it's always fun when artists try their hands at edgier sounds. Sam Smith has long proven they can do more than a heartfelt ballad, and their TikTok anthem with Slut Pop star Kim Petras found the pair at their naughtiest.
Dove Cameron shed her Disney Channel beginnings with February's "Boyfriend" single, which celebrated her queer identity with dark, spine-tingling production. She raised the intensity levels with August's "Breakfast," which flipped gender politics on its head.
Maggie Lindemann also traded pure pop for pop-punk for her debut album, ​​Suckerpunch. Continuing the Gen Z angst that rattled 2021, Lindemann unapologetically rebels against the music she was previously associated with thanks to singles like the nostalgic "Cages" and the incredibly flirtatious "She Knows It."
Even Taylor Swift got in on the fun. The singer, who previously showcased her edgy side with 2017's reputation, further leaned into that style with her hazy tenth album, Midnights. A complete left turn from 2020's folk-inspired LPs, folklore and evermore, Midnights captured the restlessness, revenge fantasies, self-criticism, and curiosity that come with what she detailed as "13 sleepless nights scattered throughout my life."
Black Pop Divas Made Long-Awaited Returns
After Rihanna and Beyoncé officiated their pop icon statuses with 2015's Anti and 2016's Lemonade, respectively, the two opted to take mini hiatuses from solo music. Beyoncé steadily remained in the music sphere, hopping on several collaborations including a remix of Megan Thee Stallion's 2021 hit "Savage." The song scored GRAMMY Awards for Best Rap Song and Best Rap Performance, the latter of which helped crown Beyoncé as the artist with the most wins in GRAMMY history with 28. (She followed up the achievement by recording "Be Alive" for the King Richard soundtrack, which earned Oscar and Golden Globe nominations for Best Original Song.)
But Beyoncé focused the spotlight back on herself with her seventh studio album. The July release was a pop culture phenomenon, weaving itself into casual conversations, memes, TikTok dance challenges and more. The album is a celebration of not only Beyoncé's career, but Black influence on dance music as a whole.
Rihanna was more quiet following Anti — only appearing on a few collaborations here and there, including Calvin Harris' "This Is What You Came For," DJ Khaled's "Wild Thoughts" with Bryson Tiller and Kendrick Lamar's GRAMMY-winning "Loyalty" — to focus on building her Fenty beauty and lingerie empire. But fans never stopped craving new music from the star herself, and their prayers were finally answered in September in major fashion: The superstar announced in September that she'll headline the Super Bowl LVII halftime show, which will mark her first live showing in over five years.
Rihanna quickly kept the excitement going with two appearances on October's Black Panther: Wakanda Forever soundtrack, "Lift Me Up" and "Born Again" — her first solo music in more than six years.
Rap's TikTok Takeover Was Still In Effect
Rap was one of the biggest genres on TikTok last year, and the trend remained strong in 2022. The dominance was seen through dance challenges and viral memes, with Lil Uzi Vert's infectious Jersey club smash "I Just Wanna Rock" creating an explosive wave that culminated in a dance-heavy music video.
Drake and 21 Savage's "Rich Flex," a highlight from their collaboration album, Her Loss, was transformed into a silly tongue-in-cheek meme. Brooklyn rap newcomer Lola Brooke had TikTokers  feeling confident as ever as they used "Don't Play With It" to soundtrack their selfie videos. Even Lil Wayne and Soulja Boy's nostalgic jams had a resurgence, with 2008's "Lollipop" and 2018's "Pretty Boy Swag" spawning their own TikTok trends.
Ed Sheeran Was Pop's Big Brother
Despite being one of the biggest pop stars in the world, Ed Sheeran has maintained the humble spirit that made him so beloved. The British singer/songwriter has always shown a love for collaboration, even releasing a guest-filled project in 2019. But in 2022, Sheeran put collaborations into overdrive.
Sheeran kicked things off by teaming up with his old pal Taylor Swift on a duet version of his = track, "The Joker and the Queen." In March, he dropped not one but two singles with Colombian star J Balvin, "Sigue" and "Forever My Love," where Sheeran traded his guitar for a reggaeton bassline.
The singer then traveled across genres — and the globe — pairing with Jamaican dancehall singer Ishawna (who previously sampled 2017's "Shape of You" on her single "Equal Rights") for "Brace It" and guesting on Nigerian hitmaker Burna Boy's love song "For My Hand." Not forgetting his own roots, Sheeran also showcased his admiration for local British hip-hop with appearances on Manchester rapper Aitch's "My G" and rap collective D-Block Europe's "Lonely Lovers."
Bands Proved Rock & Roll Is Here To Stay
"Rock 'n' roll is dead" has been an ongoing debate ever since hip-hop became the industry's most dominant genre in 2017. Even so, rock acts continued to spotlight the historic genre this year, and helped it endure in arguably the biggest way it has in years.
After a five-year hiatus, Paramore thrilled fans with the announcement of their sixth album, This Is Why. Set for a February 2023 release, the new album era kicked off with the funky eponymous lead single in September.
Rock mainstays Red Hot Chili Peppers satiated genre diehards by dropping two albums within six months in 2022: April's Unlimited Love and October's Return of the Dream Canteen.
On the more alternative side, Arctic Monkeys re-emerged with a vintage focus for October's The Car, which drew from baroque pop, funk, early '70s rock and classic film scores. And after a brief pandemic-induced postponement following 2020's Notes on a Conditional Form, The 1975 returned with their fifth album, Being Funny in a Foreign Language. Singles like "Part of the Band," "Happiness" and "I'm in Love with You" found the band in a lighthearted, '80s dance-pop-inspired spirit.
After a year filled with viral moments and comebacks, there's no doubt that artists will continue to keep pop unpredictable in 2023.
5 Essential Power Pop Albums From 2022: Dazy, Young Guv, The Beths & More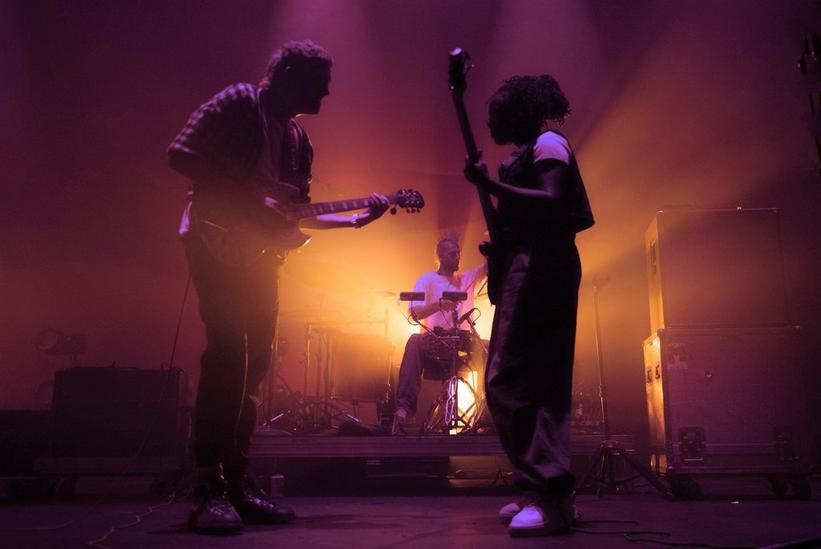 list
A Guide To Modern Funk For The Dance Floor: L'Imperatrice, Shiro Schwarz, Franc Moody, Say She She & Moniquea
James Brown changed the sound of popular music when he found the power of the one and unleashed the funk with "Papa's Got a Brand New Bag." Today, funk lives on in many forms, including these exciting bands from across the world.
GRAMMYs
/
Nov 25, 2022 - 04:23 pm
It's rare that a genre can be traced back to a single artist or group, but for funk, that was James Brown. The Godfather of Soul coined the phrase and style of playing known as "on the one," where the first downbeat is emphasized, instead of the typical second and fourth beats in pop, soul and other styles. As David Cheal eloquently explains, playing on the one "left space for phrases and riffs, often syncopated around the beat, creating an intricate, interlocking grid which could go on and on." You know a funky bassline when you hear it; its fat chords beg your body to get up and groove.
Brown's 1965 classic, "Papa's Got a Brand New Bag," became one of the first funk hits, and has been endlessly sampled and covered over the years, along with his other groovy tracks. Of course, many other funk acts followed in the '60s, and the genre thrived in the '70s and '80s as the disco craze came and went, and the originators of hip-hop and house music created new music from funk and disco's strong, flexible bones built for dancing.
Legendary funk bassist Bootsy Collins learned the power of the one from playing in Brown's band, and brought it to George Clinton, who created P-funk, an expansive, Afrofuturistic, psychedelic exploration of funk with his various bands and projects, including Parliament-Funkadelic. Both Collins and Clinton remain active and funkin', and have offered their timeless grooves to collabs with younger artists, including Kali Uchis, Silk Sonic, and Omar Apollo; and Kendrick Lamar, Flying Lotus, and Thundercat, respectively.
In the 1980s, electro-funk was born when artists like Afrika Bambaataa, Man Parrish, and Egyptian Lover began making futuristic beats with the Roland TR-808 drum machine — often with robotic vocals distorted through a talk box. A key distinguishing factor of electro-funk is a de-emphasis on vocals, with more phrases than choruses and verses. The sound influenced contemporaneous hip-hop, funk and electronica, along with acts around the globe, while current acts like Chromeo, DJ Stingray, and even Egyptian Lover himself keep electro-funk alive and well.
Today, funk lives in many places, with its heavy bass and syncopated grooves finding way into many nooks and crannies of music. There's nu-disco and boogie funk, nodding back to disco bands with soaring vocals and dance floor-designed instrumentation. G-funk continues to influence Los Angeles hip-hop, with innovative artists like Dam-Funk and Channel Tres bringing the funk and G-funk, into electro territory. Funk and disco-centered '70s revival is definitely having a moment, with acts like Ghost Funk Orchestra and Parcels, while its sparkly sprinklings can be heard in pop from Dua Lipa, Doja Cat, and, in full "Soul Train" character, Silk Sonic. There are also acts making dreamy, atmospheric music with a solid dose of funk, such as Khruangbin's global sonic collage.
There are many bands that play heavily with funk, creating lush grooves designed to get you moving. Read on for a taste of five current modern funk and nu-disco artists making band-led uptempo funk built for the dance floor. Be sure to press play on the Spotify playlist above, and check out GRAMMY.com's playlist on Apple Music, Amazon Music and Pandora.
Say She She
Aptly self-described as "discodelic soul," Brooklyn-based seven-piece Say She She make dreamy, operatic funk, led by singer-songwriters Nya Gazelle Brown, Piya Malik and Sabrina Mileo Cunningham. Their '70s girl group-inspired vocal harmonies echo, sooth and enchant as they cover poignant topics with feminist flair.
While they've been active in the New York scene for a few years, they've gained wider acclaim for the irresistible music they began releasing this year, including their debut album, Prism. Their 2022 debut single "Forget Me Not" is an ode to ground-breaking New York art collective Guerilla Girls, and "Norma" is their protest anthem in response to the news that Roe vs. Wade could be (and was) overturned. The band name is a nod to funk legend Nile Rodgers, from the "Le freak, c'est chi" exclamation in Chic's legendary tune "Le Freak."
Moniquea
Moniquea's unique voice oozes confidence, yet invites you in to dance with her to the super funky boogie rhythms. The Pasadena, California artist was raised on funk music; her mom was in a cover band that would play classics like Aretha Franklin's "Get It Right" and Gladys Knight's "Love Overboard." Moniquea released her first boogie funk track at 20 and, in 2011, met local producer XL Middelton — a bonafide purveyor of funk. She's been a star artist on his MoFunk Records ever since, and they've collabed on countless tracks, channeling West Coast energy with a heavy dose of G-funk, sunny lyrics and upbeat, roller disco-ready rhythms.
Her latest release is an upbeat nod to classic West Coast funk, produced by Middleton, and follows her February 2022 groovy, collab-filled album, On Repeat.
Shiro Schwarz
Shiro Schwarz is a Mexico City-based duo, consisting of Pammela Rojas and Rafael Marfil, who helped establish a modern funk scene in the richly creative Mexican metropolis. On "Electrify" — originally released in 2016 on Fat Beats Records and reissued in 2021 by MoFunk — Shiro Schwarz's vocals playfully contrast each other, floating over an insistent, upbeat bassline and an '80s throwback electro-funk rhythm with synth flourishes.
Their music manages to be both nostalgic and futuristic — and impossible to sit still to. 2021 single "Be Kind" is sweet, mellow and groovy, perfect chic lounge funk. Shiro Schwarz's latest track, the joyfully nostalgic "Hey DJ," is a collab with funkstress Saucy Lady and U-Key.
L'Impératrice
L'Impératrice (the empress in French) are a six-piece Parisian group serving an infectiously joyful blend of French pop, nu-disco, funk and psychedelia. Flore Benguigui's vocals are light and dreamy, yet commanding of your attention, while lyrics have a feminist touch.
During their energetic live sets, L'Impératrice members Charles de Boisseguin and Hagni Gwon (keys), David Gaugué (bass), Achille Trocellier (guitar), and Tom Daveau (drums) deliver extended instrumental jam sessions to expand and connect their music. Gaugué emphasizes the thick funky bass, and Benguigui jumps around the stage while sounding like an angel. L'Impératrice's latest album, 2021's Tako Tsubo, is a sunny, playful French disco journey.
Franc Moody
Franc Moody's bio fittingly describes their music as "a soul funk and cosmic disco sound." The London outfit was birthed by friends Ned Franc and Jon Moody in the early 2010s, when they were living together and throwing parties in North London's warehouse scene. In 2017, the group grew to six members, including singer and multi-instrumentalist Amber-Simone.
Their music feels at home with other electro-pop bands like fellow Londoners Jungle and Aussie act Parcels. While much of it is upbeat and euphoric, Franc Moody also dips into the more chilled, dreamy realm, such as the vibey, sultry title track from their recently released Into the Ether.
The Rise Of Underground House: How Artists Like Fisher & Acraze Have Taken Tech House, Other Electronic Genres From Indie To EDC