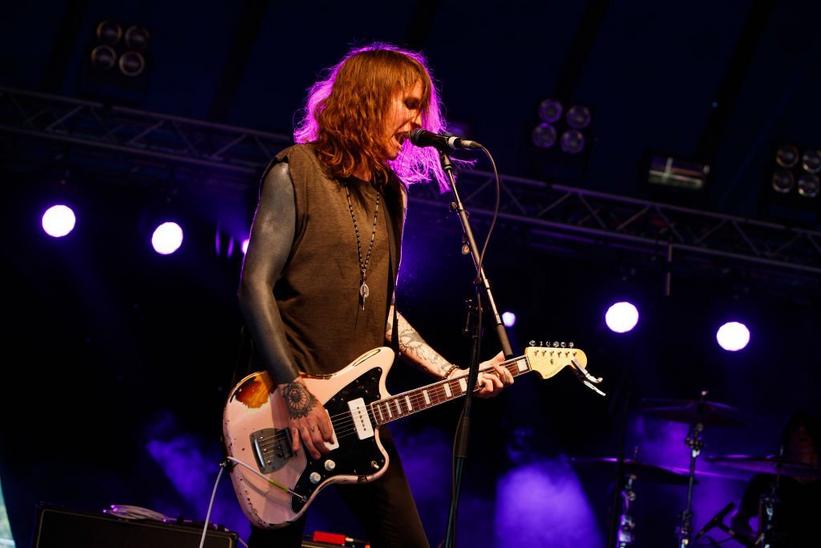 Photo: Burak Cingi/Redferns/Getty Images
news
Bonnaroo Virtual Fest To Feature Laura Jane Grace, David Lynch, Charli XCX, Nubya Garcia & More
In addition to live content, archival Bonnaroo sets from Metallica, Beastie Boys, Alabama Shakes, Tears For Fears, Run The Jewels, the xx and more will be streamed during the three-day online event
GRAMMYs
/
Sep 16, 2020 - 11:33 pm
Today, Sept. 16, Bonnaroo announced a star-studded three-day "Virtual Roo-Ality" fest, streaming on their YouTube channel Sept. 24–26. The event will feature both live and archival music sets, as well as programming like Hayley Williams' Sanctuary of Self Love, which she has hosted at past Bonnaroos.
David Lynch, Laura Jane Grace, Charli XCX, Nubya Garcia, Tank and the Bangas, Chromeo, CloZee, Billy Strings, Big Gigantic, Ashley McBryde, Denzel Curry, Jamila Woods and many more will make live appearances during the weekend. As for the archival sets, of which over a dozen will be aired, Metallica (2008), Alabama Shakes (2015), Tears For Fears (2015), Run The Jewels (2015), the xx (2015), Nile Rodgers & CHIC (2018) and the Beastie Boys (2009) will be featured. The Beastie Boys show was their final live performance and will be its full-length streaming premiere.
Related: GRiZ & Friends Honored Dr. John And Other Music Legends During Bonnaroo SuperJam Set
Bonnaroo 2020 was originally slated for June 11–14 with Lizzo, Tame Impala, Flume, DaBaby and others on the stacked lineup. It was later postponed to Sept. 24–27 due to COVID-19. Like other festivals, it has since been pushed to 2021 and, now, the virtual event will offer a musical balm during these live-eventless times.
The entire three-day event will be streamed on their YouTube channel, and some content will be available after on-demand. The event is free to tune in to, but Bonnaroo will be fundraising for voting rights org HeadCount.org and the ACLU. As their website explains, "donations collected during the weekend for these and additional organizations will be made by the Bonnaroo Works Fund, whose mission is to foster community, creativity and positive influence."
The schedule will be announced soon. For the full lineup and more info on Bonnaroo Virtual Roo-Ality Lineup and Bonnaroo 2021, visit their website.
Trent Park On Crafting His New Music Video For "Fly," GRAMMY U & More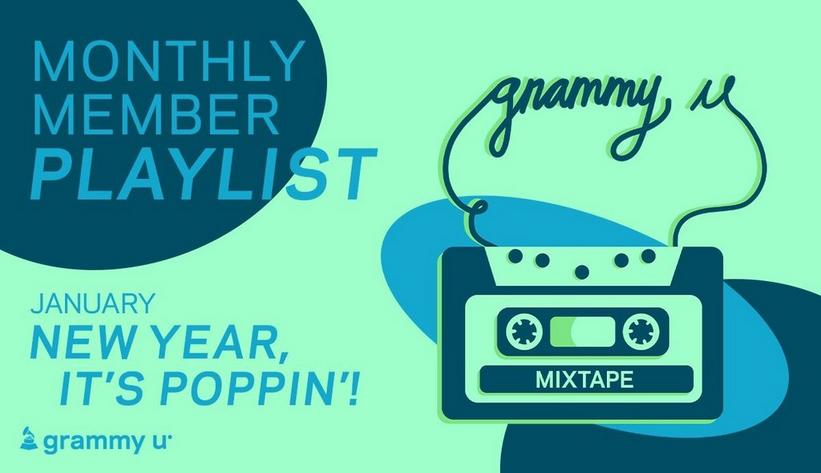 news
Press Play On GRAMMY U Mixtape: New Year, It's Poppin'! Monthly Member Playlist
The GRAMMY U Mixtape is a monthly, genre-spanning playlist to quench your thirst for new tunes, all from student members. GRAMMY U celebrates new beginnings with fresh pop tunes that will kickstart 2023.
GRAMMYs
/
Jan 6, 2023 - 12:17 am
Did you know that among all of the students in GRAMMY U, songwriting and performance is one of the most sought after fields of study? We want to create a space to hear what these students are creating today!
The GRAMMY U Mixtape, now available for your listening pleasure, highlights the creations and fresh ideas that students are bringing to this industry directly on the Recording Academy's Spotify and Apple Music pages. Our goal is to celebrate GRAMMY U members, as well as the time and effort they put into making original music — from the songwriting process to the final production of the track.
Each month, we accept submissions and feature 20 to 25 songs that match that month's theme. This month we're ringing in 2023 with our New Year, It's Poppin'! playlist, which features fresh pop songs that bring new year, new you vibes. Showcasing talented members from our various chapters, we felt these songs represented the positivity and hopefulness that GRAMMY U members embody as they tackle this upcoming year of exciting possibilities.
So, what's stopping you? Press play on GRAMMY U's Mixtape and listen now on Spotify below and Apple Music.
Want to be featured on the next playlist? Submit your songs today! We are currently accepting submissions for songs of all genres for consideration for our February playlist. Whether you write pop, rock, hip hop, jazz, or classical, we want to hear from you. Music must be written and/or produced by the student member (an original song) and you must be able to submit a Spotify and/or Apple Music link to the song. Students must be a GRAMMY U member to submit.
About GRAMMY U:
GRAMMY U is a program that connects college students with the industry's brightest and most talented minds and provides those aspiring professionals with the tools and opportunities necessary to start a career in music.     
Throughout each semester, events and special programs touch on all facets of the industry, including the business, technology, and the creative process.
As part of the Recording Academy's mission to ensure the recorded arts remain a thriving part of our shared cultural heritage, GRAMMY U establishes the necessary foundation for music's next generation to flourish.
Not a member, but want to submit to our playlist? Apply for GRAMMY U Membership here.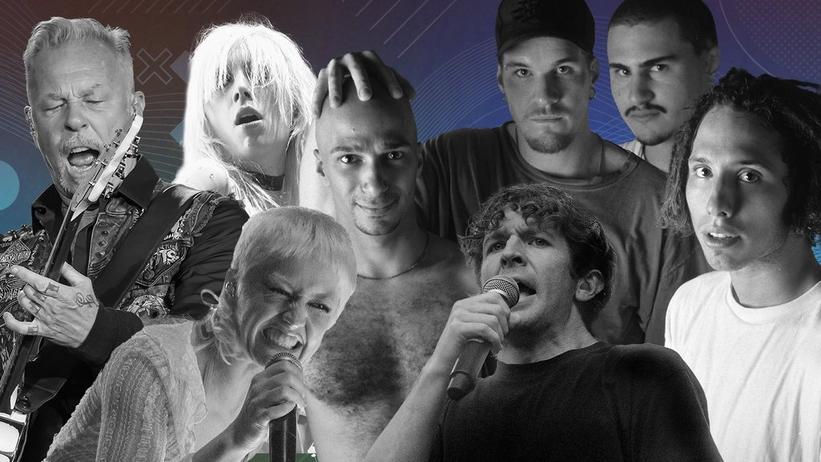 (Clockwise from left): James Hetfield of Metallica, Starcrawler's Arrow de Wilde, Rage Against The Machine, Amy Taylor of Amyl & the Sniffers, Turnstile's Brendan Yates
Photos: Michael Hickey/Getty Images; Gus Stewart/Redferns; David Wolff-Patrick/Redferns; Gie Knaeps/Getty Images; Josh Brasted/FilmMagic
list
2022 In Review: 5 Trends That Defined Rock
Our concept of and interest in various forms of rock is expanding. Whatever rock is, it's not dead, and GRAMMY.com has rounded up five trends that attest to the strong pulse of rock music in 2022.
GRAMMYs
/
Dec 30, 2022 - 06:37 pm
Can rock 'n' roll be defined as the loud blues- and guitar-based stylings purveyed by everyone from the Rolling Stones to Greta Van Fleet? Perhaps it's the smart, Brit-punk energy of Idles, or the lush new wave-alt-rock stylings of Phoenix? Or maybe rock is really in the grooves of stoner/doom band Windhand, or classic thunder of NWOBHM icons Iron Maiden?
In a word, yes.
Established radio formats and charts have long organized and codified an ever-increasing amount of bands, artists and songs. But that organization is a trap, making it necessary to divide rock  — sometimes randomly and incorrectly — into pigeon holes. Terrestrial and satellite radio and streaming service playlists remain divided, creating categories such as active rock, classic rock, or Adult Alternative. Yet these categories inevitably leave out key bands and songs, or include questionable entries.
In reality, listeners aren't bound to genre as in the past. Today's music world is proof positive that as lines blur, our concept of and interest in various forms of rock is expanding. An arena might see the fans at a Rage Against The Machine or Ghost show coming back on a different night to see Harry Styles or Rhianna.
The colloquial expression "I know it when I see it" (first used as a threshold test for obscenity in a 1964 Supreme Court case!) could also be applied to an attempt to define rock. Whatever rock is, it's not dead, and these five trends that attest to the strong pulse of rock music in 2022.
Girl Power Makes A Comeback
Although powerful women like Lizzo and Lady Gaga top the pop charts — female representation is more scarce in the higher echelons of the rock world. While Lzzy Hale of Halestorm and Taylor Momsen of the Pretty Reckless play with the boys at the big venues, a new wave of rock bands featuring women and all-female bands are bubbling up, claiming their power.
From Los Angeles comes punk-glam-pop-rock powerhouse lineup Starcrawler, fronted by bold changeling Arrow De Wilde. On the darker City of Angels tip is the heavy charm of "satanic doo-wop" band Twin Temple, who made major inroads opening arena shows for Ghost. Also making noise from SoCal are garage-rock trio L.A. Witch, self-described "California doom boogie" band Death Valley Girls, disarming old-soul singer Lauren Ruth Ward, punk singer/guitarist Suzi Moon, and a host of other creatively bold women.
NYC is home to the firebrand vocalists of SuSu (Liza Colby, Kia Warren) and Woodstock, NY birthed fuzzy punk weirdos the Bobby Lees. Elsewhere, Australia's  Amyl & The Sniffers bring propulsive, in-your-face songs like "Guided by Angels" and 'Hertz." Other shining lights include former Melvins collaborator and bilingual powerhouse Teri Gender Bender, plus plenty of young women making noise, like Pinkshift. While punk schoolgirls the Linda Lindas owe more to X than the Runaways, their cohort gives hope that the kids are alright.   
Classics Rock The Small Screen
Rock, mainstream and otherwise, helped make some of the coolest television shows even better in 2022. "Stranger Things" gave the 36-year-old Metallica song "Master of Puppets" new life among a younger crowd. (During their Lollapalooza set, Metallica paid tribute to the sci-fi show, and jammed with actor Joseph Quinn backstage.)
The Cramps' goth-kitsch stylings made an appearance on TV sets via Tim Burton's "Wednesday." The titular Wednesday Addams character danced her way into weird-girl hall of fame with the lo-fi legends' 1981 version of "Goo Goo Muck." (And let's not forget Ms. Addams' stellar cello version of the Stones' "Paint It Black.")
The psycho-billy/horror-punk track was streamed on-demand over 2 million times in the U.S. — a more than 8,650 percent increase from the average 47 weeks before this year, Billboard reported. While it's not quite Kate Bush-in-"Stranger Things"-numbers, it's a nice bump that indicates a new generation of listeners for the wild and wooly lo-fi legends.
Other 2022 small-screen rock surprises include the sci-fi German epic period drama 1899, which uses a cover of Jefferson Airplane's "White Rabbit" as its theme music. In an interesting anachronistic approach, the surreal period show uses songs that wouldn't be created for more than six decades. The classic rock cuts include "Child in Time" by Deep Purple, Echo and the Bunnymen's "The Killing Moon" and Black Sabbath's "The Wizard." The sometimes-subtle song use certainly led to Shazams from kids and cheers from older folks.
Festivals Continue To Diversify
Once upon a time (not that long ago!) Ozzfest and Family Values were the "metal" festivals, Lollapalooza ruled the alternative nation, and rarely would the twain meet. (In a nod to the times, Ozzfest held a free, online-only virtual 2022 version that didn't exactly draw raves from rock fans.) But 2022 saw the continuation of a sea change, with heaviness becoming the common denominator in a variety of festivals.
As demonstrated by Metallica at Lollapalooza 2022, and Nine Inch Nails and Slipknot billed alongside KISS and Red Hot Chili Peppers at the four-day Louder Than Life fest in Kentucky, sub-genres of industrial, metal, glam and alt-funk are meshing with ever-increasing ease. At Psycho Las Vegas, thrash band Suicidal Tendencies were billed alongside Bone Thugs-N-Harmony, while Wu-Tang Rapper GZA headlined a night that also featured black metal group Mayhem.
Vegas was also a destination in 2022 for the inaugural '90s and 'early-2000s When We Were Young Festival, which served up nostalgia (and a few contemporary acts) from 64 of the biggest names in pop-punk, emo and hardcore. The sold-out event featured performances by My Chemical Romance, Avril Lavigne, AFI and Dashboard Confessional — acts which, back in the day, were often seen as reflecting separate subgenres.
Diverse rock festivals will continue in 2023 with the inaugural Sick New World festival. Set for May, the festival will feature bands once in the "nu metal"-plus genre — such as System Of A Down, Korn, Deftones and Incubus — alongside more diverse groups like Evanescence, GRAMMY-nominated hardcore hitmakers Turnstile, Chevelle, Mr. Bungle, Placebo, Spiritbox, and the Sisters of Mercy.
A Reignited Rage
Rage Against The Machine were one of the bigger bands that reunited for a tour in 2022 — joining the ranks of Pantera, the Mars Volta, Biohazard, Yellowcard, God Forbid, Roxy Music, the Gaslight Anthem, Taproot, and Sunny Day Real Estate.
But their tour was a long time coming. Rage first announced dates for a reunion tour in 2020  — their first full-length world jaunt in 20 years — but were sidelined by COVID. As the pandemic  raged on, racial and political unrest gripped America and the world, making Rage's political musical messages in songs like "Killing in the Name" as relevant as ever.
The bright side? Rage's self-titled debut (which celebrated its 30th anniversary in November) jumped back on to the Billboard 200 charts. So when the quartet played their first concert in 11 years on July 9, 2022 in East Troy, Wisconsin, hopes were high — and fan expectations were more than met. Yet two days after the tour began, singer Zach De La Rocha injured his leg; one month later, they canceled the European leg of their tour on doctor's orders, and the remaining shows on the 2023 North American leg of the tour were scuttled due to the severity of de la Rocha's injury.
Rage closed things out with an incendiary three-night stand at Madison Square Garden beginning Aug. 11. De La Rocha was carried onstage by crew members and sang seated on an amp — but he brought the noise.
Backing Tracks Get The Spotlight
As metal and rock stalwarts continue to perform into their 60s and 70s (Mick Jagger turns 80 in 2023), fans still demand that their heroes sound like they did in their heyday, so it's likely they might need some assistance. While it's been a not-so-hidden secret that Ozzy used singer Robert Mason, hidden offstage, to supplement his vocals, bands like Aerosmith make backing tracks less of a secret, using singing keyboard players.
In October, a Twitter war began after Falling in Reverse canceled an Illinois festival gig, citing lost laptops. Reverse's Ronnie Radke posted an explanatory video message on TikTok where he said the band had "no other option" to cancel, because "as a band in 2022, you need your laptops. It's like driving a car without an engine."
Motley Crue bassist Nikki Sixx jumped online to agree with the use of backing tracks, but Sirius XM DJ/author Eddie Trunk was astonished. "First I heard about this I thought it was a joke to wind me up. How much longer are fans, promoters , media, just going to accept the epidemic of live rock shows… not really being live?"
Former Skid Row singer Sebastian Bach, a veteran of Broadway, concurred with Trunk, while Radke tweeted at the metal DJ, writing: "you wanna talk hella s— about laptops but go watch kiss lip sync, Steven Tyler plays the piano then half way through the song he stands on top of piano while it sill [sic] plays yet here we are acting like they all don't use tracks you f—ing idiot."
Blackie Lawless, whose 40-year celebration tour with metal band W.A.S.P. earned rave reviews, admitted to using backing tracks. "If I'm a fan and I'm coming to a show, I want that thing to sound as good as it can," he said during a fan meet and greet that was posted on YouTube."When we go into a studio — and let me clarify that statement; that's me singing — we do choruses, we double, triple, quadruple the vocals," he said. "When I listened to live YouTube [recordings of our shows] and we weren't doing that, it sounded thin. When we started supplementing it, it sounded better.
"If I'm a fan and I'm coming to a show, I want that thing to sound as good as it can," he continued. "There are other bands — the QUEENs of the world — they cannot duplicate 24 vocals at one time. That's what they do on those records. If you want it to sound like those records, you've gotta have some help."
Even if Falling in Reverse got blowback from peers, their transparency is becoming the new norm. It brings the fans closer to their heroes, mere mortals who struggle with addiction, have personal lives, and occasionally use backing tracks.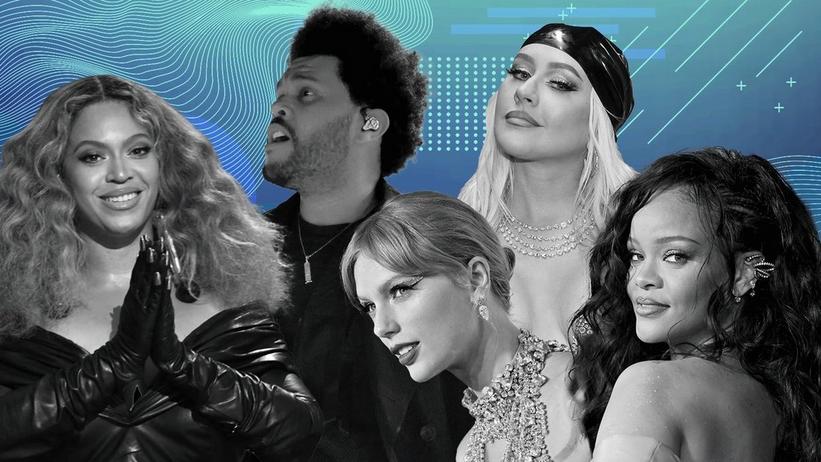 (L-R) Beyoncé, The Weekend, Taylor Swift, Christina Aguilera, Rihanna
Photo: (L-R) Kevin Winter/Getty Images for The Recording Academy, Frazer Harrison/Getty Images for Live Nation, Axelle/Bauer-Griffin/FilmMagic, Courtesy of Christina Aguilera, Axelle/Bauer-Griffin/FilmMagic
list
2022 In Review: 8 Trends That Defined Pop Music
Pop music continued to showcase its versatility this year, with newcomers and legendary mainstays alike shaking up the industry — which has led to major hits and even bigger cultural moments.
GRAMMYs
/
Dec 28, 2022 - 04:49 pm
If there's one word to describe this year in pop, it would be "unpredictable." Take fan favorites Beyoncé and Rihanna for starters: as fans began pondering when they'd hear new music again, both superstars made significant returns to their solo artistries, further elevating their statuses as elite pop divas.
Pop's unexpected nature is what makes it so beloved, especially in 2022 as artists showcased just how far their versatility can stretch. TikTok showed off its influence once again, with songs like Nicki Minaj's "Super Freaky Girl" birthing endless viral dance challenges. There was plenty of dancing outside of TikTok as well, as artists like Drake, The Weeknd and Beyoncé had everyone grooving under the disco ball. 
From pop stars unleashing their naughty sides to singles that transported us back to the '2000s and beyond, there were several major moments in pop music this year. Dive into eight of the genre's most dominant trends below.
Y2K Pop Divas Made Comebacks
Throughout 2022, the influence of late '90s and early '00s culture was reflected on fashion runways, TikTok and even a multitude of television reboots. So it was only natural that it also seeped into the music realm, with some of the era's biggest pop stars having a refreshing revival.
More than two decades after the release of her debut Spanish-language album Mi Reflejo, Christina Aguilera returned to her Latina roots (Aguilera's estranged father is an Ecuador native). The long wait was worth it, with the star sounding more confident than ever before as she celebrated her rich heritage. After starting this new era with the female empowerment anthem "Pa Mis Muchachas" (alongside fellow Latina artists Becky G, Nicki Nicole and Nathy Peluso), Aguilera continued to flex her versatility and vulnerability with songs like the impassioned Mexican ranchera "La Reina" and the somber "No Es Que Te Extrañe" that found the artist healing her childhood trauma.
Y2K pop sweetheart Mandy Moore, who returned after an 11-year music hiatus with 2020's Silver Landings, kept the momentum going with her seventh album In Real Life. The folk-inspired record showcased Moore's strength as a songwriter and new motherhood.
But arguably the most unexpected return came from Britney Spears. Following the official termination of her conservatorship last November, the pop star freed herself from a decade of restrictions. Spears found her way back to the studio for the first time since the release of 2016's Glory album, and joined fellow pop legend — and longtime supporter — Elton John for "Hold Me Closer." The song draws elements from John's classics like 1971's "Tiny Dancer," 1976's "Don't Go Breaking My Heart" and 1992's "The One," but adds a modern twist with shimmering dance melodies. "Hold Me Closer" debuted at No. 6 on the Billboard Hot 100, proving that Spears can still score a hit with ease.
R&B Artists Danced Under The Disco Ball
Pop has seen a disco revival seeping in over the last few years (even including the return of ABBA!), but what made this year so different is witnessing more R&B-leaning artists putting a fun spin on dance music as a whole.
Leading the charge was Beyoncé, who ignited a full-on dance party with her latest album (and first since 2016's Lemonade). After trying her hand at Afrobeats with 2019's soundtrack album, The Lion King: The Gift, Queen Bey transformed into Queen of the Dance Floor with 16 hip-shaking tunes whose influence call back to Studio 54 and Black ballroom heydays. The album is not only a tribute to her late Uncle Johnny (who she credits for introducing her to house music), but Black queer culture as a whole.
Nearly two years after 2020's After Hours, The Weeknd aptly kept the club open until sunrise with his fifth album, Dawn FM. Jam-packed with '80s elements from new wave to synth-pop, the record is an energetic joyride kookily narrated by comedian Jim Carrey.
While he's widely known as a rap superstar, Drake channels his R&B crooning alter-ego from time to time. His seventh album, Honestly, Nevermind, arrived as a surprise in June — and he was clearly ready to kick off summer with a party. The album found the artist at the center of the dance floor as he explored house music with bouncy songs like "Sticky" and "Massive." The experimentation paid off: the album became Drake's 11th Billboard 200 chart-topper.
Throwback Samples Were Inescapable
While sampling is more of a historical music staple than a trend, this year many artists had fun traveling back to the '70s, '90s and early '00s to add nostalgic doses into their hits. Beyoncé evoked the spirit of Donna Summer on "Summer Renaissance," which pulls from the disco queen's 1977 jam, "I Feel Love." Elsewhere, Charli XCX lifted the Stonebridge Mix of Robin S.'s 1992 "Show Me Love" for her own dance floor hit, "Used To Know Me," while NYC-based EDM duo Sofi Tukker sampled Suzanne Vega's "Tom's Diner" for their infectious tune "Summer In New York."
Throwbacks were perhaps most predominant within mainstream rap hits. Tyga's "Sunshine," a collaboration with Jhené Aiko and the late Pop Smoke, samples Lil Flip's 2004 hit of the same name, while Jack Harlow used Fergie's 2006 No. 1 smash "Glamorous" to create his own hit. Rap newcomers Armani White and Central Cee also traveled to the early '00s, with the former's N.O.R.E. sample heard throughout his debut single, "Billie Eilish" and the latter using Eve and Gwen Stefani's "Let Me Blow Ya Mind" for "Doja."
Nicki Minaj and Yung Gravy took us back to the '80s, as Minaj flipped Rick James' 1981 single "Super Freak" into "Super Freaky Girl, and Yung Gravy's viral "Betty (Get Money)" was based on Rick Astley's 1987 hit "Never Gonna Give You Up."
Artists Tapped Into Their Edgy Sides
Pop music can surely be wholesome, so it's always fun when artists try their hands at edgier sounds. Sam Smith has long proven they can do more than a heartfelt ballad, and their TikTok anthem with Slut Pop star Kim Petras found the pair at their naughtiest.
Dove Cameron shed her Disney Channel beginnings with February's "Boyfriend" single, which celebrated her queer identity with dark, spine-tingling production. She raised the intensity levels with August's "Breakfast," which flipped gender politics on its head.
Maggie Lindemann also traded pure pop for pop-punk for her debut album, ​​Suckerpunch. Continuing the Gen Z angst that rattled 2021, Lindemann unapologetically rebels against the music she was previously associated with thanks to singles like the nostalgic "Cages" and the incredibly flirtatious "She Knows It."
Even Taylor Swift got in on the fun. The singer, who previously showcased her edgy side with 2017's reputation, further leaned into that style with her hazy tenth album, Midnights. A complete left turn from 2020's folk-inspired LPs, folklore and evermore, Midnights captured the restlessness, revenge fantasies, self-criticism, and curiosity that come with what she detailed as "13 sleepless nights scattered throughout my life."
Black Pop Divas Made Long-Awaited Returns
After Rihanna and Beyoncé officiated their pop icon statuses with 2015's Anti and 2016's Lemonade, respectively, the two opted to take mini hiatuses from solo music. Beyoncé steadily remained in the music sphere, hopping on several collaborations including a remix of Megan Thee Stallion's 2021 hit "Savage." The song scored GRAMMY Awards for Best Rap Song and Best Rap Performance, the latter of which helped crown Beyoncé as the artist with the most wins in GRAMMY history with 28. (She followed up the achievement by recording "Be Alive" for the King Richard soundtrack, which earned Oscar and Golden Globe nominations for Best Original Song.)
But Beyoncé focused the spotlight back on herself with her seventh studio album. The July release was a pop culture phenomenon, weaving itself into casual conversations, memes, TikTok dance challenges and more. The album is a celebration of not only Beyoncé's career, but Black influence on dance music as a whole.
Rihanna was more quiet following Anti — only appearing on a few collaborations here and there, including Calvin Harris' "This Is What You Came For," DJ Khaled's "Wild Thoughts" with Bryson Tiller and Kendrick Lamar's GRAMMY-winning "Loyalty" — to focus on building her Fenty beauty and lingerie empire. But fans never stopped craving new music from the star herself, and their prayers were finally answered in September in major fashion: The superstar announced in September that she'll headline the Super Bowl LVII halftime show, which will mark her first live showing in over five years.
Rihanna quickly kept the excitement going with two appearances on October's Black Panther: Wakanda Forever soundtrack, "Lift Me Up" and "Born Again" — her first solo music in more than six years.
Rap's TikTok Takeover Was Still In Effect
Rap was one of the biggest genres on TikTok last year, and the trend remained strong in 2022. The dominance was seen through dance challenges and viral memes, with Lil Uzi Vert's infectious Jersey club smash "I Just Wanna Rock" creating an explosive wave that culminated in a dance-heavy music video.
Drake and 21 Savage's "Rich Flex," a highlight from their collaboration album, Her Loss, was transformed into a silly tongue-in-cheek meme. Brooklyn rap newcomer Lola Brooke had TikTokers  feeling confident as ever as they used "Don't Play With It" to soundtrack their selfie videos. Even Lil Wayne and Soulja Boy's nostalgic jams had a resurgence, with 2008's "Lollipop" and 2018's "Pretty Boy Swag" spawning their own TikTok trends.
Ed Sheeran Was Pop's Big Brother
Despite being one of the biggest pop stars in the world, Ed Sheeran has maintained the humble spirit that made him so beloved. The British singer/songwriter has always shown a love for collaboration, even releasing a guest-filled project in 2019. But in 2022, Sheeran put collaborations into overdrive.
Sheeran kicked things off by teaming up with his old pal Taylor Swift on a duet version of his = track, "The Joker and the Queen." In March, he dropped not one but two singles with Colombian star J Balvin, "Sigue" and "Forever My Love," where Sheeran traded his guitar for a reggaeton bassline.
The singer then traveled across genres — and the globe — pairing with Jamaican dancehall singer Ishawna (who previously sampled 2017's "Shape of You" on her single "Equal Rights") for "Brace It" and guesting on Nigerian hitmaker Burna Boy's love song "For My Hand." Not forgetting his own roots, Sheeran also showcased his admiration for local British hip-hop with appearances on Manchester rapper Aitch's "My G" and rap collective D-Block Europe's "Lonely Lovers."
Bands Proved Rock & Roll Is Here To Stay
"Rock 'n' roll is dead" has been an ongoing debate ever since hip-hop became the industry's most dominant genre in 2017. Even so, rock acts continued to spotlight the historic genre this year, and helped it endure in arguably the biggest way it has in years.
After a five-year hiatus, Paramore thrilled fans with the announcement of their sixth album, This Is Why. Set for a February 2023 release, the new album era kicked off with the funky eponymous lead single in September.
Rock mainstays Red Hot Chili Peppers satiated genre diehards by dropping two albums within six months in 2022: April's Unlimited Love and October's Return of the Dream Canteen.
On the more alternative side, Arctic Monkeys re-emerged with a vintage focus for October's The Car, which drew from baroque pop, funk, early '70s rock and classic film scores. And after a brief pandemic-induced postponement following 2020's Notes on a Conditional Form, The 1975 returned with their fifth album, Being Funny in a Foreign Language. Singles like "Part of the Band," "Happiness" and "I'm in Love with You" found the band in a lighthearted, '80s dance-pop-inspired spirit.
After a year filled with viral moments and comebacks, there's no doubt that artists will continue to keep pop unpredictable in 2023.
5 Essential Power Pop Albums From 2022: Dazy, Young Guv, The Beths & More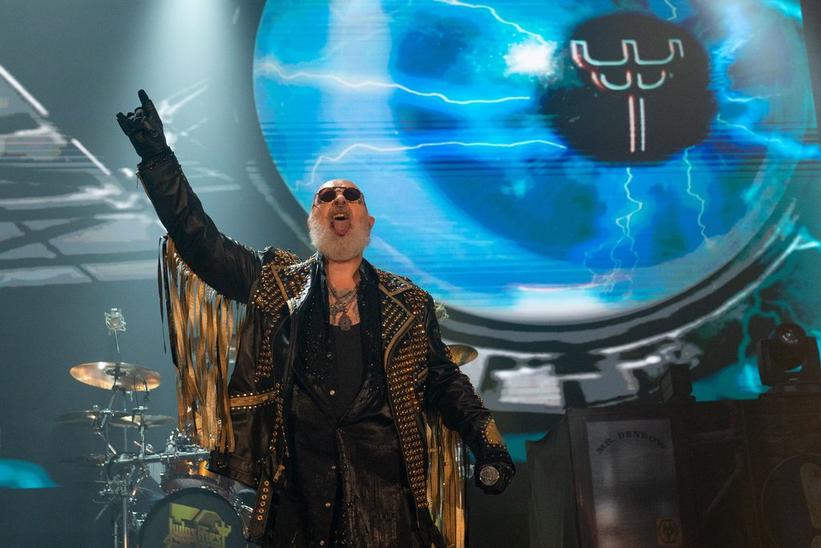 Lead vocalist Rob Halford of Judas Priest performs during their 50 Heavy Metal Years tour in November 2022.
Photo: SUZANNE CORDEIRO/AFP via Getty Images
Classic Metal's Big Year: 8 Ways 2022 Was A Banner Year For The Pioneers Of Hard Rock
Metal gods including Judas Priest, Iron Maiden and Pantera and reigned supreme in 2022. Grammy.com unpacks this resurgence, and the most rocking moments of the year.
GRAMMYs
/
Dec 16, 2022 - 02:47 pm
"Heavy metal is always going to be there," Judas Priest frontman Rob Halford once claimed. "At its core, it's all about a primitive connection we all need to keep in our lives." Thanks to everything from supernatural Netflix hits and surprise reunions to massive tours and multiple accolades, this primitive connection now appears to be the strongest it's been since the genre's '80s heyday.
During a 2014 interview with GRAMMY.com, Judas Priest frontman Rob Halford acknowledged the "special bond" that "all metal bands have with the fans [who] support them." Thanks to everything from supernatural Netflix hits and surprise reunions to massive tours and multiple accolades, this special bond now appears to be the strongest it's been since the genre's '80s heyday.
Of course, its pioneers have always maintained a loyal level of support — once a metalhead, always a metalhead after all. And there have been several instances of the sound returning to the mainstream (see Black Sabbath scoring their first ever Billboard No. 1 album nearly a half-century into their career in 2013, for example, or Metallica headlining Glastonbury a year later). Yet such feats are typically few and far between.
In 2022, however, the scene has continually found itself in the spotlight, inspiring headbangers both old and new to repeatedly pick up their air guitars and show off their best devil horns. So why exactly has this resurgence occurred?
One theory is that heavy metal in its purest form offers an unmatched sense of catharsis. With the world forever teetering on the brink of disaster, what better to unleash your frustrations than by immersing yourself in walls of aggressive noise? It could also be argued that some veterans have made a conscious effort to appeal to a wider audience with their more recent material. And those creatives who grew up listening to the likes of the Big Four (Anthrax, Megadeth, Metallica, Slayer) are now able to pay tribute by incorporating their music into their latest projects.
Whatever the reasons, here are eight ways in which the heavy metal acts of yesteryear made a significant impact in 2022.
Judas Priest Get Inducted  
The Rock and Roll Hall of Fame has been relatively ungenerous when it comes to honoring heavy metal. It took them until 2006 to celebrate arguably the daddies of the genre, Black Sabbath, and since Metallica's induction three years later, they've swerved all headbangers entirely. Until, that is, in November when Judas Priest deservedly picked up the Musical Excellence Award.
The British veterans also showed off their famous dual guitar sound while performing three of their biggest hits at the ceremony, with guest presenter Alice Cooper describing them as the "definitive metal band ... like an L.A. earthquake."
Iron Maiden Completed A Mammoth Tour 
Few acts have done more to spread the metal word than Iron Maiden. Forty-seven years on from their formation and they're performing their distinctive brand of British metal to millions — and carting around their giant mascot Eddie across the world.
More than 3 million people attended their multi-national Legacy of the Beast World Tour, which concluded in Florida in October. The longest run of shows to feature original vocalist Bruce Dickinson since the late 1980s, the hits-focused show began in Estonia in 2018 but, thanks to COVID-19, took four years to complete. Despite a collective age approaching 400, the band have already announced they'll be back on the road next year.
Icons Got The Documentary Treatment 
From Metallica's Some Kind of Monster to The Story of Anvil, the heavy metal scene has spawned several compelling documentaries. And 2022 added two more to the canon. First up, there was DIO: Dreamers Never Die, which enjoyed a brief stint in cinemas in September. Produced by wife Wendy, the biopic of ex-Rainbow and Black Sabbath frontman Ronnie James Dio is an affectionate portrait which refreshingly avoids the usual rise and drug-addled fall narrative.  
Then at the opposite end of the spectrum, This Is GWAR explored the bodily fluid-spewing, monster-costumed history of the titular shock rockers in a hugely entertaining watch which, rather aptly, premiered on horror streaming service Shudder.    
Classic Metal Acts Received GRAMMY Nominations 
The Best Metal Performance category is no stranger to classic acts, with Dream Theater, Iron Maiden and Black Sabbath all emerging triumphant during the last decade. But you have to go back to 2015 for the last time two were nominated in the same year (Anthrax and Motorhead). Ozzy Osbourne and Tony Iommi will be hoping to add to their trophy cabinet at the 2023 ceremony. But they face stiff competition from fellow survivors Megadeth and Ghost, the Swedish satanists whose bombastic riffs have drawn parallels with another veteran, Judas Priest. Metal purists will undoubtedly be hoping prog rockers Muse and hardcore punks Turnstile don't spoil the party.   
Pantera Reunite,
And Bring Friends
Pantera's story looked to have ended in 2004 when guitarist Dimebag Darrell was murdered by a crazed fan on stage. Even more so when another founding member, Vinnie Paul, passed away from coronary artery disease in 2018. But 22 years on from their last album, Reinventing the Steel, remaining members Phil Anselmo and Rex Brown announced they were heading out on a North American tour which would also include dates with Judas Priest and Metallica. Black Label Society frontman Zakk Wylde and Anthrax drummer Charlie Benante will temporarily join the group who, thanks to the likes of 1994's chart-topping Far Beyond Driven, very nearly muscled their way into the Big Four.   
"Stranger Things" Gives Metallica Classic A Second Wind 
Kate Bush's "Running Up That Hill" wasn't the only '80s classic to enjoy a new lease of life after featuring in the mammoth fourth season of Netflix phenomenon "Stranger Things." Metallica's "Master of Puppets" also returned to the Hot 100 thanks to the guitar heroics of Joseph Quinn's Eddie Munson. His impressive rendition not only gave the metal giants their highest chart peak since 2008 but also introduced a whole new generation to the sound of James Hetfield and co. Admirably, the band themselves were far from precious about the whole thing, revealing they were blown away by the concept and later inviting Quinn for a Lollapalooza jam session.   
Megadeth Enjoy A Triumphant Return 
To say that the recording of Megadeth's first new album in six years was troubled is putting it mildly. Firstly, lead singer Dave Mustaine was diagnosed with throat cancer shortly after hitting the studio with co-producer Chris Rakestraw. And then founding bassist David Ellefson found himself caught up in a revenge porn scandal which ultimately resulted in his dismissal. Nevertheless, the thrash metal legends eventually managed to put all the drama behind them with The Sick, the Dying... and the Dead! equaling the No.3 peak of its 2016 predecessor Dystopia, inspiring some critics to hail it as their finest record since the early '90s.
Metal Continues To Infiltrate Pop Culture 
Elsewhere, Metallica's Kirk Hammett, Anthrax's Scott Ian and Rob Halford were just a few of the iconic cameos in Netflix's Metal Lords, a teen comedy about a bunch of high school outcasts who form a metal band. Black Sabbath stole the show at the Commonwealth Games closing ceremony with an unannounced performance of their signature hit, "Paranoid." And Ozzfest became the first in-real-life festival to enter the metaverse, where those who'd invested in co-founder Ozzy Osbourne's CryptoBatz NFTs could also enjoy a better vantage point by morphing into a bat. Because why not?
5 Essential Nu-Metal Albums: How Slipknot, Korn, Deftones & Others Showcased Adolescent Rage With A Dramatic Flair