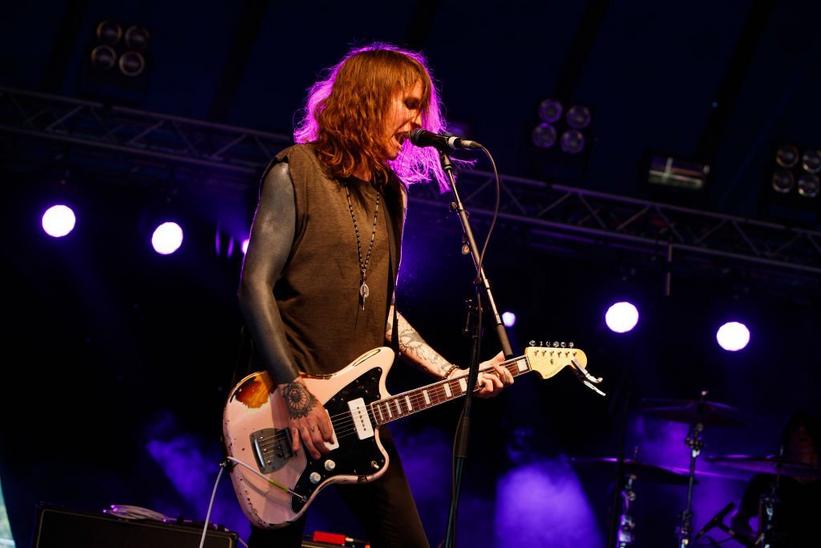 Photo: Burak Cingi/Redferns/Getty Images
news
Bonnaroo Virtual Fest To Feature Laura Jane Grace, David Lynch, Charli XCX, Nubya Garcia & More
In addition to live content, archival Bonnaroo sets from Metallica, Beastie Boys, Alabama Shakes, Tears For Fears, Run The Jewels, the xx and more will be streamed during the three-day online event
GRAMMYs
/
Sep 16, 2020 - 11:33 pm
Today, Sept. 16, Bonnaroo announced a star-studded three-day "Virtual Roo-Ality" fest, streaming on their YouTube channel Sept. 24–26. The event will feature both live and archival music sets, as well as programming like Hayley Williams' Sanctuary of Self Love, which she has hosted at past Bonnaroos.
David Lynch, Laura Jane Grace, Charli XCX, Nubya Garcia, Tank and the Bangas, Chromeo, CloZee, Billy Strings, Big Gigantic, Ashley McBryde, Denzel Curry, Jamila Woods and many more will make live appearances during the weekend. As for the archival sets, of which over a dozen will be aired, Metallica (2008), Alabama Shakes (2015), Tears For Fears (2015), Run The Jewels (2015), the xx (2015), Nile Rodgers & CHIC (2018) and the Beastie Boys (2009) will be featured. The Beastie Boys show was their final live performance and will be its full-length streaming premiere.
Related: GRiZ & Friends Honored Dr. John And Other Music Legends During Bonnaroo SuperJam Set
Bonnaroo 2020 was originally slated for June 11–14 with Lizzo, Tame Impala, Flume, DaBaby and others on the stacked lineup. It was later postponed to Sept. 24–27 due to COVID-19. Like other festivals, it has since been pushed to 2021 and, now, the virtual event will offer a musical balm during these live-eventless times.
The entire three-day event will be streamed on their YouTube channel, and some content will be available after on-demand. The event is free to tune in to, but Bonnaroo will be fundraising for voting rights org HeadCount.org and the ACLU. As their website explains, "donations collected during the weekend for these and additional organizations will be made by the Bonnaroo Works Fund, whose mission is to foster community, creativity and positive influence."
The schedule will be announced soon. For the full lineup and more info on Bonnaroo Virtual Roo-Ality Lineup and Bonnaroo 2021, visit their website.
Trent Park On Crafting His New Music Video For "Fly," GRAMMY U & More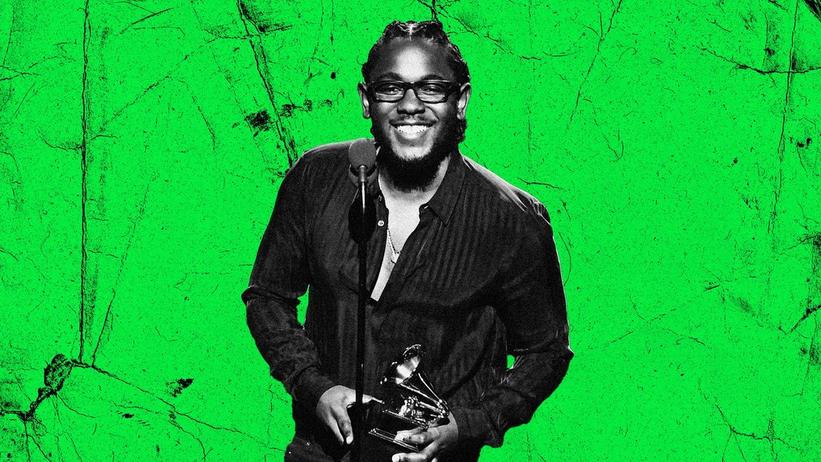 Kendrick Lamar
Photo: Jeff Kravitz/FilmMagic
video
GRAMMY Rewind: Kendrick Lamar Honors Hip-Hop's Greats While Accepting Best Rap Album GRAMMY For 'To Pimp a Butterfly' In 2016
Upon winning the GRAMMY for Best Rap Album for 'To Pimp a Butterfly,' Kendrick Lamar thanked those that helped him get to the stage, and the artists that blazed the trail for him.
GRAMMYs
/
Oct 13, 2023 - 06:01 pm
Updated Friday Oct. 13, 2023 to include info about Kendrick Lamar's most recent GRAMMY wins, as of the 2023 GRAMMYs.
A GRAMMY veteran these days, Kendrick Lamar has won 17 GRAMMYs and has received 47 GRAMMY nominations overall. A sizable chunk of his trophies came from the 58th annual GRAMMY Awards in 2016, when he walked away with five — including his first-ever win in the Best Rap Album category.
This installment of GRAMMY Rewind turns back the clock to 2016, revisiting Lamar's acceptance speech upon winning Best Rap Album for To Pimp A Butterfly. Though Lamar was alone on stage, he made it clear that he wouldn't be at the top of his game without the help of a broad support system. 
"First off, all glory to God, that's for sure," he said, kicking off a speech that went on to thank his parents, who he described as his "those who gave me the responsibility of knowing, of accepting the good with the bad."
He also extended his love and gratitude to his fiancée, Whitney Alford, and shouted out his Top Dawg Entertainment labelmates. Lamar specifically praised Top Dawg's CEO, Anthony Tiffith, for finding and developing raw talent that might not otherwise get the chance to pursue their musical dreams.
"We'd never forget that: Taking these kids out of the projects, out of Compton, and putting them right here on this stage, to be the best that they can be," Lamar — a Compton native himself — continued, leading into an impassioned conclusion spotlighting some of the cornerstone rap albums that came before To Pimp a Butterfly.
"Hip-hop. Ice Cube. This is for hip-hop," he said. "This is for Snoop Dogg, Doggystyle. This is for Illmatic, this is for Nas. We will live forever. Believe that."
To Pimp a Butterfly singles "Alright" and "These Walls" earned Lamar three more GRAMMYs that night, the former winning Best Rap Performance and Best Rap Song and the latter taking Best Rap/Sung Collaboration (the song features Bilal, Anna Wise and Thundercat). He also won Best Music Video for the remix of Taylor Swift's "Bad Blood." 
Lamar has since won Best Rap Album two more times, taking home the golden gramophone in 2018 for his blockbuster LP DAMN., and in 2023 for his bold fifth album, Mr. Morale & the Big Steppers.
Watch Lamar's full acceptance speech above, and check back at GRAMMY.com every Friday for more GRAMMY Rewind episodes. 
10 Essential Facts To Know About GRAMMY-Winning Rapper J. Cole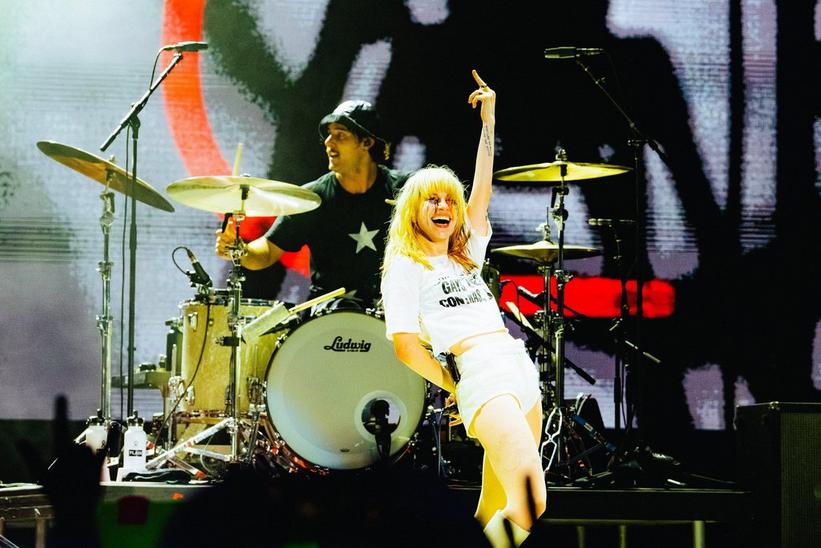 Hayley Williams and Zac Farrow of Paramore
Photo: Pooneh Ghana for Bonnaroo 2023
list
10 Amazing Sets From Bonnaroo 2023: Paramore, Kendrick Lamar, Rina Sawayama & More
The four-day festival in Manchester, Tennessee was completely sold out this year, drawing more than 80,000 people. Relive the excitement with these 10 incredible sets from Bonnaroo 2023.
GRAMMYs
/
Jun 20, 2023 - 06:24 pm
Following a few rocky years, Bonnaroo 2023 made a triumphant comeback to Great Stage Park (affectionately dubbed "The Farm") under glorious skies. The Manchester, Tennessee festival was completely sold out this year, drawing more than 80,000 people for four days of music, laughter, food, and plenty of sun. 
From the Midnight and their showstopping saxophonist, to Amber Mark's masterful lyricism and Three 6 Mafia's guests (which included a surprise cameo by country star Jelly Roll), to young musician Ben Goldsmith's country-inspired tunes and Hayley Williams joining Foo Fighters to perform "My Hero." And if all-day music wasn't enough, Bonnaroo 2023 featured numerous food vendors and relaxing areas, and even a place to get married. 
While at times the lines were long, the sun was hot, and getting from one remote area to another proved difficult, rousing sets by headliners and larger-than-life moments at the smaller tents made everything worth it. Here are 10 of the most exciting sets from Bonnaroo 2023.
Suki Waterhouse Shines Despite Difficulties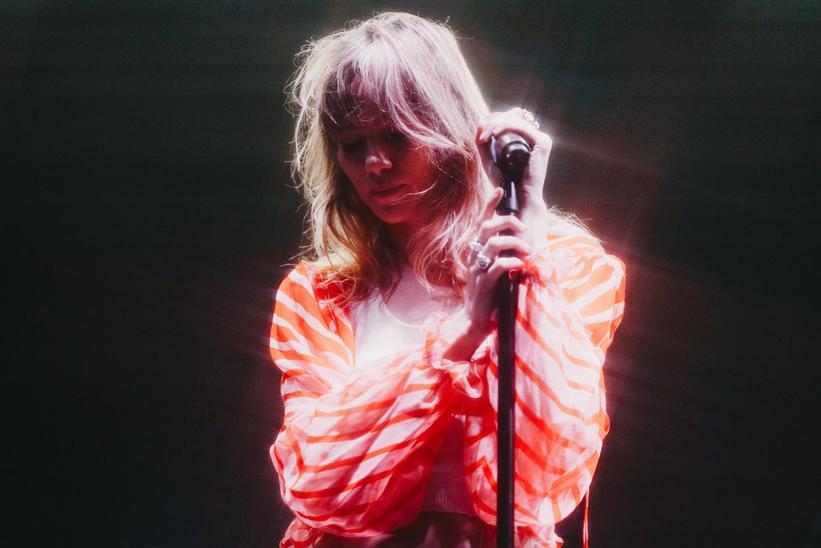 Suki Waterhouse ⎹ Dusana Risovic for Bonnaroo 2023
After a severely delayed set due to technical difficulties, Thursday's performance at That Tent saw English actress-turned-singer Suki Waterhouse playing through much of her debut album, I Can't Let Go. 
Drenched in pink light with an enveloping fog, Waterhouse's cinematic performance and comforting vocals could draw anyone into the tent. She flitted through "Moves," "Bulls— on the Internet," "My Mind" and TikTok favorite "Good Looking" with a robust collection of layered drums and guitar for support. 
Big Freedia Fires Everybody Up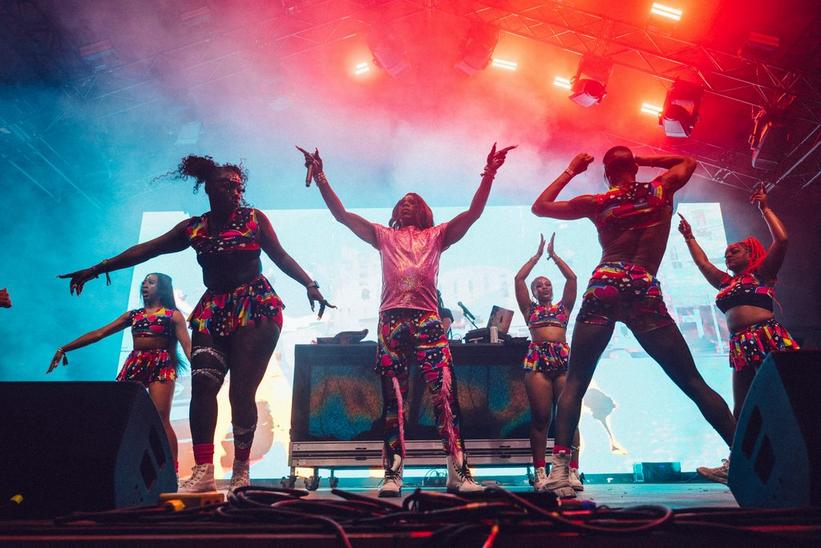 Big Freedia ⎹ Charles Reagan for Bonnaroo 2023
Across the park, Big Freedia treated audiences to an extra-special taste of New Orleans bounce. The 1:45 a.m. set time after a sweltering day did not deter the amped-up audience, many of whom likely attended Thursday's Pride Parade — also helmed by Big Freedia.
"I just want to wish everyone happy Pride," Big Freedia, donning an outfit made of rainbow feathers, said to momentous cheers. "We about to turn up, we about to celebrate!" 
Folks from the audience jumped on stage for a 2 a.m. twerk contest, dancing along with Big Freedia as she performed "Azz Everywhere" and "Rock Around the Clock." It was a lot of energy to be had for the wee morning hours, but if there's anything the Bonnaroo crowd does better than others, it's the late nights. 
Black Midi Brings The Noise
Translating a distinctively chaotic discography into a sensical live set isn't an easy task. Compound that with a fickle festival audience in the hot sun, and sometimes it can be downright impossible. Yet, Black Midi's experimental arrangements seemed to delight the audience relatively quickly on Saturday. 
With songs that took a slower cadence ("Still") and others that were characterized by sharp tonal shifts and dramatic tempo changes ("Eat Men Eat!", "953"), the bulk of the excitement came in not knowing what to expect next. It was the kind of organized mayhem that invited people to start chucking inflatable dinosaurs, rubber chickens, bananas, toilet paper, anything they had in hand. 
The charm in Black Midi's music, at least on that stage, was that it didn't take itself too seriously. In translating their mind-melting, seemingly random studio style to the Bonnaroo stage, Black Midi taught us, song after song, that some shows just have to be some degree of chaos.   
Rina Sawayama Cycles Through Every Genre
Rina Sawayama ⎹  Cora Wagoner for Bonnaroo 2023
To see Rina Sawayama live is a gift. The rising pop (and rock, and country) artist shined on Friday at the Which Stage, moving with elegance through choreographed dance routines. Her performances included  a two-dancer ensemble and various spur-of-the moment outfit and character changes. 
There's a transporting magic wrought by Rina's one hour set; every song she performed felt like an individual production with a story to tell, beginning with the fearlessly reflective "Hold The Girl" and ending with the rousing "This Hell" (featuring a surprise cameo by MUNA, who had just finished playing the What Stage). 
For a set that started with hard rock, cycled through bubblegum pop, and ended with country, it felt every bit as extraordinary and arresting as she is. Rina Sawayama doesn't demand your attention — she's not begging for it. She simply acquires it whether you like it or not. 
Paris Jackson Conjures Pixies And Nirvana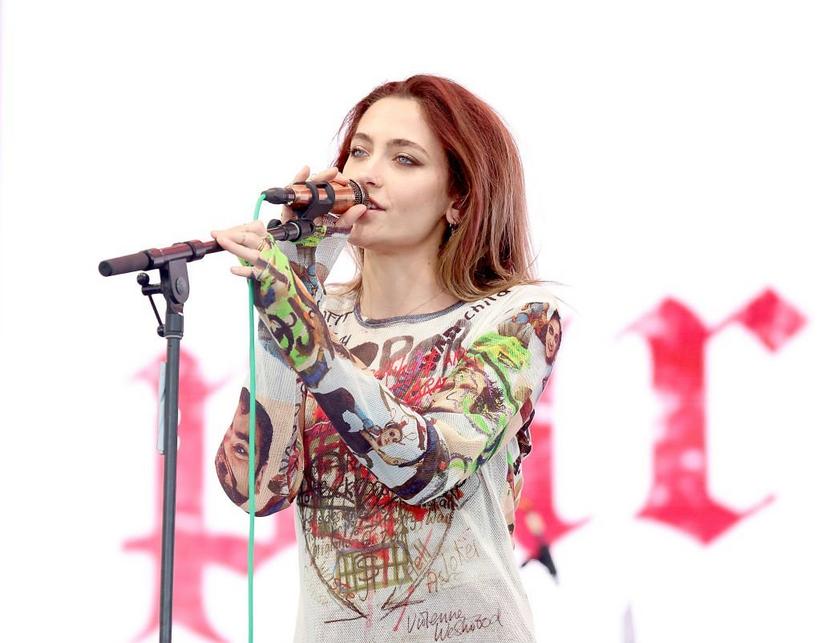 Paris Jackson ⎹ Gary Miller/WireImage
Paris Jackson may have just one album under her belt, but that didn't stop the 25-year-old singer/songwriter from packing sets on Saturday and Sunday at two different stages. The crowd clearly couldn't get enough of their Nirvana-inspired music as they overflowed the Toyota Music Den on Saturday to listen to acoustic versions of her new tracks, and then This Tent on Sunday for the full-instrumental versions of those songs. 
Highlights of both sets included her lighthearted guitar tuning interlude — a seemingly out-of-place folk song her bandmate plays as she tunes her guitar in her earpiece — and "bandaid," the title track off of her forthcoming new album. 
"Most of my songs are about heartbreak," Jackson told GRAMMY.com during a backstage chat. "This is the most raw and vulnerable I've ever been in my lyrics, but it's still vague enough for people to make it about what they want it to be about." 
Though a departure from her old sound— which leaned more towards indie folk, watching her perform "bandaid" and her other two singles "Just You" and "Lighthouse" felt like we were watching her come into her own. The depth of the songwriting felt right at home amongst the covers of Blind Melon's "No Rain" and Pearl Jam's "Even Flow." 
Kendrick Lamar Performs On His Birthday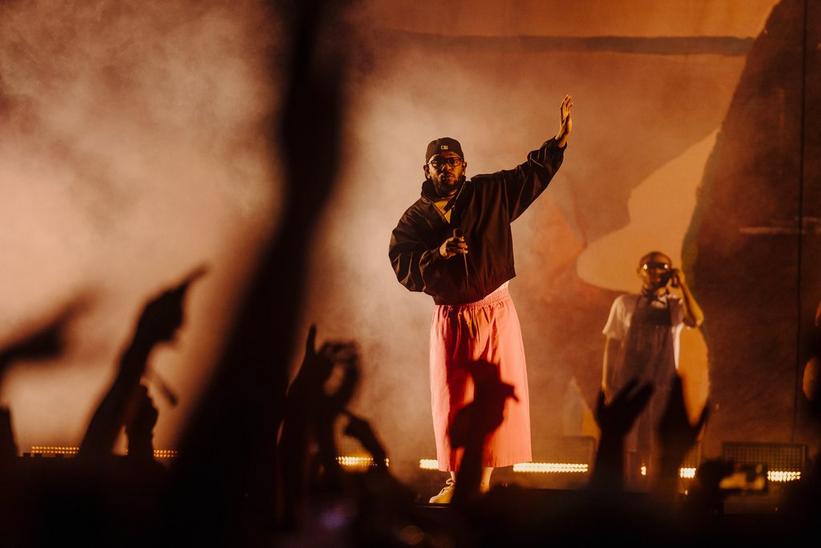 Kendrick Lamar ⎹ Roger Ho for Bonnaroo 2023
The first of the weekend's headliners to perform, Kendrick Lamar, spent his 36th birthday eve putting on a theatrical performance that blended cuts from last year's Mr. Morale and the Big Steppers ("Count Me Out") with back catalog material ("A.D.H.D.", "Backseat Freestyle"). 
After a modest, humble response to the audience singing him "Happy Birthday" at the stroke of midnight, Lamar leaned into the melodrama, as he rapped alongside a group of suit-wearing doppelgängers dancing with uncanny, uniform movements. For his second-to-last act, Lamar brought out his cousin Baby Keem, who brought vigorous rhymes to the stage for "family ties". And even though Kendrick's set ended 20 minutes early with "Savior," its high energy and dramatic visuals were the cherry on top to an already exhilarating Friday evening.
The Band Camino Brings Their Music Back Home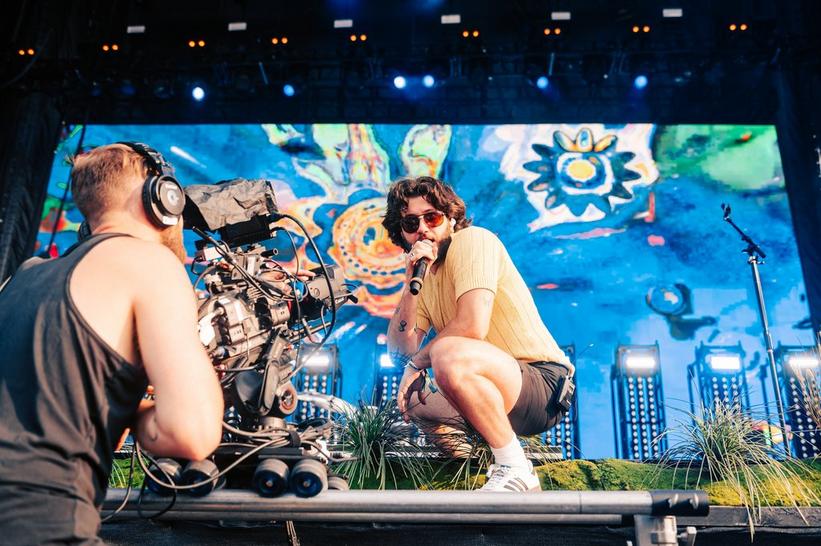 The Band Camino ⎹ Nathan Zucker for Bonnaroo 2023
Tennessee's own The Band Camino were slated to appear at two canceled Bonnaroos in a row, and by this year's festival the Memphis band were visibly happy to be there. They revived their song "California" just for Bonnaroo, and played the ever-popular "2/14" alongside some of their newer singles, "What Am I Missing" and "Last Man in the World" — the latter of which was a huge hit with the crowd. 
Speaking to GRAMMY.com backstage, vocalists Spencer Stewart and Jeffery Jordan discussed the song's provenance: "We were trying to write something that was verbally heavy-hitting, that paints a really good picture about what it feels like to be with this very special person. It feels like everyone else is gone and you're just left with this one person left; you're the last people in the world." 
Lil Nas X Rides 'Til He Can't No More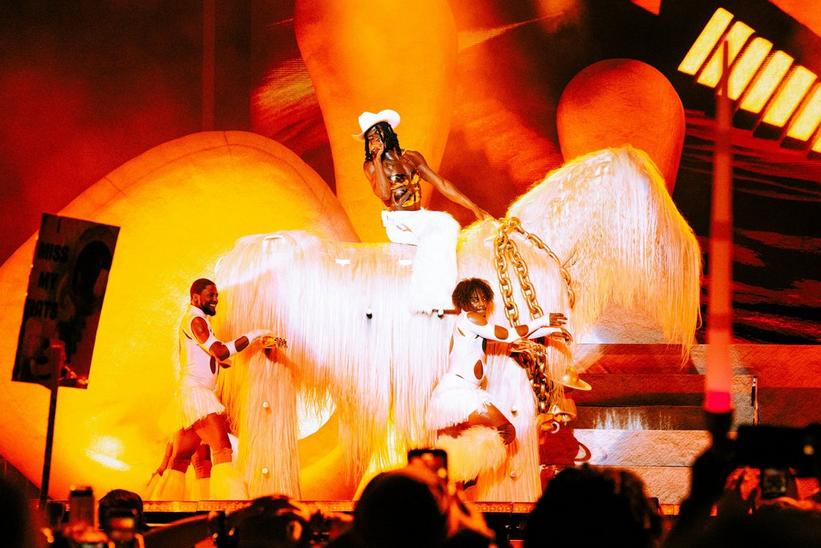 Lil Nas X ⎹ Pooneh Ghana for Bonnaroo 2023
The main stage at Bonnaroo is always a grand marvel, and Lil Nas X gave the Bonnaroo audience nothing short of that, drawing an enormous crowd on Saturday just after nightfall. Bobbing and weaving across a stage he shared with giant costumed animals, a six-person dance ensemble, and swirling rock formations, it's obvious the rapper has an insatiable desire to entertain and magnetize. 
As expected, songs like "Old Town Road" and "What I Want" proved their staying power as fans from all walks of life sung along unabashedly, celebrating Nas X's Black queer joy. 
"It's f—ing Pride month, y'all better make some noise for this gay ass s—!", Lil Nas X yelled, prompting applause from both the audience and his dancers, who were just as integral a part of the show as he was. The GRAMMY-winning performer gave each of his dancers gave the audience a chance to hype up the crowd, too, showcasing their dancing abilities to songs by J. Balvin, Lola Brooke, and Beyonce. 
With dance arrangements full of vogueing, ass shaking, and straight-up boogie, the Nas X show was a spectacle to behold, and kept the crowd whipped up in a frenzy until the very last notes of GRAMMY nominated "Industry Baby."
Paramore Dabbles In Nostalgia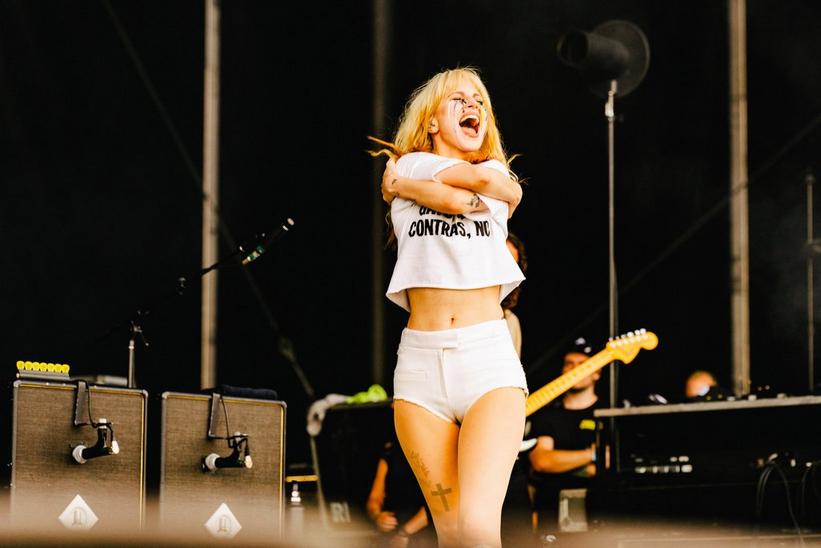 Hayley Williams and Zac Farrow of Paramore ⎹ Pooneh Ghana for Bonnaroo 2023
"Does anybody here tonight feel like cashing in on a little nostalgia? Anyone here feel like taking a trip down memory lane?" yelled Hayley Williams of Paramore. The four-piece formed just 70 miles north in Franklin, Tennessee in 2004, and led the audience right back to 2007's Riot!, where a young Hayley Williams boldly sang "Once a whore you're nothing more/I'm sorry that'll never change" ("Misery Business"). 
She doesn't sing that lyric live anymore because of its misogynist tone, but their setlist resembled something of a greatest hits record. The band powered through standouts for those who had been supporting "since day one" ("All I Wanted", "Last Hope"), and incredible renditions of their newer songs, like "Rose-Colored Boy", performed with samples of Whitney Houston's "I Wanna Dance with Somebody" and Tom Tom Club's "Genius of Love" intermixed.
In a raw and potent performance before a thousands-strong audience — it was the band's second appearance at the festival — Paramore proved that they will remaina treat to see live for years to come.
Pixies Prove They're Larger Than The That Tent
Being the gold-standard of alt rock is just what the Pixies are all about, and their Sunday evening performance at the That Tent seemed intent on showing everyone that. 
The That Tent was spilling out from every corner, uncomfortably so, as the reclusive '80s stalwarts rocked and rolled through through favorites from albums past— including "Here Comes Your Man" and "Where is My Mind" — and songs from their newest project, Doggrel — "Who's More Sorry Now?" and "Get Simulated." 
It was 23 songs in just an hour's time. And in true Pixies fashion, they did this all without a setlist, coursing seamlessly from song to song without a plan, solely from the heart. As the band closed with a Neil Young cover ("Winterlong") to raucous applause, everyone was reminded that, much like the festival, you don't always need a plan to have a good time.
CMA Fest Turns 50: Lainey Wilson, Brett Young, Reba McEntire & More Share Memories From The Country Staple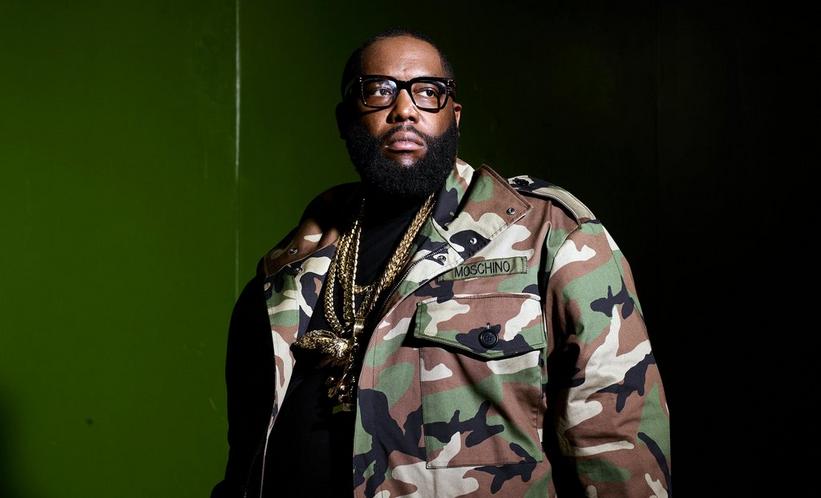 interview
Killer Mike Says His New Album, 'Michael,' Is "Like A Prodigal Son Coming Home"
'Michael,' Killer Mike's first solo album in more than a decade drops June 16. He spoke to GRAMMY.com about creating a portrait of the Southern rap cyphers, Sunday church services, and barbershop discourse that shaped who he is today.
GRAMMYs
/
Jun 15, 2023 - 06:39 pm
After more than 20 years in hip-hop — as one-half of the supergroup Run The Jewels and also as a solo artist — the Atlanta rapper Killer Mike is ready to make what he calls "a generational statement."
Born Michael Render, the activist rapper's statement comes in the form of his personal "origin story": a 14-song solo album called Michael. The album, Killer Mike's sixth solo effort, drops June 16 and follows 2012's R.A.P. Music.  In support of the new record, he's touring 19 U.S. cities through Aug. 5.
"I'm one of the best rappers on the face of the earth, and that is authentic. Go to the records. My verses have proved it," Render, 48, told GRAMMY.com. "I'm tired of sitting and waiting for people to say it for me. I'm not waiting, I'm doing it now. My run matters. I'm not gonna die with a woulda been coulda been eulogy."
Michael stands in contrast to the big, bombastic (and less personal) vibe of Run The Jewels, who have released four albums since forming in 2013. While Render's solo outings have always been a mix of bravado and personal, his latest is particularly deep and insightful, dealing  with the death of his mother, and his life growing up in the predominantly Black neighborhood Collier Heights, Atlanta. 
"There is a character behind Killer Mike that is a whole human being that I've always wanted people to meet and introduce so they can understand the nuance of why I am," Render said during an event at SXSW 2023. "It is about helping other human beings understand that I share an experience with you, that you can meet me at, that transcends color, that transcends class, that transcends geographic location, and I meet you right at your humanity."
On Michael, Render puts his guard down. He allows himself to grieve the death of his mother and apologize for selling drugs as a teenager. Throughout the autobiographical album, Render paints a portrait of the southern rap cyphers, Sunday church services, and barbershop discourse that shaped who he is today. 
"That Killer Mike character was invented when I was 9. I just wanted to be an MC, and Killer Mike was like me being a superhero," Render tells GRAMMY.com. "But when you hear me talking about my mother, I'm empty now. It's not sad, but it's about missing and wanting."
Render's parents were teenagers when he was born, so he was raised in part by his grandparents in Collier Heights, Atlanta. Render credits the culture of his community with shaping who is today. 
"I didn't grow up with insecurities about race, I grew up in a Black majority," he tells GRAMMY.com. "The closest I got to white people growing up was watching Bob Ross or 'The Wonder Years' on TV. But all my real heroes looked like me."
Render says he never felt inhibited by his Blackness, because Blackness was celebrated in Collier Heights. His community introduced him to Black intellectuals like James Baldwin and Langston Hughes, who also celebrated Blackness. It never occurred to Render to not pursue hip-hop or politics or activism — and he never doubted that he could be an artist or MC.
He first rapped on Atlanta-based hip-hop group Outkast's 2000 album Stankonia, and launched a solo career soon after. In the 2000s, his songs landed on Billboard charts and the EA Sports "Madden NFL 2004" football video game. Render also did voice over work during the 2000s for Adult Swim and appeared in films like Idlewild and ATL. He guest-rapped on Outkast's 2003 double album Speakerboxxx/The Love Below, which was nominated for six golden gramophones at the 2004 GRAMMYs and won three, including Album Of The Year.
Two very important relationships forged in the 2010s have done much to shape Render's trajectory since: one with producer and rapper El-P (the other half of Run The Jewels), the other with Vermont Senator Bernie Sanders.
El-P is essentially the yin to Killer Mike's yang. El-P produced Render's previous solo records, and the two have been collaborating ever since; Killer Mike has called their relationship a "marriage made in heaven." Run The Jewels has toured with Rage Against The Machine and Lorde, opened for Jack White at Madison Square Garden, been nominated for a GRAMMY Award, and won NME's Best International Band award in 2018. Rolling Stone called Run The Jewels "brash" and added, "If there were a GRAMMY for Most Creative Ways to Say 'We're the Best,' these guys would win it, or take it by gunpoint."
Render's political activism kicked into high gear in 2015, first with lectures at NYU and MIT on police brutality, for-profit jails, and racism in America. He made a last-minute — and ultimately unsuccessful — run for a Georgia state representative seat, and he forged an unlikely public friendship with then-presidential candidate Senator Bernie Sanders. Render told reporters that he and Sanders were "two angry radical guys, one 74 and white, one 40 and Black, finding common ground."  
Render took his politics and activism much further. He co-founded an online banking system for Black and Latinx communities alongside former Atlanta mayor and civil rights leader Andrew Young, and has written op-eds in response to the police killings of Michael Brown and Eric Garner and the Baltimore uprisings in response to Freddie Gray's death. On the 2019 Netflix show, "Trigger Warning," Render explored notions of land ownership, gangs, education, and consumerism. 
All of his experiences — as a child of the South, as a rapper, and as a political thinker — inform the new album.
"Remember when Ta-Nehisi Coates wrote 'Letter to My Son'? People got a glimpse into Blackhood that wasn't about absentee fatherhood and other cliches," Render tells GRAMMY.com. "Similarly, my album, even if you haven't lived my life, it gives you a chance to be a voyeur, and that's important."
Michael takes its time to unfold; personal subject matter unfolds verse after verse, over laid-back tempos executive produced by No I.D. Somber music provides a bed for Render and guests — among them, Andre 3000, Young Thug, Future, Ty Dolla $ign, Blxst, Curren$y, and Mozzy —  to stretch out on. Slightly more aggressive, urgent-sounding songs like opening track "Down By Law" and "Talkin Dat SHIT!," which appears later in the album, are buffered by tunes that could uplift a church congregation. 
"It's imperative that I get that out and introduce people to this buck-toothed kid who grew up with hip-hop, out of wedlock fatherhood," Render says. "This record is like a prodigal son coming home. It's my generational statement. If August Wilson was writing a rap album, this would be his 'Fences.'"
(L-R) James Hetfield, Kirk Hammett of Metallica performing in 2003
Photo: Brian Rasic/Getty Images
list
5 Revealing Facts About Metallica's 'St. Anger': 20 Years On, The Controversial Album Sounds Better Than You Think
Get beyond the snark about the snare sound and the lack of guitar solos, and 'St. Anger' sounds like a refreshing mid-career reset for the heavy metal lifers.
GRAMMYs
/
Jun 5, 2023 - 06:43 pm
Since its release in 2003, there's been a consistent (pingy) drumbeat of chatter about Metallica's St. Anger.
The quixotic snare sound — which bassist and producer Bob Rock claimed he spent about 15 minutes crafting — is central to the St. Anger discourse; a Google search for "metallica st. anger snare" yields about 661,000 results. As for why the eight-time GRAMMY winners uncharacteristically nixed guitar solos? That question yields millions of hits.
Then there's the 2004 documentary Some Kind of Monster, one of the most uncomfortably revealing portraits of a rock band engulfed in a mid-life crisis. Memorable moments abound, but for one scene alone — drummer Lars Ulrich's Middle Earth-looking dad hearing a take, and telling his son to "delete that" — the film is a must-watch.
Given the controversial status St. Anger has accrued, it may seem like the metal community may want to, well, delete it. While your mileage may vary, this hotly debated album shouldn't be consigned to any internet-snark dustbin.
Listening with the benefit of temporal distance, tracks like "Frantic," "Some Kind of Monster" and "The Unnamed Feeling" sound raw and alive — perhaps of their time, given its adjacency to then-ascendant nü metal. Ultimately, they conjure the sensation of a reset, rather than a capitulation to trends. 
Today, St. Anger seems to hew less to the reputation it's engineered, and more to Rock's characterization of the thing: "To me, this album sounds like four guys in a garage getting together and writing rock songs. There was really no time to get amazing performances out of James. We liked the raw performances… we just did it, boom, and that was it."
To mark the 20th anniversary of St. Anger, here are five facts about the album.
Metallica Started The Album In An Old Army Barracks
By 2001, Metallica hadn't released an album of original material in almost five years, since 1997's Reload (a follow-up to the previous year's Load). 
While these sessions ground to a halt due to personal upheaval and frontman James Hetfield heading to rehab — and the band later continued work at a new studio in San Rafael, California — this no-nonsense setting befitted the unvarnished quality of the music.
Bassist Jason Newsted Left The Band Early On
Newsted was the second bassist for Metallica, after the tragic 1986 death of Cliff Burton. Newsted's departure came the month they began St. Anger, which destabilized progress on the album.
"Due to private and personal reasons, and the physical damage that I have done to myself over the years while playing the music that I love, I must step away from the band," Newsted said in a statement. "This is the most difficult decision of my life, made in the best interest of my family, myself, and the continued growth of Metallica."
St. Anger

Represented Intense Catharsis For James Hetfield
As Hetfield put it, St. Anger was a valve for which to release intense psychological pressure.
"There's a lot of passion in this. There's two years of condensed emotion in this," he told Metal Edge magazine at the time. "We've gone through a lot of personal changes, struggles, epiphanies, it's deep. It's so deep lyrically and musically… It's so hard to talk about, you really need to hear it."
Accordingly, St. Anger is nothing if not visceral — and two decades haven't sanded off those sharp edges.
As

St. Anger

's Recording Wound Down, Robert Trujillo Joined On Bass
While producer Bob Rock recorded the bass parts on St. Anger, his instrumental involvement 
would prove to be transitional; Robert Trujillo joined Metallica on bass in February 2001. 
Having played on all ensuing Metallica albums, 2008's Death Magnetic, 2016's Hardwired… to Self Destruct and 2023's 72 Seasons — all of which were warmly received by critics — Trujillo is now the longest-serving bassist in Metallica.
Critics Were Polarized, Then As With Now
While some contemporaneous critics knocked St. Anger as everything from "an ungodly mess" to having "underwent more processing than cat food," not everyone characterized it that way. 
Allmusic called it a "punishing, unflinching document of internal struggle"; Rolling Stone said "there's an authenticity to St. Anger's fury that none of the band's rap-metal followers can touch."
As for the band themselves, they've seemingly come to accept St. Anger, warts and all. 
"There are things I would like to change on some of the records, but it gives them so much character that you can't change them," Hetfield said in 2017. "St. Anger could use a little less tin snare drum, but those things are what make those records part of our history."
Unflinching, daring and unpolished, St. Anger is one of the ultimate "line in the sand" albums in heavy music history. Whatever your perception of this ugly-duckling entry is, take its 20-year anniversary as an opportunity to revisit its fury with fresh ears.
How Many GRAMMYs Have Metallica Won? Ahead Of New Album '72 Seasons': 6 Questions Answered