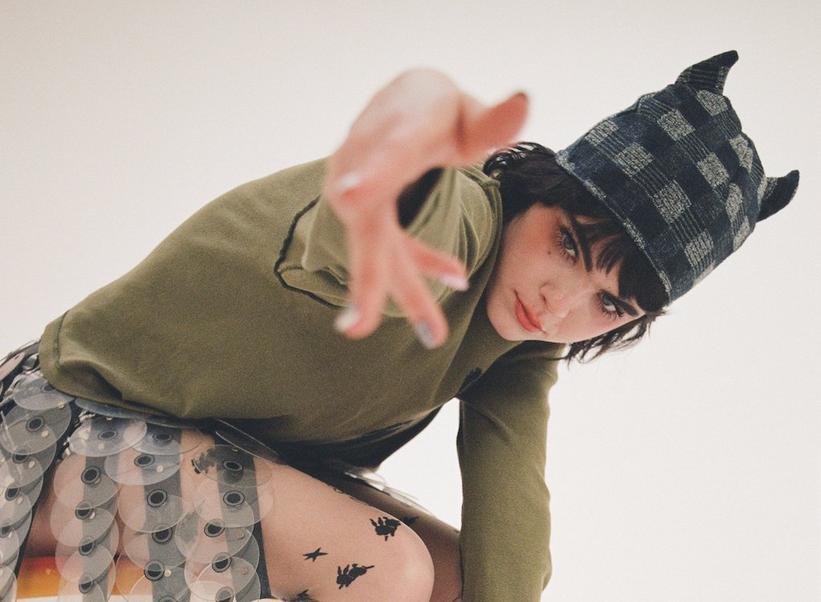 interview
How BENEE Channeled Her Inner Badass, Found Happiness, And Made Her Experimental EP 'Lychee': 'You Can Just Hear How I Changed As A Human'
Two years since her smash hit "Supalonely," BENEE is, as she puts it, "living my best life." With the help of a psychiatrist, new producers, and powerful female idols, the pop singer/songwriter landed on 'Lychee,' her most diverse project to date.
GRAMMYs
/
Mar 3, 2022 - 06:02 pm
In just five years, Stella Bennett — better known as the pop singer/songwriter BENEE — has gone from a pizza-making, dishwashing teenager to multi-billion streaming star. But her success didn't come without woe.
As "Supalonely," her bouncy breakout hit, took off in 2020, the world was shutting down amid the coronavirus pandemic. On top of the fears setting in around the world, BENEE's own anxieties took hold, ultimately culminating in an OCD diagnosis last year.
While her debut album, 2020's Hey U X, divulged several of her worries — from dying on a plane to being used — BENEE's latest project sees her coming out on the other side. Arriving March 4, Lychee makes an empowered declaration: "I'm a bad b****."
The seven-song EP also showcases a more experimental sound from the Auckland, New Zealand native, bringing in wavier vibes on lead single "Beach Boy," techno-inspired beats on "Soft Side," and booming, trap-like production on "Make You Sick." It's all a result of the positive personal and musical changes BENEE has made in the past few years.
"You can just hear how I changed as a human," the 21-year-old says of her sonic evolution. "I've definitely grown a lot as an artist, but I've also realized you can do whatever you want. Once I realized that, that's when that's when I [started] making the stuff that I love the most."
In a candid chat with GRAMMY.com, BENEE discussed the changes and people that helped her get to this happy new place, and how it led her to some of her most boundary-pushing music yet.
You've said that the music on Lychee was "inspired by the thoughts that are always jangling around my brain." Can you elaborate on that?
I never really have a specific theme that any of my EPs or whatever are based on. It's more just like, whatever is going on in my mind. Just random, random s***.
So you're not a concept album person?
You probably won't see that coming from me. I like the idea of it all being quite eclectic, and having depth, and a lot of thought — but also like, not, when it comes to putting it all together. I always just like it to be all the songs that I'm most excited about, putting them all together, and making it work. Not thinking, like, "Is this gonna sound really good with this? And is it telling the same story?"
What's special about your music is that you can cater to two different audiences: The people who love to really feel songs, because of how honest your lyrics are, but also the people who are more melody driven and like more upbeat songs. What inspired you to present such vulnerable lyrics with a sound that's more happy and positive?
I feel like a lot of it is just, like, the way that I roll. If I'm sad, I try to kind of act really happy. With music, I love writing about sad stuff. And I think that that's when I'm at my peak, when I'm just laying out the realness. But I don't want to make a whole lot of slow sad songs, because I just feel like I'm boring when I do that. [Laughs.]
I love listening to slow sad songs, but it's more fun to make crazy-sounding stuff with deeper lyrics. When it's too heavy and too upbeat, it's too cheesy. And then when it's too slow and too sad and deep, it's boring. So I like to make it in between.
You've said you really shook up your creative process during the creation of this EP. What played into that?
The main thing was working with different people. Previously I've basically only worked with Josh [Fountain, a fellow New Zealander and her go-to producer] — maybe a couple of other producers, but with Hey U X, pretty much all of the songs I made with Josh.
I think that that was what allowed me to complete the EP. I had been working [in New Zealand] with Josh — and he's great, and we work really well together, but I think it was more a me thing. I was kind of too comfortable, and making stuff that I liked, but I wasn't super stoked about. It just didn't feel very exciting. I needed to push myself out of my comfort zone.
Now that you've had the chance to work with other people, do you think working with Josh will be different? In a good way, like, you'll feel rejuvenated or something?
Imagine if I was like, "I'm never working with him again!" [Laughs.]
I'm gonna work with that dude until he doesn't want to work with me. But I definitely think that I've got a lot more confidence now, and I feel a lot more up for going into a room with someone who I don't know and making a song with them.
Now knowing that I do love working like that as well is really encouraging for me, because I don't feel so much like I need to rely on Josh as heavily. I started with him when I was 17, and was only working with him for a very long time. I've definitely grown a lot as an artist.
Greg Kurstin is one your main new collaborators. He's produced a lot of major pop acts [like Kelly Clarkson and Pink] — what do you feel like he brought to your sound?
I didn't really know exactly what he had created before going into the session. I didn't really do too much research on the producers that I was working with. But then when I found out, I was like, "Dude, did you write 'F*** You' by Lily Allen?!"
Everything he came up with or suggested, I just loved. He's a pro and knows what sounds really great. I definitely learned some stuff off him — I don't know what I learned, but I definitely learned something. [Laughs.]
You start the EP with a whimsical, romantic song in "Beach Boy" and then end it by stating "cannot have this, no you can't have a bad b****" on "Make You Sick." Is there a reason for that sort of 180?
Not really, but now that I think about it, I guess there was kind of that independent, bad b**** vibe throughout the EP — I wasn't really intending it to be like that, but I'm always up for independent woman stuff. So I'll say now that that was planned.
You opened up about your experience with OCD in "Doesn't Matter." Why was it important for you to release a song about that?
"Doesn't Matter" was one of the songs I had first for this EP, and I was in a bit of a hole at the time. The only music that I was making at the time was really sad, and that's when I was kind of bored of what I was making.
Then I made "Doesn't Matter," and it felt really nice to write about it. It was quite a big moment in my life, where I got diagnosed and went to a psychiatrist, and got prescribed Fluoxetine. It was a turning point where I was like, "It's gonna be up from here."
Including that song and then putting the new songs [on the EP] is like a little journey, because it's like these complete polar opposite moods. It's my last year summed up, basically — like a little timestamp.
I always think that it's important to be really honest and vulnerable. Something like OCD or mental health disorders, you know, a lot of people have struggled with them. And a lot of people haven't talked about them in the past. Now, it's such an important time to do so, given everything going on in the world. It makes you realize how many people are struggling, and how many people need to be reminded that it's okay, and that it's normal. We've got to make it feel more normal, because that's the only way that it's gonna get better.
You went from writing a song where you're sad and coping with all of this, and now you're like, "I want to marry myself."
You can just hear how I changed as a human. It was a complete boost in energy and, like, fun for life. It's so important to document — I think that's also a thing, putting all of the moods into one project. It's like, "I was here, but I'm also here now." I was sad, but I now feel like a bad b****.
Is there a story behind the name Lychee?
Just that it's my favorite fruit at the moment. I never like coming up with a name. Well, I do like coming up with a name for a project, but I also don't, because it's like, what do you even call this bunch of songs? I love writing songs, and it's a lot easier for me to do that than come up with a project title. So I just thought I can't go wrong if it's like something that I love.
Are they a big thing in New Zealand?
No, you can't even get the physical fruit here, you can only get canned lychees. But I had it once when I was in Indonesia, and from that day onwards, I was like, "I can't live in New Zealand much longer."
Now that you're five years into releasing music, how do you feel like you've grown as an artist, and where do you see things going from here?
Aside from growing up and maturing, experiencing things, and, you know, getting into the bigger world, creatively, the confidence thing has been a huge part of it.
I think that I've evolved as a songwriter and as an artist, and become more experimental. I've also realized you can do whatever you want. Once I realized that, that's when that's when I [started] making the stuff that I love the most.
It's such a huge world, but it's also a tight little industry. So it's been a journey. But, hey, I'm just living my best life. This is my dream job. So I'm hoping that it lasts forever.
I figure that the growth you've had and this newfound confidence played into the more experimental sounds of this EP?
I think it's also being inspired by what's going on around me in the music scene. Especially watching a bunch of female musicians doing random s*** has kind of been like, "Oh, okay, so we don't just have to make this, like, super conventional pop song anymore." We can do whatever we want! We can swear, and I can autotune my voice in a song, and it sounds f***ing cool.
I think I heard this thing about Charli XCX being dissed for the autotune in a project or something. You hear so much stuff, as a woman in the industry, that just rocks you. It just makes you so sad.
But then it's also like, actually, it just makes us want to do more, and do stuff to piss people off. I feel like I'm still very sensitive, but I also don't care.
Are there any particular artists that have inspired you to push boundaries a little more?
I thought about the Japanese House when I was making "Beach Boy," that kind of happy/sad indie vibe. James Blake is an artist who I have constantly listened to and still inspires me the same amount that he did when I was 14. I've been listening to a lot of Afrobeat, and a lot of trap, because when I'm really sad — and I'm not sad now, but I was last year — I found myself listening to a lot of [more upbeat music].
PinkPantheress, I love; I think she is awesome. I love Kali Uchis, she's so cool. TiaCorine and Baby Sosa, they're both these really cool badass b**** [artists]. I think that I've adopted this bad b**** [energy]. I'm very much not a bad b****, but you just gotta keep telling yourself you are.