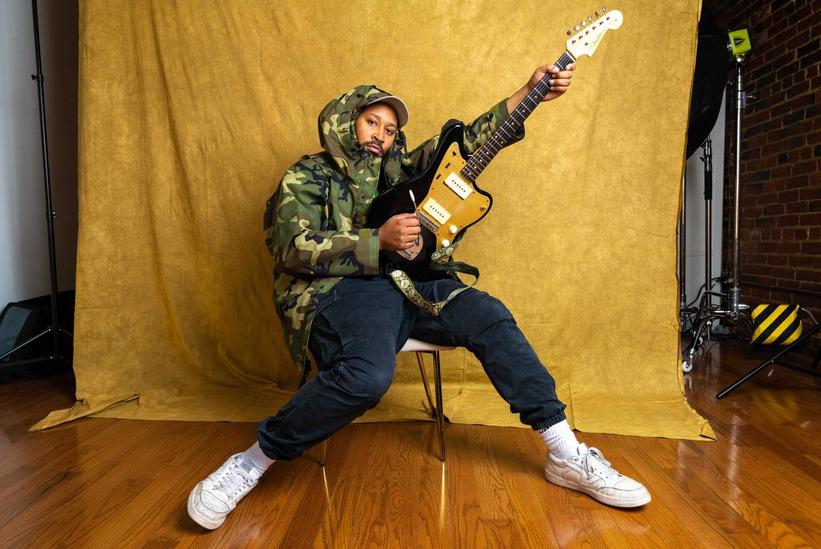 interview
Bartees Strange Talks New Album 'Farm To Table,' Reports From Inside The Indie Apparatus: "Your Music Still Has To Be Good"
With 'Farm to Table,' Bartees Strange is breaking through during the weirdest possible time for the music business. How do you not only survive, but thrive? The answer's simpler than you think.
GRAMMYs
/
Jun 15, 2022 - 05:54 pm
At first listen, Bartees Strange's new song "Cosigns" seems like a work of unmitigated self-regard. Like Kendrick Lamar casually boasting that "Obama just paged me," Strange namedrops indie stars he's opened for or otherwise associated with — Phoebe Bridgers, Lucy Dacus, Justin Vernon — and basks in how it all reflects on him: "I'm a genius, damn!"
But when Zooming with Strange — on a train back to D.C. from New York, where he'd been doing press — that bluster evaporates.
Attentive and unassuming, Strange projects zero airs of being an indie breakout star; he's just someone commuting home from a job like anyone else. It only takes a few minutes of getting to know the guy for "Cosigns" to reveal its true nature. It's not a paltry boast track; the trap-influenced tune is as personal and genuine as can be. Strange is partly singing this song to himself. Because he needs to.
"I'm not a person that's normally down to be that boisterous," he tells GRAMMY.com. "But I felt like, on that song, I had to be for that song to work — [for it to reflect] how I'd seen it in my mind. So, I kind of chased the dragon with that a little bit."
And as such, the end of the song brings the comedown: "How to be full, it's the hardest to know/ I keep consuming, I can't give it up/ Hungry as ever, it's never enough."
This mix of humility and unequivocality seems to sum up Strange, both on record and in conversation. His latest album, Farm to Table, which drops June 17, is deeper, maturer and more forthright than anything he's made before. The aforementioned "Cosigns" digs into the toolbox of 2000s radio hits; "Tours" and "Hold the Line" rank among his rawest dispatches.
Strange's ride from workaday PR and comms guy to festival favorite has been dizzying. But thanks to his everyman integrity and ability to keep his head on straight, Strange can swim in that world without drowning — as he has at least since his 2020 debut, Live Forever.
And for the astronomical number of indie musicians trying to be heard, he offers a simple report: authenticity, and being really good, still matter. And he admits that for a while, he simply wasn't a strong enough musician to get noticed. What it took were manhours, and a good attitude, to get to the place where he could write "Cosigns" and make it work.
"Keep getting better, no matter what. Always focus on getting better, and things will work out," he says. "You can't blame other people for it. You've got to just keep grinding."
Read on for an in-depth interview with Strange about navigating the entertainment industry as a recent breakout, what meeting Phoebe Bridgers and Courtney Barnett taught him, and why his most spectacular music is "100 percent" ahead of him.
This interview has been edited for clarity.
You seem to have experienced your indie breakthrough during the weirdest possible time — when streaming and the pandemic have made this business harder than ever. How do you navigate the weirdness?
The way I always have. I've been making stuff my whole life. During the pandemic, I felt like, "If it doesn't go well, I'll just make another record."
I always feel like I'm going to make more music. With that will come more opportunities for things to go well. Sometimes when things aren't going so well, that's when I need to make things the most. It's almost more natural to make things during this weird time than it was before.
Your attitude is less "If this year doesn't go as planned, my life will be over!" and more "If it doesn't work out this year, I'll keep going next year."
Yeah! I love doing this, so I don't see that changing because the things around me change. I do this because I need to do it for myself.
Can you drill into that need a little more? We hear all the time about how music saved people's lives, but can you articulate why you have a psychological need to make it?
The best way I can answer that question is to talk about old stuff.
Before I was doing music full-time, I had full-time jobs. I was working in administration, and then I worked as a climate change communicator in Brooklyn. Throughout all of it, I made music just for myself. I would dive into YouTube tutorials about how to use compression, or how to use different microphones or get different sounds out of guitars I had.
I've always been in love with how sound works and how to create it. There's always more to learn, and it was fun for me. It kept my mind interested when everything else around me was banal. There was a series of years when I wasn't focused on music that much, and that was a really horrible time in my life. After that, I just said, "I'm going to keep doing this no matter what, because it makes getting up in the morning a lot easier."
I always have something to look forward to if I'm creating things. So, that's why I have the operating ethos I have now around making stuff: "Well, I have to do this regardless!" [Laughs] "This is what I like doing, so why would I stop doing it now?"
I used to work menial odd jobs for a living, so I completely understand that thinking: Once you find a way to support yourself that aligns with what you love, don't let it go.
Yeah, exactly. And now it's to a point where my livelihood kind of depends on it. I'm glad I'm at the stage of my life, age-wise, where that doesn't put too much pressure on me. I'm in my early thirties, so I feel like if all this happened when I was 22, I'd be a little shook. But the fact that I've had some jobs and I know how to compose myself and get work done — I have some processes for that.
This transition hasn't been that hard. I'm just excited to make more stuff.
Bartees Strange. Photo: Luke Piotrowski
As you alluded to in "Cosigns," you've become something of a go-to opener for big-name indie acts. Was that a role you ever envisioned yourself in, or did it just turn out to be the logical way to slide into the music-biz apparatus?
After Live Forever, I had some opportunities to open for some people I'm a big fan of. But for most artists, that's just how you start building your career. You go on tour with bigger artists, and eventually, they become your tours. I've been really lucky to tour with people I've admired my whole life.
I don't think I started off thinking: Oh, I'm going to open for Courtney Barnett next year. It was more like: I'm going to make this record, and I would love one day to meet the National. I didn't think I'd go on tour with them. I can't wait to do that — it's going to be amazing.
When I first experienced a measure of success as a music journalist, I felt like I was walking into my record collection and interacting with the people on the cover. Was that your experience early on?
Yes, dude. But I got over that real quick.
The first time I met Phoebe Bridgers, I went to her house in L.A. I met her mom; I met her dog. I was like, "Damn, you're just like me, dude. You're so normal." Courtney Barnett, too — she's so disarmingly normal. Same with Lucy Dacus, and Will [Toledo] from Car Seat [Headrest]. You hit a point where you realize you and these people have a lot in common, actually.
We're all just weirdos who got a little too deep on the music thing. There's not a lot that separates us.
I mostly see the music world as a bunch of people with a couple of screws loose who can't work office jobs. It binds all of us.
I know. But the thing is, I did work in offices for 12 years. The whole time, I was like, "Am I crazy? Does anybody else in this office feel like I feel? Maybe everyone wishes they were playing Pitchfork this weekend!" And the answer was no, they didn't. The way my life turned out, I was the person that wanted that.
It's been a wild journey, and the last couple of years have been so fascinating. I learned so much. Just playing shows and watching the shows grow and actually getting fans. I've been thinking a little further out, about what I'd like my life to look like. Thinking about this record, and the next records. It's really cool how things have evolved and shaken out and where it can go next.
Was it odd needing to shape your personal story into a press-ready narrative?
No, not really, because I didn't feel like I had to. That was really my life, you know? I was just talking about what my life really was. Also, I don't think it hurts that, for the last 12 years, I've been doing comms and PR. [Laughs] I'm sure that plays into it! I knew how to package it a little!
What lessons did you learn hard and fast once you were firmly within the music-biz machinery?
Man, the craziest thing was that all these music industry people are not different than all the people I met working for foundations or non-profit spaces or PR firms. They're all very similar types of people. It's just that instead of loving politics or social justice, they love music.
Once I kind of understood that and understood there's a way to move around these people and connect with them by talking about the things we're all passionate about, it all became a lot easier to understand. And once I realized that all my counterparts were very similar, I started to realize, "Oh, I can actually have a career doing this! Maybe this isn't just a flash in the pan! Maybe I can keep making records and keep growing this.
Because it looked like all these other people who have the same skill set as me were doing just that. That was an amazing thing to see.
It seems like you realized that, in the end, we're all just winging it.
Exactly. We're all still winging it. Just as much as I've always seen people winging it — they're winging it here, too. That felt great. I was like, "Oh, cool!! I know I know how to wing it, you know?
When you started to make Farm to Table, which goal was paramount in your mind?
The first challenge for me was sound. I wanted to make something that just sounded better.
I love Live Forever, but I was at a different stage in my life as a creative person. I was using the tools I had. I spent most of [2020]  producing other records and learning things from those processes, from artists I had met since Live Forever was created.
So, going into Farm to Table, I wanted to create a more sonically dense world. I wanted to make something that was a little more thoughtful and full-ranging with the sounds. I had some things I really wanted to try, so I went hard on that and tried to apply all the things I'd learned.
Also, I kept thinking of this record as the start of a new life. There's a series of records I'm planning to do that will all relate to this album. So, I wanted to create a foundation for the kinds of stories I want to tell later. This record is important in that sense, so I tried to be even more clear and direct with my lyrics.
Whereas with Live Forever, man, I felt like I was just trying to make some noise. I was like, "How do I get people to see me?" Throw it all at the wall. But this time, I feel like I had more focus. It was a little more concerted.
What other hurdles did you face, either from an aural or lyrical standpoint?
The hardest thing about this record was "Cosigns" — writing that song. People think the sad and vulnerable songs are the ones that are hardest to write, but really, the hardest ones for me to write were the ones where I was fully embracing the changes I was experiencing in my life.
That song was about how I was touring with all these people I looked up to, and how I kind of felt like I deserved it. Like, "I'm ready for the next thing; I feel like I can compete."
This record was also the first one where I had other people help me with writing. I met up with Stephanie Marziano, who writes for Hayley Williams and a few other awesome artists, in London when I was finishing the album. She helped me finish "Tours," which is probably one of my [most personal songs] in terms of it being about my family.
Normally, when I write about my family, I'm very vague. But that song is so on-the-nose and direct, and that's what I wanted to do with the album. But it was hard to pull it out of myself.
I think one of the reasons "Cosigns" works is that it doesn't sound like you're simply full of yourself. There's a lot of humor to it, as well as the "Oh my god! It's all happening!" rush — moreso than "Look at me! I'm so awesome!"
I'm so glad you feel that way. I was afraid people would see it the other way — that I was just bigging myself. But, really, it's a song about how grateful I am that other people have stepped up for me and done things to help me. 
So much of your struggle as an artist is just finding people to believe in you. And when people do, it's like "Oh my god! Thank you for being here!" [Laughs]
What are some of your favorite moments on Farm to Table? Not even songs — just segments.
My favorite moment is "Escape This Circus." When that song starts.
Why's that?
It's such a freakin' weird vibe. It feels like a "Twin Peaks" energy. This woozy, drunk country shuffle that interrupts a vibe. Because leading up to that, you have two slower songs that are pretty raw, right? You have "Tours," "Hold the Line" and "We Were Only Close For Like Two Weeks," which is kind of a drumbeat, boom-bap interlude track.
And then, at that point, you don't really know what's going to happen next on the album, because you just had "Cosigns," "Wretched," "Heavy Heart," and "Mulholland Drive." So, you have this crucial decision point on what direction we go. And then the message is, "Oh, we go here. To f<em></em><em>ing Fear and Loathing in Las Vegas." [Laughs.]*
I think it's just a lot of fun. I like how it sounds, and I like what the message of the song is in the context of the album leading up to that point.
What outside records were on your mind while making Farm to Table?
There were different things for different songs.
I was listening to The Life of Pablo a lot. Mainly, because there are some vocal things from Kanye I really wanted — the vocal mixes were just crazy. So, for "Wretched" and "Cosigns," I was referencing that super, super hard. A lot of 2000s-era Kanye, big pop songs — "All of the Lights" and s<em></em>*. Just trying to find big kick sounds, big snare sounds.
I was also really into Burna Boy — the album African Giant. On the song "Wretched," I felt like I was pulling from his drum breaks. Just putting more of a pop sensibility behind it. But that groove is very much an Afrobeats groove in the chorus, which propels the entire vibe.
For songs like "We Were Only Close For Like Two Weeks," it was very much retrograde James Blake vibes. Deconstructed, broken beats with mantra-like repetition over the top. And Escape the Circus feels like Boxer to me. It feels like a Matt Berninger song.
When I was making this record, I remember telling my friends, "This is my Boxer." I was trying to do something new with it I had never done before, and I felt it would be the person I was writing from for at least the next record or two.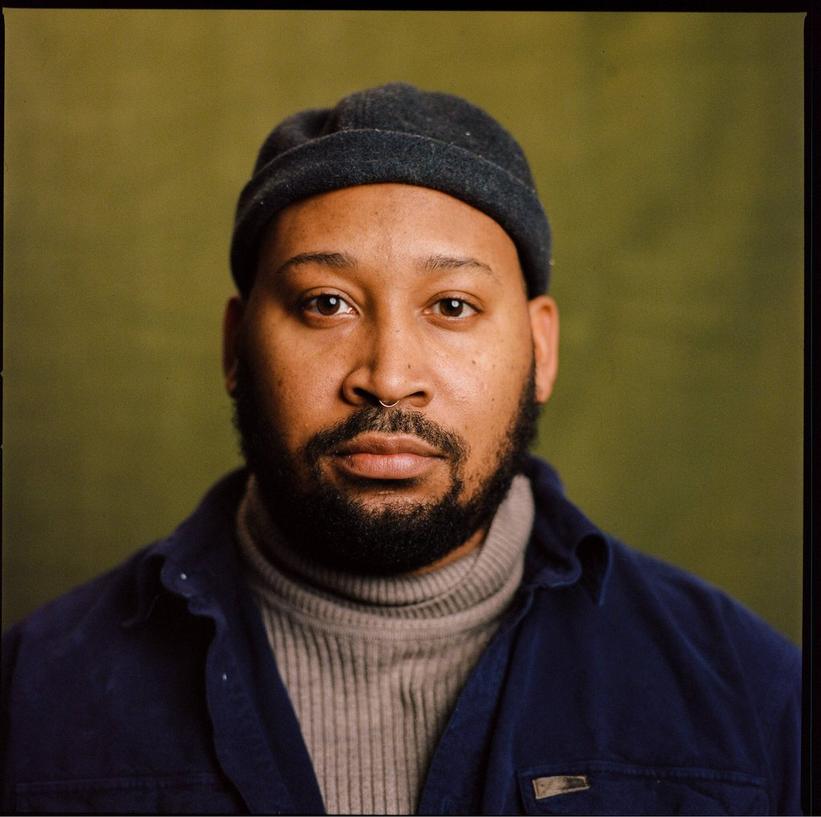 Bartees Strange. Photo: Luke Piotrowski
What do people still not understand about how the indie-rock business works — speaking as someone firmly within it?
I think your music still has to be good. I know a lot of people who feel like they're being overlooked or that they won't get an opportunity.
Luck is such a big part of it — being lucky, being in the right place at the right time and playing the right show, and the right person being there. But also, you have to be really, really, really good. And all the people I've played with — Courtney, Lucy, Phoebe, Will from Car Seat — all these people are freakish good. Like, way better than you realize.
You hear their songs, and you see one thing. But if you see them just pick up a guitar and play a little bit, you're like, "Oh, wait." Courtney Barnett is a murdering guitar player. Absolutely disgusting guitar player. At any level, she's a devastating guitar player and songwriter, straight up. She can write better than most people, she can play guitar better than most people, and she can sing better than most people.
Read More: Courtney Barnett Examines The Moving Parts Of New Album Things Take Time, Take Time: "Kinder To The Self, To The Listener, To The Writer"
Before you get caught up in saying "Nobody likes me," or "The industry doesn't have space for me," just perfect your s<em></em>*. I remember watching Moses Sumney and serpentwithfeet and all these people get humongous, and the whole time, I was like, "Damn, why can't I get a shot?"
But I wasn't good enough at the time. I know that now, looking back. But you've got to get good at your s<em></em>*. Keep getting better, no matter what. Always focus on getting better, and things will work out. But you can't blame other people for it. You've got to just keep grinding.
So, authenticity still matters.
That's how you can last for a long time. Lucy Dacus can continue to build her fanbase because people believe what she's saying. She writes words that connect with people, for real. Yeah, it's great that her label makes it so more people can hear it, but there are lot of people who have that support and it doesn't catch.
It catches for her because she's actually very good. Being good is the best thing you can do for yourself in being a musician.
Before we wrap it up, do you feel like your best work is ahead of you?
100 percent.
Tell me more.
I'm already working on the best record, and it's the best record I've ever made.
In what sense?
I don't want to talk too much about it, because my label is like, "Don't go too deep into the next record. Stay focused on this one. But, dog. Morgan, it's incredible. It's a whole new world. I feel like I've found some stuff where I'm the only one in this world that can do it.
I'm excited about building it out, and I think Farm to Table is the perfect precursor to what can come next.
Girl In Red On New Album If I Could Make It Go Quiet, Why The First Thought Isn't Always The Best Thought