interview
Angélique Kidjo On The Staggering Diversity Of African Musical Styles, Collaborating With Burna Boy & Yo-Yo Ma And Elevating Her Continent On The World Stage
Ahead of the 2022 GRAMMY Awards on April 3, Beninese singer/songwriter Angélique Kidjo discusses her triage of GRAMMY nominations, working with Burna Boy and Yo-Yo Ma, and how the Recording Academy is coming to grips with the intricacy of "global music."
GRAMMYs
/
Mar 29, 2022 - 08:33 pm
Consider this next time you get bored or think there's nothing to listen to: You could spend lifetimes upon lifetimes communing with Africa's extraordinary range of musical styles and never reach the bottom. Even the word "African" sometimes fails as a summarizing agent, says the Beninese singer/songwriter Angélique Kidjo.
"Our continent is huge. From one place to another, the language changes; the rhythm changes," the four-time GRAMMY winner and 12-time nominee tells GRAMMY.com. "The way the rhythm is danced and the way it's sung and carried is different. Even in my small country of 12 million people, man!"
Despite this boundless range of forms — and the recent proliferation of Afrobeats around the globe — try asking the average American who their five favorite African musicians are. You might be dismayed. But in narrowing this cultural gap, Afrobeats takes on added utility — Kidjo refers to it not only as a standalone style, but as a "vehicle" for traditional rhythms and melodies.
"If you take any music from any part of Africa and put it in Afrobeats, it gives you a different flavor of Afrobeats," Kidjo says. "Because you have the pulse of Afrobeats in it, you can consume and discover music from north to south, east to west, and central Africa in a way that we haven't [before]."
For those interested in establishing a foothold in this musical multiverse, Kidjo is something of a hub for emerging talent; her ability to inhabit any style she wishes makes her an excellent jumping-off point for exploring the breadth of African sounds. Just look at the range of contexts that garnered her GRAMMY nominations at the 2022 GRAMMY Awards.
In the Best Global Music Album category, her multifarious album Mother Nature got a nod. And in Best Global Music Performance, she's got collaborations with Afrobeats hero Burna Boy ("Do Yourself") and household-name cellist Yo-Yo Ma ("Blewu"). What's her attitude toward these global accolades? Kidjo feels magnanimity toward everyone nominated — and a desire to see her musical community elevated on the world stage.
Read More: Yo-Yo Ma On His Lifelong Friendships, Music's Connection To Nature & His New Audible Original Beginner's Mind
"Whoever wins, I will be happy to celebrate with the person. It's not about my win or your win. It's about my company winning in a way that has never been done before," she says. "And it's opening a new era. It's a new chapter in the Recording Academy and the world of music today."
Ahead of the 2022 GRAMMY Awards on April 3, GRAMMY.com gave Kidjo a ring on Whatsapp to discuss her GRAMMY-nominated collaborations, how Mother Nature came to be and why she believes the Recording Academy is coming to grips with the unbelievable complexity of "global music."
This interview has been edited and condensed for clarity.
Congratulations on three GRAMMY nominations. How are you feeling?
It is important for me to see the Global Music category opened up to my continent more. This Mother Nature nomination is really an honor and a pleasure. To see Wizkid, Femi and his son — it's been a long wait to see the continent of Africa forecast. I'm humbled and honored to be nominated three times.
How did you first cross paths with Burna Boy?
The first time we spoke, it was when he was doing his [2019] album African Giant. He was in London; I don't know [how] his mother got my number.
I received a call from someone who said, "Burna Boy's going to call you." I said "Me? OK!" And then he called, and he said "I can't believe I'm speaking to you.' I said, "Believe it. Everything happens for a reason, and I'm just a human being like anybody else, so let's speak." He said, "I would be really honored to have you on my album — on my song, 'Different,' with <a href="https://www.grammy.com/artists/damian-marley/4304">[Damian Marley]."
So, I said, "Oh, send the song! What do you want me to do?" He said, "Whatever you want." That's how our collaboration started — with that song, "Different." Now and then, I'd speak to his mother and him. I met him for the first time at the GRAMMYs in Los Angeles. I went to see him and had a conversation. I said to him, "The GRAMMYs are like any award — you don't know what's going to happen. If we know, it wouldn't be a GRAMMY anymore."

[I encouraged] him to keep on working — it would come with time. Meaning, my first nomination came in 1995. After that, many years passed before I would get nominated. I didn't win all the time, and that's the thing — being nominated means that your work has been acknowledged by the business and your fellow musicians. Nominations are as important as winning in the GRAMMYs.
How did this attitude manifest in your recent work and subsequent GRAMMY nominations?
Mother Nature happened during the confinement — the lockdown. I had started [that album] in 2019. And it became obvious with the virus that our world was going to change. And if you want to talk about the world we live in, we have to give a platform to the youth for us to listen to them.
We don't listen to the youth enough. When you give them the opportunity to speak, they come up with things that are amazing that we underestimate.
So, that's how it started. Burna sent [me a song] in the evening in the studio, making me listen to it through WhatsApp Video. I said, "This is torture! Send that damn song, boy!" [Laughs.] And then he sent the song right before I went to bed. I was like "Ah, man!" The next morning, we started working on it.
It was absolutely amazing to see how we worked together because he sent me all the files and everything. I was being very respectful of his song, and then he sent me one of my voice that I did. He said, "I like it, but I want more of you!" I said "OK," did another one, sent it to him, and he said, "I still want more of you!"
I put in more of my voice, layered the voice, and did more stuff — call-and-answer. When I sent it to him, I was saying to myself, "He's going to cut some stuff out." No — he sent me it uncut. And that's how we started.
You're nominated for GRAMMYs alongside Arooj Aftab, Femi Kuti, Wizkid, Rocky Dawuni and Daniel Ho. Anyone you're rooting for in particular?
All of those people you named are worthy of the GRAMMY. That's what I have to say. They are masters in their own rights, in their own music. So it happens that we are in the same category together because their craft got the attention of everybody. You don't get there just because it's pretty. It's because your music has significance.
Read More: Meet The First-Time GRAMMY Nominee: Arooj Aftab On Her Latest Album Vulture Prince, The Multiplicity Of Pakistani Musics And Why We Should Listen With Nuance & Care
I can tell it's far less of a competition to you than an opportunity to uplift a global community of musicians.
Yeah, that's it. That's what I've said from the beginning: open up your ears. Africa has so much surprise in store for you. That continent — we can't see the bottom of it. Even us Africans can't see the bottom of it! Much less the rest of the world.
With all the strides made to bring African music to a wider audience, I imagine we have a long way to go. One could spend lifetimes poring over the cultural heritages of various African countries.
Even for us, "African" is a challenge. Our continent is huge. From one place to another, the language changes; the rhythm changes. The way the rhythm is danced and the way it's sung and carried is different. Even in my small country of 12 million people, man!
I come from the south part of Benin, and every time I go from one village to the other — my husband is French, and he goes, "Do you speak the language?" I say "Yes, I understand this language." And sometimes I go, "No, I don't." He's like, "It's your country!" I'm like, "Yeah! Every village has their own music — their own language." I can only speak four major languages out of Benin.
And the music is like that. It never stops! Every time, you go "I didn't know this instrument can sound like this!" It's crazy!
How can we continue to foster understanding and nuance in our appreciation of music from various African countries and regions?
I think the GRAMMYs are the best place to start. I've talked about and criticized the term "world music" for pretty much my whole career. I say, let's work on it. Let's bring many artists from Africa — and it's not just me and the Academy. We need to reach out to producers and new artists from Africa.
I think the Academy has, for the first time, a grip on the complexity of the music that's out there. Today, we have a vehicle, and it's Afrobeats. Because if you take any music from any part of Africa and put it in Afrobeats, it gives you a different flavor of Afrobeats.
The music that we do can make people say, "Oh, this language is different, or this aesthetic." But because you have the pulse of Afrobeats in it, you can consume and discover music from north to south, east to west, and central Africa in a way that we haven't [before]. The Afrobeats is underlining all those traditional rhythms.
I've been doing my career and living in France for many years, and they have the French GRAMMYs [Victoires de la Musique]. The GRAMMYs have opened to so many contemporaries in the world. It's not only the African continent; you have all the continents. Every artist is welcome at the GRAMMYs. If you're going to celebrate music, you have to celebrate it globally.
In your estimation, why is Afrobeats creating such a splash globally? To me, it's because it's more often than not very soothing and beautiful, which anybody can connect with.
It's just a matter of timing. In Afrobeat, you have blues; you have rock 'n' roll; you have funk. You have everything in there. That's why it speaks to people's ears here — because whatever music you like, you put Afrobeat on it and it speaks.
That's the greatness of Afrobeat, that Fela [Kuti] started playing a long time ago. Because Fela was a music lover. Beyond the music from Nigeria, he used to listen to all the [artists from] the R&B world. What was clear for him was that all of that had roots back in Africa. And Afrobeat is a conjunction of all that in the rhythm. That's why I say that in Afrobeat, there's no music that you can't do.
No matter which part of the continent they're from, what African artists are you enjoying lately?
I'm a curator for the Holland Festival, and I want to give a platform to women in rap in Africa. Let's face it: the music world is dominated by males. There are great, great female artists out there. I tell you, it's not easy when you're born a girl in Africa and want to do music. It's not easy at all!
I was lucky enough to have a supportive family. My father produced my first concert and did all kinds of stuff that allowed me to be who I am today. Many young girls in Africa don't have that. So, every opportunity I'm given to curate festivals and concerts, I always try to reach out to young women.
I have Sho Madjozi as a headliner. Tonight, I'm bringing a singer from Benin called Zeynab Abib — and other young girls from Senegal and Kenya. So, I try to open up roads and give people the chance to be known and start doing what they want to do with it.
Because I know how hard it is when you're in Africa and you want to be a musician. I can't even start talking to you about it!
What else have you got percolating, Angélique?
I did an album with a trumpet player from Lebanon called Ibrahim Maalouf. I performed with him recently at my Carnegie Hall show in November [2021]. And everybody was there — what the hell! He plays a quarter-tone trumpet. All the harmony will just take you to travel with what he's playing.
Also, I have a musical theatre work [Yamandja] with my daughter [Naïma] that we premiered at Mass MoCA at the beginning of March. We're going to do it also in Los Angeles on April 12, 13 and 14. And then we're going to go to UC Berkeley.
It is absolutely amazing — the story of the gods and goddesses of our religion. So, we go back in time, back and forth. The music is also pretty good, because we worked on it.
Anything you want to add before we get out of here?
I think that music can be the vehicle — more than ever today — for people to find meaning in this world. The song I did with Yo-Yo Ma, "Blewu," which is nominated, is the song I sang for the centennial of the First World War, in front of all the heads of state, including Putin.
That song's a song of peace, and it's relevant more than ever. Because we need peace. Even that day, when I was singing, I felt the division of the world between autocracy and democracy. When we believe in democracy, we can sit and say "I don't like this; I don't like that."
No one is perfect. The only thing that matters to me is how we protect our democracy. How do we perfect it? How do all of us together as citizens work with leaders for us to make sure that never again will our democracy be so much in danger?
That song, "Blewu," was the message that I wanted this world to understand. Our leaders, we put in power, but all we ask of them is to make sure that we have peace at any cost. So, music, for me, is the first and easiest thing that can penetrate and finally change things.
For The Record: How Wizkid Elevated Nigeria & Propelled The Ascent Of Afrobeats With His Star-Studded Album Made In Lagos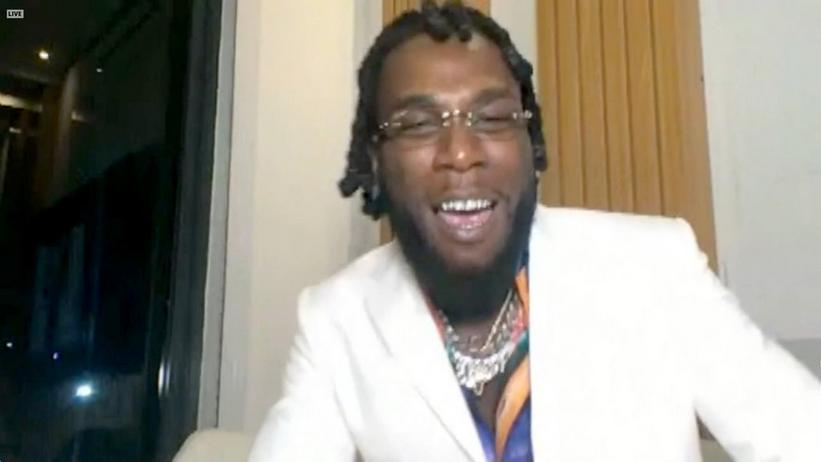 Burna Boy accepts his 2021 GRAMMY
Photo: Rich Fury/Getty Images for The Recording Academy
news
Burna Boy Wins Best Global Music Album For 'Twice As Tall' | 2021 GRAMMY Awards Show
The Nigerian powerhouse Burna Boy takes home Best Global Music Album at the 2021 GRAMMY Awards Premiere Ceremony
GRAMMYs
/
Mar 15, 2021 - 12:28 am
Burna Boy won Best Global Music Album for Twice As Tall at the Premiere Ceremony of the 63rd GRAMMY Awards. This marks his first career GRAMMY win. They are the first winner of the recently renamed category, formerly known as Best World Music Album. Watch his heart-warming acceptance speech below, given in English and Yoruba.
His album bested fellow nominees Antibalas, Bebel Gilberto, Anoushka Shankar and Tinariwen.
Later, Burna gave a fire performance to close out the Premiere Ceremony, featuring two Twice As Tall tracks—watch it here.
Stay tuned to GRAMMY.com for all things GRAMMY Awards (including the Premiere Ceremony livestream), and make sure to watch the 2021 GRAMMY Awards show, airing live on CBS and Paramount+ tonight, Sun., March 14 at 8:00 p.m. ET/5:00 p.m. PT.
Check out all the complete 2021 GRAMMY Awards show winners and nominees list here.
Watch Burna Boy Slay With Performance Of "Level Up," "Onyeka" & "Ye" At 2021 GRAMMY Awards Premiere Ceremony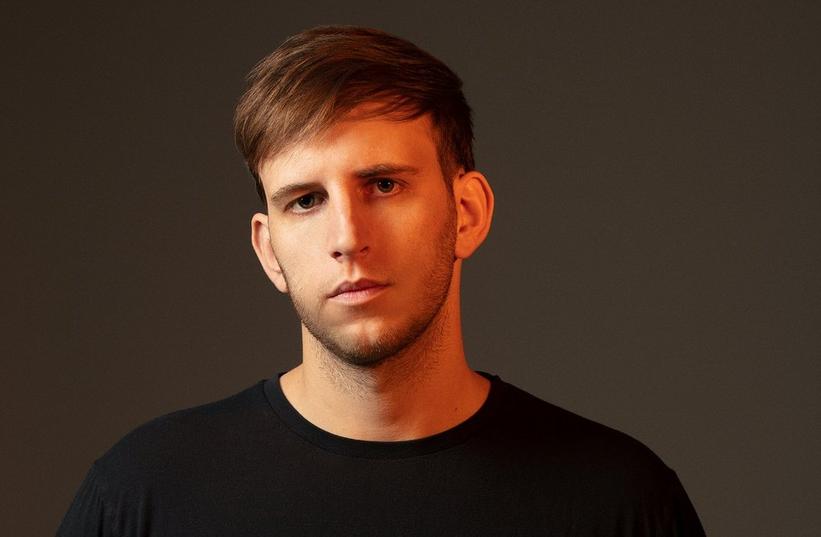 interview
Meet The First-Time GRAMMY Nominee: How Illenium Went From An "Obsessed" Dance Music Fan To An Arena-Filling DJ & Producer
With his fourth LP, 'Fallen Embers,' Illenium kicked off a new era that blends his love for electronic music and pop-punk. As he celebrates a GRAMMY nod, the producer looks back on his journey to stardom and shares how the dance genre changed his life.
GRAMMYs
/
Mar 21, 2022 - 07:37 pm
Growing up, Nick Miller never really listened to dance music. Now, he's one of the genre's most prolific stars, better known as Illenium — and is celebrating a GRAMMY nomination as a result.
Illenium's fourth album, 2021's Fallen Embers, is up for Best Dance/Electronic Music Album at the 2022 GRAMMY Awards. It's a pinnacle moment for Miller, who became "obsessed" with the electronic music world in 2009, launched his career with a self-released EP in 2013, then made his major-label debut in 2016.
Since then, Illenium has put out three more LPs and countless singles, teaming up with fellow dance titans like Gryffin and the Chainsmokers, as well as a variety of singers, from Georgia Ku to Jon Bellion. His versatility is perhaps most apparent on Fallen Embers, which features Tori Kelly, iann dior and Thirty Seconds to Mars, among others.
Though he's already teasing new music — which will debut during Illenium's set at Miami's Ultra Music Festival on March 26 — the producer/DJ feels the next chapter of his career truly began with Fallen Embers. With a GRAMMY nomination to validate his new direction, it may really just be the beginning.
GRAMMY.com sat down with Illenium to discuss the importance of Fallen Embers, how he transitioned from the crowd to the stage, and the role music played in changing — and saving — his life.
What initially made you realize that you were interested in producing — and that you were actually pretty good at it?
I started messing around in GarageBand in high school, and it introduced me to the idea of spending time creating something — even though that stuff back then was really bad. I moved to Colorado, and had some life-changing moments, and I started putting a lot of my time into it. A lot of the encouragement I got from friends, even though it was just mediocre music, was really exciting.
I was writing for music blogs, and I just loved the whole electronic music scene at that time. I would try to create what my idols were doing, and try to learn how they were doing it. I became obsessed, passionate and excited. I got addicted to trying to make songs. The feeling of doing it yourself, and being able to control every aspect of that, was really addicting.
I went to a Red Rocks show in 2012, and seeing that community, especially in Colorado — the Denver-based music scene is really tight-knit and communal, and it's really genuine. It was just really special. It was an experience that really drove me to want to succeed in it.
Was dance music your No. 1 genre growing up?
No, not at all. I didn't listen to much dance music until, like, 2009. I first got into it when I was living in San Francisco. I really liked a lot of the house stuff and trance, and then once I moved to Colorado, it turned into the bass music scene.
I grew up listening to a lot of pop-punk and rock, and my family listens to country a lot. A lot of hip-hop [too]. So I was all over the place in middle school and high school.
That's kind of all I listen to now. I listen to some pop, and a little bit of hip-hop, but it's almost all rock music and pop-punk.
Considering you were a teenager during the pop-punk explosion of the mid-2000s, that makes sense.
Totally. I feel like there's so much emotion and — it's not even aggression, but it's like, intensity, in that kind of music, where it can be really pretty melodically or lyrically, but the instrumental stuff behind it just like, hits. It hits me more than a lot of electronic music does nowadays. So I think that's why I'm transferring it into my type of thing.
Fallen Embers is the first album that doesn't start with "A," but its title still fits into the overall theme that Ashes, Awake and Ascend present. What's the story behind that?
My logo is a phoenix, [because] the imagery behind the phoenix really relates to me and the music that I make, and why I make music in the first place. So my first three albums were kind of this whole birth cycle of a phoenix. They all started with "A," it was a trilogy of that cycle. So Fallen Embers was kind of my take on what pieces were left — the embers fallen from the phoenix throughout that whole journey.
I made that album when I wasn't touring, and that's the first album I made in a long time [that] I wasn't touring, because I've been touring like crazy. It turned out much more calm and much more like a recharge album for me. Lyrically, it [details] the ebbs and flows of a relationship — it doesn't have to be a relationship, but just through finding yourself, and forgiving yourself for making mistakes and moving on.
Sonically, Fallen Embers has more rock elements. It's definitely calmer than Ascend. I love emotional music, so my music is always going to have an emotional aspect to it. That is not going to change. But I don't want to just keep repeating and chasing [the same sound], so now I'm moving very — like, totally — different, post-Fallen Embers. Fallen Embers, for me, was like a farewell, almost. I just wanted to be very clear that that was a trilogy, and now we're departed.
When you announced Fallen Embers, you said this is "the start of a new chapter." So is that kind of what you were talking about?
Yeah. I've been in LA five out of the past six months to start from scratch and write rock songs, and heavy aggressive s<em></em>*, because I feel like I took a break and made music that's kind of calm. Now I'm [going] a little more aggressive and adding some metal aspects.
There's this middle ground of electronic, rock and metal that can be really cool. And I feel like there's a lot of people doing similar stuff, but the songs can be really authentic and healing to people — right now, especially.
You also said this album was "an incredibly personal journey for me." Since it was so personal for you, did you see an even more meaningful impact from these songs?
Yeah. I mean, these past two years have been really challenging for a lot of people, myself included. Especially since shows have come back, you can definitely see in people the excitement to get a release of some sort. And to [just] enjoy — it's hard after a long time of people just going through the motions.
Especially in the electronic music scene, a lot of these people use these shows and the music for their healing and their escape. And that's really important for 'em. So to be able to give them a show and also give them new music, and see how that music has been their kind of crutch this past year, has been really beautiful for me.
You had everyone from Tori Kelly to Angels and Airwaves on Fallen Embers. What goes into finding the right vocalist for a track?
It's a mix. A lot of it is availability-based. When I first am working on a song, especially if it's a demo, it'd be like, "Who would sound good on this?" The "Blame Myself" demo had Emily Warren, who has a really amazing voice, and a very unique tone. So it's hard to fill that.
You get this thing called "demoitis," where you're used to the demo so much, it's hard to separate. But you've got to just find the right vocalist that is gonna bring her own or his own whole attitude to it. And you just kind of have to sit with it for a second because you're so obsessed with the first version.
It's not about, necessarily, the skill of singing. It's a lot of tone. Sonically, how you make a whole song, and you have a vocal in there, you need someone that fits that exact same spot. And that can be really challenging.
For "Paper Thin" with Tom and Angels and Airwaves, that was just a bucket list [thing] for me, I've always wanted to work with him. When we sent it to him, we were like, "They're probably not going to do this." Same with Jared [Leto, Thirty Seconds to Mars' frontman]. I'm the biggest fan of all of the people I collaborated with, so it's really been special.
I feel like a lot of people who aren't as familiar with the dance music scene may assume that producers like you, who aren't on their tracks vocally, might not write them. But you, and people like Kygo and Zedd — all of these huge names in the producer world — have proven that wrong. Do you feel like that's a common misconception?
I think there's always gonna be a misconception of a DJ/producer type thing. I don't think there's any way to get around it, unfortunately. But at the end of the day, it's okay. People [who like] different music have a whole different perspective.
When people see "DJ," they're like, "Oh, like, Vegas DJ. Throw a party!" They have no idea the complexities that go behind that. There are some producers out there that can do insane stuff. It's hard to even start describing that. There's some songs where we start with a guitar, and we write from scratch. It's just about having an ear for what is going to be successful, and also just having an ear of what you enjoy.
In 2018, you shared a really personal story about how music changed your life. Was it a certain song, album or artist that did that for you? Or was it being able to use the music that you were creating as your outlet? Or a combination of both?
It's definitely a mixture of both. When I turned my life around from that time period, it was a mixture of getting so curious about music production, but I was also obsessed with music — I was like, "How do these producers create these things?"
That little thought sparked so much curiosity in me, and [I] wanted to figure out how to implement my love for music and love for different genres. For it to change my life, it had to have all of those aspects — being obsessed with music, loving other people's music, and wanting to create my own.
Doing an action in one of those phases every day is what got me going and got me into the scene, and into my career. But also [made me] confident with myself and feeling like I had some sort of purpose. It was a really healing process for me, because I was kind of a s<em></em>*show before that. I needed something to put all of my energy into, and something that my family supported, and I had friends that supported me. So that was just really cool.
When I was so low, I had no faith in myself at all. You just have no confidence, and you're pretty broken. For you to even have an idea of "I might be good at something" or "I might get good at something if I work hard enough at it and I love it," then it's just full speed ahead.
What does 2012 Nick at Red Rocks think of 2022 Nick being a GRAMMY-nominated producer?
It's just mind-blowing. You know, I told myself when I saw the Red Rocks show in 2012, I was like, "Maybe in 10 years, I'll get to play at Red Rocks." I wasn't even saying headline or anything, just play at Red Rocks. I apparently set a very low goal for myself. [Laughs.]
Constantly having goals set and then reaching them throughout my whole career has been amazing, but it's crazy to think about being a GRAMMY-nominated artist. That is a whole different world that I never even thought — I just got into bass music and EDM, you know? To think of that transition, that's crazy.
We're Probably On An Irreversible Course Into The Metaverse. What Role Will Music Play In It?
Eme Alfonso performs at the International Jazz Plaza Festival in 2018
Photo: Erika Goldring/Getty Images
news
GRAMMY.com To Launch New Digital Performance Series "Global Spin" To Celebrate Global Music
Launching Tuesday, Sept. 28, "Global Spin" will celebrate exciting genres like Afrobeats, K-Pop and Latin music and will include exclusive performances from Eme Alfonso, Candy Bleakz, and many others
GRAMMYs
/
Sep 28, 2021 - 06:01 am
Last year, the GRAMMY Awards updated the Best World Music Album category to Best Global Music Album to honor artists across the globe. But why stop there?
On Tuesday, Sept. 28, GRAMMY.com will premiere its latest digital series: Global Spin, a performance series spotlighting artists from around the world. Each episode of Global Spin will feature a performance from a notable artist or group and will celebrate both the creators and their home countries.
Airing biweekly on Tuesdays at 10 a.m. PT/1 p.m ET on the Recording Academy's official YouTube channel, Facebook page, Instagram page, and Twitter profile, Global Spin is the new home for global music on GRAMMY.com, where the celebration of the genre and the international artist community is the focus. With electrifying artists like Cuban singer/songwriter Eme Alfonso and Nigerian rapper Candy Bleakz confirmed for performances, Global Spin will keep fans of the international music community plugged into one of the most exciting lanes in all of music.
"Music is one thing that transcends borders," Alina Vission, a Content Producer at the Recording Academy and the creator and co-producer of Global Spin, tells GRAMMY.com. "We're excited to celebrate the global music community and take our audience on a trip around the world through music."
"I am extremely excited to have the opportunity to help showcase global music and to shine a light on all the talented musicians across the world," Hillary Melin, Senior Editor/Producer at the Recording Academy and one of the co-producers of the series, says of Global Spin.
Read: ​​Olamidé On The Ascent Of Afrobeats, Supporting Newer Artists & His Subdued New Album UY Scuti
A platform to support international artists, Global Spin is born out of the exploding global music scene taking the world by storm today. Whether it be Nigeria's dynamic duo of Wizkid and Tems sweeping the world off their feet with their chart-topping track "Essence" or South Korea's BTS serenading their way into the millions of hearts of the BTS ARMY, global music and artists are dominating today's worldwide music industry like never before.
Shawn Thwaites, a Project Manager in the Recording Academy's Awards department and genre manager for Global Music, partly credits the international growth of global music to the new and rising wave of Afrobeats artists. Still, he notes Afrobeats and global music at large are nothing new; pioneers like Fela Kuti and boundary-pushers like Brazil's Djavan laid the foundation for today's scene decades ago. "It's always been here—we're just catching on," Thwaites says of the global music sound.
As Afrobeats and Afropop continue to rise in the global music sphere, Thwaites also points to "the whole continent of Africa" as well as regions like Brazil, Trinidad, Barbados, Latin America, Asia, and beyond as locations with thriving music scenes to watch. "There's so much music all over this world. Global music is truly global," he reflects.
Read: Altin Gün On 'Yol' & The Future Of Global Music: "We Like To Think We Defy Genres As A Band"
With the ongoing evolution and proliferation of music technology and social media, global music continues to reach new audiences across international borders, while the genre's established artists and rising stars are pushing the sound's boundaries to new heights.
"I would love for global music to find a way to connect more with the fans," Dominican singer/songwriter and producer the Change tells GRAMMY.com via email. "Within the next five to 10 years, I would love to see more activities that help us spend time with our fans, because in the end, we owe them everything that is happening to us."
"The growing interest in global music means a lot more people from different walks of life and different parts of the world will now be able to relate to my genre of music: Afrobeats," Ghanaian Afropop, dancehall and R&B singer/artist MzVee adds. "I believe music is a global language that transcends all boundaries, and I want to reach fans in every corner of the world, despite the differences in language and genres. My dream is to see global music reach every corner of the world, for global music to break all barriers, to see my music being consumed by everybody, [regardless of] the differences in language, culture [and] religion."
"I'm very happy that [audiences] want to explore and open new doors. I believe that when we learn from other cultures, we grow as human beings," Eme Alfonso tells GRAMMY.com by email. "I would like the people to understand that when they are listening to music from other parts of the world, they are feeling the history, the reality, and the conflicts of a country, because artists reflect their life and problems through art."
But perhaps Haitian DJ/producer Michael Brun said it best: "Global music is the future of music," he bluntly told GRAMMY.com in 2020. "As the world continues to become more interconnected, music culture no longer has borders. The fusion of sounds breeds innovation, and global music artists are at the forefront of that movement."
That innovative movement now has a new home on GRAMMY.com with Global Spin.
Tune in to the sounds of the world with Global Spin every other Tuesday starting Sept. 28, at 10 a.m. PT/1 p.m ET on the Recording Academy's official YouTube channel, Facebook page, Instagram page, and Twitter profile.
Meet The First-Time GRAMMY Nominee: Antibalas Talk Fu Chronicles, Kung Fu And Their Mission To Spread Afrobeat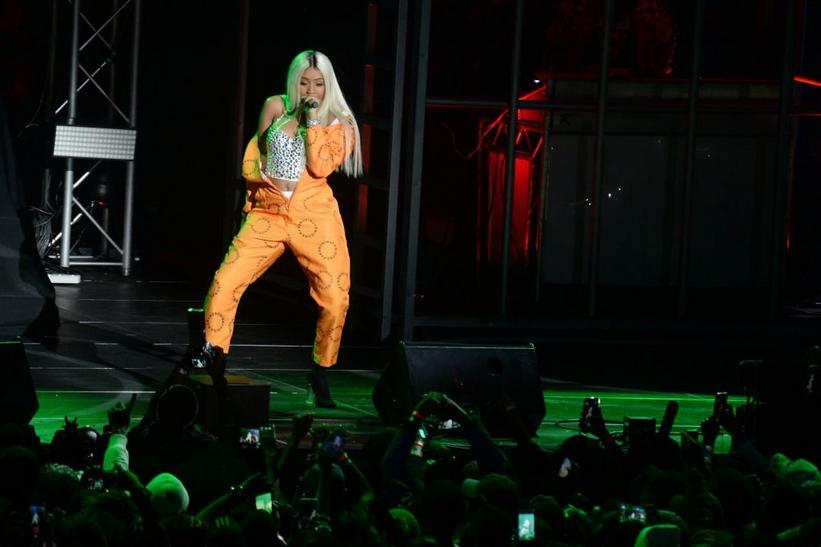 Photo: Frennie Shivambu/Gallo Images/Getty Images
news
Def Jam Africa Launches With Nadia Nakai, Cassper Nyovest, Nasty C & More African Artists
Larry Gaaga, Boity, Tshego, Ricky Tyler, Vector and Tellaman round out the new label division's flagship roster
GRAMMYs
/
May 27, 2020 - 12:18 am
Today, May 26, Def Jam Recordings and Universal Music Group announced their newest division, Def Jam Africa. The new label will have offices in two major music hotspots in Africa, Johannesburg, South Africa and Lagos, Nigeria, but will recruit artists from across the continent.
Def Jam Africa launches with nine powerhouse rappers and singers from South Africa and Nigeria, several of whom were already signed to UMG: Nadia Nakai, Cassper Nyovest, Nasty C, Larry Gaaga, Boity, Tshego, Ricky Tyler, Vector and Tellaman.
It will have dedicated A&R, marketing, creative and digital support from the UMG teams based in Nigeria and South Africa, led by Sipho Dlamini, Managing Director of Universal Music Sub-Saharan Africa & South Africa.
Watch: Burna Boy Talks 'African Giant,' Damian Marley & Angelique Kidjo Collab, Responsibility As A Global Artist
"Many of us in Africa grew up on music from legendary labels under the UMG umbrella. From Blue Note for jazz fans, to Mercury Records, which was Hugh Masekela's first US label and Uptown Records, the home of Jodeci and Mary J. Blige and many more. For those into hip-hop, no label has such cultural and historic relevance as Def Jam. From Run DMC, to LL Cool J, [Ludacris' label] Disturbing tha Peace, Jay-Z, Big Sean and Kanye West, Def Jam has always been the ultimate destination for hip-hop and urban culture worldwide," Dlamini said in a statement.
"It is a historic achievement that we're now able to bring this iconic label to Africa, to create an authentic and trusted home for those who aspire to be the best in hip-hop, Afrobeats and trap. Together, we will build a new community of artists, that will push the boundaries of hip-hop from Africa, to reach new audiences globally."
More: Victoria Kimani Talks New Album, Repping Kenya, Dream Collabs With Lauryn Hill & Rihanna | Up Close & Personal
In the coming months, fans can expect Def Jam Africa to drop singles from Tyler, Boity, Nasty C, Tellaman feat. Alpha P, Vector, Nyovest and Tshego. Earlier this year, it was revealed that Nasty C will be releasing his third studio album, Zulu Man With Some Power, in the States this summer via Def Jam Recordings.
"Def Jam is a globally recognized brand, synonymous with excellence in hip-hop, and we enthusiastically welcome the launch of Def Jam Africa as an opportunity for audiences worldwide to discover the incredibly talented hip-hop artists emerging from across the continent," Jeff Harleston, the interim Chairman & CEO of Def Jam Recordings, added.
LISTEN TO WOMXN Virtual Music Festival Is Now Accepting Artist Submissions