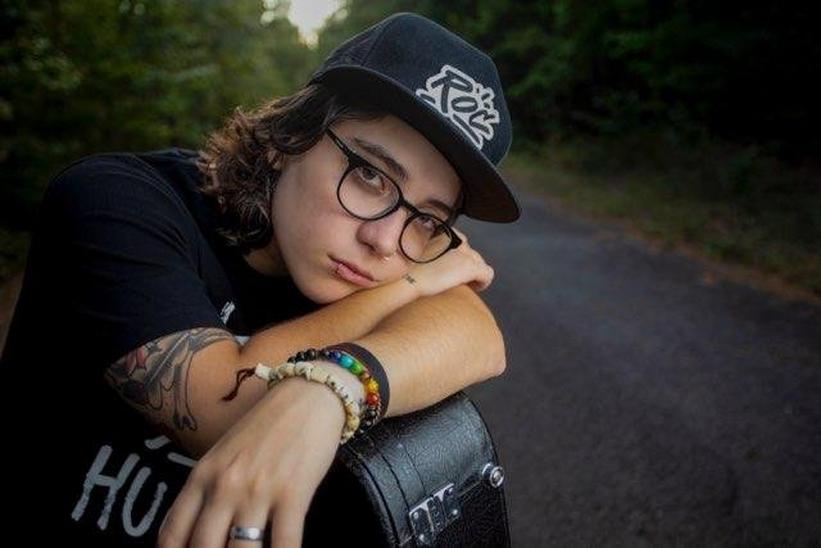 Photo credit: David Yerby
news
Trans Artist And Activist Ryan Cassata Opens Up About Sobriety, Living With Hearing Loss & Love At First Sight
Five years sober and just a few months shy of 26, the Long Island-born, L.A.-based folk-pop performer understands perseverance like no other
GRAMMYs
/
Oct 3, 2019 - 10:10 pm
Be resilient and persevere. These are the messages that transgender singer-songwriter Ryan Cassata resonates, not only through the lense of his storytelling alternative folk/rock songs, which span four LPs and six EPs, but also in the way he lives his life. Five years sober and just a few months shy of 26, Cassata understands perseverance like no other; his entire life has been riddled with curveballs and roadblocks. From Bay Shore, New York, Cassata experienced his first of many obstacles before he was even born.

On December 13, 1993, Cassata's mother was in her third trimester. Already sick with Lupus, she suffered a severe allergic reaction to pine in the early days of the Christmas season. While a blizzard roared outside, doctors urged her to abort the baby, arguing that its additional strain on her body could end both of their lives. Refusing, she instead insisted on inducing labor six weeks early. It was on that day that Francine, a.k.a. "Fran," gave birth to Cassata. The doctors said it was a miracle they both survived.

This was only the first of many tests of Cassata's resilience. His parents split up when he was five years old, and it wasn't long after that this middle child among brothers began begging for guitar lessons. Fran remembers him being around six when he started asking to play the red guitar that always sat in the corner of the living room in silence. "It was mostly just collecting dust, and I was drawn to it," Cassata says of that crimson guitar his older brother Vincent used to play. "I begged them for a long time to sign me up. They said I was too small and young, but I kept asking and eventually they let me."


Cassata's other primary interest also rose to the surface before grade school when he successfully convinced his parents to sign him up for another extracurricular activity: Little League. Although beyond disappointed when he learned he'd have to play softball instead of baseball on account of his sex, he was still elated to be part of a team.

Though he rarely speaks of it today for reasons that will become clear later, baseball was almost as important as music when it came to the core passions of pre-adolescent Cassata. In fact, by age 10, scattered among his Led Zeppelin, Bob Dylan and Bruce Springsteen posters were newspaper clippings, memorabilia and souvenirs related to baseball—the Red Sox in particular.

"I would stay up past my bedtime and sneak downstairs to watch their games at night. I had every player's name memorized," Cassata explains. Despite the fact that he was a New Yorker in a family of Mets fans, The Red Sox fascinated him. "I was transfixed. I started watching when they were underdogs. I liked their handshakes and the overall chemistry of the team. I felt a part of it in some way."

He didn't have many friends at school, but he had baseball, music, and by this point, a close relationship with his stepbrother Mike, or "The King Of Cool," as Cassata called him, who instantly became his role model when Fran remarried. Though he always knew he was different, the excitement and confidence brought on by music lessons, Little League and strong family bonds enabled Cassata to be a happy kid.

When middle school rolled around, however, Cassata's world turned upside down in a whirlwind of back-to-back tragedies. Seventh and eighth grade were two years that would prove to be the greatest testament to Cassata's resilience.
In 2006, Cassata's guitar teacher, Lou Parasimo, lost his life to Crohn's disease, plunging 12-year-old Cassata into his first-ever experience with death. These new feelings of devastation left Cassata stunned. Thankfully, Parasimo had been a major source of inspiration to young Cassata, thus enabling him to turn to music for comfort. Shortly after the tragedy, Cassata wrote his first song, "Wonderful, Beautiful," which appears on his first EP, Distraction.
Lou Parasimo & Ryan Cassata, 2006
"I wrote it on the piano," Cassata says of this early creation. "My mom came home and [asked], 'Who wrote that song?' I said, 'I did.' She couldn't believe I wrote it because I'd just started piano lessons."

Parasimo's passing had quickly opened a door for Cassata to begin taking piano lessons from Lou's friend, Dave Defeis, of the rock band Virgin Steele. Dave was instantly invested in Cassata's talent. "He believed in me from the very start," Cassata recalls. It was Dave who recorded this first-ever song of Cassata's, and it wouldn't be the last.

Though Parasimo would never be able to hear it, his death unlocked a new level of musicality and creativity in Cassata. This was only the beginning of songwriting serving as a coping mechanism for Cassata during hard times.
Ryan Cassata and Dave Defeis, The Village Club, 2009
In early 2007, Cassata suffered another emotional blow when his stepbrother Mike died of a heroin overdose at just 16 years old. "I thought of him as the coolest person ever," Cassata reflects on his beloved stepbrother, whose memory he wears proudly as a tattoo of a skateboard gravestone that reads "King Of Cool."

Topics of drug addiction and substance abuse are scattered throughout Cassata's music, sometimes in reference to his own struggles with drugs and alcohol, which plagued him until his early 20s. The song "Sobering Up," though, tells Mike's story in Cassata's raw, lyric-dominant style. No one could or would ever replace Mike, but Cassata would soon find that the gaping hole this loss created in his heart could, in fact, be filled by something else.

Cassata's mom had surprised him with Spring Training tickets for his birthday a couple months earlier, and the tickets were coming up. "It was only a week after my stepbrother had died," Cassata explains. After some discussion, Cassata and his mom decided they should still go and make the most of it.
"We went on a tour of the ballpark, and this man [in Red Sox colors] noticed me, this really sad kid, and asked, 'Hey, do you want to wear my World Series ring?" It turns out this man was Carl Beane, the announcer for the Red Sox. Cassata's spirits were lifted in that moment, and thus began a life-changing friendship.
"One day, you're going to see that all of this hard stuff you're going through will be worth it because you'll have the ability, then, to help others through their struggles."
Cassata and Beane became pen pals after that, and their friendship steadily grew into something truly earnest. A few times each year, Fran would drive Cassata to meet Beane for dinner at Perkins Restaurant and Bakery, where Beane would ask to hear Cassata's newest songs. This man appreciated Cassata for who he was and remained one of his greatest supporters through each milestone and hurdle, including Cassata coming out as transgender. "Everyone always asks, 'Why the Red Sox?' The Red Sox saved my life. It sounds corny but it's true," he says. "I was on a path to eventually meet Carl."

Beane would later die in a car accident, shortly after Cassata's top surgery in early 2012, and the young musician's heart would break once again. But as he had learned time and time again through the losses he already had to endure, the only answer was to be resilient and persevere. Cassata again harnessed this willpower in the form of artistic expression. The acoustic elegy he wrote for his beloved friend entitled "Mr. Beane (Fenway Park)" is rich with imagery of Fenway Park and revealing of Beane's impact. Cassata also wrote two poems, one of which is published on his blog. The unpublished poem contains a moving foreword from which the following quote is extracted:

"The impact that [Carl Beane] left on my life continues to live on. He [was] the angel that [got] me through some of the hardest moments in my life, and he was essential in my upbringing and survival."
Ryan Cassata and Carl Beane, Fort Myers Florida, 2007
Another moment Cassata refers to here is when he lost his hearing. Although the majority of the general public is unaware, Cassata has suffered from profound deafness in his left ear since the age of 14. Cassata remembers that winter day in 2008 vividly. It was the day after the Superbowl when he awoke, head spinning in a hellscape of endless vertigo. "I couldn't stop throwing up," Cassata recalls. "Imagine being on a rollercoaster that never stops."

But, as with every other curveball life has thrown at Cassata, he found ways to cope. Relearning to walk within three weeks, Cassata refused to let this new disability destroy everything he had been working so hard for. He also remains good-humored about it. "Sometimes people shove me at the grocery store because I didn't hear them say 'excuse me,'" he laughs. "It also sucks that people say 'never mind' when I didn't hear what they said to me. Now I'll never know what they said!" Cassata smiles, shaking his head, clearly of the mind that there is no use in being exasperated by this type of ignorance.

While Cassata never specifically avoided going public about his hearing loss, he hasn't exactly been vocal about it either. In his experience, people simply do not understand. He suspects it has something to do with the fact that the term "deafness" is applied to a vast range of hearing loss, and rarely are there cases as extreme as this—especially in someone so young. "My left ear is so deaf that hearing aid is useless," he explains. "Hearing aids are for people who still have some nerves working in there."

When asked how this disability affects his music, Cassata explains that it is the worst during live performances. Without a functioning left ear, the ability to stay synchronized with the band is extremely difficult. "We have to strategically place Kyle," Cassata says of his drummer Kyle Dombroski, a Los Angeles local. He goes on to explain how, while he can't always hear his whole band clearly, he can always feel those drums. Thankfully, Kyle, who holds a Master's degree in percussion performance from UCLA, is always up to the task.

To this day, Cassata's sudden deafness remains a mystery. All doctors were able to determine was that it was an unidentifiable virus.
Cassata, who suffers from an anxiety disorder, often feels like he carries the weight of the world on his shoulders on behalf of the whole trans community. As one of the first and youngest openly trans artists ever to take center stage, both on the "Larry King Live Show" (2008) and the Vans Warped Tour (2013), he felt thrust into a position to represent an entire generation of trans youth, which was a lot for someone who first and foremost identified as a musician.

"A fan once told me, 'Your success with your career shows me that being trans doesn't have to hold me back,'" Cassata shares. Sentiments like this, while touching, seem to unintentionally place a burden on Cassata to deliver content and work endlessly in order to succeed. The pressure reached a tipping point last year when Cassata completed a new album that he never ended up releasing and that no one has heard. At some point during the post-production phase, it occurred to Cassata that he wasn't being himself. The pressure had become so intense that his anxiety took the lead instead of his artistry. "I was feeling so pushed to create that I almost forgot what my fans really want to hear. People don't listen to my music to have something to work out to. They listen because they want to feel something."


That weight was also noticeably lifted when the real reason for hiding this album came up. "I fell in love," Cassata says. In January of this year, Cassata met someone who, he says, guided him back to who he really is. Jeni, a Hollywood native who has been living substance free for 13 years, initially bonded with Cassata over their shared sobriety. However, it soon became clear on their first date that their journey had only just begun.

"I've been in love before, but this was on another level. The stars were aligning that night," Cassata says in attempts to elucidate the magic of the night they met. Jeni had no web presence or interest in social media, which enabled him to open up much faster. "She didn't want anything from me other than [for us] to love each other, and that was so freeing."

On paper, Jeni's life couldn't possibly appear more different than his. "I work with veterans from Iraq and Afghanistan with traumatic brain injuries and PTSD," she explains. Before meeting Cassata, Jeni, who studied neuroscience in school, limited her time on the music scene to part-time DJing.
Still, the overlapping passions between these two creative counterparts go beyond what could be simplified on paper. Within a few days, they were writing music together. To inquiries about Jeni's lack of experience, Cassata simply replies, "She's just lyrical." Despite Jeni's lack of songwriting experience, their combined passions and skills were like perfect-fit puzzle pieces for music creation.

"While I may not be fluent in the hand-eye coordination of playing instruments, to me music is a language that I feel like I can hear and understand," Jeni explains. "I have always been musically vibrational."
Cassata's fifth LP is set to be released in March, 2020, and he seems both private and eager to talk about what fans can expect to hear. "You can expect deeper lyrics, piano solos, dark subjects and lots of romantic topics too." He also discloses that topics surrounding the Catholic Church's suppression of alternative forms of love are woven throughout.

As for the hidden album? Cassata is careful in his reply. "Maybe someday I'll release it as a surprise," he says with a shy smile.
How Queer Rappers Are Defining The Next Generation Of Chicago Hip-Hop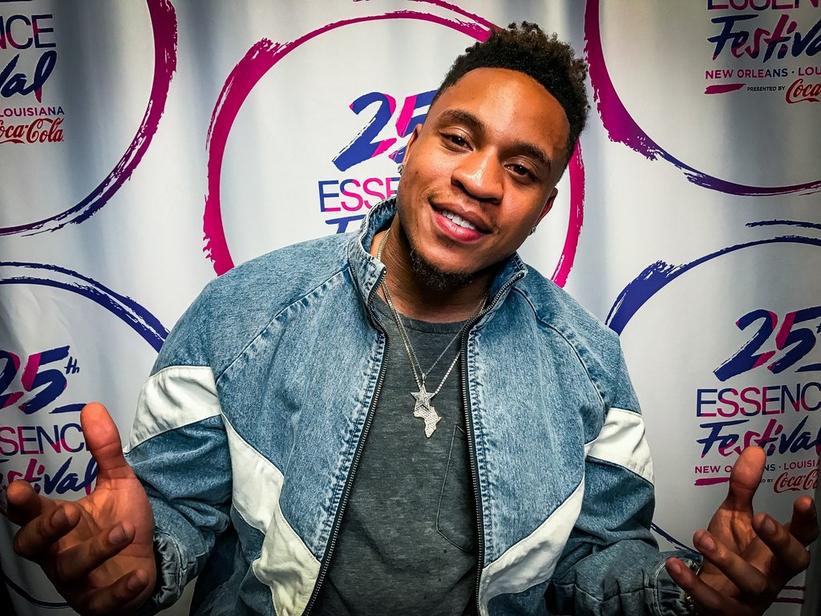 news
Rotimi On Performing At ESSENCE Fest, Growing Up African-American & More
The Nigerian-American singer and actor sat down with the Recording Academy to talk about what inspired his latest album, 'Walk With Me'
GRAMMYs
/
Jul 8, 2019 - 10:04 pm
In 2015, Rotimi stepped into the New Orleans Superdome for the first time to experience the magic of ESSENCE Fest. Four years later, in 2019, the "Love Riddim" singer returned to the celebration as a performer, something he said was spoken into existence.
"Last year me and my manager had a conversation and I said, 'Listen, I'm going to be on the [ESSENCE] mainstage this year. 365 days later, we did it," Rotimi told the Recording Academy at the 25th annual ESSENCE Fest.
Rotimi, also an actor on Starz' "Power," has evolved since his last album, 2017's Jeep Music, Vol.1. The singer said he really hit home with its follow-up, the recently released Walk With Me, a project he worked hard for, putting in hours in the studio after filming on set.
"Walk With Me is the first time I actually felt like I was giving myself as an artist, and personally I feel like with everything else I have going on I wanted to show people that this is really what I do," he said. "I wanted people to understand who Rotimi is, who Rotimi was before, who I want to be and just understand my growth and the journey and my passion for what I do."
Part of why the album felt like such a representation of him is because it embodies beats of his African roots, something he said was very present growing up Nigerian-American.
"I grew up with a lot of Fela Kuti and I grew up with Bob Marley," he said of his musical roots. "But I also grew up with Carl Thomas and Genuine and Usher, so there was a genuine mixture of who I am and what I've grown up to listen to. The actual Walk With Me project was a mixture of influences of Akon and Craig David."
Mumu Fresh On What She Learned From Working With The Roots, Rhyming & More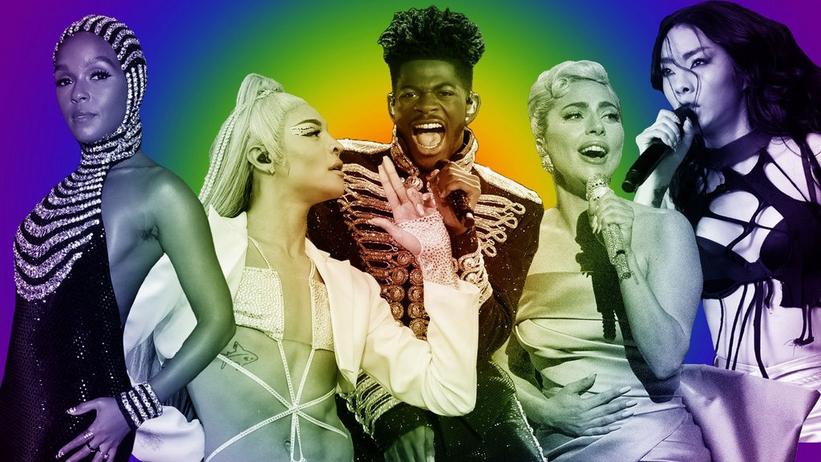 (L-R): Janelle Monáe, Pabllo Vittar, Lil Nas X, Lady Gaga, Rina Sawayama
Source Photos (L-R): Cindy Ord/MG22/Getty Images for The Met Museum/Vogue; Mauricio Santana/Getty Images; Rich Fury/Getty Images for The Recording Academy; Emma McIntyre/Getty Images for The Recording Academy; Scott Dudelson/Getty Images for Coachella
list
Listen To GRAMMY.com's LGBTQIA+ Pride Month 2022 Playlist Featuring Elton John, Lady Gaga, Lil Nas X, Ricky Martin, Rina Sawayama & More
For LGBTQIA+ Pride Month 2022, GRAMMY.com presents a genre-spanning playlist of emerging and established artists you should know, including RuPaul, Janelle Monáe, Kim Petras & many more.
GRAMMYs
/
Jun 1, 2022 - 07:19 pm
Now more than ever in the music industry, artists are out, proud and loud about being open members of the LGBTQIA+ community. Across all genres and music of different languages around the world, musicians are joyfully embracing their queer identities while creating much-needed visibility for their queer-identifying fans. As calls for LGBTQIA+ fairness and equality continue, artists throughout the world are amplifying the voices of the global LGBTQIA+ community.
In honor of LGBTQIA+ Pride Month 2022, GRAMMY.com has put together a playlist celebrating 50 artists across the LGBTQIA+ spectrum from throughout the decades and across all genres.
Listen to GRAMMY.com's official LGBTQIA+ Pride Month 2022 playlist below and follow the Recording Academy/GRAMMYs on Spotify, Apple Music, Amazon Music, and Pandora. Playlist powered by GRAMMY U.
Among the queer icons who paved the way for representation in pop music and culture are Elton John, Queen's Freddie Mercury, and George Michael of Wham! In the '90s, drag queen superstar RuPaul took the world by storm and would soon lead a drag revolution of her own. Into the 2010s, Puerto Rican superstar Ricky Martin kicked down the proverbial closet door and led the way for more Latin and queer Latin acts to follow in his footsteps. Lady Gaga took queer culture into the stratosphere with her global Pride anthem, "Born This Way." Frank Ocean created waves through R&B and pop as a Black queer innovator with the release of his breakthrough single, "Thinkin Bout You."
The last decade has welcomed more openly LGBTQIA+ artists than ever. South Korean singer Holland has led the way for queer voices in K-pop, Kim Petras has become a pop beacon for trans representation, and Lil Nas X remains one of the biggest rappers and singers in the world today. Also, legendary musicians like Lesley Gore and Chavela Vargas opened up about their queer identities later in their lives.
As LGBTQIA+ representation continues to grow across the music industry, may more artists and music fans keep living their truths and expressing themselves openly and safely.
Japanese Breakfast, Blackpink, Enhypen, Stray Kids, Mxmtoon & More | Listen To GRAMMY.com's AAPI Month 2022 Playlist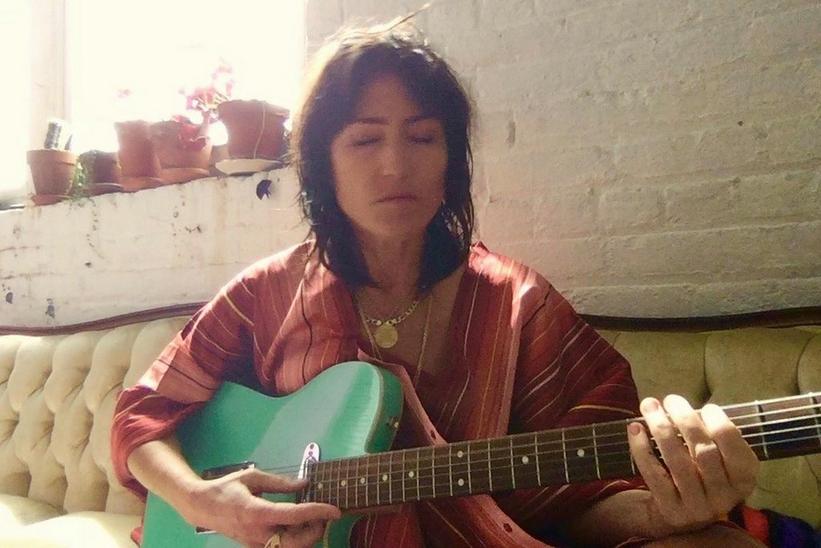 news
Quarantine Diaries: Joan As Police Woman Is Bike Riding, Book Reading & Strumming D'Angelo
As the coronavirus/COVID-19 pandemic continues to rock the music industry, the Recording Academy reached out to a few musicians to see how they were spending their days indoors
GRAMMYs
/
Apr 7, 2020 - 07:21 pm
As the coronavirus/COVID-19 pandemic continues to rock the music industry, the Recording Academy reached out to a few musicians to see how they were spending their days indoors. Today, singer/songwriter Joan Wasser of Joan as Police Woman, whose forthcoming covers album, COVER TWO, includes tracks by The Strokes, Prince, Talk Talk, and more, shares her Quarantine Diary.
Thursday, April 2
[10 a.m.-12 p.m.] Went to bed at 4 a.m. last night after getting drawn into working on a song. Put on the kettle to make hot coffee while enjoying an iced coffee I made the day before. Double coffee is my jam. Read the news, which does not do much for my mood. Catch up with a few friends, which does a lot of good for my mood. Glad it goes in this order.
[12 p.m.-2 p.m.] Make steel cut oats with blueberries, raspberries, strawberries, fresh ginger, fresh turmeric, a sprinkling of cinnamon and cardamom, and of course, coconut butter to melt on top. If you're not into coconut butter (sometimes marketed as coconut "manna"), I'd suggest just going for it and getting it (or ordering it) and putting it on your sweet potatoes, your oats, anywhere you'd put butter. I'm not vegan but I do enjoy hearing the tiny scream uttered by a strawberry as I cut into it.
Contemplate some yoga. Contamplate meditating. Do neither. Resume work on the song I want to finish and send today. I have a home studio and I spend a lot of my time working on music here. The song is a collboration sent to me from Rodrigo D'Erasmo in Milano that will benefit the folks who work behind the scenes in the music touring system in Italy.
[2 p.m.-4 p.m.] I traded in a guitar for a baritone guitar right before all this craziness hit but hadn't had the time to get it out until now. I put on some D'Angelo, plugged into my amp and played along as if I were in his band. Micahel Archer, If you're reading this, I hope you are safe and sound and thank you immensely for all the music you've given us always.
[4 p.m.-6 p.m.] Bike repair shops have been deemed "necessary," thank goodness, because biking is the primary way I get around and I need a small repair. I hit up my neighborhood shop and they get my bike in and out in 10 minutes, enough time to feel the sun for a moment.
I ride fast and hard down to the water's edge and take in a view of the East River from Brooklyn. There are a few people out getting their de-stress walks but it is mostly deserted on the usually packed streets.
[6 p.m.-8 p.m.] Practice Bach piano invention no. 4 in Dm very, very, very slowly. I never studied piano but I'm trying to hone some skills. Realize I'm ravenous. Eat chicken stew with wild mushrooms I made in the slow cooker yesterday. It's always better the second day.
[8 p.m.-10 p.m.] Get on a zoom chat with a bunch of women friends on both coasts. We basically shoot the sh*t and make each other laugh.
Afterwards I still feel like I ate a school bus so I give into yoga. I feel great afterwards. This photo proves I have a foot.
[10 p.m.-12 a.m.] Record a podcast for Stereo Embers in anticipation of my new release on May 1, a second record of covers, inventively named COVER TWO. Continue to work on music (it's a theme).
[12 a.m.-2 p.m.] Tell myself I should think about bed. Ignore myself and confinue to work on music.
[2 a.m.-4 a.m.] Force myself into bed where I have many books to choose from. This is what I'm reading presently, depending on my mood. Finally I listen to Nick Hakim's new song, "Qadir," and am taken by its beauty and grace. Good night.
If you wish to support our efforts to assist music professionals in need, learn more about the Recording Academy's and MusiCares COVID-19 Relief Fund.
If you are a member of the music industry in need of assistance, visit the MusiCares website.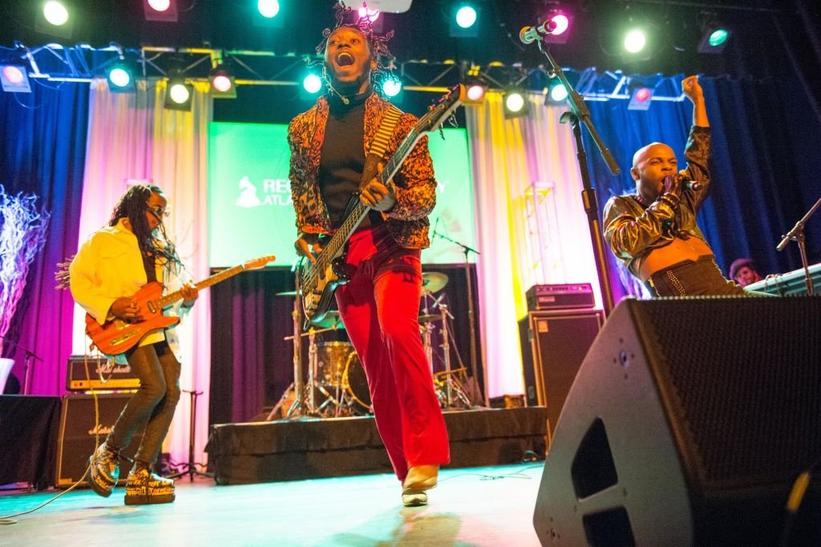 Hero The Band perform at the Recording Academy Atlanta Chapter Annual Membership Celebration
Photo: Marcus Ingram/WireImage
news
Report: Music & Culture Infrastructure Can Create Better "Future Cities"
How sound planning for a creative future in our urban areas makes all the difference for artists and musicians
GRAMMYs
/
Oct 24, 2019 - 01:27 am
The future, as they say, is now. And for music makers around the world, building a future for themselves often starts at home, in their local creative community and in the city where they live. While technology has expanded communication and made the world smaller, cities continue to grow, making planning for the future a critical cultural mission of the present.
To that end, a new report by global organization Sound Diplomacy titled "This Must Be The Place" examines, "The role of music and cultural infrastructure in creating better future cities for all of us." The 37-page deep dive into community planning and development highlights the importance of creative culture in what it calls "Future Cities."
"The government defines 'Future Cities' as 'a term used to imagine what cities themselves will be like," the report states, "how they will operate, what systems will orchestrate them and how they will relate to their stakeholders (citizens, governments, businesses, investors, and others),'"
According to the report, only three global cities or states currently have cultural infrastructure plans: London, Amsterdam and New South Wales. This fact may be surprising considering how city planning and sustainability have become part of the discussion on development of urban areas, where the UN estimates 68 percent of people will live by 2050.
"Our future places must look at music and culture ecologically. Much like the way a building is an ecosystem, so is a community of creators, makers, consumers and disseminators," the report says. "The manner in which we understand how to maintain a building is not translated to protecting, preserving and promoting music and culture in communities."
The comparison and interaction between the intangibility of culture and the presence of physical space is an ongoing theme throughout the report. For instance, one section of the report outlines how buildings can and should be designed to fit the cultural needs of the neighborhoods they populate, as too often, use of a commercial space is considered during the leasing process, not the construction process, leading to costly renovations.
"All future cities are creative cities. All future cities are music cities."
On the residential side, as cities grow denser, the need increases for thoughtful acoustic design and sufficient sound isolation. Future cities can and should be places where people congregate
"If we don't design and build our future cities to facilitate and welcome music and experience, we lose what makes them worth living in."
For musicians and artists of all mediums, the answer to making—and keeping—their cities worth living in boils down to considering their needs, impact and value more carefully and sooner in the planning process.
"The report argues that property is no longer an asset business, but one built on facilitating platforms for congregation, community and cohesion," it says. "By using music and culture at the beginning of the development process and incorporating it across the value chain from bid to design, meanwhile to construction, activation to commercialisation, this thinking and practice will result in better places."
The report offers examples of how planners and leaders are handling this from around the world. For instance, the Mayor Of London Night Czar, who helps ensure safety and nighttime infrastructure for venues toward the Mayor's Vision for London as a 24-hour city. Stateside, Pittsburgh, Penn., also has a Night Mayor in place to support and inform the growth of its creative class.
What is a music ecosystem? We believe the music influences and interacts with various sectors in a city. We have designed this infographic to show how music ecosystems work and impact cities, towns and places: https://t.co/0DIUpN1Dll

— Sound Diplomacy (@SoundDiplomacy) August 14, 2019
Diversity, inclusion, health and well-being also factor into the reports comprehensive look at how music and culture are every bit as important as conventional business, ergonomic and environmental considerations in Future Cites. Using the Queensland Chamber of Arts and Culture as a reference, it declared, "A Chamber of Culture is as important as a Chamber of Commerce."
In the end, the report serves as a beacon of light for governments, organizations, businesses and individuals involved in planning and developing future cities. Its core principals lay out guideposts for building friendly places to music and culture and are backed with case studies and recommendations. But perhaps the key to this progress is in changing how we approach the use of space itself, as the answer to supporting music may be found in how we look at the spaces we inhabit.
"To develop better cities, towns and places, we must alter the way we think about development, and place music and culture alongside design, viability, construction and customer experience," it says. "Buildings must be treated as platforms, not assets. We must explore mixed‑use within mixed‑use, so a floor of a building, or a lesser‑value ground floor unit can have multiple solutions for multiple communities."
Be Like Björk: Iceland Unveils New 'Record In Iceland' Initiative