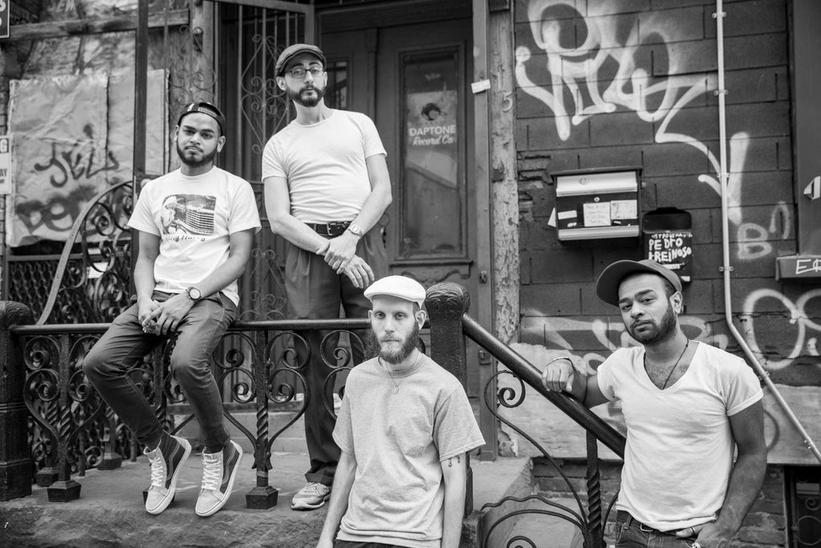 (From left) Chuck Patel, Richard Terrana, Dan Klein and Preet Patel of the Frightnrs in front of Daptone Records, circa 2016.
feature
Reggae Band The Frightnrs' 'Always' Delivers On A Promise To Their Late Singer, Dan Klein
Six years after their debut record floored reggae fans, New York group the Frightnrs' 'Always' honors late vocalist Dan Klein — and the insatiable chemistry of a band on the rise.
GRAMMYs
/
May 26, 2022 - 03:51 pm
In late 2015, Queens reggae group the Frightnrs had gathered in their home rehearsal space in high spirits. After years of playing together, they were getting ready to record their first full-length album for venerable Brooklyn soul label Daptone Records. Little did they know, vocalist Dan Klein wouldn't be around to experience the record's success.
In preparation for what would become Nothing More To Say – a lush, luminous rocksteady record, released in September 2016 – the four-piece gathered four days a week to record demos that they would then show producer Victor Axelrod. Brothers Chuck and Preet Patel, and drummer Richard Terrana developed rocksteady rhythms in the smooth, lovestruck style of Jamaican music popular in the late '60s, while Klein freestyled over them.
"Around that time, everything was very natural and everyone was at the top of their ability for some good reason," Chuck Patel, the group's keyboardist, tells GRAMMY.com. "We were at a high in our writing ability, with each other and our chemistry [as a band]."
The Frightnrs produced about 20 demos from those sessions, though only 11 made it onto Nothing More To Say. The album was an instant classic in reggae circles, revered for the way it honored and built upon the rocksteady tradition, its period-perfect production (a hallmark of nearly all Daptone releases), and for Klein's distinct vocal stylings.
Yet, just three months before the album's release, Klein passed away from ALS — a brutally degenerative neurological disease. He was 33.
Despite praise for the record and scores of touring offers, the two-year period that followed was expectedly dark for the Frightnrs. And after the Patels' father passed away in 2016, Chuck felt like he would never play music again. Yet the band had promised Klein that they'd continue on.
Six years later, the Frightnrs are delivering on that promise with Always, a 10-track album out May 27 on Daptone. Consisting of reconstructed and developed-on demos recorded in their Queens living room, Always shows the Frightnrs coming full-circle in both style and production.
"[When] we started to realize we had some of these demos with Dan's vocals, that was the first time in a very long time that we had any kind of motivation," Chuck recalls. He adds that the demos were filed away in a computer, rediscovered prior to the pandemic.
Before lockdown could prevent the band from getting together, the Frightnrs got to work expanding upon the ideas in their demos. Fortuitously, they had recorded Klein's vocals as isolated tracks, making for slightly easier studiocraft.
A few songs were nearly complete — including the album's title track and the slowly grooving "02-30-56" — while Preet developed guitar and basslines for less-polished tracks. Together with Axelrod, the group painstakingly tracked, retracked and mixed Dan's freestyle vocal stems into complete songs.
"That was some of the hard work we had to do with Victor," Chuck says. "Some of the songs we had to put together vocal takes, but we also had to conceptualize them somehow and make it feel natural — make them feel like it was a fully written song even though it wasn't."
As a result, Always is less lush and lyrically poignant than Nothing More To Say — though, in effect, the album is more reflective of the band's influences. While there are elements of rocksteady ("Tuesday"), Always incorporates the sparse quality of dub reggae, pulling from the vocal traditions of Linval Thompson, Alton Ellis, Sugar Minott and Tristan Palmer. Local reggae-rocksteady group the Slackers (whose guitarist, Jay Nugent, produced early Frightnrs tracks including 2011's "Maybe Isle, which appears on Always) and neo-soul pioneer Erykah Badu also factor into the record's hauntingly cool vibe.
Lyrically, Always is imbued with themes of love and loss, traditional to rocksteady. While a song like "Profilin" is political and among the album's strongest tracks, love songs such as "You Still" and "Why Does It Feel Like A Curse" showcase the Frightnrs' sensitive temperament and leadership in contemporary reggae.
Where Axelrod had much influence curating the rocksteady sound of Nothing More To Say, "for this we held our ground a lot more. We tried to stretch him as far as he could stretch while agreeing with us, which was a struggle sometimes. I'm sure he feels that same way about us!" Chuck says, laughing. "After all the hard work and back and forth… I think we all agree that it's the best it could be."
Speaking to the New York Times in 2016, Klein explained how the Frightnrs respect themselves and their audience. "We know we're never going to sound like our favorite Jamaican artists," he says. "But we're going to chase this dream, and in the process we're going to find ourselves."
That current of respect flows through time and space. Always feels like an echo from another era — one without illness, without as much complication, and with impeccable, insatiable chemistry bursting forth from a Queens living room.
"It brought us light that we could fulfill that promise [to Klein] by working on these songs. Not only is it that we're making new music, but it's new music with Dan," Chuck says. "He never got to see the success of [Nothing More To Say]. He also had a whole bunch of new fans that never got to hear him.
"To be able to introduce more songs to those fans with Dan is rewarding," he adds."Emotionally, it's pretty much worth it."
Original Koffee Takes The Reins: How The Pandemic Provided The 22-Year-Old GRAMMY-Winning Reggae Artist Room To Grow Ahead Of Her Debut LP, 'Gifted'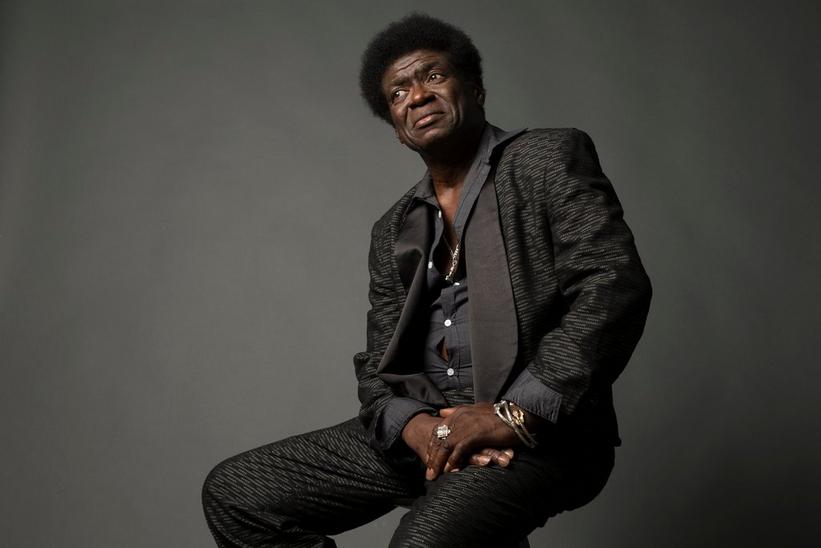 Photo: Rick Mandonik/Getty Images
news
Soul Singer Charles Bradley Dead At 68
From James Brown impersonator to Daptones Records recording artist, Bradley's deep passion and soulful voice will not be forgotten
GRAMMYs
/
Sep 25, 2017 - 10:52 pm
Charles Bradley, the electrifying soul singer and critically acclaimed artist, died on Sept. 23 at age 68 after battling cancer of the liver and stomach.
"It is with a heavy heart that we announce the passing of Charles Bradley," said Bradley's representative in a statement. "Always a fighter, Charles battled cancer with everything he had.."
Bradley's incredible career, which began as a James Brown impersonator, blossomed marvelously in recent years as a recording artist, releasing three studio albums on Daptone Recrods.
Just recently, Bradley announced that due to complications from his illness, he would forego his upcoming tour dates in order to recover. Unfortunately, the heartbreaking news of his passing comes as a devastating reminder of how lucky we were to experience Bradley's unique artistic talents.