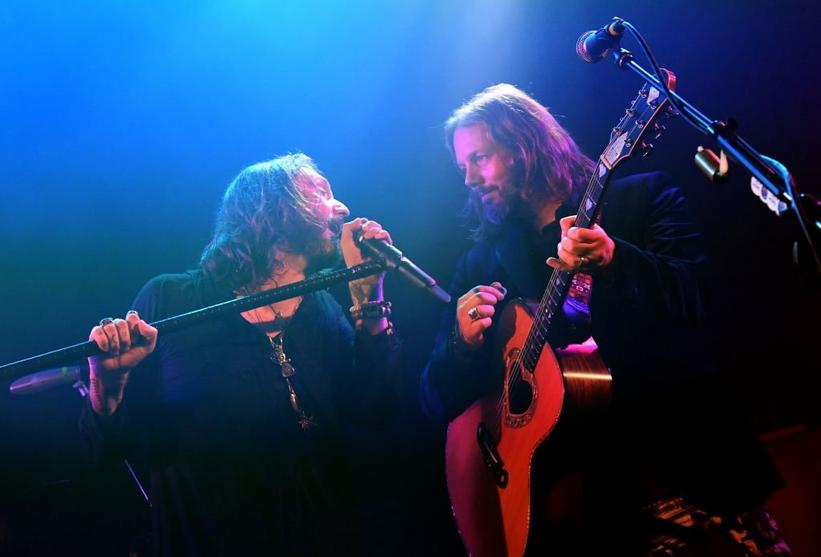 The Black Crowes perform at Troubadour in West Hollywood, California.
Photo: Jeff Kravitz/FilmMagic for LiveNation
interview
The Black Crowes Flashback To '1972': Rich Robinson Details The Memories & Moods Of New EP
The Black Crowes' new EP, '1972' celebrates a musical year where "everyone was going for something unique." Guitarist and co-founder Rich Robinson offers a track-by-track breakdown of how they came to cover tracks from '72.
GRAMMYs
/
May 18, 2022 - 01:07 pm
The Black Crowes have always pulled from previous eras, meshing old time rock 'n' roll with elements of blues, soul and glam, and fashioning it into something fierce enough to sit alongside the artists who influenced them, yet fresh enough to fit in with contemporary pop. The Atlanta, Georgia group's ability to conjure the past while bringing something gritty and new to the present has served them well throughout their almost three-decade long career.
After a couple breaks over the years, brothers Chris and Rich Robinson's most recent reunion in 2019 coincided with a tour announcement and planned track-by-track celebration of their 1990 debut album Shake Your Money Maker. But the pandemic forced cancellation for over a year, and the tour has just resumed in recent months. 
Money Maker's standout jam had to be their cover of Otis Redding's "Hard to Handle" which became a breakout hit on MTV and radio, and went to No.1 on Billboard's Album Rock Tracks chart. The song was a mostly faithful cover in terms of arrangement, but vocally, Chris added a smidge of Southern twang to the mix and a lot of sexy swagger, too, while Rich's guitarwork amped up the tempo and rhythmic heft. 
Despite their obvious inspirations (the Stones, the Faces), the Crowes are more than retro rock redux. Yet after eight albums, they are at their best when referencing and reinterpreting the music they love. Which makes their latest, 1972, a joyous idea and real treat for fans as the band continues to tour the country. 
The EP, which is available exclusively on Amazon Music right now (the release will widen to other streaming platforms at a later date), features six iconic songs from '72. As Rich shared with GRAMMY.com after the band's intimate record release show at the famed Whiskey Au-Go-Go on the Sunset Strip in LA, the project is about highlighting the musical diversity of this particular year, while also paying tribute to it. 
"We honored the year because to me, what's amazing about that snapshot in musical history was the scope of the music being played and less of the over-commercialization of music," he explains. "Nowadays, everything is over generified. Back then, you had Joni Mitchell, Led Zeppelin, or the Rolling Stones, or Cat Stevens in the '70s.  David Bowie to Bob Dylan to Neil Diamond…. Everyone was going for something unique. When you heard Bob Dylan or the Rolling Stones or Little Feat you knew exactly who it was, so that's why we chose to focus on that era specifically."
We asked the guitarist to give his specific thoughts and feelings about all six of 1972's classic song choices, and detail how the Crowes came up with the final tracklist.   
"Rocks Off" (The Rolling Stones)
Exile on Main Street is one of those albums that meant so much in our lives. Some albums were earth-shattering as they pertained to a piece of music that really stuck with me. Exile was one of those records I've never put down. "Rocks Off" is such a brilliant rock 'n' roll song. We wanted to do it because of the pure influence that the Rolling Stones and that record had on us as musicians and songwriters.
"The Slider" (T-Rex)
It's tough for me to talk about the mood of the era when I was 3 years old in 1972, but what I can comment on is what that song and T-Rex meant to me as I started listening in my teens and still listen today. T-Rex exuded something that was so meaningful musically, and coupled with his personality, the two intertwined perfectly.  
A great song is a great song. Early Rod is one of those things we listen to all the time, the Faces and his early records where basically the Faces played on them. He's just a phenomenal singer. A brilliant songwriter. "You Wear It Well" conveyed something organic about the time that Rod really captured. 
He and Ronnie Wood were able to do that at that time when not a lot of bands could. Songs like this and "Every Picture Tells a Story" and "Maggie May" have that acoustic guitar with the drum and his beautiful voice on top. It's just so meaningful. 
"Easy To Slip" (Little Feat)
I remember listening to [Little Feat] all the time on the school bus in 1990. That's when it kind of hit me, the brilliance of Lowell George, of the songwriting, of the rhythm section. Everything about the band was stellar. "Easy to Slip" grabbed me instantly. It was something I felt a strong connection to so I thought I could maybe sing it.  
"Moonage Daydream" (David Bowie)
It was an interesting choice. We tried to choose songs that we could bring a little bit of ourselves to. "Moonage Daydream" is one of my favorite songs on that record, and it's a little different for Bowie. It's a journey. I love the tempo, his way with words, that phrasing. To put our take on that song was really far out and I'm very happy with the result.  
It's such a brilliant song but we're not an R&B band, so we had to figure out a way to make it work. Adding that rock 'n' roll element on the choruses in particular and a little slide in there helped make it our own. I'm really happy with the way it came out while simultaneously showing respect to the song. 
The song is a gift. There's a million bands, a million guitar players, a million singers, but it's nothing without the song. In particular, it was amazing to do justice to, show reverence for, and bring a little bit of ourselves to this one. 
Revisiting The Clash's 'Combat Rock' At 40: Why They Stay And Have Never Gone