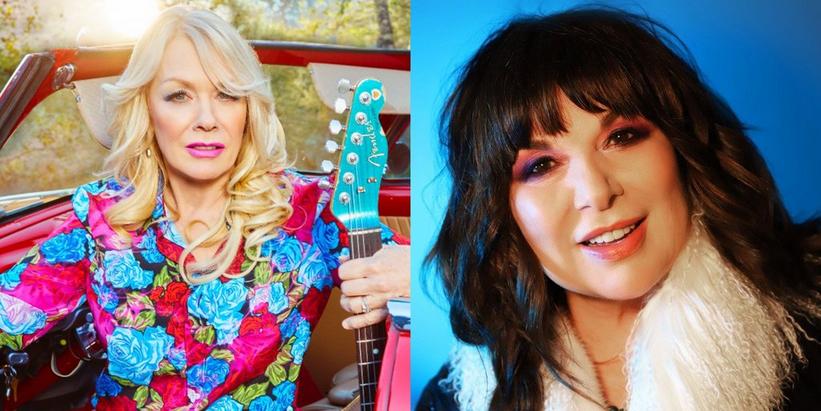 Ann Wilson and Nancy Wilson
Photo: Chris Cain; Jeremy Danger
news
Ann Wilson & Nancy Wilson Of Heart Receive The Recording Academy Lifetime Achievement Award | 2023 GRAMMYs
This Lifetime Achievement Award honors performers who have made creative contributions of outstanding artistic significance to the field of recording.
GRAMMYs
/
Feb 6, 2023 - 08:24 pm
Ann and Nancy Wilson of Heart are verging on the half-century mark of their groundbreaking group. Through five decades of changing musical eras, their impact has not waned. From the '70s, when Ann set the blueprint for rock frontwomen and Nancy established her oft-imitated and never-quite-duplicated guitar playing style, through the '80s when the band dominated MTV, to 2019 when the sisters spearheaded the all-female Love Alive tour, the Wilsons broke barriers as musicians, singers and songwriters.
The two started early in music. Nancy showed marked virtuosity on the acoustic guitar at 9 years old. Ann, four years her senior, was already singing in the style of blues greats — albeit filtered through rock and roll.
Their 1976 debut album, Dreamboat Annie, spawned the hits "Magic Man" and "Crazy on You,"which remain staples on classic rock radio. "Barracuda" from 1977's Little Queen followed suit. Drawing from folk, hard rock and the daring to not be pigeonholed by their gender, the Wilsons were among the few women granted authority on a rock stage dominated by men.
By the time the sisters glammed up and became MTV staples and chart-toppers in the mid-'80s, they were proven songwriters and already a multiplatinum-selling band. It was the GRAMMY-nominated Billboard No.1 album Heart that catapulted Ann and Nancy into the musical stratosphere. The album's hits were ubiquitous, all cracking the Top 10. Its flagship song, "These Dreams"— sung by Nancy — hit No.1 on the Billboard Hot 100. A year later, the band snagged that position again with "Alone" from their album Bad Animals, and with it, two more GRAMMY nominations. They continued their GRAMMY nomination streak with 1990's Brigade.
Over the course of 16 studio albums, the pair have sold 35 million records and had seven Top 10 albums. Ann and Nancy also charted on the New York Times bestsellers list with their 2013 memoir, Kicking & Dreaming: A Story of Heart, Soul and Rock & Roll.
Ann and Nancy individually extended their musical reach to the silver screen. Ann through her iconic voice on the unforgettable songs "Almost Paradise," "Best Man in the World" and "Surrender to Me" on stellar soundtracks from the timeless films Footloose, The Golden Child and Tequila Sunrise, respectively. Nancy through her essential, award-winning scores for the box office smashes Say Anything, Almost Famous and Vanilla Sky.
Their abilities have continuously attracted accomplished musicians of all genders who speak with reverence about their skills and consider performing alongside as a distinct privilege. Their songs have been sampled by the likes of Eminem, Lil Wayne, G-Eazy, and Nas.
No matter how much they accomplish, the need to create is ever present with the Wilson sisters. In the last couple of years, they have both released solo albums. Nancy with her first album of original material in 2021 with You and Me, and Ann in 2022 with her third solo album, Fierce Bliss.
Honors and accolades abound for Ann and Nancy: the ASCAP Pop Music Awards Founders Award, a star on the Hollywood Walk of Fame, induction into the Rock & Roll Hall of Fame. But they remain active. As Nancy said in her Rock Hall acceptance speech: "We're not finished rocking just yet."
2023 GRAMMY Nominations: See The Complete Winners & Nominees List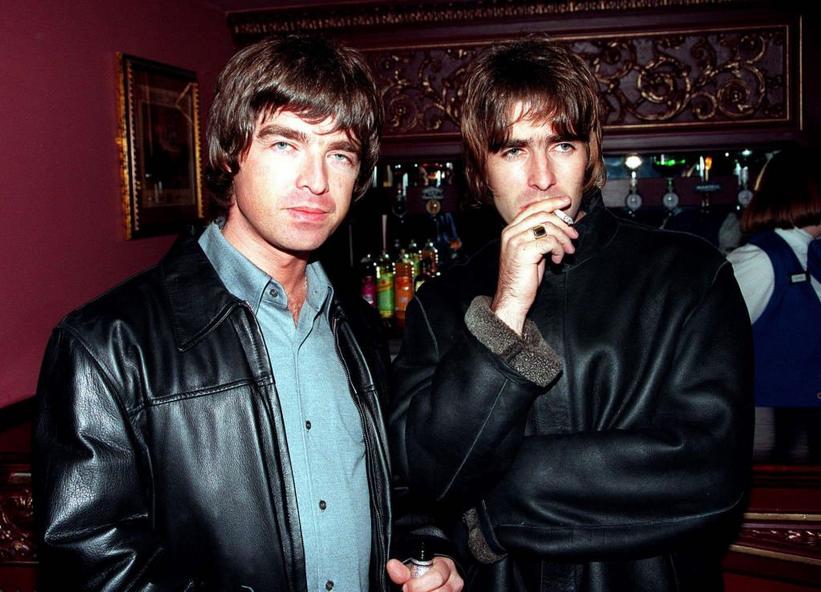 Oasis lead singer Liam Gallagher and brother Noal Gallagher in 1995
Photo: Dave Hogan/Getty Images
list
7 Musical Sibling Rivalries: CCR, Oasis, The Kinks & More
Sometimes arguments between siblings are brief and forgiving. Other times, the damage is irreparable. Read on for seven historic sibling rivalries, break-ups and reunions in rock and pop history.
GRAMMYs
/
Nov 27, 2023 - 04:04 pm
It stands to reason that, in music, the family that plays together stays together, although that's not always the case.
For every Kings of Leon, Haim, Jonas Brothers,  Jackson 5, Osmonds, Isley Brothers, Bee Gees or Hanson that stand the test of time, there are other family-based groups where the grueling and interdependent nature of rock stardom has led to dissension in the ranks.
 Sometimes those arguments between siblings are brief and forgiving. On other occasions, wedges are forged and sides are taken, resulting in either a permanent breakup of an act; a launch into new creative horizons; or hopefully a reconciliation.
 Here are seven well-known acts whose internal bickering between has led to either unexpected ends or surprising detours
The Everly Brothers: Don & Phil Everly
The Everlys' close-knit country pop and rock 'n' roll harmonies — which netted immortal chart-toppers "Bye Bye Love," "Wake Up, Little Susie" and "All I Have To Do Is Dream" — inspired everyone from the Beatles and Simon & Garfunkel to Gram Parsons and Emmylou Harris. As such, it's difficult to fathom that the Don and Phil Everly were so at odds for the better part of a decade that they'd spend entire evenings together on stage without exchanging a word.
A 2014 Los Angeles Times article reported that "vastly different views on politics and life," drove a wedge between  Don and Phil.  The brothers broke up at least twice; their first estrangement followed a 1973 show at the California theme park Knott's Berry Farm, when Phil smashed his guitar and walked offstage.
That split resulted in separate careers up until a 1983 reunion at London's Royal Albert Hall and the recording of several albums, including EB'84 with producer Dave Edmunds.
Phil Everly died of pneumonia in 2014 at the age of 74, while Don succumbed to undisclosed causes at the age of 84 in 2021.
 It is unknown if the GRAMMY Lifetime Achievement Award recipients ever reconciled.
 The Louvin Brothers: Ira & Charlie Louvin
Grand Ole Opry legends and brothers Charlie and Ira Louvin are known for such songs as "I Don't Believe You've Met My Baby" and "Hope That You're Hoping."
Born in Henagar, Alabama, the Louvin's country, bluegrass and gospel sound developed from their strict Baptist upbringing.  Yet the brothers preached one philosophy in song, Ira, who complemented Charlie's guitar on mandolin,  lived another: His inability to resist vices — drinking and womanizing — prompted Charlie to go solo in 1963.
Ira continued to lead a colorful life: his third wife shot him four times in the chest and twice in the hand after he allegedly tried to kill her with a telephone cord- but Louvin survived.
However, it was a 1965 car crash that eventually claimed Ira and his fourth wife, Anne: they were killed by a drunk driver. 
The tragedy cut short any chance of  a duo reunion, although Charlie enjoyed several Top 40 country hits through 1971. 
The Louvin Brothers were  enshrined in the Country Music Hall of Fame in 2001. 
The Kinks: Ray & Dave Davies
English rock rebels the Kinks have sold more than 50 million albums since forming in the '60s, although most of their  hits — "Lola," " You Really Got Me," "Apeman," "(Wish I Could Fly Like) Superman" and "Come Dancing" among others — stemmed from the pen of Ray Davies.
Contrary to popular belief, brother Dave says he is good with that equation — but admits that the relationship between them is naturally tumultuous.
Dave Davies explained the dynamics of his relationship with Ray to The Daily Mail in 2017, describing it as "a married couple who have just reached the end of the road."
"You know when one partner gives and gives and the other takes, and finally you realise (sic) you can't do it any more?'
"You can't divorce your brother, though. 'No, you can't. So we are stuck with each other, but I think I've accepted that this is just the way our relationship is.
In a separate interview with  The Daily Express in 2011, Ray agreed. "When we were together it was aggressive, violent, powerful but we triggered off each other."
Still, the dust-ups between them were legendary, leading to a two-decade rift.
As recently as 2018, there's been talk that Ray and Dave Davies had buried the hatchet and were intent on reuniting the Kinks... but here we are in 2023 and that possibility seems no closer to reality.
Creedence Clearwater Revival: John & Tom Fogerty
After American rockers Creedence Clearwater Revival (CCR) formed in El Cerrito, California in 1959 (they began as the Blue Velvets and rechristened themselves several times before settling on CCR in 1968), it was clear that lead singer, guitarist and songwriter John Fogerty was calling the shots — including acting as the band's manager.
CCR included Fogerty's brother Tom, who played rhythm guitar;  bass player Stu Cook and drummer Doug Clifford.  Following  a particularly lucrative period between 1969 and 1970,  John  decided that Tom would no longer sing lead on or co-write any song while he was in the band, despite previously handling lead vocals and collaborating on some pre-CCR material.
"He cut Tom Fogerty out from singing," Clifford told AZ Central in 2015.  'Without Tom...there wouldn't have been a Creedence Clearwater Revival. When Tom graciously gave up the vocals to his younger brother, he had no idea that he would never be singing another song again. So Stu and I and Tom were always at odds with John about that."
Tom Fogerty left after 1970's Pendulum, and apart from a 1980 reunion during his wedding reception, CCR never performed again.  He died in 1990 after contracting AIDS from HIV-infected blood during a transfusion during back surgery, and was posthumously inducted into the Rock And Roll Hall of Fame in 1993.
Heart: Ann & Nancy Wilson
One of the top female-led rock bands in modern music history thanks to hits like "Magic Man" and "What About Love," Heart has been the role model for thousands of musicians.
But the first public signs of friction between sisters Ann and Nancy Wilson occurred in August 2016, when Ann's husband Dean Wetter was arrested for assaulting Nancy's 16-year-old twin sons after he boys reportedly left open the door to his RV.
Rolling Stone reported that the siblings hadn't spoken  to each other since the 2016 tour ended, but relations have eventually warmed up. The sisters reunited for Heart's  53-date Love Alive tour in 2019 - and more recently, Nancy joined Ann Wilson and her band Tripsitter on stage October 10 in Santa Rosa California to perform "Barracuda."  They received the Recording Academy's Lifetime Achievement Award in 2023.
Ann Wilson has continued to release solo albums and front her band Tripsitter, while guitarist Nancy has formed Nancy Wilson's Heart.
In a 2022 Guitar World interview, Ann said she and Nancy are "okay," but have different ideas for the future of Heart. "We haven't figured out a compromise yet," she admitted.
The Black Crowes: Chris & Rich Robinson
Sometimes, money and control carry more weight than people insinuate.
Guitarist Rich Robinson left the Black Crowes in January 2015 due to an alleged ownership agreement with brother and vocalist Chris. Both men divided and  conquered with solo careers but remained largely incommunicado for almost five years.
But in an interview with the San Diego Union-Tribune, both Rich and Chris credited their children with healing the rift between them. 
"My daughter, Cheyenne (now 11), was like: 'What's the deal with you and Uncle Rich, and why don't I know my cousins?'"Chris told the paper. "Those are the kind of questions that will make you think and reflect."
"Definitely. Kids are honest and curious, and they don't have issues like Chris and I did," Rich said  in a joint interview with his brother. "So, as Chris said, that opened a door (to reconciliation)."
Together again since 2021, the Black Crowes will be shaking their moneymakers opening the final Aerosmith tour, once Steven Tyler's larynx heals. 
Oasis: Liam & Noel Gallagher
While backstage in 2009 in Paris, the tumultuous in-fighting between Oasis' Liam and Noel Gallagher reached new heights; a violent fistfight that drove a nail into the coffin of the band.
Noel's statement: "It's with some sadness and great relief to tell you that I quit Oasis tonight. 'People will write and say what they like, but I simply could not go on working with Liam a day longer."
This was the last in a number of physical altercations that had taken place over the years during tours. Since the split, Noel has been recording and touring with his band the High Flying Birds while Liam first took to the road and studio with Beady Eye, which split in 2014; he's now performing solo.
However, Liam has reportedly expressed interest in reuniting  with Noel and strike up Oasis, though whether there have been any private conversations towards this end remains to be seen.
11 Iconic Concert Films To Watch After 'Taylor Swift: The Eras Tour'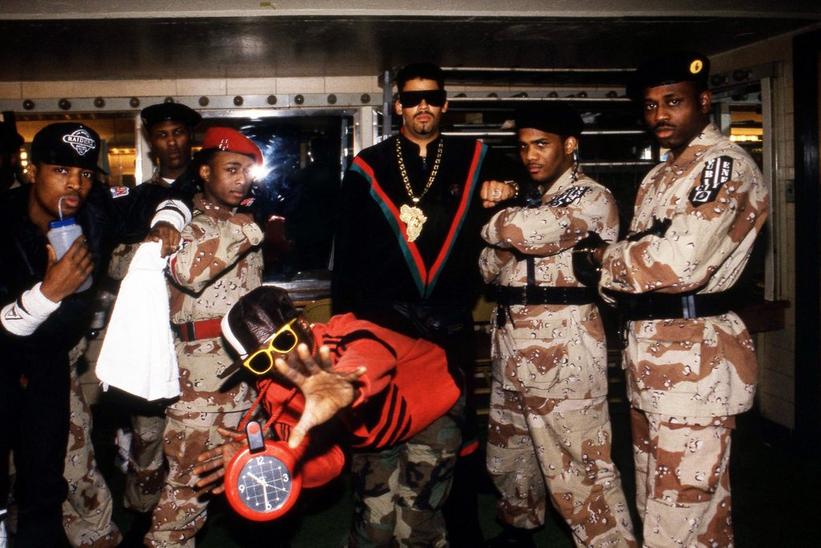 Rappers Chuck D, Professor Griff, Flavor Flav and DJ Terminator X of Public Enemy in 1988
Photo: Raymond Boyd/Getty Images
feature
A Brief History Of Hip-Hop At 50: Rap's Evolution From A Bronx Party To The GRAMMY Stage
Aug. 11, 2023 marks the 50th anniversary of hip-hop. To honor the legacy and influence of this now global culture, GRAMMY.com presents a timeline marking the genre's biggest moments.
GRAMMYs
/
Aug 11, 2023 - 02:28 pm
This year marks the 50th anniversary of hip-hop, a cultural movement that rose from humble beginnings in New York to fuel a worldwide phenomenon.    
Scholars may debate whether its roots precede Aug. 11, 1973, when DJ Kool Herc debuted his "merry-go-round" technique of playing funk breaks back-to-back to a roomful of teenagers in the Bronx. However, there's little doubt that this event sparked a flowering of activity throughout the borough, inspiring DJs, breakdancers, graffiti artists, and, eventually, pioneering MCs like Coke La Rock and Cowboy.  
The music industry eventually caught wind of the scene, leading to formative 1979 singles like the Fatback Band's "King Tim III" — the funk band featured MC and hypeman Timothy "King Tim III" Washington — and the big one: the Sugarhill Gang's "Rapper's Delight."   
Today, rap music is the most popular genre of music, led by superstars such as Drake, Kendrick Lamar, Future, Eminem, and many others. Despite its massive success, many artists retain their strong ties to communities of color, reflecting the genre's origins as a form rooted in the streets. 
To mark hip-hop's 50th anniversary, press play on the playlist below, or head to Amazon Music, Apple Music and Pandora for a crash course in this quintessential stateside artform — further proof of the genius of Black American music.
At the 65th Annual GRAMMY Awards, the Recording Academy showcased the breadth of hip-hop's influence via a star-studded, generation-spanning performance. Curated by Questlove and featuring legends such as Grandmaster Flash, Run-D.M.C., Ice-T, Jay-Z, Busta Rhymes, Missy Elliott, Nelly, and GloRilla, the 2023 GRAMMYs' hip-hop tribute showed that hip-hop remains one of the most exciting music cultures — and will likely remain so for the next 50 years. 
A Timeline Of Hip-Hop's Development 
1973 – On Aug. 11, 1973, Clive "Kool Herc" Campbell DJs a back-to-school party organized by his sister, Cindy Campbell, in the rec room at 1520 Sedgwick Avenue in the Bronx, New York. The event is widely considered to be the beginning of hip-hop culture.    
1979 – Longtime R&B star and producer Sylvia Robinson launches Sugar Hill Records with her husband, Joe. She discovers their first act in New Jersey, a trio of rapping teenagers — Wonder Mike, Big Bank Hank, and Master Gee — and brands the Sugarhill Gang. The Gang's first single, "Rapper's Delight," sells millions of copies and becomes the first global rap hit.    
1982 – Co-written by Duke Bootee and Melle Mel and produced by Clifton "Jiggs" Chase, Grandmaster Flash & the Furious Five's hit single "The Message" becomes a turning point in the genre. Bootee and Melle Mel's stark descriptions of poverty signal to fans and critics that hip-hop is capable of more than just party music.    
1984 – Russell Simmons' Rush Management organizes Fresh Fest, a groundbreaking arena tour featuring hot rap acts like Run-D.M.C., Whodini, Kurtis Blow, the Fat Boys, and Newcleus as well as b-boy crews such as the Dynamic Breakers. Held during the next two years, it signifies hip-hop's growing popularity.    
1986 – After bringing frat-boy chaos as the opening act on Madonna's Virgin Tour, Def Jam understudies the Beastie Boys collaborate with producer Rick Rubin on Licensed to Ill. Spawning the hit single "Fight for Your Right," the album is certified diamond in 2015.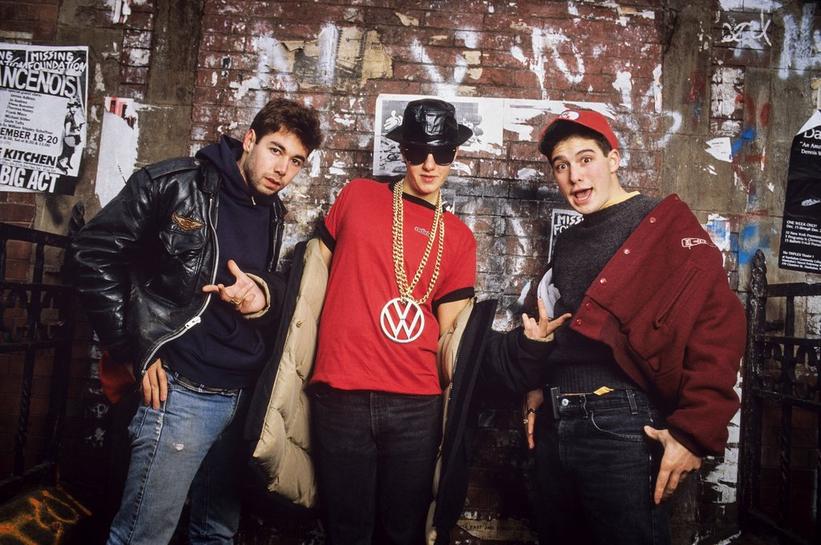 Beastie Boys in 1987 | Lynn Goldsmith/Corbis/VCG via Getty Images
1987 – Thanks to a remix by the late DJ/producer Cameron Paul, rap trio Salt-N-Pepa get teens everywhere twerking — and worry parents and school administrators — with the electro-bass classic, "Push It."   
1988 – Public Enemy release their second album, It Takes a Nation of Millions to Hold Us Back. Reportedly featuring over 100 samples and focused on Chuck D, Flavor Flav and Professor Griff's revolutionary lyrics, it's often cited as one of the greatest hip-hop albums of all time.    
1989 – DJ Jazzy Jeff & the Fresh Prince win the first hip-hop GRAMMY Award for Best Rap Performance for their 1988 hit single, "Parents Just Don't Understand."  
1988 – Thanks to lyrics criticizing law enforcement and depicting raw life in Compton, California, N.W.A spark national controversy with their influential second album, Straight Outta Compton.    
1991 – Ice-T appears in New Jack City, becoming one of the first rappers to headline a major Hollywood film. That same year, he appears on the Lollapalooza tour with his metal group, Body Count, and performs an early version of "Cop Killer." The song becomes a flashpoint in the 1992 presidential election.    
1993 – Wu-Tang Clan release their debut album, Enter the Wu-Tang (36 Chambers). With nine members led by rapper/producer the RZA, the highly unique Staten Island-based collective spawned dozens of solo albums and affiliated acts over the following decades.   
1996 – Naughty by Nature earn the first GRAMMY Award for Best Rap Album with their third album, Poverty's Paradise. The 1995 set includes a major radio hit in "Feel Me Flow."    
1996 – After dominating most of 1996 with his fourth album, the diamond-certified double album All Eyez on Me, 2Pac is killed in Las Vegas. The unsolved murder of one of the greatest rappers of all time remains a watershed moment in music culture.   
1997 – Days before the release of his diamond-certified second album, Life After Death, the Notorious B.I.G. is killed in Los Angeles. The slaying of two of hip-hop's biggest artists prompts soul-searching across the music industry and inspired Biggie's friend, Puff Daddy, to release the GRAMMY Award-winning hit, "I'll Be Missing You."  
1997 – After writing and producing hits for MC Lyte and Aaliyah, Missy Elliott debuts as a solo artist with Supa Dupa Fly. With production help from Timbaland and kinetic music videos, Elliott establishes herself as one of the most innovative acts of the era.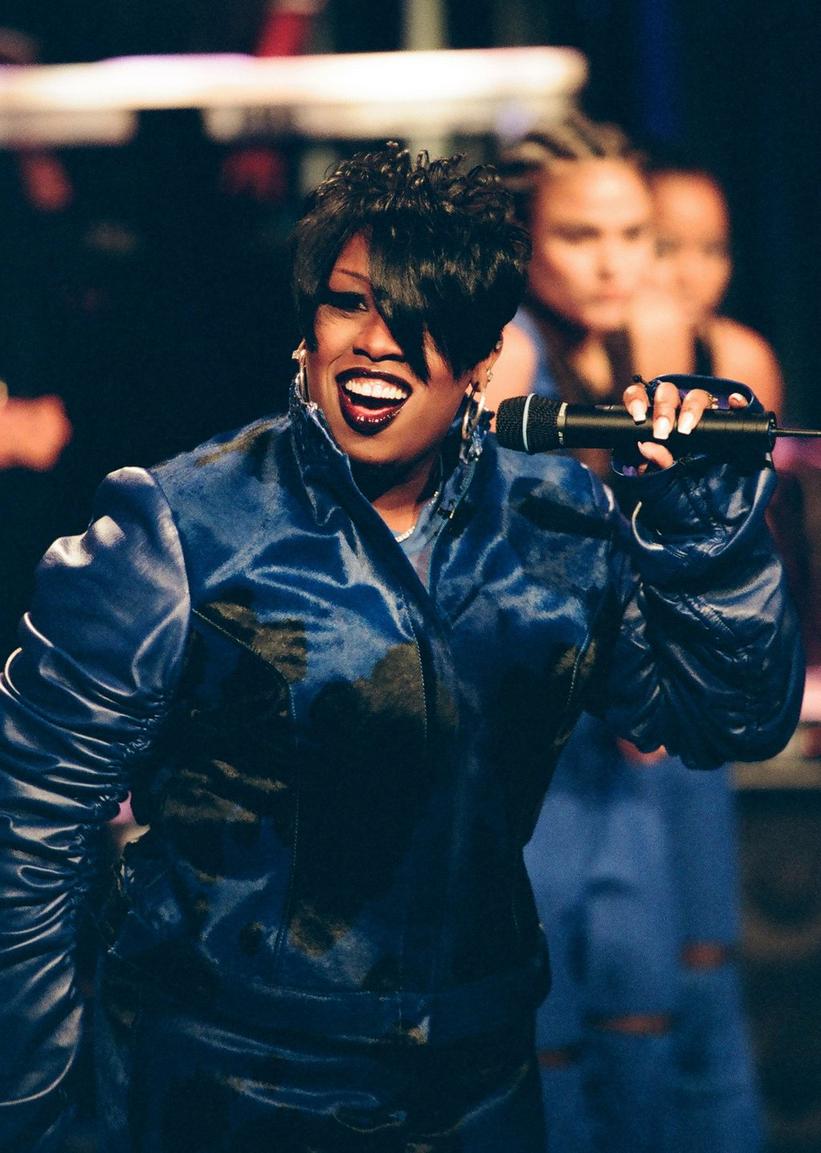 Missy Elliott | Paul Drinkwater/NBCU Photo Bank/NBCUniversal via Getty Images 
1998 – After scoring multi-platinum hits with the Fugees, Lauryn Hill strikes out on her own with The Miseducation of Lauryn Hill. The diamond-certified album earns her several GRAMMY Awards, including Album Of The Year.    
1999 – Dr. Dre releases 2001, cementing his legacy as one of the most influential rap producers ever. The album features numerous collaborators, including longtime homie Snoop Dogg and rising lyricist Eminem.    
2001 – On Sept. 11, Jay-Z releases his sixth album, The Blueprint. It becomes a career highlight for the Rock & Roll Hall Of Fame rapper, and a breakout moment for rising producers Just Blaze and Kanye West.    
2003 – Hit-making duo OutKast split their double album Speakerboxxx/The Love Below into separate sides for Big Boi and Andre 3000 — the latter focusing on singing instead of rapping. Their fresh approach results in a diamond-certified project and a GRAMMY for Album Of The Year.    
2008 – Lil Wayne mania peaks with Tha Carter III, which sells over 1 million copies in its first week and earns him a GRAMMY for Best Rap Album.    
2010 – Nicki Minaj releases Pink Friday. The hit album makes her a rare female rap star during a dearth of prominent women voices in the genre.    
2017 – By landing a Top 10 Billboard hit with "XO Tour Llif3" and topping the Billboard 200 with Luv Is Rage 2, Lil Uzi Vert signifies the rise of internet-fueled trends like "SoundCloud rap" and "emo rap."   
2017 – With his fourth album Damn., Kendrick Lamar not only wins a GRAMMY for Best Rap Album, but he also becomes the first rap artist to win a Pulitzer Prize for Music, leading to the fanciful nickname "Pulitzer Kenny."    
2018 – Cardi B releases her debut album Invasion of Privacy, scoring Billboard No. 1 hits such as "Bodak Yellow" and "I Like It." As the best-selling female rap album of the 2010s, the LP won Best Rap Album at the 61st GRAMMY Awards in 2019, making Cardi the first solo female rapper to win the Category.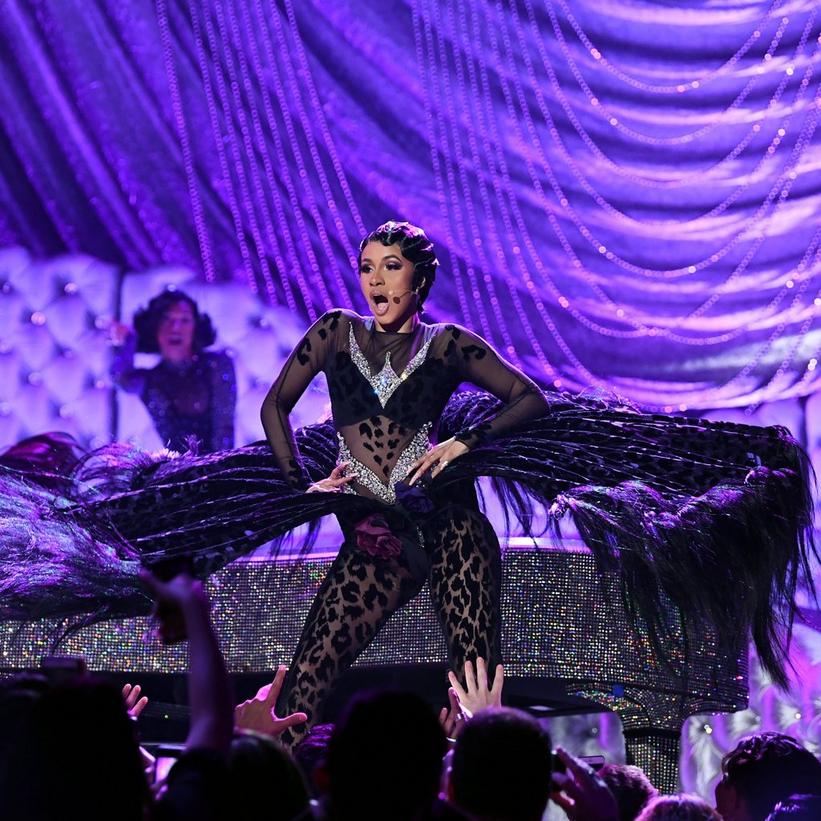 Cardi B at the 61st GRAMMY Awards | Emma McIntyre/Getty Images for The Recording Academy 
2020 – In early 2020, rising star Pop Smoke is killed in Los Angeles. Months later, his posthumous debut album, Shoot for the Stars, Aim for the Moon, tops the charts, signifying the rise of drill as a major force in hip-hop culture.  
2021 – At the 63rd Annual GRAMMY Awards in 2021, the Recording Academy introduced the Best Melodic Rap Performance Category, formerly known as the Best Rap/Sung Performance Category, to "represent the inclusivity of the growing hybrid performance trends within the rap genre." 
2023 - At the 2023 GRAMMY Awards, seven-time GRAMMY winner Dr. Dre became the recipient of the inaugural Dr. Dre Global Impact Award for his multitude of achievements through his innovative, multi-decade career. Dre was first presented with the award at the Black Music Collective's Recording Academy Honors ceremony. 
50 Artists Who Changed Rap: Jay-Z, The Notorious B.I.G., Dr. Dre, Nicki Minaj, Kendrick Lamar, Eminem & More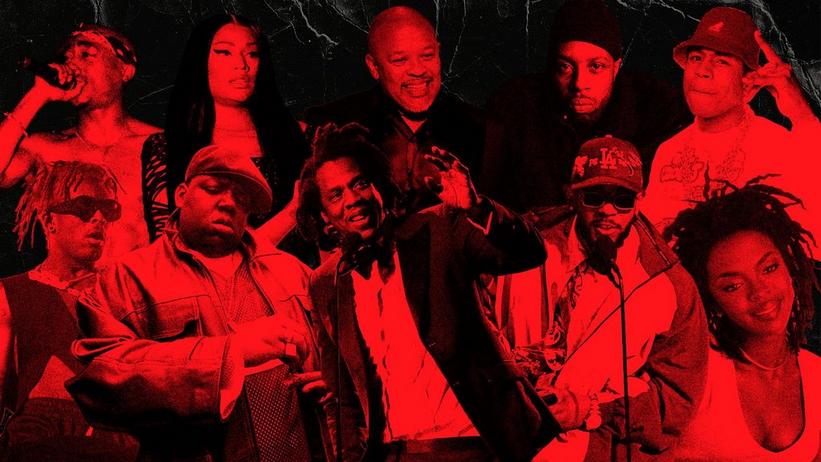 (Clockwise, L-R): 2Pac, Nicki Minaj, Dr. Dre, J Dilla, LL Cool J, Ms. Lauryn Hill, Kendrick Lamar, Jay-Z, the Notorious B.I.G., Lil Uzi Vert
Source Images (Clockwise, L-R): Raymond Boyd/Getty Images; Astrida Valigorsky/Getty Images; Kevin Winter/Getty Images for The Recording Academy; Gregory Bojorquez/Getty Images; Paul Natkin/WireImage; Anthony Barboza/Getty Images; JC Olivera/WireImage; Kevin Kane/Getty Images for The Rock and Roll Hall of Fame; Clarence Davis/NY Daily News Archive via Getty Images; Jason Koerner/Getty Images
list
50 Artists Who Changed Rap: Jay-Z, The Notorious B.I.G., Dr. Dre, Nicki Minaj, Kendrick Lamar, Eminem & More
In honor of the 50th anniversary of hip-hop this year, GRAMMY.com is celebrating some of the genre's most impactful artists across the decades. From Drake to OutKast, Lauryn Hill to Lil Wayne, these pioneers shaped rap over the past 50 years of hip-hop.
GRAMMYs
/
Aug 8, 2023 - 12:23 pm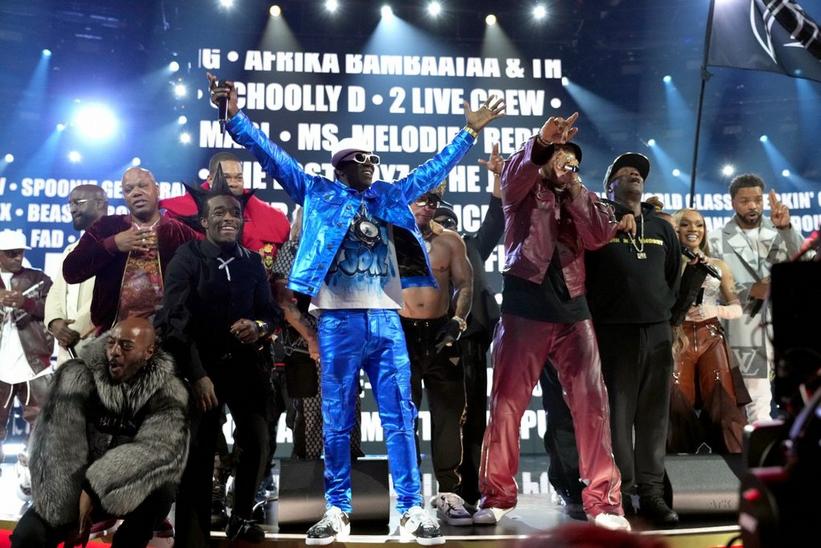 LL Cool J, Flavor Flav, Busta Rhymes, Lil Uzi Vert, Nelly, Spliff Star, Queen Latifah, Ice-T, Chuck D, Joseph Simmons, Darryl McDaniels, Grandmaster Flash, and Black Thought at the 2023 GRAMMYs
Photo: Kevin Mazur/Getty Images for the Recording Academy
news
The 2023 GRAMMYs Nominated For Three Emmys: See The Categories Below
In an awards show crossover to remember, the 2023 GRAMMYs telecast has been nominated in three prestigious categories at the 2023 Emmy Awards.
GRAMMYs
/
Jul 12, 2023 - 07:20 pm
An Emmy for the GRAMMYs? It's happened before, and it could happen again.
The 2023 Emmys nominations list has been revealed, and Music's Biggest Night is well represented.
The 2023 GRAMMYs have been nominated for Emmy Awards in the Outstanding Production Design For A Variety Special, Outstanding Lighting Design/Lighting Direction For A Variety Special and Outstanding Sound Mixing For A Variety Series Or Special categories.
In the first category, the 2023 GRAMMYs compete with "The Oscars," "Encanto At The Hollywood Bowl," "Carol Burnett: 90 Years Of Laughter + Love," and "The Apple Music Super Bowl LVII Halftime Show Starring Rihanna."
The second category also contains "Encanto At The Hollywood Bowl," as well as "2022 Rock And Roll Hall Of Fame Induction Ceremony," "75th Annual Tony Awards," and "The Weeknd Live At SoFi Stadium."
Also nominated in the third category are "Bono & The Edge: A Sort Of Homecoming With Dave Letterman," "Elton John Live: Farewell From Dodger Stadium," "Saturday Night Live • Co-Hosts: Steve Martin & Martin Short," and "Taylor Hawkins Tribute Concert."
Check out the complete list here, and watch this space to see if the GRAMMYs will take home the world's most prestigious TV award!